There are many Italian recipes for pasta with chicken livers but this one from the Marche region in Central Italy is outstanding! Chicken liver pasta with porcini is a rich and flavourful dish that dates back to the kitchens of Italy's peasant population when the rural folk ate foods they could forage or produce themselves. I used gluten free pasta, so this is a gluten free recipe. But, you can use any pasta type.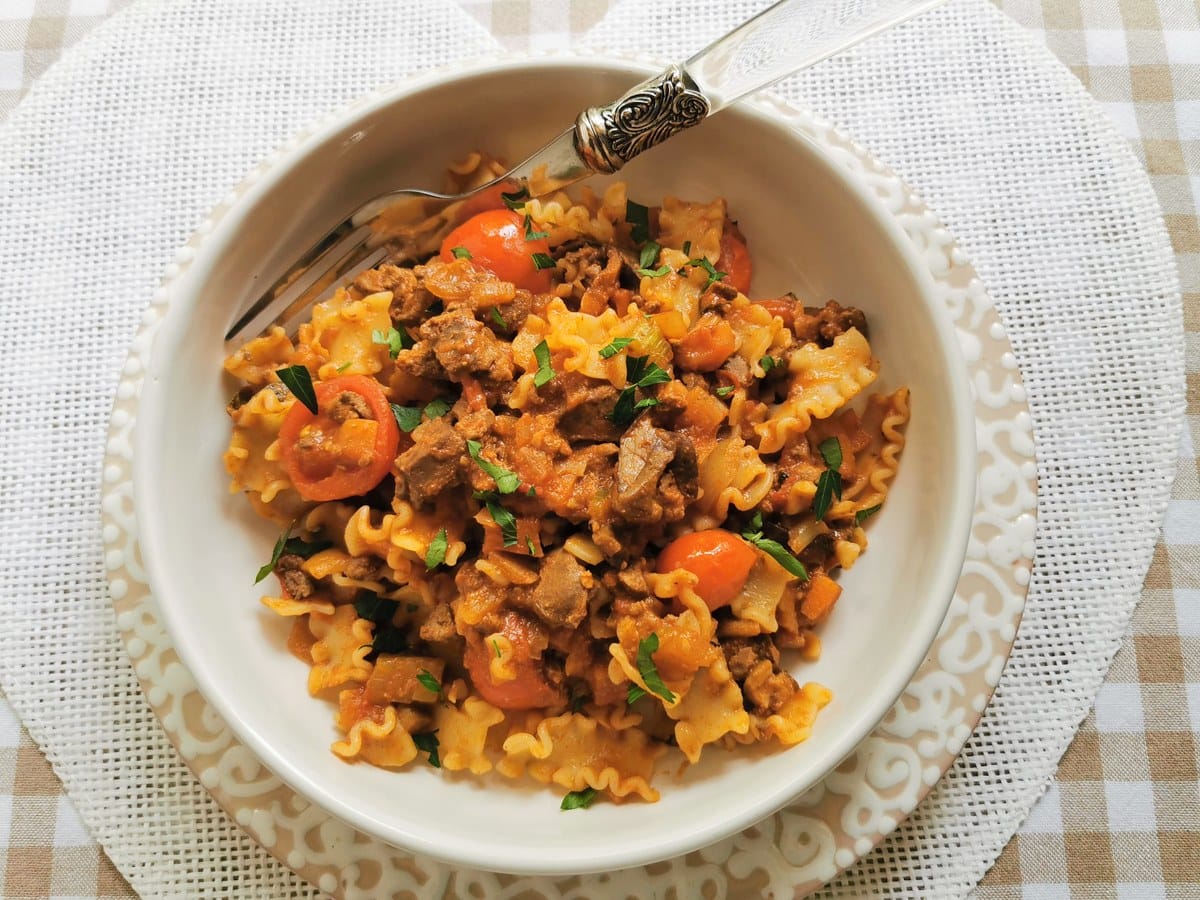 Maltagliati al ragu all'ascolana.
I found this recipe in an Italian cookbook with recipes from the Marche region in Central Italy. In the book, this recipe is called Maltagliati al ragu all'ascolana (rigaglie di pollo e funghi porcini).
The cookbook author credits the recipe to a trattoria in the city of Ascoli Piceno, capital of the province of the same name. However, it seems that restaurant has since closed. But, even so, chicken liver ragu has long been a typical regional recipe.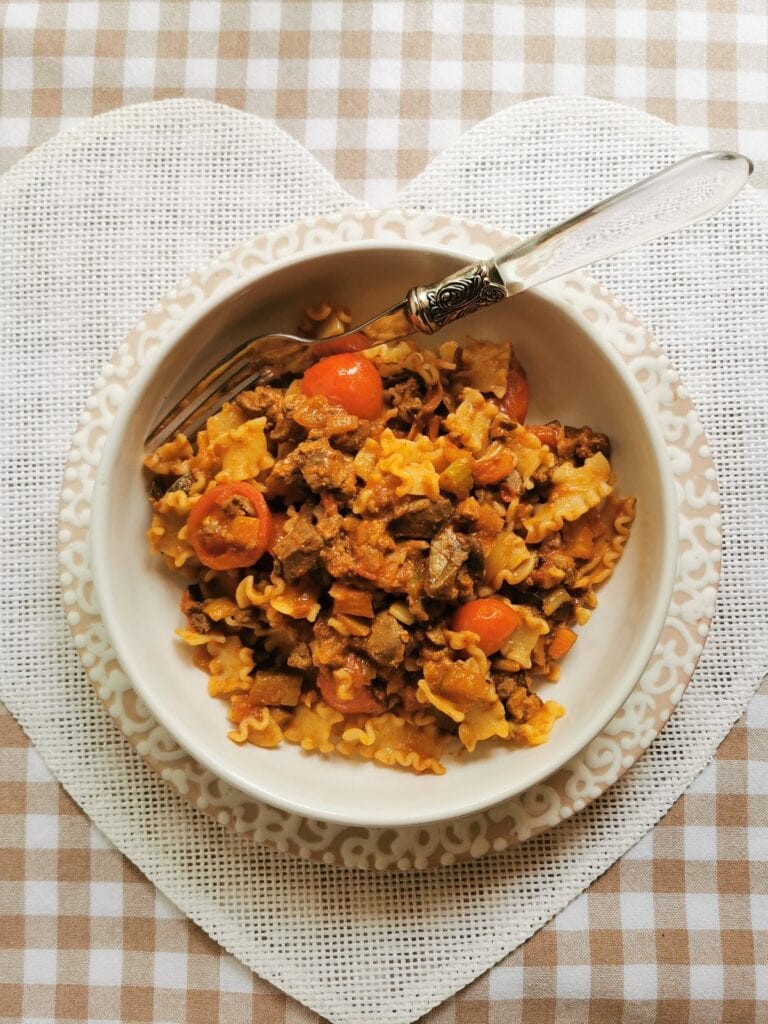 Where is the Marche region?
The Marche region (also called Le Marche) is situated in Central Italy between the Apennine mountains and the Adriatic Sea! This region is often referred to as 'the next Tuscany', but it doesn't get the tourist invasions that Tuscany does. In fact, most the tourists that enjoy the treasures of Marche are Italians.
Foreign tourists still haven't discovered Marche's pretty villages, kilometers of beautiful coastline, breathtaking inland scenery, and great food! If I had to move to another Italian region, Marche would be top of my list!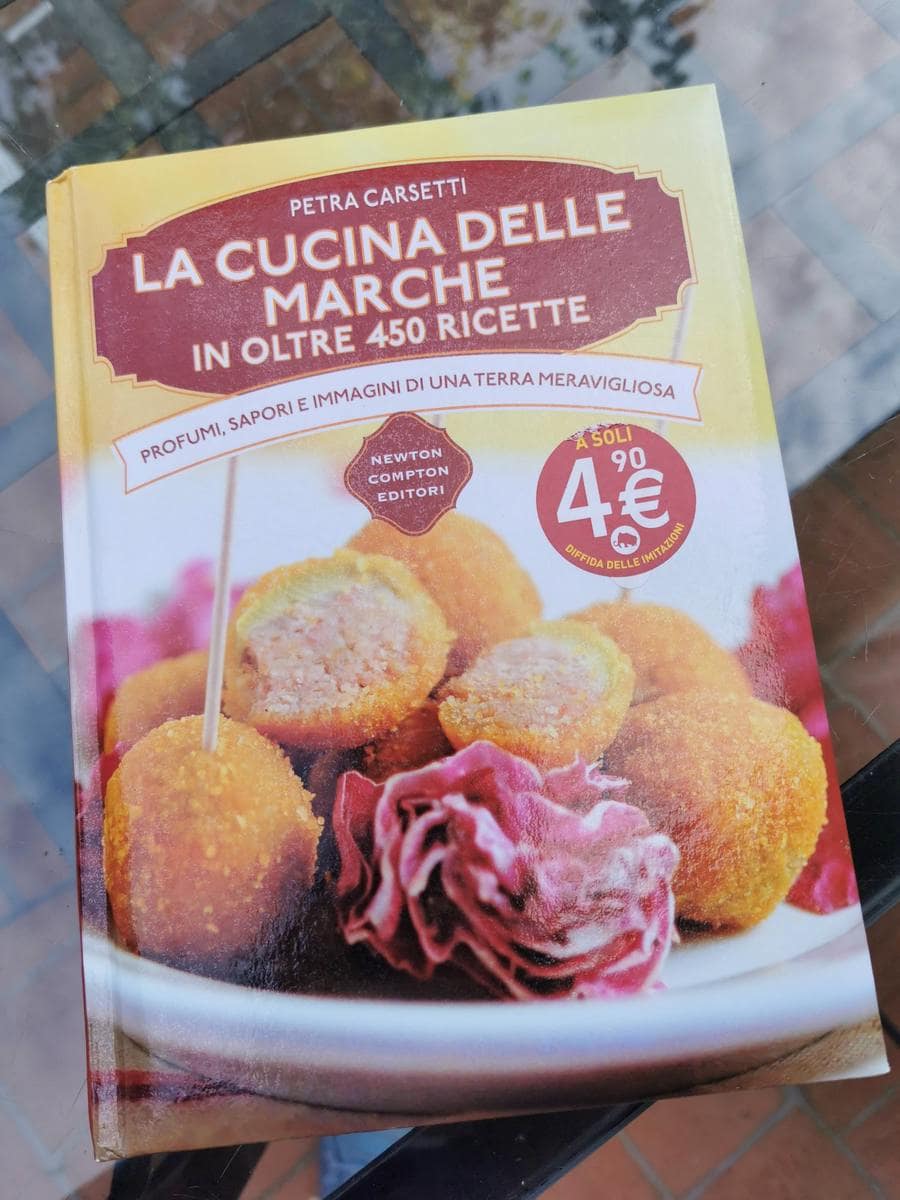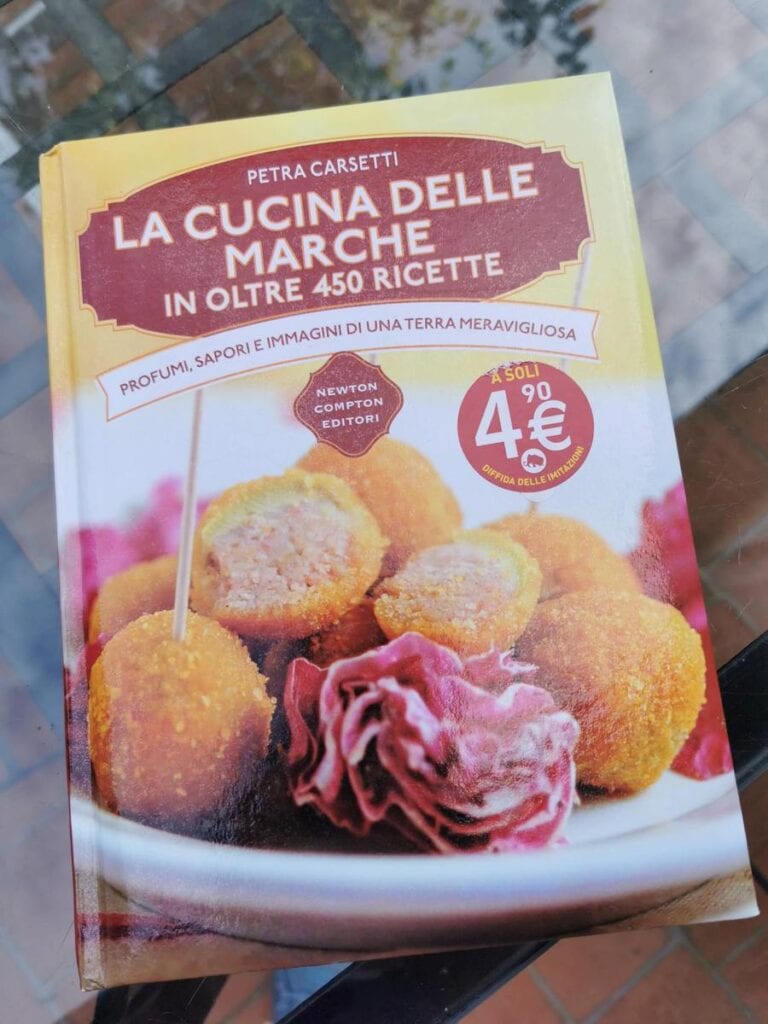 What is Maltagliati pasta?
As you can see from the photo, the recipe I followed called for maltagliati pasta. In Italian, the word 'maltagliati' means 'badly cut'! In fact, these squares, rhombus or irregularly shaped flat pasta pieces originated as the remains of rolled out pasta dough after making pasta like tagliatelle.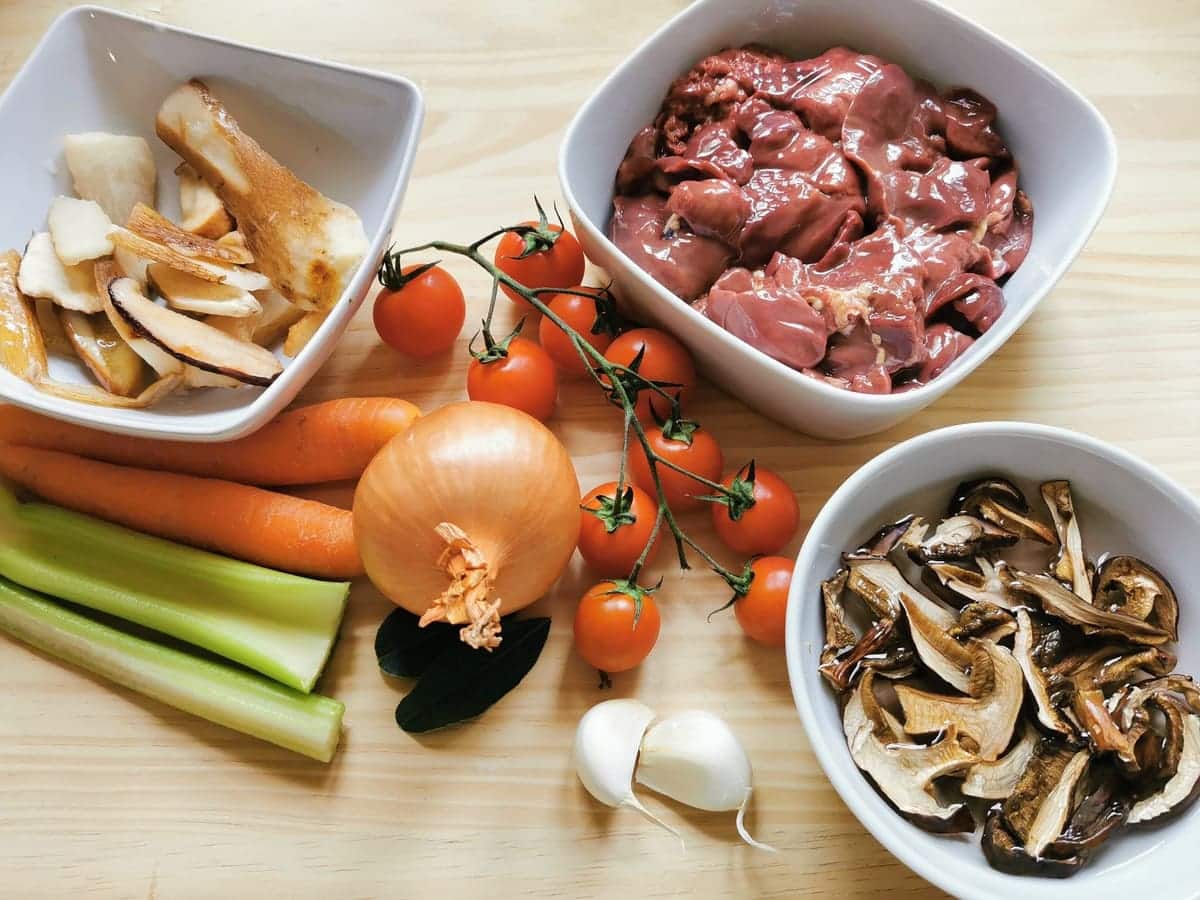 Although originally just a way for housewives to use up leftover pasta dough, these days maltagliati pasta is sold by a lot of pasta companies. When buying dried maltagliati, you can find it cut into slightly different shapes; sometimes with ruffled edges and sometimes irregular depending on the pasta maker. See my maltagliati post for more information about this pasta.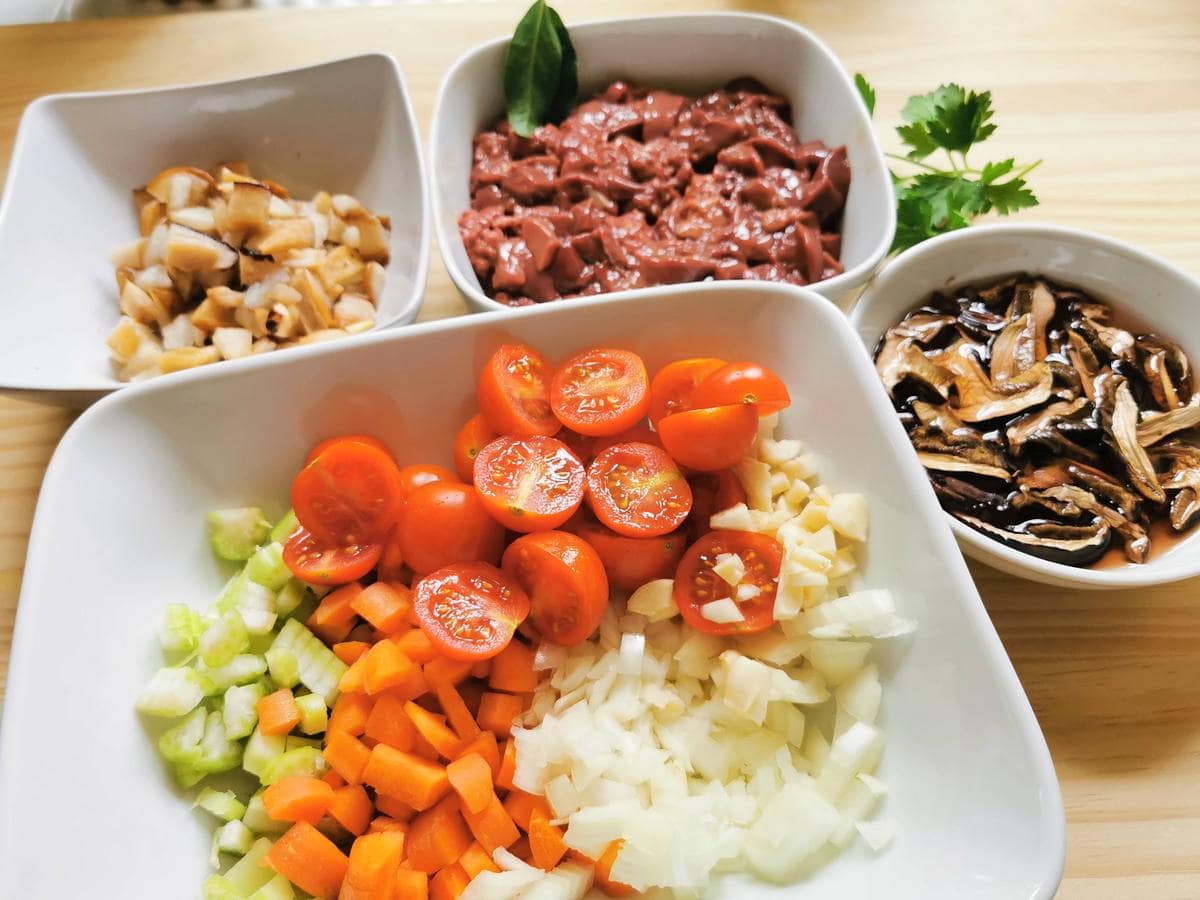 Gluten free mafaldine/mafalda pasta.
I decided to use gluten free short mafalda for this chicken liver pasta with porcini mushrooms recipe. Short mafalda (also called mafaldine) is very similar to dried maltagliati and biricci. This was my first trial of gluten free pasta and I have to say I was pleasantly surprised.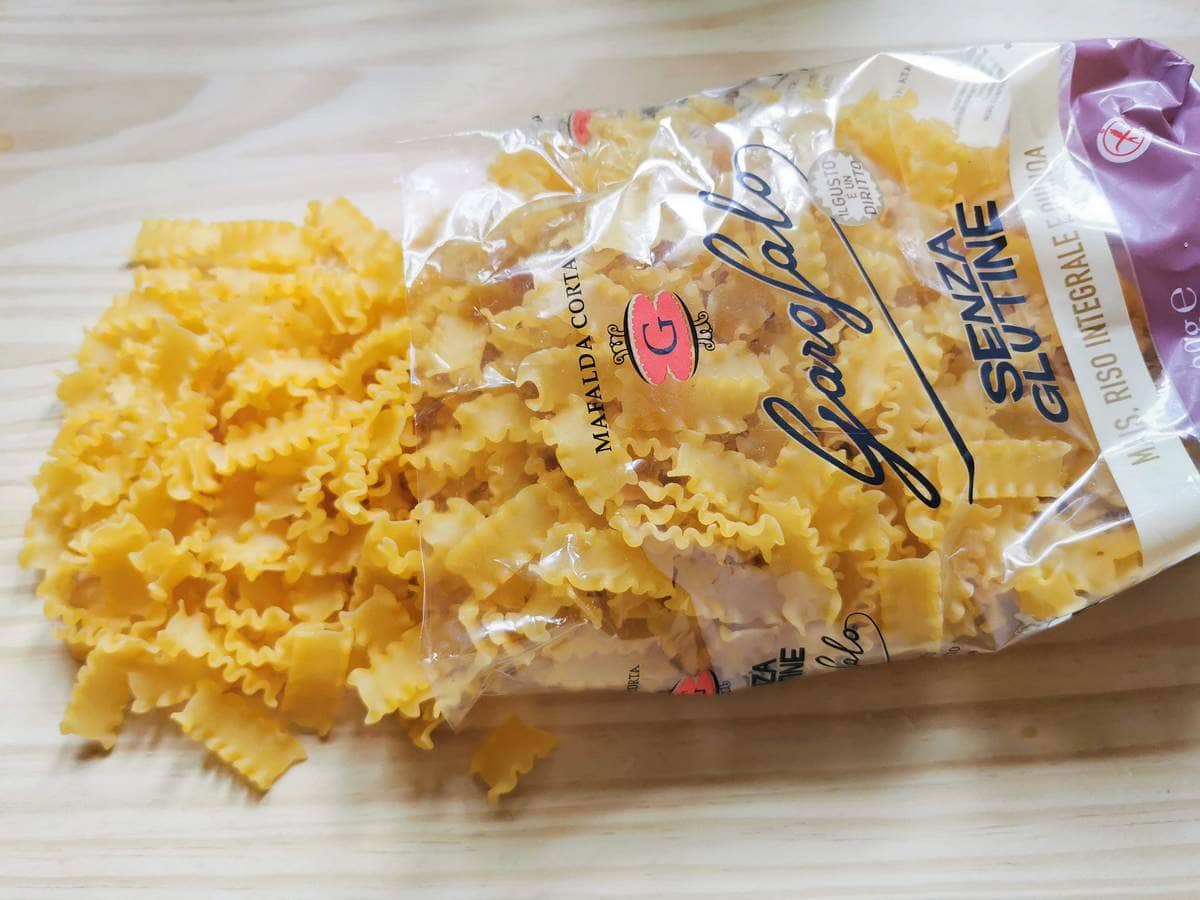 The pasta I used was made by Garofalo, a company that produces pasta in Gragnano near Naples. The town of Gragnano has been a centre of pasta making for about 500 years and, in my opinion, some of the best Italian dried pasta comes from there.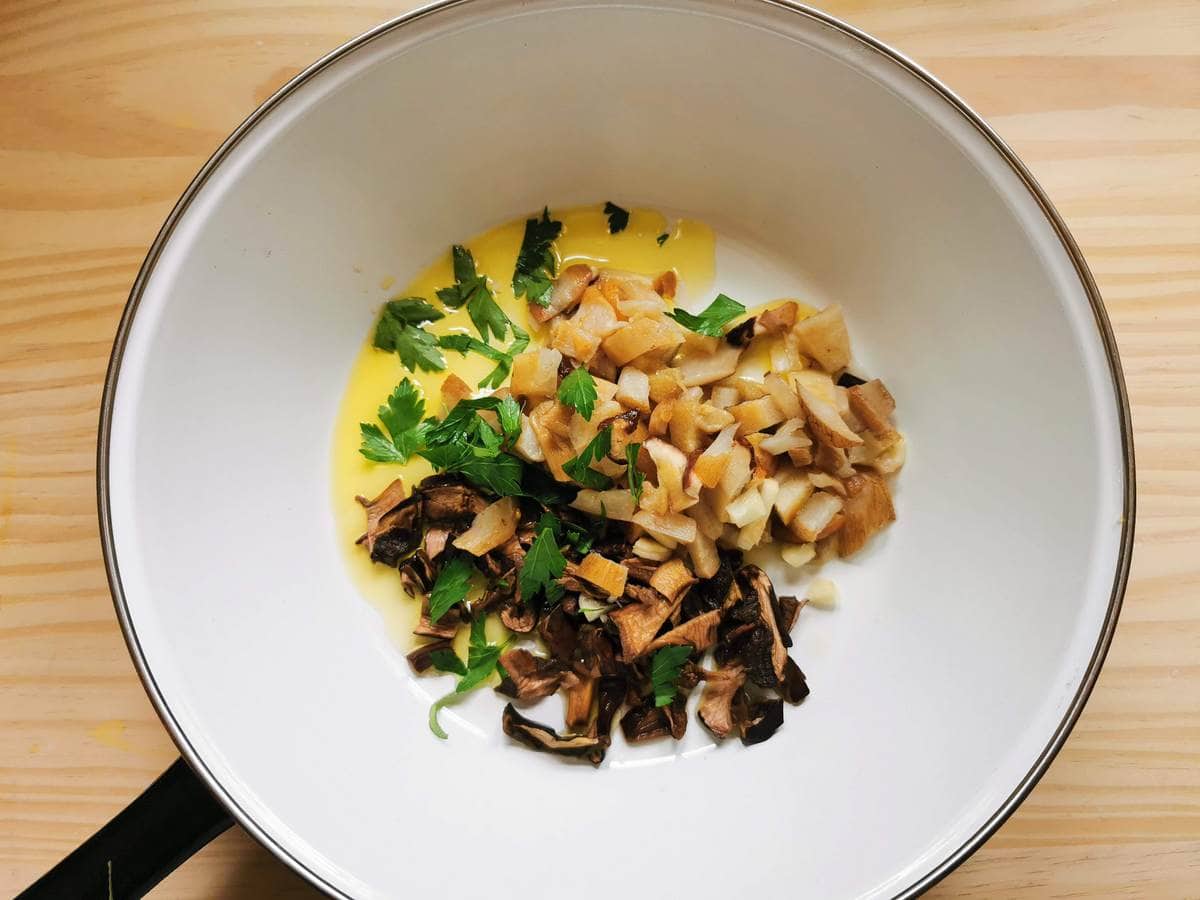 Since I'm not an expert on gluten free pasta I cannot compare. But, even though the mafalda didn't have the same flavour or bite of traditional pasta, it worked really well with the rich chicken liver and porcini ragu.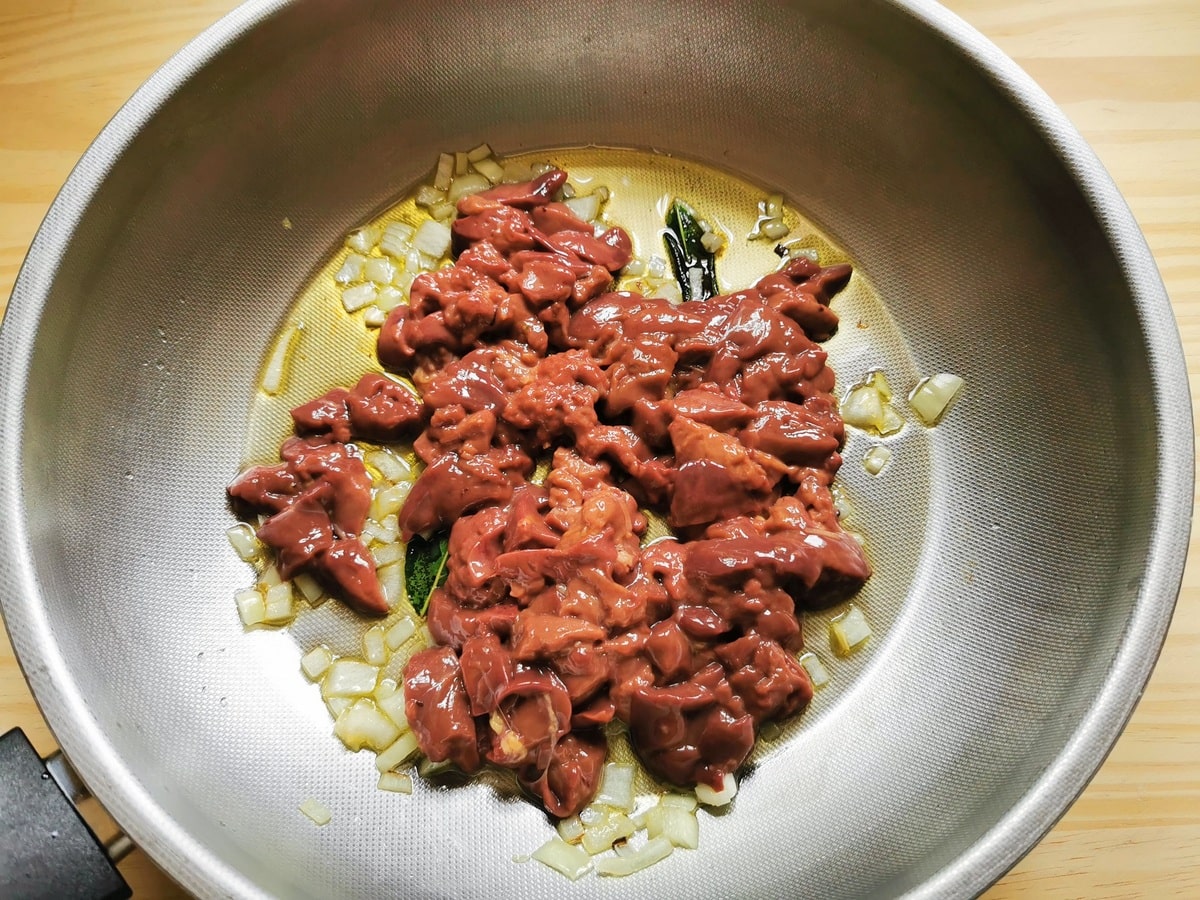 The only problem was that, by the next day, the pasta had fallen apart in the already mixed leftovers. So, if I use gluten free mafalda again for this recipe, I will only mix enough pasta with the chicken liver and porcini to eat immediately and keep any leftover ragu separately.
Ragu all'ascolana.
Although my cookbook refers to the sauce of chicken livers and porcini mushrooms as ragu all'ascolana, there are other pasta all'ascolana recipes from Marche. The most well-known of which is pasta with tuna and olives all'ascolana. The star of that dish is large green olives called Ascolana olives, which the province is famous for.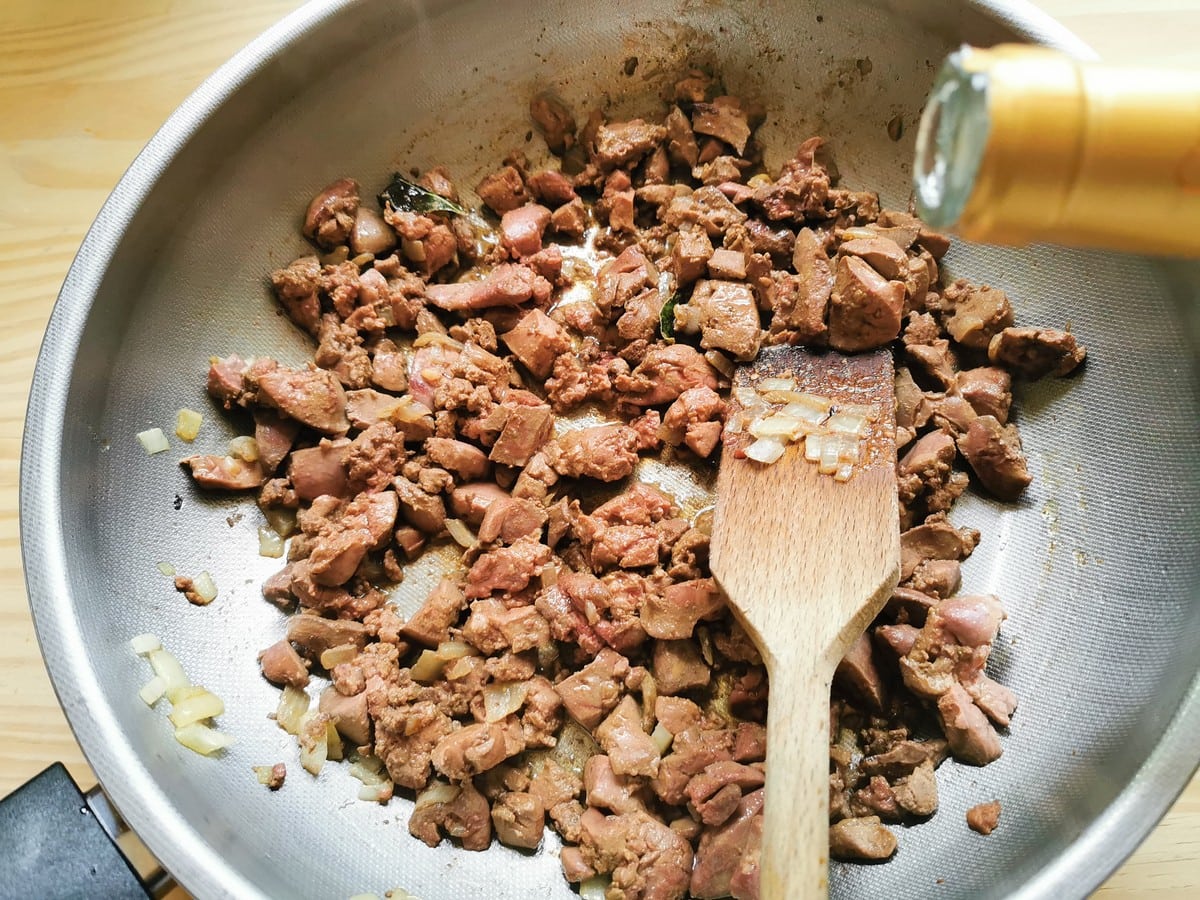 The ragu in this recipe however is made with chicken livers, porcini mushrooms, onions, garlic, white wine, carrots, celery, parsley and bay leaves. This chicken liver and porcini mushroom ragu has a fabulous rich and deep flavour! Plus, it doesn't take very long to make.
The fifth quarter.
Chicken livers and other giblets or offal translate to 'rigaglie' or 'frattaglie' in Italian. These and other animal parts (liver, kidneys, brains, intestines, bone marrow etc) are also known as the 'quinto quarto' or the fifth quarter.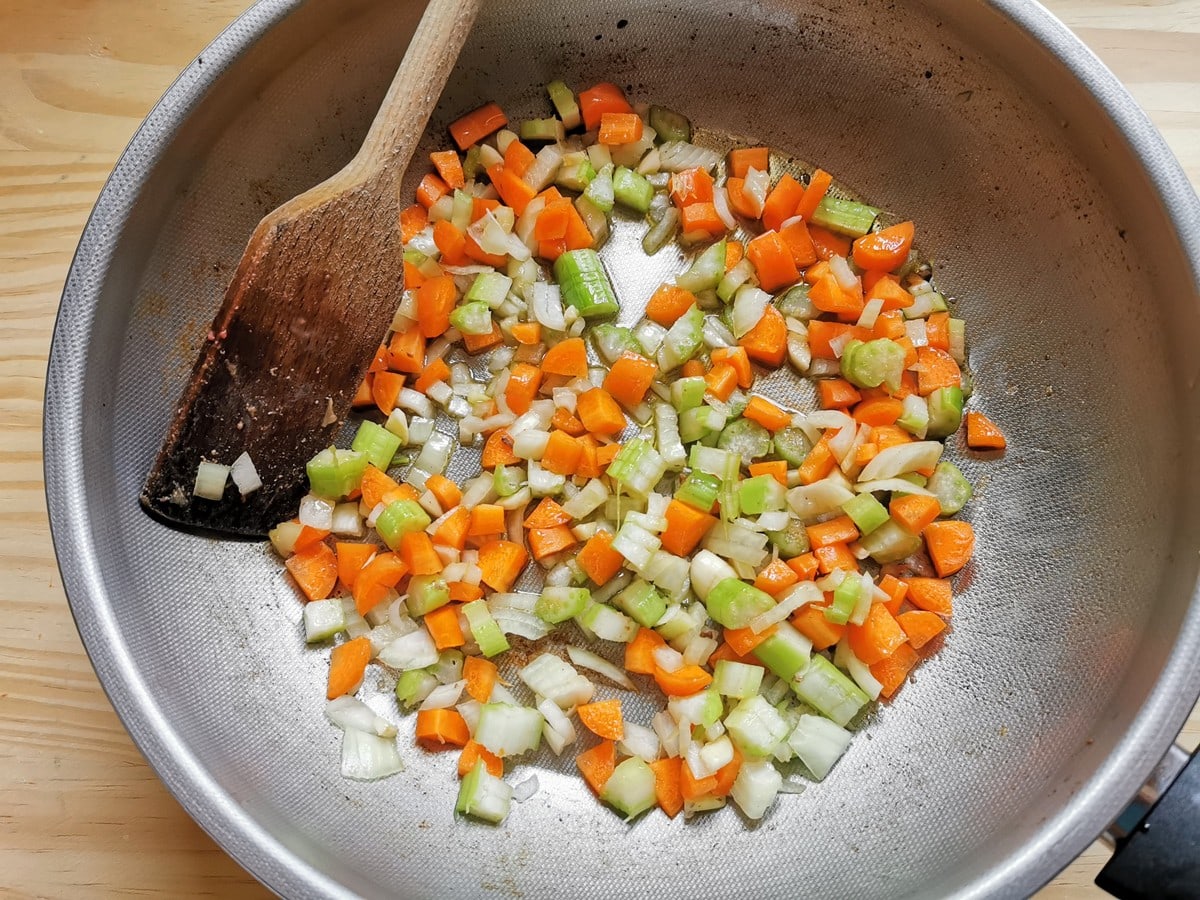 This term dates back to times when the meat of butchered animals was divided into 5 parts. The 'good' meat was divided into 4 sections or quarters. The first and best 'quarto' was sold to the nobles, the second was for the clergy, the third one for the rich and finally the fourth 'quarto' was for the army. So, what did everyone else eat? The fifth quarter or offal and other less appreciated parts of an animal!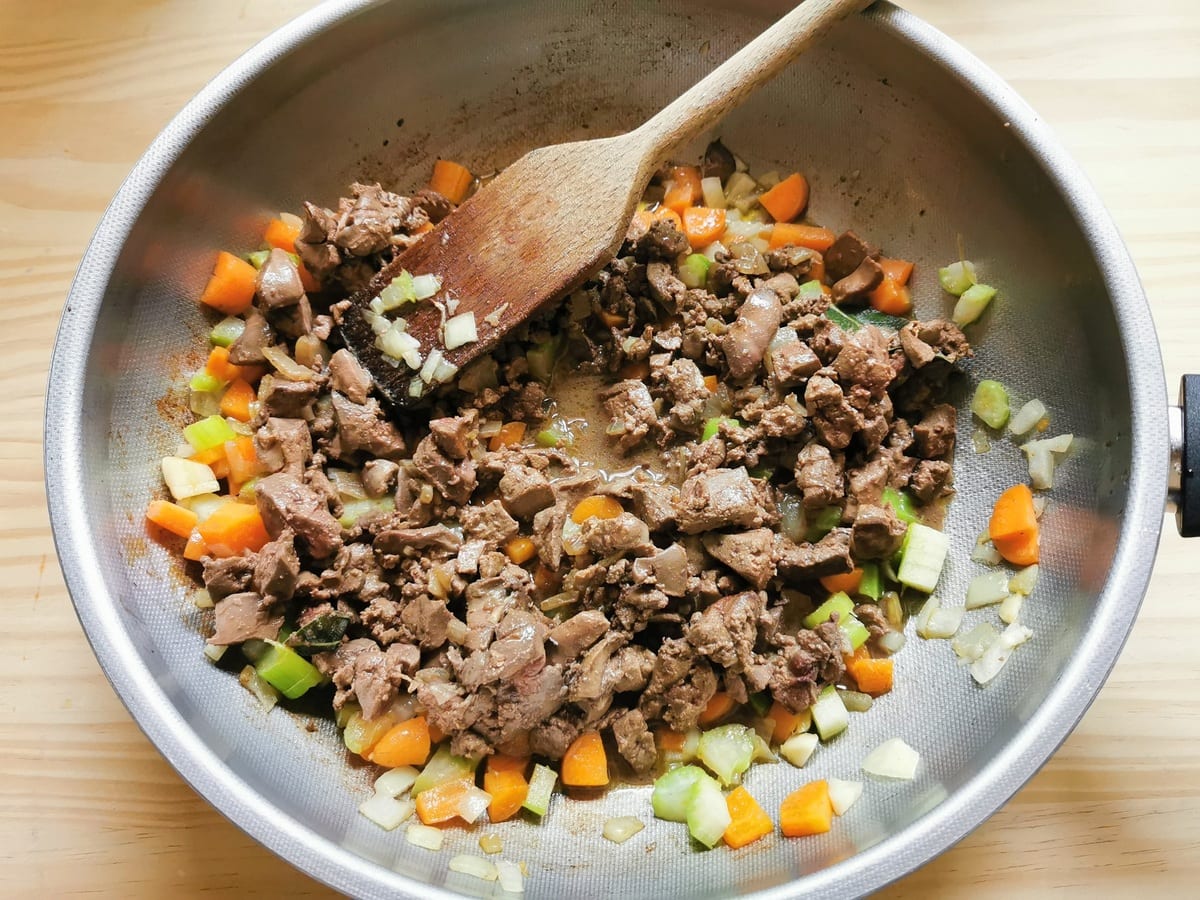 Many non-Italians may not be keen on offal, but traditional Italian cuisine is full of offal recipes. Food author Elizabeth David once wrote, 'In American cooking, everything that can be thrown away is thrown away'. But, in traditional Italian cuisine, nothing is wasted!
Rome is famous for its fifth quarter recipes. However, chicken liver pasta dishes are typical throughout Italy. I have already published a recipe for tagliatelle with chicken livers from Emilia-Romagna which is definitely worth trying. On my to make list is a dish from Piemonte for traditional egg-rich tagliolini called tajarin with chicken livers.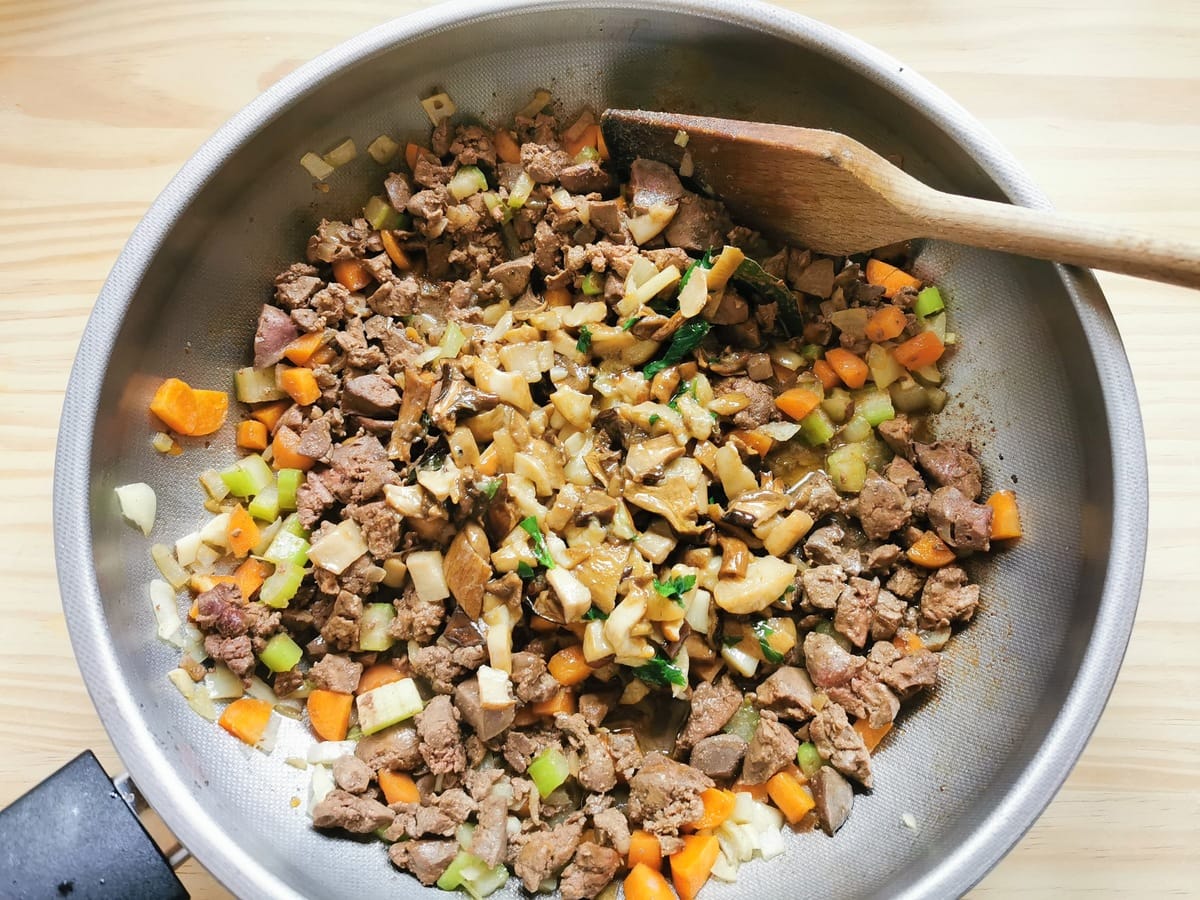 Chicken gizzards.
In the recipe I followed, the ingredients include chicken gizzards as well as liver. A gizzard, durello in Italian, is a muscle or small organ found in the digestive tract of a chicken which helps the bird digest grains. Since I used a packet of just chicken livers to make this chicken liver pasta recipe, I didn't include gizzards. But, if you like them, you can chop them and cook them along with the liver.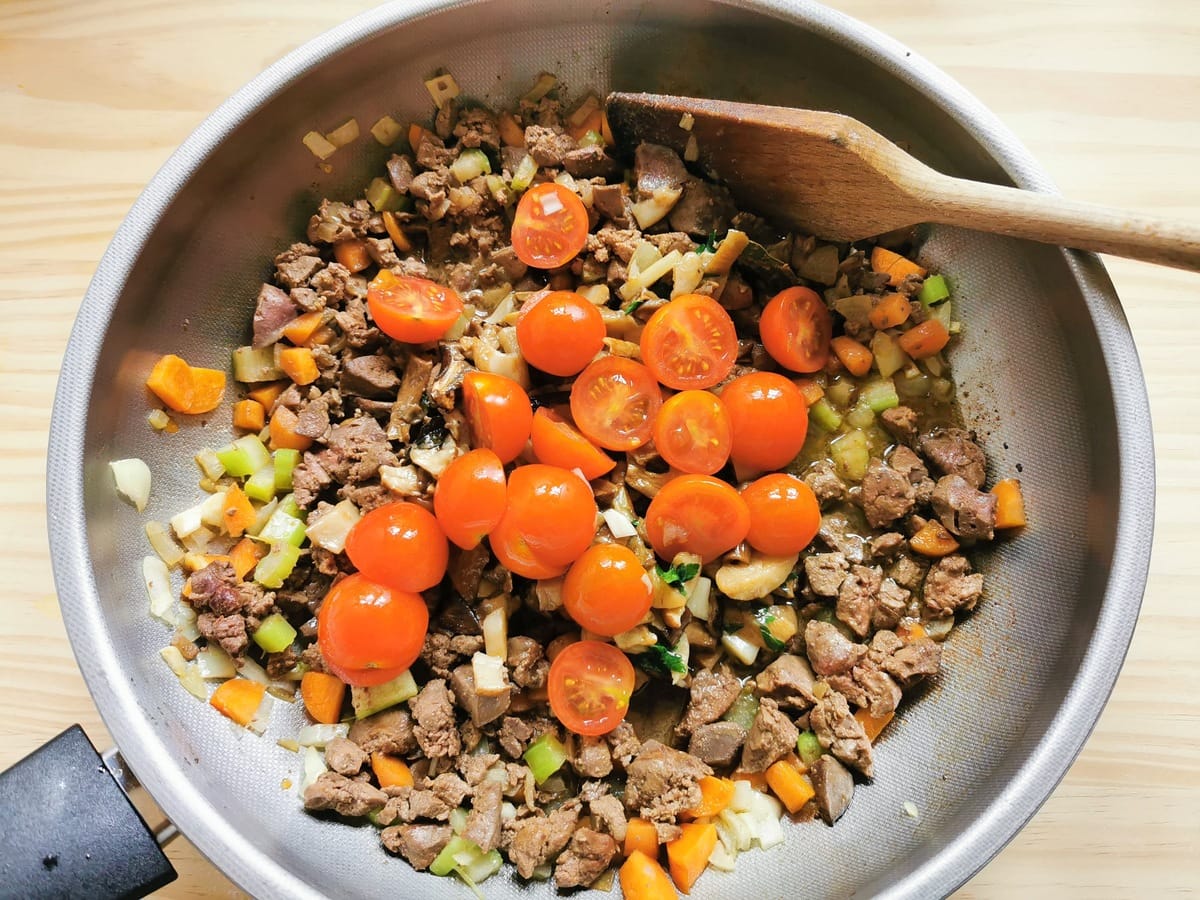 Offal is good for you!
All offal or organ meat (liver, kidneys, heart etc) is one of the most nutrient dense foods you can eat! Of course, it's important that the animals are grass fed or at least in the case of chickens, given organic feed.
Liver is particularly healthy and nutritious. In fact, it contains significant amounts of folate, iron, vitamin B, vitamin A, and copper. Eating a single serving of liver can help you meet daily recommended amounts of all these vitamins and minerals.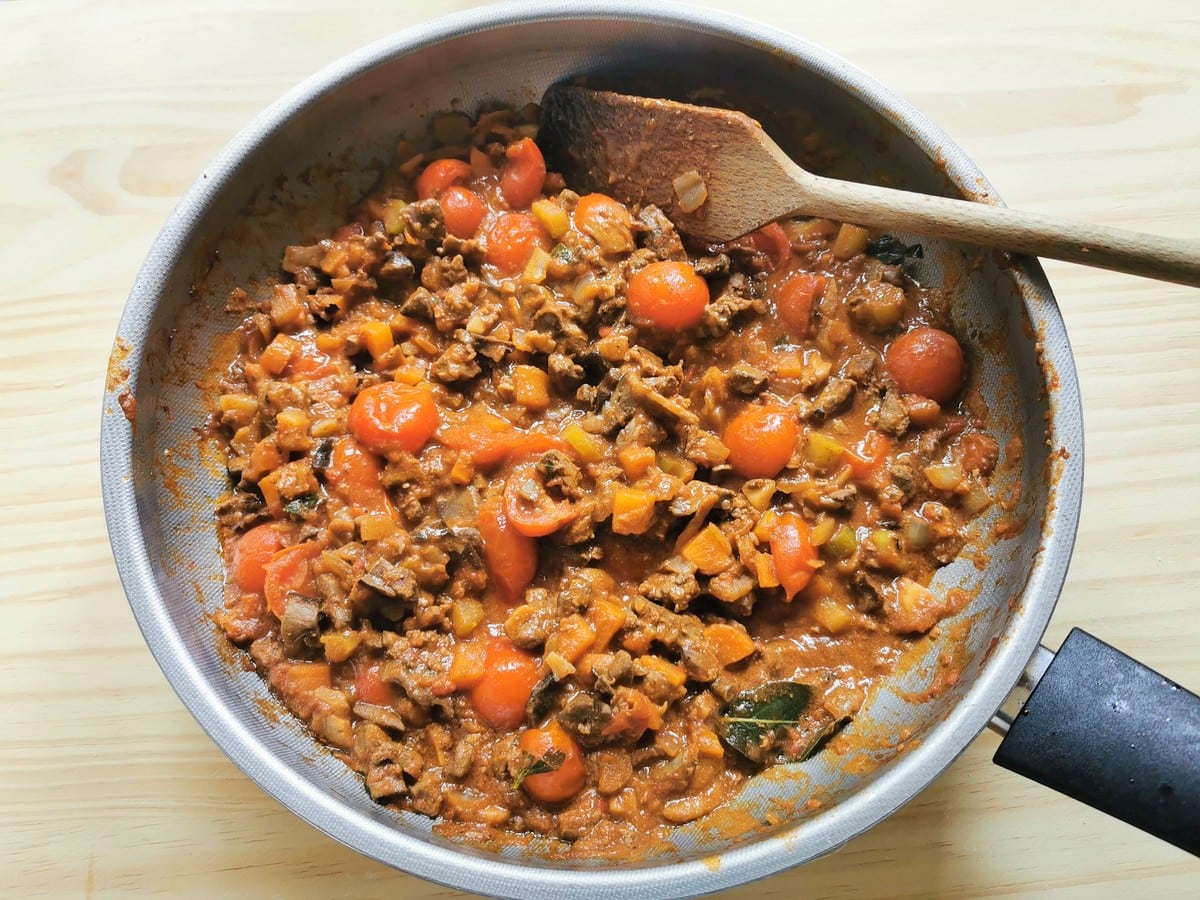 Preparing ingredients for this chicken liver pasta with porcini.
Porcini mushrooms (ceps) are one of the most popular foraged fungi in Italy. Although we occasionally have fresh porcini, I mostly add frozen or dried to pasta recipes. For this recipe, I used both. You can use just dried porcini. But in that case, I would add another type of mushrooms such a cremini to substitute the meatiness of fresh or frozen porcini. Don't forget to soak the dried porcini in warm water first.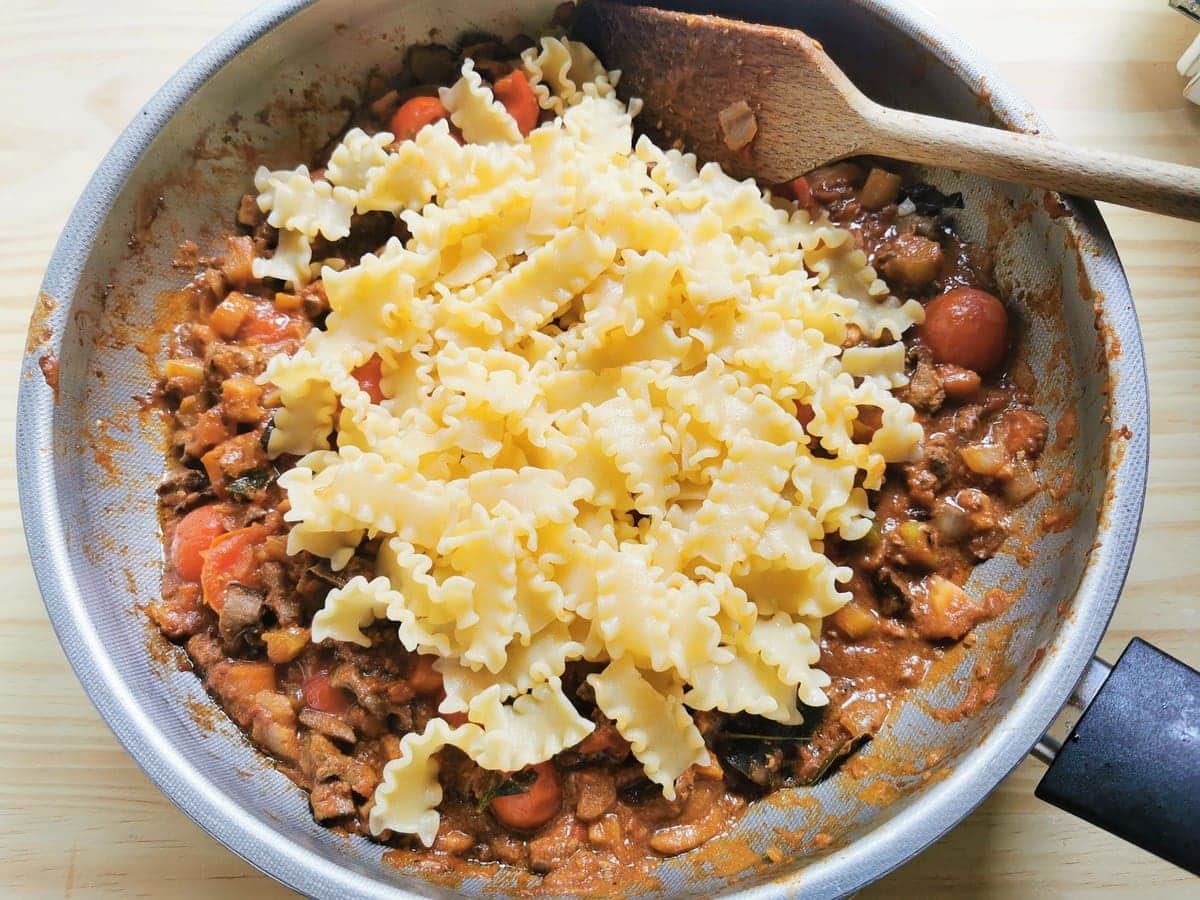 Making this chicken liver and porcini ragu is pretty easy and doesn't take long as liver doesn't need long cooking. However, it's a good idea to soak the liver in milk for 1-3 hours beforehand. Soaking liver in milk helps to soften it and make it less bitter and less metallic. I usually do this when cooking liver.
Once you have soaked the liver and porcini you can prepare all the ingredients. Finely chop the onion, carrot and celery, chop the liver and mushrooms into small pieces, peel and chop the garlic and wash and chop the parsley. If you are using fresh tomatoes, you will need to peel them unless they are small cherry tomatoes.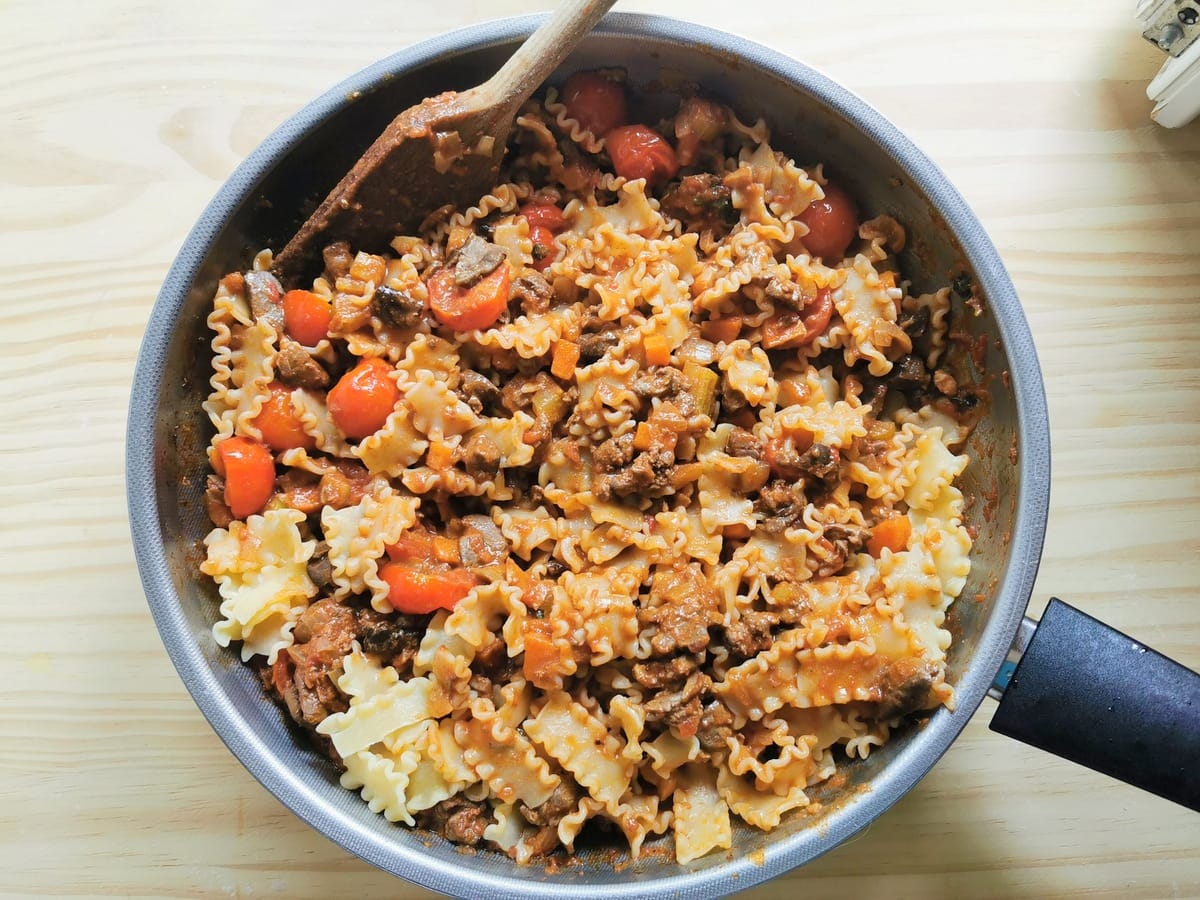 Cooking the chicken liver and porcini ragu
Now to cook the ragu; sauté the mushrooms with olive oil, garlic, parsley and salt in a small frying pan until cooked. In a larger heavy pan or skillet, pour in a little olive oil, some of the chopped onion and a bay leaf to the pan and sauté until the onion starts to soften, then add the chopped liver. Quickly brown the liver and then add the wine. Let the alcohol evaporate and transfer the liver and cooking juices into a bowl.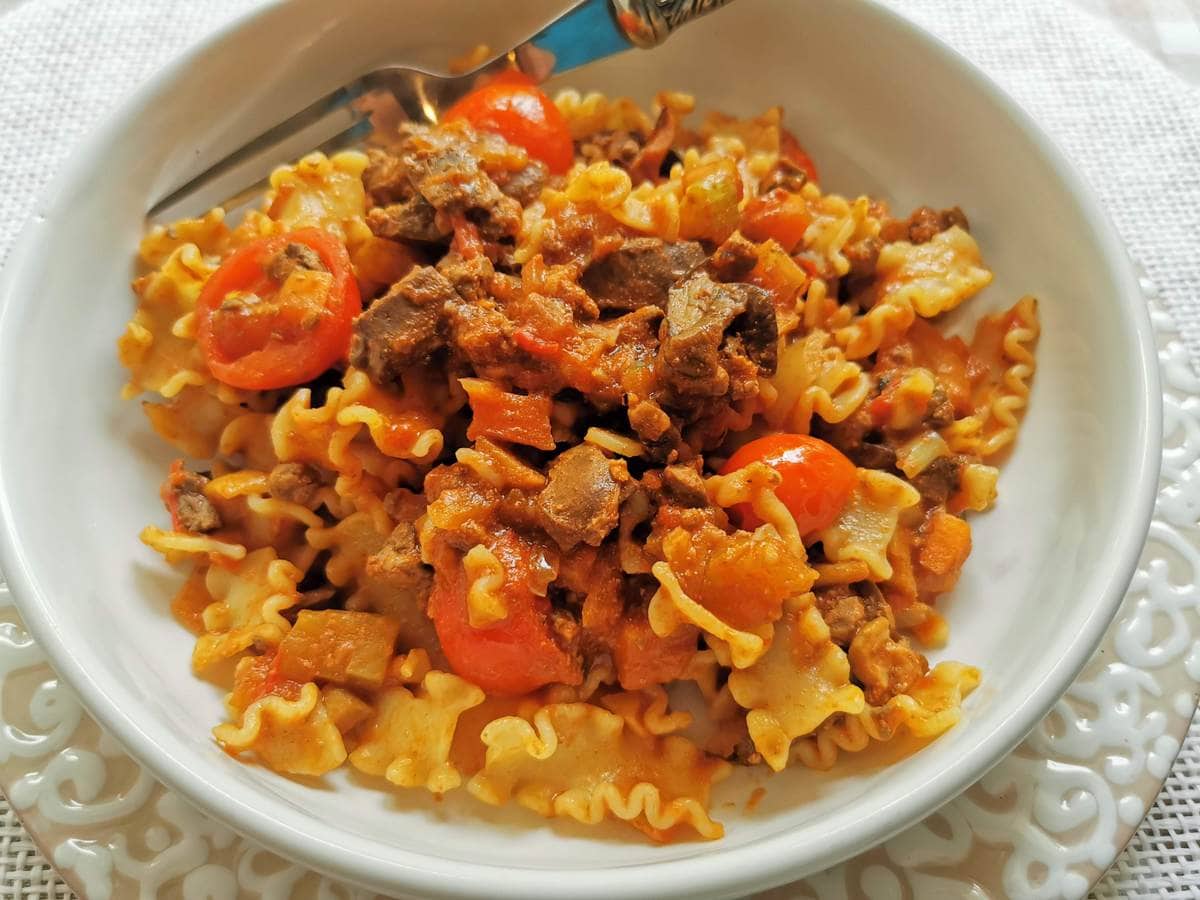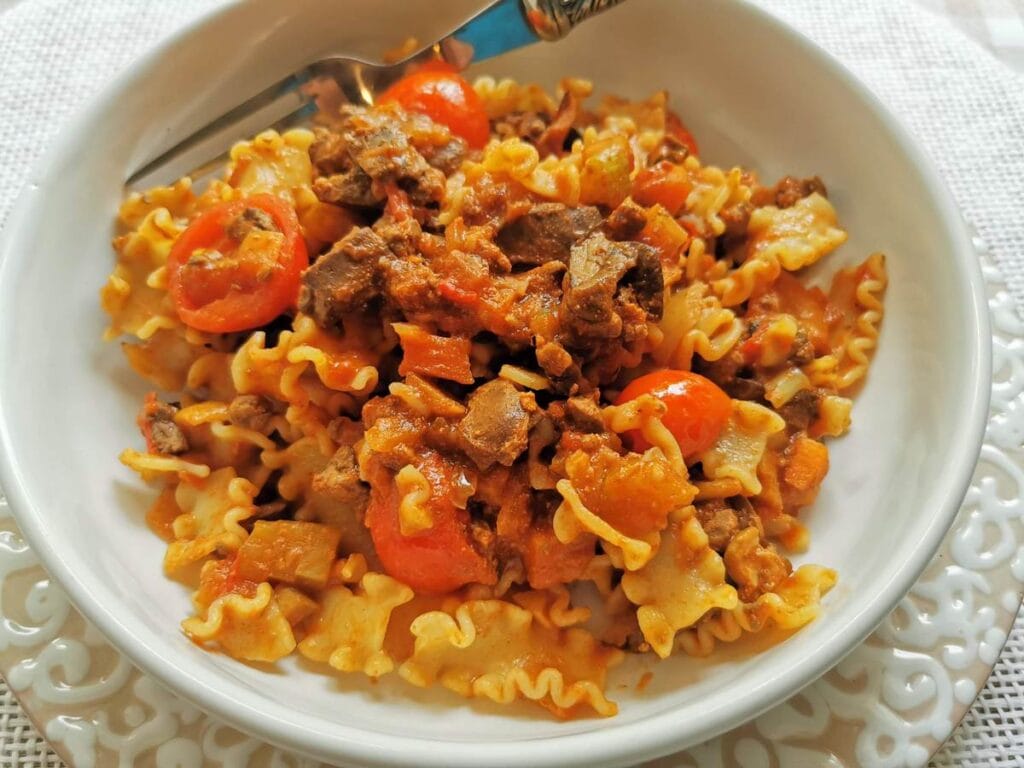 Finally, in the same pan, sauté the rest of the onions, the carrots and the celery in a little more olive oil. When the veggies have softened add the mushrooms and liver with cooking juices. Add the fresh or canned tomatoes and a little salt. Mix everything gently together and simmer for about 45 minutes on a low heat.
Finish and serve.
While the ragu is simmering, you can put a pot of water on to boil for the pasta if serving immediately. However, you can prepare the ragu in advance and keep it in the fridge for a day or two. Once ready to serve, cook the pasta al dente according to the instructions on the packet. Drain the pasta and add it to the sauce. Mix gently and serve immediately with some chopped parsley.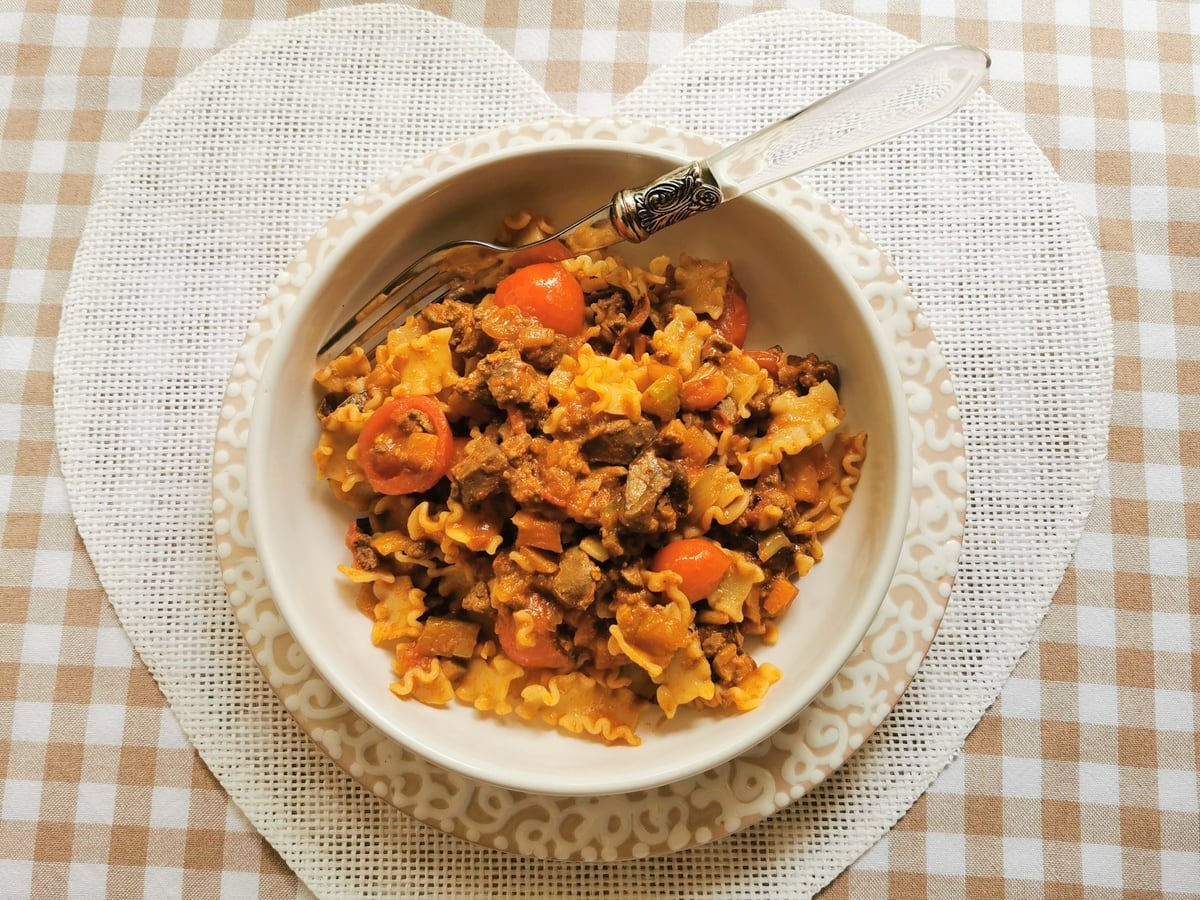 As I mentioned above, I used gluten free short mafalda for this recipe. You can use other gluten free pasta or just normal semolina or egg pasta. Chicken liver and porcini ragu goes well with all pasta shapes. Serve it with tubes like penne or rigatoni or even fresh egg noodles such as tagliatelle or pappardelle.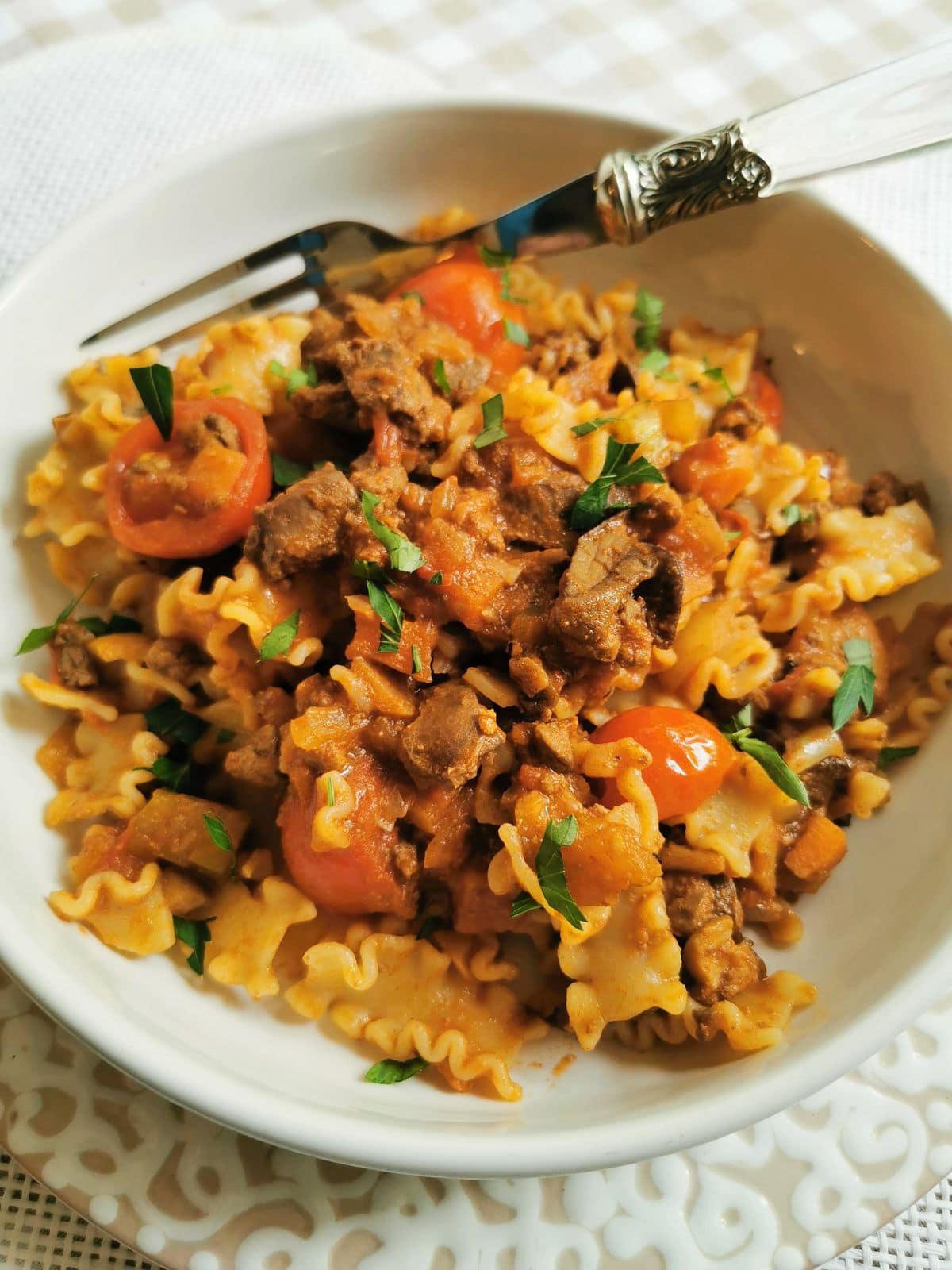 Let me know what you think!
Whether you use gluten free pasta like me or another type, I'm sure you'll love the richness of this chicken liver pasta with porcini. This is a delicious and very nutritious pasta recipe that's easy enough for family meals and yet special enough for guests!
If you do try this recipe, I'd love to hear what you think. Please write a comment here on the blog or post a comment on the Pasta Project Facebook page.
Your feedback means a lot to me!
Buon appetito!
Other chicken liver pasta recipes.
More traditional recipes from Marche.
Pin for later.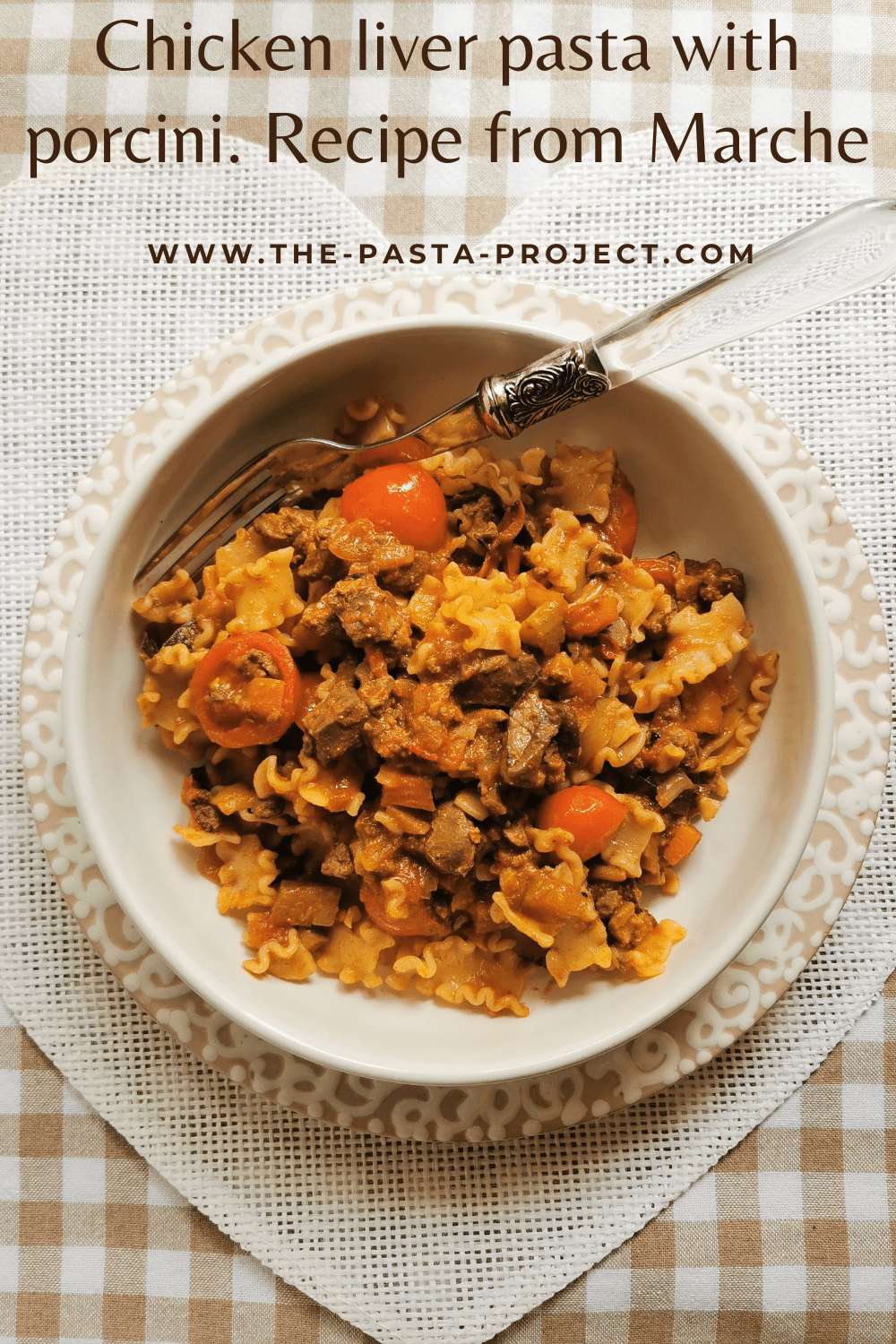 If you are interested in learning how to make homemade pasta and different types of gnocchi, check out my shop page for some great video online courses from my friends in Rome! Nothing beats learning to make pasta from Italians! Plus while you're there why not order a copy of one of my pasta recipe cookbooks or checkout some recommended pasta making tools?