Biricci pasta from Calabria.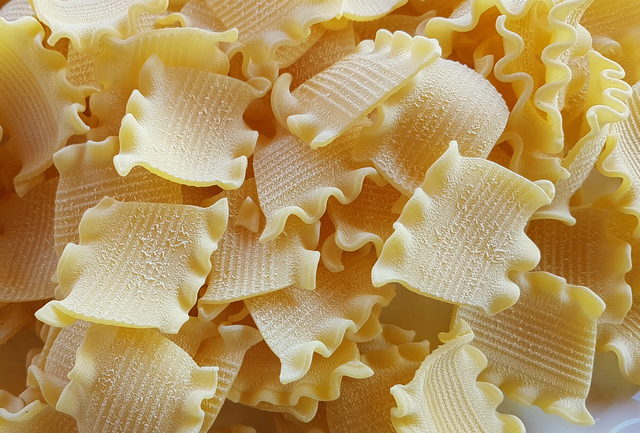 Until a few days ago, I had never heard of, let alone eaten biricci pasta! As I've said in other posts, I often come across new pasta types just browsing in local supermarkets. Apart from the most common pasta shapes, most shops sell what are called speciality pasta. These types of pasta are usually made by small artisan producers and every now and again, I find some interesting, new-to-me shapes , like this biricci!
Very similar looking to mafalda corta, biricci are short squarish pasta ribbons with scalloped or ruffled edges and slightly ridged surfaces made from durum wheat semolina and water and extruded through traditional bronze dies.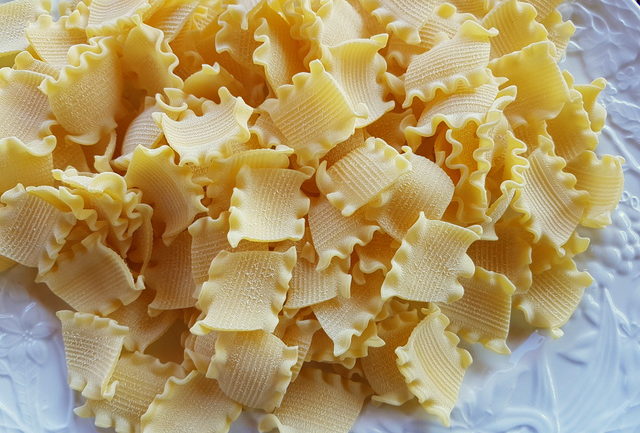 Mafalda, Mafaldine, Reginette
Mafalda, also known as mafalde, mafaldine or reginette (meaning little queens) are long pasta ribbons with scalloped edges which were named after Princess Mafalda of Savoy (1902-1944), daughter of King Vittorio Emanuele III and Queen Elena. The pasta existed before the birth of the princess as lasagnette ricci but was renamed in her honour. It's also made in a short version, mafalda corta.
Both long and short mafalde are very popular in Southern Italy, especially Naples, Campania where many pasta makers produce both types. When it comes to Biricci, I couldn't find many producers. The biricci I bought were from Calabria made by a small artisan company called La Mamma Isa, a subsidiary of Colacchio bakery. This company produces only pasta made with durum wheat semolina flour and slow dried. On the La Mamma Isa website, biricci are advertised as typical Calabrian pasta but as this is a pasta that is difficult to make by hand, I have come to the conclusion that it's a relatively new modern shape, inspired by mafalda corta.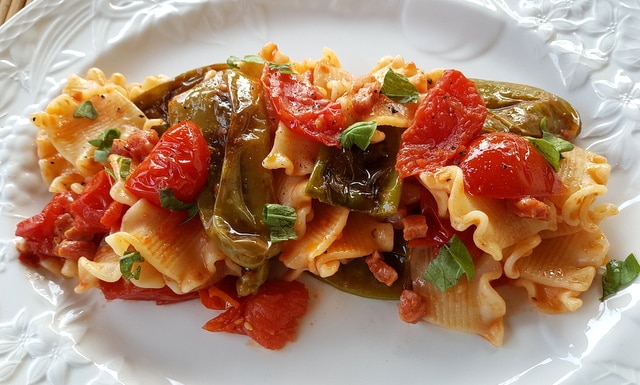 Because this pasta isn't widely known or available, there aren't many recipes that one could say are typically made with it. However, I'm sure it would work well with many recipes, especially vegetarian or vegetables with seafood recipes prepared with short ribbons or large tubes.
Biricci pasta recipes
The first time I used Biricci pasta was in a friggitelli ( small sweet peppers) and pancetta recipe. The result was wonderfully tasty and the pasta really complimented the sauce. The ruffles and ridges in the pasta mean the sauce really adheres to it and doesn't slip off! Plus, each piece of pasta is almost like a shallow bowl. Sounds odd I know, but what I want to say is that pieces of vegetables, fish, meat (whatever is in the sauce), get caught in the pieces of pasta, making every mouthful delicious!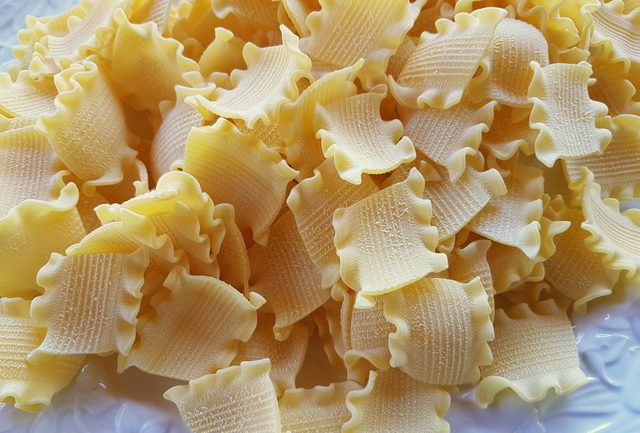 I will definitely be using this biricci pasta again. On the Calabrian producers website, they have a recipe for Biricci with zucchini and prawns. So, I think I'll try that next!