Indulge in some of the delightful flavors of Southern Italy with this simple yet delicious friggitelli pepper pasta recipe.
This dish uses only 7 ingredients and comes together in 45 minutes, making it a great option for busy weeknights or just a quick and satisfying meal.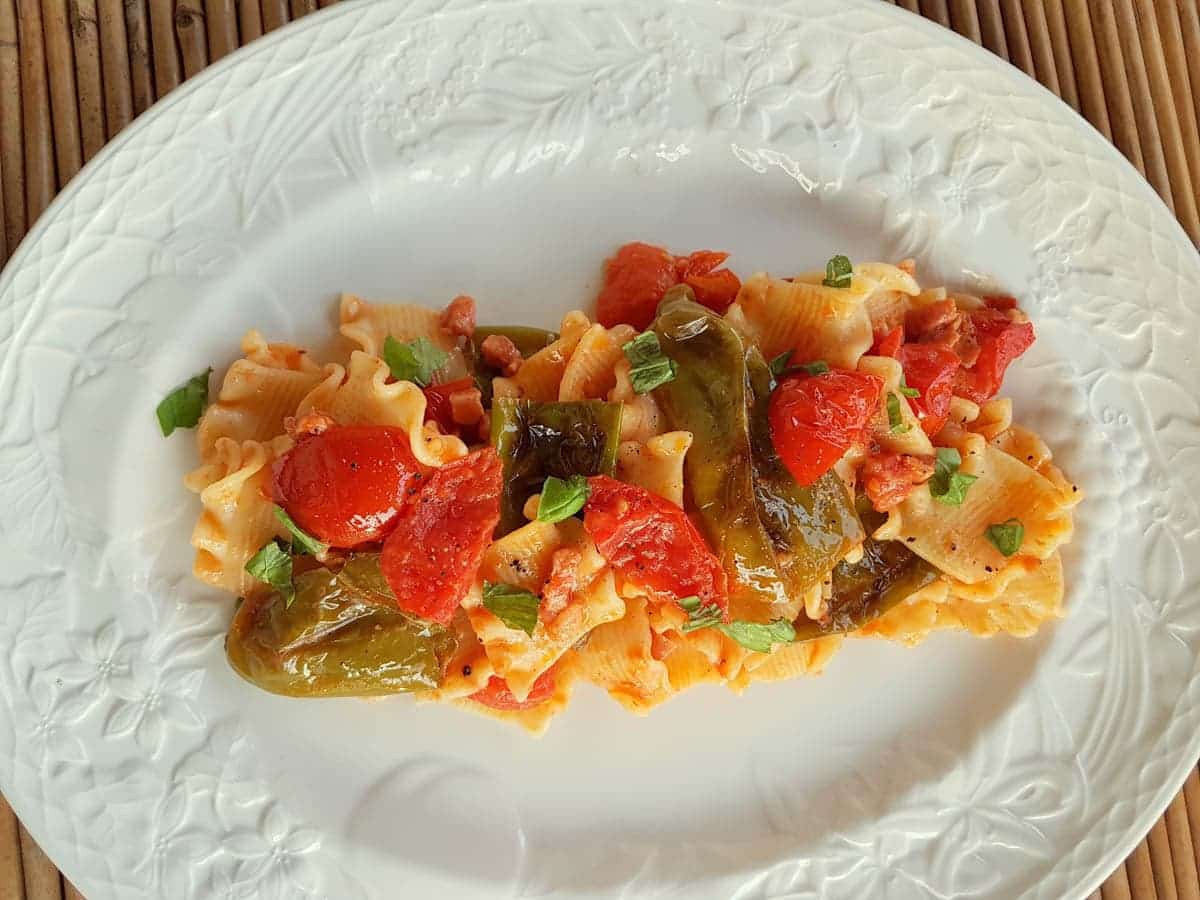 What are Friggitelli Peppers?
Friggitelli, which are also known as friarelli, are small sized, slender, mild flavored, south Italian peppers that are great for frying. In fact the word 'friggitelli' comes from the Italian verb friggere, to fry. In English, they may be called sweet Italian peppers or Tuscan peppers. They are similar to Spanish padrón peppers.
Friggitelli are popular in Central and Southern Italy and are often served as a side dish cooked with other vegetables such as tomatoes, eggplant, potatoes or bell peppers. However, traditionally they are just fried whole with the stems so that people can hold the stem and eat them with their hands.
These little green peppers are also used in a number of pasta dishes, normally vegetarian or with meat such as sausage, prosciutto or, like this recipe, with the addition of pancetta. Some people also serve pasta with friggitelli and seafood, particularly mussels.
Ingredient Notes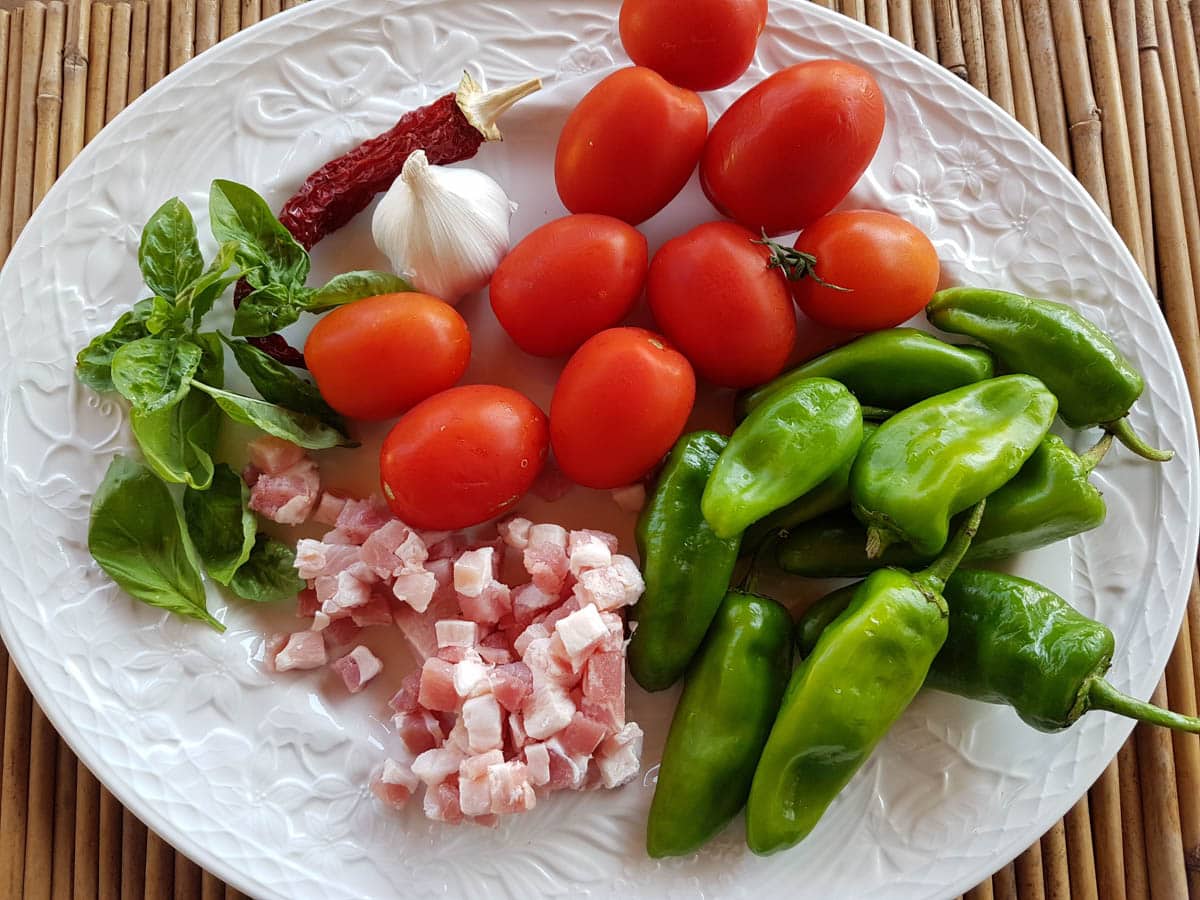 Pasta: This recipe works great with a short pasta like biricci, paccheri, short maltagliati or penne. Remember to cook your pasta al dente, which is tender yet slightly firm to the bite. This will give your pasta the perfect texture and make your meal even more delightful!
Peppers: I used friggitelli peppers, which can be harder to source outside of Italy. Other slightly sweet and fruity peppers are great alternatives, like Spanish padrón peppers or Japanese shishito peppers.
Pancetta: Opt for unsmoked pancetta, which is often available in convenient pre-diced lardons or thick slabs. If you have trouble finding pancetta, don't worry - you can easily substitute it with unsmoked bacon lardons.
Garlic: Look for firm garlic with intact skin and no dark spots. The fresh garlic will add a delicious, aromatic flavor that infuses the entire dish.
Tomatoes: Datterini and cherry tomatoes work great for this recipe. Select a ripe, firm tomato for the best results.
Olive oil: Use good-quality extra virgin olive oil; this will add much more flavor than regular cooking oils.
Basil: To make your dish extra vibrant and flavorful, use fresh basil instead of dried.
Step by Step Instructions
1) Wash and dry the friggitelli peppers, then cut off the top part with the stem and remove as many seeds as possible.
2) Fry the peppers in a skillet or frying pan with 2 tablespoons of olive oil and a peeled whole clove of garlic, salt and pepper.
Note: These peppers have very thin skins and don't take long to cook. Be careful not to burn them. You want them soft and slightly browned.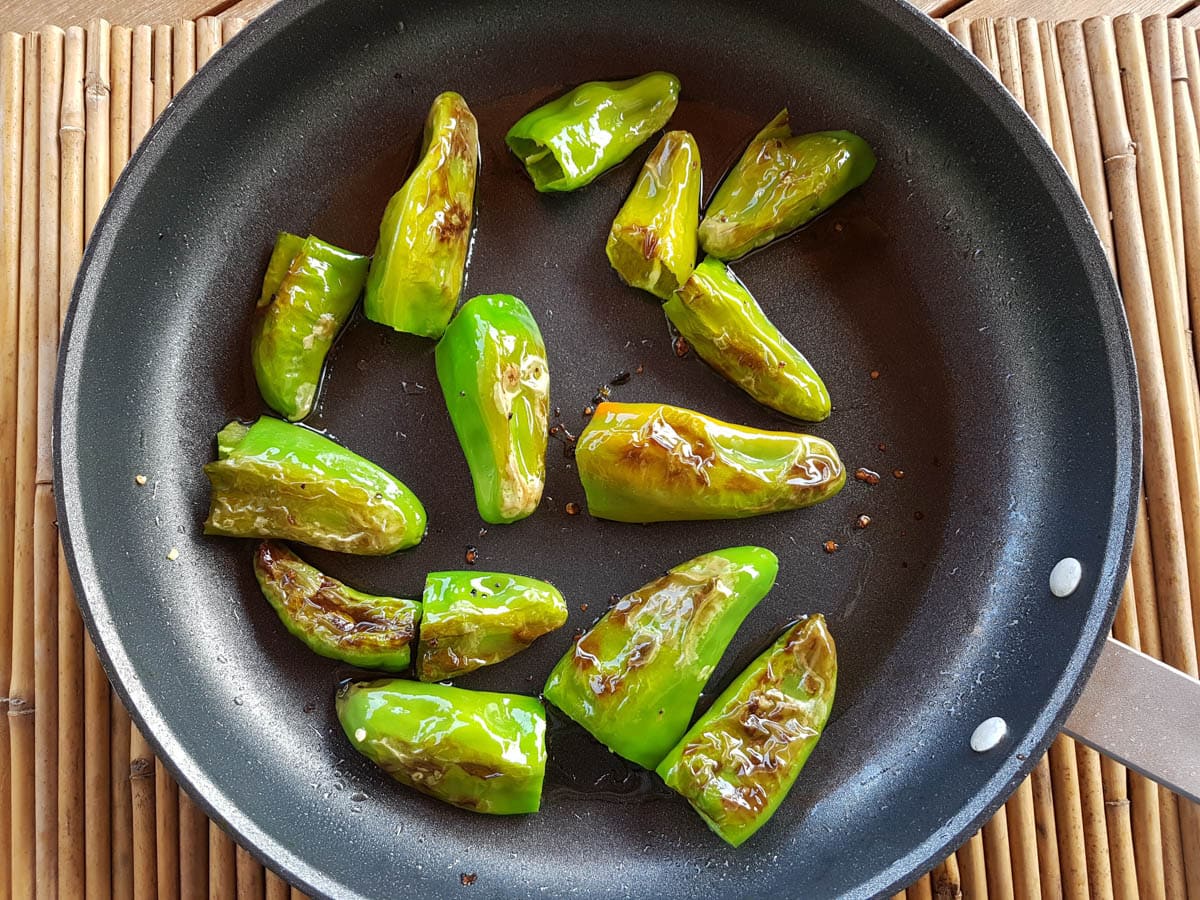 3) When the friggitelli are soft and lightly brown, remove them and the garlic clove from the pan. Add a little more olive oil and sauté the chopped garlic clove until softened.
4) Add the tomatoes, basil, a little water and salt to taste, then simmer for 15-20 minutes. Add the friggitelli peppers to the sauce.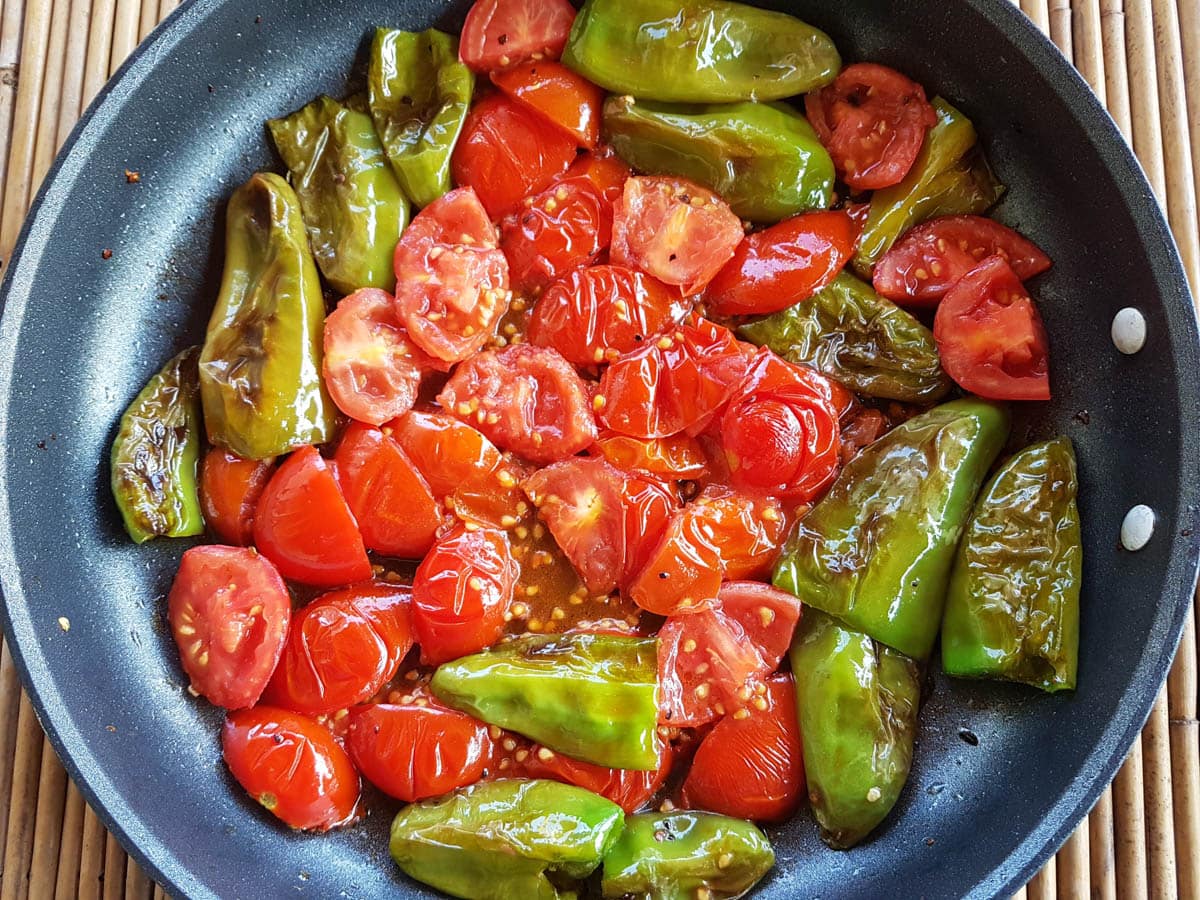 5) In a separate pan over medium-high heat, fry the pancetta cubes until browned, then add to the sauce.
6) Meanwhile, bring a large pot of water to a boil. Add salt and bring to a boil again. Add the pasta and cook until al dente. Take a cup of the pasta water and place it to the side. Then strain the pasta in a colander.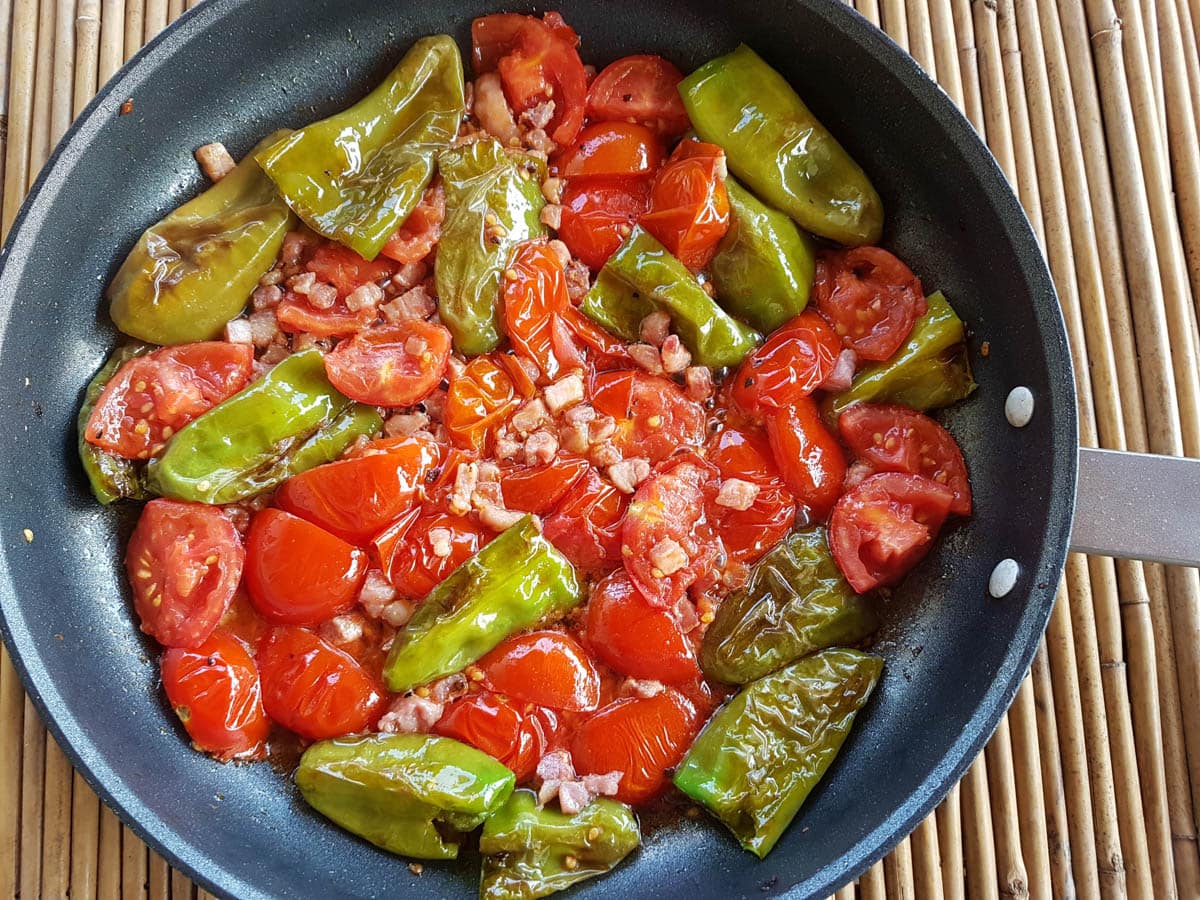 7) Mix in the pasta to the pepper sauce. If the pasta seems dry add some of the saved pasta cooking water and stir well. Serve with a sprinkling of chopped fresh basil.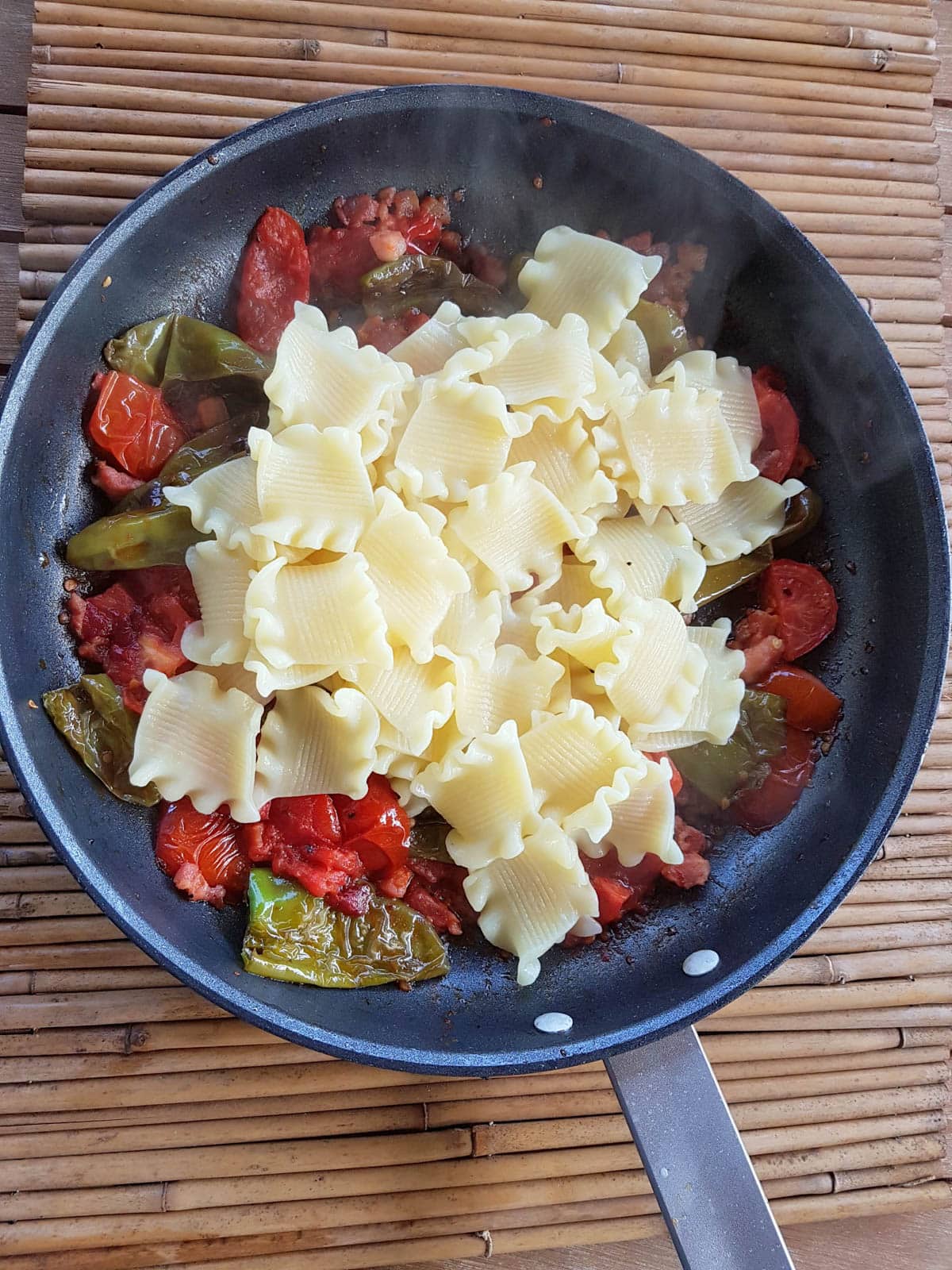 Serving: You can also serve this pasta with grated Parmigiano Reggiano and or some peperoncino flakes (dried red chili pepper). In Southern Italy it is very common to add dried peperoncino to dishes before eating.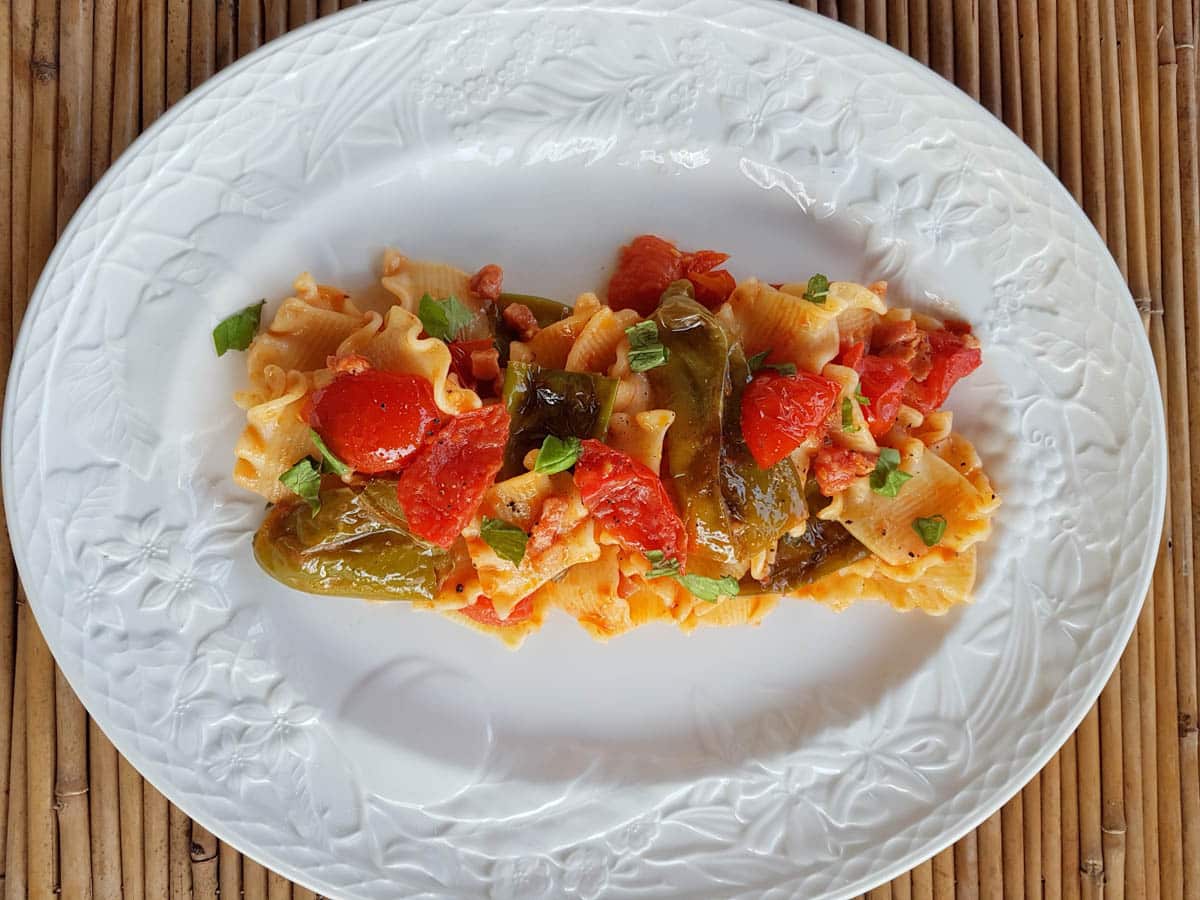 Storage and Leftovers
To store the friggitelli pepper pasta, transfer it into a clean, dry, airtight container and place it in the refrigerator. The dish can be stored and enjoyed for up to 3 days.
To reheat the pasta, place it in a microwave-safe container and cover it with a microwave-safe lid or plastic wrap. Reheat on medium power for 2 to 2 ½ minutes, stirring halfway through to ensure even heating.
FAQs
What do Friggitelli peppers taste like?
Friggitelli peppers have a slightly sweet and fruity flavor with a slight hint of spiciness. They work well enhancing other ingredients, like the pancetta and tomatoes used in this pasta recipe.
Are Friggitelli peppers hot?
Friggitelli peppers are not considered hot peppers. They have a mild heat level, ranking between 100 and 500 on the Scoville scale.
What color are Friggitelli peppers?
Friggitelli peppers are green when they are young and immature. As they ripen, they change color to a yellow, orange, or red hue. However, they are most commonly harvested and used in their green stage.
I hope you'll try this friggitelli pepper pasta recipe and if you do, please let me know how it turned out. I'd love to hear from you, either here in the comments section or on The Pasta Project Facebook page.
Buon appetito!
This recipe was originally published in 2017 but has recently been updated. 
More recipes you may like:
Pin for later: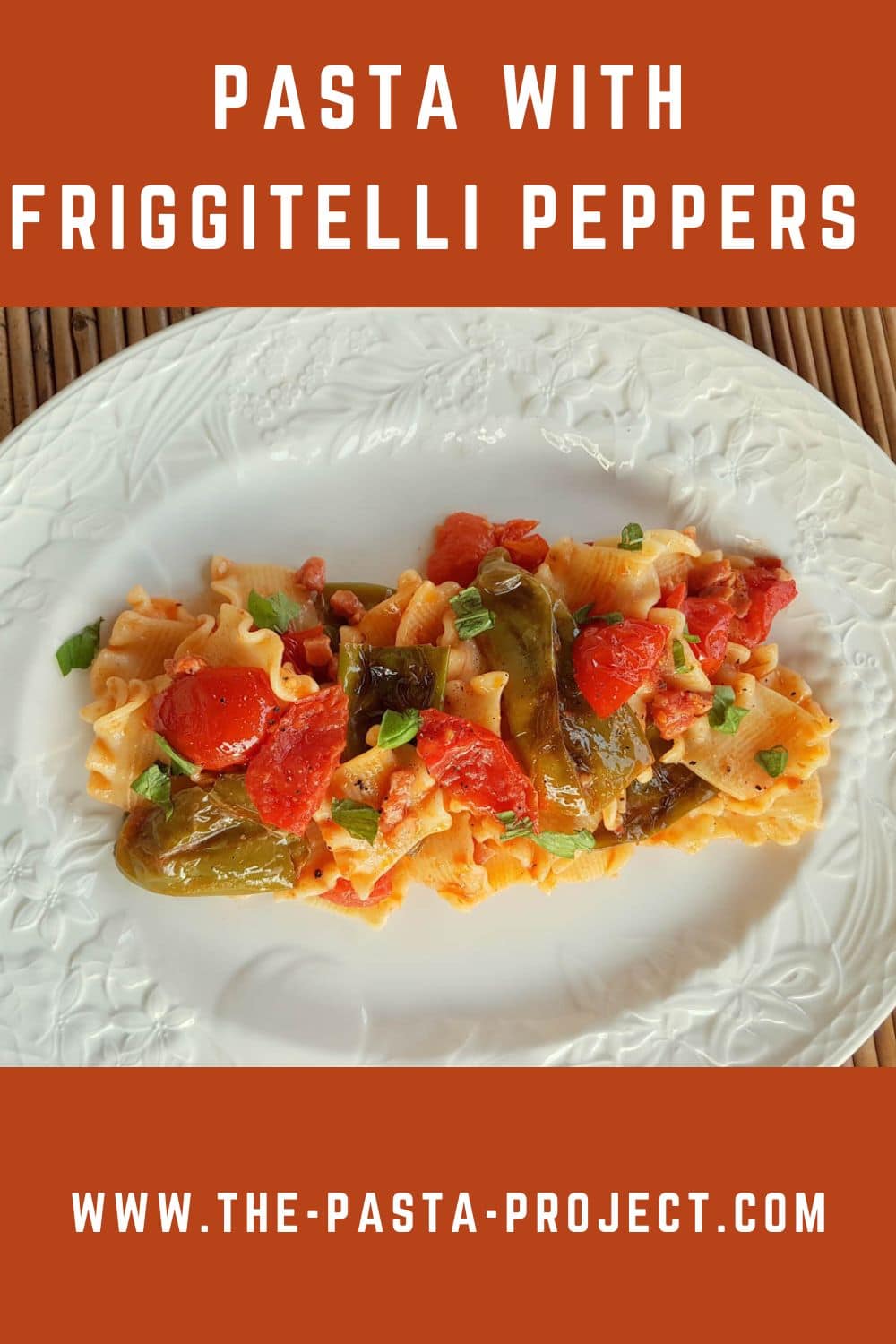 If you are interested in learning how to make homemade pasta and different types of gnocchi, check out my shop page for some great video online courses from my friends in Rome! Nothing beats learning to make pasta from Italians! Plus while you're there why not order a copy of one of my seasonal pasta recipes cookbook!?