Spaghetti all'Ascolana is an easy to make olive and tuna spaghetti recipe from the Ascoli Piceno province in the Marche region of Italy. The star of this dish is the large green olives called Ascolana olives which the province is famous for. Of course, you can use other types of large green olives.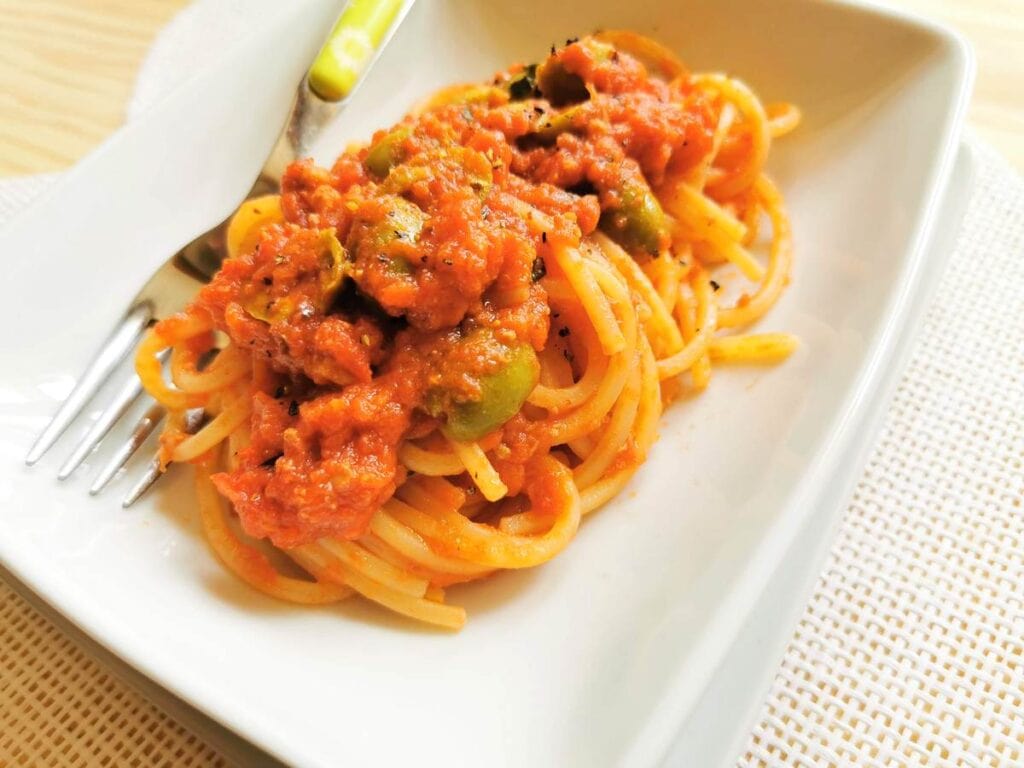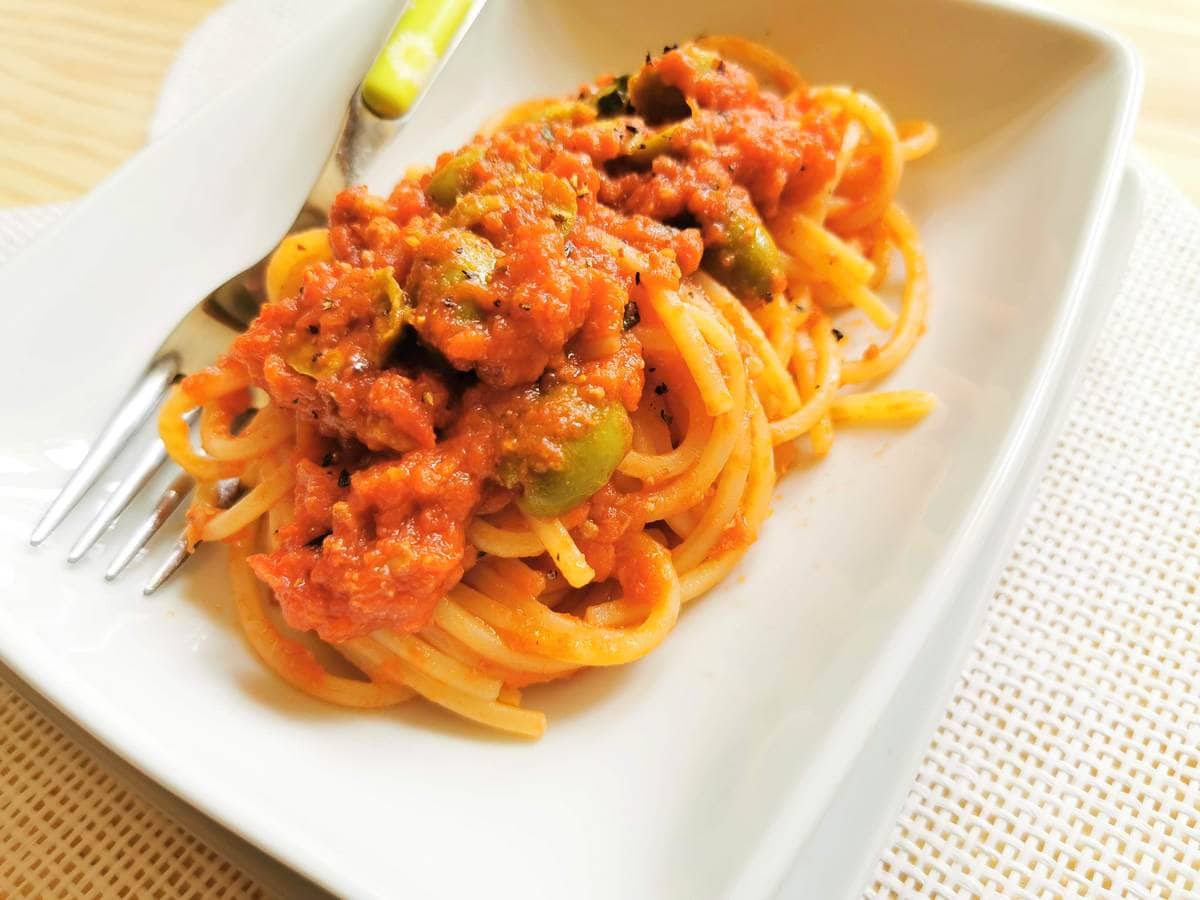 Where is Marche?
Marche (also called le Marche, meaning the marshes) is a region on the Adriatic coast in Central Italy. It's a beautiful region with lots of hills, mountains and 170kms of coastline. Definitely a part of Italy I would love to live in! Marche is particularly special because it isn't very touristy. Some people call it the next Tuscany, but so far most of those who have enjoyed what this region has to offer are Italians.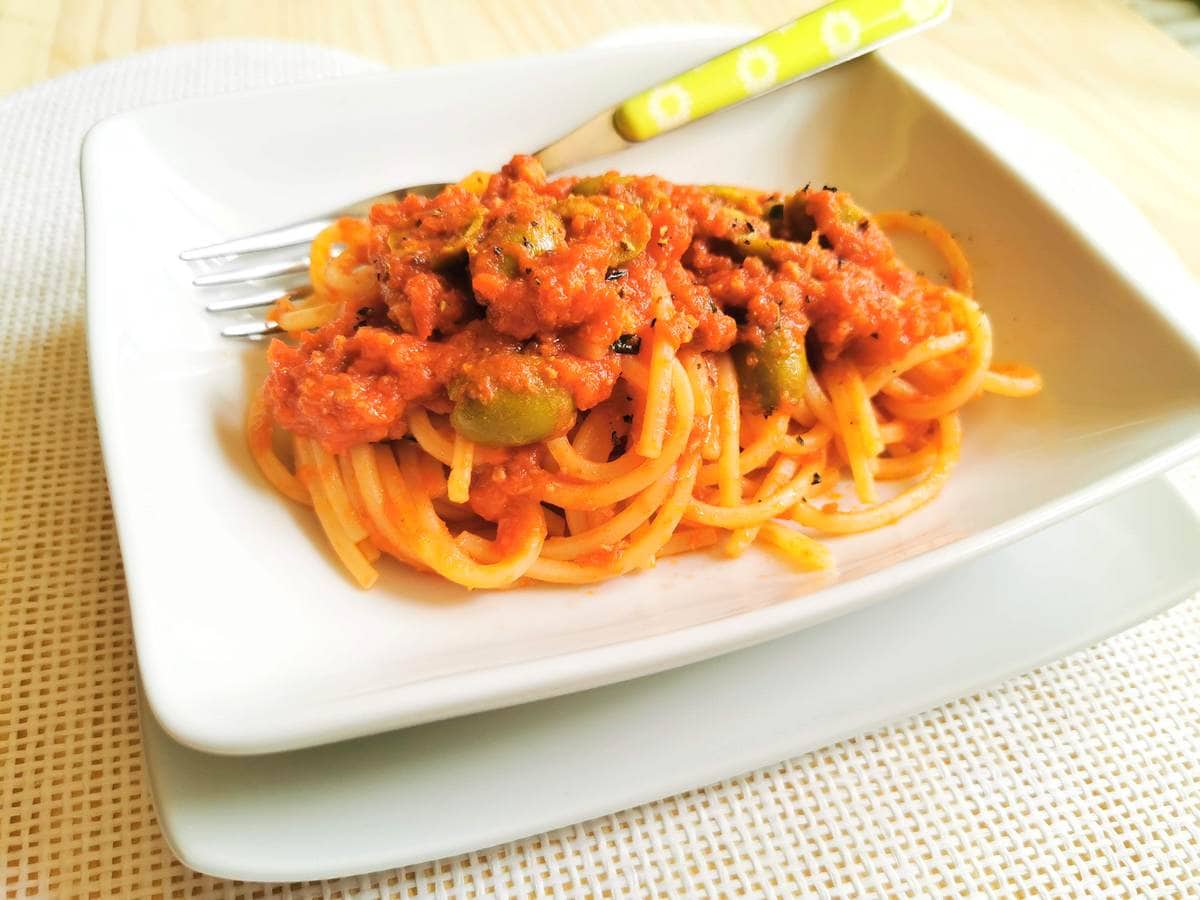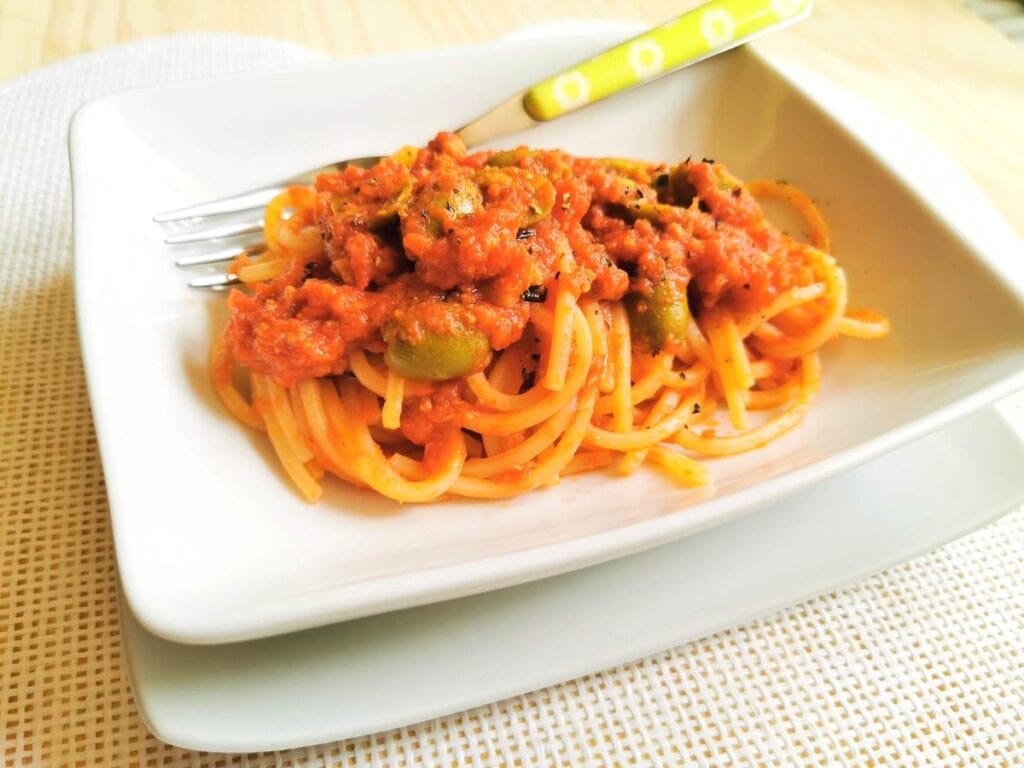 Like all Italian regions, Le Marche is famous for particular produce and products. There are types of pasta only made there, like maccheroncini di Campofilone or eggless tagliolini known as hairy tagliolini (tajuli pelusi in the the local dialect). There are also wines and types of cheese, prosciutto, other salumi, legumes and potatoes specific to the region.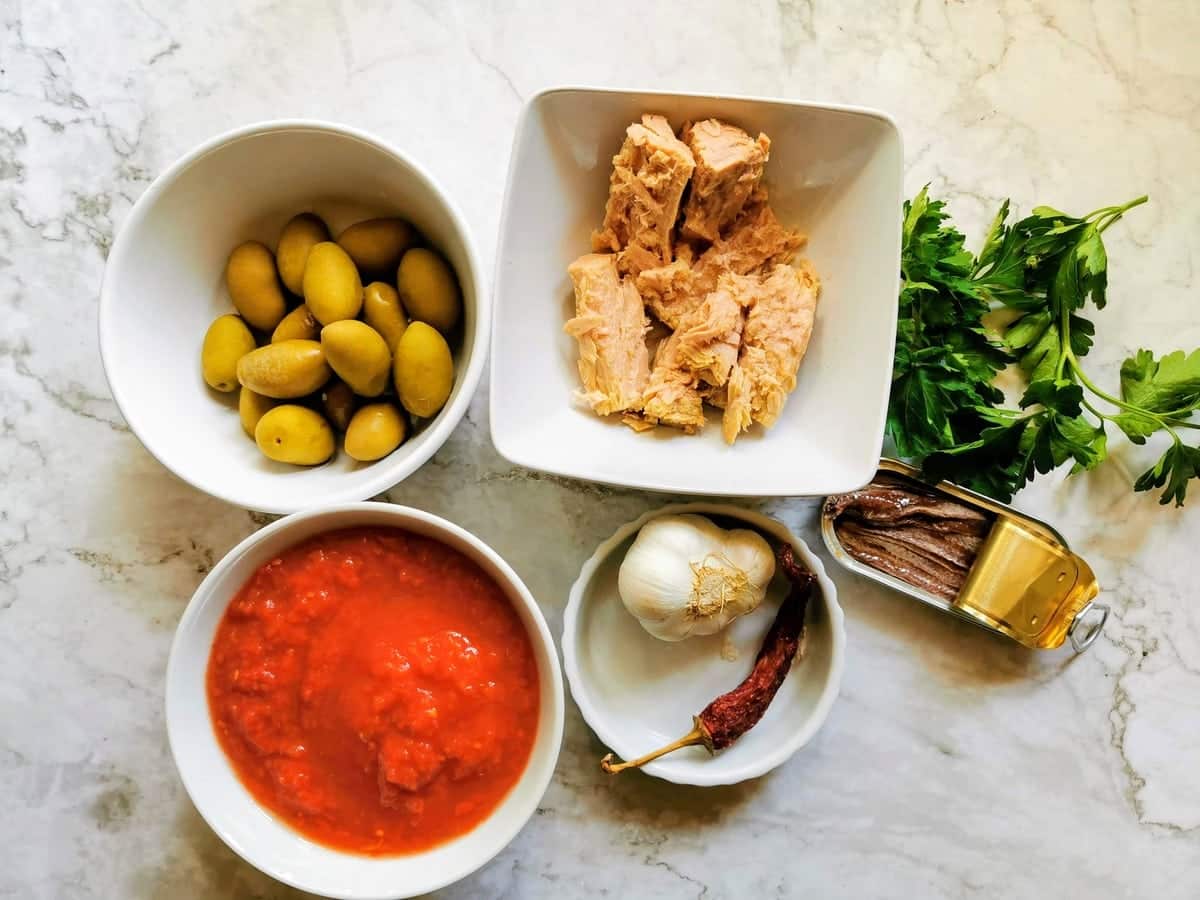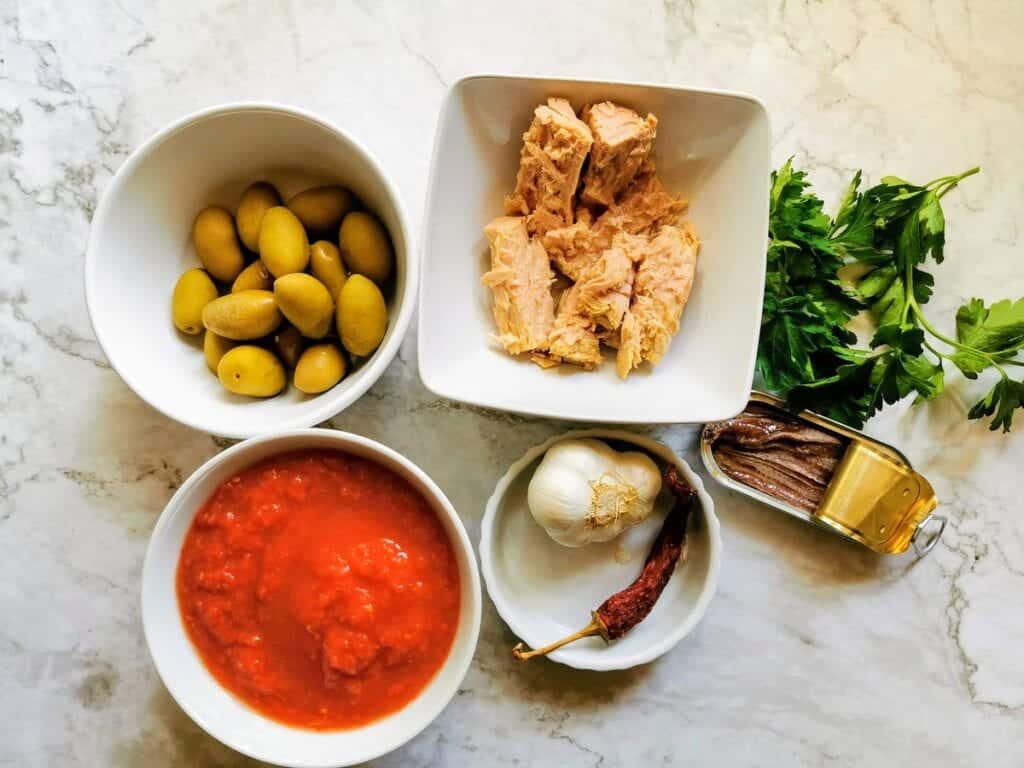 Ascolana olives.
However, the most widely known produce from this part of Italy has to be the green olives from Ascoli Piceno. Known as Ascolana olives this olive cultivar is grown in Marche and Tuscany. Apparently, you can also find it in California, where they cultivate it for olive oil!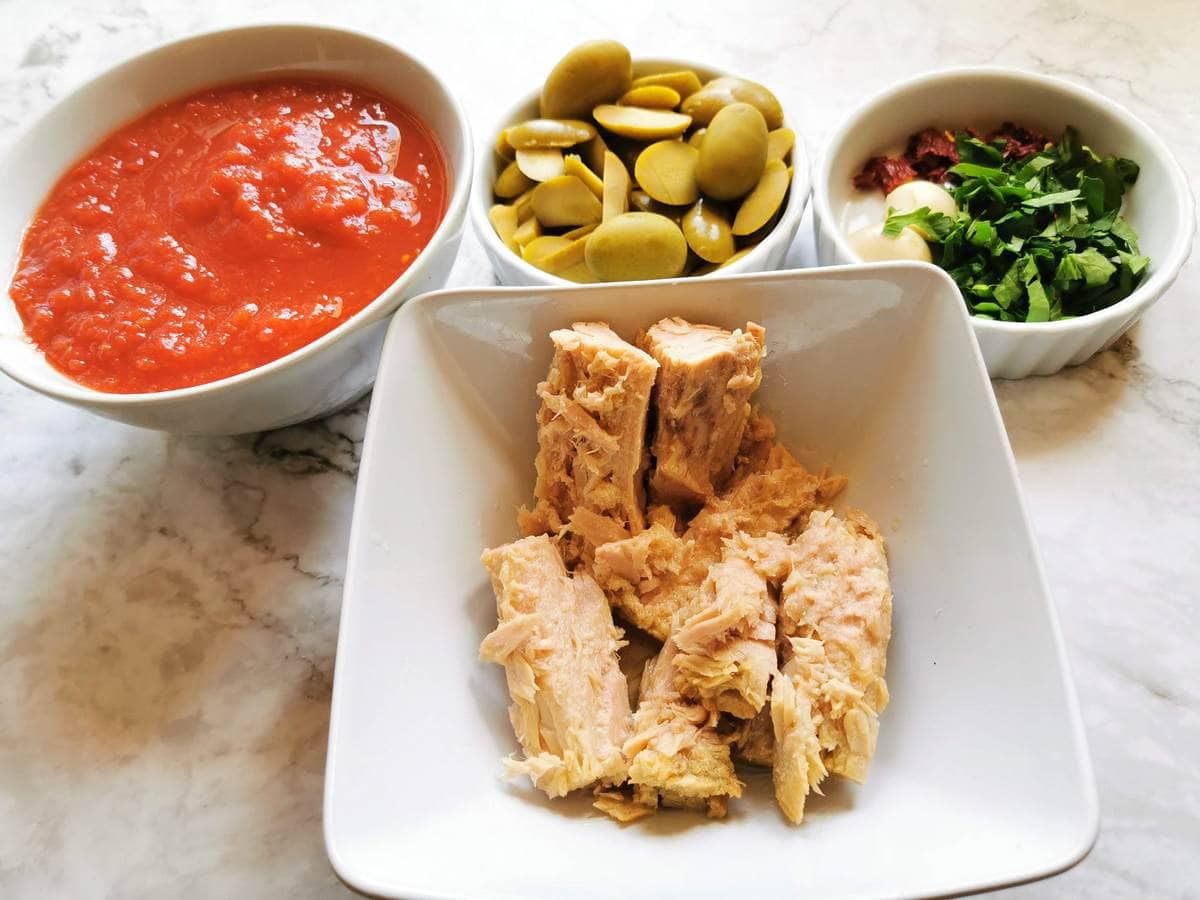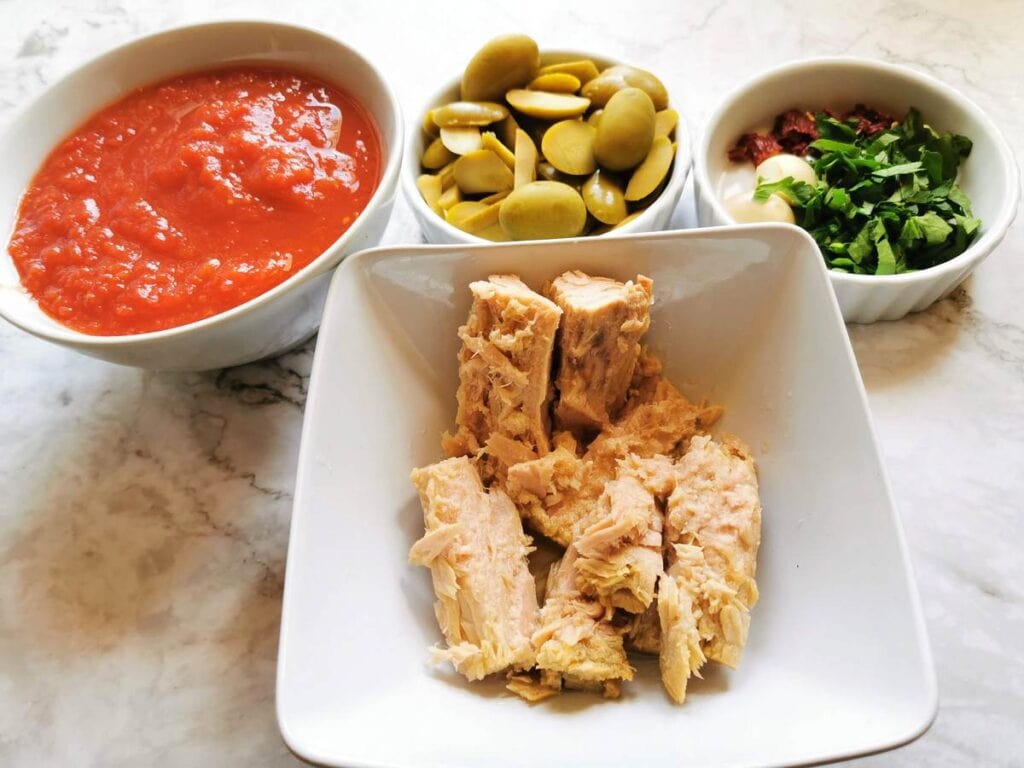 The most famous dish the Marchigiani make with Ascolana olives is an appetizer of stuffed and deep-fried olives known as olive all'ascolana. The stuffing is usually meat and was originally meat leftover from parties and celebrations! Interestingly, this appetizer was invented around 1800 and American food writer, Mimi Sheraton, featured it in her 2015 book 1,000 foods to eat before you die!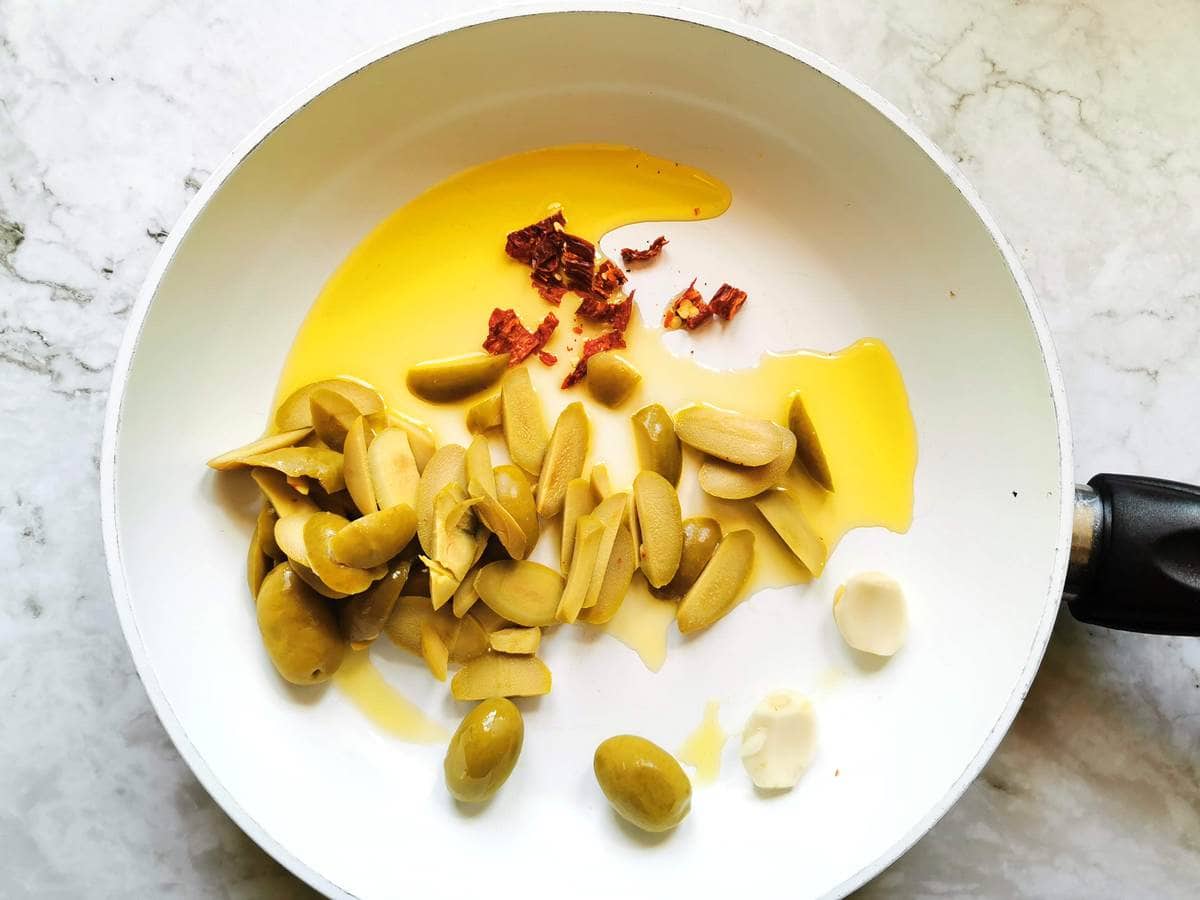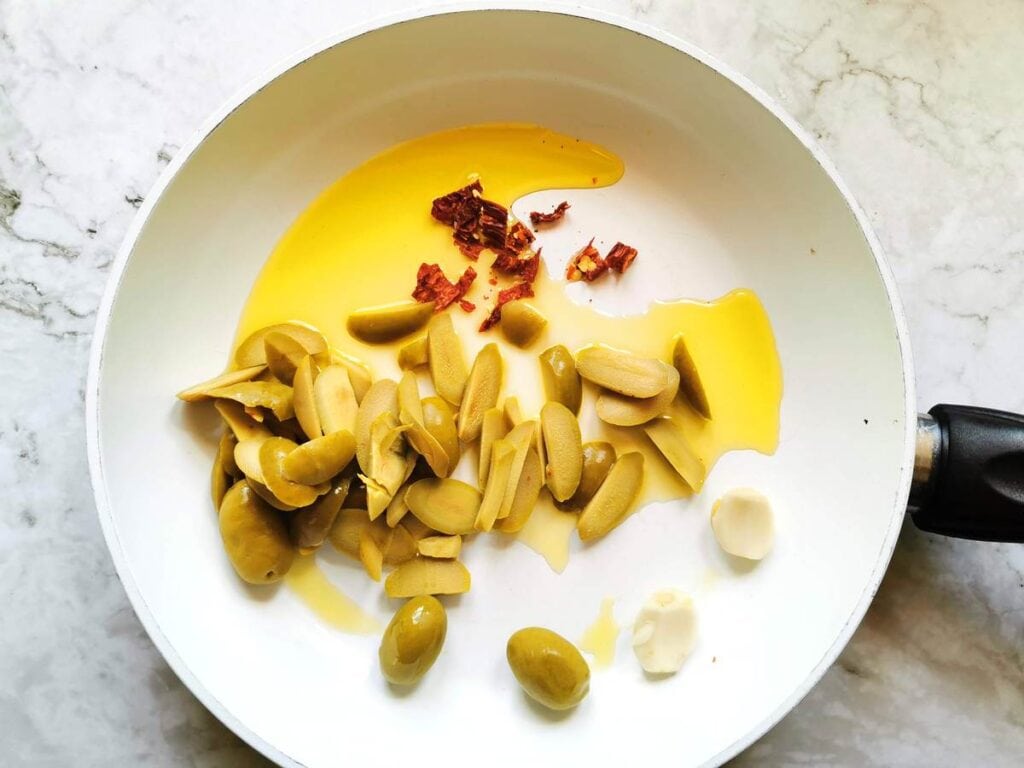 Of course, deep fried isn't the only way locals use Ascolana olives. They add them to other vegetables in side dishes, they add them to a type of focaccia called 'il chichiripieno' and to a soup made with chickling vetch (cicerchia). Plus of course these olives are used in meat dishes and in pasta sauces. The most well known of the latter is this olive and tuna spaghetti.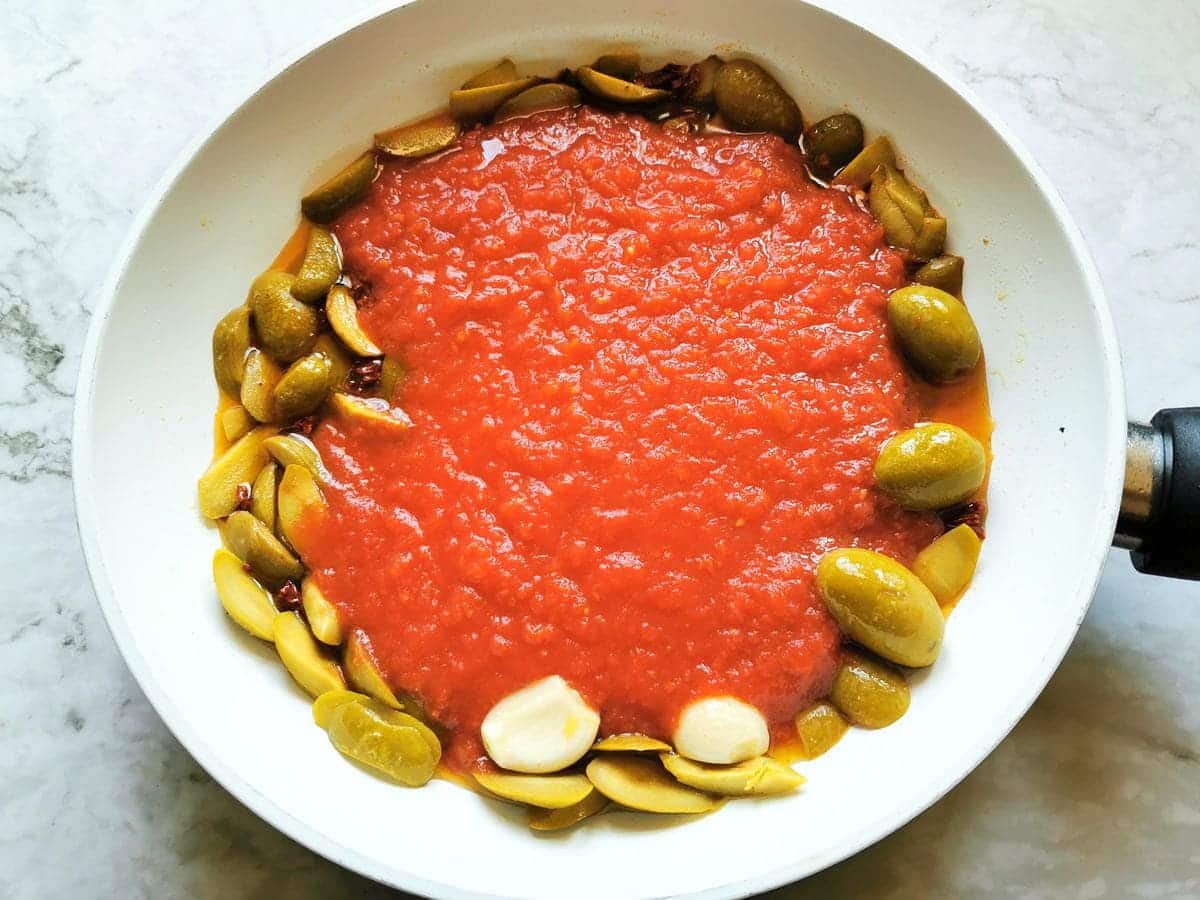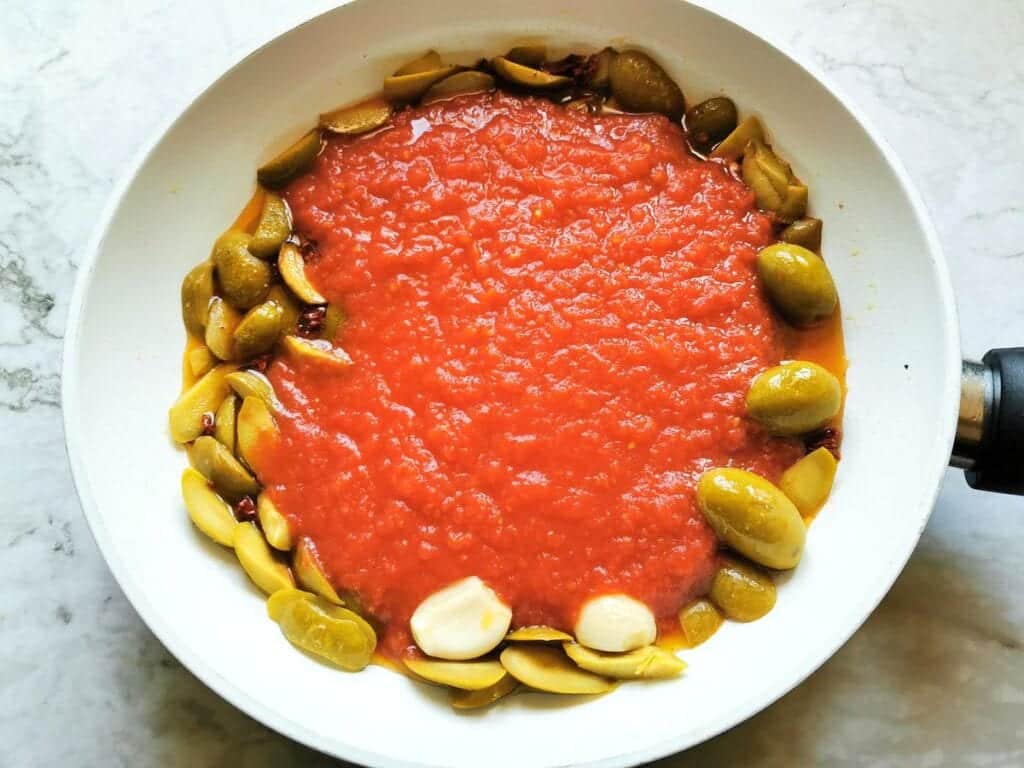 A recipe for days of abstinence and midnight!
Italians often refer to recipes like this spaghetti all'Ascolana as a 'piatto di magro', meaning lean dish. Lean dishes are those that they eat on days of abstinence like during Lent or on Christmas Eve. In fact, there's even a category of recipes referred to as 'la cucina di magro'. These dishes are mostly all meatless except for the use of capons to make broth.
When fasting for Lent, Italians mostly eat dried fish like baccala, canned tuna or anchovies, lots of soups with legumes and pulses and plenty of pasta dishes. One of the most famous of the latter is spaghetti alla colatura di alici (with Italian fish sauce).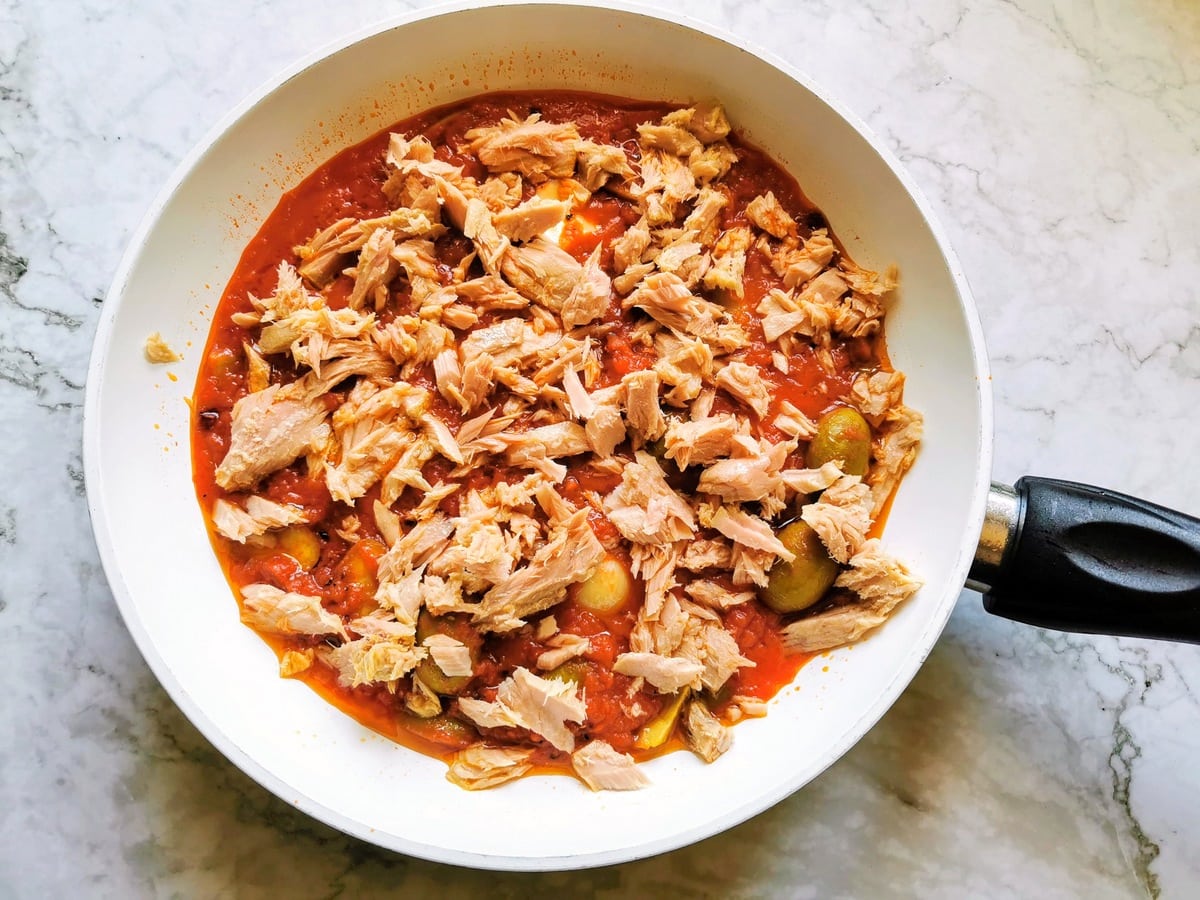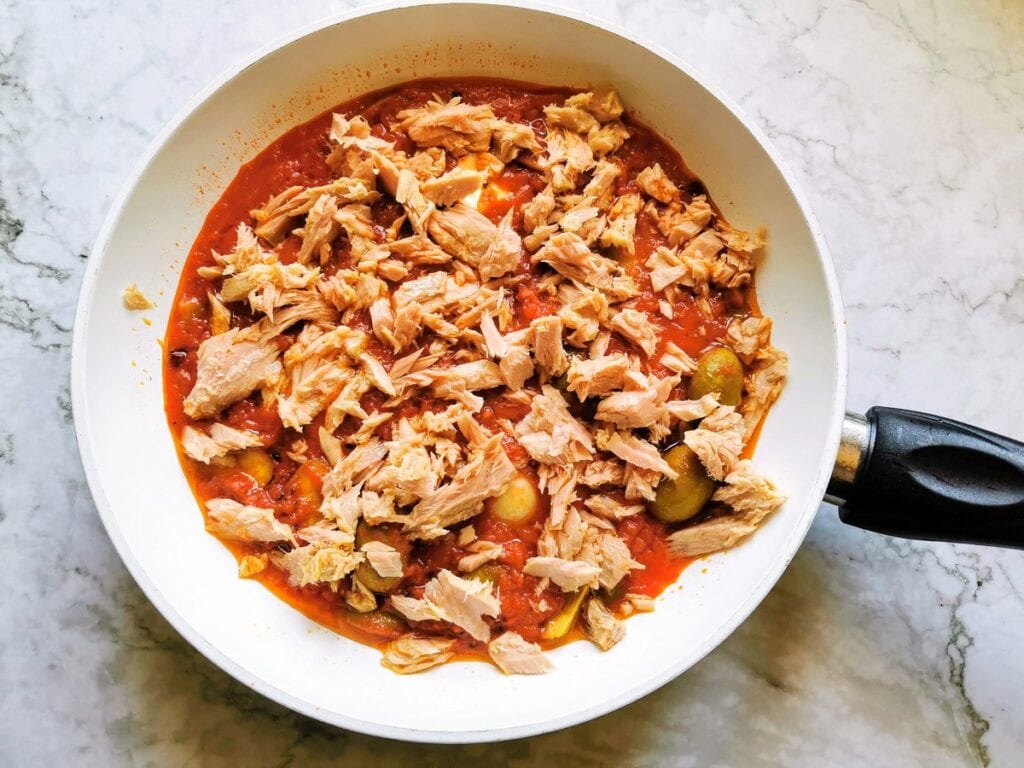 When researching versions of this olive and tuna spaghetti, I also came across the expression 'spaghetti di mezzanotte' meaning midnight spaghetti. As I am sure you can imagine, this refers to spaghetti recipes that can be whipped up quickly when hunger strikes at midnight.
Our spaghetti di mezzanotte is usually 'aglio, olio, peperoncino' or 'alla puttanesca'. However, after making this recipe, I think it will become another contender for late night forays into the kitchen. It's really easy to make and the ingredients are pantry staples.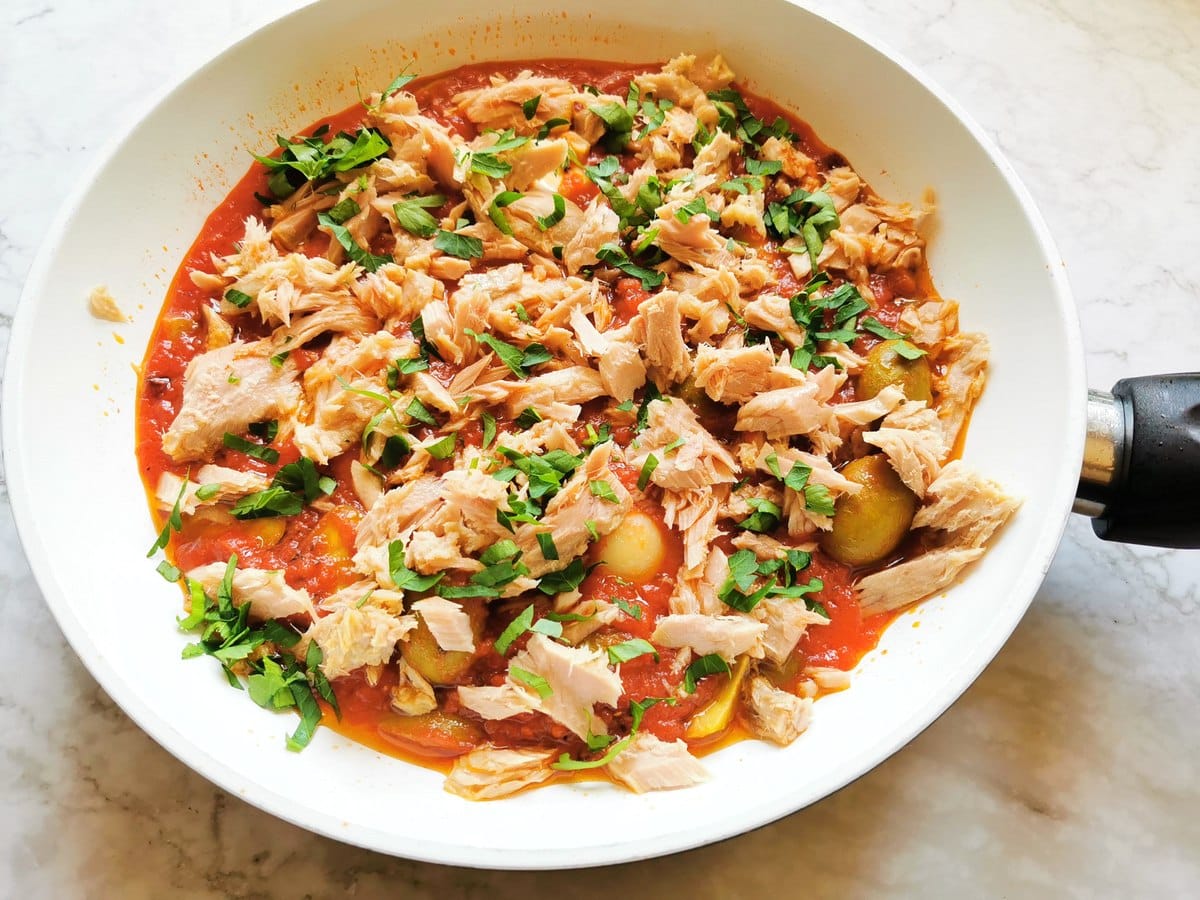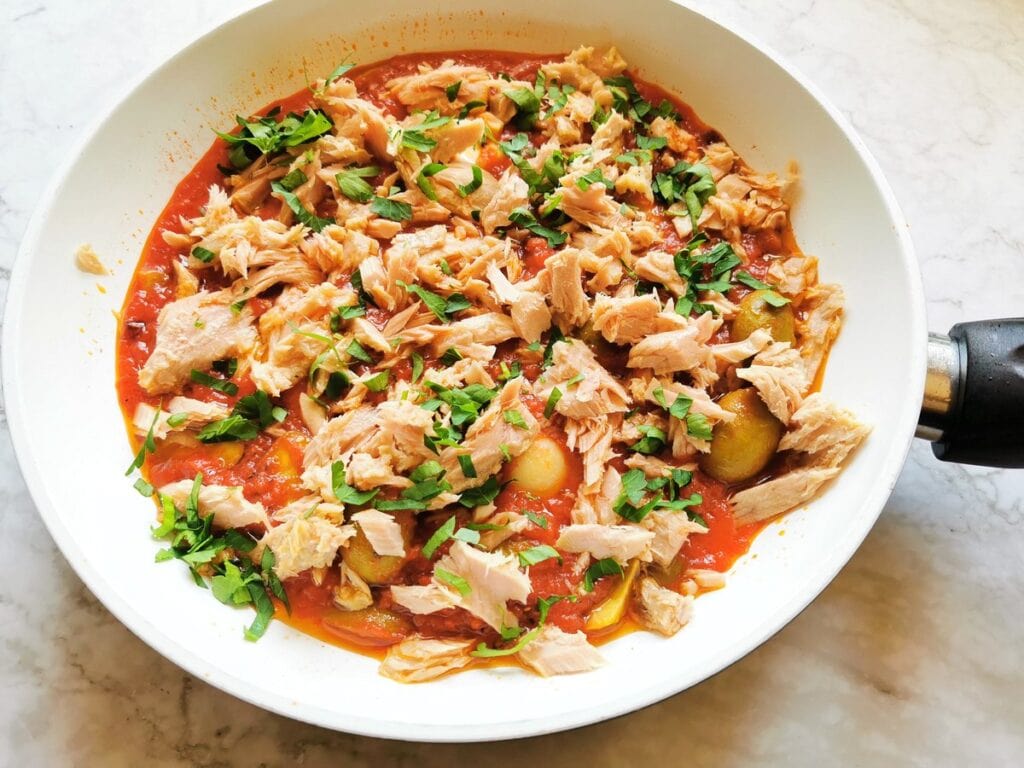 Other ingredients in spaghetti all'Ascolana.
As I mentioned above this recipe is pretty simple and easy to make. Apart from the spaghetti, canned tuna and olives, all you need is tomato passata (purée), garlic, anchovies, parsley and some peperoncino (red chilli pepper) for a bit of a kick. Leave the chilli out if you don't like spice.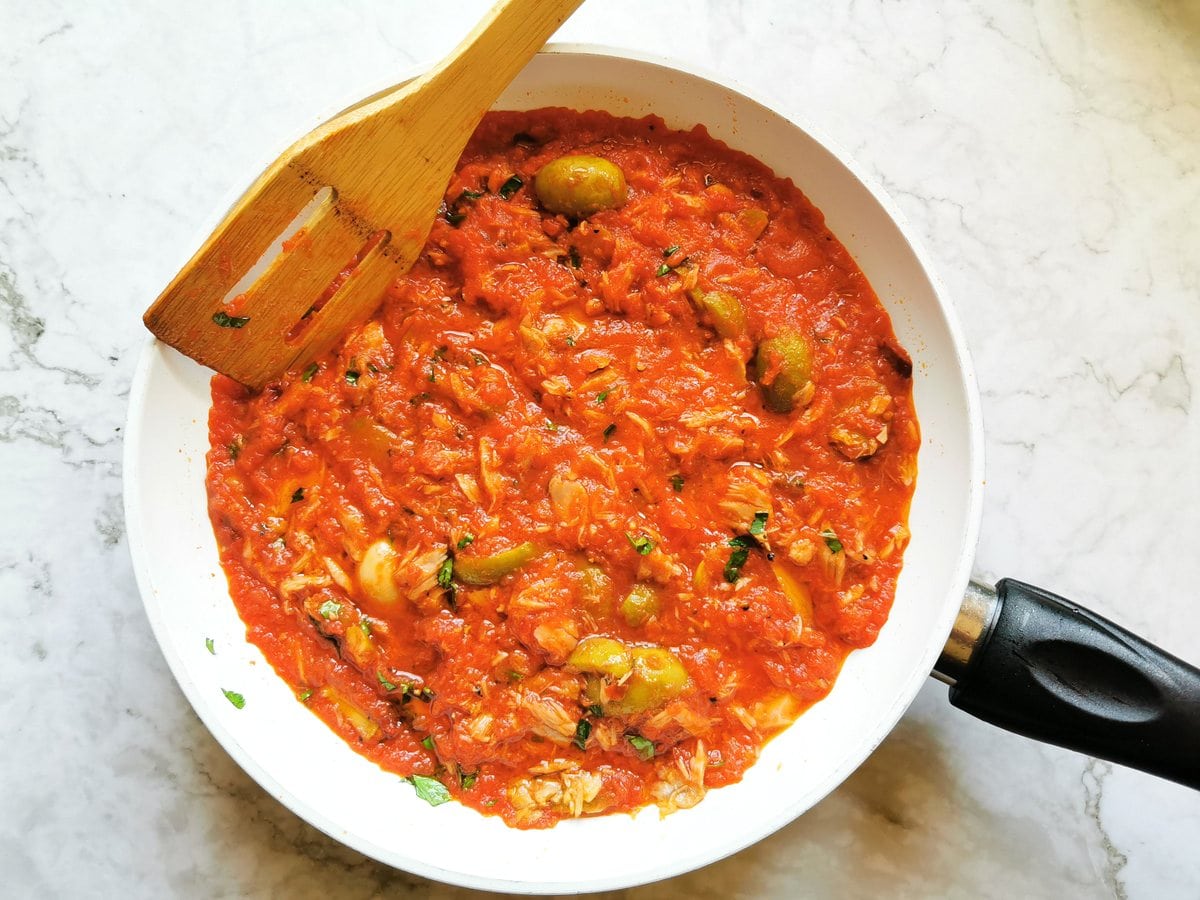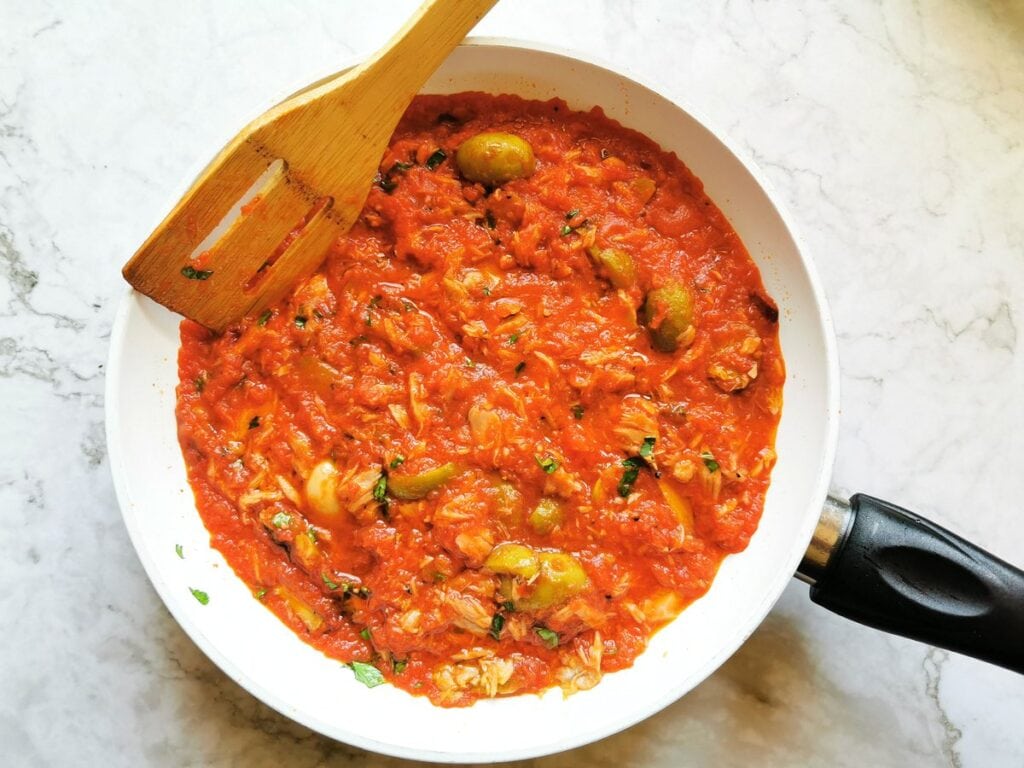 When cooking with canned tuna I often like to use oil packed tuna fillets. Like other canned tuna this can be found in jars or cans. It's a bit more expensive than the regular stuff but I think more flavourful. Use tuna that's been packed in olive oil not water or brine. Apparently, oil packed tuna has less sodium and you can use the oil in the can too. It's full of nutrients from the tuna.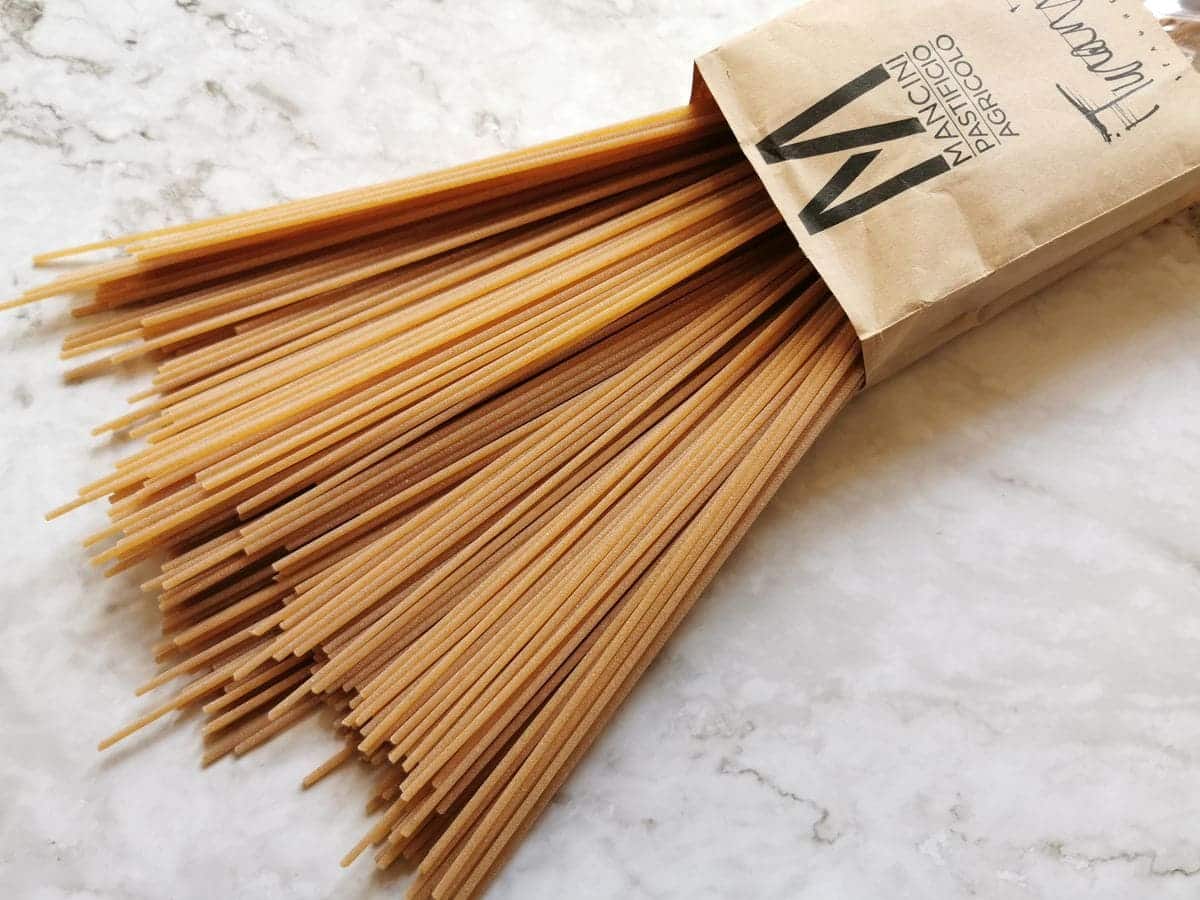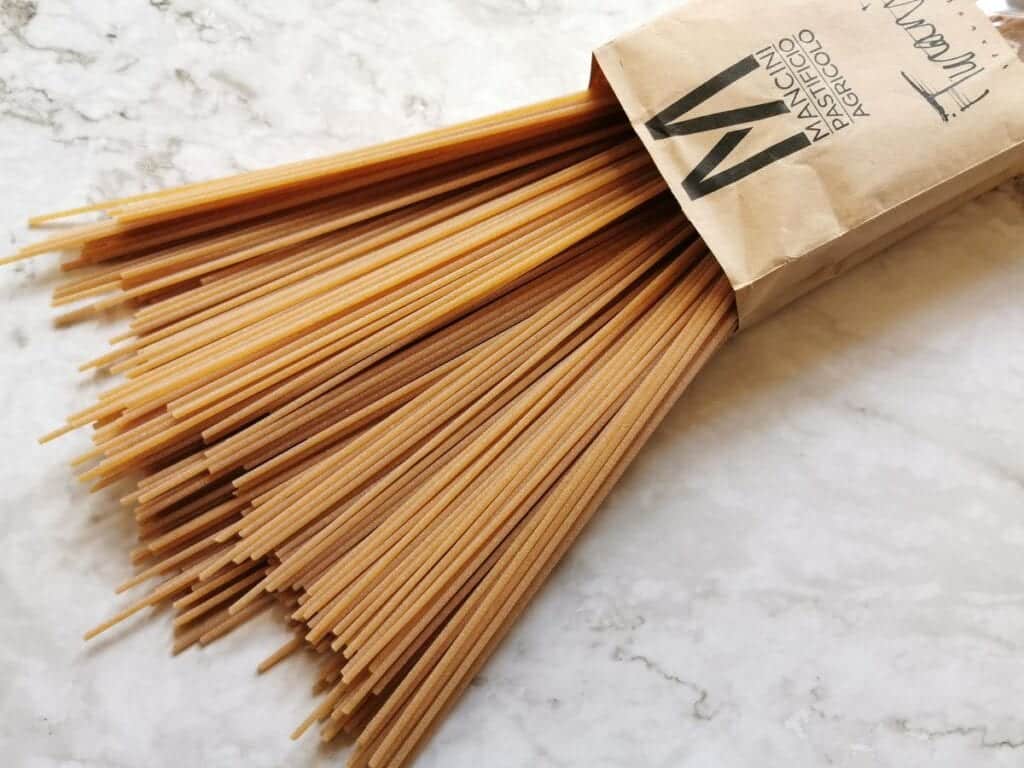 The pasta.
Traditional pasta all'Ascolana is made with spaghetti or bucatini. However, I've seen recipes with ziti and penne as well. I used spaghetti from one of my favourite organic pasta makers, Mancini. This company is located in Marche, so I felt their spaghetti was a perfect combo for this Marchigiano recipe.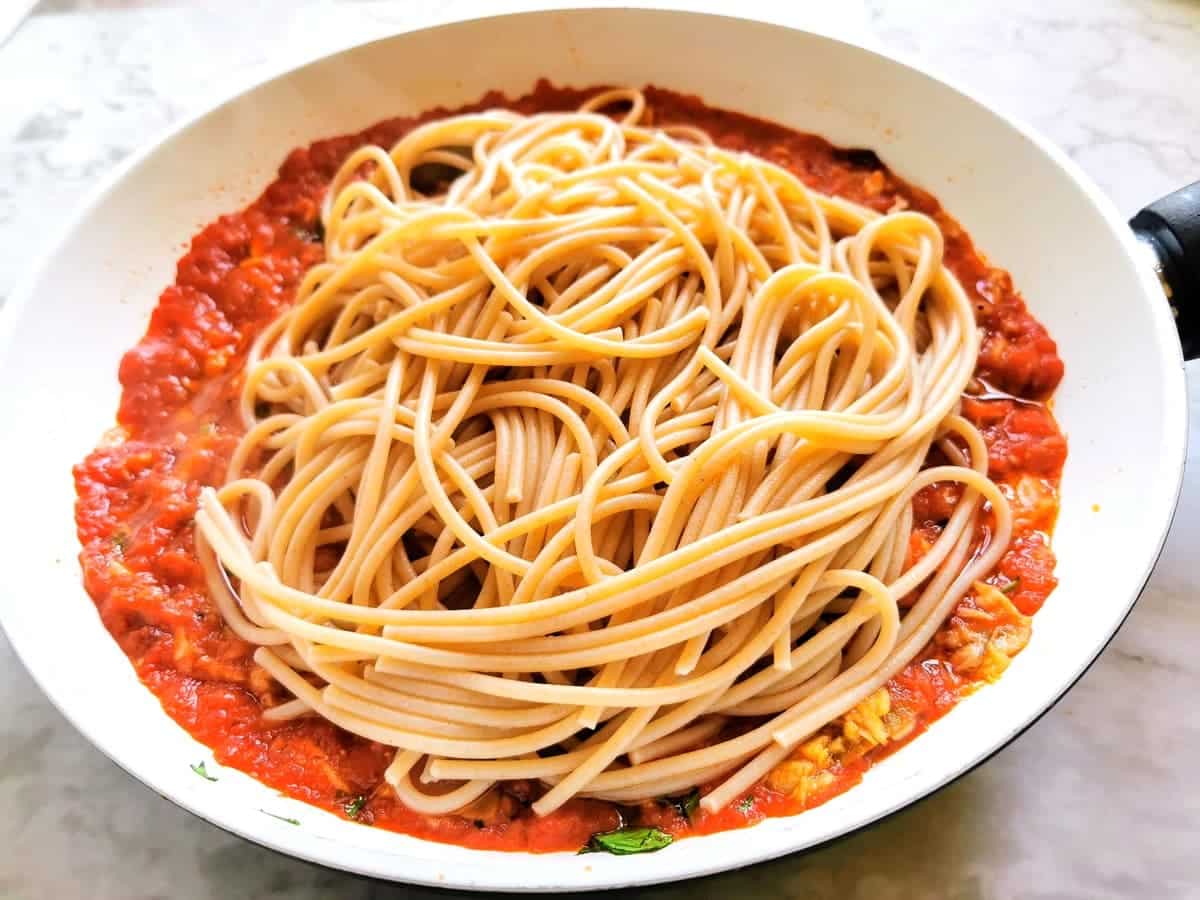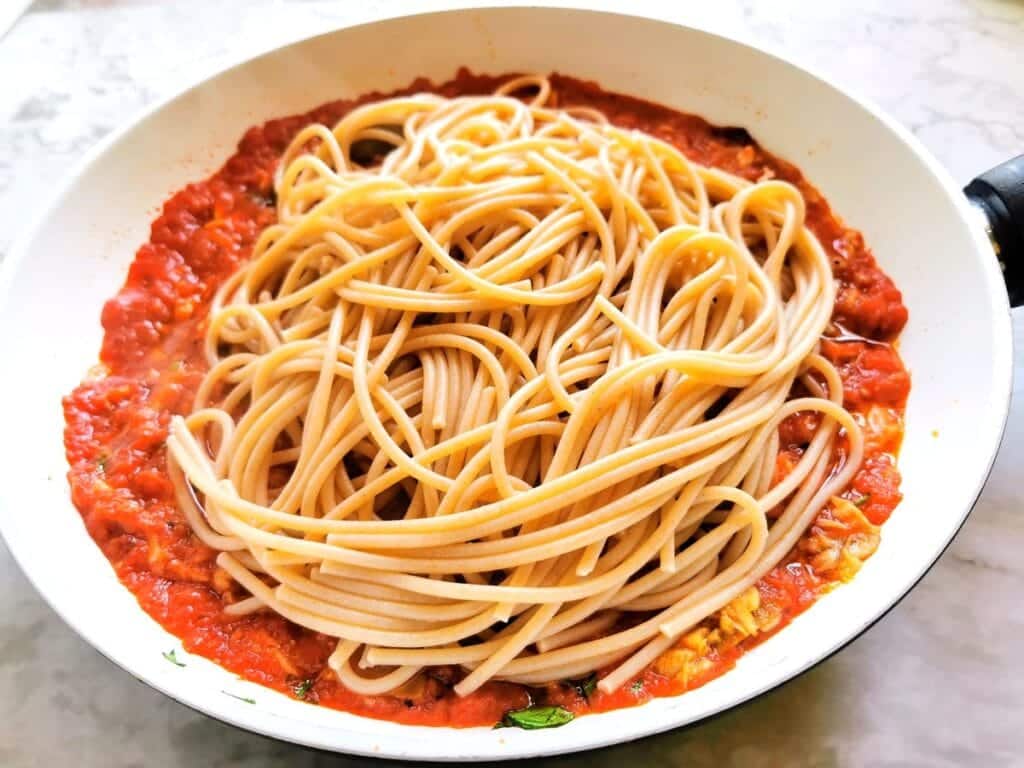 The spaghetti was made from Turanicum wheat, so it's a bit darker than traditional spaghetti. Although it lightens up in colour when cooked. Turanicum wheat is an organic heritage grain that's popular in Middle Eastern and Central Asian countries, where its called Khorasan. It's lower in gluten than the normal pasta wheat but not gluten free. However, it's rich in many essential nutrients including protein, dietary fibre and several B vitamins. It has a slightly nutty flavour which I really like!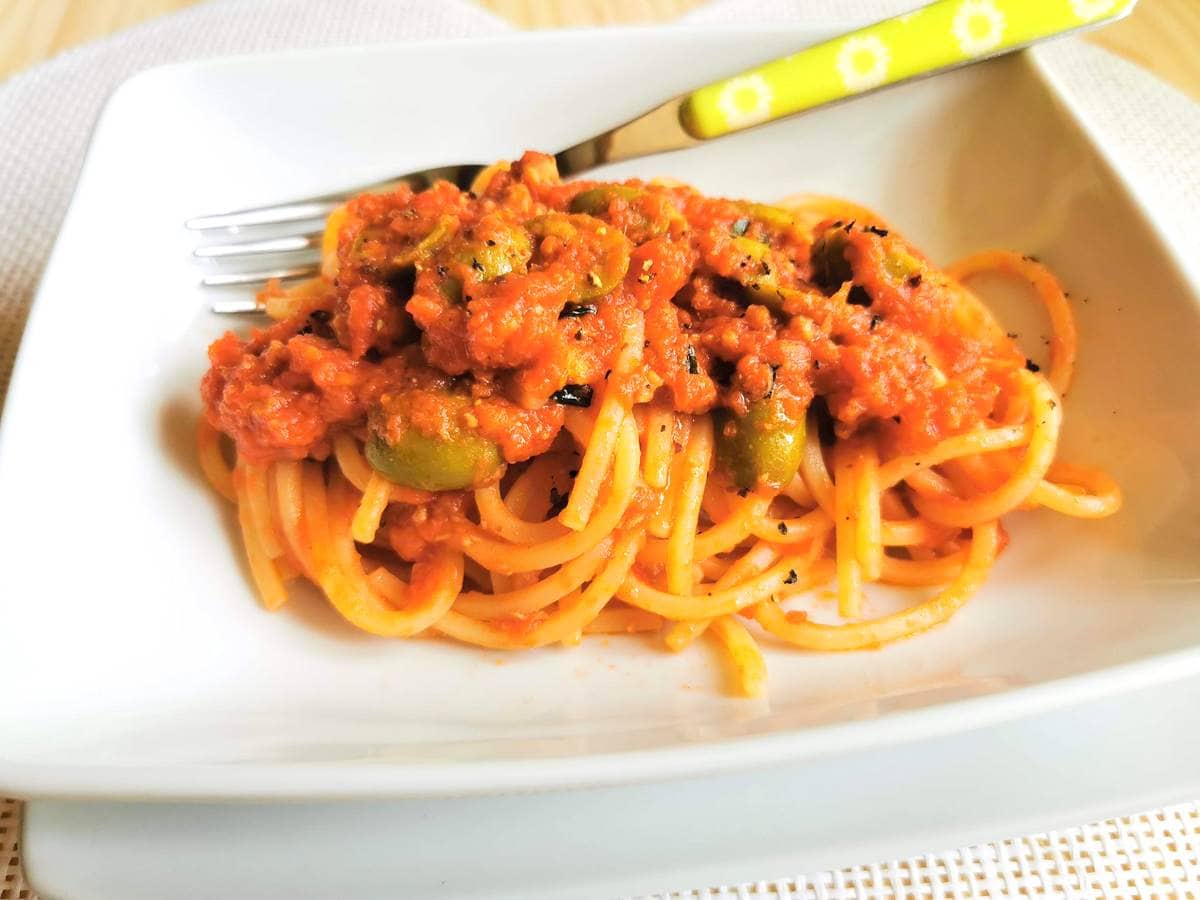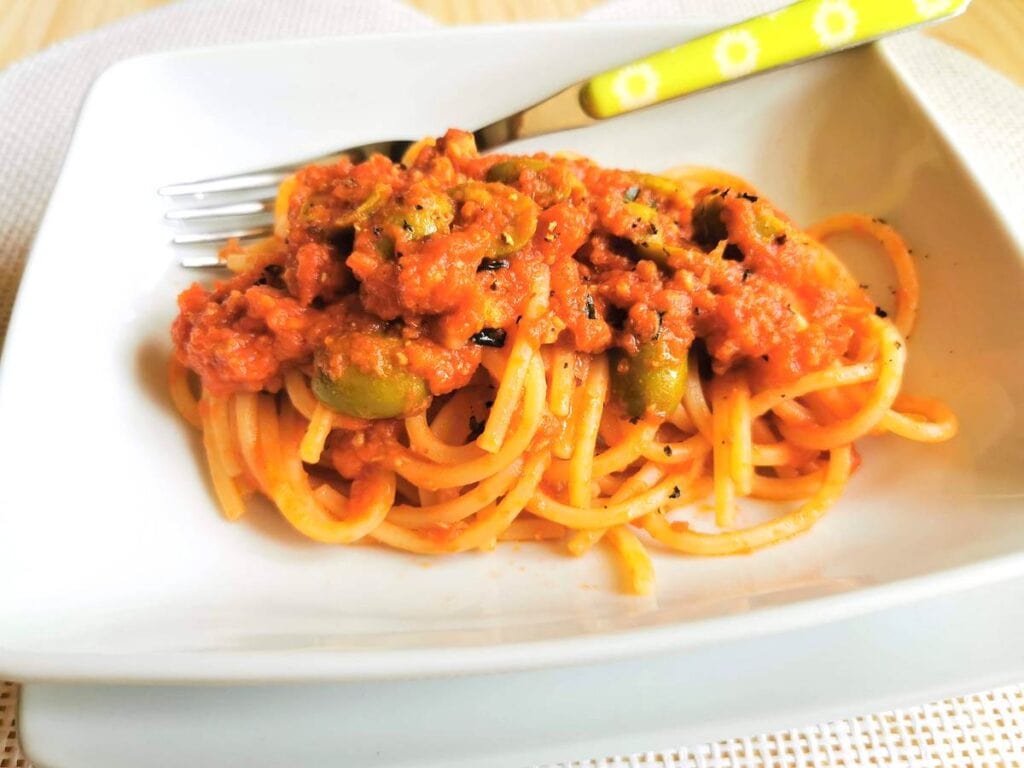 You can find out more about pasta Mancini in my post abut my visit to them.
Let me know what you think!
Whichever, kind of pasta you use for this olive and tuna spaghetti all'Ascolana, I'm sure you'll really enjoy this easy recipe. In fact, it could well become one of your midnight spaghettis too!
If you make this recipe I'd love to hear how it turns out and if you liked it. Please leave a comment here on the blog or on The Pasta Project Facebook page. Looking forward to hearing from you!
Buon appetito!
Why not save this recipe for later?
If you want to save this olive and tuna spaghetti recipe for later, you can print it, bookmark this page or save it to Pinterest.
Want to know more about my life in Italy? Why not subscribe to my newsletter? New subscribers get a free series of recipe e-books too!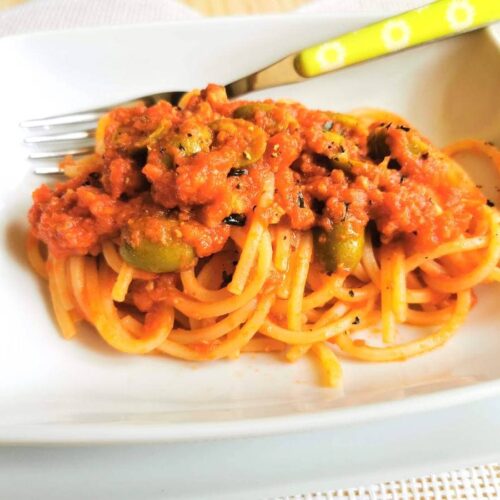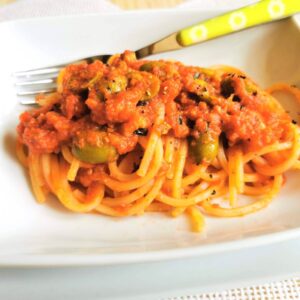 Olive and tuna spaghetti all'Ascolana recipe from Marche
Spaghetti all'Ascolana is a fast and easy to make olive and tuna spaghetti recipe from the Ascoli Piceno province in the Marche region of Italy. The star of this dish is large green olives called Ascolana olives which the province is famous for. Of course, you can use other types of green olives. Perfect for weeknights and family meals. Can be ready in 30 minutes!
Ingredients
400

g

spaghetti or bucatini

(14oz) you can also use penne or ziti.

350

g

tomato passata

(12oz) purée or crushed

200

g

quality tuna in olive oil

(7oz)

200

g

large pitted green olives

(7oz) best are Ascolana olives, green Castelvetrano or Cerignola from Italy or Gordal from Spain

4-6

anchovy fillets in oil

removed from the oil and chopped

2

garlic cloves

peeled

1

handful

fresh parsley

chopped

1/2

red peperoncino or 1/2 tsp peperoncino flakes

chopped

salt

for pasta and to taste

freshly ground black pepper.

to taste

4-5

tbsp

extra virgin olive oil.
Instructions
Prepare the ingredients
Drain and chop the tuna, peel the garlic and chop the fresh peperoncino if using. (remove the seeds to make it less spicy). Cut the olives into halves or rounds. If they still have stones, you'll have to pit them. Chop the parsley.
Make the sauce
Heat the oil with the garlic cloves and peperoncino in a heavy pan. Add the pitted and chopped olives. Let everything fry for a few minutes, then add the tomato passata (puree) and a little salt and pepper, mix, cover and cook for about ten minutes. Add the drained and chopped tuna, the chopped anchovies and the chopped parsley. Stir,continue cooking for another 5-10 minutes and turn off the heat. Remove the garlic cloves.
Cook the pasta and finish the dish
Put a pot of water on to boil for the pasta. Add salt once it starts to boil and bring to the boil again. Cook the pasta al dente according to the instructions on the packet. When ready, save some pasta cooking water and drain. Add the pasta to the Ascolana sauce and mix everything together. If the sauce seems dry, add a little of the pasta cooking water. Serve with more chopped parsley and red chilli if required.
Notes
Some people like to cook the anchovies at the beginning with the garlic and chilli pepper. This was they tend to melt and leave a deep umani flavour without being noticeable.
Other recipes with canned tuna
If you are interested in learning how to make homemade pasta and different types of gnocchi, check out my shop page for some great video online courses from my friends in Rome! Nothing beats learning to make pasta from Italians! Plus while you're there why not order a copy of my autumn/winter pasta recipes cookbook!?