Spaghetti is hands down the most popular dried pasta worldwide. Even though there are over 360 types of Italian pasta, Italians make 1 in 5 pasta dishes with spaghetti. So, it's no surprise that there are many traditional spaghetti recipes.
The world's favourite pasta is eaten with many different sauces in its homeland. This collection of 21 best spaghetti recipes from Italy includes spaghetti with tomato sauce, with other vegetables, with seafood and with meat.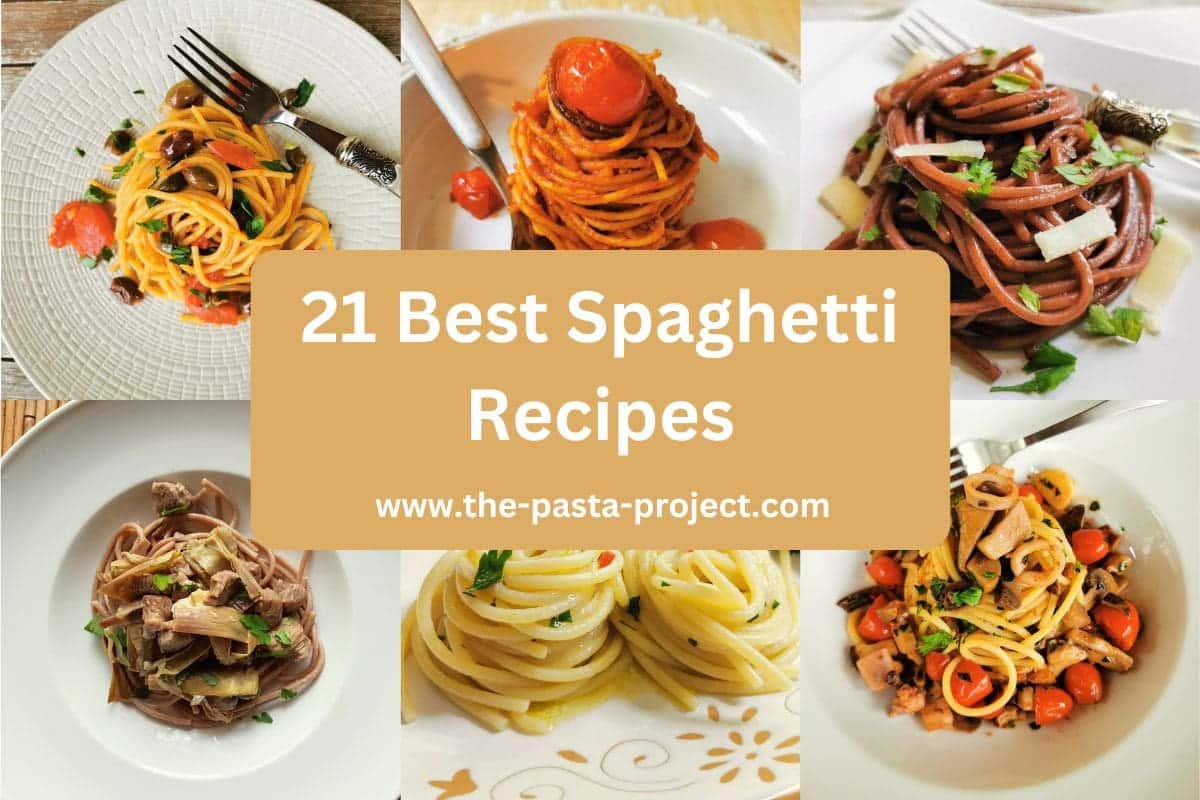 A little spaghetti history.
Although fresh pasta dates back to antiquity, spaghetti was the first type of dried pasta the Italians made. Food historians believe the Arabs introduced dried pasta strands called 'itriyya' to the Sicilians during their occupation of Sicily in the 9th Century AD. Itriyya was the original spaghetti.
When the Arabs left Sicily, the islanders continued to make dried pasta strands. In fact, 12th century written records show that the Sicilians were not only manufacturing and drying long pasta strands, but they were exporting this pasta to other regions too.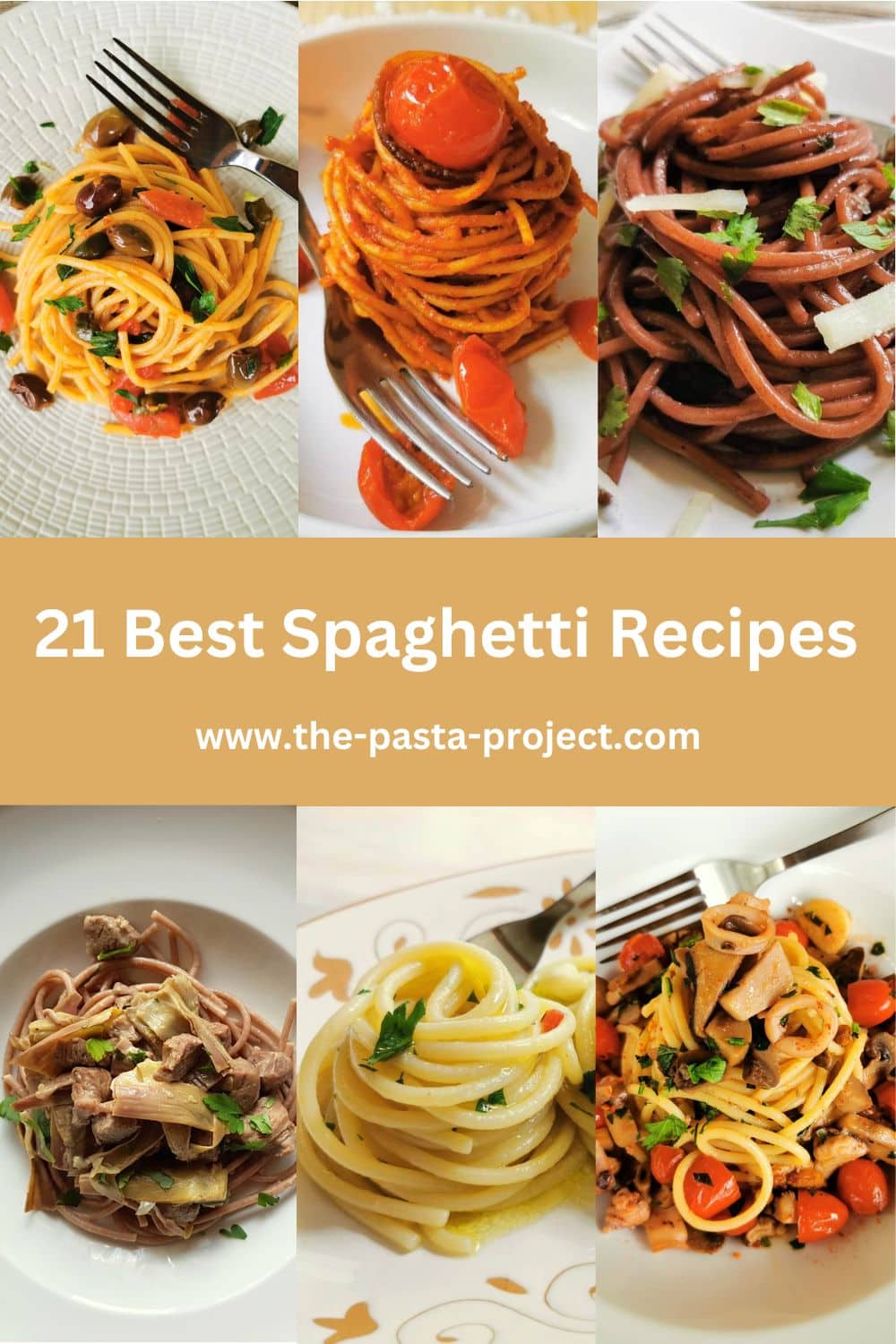 Spaghetti remained a regional Sicilian pasta until the Unification of Italy and the establishment of spaghetti factories throughout the country in the 19th century. From then on, the popularity of spaghetti spread all over Italy and overseas too, along with many of the traditional recipes.
I've included some of the more well-known recipes, such as carbonara and puttanesca, in this collection of the best spaghetti recipes. But, here you'll also find other authentic recipes you may not have tried before.
21 Best Spaghetti Recipes From Italy
Click the recipe name to learn more and get ingredients and instructions.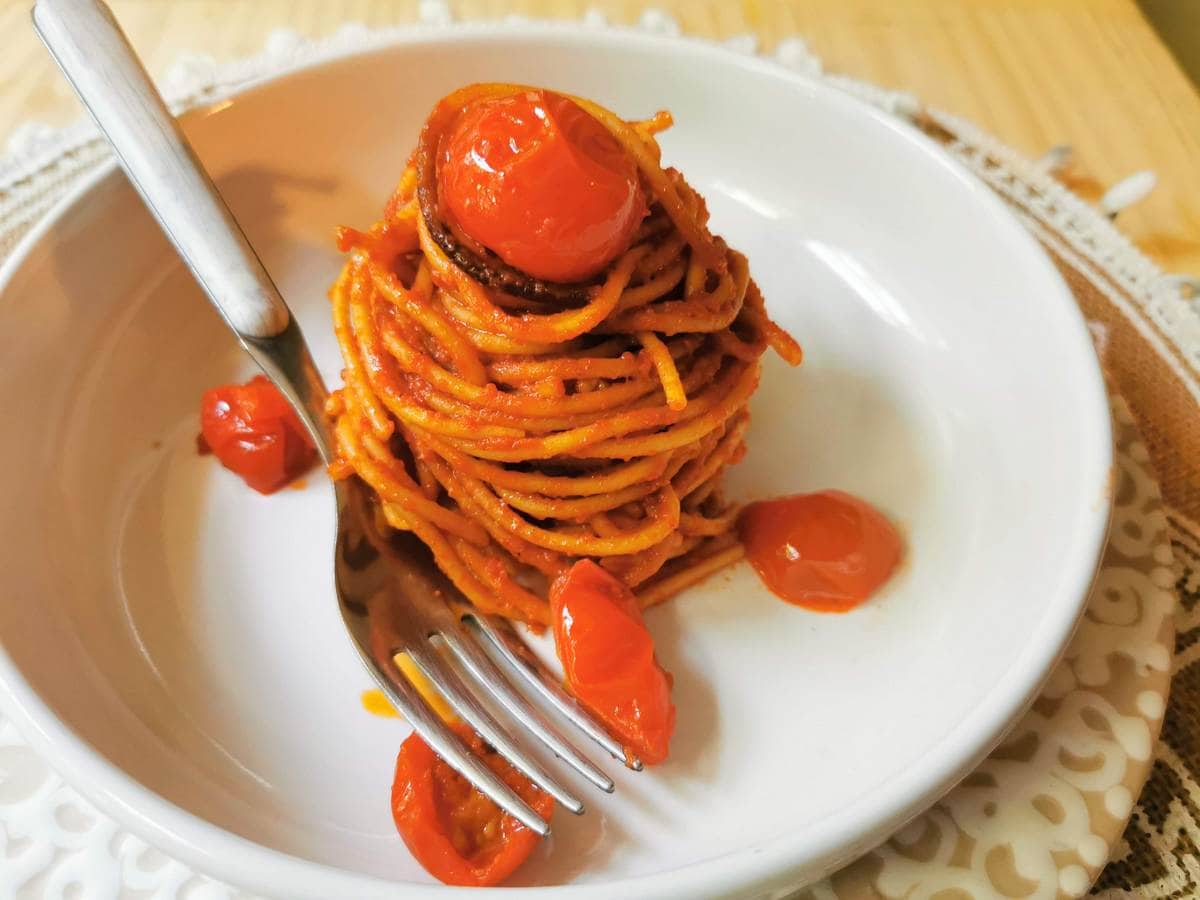 Spaghetti all'assassina, is a popular cult recipe hailing from Bari in Puglia. This dish consists of dried spaghetti cooked in a tomato passata broth using the 'risottata' technique.
This results in a slightly charred, crispy texture and an intense, spicy tomato flavor. This cult favorite is definitely worth a try!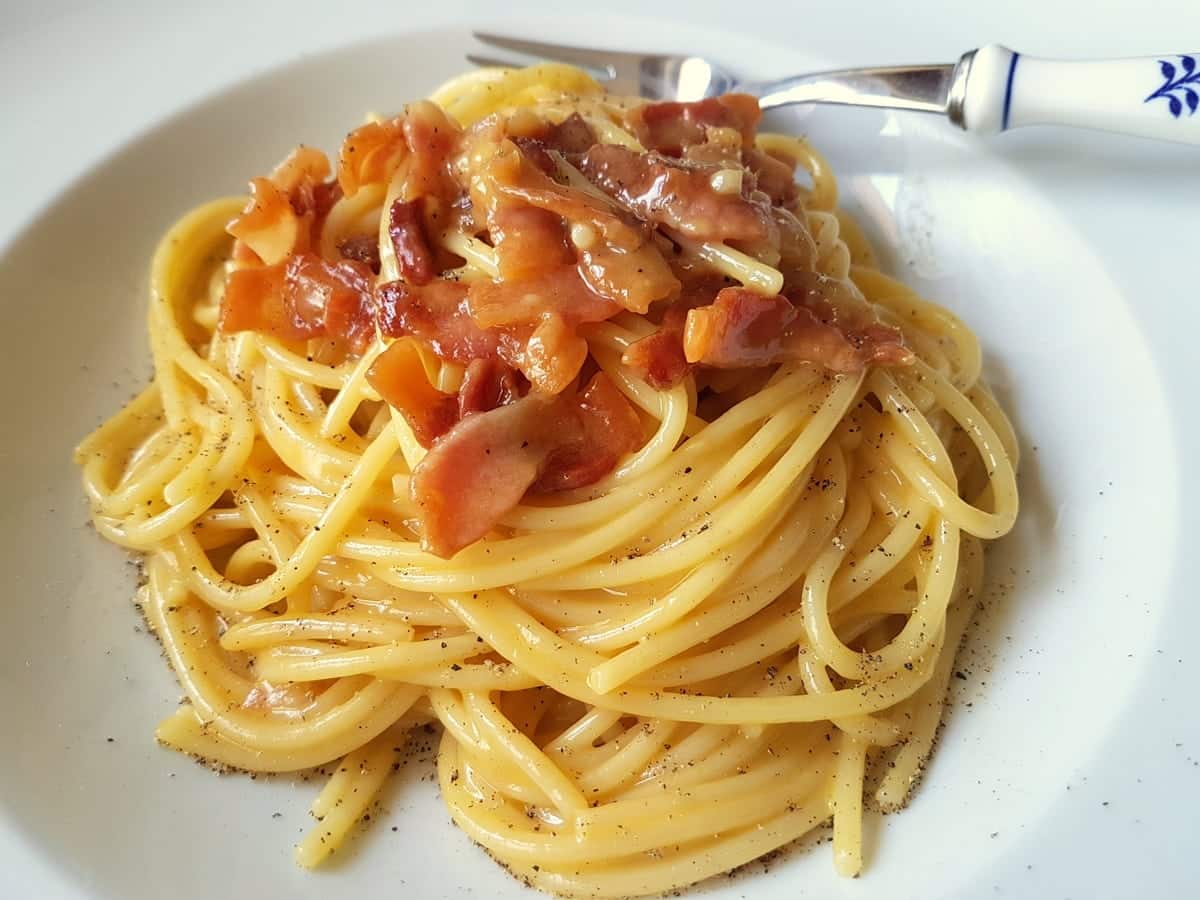 Spaghetti alla carbonara is likely one of the most famous Italian pasta dishes, perhaps rivaled only by spaghetti bolognese. Like bolognese, carbonara has undergone numerous reinventions outside Italy, resulting in many variations.
Nevertheless, the classic Roman spaghetti recipe is so delicious that it doesn't require tweaking.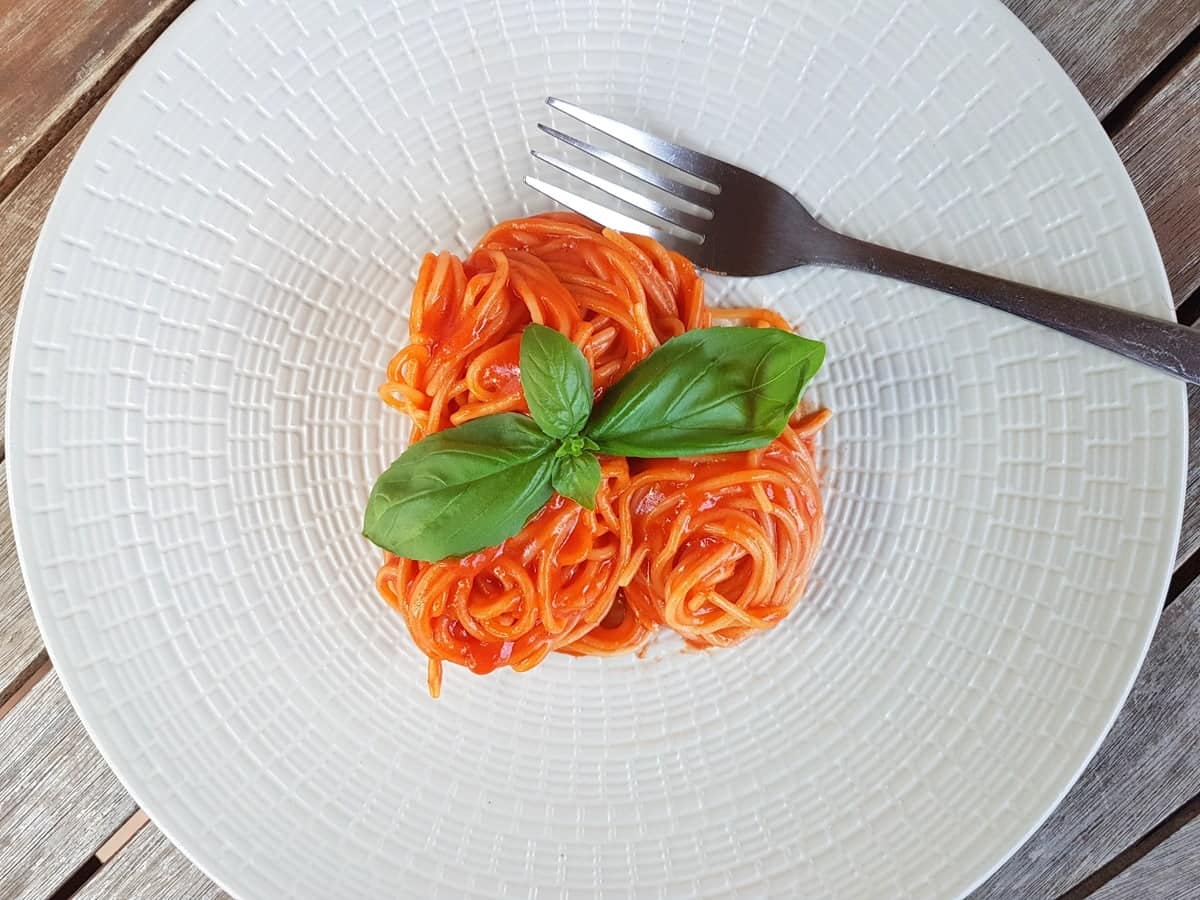 In this recipe, I'll share with you the best spaghetti and tomato sauce recipe ever! It's by Michelin star Neapolitan chef Pepper Guida, and one of my absolute favorites.
I tried this pasta sauce twice during a visit to Gragano, Naples, and I knew I had to make it again after I returned home. It only uses a few high-quality ingredients and takes 30 minutes, yet the flavor is out of this world!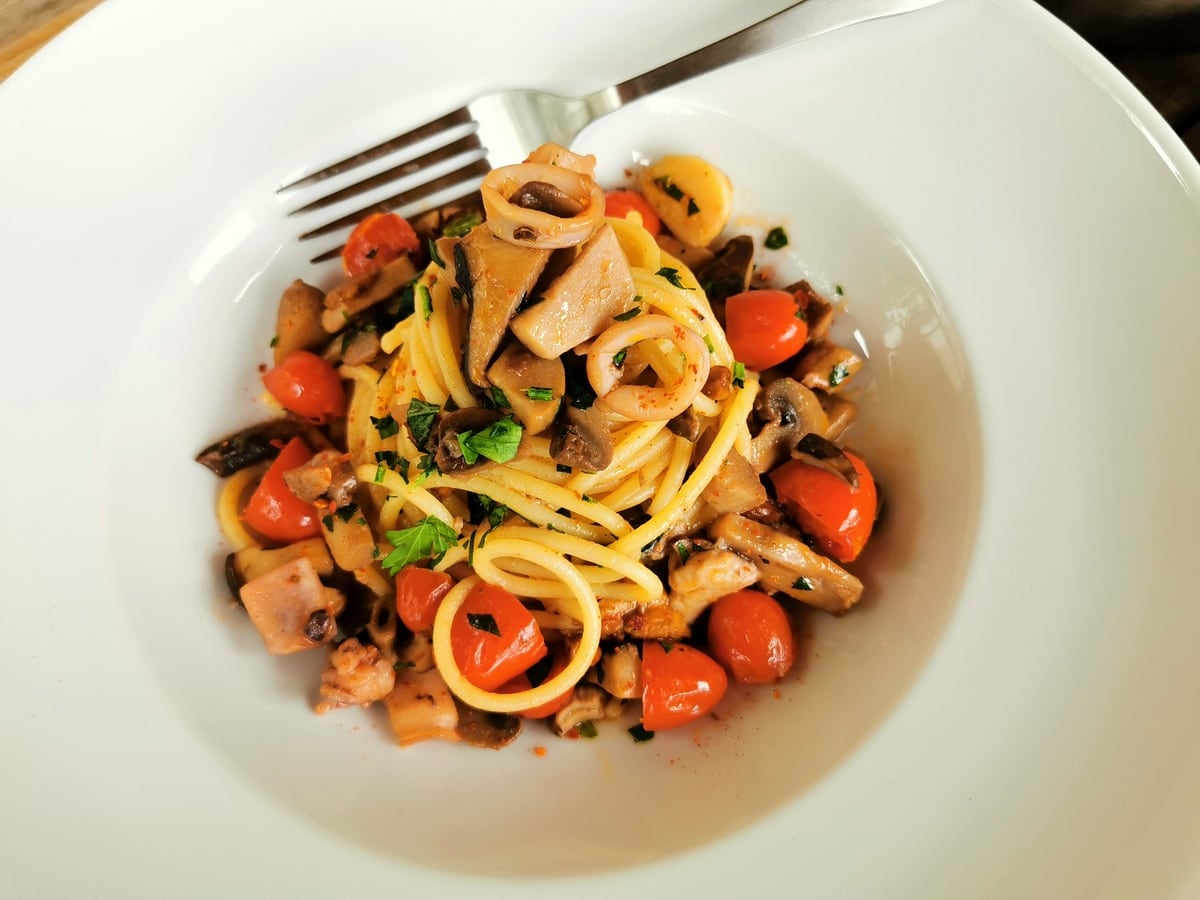 Spaghetti mare e monti is a traditional Italian pasta recipe of the 'surf and turf' variety from the Marche region in central Italy. The region is pristine, mountainous, and hilly, with a magnificent coastline on the Adriatic sea.
The local cuisine is heavily influenced by both the sea and the land. As a result, this dish represents the region by combining various mushrooms and calamari (squid) in a delicious spaghetti dish.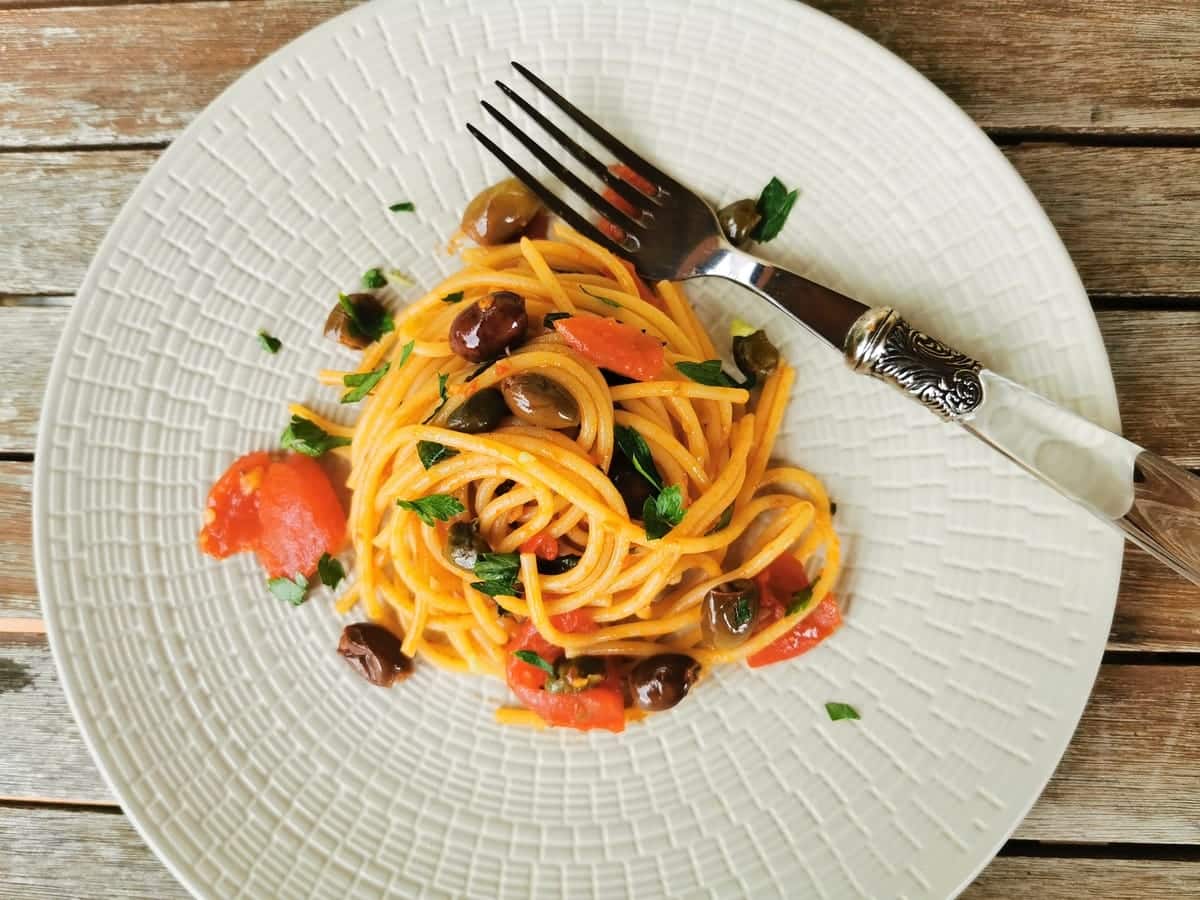 This classic Italian pasta dish, spaghetti alla puttanesca, is a quick and easy recipe that perfectly captures the bold and delicious flavors of the Mediterranean. With just a few basic ingredients, including capers, olives, and tomatoes, you can whip up this dish in just 35 minutes.
Plus, since the ingredients in this recipe are easily stored and low-cost, you can enjoy a taste of Italy without breaking the bank.
Whether you're looking for a simple weeknight dinner or an impressive dish to serve at a dinner party, spaghetti alla puttanesca is a recipe that's sure to become a staple in your kitchen.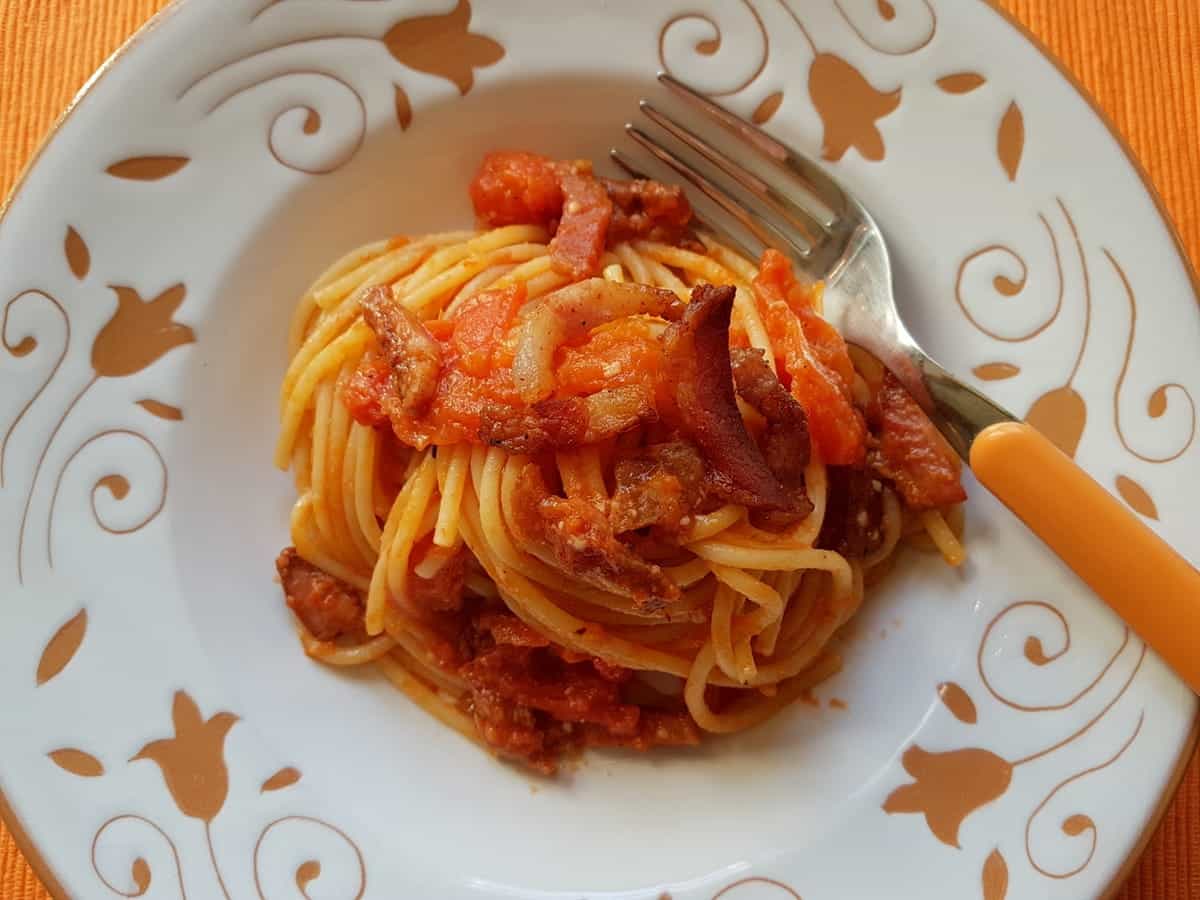 Amatriciana is one of the most popular and traditional pasta dishes in Italy, and for a good reason. With just a handful of ingredients, including pancetta or guanciale, Pecorino Romano cheese, and tomatoes, this is a delicious and easy-to-make meal that both kids and adults will love.
The origin of this classic recipe can be traced back to the town of Amatrice in Lazio, where it was first created. Today, it's a beloved dish throughout Italy and beyond. Give this recipe a try and taste for yourself why Amatriciana is a true Italian favorite!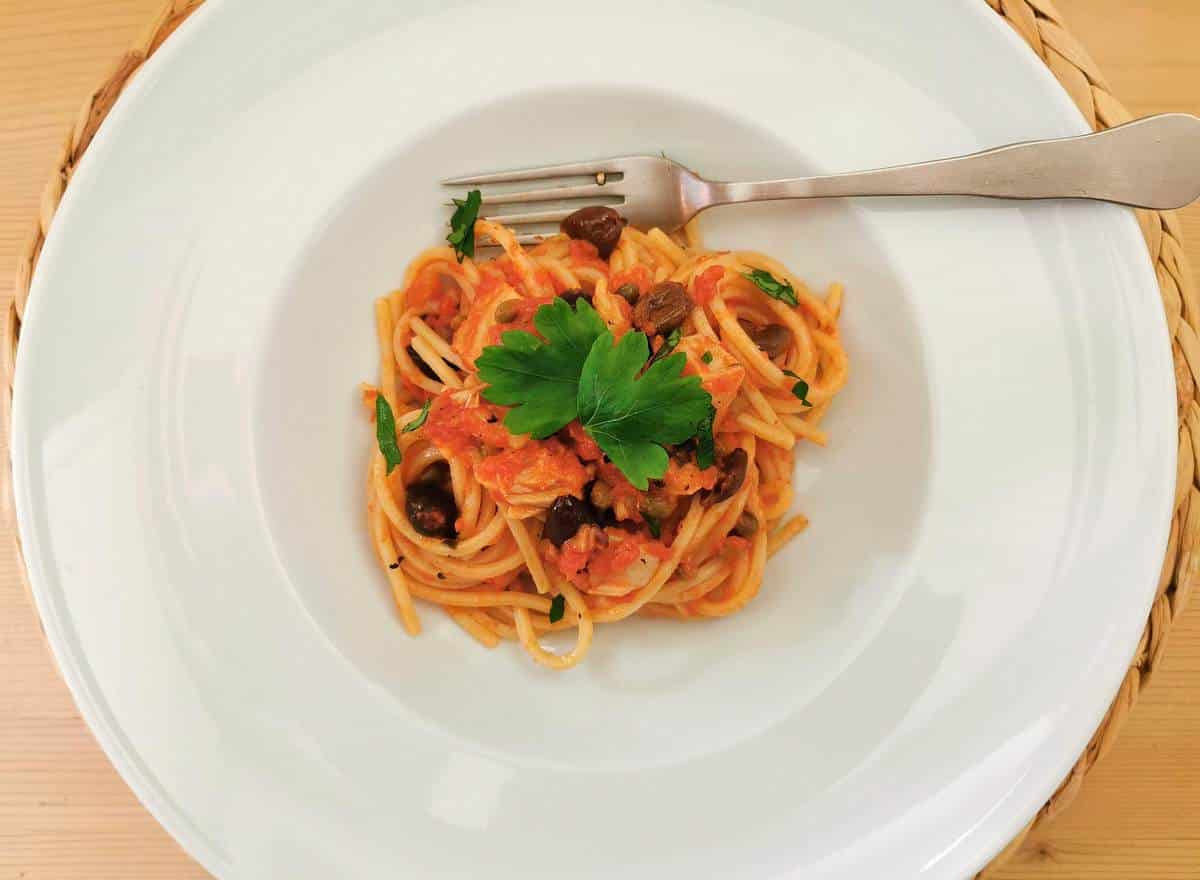 Spaghetti with Baccalà alla ghiotta is a traditional dish from Sicily made with salt cod, tomatoes, olives, capers, onions, and chili flakes.
This authentic spaghetti recipe is a delicious example of the seafood-based cuisine that is characteristic of many regions in Italy.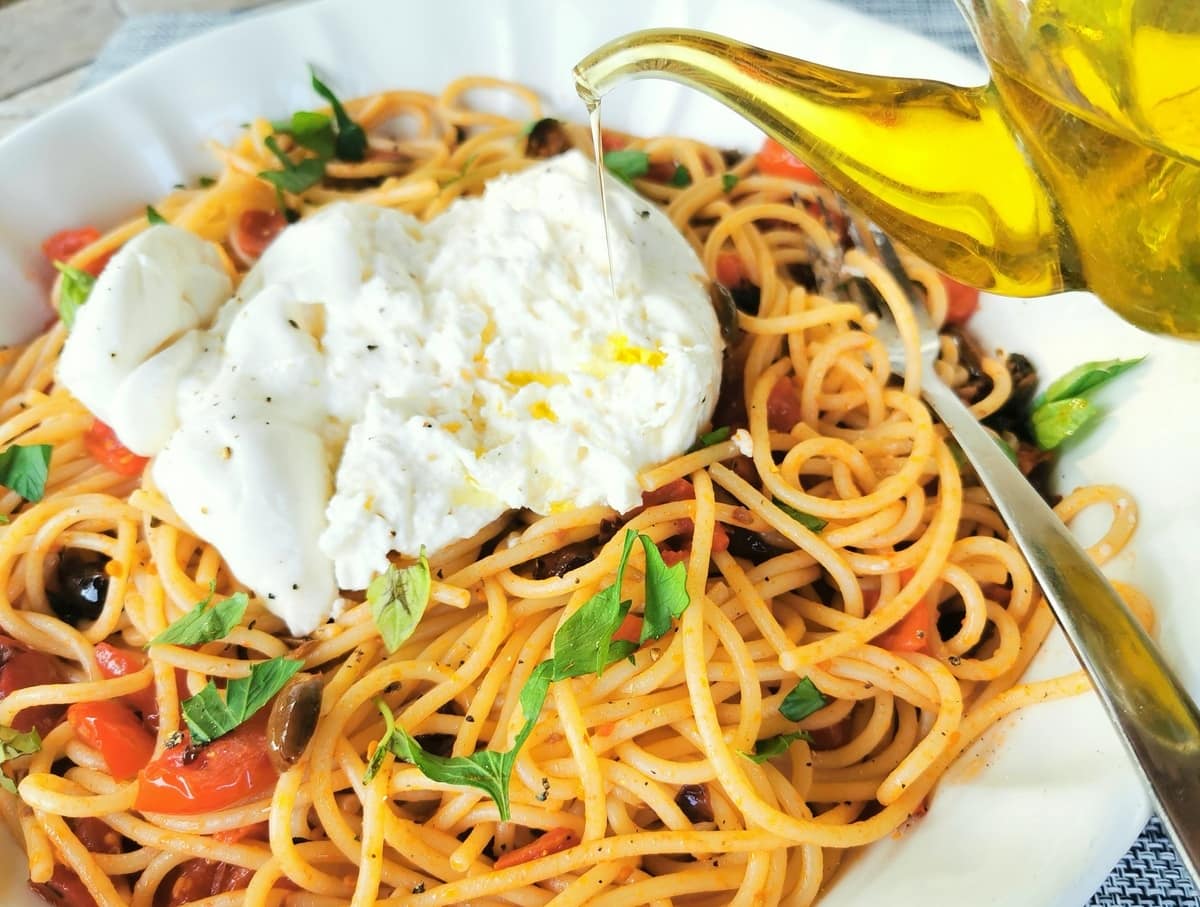 Spaghetti alla checca is a deliciously simple dish that is perfect for warm-weather meals. Made with fresh ingredients, this pasta recipe from Rome is easy to prepare and offers a burst of flavor. While I added burrata, you can make it without for a vegan or dairy-free version.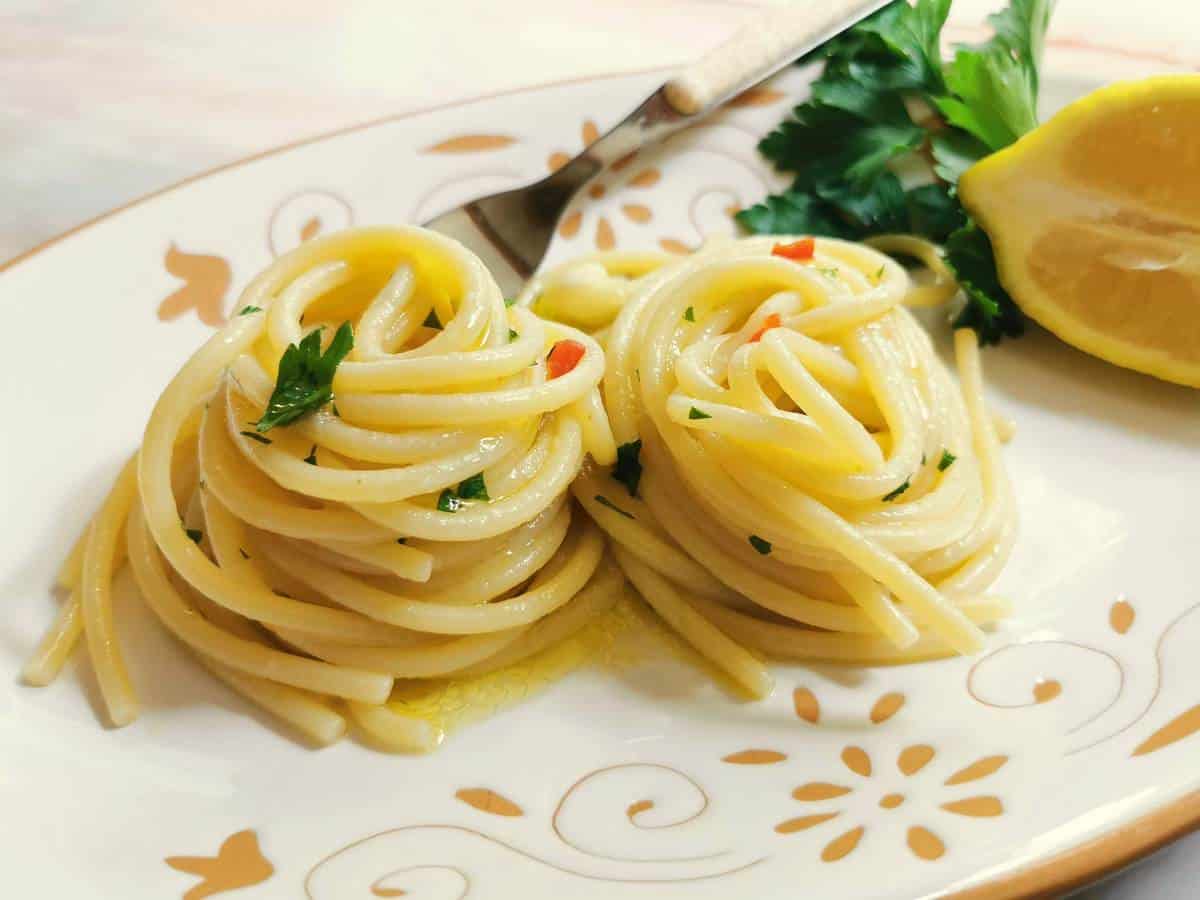 Spaghetti alla Colatura is a no cook variation of the classic pasta aglio olio. It has a rich added umami flavor that comes from the addition of colatura, Italian anchovy sauce.
This traditional spaghetti recipe, along with the Italian fish sauce, has its roots in the coastal town of Cetara, situated on Italy's Amalfi coast.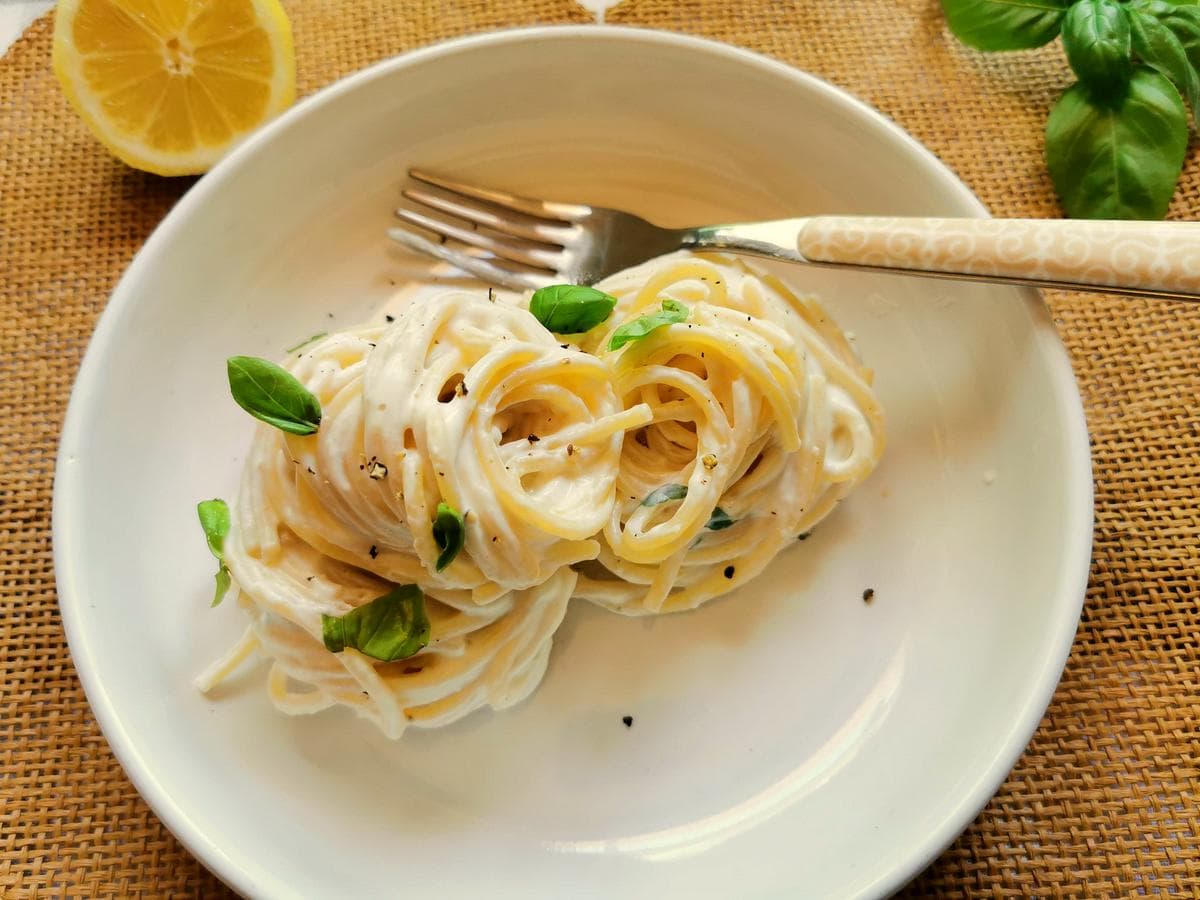 Spaghetti al Limone with ricotta is an easy-to-make spaghetti recipe that boasts a refreshing and zesty taste, making it an ideal choice for summer meals.
The intense lemony flavor, combined with the creamy ricotta cheese and the aromatic essence of basil, creates an irresistible taste. With each bite, you can easily imagine yourself sitting on a terrace overlooking the sea on the Amalfi coast or Capri, soaking in the warm Mediterranean sun.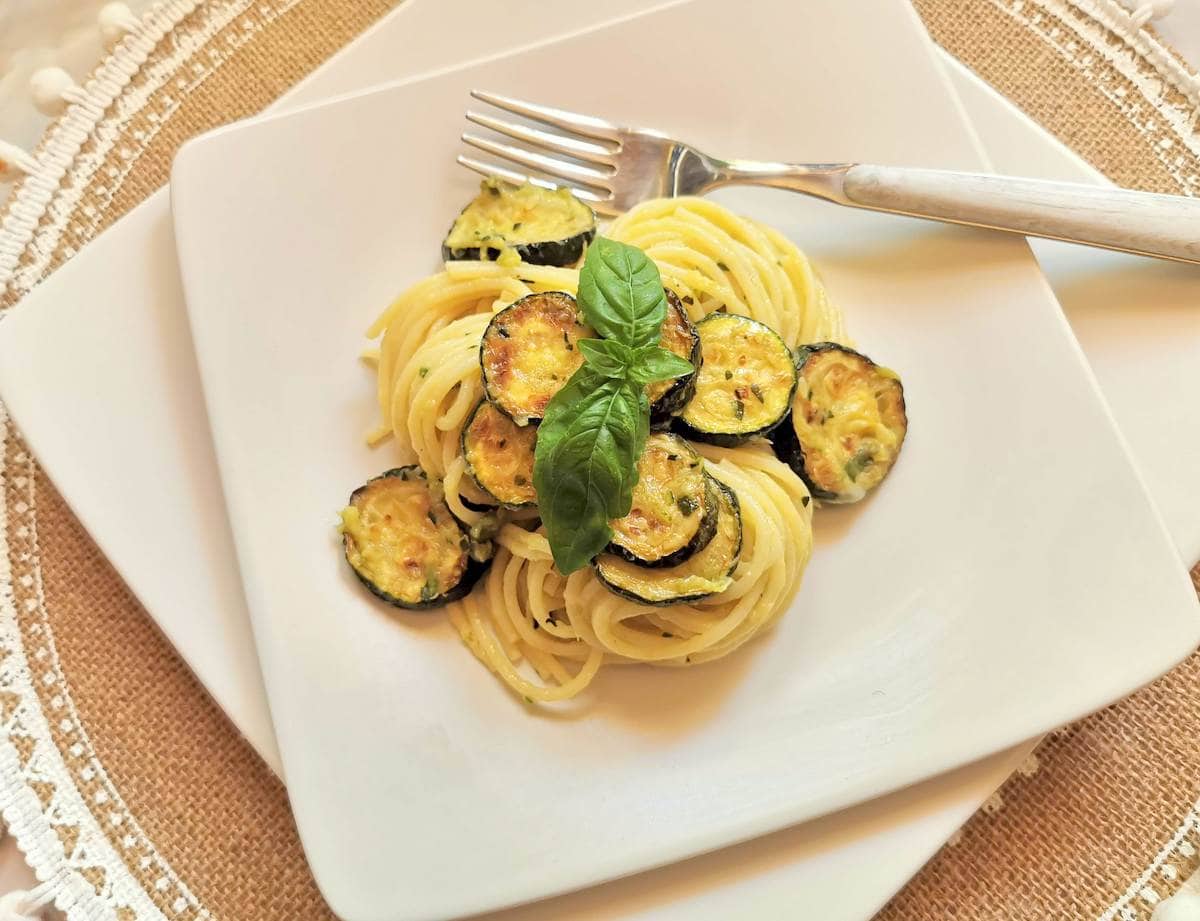 Spaghetti alla Nerano, famously highlighted by Stanley Tucci in his popular show Searching for Italy, is a delightful vegetable pasta dish that embodies the essence of Southern Italian cuisine.
This recipe is a prime example of how a few basic ingredients, typical of Neapolitan cuisine, can come together to create an exquisite and flavorful dish.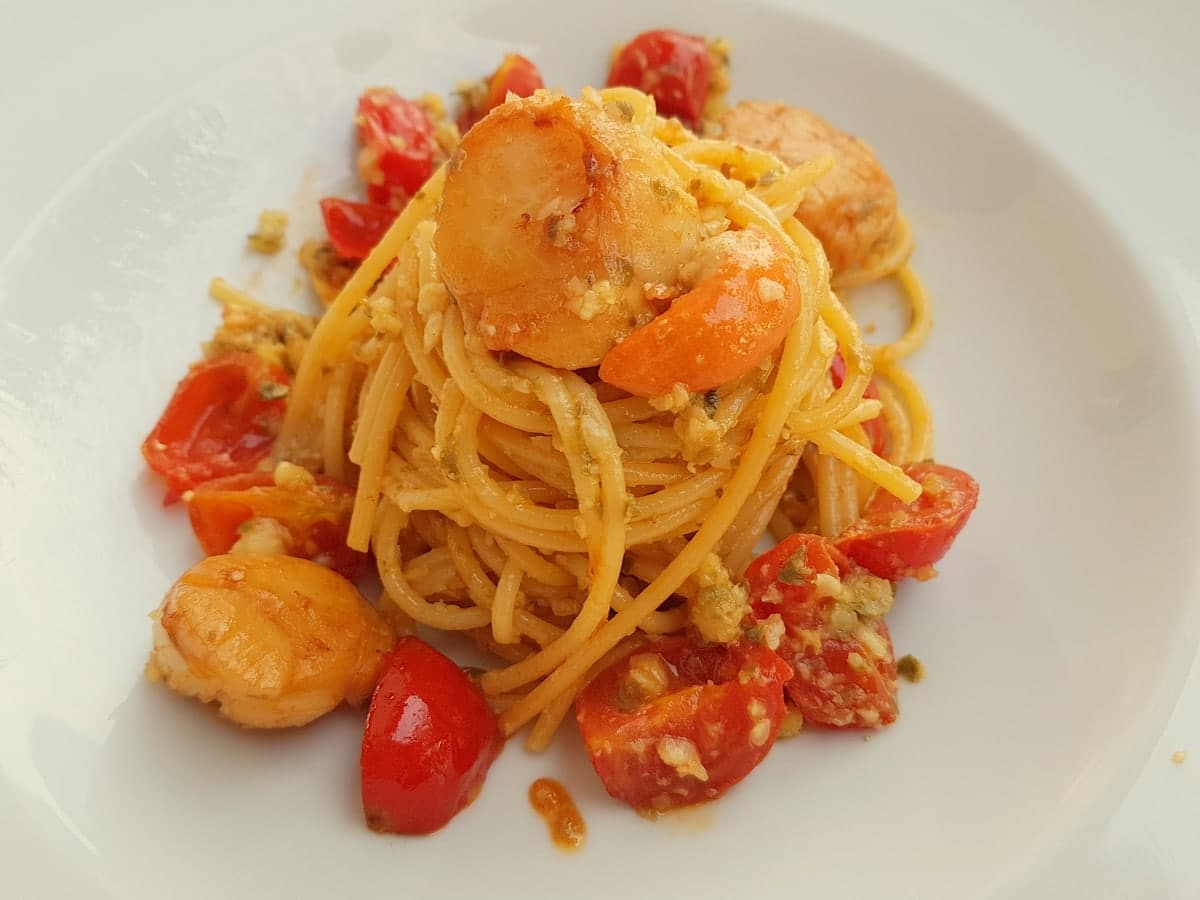 Spaghetti with scallops and citrus fruit is an exquisite Italian pasta dish that is perfect for Christmas, New Year, and other special occasion menus. This recipe is bursting with flavor and incredibly easy to prepare.
The combination of succulent scallops and the tangy sweetness of citrus fruit creates a divine taste experience that is sure to impress any guest.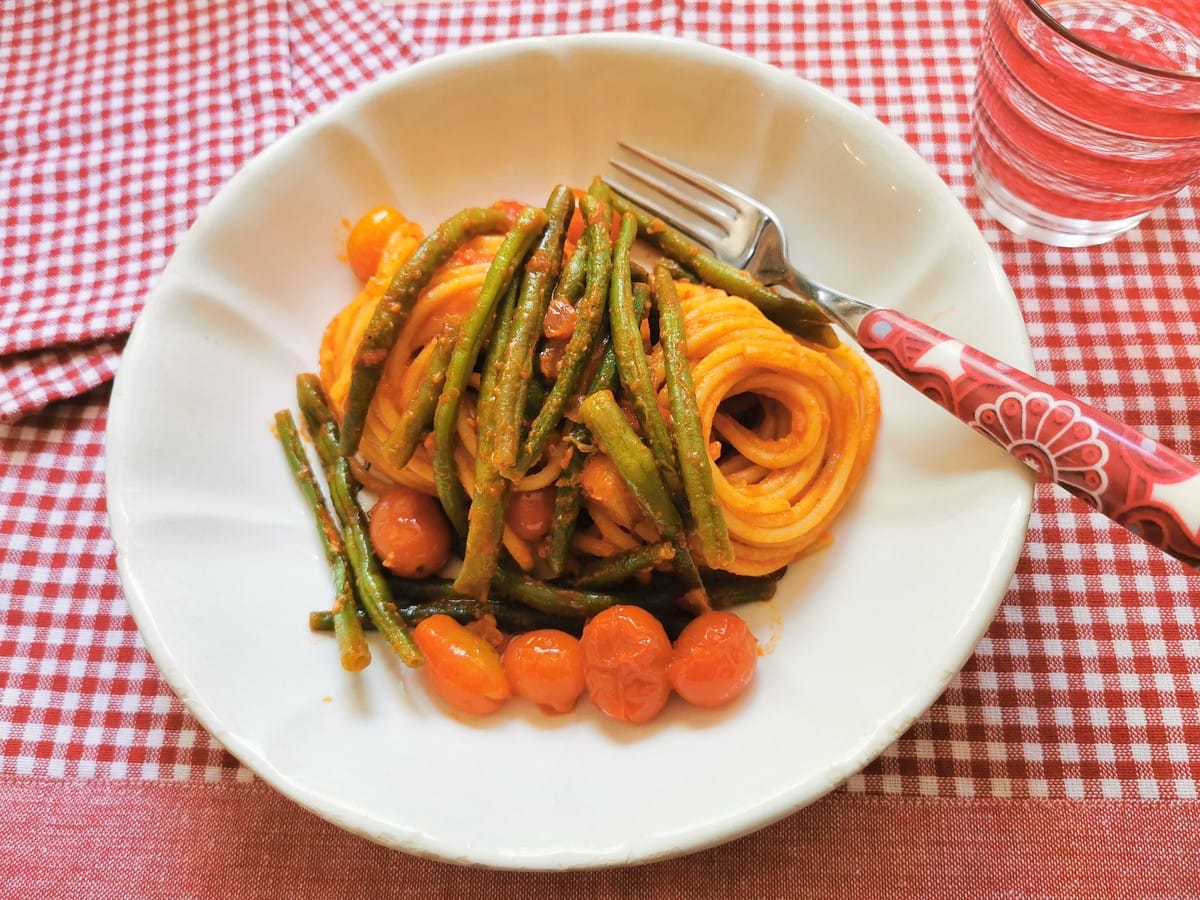 Spaghetti with green beans is a popular and traditional vegetarian pasta dish in Southern Italy. It is an ideal meal for warm days when you want something light and easy to prepare.
This recipe is an excellent way to encourage children to eat their greens, and you can customize it to suit your preferences by adding other ingredients such as garlic or chili flakes.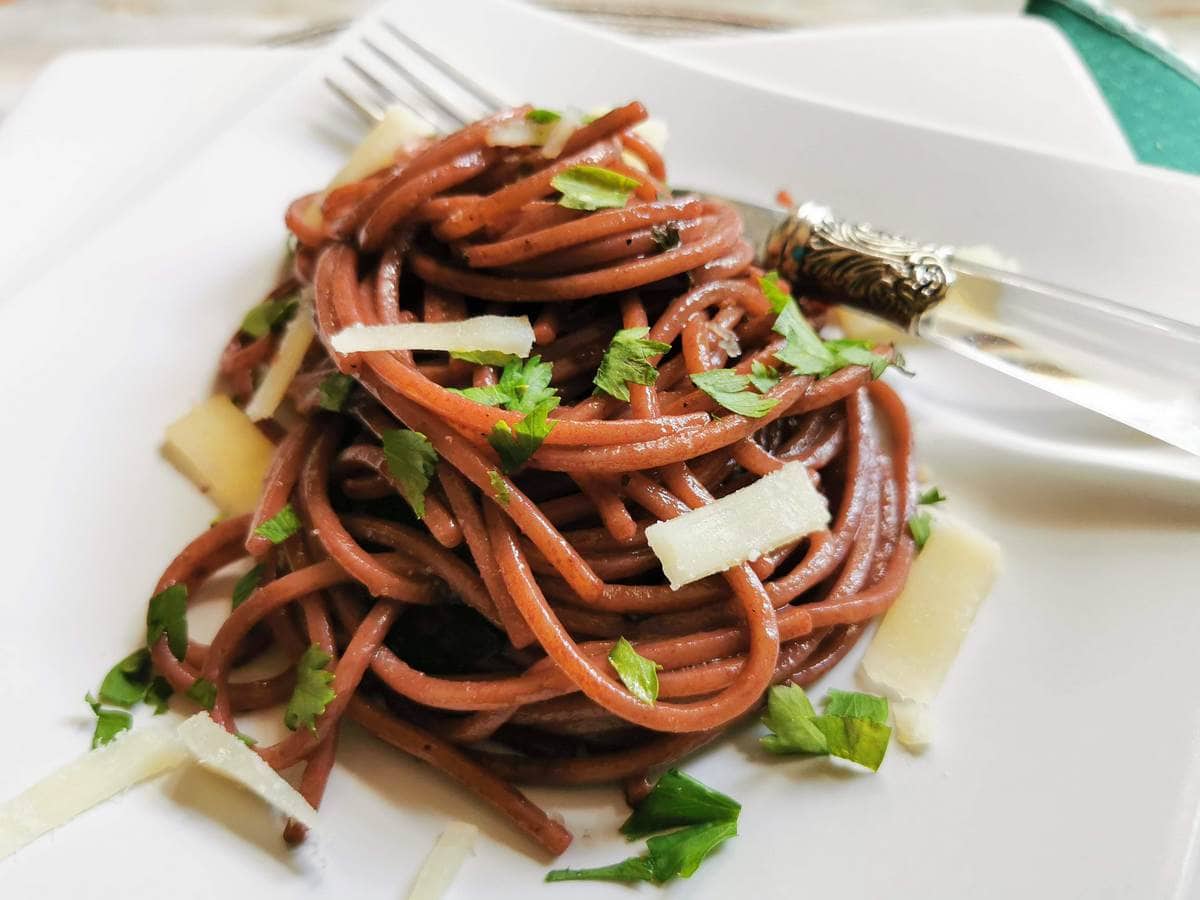 Spaghetti all' ubriaco or ubriachi is a delightful option for special occasions like Christmas or Valentine's Day. This simple yet sophisticated recipe involves cooking spaghetti in red wine, almost like a risotto.
The pasta is cooked in wine, and the cooking process burns off most of the alcohol, so it doesn't have high alcohol content. The end result is beautiful plum-colored noodles that are sure to impress!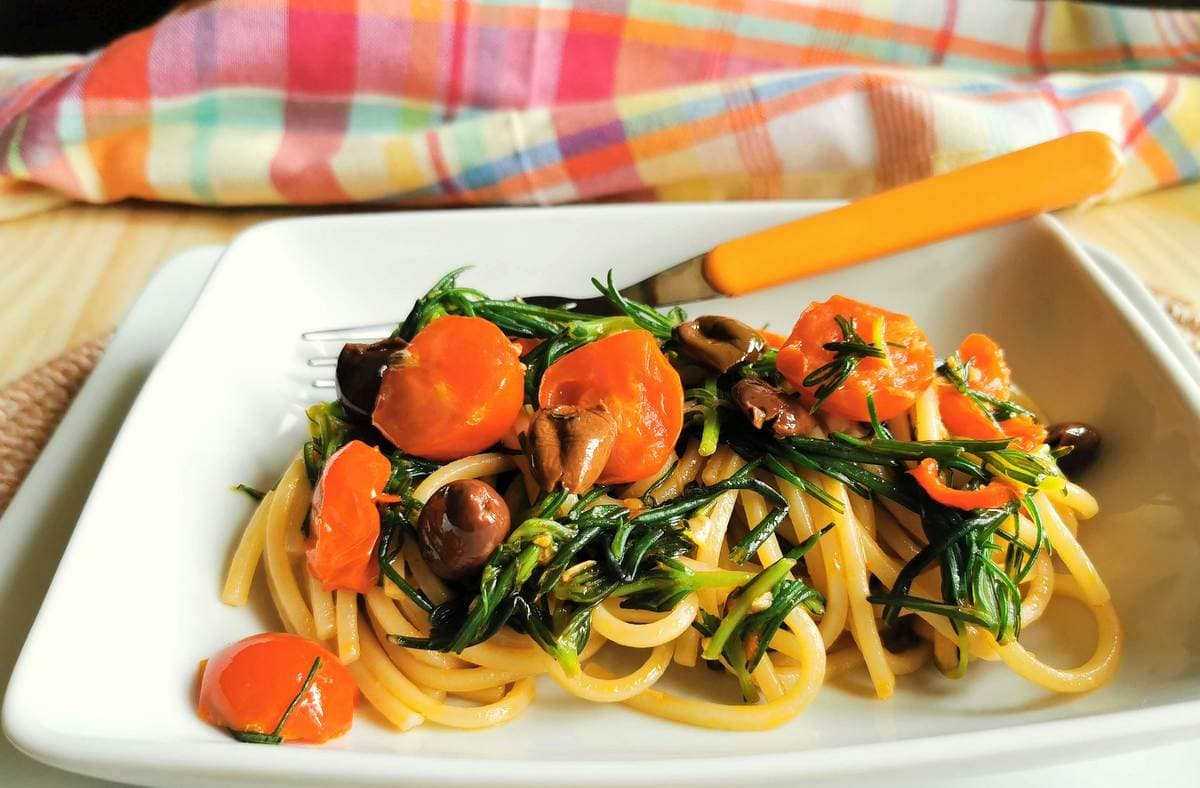 Spaghetti with agretti or salsola soda is a quick, delicious spring pasta dish! Salsola soda has a lovely salty and slightly tangy flavor that pairs perfectly with pasta.
The spaghetti is cooked to al dente and then tossed with garlic, olive oil, and agretti. The result is a simple yet flavorful dish that is both healthy and delicious!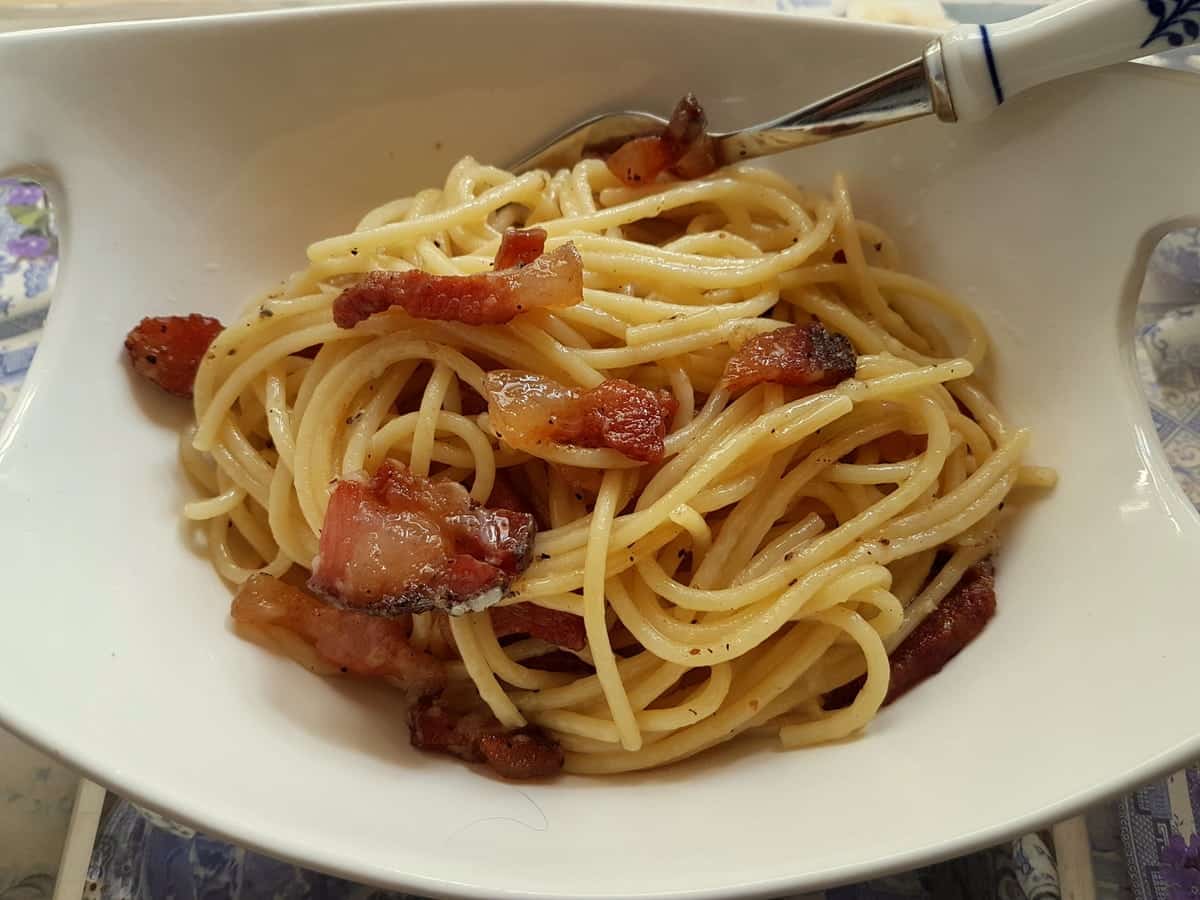 Pasta alla gricia is a delicious Roman classic and one of Italy's oldest traditional pasta dishes. It is a very simple recipe that uses only a few ingredients.
The pasta is tossed in a sauce with cured pork jowl (guanciale), pecorino romano cheese, black pepper, and a touch of starchy pasta water. The result is a creamy and savory pasta dish with a nice kick from the black pepper.
It's easy to see why pasta alla gricia is still popular after all these years, and it's definitely worth a try for any pasta lover.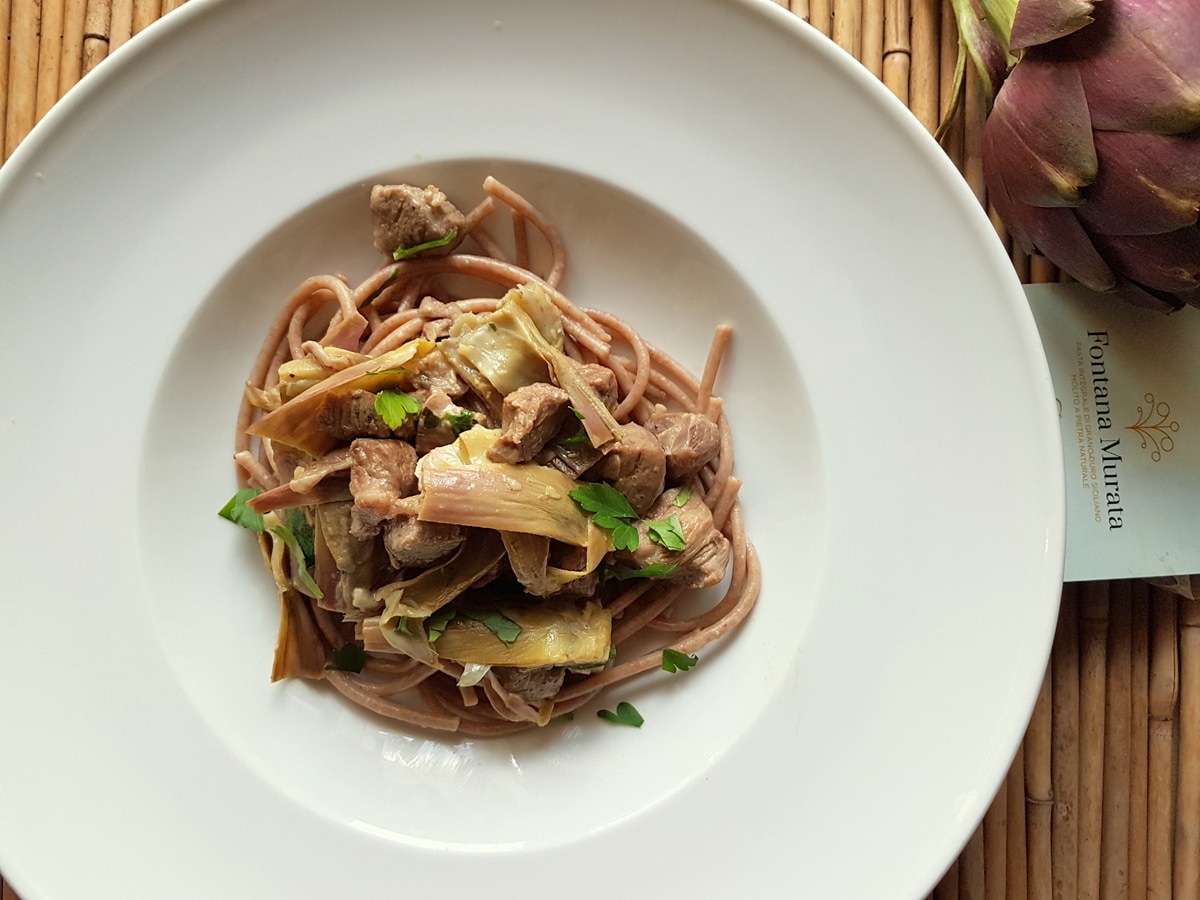 This delicious Sardinian pasta recipe featuring lamb and artichokes is a great choice for special occasions with your family, particularly Easter. Full of authentic Sardinian flavors, this dish is quite simple to prepare.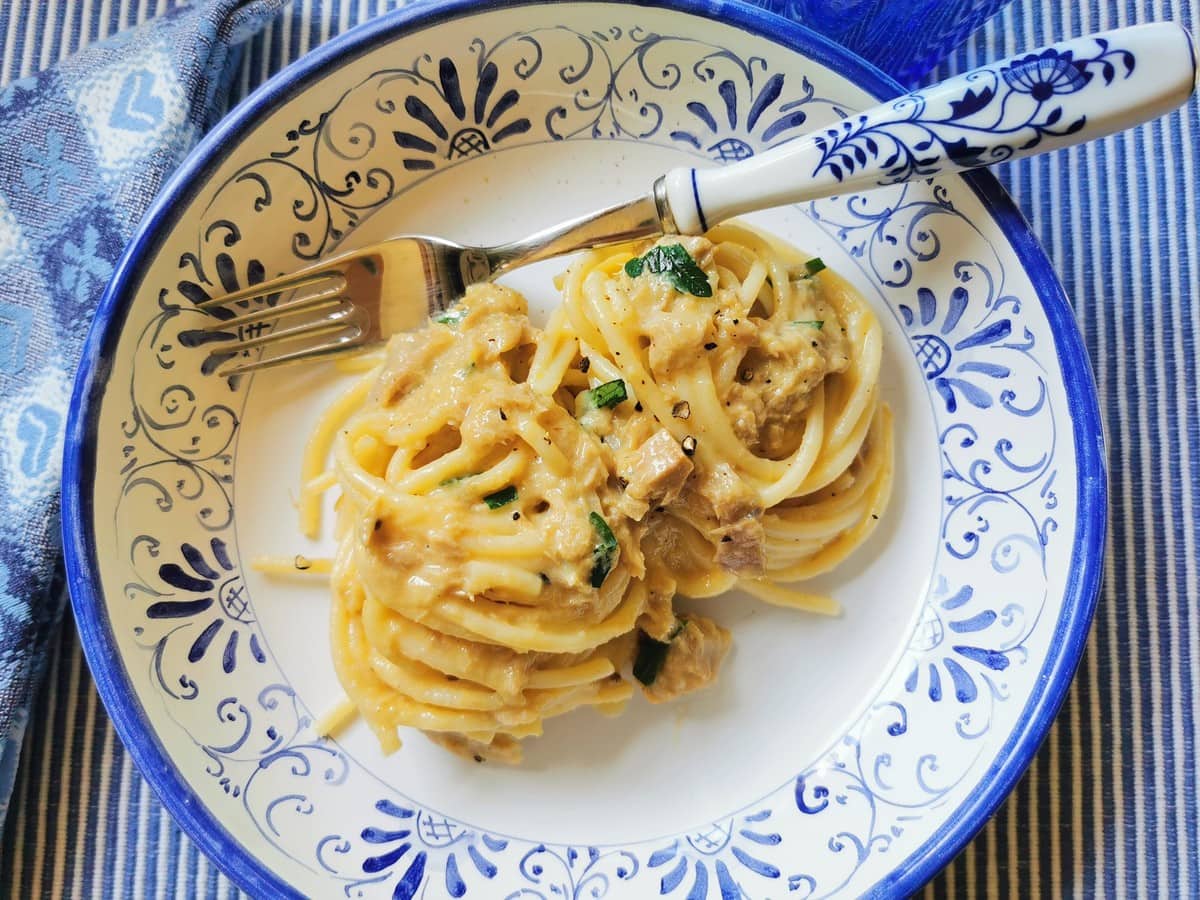 If you're a fan of creative twists on traditional recipes, this spaghetti tuna carbonara will surely be a hit. It's full of flavor and quick to make, taking just 30 minutes.
This is an excellent recipe I like to keep on hand because it uses stable ingredients that I usually have in the larder.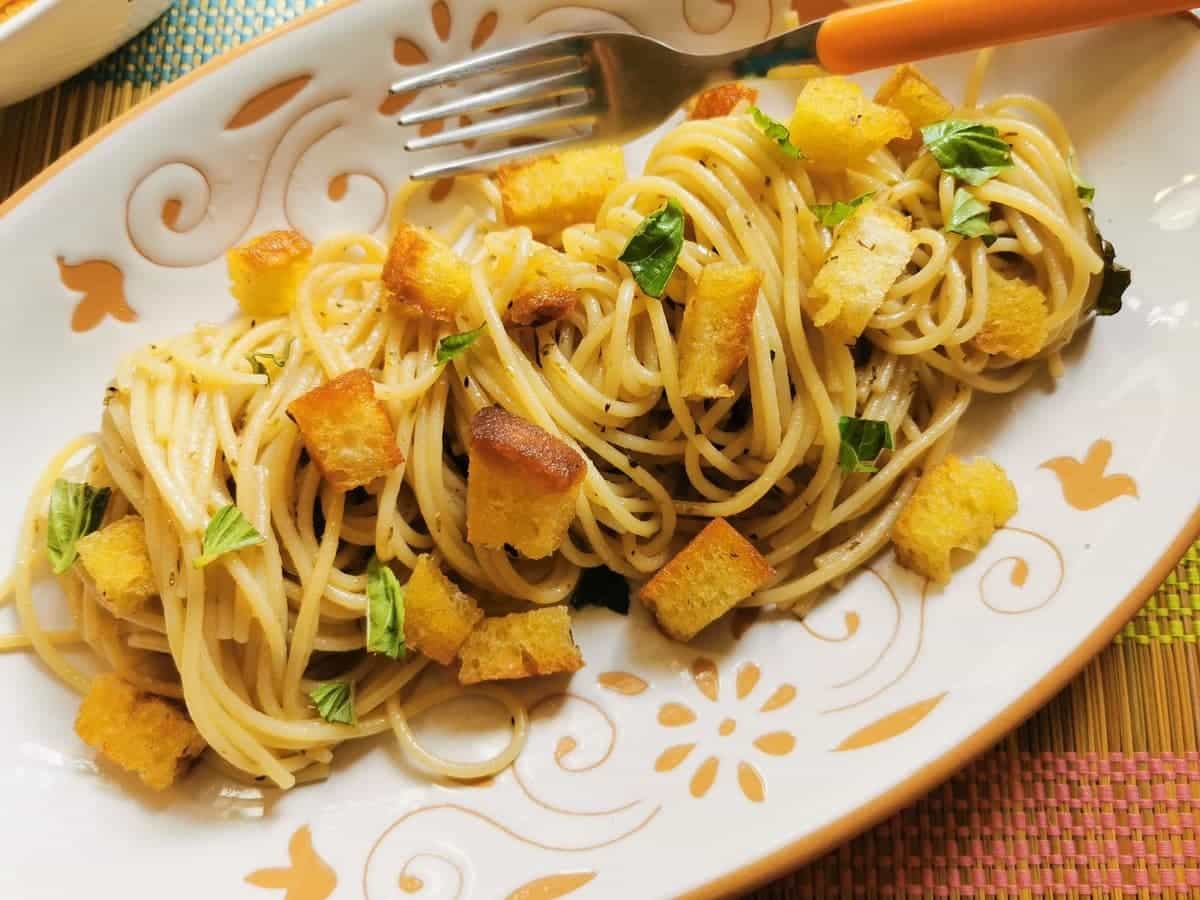 Spaghetti alla Gennaro, also known as Totò's pasta, is a traditional pasta dish from Southern Italy often enjoyed as a midnight pasta.
This Neapolitan recipe is super simple and highly satisfying, requiring just a handful of ingredients, such as spaghetti, anchovies, garlic, stale bread, oregano, and basil.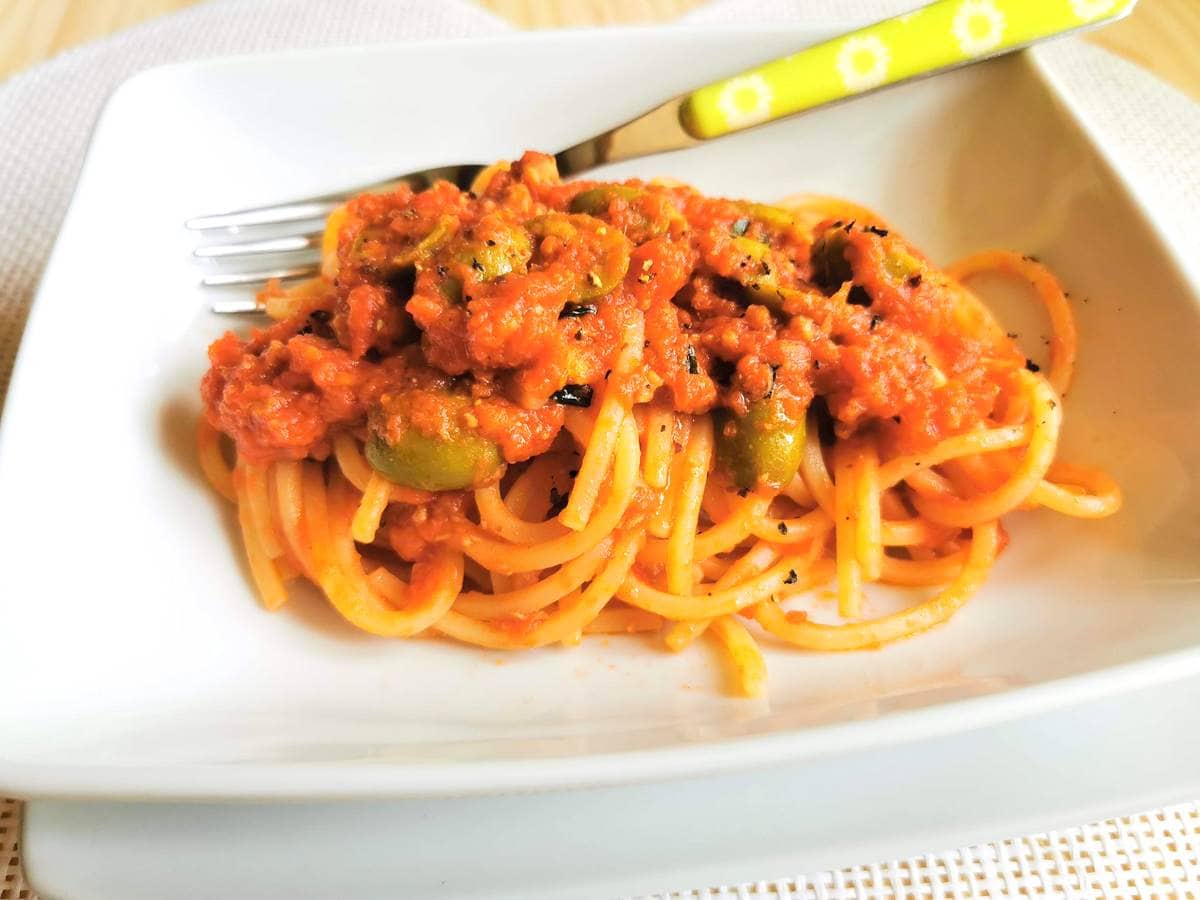 This recipe for Spaghetti all'Ascolana features a delightful combination of olives and tuna in a simple and easy-to-prepare pasta dish. Hailing from the Ascoli Piceno province in the Marche region of Italy, this recipe is particularly special due to the use of the region's famous Ascolana olives.
These large green olives impart a distinct and savory flavor to the dish, making it a true standout. While Ascolana olives may be the preferred choice for this recipe, other large green olives can also be used, allowing you to enjoy the flavors of this traditional Italian dish no matter where you are.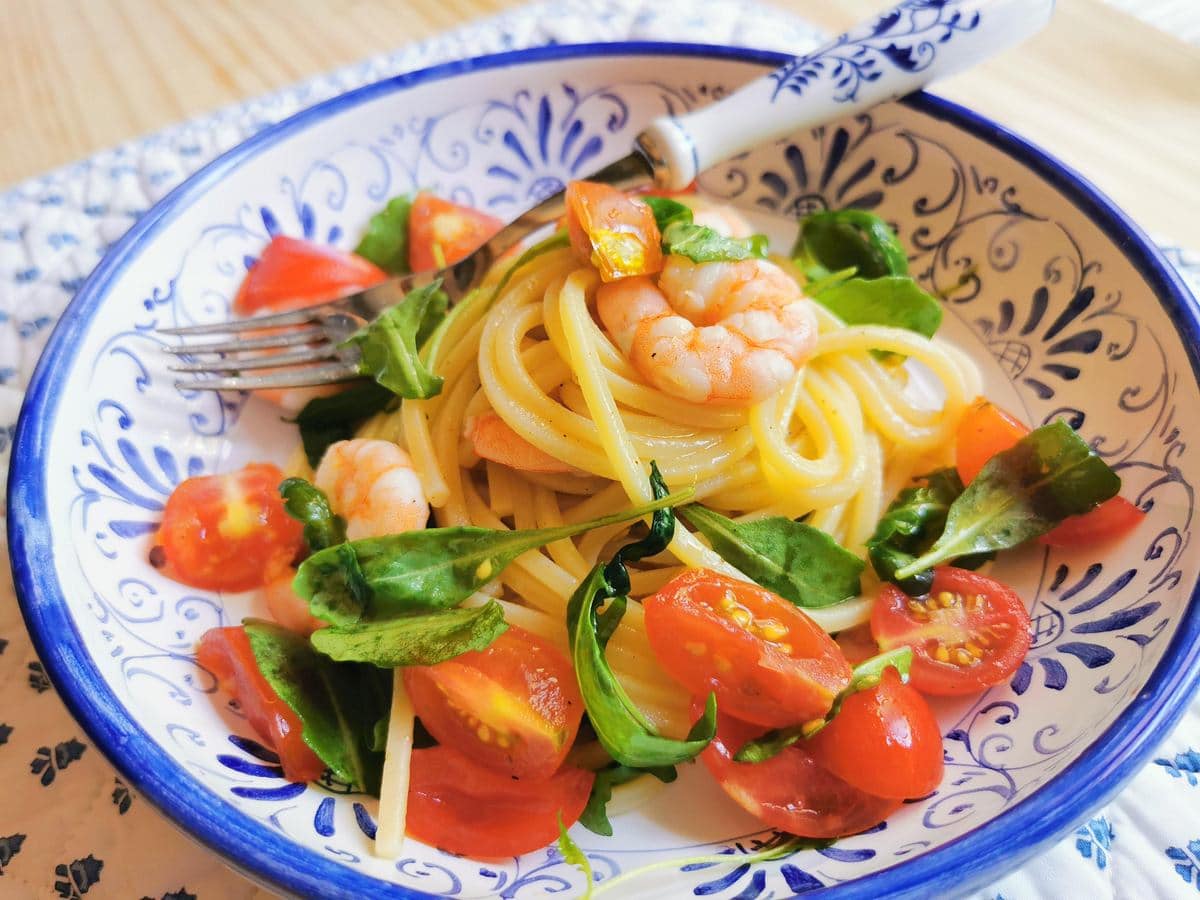 This simple and refreshing spaghetti salad is perfect for hot summer days or any time you need a light and easy meal. It comes from the Marche region in central Italy, where it's a popular choice for picnics and potlucks.
The salad features al dente spaghetti tossed with pre-cooked shrimp or tiger prawns, peppery rocket (arugula), and sweet cherry tomatoes, all dressed in a light and tangy oil and vinegar dressing. Whether planning a picnic, lunch for one, or a party, this versatile salad will surely be a hit.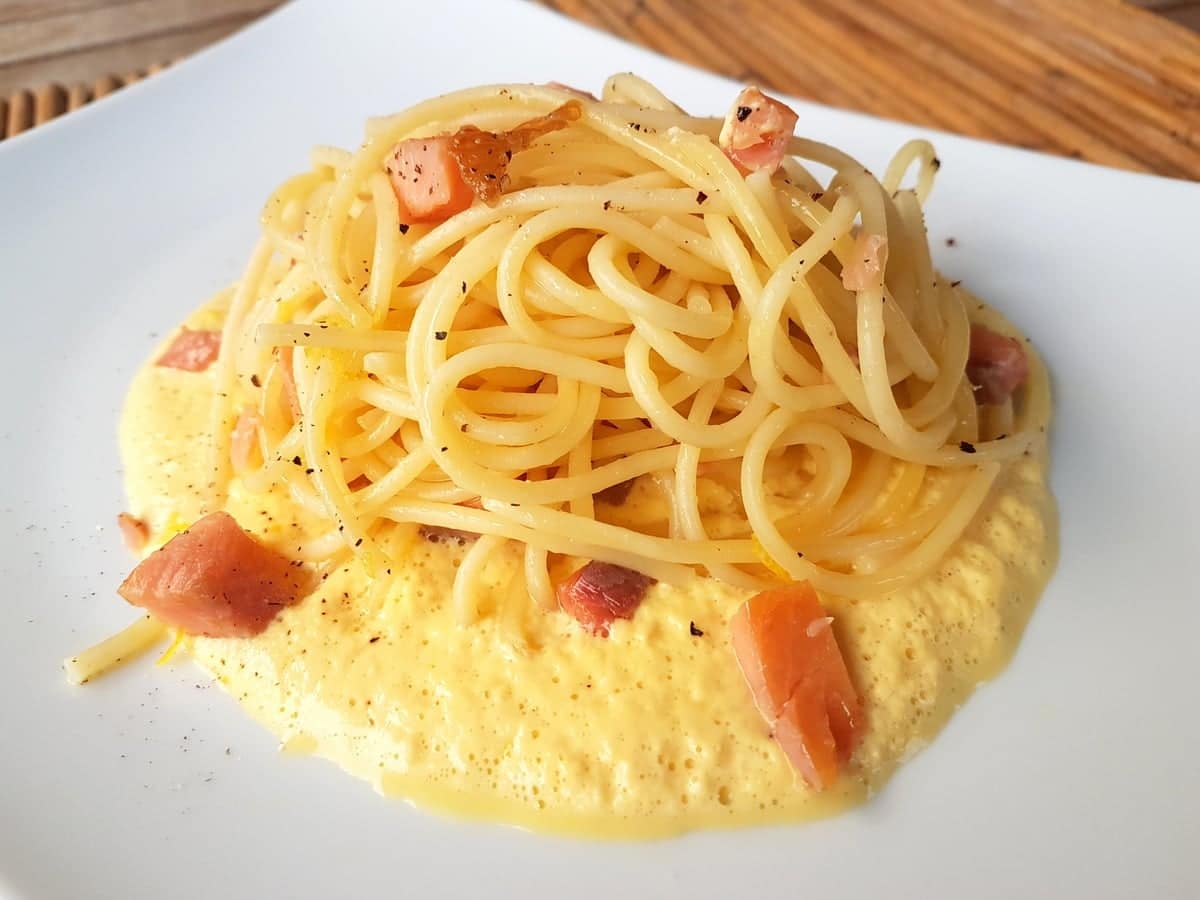 This spaghetti with smoked trout carbonara is based on a dish from a Michelin-starred restaurant located on the beautiful Lake Garda in the Veneto region. It's so much easier to make than it looks, and the result is absolutely divine.
I served this to my husband and guests, and they were blown away by the rich, smoky flavor and unique twist on the classic carbonara dish. Give it a try and impress your dinner guests with this impressive yet approachable pasta recipe.
Let me know what you think.
If you make any of these Italian spaghetti recipes, I'd love to hear how it turned out and if you liked it. Please leave a comment here on the blog or on The Pasta Project Facebook page. Looking forward to hearing from you!
Buon appetito!