Spaghetti with Scallops and Citrus Fruit.
Italians don't have one traditional Christmas meal that is eaten by all (like roast turkey in UK) In fact, traditions vary from region to region, but seafood is among the most eaten holiday fare. Scallops are a favourite special occasion seafood. This spaghetti with scallops and citrus fruit is a divine example of why pasta with scallops is a popular addition to Italian Christmas and New Year menus.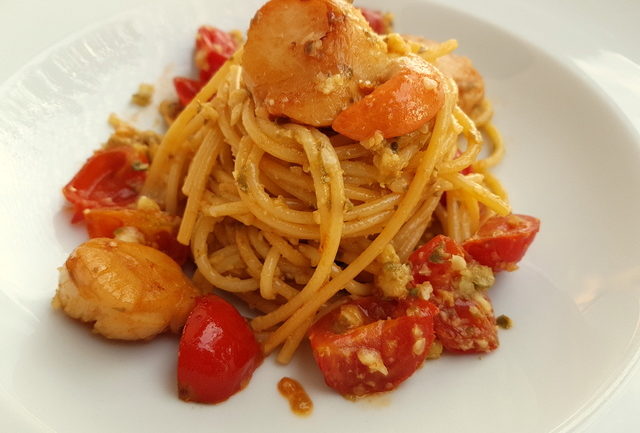 Scallops are probably the most popular edible shellfish in many countries. They can be found wild in all the world's oceans and are also farmed. Certainly here in Italy, they are a firm favourite among seafood lovers and are on the menu of most seafood restaurants and in many homes at Christmas and New Year.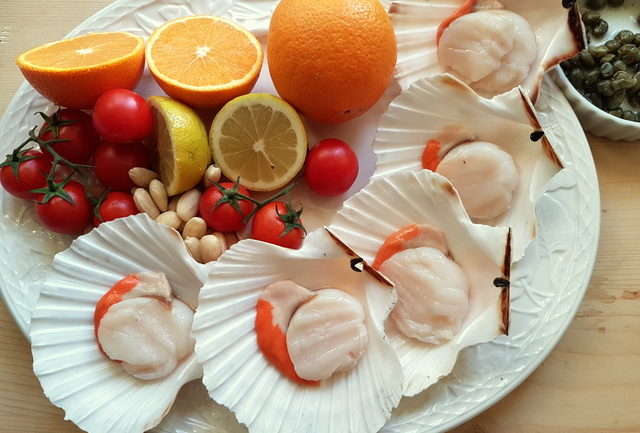 Scallops as a starter.
Italians eat scallops (capesante in Italian) in a number of different ways . They are a much-loved antipasto (starter) especially served au gratin. This is usually done with the scallop in the shell and cooked in the oven. My hubby likes to put them on the outdoor grill whilst still in their shells. He adds a little oil, garlic and parsley and the shell acts as a cooking vessel. So delicious!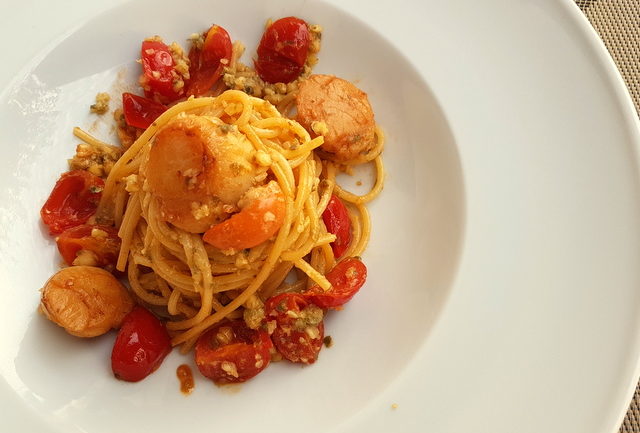 Buying scallops in Italy.
We normally buy fresh scallops in their shells with bright coral roe. Apparently, scallops can be male or female and it's the females that have the coral roe. Males have an off-white roe. The ones we buy are nearly always female. Not for any particular reason except that those are what we normally find at the fishmonger. As far as I know, both white and coral roe taste the same.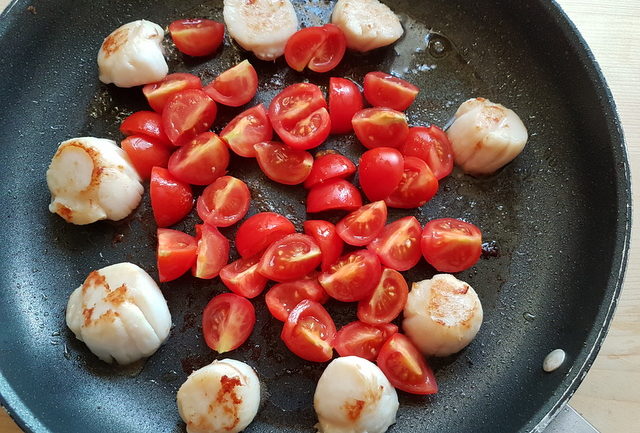 Scallop roe is good for you!
The second most popular way to eat scallops in Italy is with pasta. When making pasta with scallops, each scallop (which is actually the muscle of the mollusc) is removed from the shell. Some people discard the roe. I usually prefer to keep it. Apart from the fact that the roe (which is actually the reproductive organ of the scallop) is very nutritious and full of omega 3s, it's also delicious. In addition, scallops sold with the roe is a sign of freshness. It means the mollusc was brought to shore alive because the roe deteriorates faster than the muscle and needs to be kept alive longer.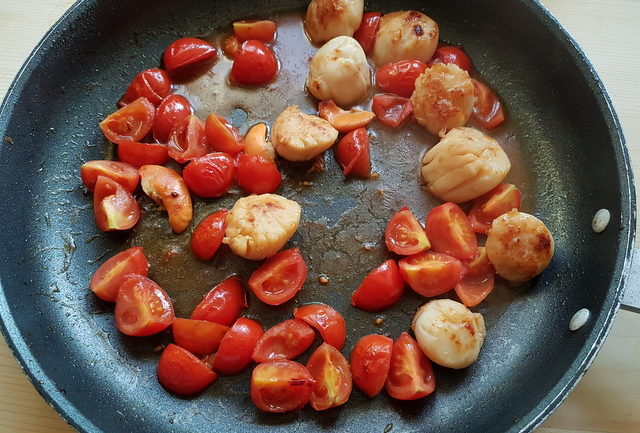 Making this spaghetti with scallops recipe.
There are many Italian recipes for pasta with scallops. This spaghetti with scallops and citrus fruits is one of my favourites. It's pretty easy to make and so delicious. The sauce can be done in the time it takes to boil the water and cook the spaghetti, so this is also a fairly quick recipe. However, it does need to be served immediately and won't taste as good if prepared too much in advance because it dries out. You can prepare the sauce a little ahead of time (maybe a couple of hours) and then cook the pasta and reheat the sauce shortly before serving. Add some of the pasta cooking water to the sauce if it's become too dry.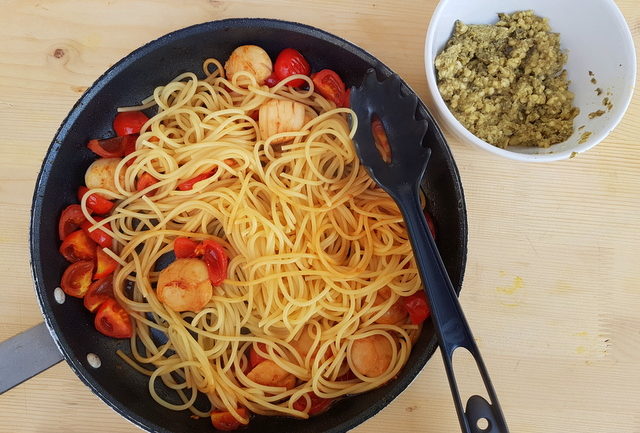 Apart from the scallops and roe (if keeping) this spaghetti with scallops recipe includes only some orange and lemon zest or peel, a few cherry tomatoes, almonds, capers and extra virgin olive oil. Making this dish involves three pretty easy steps. First, you need to grind the almonds and capers together with the citrus zest some orange juice and a little olive oil in a blender to form a kind of pesto. Then cook the scallops and roe with the tomatoes and a little white wine.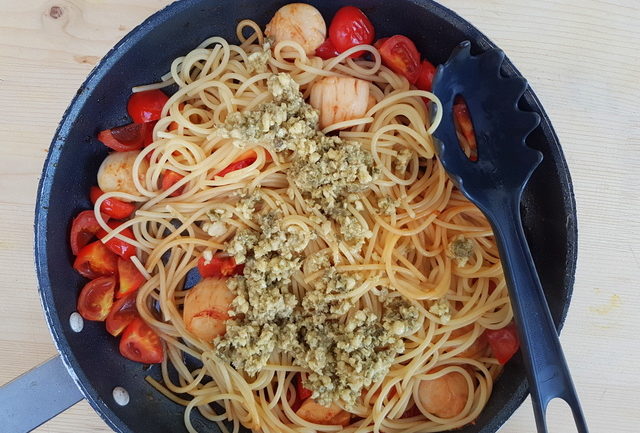 While the scallops are cooking boil the water and cook your spaghetti al dente. Finally add the pasta to the scallops, along with the almond and caper mixture. Mix everything together and voila! A beautiful plate of spaghetti with scallops to impress your guests!
For mini portions serve in the shell.
If you decide to include this spaghetti with scallops recipe on the menu for a meal with lots of food, such as Christmas lunch,it's a great idea to serve mini portions on the scallop shells (if you have them). It looks so pretty and everybody loves it!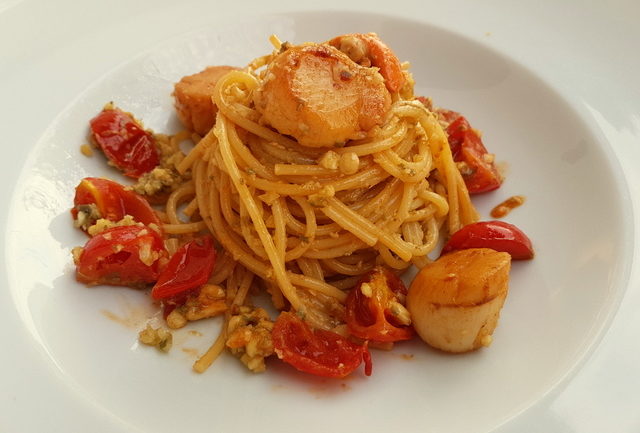 Why not add this dish to your holiday menu?
This is a great recipe for a festive menu during the upcoming holidays. In Italy, it would be served as a primo (first course) before the main course. Why not add a Italian touch to your holiday menu and include this divine dish.
If you make this spaghetti with scallops and citrus fruit recipe, I'd love to hear how it turns out. Please write a comment here on the blog or post a comment on the Pasta Project Facebook page.
Your feedback means a lot to me!
Buon Appetito!
Other fish and seafood pasta recipes on The Pasta Project
Save this recipe for later?
If you want to save this recipe for later, you can print it, bookmark this page or save it to Pinterest.
Pin for Later