Of all the super simple traditional Southern Italian pasta recipes I know, this anchovy pasta recipe from Naples is one of the best! Known locally as spaghetti alla Gennaro, this recipe holds a special place in the hearts of the Neapolitans because it's named after the city's patron saint! Easy and simple to do, all you need is spaghetti, anchovies, garlic, stale bread, oregano, and basil to make this version of midnight pasta, also known as Totò's pasta.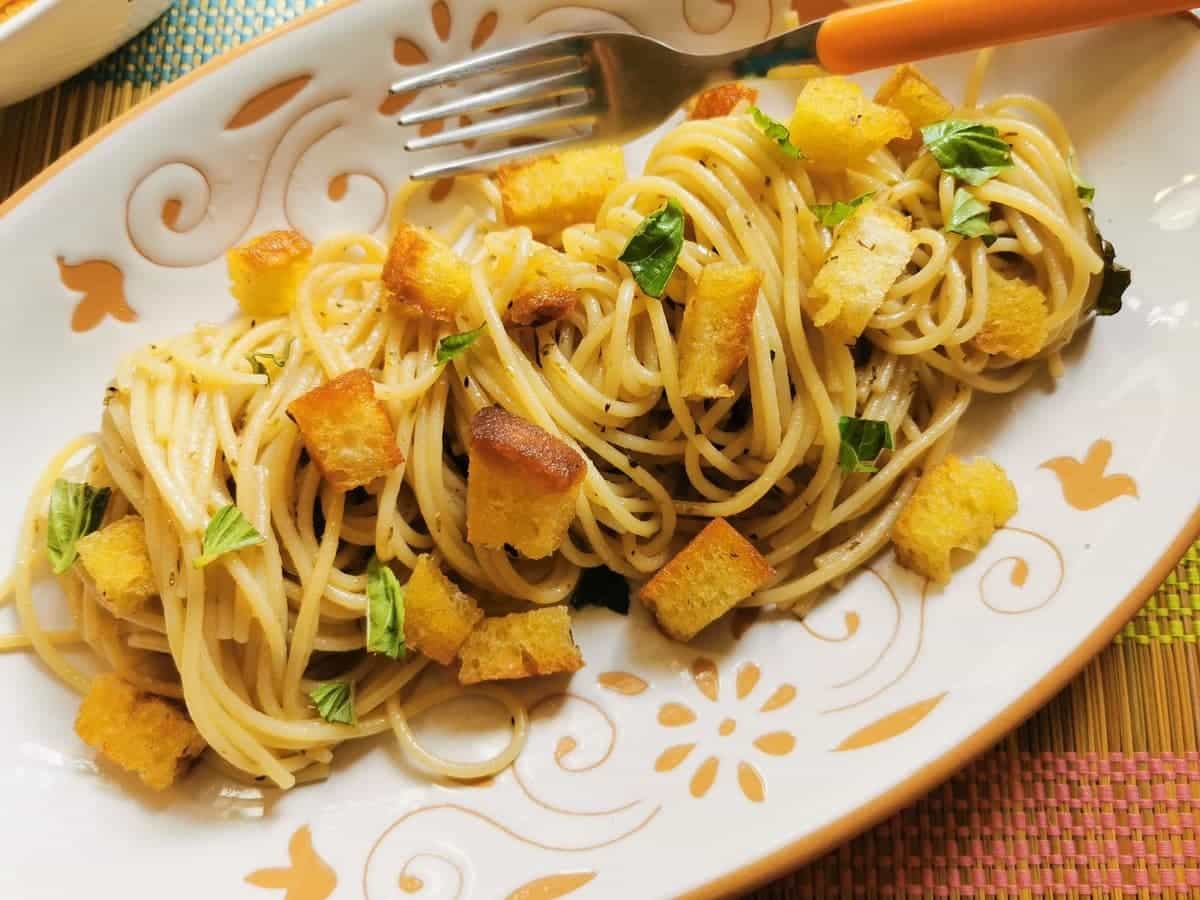 Spaghetti alla Gennaro.
The Southern Italians are masters at making easy pasta recipes with just a few local ingredients. Spaghetti with tomato sauce, aglio e olio, and puttanesca are some that come to mind! Spaghetti alla Gennaro falls in the same category.
With a handful of staple ingredients, you can have this traditional Neapolitan pasta dish on the table in no time. However, this anchovy pasta recipe is more than just a simple dish for the people of Naples.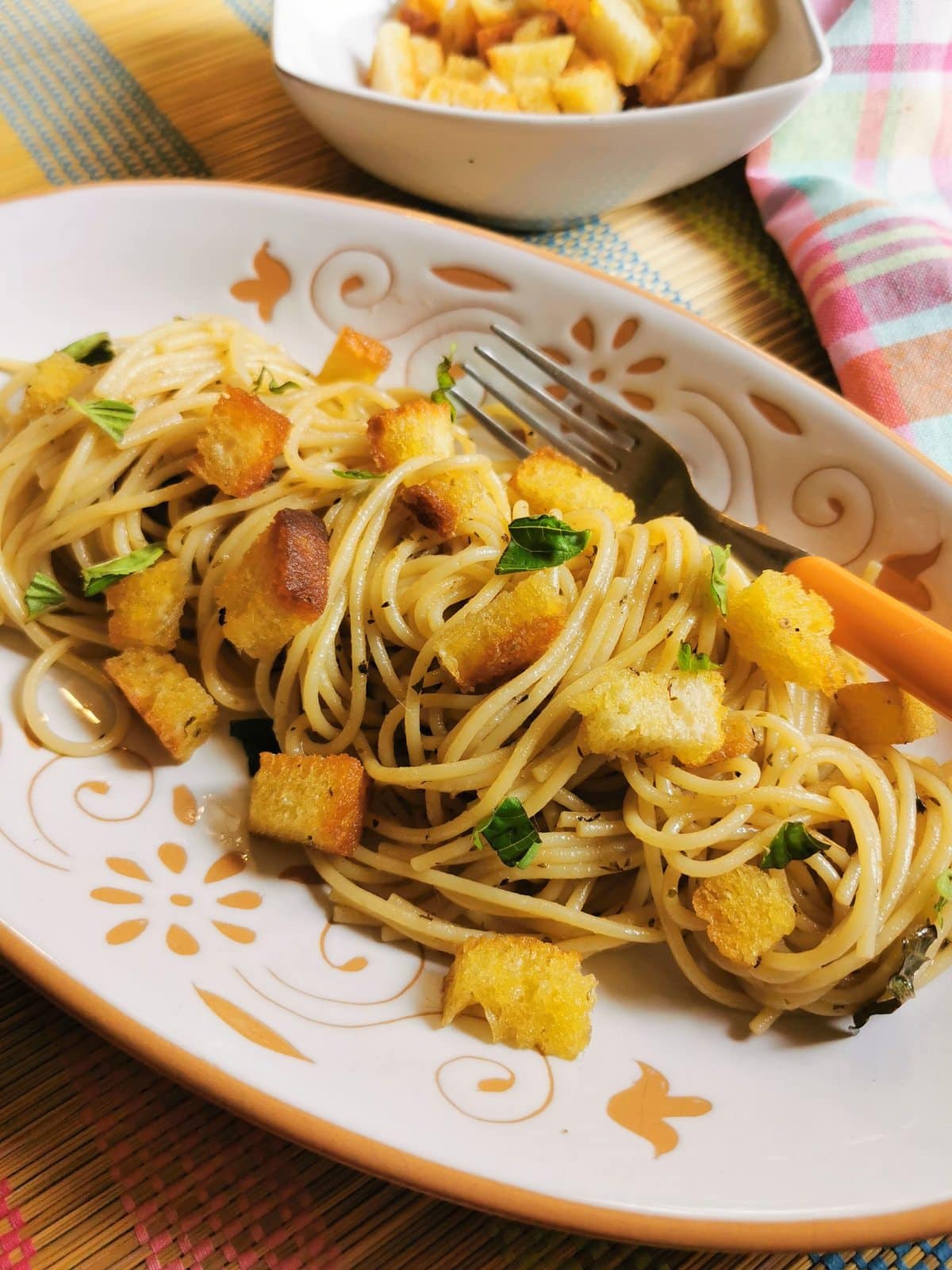 Firstly, this recipe is named after the city's principal patron saint. According to Wikipedia, St. Gennaro, also known as Janarius I of Benevento, was bishop of Benevento and a martyr and saint of the Catholic Church. Every year, the Neapolitans gather 3 times in Naples Cathedral to witness the liquefaction of what is said to be the saint's blood inside an ampoule!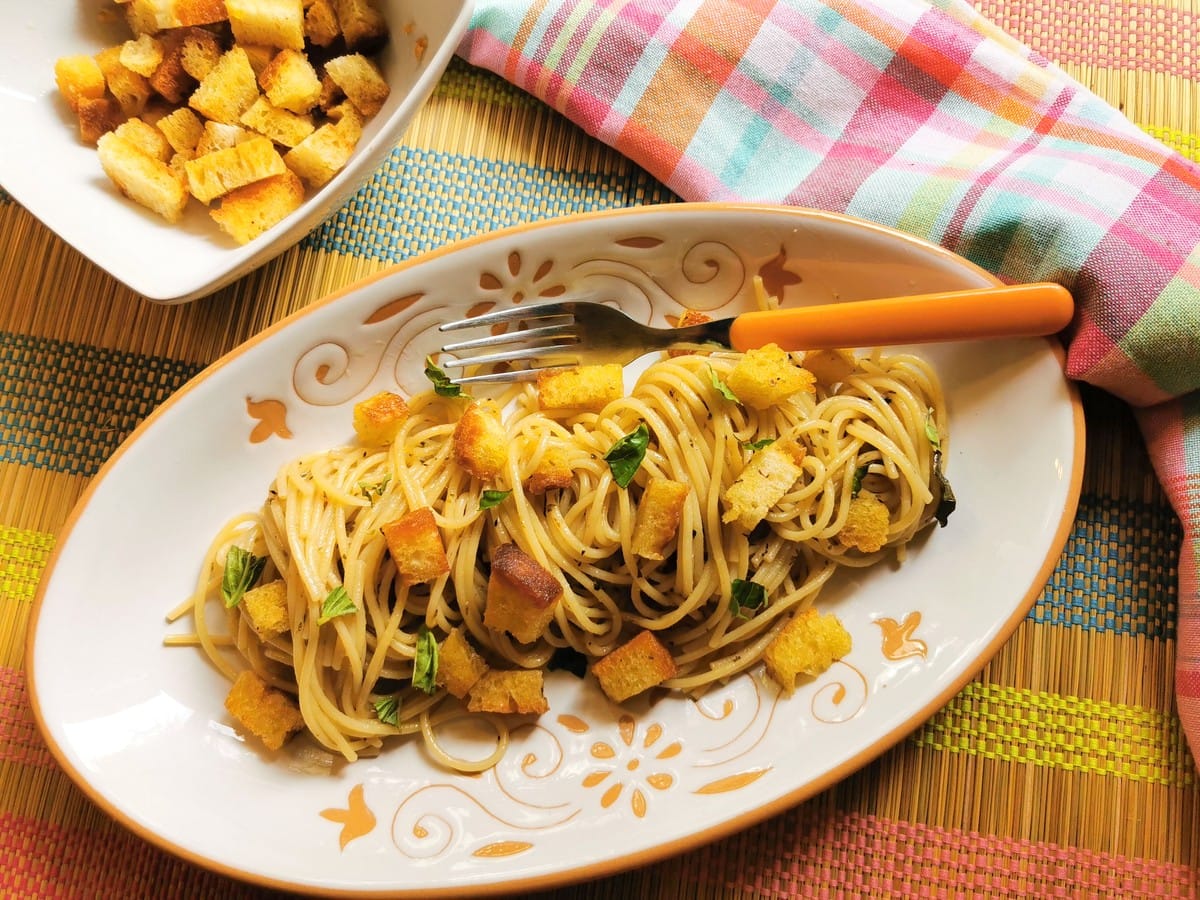 La ricetta di Totò ( Totò's recipe).
I wasn't able to discover why Neapolitans named this anchovy pasta after their patron saint. However, this is the dish that is traditionally eaten in Naples on St Gennaro's feast day, September 19th.
Interestingly, this recipe is also associated with one of the city's most famous sons; the actor, comedian, screenwriter, singer and lyricist Totò. Totò, whose real name was Antonio Griffo Focas Flavio Angelo Ducas Comneno Porfirogenito Gagliardi de Curtis di Bisanzio, is considered one of the most brilliant comic actors of the 20th century.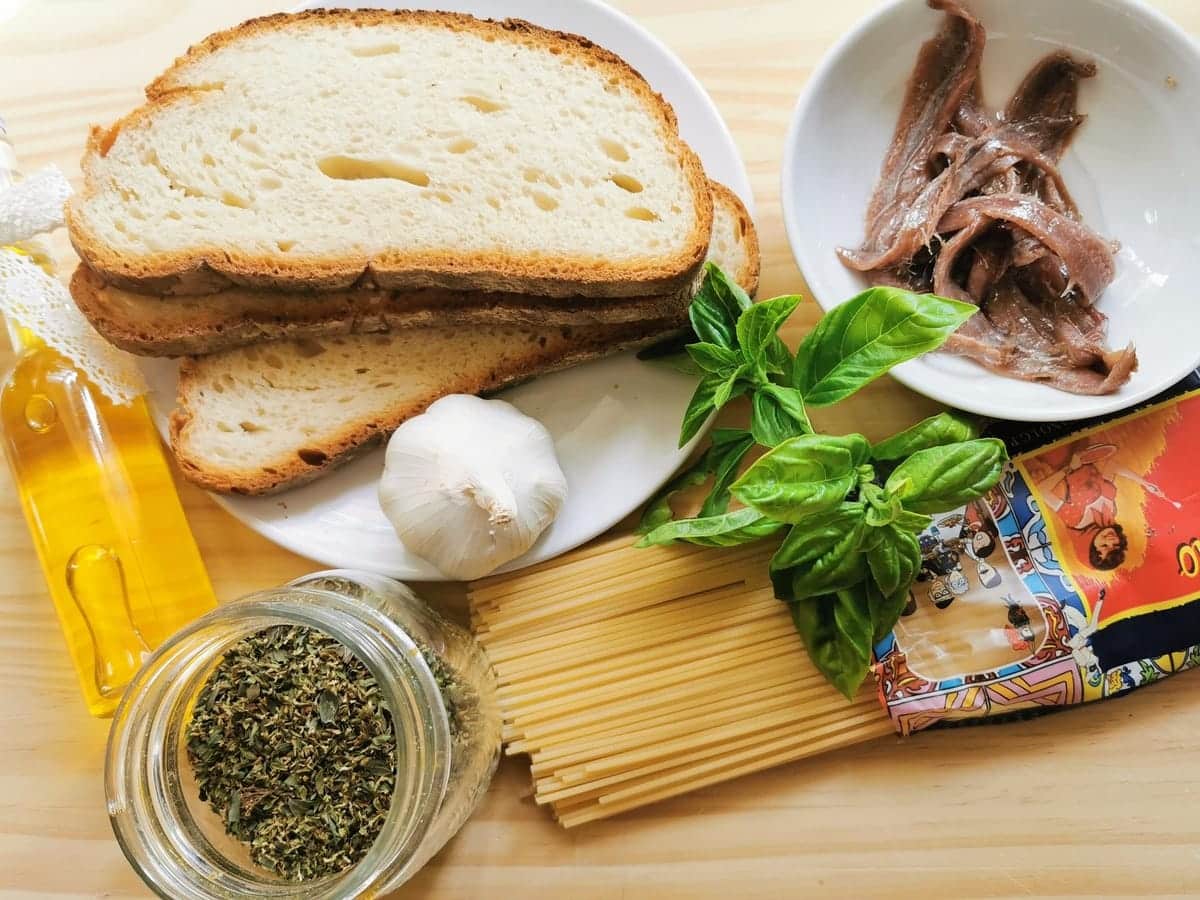 Toto's actress daughter Liliana de Curtis, who died earlier this year, included the recipe for spaghetti alla Gennaro in her 2001 cookbook 'Liver here, liver there, fried liver and salt cod', a collection of recipes from her father's kitchen.
Apparently, the actor was also an excellent chef, who loved to cook the recipes that his mother had taught him, and which he had written down with notes, jokes and comic and serious advice in a notebook that is the basis of his daughter's collection.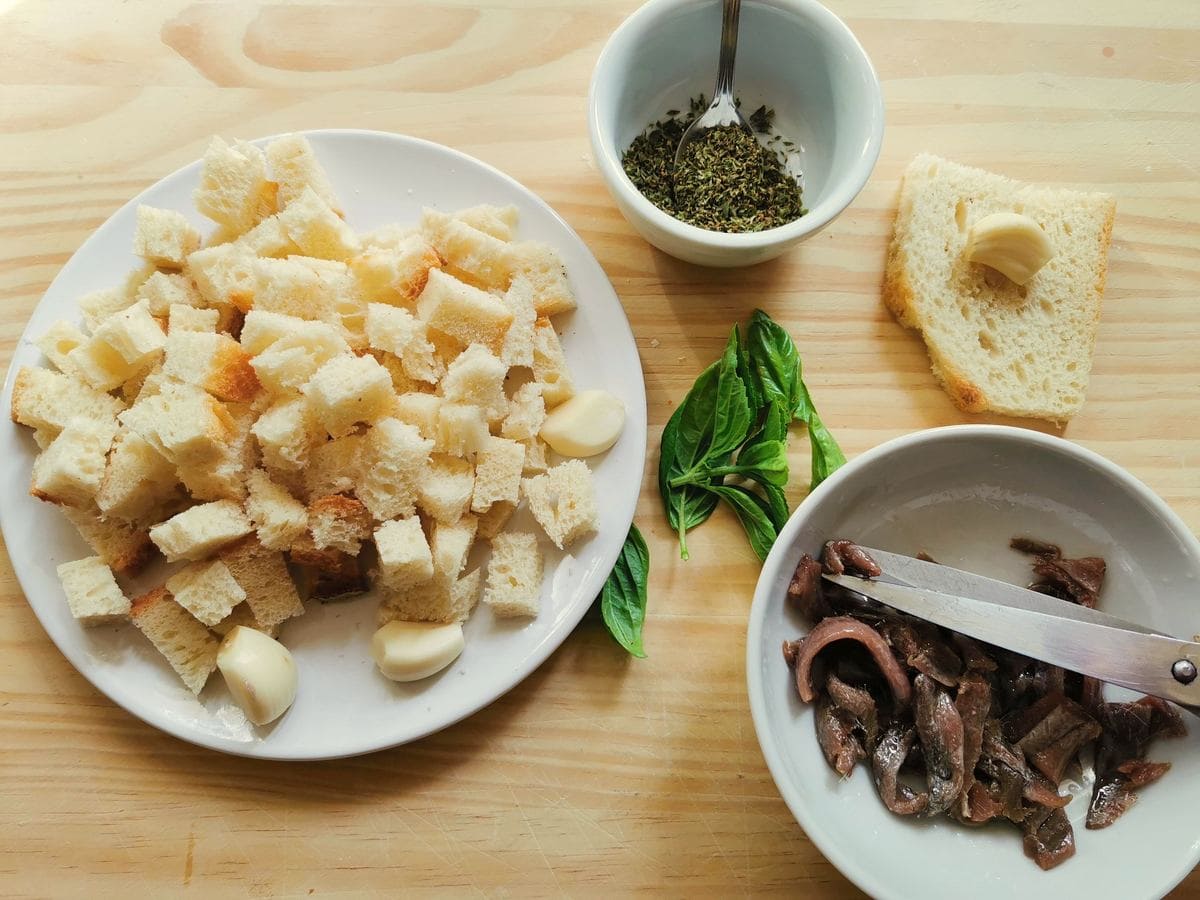 Anchovy pasta alla Gennaro or spaghetti alla Gennaro is a dish mentioned a number of times in several of Totò's films. For most Neapolitans, it is THE recipe that comes to mind when they think of his favourite pasta recipe. In fact, if you search Italian sites for 'Totò's pasta' the only search result is this recipe, even though the book includes other pasta dishes.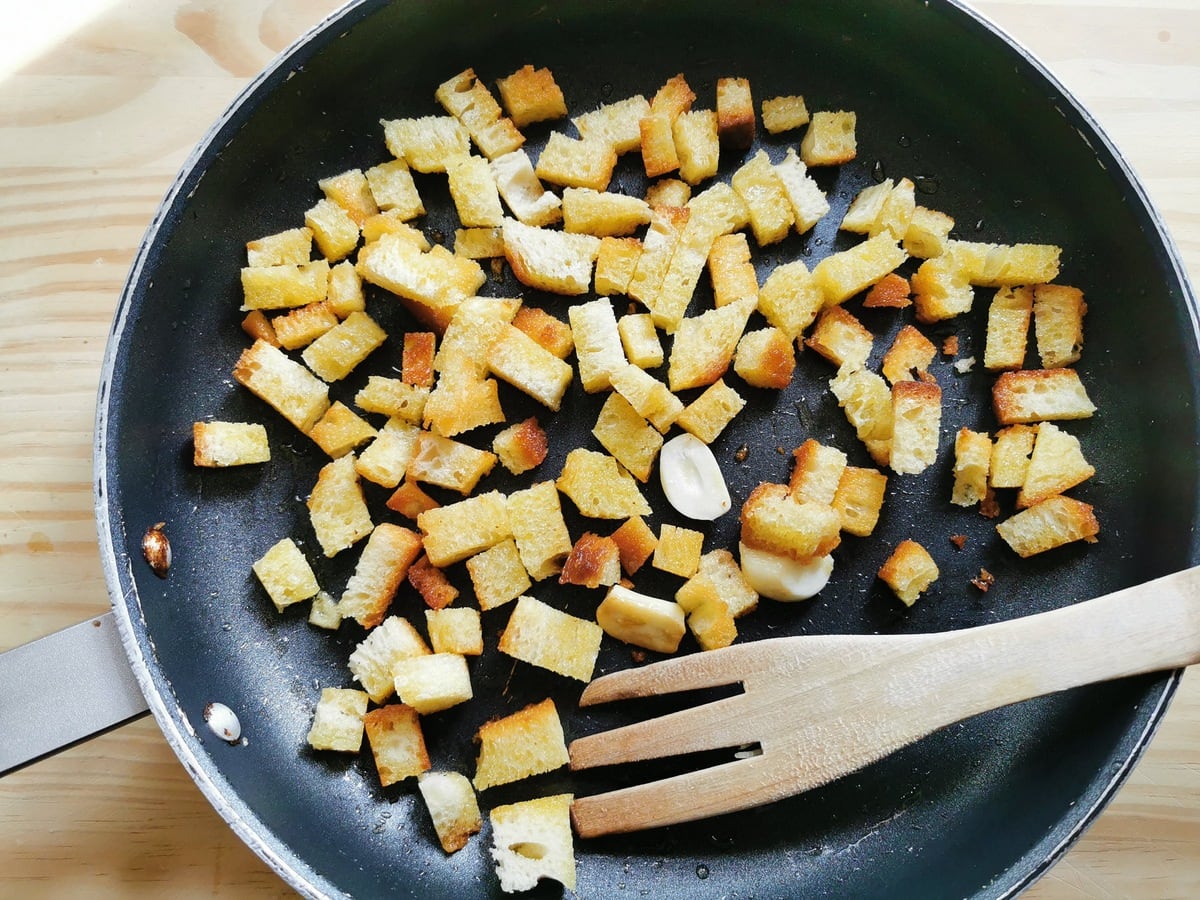 Midnight pasta.
Apart from being named after the Naples' patron saint and associated with the comedian Totò, this spaghetti with anchovies is also a favourite late night 'midnight' pasta. Although outside of Italy aglio, olio e peperoncino (garlic, oil, and red chilli spaghetti) is often labelled as THE midnight pasta, here in Italy there isn't really one recipe.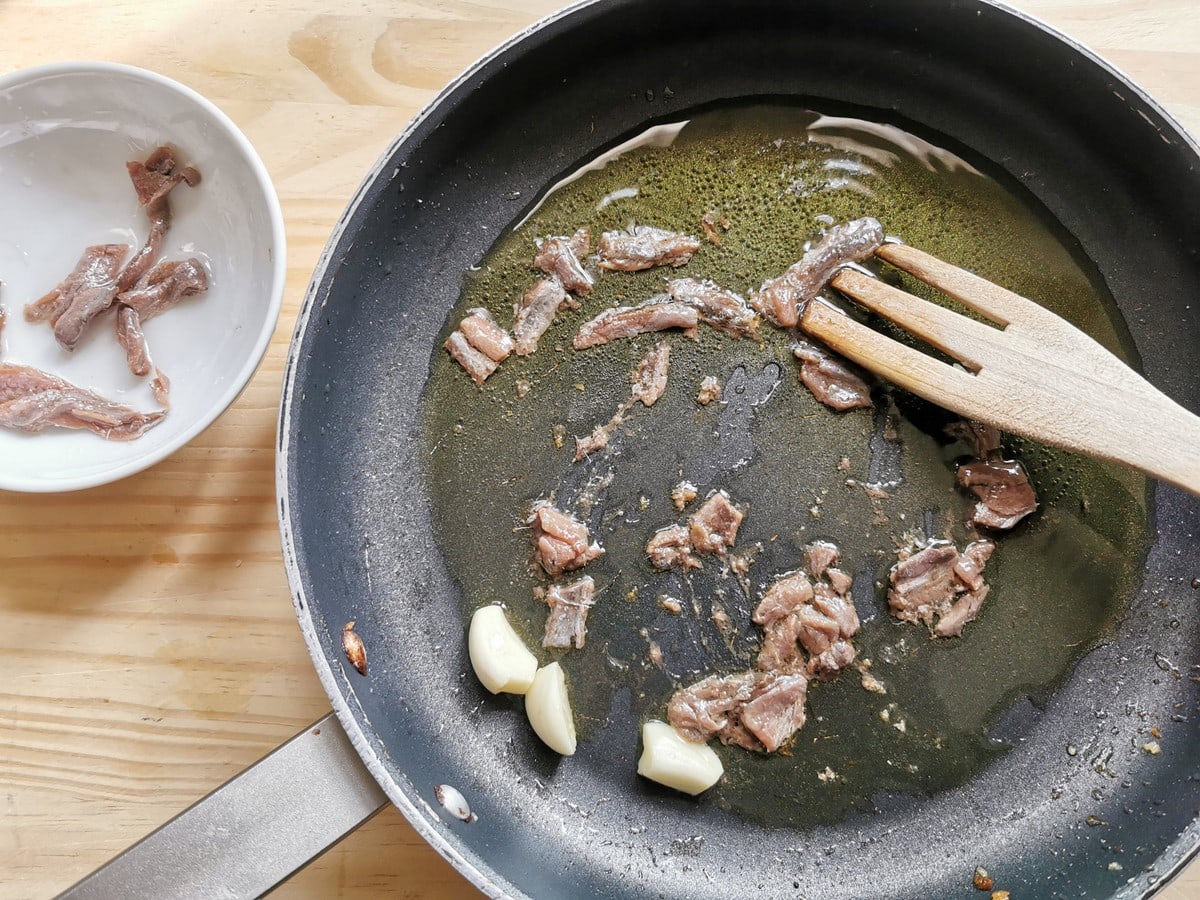 Unlike in many western cultures, late night hunger or munchies isn't satisfied by ordering takeaway in Italy. When Italians find themselves up late with friends or family feeling hungry and perhaps a little worse for wear after too much vino someone will probably say 'ce li facciamo due spaghetti?', meaning shall we make some spaghetti?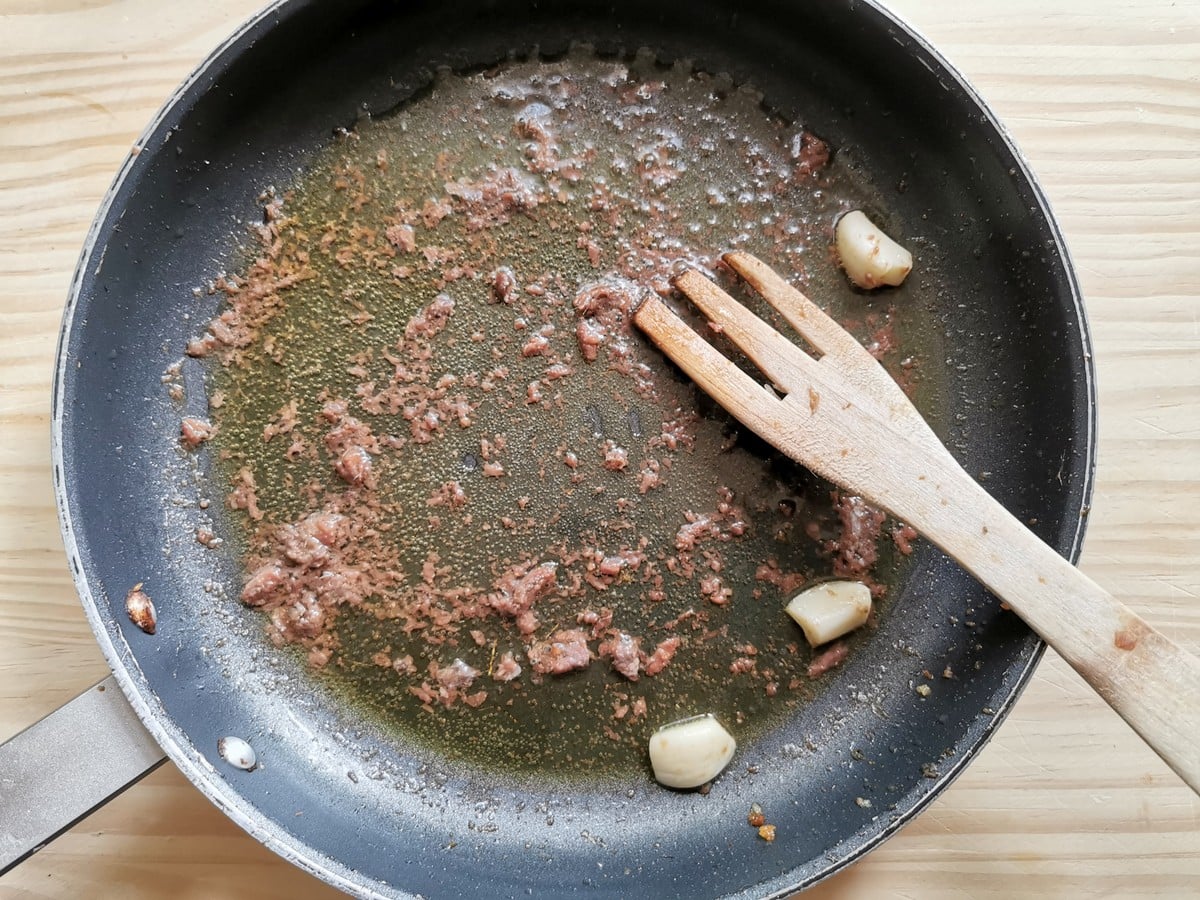 For many, midnight pasta is aglio olio e peperoncino but there's no hard and fast rule. My Sicilian hubby often makes his more like a puttanesca. He likes to add olives, anchovies, and sometimes dried tomatoes. Some people add different herbs like basil, oregano, rosemary etc. Others prefer a canned tuna and tomato spaghetti or carbonara as their midnight meal. It's all about what's in the fridge or larder and what you feel like!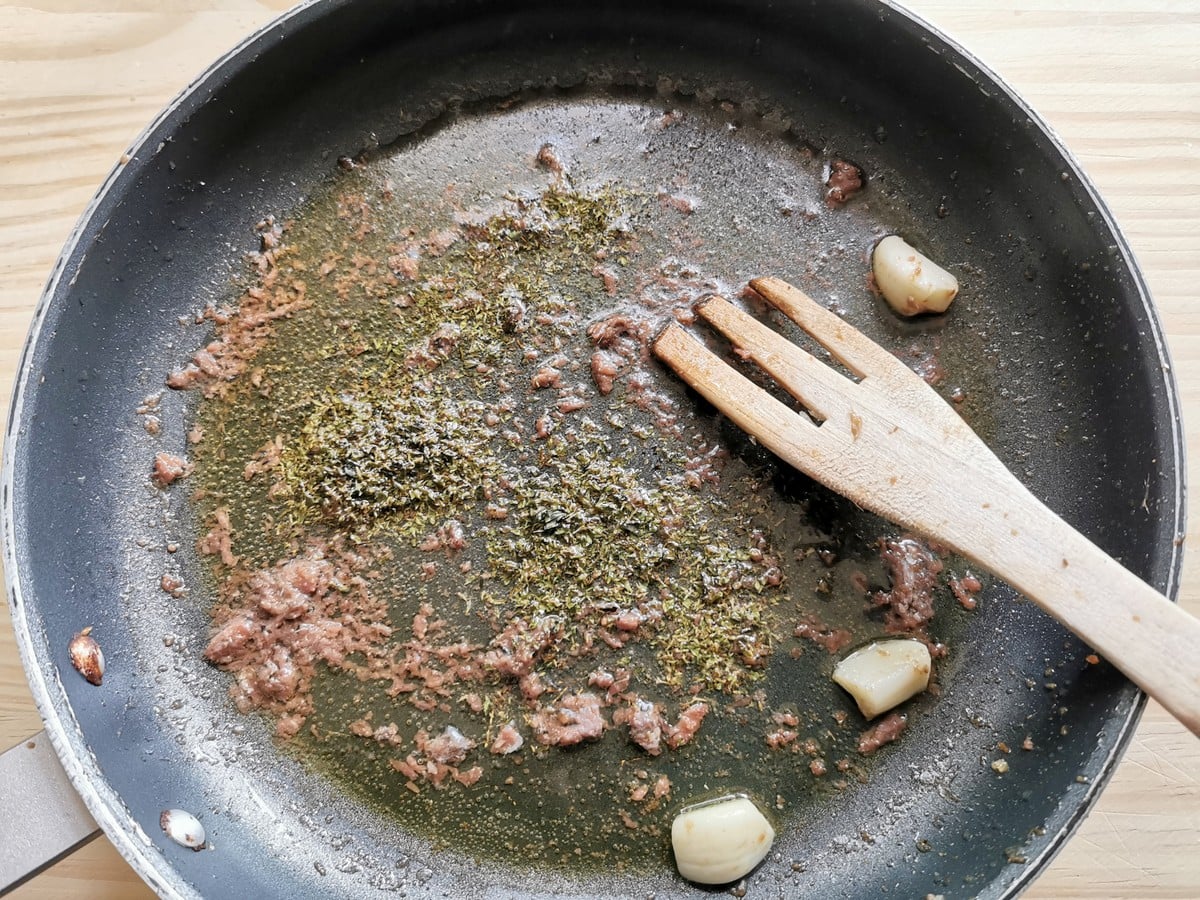 This spaghetti with anchovies all Gennaro is another favourite choice for late night pasta or just when there's a need for a quick lunch or supper. The only extra work in this recipe is homemade croutons but since many Italians have ready-made croutons in the larder, making them yourself isn't necessary. You can also use toasted breadcrumbs.
What kinds of anchovies are best in pasta?
Most Italians have anchovies in the larder or fridge. However, in Italy, anchovies are referred to as either 'alici' or 'acciughe'. The former can be fresh anchovies or those that have been filleted and preserved in olive oil. The latter are those preserved in salt. But, they are the same type of fish.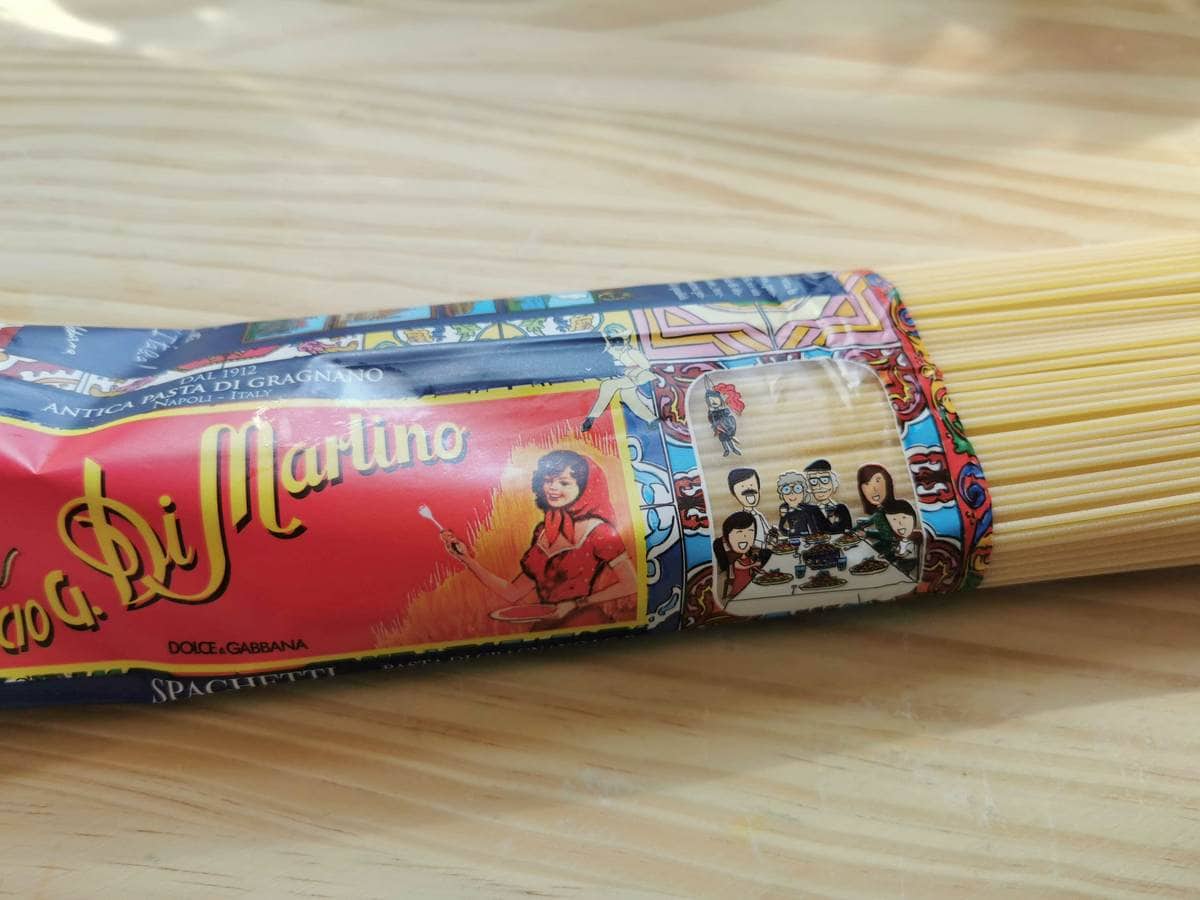 When it comes to adding anchovies to pasta the most popular types are anchovy fillets preserved in oil or those preserved in salt which have been thoroughly rinsed to remove most the salt. My hubby likes the salted ones, I prefer those in oil.
The amazing thing about Italian anchovy pasta is that the anchovies actually melt when you sauté them in olive oil along with the other main ingredients like garlic and herbs.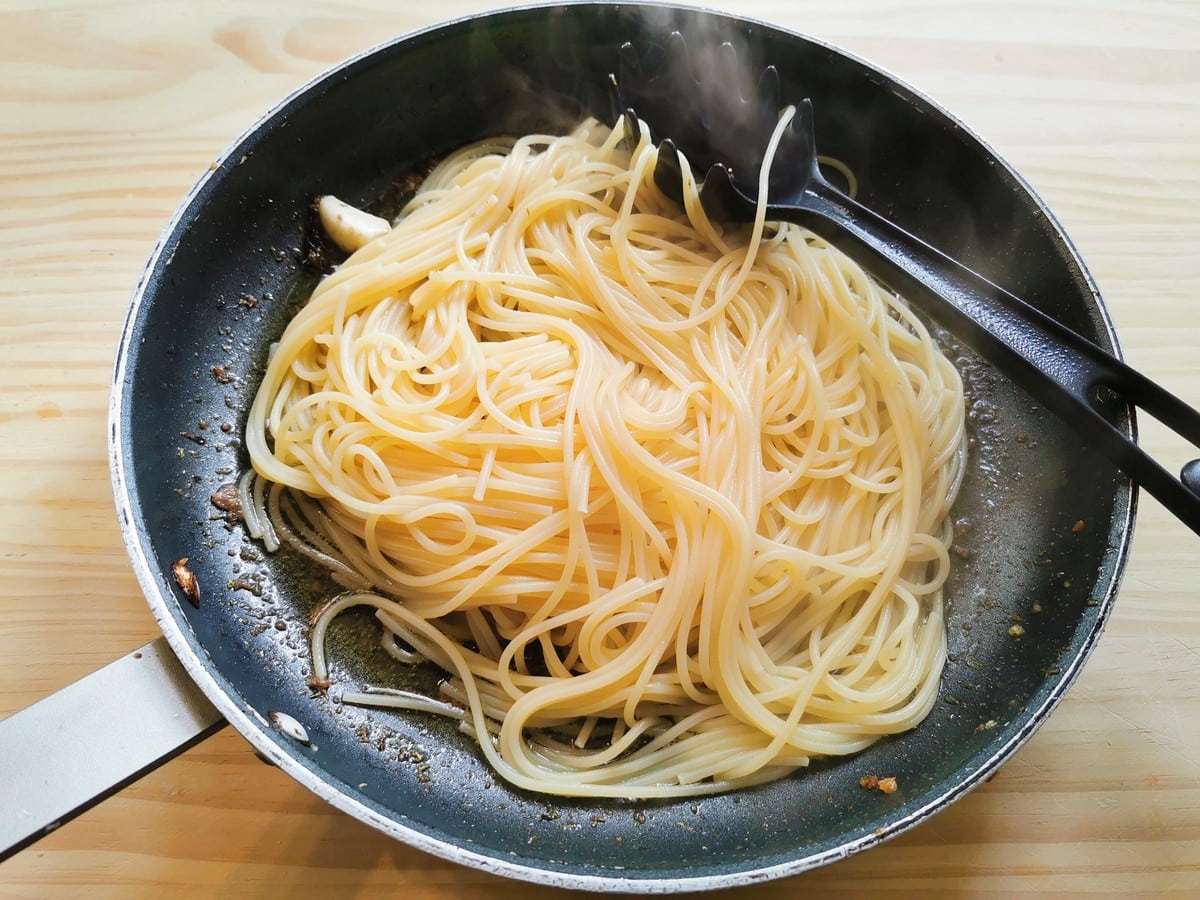 Italians have long known what chefs abroad have only recently discovered; anchovies don't taste fishy. When 'melted' in olive oil or a sauce they add a briny, savoury umami flavour to any dish they are used in.
Are anchovies healthy?
Anchovies are very nutritious and have many vitamins and minerals that provide major health benefits. They are best known as a source of Omega-3 fatty acids and are loaded with protein. In addition, anchovies are an excellent source of calcium, selenium, niacin, vitamin B12, potassium and vitamin A!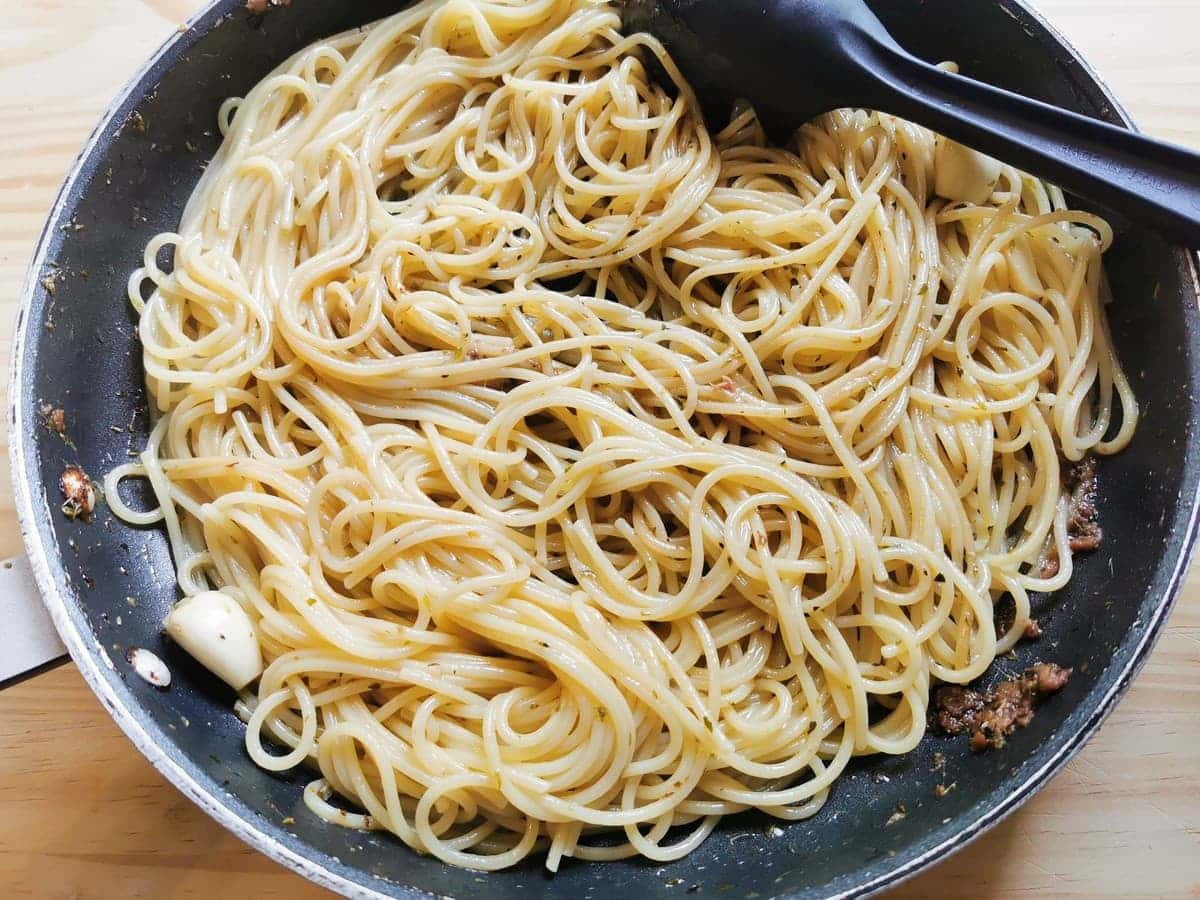 For this spaghetti with anchovies, I used very good quality anchovies from Cantabria. Despite the fact that you can get great anchovies all over Italy, those from Cantabrian Sea off the coast of Spain are considered the best in the world! And they really are so good. However, you can use other types too, preferably those preserved in olive oil.
Other ingredients in this anchovy pasta from Naples.
As I mentioned before, spaghetti alla Gennaro is a simple dish made with a handful of ingredients. Apart from the anchovies, all you need is garlic, olive oil, basil, oregano, stale bread to make the croutons or breadcrumbs and, of course the spaghetti. Some people also add peperoncino but I didn't.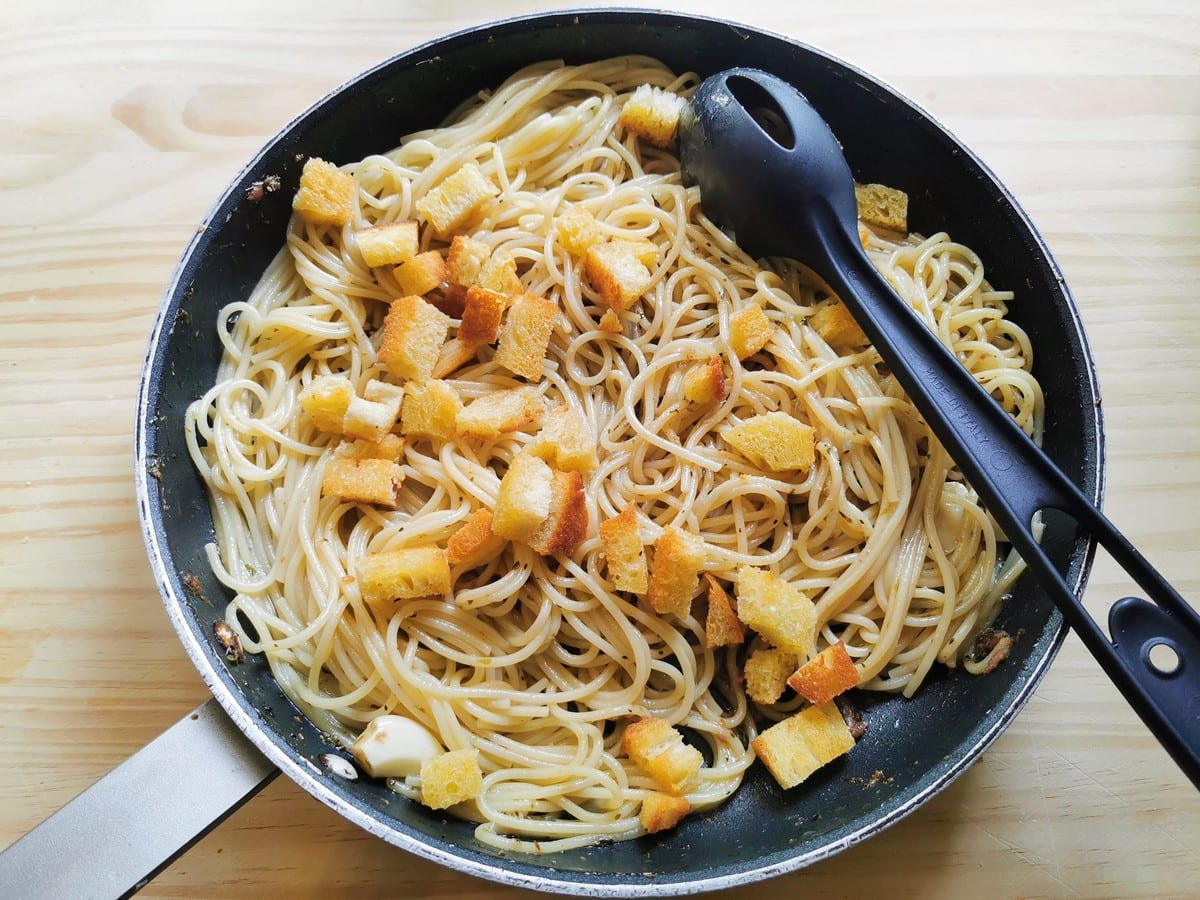 The pasta.
Spaghetti is the pasta of choice for this recipe, although I imagine it could also be made with linguine or vermicelli. The spaghetti I used was made by Di Martino one of my favourite pasta makers from Gragnano. The latter is a town near Naples that's famous for pasta production. In fact, they have been producing dried pasta there for more than 500 years.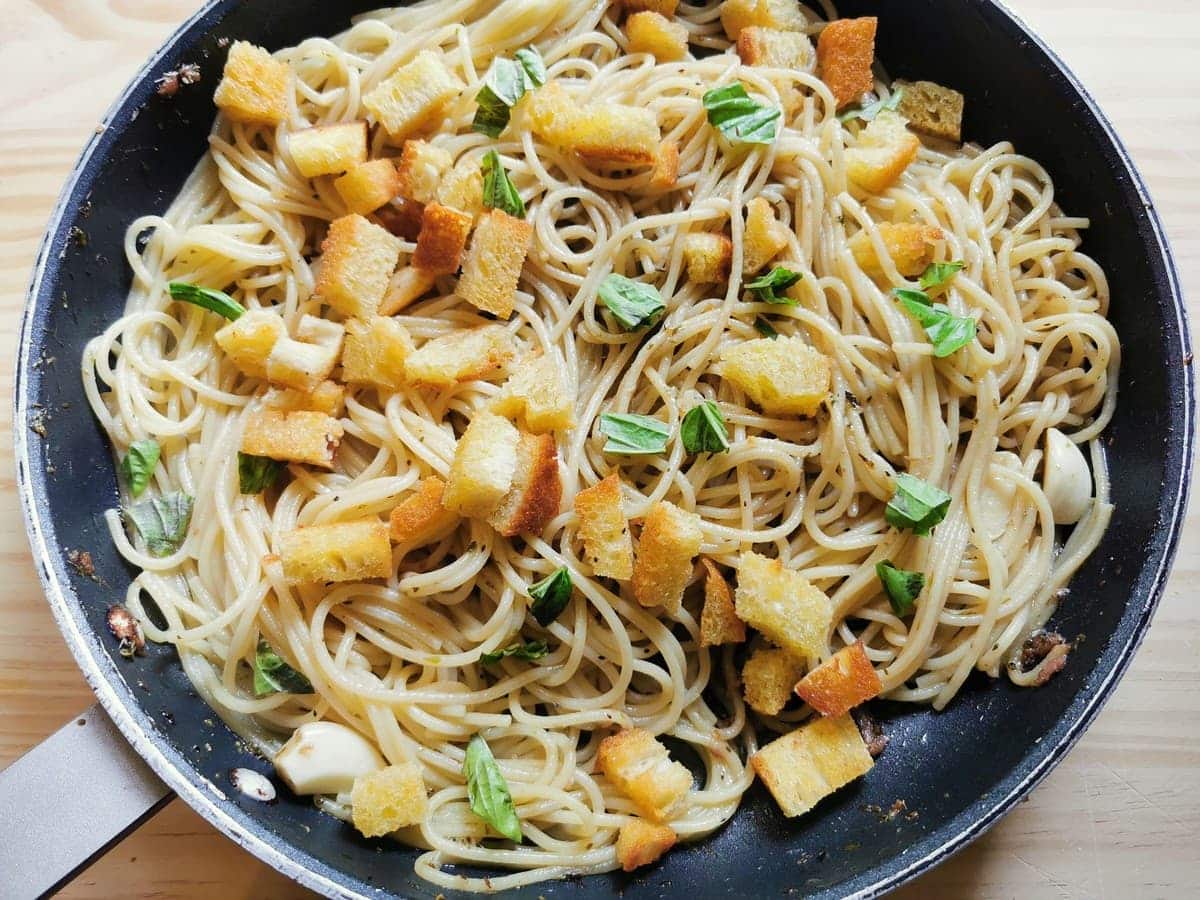 There are about 15 companies producing pasta with the Pasta di Gragnano IGP certification. IGP is an EU certification of origin that identifies a product made in a certain geographic area. Apart from Di Martino; La Fabbrica della Pasta di Gragnano, Garofalo, Liguori, Gentile, Afeltra and Pastificio dei Campi are among the Gragnano pastas I know are available outside of Italy.
Making spaghetti alla Gennaro.
It doesn't take much time to have this anchovy pasta on the table. So, the first step is to put a pot of water on to boil for the pasta! Add salt once it starts to boil and bring to the boil again. Then you need to peel the garlic and cut the anchovies into small pieces. Finally wash and pat dry the basil.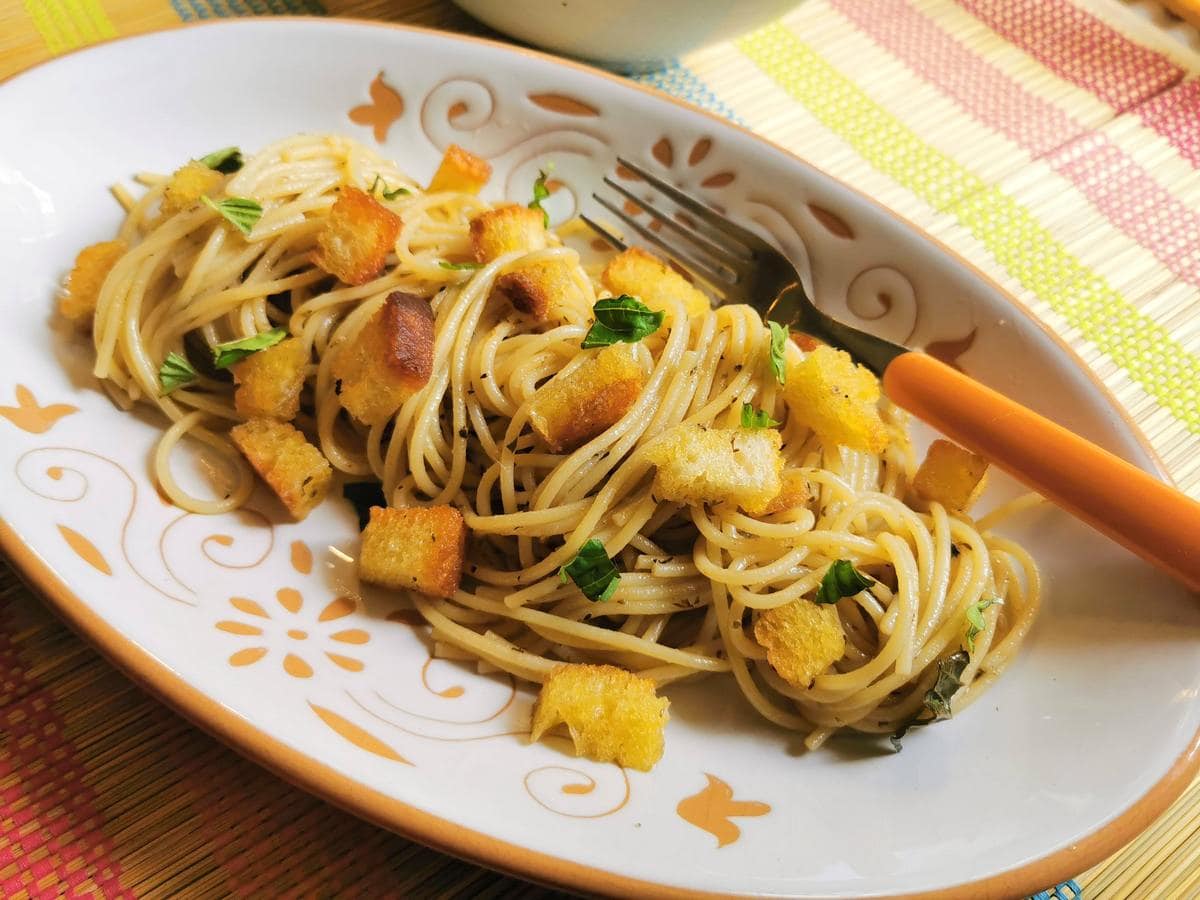 The next step is to make the croutons or toasted breadcrumbs. Rub the bread slices with a garlic clove and then cut them into croutons or break into small pieces. You can also use a food processor to turn the bread into breadcrumbs. But, don't blend them too fine.
Heat some olive oil in a pan and fry the croutons or breadcrumbs until they are slightly brown. The breadcrumbs will be ready faster. Remove the bread and add some more olive oil. Once this has heated add the remaining garlic cloves and anchovy pieces. Stir the anchovies until they melt into the oil.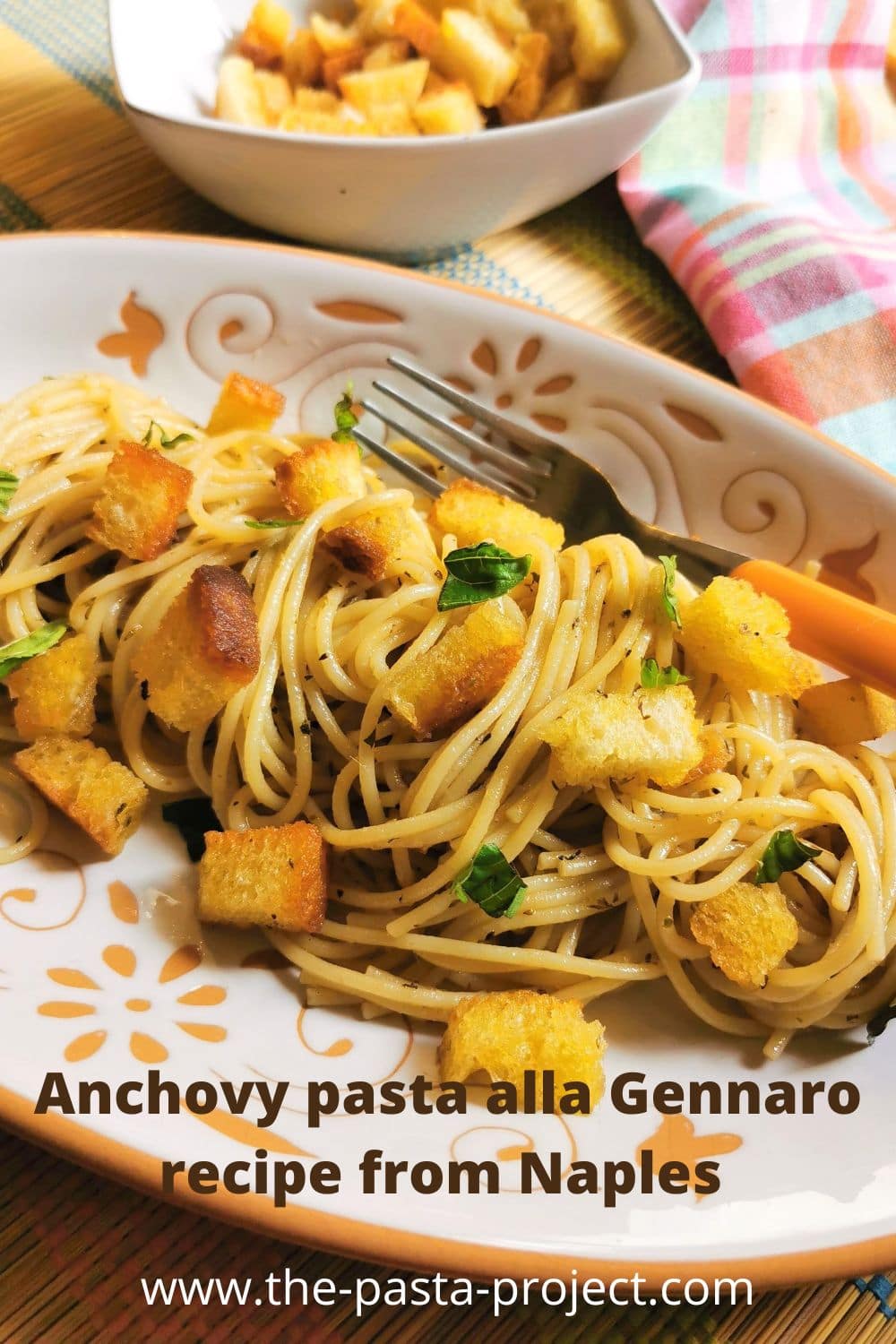 When the anchovies have melted, add the oregano and chilli pepper flakes (if using). Cook for a minute and remove from the heat until the spaghetti is ready. Cook the spaghetti al dente, save a little cooking water and drain it. If necessary, reheat the anchovies and oregano and then remove the garlic and add the spaghetti with a little cooking water.
Finally, mix the spaghetti to coat it in the sauce and then add some croutons or breadcrumbs. Mix again and add the remaining croutons and some fresh basil pieces. Serve immediately whilst still hot.
Let me know what you think.
As you can imagine, this anchovy pasta is not only super simple but also super delicious. It's a perfect fast weeknight recipe as well as a late-night dish or midnight pasta if you ever want to feed unexpected guests or friends and family who came for lunch and are still there at dinner time!
If you give this recipe a try, do let me know how it turns out, either by commenting below or on the Pasta Project Facebook page. And if you feel it's worth sharing with friends please do.
All your feedback and support is much appreciated!
Buon Appetito!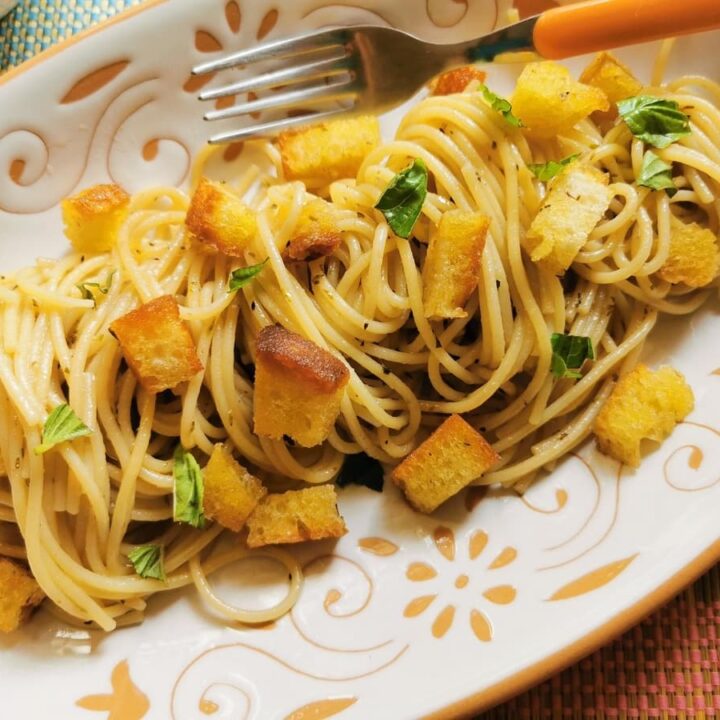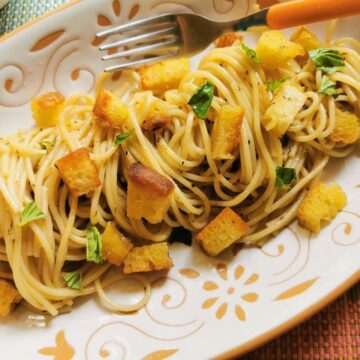 Anchovy pasta recipe from Naples (spaghetti alla Gennaro)
This anchovy pasta recipe from Naples (spaghetti alla Gennaro) is easy and simple to make. All you need is spaghetti, anchovies, garlic, stale bread, oregano,and basil to make this version of midnight pasta, also known as Totò's pasta.
Ingredients
12.5

oz

spaghetti (360g)

6-8

anchovy fillets

those preserved in oil.

4

slices

semi-stale bread

The best is country or farmhouse bread.

2-5

garlic cloves

peeled

2

tsp

dried oregano

5

tbsp

extra virgin olive oil.

fresh basil leaves

washed and dried.
Instructions
Prepare ingredients
Peel the garlic cloves and cut 1 in half. Cut the anchovy fillets into small pieces. wash and pat dry the basil leaves.

Put a pot of water onto boil for the spaghetti. Add salt once it starts to boil and bring to the boil again.

Rub the bread slices with the cut garlic and cut them into small cubes for croutons.
Make the croutons
Saute 1-2 garlic cloves in olive oil in a skillet. Then add the croutons and fry on each side until golden and crispy. You can use breadcrumbs instead. These brown very quickly and need less olive oil. Remove croutons from the pan and set aside.
Make the anchovy sauce.
Add more olive oil to the skillet and sauté the rest of the garlic and the anchovy pieces. Keep stirring the anchovy until it starts to melt and then add the dried oregano. Remove from the heat so the oregano doesn't burn.
Finish and serve.
Cook the spaghetti al dente according to the instructions on the packet. Save a little pasta cooking water, drain the pasta and add it to the hot anchovy sauce with a little pasta cooking water (2-3 tbsps). The sauce may need to be reheated before adding the pasta.

Mix the spaghetti with the sauce and then add some of the croutons. Mix again and then add the rest of the croutons and the fresh basil torn or cut into pieces. Serve immediately.
Notes
Spaghetti is the traditional pasta for this recipe but linguine or vermicelli could be used too.
Some Italians add peperoncino flakes to this recipe. If you'd like to do the same add them with the oregano.
You can use breadcrumbs (homemade or store bought) instead of the croutons or ready-made croutons.
Other Italian 'midnight pasta' recipes to try.
If you are interested in learning how to make homemade pasta and different types of gnocchi, check out my shop page for some great video online courses from my friends in Rome! Nothing beats learning to make pasta from Italians! Plus while you're there why not order a copy of one of my pasta recipe cookbooks or checkout some recommended pasta making tools? They make great prezzies for pasta lovers!