A fresh and easy-to-make pasta recipe from Rome.
Spaghetti alla checca is a simple but tasty authentic vegetarian Italian pasta recipe from Rome. It's fresh and easy to make and perfect for warm weather meals! I served mine with burrata. But, you can make it without for a vegan or dairy-free version.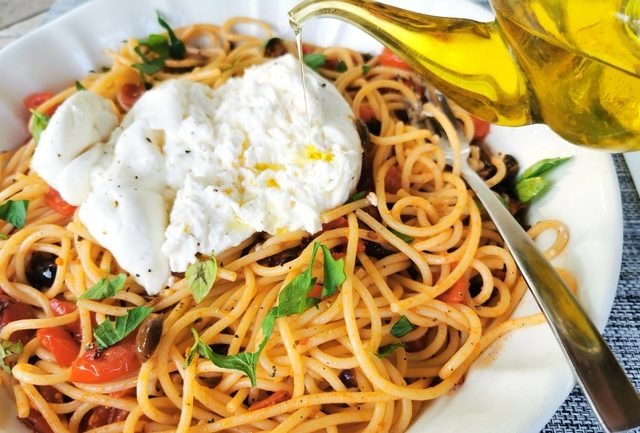 Spaghetti alla checca con burrata
I found this simple but delicious spaghetti alla checca recipe in a huge Italian cook book I have. It has 5,000 regional recipes, not all pasta! However, when I searched for this recipe online (in Italian, of course!), I found some different versions!! Very common, I know, with many Italian recipes. The thing is that each version of pasta alla checca claims to be the original recipe from Rome!! So which is the original version?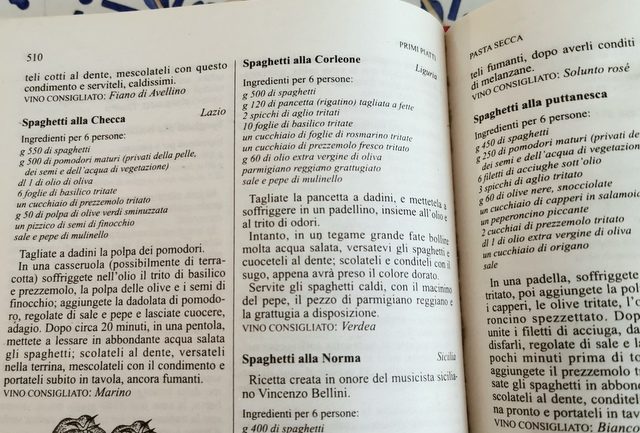 I'm afraid I don't know! However, since some are almost identical to vermicelli di Positano but made with mozzarella like pasta Caprese, I decided to go with the version in my cookbook.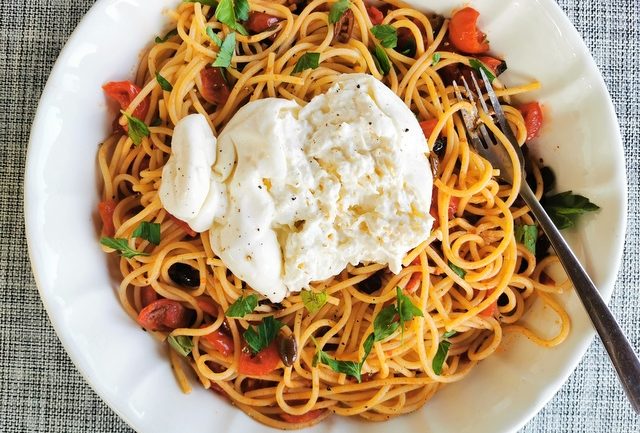 So, unlike some recipes you may find called pasta alla checca, this one isn't served cold or made with marinated raw herbs and veggies. Instead, you need to do a little cooking. But, the cooking is minimal, which makes this a great recipe for summer and weeknights.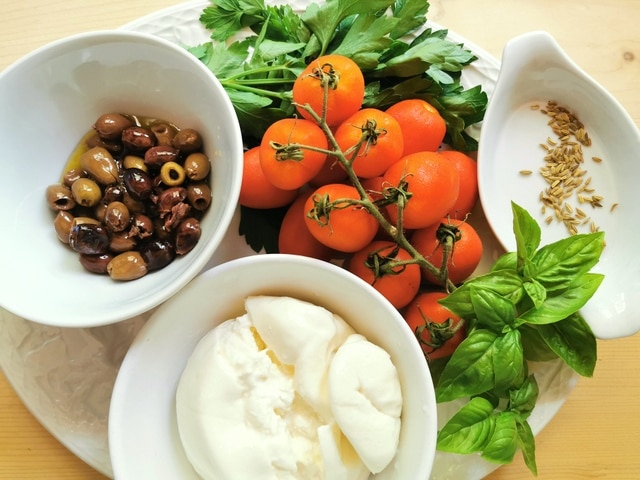 Why is this recipe called alla checca?
Apparently, this recipe dates back to the 60s and 70s. At least, that's when the earliest published recipes with this name appeared. There are different hypothesis on what 'alla checca' means. Some say it was the name of a restaurant , 'la sora checca', which doesn't exist anymore. Others say it refers to a woman called Francesca, checca being a diminutive form of the name. And, there are other theories!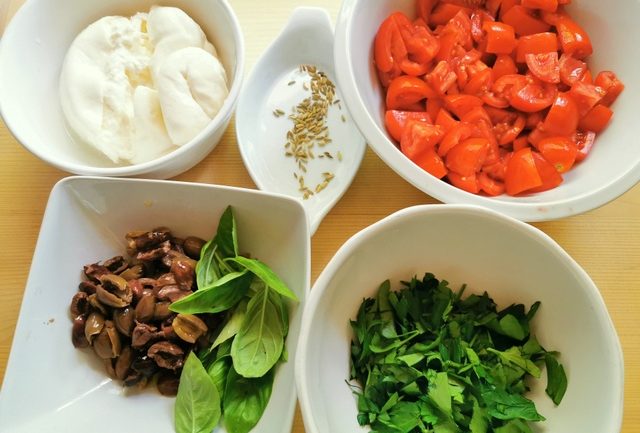 What is burrata?
The only addition I made to this delicious Roman recipe was to serve my spaghetti alla checca with burrata! Since mozzarella is included in some versions, I thought burrata would be a delicious addition. It was!!!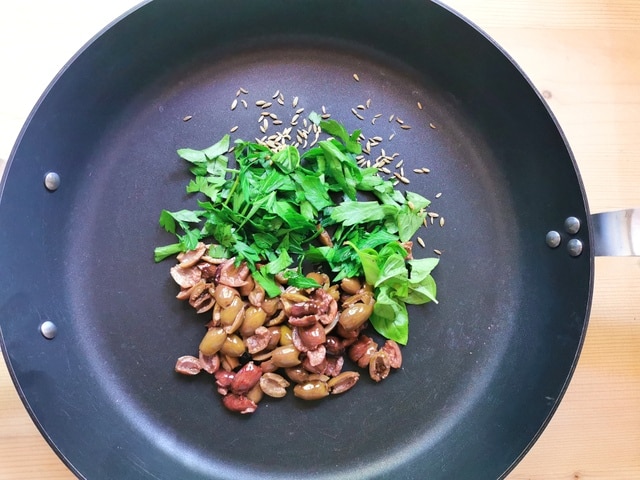 Burrata is one of the most famous cheeses in Puglia (Apulia), Southern Italy. If you like mozzarella but have never tried burrata, I suggest you get your hands on some asap! Many Italian grocers sell it and it can even be bought online!
Burrata has a rich buttery flavour, hence the name
Burrata is usually made by hand. The outside of this deliciousness is mozzarella. It even looks like a soft mozzarella. But, the inside is stracciatella cheese and cream. This cheese has a rich buttery flavour, hence the name , and is absolutely divine eaten in a salad with tomatoes or used in cooking. I also love it with pasta and on pizza! Those of my readers who have eaten burrata will understand what I'm on about!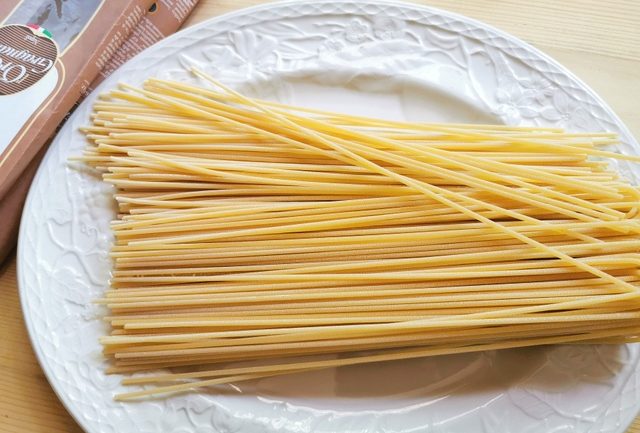 The pasta.
Spaghetti alla checca is most often made with….spaghetti! But I've seen other recipes with short pasta like penne or rigatoni, as well as farfalle or fusilli. I used spaghetti I got when I visited Gragnano near Naples in June. This spaghetti was made by an artisan pasta company called Pastificio Sorrentino. Pastificio means pasta maker in Italian!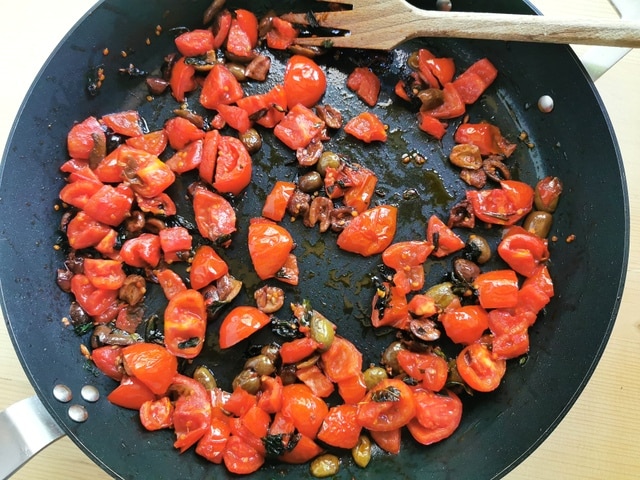 This company produces 2 ranges of pasta. One is sold under the L'Oro di Gragnano label and is a certified Pasta di Gragnano IGP. The other is an organic pasta range made with organic durum wheat semolina and it's sold under the L'Anima di Gragnano label. The former is the type of pasta I used for my spaghetti alla checca.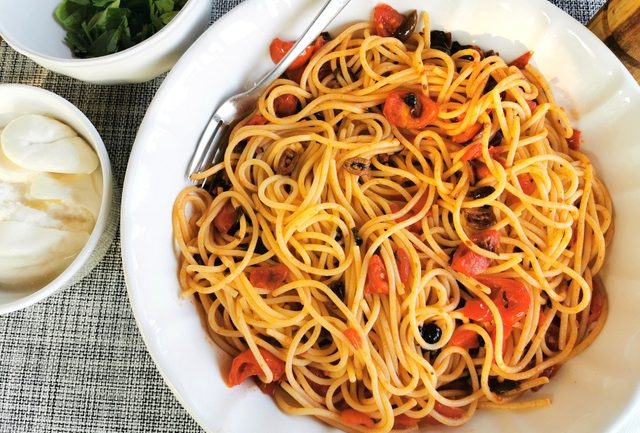 You can read all about what Pasta di Gragnano IGP means in my post about my visit to Gragnano. But in short, Gragnano is a town near Naples. It's been a centre of dried pasta production for about 500 years!! Pasta with the Pasta di Gragnano IGP certification is made under strict production and ingredient quality regulations imposed by the EU. It's like saying DOC for wine!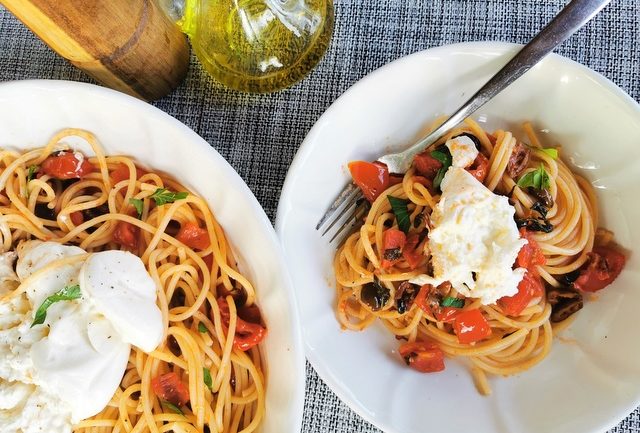 Other ingredients in this spaghetti alla checca
Apart from the spaghetti and the burrata, this vegetarian pasta recipe includes just a few ingredients. Firstly, you need some pitted olives. I used olives from Liguria called taggiasca olives. These delicious olives from the Alpes-Maritimes area are also known as cailletier. They are the olives the French use for salad Niçoise.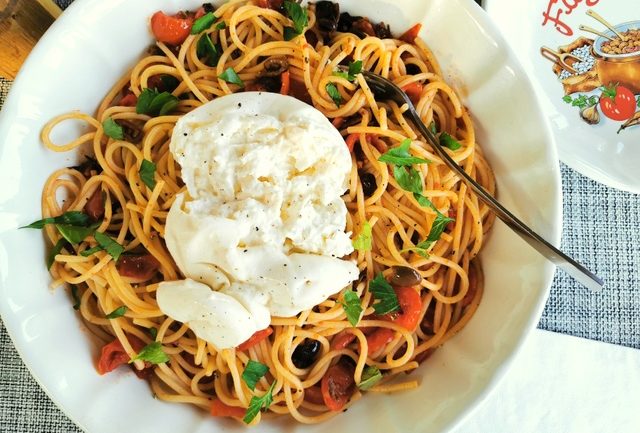 In addition to the olives, this version of spaghetti alla checca has fresh parsley and basil, as well as fennel seeds. The last ingredient is the tomatoes. It's best to choose deep red ripe tomatoes. I prefer smaller types but not cherry tomatoes. I used piccadilly tomatoes from Sicily. But, you can use San Marzano or other sauce tomatoes.
Making this spaghetti alla checca.
As I mentioned above, this is a pretty fast recipe to make. In fact, it takes about as long as boiling the water and cooking the pasta does! The burrata is added just before serving and cut open in the serving dish. This cool creamy cheese adds a lot flavour and texture to this spaghetti alla checca! However, for a vegetarian or diary free version, leave out the burrata! It will still be delicious!
If you do try this Roman pasta recipe, I'd love to hear what you think. Please write a comment here on the blog or post a comment on the Pasta Project Facebook page.
Your feedback means a lot to me!
Buon Appetito!
Save this recipe for later?
If you want to save this recipe for later, you can print it, bookmark this page or save it to Pinterest.
PIN FOR LATER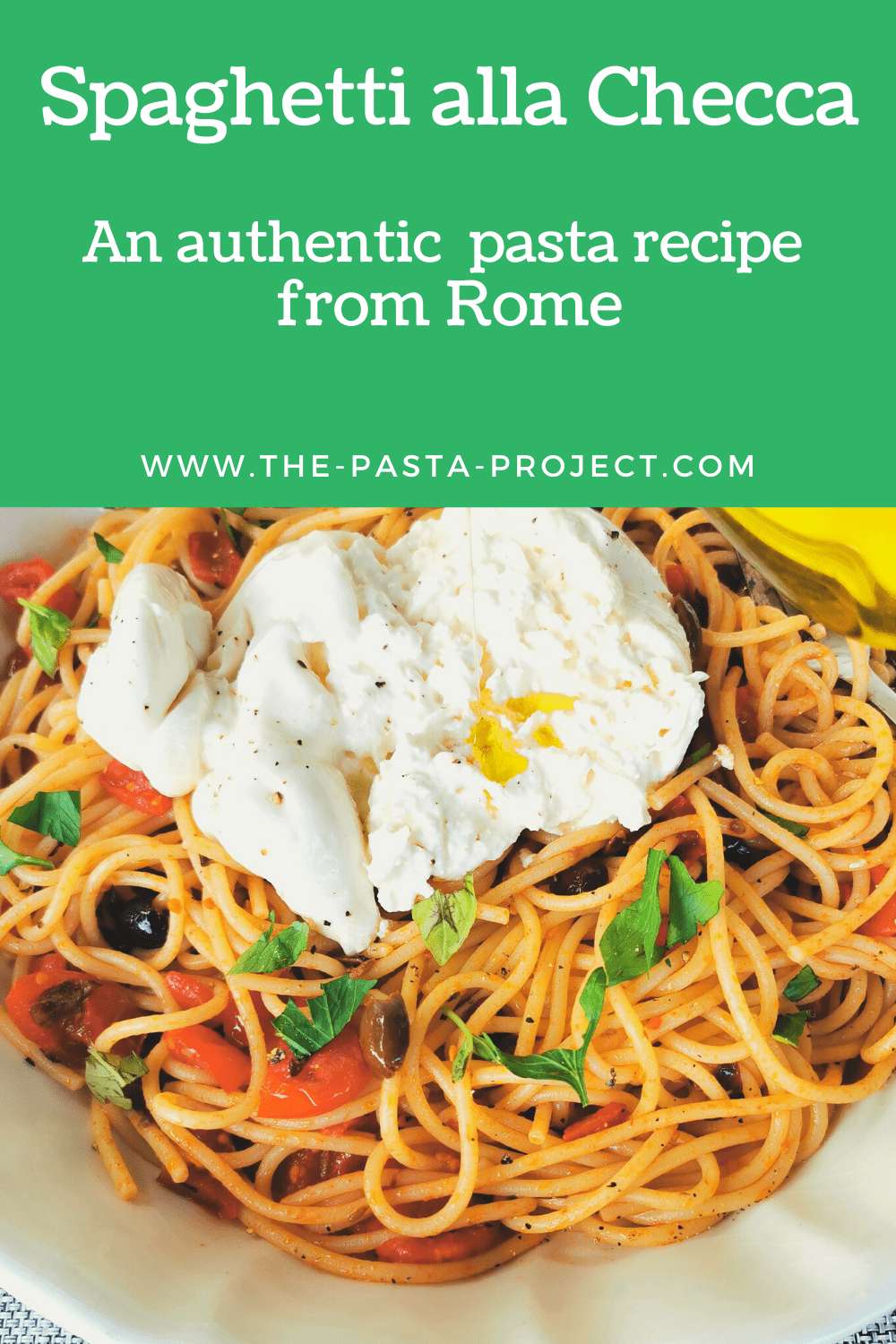 Want to know more about my life in Italy? Why not subscribe to my newsletter? New subscribers get a free series of recipe e-books too!
Other pasta recipes from Rome
If you are interested in learning how to make homemade pasta and different types of gnocchi, check out my shop page for some great video online courses from my friends in Rome! Nothing beats learning to make pasta from Italians! Plus while you're there why not order a copy of my autumn/winter pasta recipes cookbook!?