Warm Pasta Caprese with Maccheroni al Torchio
Made with the typical Caprese salad ingredients of tomatoes, mozzarella and basil, this warm pasta Caprese is a delicious Italian summer classic!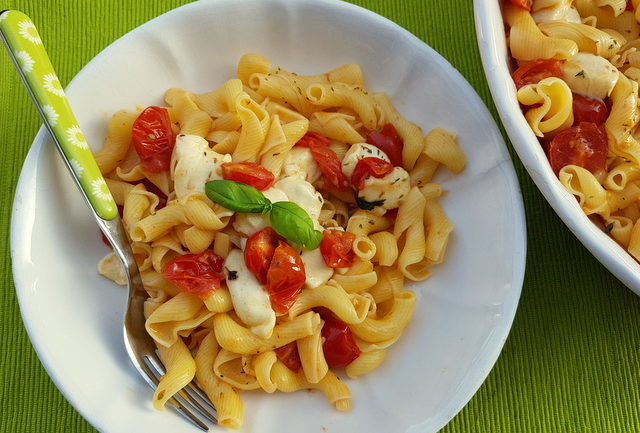 Caprese Salad is a typical summer salad from Campania in Southern Italy. It consists of tomatoes and mozzarella cut into slices and seasoned with extra virgin olive oil, fresh basil and sometimes oregano or anchovies. Despite the simplicity of this dish, it's probably one of the most popular and well-known Italian recipes.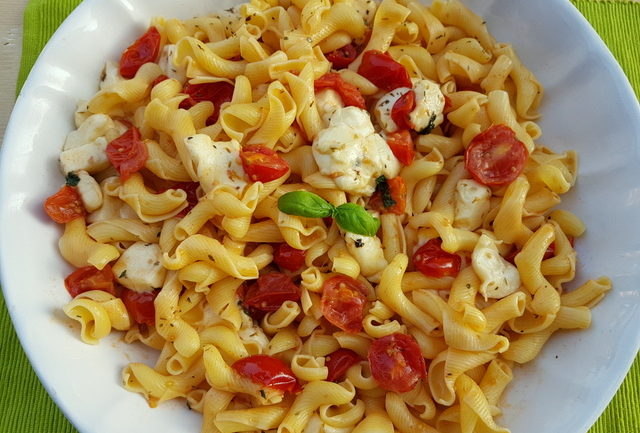 The origins of Caprese Salad
Like many other traditional Italian recipes, there are a number of different stories about the invention of Caprese salad. The most popular of which dates back to 1920. Caprese salad is said to have appeared for the first time on the menu of the very famous Hotel Quisisana in Capri. This menu was created for a dinner organized for the Italian poet Filippo Tommaso Marinetti, the founder of the Futurist movement.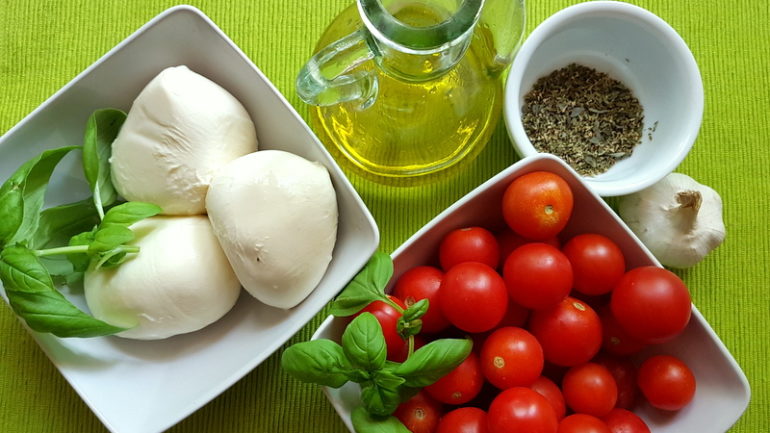 Apparently, Marinetti had criticized traditional Neapolitan cuisine as being too full of fatty and fried foods. In an effort to change Marinetti's view on Neapolitan food, the hotel chef included 'L'Insalata Caprese' on the dinner menu. This dish, which some believe was originally invented by a patriotic builder, was a resounding success!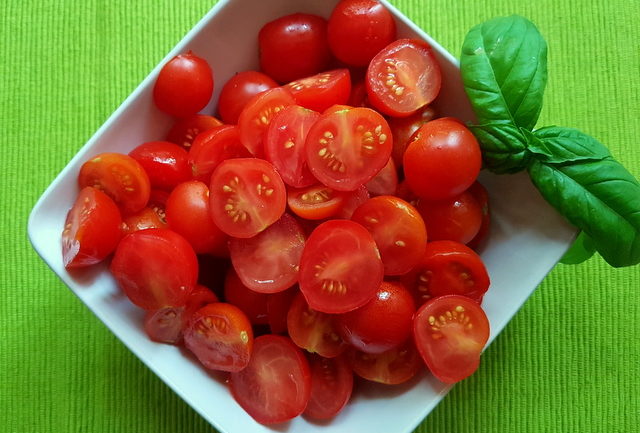 From that moment on Caprese salad became a legend on Capri and later a gastronomic symbol of Campania and all of Italy. The fact that the salad's ingredients are red, white and green (the colours of the Italian flag) helped to make it so popular.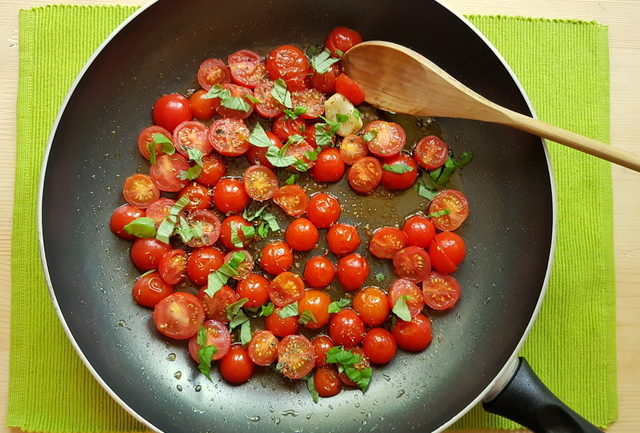 Traditional ingredients
Tomatoes and mozzarella are also very traditional ingredients in both pasta and pizza recipes from Southern Italy. So, the idea of serving pasta with the same ingredients as Caprese salad soon became very popular too. Pasta Caprese, or as the Italians call it 'alla Caprese', is served and eaten both as a pasta salad with raw tomatoes and herbs or as a warm pasta dish with cooked tomatoes. You can also make a baked version, although this is generally called 'alla Sorrentina'.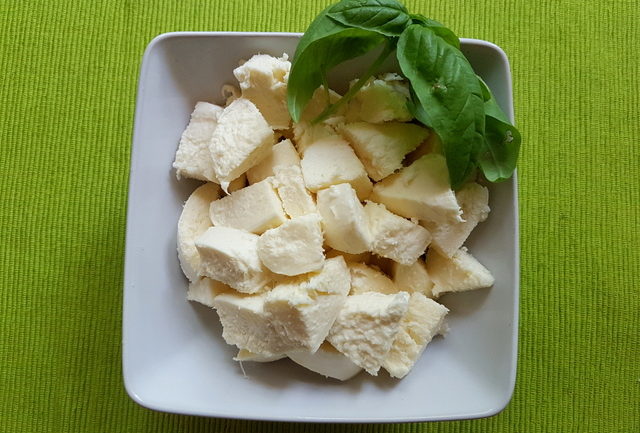 Making this warm pasta Caprese
Like many other simple recipes, the quality of the ingredients is important for warm pasta Caprese. Italians often use mozzarella di Bufala, but you can use other types. However, it needs to be fresh and a little soft but not watery. Good ripe tomatoes are important too. I used cherry tomatoes and kept the skins on. Some people use sauce tomatoes such as San Marzano and peel them. Fresh basil and good quality olive oil are also essential to get the best and tastiest result.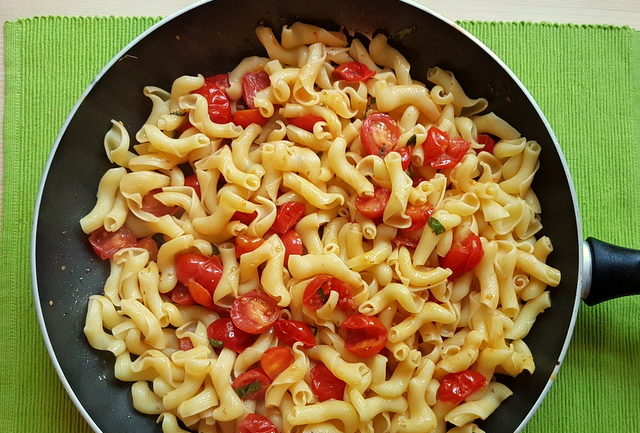 This Torchio Caprese recipe involves cooking the tomatoes with garlic, basil and oregano, but only for a short time. The mozzarella is added at the end after mixing the cooked pasta and tomatoes together. The heat from the pasta and sauce melts the mozzarella slightly but normally without making it too stringy!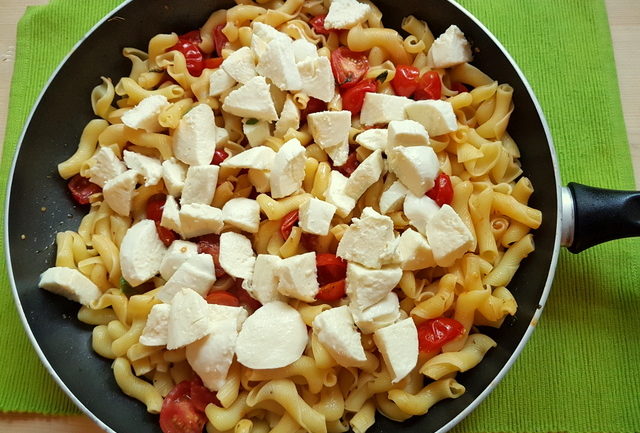 The tomato sauce for warm pasta Caprese can be made in the time it takes to boil the water and cook the pasta. So, this is a very quick and easy dish to make. It's perfect for light meals. I make it quite a lot in summer. If you have never tried it, I recommend you do. I'm sure you'll love it as much as the Italians do!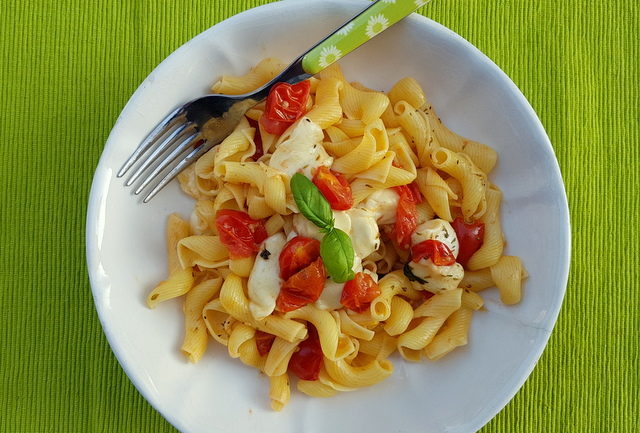 If you make this warm pasta caprese recipe I'd love to hear how it turns out and if you liked it. Please leave a comment here on the blog or on The Pasta Project Facebook page.
Looking forward to hearing from you!
Buon appetito!
Save this recipe for later?
If you want to save this recipe for later, you can print it, bookmark this page or save it to Pinterest.
Pin for Later

Before you go..
take a look at these other delicious pasta recipes which are great for summer or light meals!
2. Summer tagliolini with marinated vegetables
3. Fusilli with black olive pesto and tuna
4. Linguine with mint pesto and ricotta cream
5. Chifferi elbow pasta with cannellini beans and tuna
Pin for later