Bucatini all'arrabbiata from Rome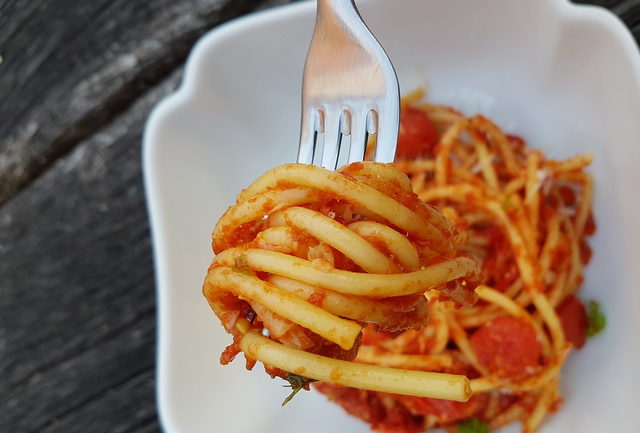 Arrabbiata is good for you!
In general, Italian food can't be described as spicy. However, in Southern Italy especially, they love to use Italian red chili peppers (peperoncino) in many dishes. The Southern Italians believe that peperoncino is not only good for your heart, but that it is also an aphrodisiac! (go straight to the recipe)
There are two very well-known spicy pasta dishes in Italy. One is the non-vegetarian pasta with nduja from Calabria and the other is this vegetarian recipe called penne or bucatini all'arrabbiata from Rome, Lazio. Both penne and bucatini are traditionally used in this recipe, so either would be a good choice. Grooved penne (rigate) is more popular than smooth (lisce). I used bucatini.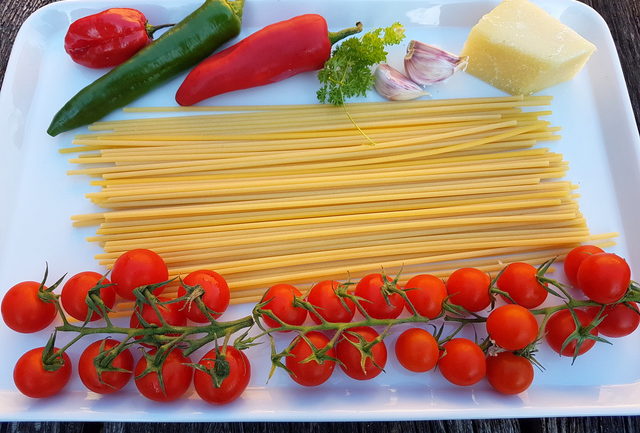 What does 'arrabbiata' mean?
Arrabbiata, meaning angry, is an as-spicy-as-you-want-to-make-it flavorful pasta dish which is very simple to make and requires very few ingredients. It is quite a famous dish in Italian cuisine, having been immortalized by Italian films such as The Great Abducted (La grande abbuffata) by Marco Ferreri, Rome by Federico Fellini and Seven Kilos in Seven Days (7 chili in 7 giorni) with Carlo Verdone.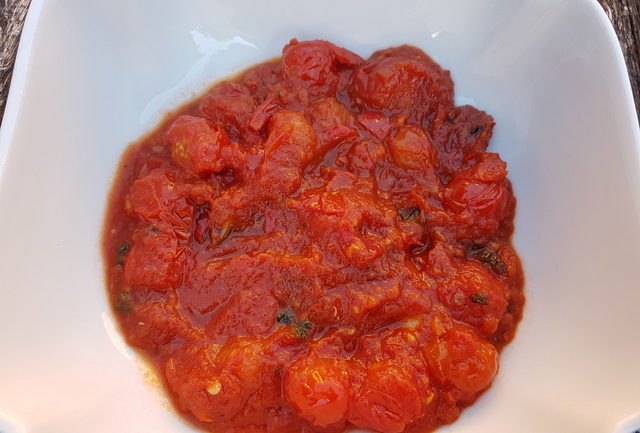 Arrabbiata is very easy to make!
The name arrabbiata derives from the fact that eating this dish may, because of the chili, make the eater turn red in the face just like when someone gets angry. The main ingredients are peeled tomatoes, pecorino Romano, garlic, chili pepper, parsley, salt and extra virgin olive oil.
All you need to do is to fry the oil with a clove of garlic, add fresh chilli (peperoncino) and then the peeled tomatoes cut into pieces. Season with salt and pepper and cook uncovered for about 15 minutes . Prepare the pasta, add it to the sauce once it is cooked al dente and drained and serve with a sprinkling of fresh parsley and lots of grated Roman pecorino. (see full recipe on the next page)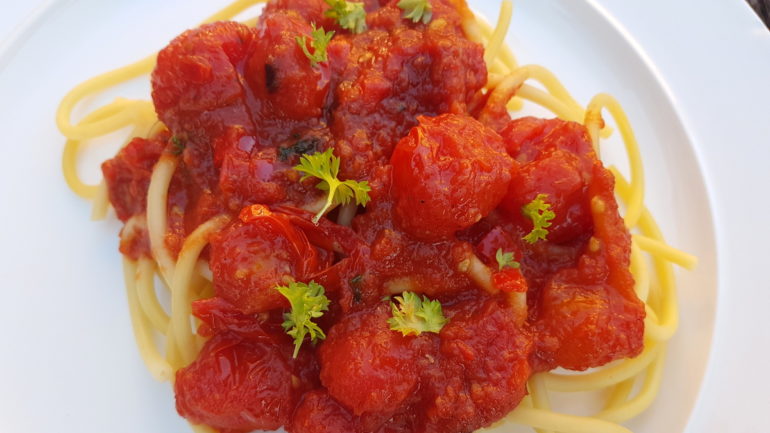 The original recipe for arrabbiata calls for peeled fresh tomatoes. I altered this a bit and decided to use fresh cherry tomatoes and a little tomato passata ( my favourite is Cirio passata rustica). You can also use a tin of peeled tomatoes. I would, however, suggest that you use a good Italian brand. Because this is such a simple recipe, the quality of the ingredients makes a difference to the end result.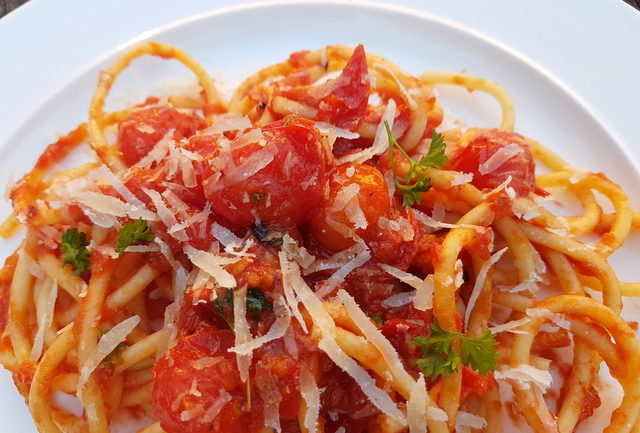 I really hope you enjoy this pasta recipe. Don't forget to let me know how it turns out by commenting here or on the Pasta Project Facebook page.
Buon appetito!
(See the full recipe on page 2)