For some people agretti is a weed, but for Italians and those in the know, it is a delicacy made even more special by the fact that it's only on sale for about 6 weeks in the spring. So, if you don't get your hands on some, you have to wait a year before more is available! So far this year, I've found it only twice! Of course, I had to make a pasta recipe with it! Spaghetti with agretti is one of the most popular ways of using this delicious and very nutritious 'weed'!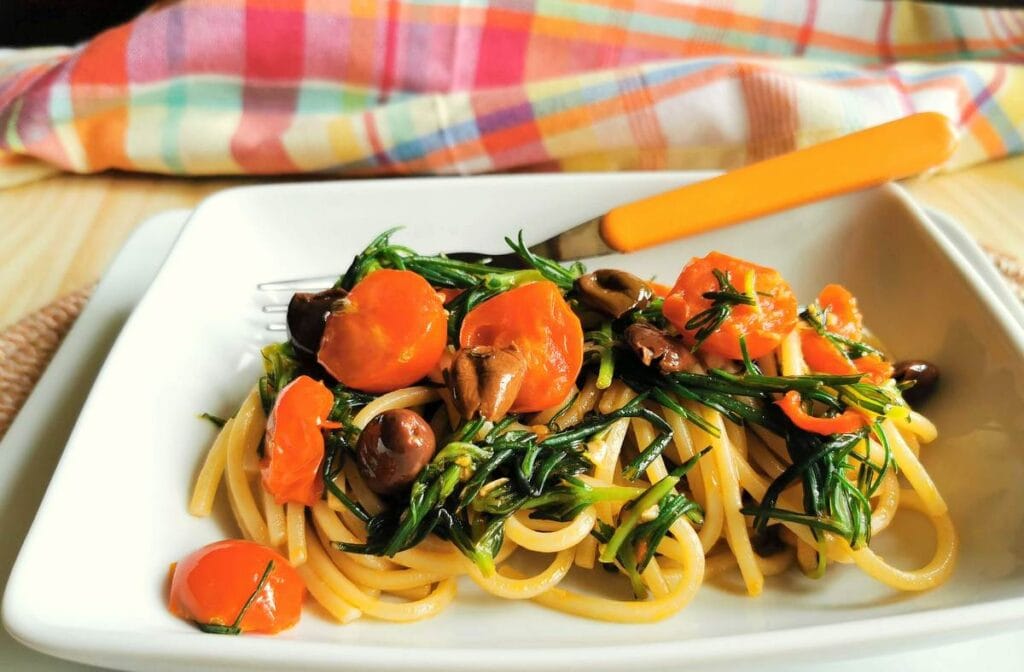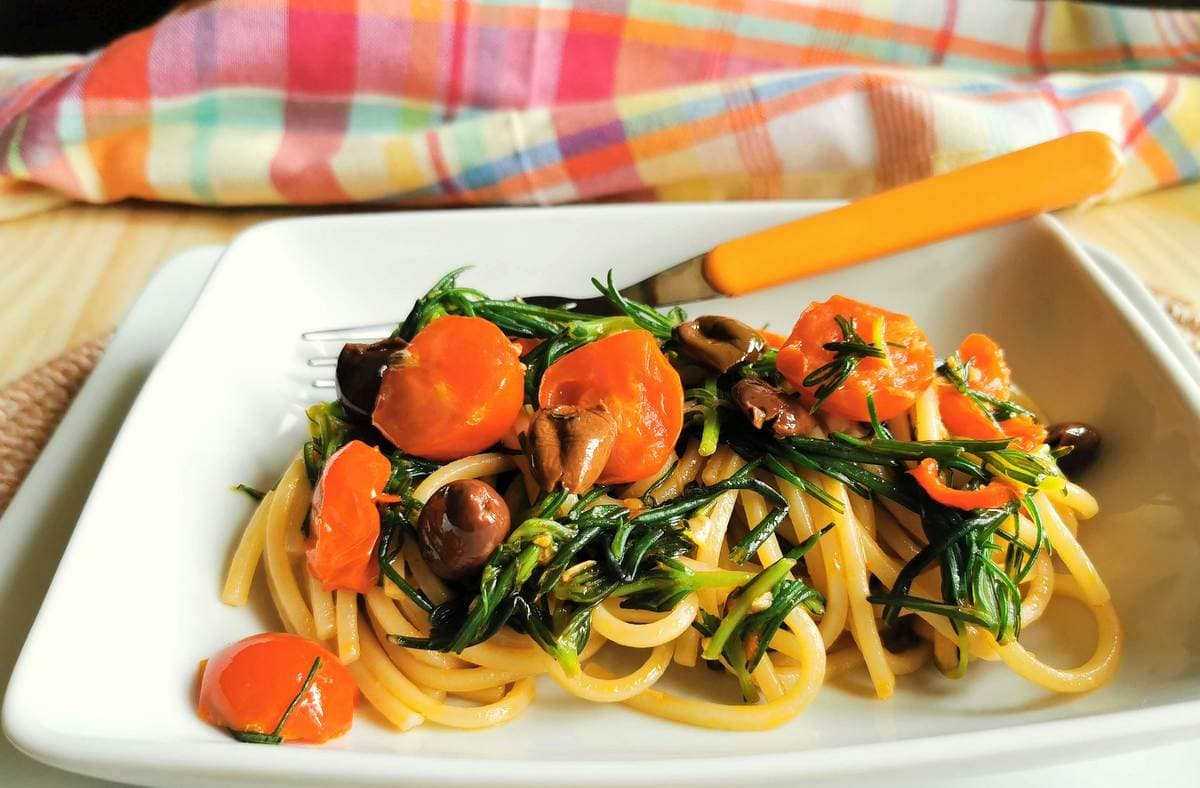 What exactly is agretti?
Both in Italy and abroad, agretti (which means little sour ones in Italian) is a delicious and nutritious type of saltwort known by many names. The plant's Latin name is Salsola Soda and some people refer to it as Salsola agretti or 'opposite leaved saltwort'. In Umbria, they also call it risoli or arescani, in Romagna, lischi and in the Marche region, rospici.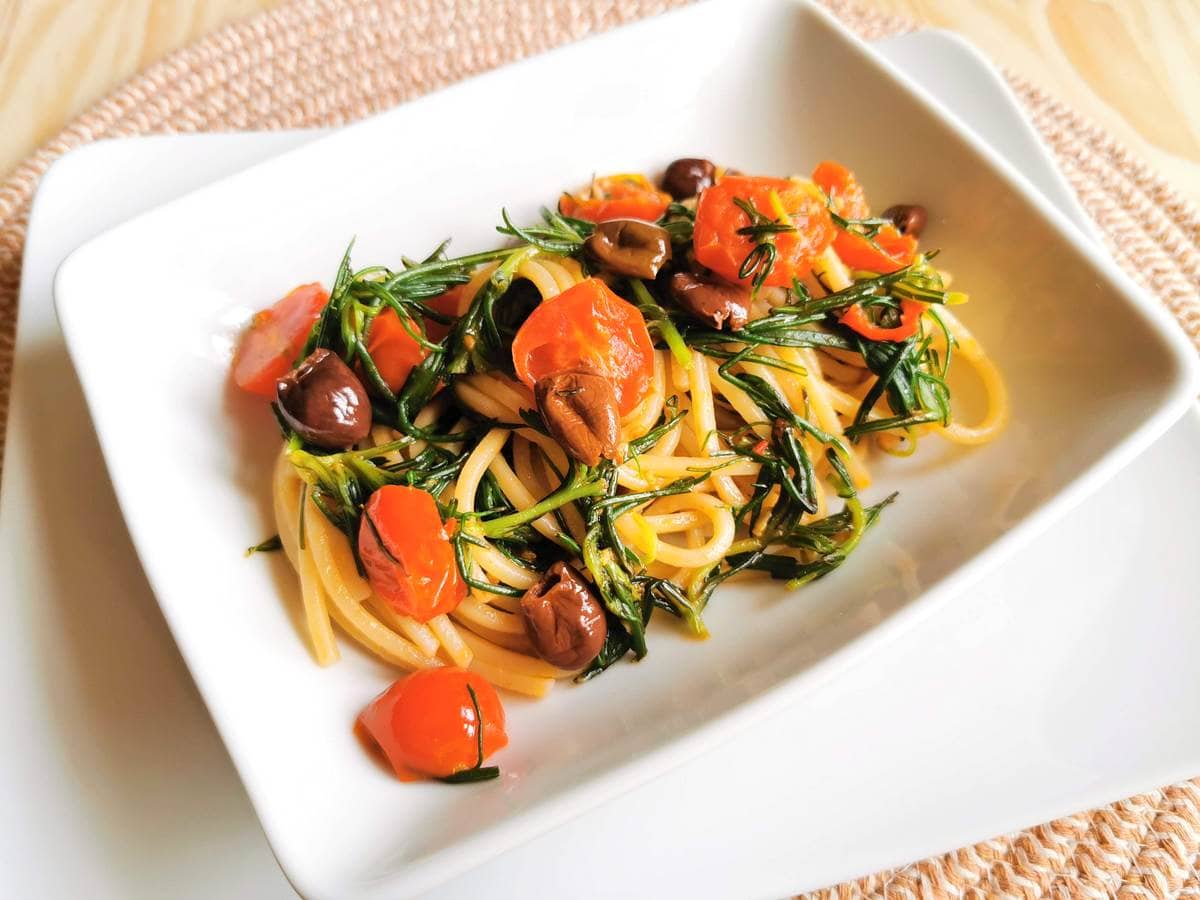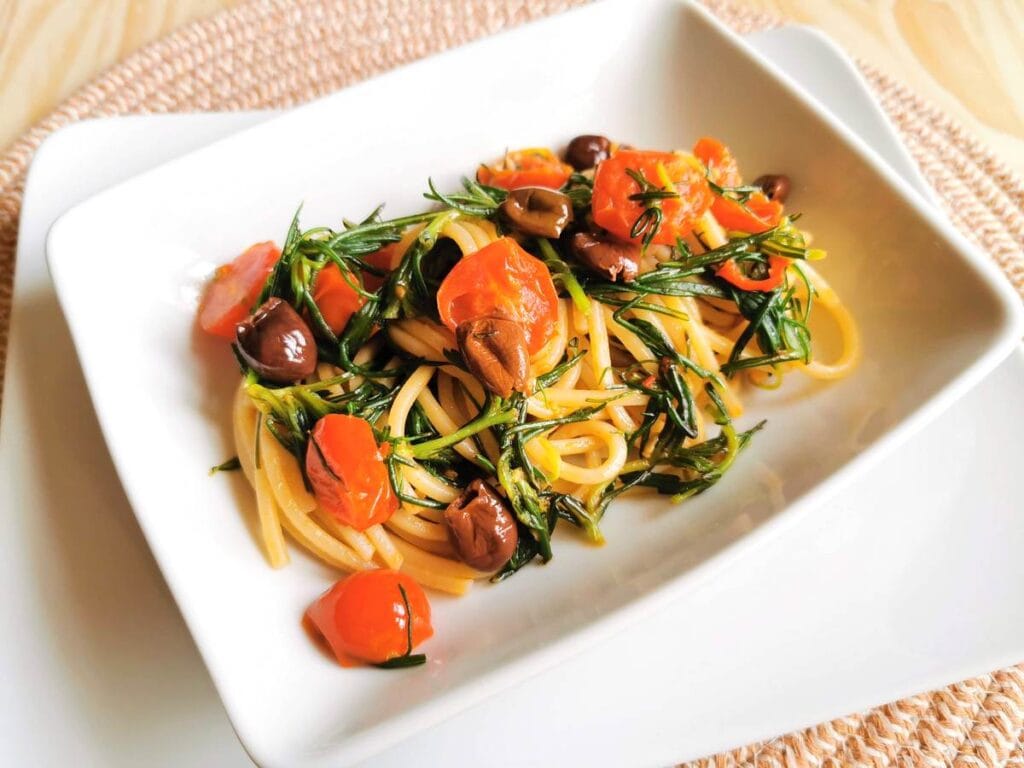 Whereas, in Abruzzo they call it misericordia, meaning 'mercy'. The most famous recipe with agretti in Abruzzo is a mega soup known as 'le virtu'. This is a dish eaten on 1st May. It takes 3 days to make, including 10 hours of cooking. The ingredients include a ton of legumes, fresh spring veg, fresh herbs, meat and pasta! On my to make list!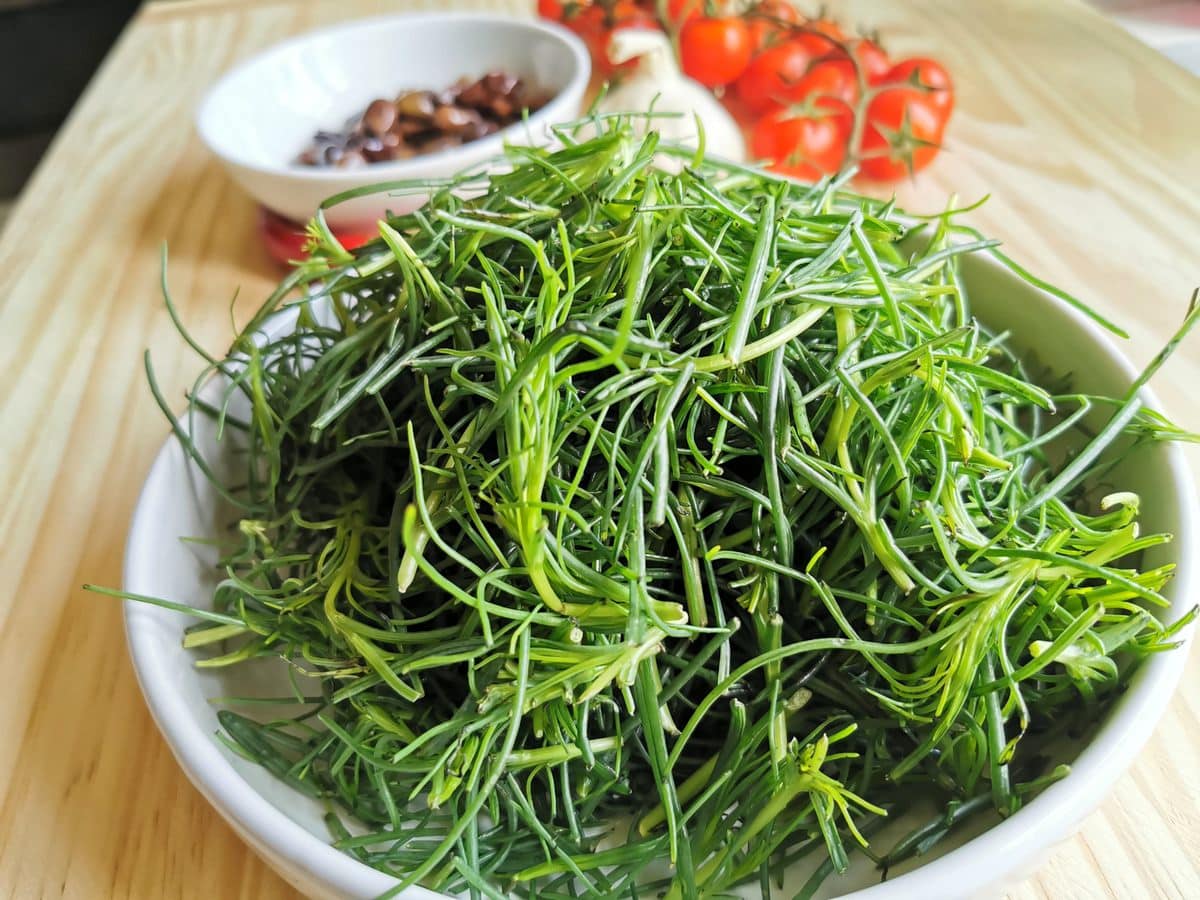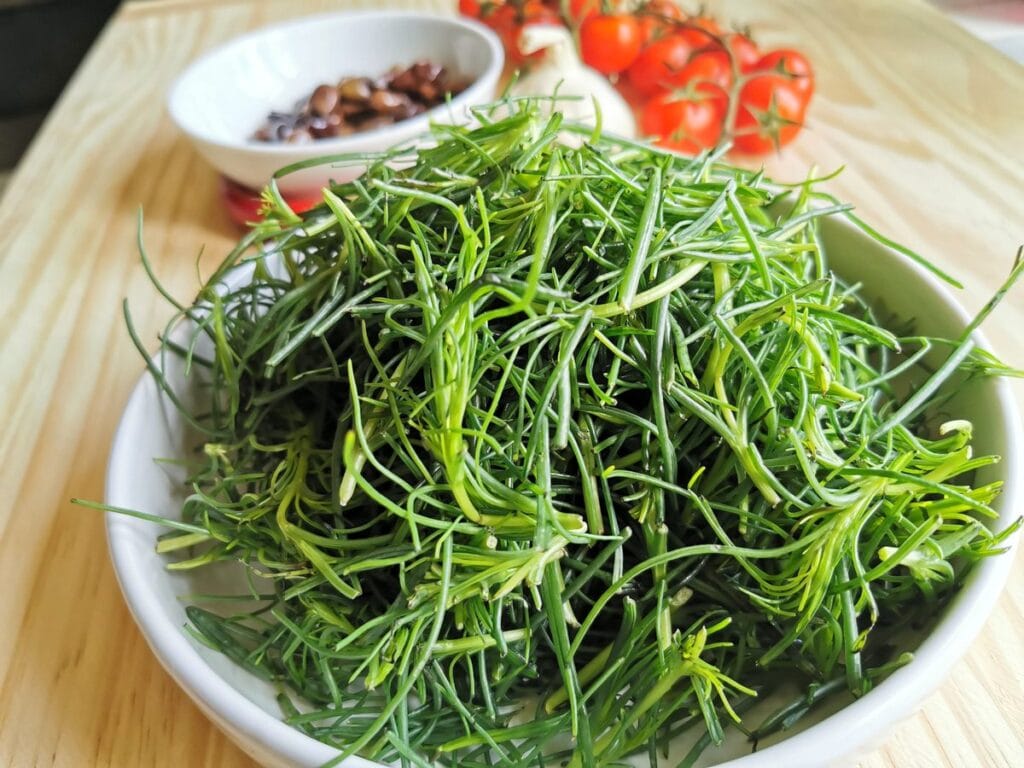 Throughout the rest of the country, agretti is also known as roscano, monk's or friar's beard, monk's mustard and Negus' beard. Negus is a word that goes back to Italy's African colonies. Negus was a royal title in Eritrea and Ethiopia, equivalent to king; the negus in these kingdoms invariably had beards!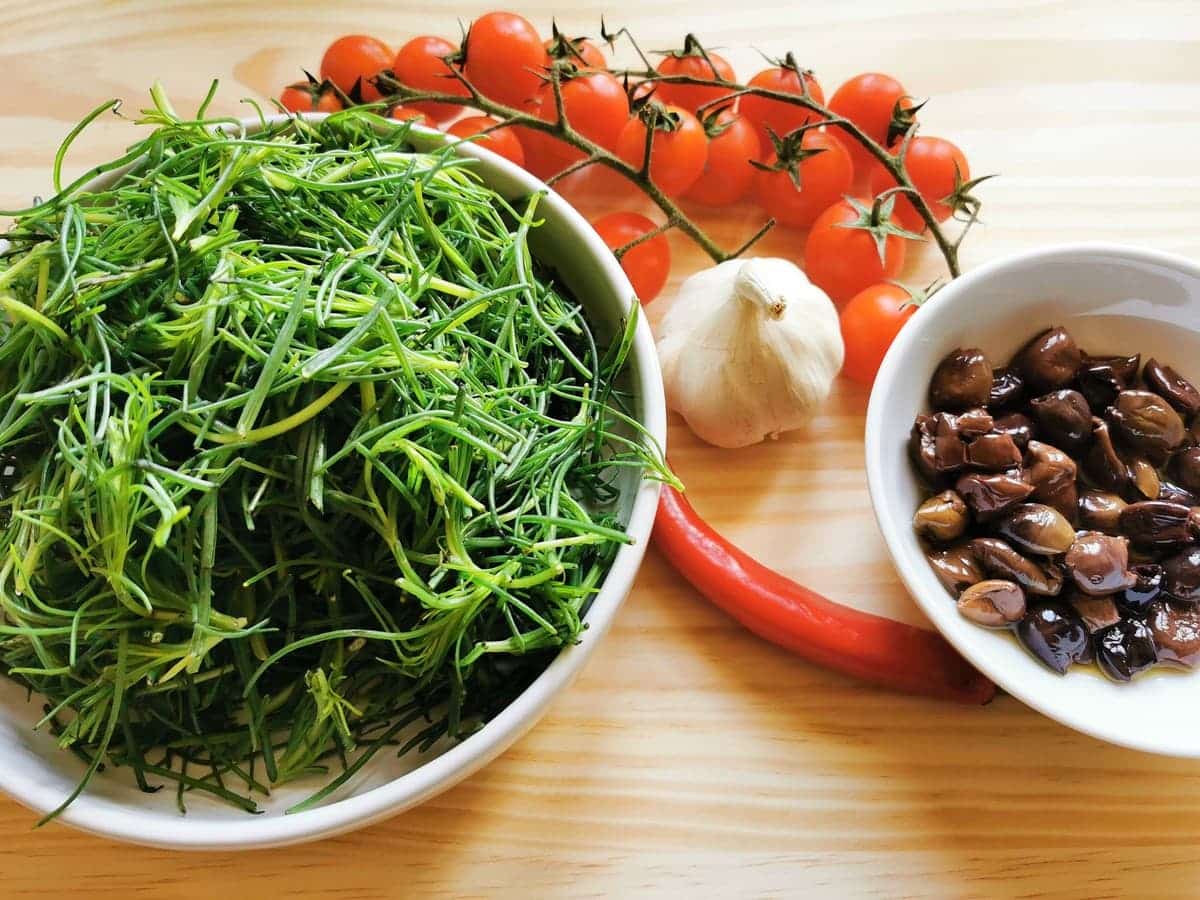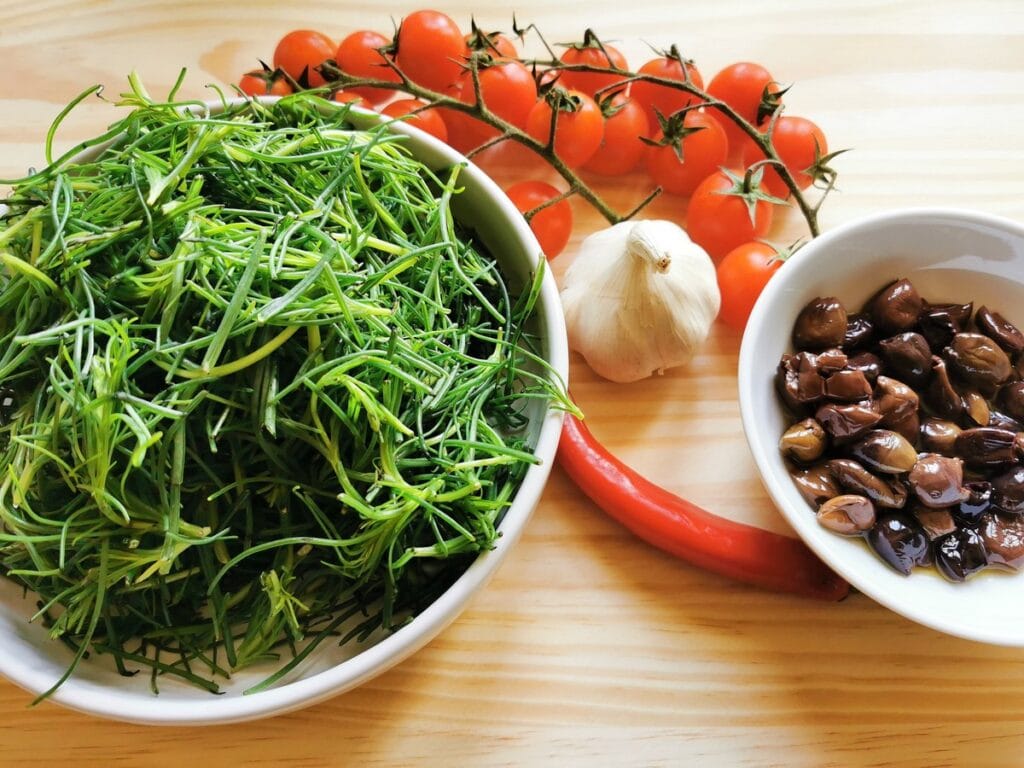 Agretti is actually a halophyte plant, meaning it is capable of adapting to marine soils. For this reason, it is rich in mineral salts, usually grows in coastal areas and is widespread in the Mediterranean basin. It is also resistant to pest attacks and therefore ideal as a domestic and organic crop (free of pesticides).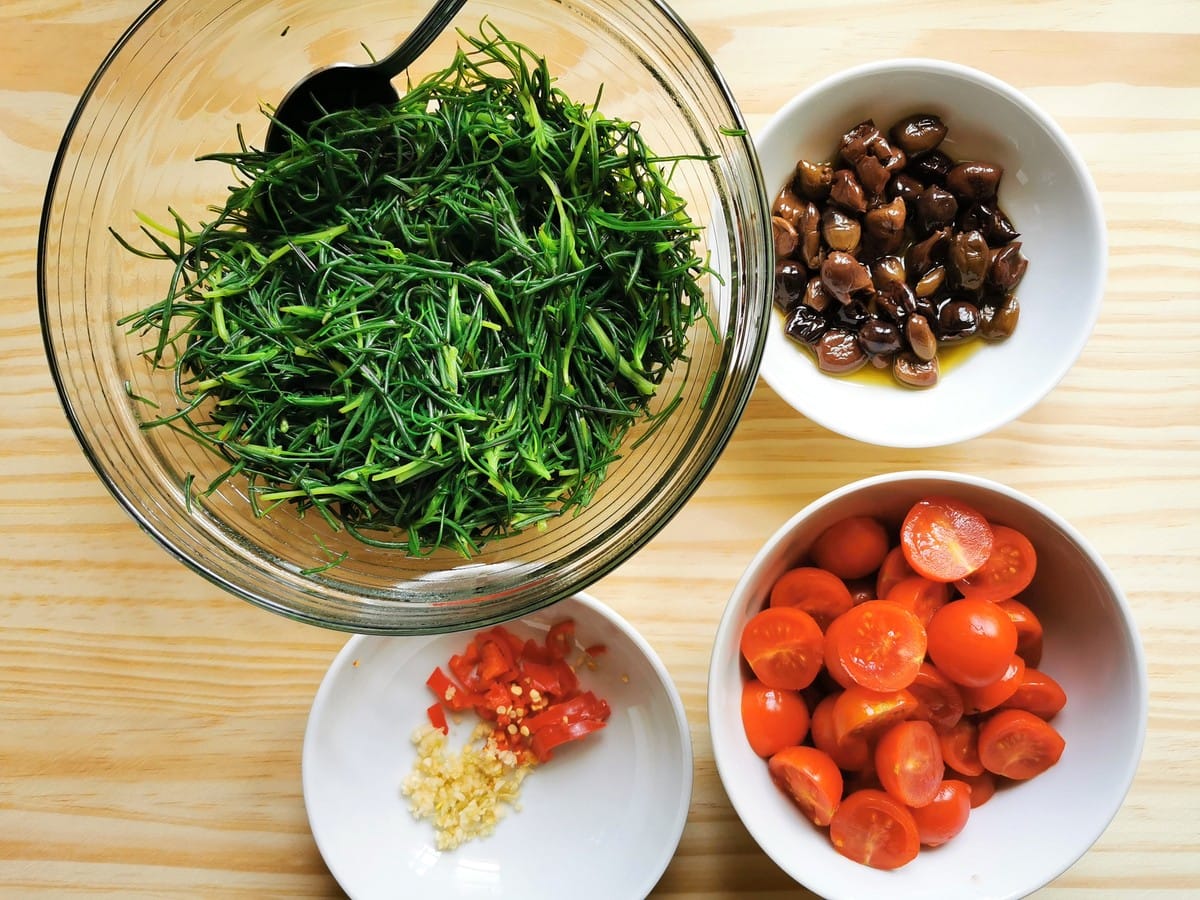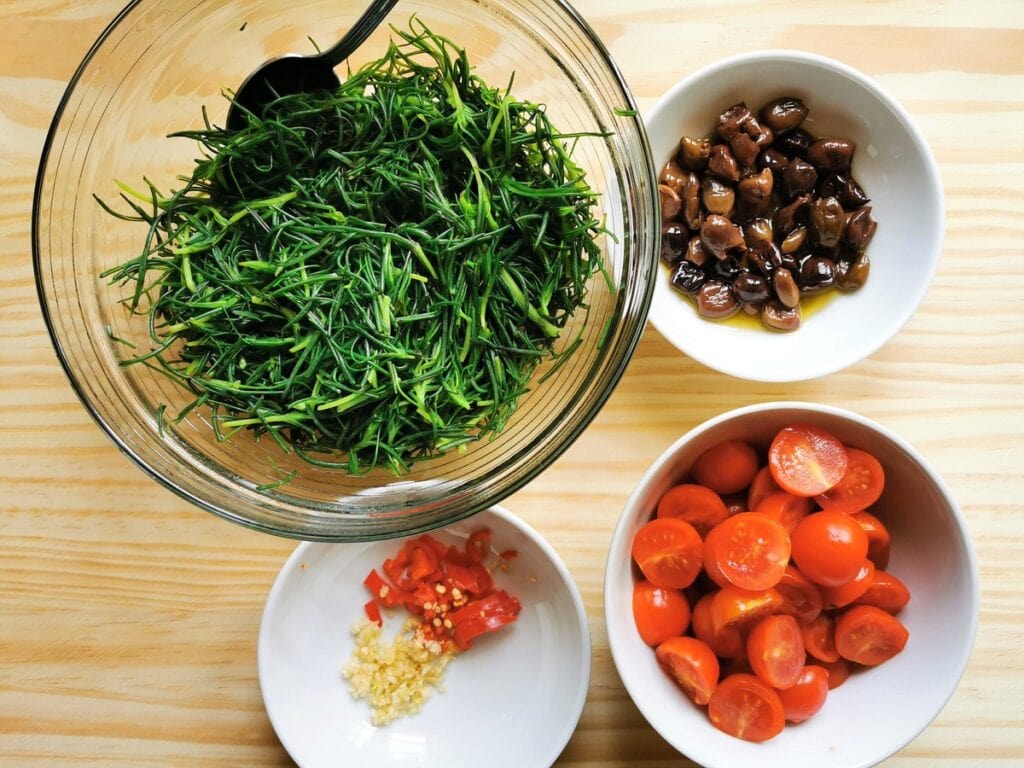 What does agretti taste like?
Agretti looks a lot like long thick grass or chives and, as the Italian name suggests, it's a bit tart when eaten raw. Once cooked however, it has a nice bite and quite a delicate flavour. Although it is often compared to samphire, aficionados describe agretti as being closer in taste to spinach. Frances Mayes, author of Under the Tuscan Sun, described it as 'full of the energy of spring'.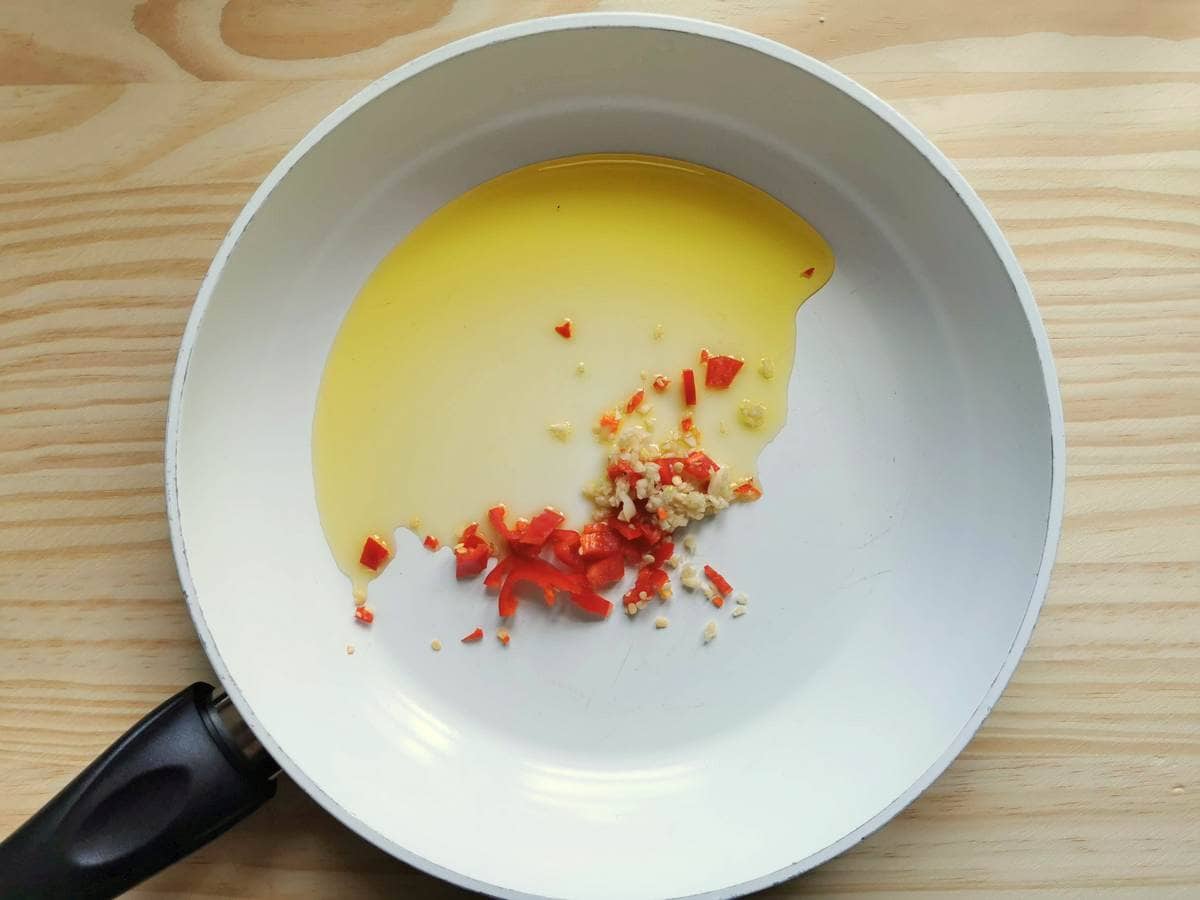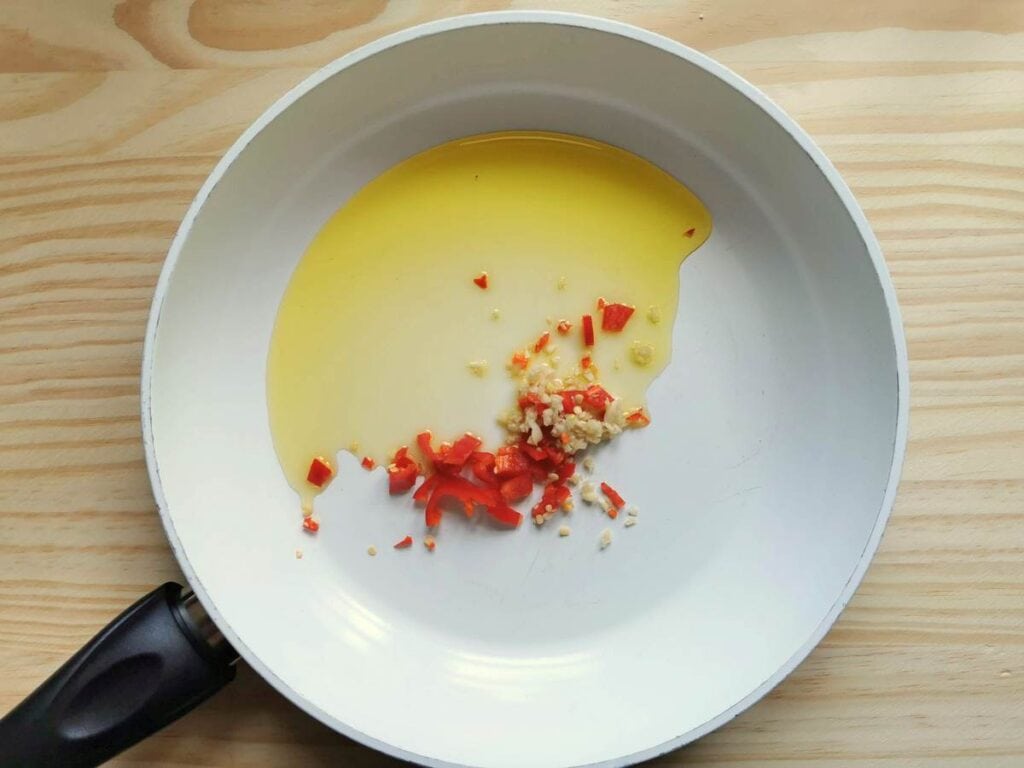 A little agretti history.
Native to the Mediterranean, agretti was first cultivated as a source of soda ash, which is used in glass and soap making. In fact, they used to grow it throughout Venice's lagoon and use it to make Murano glass! In the past, vast quantities of it were harvested and burned in Spain and Italy, until a synthetic process was discovered in the 19th century and agretti became more of a seasonal peasant food. Today, many people consider it a delicacy. But, there are those who think it more a weed!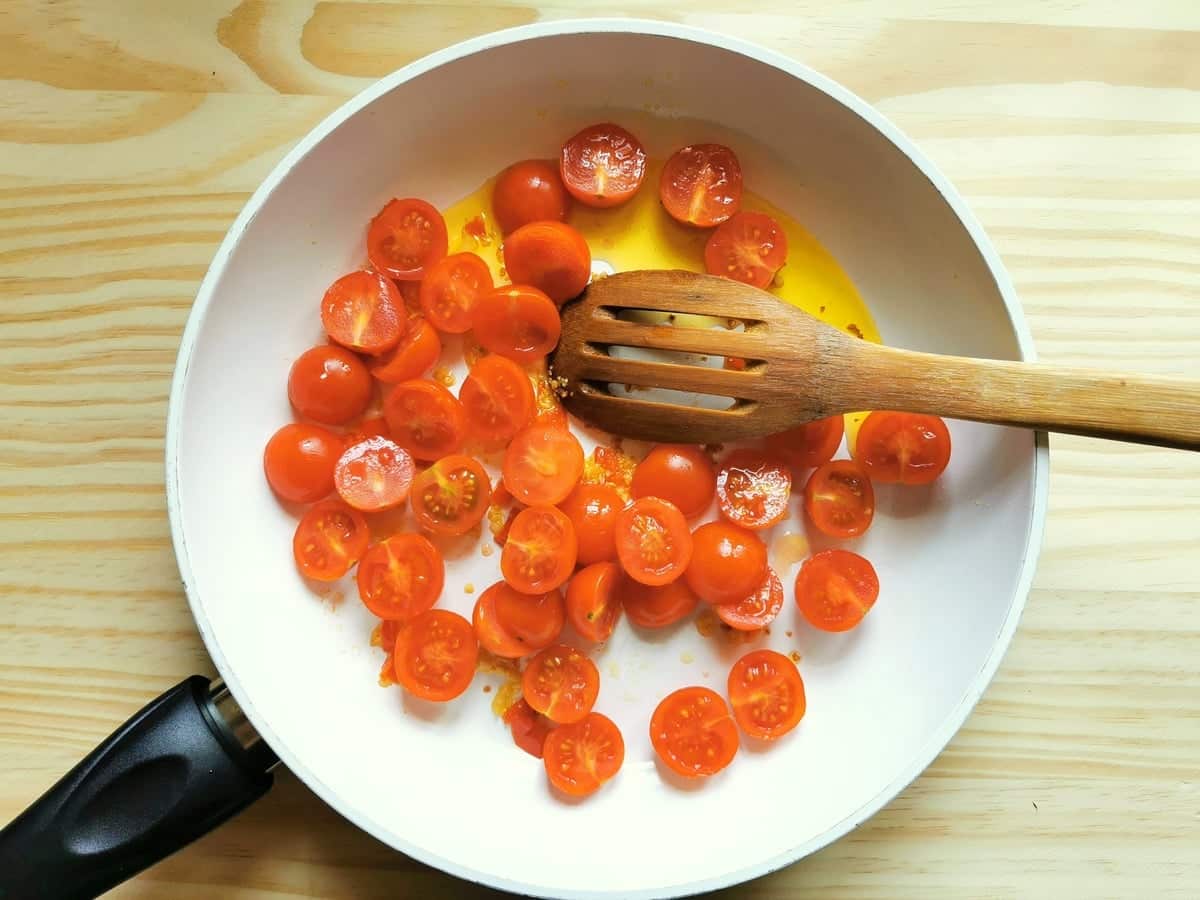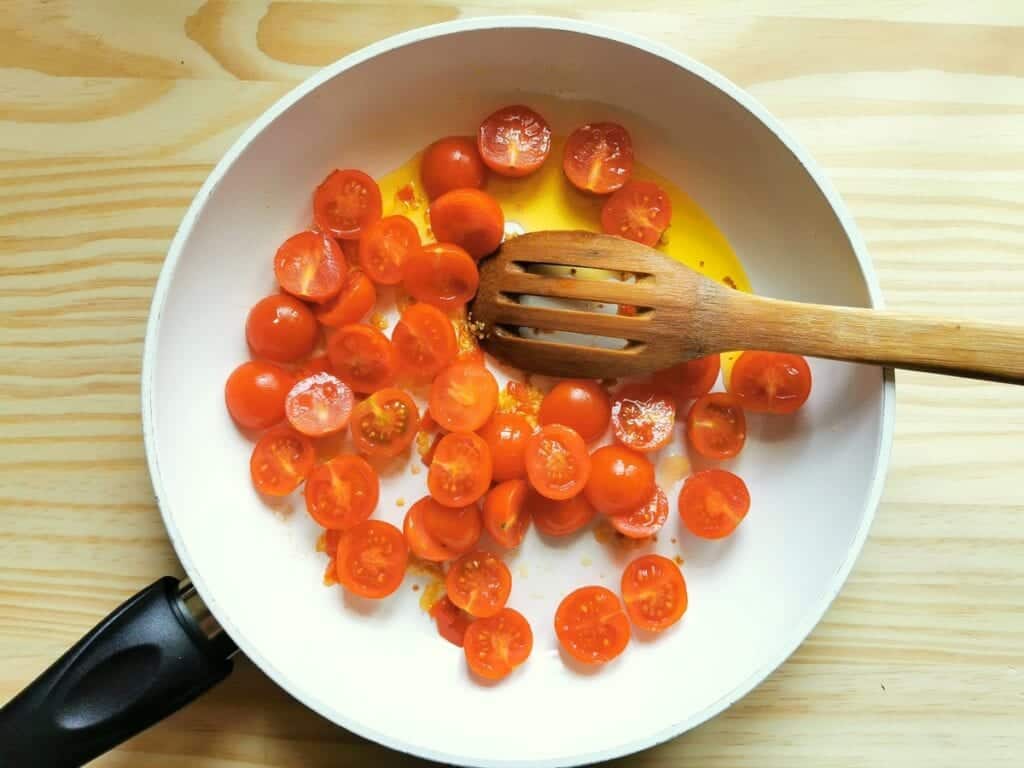 Nutrients in agretti.
Agretti is from the same family as spinach and beets and, like those veggies, it is full of nutrients. It has a high water and dietary fibre content and is rich in vitamin A, calcium and phosphorous. It is also an excellent source of chlorophyl. Plus, it is a good source of vitamin C when eaten raw. Finally, like spinach and other leafy greens, it contains B complex vitamins, iron, potassium and magnesium! So, this agretti spaghetti is pretty healthy and nutritious!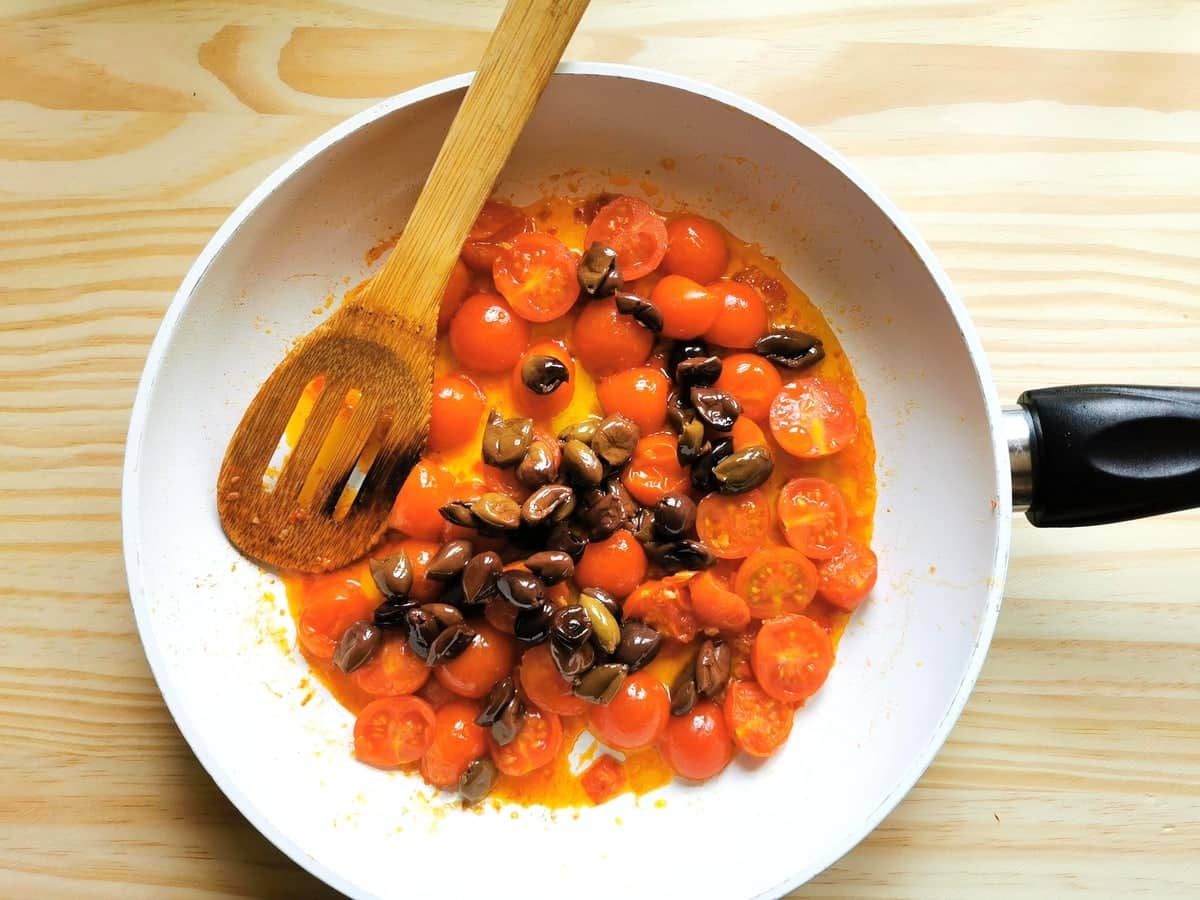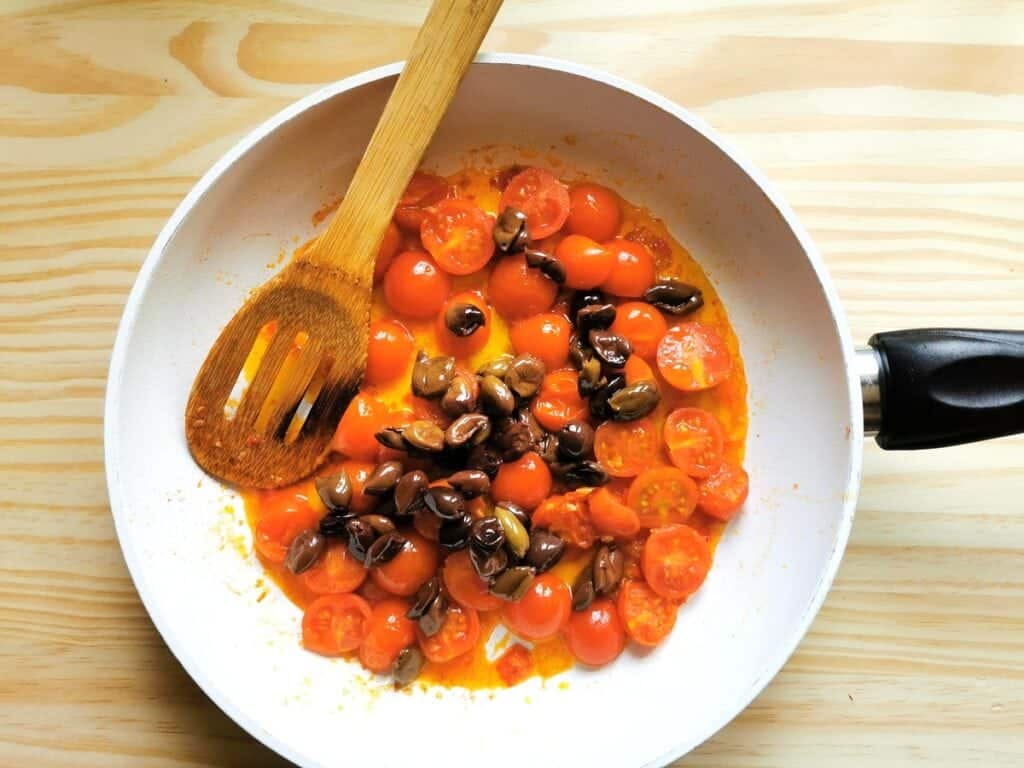 Where to find agretti?
Much like most leafy greens, agretti is a very delicate vegetable that needs to be eaten fresh and not refrigerated for more than a couple of days. Here in Italy, it's available at farmer's markets and some supermarkets and fruit and veg vendors during the spring months, particularly in the centre and South of Italy.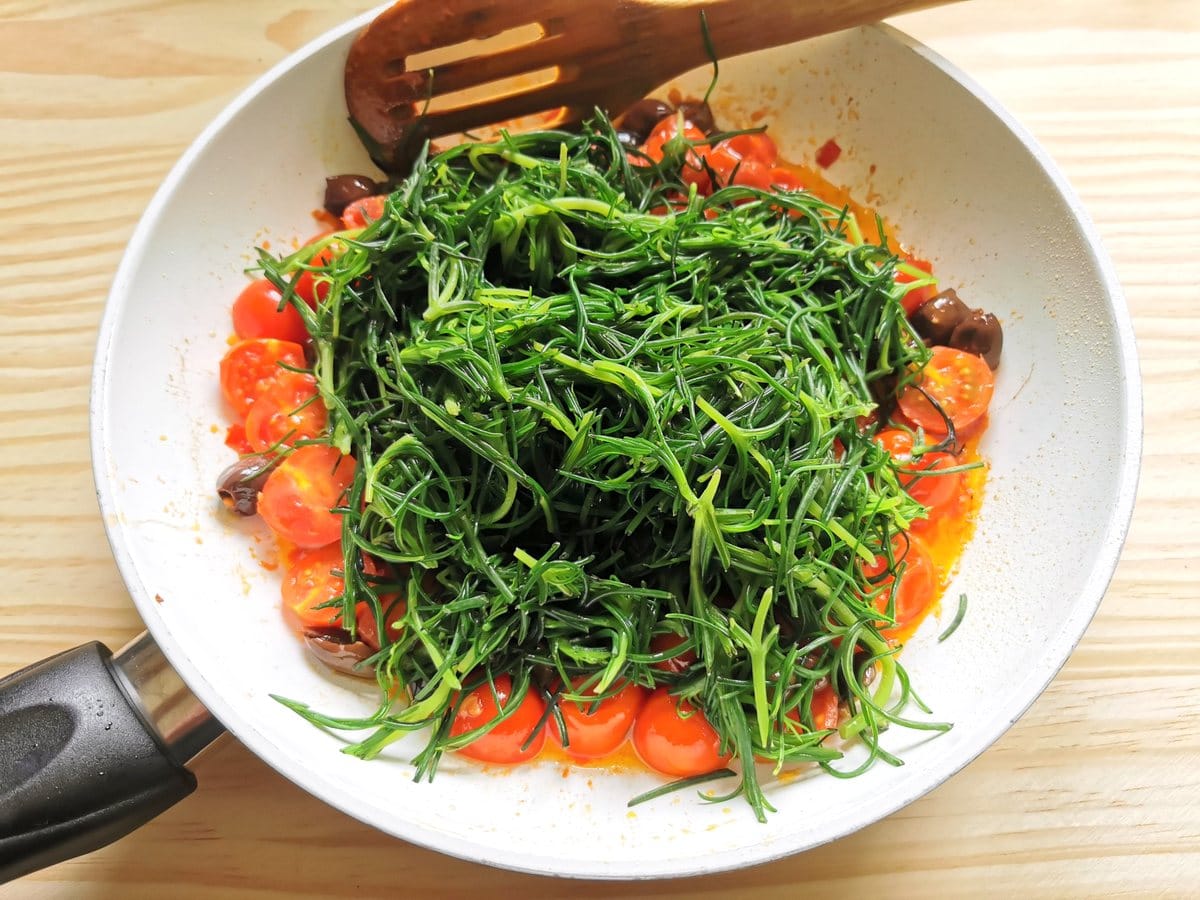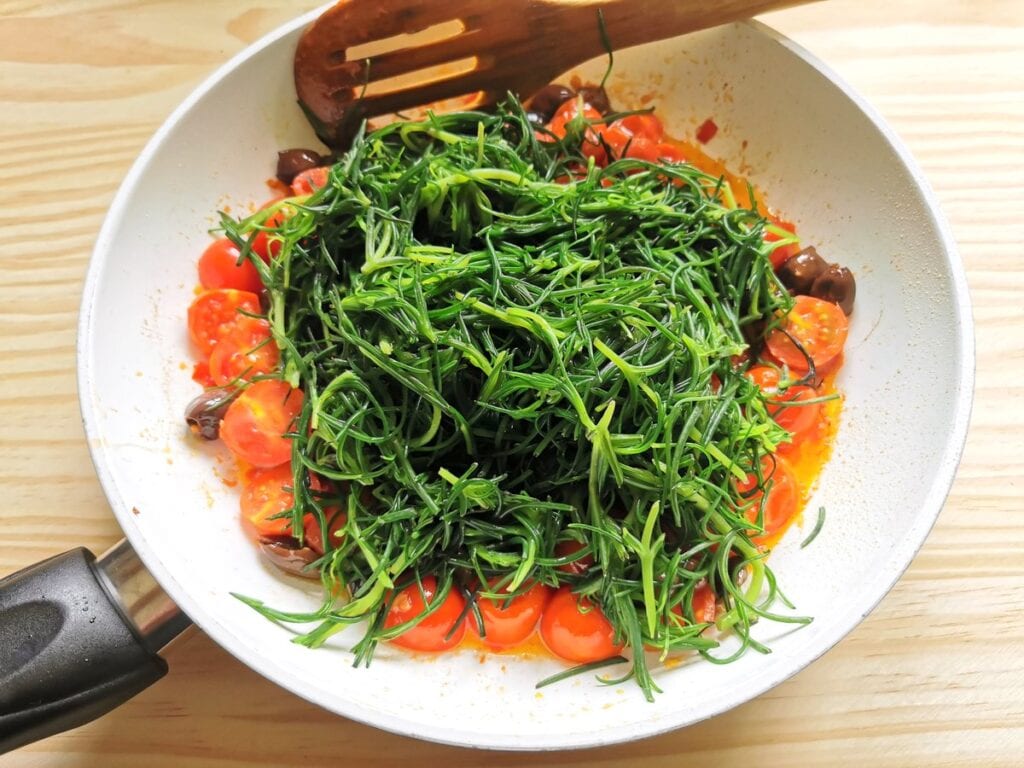 If you can't find it where you are and you're into growing herbs and veggies, it seems that agretti isn't so difficult to grow. Apparently, Jamie Oliver grows it (or definitely used to grow it) in his kitchen garden. A few years ago, growing agretti became really trendy in both the UK and US.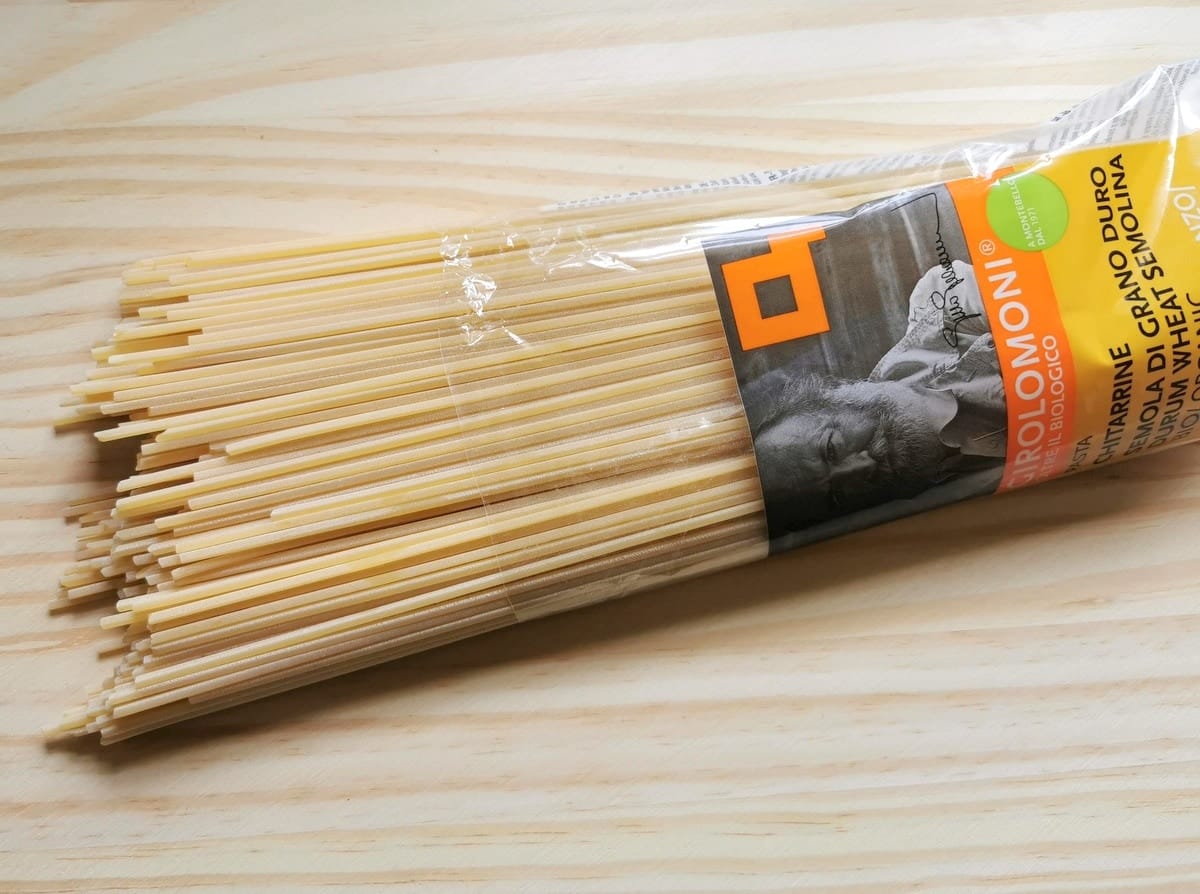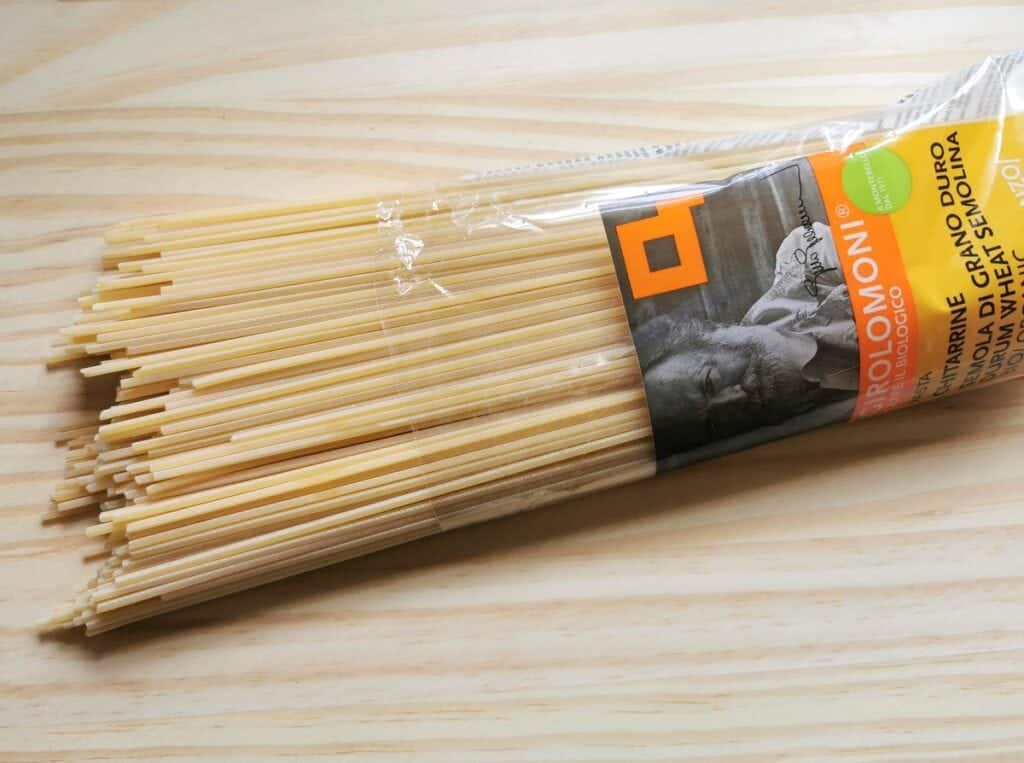 In fact, Italian seed sellers Franchi often run out of supplies. Even now, their website tells you that they may have to ration supplies and seeds are sold on a first come first serve basis! Also, because agretti seeds aren't viable for long, they can only be planted from January to March for a May-June harvest, so aren't available year-round.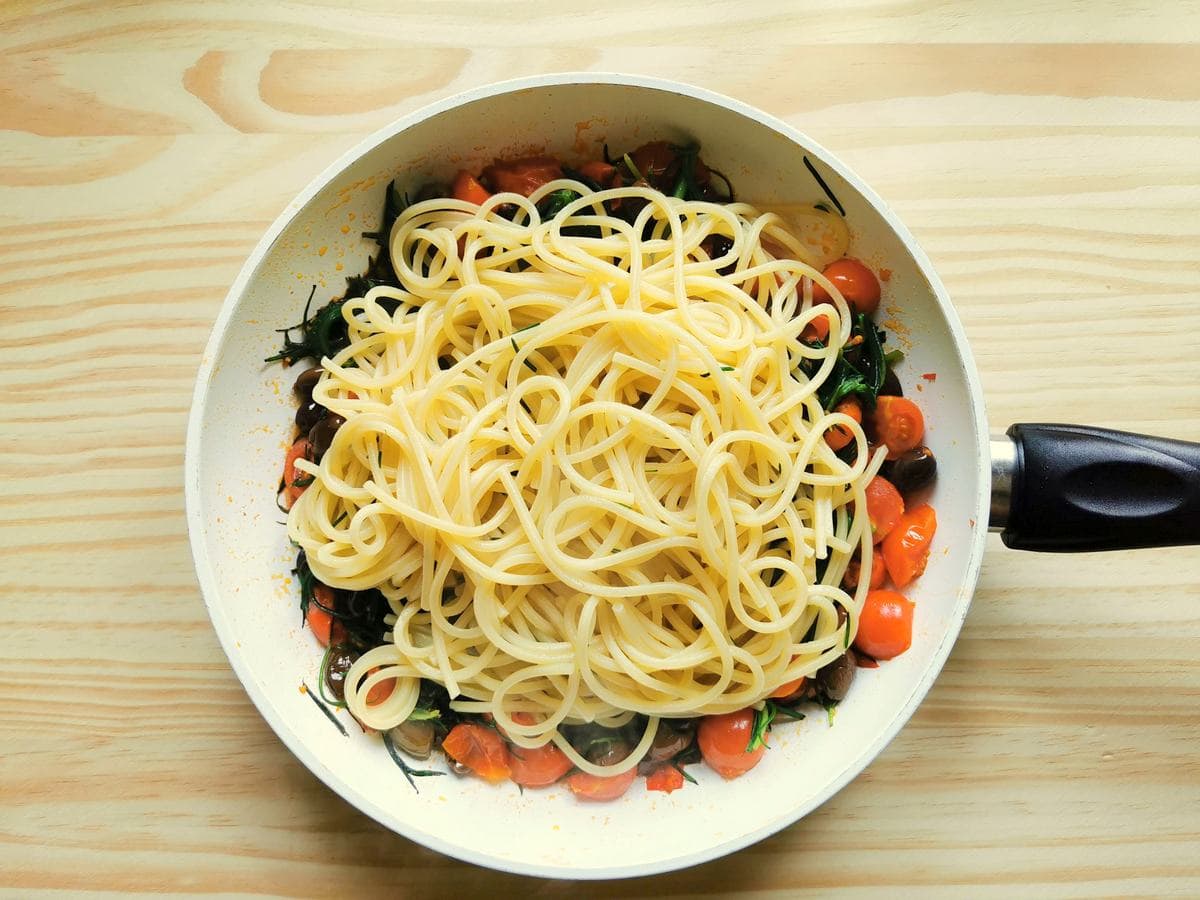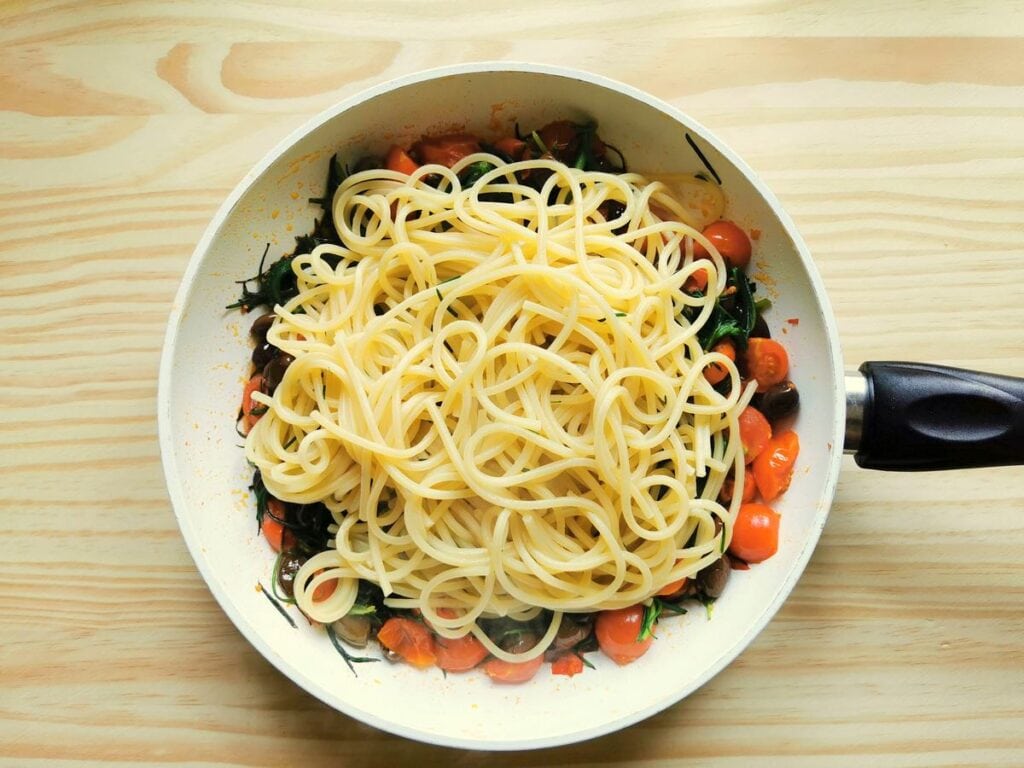 Different ways Italians cook agretti.
Italians mostly cook agretti in one of three or 4 ways; blanched and dressed with lemon and olive oil as a side dish, in a frittata or soup or with pasta, like this agretti spaghetti recipe. However, it's also good raw in salad (when very young), with fried or poached egg for breakfast and in risotto.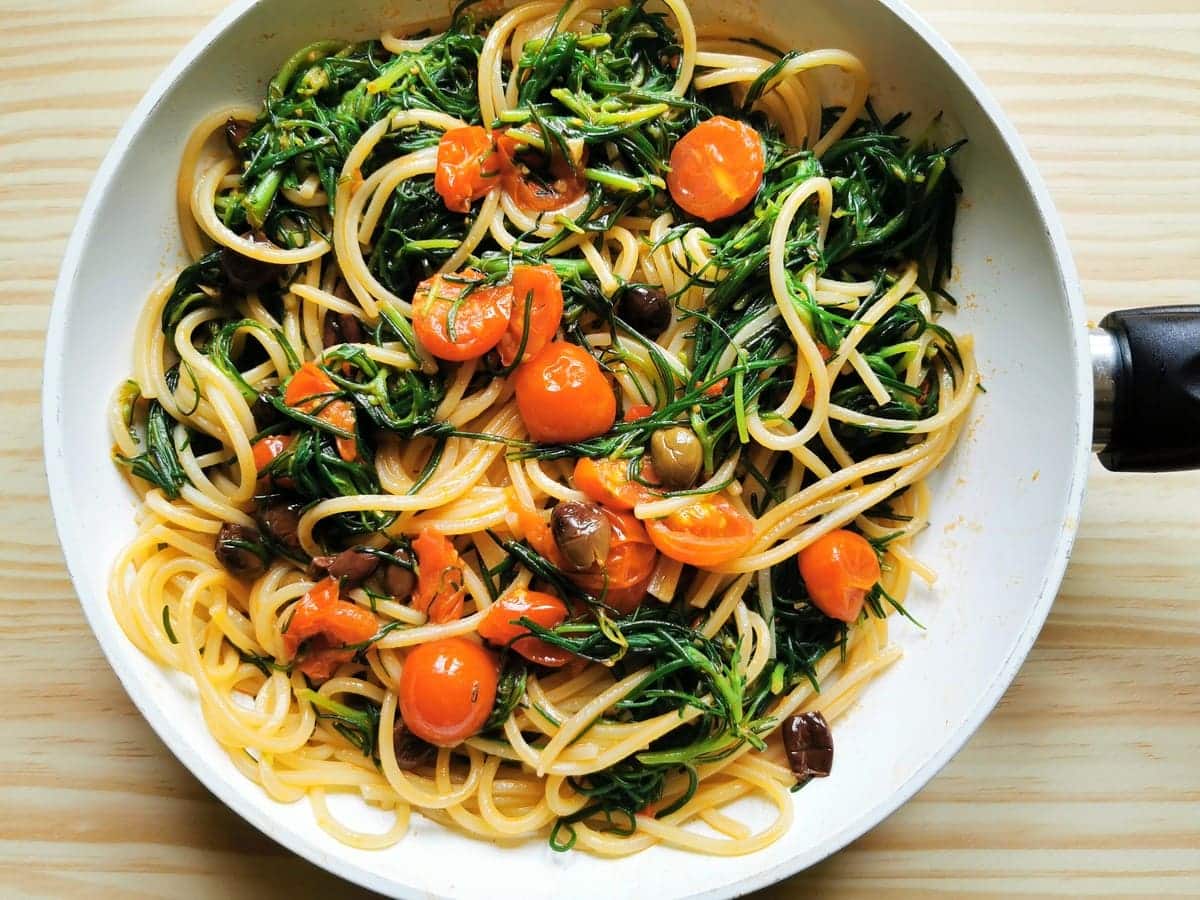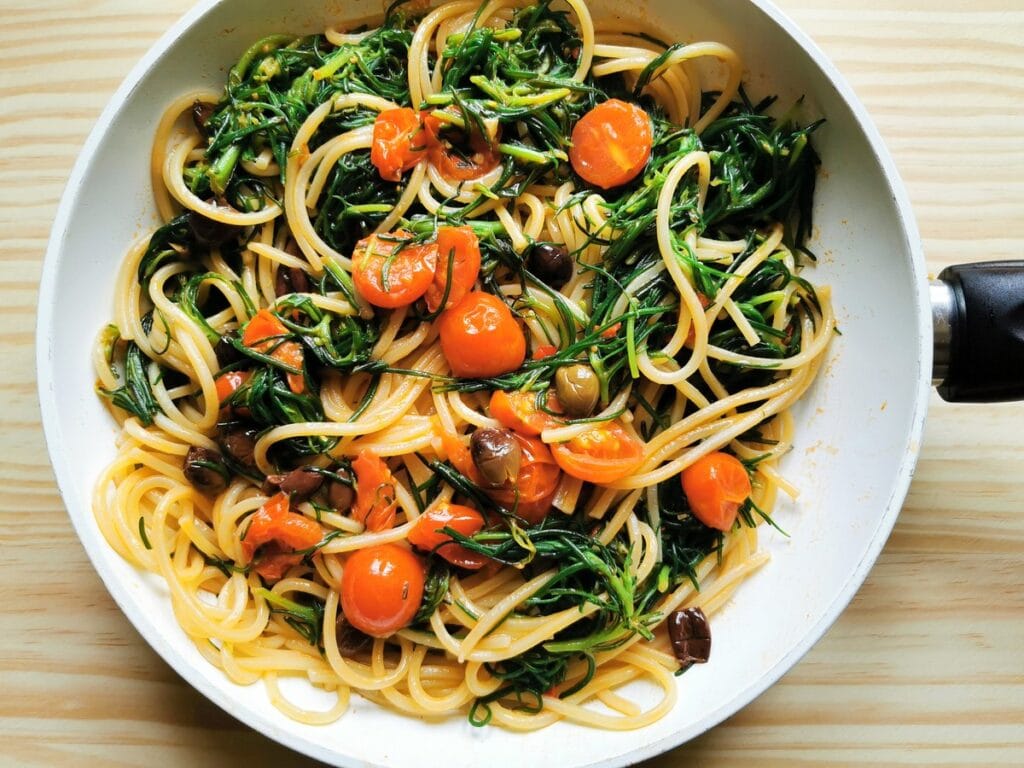 The pasta.
Most Italian agretti pasta recipes call for spaghetti. I used spaghetti alla chitarra or chitarrine, which is a traditional square cut spaghetti from Abruzzo. When fresh, this spaghetti is made with eggs but, dried versions don't normally contain eggs. Fresh homemade spaghetti alla chitarra is an interesting pasta. The name comes from a special tool used to make it called a 'chitarra'. This is a wooden frame with parallel wires crossing it. The rolled-out pasta dough is placed on top of the wires and then pushed through using a rolling pin. You can read more about this pasta in my spaghetti alla chitarra post.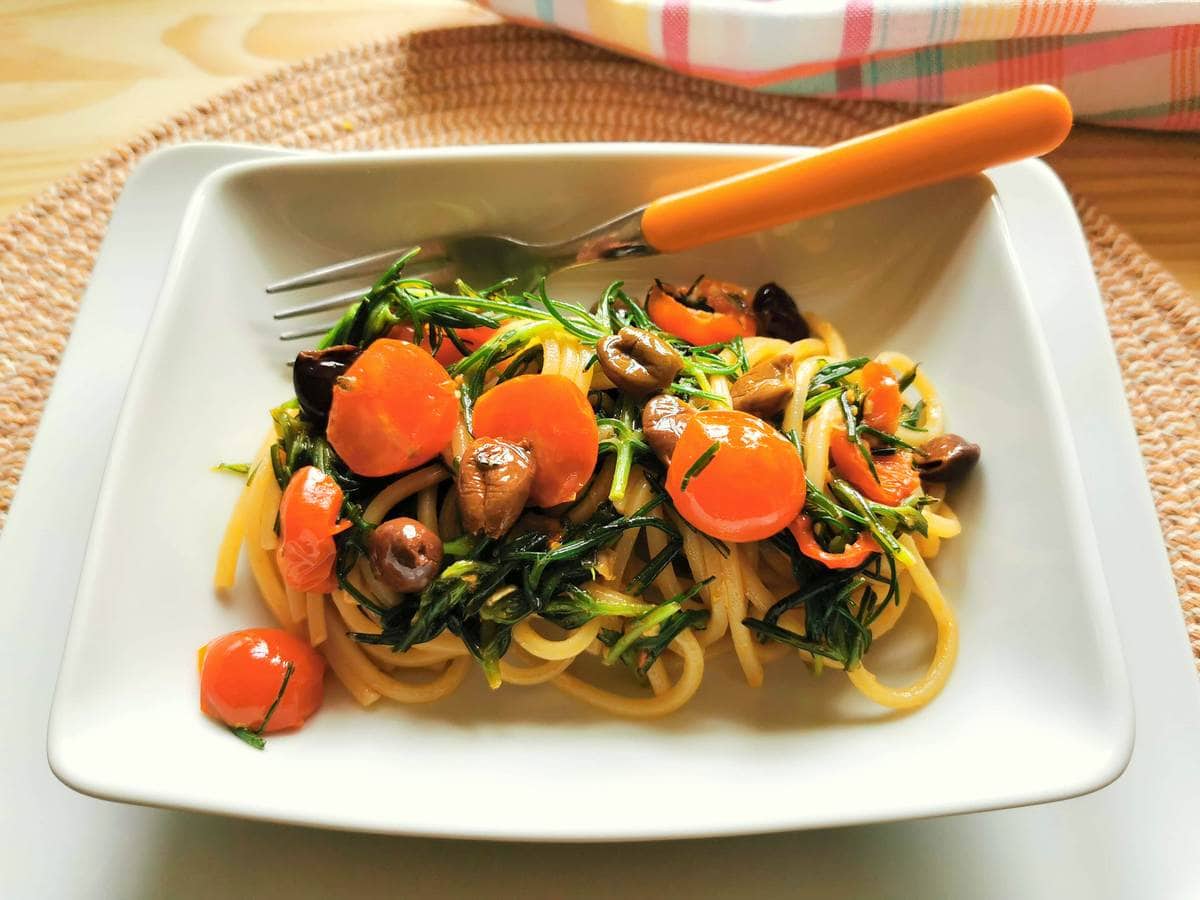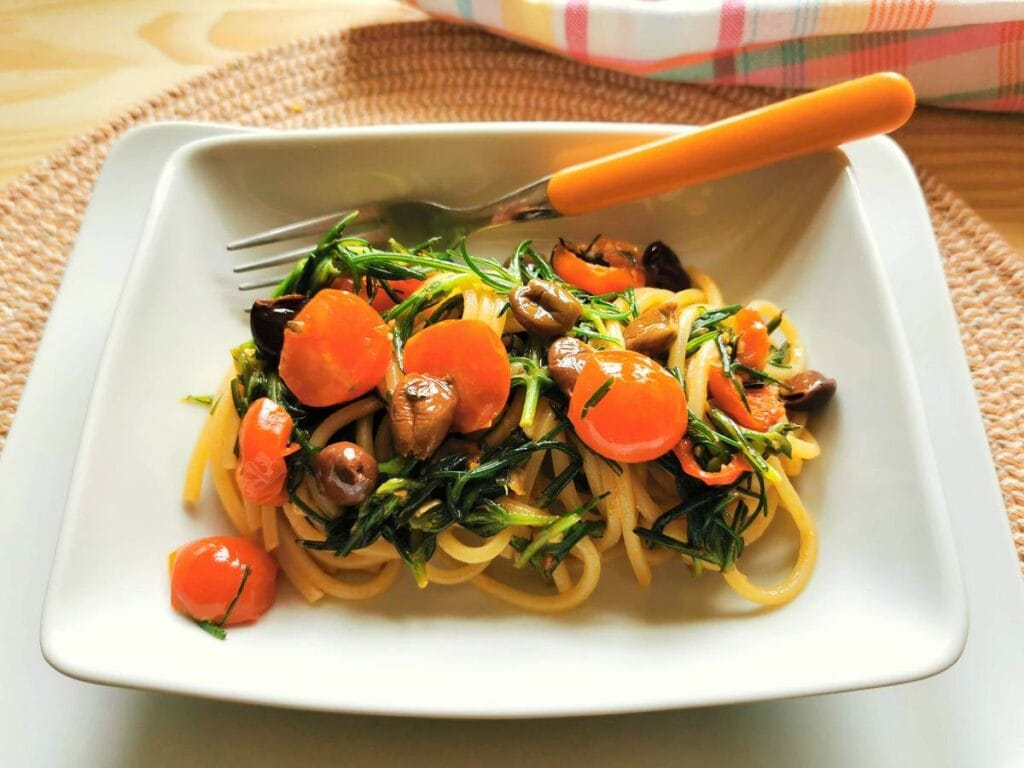 I made this agretti spaghetti with dried chitarrine from one of my favourite pasta makers, Giromoloni. This is an organic pasta company located in the Marche region. I visited them last year and was really impressed with the quality of their pasta and their farming and production processes. You can read more about this company on my post about my visit to them. US residents can also buy this pasta through the link on my shop page.
How to clean agretti.
This is a pretty easy recipe to make. The agretti I used were ready cleaned but if yours are not, you will need to clean them. Just use a small knife to remove the roots and the harder end of the stems and any yellow parts. Once this is done, wash the vegetable several times in cold running water before cooking.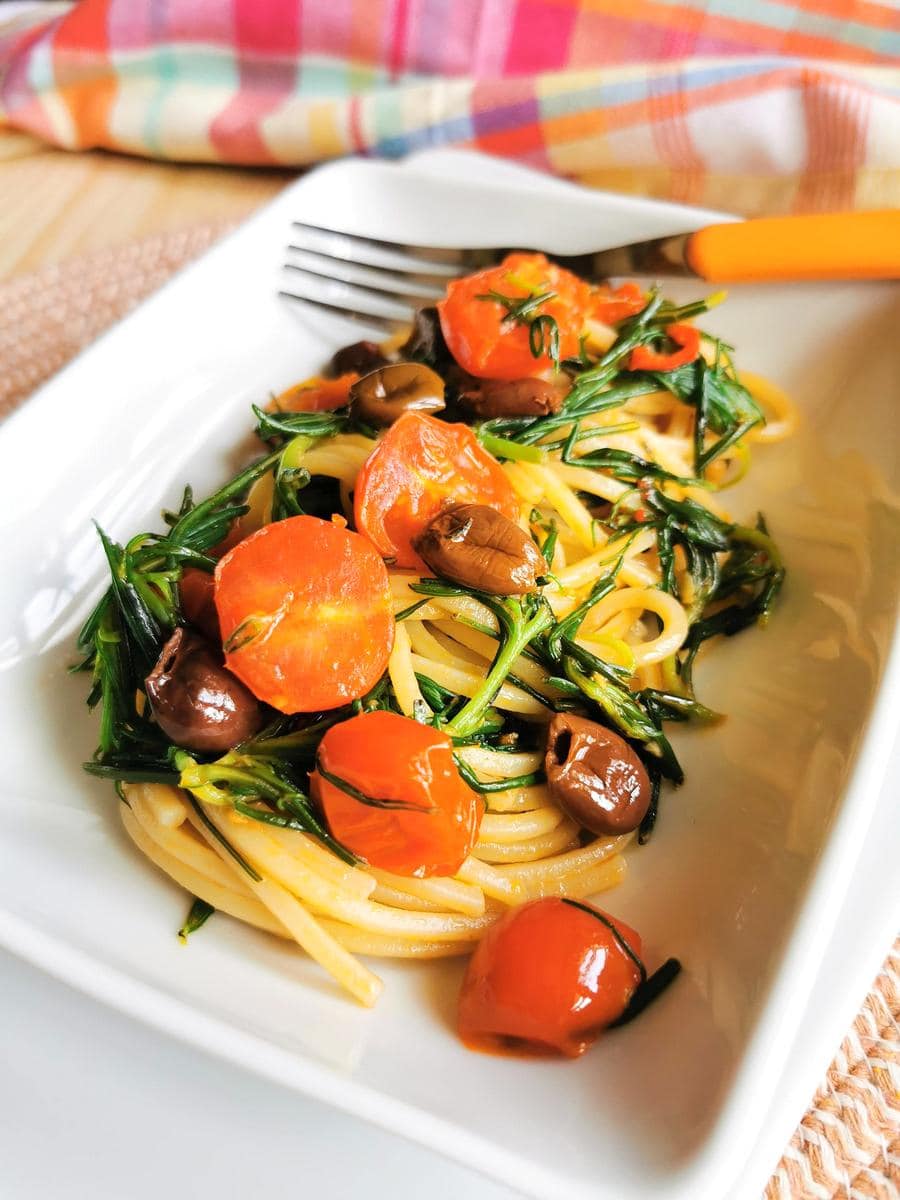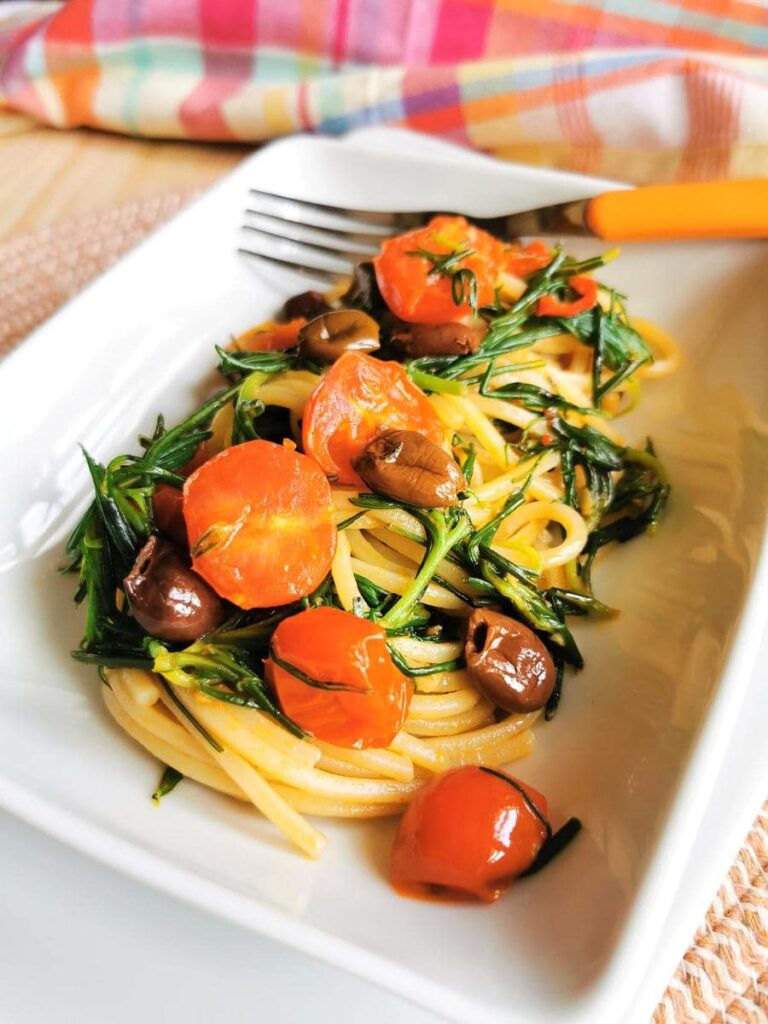 Other ingredients for this spaghetti with agretti recipe.
Apart from the agretti and pasta all you need is some garlic, halved cherry tomatoes, pitted olives and some peperoncino for a bit of a kick. I used taggiasca olives. These delicious small olives from the Alpes-Maritimes area are also known as cailletier. They are the olives the French use for salad Niçoise. Of course, you can use other types of black olives.
I saw another version of this spaghetti with agretti recipe which calls for sun-dried tomatoes instead of cherry tomatoes. I think that would be really worth trying as well. So, if you don't have cherry tomatoes, use that jar of sun-dried tomatoes you have been saving in the larder. It's bound to be delicious!
Let me know what you think.
If you do try this spaghetti with agretti recipe, I'd love to hear what you think. Please write a comment here on the blog or post a comment on the Pasta Project Facebook page.
Your feedback means a lot to me!
Buon appetito!
SAVE THIS RECIPE FOR LATER?
If you want to save this recipe for later, you can print it, bookmark this page or save it to Pinterest.
PIN FOR LATER.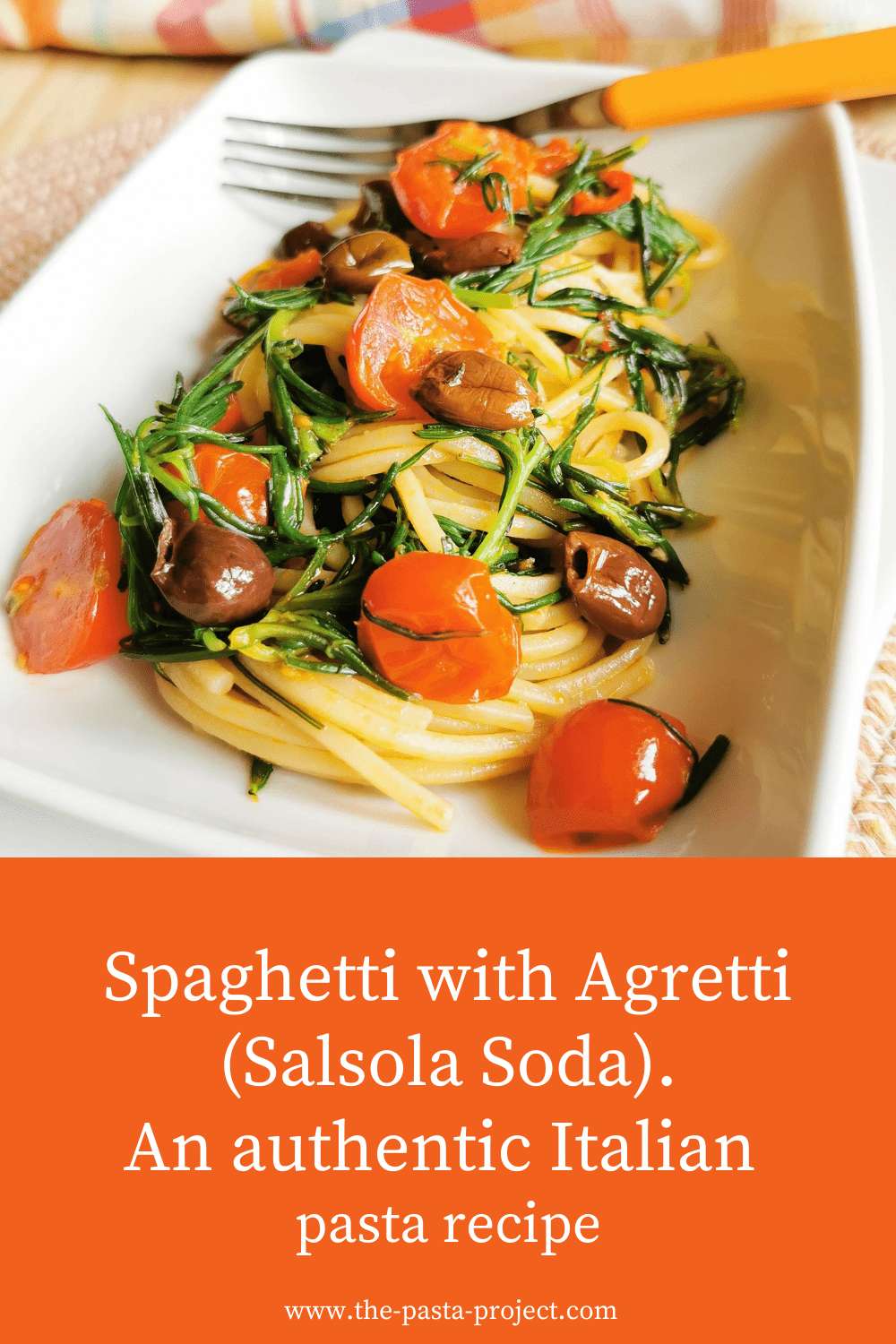 Want to know more about my life in Italy? Why not subscribe to my newsletter? New subscribers get a free series of recipe e-books too!
Other pasta recipes with unusual Italian ingredients.
If you are interested in learning how to make homemade pasta and different types of gnocchi, check out my shop page for some great video online courses from my friends in Rome! Nothing beats learning to make pasta from Italians! Plus while you're there why not order a copy of my autumn/winter pasta recipes cookbook!?