Spaghetti con fagiolini alla Pugliese.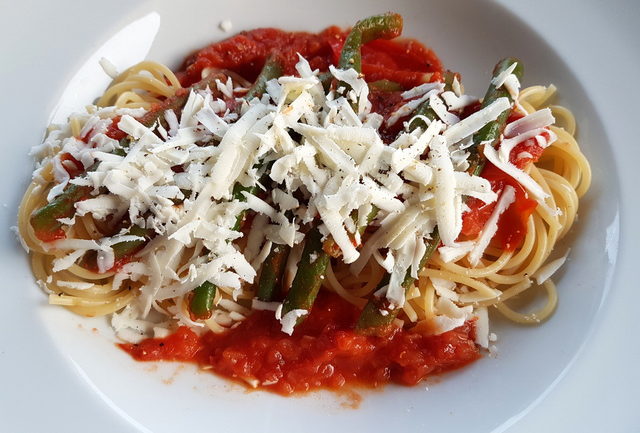 A perfect warm weather pasta dish!
Spaghetti with green beans is a popular vegetarian pasta dish in Southern Italy. It is perfect for warm days when meals need to be light and easily prepared and since beans are still in season here in Italy, I decided to give this recipe a try. I am really happy that I did! (go straight to recipe)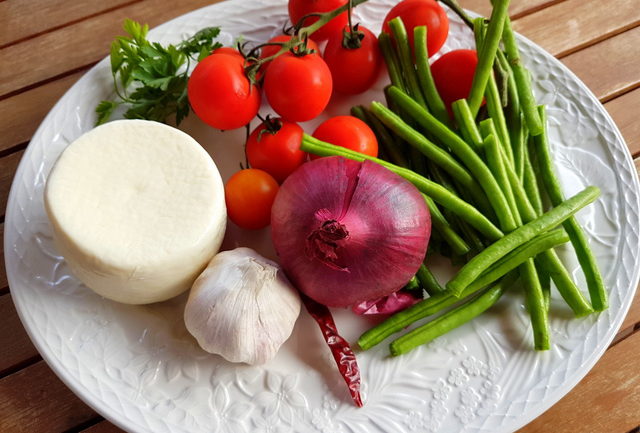 Fresh green beans are widely available throughout Italy in spring and summer, until the end of September and are often served in a salad or as a vegetable side dish. However, using them in a pasta recipe is a tasty alternative way to eat them.
In Italian this dish is called Spaghetti con fagiolini alla Pugliese and it is a recipe from Puglia, which is made with fresh green beans and fresh tomatoes. The beans are partly cooked in the tomato sauce and so they absorb the flavour of the sauce.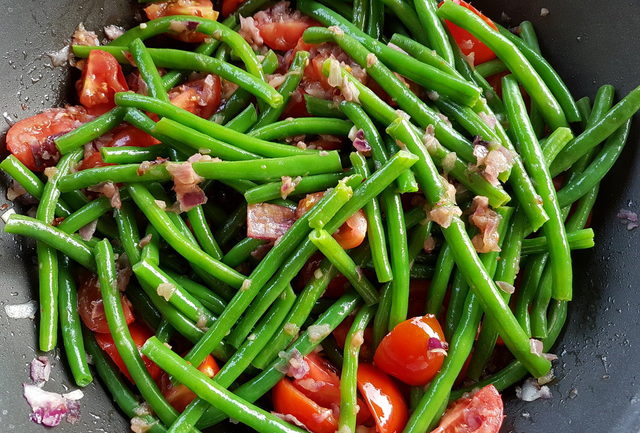 A great way to get the kids to eat their greens!
Green beans are a really healthy addition to any meal. They contain few calories because they are low in protein, fat and carbohydrates, but they are rich in nutrients and vitamins. Recipes with green beans, like this one, are also ideal for children because they are a source of fibre. Although a lot of youngsters do not like to eat green veggies, this dish will have the kiddies asking for more!
More red, white and green!
Italians love their 'tricolore' dishes, in other words; red, white and green like the Italian flag! The red is, of course, usually tomatoes, the most used fruit in Italian cuisine! The green can be a variety of herbs or veggies, very often it is basil. And the white is, needless to say, cheese! There are countless types of cheese produced and eaten in Italy and many of them are used in cooking.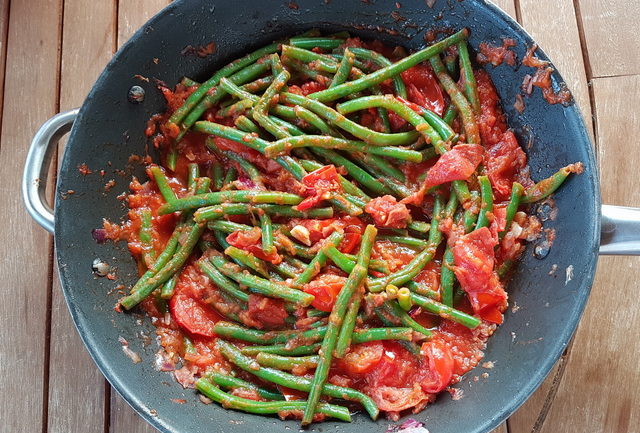 In Puglia, this dish is usually covered with a sprinkling of marzotica ricotta or a strong ricotta called 'scuanta', both of which are produced in Puglia. Some people use cacioricotta, which is what I used. This ricotta cheese is made in a number of different regions, Campania, Calabria, Basilicata, Puglia and Lazio, and is more widely available. It has quite a delicate and delicious taste and is made from sheep or goat milk, a mix of both or from even cow or buffalo milk .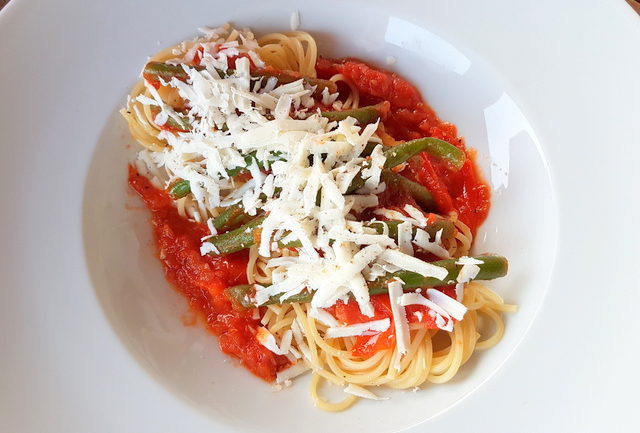 I love pasta recipes which make use of fresh ingredients and are quite easy to make. This recipe certainly falls into that category. You can also make it with other types of pasta and if you can't find the right cheese use any semi-hard ricotta. I'm sure you will love it as much as I do!
Buon Appetito!
(see the recipe on page 2)