A traditional green bean pasta from Puglia.
Spaghetti with green beans is a popular and traditional vegetarian pasta dish in Southern Italy. It is perfect for warm days when meals need to be light and easily prepared. Although best made when beans and tomatoes are in season, you can make this dish all year round. Great way to get kids to eat their greens!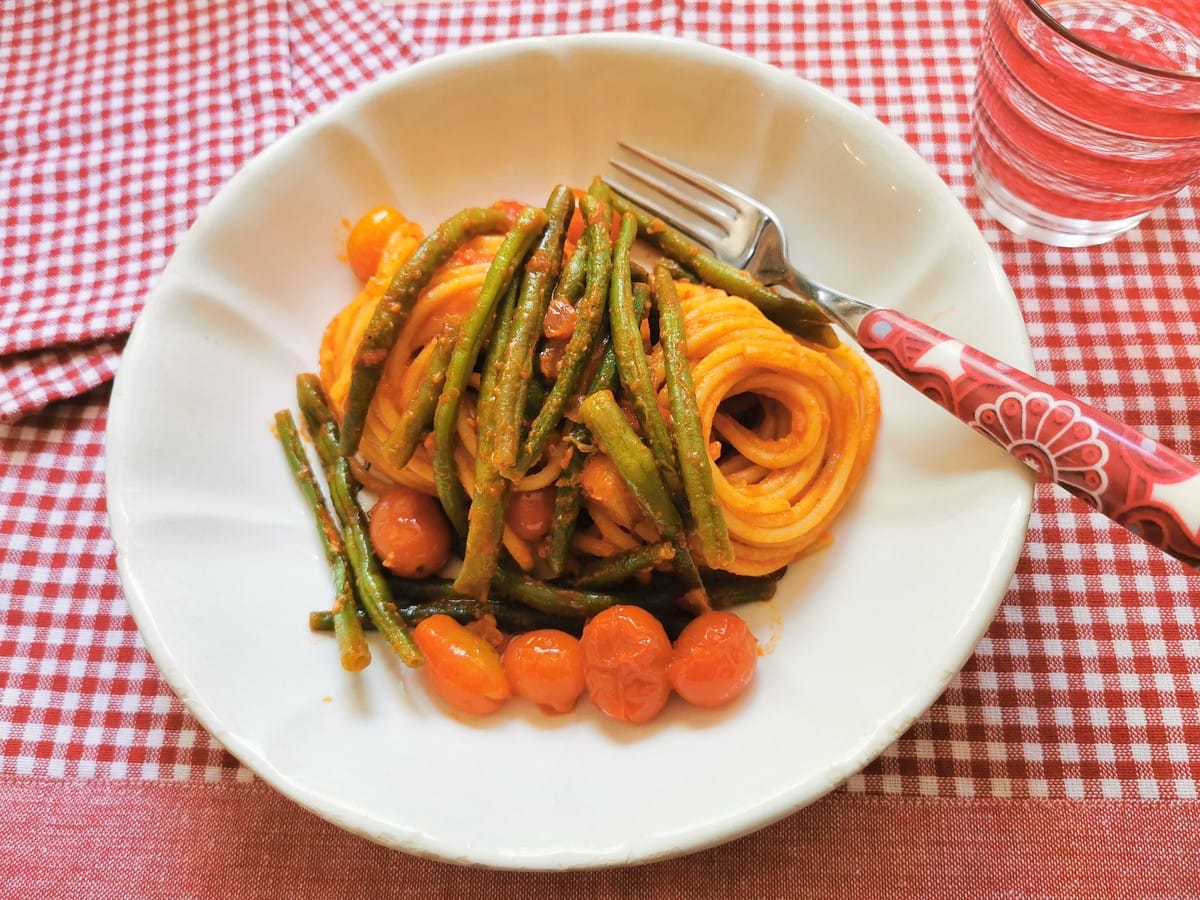 Spaghetti con fagiolini alla Pugliese.
Fresh green beans are widely available throughout Italy in spring and summer (from May to the end of September). Italians mostly serve them in a salad, as a vegetable side dish or, like this recipe, with pasta.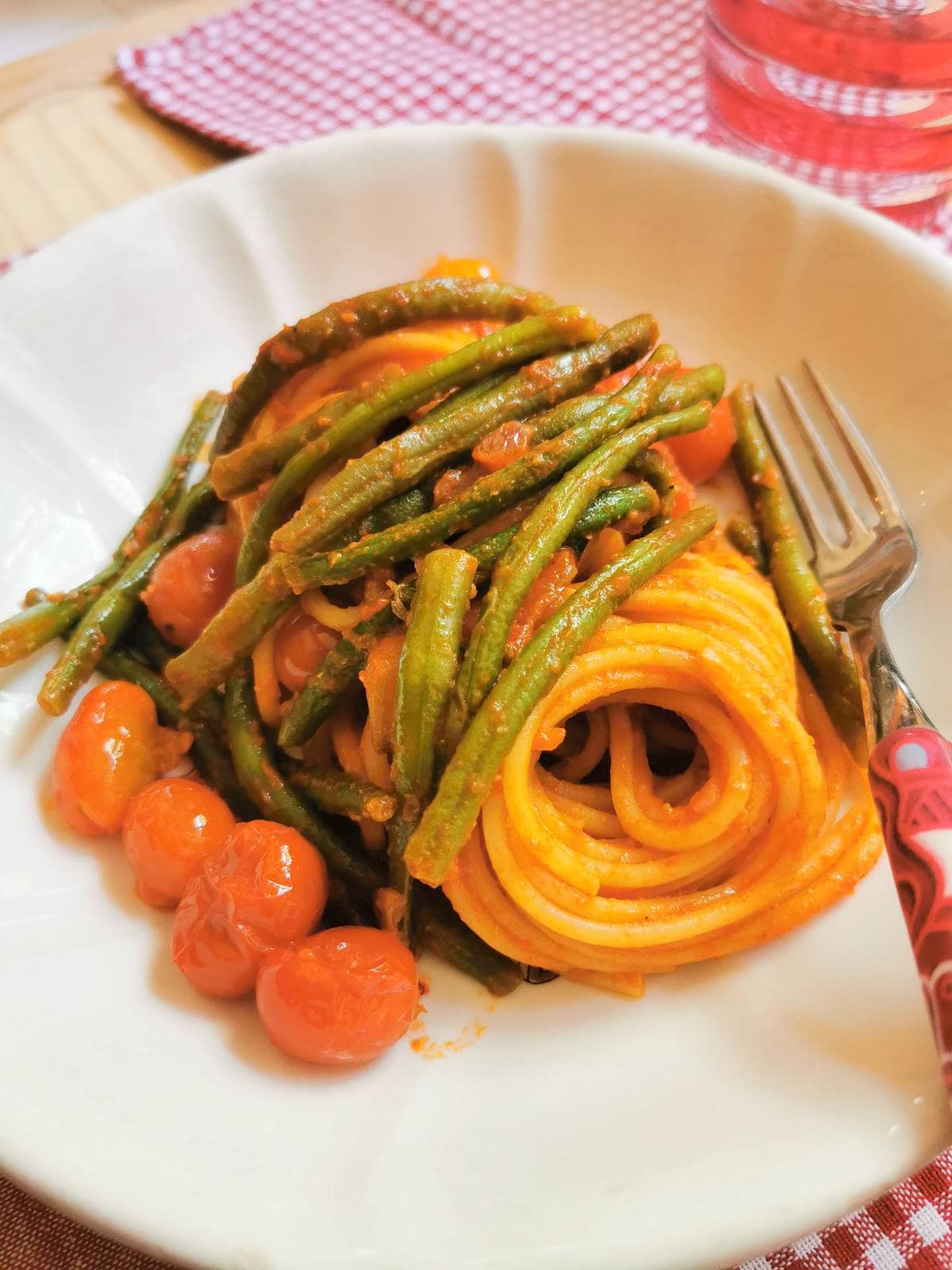 In Italy, this green bean pasta is called spaghetti con fagiolini alla Pugliese, meaning spaghetti with green beans Puglia style. So, as you may imagine this is a recipe from Puglia, Southern Italy. It is usually made with fresh green beans and fresh tomatoes when both are in season. The beans are partly cooked in the tomato sauce and so they absorb the flavour of the sauce.
Italians eat fagiolini alla Pugliese without pasta as a side dish too. You can use this recipe the same way. Just reduce the amount of passata and serve the sauce without pasta!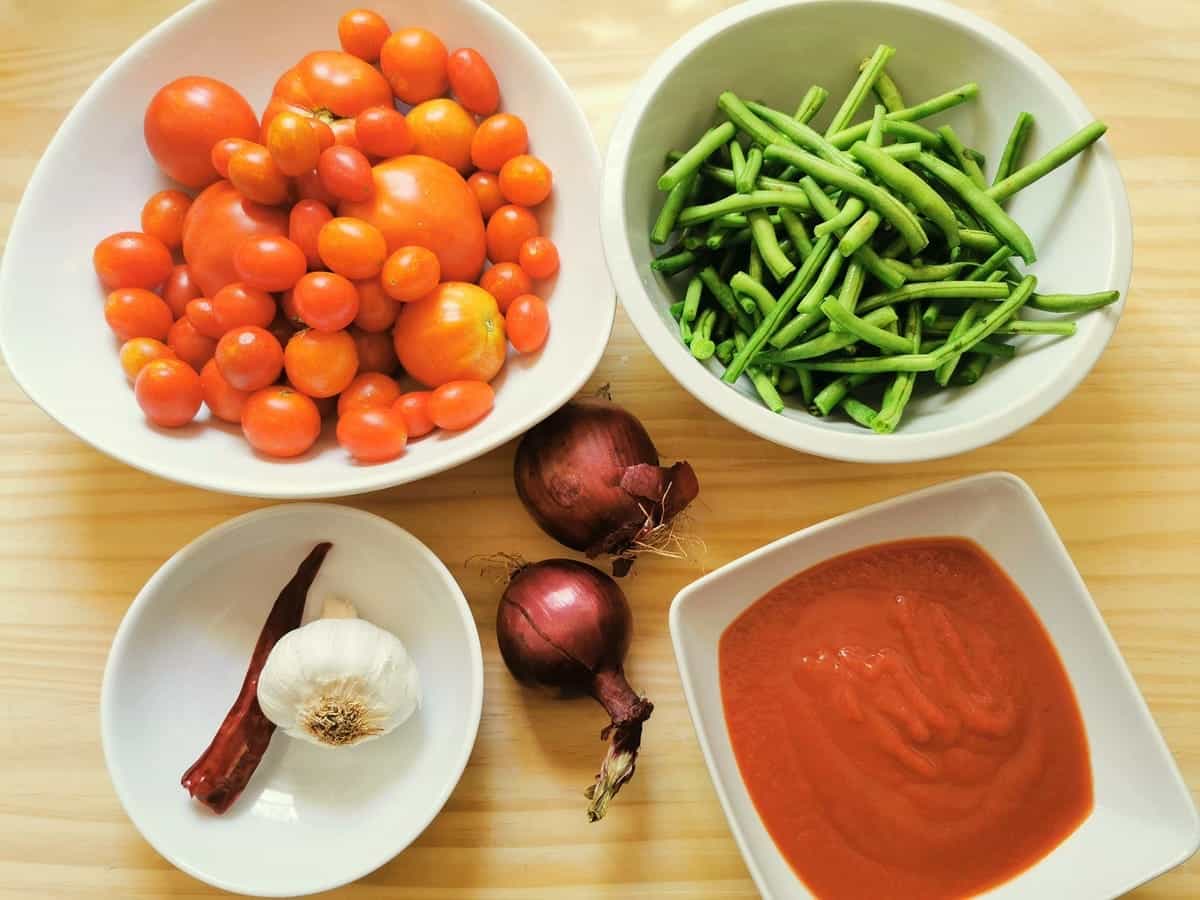 A great way to get the kids to eat their greens!
Green beans are a really healthy addition to any meal. They contain few calories because they are low in protein, fat and carbohydrates, but they are rich in nutrients and vitamins.
Recipes with green beans, like this one, are also ideal for children because they are a source of fibre. Although a lot of youngsters do not like to eat green veggies, this dish will have the kiddies asking for more!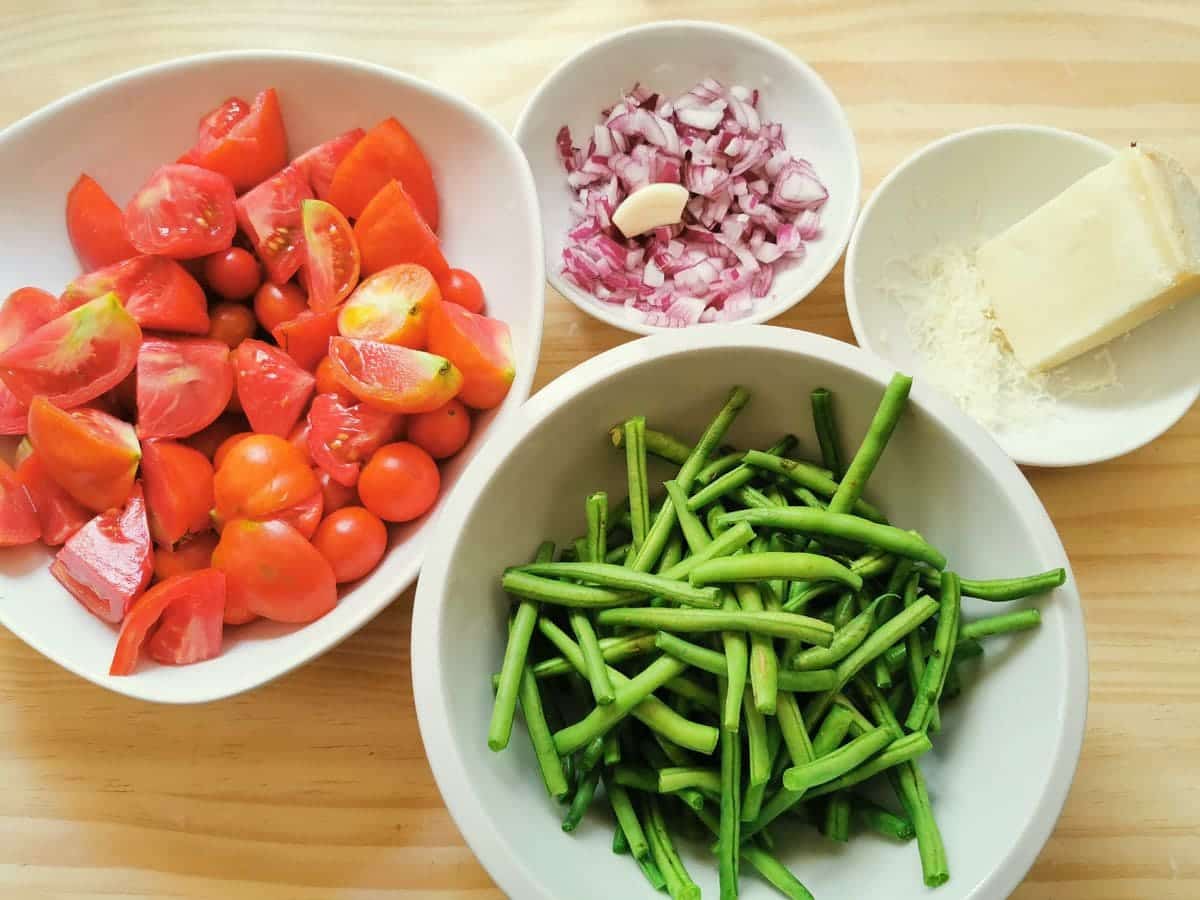 A little green bean history.
Green beans, also known as string beans or snap beans, have been a staple food for thousands of years. This member of the Phaseolus Vulgaris species originated in South America. From there, native tribes took it to Central and North America. However, here in Europe, green beans didn't arrive until Christopher Columbus brought them over in 1493!
Apparently, Greece, Italy and Turkey were already cultivating green beans in the 17th century. Today, Italy, Spain and Belgium are the most important European green bean growers!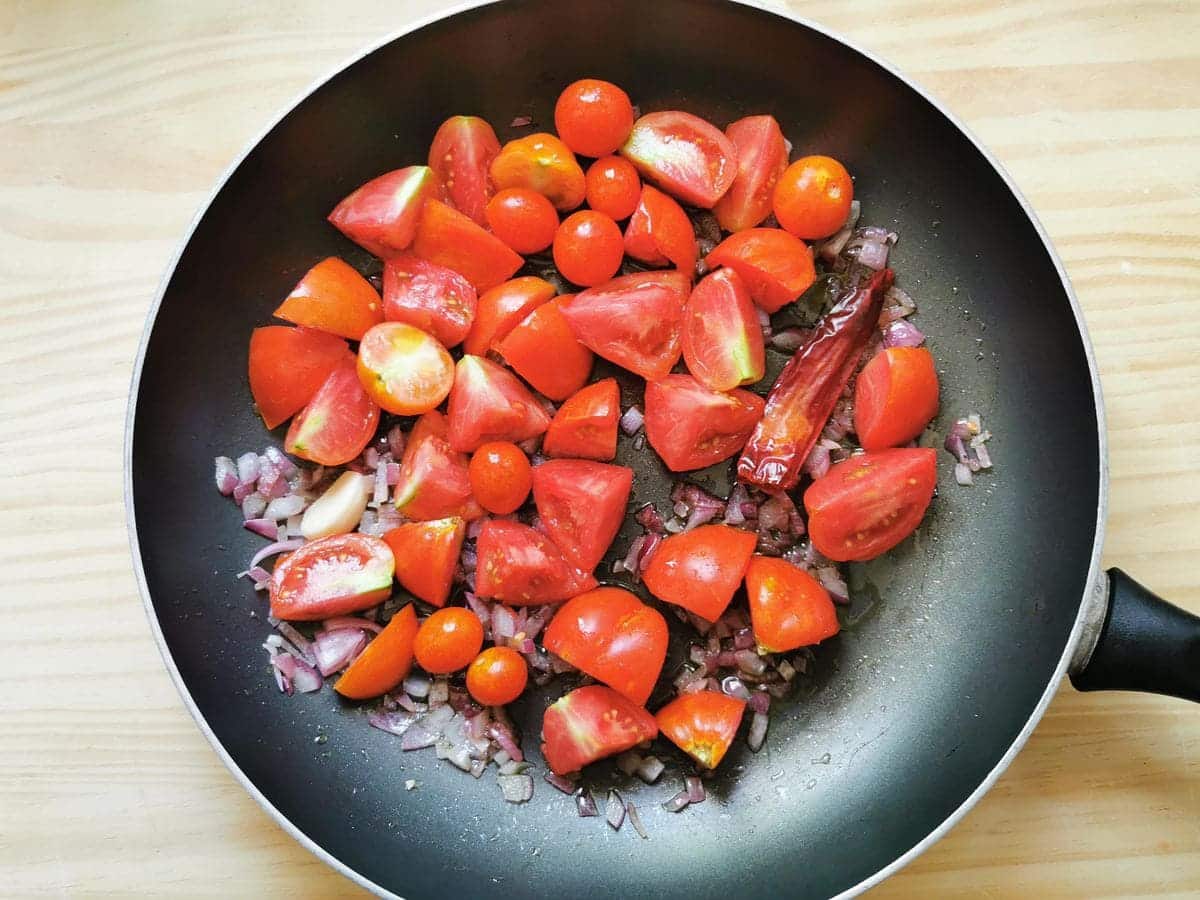 More red, white and green!
Italians love their 'tricolore' dishes, in other words; red, white and green like the Italian flag! The red is, of course, usually tomatoes, the most used fruit in Italian cuisine! The green can be a variety of herbs or veggies, very often it is basil. And the white is, needless to say, cheese! There are countless types of cheese produced and eaten in Italy and many of them are used in cooking.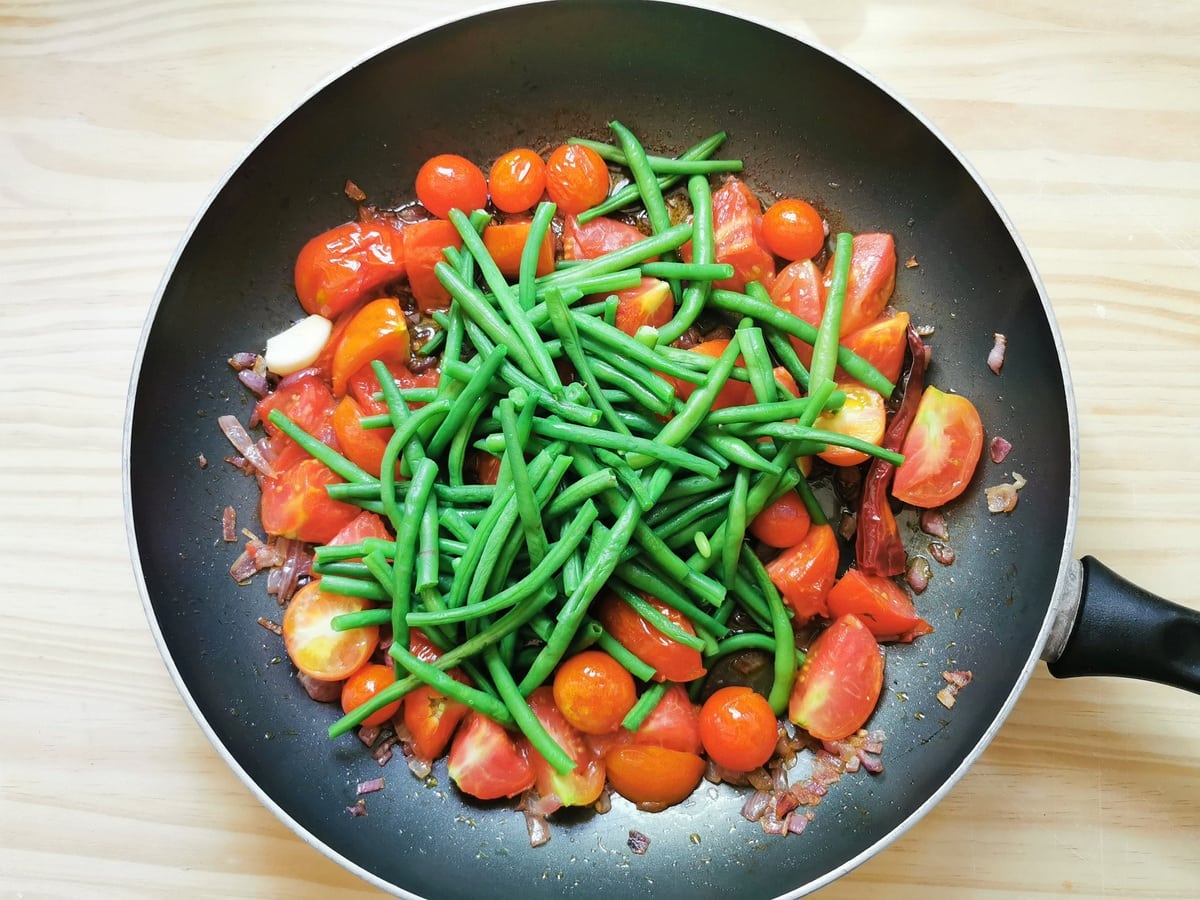 In Puglia, this spaghetti with green beans usually includes marzotica ricotta or a strong ricotta called 'scuanta', both of which are produced in Puglia. Some people use cacioricotta, which is what I used.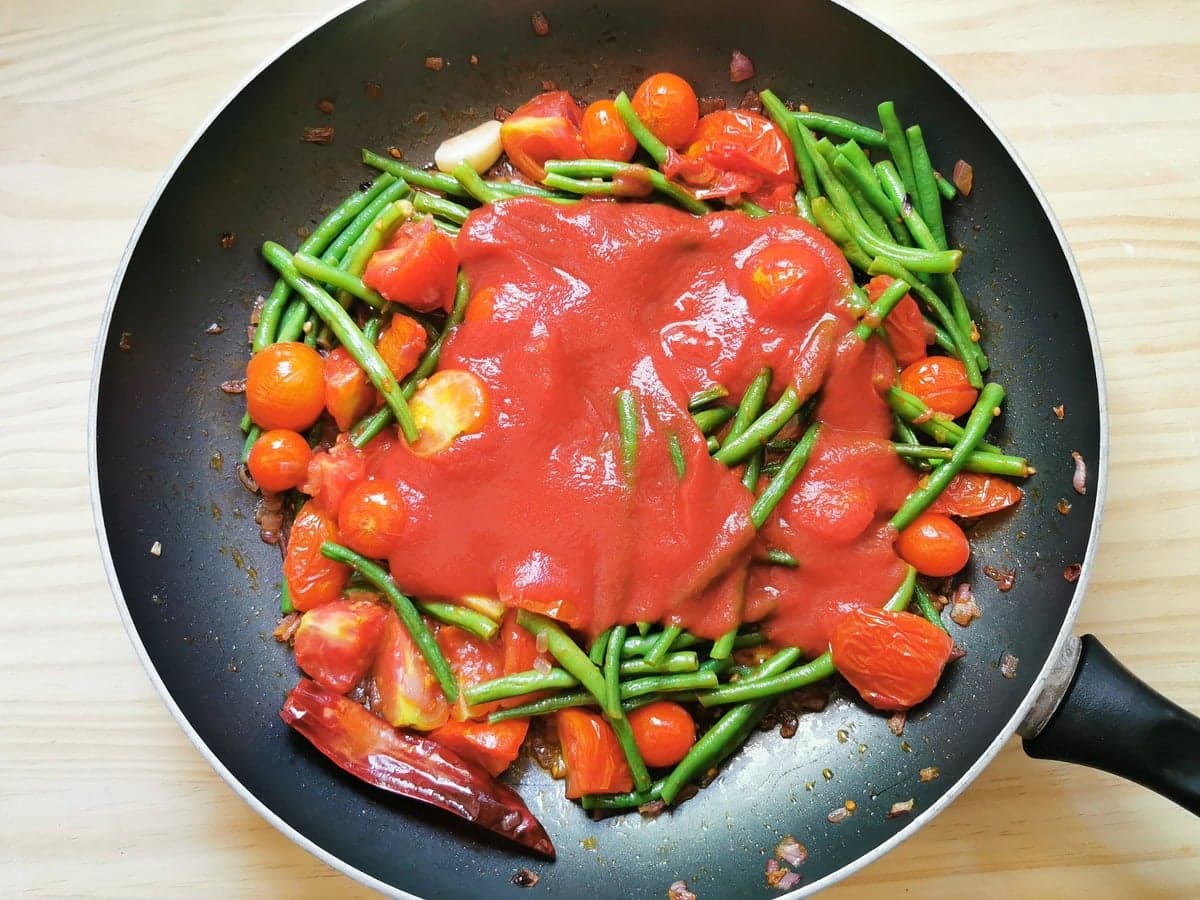 This ricotta cheese is made in a number of different regions, Campania, Calabria, Basilicata, Puglia and Lazio, and is more widely available. It has quite a delicate and delicious taste and is made from sheep or goat milk, a mix of both or from even cow or buffalo milk . You can also use pecorino, ricotta salata or even Parmigiano.
Is this green bean pasta recipe vegetarian?
This recipe is vegetarian if you use a vegetarian cheese. Italian pecorino and Parmigiano aren't vegetarian because they make them using animal rennet. I'm not sure about the types of hard ricotta I mentioned but fresh ricotta is vegetarian, so aged ricotta should be too. Check the label.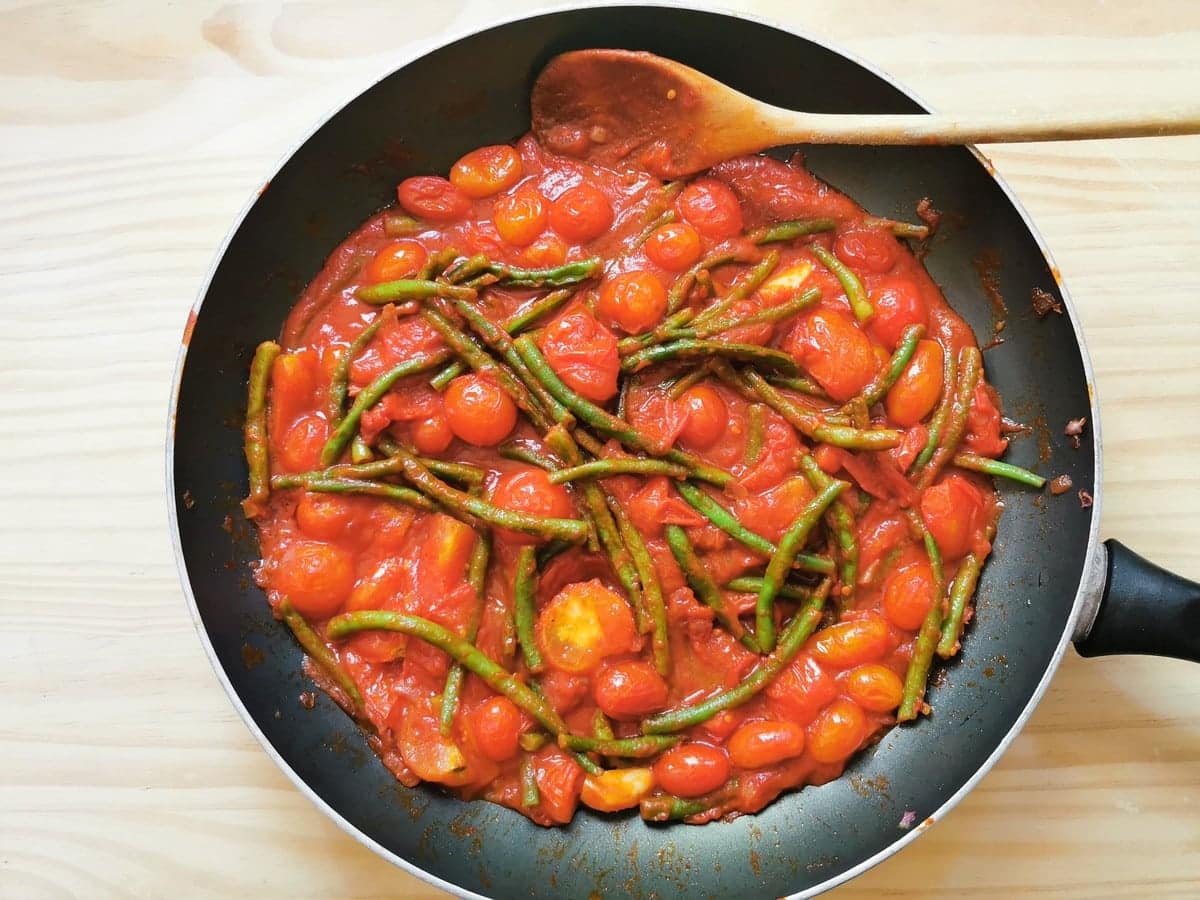 Making this green bean pasta recipe.
Like many Italian spaghetti pasta recipes, this one is pretty easy to make. It also involves very little prep. All you need to do before cooking is wash and cut the tomatoes into pieces, peel and chop the onion, peel the garlic and wash and top and tail the beans.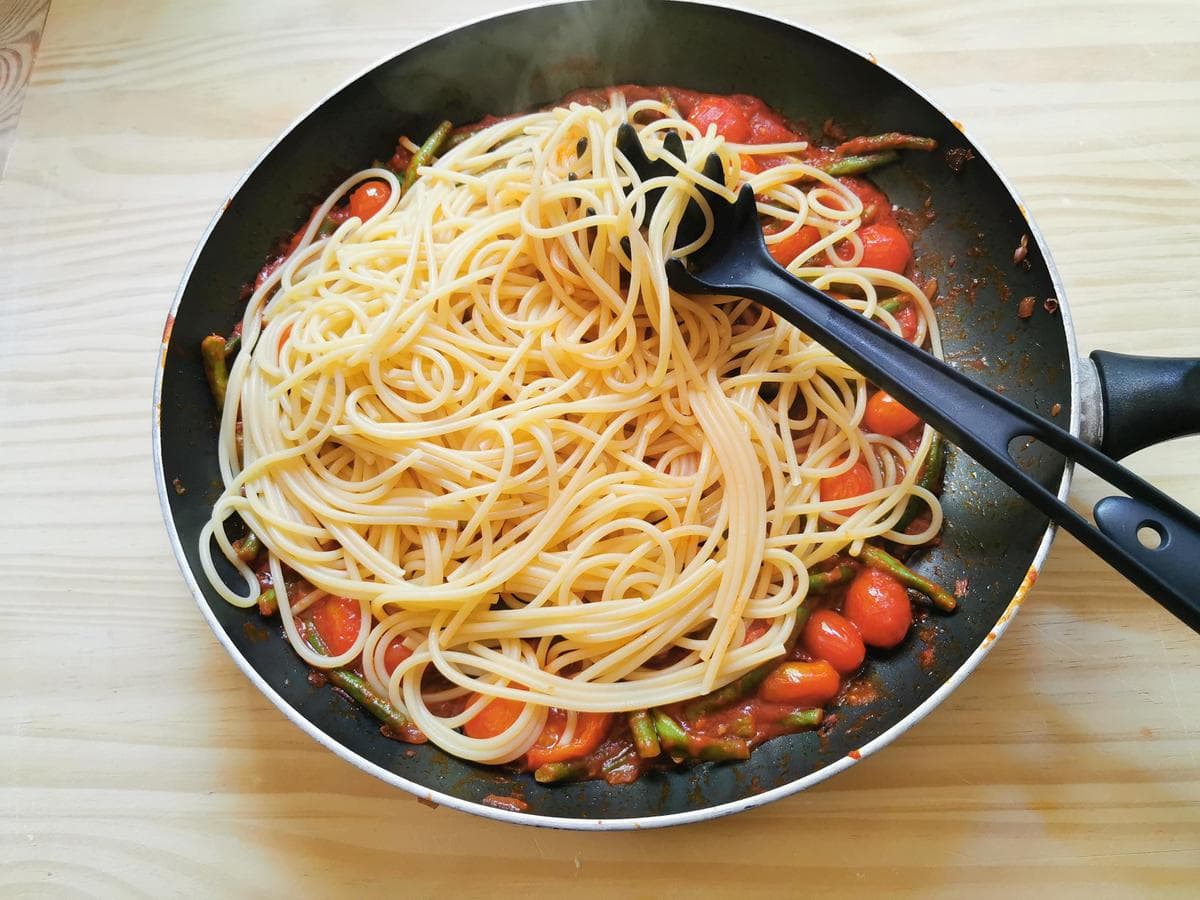 Then, partly cook the beans in boiling salted water for just a couple of minutes. You can keep the water to cook the pasta in. While the water is boiling, sauté the onion, garlic and chilli pepper (if using) in olive oil. Then add the tomato pieces, let them soften and then put in the blanched beans.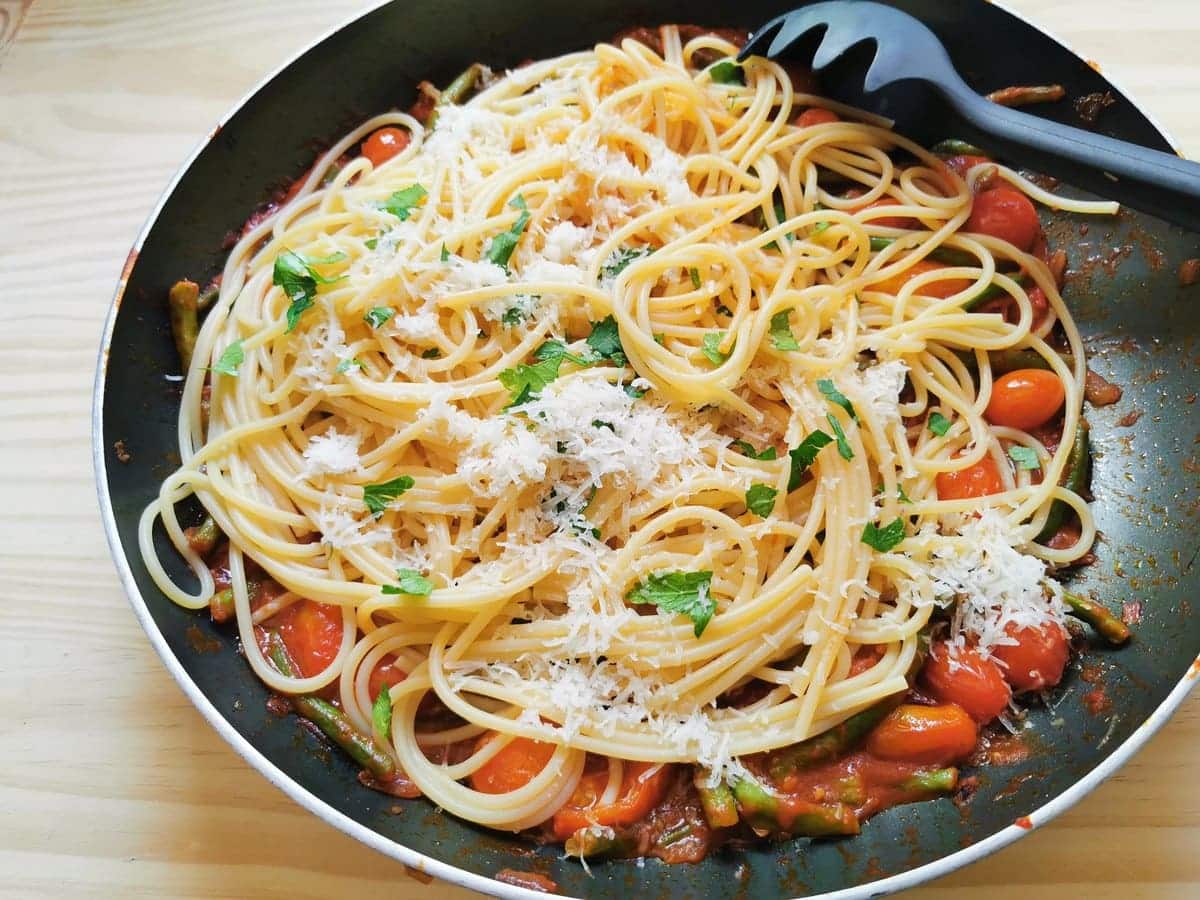 Cook everything together for 5 minutes and then add the passata and season. Simmer the sauce for 10-15 minutes and it's ready! Finally, cook the spaghetti al dente, drain it and add it to the sauce with some grated cheese and parsley. Mix and serve with more cheese.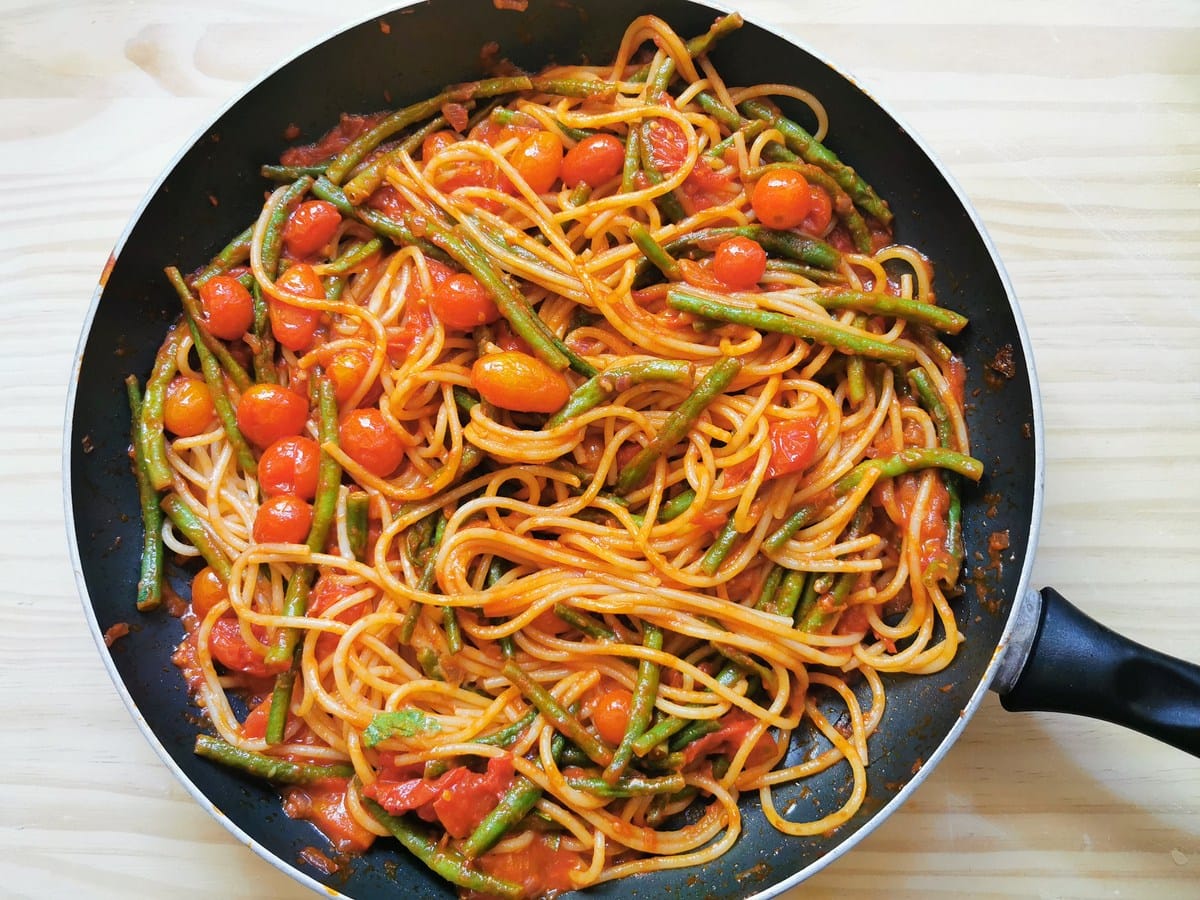 Let me know what you think.
I love pasta recipes which make use of fresh ingredients and are quite easy to make. This recipe certainly falls into that category. You can also make it with other types of pasta. I also like to use vermicelli or spaghetti alla chitarra. Whichever you use, I'm sure you will love this green bean pasta as much as I do!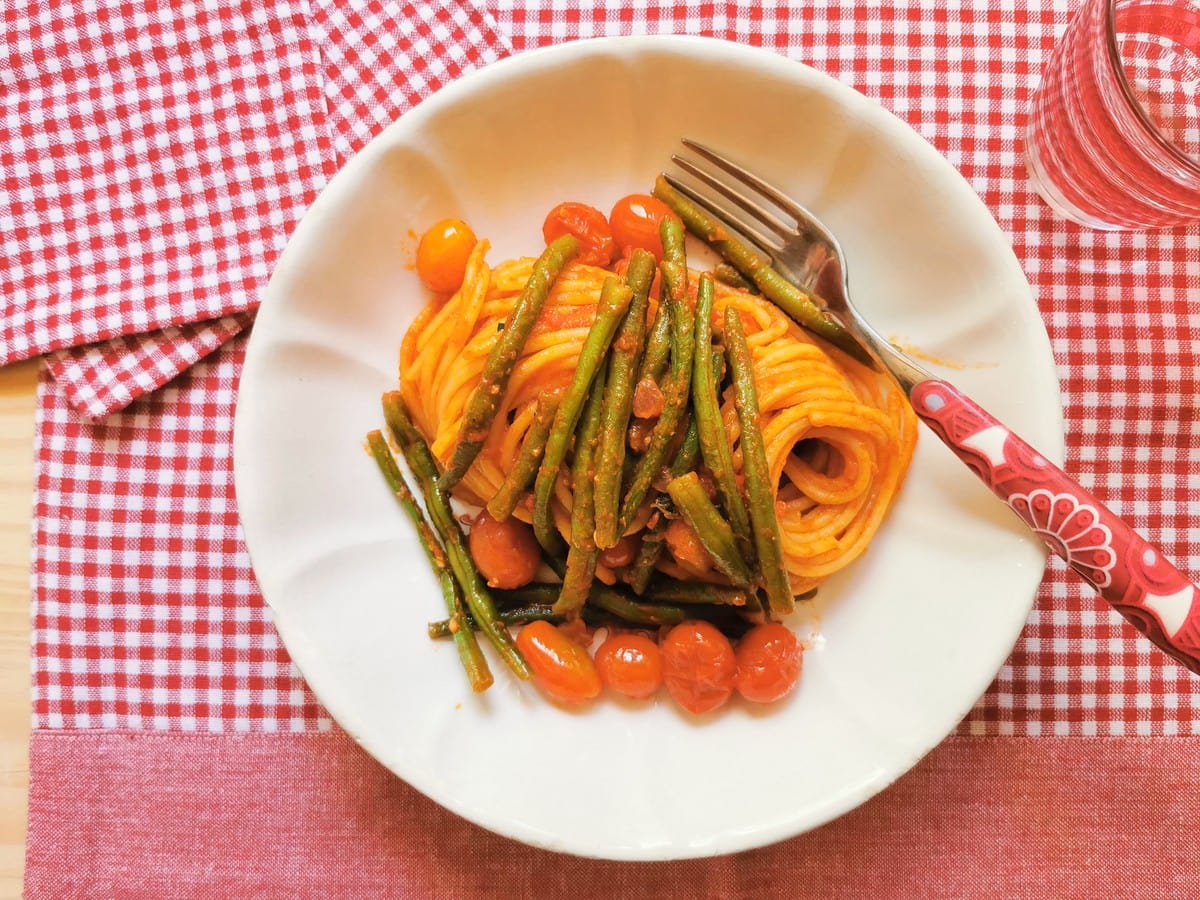 If you make this recipe I'd love to hear how it turns out and if you liked it. Please leave a comment here on the blog or on The Pasta Project Facebook page. Looking forward to hearing from you.
Buon appetito!
This recipe was first published in 2017. It has been updated with new photos and text.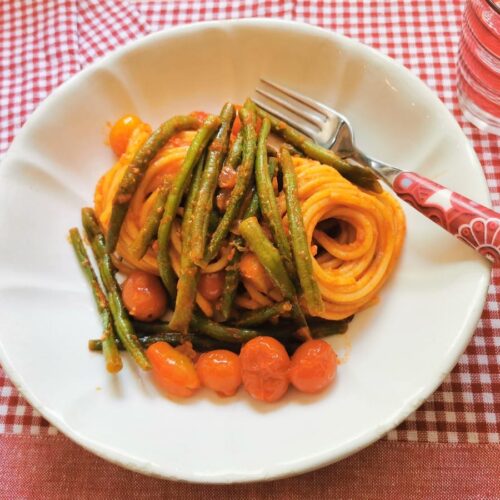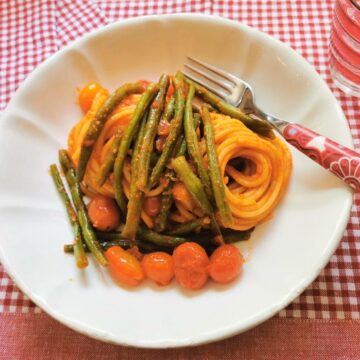 Spaghetti with green beans
A delicious and healthy green bean pasta recipe from Puglia in Southern Italy, this spaghetti with green beans is easy to make and great way to get kids to eat veggies. You can serve the bean sauce as a side dish without pasta too.
Ingredients
400

g

fresh green beans 14oz

400

g

spaghetti 14oz

250

g

ripe fresh tomatoes 9oz

cut into quarters

200

g

tomato passata 9oz

less or omit if serving without pasta

1

garlic clove

peeled

1

fresh or dried red chilli pepper/ peperocino

optional

1

red onion

2

tbsp

extra virgin olive oil

cacioricotta or pecorino cheese

grated

salt

for pasta water and to taste

black pepper

to taste
Instructions
Wash the green beans and cut off the thinner parts at each end. Peel and slice the onion very finely. Cut the tomatoes into halves or quarters depending on how big they are.

Pour the oil into a large frying pan or skillet, heat it and fry the garlic clove, onion and whole peperoncino until the onion starts to soften. Then add the tomato pieces and cook until they start to soften too.

In the meantime, in a pot with plenty of salted water, partly cook the green beans for a few minutes. Drain the beans and add them to the pan with the onion and tomatoes.

Continue cooking for 5 minutes then add the tomato passata and mix everything together. Simmer for 10-15 minutes. Add salt and pepper to taste.

When the sauce is almost ready, cook the pasta in plenty of boiling salted water according to the instructions on the packet. I used the water I cooked the beans in. If you are using fresh pasta the cooking time will be very short.

Remove the garlic clove and red chilli pepper from the sauce. Drain the pasta and add it to the green beans and tomato sauce.

Add a generous sprinkling of grated cacioricotta and mix well. I also added a handful of chopped fresh parsley or you can use basil. (both are optional)

Serve with more grated cacioricotta or pecorino sprinkled on top.
Notes
You can also make this recipe with other types of pasta and if you can't find the right cheese use any semi-hard ricotta or pecorino.
You can serve the beans and tomatoes as a side dish or use short pasta to make a pasta salad. For a side dish reduce or omit the tomato passata.
Leftovers can be turned into a delicous frittata!
What to do with leftovers.
If you have extra sauce, you can serve it as a side dish with meat or fish. However, leftover ready mixed spaghetti and green beans makes a great pasta frittata. Just keep it sealed in the fridge and then fry it in olive oil or butter until the pasta starts to crisp slightly. Then add beaten eggs mixed with grated cheese.
This frittata is hard to flip so I brown the top under the grill.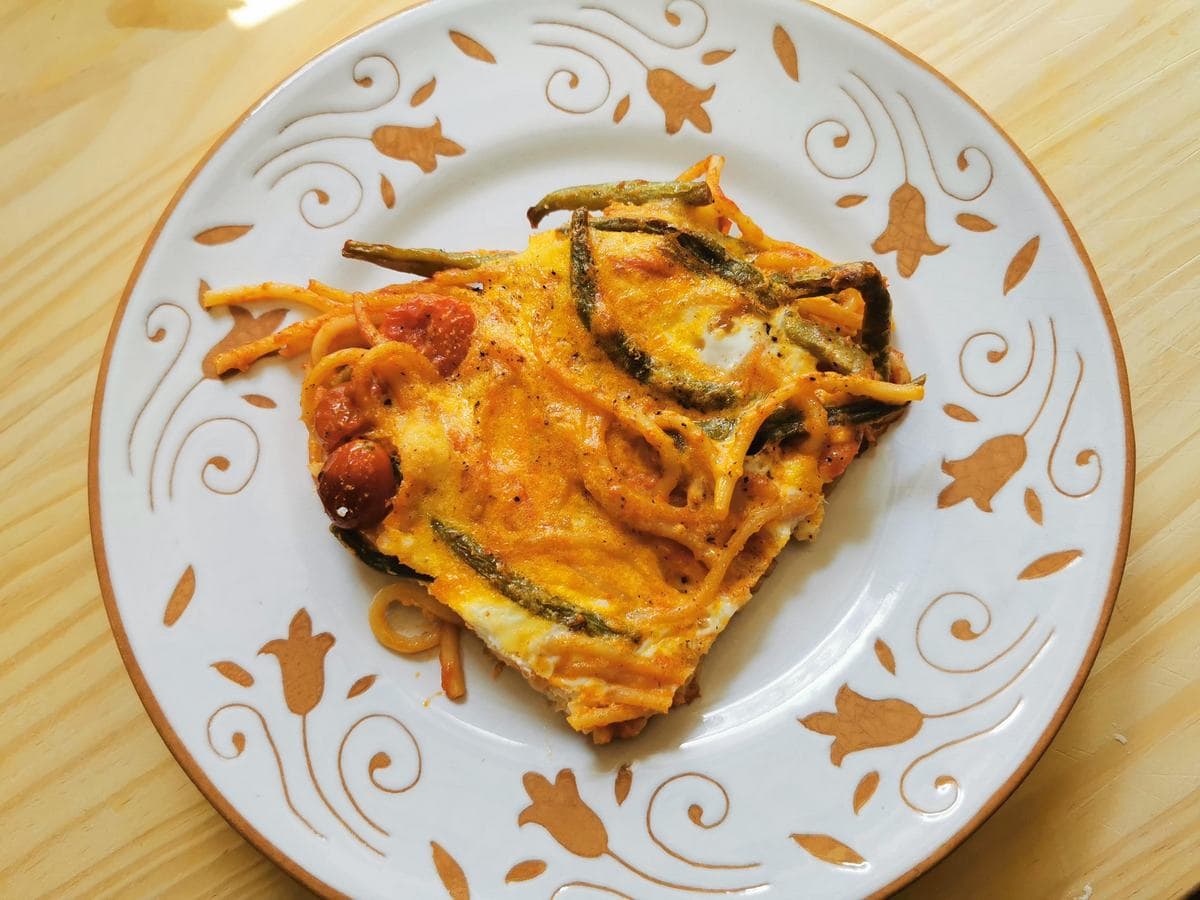 Pin for later.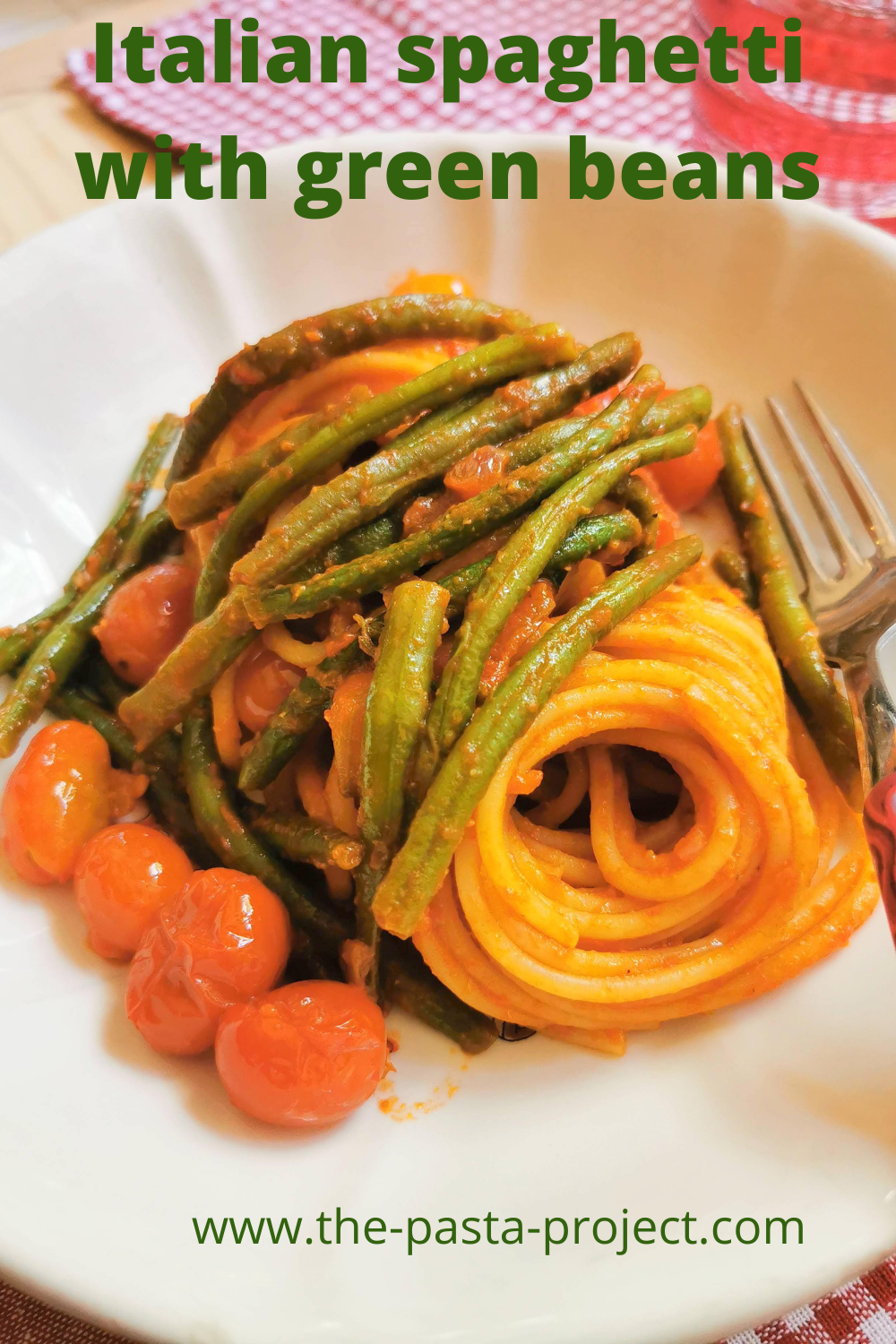 Other easy pasta recipes to try.
If you are interested in learning how to make homemade pasta and different types of gnocchi, check out my shop page for some great video online courses from my friends in Rome! Nothing beats learning to make pasta from Italians! Plus while you're there why not order a copy of one of my pasta recipe cookbooks or checkout some recommended pasta making tools? All great prezzies for pasta lovers!