Senatore Cappelli organic whole wheat pasta with Nduja and mushrooms; recipe from Calabria.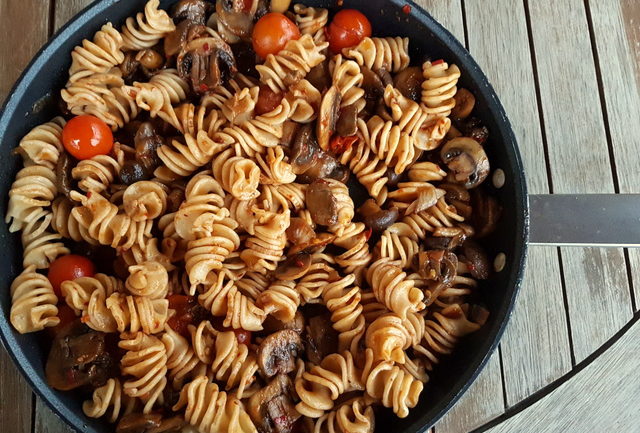 I love Nduja (spicy soft salami from Calabria) but until recently I had only used it in the most traditional recipe which involves melting it into a thick homemade tomato sauce and serving it with Calabrian fileja pasta, if I have it. That recipe is always delicious but actually Nduja can be used to not only create pasta sauces with other foods, but is also starting to become a popular ingredient in non-pasta recipes. This recipe for organic whole wheat pasta with nduja and mushrooms is a delicious example of how well this spicy spreadable salumi can pair with different ingredients.
(click to go straight to recipe)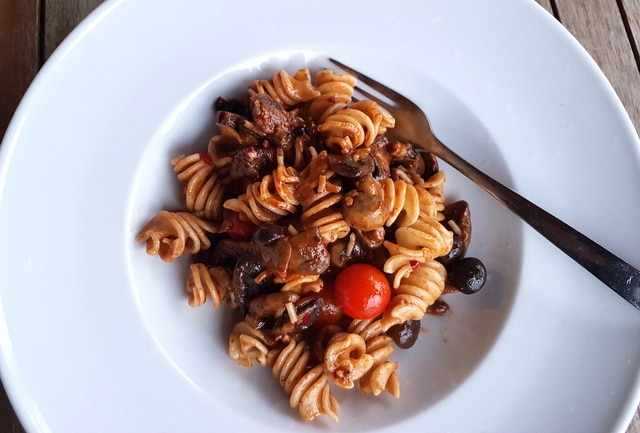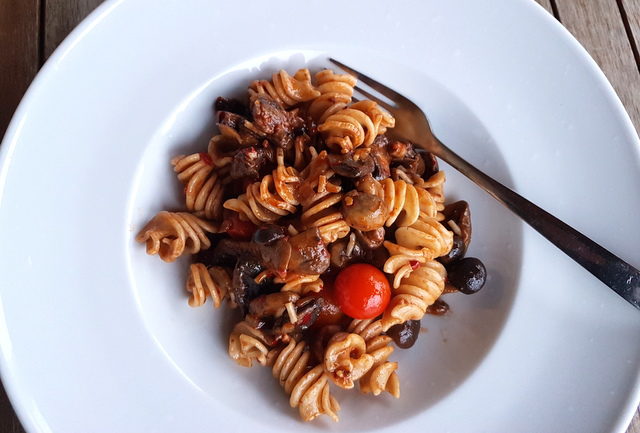 What exactly is Nduja?
As I mentioned above nduja is a soft, spicy, spreadable salami. It's made with pork meat (typically from the throat, underbelly, head and shoulder), a bit of fat, salt and a lot of peperoncino (Italian red chilli pepper). It is one of the most well-known, if not the most famous, of Calabrian foods. The name Nduja comes from the french word 'andouille', which means sausage.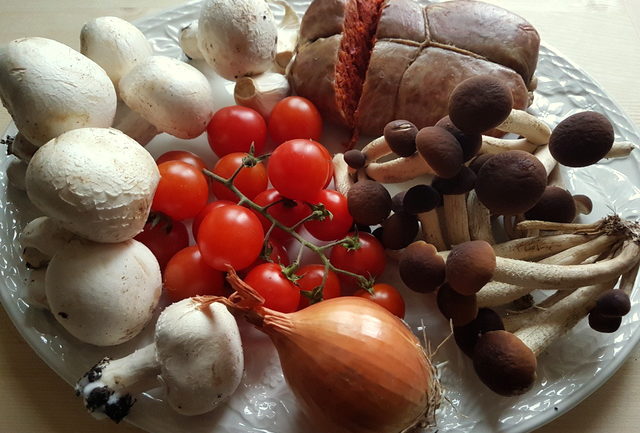 Calabrians eat nduja mostly as a dip with bread, in frittata, on pizza or melted into a tomato based pasta sauce. Apart from this traditional nduja pasta dish, there are other Calabrian pasta recipes that pair Nduja with different ingredients. One of the most popular being mushrooms.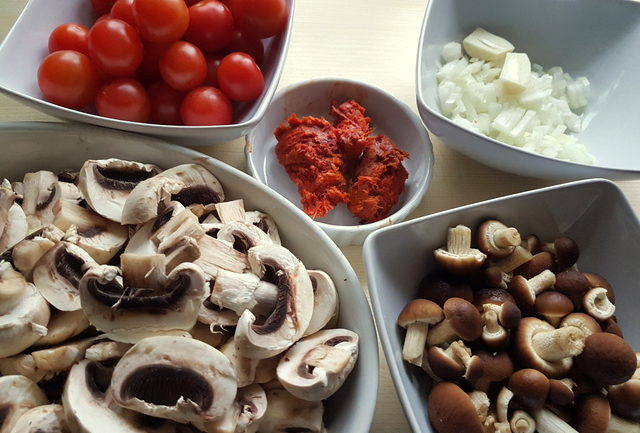 The mushrooms.
Italians love both farmed and foraged mushrooms. Mushroom picking is a popular pastime. In early Autumn and sometimes in the Spring, when the weather is right and the ground still soft from recent rains, the Italians take to the woodlands with baskets on their arms to search for mushrooms. There are quite a few species that they search for, but porcini are the treasure of the hunt.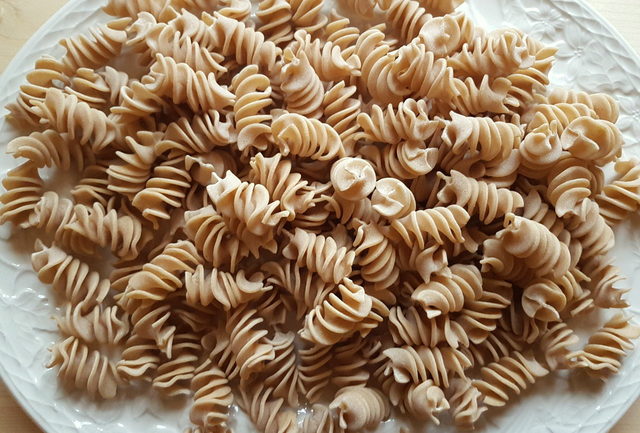 Many recipes for pasta with nduja and mushrooms include porcini mushrooms and/or other wild mushrooms. I'm sure that would be delicious too. However, I decided to use fresh mushrooms I can buy now in February. So for this whole wheat pasta with nduja recipe, I went for white champignons and one of my favourite farmed mushrooms, pioppini.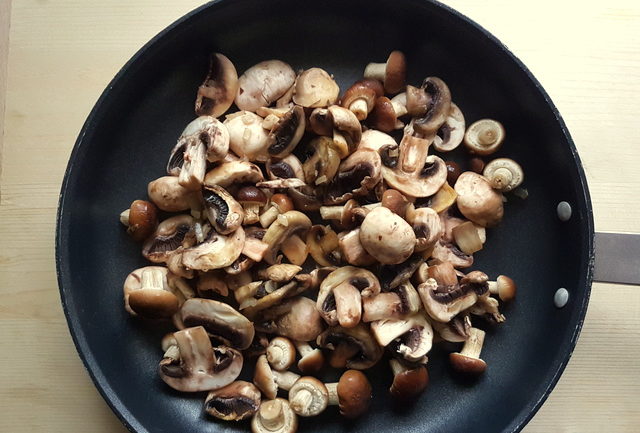 The pasta.
Because Nduja has a strong taste, it's important to pair it with other foods which are not too delicate, otherwise their flavour will be lost. Therefore, rather than use Calabrian fileja pasta which is traditionally served with Nduja, I decided to use some wonderful giant fusilli (fusilloni) made with an organic stone milled whole wheat flour called Senatore Cappelli. This grain is actually an ancestor of the modern durum wheat flour used by many pasta and bread makers today. It was developed at the beginning of the last century by the geneticist and agronomist Nazareno Strampelli and is named after Senator Raffaele Cappelli, an Italian agrarian reform politician.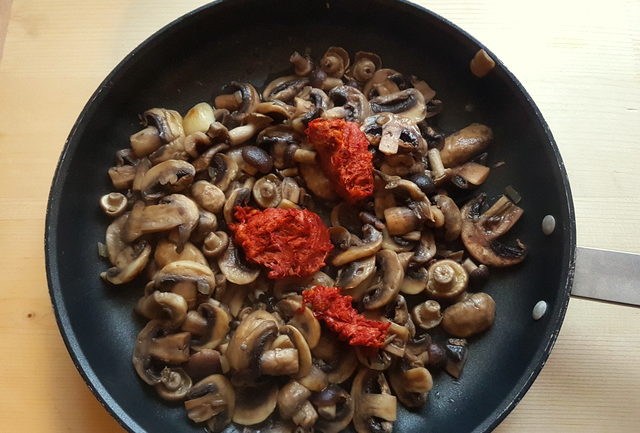 Senatore Cappelli wheat became very popular in the 30s and 40s but production died out because of the crop's low yield. However, nowadays, it is regaining popularity as demand for organic produce grows. It is only grown organically in Italy and compared to normal durum wheat pasta, this pasta is much healthier. Senatore Cappelli pasta is high in lipids, amino acids, vitamins and minerals and is also more digestible than ordinary pasta. Of course, it also has a different flavour to other pastas. It's more intense and richer. A bit like the difference between white bread and whole meal bread!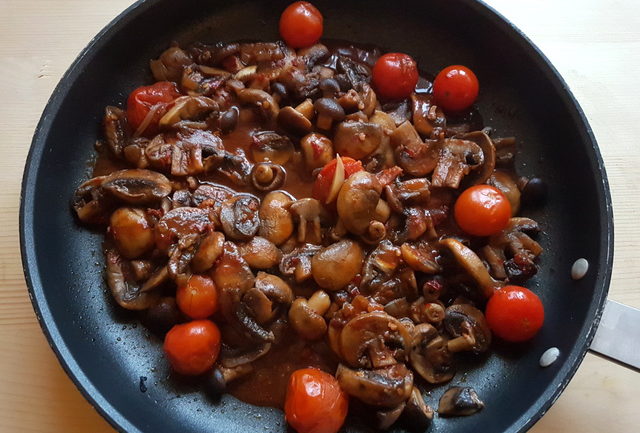 A perfect combination!
Apart from the mushrooms (if using champignons) this organic whole wheat pasta with nduja recipe is made with speciality Italian foods. Not so long ago, it would have been difficult for people outside of Italy to find these foods but today both Nduja and pasta made with Senatore Cappelli flour can be bought online or in Italian speciality shops in other countries. I got mine from an artisan pasta maker in Lazio who also has a restaurant called Il Romitorio where we went to eat. Needless to say, you can use other types of pasta and I'm sure it will be delicious too, but if you can get your hands on some Senatore Cappelli organic whole grain pasta, do give it a try.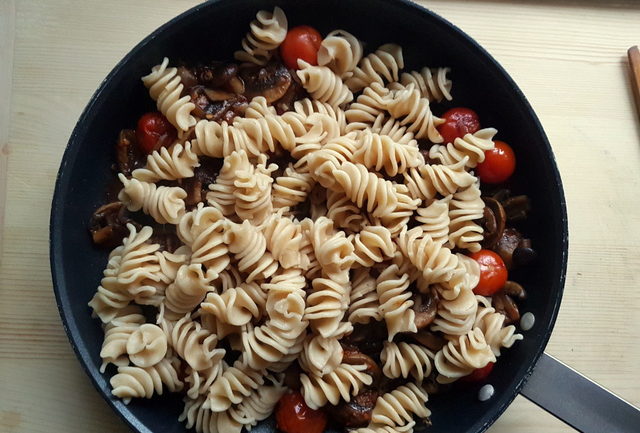 The combination of ingredients in this organic whole wheat pasta with nduja recipe are perfect! So, I'm planning to find some more recipes with nduja and with whole wheat pasta, either together or with other ingredients!
Buon appetito!
(go to page 2 to see the recipe. Just scroll down and click 2)