A slightly spicy and creamy pesto sauce from Calabria
Pesto Calabrese is a delicious recipe from Calabria. Although some of the ingredients are cooked, this creamy sauce is eaten cold or just heated when mixed with cooked pasta. It's also really good as a dip or on bruschetta!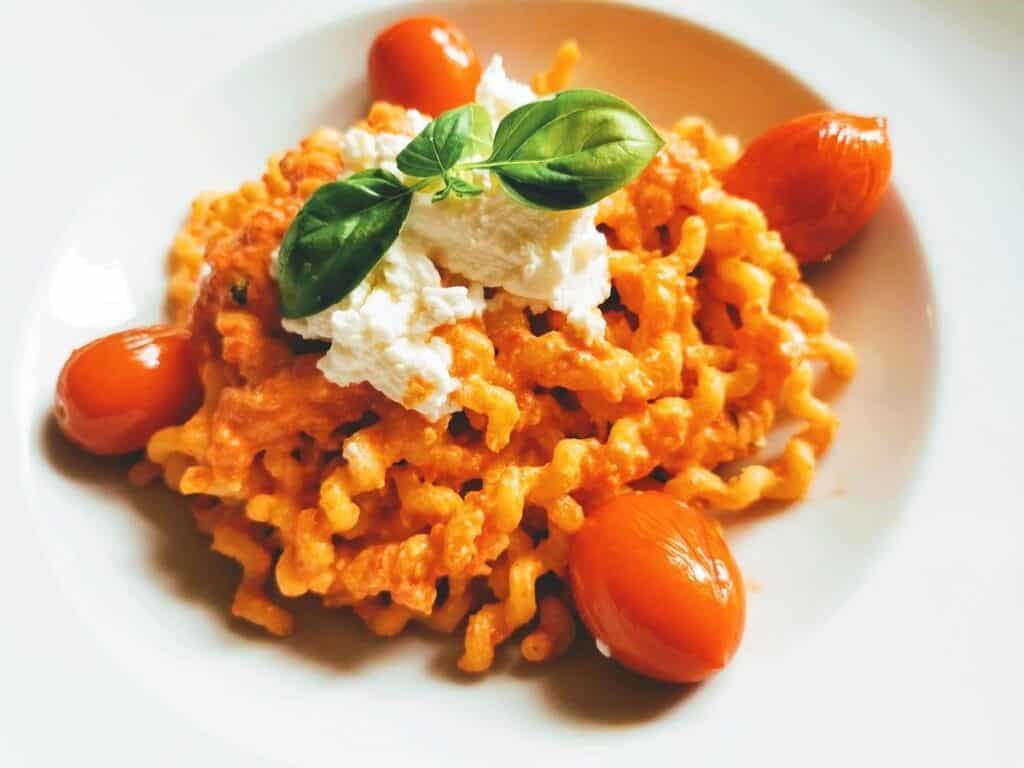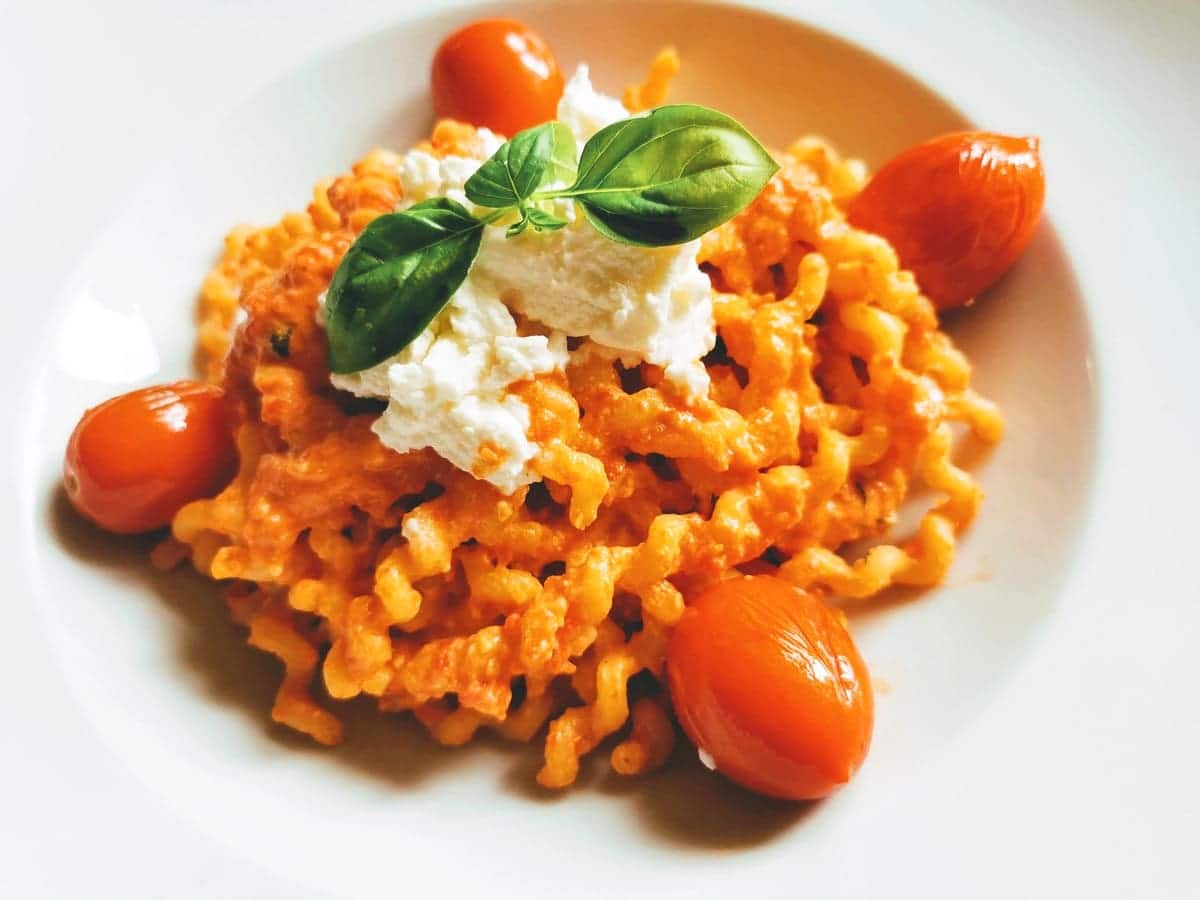 Pesto Calabrese will add spice to your pesto life!
This recipe will spice up your pesto life. Pesto Calabrese is a cold creamy sauce made from ripe tomatoes, red bell peppers and ricotta. It's slightly or very spicy, depending on your preferences, because of the edition of Calabria's famous peperoncino and very aromatic.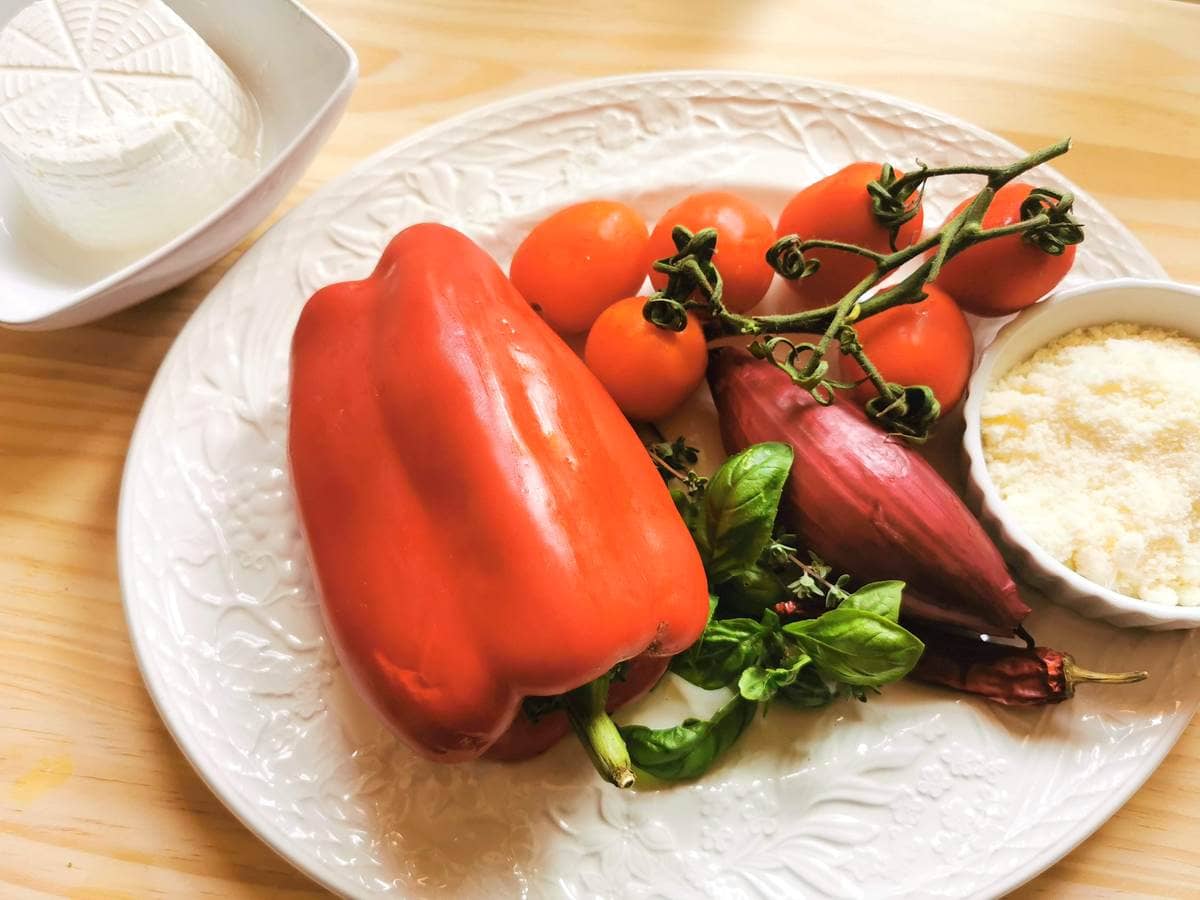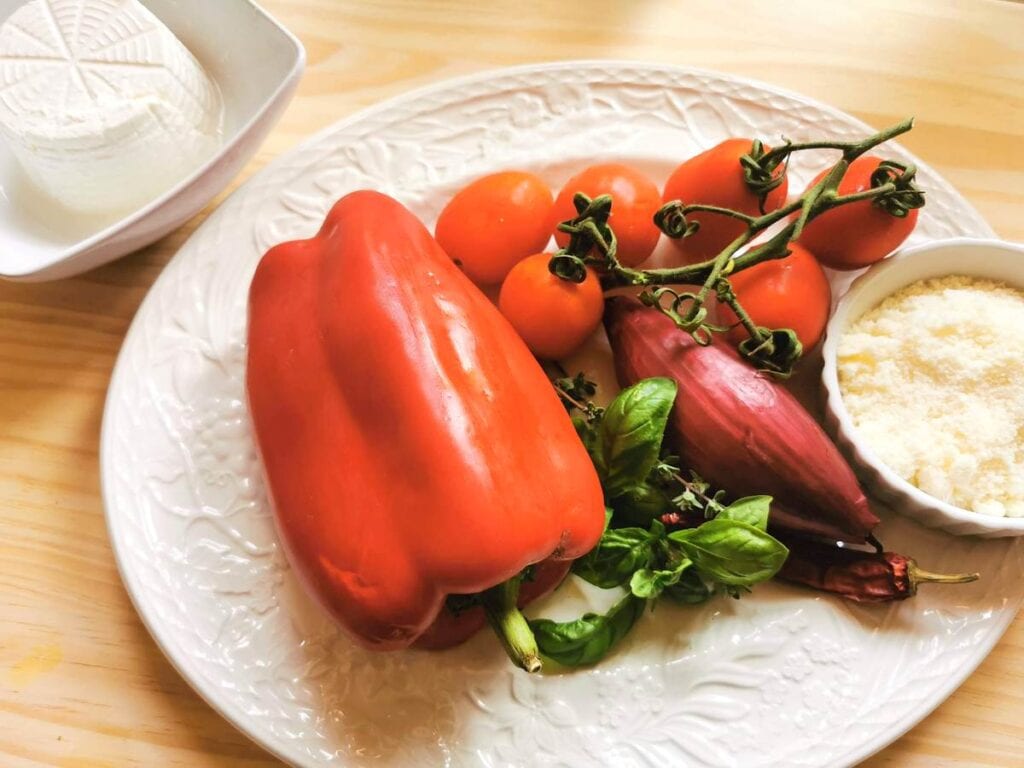 This is not actually an old traditional Calabrian recipe but includes typical ingredients from Calabria and has become very popular here in Italy. So much so, that Barilla and other companies make and sell it as a ready sauce. Although Barilla's version doesn't include ricotta.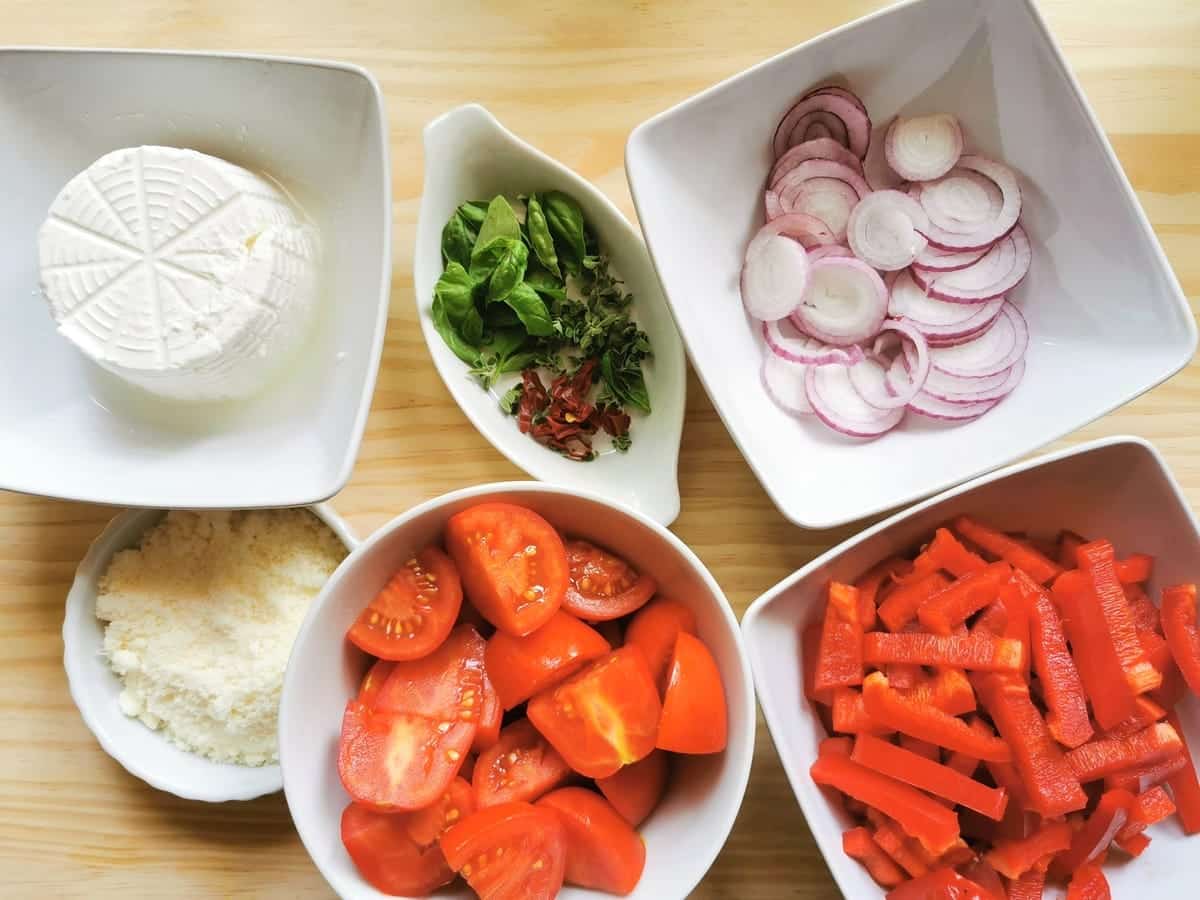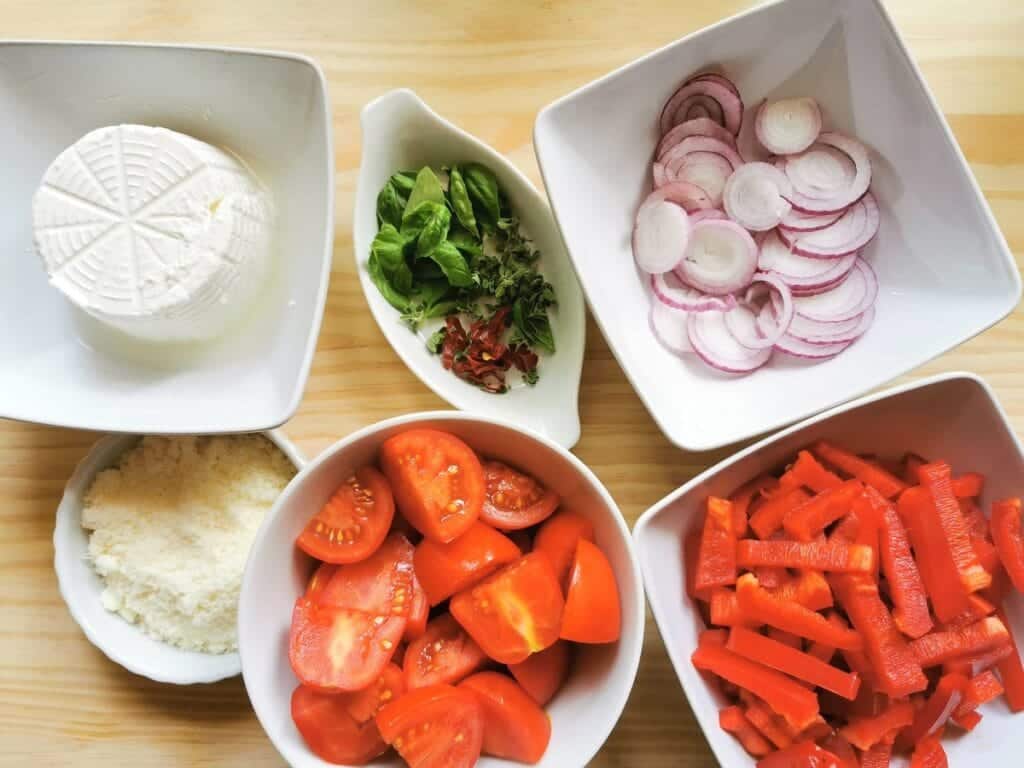 A little pesto history.
In Italian, the word pesto derives from the verb 'pestare' meaning to pound or crush. The original recipe for pesto comes from Liguria, home to pesto Genovese or basil pesto. That pesto is traditionally made using a pestle and mortar. So the word pesto and the English 'pestle' derive from the same source! Nowadays, many Italians prefer to use a food blender or processor to make pesto.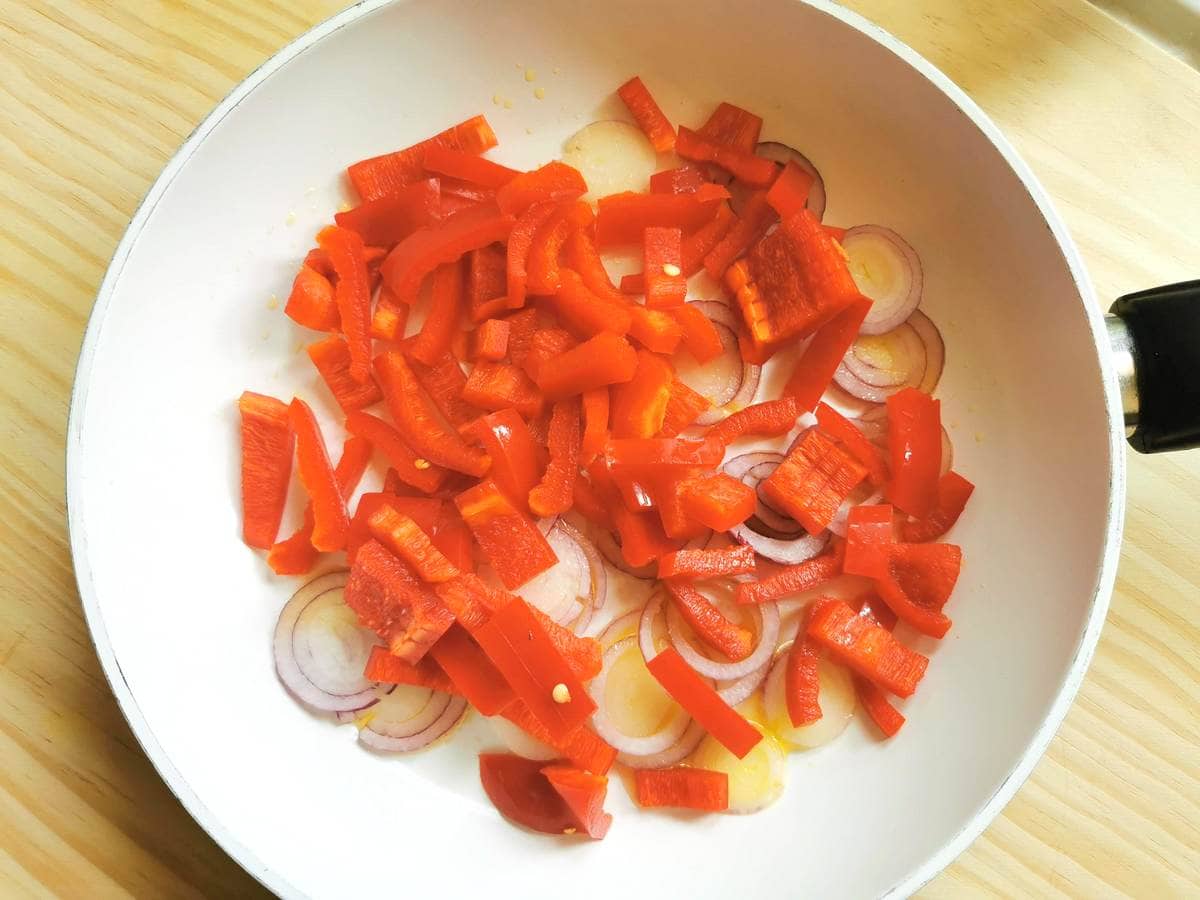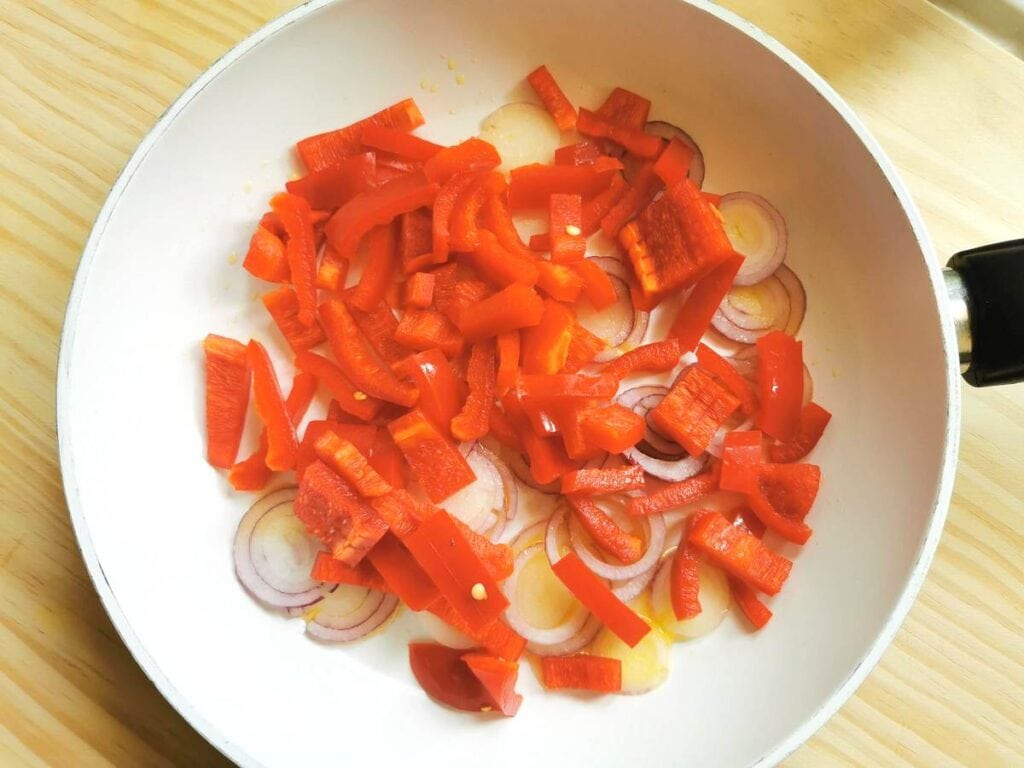 Although basil pesto is the oldest and most well-known type of Italian pesto, there are other versions, particularly in the Southern Italian regions. Apparently, it was the Genovese sailors who introduced pesto to the Southerners. They in turn invented their own versions of this popular sauce, using local ingredients.(see links below for other pesto recipes)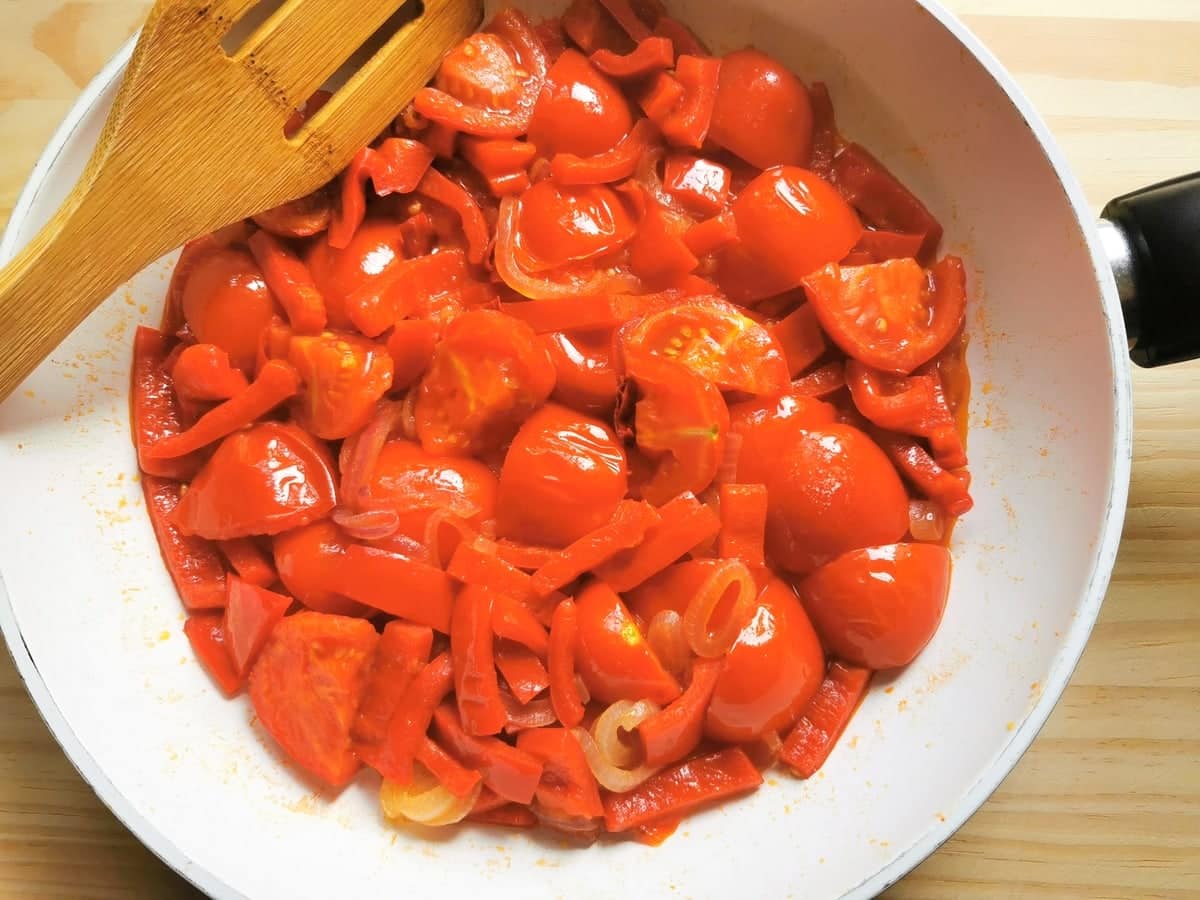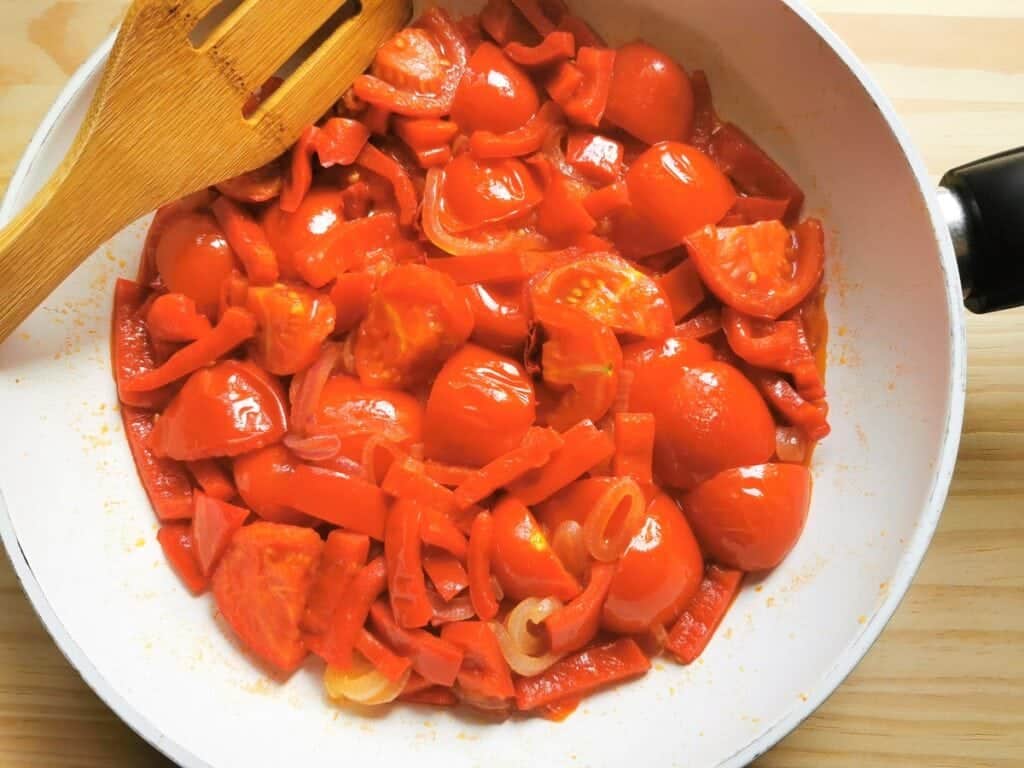 Pesto Calabrese is made with some cooked ingredients.
Unlike other types of pesto, pesto Calabrese is made with some cooked ingredients. The onion, red bell peppers and tomatoes need to be cooked before you blend them with the cheeses. I have seen some recipes in which they suggest blending all the ingredients raw and then cooking the sauce for 10 minutes in a small saucepan. But I prefer to do it as in this recipe.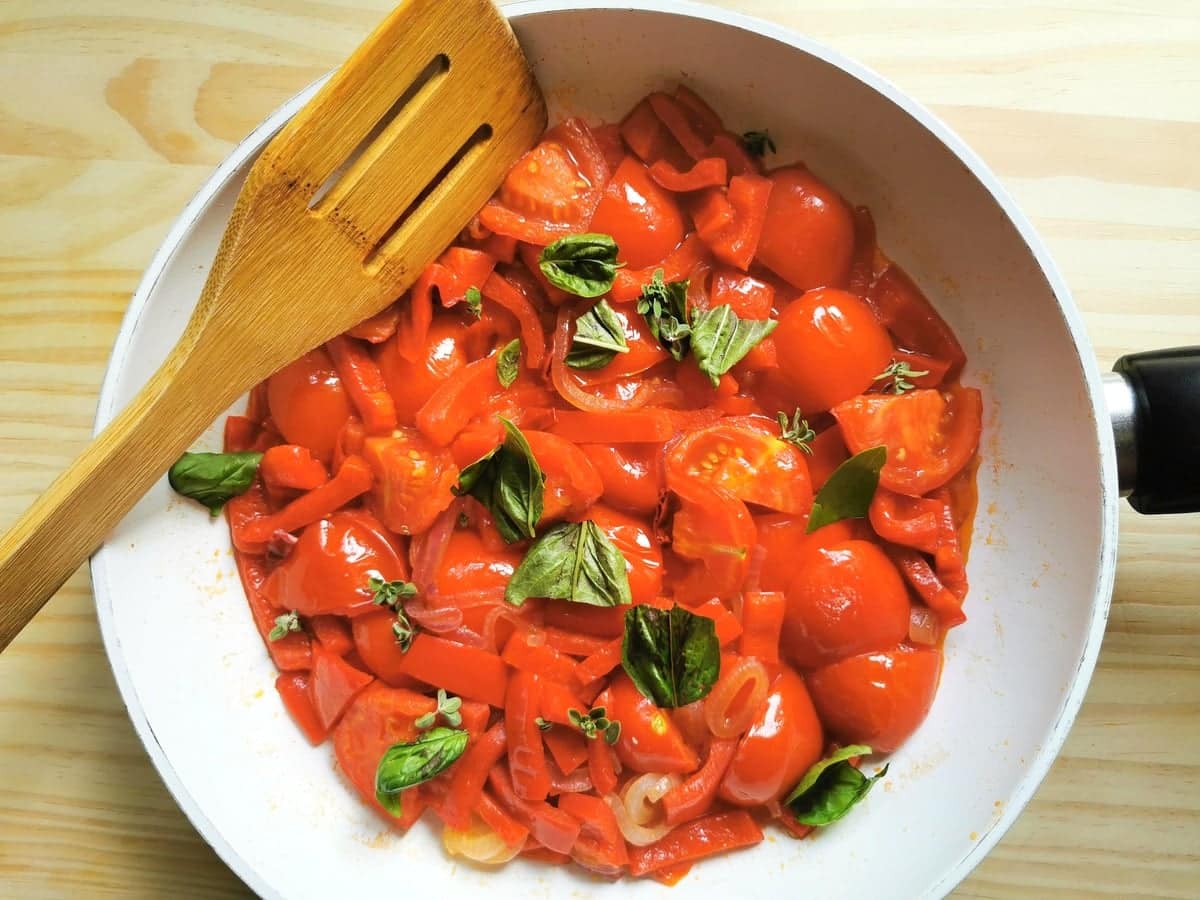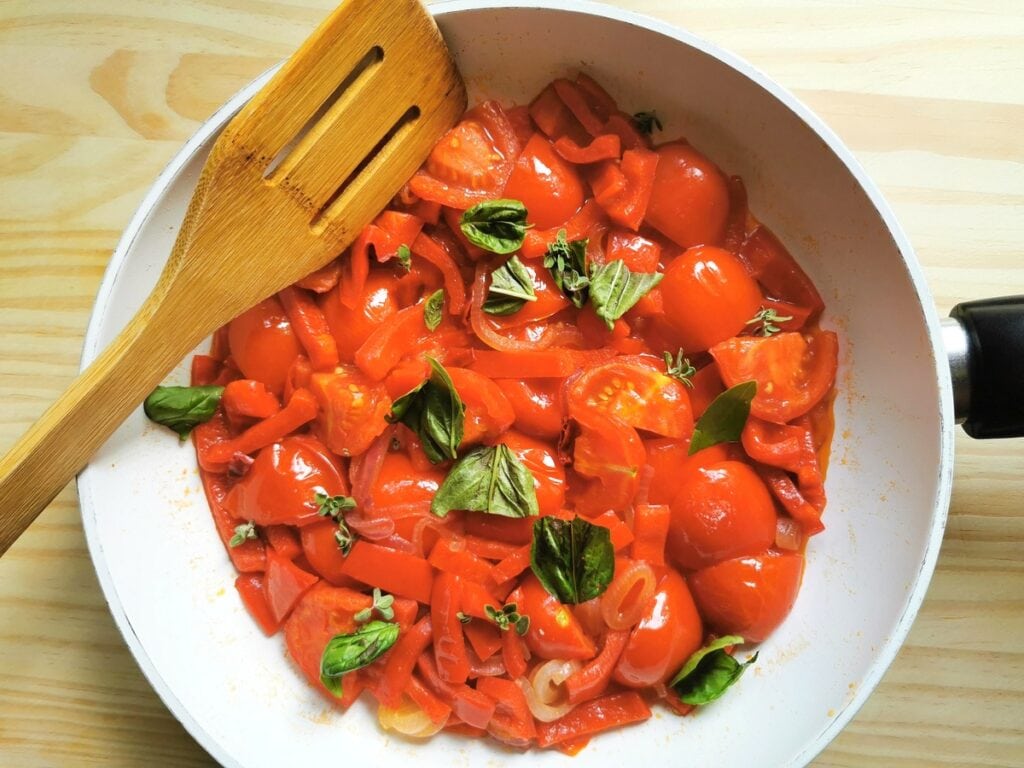 Other versions of pesto Calabrese.
There are also a number of other versions of pesto from Calabria. Some include eggplant or different kinds of onions or Parmigiano, or a combination of these. I have also come across another type of pesto Calabrese made with olives and sundried tomatoes.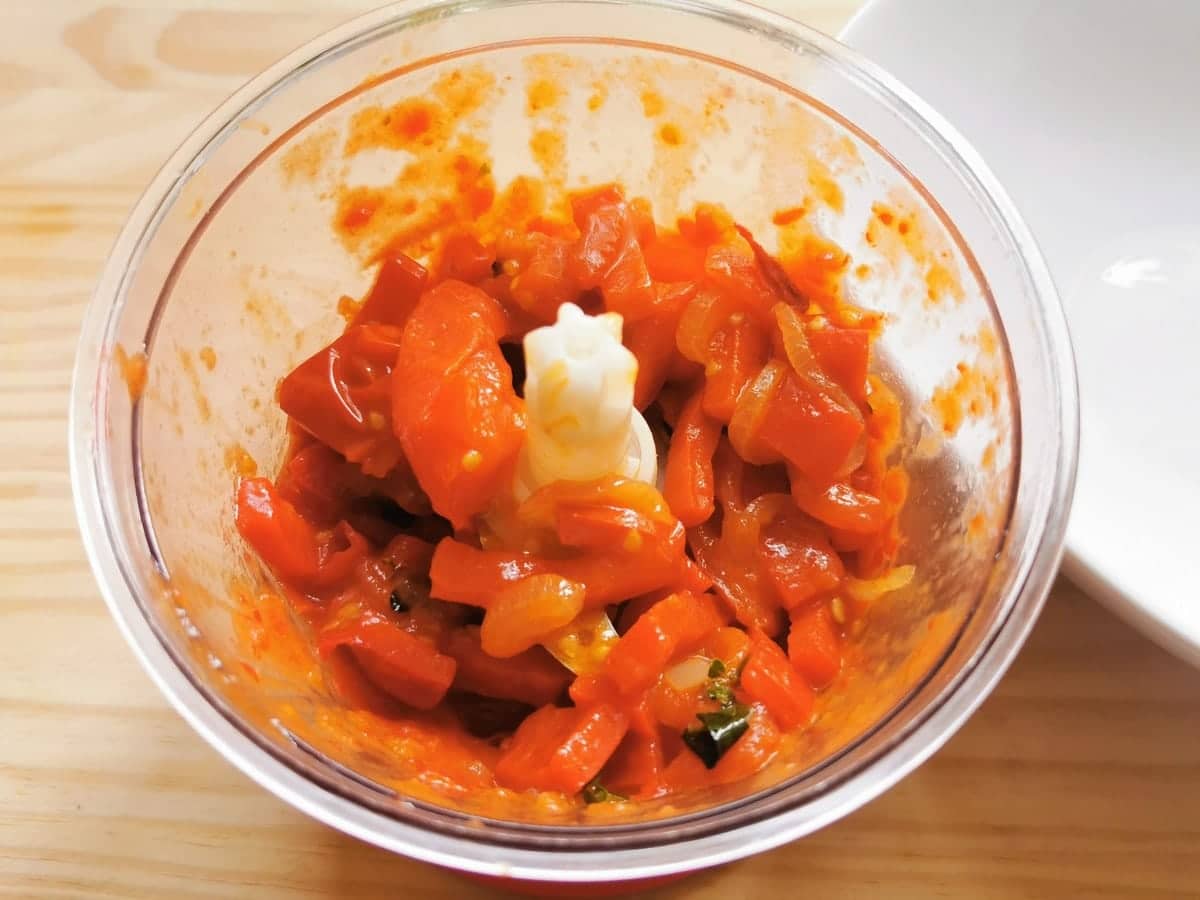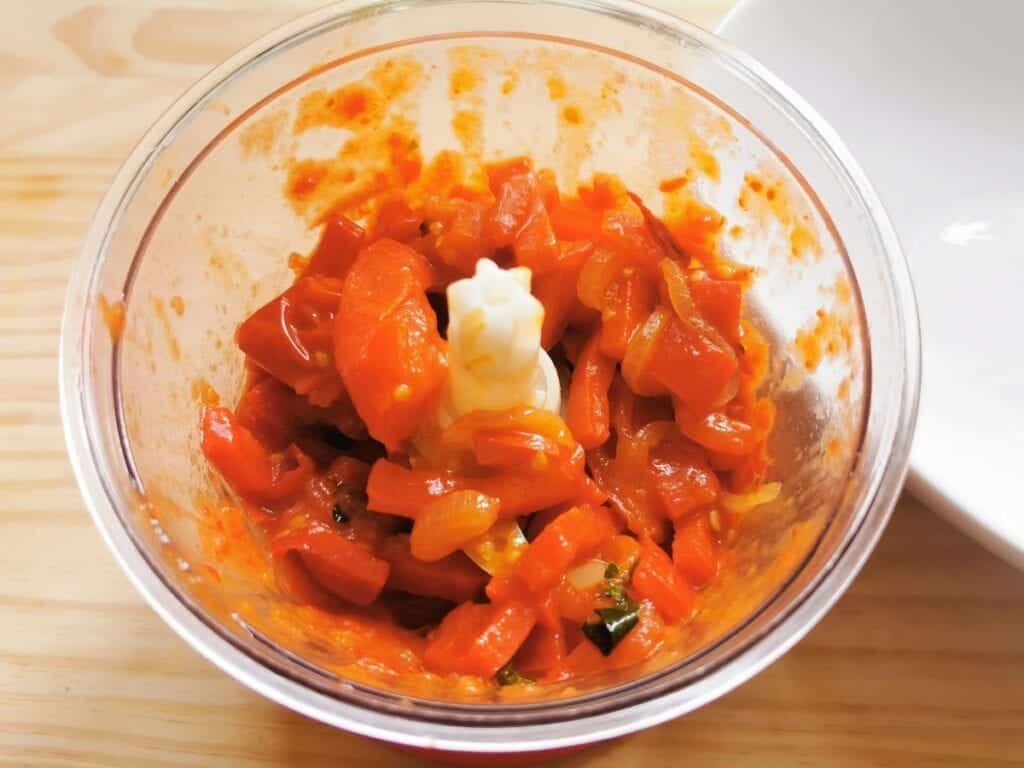 However, the most common ingredients are ripe date or vine tomatoes, a red capsicum pepper, Pecorino cheese, red tropea onion, a good quantity of peperoncino (red chilli pepper) to give it that Calabrian kick and fresh ricotta to offset the sharper flavours of the other ingredients.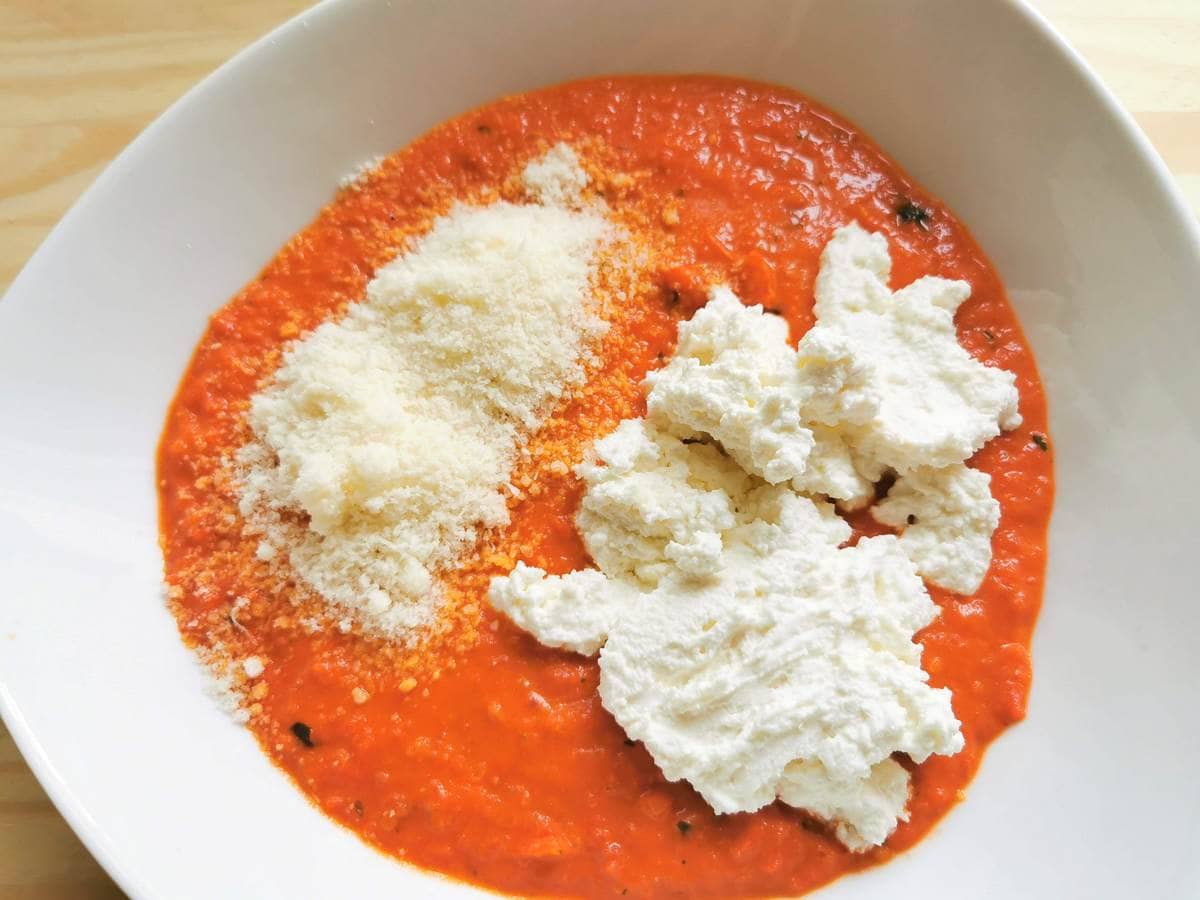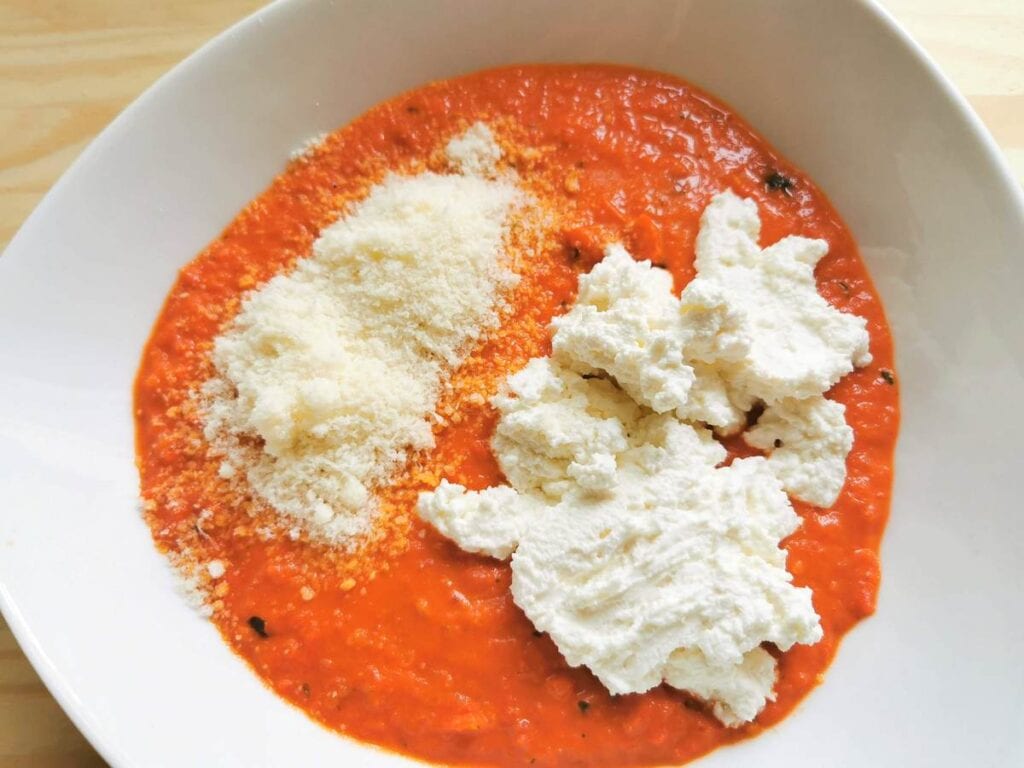 Like all simple recipes, especially those using fresh foods, high-quality ingredients are important and will make all the difference. To get the best result use juicy but ripe vine tomatoes, crisp unwrinkled red bell peppers, Calabrian peperoncino (fresh or dried), fresh Italian ricotta and, if available, Tropea onions.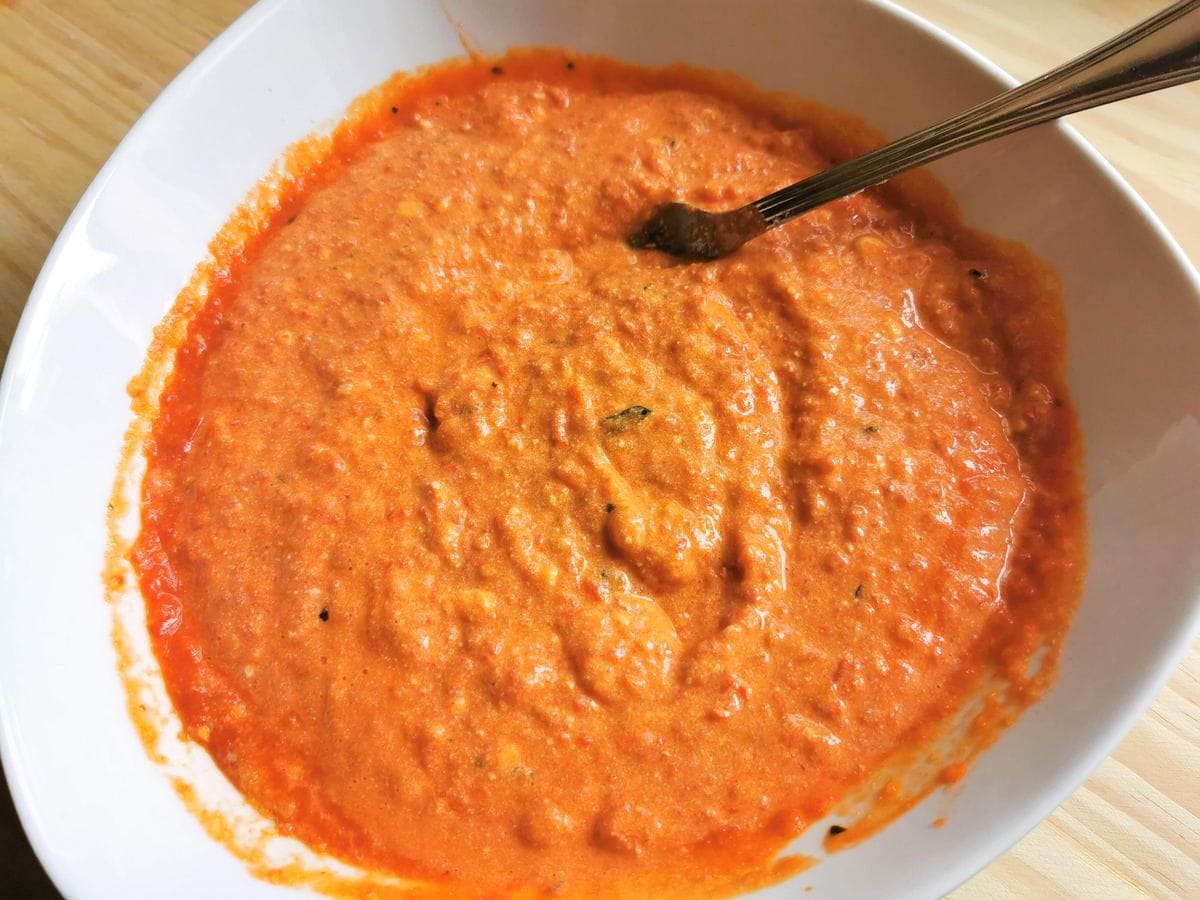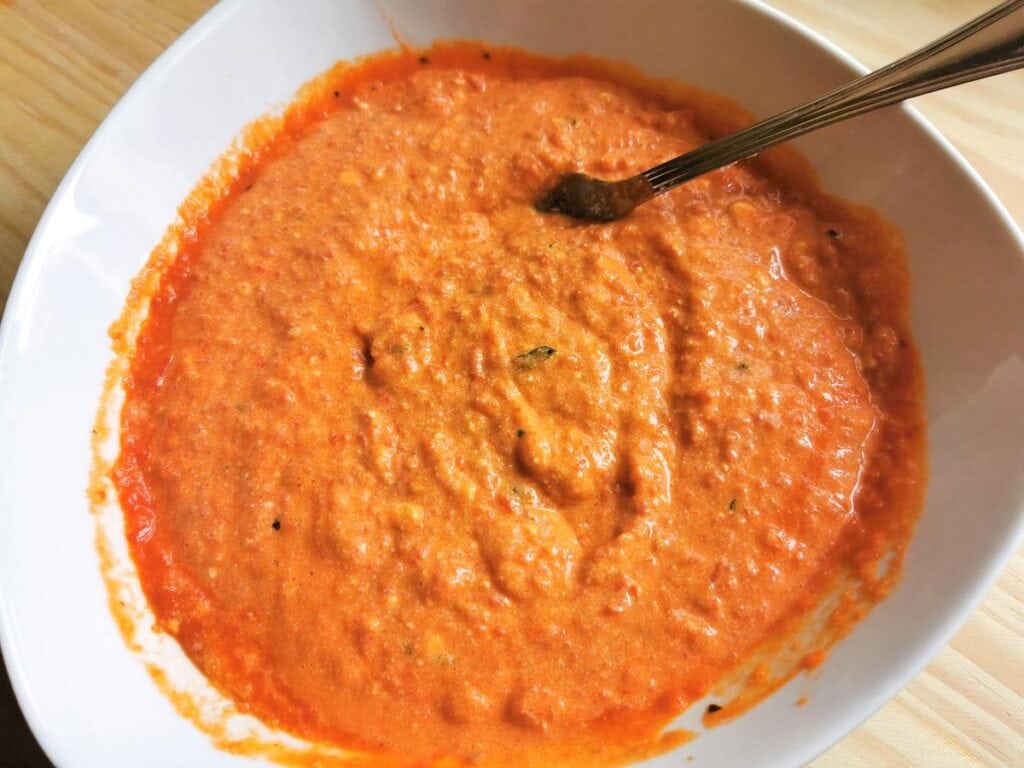 The pasta
I used long squiggly fusilli for this recipe. I just love this pasta and its perfect with creamy sauces! However, you can use any of your favourite pasta shapes. I've seen recipes for pesto Calabrese with penne, rigatoni, spaghetti, short fusilli and farfalle. So, I think anything goes!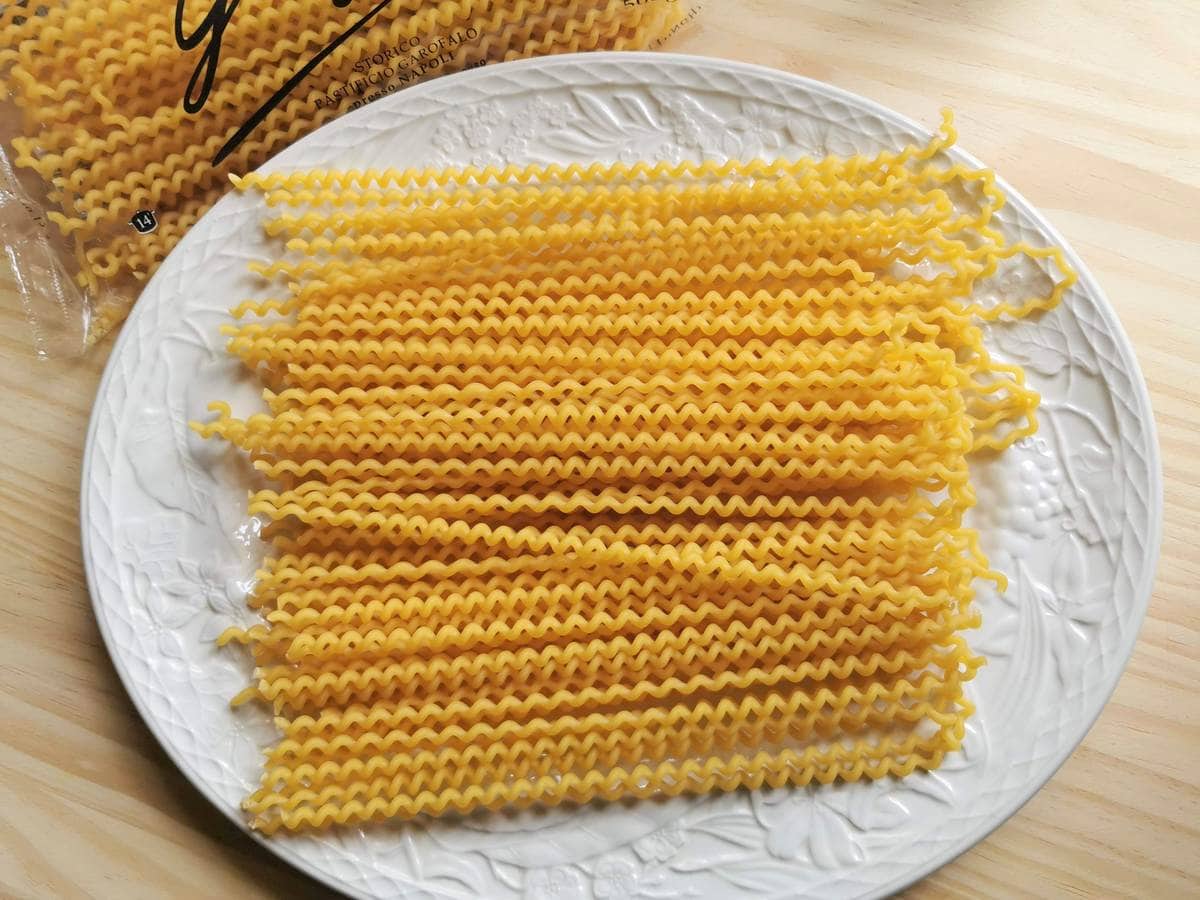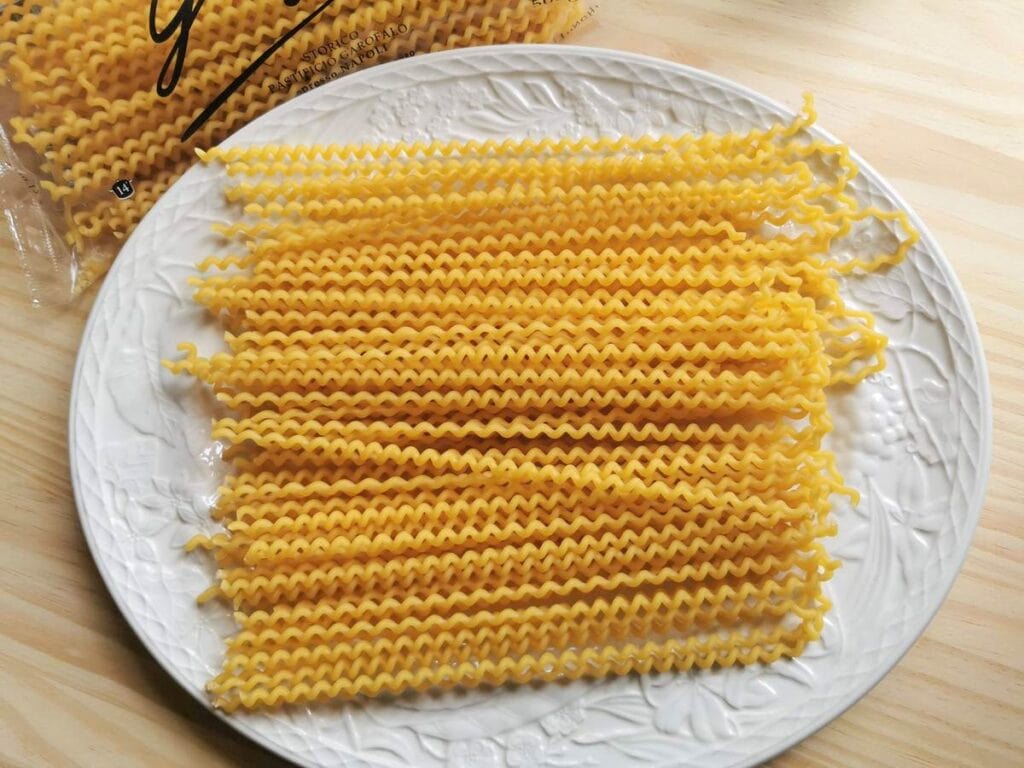 Other ways to make and serve pesto Calabrese
Pesto Calabrese is known as a red pesto. However, although I haven't tried it, this can be made in a green version too. Just use green capsicums, green tomatoes and green peperoncino. You can also prepare a good quantity of this sauce and freeze it in small portions, so you have it ready for other meals.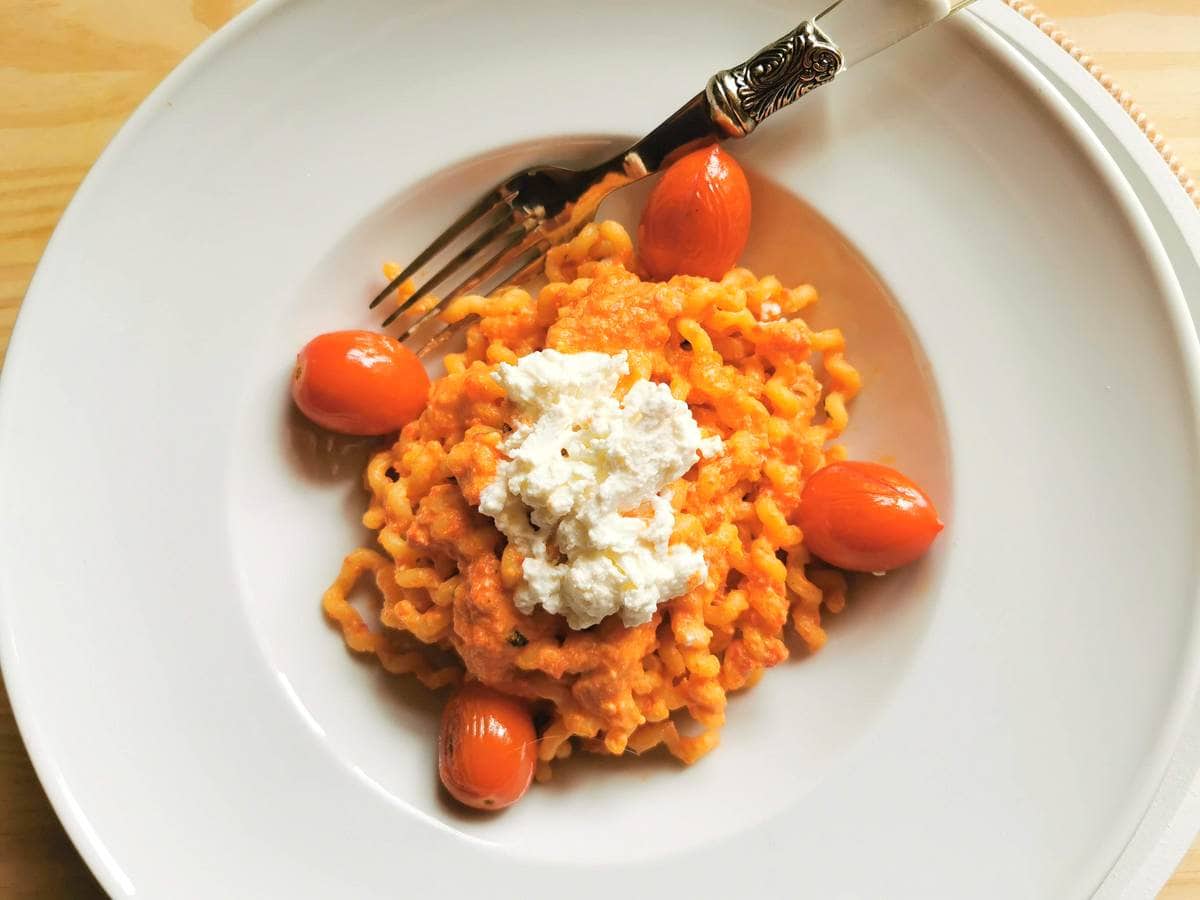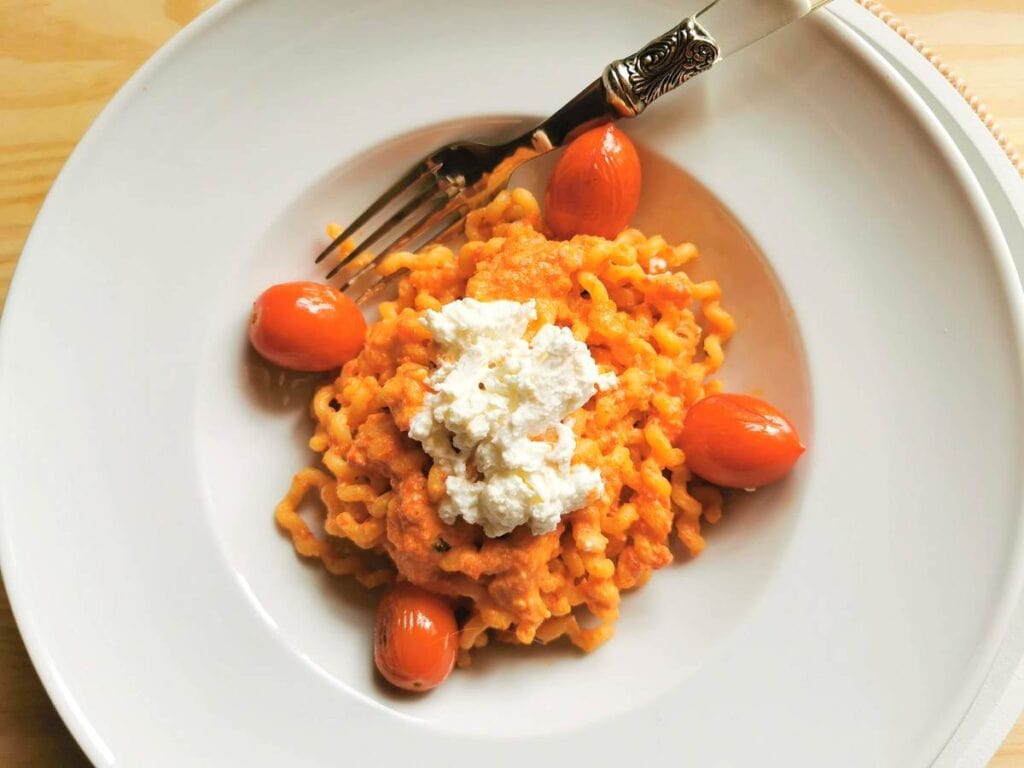 This pesto is also fabulous as a dip or on bruschetta or even with meat or cheese. So, if you make enough you can try serving it in different ways to see which you like best. Whichever way you serve it I'm sure it will become a firm favourite!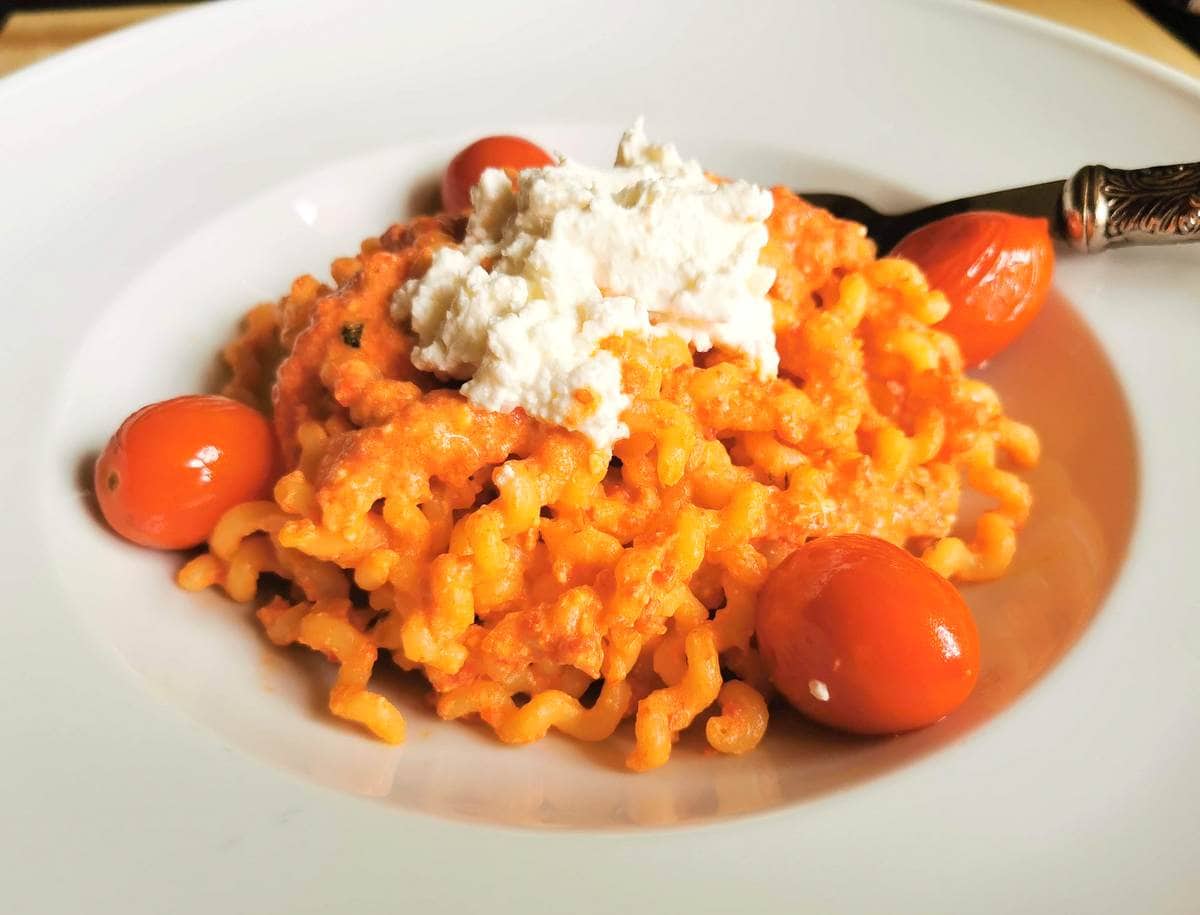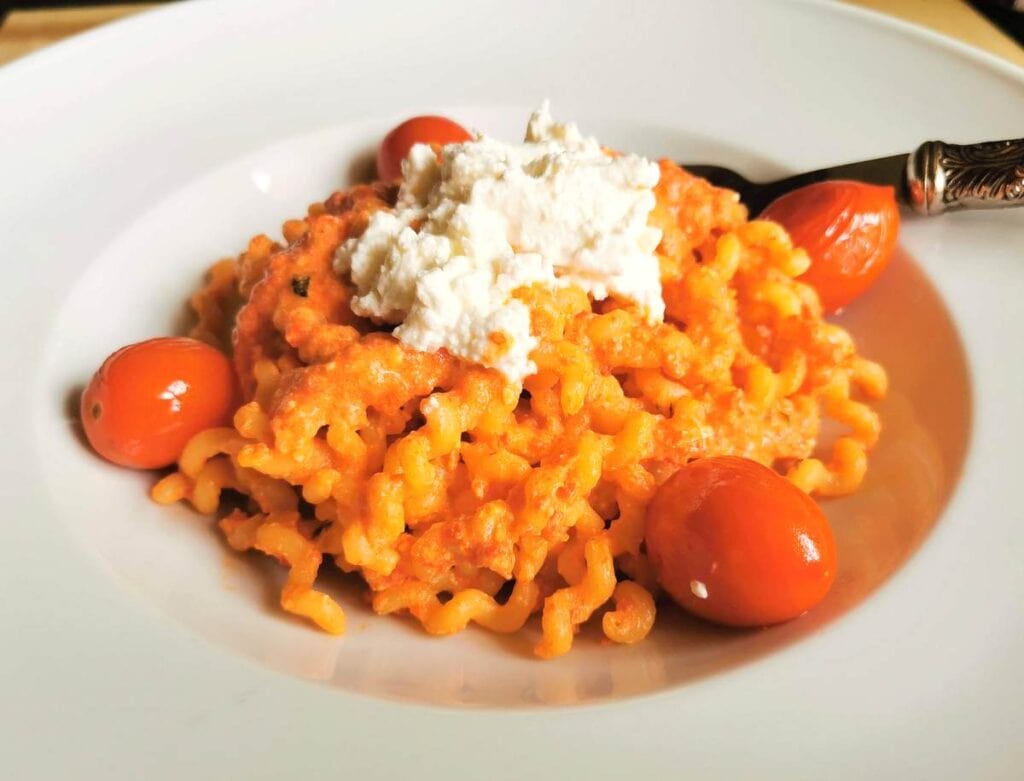 If you make this recipe I'd love to hear how it turns out and if you liked it. Please leave a comment here on the blog or on The Pasta Project Facebook page. Looking forward to hearing from you!
Buon appetito!
This recipe was first published in 2017 but has been updated with new photos and text.
Take a look at these other pesto recipes.
SAVE THIS RECIPE FOR LATER?
If you want to save this creamy pesto Calabrese recipe for later, you can print it, bookmark this page or save it to Pinterest.
Want to know more about my life in Italy? Why not subscribe to my newsletter? New subscribers get a free series of recipe e-books too!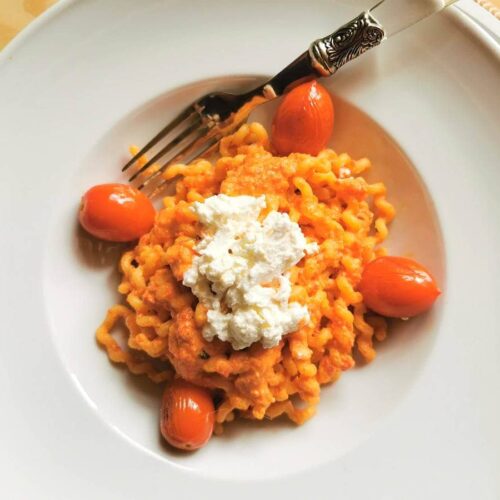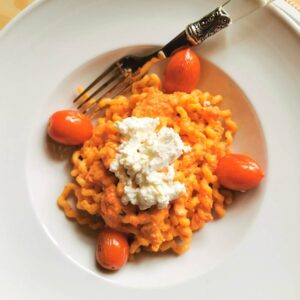 Long fusilli pasta with pesto Calabrese
A creamy pesto recipe with a spicy kick from Calabria that's quick and easy to make and full of Southern Italian flavour! Perfect on pasta but also great as a dip or on bruschetta! #pesto #italianrecipe
Ingredients
400

g

(14oz) long fusilli

(I used Garofalo)

250

g

(9oz) fresh ricotta (sheep's milk or cow's milk)

50

g

(2oz) Pecorino cheese

grated vegetarians should use a vegetarian cheese instead.

4

vine tomatoes (or 6-8 datterini tomatoes)

1

large red bell pepper

or 2 small ones

1

tropea onion

peeled and chopped or other red onion

1/2

tsp

peperoncino flakes

or 1/2 a fresh or dried chilli pepper. You can use more or less depending on your taste.

1

tsp

oregano

fresh or dried

1

handful

fresh basil leaves

salt

for pasta and to taste

ground black pepper

to taste

4

tbsp

extra virgin olive oil
Instructions
Put a pot of water onto boil for the pasta. Add salt once it starts to boil.

Prepare the vegetables. Peel and slice the onion, cut the pepper and the tomatoes into pieces. Wash and chop the basil. If using a fresh or dried red chilli pepper, cut into small pieces.

Heat the oil In a large frying pan or skillet. Add the onion and cook until slightly soft. Then add the red pepper and cook until it starts to soften too.

Add the tomatoes and peperoncino and let the vegetables cook until they are all soft. Add salt and pepper to taste along with the basil and oregano.

Remove the vegetables from the pan, let them cool a little and liquidize them with their cooking juices in a food blender or processor. You need to get a smooth creamy consistency. I like it a little rustic, meaning with some small veg pieces.

Pour the sauce into a bowl and add 200g of the ricotta and the pecorino. Mix everything together with a fork to incorporate the cheeses.

Cook the pasta al dente in the boiling salted water according to the instructions on the packet.

When the pasta is ready, save a cup of the cooking water and strain it.

Return the pasta to the pan and add the sauce. Mix well. If you think the sauce is too dry, add some of the saved pasta cooking water.

Serve immediately with the extra ricotta cheese and peperoncino flakes if required.

I also served this dish with datterini tomatoes roasted with garlic for 10 minutes in a hot oven.
Notes
This recipe can be made with other types of pasta, although fusilli (long or short) pairs really well with it!
You can freeze this sauce or keep it in the fridge for 2-3 days covered in cling film.
This pesto is also delicious served as a dip or on bruschetta.
If you are interested in learning how to make homemade pasta and different types of gnocchi, check out my shop page for some great video online courses from my friends in Rome! Nothing beats learning to make pasta from Italians! Plus while you're there why not order a copy of one of my pasta recipe cookbooks!?