Busiate pasta with Trapanese pesto from Trapani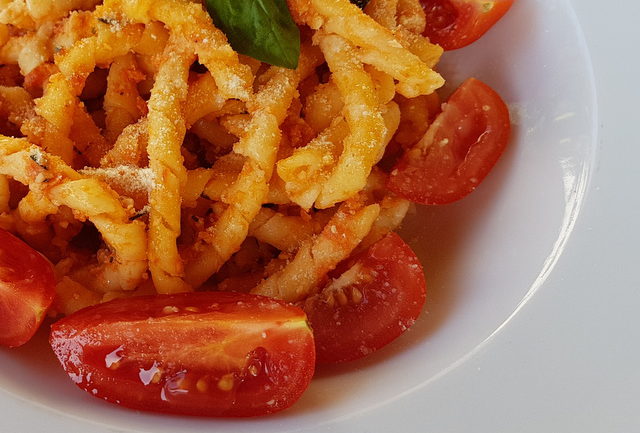 During our recent holiday in Sicily we got to try quite a number of delicious Sicilian pasta dishes including this tasty Trapanese pesto, which is mostly eaten in the province of Trapani in the Western corner of Sicily. There are a number of different pesto recipes from Sicily. I particularly like pistachio pesto, which of course is made with pistachios and, usually, those from Bronte in Catania province. There is also a Sicilian pesto made with tomatoes, ricotta salata or fresh ricotta and pine nuts, which is usually referred to as pesto alla Siciliana. (go straight to recipe)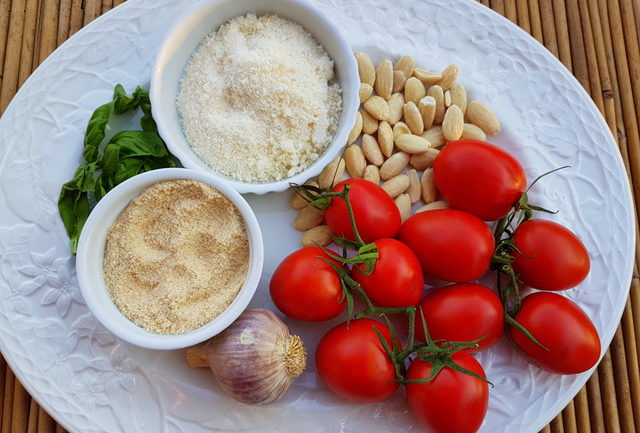 This delicate and refreshing pesto, however, is named after the town of Trapani in Western Sicily, where it originated. Trapanese pesto, in the local dialect called 'agghiata trapanisa', is a traditional, centuries-old recipe which is said to have been invented in Trapani harbour.
Food historians believe that Genovese ships coming from the East used to stop in Trapani to trade or to replenish supplies and the Ligurian mariners introduced the Sicilians to their own traditional basil pesto Genovese.
The Sicilians modified the original recipe by adding ingredients typical of the island. Trapanese pesto contains almonds and tomatoes and has a more delicate flavour than pesto Genovese. According to tradition, all the ingredients should be ground in a mortar but, of course, it is possible to blend the ingredients using a food processor.
The Trapanese, however, insist that the texture and colour are affected by the metal blades of the processor. Apparently the basil oxidizes when it comes in contact with metal, which often results in a darker, brownish coloured pesto. I used a processor but if you want to use a mortar and pestle, it's still quite quick and easy to make, and you'll be able to boast that your pesto really is 'handmade'!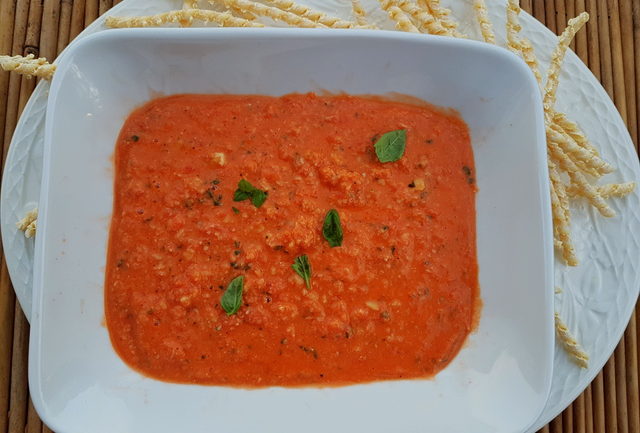 There are a few variations to this recipe. Some cooks in Sicily add grated bottarga (tuna roe) or tinned tuna to the sauce, others use mint leaves instead of basil and chili pepper (peperoncino) is a popular addition. Grated cheese isn't always included in the sauce. As in this recipe, Trapanese pesto is often served with toasted breadcrumbs instead of extra grated cheese but you can substitute cheese if you prefer.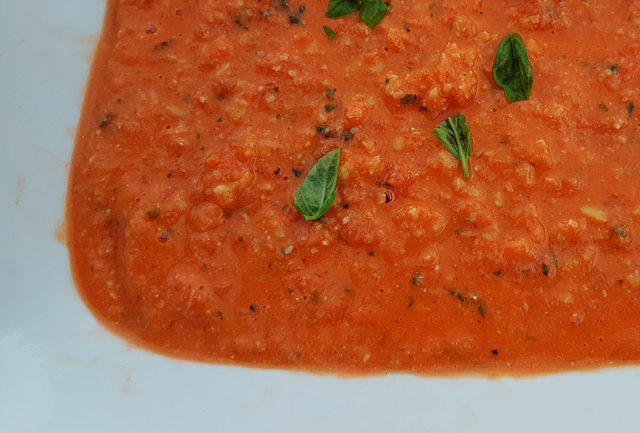 You can use this pesto both on both warm pasta dishes and pasta salads. In Trapani, the traditional pasta for this pesto is almost always busiate; long, corkscrew-shaped pasta which, when fresh, is made by wrapping a dough of semolina flour and water around knitting needles to give it its distinct shape, somewhat reminiscent of domestic telephone cords. I used dried busiate which I bought in Sicily. If you can't get or make busiate, long fusilli are a good substitute and you can also use linguine or spaghetti.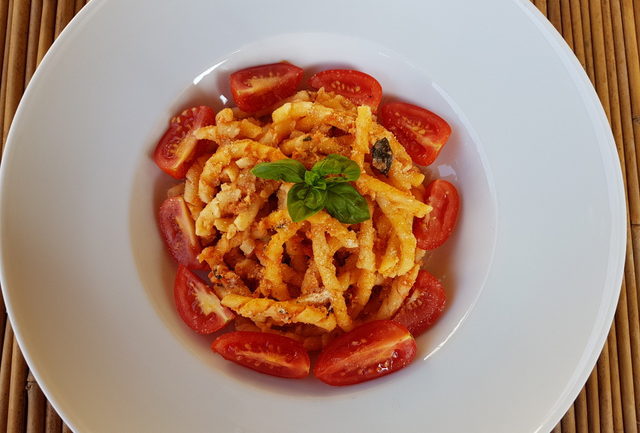 I loved the freshness of this pesto recipe. It's perfect for light and fast meals and can be made vegan by not including any cheese. I served it with some extra chopped tomatoes and a side salad. If you try it, do please let me know what you think by commenting here on the blog or on The Pasta Project Facebook page.
Buon appetito!
(see the recipe on the next page)