Five different ways with pesto sauce:
My obsession with pesto has finally brought me to this point……………………a post only about pesto sauce!
I thought now is a good time to write this post because pesto is a great spring and summer condiment as it goes so well with light dishes and some of the ingredients are more easily available at this time of year.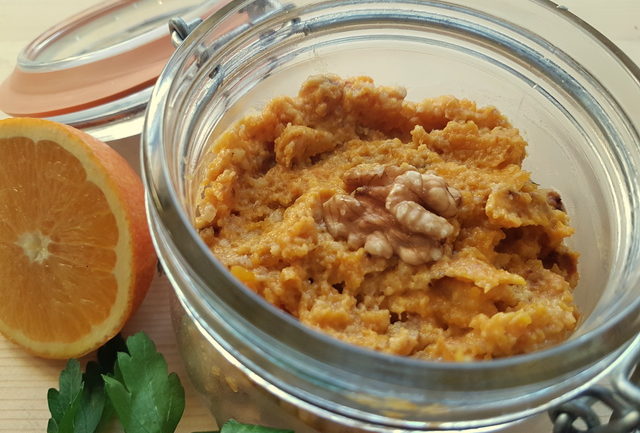 Pesto is a fabulous culinary creation with a whole list of benefits. It's versatile, so you can eat it on bread by itself, in sandwiches, with pasta, on pizza, on fish, on salads and as a dip. It's healthy because it's mostly made with olive oil, garlic, raw herbs and leaf veggies. It's vegetarian and can be vegan if you leave out the cheese or use vegan cheese.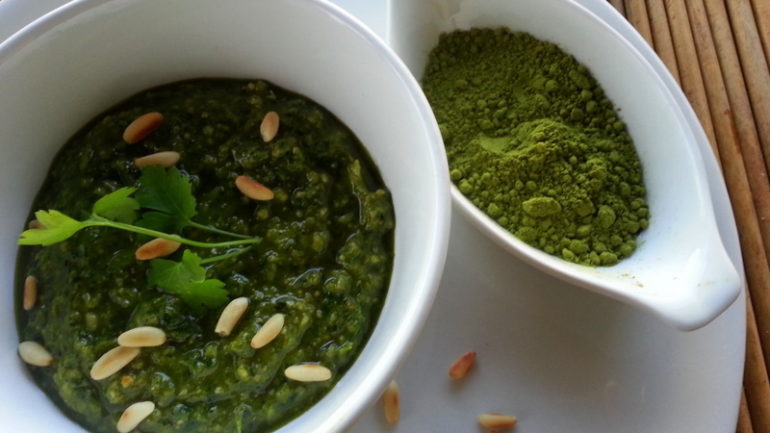 I have been experimenting a lot with different ways to eat and make pesto sauce. Sometimes, I use existing Italian recipes, as the most well-known and original recipe of pesto alla Genovese comes from the Northern Italian region of Liguria. So,here in Italy it is of course popular and other regions have created their own versions. I recently read that it was most probably sailors from the port of Genova in Liguria who introduced pesto to some of the Southern Italian regions.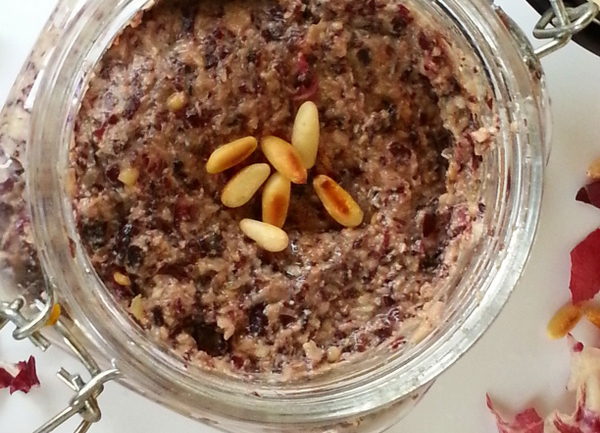 I have also 'invented' my own pesto sauces. Although on occasion after having made 'my creation', I found something similar already exists, so I wasn't as original as I had hoped to be! But, that doesn't matter. It's the taste that counts, right? Subsequently, the recipes here aren't traditional Italian ones like 'alla Genovese'. However, even here in Italy cooks are being very creative with pestosauce, so similar recipes can be found on Italian recipe sites but in some cases I've changed the ingredients a bit.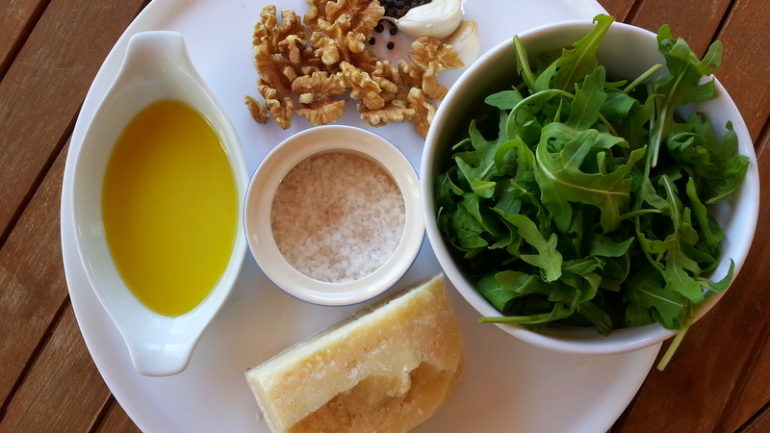 Trofie Pasta with Rocket Pesto Recipe
All of these five recipes are easy to make. Four of them are made with raw leaf vegetables and herbs, one requires the roasting of red bell peppers first but the rest of the ingredients are raw.
Pesto can be eaten with most kinds of pasta so there's no exact rule and you don't have to use the types of pasta I have included in the recipes. There are many types of pasta which go well with it too.
Casarecce with roasted red pepper pesto
I'm off to make a new pesto now with radicchio and beetroot! I'm hoping it will turn out a brilliant red and tasty. In the meantime hope you'll enjoy making the ones I've posted today!
Buon Appetito!