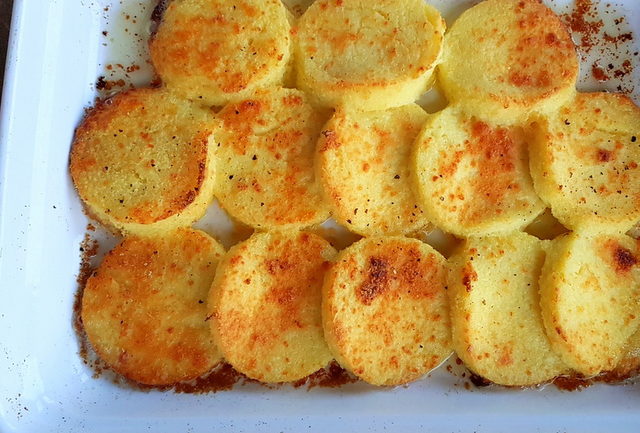 The divine gnocchi alla Romana!
The first time I made these gnocchi alla Romana, was actually the first time I had eaten them. However, it wasn't the last! They have become a firm family favourite! I love potato gnocchi, but they aren't always very light and many gnocchi dishes are better eaten in the winter when we need and crave more substantial meals! These, on the other hand, can also be served as a starter. They are rich but light and a real melt in your mouth treat!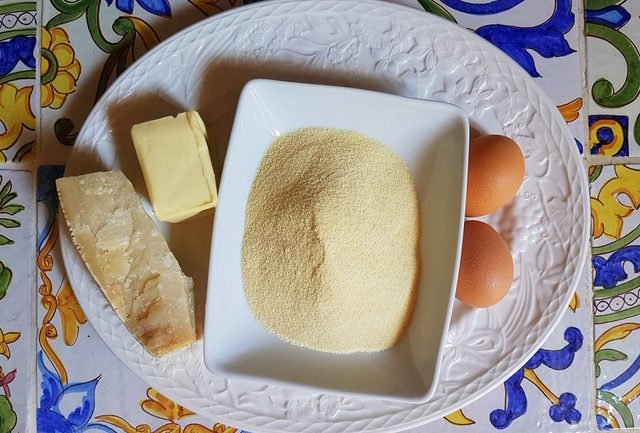 These gnocchi are also one of the most famous examples of pre-or non-potato gnocchi. They are very similar to the type of dumplings enjoyed in Ancient Rome, hence the name 'alla Romana' (Roman gnocchi). Despite the fact that some people attribute the origin of these gnocchi to Piedmont because of the high butter content (which is not typical in Lazio cusine), they are a traditional dish in Rome and Lazio.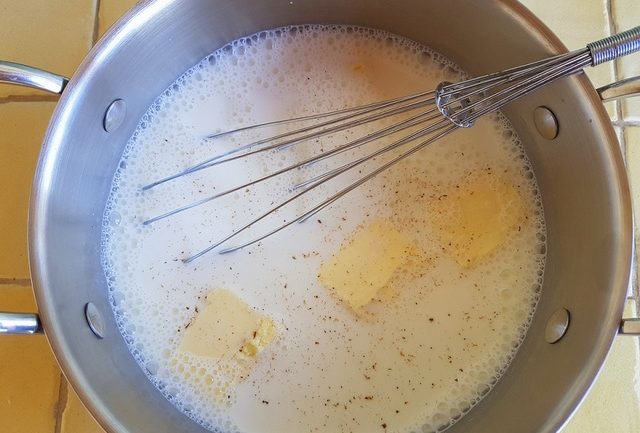 So easy to make!
Apart from being to-die-for delicious, gnocchi alla Romana really are easy to make. And, unlike their cousins, potato gnocchi, there's no risk that they may become gluey or heavy. Once you have made the dough, you need to let it cool. But apart from that, it doesn't take long to make and bake these divine gnocchi.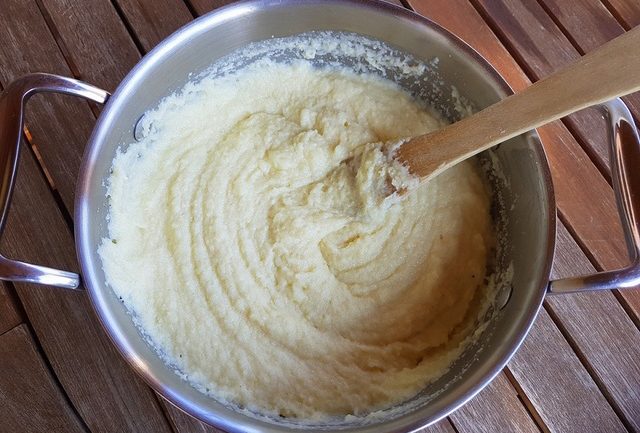 Gnocchi alla Romana can be served in different ways!
The classic Roman recipe uses a simple butter and cheese dressing. However, these gnocchi alla Romana can be served in other ways; such as with a bechamel sauce, a mornay sauce, a four cheese sauce or a sauce mixed with ham, bacon, pancetta or vegetables. They can also be served 'alla Sorrentina' which means baked with tomato sauce, mozzarella and basil.  You can also put some chopped greens or herbs, such as spinach, nettle, chicory, basil etc. into the dough.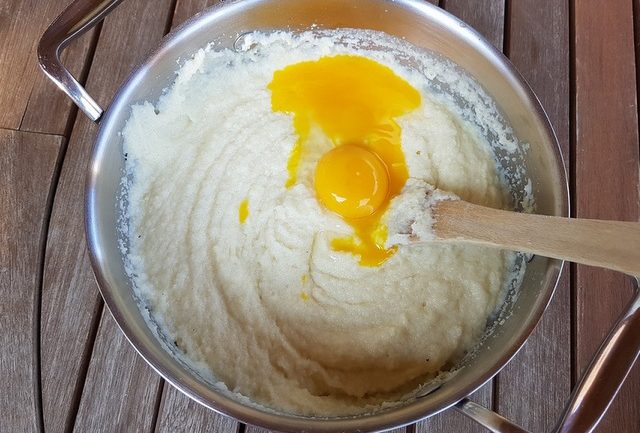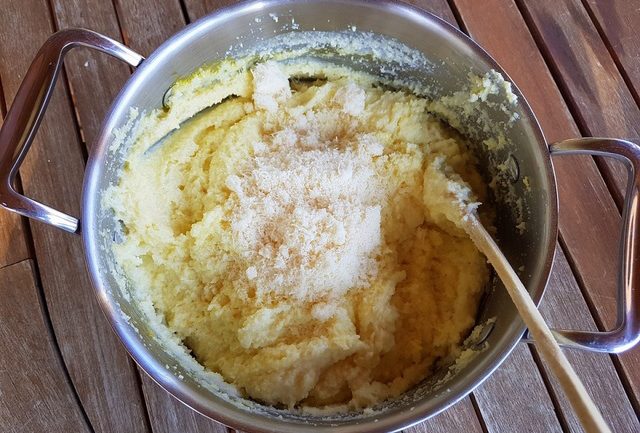 Traditionally, gnocchi alla Romana are shaped in circles. But, the dough can also be cut into squares or other shapes! So, if you're making these with the kids, you can have some fun and cut them in different shapes! Actually, even without kids, you can get creative with the shape!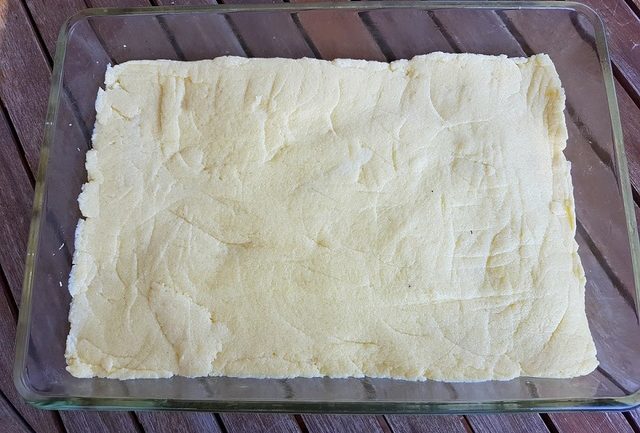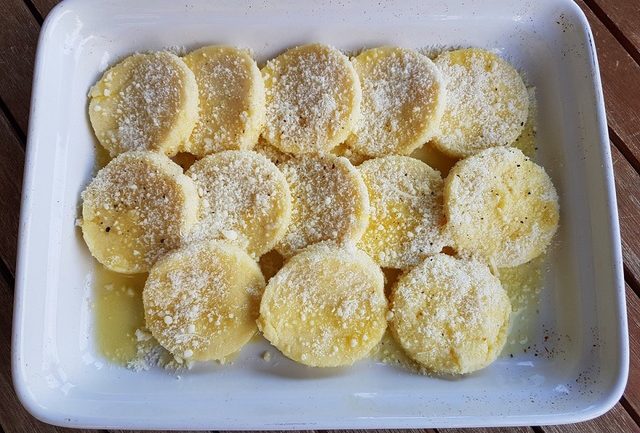 If you haven't made them before, I would recommend going with this classic 'alla Romana' recipe. Then perhaps later try them with another kind of sauce. I have also made them 'alla Sorrentino', which is delicious too. Whichever way you serve them, I'm sure it will be love at first bite!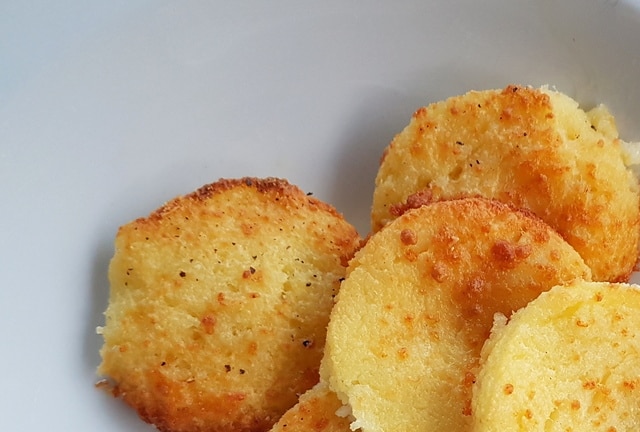 If you do try this gnocchi alla Romana recipe, I'd love to hear what you think. Please write a comment here on the blog or post a comment on the Pasta Project Facebook page.
Your feedback means a lot to me!
Buon Appetito!
Save this recipe for later?
If you want to save this recipe for later, you can print it, bookmark this page or save it to Pinterest.
Pin for later.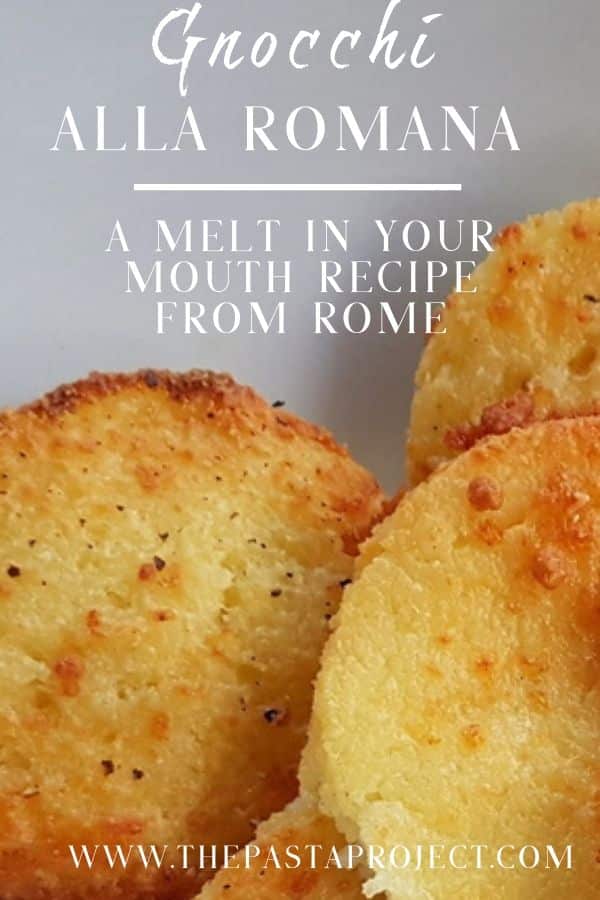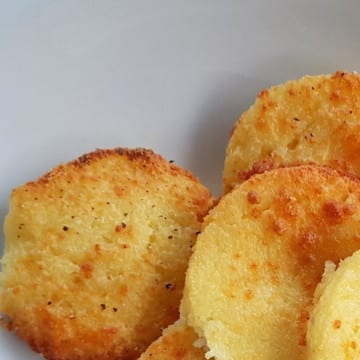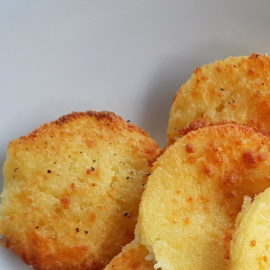 Gnocchi alla Romana
These semolina gnocchi from Rome are rich but light and a real melt in your mouth treat!
Ingredients
1

Lt

milk

(2 pints)

250

g

semolina

(9 oz)

100

g

butter

(3.5 oz)

2

egg yolks

75

g

Parmigiano Reggiano

( 2.5oz) grated

50

g

Pecorino Romano

(2oz) grated

salt

a pinch

nutmeg

grated, a pinch
Instructions
Begin by pouring the milk into a saucepan and adding half the butter cut into pieces and a pinch of grated nutmeg and salt.

Bring the milk to a simmer and when the butter has melted, shower the semolina into the milk (in Italian they say a poggia or 'like rain'), whisking as you go to avoid lumps.

The mixture will quickly thicken and become increasingly difficult to whisk. At this point, lower the heat and swap the whisk for a wooden spoon. Continue to stir vigorously to prevent lumps forming.

Keep cooking the semolina until the mixture becomes quite stiff and elastic and begins to pull cleanly away from the sides of the pan (stirring all the time, of course)

Remove the mixture from the heat.

Add in the parmigiano and mix well.

Add the egg yolks and mix them in well too.

Turn the hot dough out onto a buttered or oiled baking sheet or into a large rectangular pyrex dish and spread it out in an even 1cm thick layer. Wetting whatever tool you are using, will make this easier (clean hands, a spatula, the flat side of a large spoon)

Cover and allow the dough to cool at room temperature or in the fridge, which takes about 30 to 40 minutes. You can also do this a day ahead and keep the baking sheet in the refrigerator overnight.

Use a round 5-6cm cutter to cut out circles of the semolina dough (a glass or even a cookie cutter with another shape will work). I used a wine glass!! Once again, it helps to wet the tool you use to prevent the dough sticking to it.

Place the dough circles in slightly overlapping lines in a buttered or oiled baking or gratin dish. (see the photos on the post)

Melt the rest of the butter in a saucepan. Allow it to cool slightly and then pour it over the dough circles.

Sprinkle generously with grated pecorino (or more parmigiano) and bake in a preheated oven 200° or under the grill until the gnocchi are nicely browned.

Let the gnocchi rest for a few minutes and then serve in the baking dish.

These gnocchi are delicious as a starter or eaten as a main course along with a green salad!

Buon appetito!
Notes
Preparation time includes allowing the dough to cool in the fridge.
Some Italians shape the hot dough into a roll and roll it up in baking paper. When the dough is cooled they cut the roll into 1cm slices. This method produces no scraps but I think is harder to do!
You can save the scraps of dough and deep fry them for a snack or to make a mini version of this dish. The scraps aren't uniform like the circles, but they can be rolled into croquettes and taste just as good as the gnocchi.