This traditional pasta recipe from Piemonte (Piedmont) in Northern Italy pairs a simple veal ragu with a rare type of homemade maccheroni known as macron del frèt. Of course, you can also serve the delicate and delicious veal ragu with other pasta types.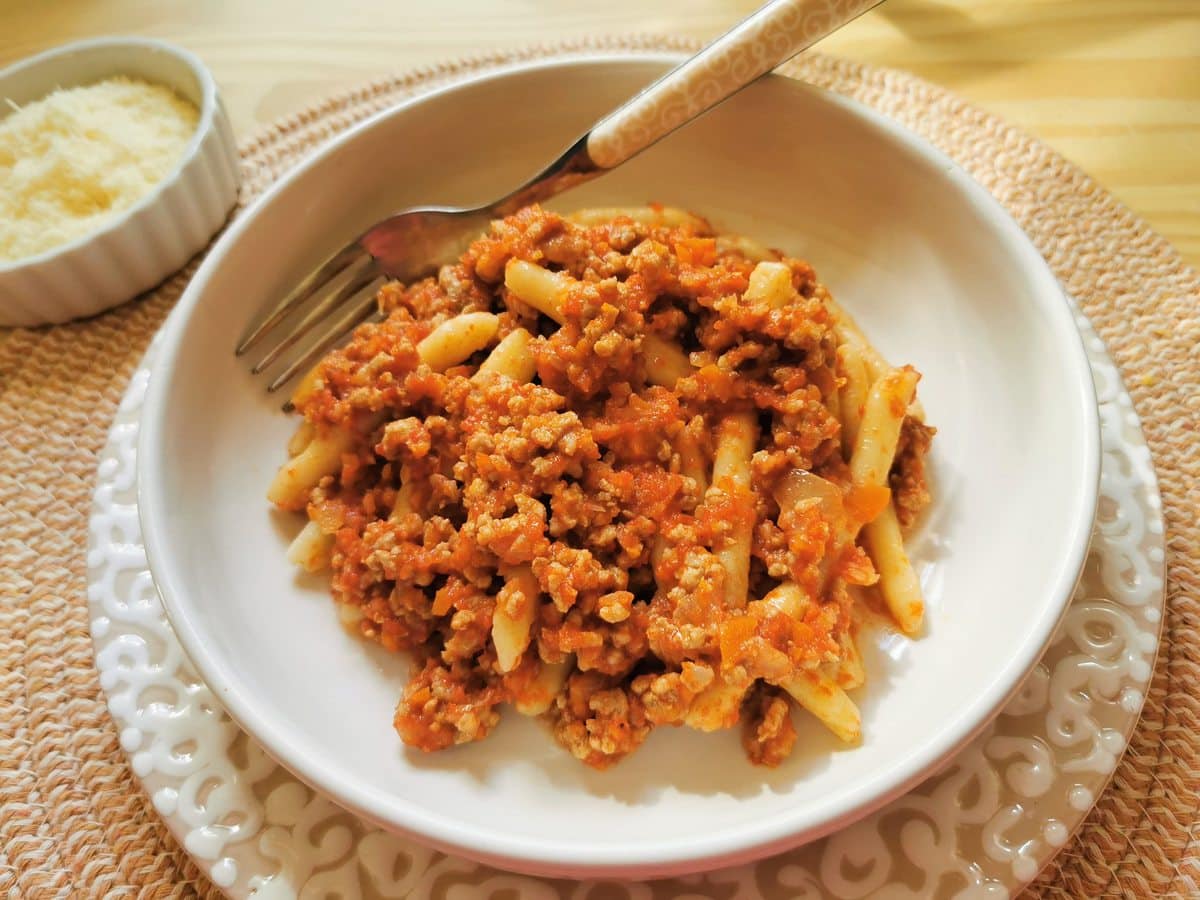 The veal and beef in Piemonte.
The Northwestern Italian region of Piemonte (Piedmont) is famous for a number of foods including white truffles, hazelnuts (home to Nutella and Ferrero Rocher), fresh pasta like tajarin and agnolotti and panna cotta!
It's also very well known for its beef and veal. In fact, they even have a local breed of cattle known as 'Razza Piemontese' (Piedmontese cattle).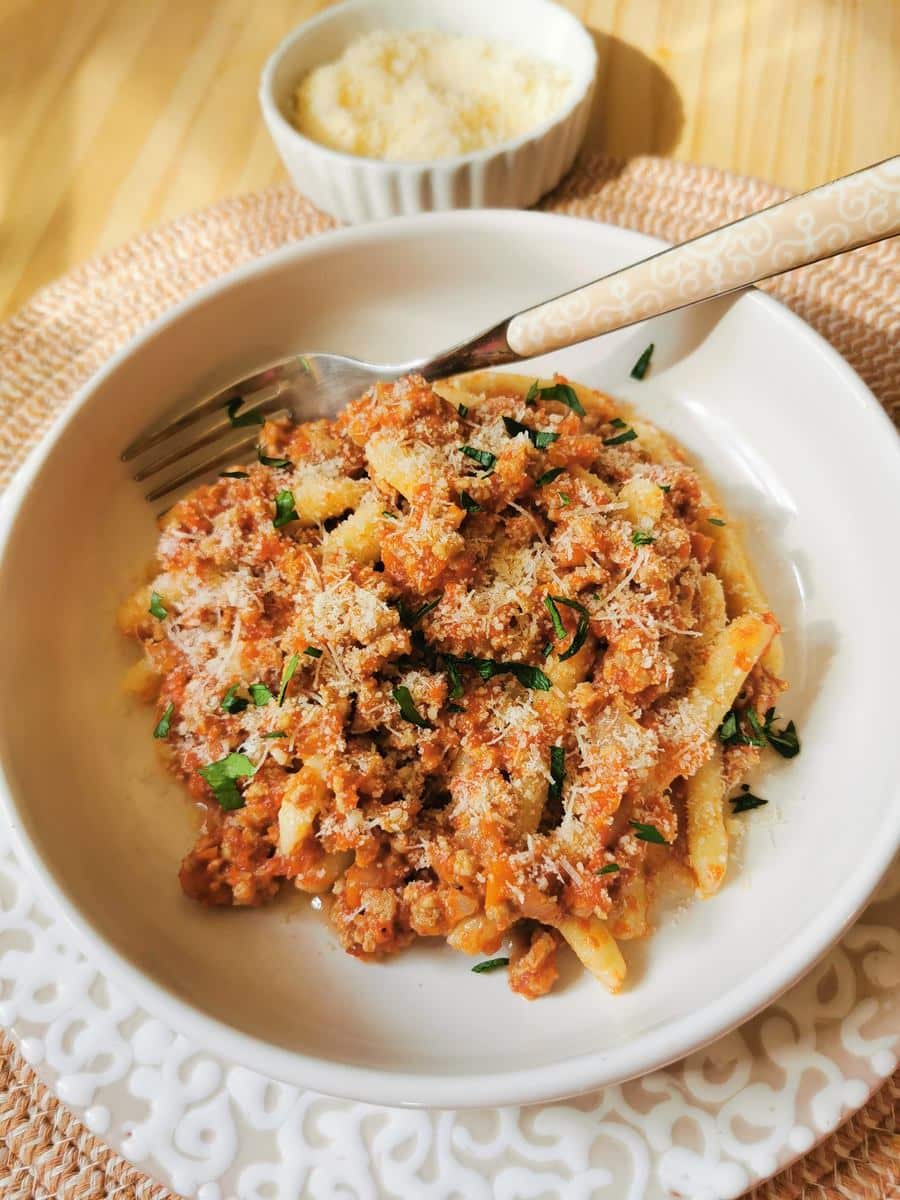 This cattle breed is highly valued for the low fat and high protein content of its meat. They say that Piemontese beef has 20% less calories than salmon but 10% more protein. It also has much less cholesterol than other prime beef.
As you may imagine, beef and veal are popular meats in the region. The locals call the meat from Piemontese beef, fassona. If you are ever in the region, you will come across a lot of dishes with fassona.
Among the most well-known that you can find in restaurants and homes are vitello tonnato, veal pot roast, veal stew, a type of veal tartare (known as batttuta) and, of course, veal ragu.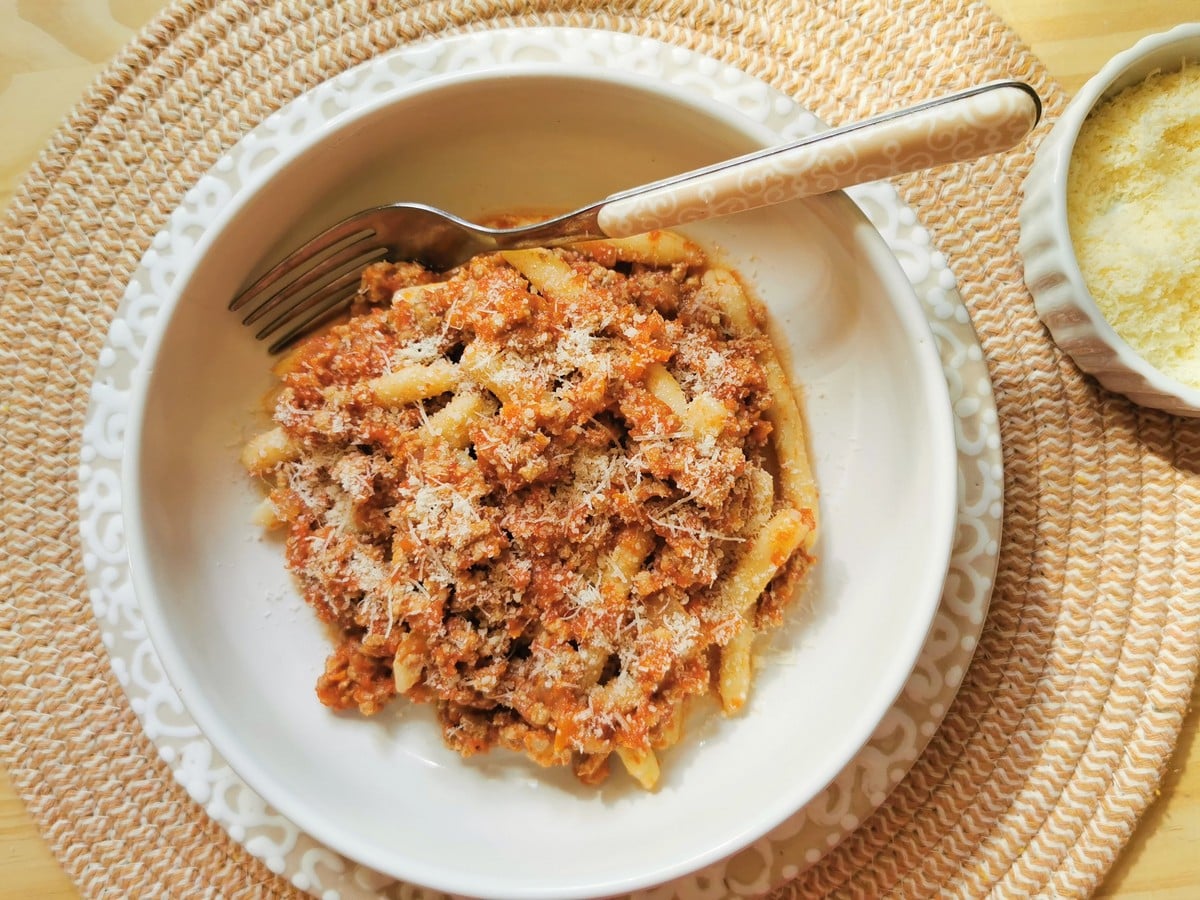 Why use veal instead of beef or other meats?
Veal is a popular choice for ragu in Piemonte. But, not only because of the high quality of the meat there. Veal ragu takes less time to cook than ragu with other meats or a mixture of meats.
In addition, it's nutritious and protein rich and also lighter and more digestible than heavier slow cooked meat sauces. Here are some more facts about the nutrition and health benefits of veal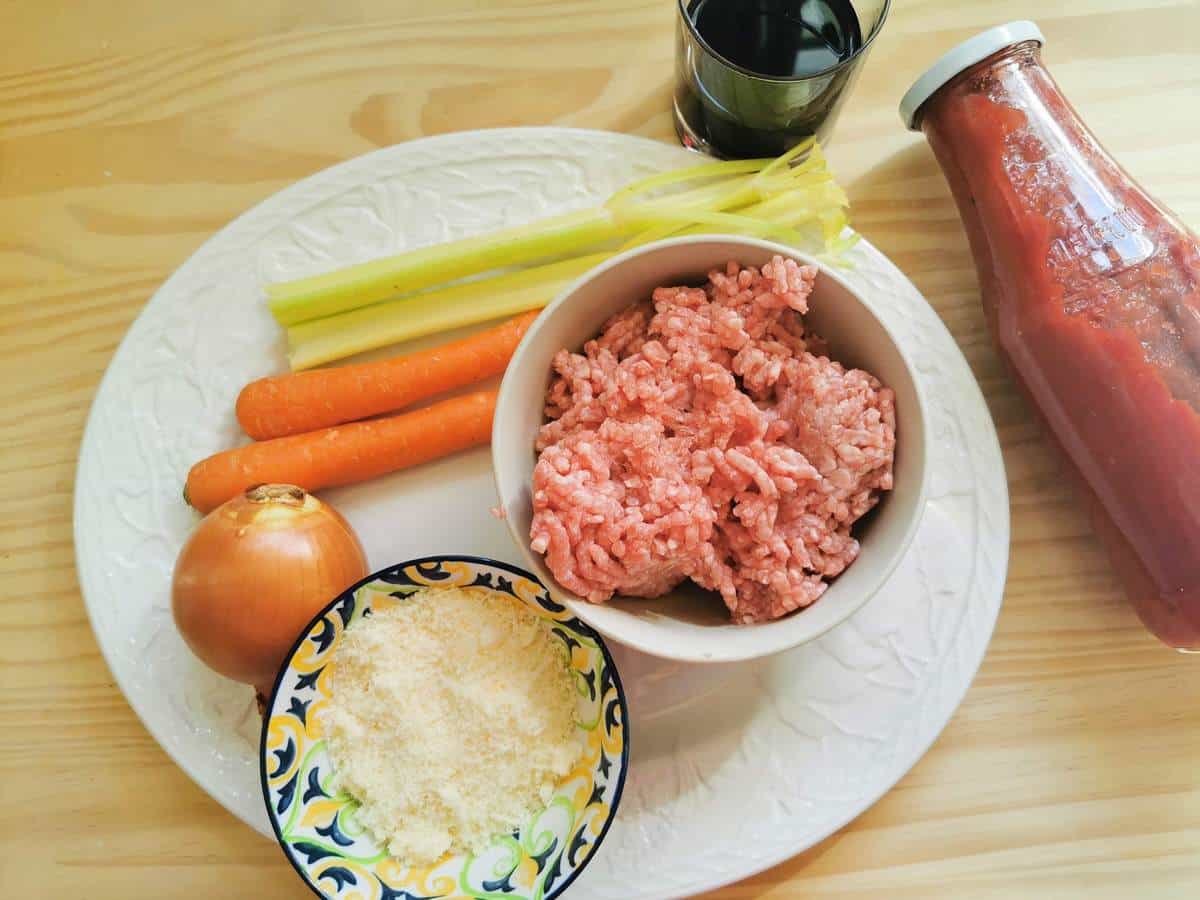 Ingredients in this veal ragu.
Ground veal: Shoulder or brisket are the most popular cuts for ground veal.
Onion, Celery and Carrot. These make the flavour base for many Italian sauces. When sautéed together they are known as a soffritto.
Tomato passata: Store bought passata is made from puréed blanched peeled and pasteurized tomatoes. Here in Italy, we can buy both smooth and rustic passata. The latter being thicker. You can also use chopped or whole peeled canned tomatoes for this recipe.
Red or white wine. Half a glass of red or white wine is perfect for deglazing the pan and adding more complexity to the sauce. The alcohol in the wine evaporates during cooking but you can also leave it out if you prefer.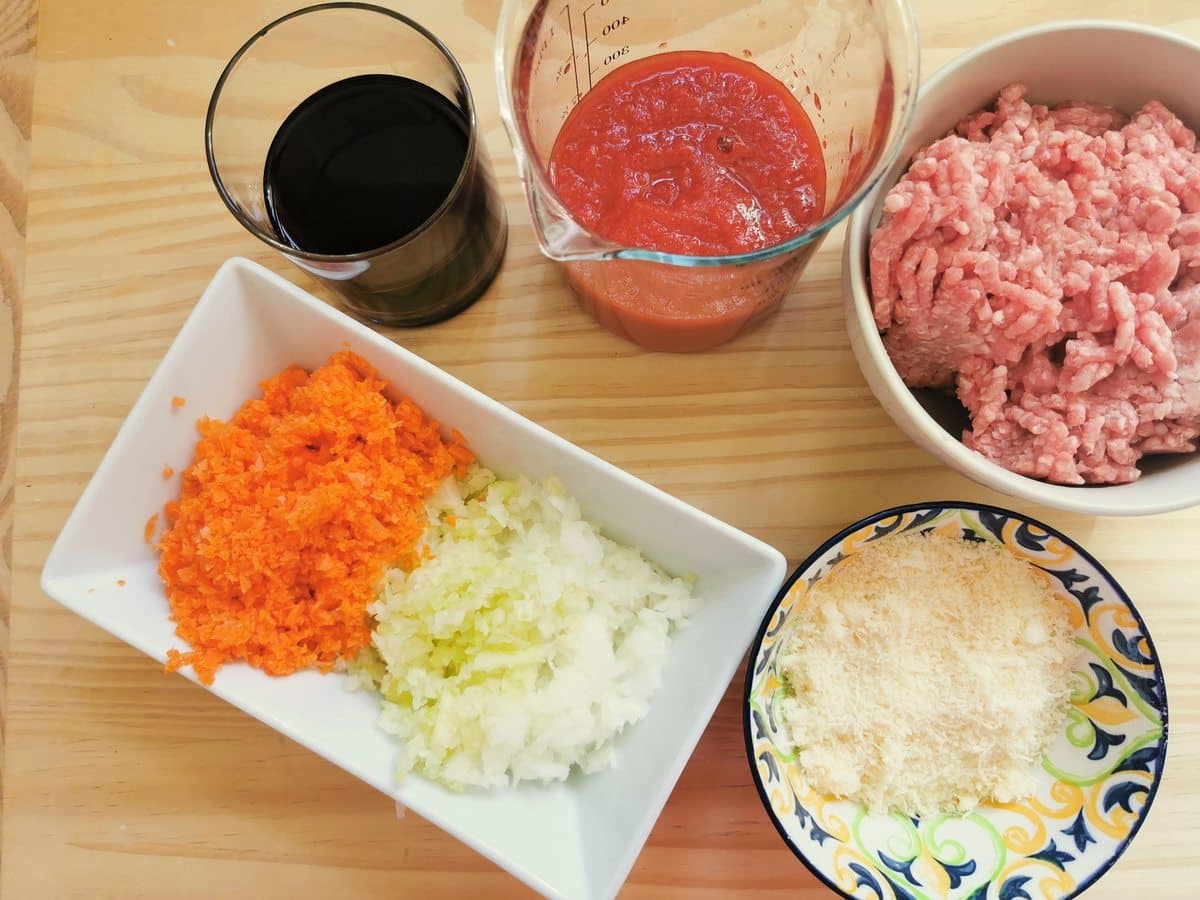 Optional ingredients.
Pancetta. Pancetta adds a slightly salty umami flavour to the ragu. Although similar to bacon, the essence of pork is stronger in pancetta. If not available, you can also use a fatty bacon.
Tomato paste/concentrate. A little tomato paste gives the ragu a more intense tomato flavour as well as a deeper red colour.
How to make the veal ragu.
Chop the carrot, celery and onion finely and cook them for about ten minutes in a pan over medium heat with extra virgin olive oil.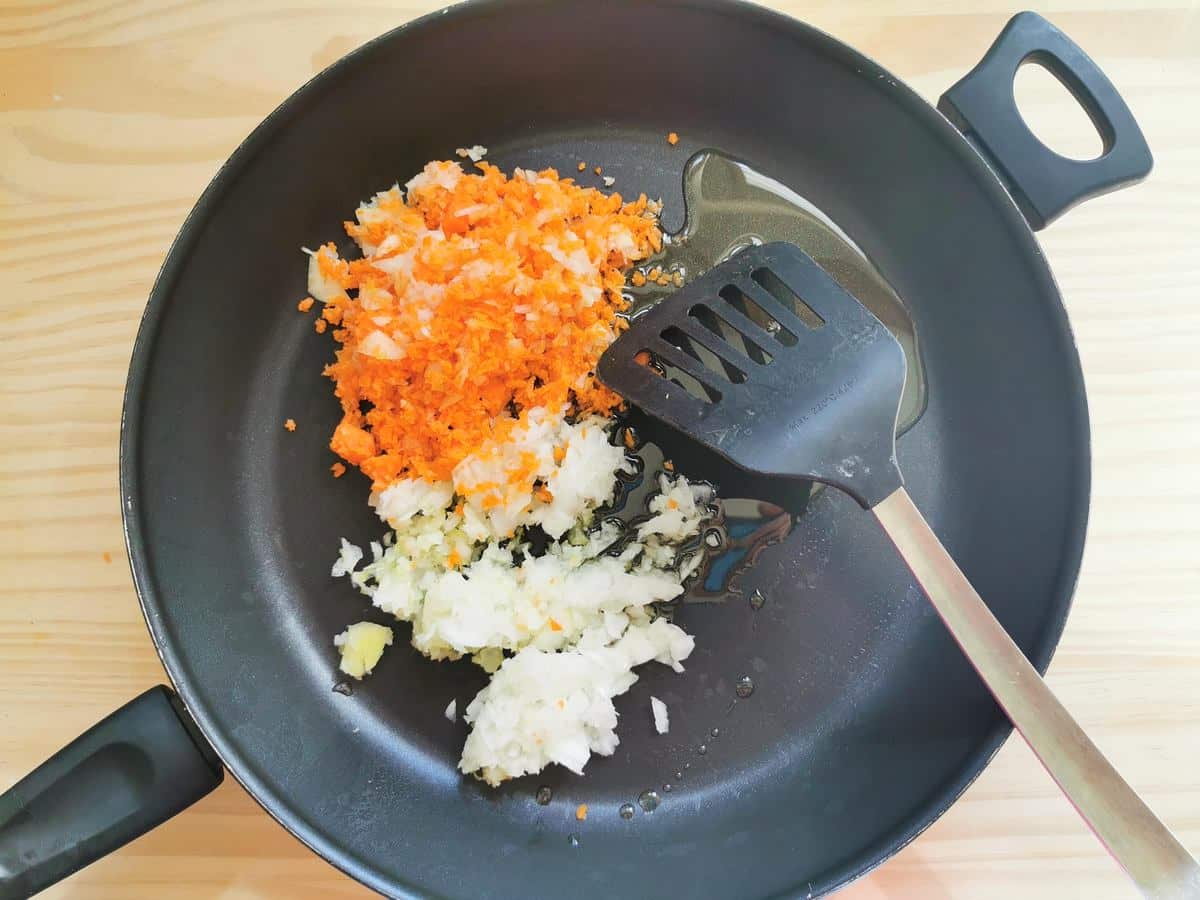 Also add the pancetta (if using) and let the fat render over a low heat.
Increase the heat, add the veal meat and brown it for about 6-7 minutes.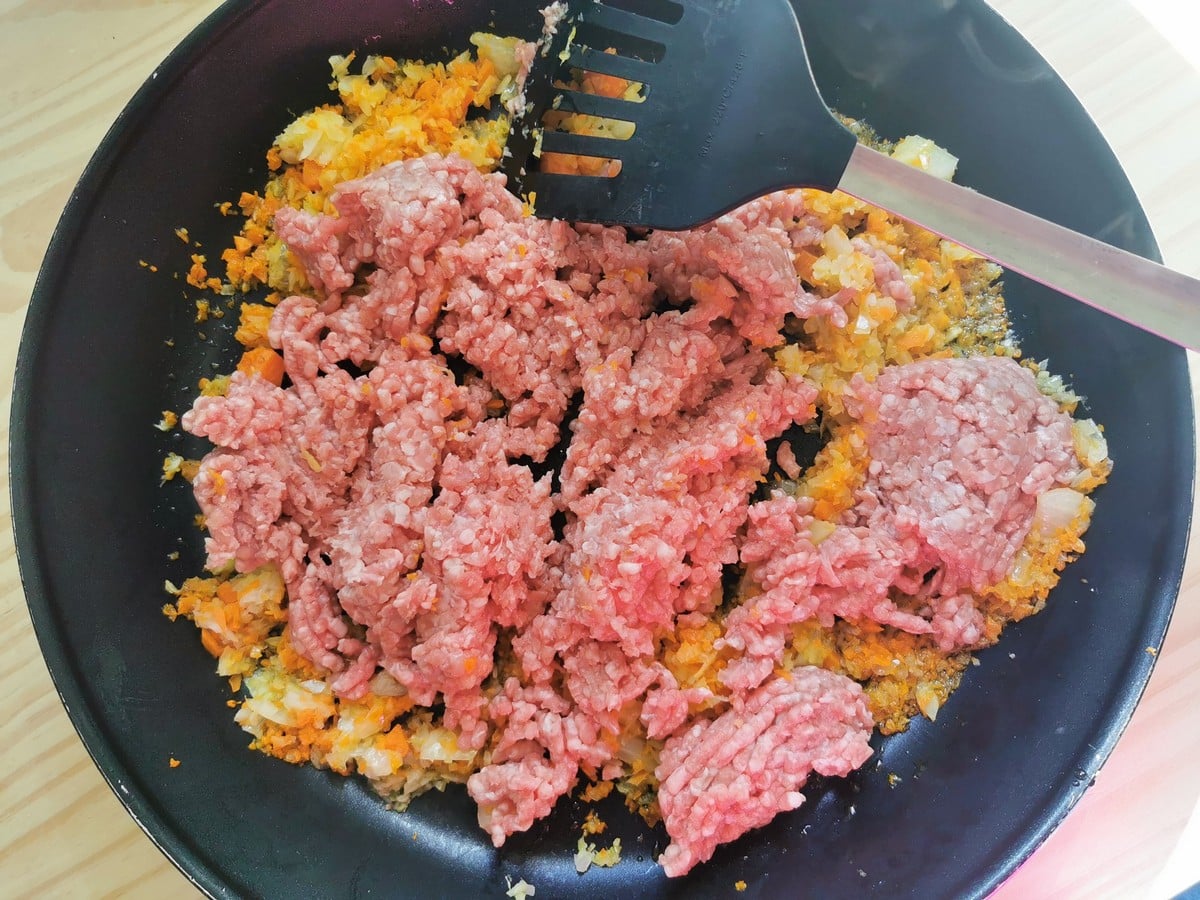 Pour in the wine, scrape the bottom of the pan with a wooden spatula and wait for the alcohol to evaporate. After that, add the tomato paste (if using) and mix to dissolve it well.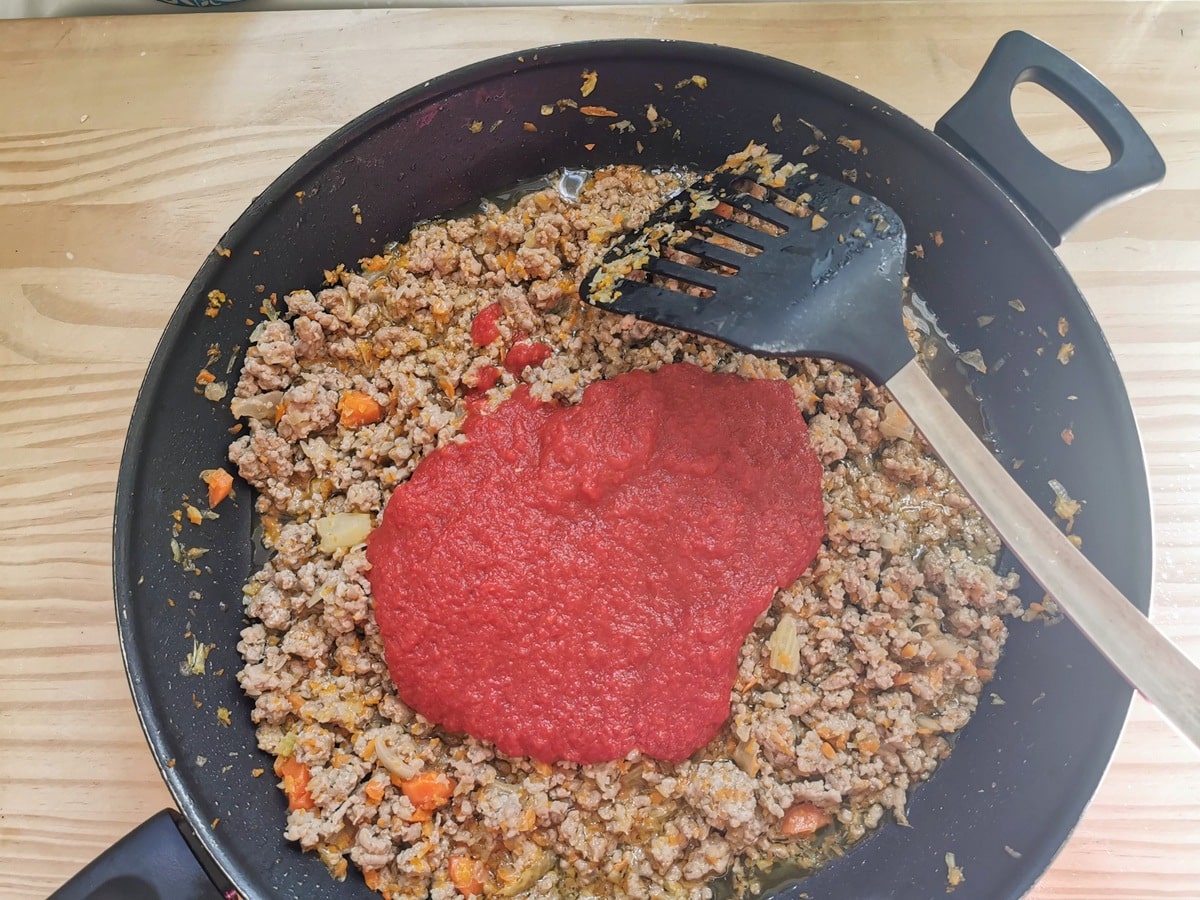 Finally, add the tomato passata, basil, salt and pepper. Mix everything together and leave to cook over a low heat for about 60 minutes. Towards the end of cooking, add salt and pepper to taste.
What pasta is best with veal ragu?
I served my veal ragu with a homemade maccheroni from Piemonte called macaron del frèt. However, veal ragu is often paired with tajarin (a local type of tagliolini). It is also very good with other egg noodles like tagliatelle or even pasta tubes such as rigatoni or penne.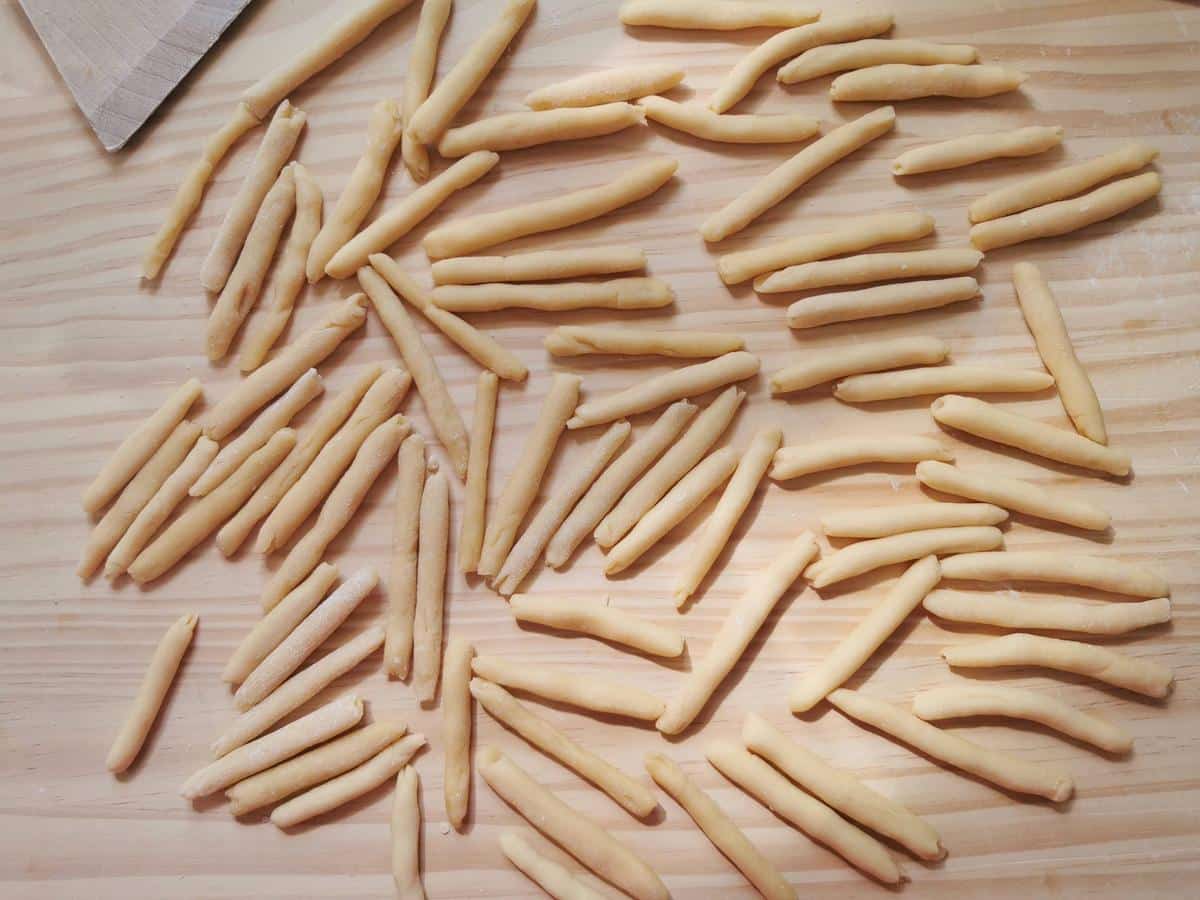 What is macaron del frèt?
This pasta is a type of maccheroni al ferretto, a homemade pasta that's more common in Southern Italy. A ferretto or fero is a metal rod used to make different traditional homemade pasta tubes, such as Calabrian fileja or Neapolitan fusilli.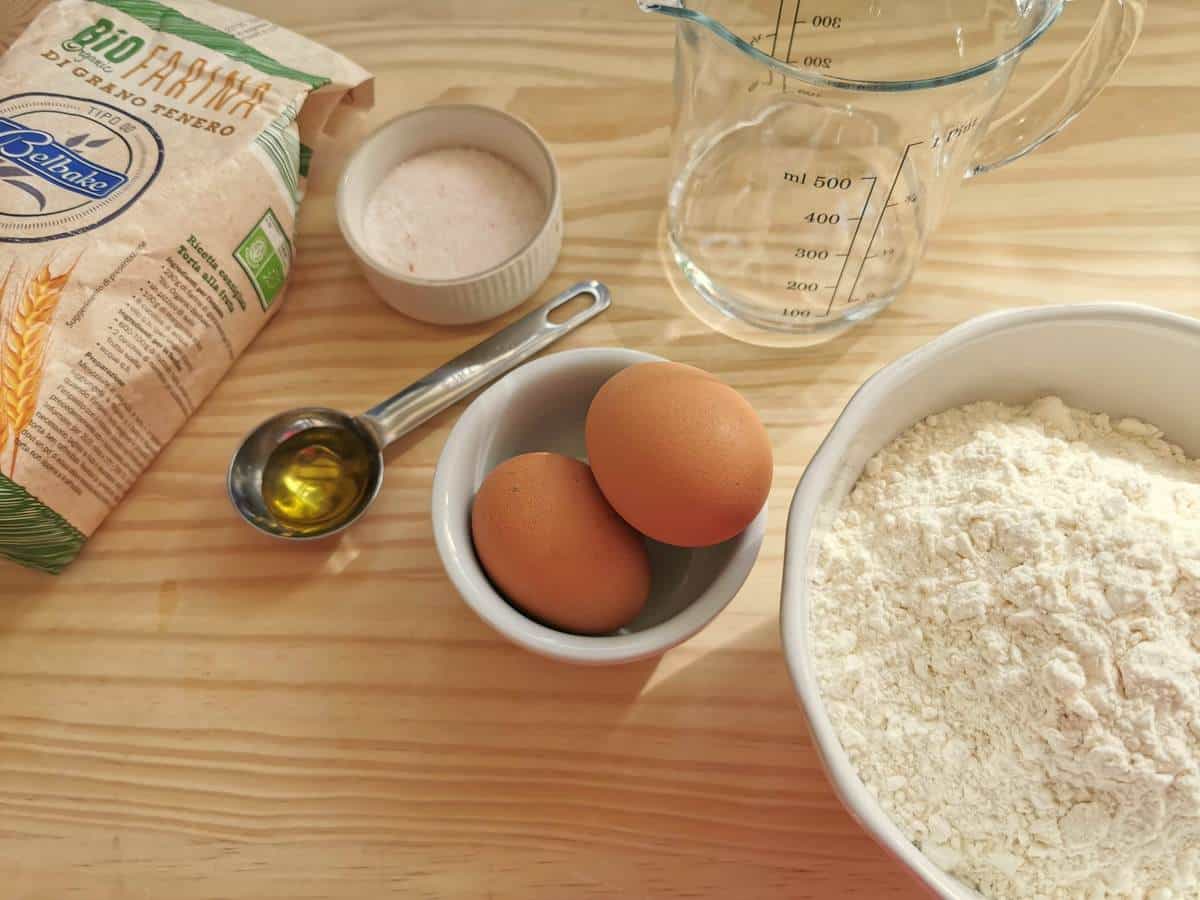 Nowadays, many Italians use a slim knitting needle instead. I made my homemade maccheroni with a fero I was given by an old lady in a village in Puglia some years ago!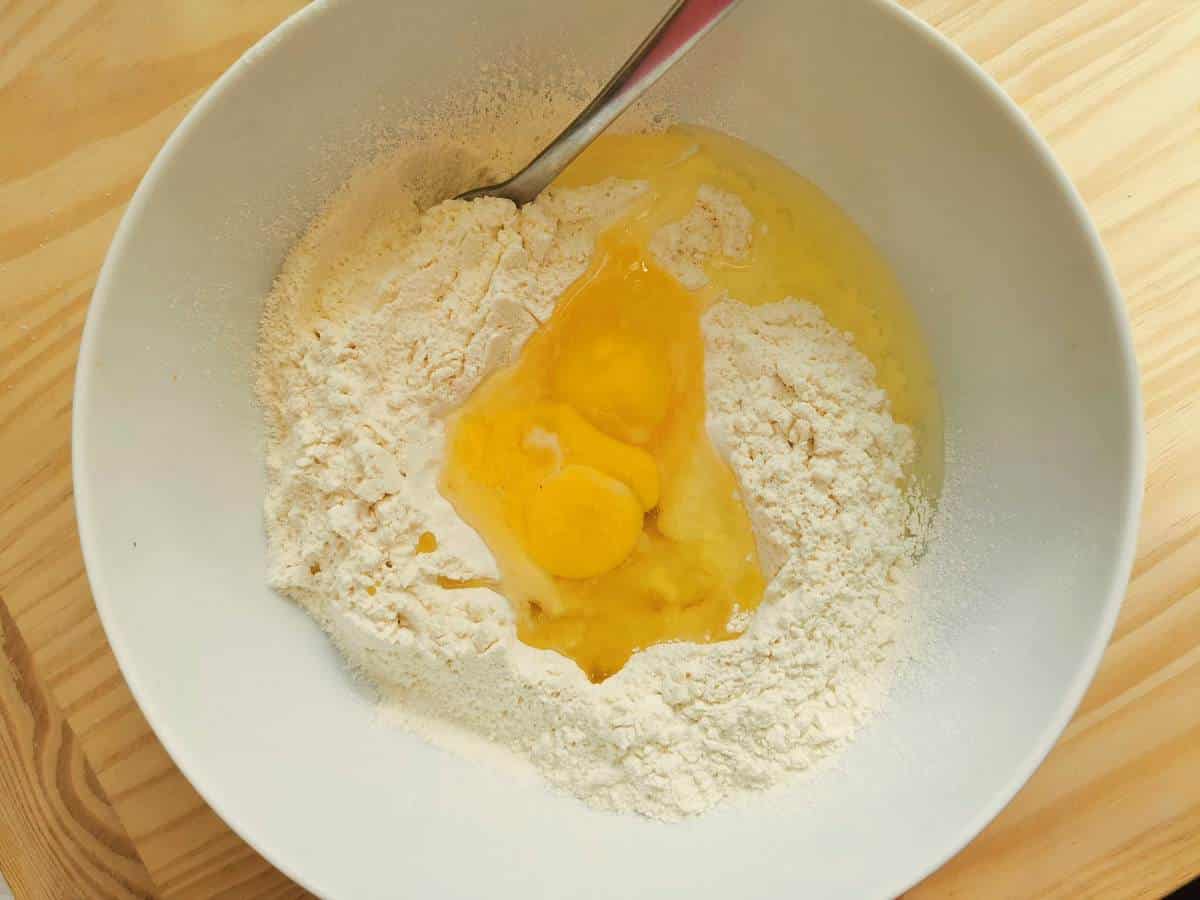 Homemade maccheroni al ferretto isn't very common in Northern Italy. There are different theories as to how a typical southern Italian pasta came to be traditional in the north.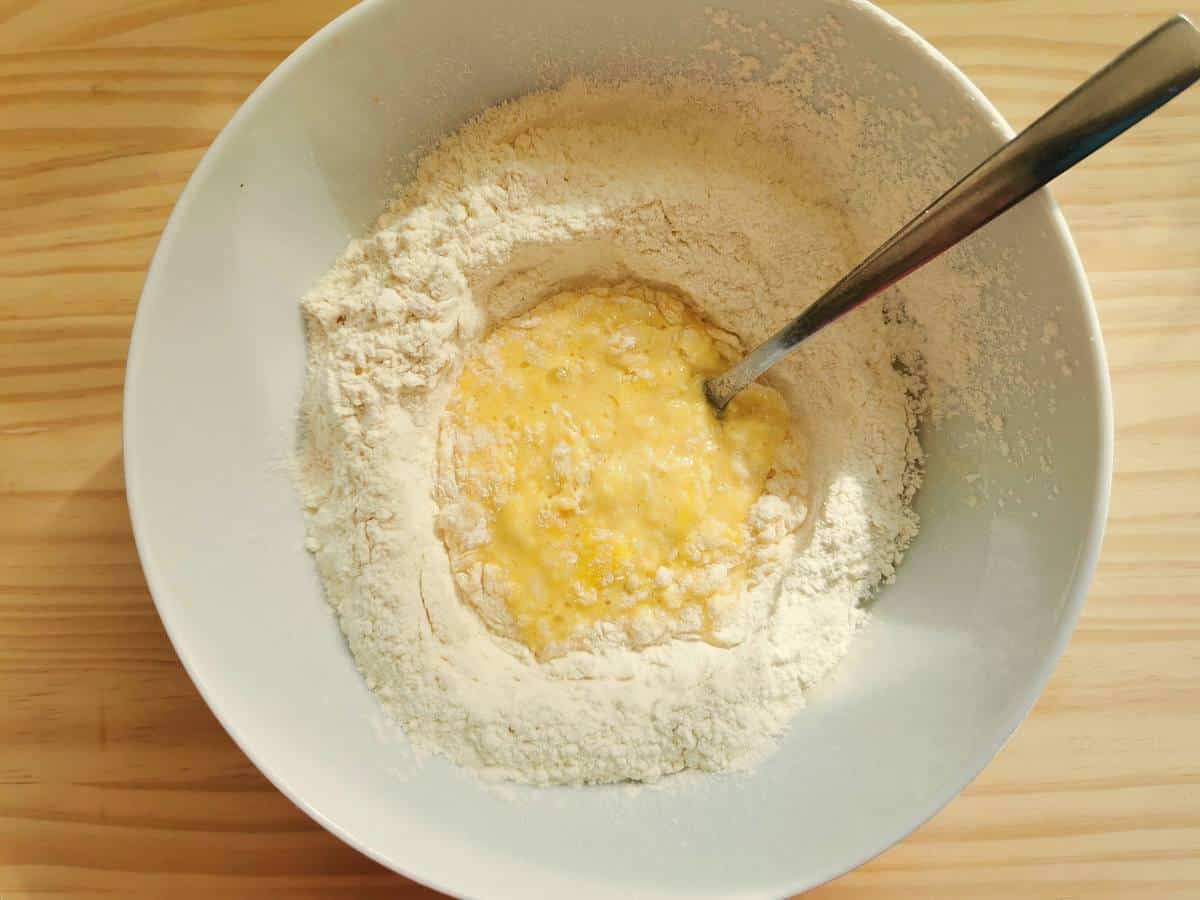 Some say it was southern chefs who brought it to Piemonte in the 1800s. Others think it was soldiers of Neapolitan origin who were serving with Napolean's army in the north. And, of course, there are other theories!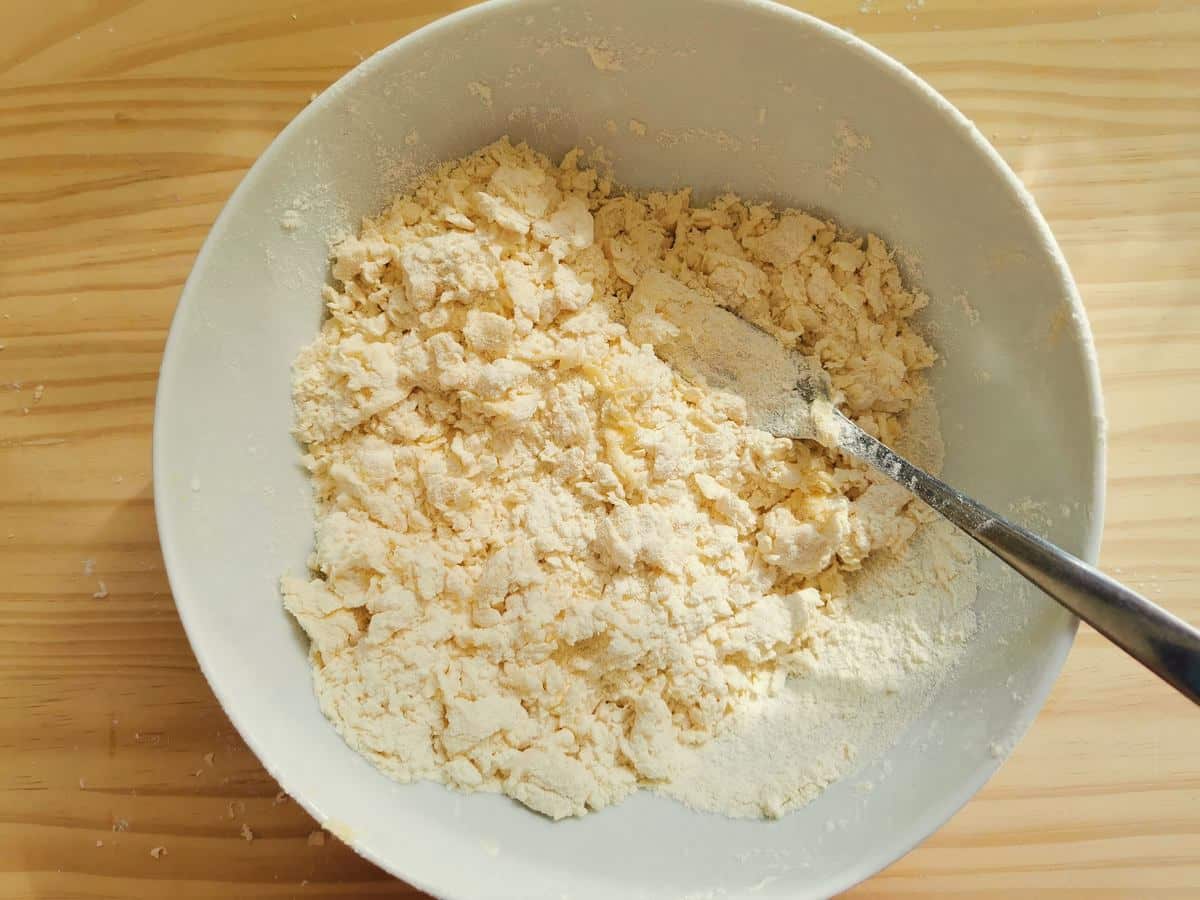 In the past, this homemade maccheroni was quite popular in the beautiful Langhe region of Piemonte, particularly in what Italians call the 'Alta Langa' or high Langhe. It was a traditional winter pasta because hens lay less eggs in winter!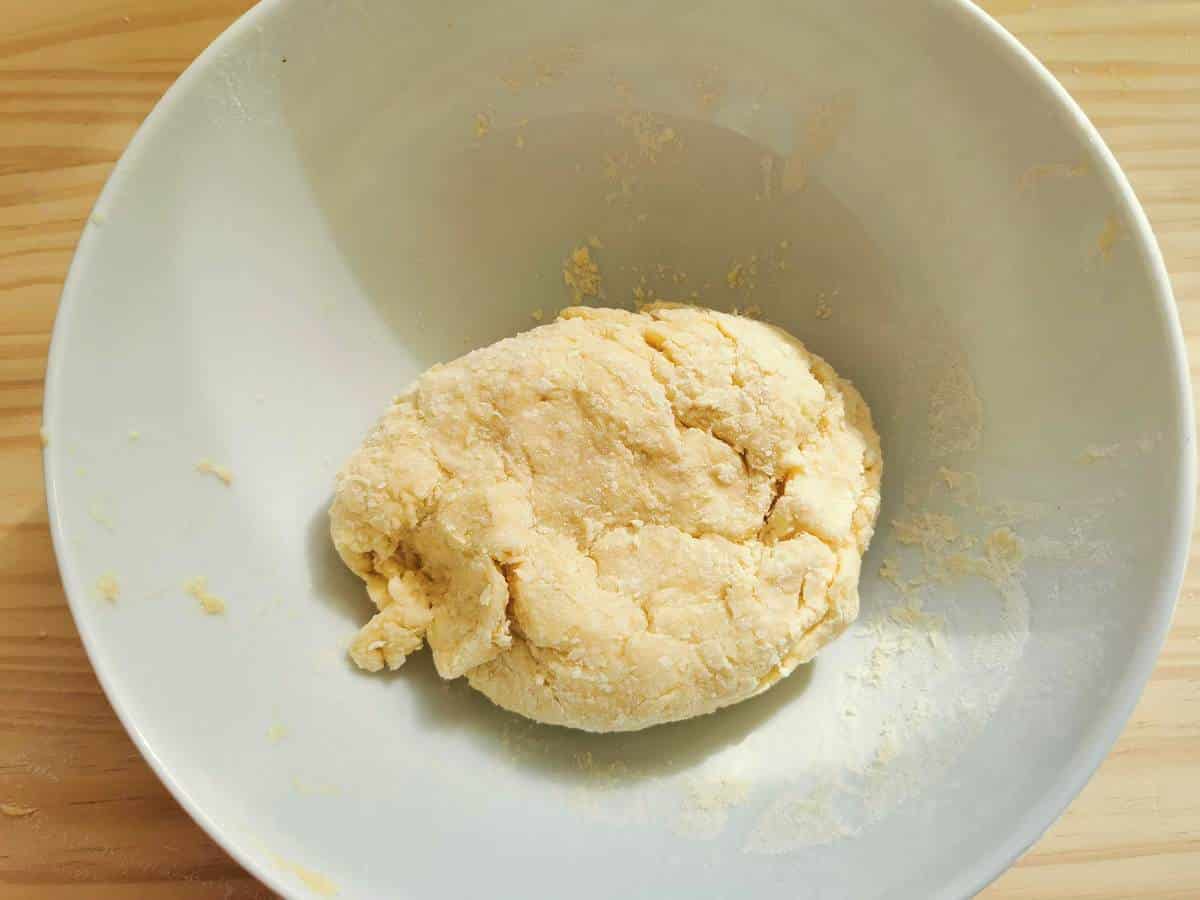 This part of Piemonte is famous for its tajarin pasta, an egg yolk rich type of tagliolini. So, when eggs were less abundant, housewives made macaron del frèt instead.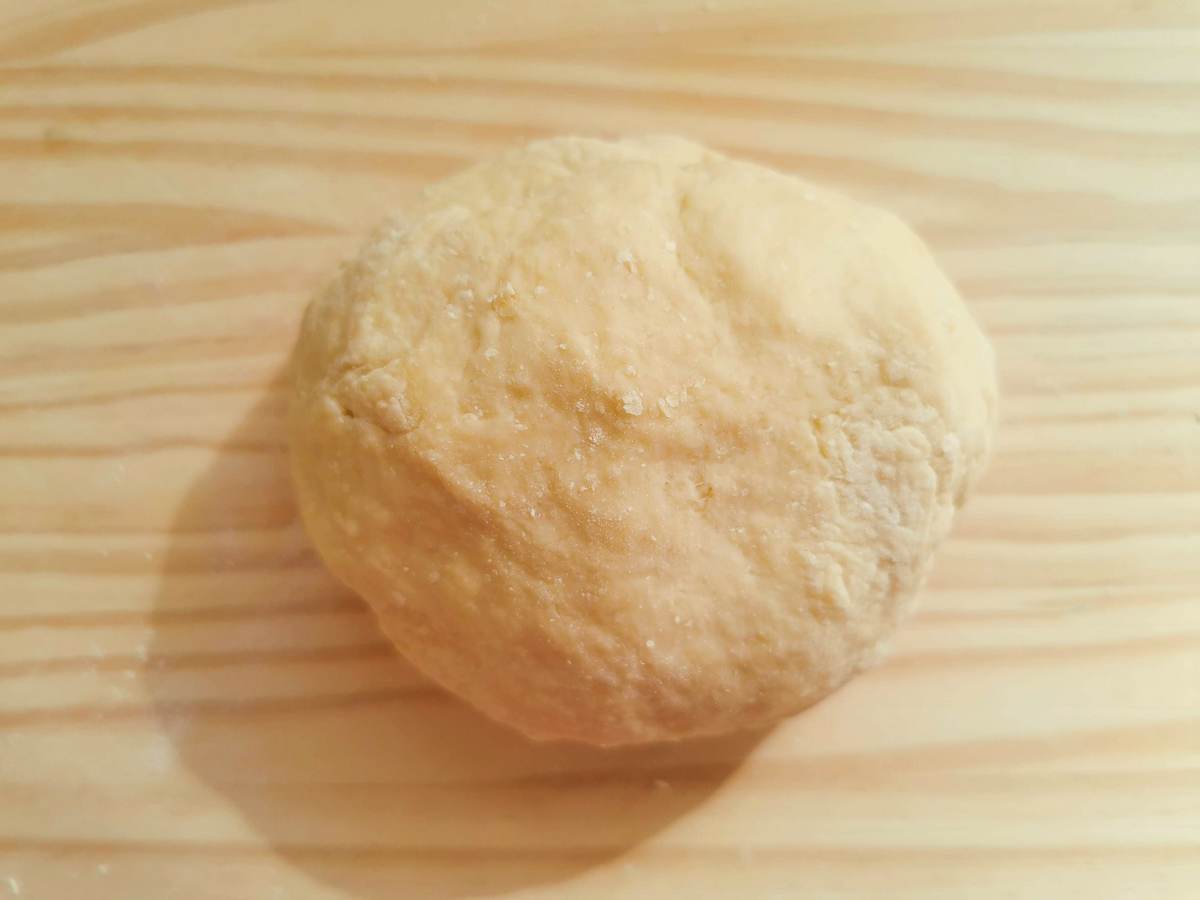 Sadly, nowadays, this pasta is rare. But there are some restaurants in the area that specialize in traditional local dishes where they still make and serve it, like the 'l Bunet restaurant in Bergolo, Piemonte. Definitely on my to-visit list!
How to make macaron del frèt (homemade maccheroni).
Unlike other types of maccheroni al ferretto, this pasta contains eggs and soft wheat flour. The dough also has a little salt, olive oil and tepid water.
You make it in the same way as other types of egg pasta dough by mixing the ingredients first in a bowl (or on a flat work surface) until you have the start of a 'dough'.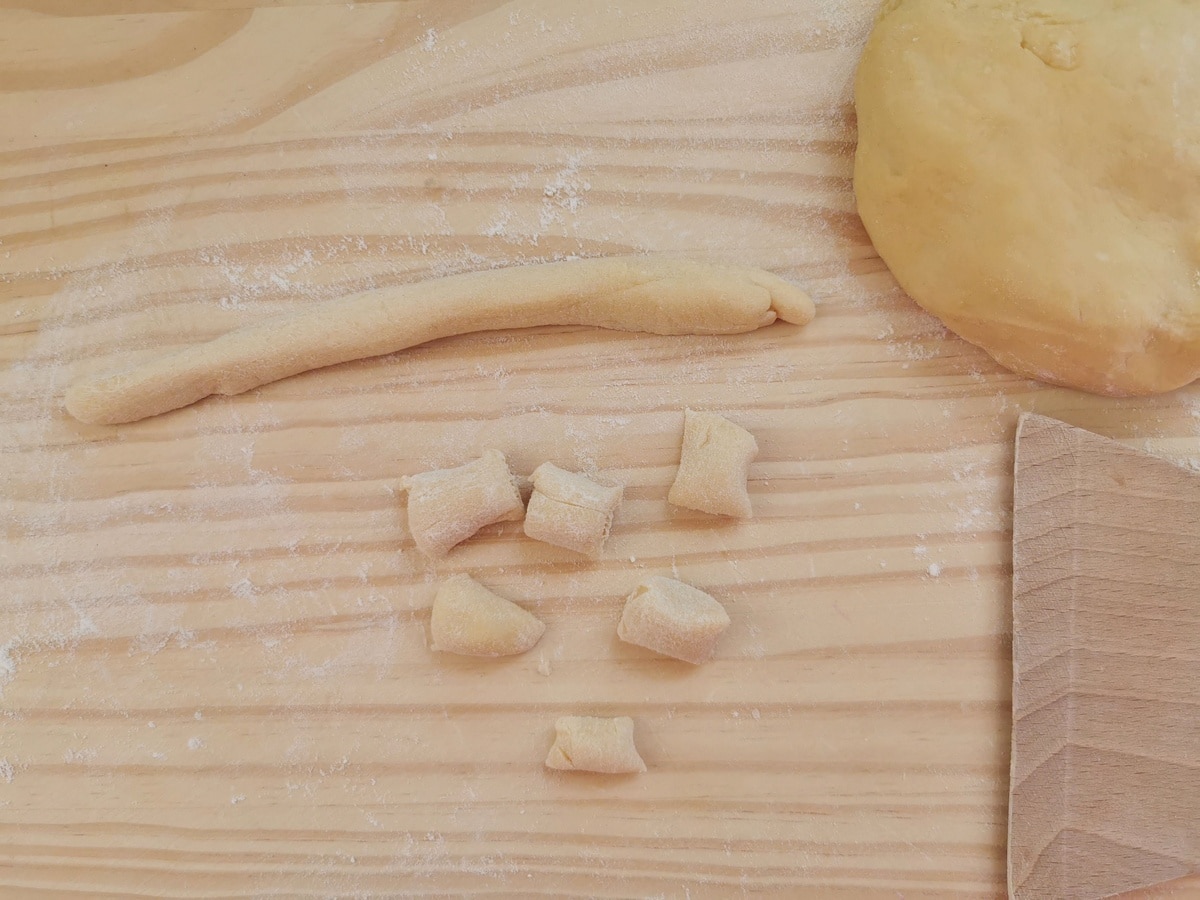 Then knead the dough on a flour dusted surface (wood or marble) until it's soft and pliable. Roll it into a ball and let it rest for 30 minutes.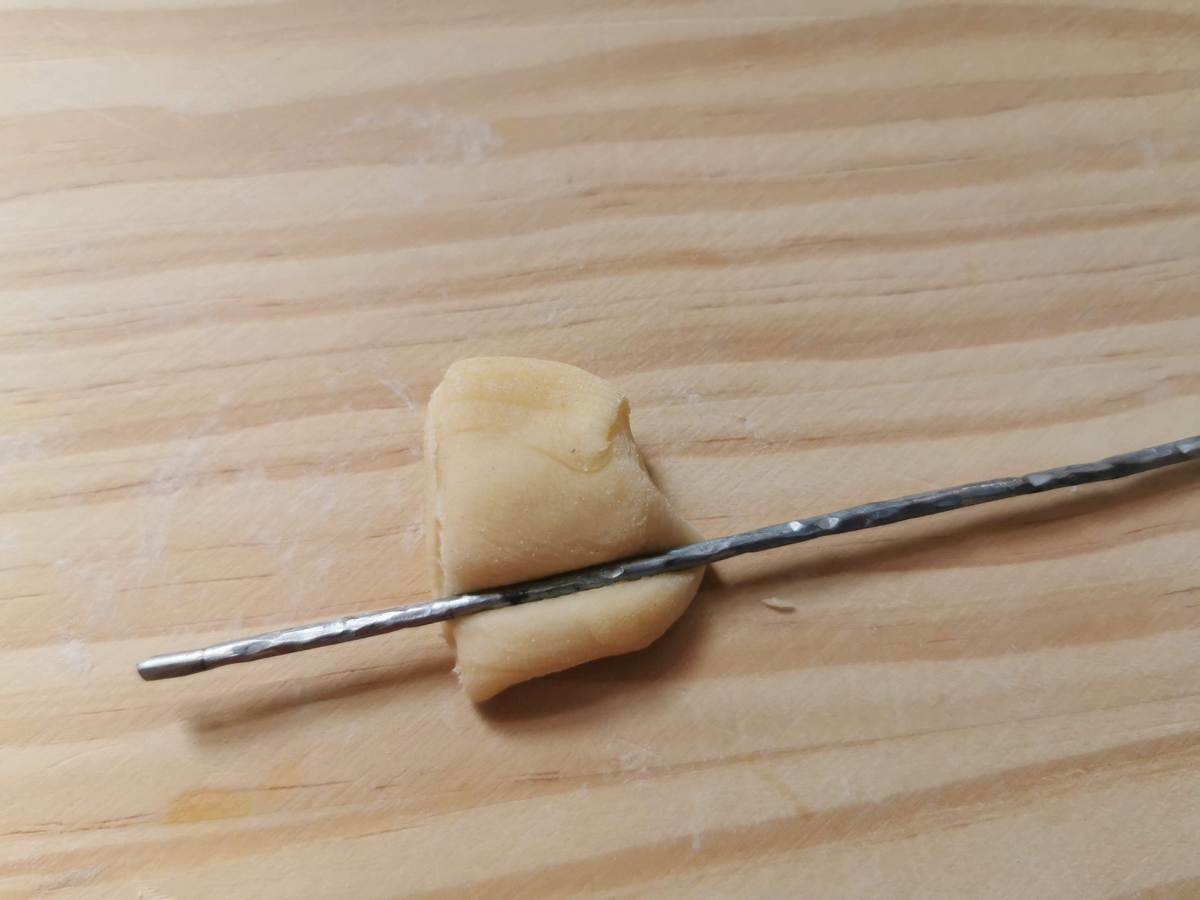 Once the dough has rested, cut or break off a piece and roll it into a 'rope' about as wide as your index finger. Then cut this 'rope' into pieces about 2 cm (0.7") long, similarl to what we do to make gnocchi or orecchiette.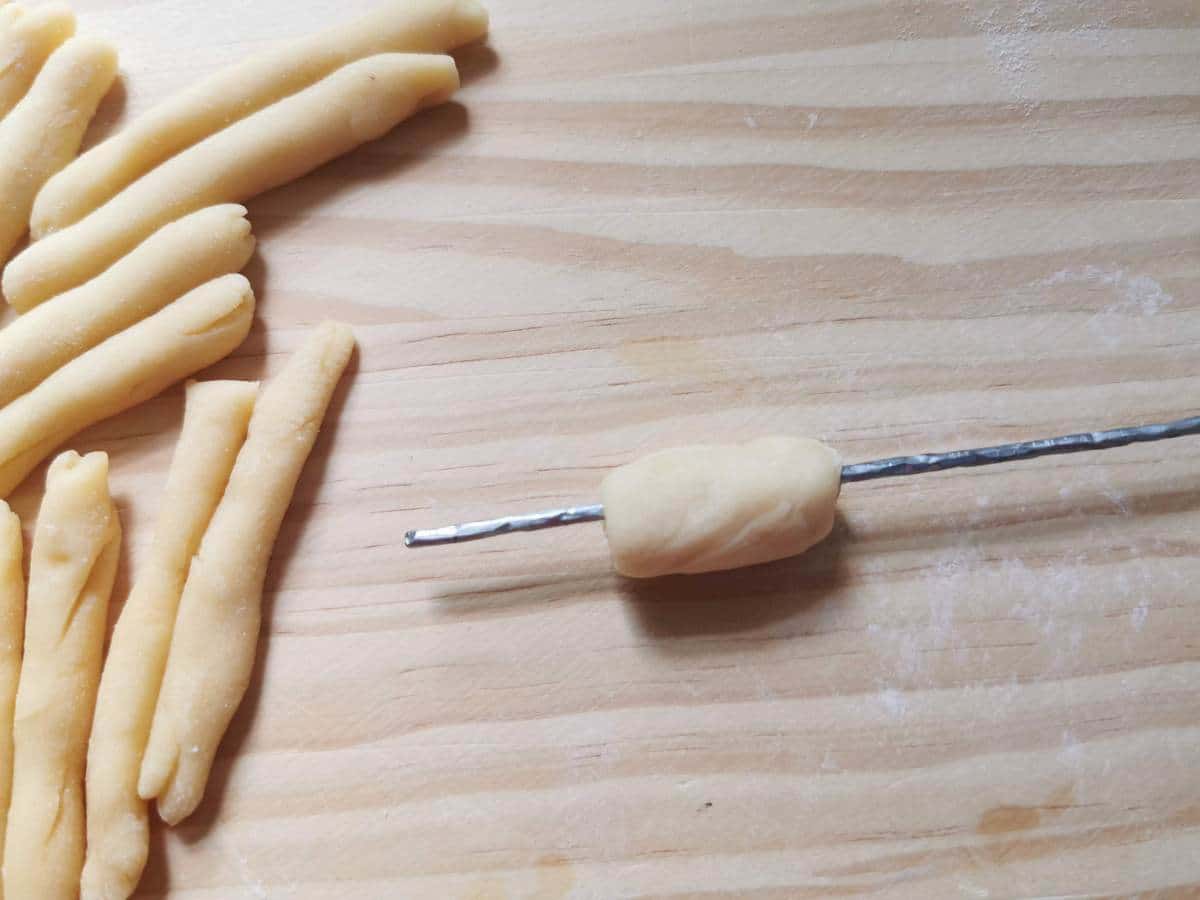 Next slightly flatten each piece and place the 'fero' (iron rod or knitting needle) on the middle, wrap it around the fero and then roll it with your hands on the work surface. The dough will distribute itself evenly around and along the iron rod. Gently remove the 'fero' by sliding the pasta piece off it.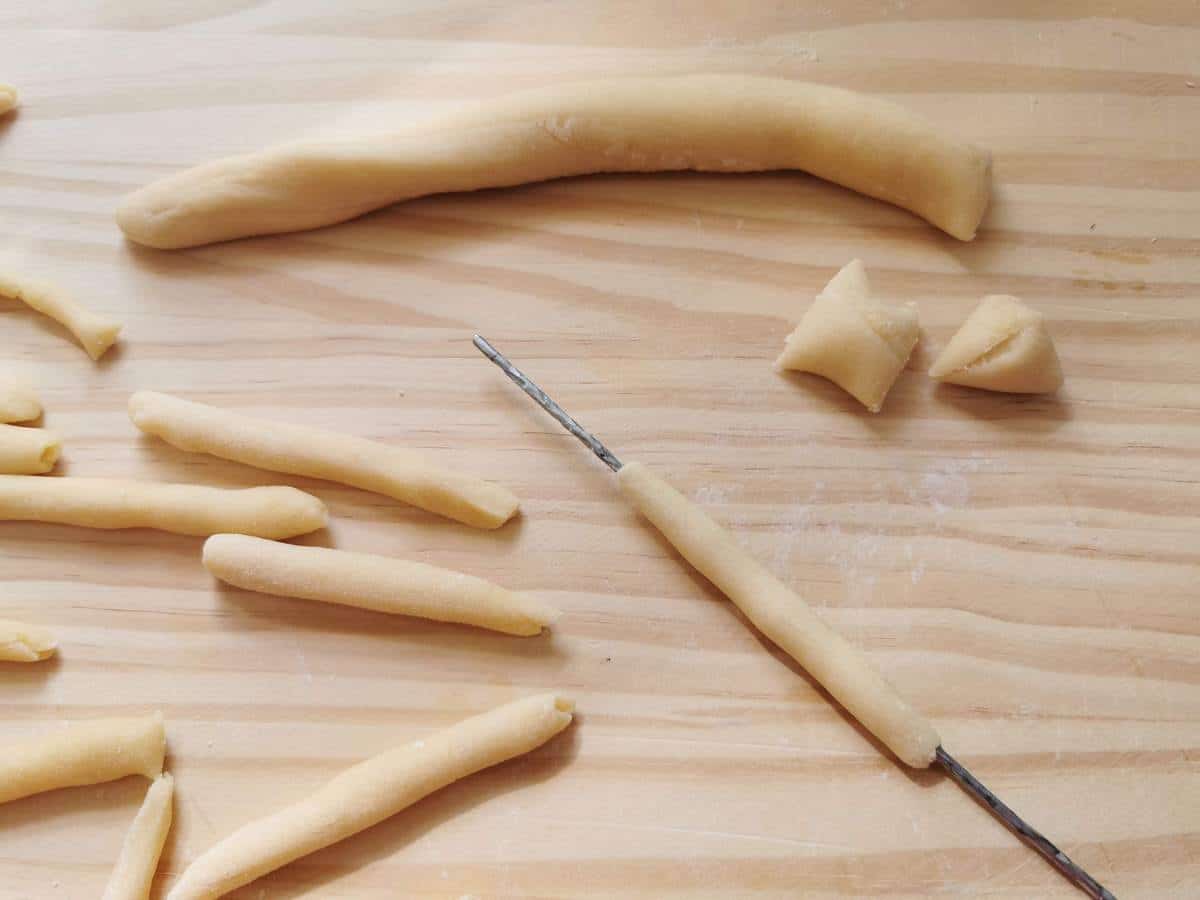 Lay your ready maccheroni on a flour dusted tray and repeat the process with the rest of the dough.
Finish and serve.
Put a pot of water on to boil for the pasta. Add salt once it starts to boil and bring to the boil again. Add the maccheroni. Stir to prevent the pasta pieces sticking together. Homemade maccheroni al ferretto takes about 5-10 minutes to cook depending on the size and thickness of the pasta. Test taste before draining.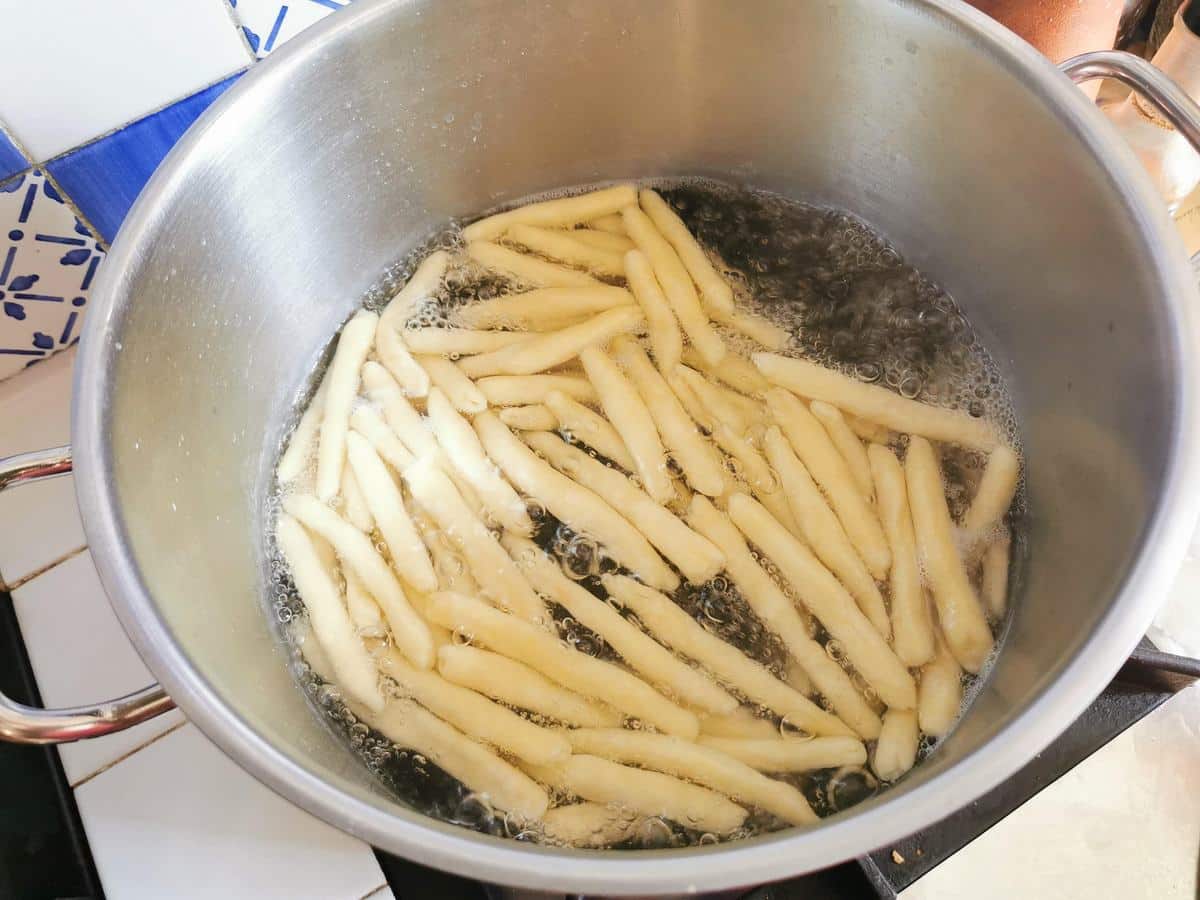 Mix the ready pasta with the veal ragu and serve immediately with some grated Parmigiano if required.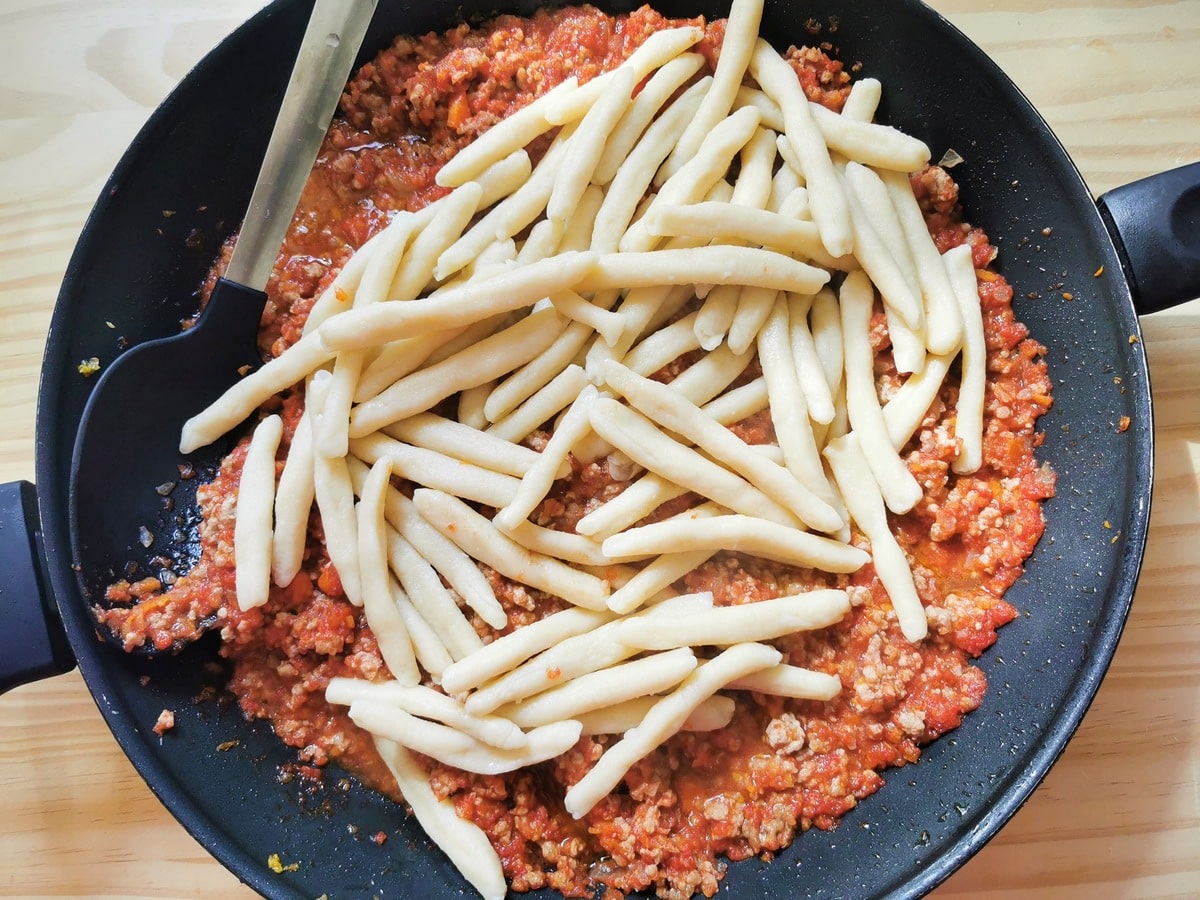 What to do with leftovers.
Both leftover veal ragu with pasta and without can be kept in the fridge in a sealed container for up to 3 days. The ragu on it's own can be frozen for up to 3 months and any uncooked maccheroni can be frozen and then cooked without defrosting.
I love to reheat short pasta with ragu by baking it in the oven with some grated cheese on top. You can also reheat leftover pasta and sauce in the microwave.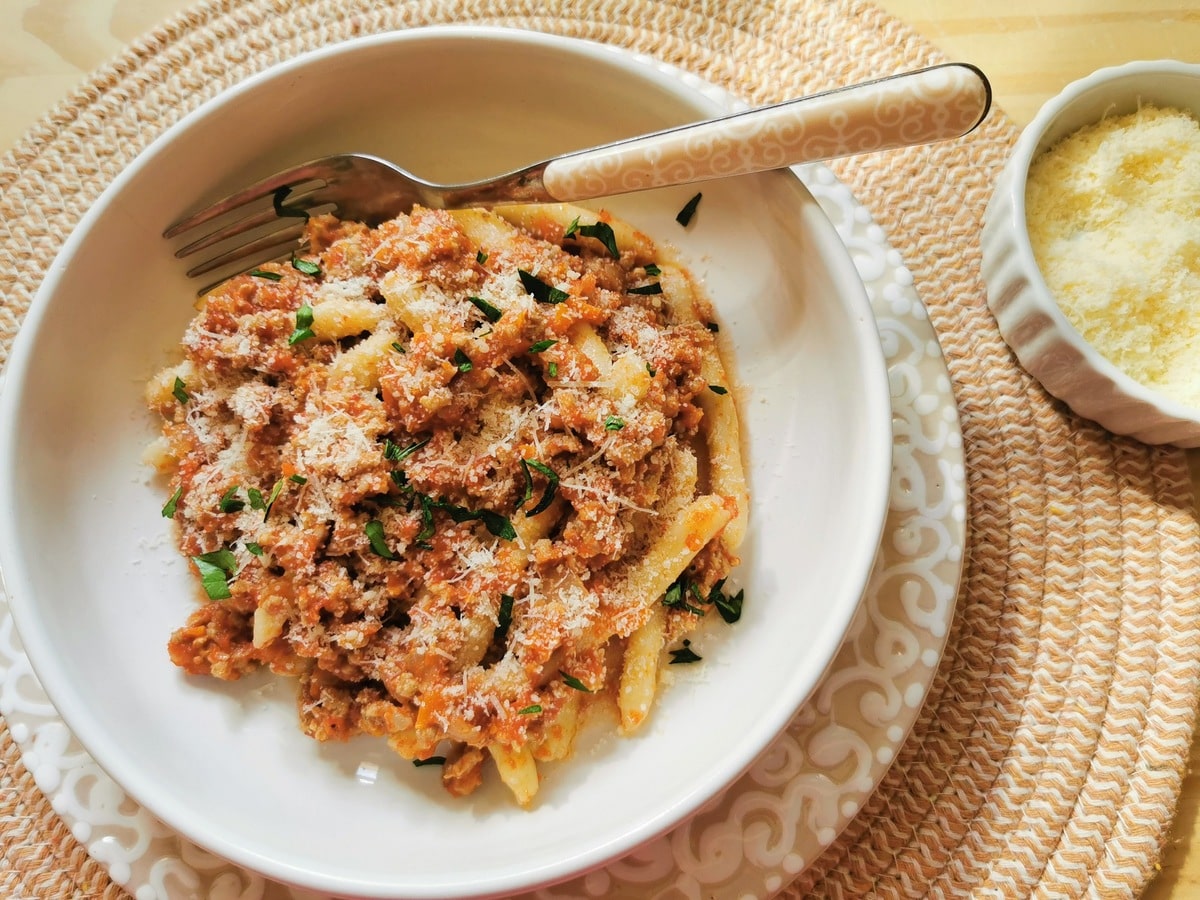 If you do try this veal ragu with homemade maccheroni or your favourite pasta, I'd love to hear what you think. Please write a comment here on the blog or post a comment on the Pasta Project Facebook page.
Your feedback means a lot to me!
Buon Appetito!
Pin for later!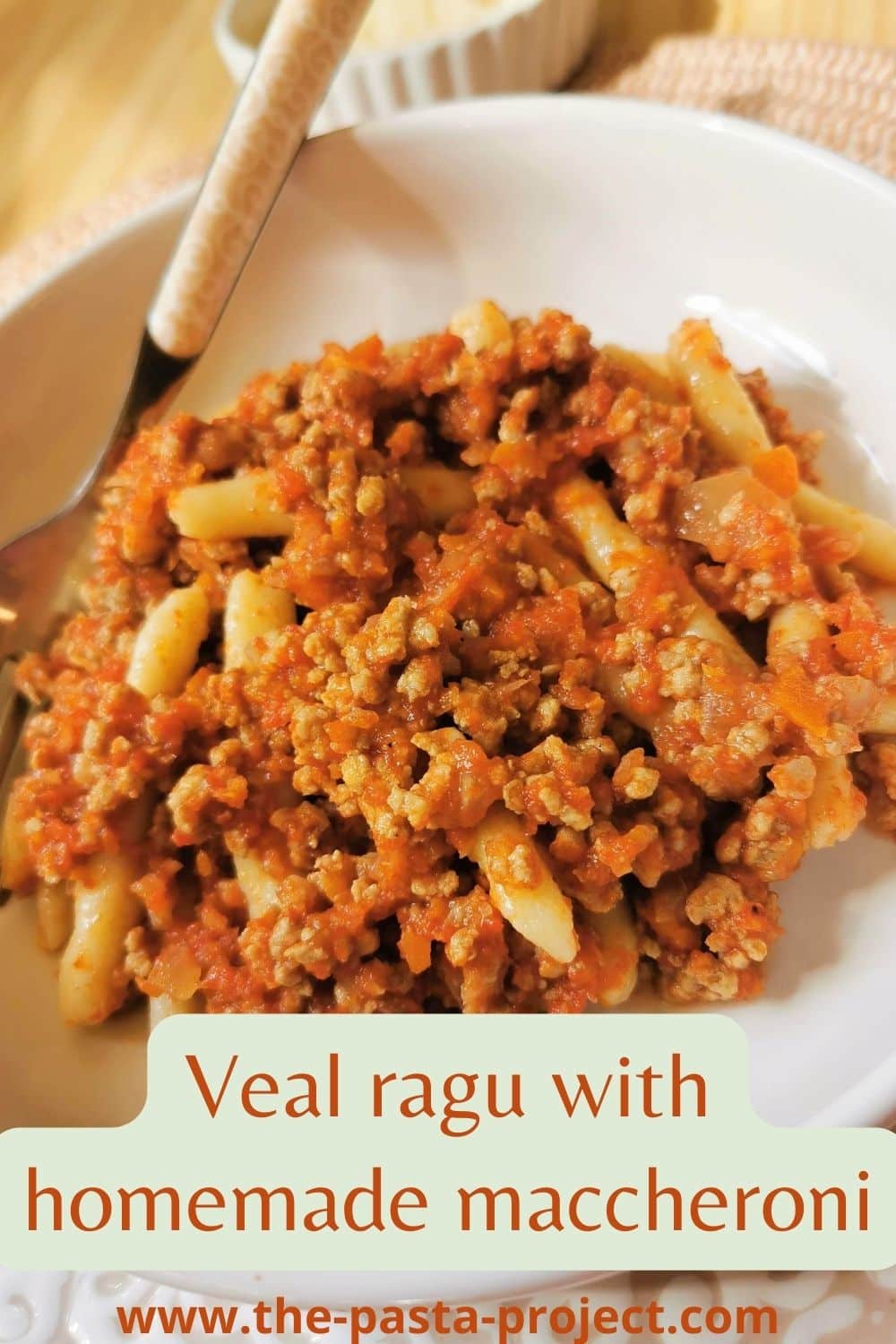 Other ragu recipes to try.
If you are interested in learning how to make other homemade pasta and different types of gnocchi, check out my shop page for some great video online courses from my friends in Rome!
Nothing beats learning to make pasta from Italians! Plus, while you're there, why not order a copy of one of my pasta recipe cookbooks or check out some recommended pasta-making tools?