Italian asparagus pasta recipe from Northern Italy.
This Northern Italian asparagus pasta recipe is a delicious version of a typical Venetian way to combine asparagus with pasta.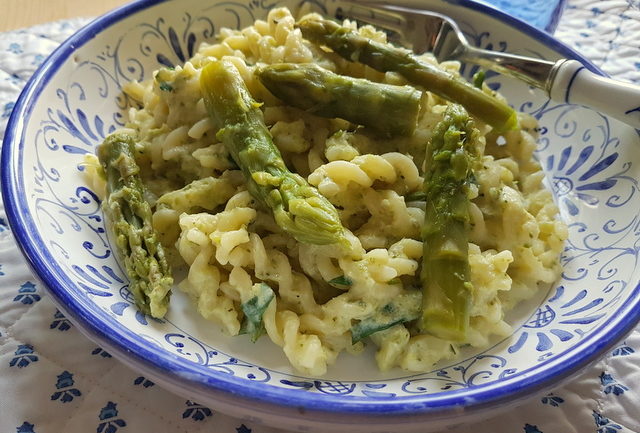 Eliche alla crema di asparagi
Here in Veneto, Northern Italy, asparagus are a major player in the spring kitchen.  This is not surprising given that this region grows the most asparagus in Italy. Roadside asparagus sellers are a common sight during the season and asparagus fields abound. Needless to say, there are lots of local recipes for asparagus. However, the most popular ways to serve them are in soup, risotto or with pasta.
Scroll down for recipe instructions.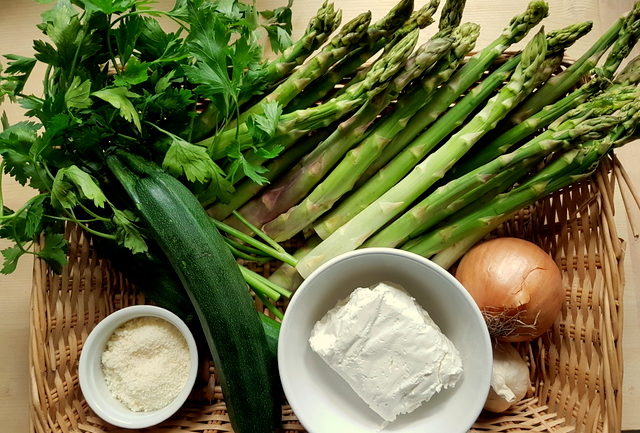 Asparagus; white, green or wild?
Did you know that people have been eating asparagus since 3,000 B.C? The ancient Greeks, Egyptians and Romans loved them. The Romans even froze asparagus by transporting lots into the Alps and storing them there! Of course, now we don't need to freeze asparagus in the mountains. We have fridges, freezers and other ways of preserving them.
The Romans even froze asparagus by transporting lots into the Alps and storing them there!
But, in reality, fresh farmed or wild asparagus are what you will find the most on Italian menus. Like many other seasonal Italian ingredients, asparagus are rarely eaten here when not in season.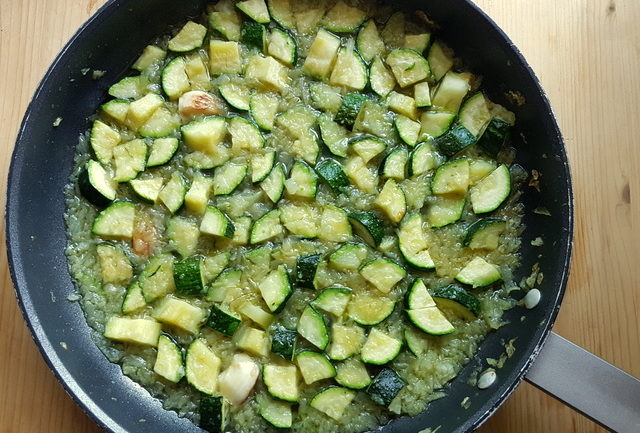 Italy is the biggest producer of green asparagus in Europe and the third of white. Both white and green are used in local recipes. I like both types. Some Italian recipes can be made with either and some with both. Others specifically call for green or white or wild asparagus. This Italian asparagus pasta recipe is best made with fresh or wild green asparagus.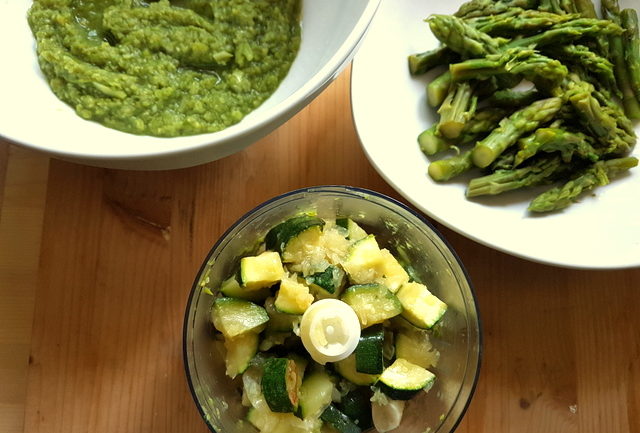 Wild asparagus grow all over Italy and are a popular foraged food. They are most often just boiled and eaten as a side dish or served in frittata. But Italians also use them in risotto and with pasta. Like many other wild versions of edible plants, wild asparagus are much smaller than their farmed cousins. However, they have a more pronounced 'asparagus' flavour.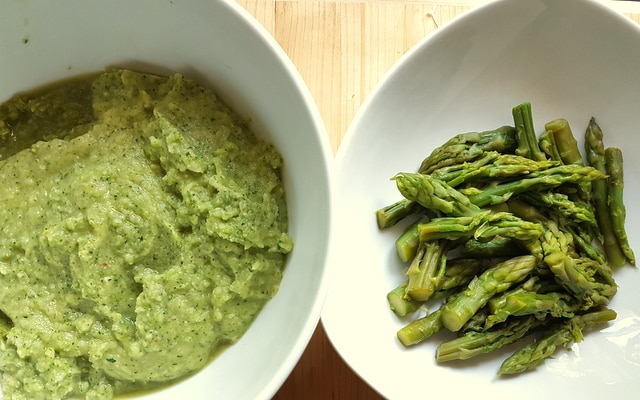 Other ingredients in this Italian asparagus pasta sauce.
Alongside the asparagus, I used garlic, parsley, zucchini and an onion to make the base sauce for this Italian asparagus pasta. Then, I creamed the sauce in a blender in two stages. First the asparagus then the base sauce ingredients. I mixed them together and, finally, melted some Robiola and Parmigiano cheese into it. (vegetarians will need to use a hard cheese made without animal rennet). Divine! In fact so good, you can just eat the sauce with bread!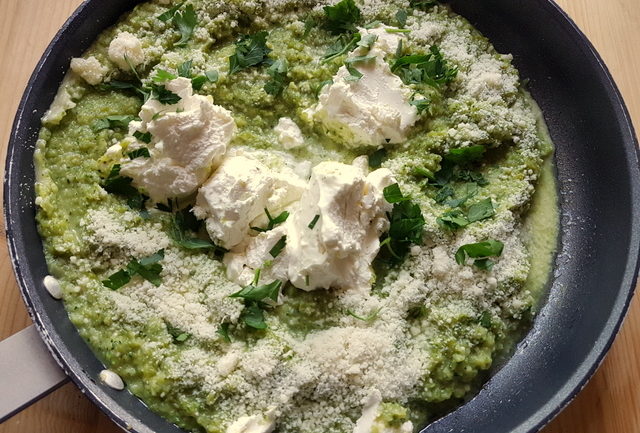 Robiola cheese
Robiola is a fresh soft cheese similar to stracchino. It comes from Piedmont, originally the Langhe region. It is popular throughout the North. Robiola is usually made from cow and/or goat cheese, depending on the type of Robiola. It's wonderful with bread and honey! This cheese is often added to risotto or pasta dishes. It melts well and gives the dish a thick creamy texture! If you can't find Robiola, you can use Stracchino or a good cream cheese.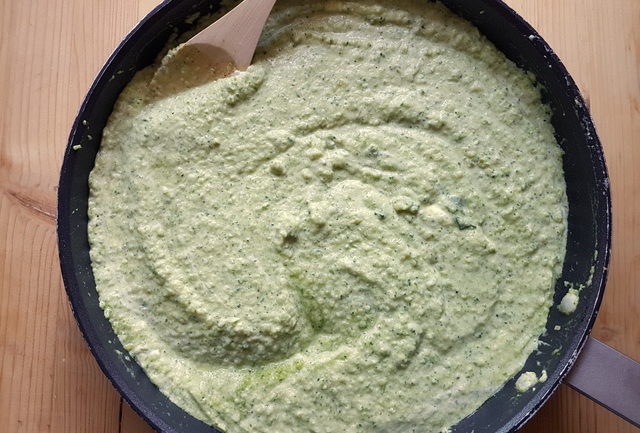 The Pasta
Traditionally penne or fresh long pasta such as tagliatelle are the most popular pasta partners for Italian asparagus pasta recipes. But, other short pasta types go really well too. I used eliche. Eliche, meaning spiral or propeller, is really another name for fusilli. However, the pasta I used was smaller than most fusilli and the spirals not as tight.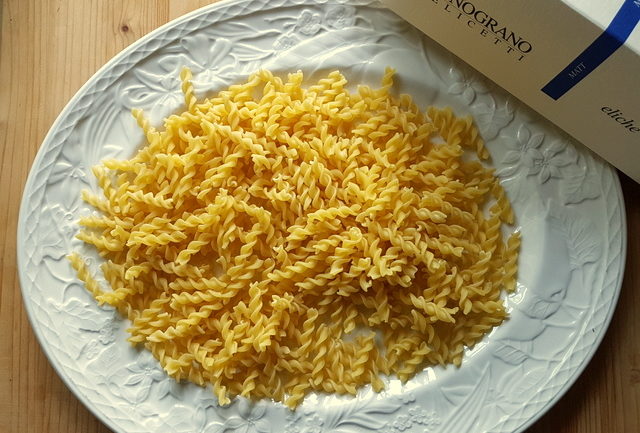 It was made by a pasta company called Pastificio Felicetti located in Trentino. This pasta is part of the company's Monograno range and was made from organic Matt durum wheat from Puglia. The Felicetti pasta factory is in Predazzo, a town 1,000 metres above sea level. They make their pasta with natural mountain spring water.
This was my first time cooking with this brand of pasta. But, it won't be my last. The pasta was tasty and held together really well with cooking. You'd be surprised how often I come across artisan pasta that falls apart when boiled!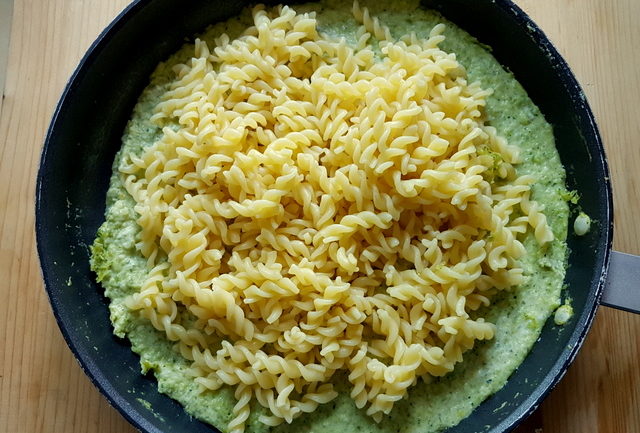 If you find Felicetti pasta (they export to many countries), I suggest you try it. I don't think you'll be disappointed. (This my opinon. I have no connection with this company!).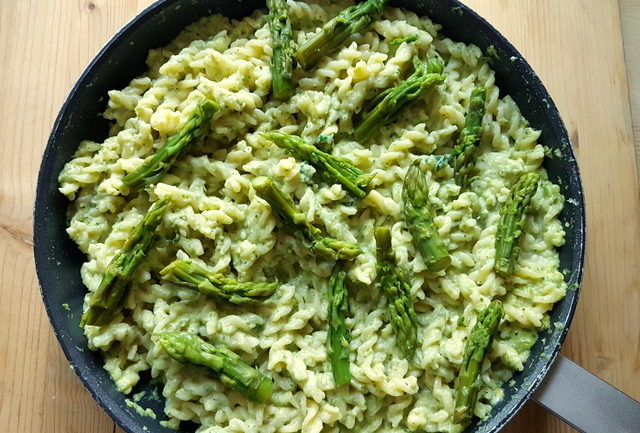 If you make this asparagus pasta recipe, I'd love to hear what you think. You can comment and rate this recipe here on the blog or on The Pasta Project Facebook page. Looking forward to hearing from you!
Buon appetito!
Other pasta recipes with asparagus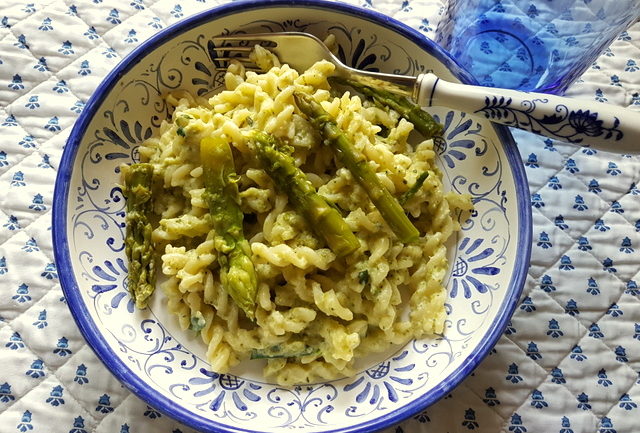 This recipe was first published in 2018 but has been updated.
Save this recipe for later!
To save this recipe for later, you can print it, bookmark this page or save it to Pinterest.
Pin for later.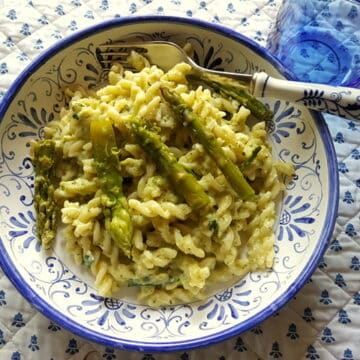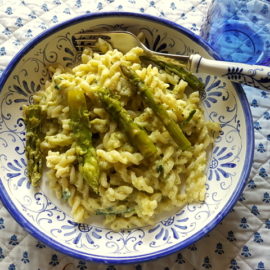 Italian asparagus pasta recipe from Northern Italy
A Northern Italian asparagus pasta dish that is so delicious and creamy, you'll wish asparagus season lasted longer!
Ingredients
320

g

fusilli or eliche pasta

(11-12oz)

400

g

fresh green asparagus

(14oz) washed and stalk ends removed

1

onion

peeled and finely chopped

1-2

garlic cloves

peeled

1

handful

fresh parsley

1-2

zucchini

200

g

robiola cheese

(7oz) you can also use stracchino or cream cheese

50

g

Parmigiano Reggiano

(2oz) grated (for vegetarians use a hard cheese made without animal rennet)

salt

for pasta/asparagus and to taste

black pepper

to taste

4

tbsp

extra virgin olive oil
Instructions
Peel the garlic and onion and chop the onion finely. Wash the asparagus and break off the hardest part of the stalks. Chop the parsley and cut the zucchini into small cubes.

Heat the olive oil in a large frying pan or skillet ( big enough to hold the pasta and sauce later)

Add the onion and garlic and soften for 5 minutes.

Add the zucchini cubes to the garlic and onion with a ladle of water and a pinch of salt, mix and then cook covered over a moderate flame for 10 minutes.
Cook the asparagus
In the meantime, cook the asparagus in plenty of salted water for about 10 minutes (until al dente/ still a bit firm). When they are ready, drain them but keep the cooking water to be used to cook the pasta in.

Now cut the asparagus in two, keeping the spears aside. Blend the asparagus stalks with a little of the cooking water in a food processor or blender. Put the blended asparagus in a bowl.
Finish the sauce
Then blend the mixture of zucchini, onion and garlic. Mix the 2 sauces together in and return the sauce to the frying pan.

Add the robiola, some of the Parmigiano (or other hard cheese) and most of the parsley. Mix everything on a low heat until the robiola has melted. Add salt and pepper to taste and some of the asparagus spears. 

You can make the sauce more creamy with a few tablespoons of the pasta cooking water once the pasta has been cooked if you want to.
Cook the pasta
If necessary add more water to the asparagus cooking water and bring to the boil. Cook the pasta in this water until al dente according to the instructions on the packet.
Finish the dish
Drain the pasta and add it to the asparagus sauce. Mix the pasta and sauce together well and serve with the remaining asparagus spears, more grated cheese, black pepper and a sprinkling of chopped parsley. 
Notes
This recipe can also be made with other short pasta such as penne.
If you can't find robiola cheese you can also use stracchino or cream cheese.
Want to know more about my life in Italy? Go to the homepage and subscribe to my newsletter. New subscribers get a free recipe e-book too! https://www.the-pasta-project.com
Pin for Later.