Garganelli Pasta with Romagna Shallots and Guanciale
Pasta with Romagna shallots is a traditional dish in Emilia-Romagna, where delicious Romagna shallots are cultivated. It's easy to make and of course you can use other types of shallots too!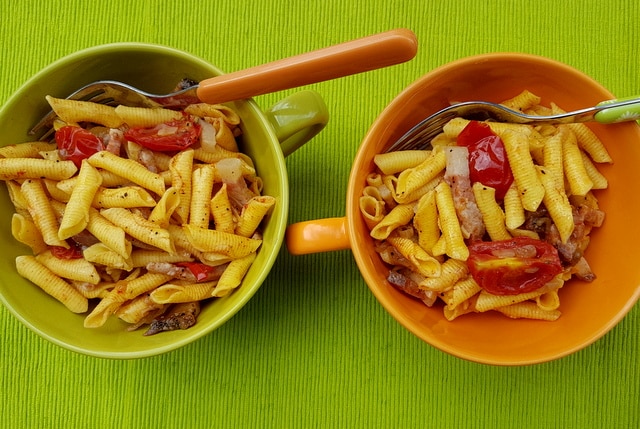 Garganelli con scalogno di Romagna é guanciale.
One of the many things I love about Italy is that every Italian region is well-known for the cultivation, production and processing of certain foods. Some products or crops are particular to only one or two regions (think Gorgonzola cheese). Others are grown or produced mostly only in the South (tomatoes) or the North (risotto rice). A few can be found throughout almost all the Italian peninsula (olive oil).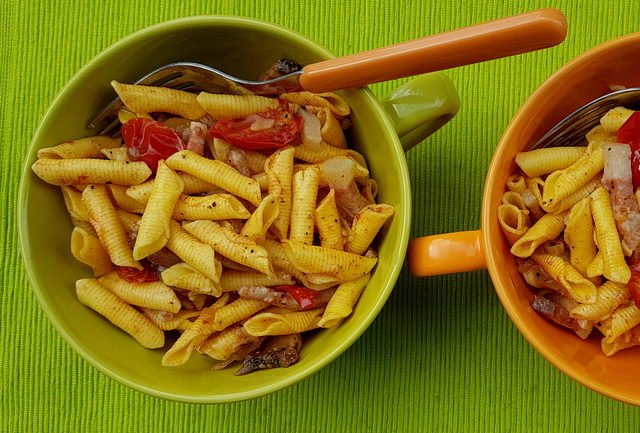 The Emilia-Romagna region produces quite a number of these well-loved foods. Most Italian food lovers will know Parmiggiano Reggiano , balsamic vinegar from Modena or Prosciutto di Parma (Parma ham). But, this region is also famous for vegetables such as asparagus, garlic and shallots. The latter known as Scalogno di Romagna (Romagna shallots) are a type of shallot that is grown in only 3 areas in Emilia-Romagna; in the provinces of Bologna, Forli and Ravenna.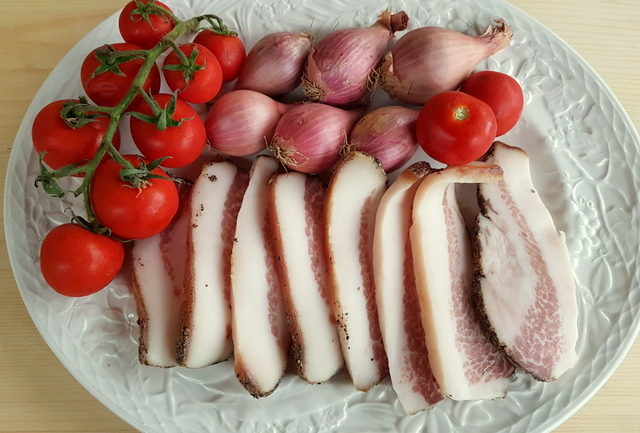 Romagna Shallots.
The Scalogno di Romagna is a pear-shaped shallot that is said to have originated in Palestine. However, shallots have been cultivated in Italy for 5,000 years. Apparently the ancient Romans liked them! The Romagna shallot is a purplish white color. But, it is wrapped in an external skin of different colors,from copper to reddish brown. The taste is definitely particular, stronger and more fragrant than that of an onion and sweeter than garlic. This makes it very versatile on a gastronomic level. In fact, it's used a lot in the regional cuisine and often included in pasta recipes like this garganelli pasta with Romagna shallots and guanciale (pork cheek/jowl).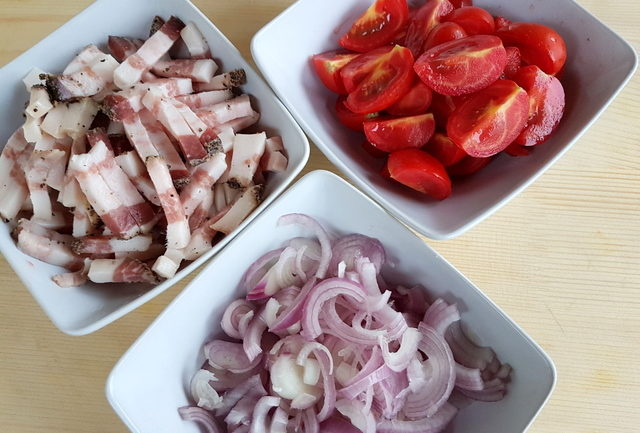 The Pasta.
For this recipe, I used dried garganelli pasta. This is a typical ancient type of pasta from Emilia-Romagna as well. It's actually one of my favourite types of short egg pasta. You can read about the history of this pretty pasta in my post on garganelli. However, other pasta types are also used with shallot based sauces. You can find these dishes made with flat egg pastas like tagliolini, known as curzul in the local dialect, or tagliatelle another well-known Emilia-Romagna food product.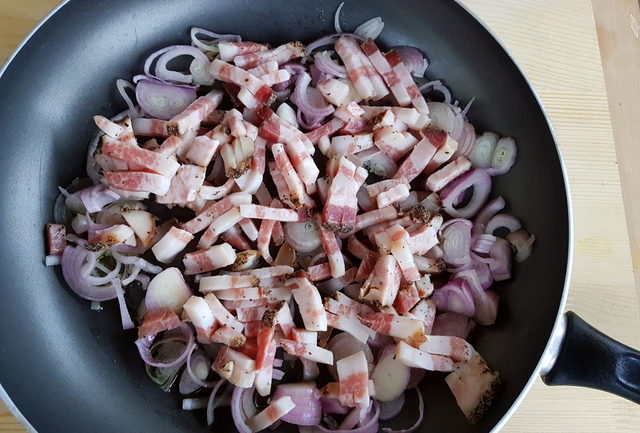 Pasta with Romagna shallots.
There are a few different versions of pasta with Romagna. shallots. However, they are all quite similar. Some include tomatoes, especially if made without meat. In fact, the simplest version is made with just pasta, Romagna shallots and tomatoes! Other versions usually include pancetta or guanciale with or without tomatoes. I used tomatoes and guanciale, which you can substitute with pancetta.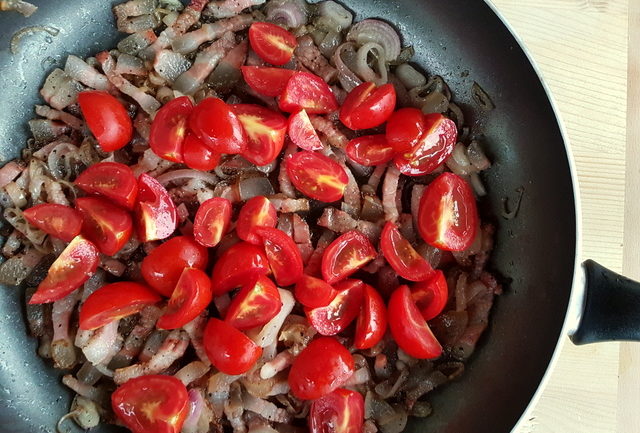 What is the difference between guanciale and pancetta?
You may ask what is the difference between pancetta and guanciale. Firstly, price and availability. Pancetta is usually easier to find and costs less (even here in Italy). But, both are unsmoked cured pork. Pancetta comes from the belly and guanciale from the jowl or cheek. Guanciale definitely has a stronger taste. However, it's softer and more delicate and the fat often melts away giving more flavour to the dish. Having said that, pancetta is delicious too and better if you want crispy pieces in your dish!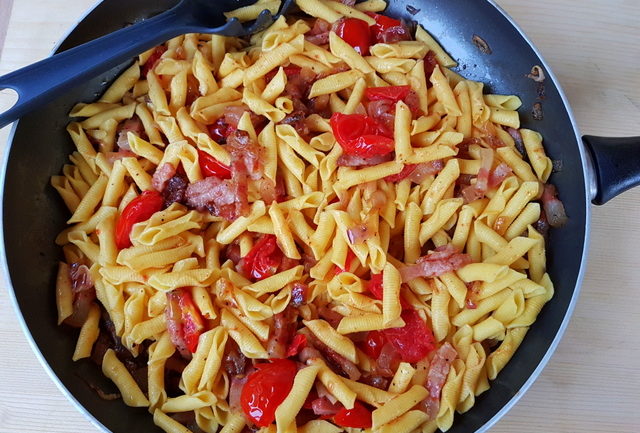 Making this pasta with Romagna shallots.
Although this dish is traditionally made with Romagna shallots you can use other types of shallots. Look for sweet ones. I wouldn't recommend onions though! Apart from the shallots, tomatoes, and guanciale (pork cheek/jowl) or pancetta all you need is some EVO, white wine, grated Parmesan and, of course, the pasta!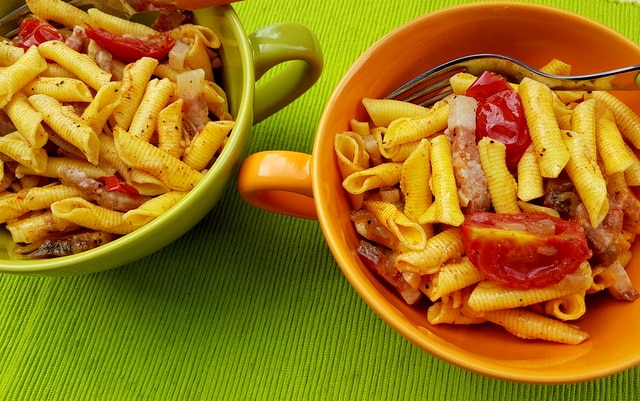 This is another quick and easy recipe that can be made in almost the time it takes to boil the water and cook your pasta. Perfect for weeknights and when you don't want to spend much time in the kitchen! Like many other simple Italian pasta recipes, garganelli pasta with Romagna shallots and guanciale is incredibly tasty despite the few ingredients. I'm sure you'll agree once you try it!
If you make this pasta with shallots recipe, I'd love to hear how it turns out and if you liked it. So, please leave a comment here on the blog or on The Pasta Project Facebook page.
Looking forward to hearing from you!
Buon appetito!
Some other pasta recipes from Emilia-Romagna
Save this recipe for later?
If you want to save this recipe for later, you can print it, bookmark this page or save it to Pinterest.
Pin for Later!