Pasta alla zingara is a creamy North Italian recipe full of colourful fresh ingredients cooked in different stages and them combined with garganelli pasta to create a mouthwatering and beautiful dish.
(scroll down for recipe)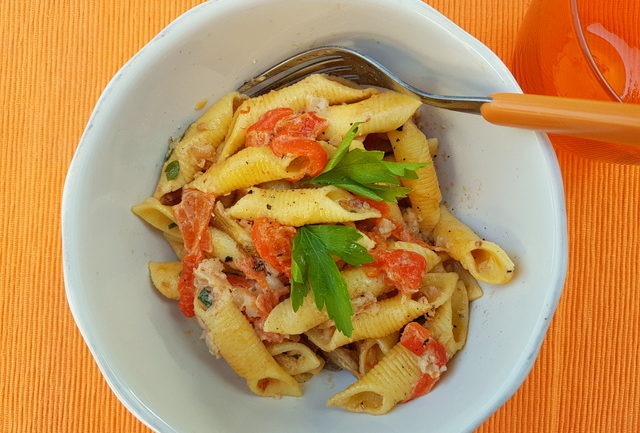 'Alla zingara' means gypsy style pasta in Italian. I'm not really sure about the origins of this condiment and it seems there's more than one way to make pasta alla zingara in Italy. However, whilst researching popular recipes for garganelli pasta, I came across this recipe on a number of Italian recipe sites and food blogs.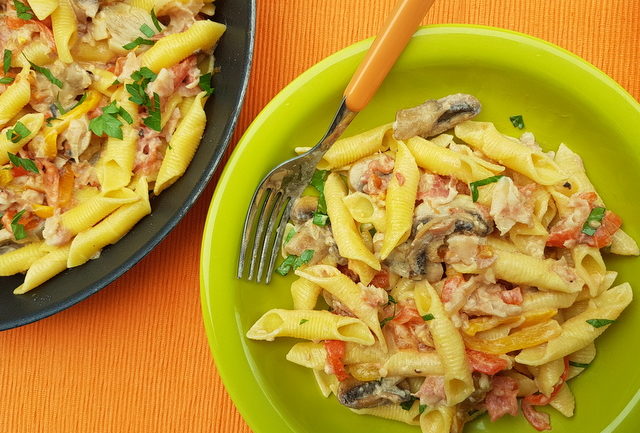 Garganelli pasta originated in Emilia- Romagna and it seems, this version of pasta alla zingara is more Northern Italian than Southern. Southern alla zingara recipes include olives, capers and sometimes anchovies and/or mozzarella. This Northern alla zingara is more colourful and includes pancetta, red, yellow and green bell peppers, mushrooms and cream. I imagine gypsy style to refer to something colourful. So,to my mind, the name 'alla zingara' suits this version better!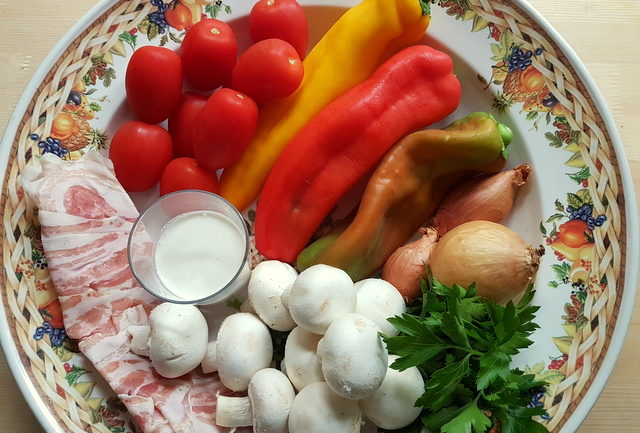 The Pasta
As I mentioned before, garganelli is a traditional pasta from Emilia-Romagna, where it is still often made by hand. This is an ancient egg pasta that dates back to the 1700s, or some think even earlier. It was apparently born out of the need to make use of leftover cappelletti pasta dough squares, when the filling for the cappelletti had run out!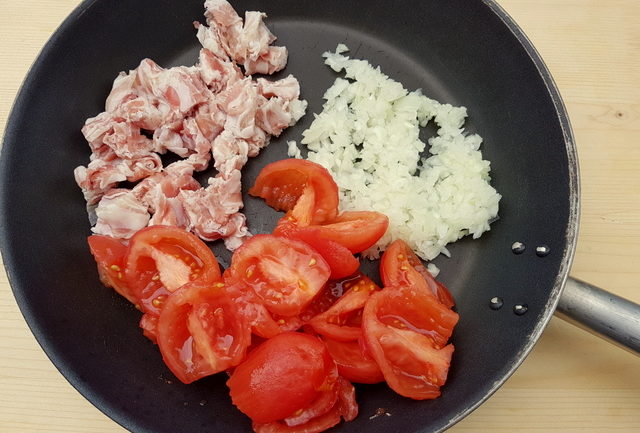 Cappelletti are small hat shaped filled egg pasta also from Emilia-Romagna. I haven't featured this pasta shape here on the Pasta Project blog. But it's definitely on my list! In the meantime, there are a couple of lovely stories about the origins of garganelli. You can read them on my feature post about this super pasta.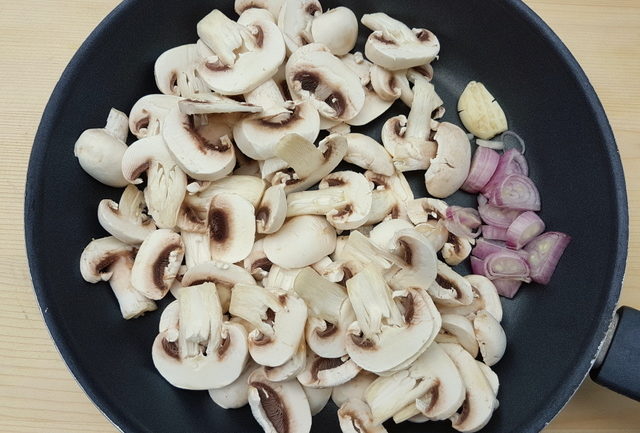 Garganelli pasta is available dried in Italy and abroad. But, if you can't find it and don't want to try your hand at making your own, other short pasta like penne, rigatoni, fusilli or farfalle would be just as delicious in this pasta alla zingara recipe, I'm sure.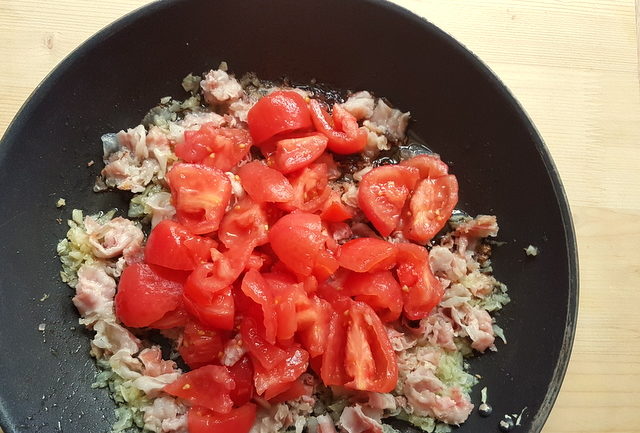 The Pancetta
This recipe calls for pancetta tesa. This is a variety of pancetta (Italian bacon) that takes its name from the fact that the piece of meat from which it is obtained (the lean part of the belly of the pig) is seasoned in its original shape, unlike classic pancetta that in Italy has a circular roundish shape.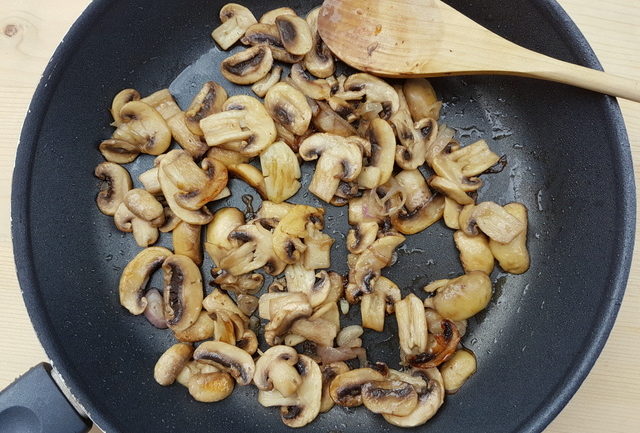 Pancetta tesa is rectangular like a brick with blocks or layers (tesa) of red-pink and white stripes. It's melt in the mouth delicious and often eaten like ham as part of a charcuterie board. Of course, you can use other types of pancetta. Nowadays, it's common to find smoked or sweet pancetta ready cut in cubes or lardons in small packets. I often use this type of pancetta too.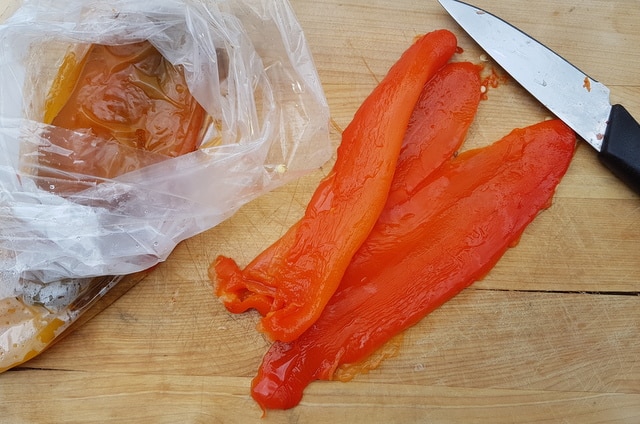 Other ingredients for pasta alla zingara
Apart from the pancetta, peppers, mushrooms and cream, I have already mentioned, this pasta alla zingara also has tomatoes, garlic and two kinds of onions (normal yellow onion and a shallot). Two kinds of onions is unusual in Italian pasta recipes, as is the fact that the ingredients for this one are cooked in 3 different stages before being added together and mixed with the pasta.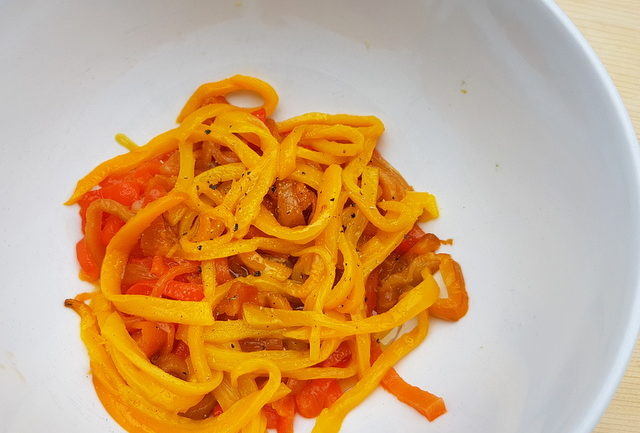 The bell peppers are roasted or grilled and then peeled and marinated for a while. The mushrooms are cooked with garlic and shallots. The onions, tomatoes and pancetta are cooked together before being mixed with the other ingredients.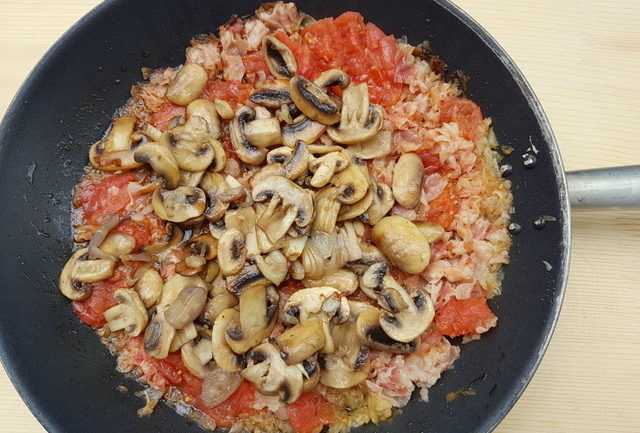 Superlicious but not fast
As you may imagine, this is not a quick recipe. I suppose you could cut corners and just cook everything together. However, I don't think it would taste so good! Yes, the final dish was so tasty and flavourful. I was actually quite surprised by how delicious it was. If you don't mind dedicating a little more time to your next pasta meal, I suggest you try this recipe. I'm sure you'll love it!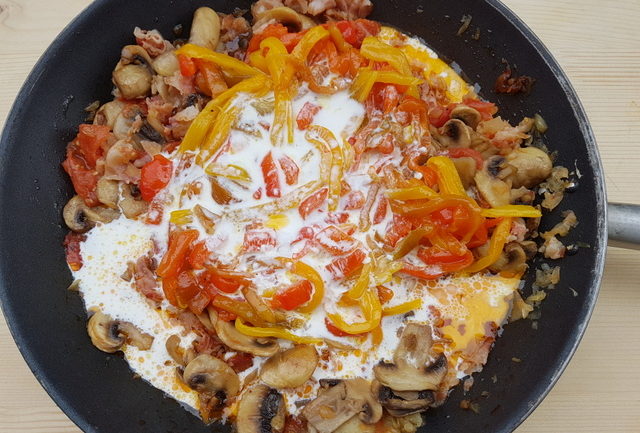 If you make this recipe I'd love to hear how it turns out and if you liked it. Please leave a comment here on the blog or on The Pasta Project Facebook page. Looking forward to hearing from you.
Buon appetito!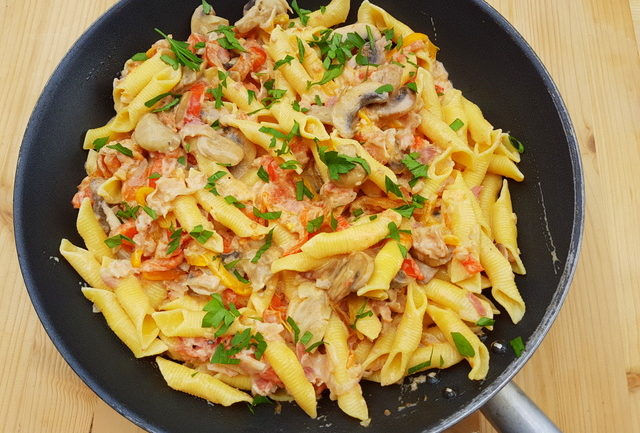 Save this recipe for later?
If you want to save this pasta alla zingara recipe for later, you can print it, bookmark this page or save it to Pinterest.
More Recipes You May Like
Pin for Later