Spinach tagliolini pasta with chanterelles and speck. Recipe from Trentino-Alto Adige.
I actually have another version of pasta with chanterelle mushrooms and speck here on the Pasta Project, which I published in 2017. However, my sister came to stay recently and I wanted to make this recipe for her. This time, I used another type of pasta and I have to say the taste was pretty different too.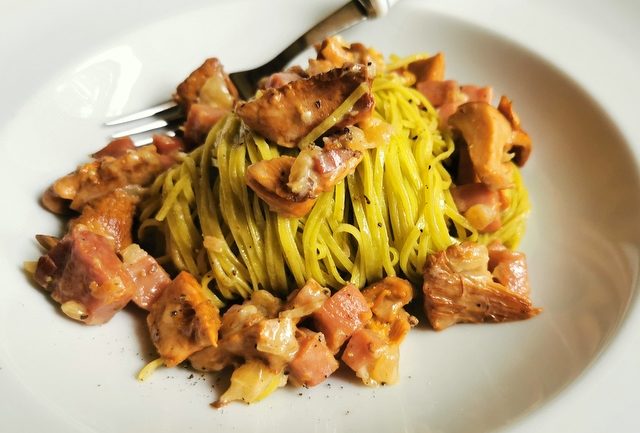 Tagliolini verde con finferli e speck.
It's amazing how using another type of pasta can change the flavours and texture of a dish, especially when the pasta is made with different ingredients. It's difficult to decide which I prefer! This version is made with fine delicate spinach tagliolini. The other, I cooked with schüttelbrot tagliatelle, a strong flavoured robust tagliatelle made with rye bread.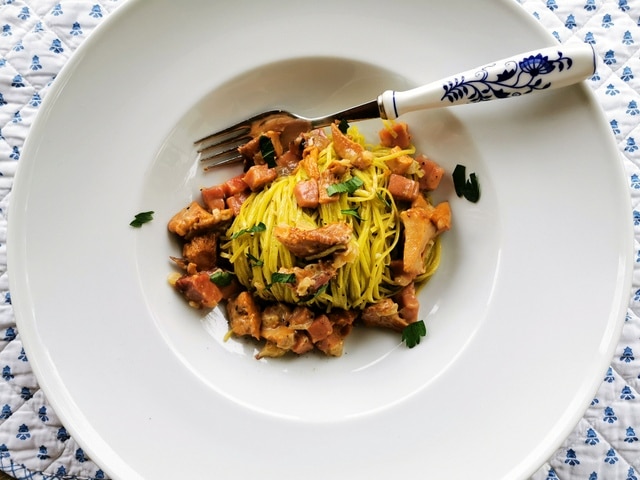 Chanterelle mushrooms in Italy.
Known as gallinacci, galletti or finferli in Italian, chanterelles are one of the most popular wild mushrooms in the Italian kitchen. I'm not much of a wild mushroom expert! My hubby is the one who leads our mushroom hunting expeditions! However, I know that there are different species of chanterelle mushrooms in different parts of the world.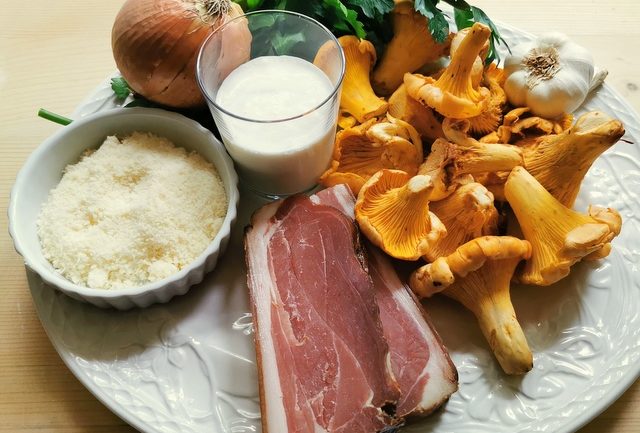 The mushrooms I used in this spinach tagliolini pasta with chanterelles and speck were golden chanterelles (cantharellus cibarius). These mushrooms actually seem to be worth their weight in gold! They are golden in appearance, golden in taste and golden in price if you buy them!
However, the high price is probably justified by the fact that the chanterelles you find for sale have been foraged. People have tried to cultivate these mushrooms. But, to date, they have not been very successful.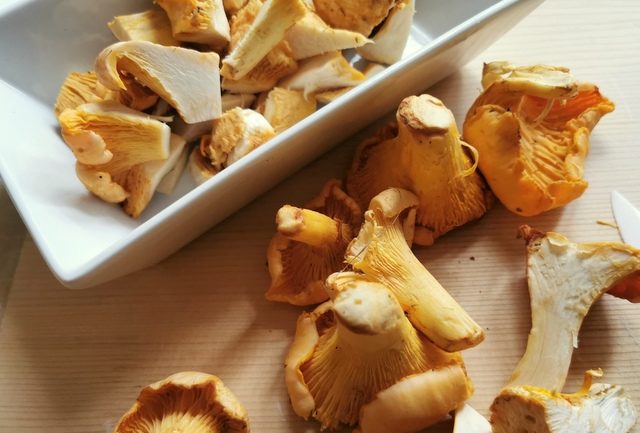 If carefully collected, chanterelles grow in the same places year after year. So, although they are not farmed, they are easier to find than porcini, for example (if you know where to look).
Here in Italy, the harvest period runs from late spring/early summer until the end of autumn, depending on the area. I bought the mushrooms for this chanterelle pasta. However, we often go foraging for them. And, when we find a lot, we like to dry them for future use.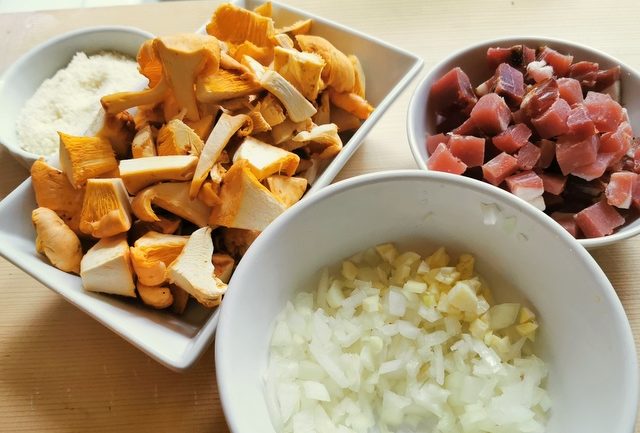 Are chanterelles good for you?
Chanterelles are the most nutritious of mushrooms. They are also very low in calories. In fact, 100g of these mushrooms has only 32 calories when raw. However, they don't taste so good raw and can cause upset stomachs. Chanterelle mushrooms are low in fat and high in vitamin D. They also contain vitamins B1, B3, B5, B6 as well as iron, potassium, copper, manganese and other vitamins and minerals!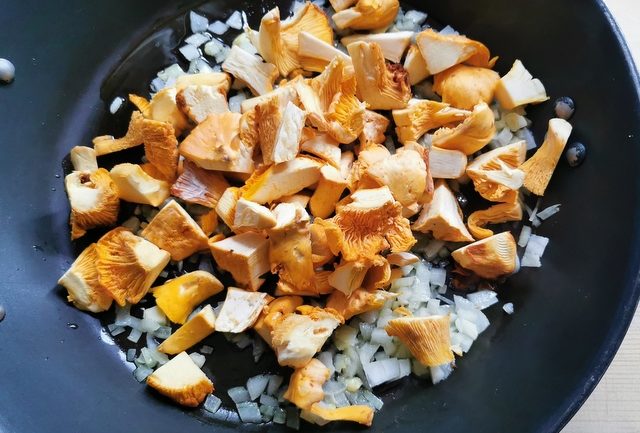 Chanterelle mushrooms in the Trentino-Alto Adige kitchen
In the mountainous Trentino Alto-Adige region, where this chanterelle mushroom and speck pasta recipe is from, chanterelles are a very traditional foraged food. Chefs and home cooks use them both fresh and dried in many different recipes including with polenta, in risotto, in soups, as a side dish and, of course, with pasta. The latter is usually egg pasta ribbons like the tagliolini I used, or tagliatelle.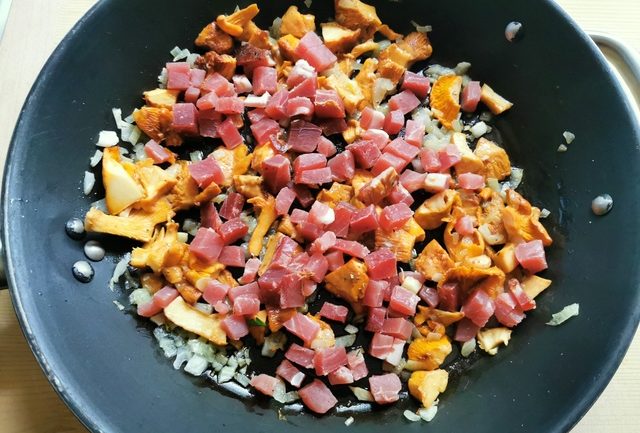 These mushrooms are also cooked and preserved in vinegar or oil for use throughout the year. Plus, they freeze well too. The fact that chanterelles adapt to the most varied recipes and therefore to various types of uses has earned them the nickname 'mushroom parsley' (prezzemolo dei funghi among Italian cooks!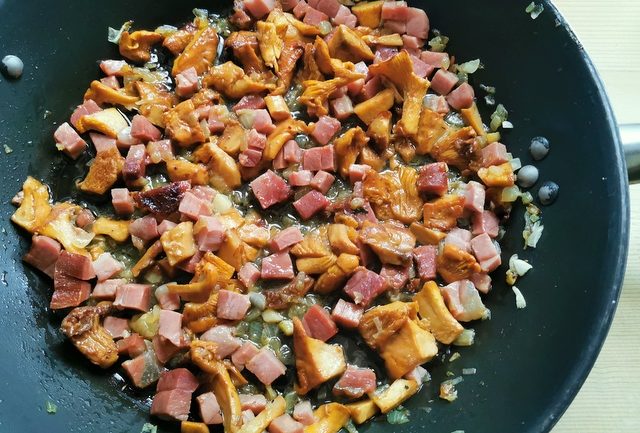 Speck from the Alto Adige (South Tyrol).
Speck is the most well-known pork product from the South Tyrol. In short, it is a distinctly flavored, smoked, cured ham. It has a stronger taste than the more delicate prosciutto made in Parma and San Daniele. In fact, it's really like a cross between bacon and ham.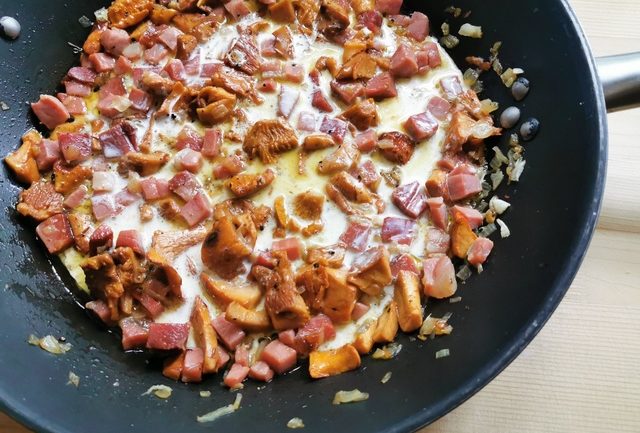 Speck is used in a lot of traditional recipes from Trentino-Alto Adige, for example dumplings (canederli). However, Italians eat it raw like prosciutto too. If you don't have speck, you can also use pancetta for this chanterelle mushroom pasta recipe.
The tagliolini pasta.
As I mentioned above, I used a fine spinach tagliolini for this pasta with chanterelles and speck. Tagliolini is a thin egg pasta ribbon traditional in Northern and Central Italy. You can read more about this pasta in my tagliolini pasta post.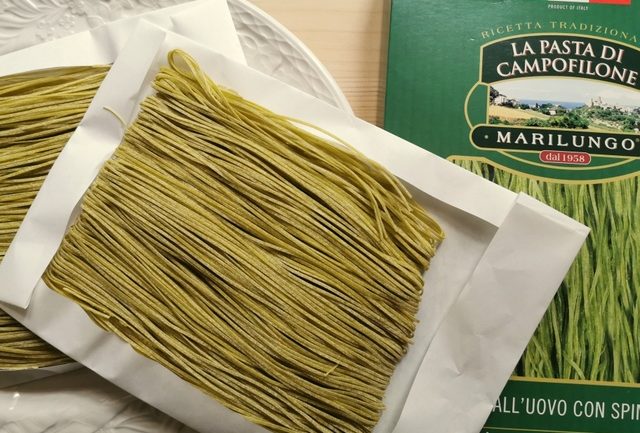 Spinach pasta is very popular in the north too, especially in Emilia-Romagna. It's made by adding cooked and chopped or pureed spinach to the pasta dough. I have yet to make it myself! However, it's top of my homemade pasta to make list!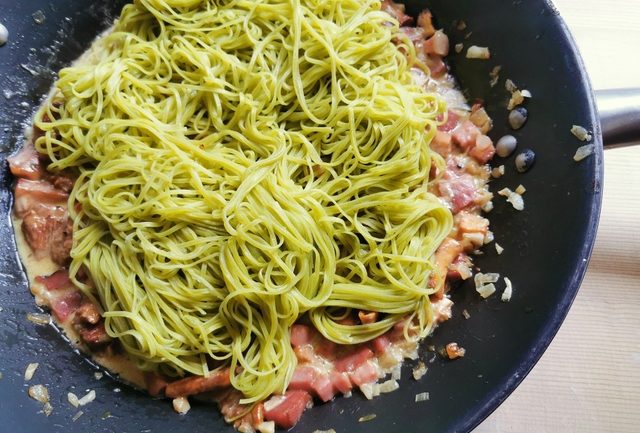 I was given this pasta by a company called Pasta Marilungo during a visit to Campofilone in the Marche region last September. Campofilone is famous for a fabulous fine egg pasta called maccheronicini di Campofilone IGP.
However, Pasta Marilungo produce about 30 different kinds of pasta; long and short shapes, organic pasta and a number of flavoured pastas, including this spinach tagliolini. They make their pasta with Italian wheat from Marche, Tuscany or Umbria and pasteurized eggs from nearby free range farms.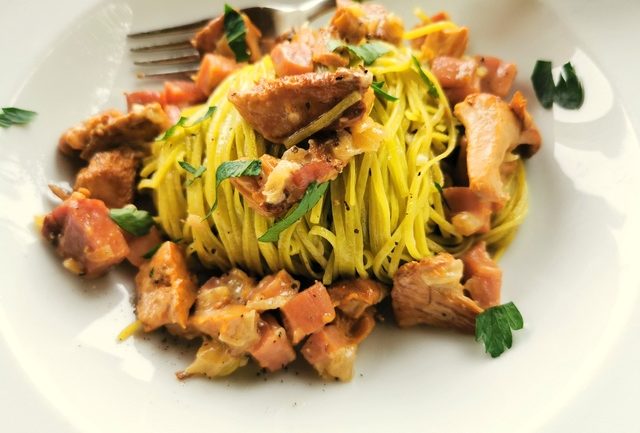 Interestingly, this dried egg pasta loses forty percent of its volume during the slow drying process. It regains its original volume during cooking. So, for my spinach tagliolini with chanterelles and speck, I found 250 g was actually enough for 4 people!
Making tagliolini pasta with chanterelle mushrooms and speck
Apart from the pasta, mushrooms and speck, all you need for this delicious Trentino-Alto Adige recipe is onions, garlic, parsley, cream, butter and grated Parmigiano or Grana.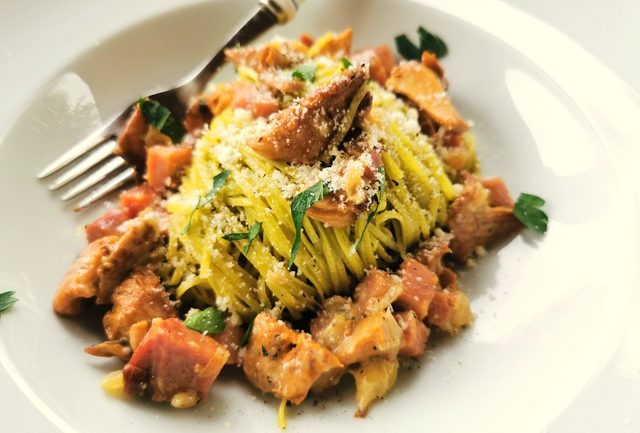 Unlike Southern Italian pasta recipes, Northern Italian recipes often include cream and butter. This is because of the many dairy farms in the this part of the country. However, if you want to make it dairy free, you can use stock instead of fresh cream and olive oil instead of butter.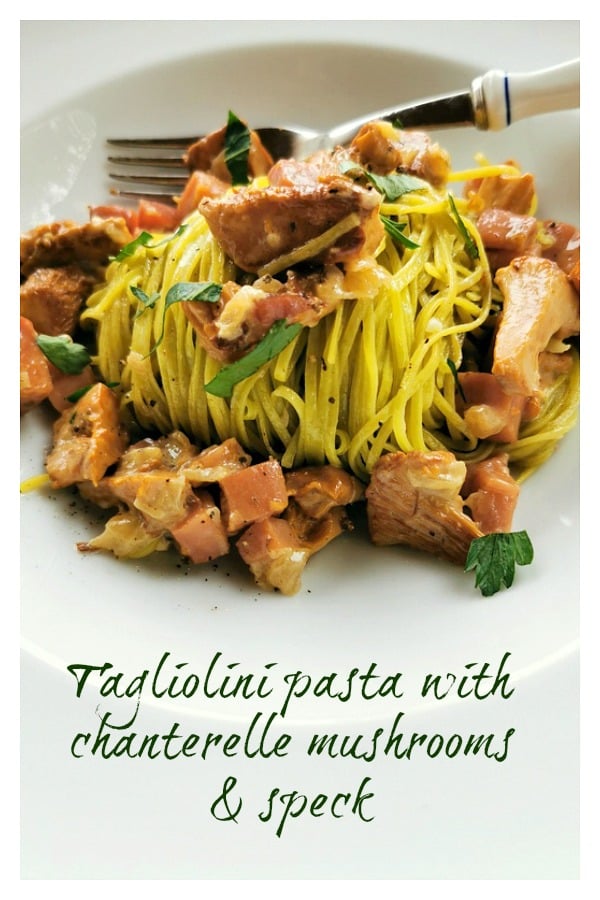 If you don't have the exact same ingredients.
Pasta with chanterelles and speck is a very traditional Trentino- Alto Adige recipe, full of the flavours of that region. Of course, it may not be possible to make it with the exact same ingredients. The mushrooms can be substituted with dried chanterelles or other kinds of fresh mushrooms such as champignons. The speck can be replaced with pancetta. Or, for a vegetarian version just leave out the meat and use a vegetarian hard cheese instead of the parmigiano or grana, which both contain animal rennet.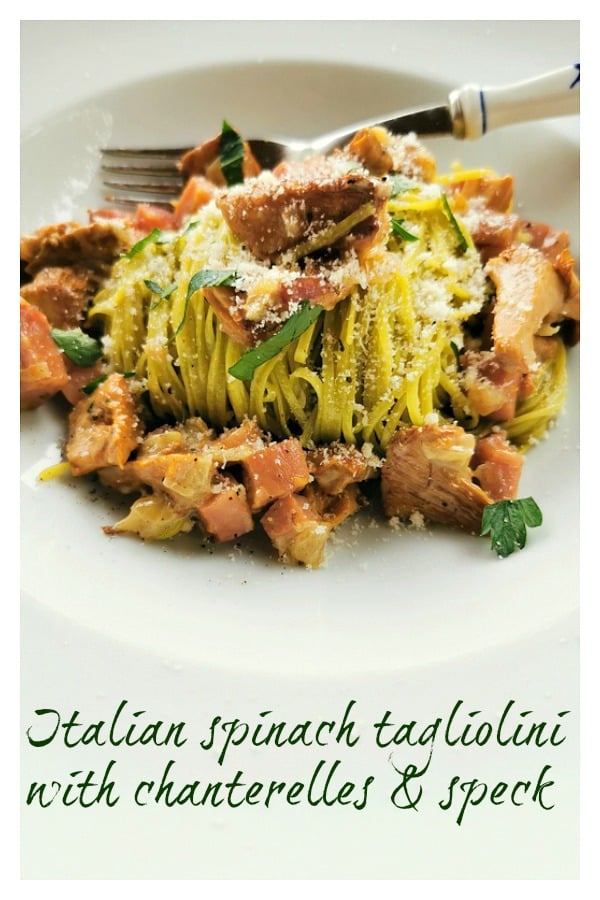 If you make this chanterelle mushroom pasta recipe, I'd love to hear how it turns out and if you liked it. So, please leave a comment here on the blog or on The Pasta Project Facebook page.
Looking forward to hearing from you!
Buon appetito!
Save this recipe for later?
If you want to save this recipe for later, you can print it, bookmark this page or save it to Pinterest.
Pin for later