Casarecce Pasta Caponata
One of the most iconic dishes in Sicilian cooking is caponata. This sweet and sour Mediterranean veggie dish is delicious as a side with both meat and fish and, as in this recipe for casarecce pasta caponata, makes a fabulous pasta sauce! Pasta alla caponata is great warm or as a pasta salad.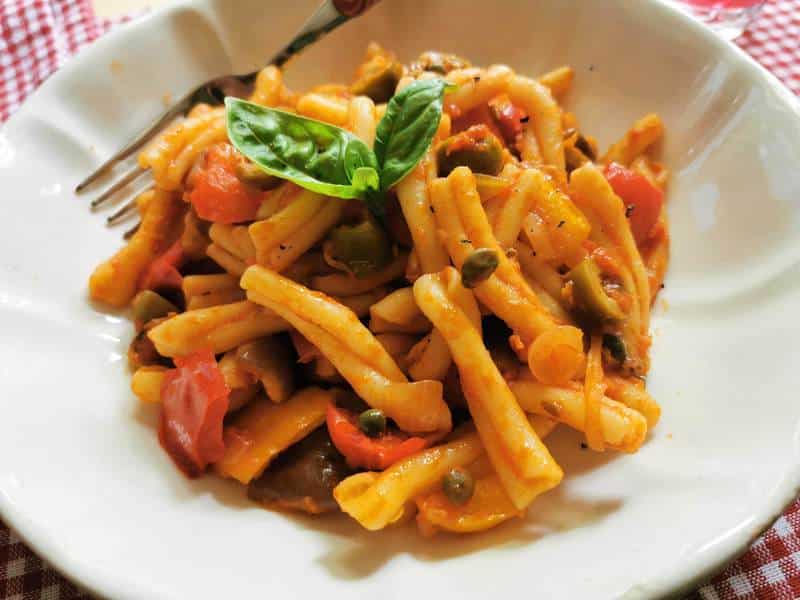 What is caponata?
Caponata is an eggplant based summer vegetable stew that Sicilians often serve as a cold antipasto or a side dish with fish. There are different recipes for this dish throughout Sicily. However, the usual basic ingredients are eggplant, celery, capers, onions, green olives, tomatoes, white wine vinegar and sugar. The latter are what give caponata its sweet and sour flavour.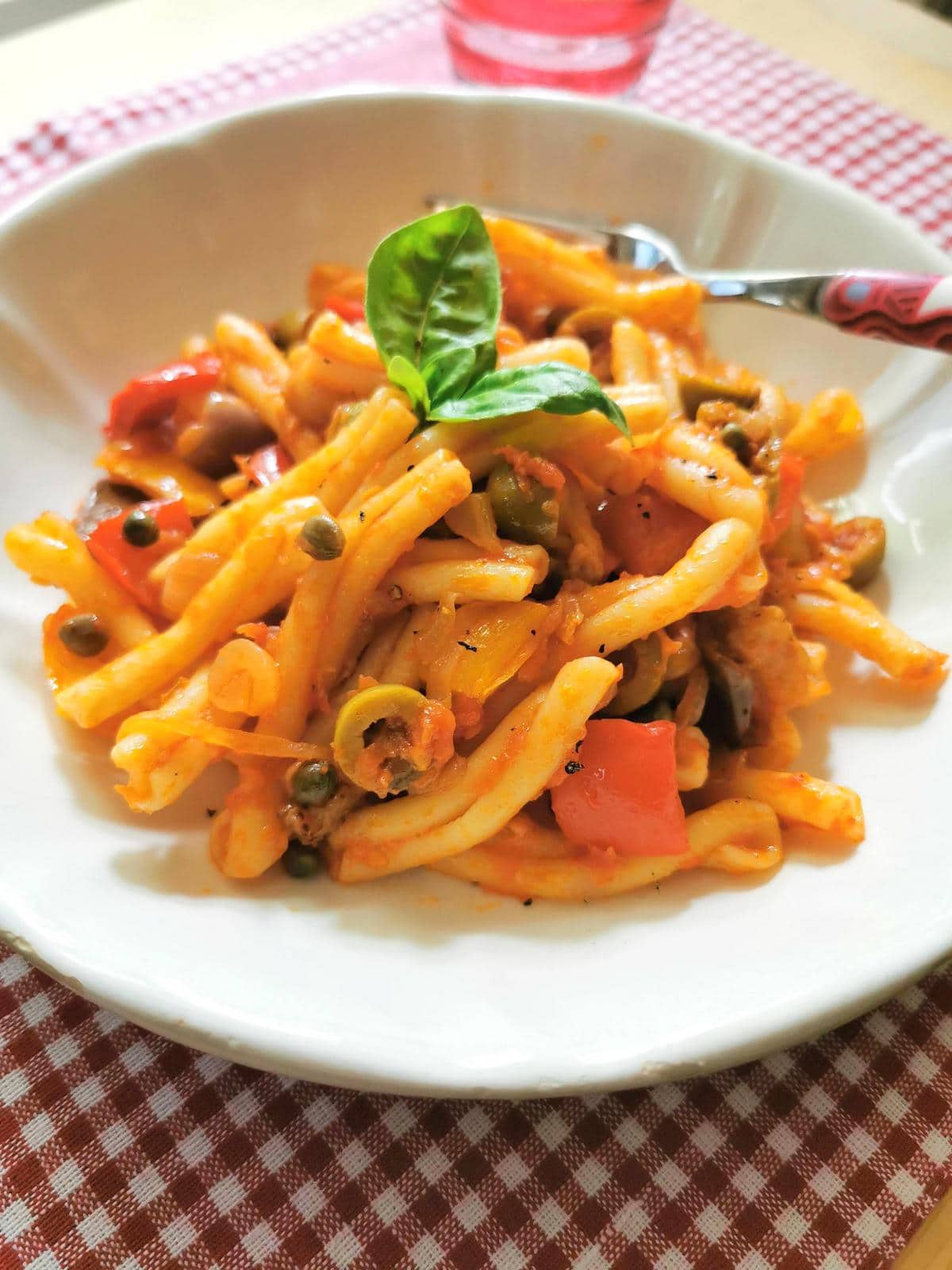 In this casarecce pasta caponata, I have included sweet red and yellow peppers (peperoni in Italian). This is apparently typical of the versions from Trapani and Catania. However, some recipes from Catania include peppers but others don't!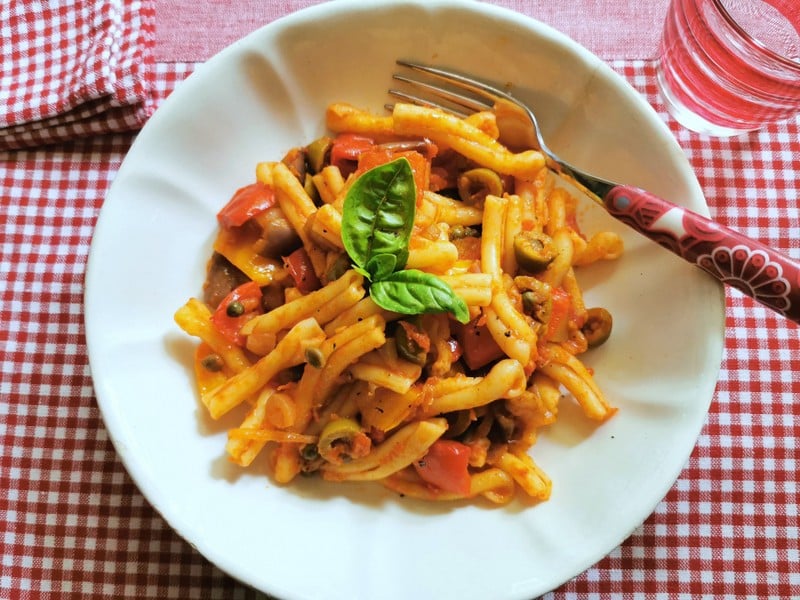 Other caponata recipes call for pine nuts, almonds, raisins, potatoes or garlic or fish. There are even versions with cocoa powder! Sicilians say there are more than 30 versions of this dish on the island!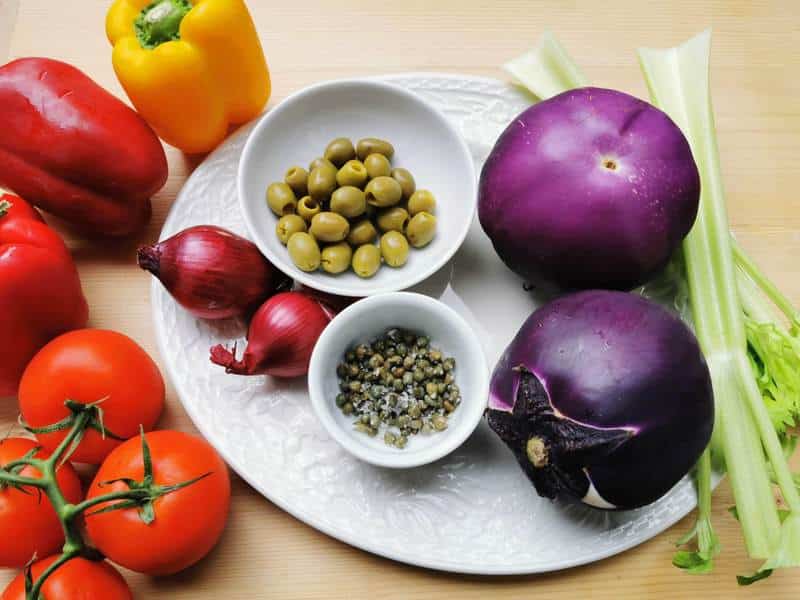 A little caponata history.
Sicilian caponata is similar to French ratatouille. However, according to food historians, caponata is older than ratatouille. In fact, caponata first appeared in written sources in the early 1700s. Some people believe the Spanish introduced this dish to Sicily. Others think it has Arab origins.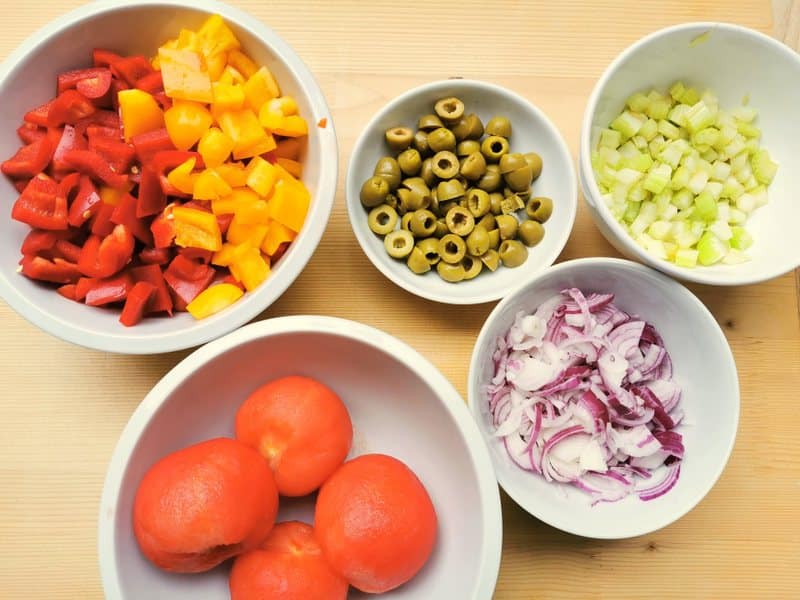 There are also various theories about the origin of the term 'caponata'. In one theory, they say it derives from the capone or lambuga fish (mahi mahi), which Sicilians traditionally ate with a similar sweet and sour sauce. Another belief is that the name comes from the Latin noun 'caupona' (tavern) and from the adjective 'cauponia', meaning 'tavern food'. Of course, there are other theories too.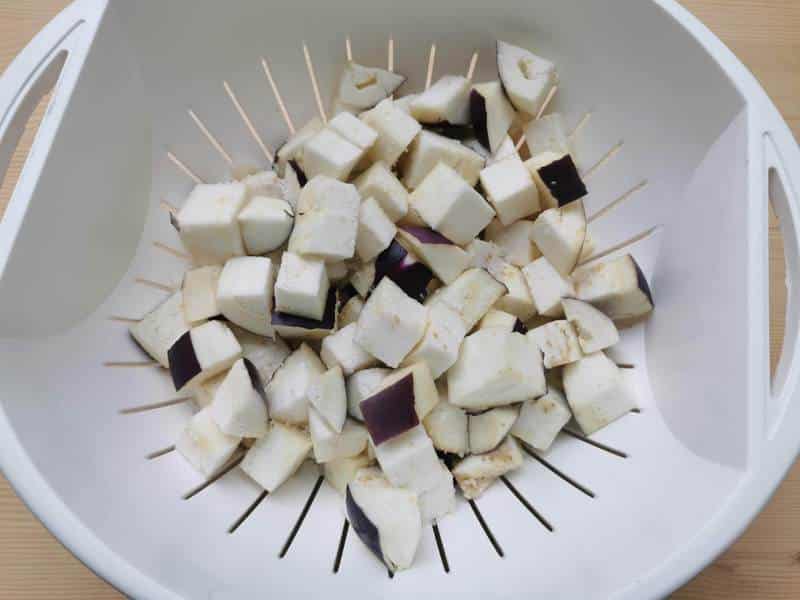 In the past, caponata was normally a one plate meal accompanied by bread, often a dried bread. Originally, the wealthier aristocratic Sicilians used to consume a fish-based caponata. Over time, the fish was replaced by eggplants among the poorer population, who could not afford to buy fish. Capone, in particular, was an expensive and much sought after fish.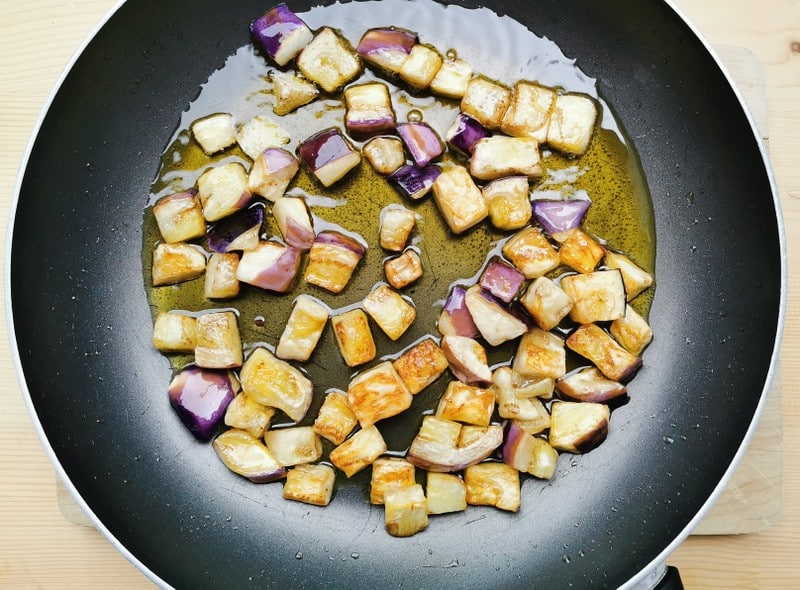 There's a recipe for a fish-based caponata in an 1839 cookbook called 'Theoretical and practical cuisine' by Ippolito Cavalcanti. This recipe is quite rich and consists of a sort of toasted bread (perhaps today's freselle) soaked with vinegar and seasoned with sugar, salt, pepper, oil, capone fish (sometimes replaced by mackerel), lettuce, escarole, cucumber, olives and sweet peppers!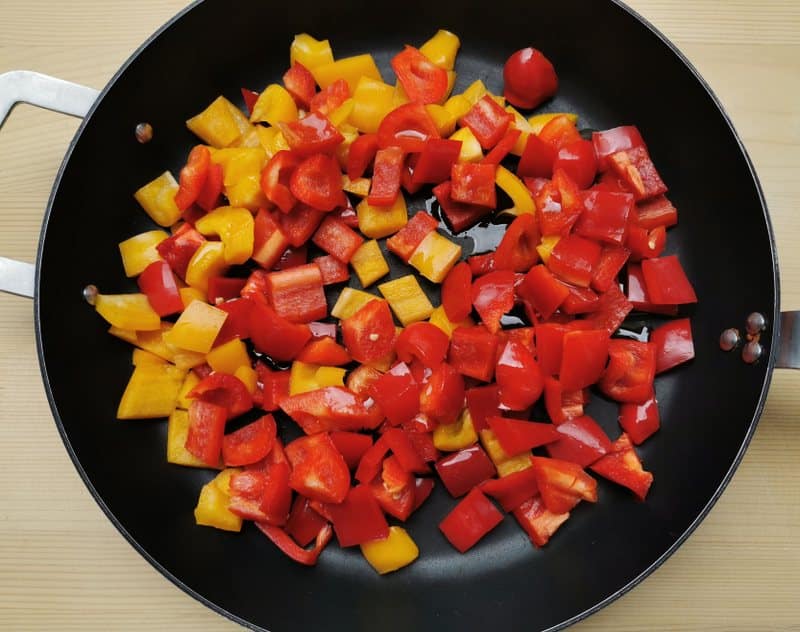 In some places, they still sometimes make caponata with capone or even octopus. However, nowadays the most popular fish pairings are grilled or pan fried swordfish or fresh tuna.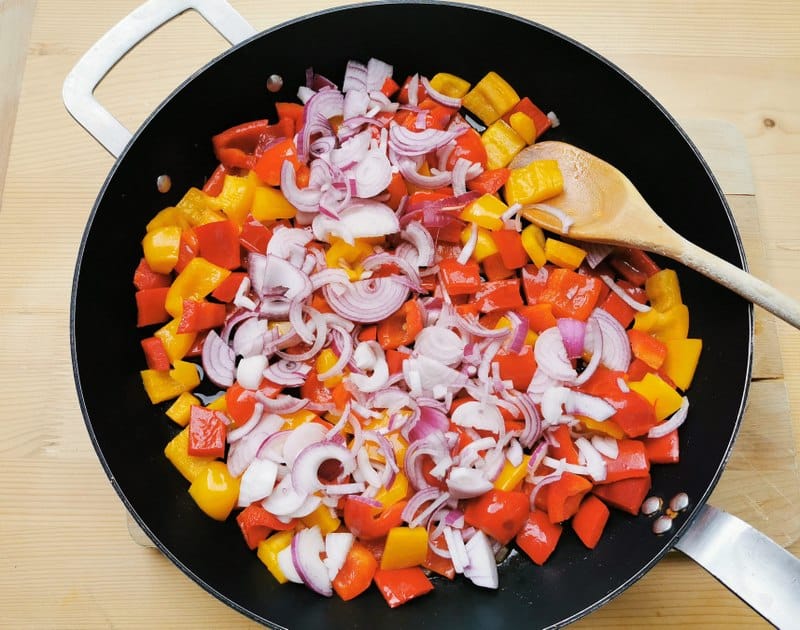 The eggplants.
The Arabs introduced eggplants to the Sicilians in the 15th century. Eggplants (or you might call them aubergines) are to Sicily what potatoes are to Ireland. There are three main kinds of eggplants cultivated in Sicily; the very dark oval or long ones that most people outside of Italy know, long zebra eggplants which have a lighter striped skin and the more rotund, lighter coloured Sicilian eggplant.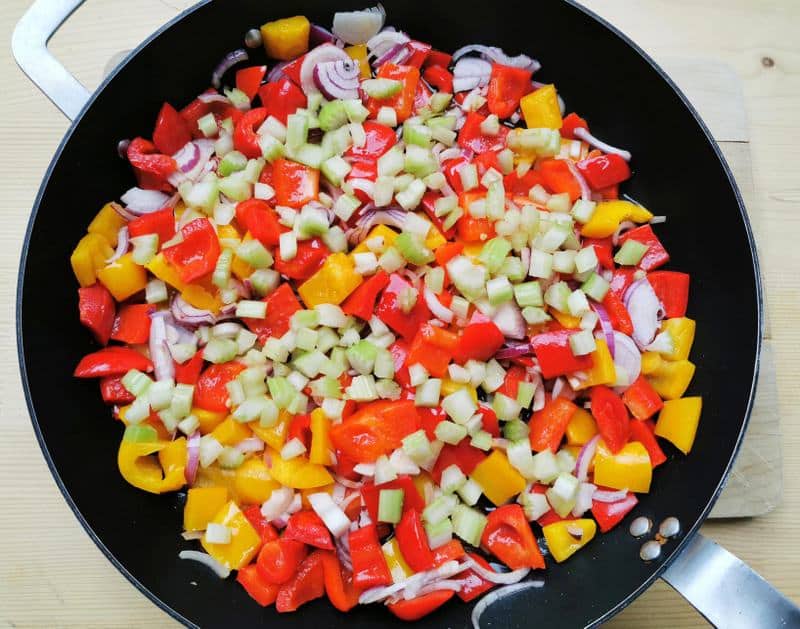 The lighter coloured round Sicilian eggplants are what I used for this casarecce pasta caponata. This type of eggplant has a dense whiter flesh and less seeds than the others, but of course you can use whichever you find available.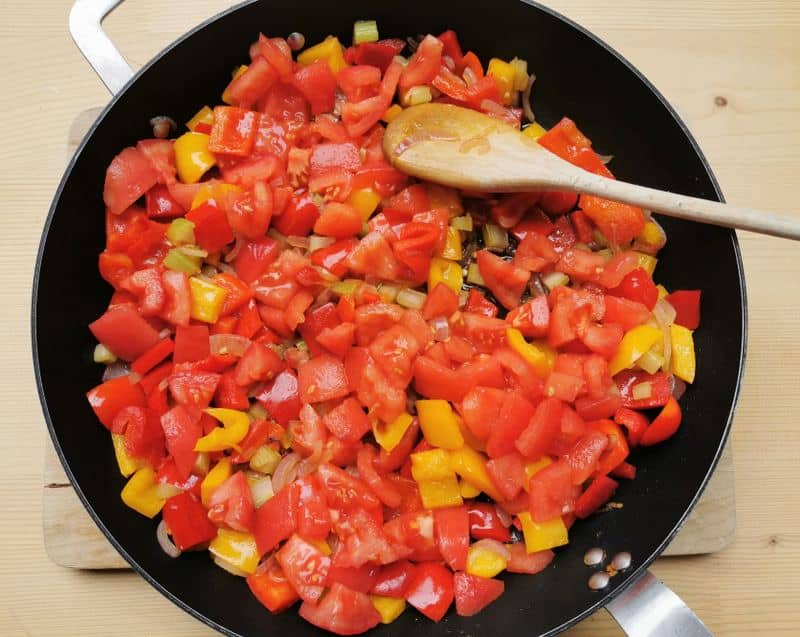 You will need to cut the eggplant into cubes and salt it for 30-60 minutes before rinsing and frying it. So it's probably best to salt the eggplant before preparing the other ingredients. Some people say that salting isn't necessary but I find that the eggplant absorbs less olive oil when you salt it beforehand.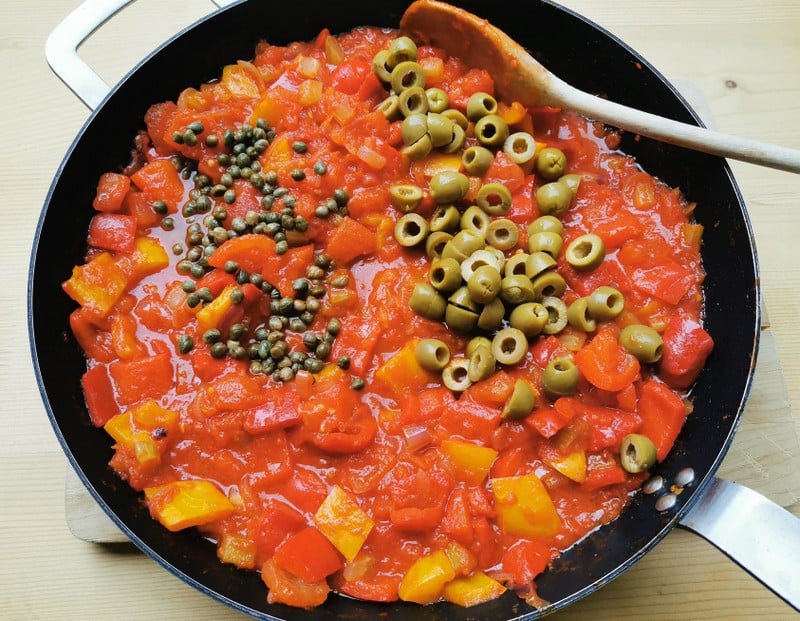 Different ways to make caponata.
My Sicilian hubby tells me that the proper way to make caponata is to cook each ingredient separately and then put it together. However, I've found as many variations in the method as versions of the recipe! For this casarecce pasta caponata, I just fried the eggplant separately after salting it.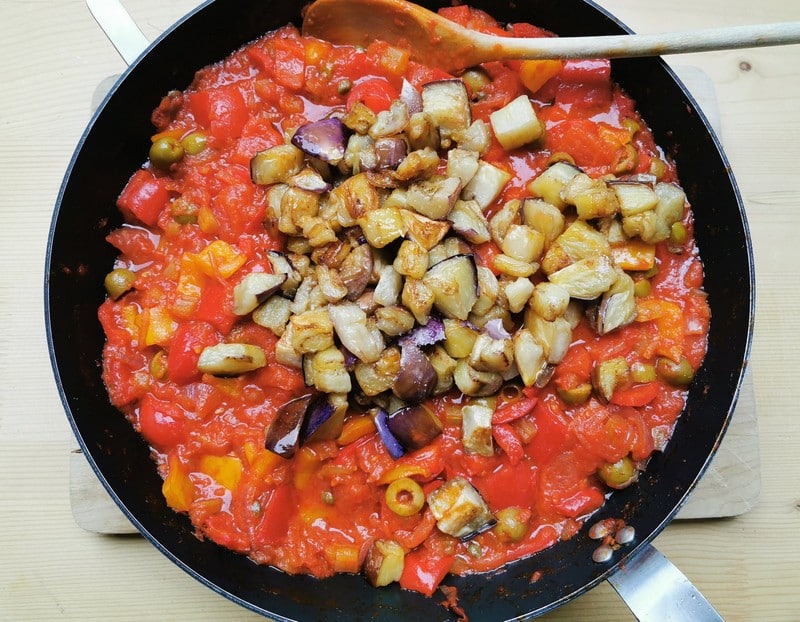 I cooked the rest of the ingredients together in the same skillet. Starting with the peppers, then adding the onions, then the celery followed by the tomatoes then the olives and capers. Once everything was cooked I put in the fried eggplant and then the vinegar and sugar! The result was fantastic!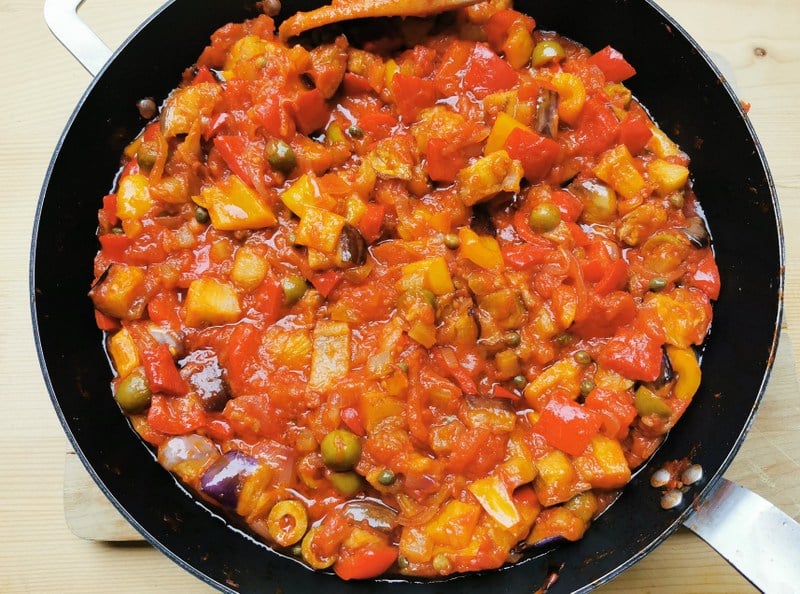 Caponata can be eaten as a side dish as well as a salad. This casarecce pasta caponata is also fabulous as a salad and can be kept in the fridge for 2-3 days. It's vegan and vegetarian so there are is no meat or dairy that can spoil quickly.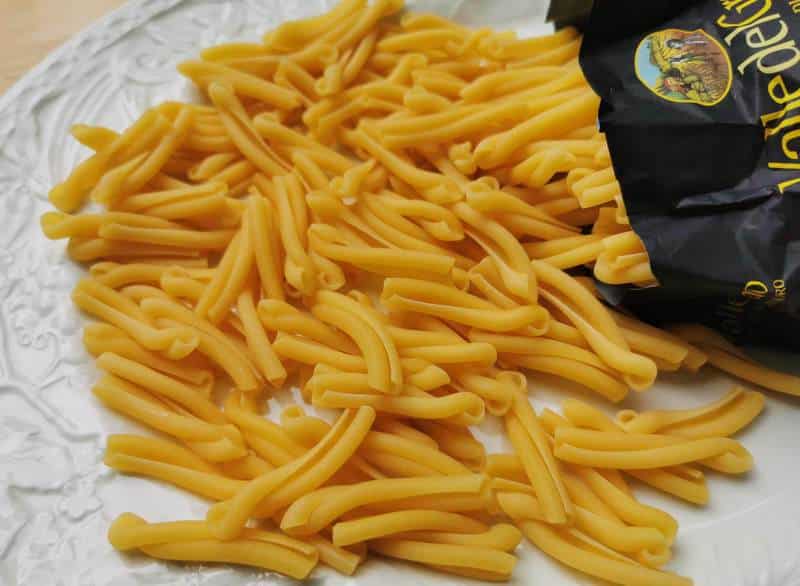 The pasta.
Nearly all pasta salads are made with short pasta here in Italy. I used casarecce, one of my favourite Southern Italian pasta shapes. Casarecce is short pasta noodles with curled edges and a groove down the middle. It looks a little like small rolled up scrolls. You can read more about this pasta in my casarecce post.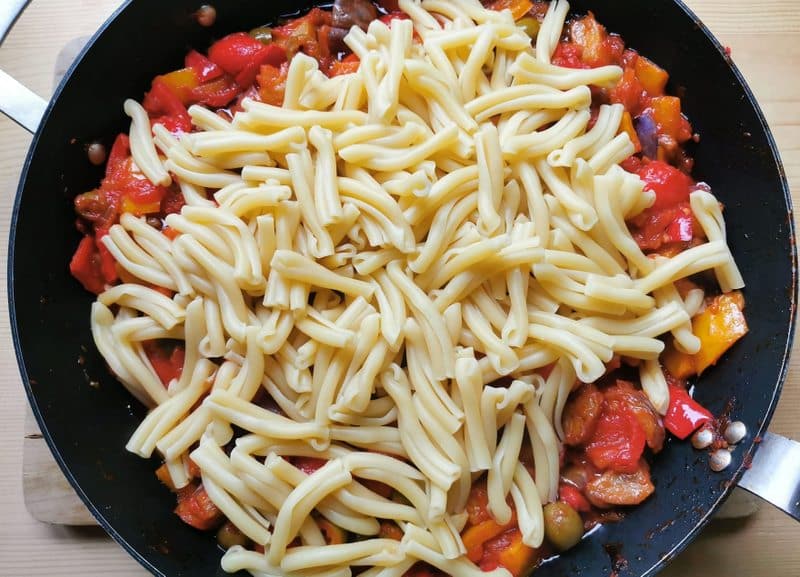 Like caponata, casarecce is originally from Sicily. In fact, the casarecce I used was made by one of the best pasta companies in Sicily. My hubby brought it back for me the last time he was there. This company is called Valle del Grano.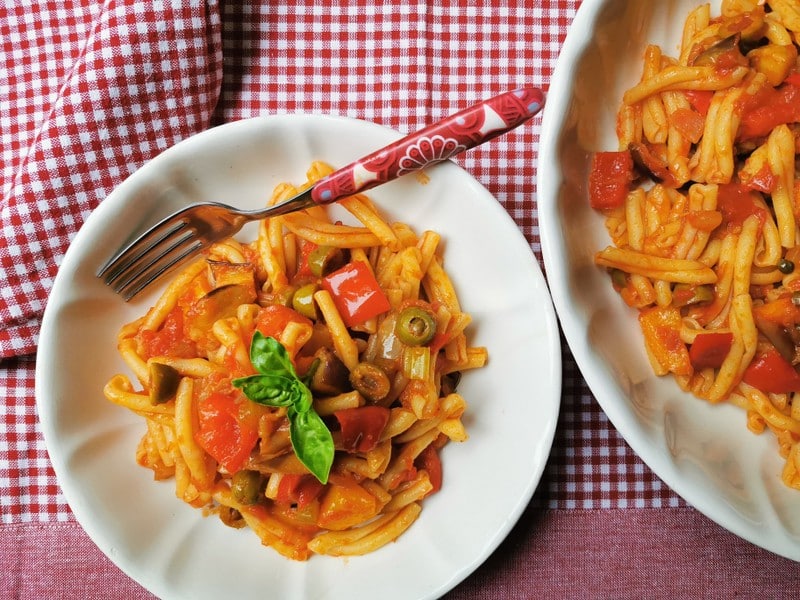 In my opinion, the best pasta in Italy is made by brands that use 100% Italian wheat (preferably organic), extrude the dough through bronze dies and slow dry it. Valle del Grano ticks all those boxes. They make their pasta with 100% Sicilian durum wheat grown in the Dittaino valley between Catania and Enna. Durum wheat has been grown in this area since Roman times. Their pasta is also extruded through bronze dies and slow dried.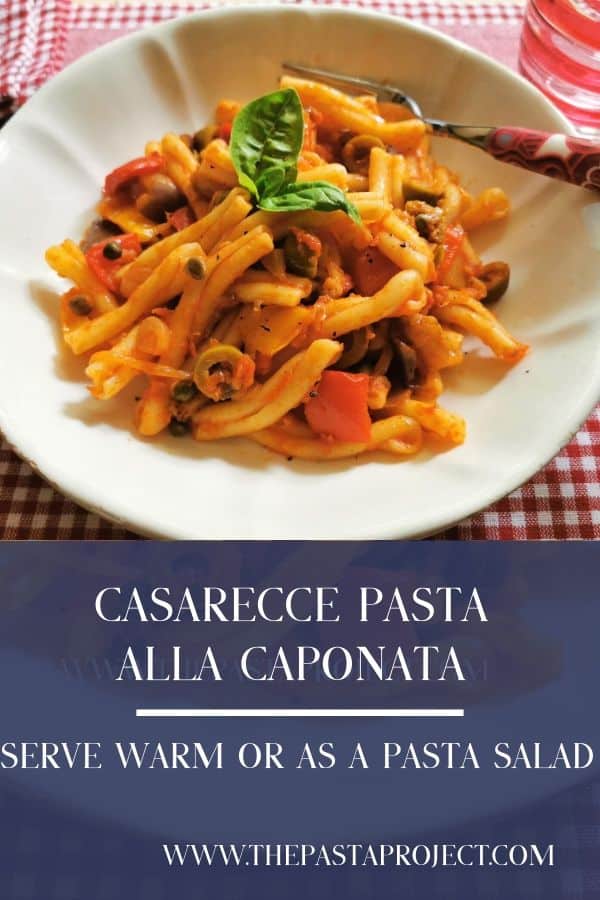 Of course, there are other companies that make good quality casarecce, for example; La Molisana, Rummo  and Garofalo, who also make whole-wheat and gluten free versions. If you don't have casarecce for your pasta alla caponata, you can use other short pasta such as penne, sedani, dischi volanti or olive leaf pasta.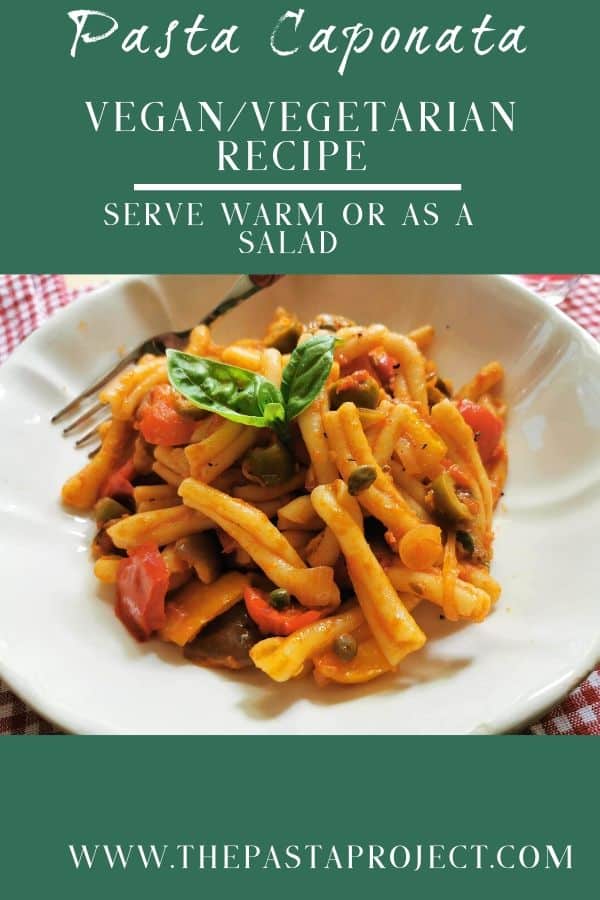 Let me know what you think.
Although pasta with caponata isn't an old traditional combination, it's become very popular. I'm sure if you try it, you'll understand why. This recipe makes enough for 4 generous helpings of pasta plus some extra caponata to have as a side dish a day or two later.
If you do make this casarecce pasta caponata recipe, I'd love to hear how it turns out. Please write a comment here on the blog or post a comment on the Pasta Project Facebook page.
Your feedback means a lot to me!
Buon Appetito!
Other casarecce recipes on The Pasta Project
Want to make casarecce at home? Check out my new post for homemade casarecce 2 ways.
Save this recipe for later?
If you want to save this recipe for later, you can print it, bookmark this page or save it to Pinterest.
Pin for later.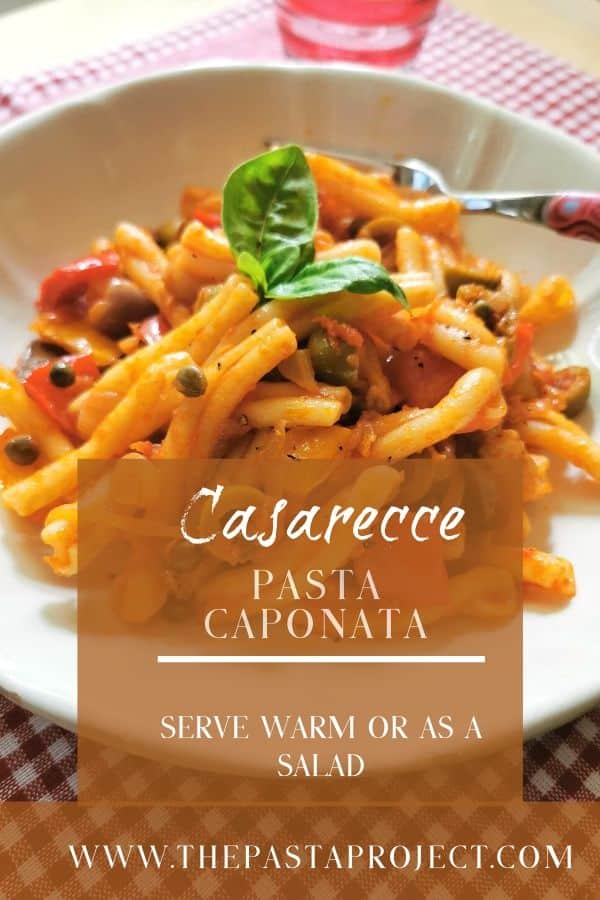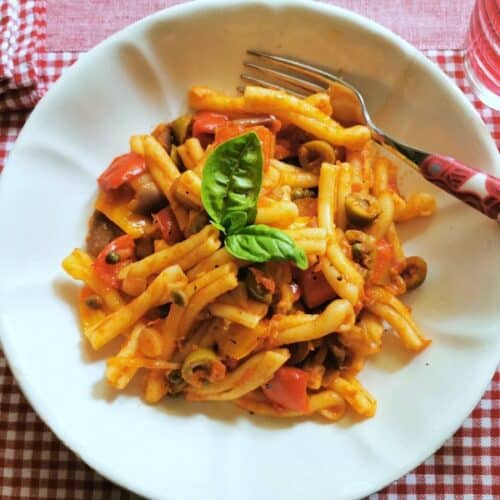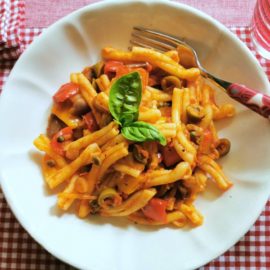 Casarecce Pasta Caponata Recipe from Sicily
Caponata is a traditional vegetarian/vegan Sicilian dish made with typical Mediterranean veggies. It's great on it's own or served with pasta either warm or as a pasta salad.
Ingredients
400

g

casarecce pasta

(14oz) or other short pasta

2-3

small

eggplants

cut into cubes

2-3

sweet peppers

I used red and yellow

3

celery stalks

washed and chopped

2

red onions

(you can also use white onions) peeled and chopped

200

g

green olives

(7oz) pitted and cut in half

100

g

capers

(3.5oz) I used rinsed salted ones

4

sauce tomatoes

peeled and chopped

400

g

tomato pulp

(14oz) Use less if making caponata without pasta

1

tbsp

tomato paste

2

tbsp

brown sugar

1/3

glass

white wine vinegar

extra virgin olive oil.

as required

salt

for pasta and to taste

fresh basil leaves

as required
Instructions
Prepare the eggplant.
Cut the eggplant into cubes with the skin. Place in a colander and cover with about 3-4 handfuls of sea salt. Leave for 30-60 minutes then rinse well and pat dry with kitchen paper or tea towel.
Prepare the other ingredients.
Peel and roughly chop the onion. Remove most the strings from the celery. Then wash and cut it into small chunks. Blanch the tomatoes in boiling water. Then peel them and cut into pieces. Rinse the capers well if using salted ones. Cut the pitted green olives in half or thirds (depending the size). Wash and then cut off the stem of the sweet peppers. Cut them in half and then remove any pith and seeds inside. Then cut into small rectangular pieces.
Cook the egg plant.
Fry the eggplant in hot olive oil until the pieces have browned all over. Remove with a slotted spoon and place on kitchen paper or in a bowl. Set aside.
Cook the caponata.
If there's too much oil in the pan where you fried the eggplant remove some. You only need about 3-4 tbsps to fry the other ingredients. Sauté the red pepper pieces until they start to soften slightly. Add the onions and continue cooking for a minute or two. Then add the celery. If necessary add more olive oil. You don't want the veggies to burn. After 5 minutes add the tomato pieces and continue to cook on a medium heat. Then add the tomato paste and tomato pulp. Continue cooking on a medium heat. Now add the capers and olives. Let the sauce simmer and reduce for 10 minutes.
Cook the pasta.
In the meantime put a pot of water onto boil for the pasta. Add salt once it starts to boil and bring to the boil again. Cook the pasta al dente according to the instructions on the packet.  Save a cup of the pasta cooking water before draining the pasta.
Finish the caponata and serve.
Once your caponata is nearly ready put back the eggplant and add the vinegar and sugar and turn up the heat a little. Stir well to blend the flavours. Simmer for another 5 minutes then add the cooked pasta to the sauce and mix well. If some reason your sauce seems dry, add a little of the saved pasta cooking water and mix again. Serve immediately with fresh basil or allow to cool and serve as a pasta salad at room temperature.
Notes
Caponata tastes even better the next day, so you can make it in advance. The pasta salad also tastes great the next day and can be made the day before. I keep it in the fridge and then either zap in the microwave or allow it to come to room temperature before serving. The same goes for leftovers.
This recipe can also be made with homemade casarecce. 
Want to know more about my life in Italy? Why not subscribe to my newsletter? New subscribers get a free series of recipe e-books too!