Lasagna Valdostana Recipe from the Aosta Valley.
This simple but seriously delicious lasagna recipe comes from the Aosta Valley (Val d'Aosta) in Northern Italy. There are a couple of versions of lasagna Valdostana, one with tomatoes and one without. Italians often refer to pasta and pizza without tomatoes as 'bianca', meaning white. So this version is a lasagna bianca! In Italian, it's called lasagne alla Valdostana.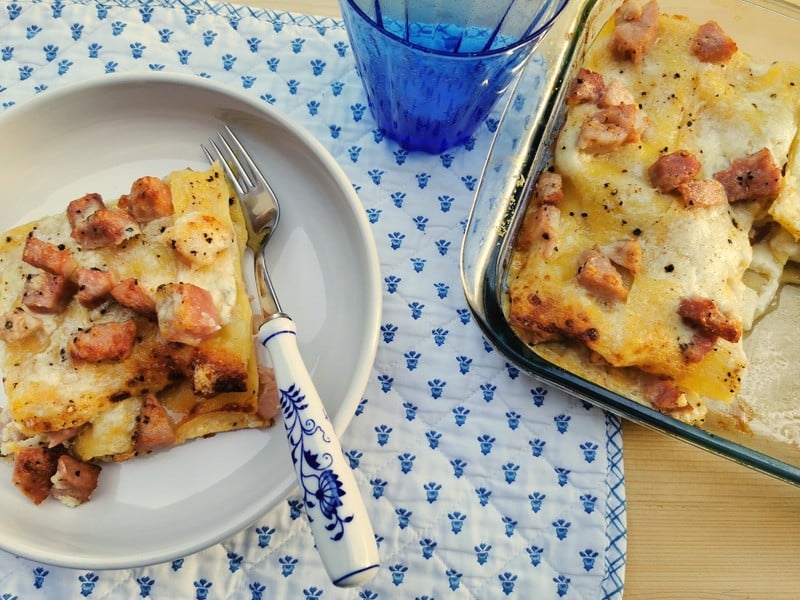 What is 'alla Valdostana'?
In Italy, when you see a recipe or dish described as 'alla valdostana', it most often includes Fontina cheese and ham, usually cooked ham. They have been making Fontina in the Aosta Valley since the 12th century.
This cheese is traditionally made with unpasteurized cow's milk from a single milking. Fontina has a high fat content because the milk comes from cows grazing on flower-filled mountain pastures in the summer! That's actually why it melts so well.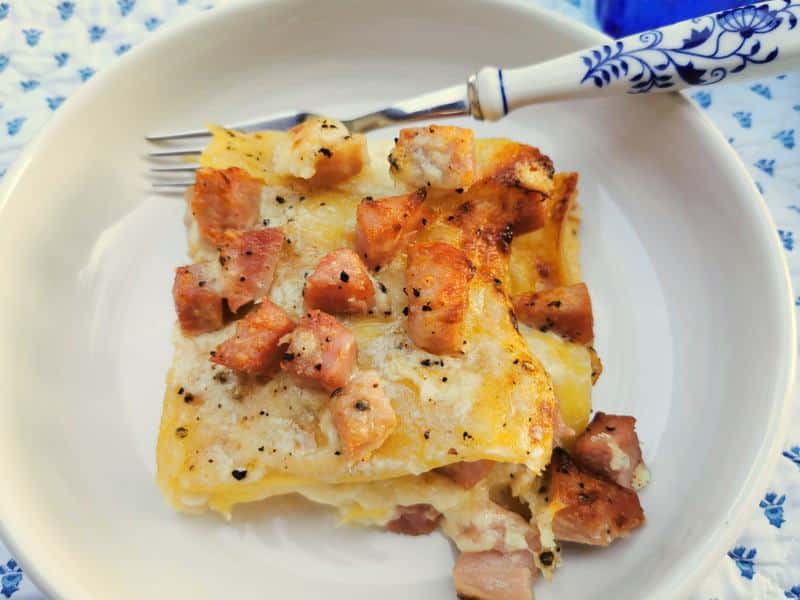 Italians use Fontina for fondue, which they call 'fonduta'. However, Italian fonduta also often has butter and cream in it. These are not usually added to Swiss fondue. So, the white sauce for this lasagna Valdostana recipe is more like a cheese fondue. It is so yummy!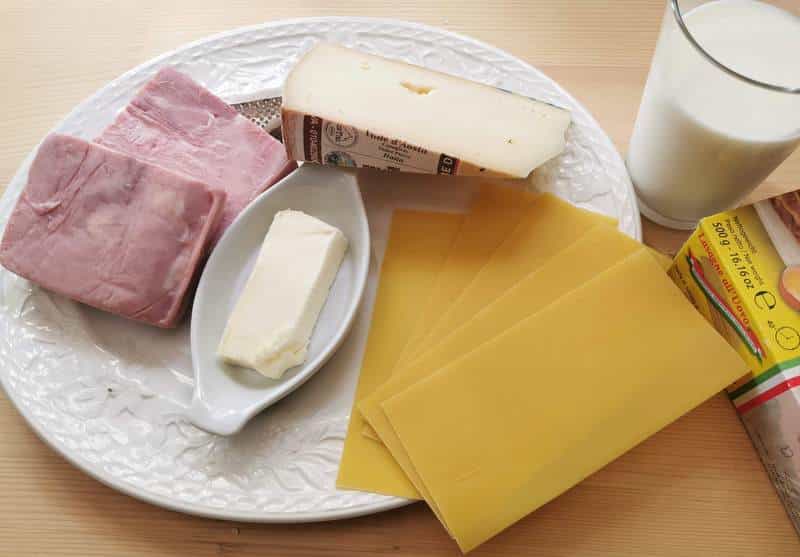 Apart from other pasta recipes like penne alla Valdostana, there are many other dishes called 'alla Valdostana'. These include veal scallops, steak, chicken breast, risotto and crespelle (Italian crepes). Most of these recipes also contain ham. So, Valdostana is a bit like French cordon bleu! In fact, you could think of this recipe as a lasagna cordon bleu!!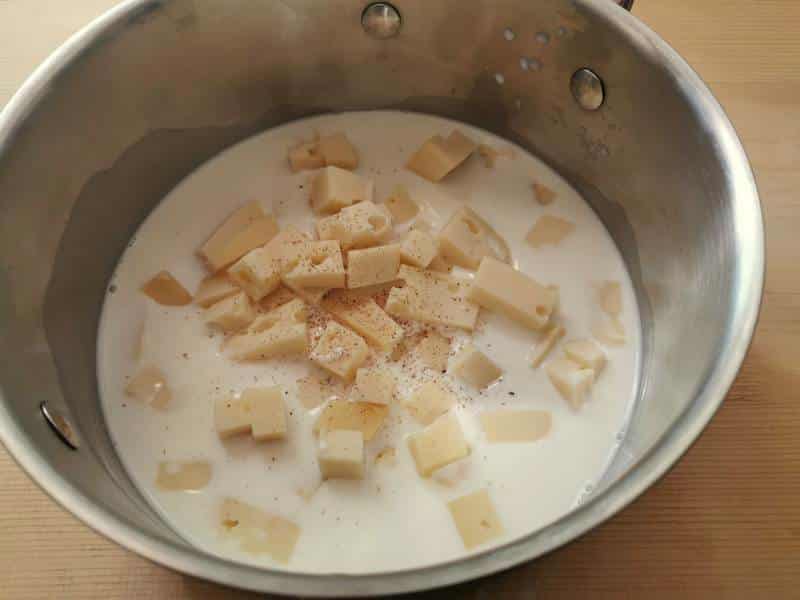 Other cheeses for lasagna Valdostana?
Of course, it's best to use Italian Fontina cheese to make this lasagna Valdostana. But, if you can't find it, you can use Emmental, Gruyère, provolone or Gouda instead. What you need is a good melting cheese with a slightly pungent flavour. Italian Fontina has a gentle buttery, nutty flavor and is slightly stronger than Fontina made in France, the US or other regions of Italy. However, all types of Fontina are usually fabulous for melting.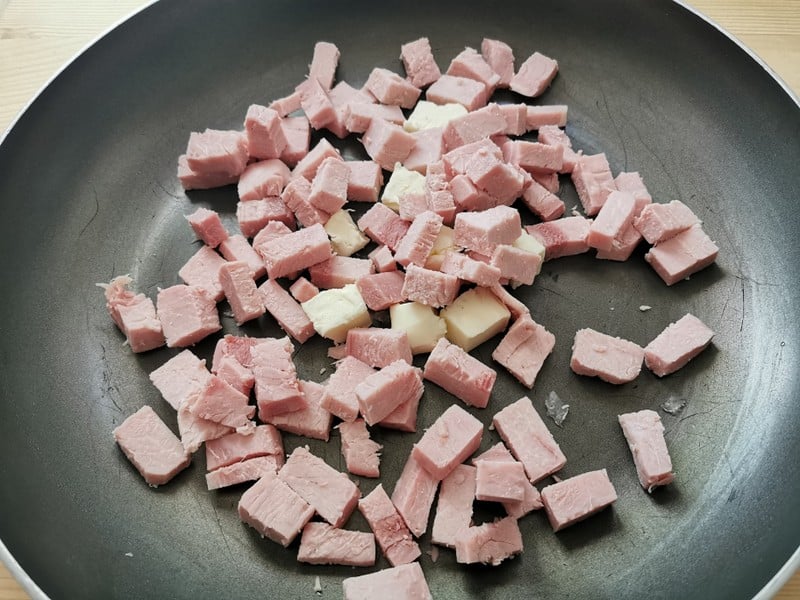 The pasta.
I used dried lasagne sheets for this recipe but fresh or homemade would also be divine. Check out my post on homemade lasagne sheets if you want to make your own. The pasta I used for this lasagna alla Valdostana was sent to me by a company called Pasta Rigo.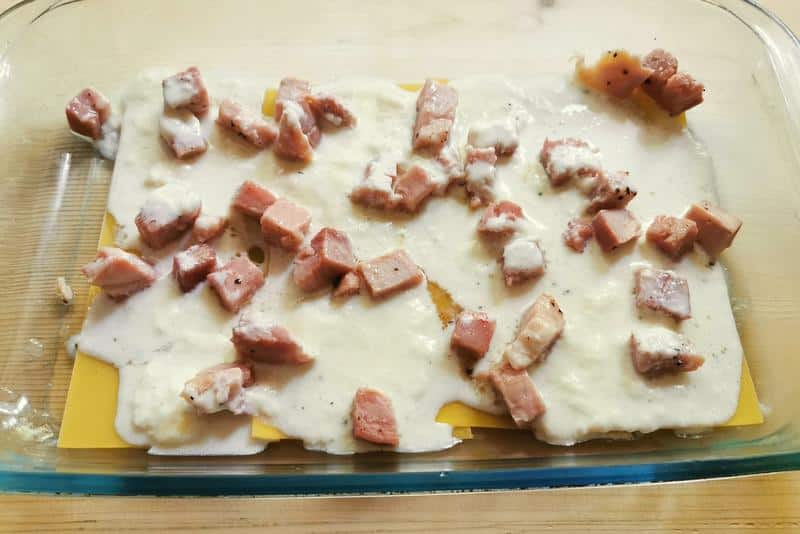 This company produces durum wheat semolina egg pasta for other pasta companies and private labels. So, you can't buy their pasta in supermarkets under their own label. But, you can buy it as a white-label product. Something I've been think about doing myself. I think The Pasta Project own label would be cool, don't you?
I liked this lasagne because it didn't need to be precooked, which is normally necessary with dried pasta. So, a great time saver. The important thing to remember when cooking with dried pasta is to make sure your sauce is quite liquid.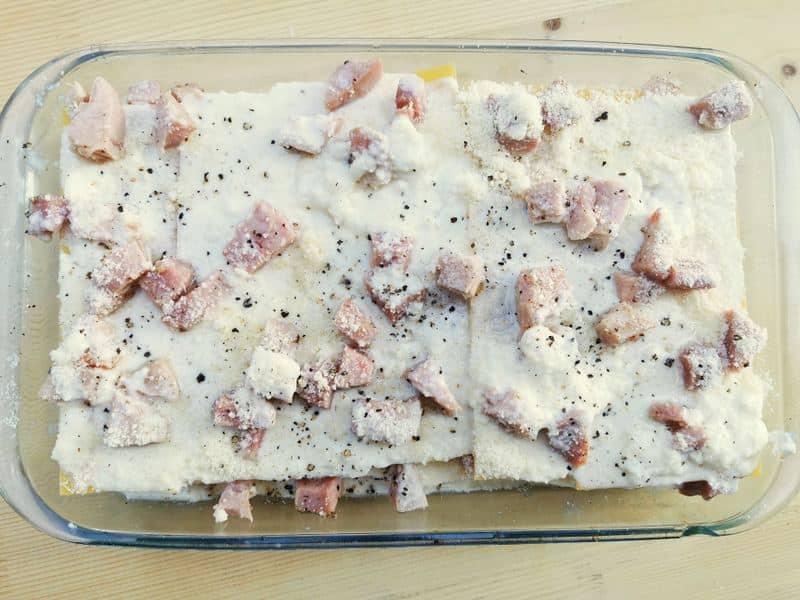 The ham.
Most lasagna Valdostana recipes call for cooked ham, Italians say 'prosciutto cotto'. However, I have also found versions of this recipe with pancetta. I think that would be delicious too.
Lasagne alla Valdostana is so simple!
This is a super simple lasagna recipe. Apart from the pasta, ham and Fontina, all you need is some grated Parmigiano or Grana cheese, milk, nutmeg and white wine. If you are using normal dried pasta, you will need to parboil the sheets first. Otherwise, fresh, homemade or fine dried lasagne sheets can be used without precooking.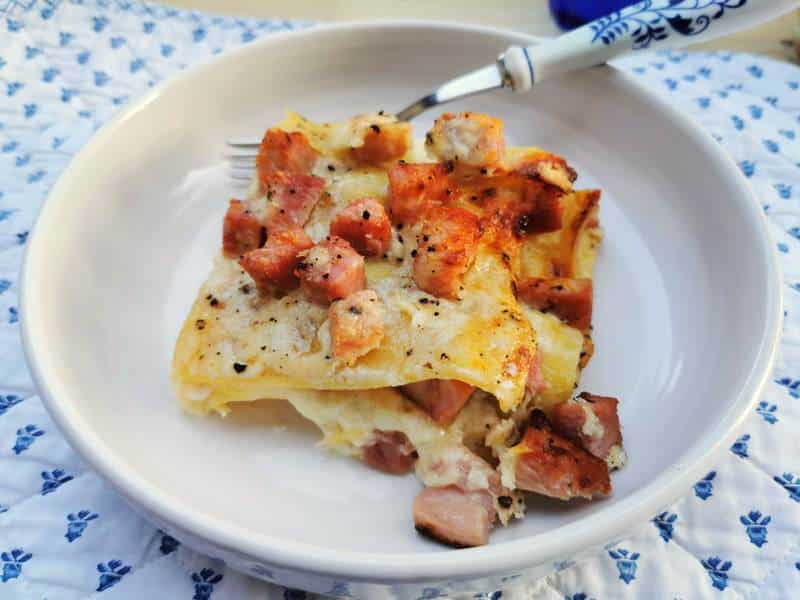 Then just fry the ham and it with some white wine. Melt the fontina into the milk and add some nutmeg. Finally assemble and bake. Easy peasy!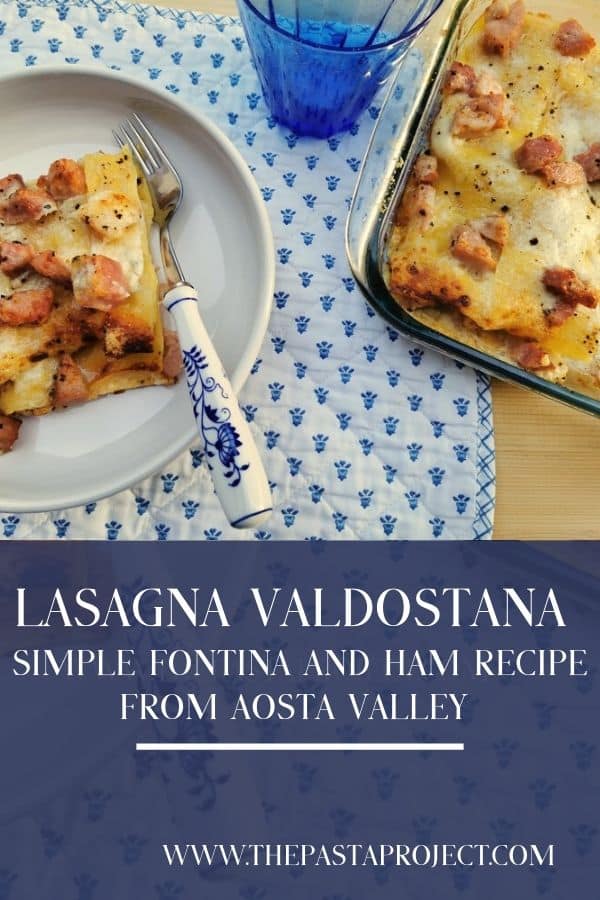 If you do try this lasagna Valdostana recipe, I'd love to hear what you think. Please write a comment here on the blog or post a comment on the Pasta Project Facebook page.
Your feedback means a lot to me!
Buon Appetito!
Other cheesy pasta recipes to check out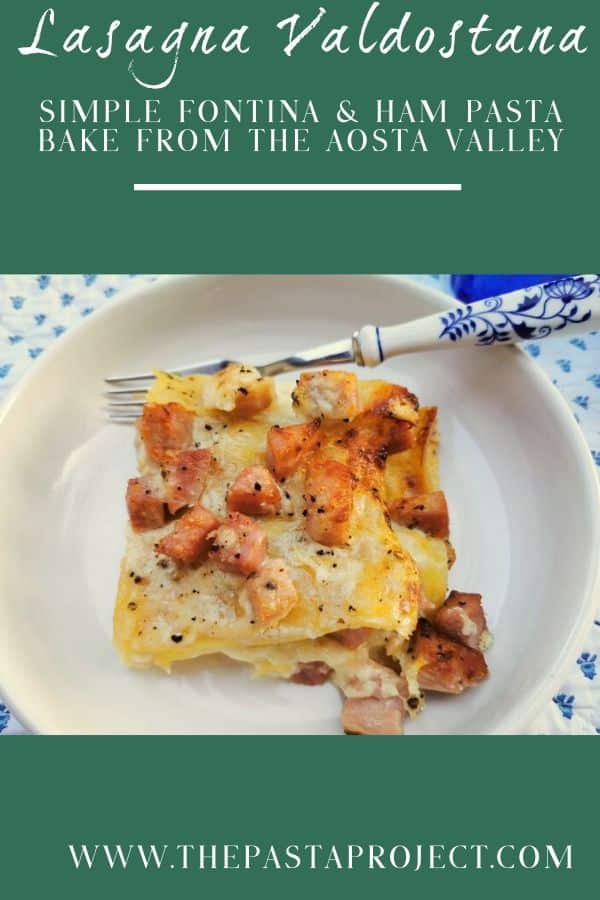 Save this recipe for later?
If you want to save this lasagne alla Valdostana recipe for later, you can print it, bookmark this page or save it to Pinterest.
Pin for later.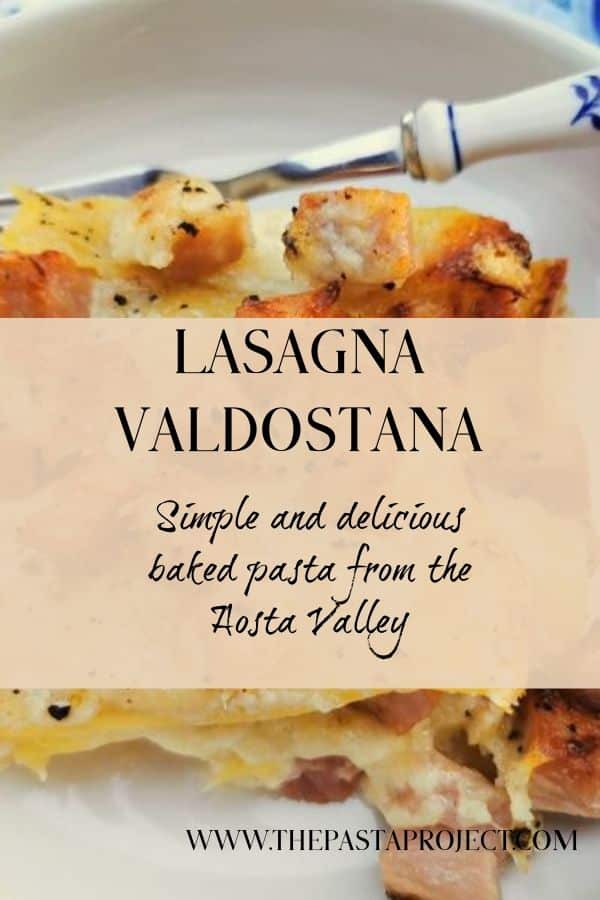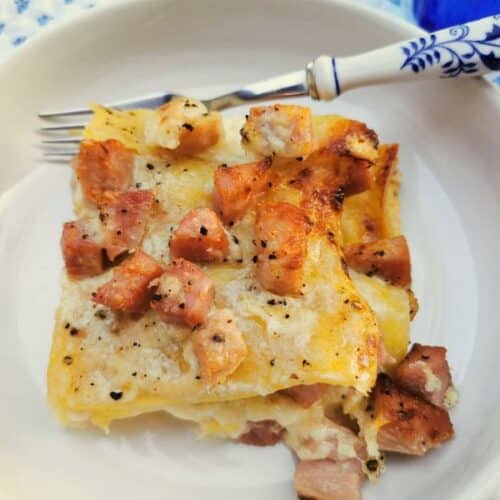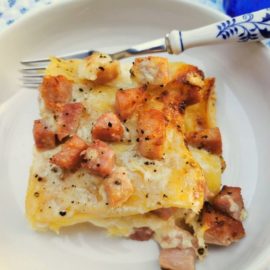 Lasagna Valdostana (Lasagne alla Valdostana)
This super simple lasagna recipe from the Aosta valley is made with Fontina cheese and ham. It doesn't involve a lot of prep or cooking, so perfect for weeknights and family meals!
Ingredients
300

g

lasagne pasta sheets

(10-11oz) dried or fresh. Dried lasagne may need to be precooked very al dente before assembling the lasagna.

300

g

Fontina cheese

(10-11oz) cut into small cubes. See notes

200

g

cooked ham

(7oz) cut into cubes. You can also use pancetta

150

g

Parmigiano Reggiano or Grana

(5oz) grated

1/2

glass

white wine

butter

as required

1

tsp

grated nutmeg

500

ml

fresh milk

(1 pint)

salt

to taste

ground black pepper

to taste
Instructions
Prepare the ingredients
Cut the ham and Fontina into small cubes
Cook the ham
Brown the ham in a non-stick pan with a little butter, then add half a glass of white wine and a little pepper. Once the alcohol has evaporated set aside.
Make the cheese sauce
Put the Fontina cubes in a saucepan with the milk, a pinch of salt and the grated nutmeg, and cook on a medium/low heat until the cheese has completely melted. You will need to stir continuously until all the cheese has melted.
Put your lasagna together and bake.
Start by spreading a little fontina sauce in the bottom of your oven dish. Then add a layer of pasta and on top of that, add some tablespoons of fondue and ham. Sprinkle with grated cheese and then make the other layers the same way. Finish with a generous dose of fontina fondue and a sprinkling of grated cheese and black pepper. I made 4 layers of pasta but 3 is okay too. Depends on the depth of your dish.

Bake the lasagna alla Valdostana in a preheated oven at 180 °c for about 35 minutes, and once ready, let it rest out of the oven for 5-10 minutes before serving. If using dried pasta that hasn't been precooked, cover the dish for the first 15 minutes with aluminium foil. Otherwise the top will brown but the pasta won't be cooked! Dried pasta all needs plenty of liquid. If your Fontina sauce is too thick add some more milk!
Notes
Instead of Fontina you can use Emmental, Gruyère, provolone or Gouda. All oven temperatures are in Celsius. 180°c = 356°f
Some Italians also sprinkle the dish with breadcrumbs before baking. I didn't do this but it helps to make the top crispier! 
Nutrition
Calories:
874
kcal
Carbohydrates:
64
g
Protein:
56
g
Fat:
42
g
Saturated Fat:
24
g
Polyunsaturated Fat:
2
g
Monounsaturated Fat:
12
g
Cholesterol:
164
mg
Sodium:
1834
mg
Potassium:
595
mg
Fiber:
2
g
Sugar:
10
g
Vitamin A:
1186
IU
Vitamin C:
12
mg
Calcium:
1036
mg
Iron:
2
mg