Aosta Valley (Valle d'Aosta or Val d'Aosta)
The Aosta Valley is the smallest, least populous and least densely populated Italian region. It is also both autonomous and officially bilingual (French and Italian). Plus, there's another language called Valdotain which is spoken by a lot of the native population at home.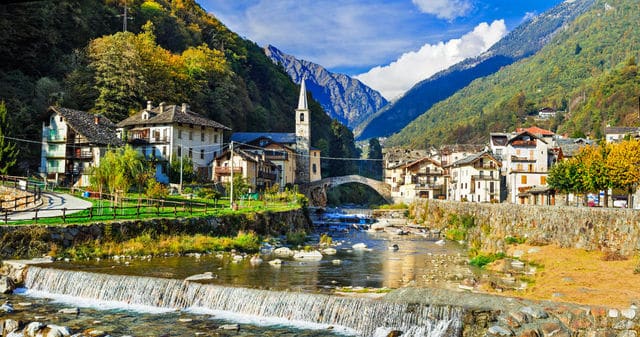 This region is in northwest Italy and borders France and Switzerland. Some of the highest peaks in the alps are located on those borders, including Monte Bianco (Mont Blanc) the highest mountain in Europe. So, needless to say, this is a very mountainous region!
The Aosta Valley is home to some of Italy's best known ski resorts, such as Courmayeur and Cervinia, consequently it's a popular winter sports destination. However, the mountains are beautiful in summer so this region attracts visitors almost all year round!

Typical foods of the Aosta Valley.
Because of its mountainous terrain and cold winter climate the food of the Aosta valley is mainly based on hearty soups and filling dishes made with meat, sausages and salumi (mostly from game, pork and beef) and sometimes, fresh water fish such as trout. Potatoes, polenta, bread (often rye bread), risotto, gnocchi and cheese are the other main staples! In fact, this region is famous for its cheese, especially Fontina which is used in lots of recipes, as well as to make an Italian cheese fondue known as fonduta.
Cheese and dairy products are used to enrich many recipes, much more than most other Italian regions. Apart from Fontina, there are quite a lot of different cheeses produced in the Aosta Valley. Most of these are cow's milk cheese but these is also a small amount of goat cheese.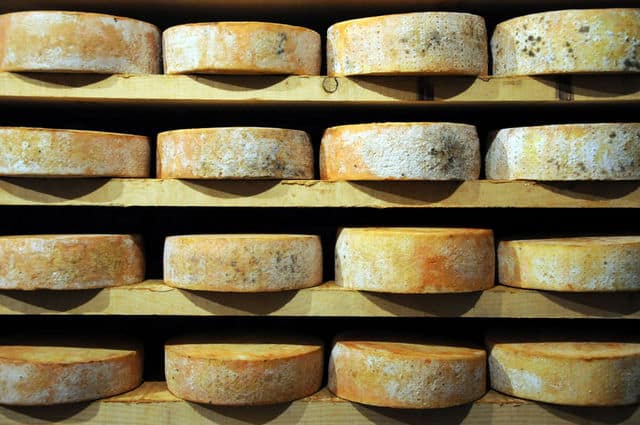 Dairy farming is an important local industry and the majority of the cows are local breeds. Interestingly, fresh products like milk and butter have a higher fat content during the summer as the cows are grazed and milked in the wild flower filled mountain pastures. In the autumn, they are brought down to the farms and fed on dry forage throughout the winter. The milk in winter has a lower fat content!
Fruit and Vegetables.
The Aosta Valley isn't well-known for its vegetables, although of course these are grown and included in local dishes. However nuts such as walnuts and chestnuts, and fruit, particularly apples and pears, are grown in the region's valleys and used to make both sweet and savoury eats! Chestnuts are also used to make flour and the highly prized chestnut honey is a local culinary delight often eaten on rye bread with lardo d'Arnad, another Aosta delicacy. The lardo is also cured in chestnut wood basins in keeping with a tradition that dates back hundreds of years!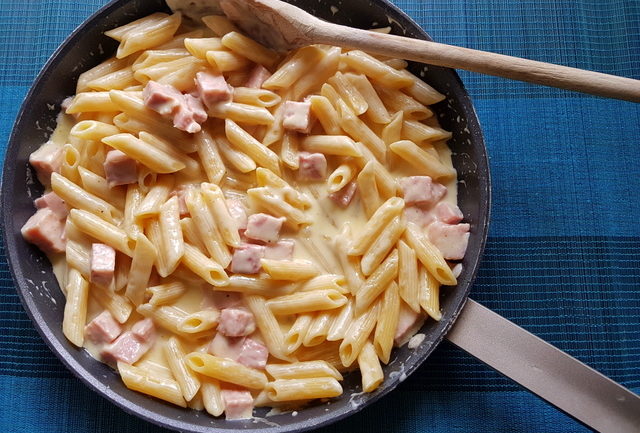 Pasta in the Aosta Valley.
As with other Northern Italian regions, pasta is not as big a part of the local cuisine in Val d'Aosta as it is further down the Italian peninsula. However, they cook a number of different types of gnocchi dishes. The most well-known is gnocchi alla bava, a dish in which gnocchi made with a mix of buckwheat and white flour are served with Fontina cheese, butter and nutmeg. Some people make these gnocchi with potatoes instead of only flour. Buckwheat flour gnocchi are also served with savoy cabbage and speck and pumpkin gnocchi are very popular in the autumn. Potato gnocchi served with fonduta (fondue) is another typical dish and one that's definitely on my to-do list!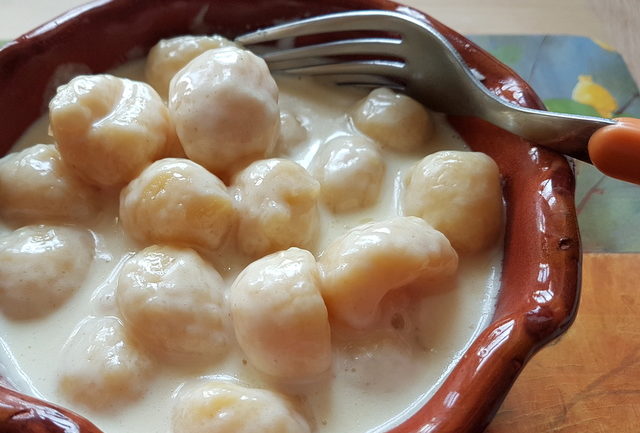 When it comes to pasta, one particular type I like is fettucine or tagliatelle made with chestnut flour. This they serve with ragu or cheese and greens. Another well-known pasta dish from this region is 'favo' a pasta and bean soup thickened with rye bread cubes and cheese. But, probably the most popular pasta dishes from the Aosta Valley are pasta alla valdostana! 'Alla Valdostana' is a name given to many recipes that include Fontina cheese and often ham or mushrooms. So, apart from pasta versions, you can find crespelle, chicken, veal scallops and even beef alla valdostana! The idea is often very similar to cordon bleu. Another pasta alla Valdostana is 'pasticcio di penne alla Valdostana', which contains Fontina, of course, and mushrooms rather than ham and is baked in the oven.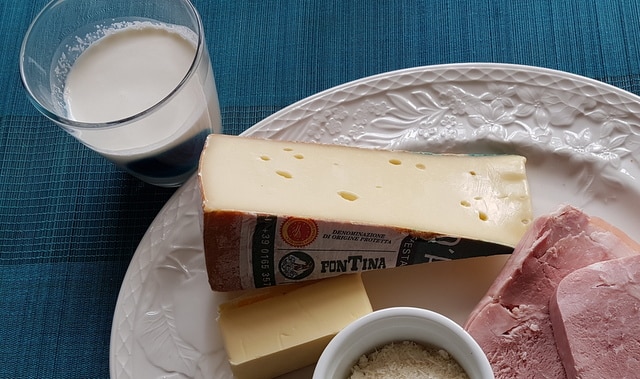 Pasta alla Valdostana
I recently made penne alla Valdostana and it was heavenly. You can serve it immediately or bake the precooked pasta and the sauce together for a short time before serving. Both ways are delicious!
Although there aren't so many typical pasta recipes from the Aosta valley, I intend to try most of them out including the gnocchi ones. So, do come back and check for them at a later date. In the meantime, give the pasta alla valdostana a try.