Canederli : Italian bread dumplings (gnocchi)
Italian bread dumplings, known as canederli in Italian and knödel in German, are a signature dish of the Tirol, a beautiful part of the Eastern Alps. North and East Tirol (Tyrol) are part of Austria, whilst the South Tirol belongs to Italy and is part of the Trentino-Alto Adige region. Similar versions of these dumplings are also found in German, Hungarian, Croatian and Czech cuisines.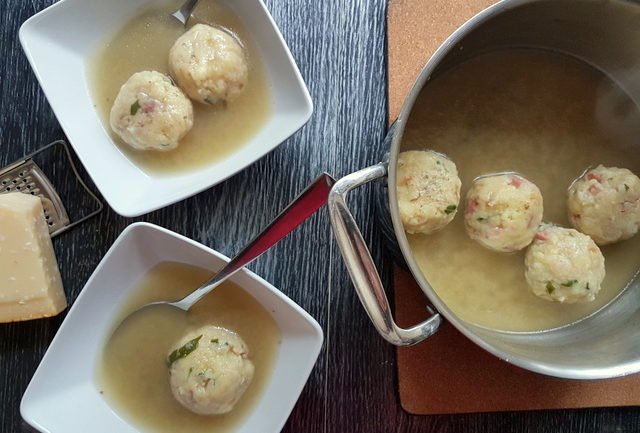 Canederli are large round dumplings made with stale bread, milk, flour and egg, and flavored with a variety of different ingredients. They are a quintessential example of what Italians call 'la cucina povera', meaning cooking of the poor or peasant cooking. Also, many Italians refer to these dumplings as bread gnocchi (gnocchi di pane) and a very similar version is traditional in Trieste, where they call them gnocchi di pane. However, there are also different kinds of bread gnocchi throughout Italy which look more like potato gnocchi than canederli.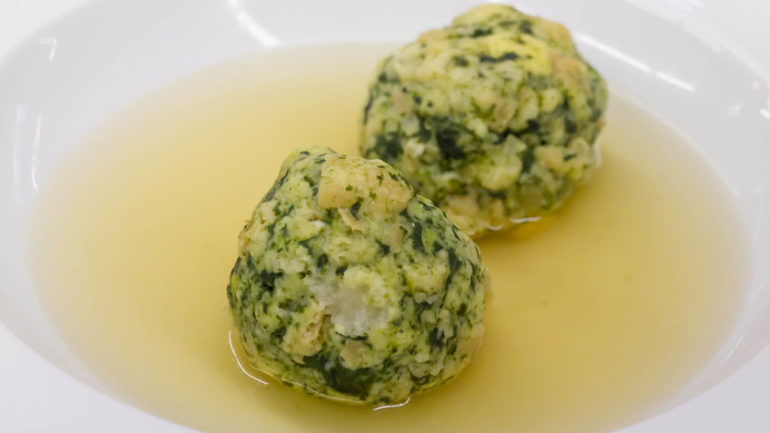 A little canederli history.
Some believe that canederli were actually invented in South Tirol. As evidence of this they refer to the first image of a canederlo (one dumpling) in a fresco in the chapel of the castle of Hocheppan in the early 13th century. However, culinary archaeology dates the oldest 'dumpling' find to a Neolithic village on Lake Mondsee in Upper Austria. The village is believed to have been destroyed by a local tsunami caused by the collapse of a cliff face into the lake almost 4,000 years ago. So, it could be that canederli were invented in Austria thousands of years ago!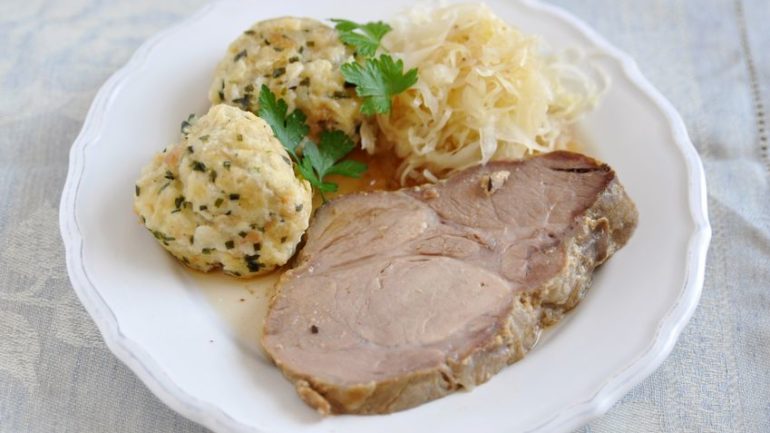 Different types of these dumplings.
Whatever the truth about the origins of canederli, these Italian bread dumplings were definitely created out of leftover stale bread and flavored with whatever was on hand. Today, canederli can be savory and served as a first course or primo like pasta or other kinds of gnocchi.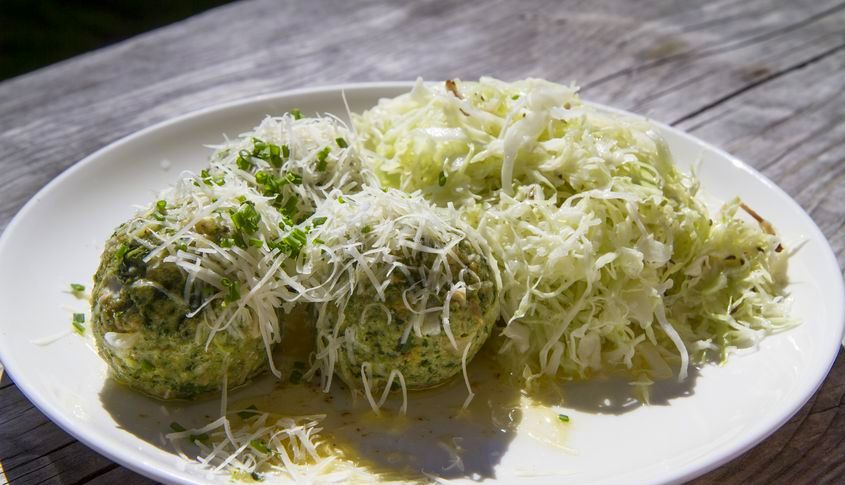 Italians usually eat them with broth (canederli in brodo), fried canederli (anederli pressati) or with melted butter (con burro fuso) and grated cheese. However, they are also popular as a side dish instead of potatoes with meat dishes such as the traditional Tirolese goulash. I love eating these bread gnocchi with mushrooms! In addition, there are sweet versions, often stuffed with fruit or cream and served as dessert.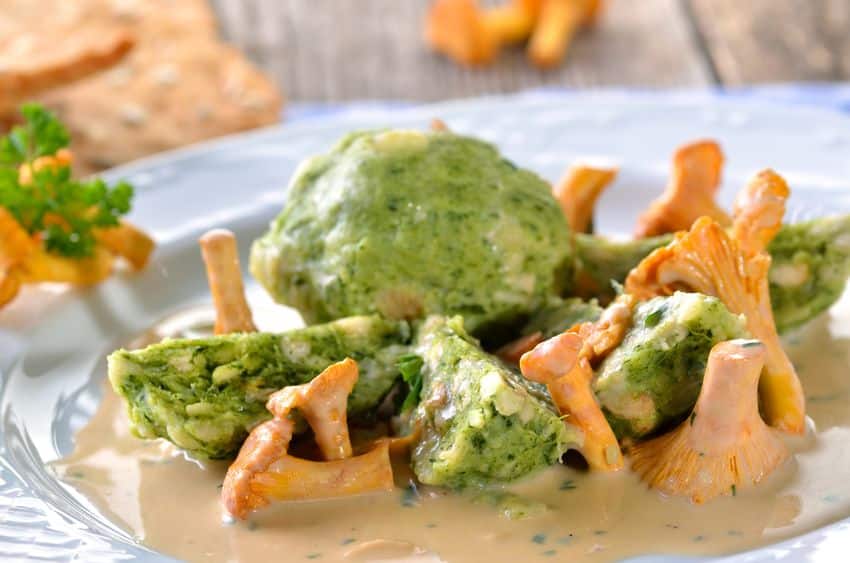 Savoury and sweet versions.
Apart from the stale bread, milk, flour and eggs, savoury Italian bread dumplings can have different ingredients. One of the most traditional foods added to canederli is Alto-Adige speck. This speck is a delicious dry-cured, lightly smoked ham. It's one of a number of Italian food products that has a European PGI certification, meaning that it is made in a specific geographical area according to traditional methods of production.
However, there are also vegetarian savoury canderli with spinach or just with cheese. Spinach canderli contain fresh spinach and garlic. In Tirol, they usually cook them in boiling water and eat them with melted butter and grated parmigiano. Similar to the way Tuscan spinach gnudi or many types of filled pasta like pumpkin tortelli are served.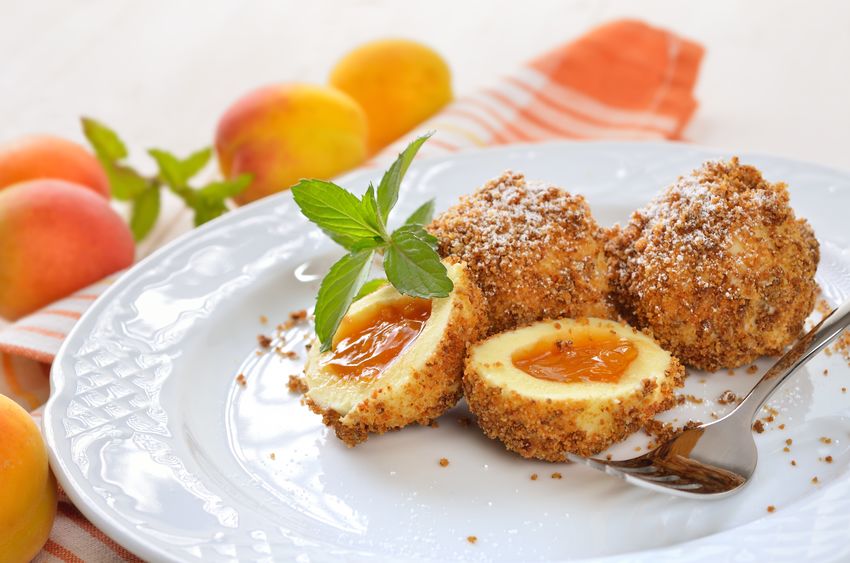 Cheese canderli traditionally contain good melting mountain cheese such as Fontina or Asiago. Italians also eat these in broth or with melted butter and cheese.
Traditionally, sweet canederli are balls of a dough of potatoes and flour in the middle of which is a destoned apricot or a plum. They are first boiled and then rolled in breadcrumbs flavored with butter, sugar and cinnamon. However, there are also sweet bread dumplings made with ricotta, cinnamon and lemon zest. Some versions of these have chocolate or apples in the middle.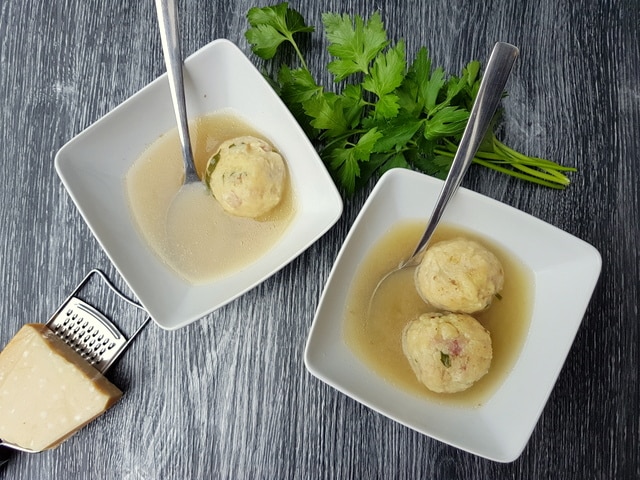 Canederli in broth.
My absolute favourite way to eat canederli is in broth, particularly homemade beef broth. But, they are really good with chicken or vegetable broth too. So, the first recipe I have posted for canederli is one for savoury dumplings made with speck and served in broth. However, I'm looking forward to making some of the other types as soon as possible.