Baked gorgonzola, pancetta and mushroom pasta.
Anyone who loves the combination of bacon, blue cheese and mushrooms will enjoy this easy to make, super flavourful short fusilli bucati recipe. You can serve this dish unbaked for a quicker meal prep. But, the crispy cheesy topping in this baked version makes this recipe extra yummy!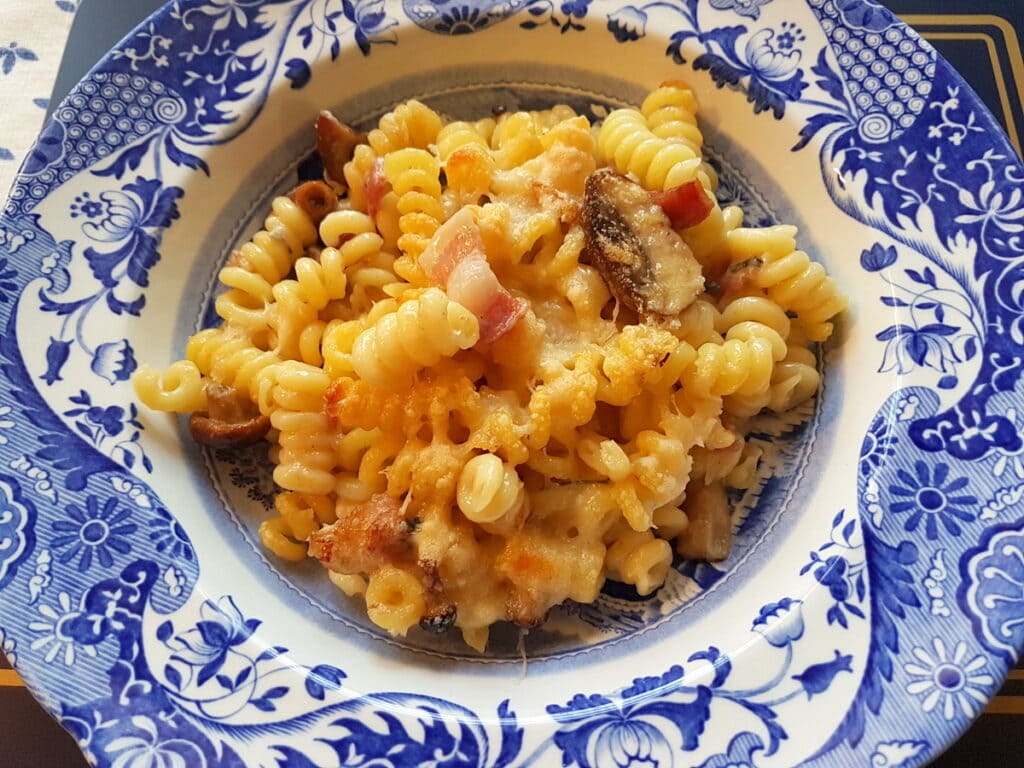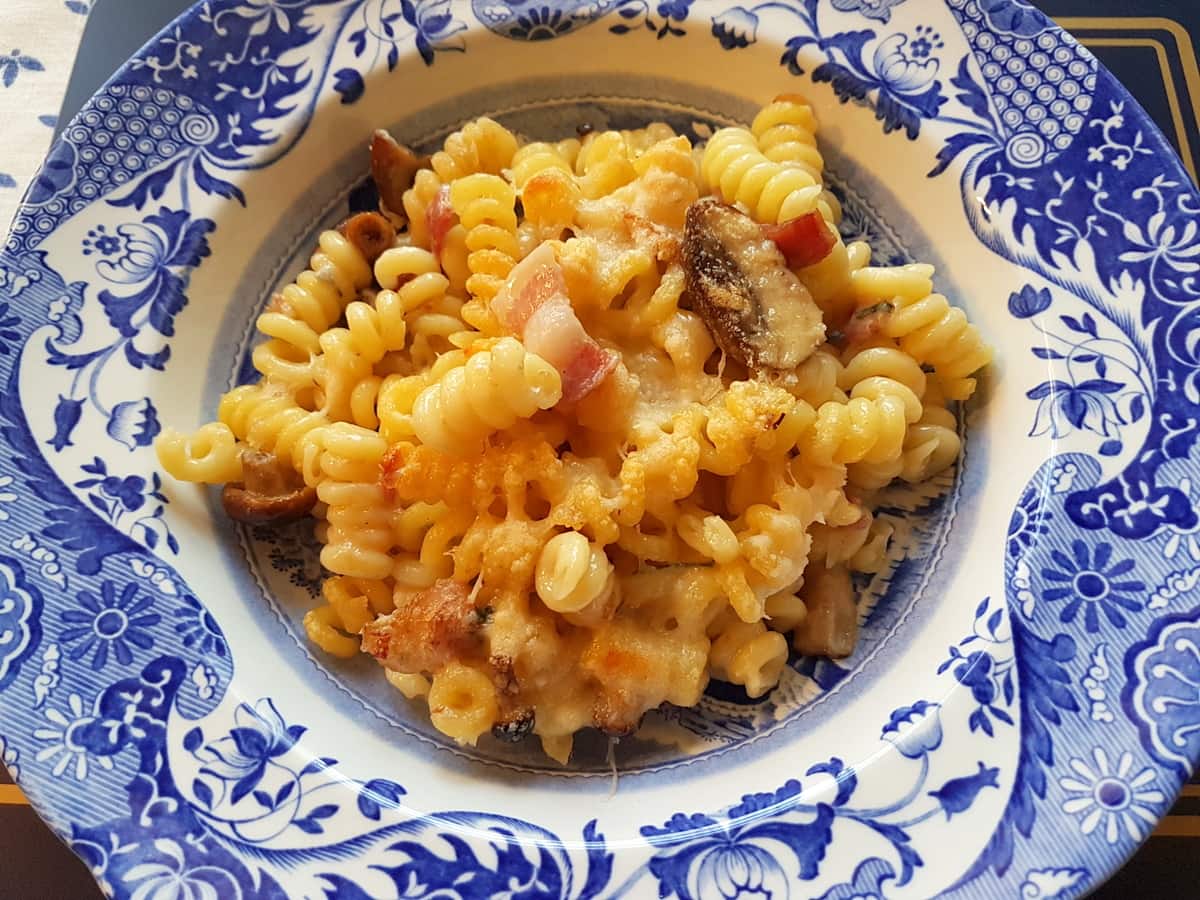 Fusilli bucati corti con Gorgonzola, pancetta e funghi.
When it comes to favourite foods, needless to say, I have many! But the combo of bacon, cheese and mushrooms has been a particular favourite of mine since childhood! I'm sure a few of you share this preference with me! Pasta is, of course, a fantastic medium for creating dishes with those ingredients!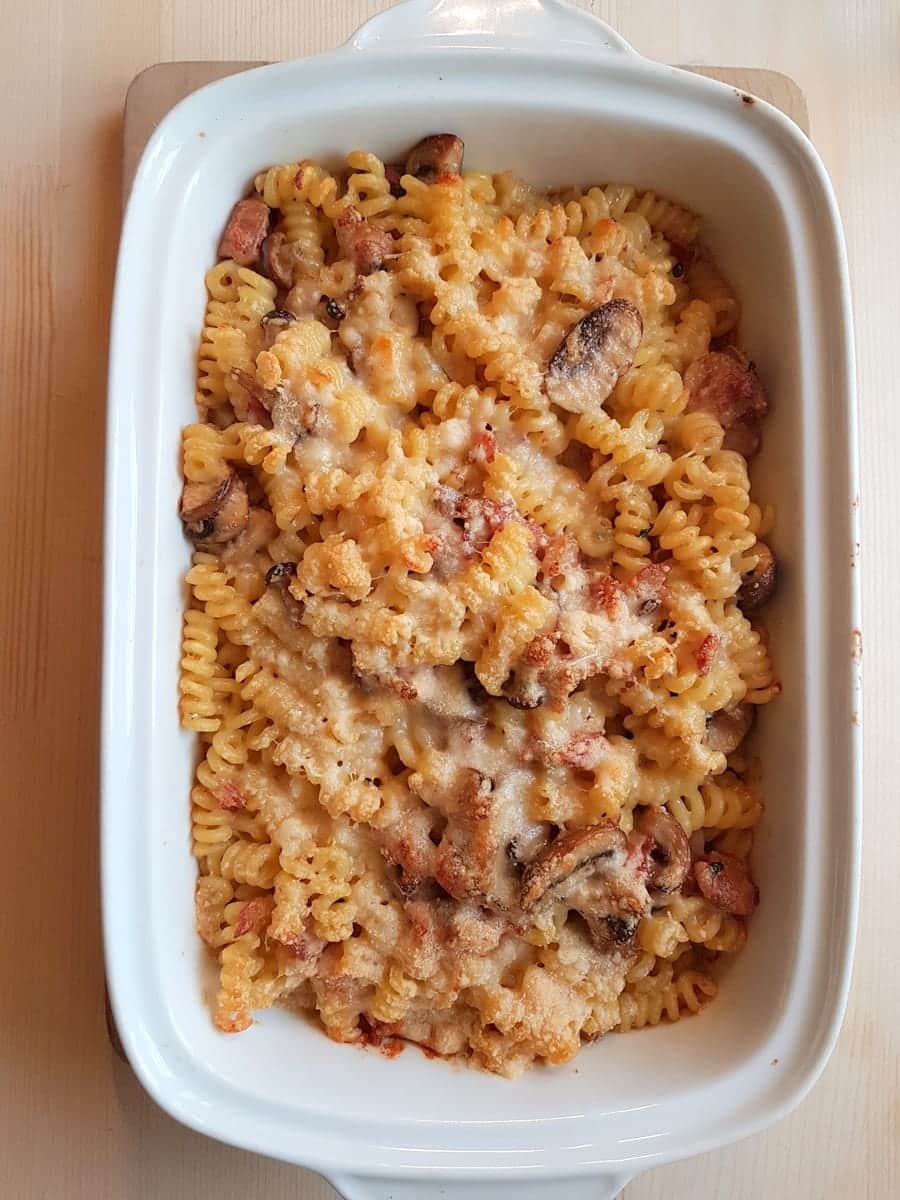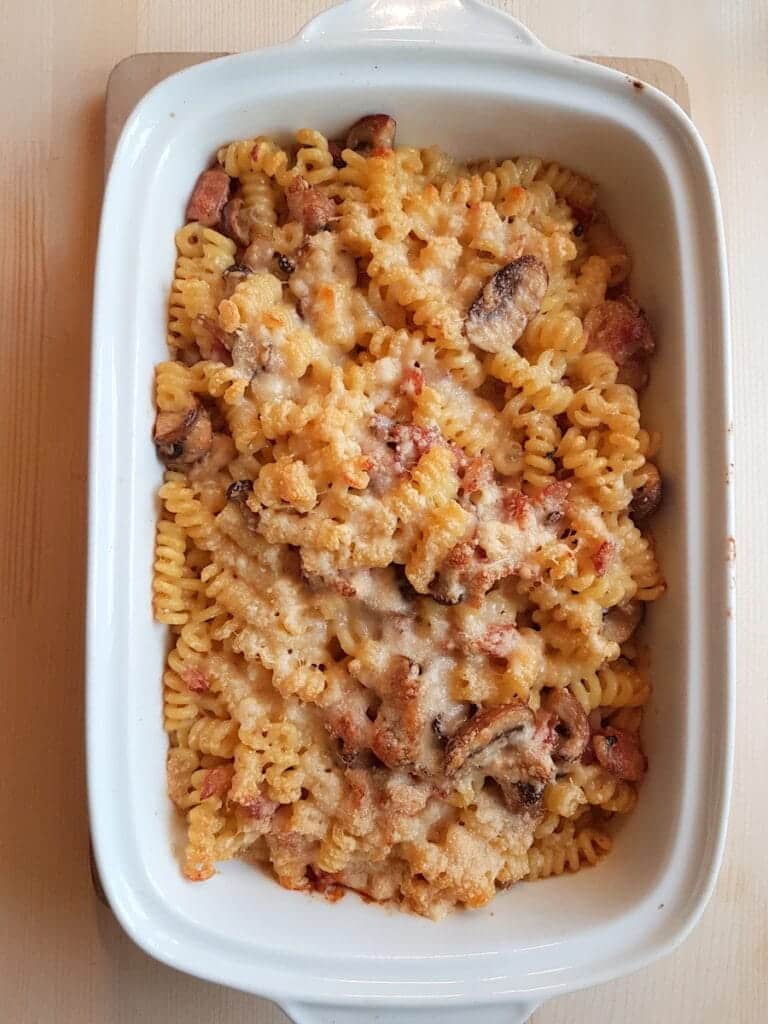 I recently bought a box of short fusilli bucati corti (short hollow fusilli) and wanted to find a baked pasta recipe for it. This pasta is so good baked! However, in the end, I decided not to follow one particular recipe but to put something together using my favourite combo.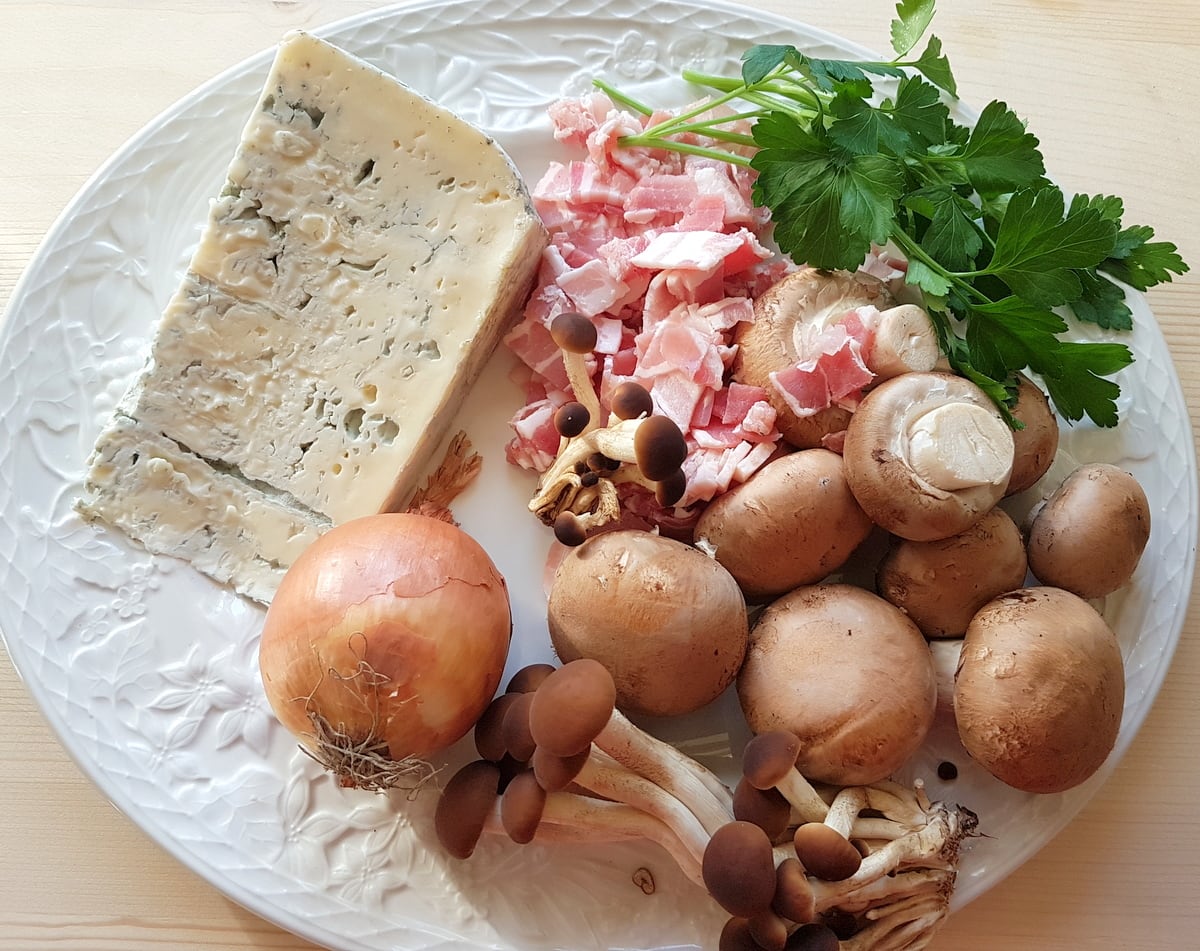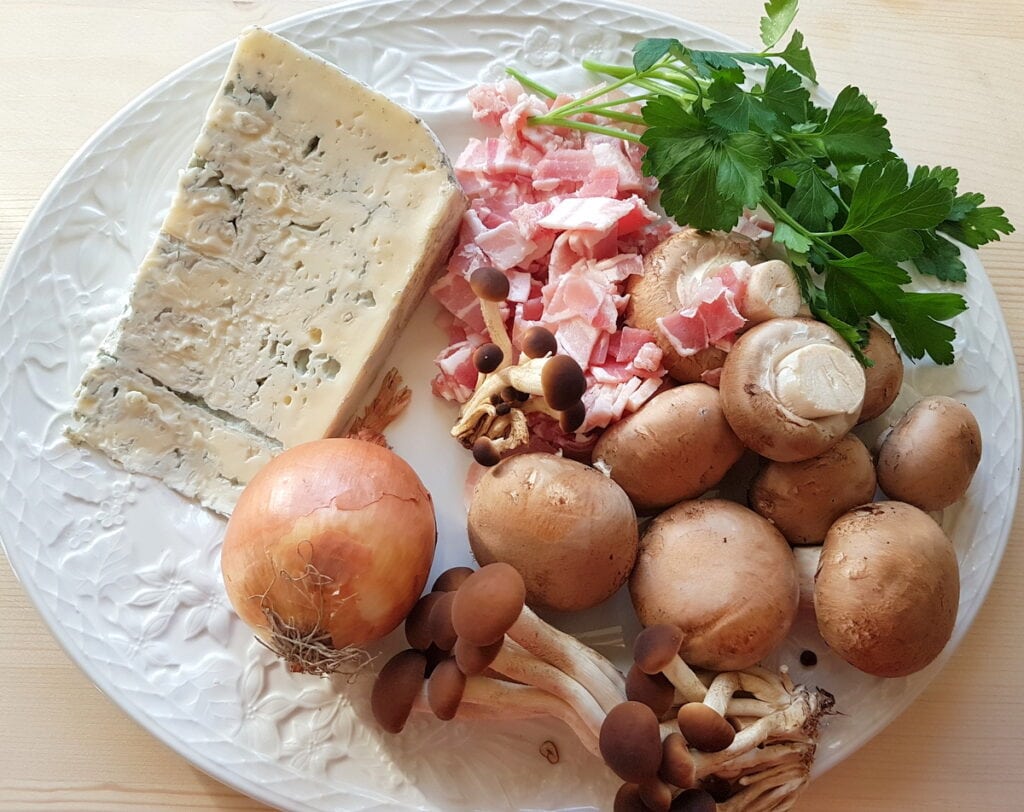 Of course, there are a number of similar Italian recipes. Bacon, blue cheese and mushrooms are very popular additions to many pasta recipes, particularly here in Northern Italy. So this baked fusilli bucati with gorgonzola, pancetta and mushrooms is full of authentic Italian flavours!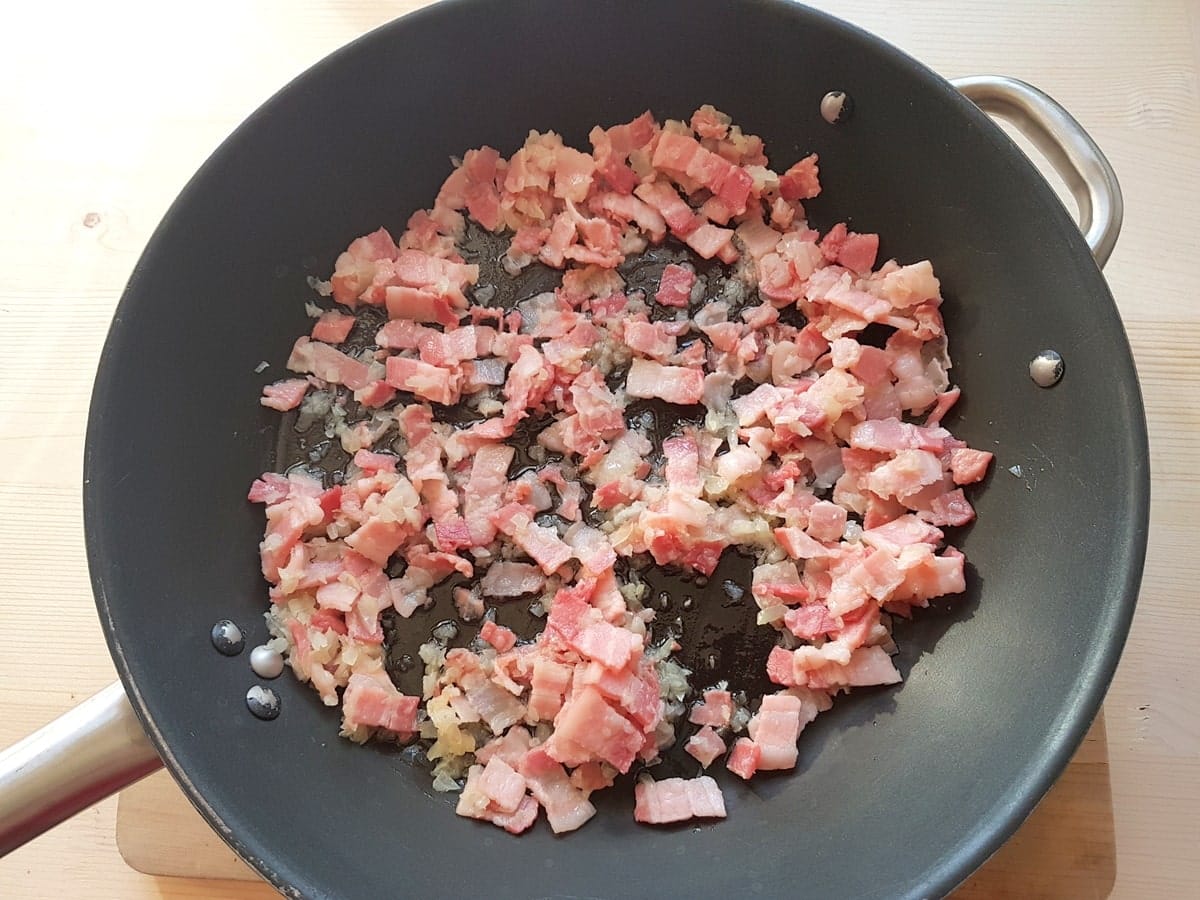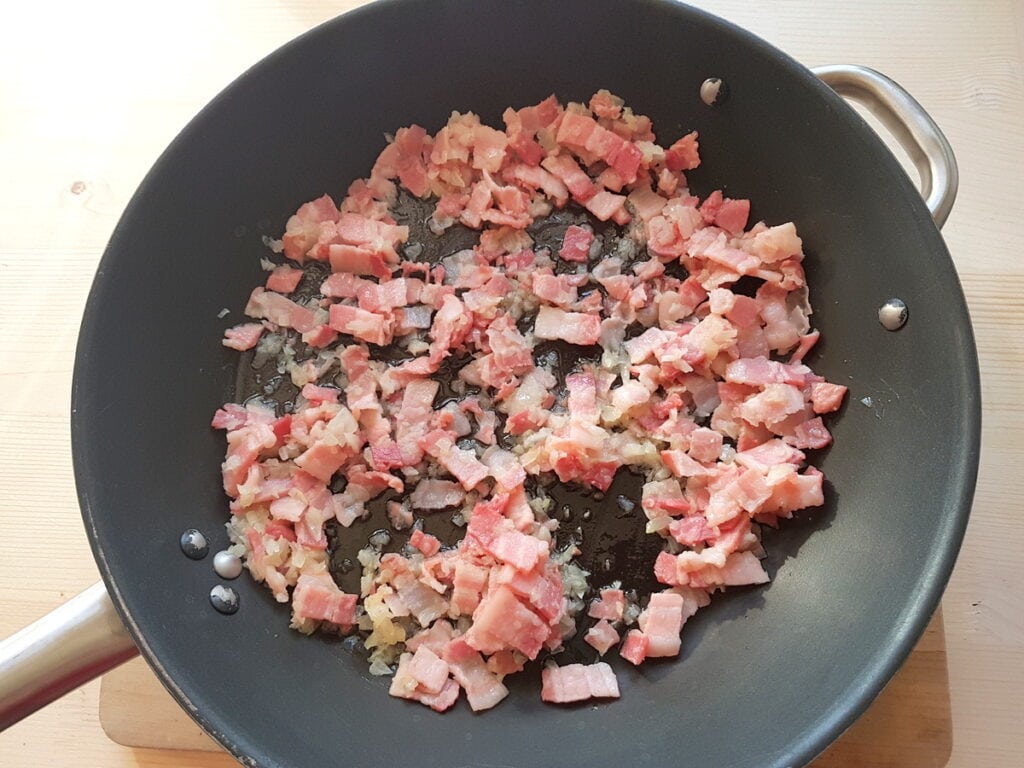 Gorgonzola, a great cheese for pasta.
One of the best cheeses for pasta sauces is, if you like it, gorgonzola! I love it, so this is the cheese I decided to use. Gorgonzola is a popular Italian blue cheese (Italians actually call blue cheese 'verde' meaning green!) which comes from Northern Italy. It is made from un-skimmed cow's milk to which Penicillium Roquefort has been added.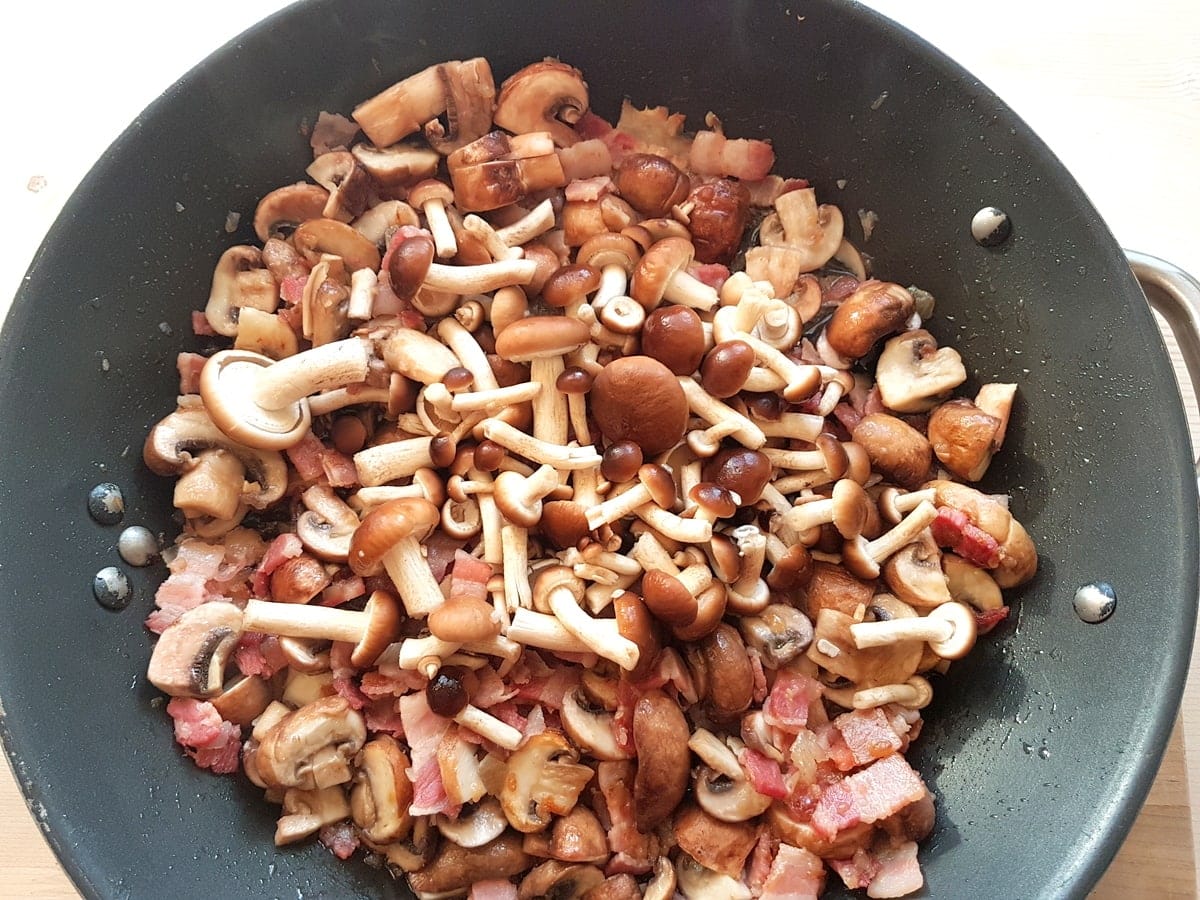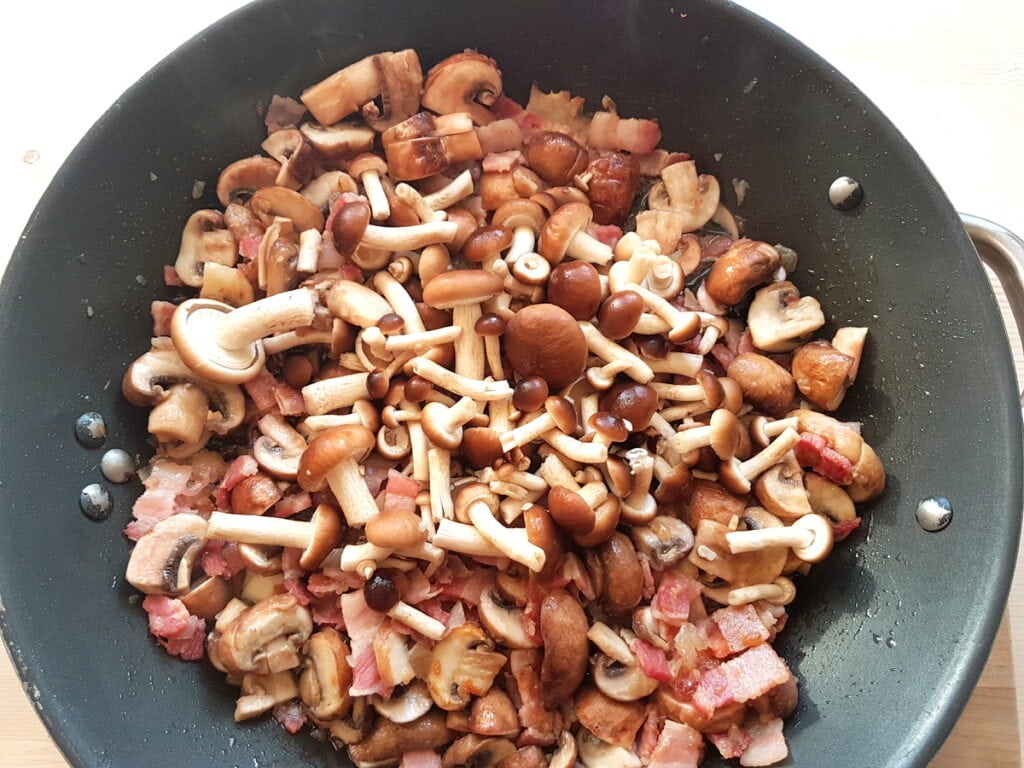 The cheese is then aged for 3-4 months. The older it is, the firmer and sharper it becomes. Italian cheese shops and supermarkets normally sell two different kinds of gorgonzola; dolce (meaning sweet), which is creamier and generally younger, or 'piccante' (meaning spicy), which is firmer and more crumbly.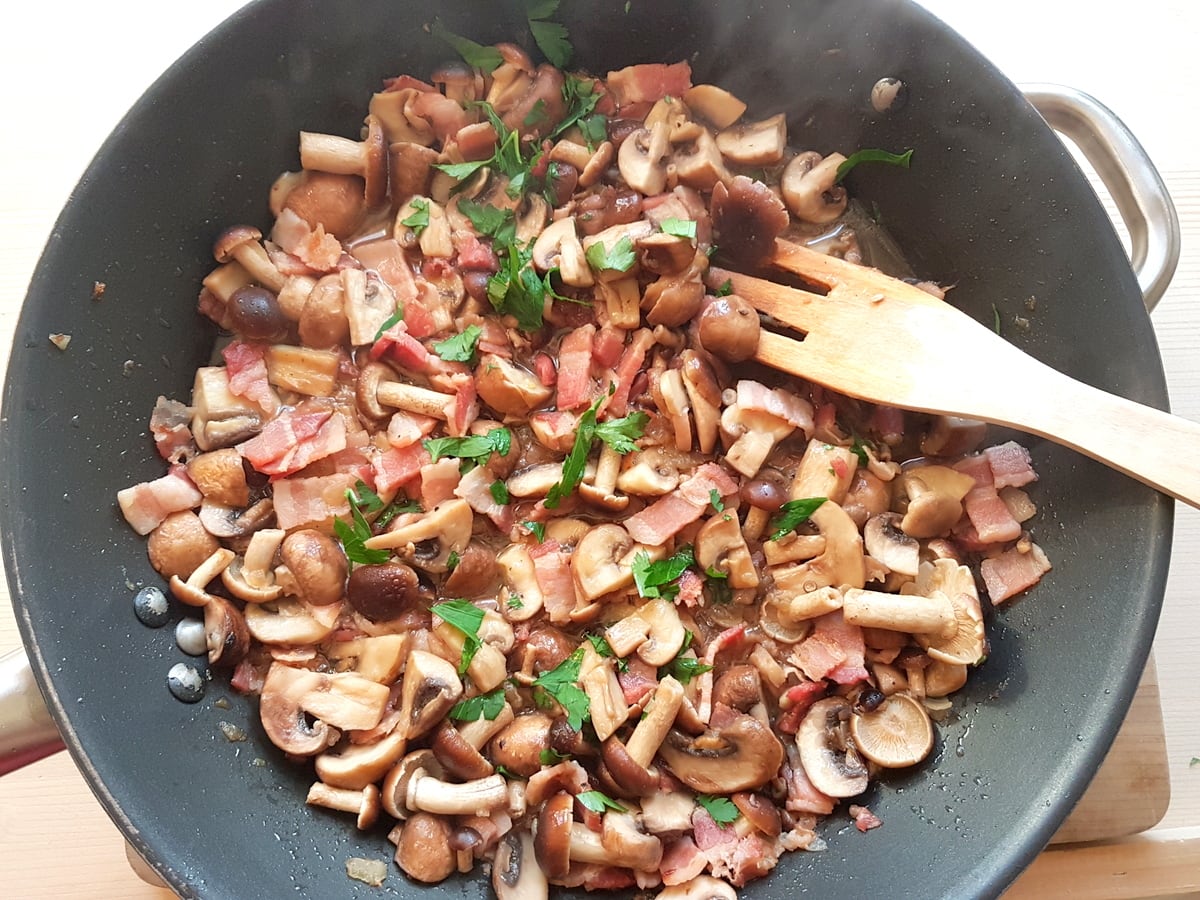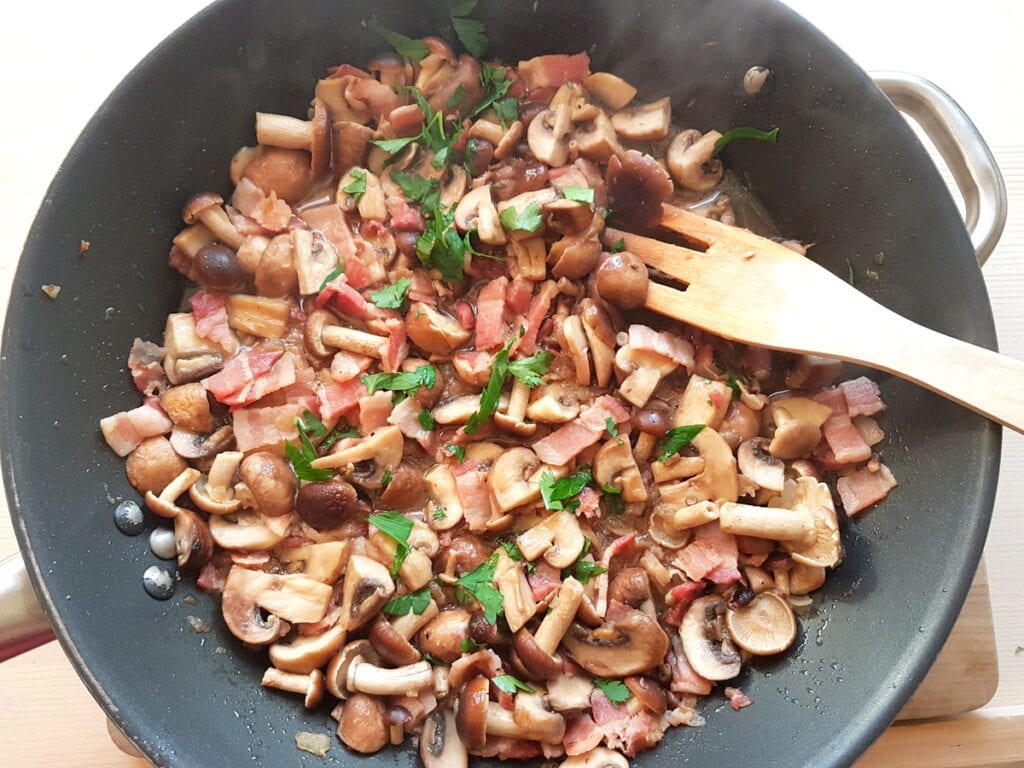 Gorgonzola is very popular in Northern Italy and frequently used in pasta dishes made with gnocchi or short pasta like this short fusilli bucati (meaning fusilli with a hole) or penne or rigatoni, in risottos and on pizza. If you have 4 cheese (quattro formaggi) pizza in Italy, one of those cheeses will be gorgonzola.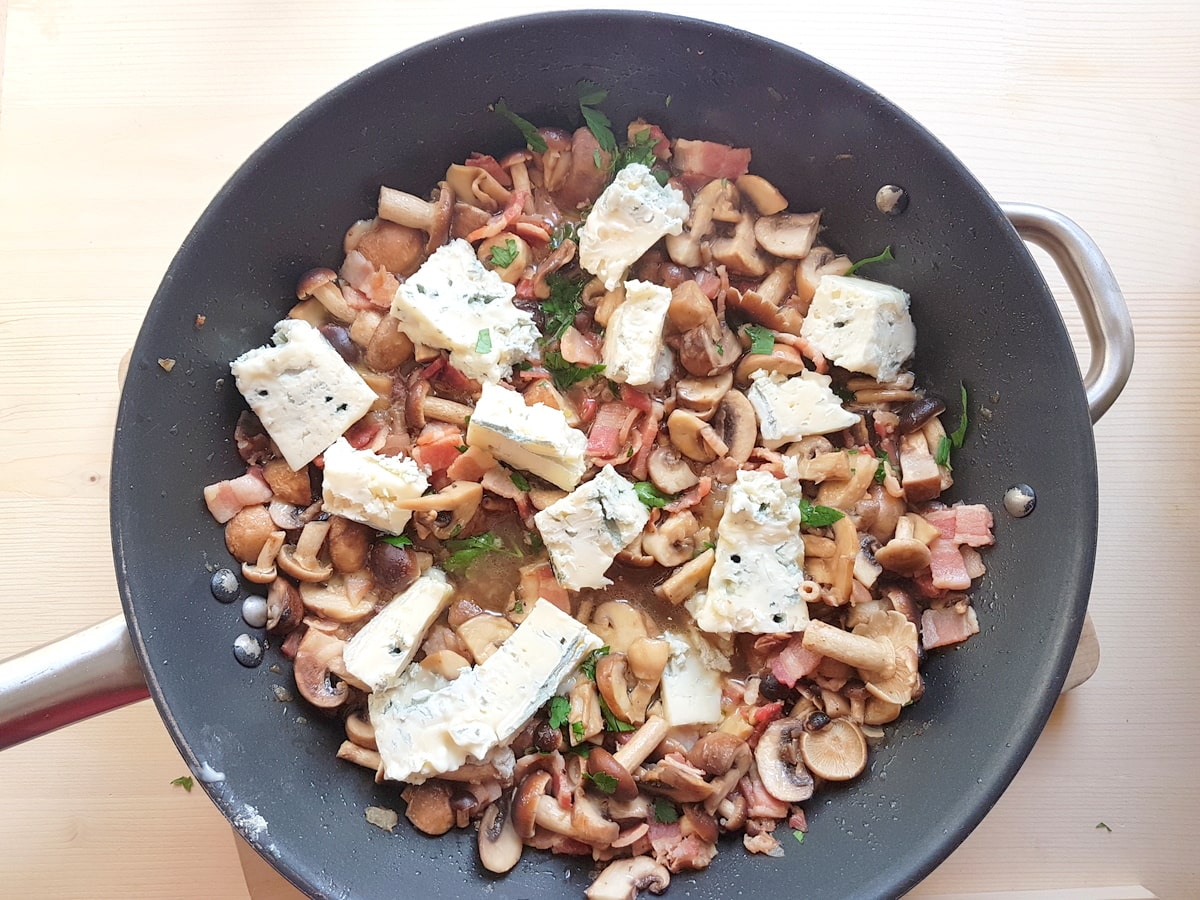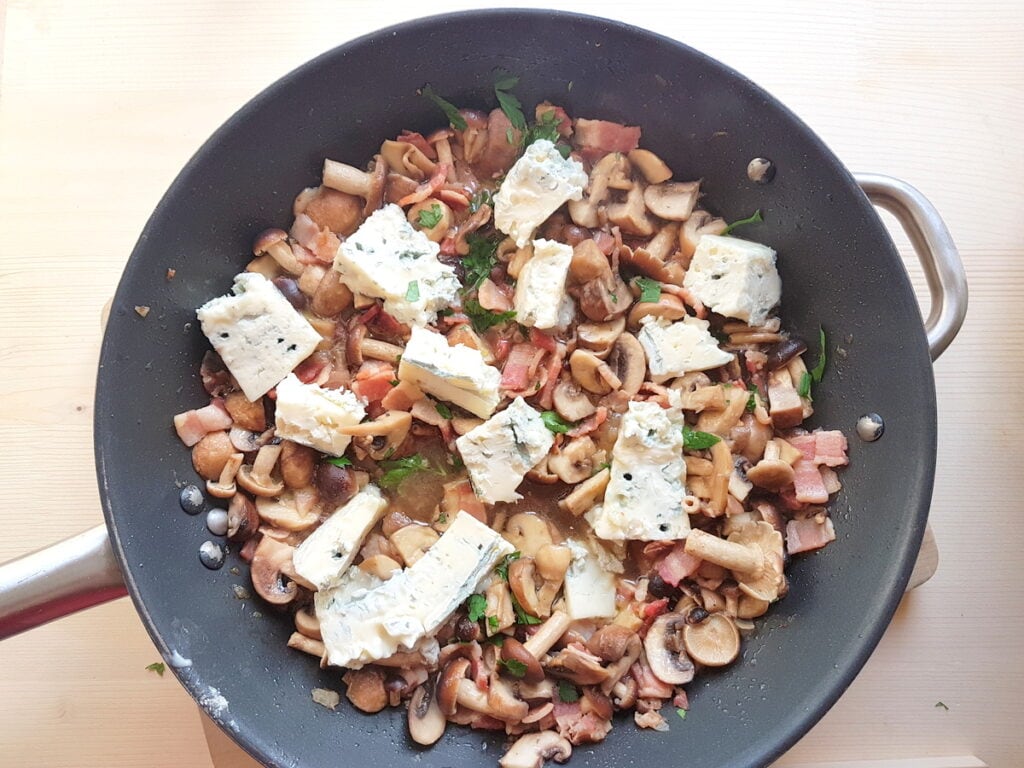 The pancetta.
Italians don't really eat bacon as it's eaten in UK and USA. What they mostly use is pancetta, the second main ingredient in this pasta dish. Pancetta is made from pork belly which has been salted and cured. There are two types of pancetta here in Italy; rolled or in a slab. Italians often eat the rolled type uncooked like salami or ham as slices in sandwiches or in a cold cuts platter. A slab of pancetta is actually like a thin brick. This is often cut into cubes or thick slices for cooking. We can also buy it ready cubed.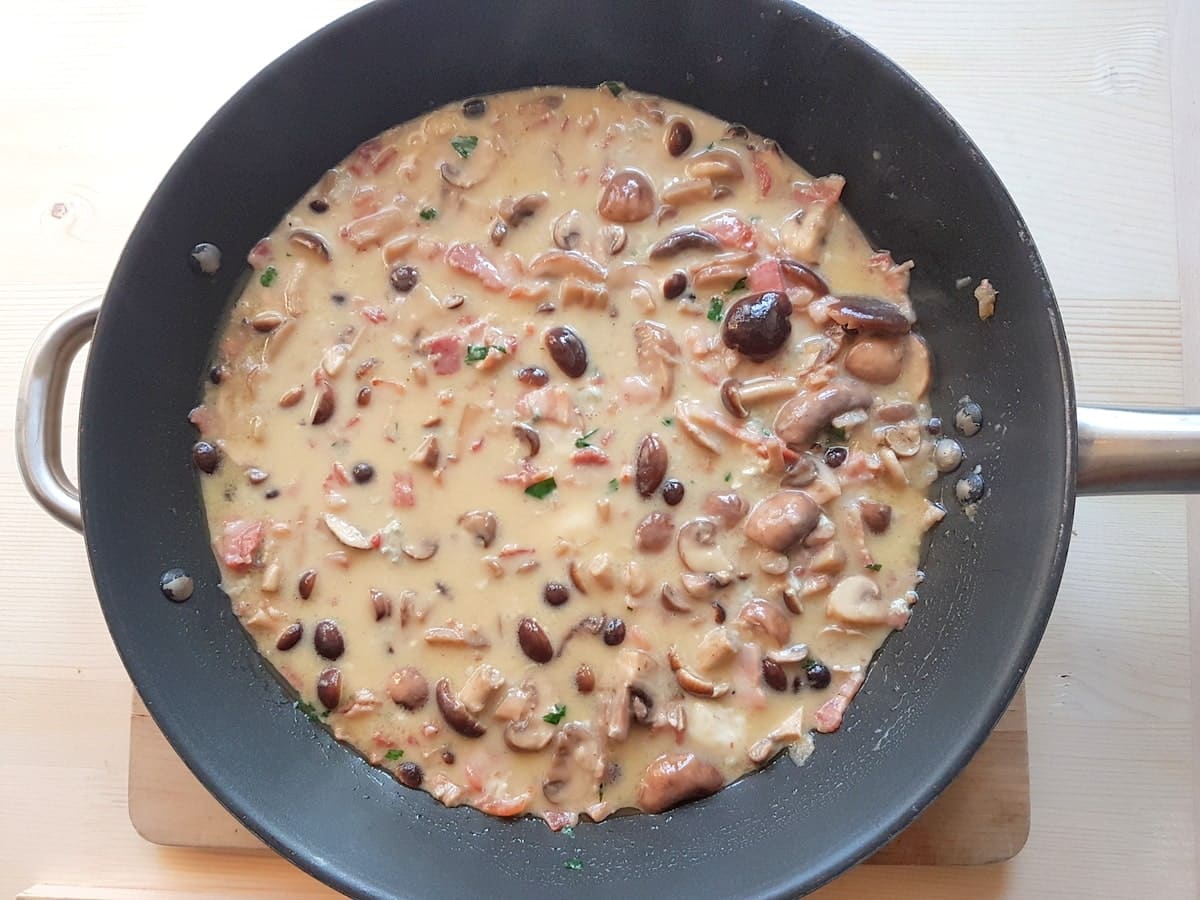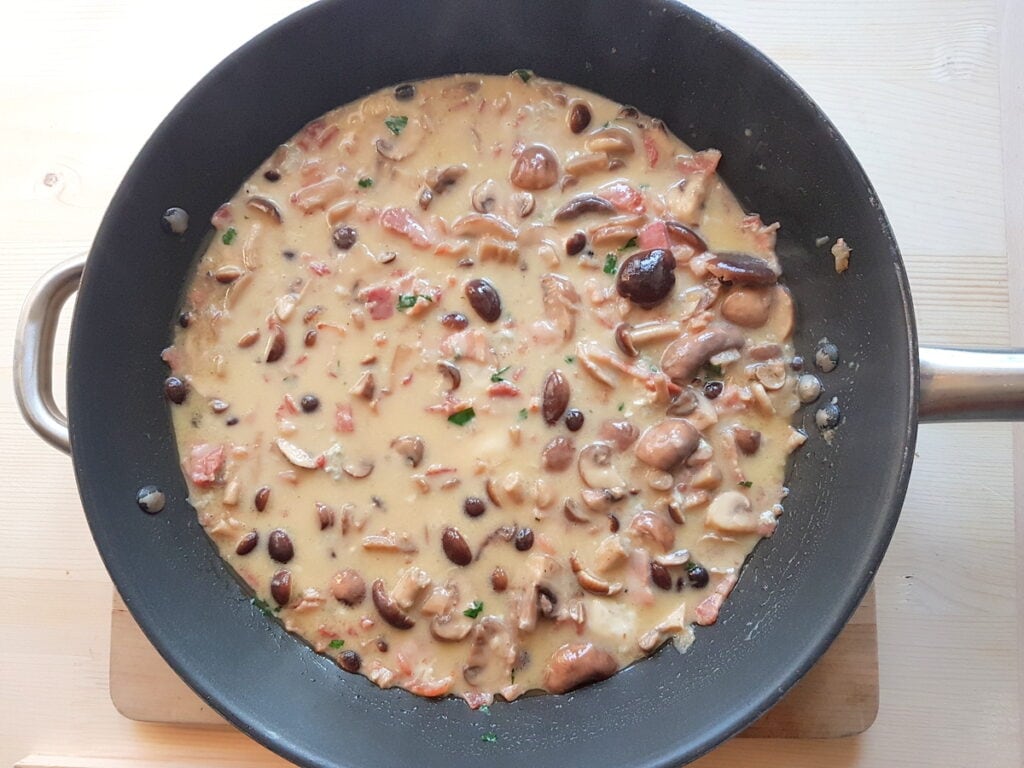 You can use different types of mushrooms.
I would have loved to use wild mushrooms in this short fusilli bucati recipe, but we've had quite a dry few weeks and there aren't any wild mushrooms around. Of course, wild mushrooms, especially porcini (ceps), are a common ingredient in many Italian dishes and there are a lot of pasta recipes with them. For this baked fusilli bucati recipe, I choose to use cultivated mushrooms. You could also add some dried porcini.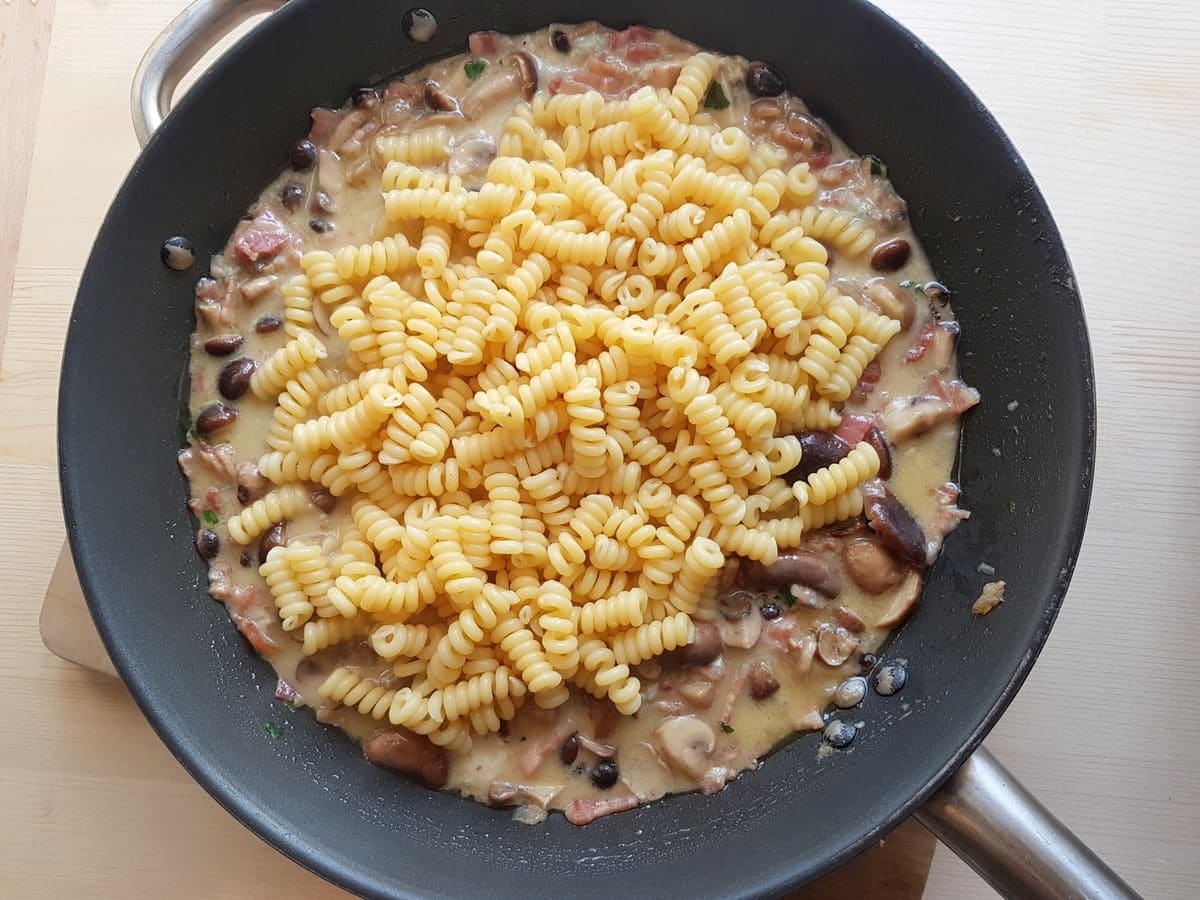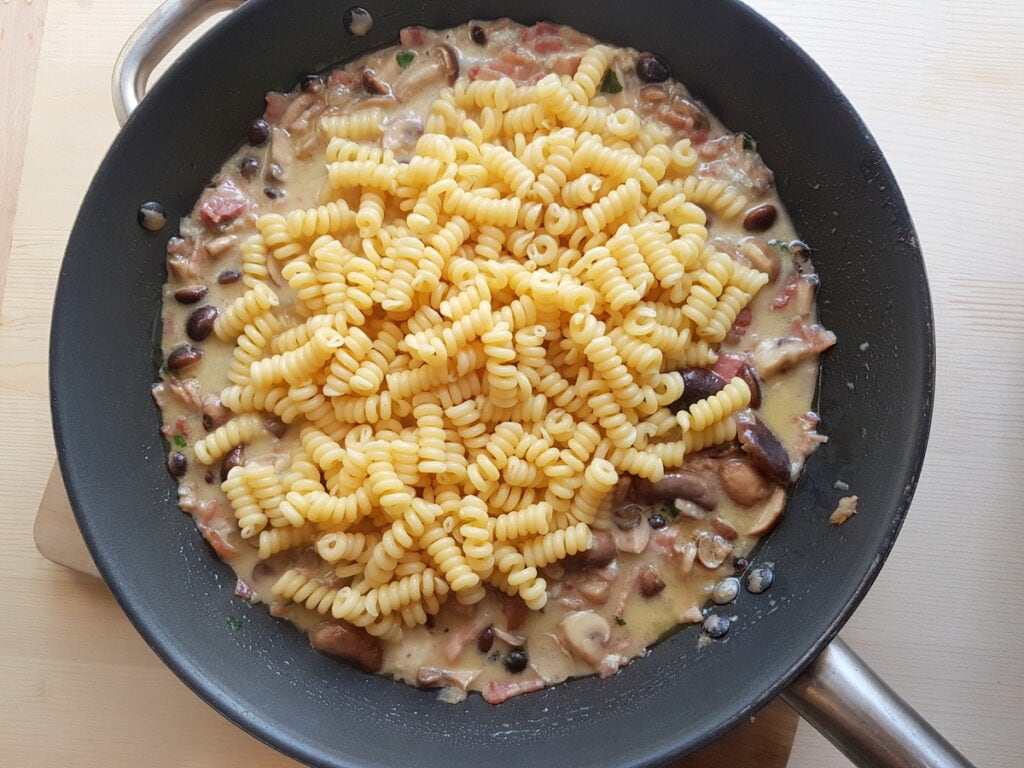 Criminis and Pioppini mushrooms.
First, I decided on criminis or baby portobello mushrooms because they have a better flavour than the younger white button mushrooms and stay firmer when cooked. The second mushroom I used was pioppini, also known as black poplar mushrooms or willow mushrooms. These cute looking small long stemmed mushrooms have quite a rich, earthy taste and are very popular in 'pasta con funghi' recipes.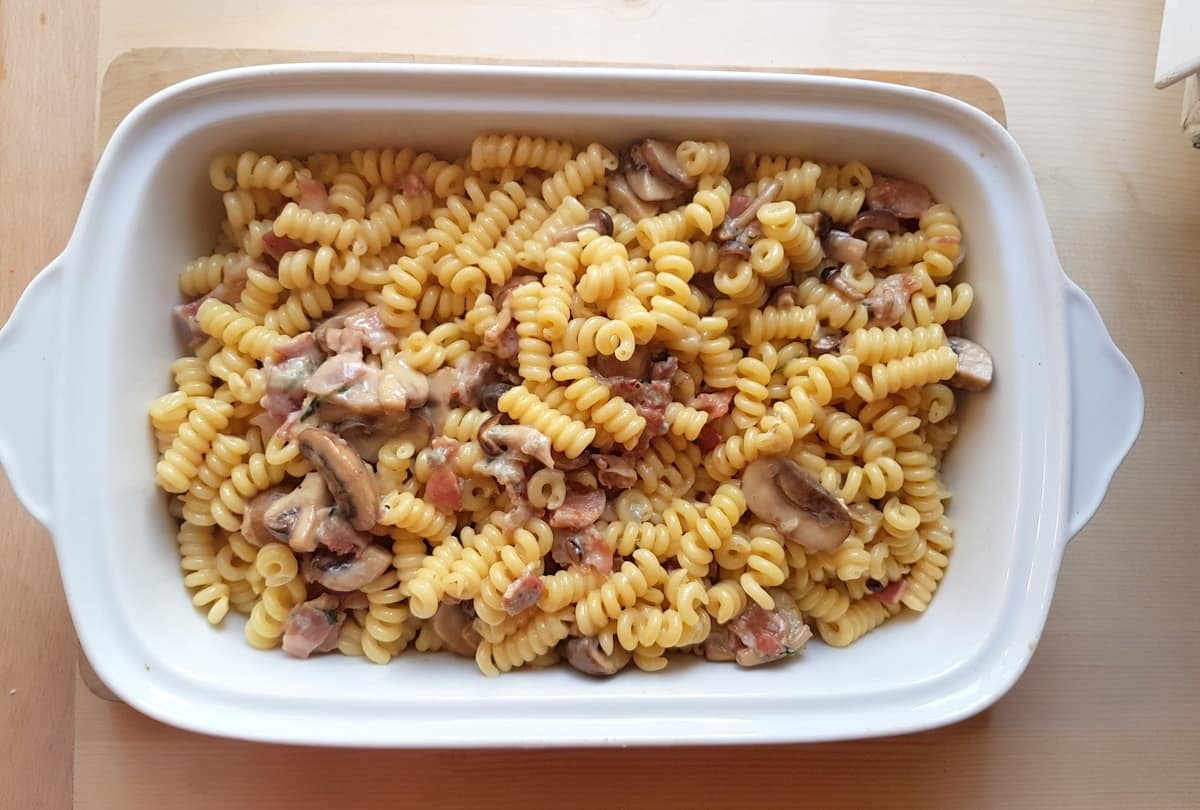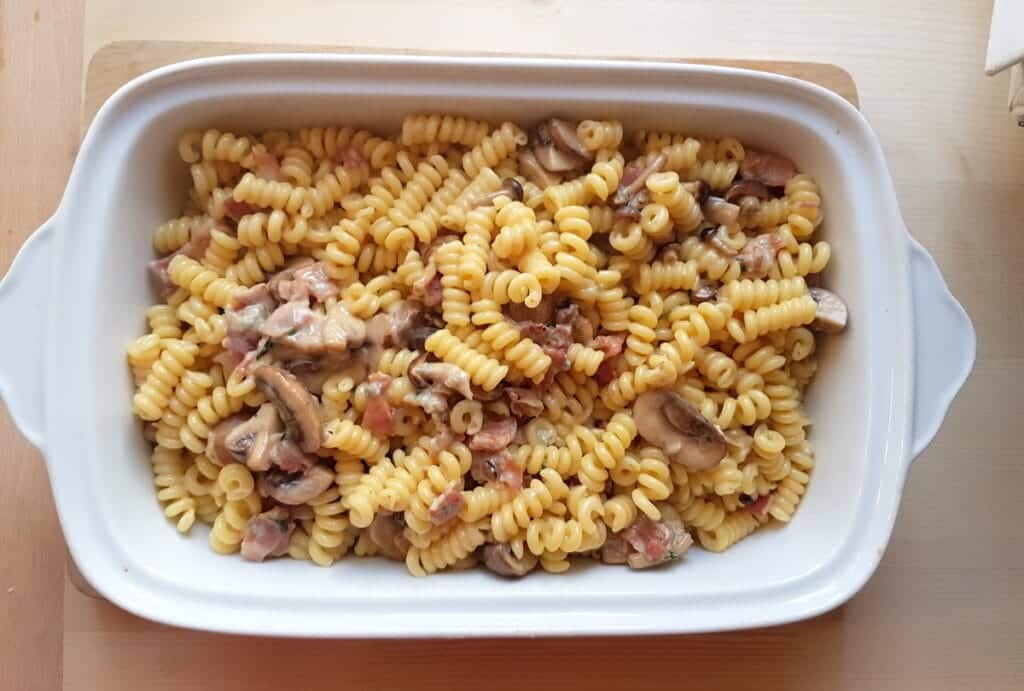 Pioppini are also very high in fibre and are a great source of a number of nutrients and vitamins. I chose to make this dish with these two mushrooms but I think it can easily be made with others too. Just use your favourites!
What is fusilli bucati?
The pasta I used for this recipe is called fusilli bucati corti in Italian or fusilli bucati col buci. Both names mean short fusilli with a hole. This pasta is hollow in the centre, like bucatini! There's also a long version called fusilli lunghi bucati. You can read more about the different types of this pasta and its origins in my fusilli post. Of course, you can use other types of short pasta instead.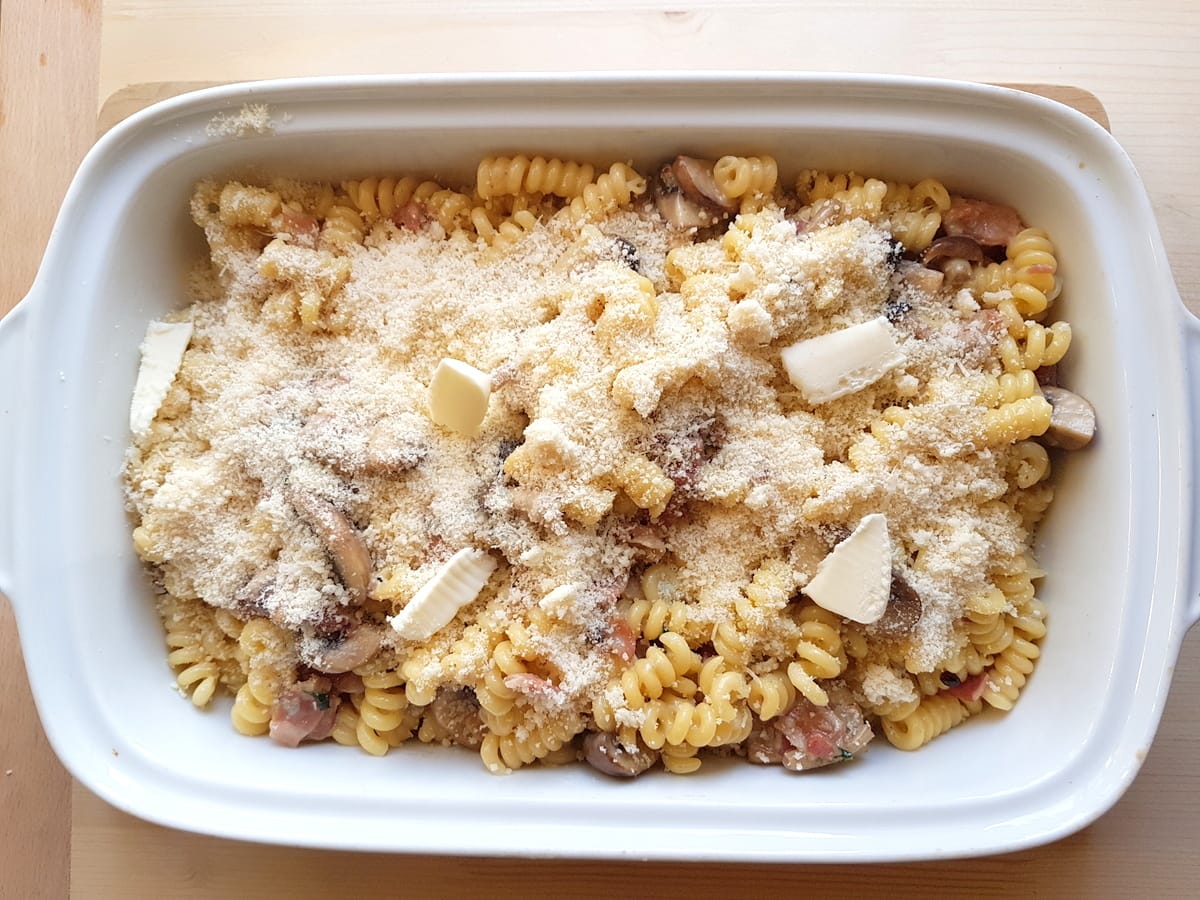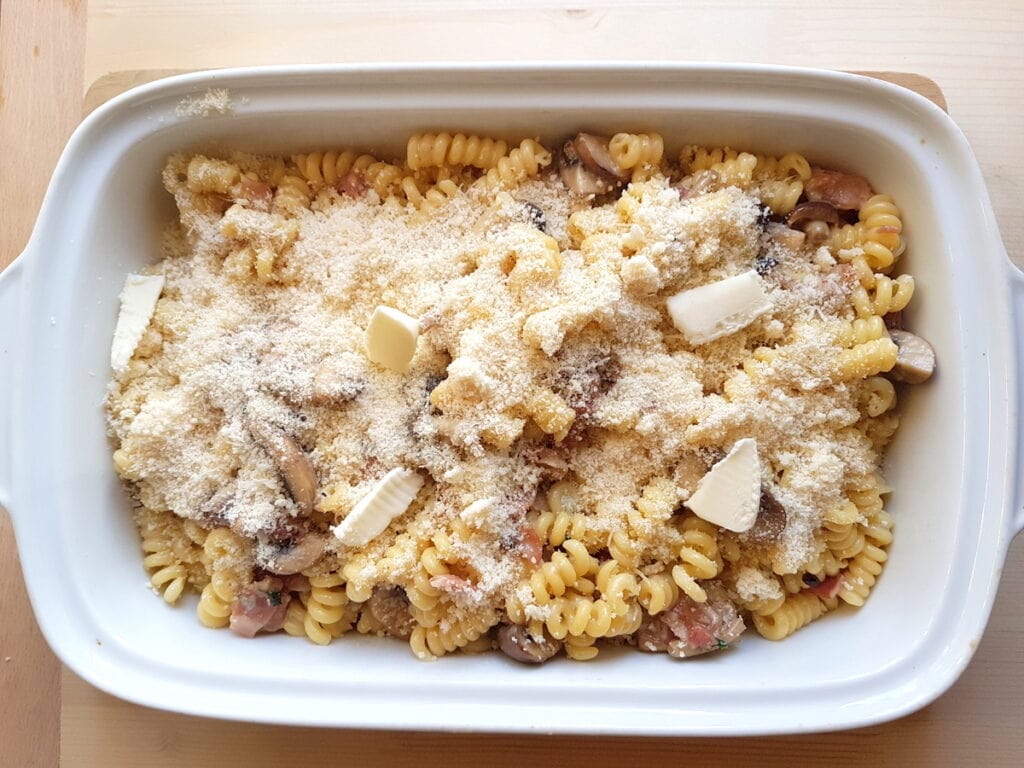 An easy sauce to make!
This sauce is easy to make because none of the ingredients take very long to cook. Plus, you just cook them all more or less together in the same pan. After making the sauce and cooking the pasta almost al dente, I just mixed the two together and baked my short fusilli bucati with gorgonzola, pancetta and mushrooms in the oven until the top layer of pasta started to get crispy!
However, you can also serve this fusilli bucati dish without baking. Just cook the pasta as normal until al dente, drain, mix with the sauce and serve with some grated Parmigiano or grana.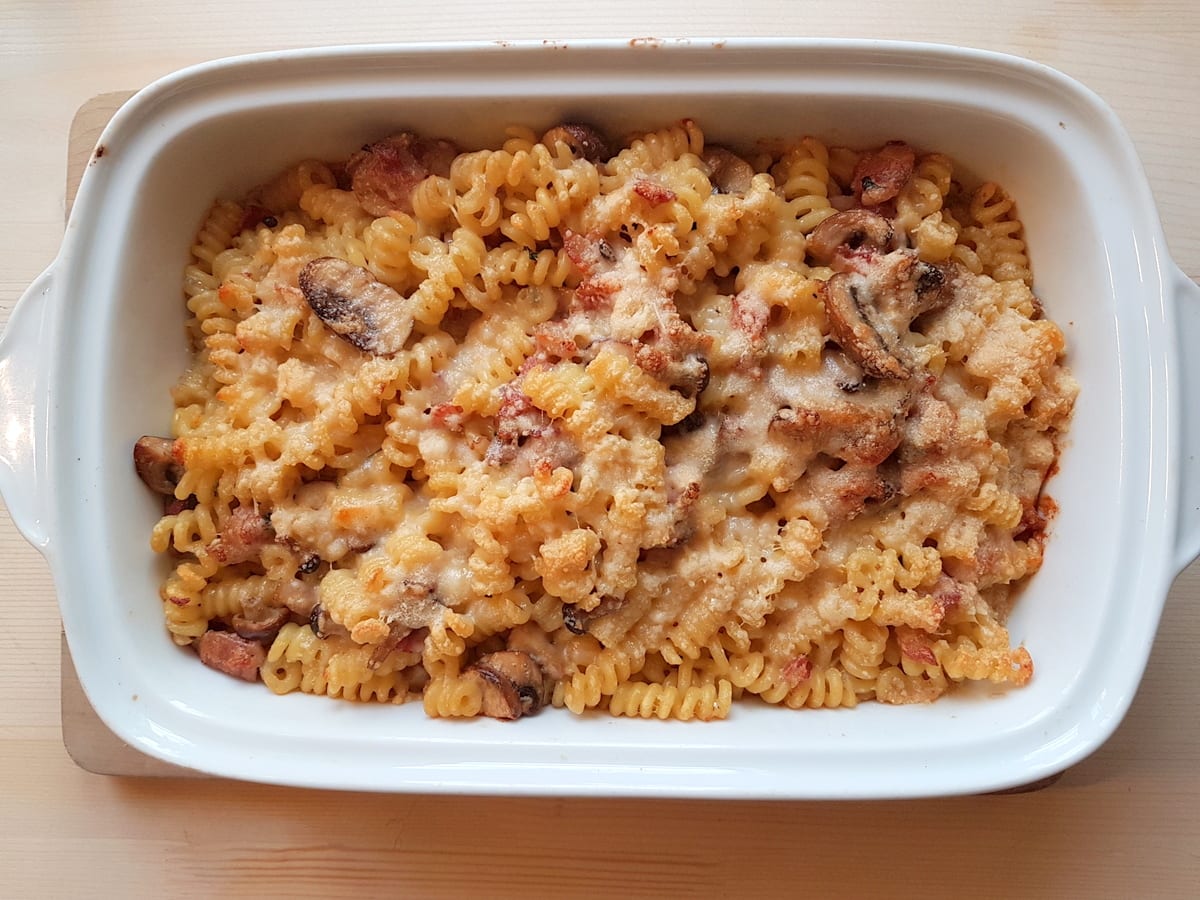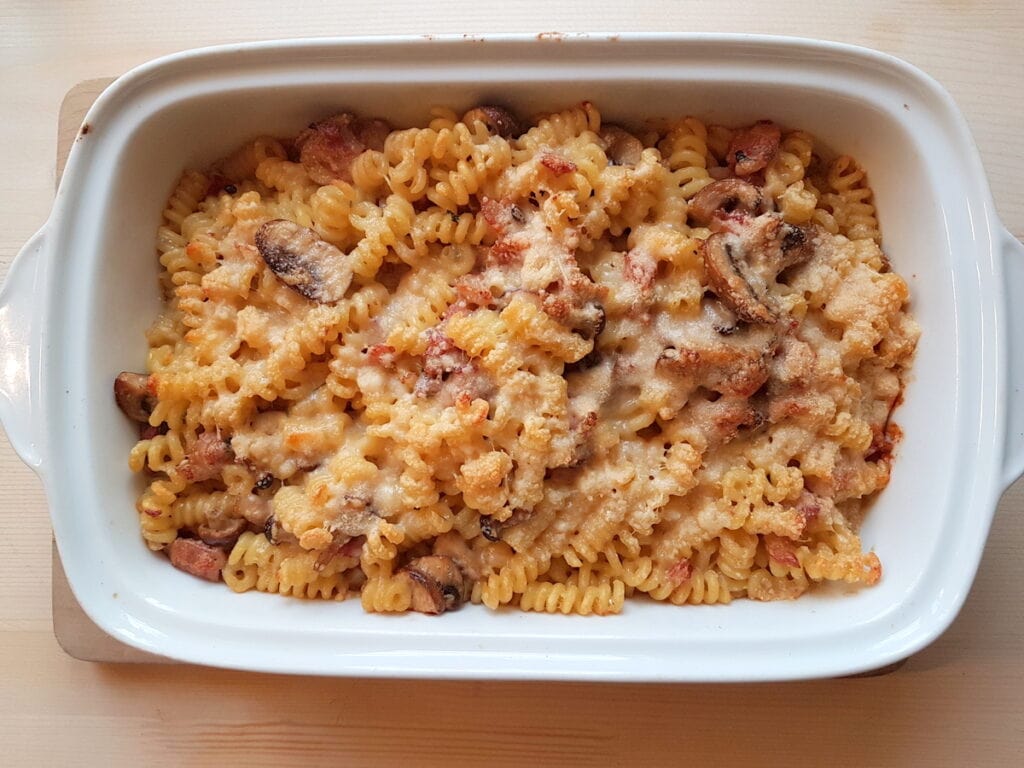 There's nothing like a good baked pasta on a cold day or when you're really hungry! Don't you think? I guess that's why I chose to bake this dish. But, whichever way you eat it, I'm sure you'll love it. Do let me know how it turns out. You can comment here on the blog or on The Pasta Project Facebook page. I'd love to hear from you!
Buon appetito!
SAVE THIS RECIPE FOR LATER?
If you want to save this recipe for later, you can print it, bookmark this page or save it to Pinterest.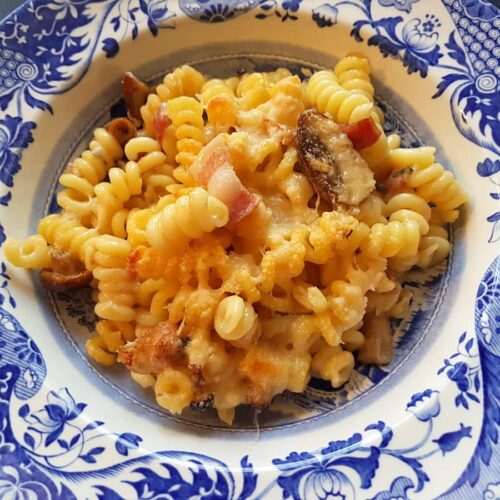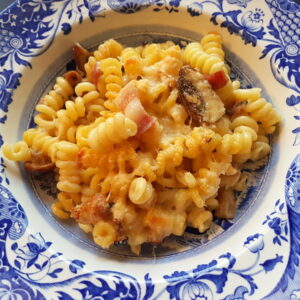 Baked short fusilli bucati with gorgonzola, pancetta & mushrooms
A tasty Italian baked pasta dish made with short fusilli bucati that will become a firm favourite with anyone who likes blue cheese, bacon and mushrooms! Easy to make and perfect for family meals
Ingredients
500

g

short fusilli bucati (1.1lbs)

or other short pasta such as penne

100

g

Parmigiano-Reggiano (3.5oz)

freshly grated

350

g

Gorgonzola (10oz)

broken into chunk. I used dolce/sweet

150

g

pancetta (5oz)

cubed

250

g

criminis or button mushrooms (9oz)

cleaned and cut into thick slices

250

g

Pioppini mushrooms (9oz)

cleaned

1/2

glass

dry white wine (2.5floz)

1

medium onion

peeled and finely chopped.

salt

for pasta and to taste

black pepper

to taste

3

tbsp

olive oil

1/2

glass

milk

or 1 cup of pasta cooking water
Instructions
Bring a pan of water to boil for the pasta. Generously salt the boiling water and drop in the pasta when it comes back to the boil.

Cook until a couple of minutes before the length of time stated in the cooking instructions. The pasta needs be a bit too hard to eat; it cooks further in the oven. 

Drain the pasta, reserving about 1 cup water.

While you are boiling the water for the pasta, heat the olive oil in a frying pan or skillet Add the onion and cook until it begins to soften.

Add the pancetta and continue cooking until it starts to brown.

Add all the mushrooms and continue cooking them until they brown slightly.

Add the white wine and some fresh parsley continue cooking until the wine has partially evaporated and the mushrooms are cooked.

Now add the gorgonzola whilst stirring continuously until it melts.

You can use the milk or water from the pasta to make the sauce more liquid

Add half the grated parmesan and continue to stir adding milk or water as required. Don't let the sauce get too thick or dry.

Add salt and pepper to taste.

Mix the pasta with the ready sauce and transfer to a greased oven dish (I use a bit of butter).

Sprinkle the rest of the parmigiano on top and add a few pieces of butter. Bake in a preheated hot oven (180-200°c) for 10 minutes or until the top starts to get brown and crunchy!

Remove from the oven and let the dish stand for a couple of minutes.

Serve with extra grated parmigiano as required.
Notes
This dish can be made using different kinds of short pasta such as penne, rigatoni etc as well as different kinds of mushrooms.
It can also be cooked in individual portions which is rather a nice way to serve it.
You can also eat this dish without baking. Just cook the pasta al dente, save some of the cooking water, drain and add to the sauce. Mix everything together well. Add some of the saved pasta cooking water if the sauce seems too thick. Serve immediately with extra grated cheese.
This recipe was first published in 2018 but has been updated.
Other popular Italian baked pasta recipes worth trying.
If you are interested in learning how to make homemade pasta and different types of gnocchi, check out my shop page for some great video online courses from my friends in Rome! Nothing beats learning to make pasta from Italians! Plus while you're there why not order a copy of one of my pasta recipe cookbooks or checkout some recommended pasta making tools? All great prezzies for pasta lovers!