Baked Lasagn
e in Broth alla Molisana; Recipe from Molise.
This baked lasagne in broth is a very very old recipe from the tiny Southern Italian region of Molise. It is absolutely scrumptious and so worth the time it takes to make!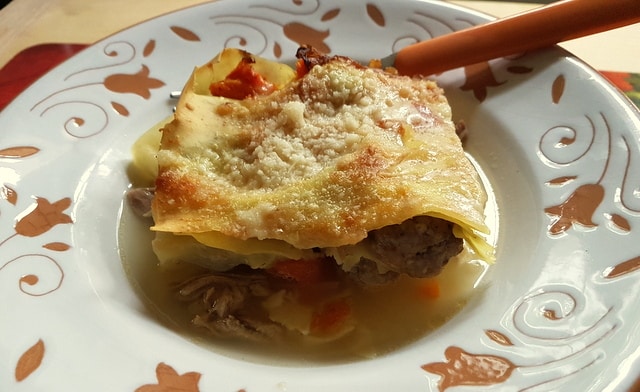 Lasagne al brodo alla Molisana.
Baked lasagne in broth is a typical dish from Molise, Italy's second smallest region. This Molise version of lasagne al forno is totally unlike the better-known, classic  lasagna alla Bolognese.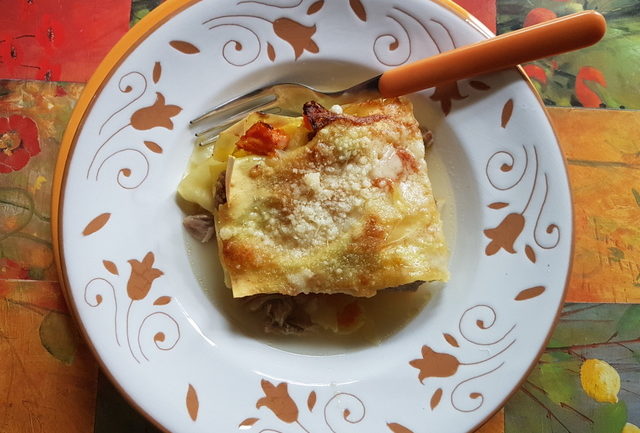 This is a unique dish, so worth the effort it takes to make. It's very nutritious, warming and comforting in winter.  In this recipe, you fill the layers between the lasagne sheets with small veal meatballs, shredded veal and chicken from the broth and mozzarella.  Then, you bake and serve the lasagna in the broth.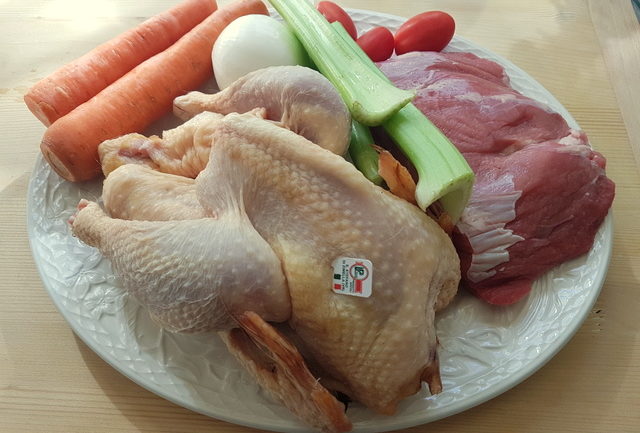 A recipe that dates back to Ancient Rome.
This is a really ancient recipe, the origins of which date back to Roman times. The original pasta used in this recipe would have been lagane, a type of rustic fresh pasta made from just flour and water, typical of the Southern Italian regions.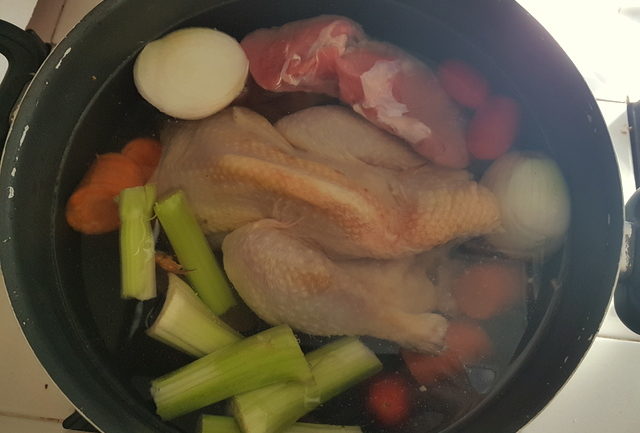 This pasta differs in size depending on the cook and the area. However, it is usually thicker and wider than tagliatelle but narrower than lasagne or made into squares.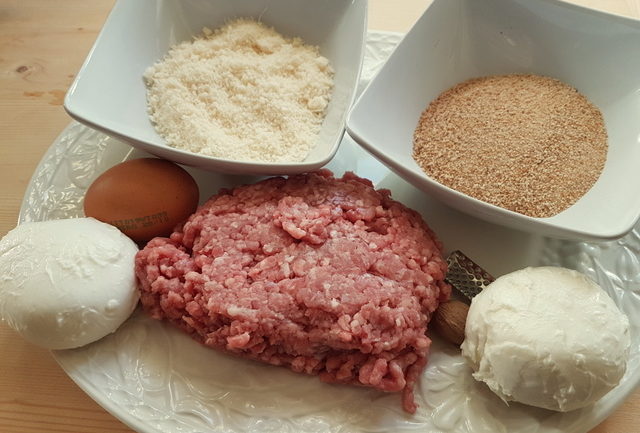 One of the first references to a similar recipe can be found in the ancient Roman cookbook by Apicio called 'De Re Coquinaria'. This book dates back to 1st century AD!
Lagane pasta cooked in broth with vegetables and meat, especially chicken, was also a typical Southern Italian dish made for families in mourning in a tradition known as 'lo cunzuole', meaning condolences.  In the past, neighbours would cook lagane in broth and bring it to the home of the deceased for the family and funeral guests to eat after they returned from the cemetery.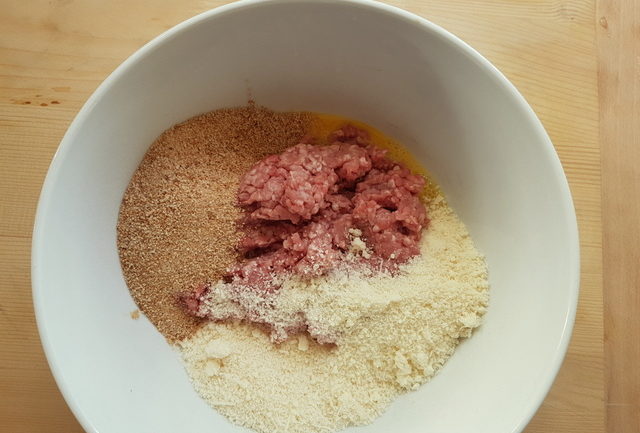 There is actually a festival dedicated to baked lasagne in broth (or 'sagna 'in the local dialect) in the town of Guglionesi (Campobasso) in Molise every August. However, this is really a dish that is more suited to the winter. In fact, traditionally, baked lasagne in broth is often on the menu for St. Stephen's Day on December 26th.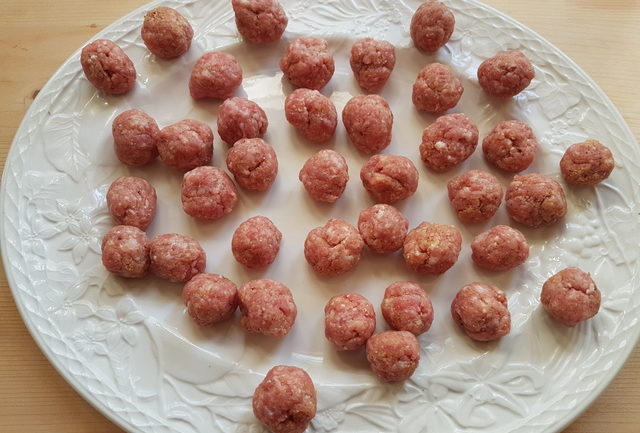 Worth the time it takes!
Baked lasagne in broth requires a bit of time to prepare and can't be hurried. So, this is a dish for Sundays or holidays, as is traditional in Molise. However, you can divide the preparation into steps, a couple of which can be done the day before. You can make the broth and boiled meat in advance. Plus, the meatballs can be prepared in advance too, either cooked or uncooked.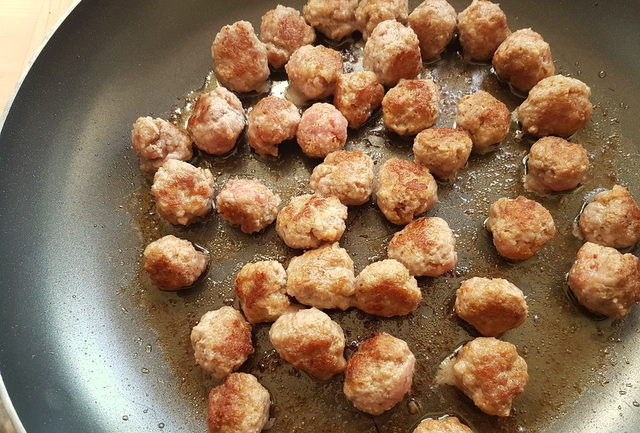 Fresh or dried pasta.
If you decide to make homemade lasagne, I would do it the same day. Of  course, assembling and baking this dish needs to be done just prior to eating. For this recipe, I used ready made fresh lasagne sheets from Giovanni Rana. You can also use dried lasagne sheets, but you will need to blanch them slightly in boiling water for best results.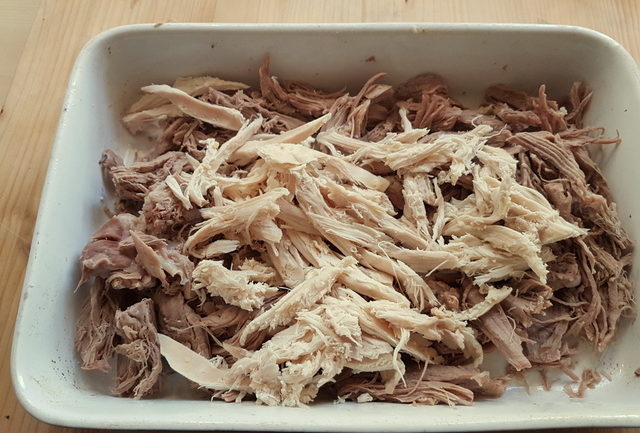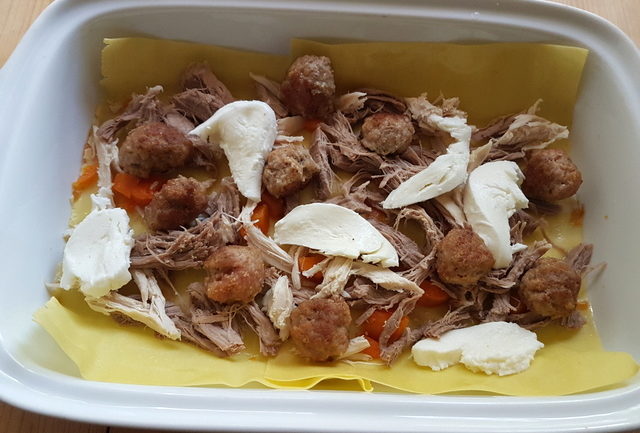 Baked lasagne in broth reheats well and we had leftovers the following day.  However, it was most delicious straight from the oven.  Even though this is a time consuming dish to make, I have to say it is seriously delicious. It is definitely so worth the effort. I'm sure that you will agree with me if you try it!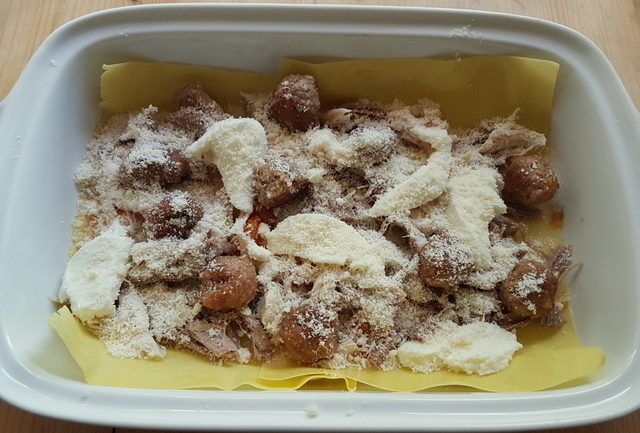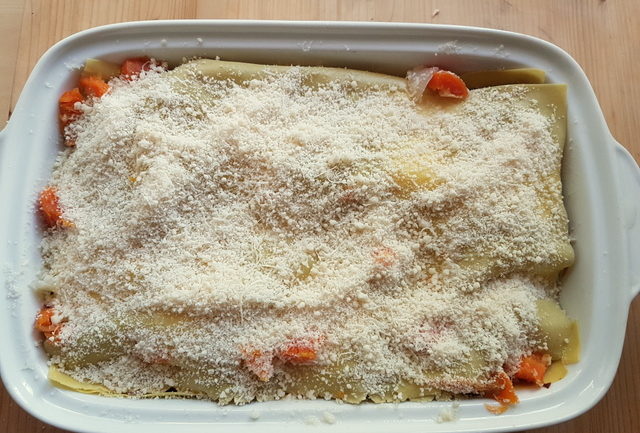 If you make this baked lasagne in broth recipe, I'd love to hear how it turns out and if you liked it. So, please leave a comment here on the blog or on The Pasta Project Facebook page.
Looking forward to hearing from you!
Buon appetito!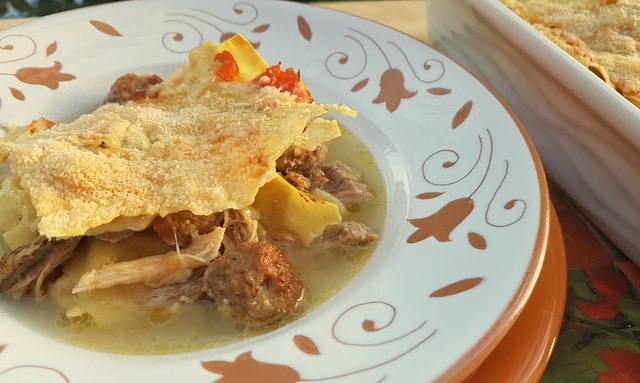 Save this recipe for later?
If you want to save this recipe for later, you can print it, bookmark this page or save it to Pinterest.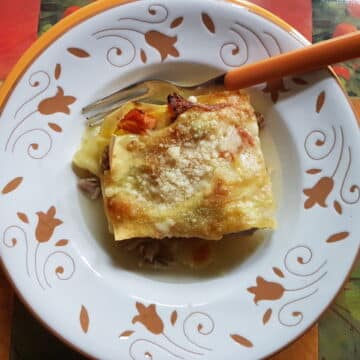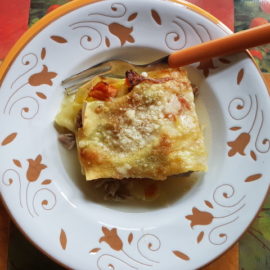 Baked Lasagne in Broth alla Molisana
In this unique baked lasagne recipe from Molise, the layers of lasagne sheets are filled with small veal meatballs, shredded veal and chicken from the broth and mozzarella and then baked and served in broth.
Ingredients
200

g

lasagne sheets

(7oz) I used ready made fresh lasagne from Giovanni Rana. You can make your own pasta or use dried lasagne
For the broth
1

chicken or stewing hen

medium sized

250

g

veal

(9oz) loin or shoulder

2

celery stalks

washed

2

carrots

washed

1

onion

peeled

2

tomatoes

small (optional)

salt

to taste

black pepper

to taste
For meatballs
250

g

minced veal

(9oz)

50

g

Parmesan cheese

grated (2oz)

1

egg

1

cup

breadcrumbs

either fresh bread soaked in milk and squeezed or dried ready made breadcrumbs

nutmeg

salt

to taste

2-3

tbsp

extra virgin olive oil

or other cooking oil
to finish the dish
2

mozzarella balls

125g each (4oz each)

100

g

Parmigiano Reggiano

grated (3.5 oz)

1

pinch

nutmeg
Instructions
First you need to prepare a good broth with the chicken/stewing hen and the piece of veal, plus the celery, carrot, onion and a couple of small tomatoes.

Wash the celery, carrots and tomatoes. Cut the celery and carrots into large pieces. Peel the onion and cut in half.

Put all the ingredients into a deep pot. Cover with water, season with salt and pepper and simmer for a couple of hours. Skim off the fat that comes to the top.

Once the broth is ready and the meat is cooked, shred the boiled chicken and veal into small pieces. If you do this the day before, keep the meat in a bowl with a little broth so that it remains soft. Keep the rest of the broth for preparing and serving the dish.
Make the meatballs
Put all the ingredients in a bowl (except the oilve oil). Mix together well with your hands. Shape small round meatballs using your hands. Refrigerate the meatballs for 15-30 minutes.

Fry the meatballs gently in a frying pan with a little heated olive oil until browned all over. You don't need to cook them through. Set aside.
Finish the dish
Drain the mozzarella and cut into pieces. Pour a little stock onto the bottom of an oven dish and make a first layer of lasagne sheets on top of it.

Spread some of the mixed shredded boiled meat over the pasta. Add some meatballs and pieces of mozzarella. Moisten with broth, without fear of exaggerating because you need quite a lot. Finish the layer by sprinkling with grated Parmigiano and a little nutmeg.

Repeat with another layer of pasta, shredded meat, meatballs, mozzarella and Parmigiano and nutmeg.

Repeat and finish with a layer of pasta. Sprinkle with lots of Parmigiano. Add enough broth so the broth reaches half way up the sides of the dish. 

Bake for about 20 minutes in a preheated oven at 180°. Serve with extra heated broth in a deep bowl or plate with more grated Parmigiano if required.
Notes
If you use dried lasagne sheets you will need to blanch them in boiling water before assembling this dish. Some people filter the broth before assembling the lasagna. I prefer not to as I like to include some of the veggies in the finished dish.
Pin for Later!