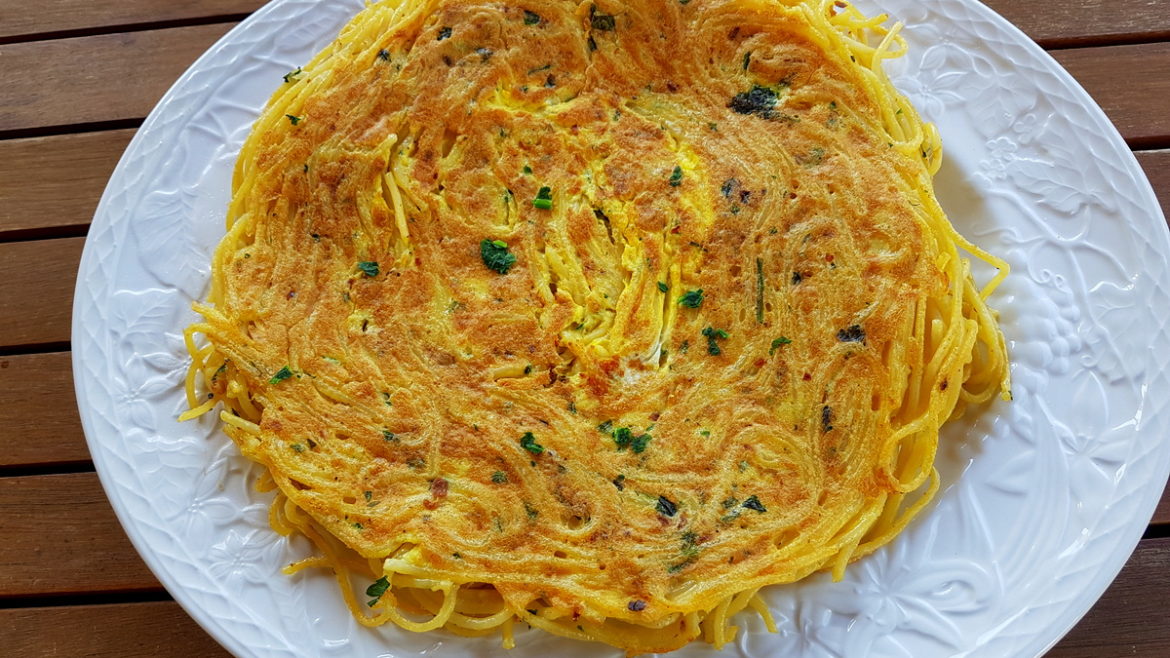 Vermicelli pasta frittata from Basilicata;
There is an Italian expression 'hai fatto una frittata' which more or less means you have made a mess (figuratively or literately!). Perhaps, the expression came into being when a frittata was merely a way to use up whatever leftovers were in the fridge and not actually considered a culinary delight! (go straight to recipe)
However, the humble frittata or Italian omelette (as it is sometimes called ) has gone up in the world and can be found on many English language and Italian recipe sites and has even had articles written about it!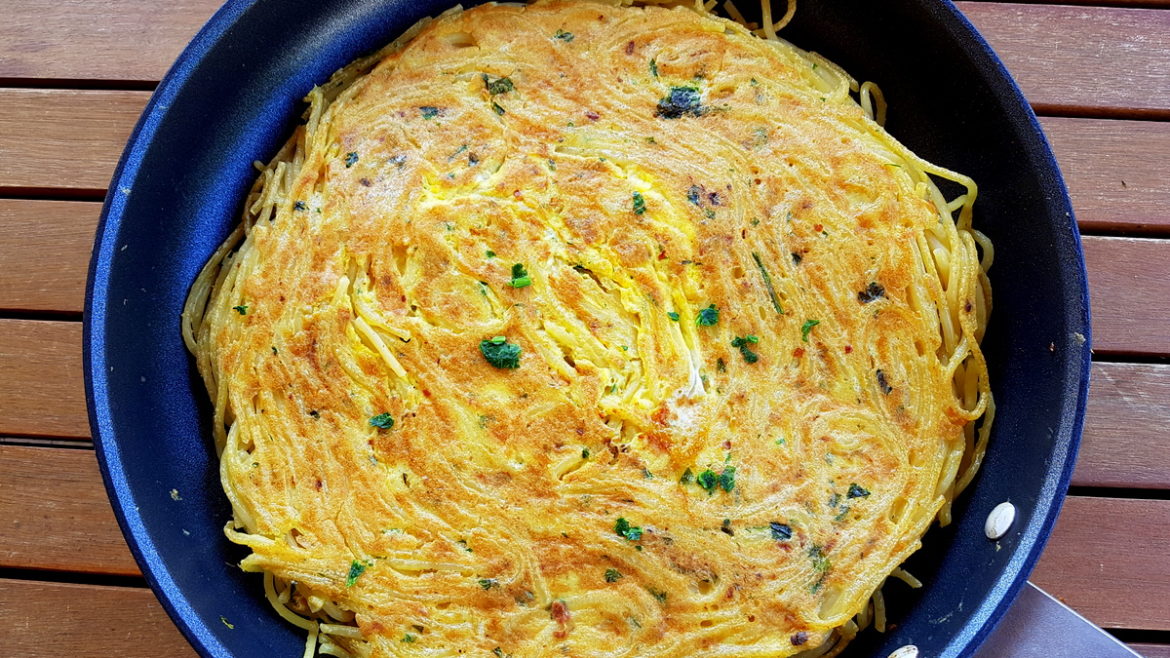 Fry or oven bake?
The word 'frittata' comes from the verb 'friggere' which means to fry and although, nowadays, some chefs (like Jamie Oliver) advocate oven-cooking it for a healthier version, in Italy it is always fried. (although oven baking or grilling the top, instead of attempting to turn the frittata over, does help avoid messy accidents!)
Apart from the eggs, which of course are standard, there are many different ingredients used in Italian frittatas. The main differences between an Italian frittata and a French omelette are that the ingredients are mixed into the eggs before cooking, rather than placed onto the eggs after they have already started cooking in the pan, and a frittata is always circular in shape, thicker than an omelette and takes longer to cook.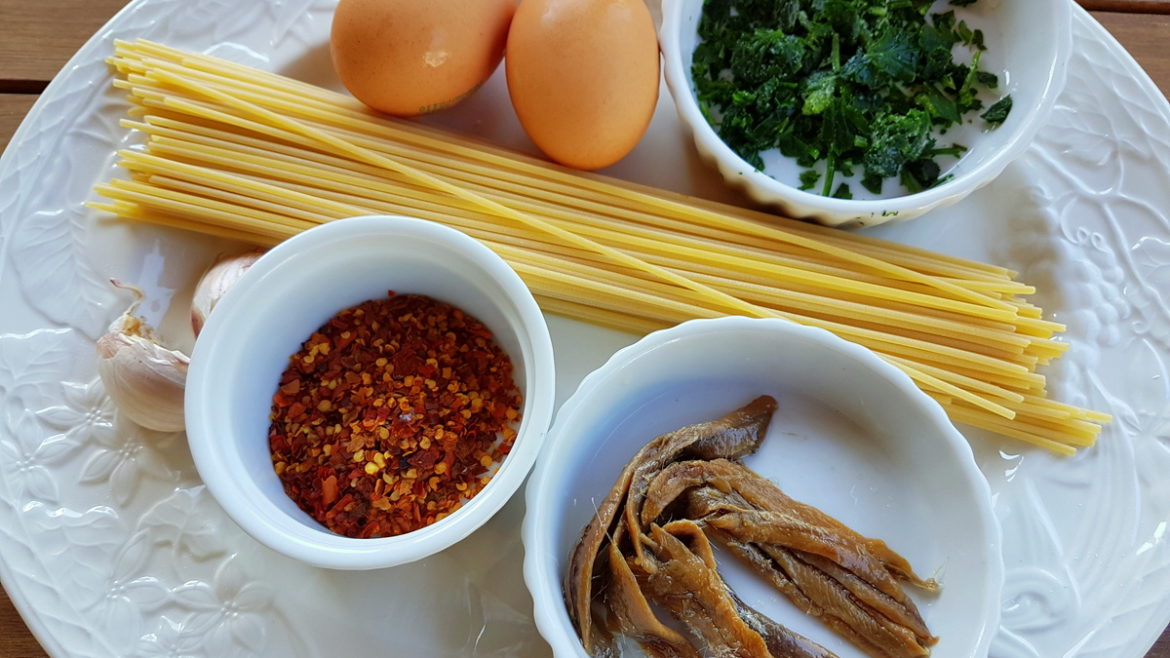 The French also don't put pasta in their omelette! The Italians do and pasta frittatas are very popular and traditional throughout Italy. Whether as a result of frugality or necessity, the pasta frittata was most definitely born out of a desire to use up leftover pasta, most commonly long pasta such as spaghetti, vermicelli, bavette etc. Italians use both leftover plain pasta and leftover pasta already mixed with a sauce to make a pasta frittata.
There are a number of traditional recipes from different regions for pasta frittata, especially in Southern Italy, like this one for frittata di vermicelli di Basilicata. However, like its no-pasta brother, pasta frittata is a versatile dish that can include almost anything you have in the fridge, as long as it goes with eggs!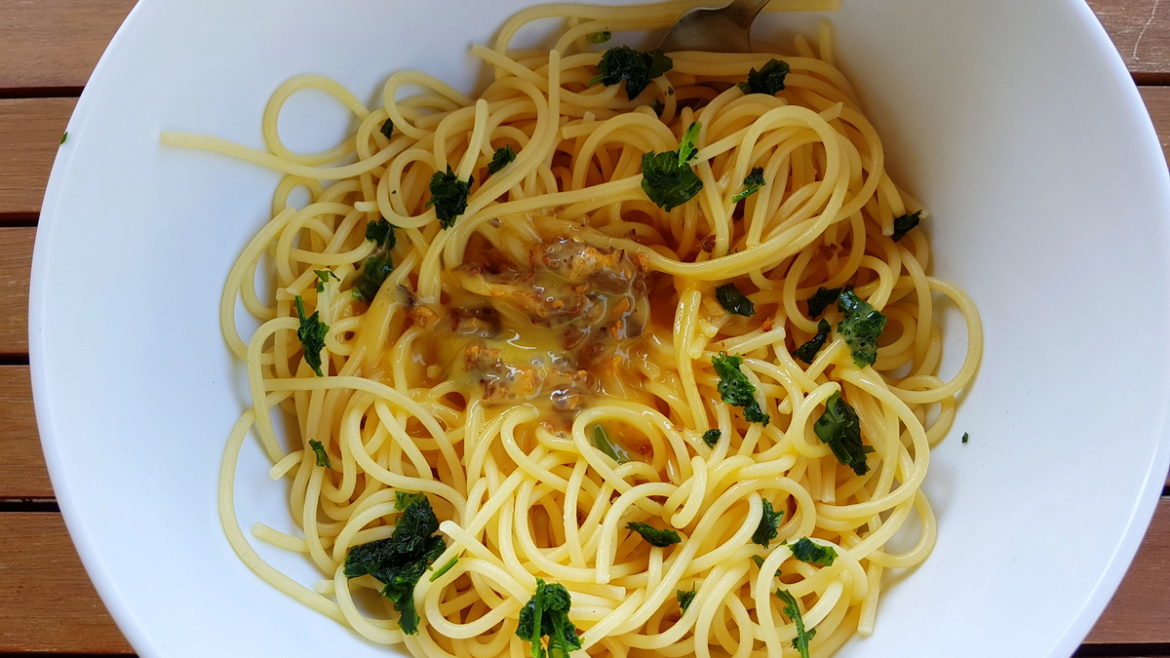 Of course, you don't need to have leftovers to make a frittata. Nowadays, many people just choose to make it from scratch or deliberately cook extra the day before in order to make a frittata the following day. Italians aren't big breakfast eaters and what breakfast they do eat is normally sweet, so frittata with or without pasta is not a typical breakfast choice here. It's a quick light meal or snack.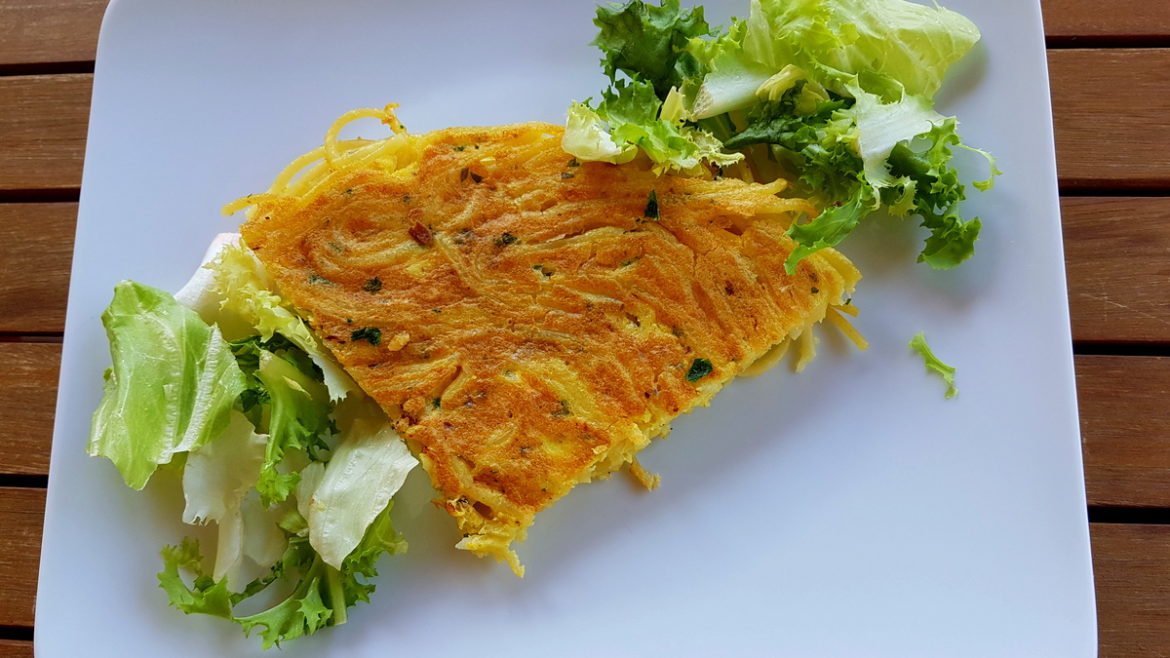 This recipe from Basilicata has only a few ingredients but it's very tasty. You may find the idea of anchovies in it strange, but I have to say they give it a great depth of flavour. To my mind, it tastes like pasta 'aglio, olio peperoncino' (yes it contains peperoncino!) so, if you like that pasta recipe you must give this one a try!
Buon appetito!
(see the recipe on page 2)
[amazon_link asins='B01MDRM5Y7,B00D6KCPRC,B0148QI0VM,B0047T6VC6,B00BU9YZN8,B00AYFN5S0,1849901481′ template='ProductCarousel' store='thepastaproje-21′ marketplace='UK' link_id='f8337960-633c-11e7-90db-45376e5fdae2′]