Pasta alla boscaiola is one of the most delicious traditional autumn/fall sausage and mushroom pasta recipes ever! Originally made with fresh foraged mushrooms, particularly porcini, this Italian classic is just as delicious if you use dried porcini and other types of mushrooms.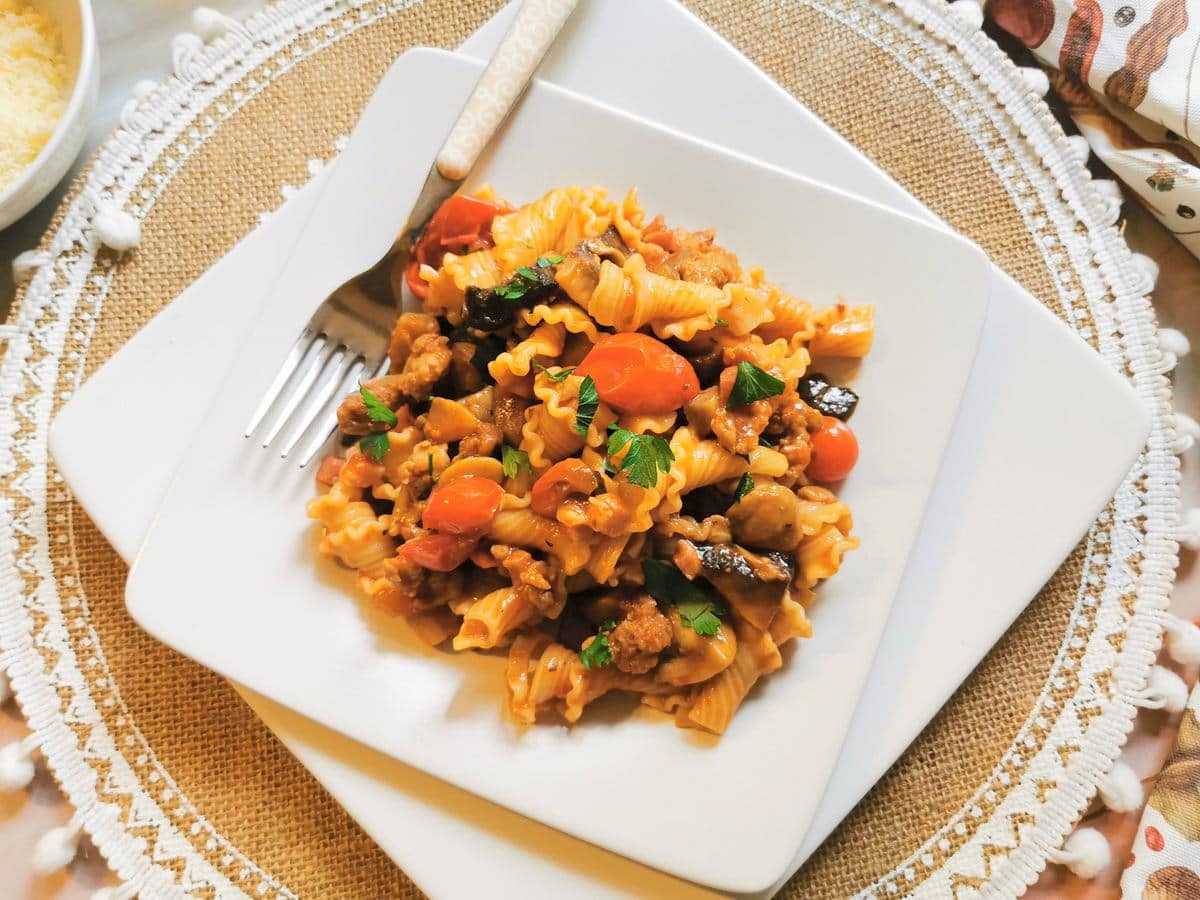 What does boscaiola mean?
In Italian, the word 'boscaiola' means woodsman or woodcutter. The name comes from the fact that this recipe is traditionally based on the most popular foraged food to be found in the Italian woods, mushrooms. 
In Italy, most alla boscaiola recipes include porcini mushrooms. Porcini are the king of foraged mushrooms here and given their divine, unique umami flavour, it's not surprising!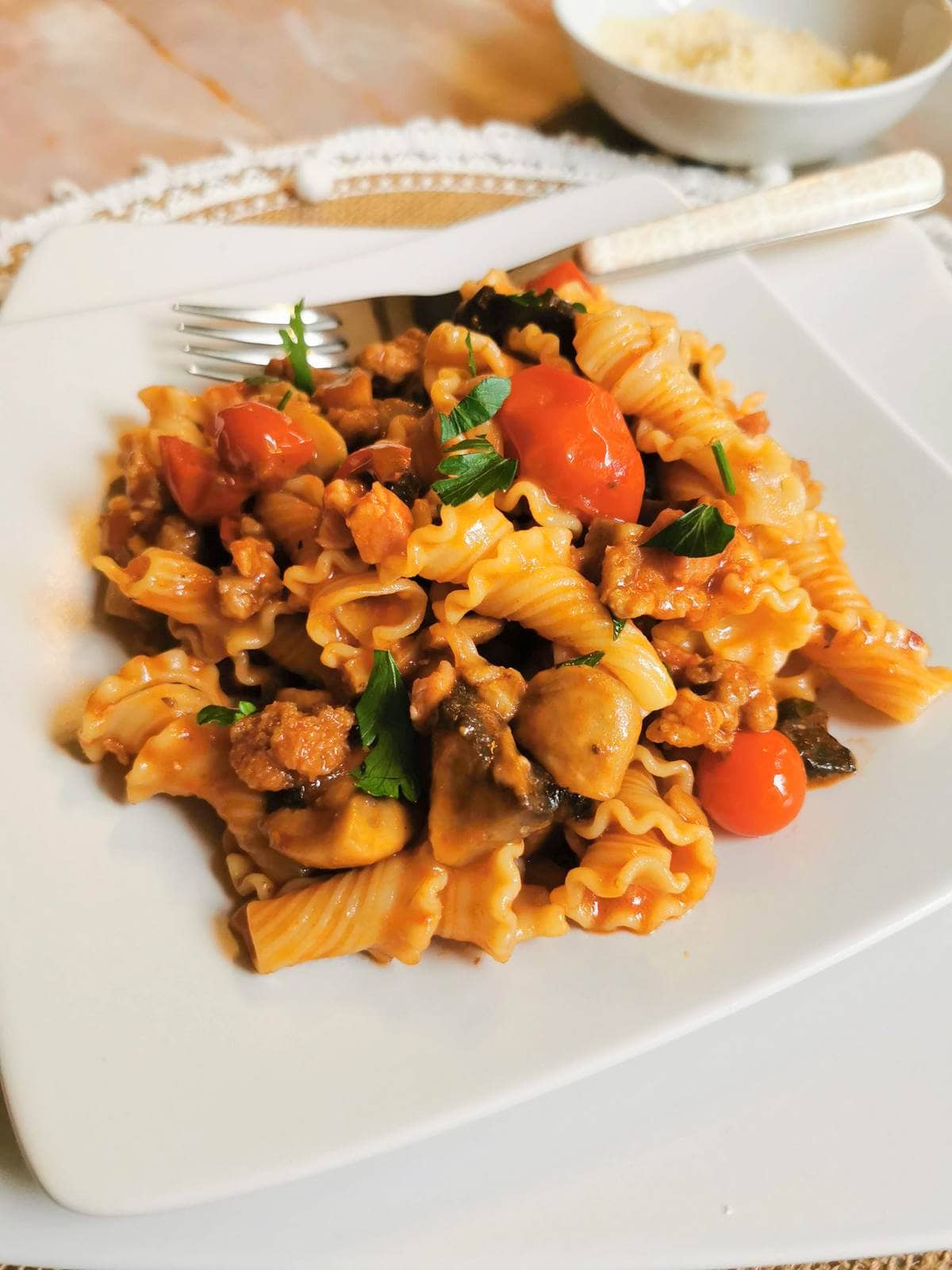 Can you use other mushrooms?
Of course, if you don't have fresh porcini you can use other wild mushrooms such as chanterelles. You can also use cultivated mushrooms. I made this version of boscaiola pasta with portobello mushrooms and champignons.
In the past, I've used pioppini and cremini. However, pasta alla boscaiola without porcini isn't really what it could be! So, for an authentic flavour add dried or frozen porcini too.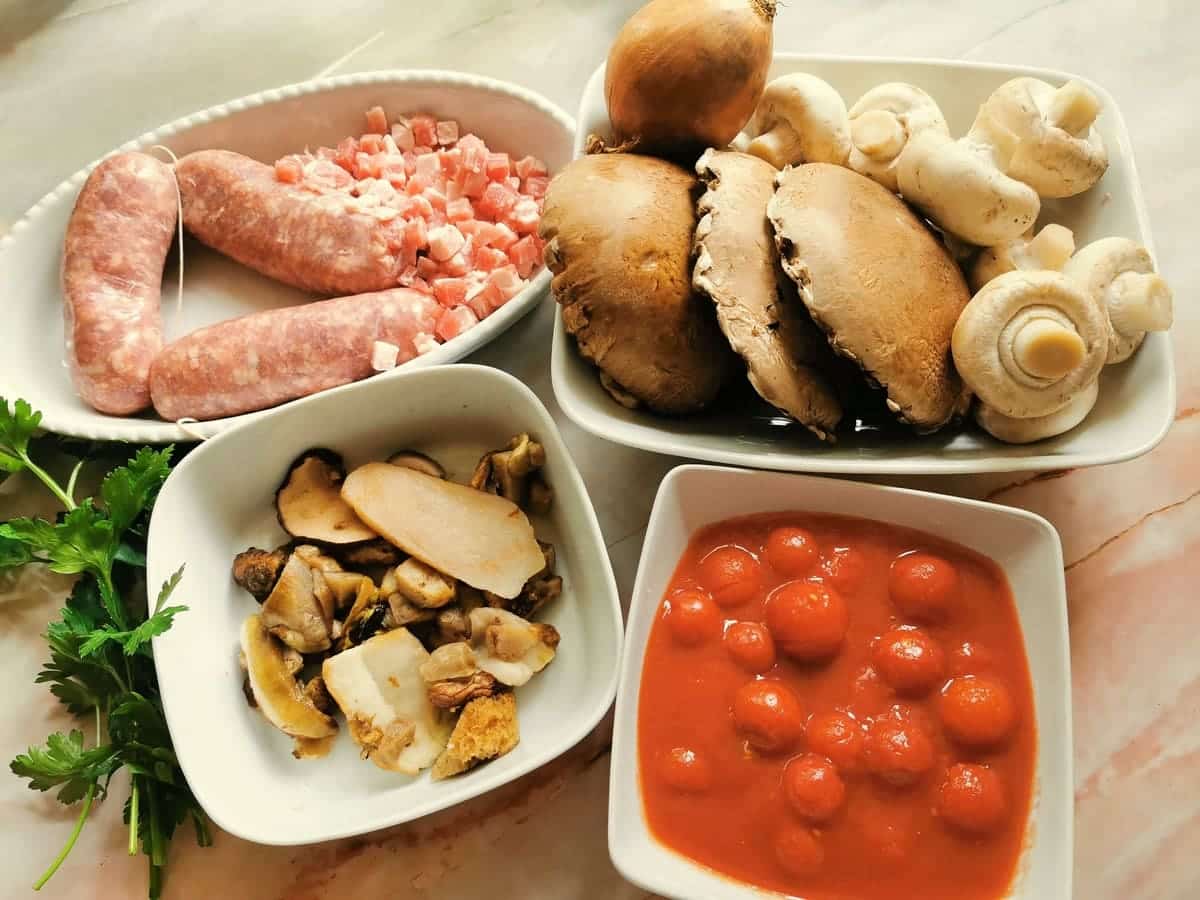 Where does alla boscaiola come from?
You can find boscaiola pasta made in many parts of Italy, particularly where mushroom hunting is popular. The orginal version is said to come from Tuscany and Emilia Romagna.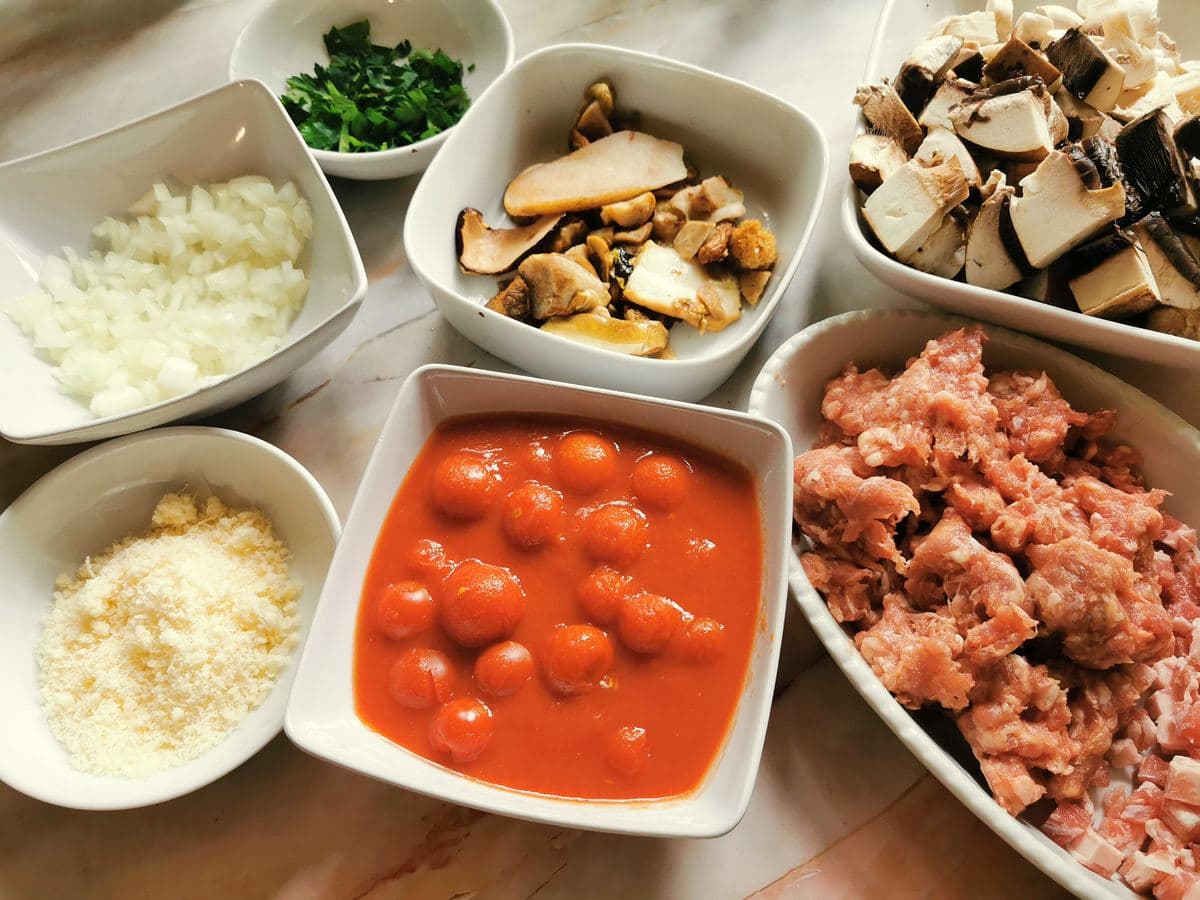 Different versions of pasta alla boscaiola.
Although 'red' boscaiola (with tomatoes) is probably the original way to make this recipe, there isn't actually a single standard recipe for Italian pasta alla boscaiola. There are a number of variations including with or without tomatoes or with cream instead or cream as well.
Many people make this pasta dish with peas. And the meat can be sausage or pancetta or both.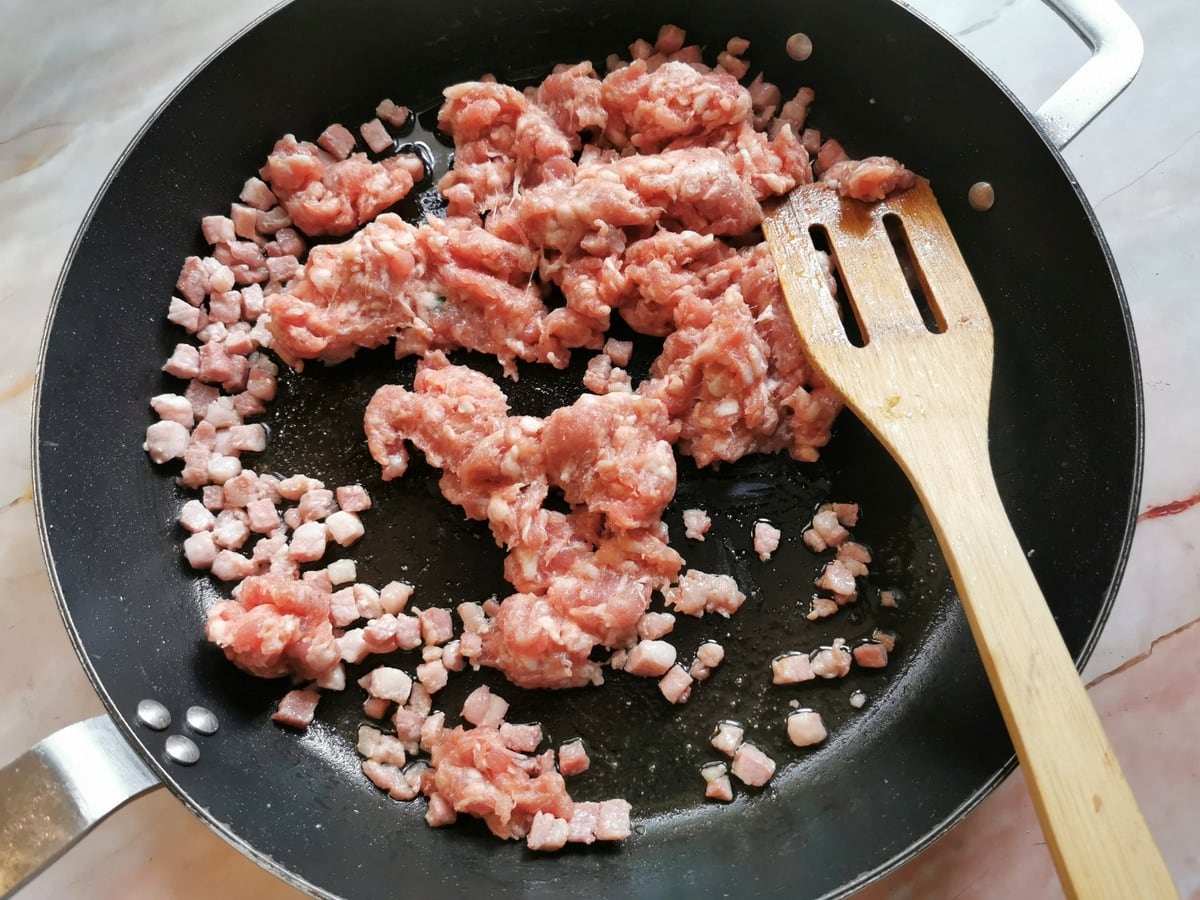 Best sausages for boscaiola.
Italians make this woodman's pasta with fresh pork sausages they call 'salsiccia'. These sausages may differ in flavour depending on where in Italy they are made. In general, 'salsiccia' contain two thirds of lean pork meat and one third of fatty pork cuts.
They are seasoned with different herbs and spices but most include garlic, black pepper, maybe some wine and herbs such as thyme, oregano, sage, rosemary or fennel seeds.
Italian style pork sausages are widely available in the USA or UK. However, if you can't find them, a plain pork sausage with the addition of rosemary or fennel seeds would work well.
Recipes with cream.
Many Italians love the version with cream and no tomatoes (bianca), but of course this will make the dish taste more delicate and less robust, especially when using only pancetta instead of sausage as well. The cream needs to be fresh and not long-life and it should be added at the end, when the sauce is ready.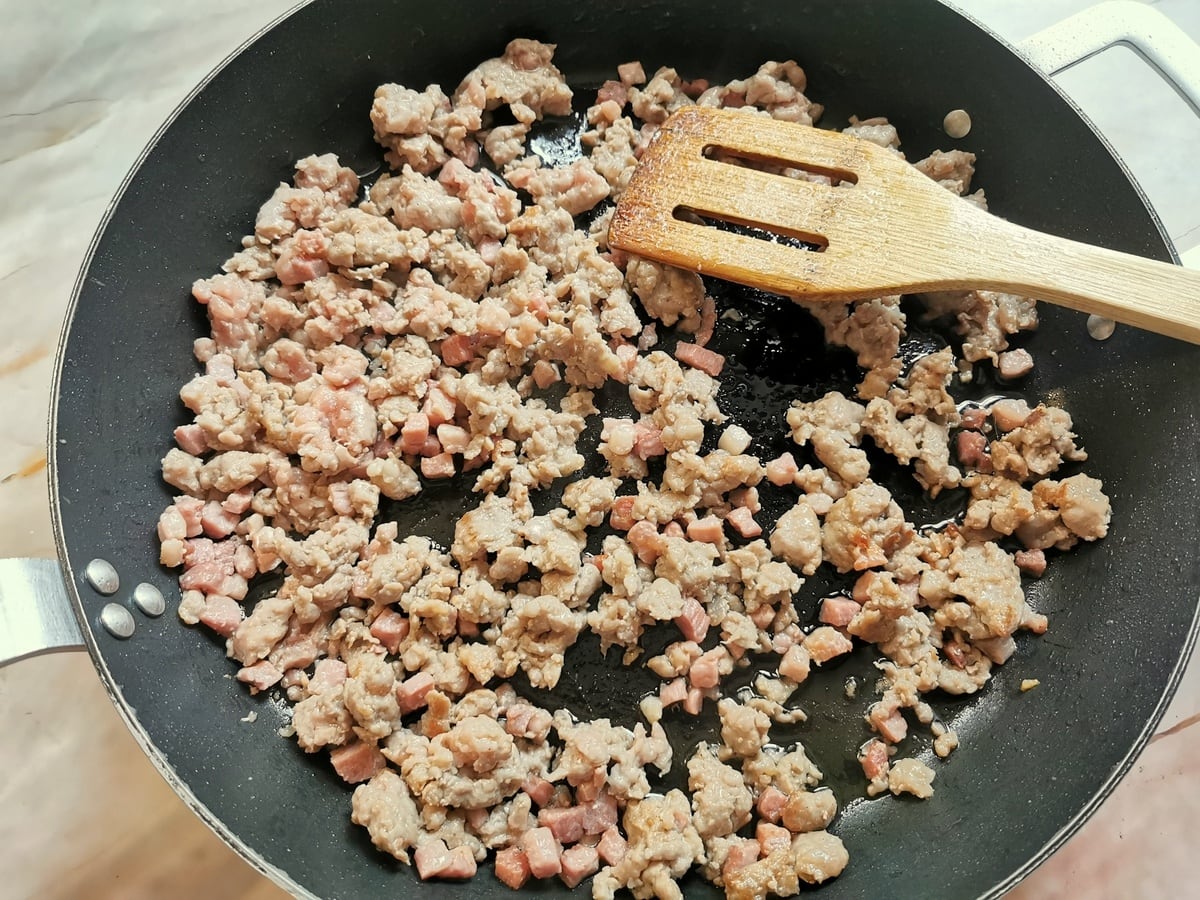 What type of pasta goes well?
Italians make sausage and mushroom pasta alla boscaiola with differnt types of pasta and I think you can use your favourite. The most popular are usually fresh pasta ribbons such as tagliatelle or dried penne. This time I made my boscaiola with campanelle, also called gigli in Italy. You could also use torchio pasta.
The campanelle pasta I used comes from a Sicilian company, Pasta Minardo. They are in Modica, Ragusa, a part of Sicily we know well. Minardo pasta is made with Sicilian heritage grains, plus it's bronze extruded and organic. Recommended if you come across it! (my opinion).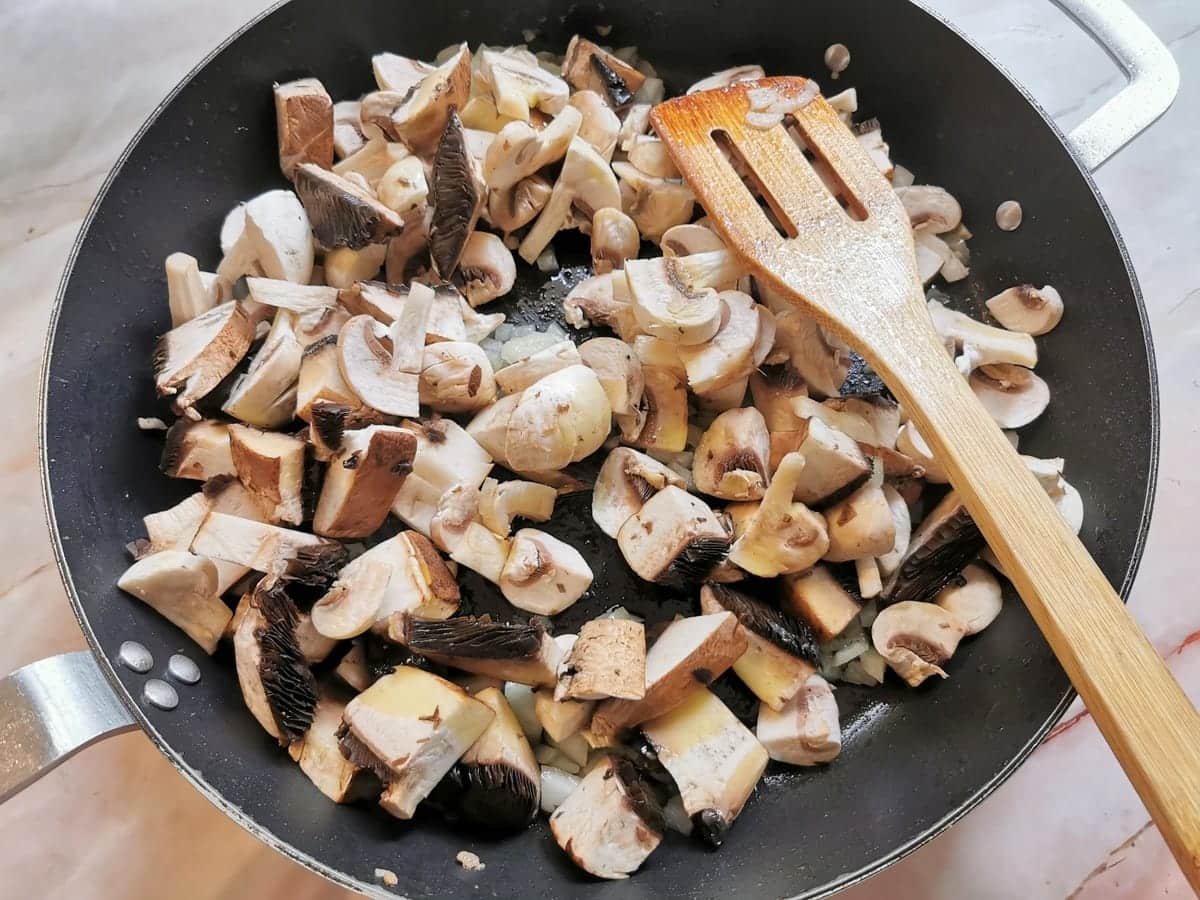 I think campanelle is among the prettiest looking pasta types! Each piece of this traditional Tuscan pasta looks like a cone with ruffled edges. In Italian, 'campanelle' means bell flowers or little bells. Italians also call this pasta'riccioli' meaning curls. However, the more common name for it in Italy is gigli, which is the Italian word for lilies. The lily is the emblem of Florence.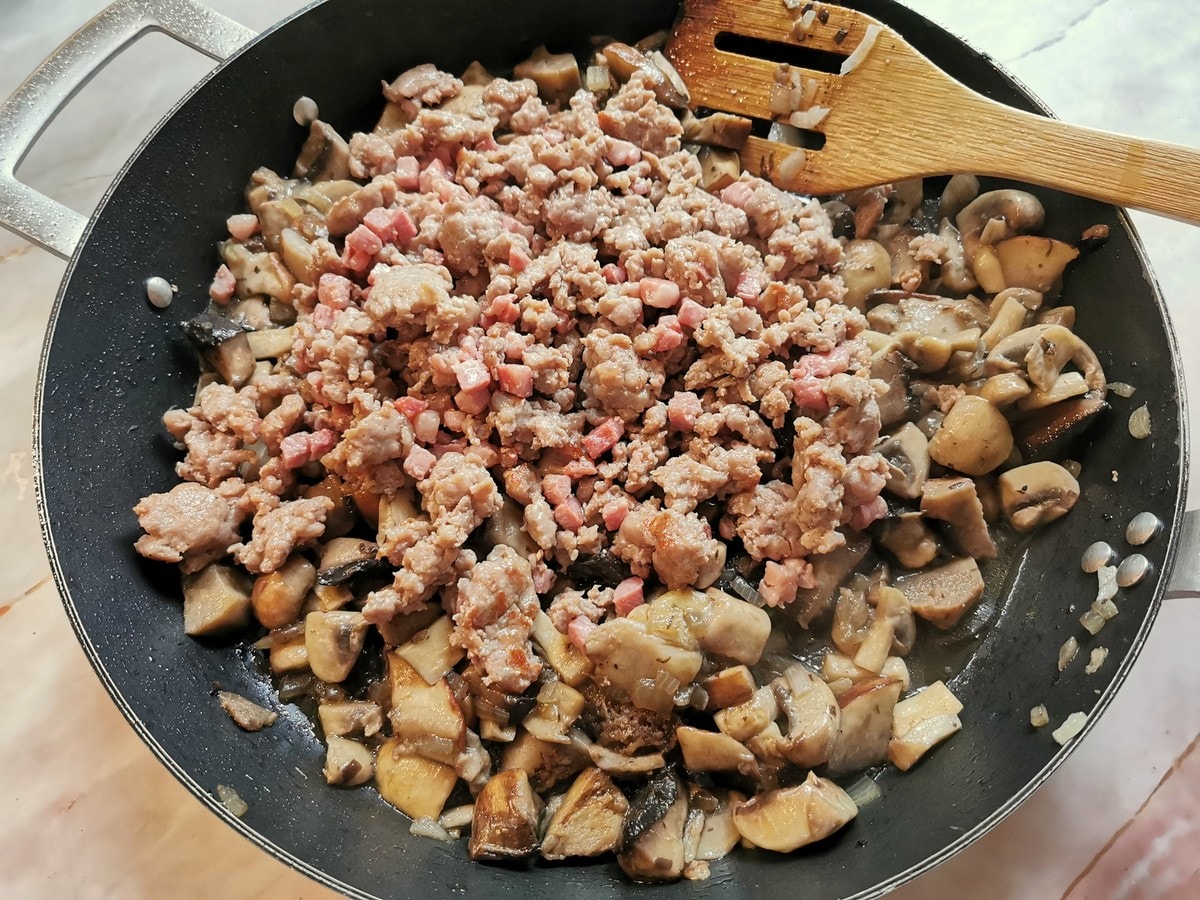 What is in this boscaiola sauce?
The sausage and mushroom boscaiola pasta recipe I followed is based on what many believe to be the original recipe but, in Italy, that can depend on which region you come from! Alla boscaiola is considered traditional in a number of regions including Campania, Emilia-Romagna and Tuscany.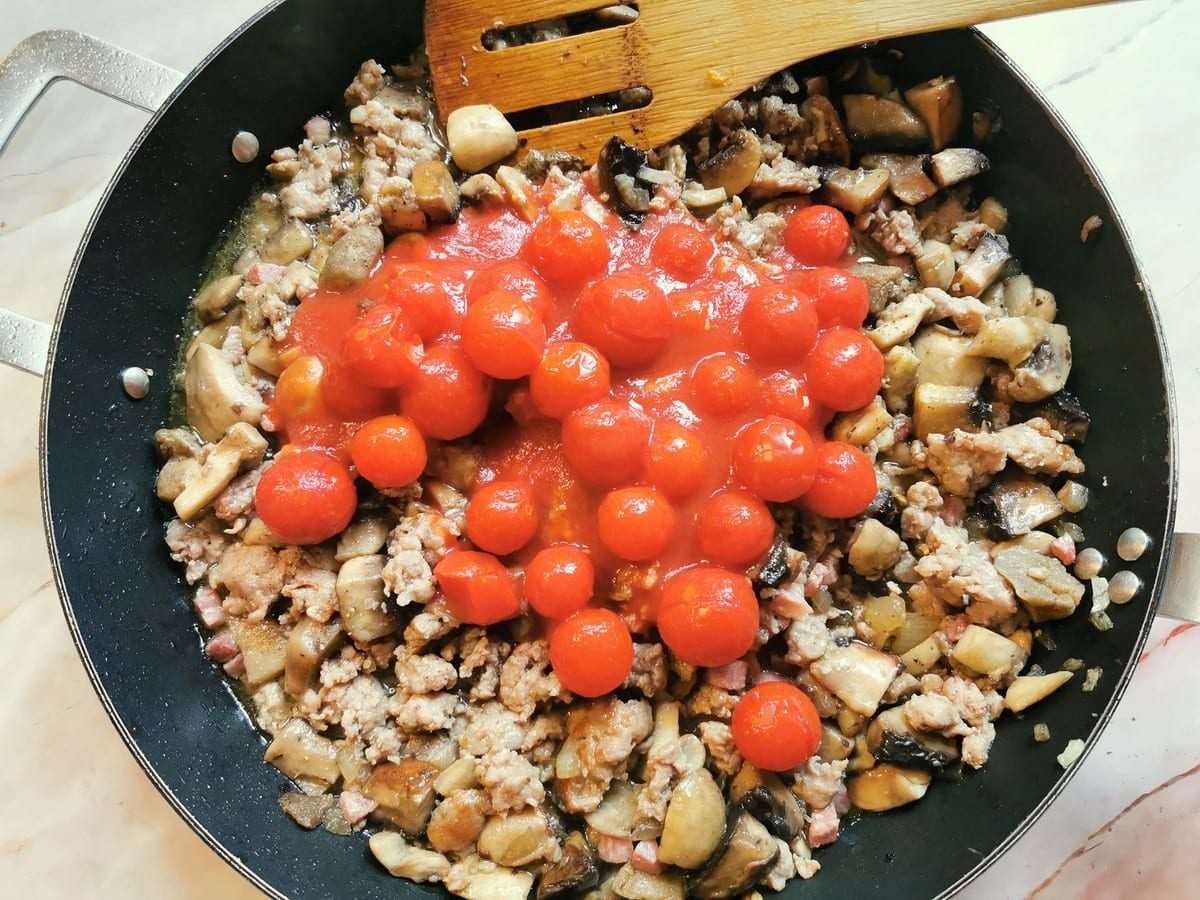 I made it with frozen porcini (I wasn't able to find fresh ones) tomatoes, pancetta and sausage meat. I also added portobello and champignon mushrooms. If you'd like to add peas, they'd go well with it too.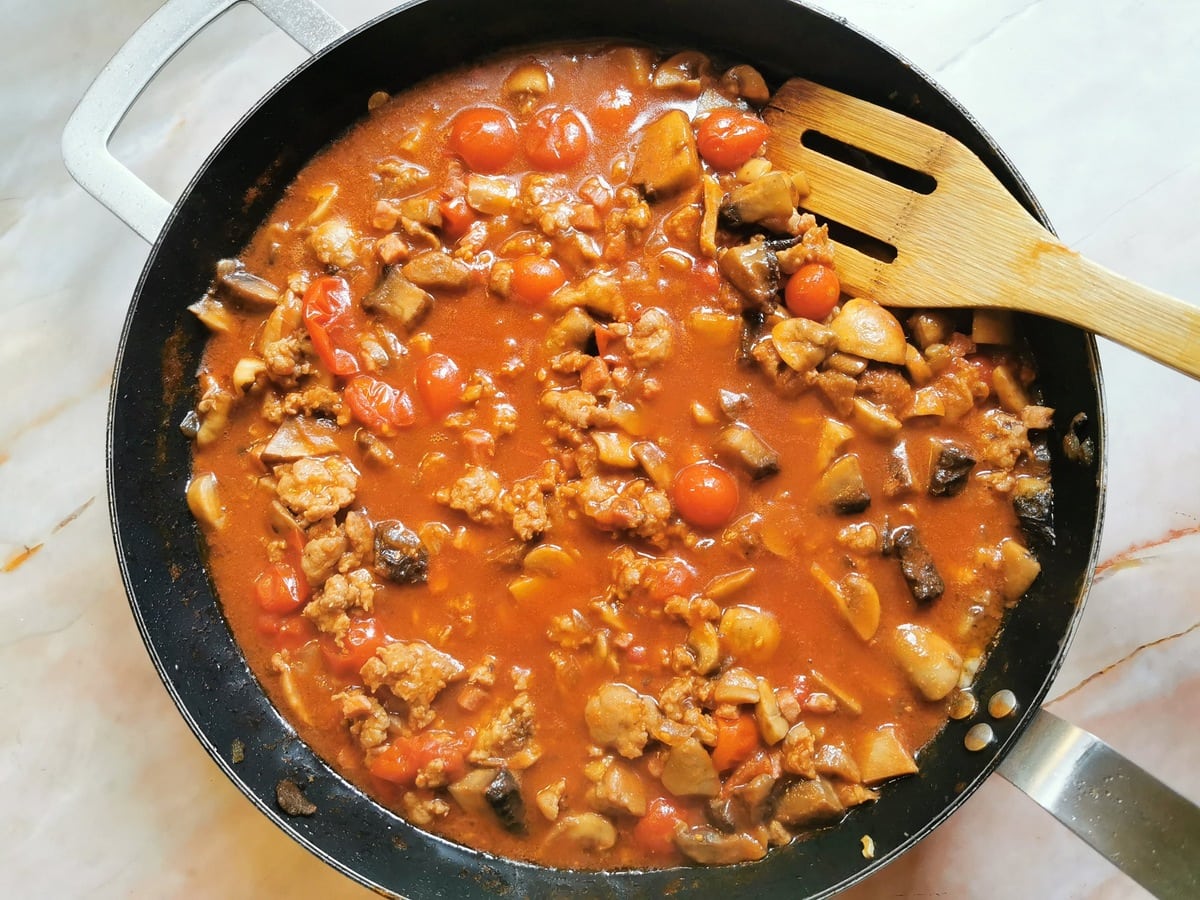 Making this pasta alla boscaiola with sausage and mushrooms.
This is a very easy crowd-pleasing recipe. Of course, it's perfect in autumn when freshly picked mushrooms are available, but makeable all year round using dried or frozen porcini and other fresh mushrooms.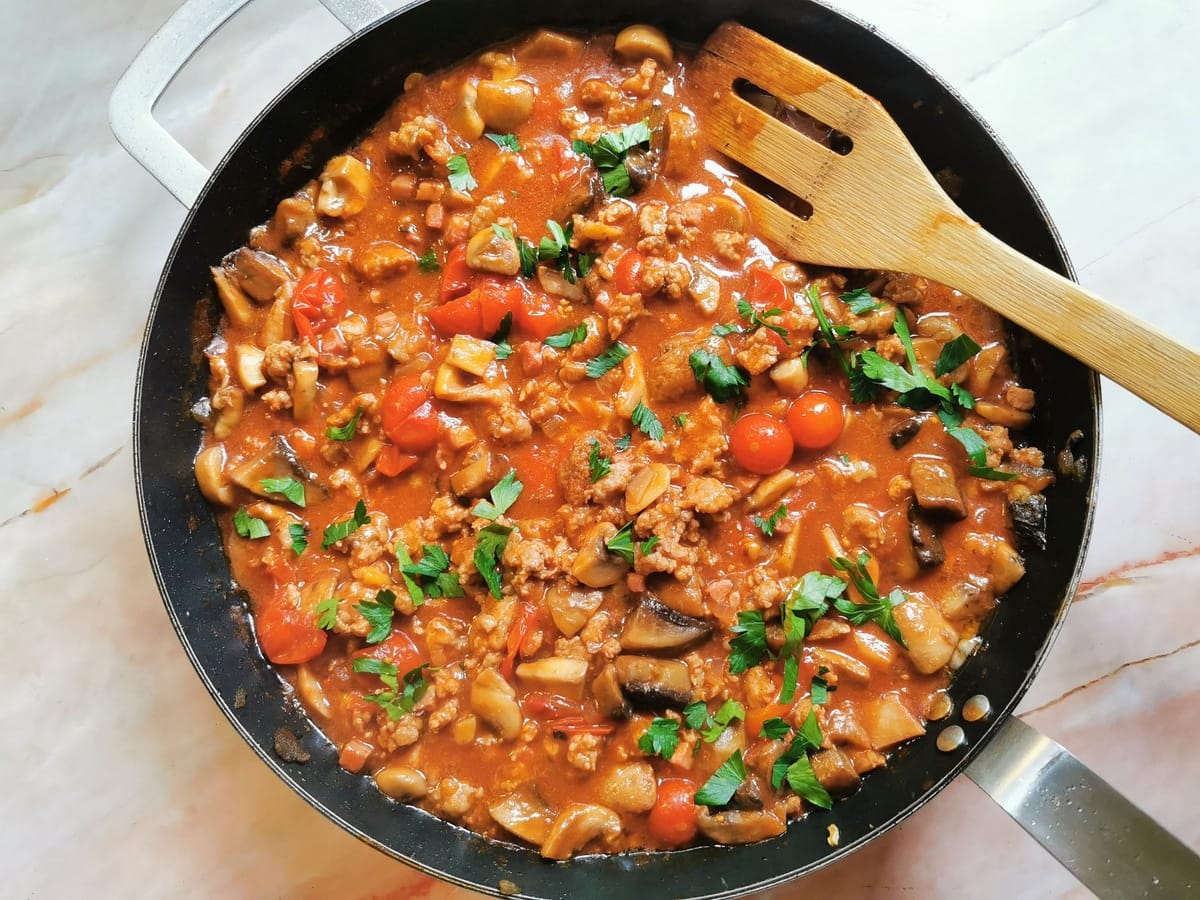 If you use dried porcini don't forget to soak them in some warm water for 20-30 minutes before making the sauce. Drain them well, but don't throw the water away! You can add it to the sauce for a more intense porcini flavour!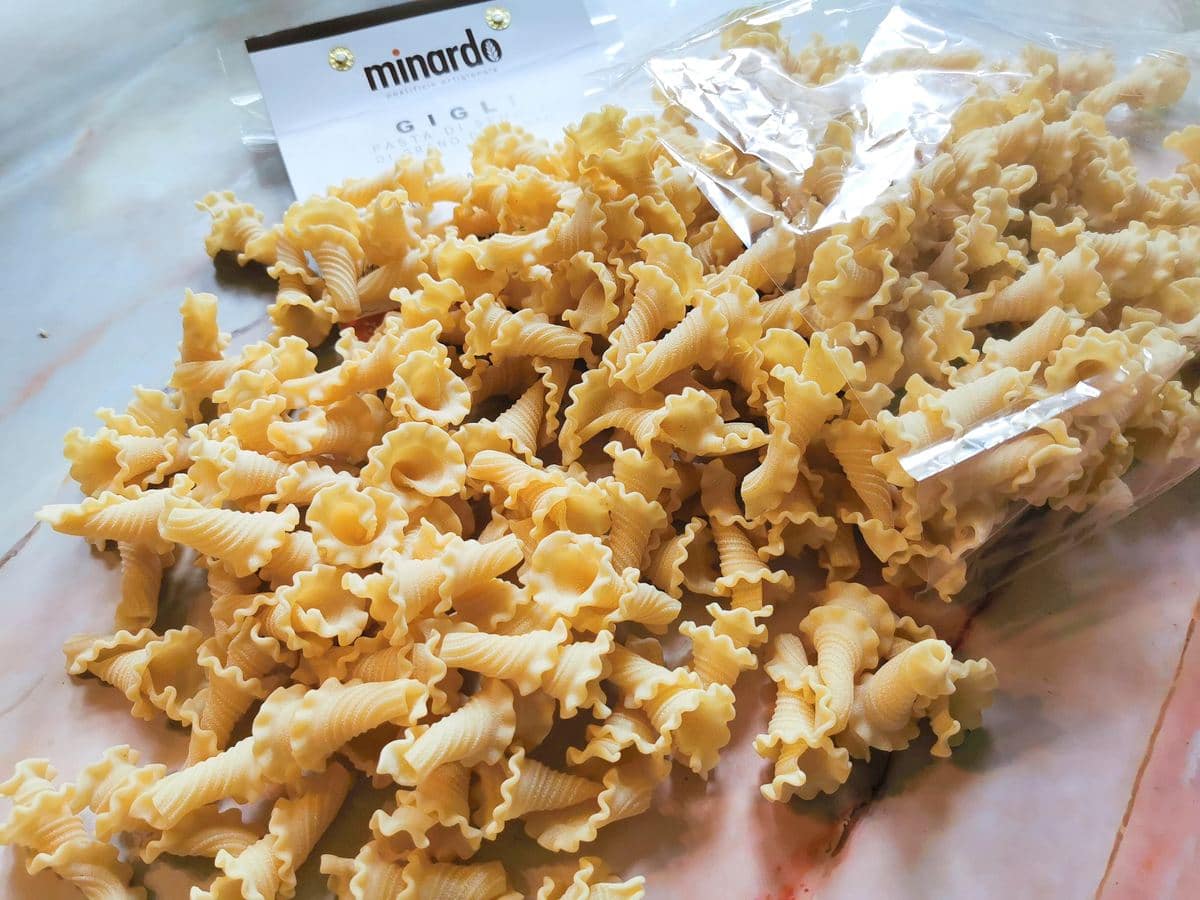 After preparing the ingredients, you just need to brown the pancetta and sausage meat. Then remove from your pan and sauté the onions and mushrooms. Add the dried or frozen mushrooms once the others have started to soften and brown.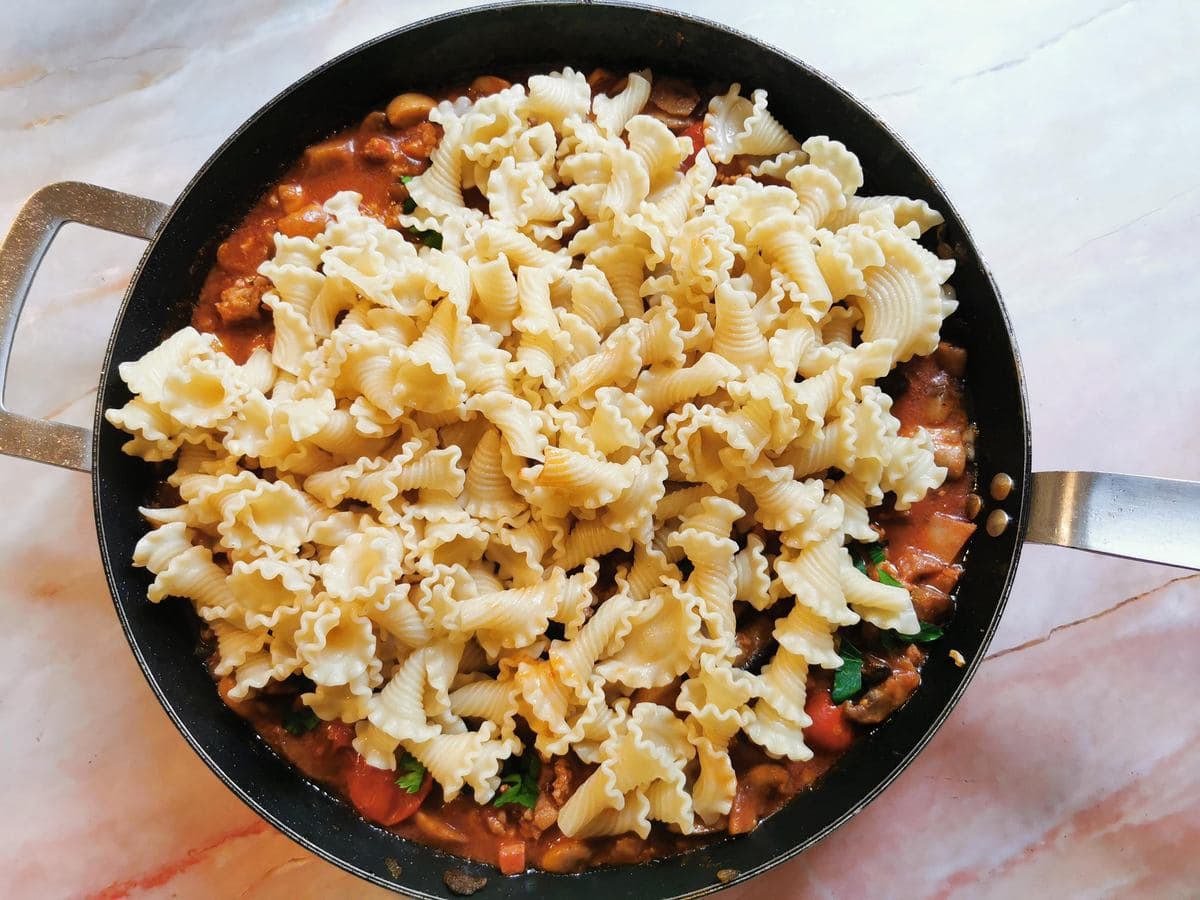 Next, add back the meats and pour in the wine. Once the alcohol has evaporated, add in your tomatoes. You can use canned peeled tomatoes, passata (purée) or fresh peeled tomatoes. Season your boscaiola sauce and simmer for about 30 minutes.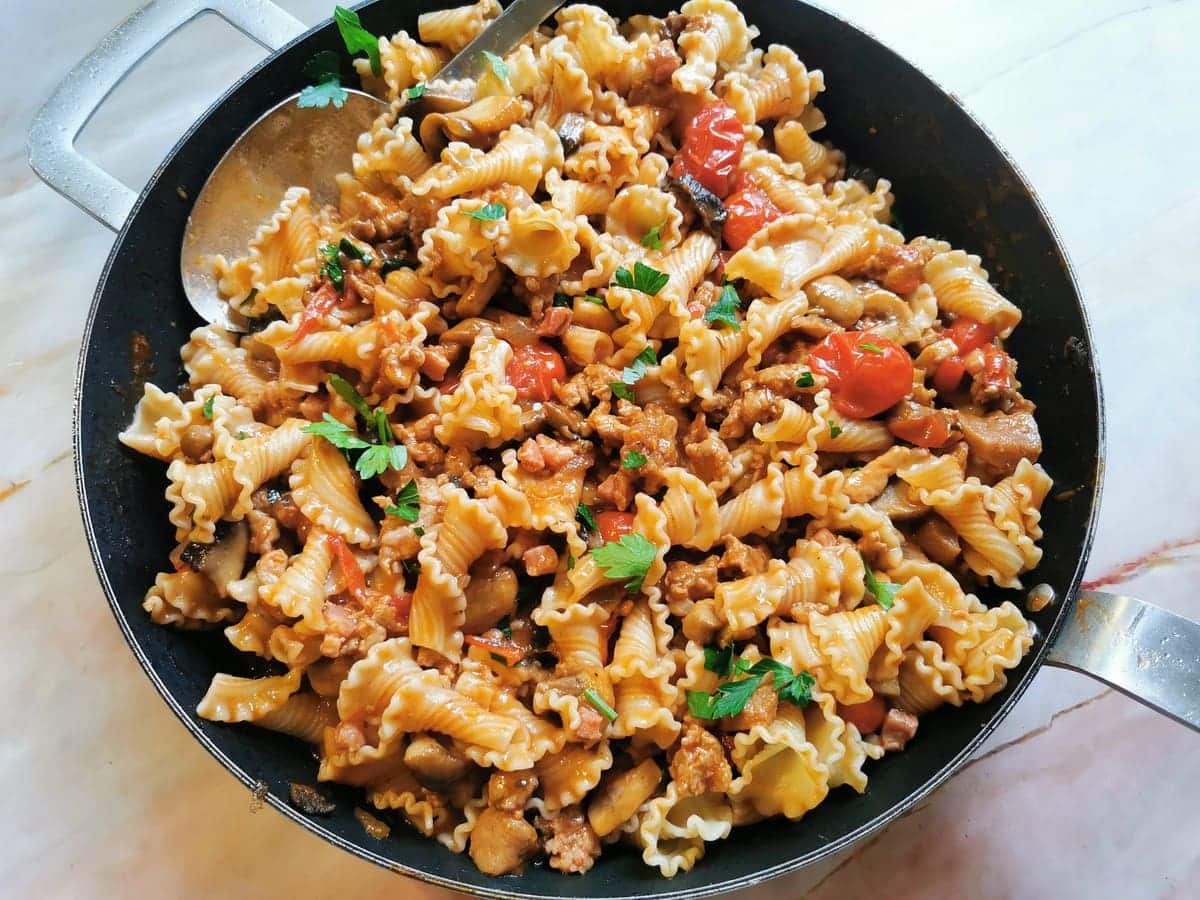 Finally when your sauce is almost ready, cook the pasta, drain it and add it to the sauce. Mix everything together and serve with fresh parsley and grated cheese if required.
What to do with leftovers.
If you have any boscaiola pasta leftovers (it's possible you won't), my favourite thing is to bake them in a hot oven topped with some scamorza or mozzarella or just grated Parmigiano. I promise you, it's outstandingly delicious. Alternatively just reheat in the microwave.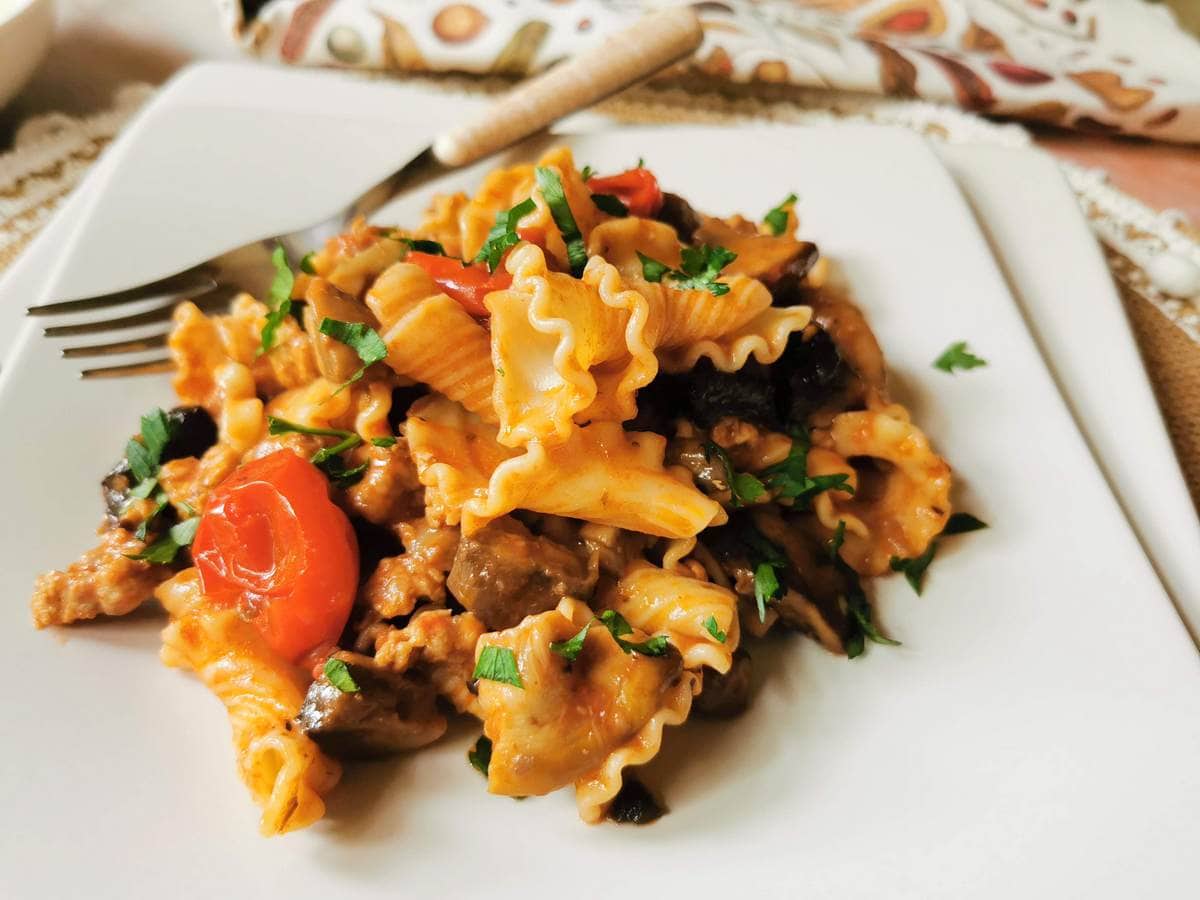 The sauce alone can be frozen. I don't like to freeze cooked pasta as I think it becomes mushy when reheated!
Let me know what you think.
I adore sausage meat in ragu and porcini are my all time favourite mushrooms. These two ingredients together make pasta alla boscaiola so very flavourful and hearty. This is a fabulous recipe full of warming earthy flavours that will have you and everyone around your table going back for seconds. So, make sure you make enough!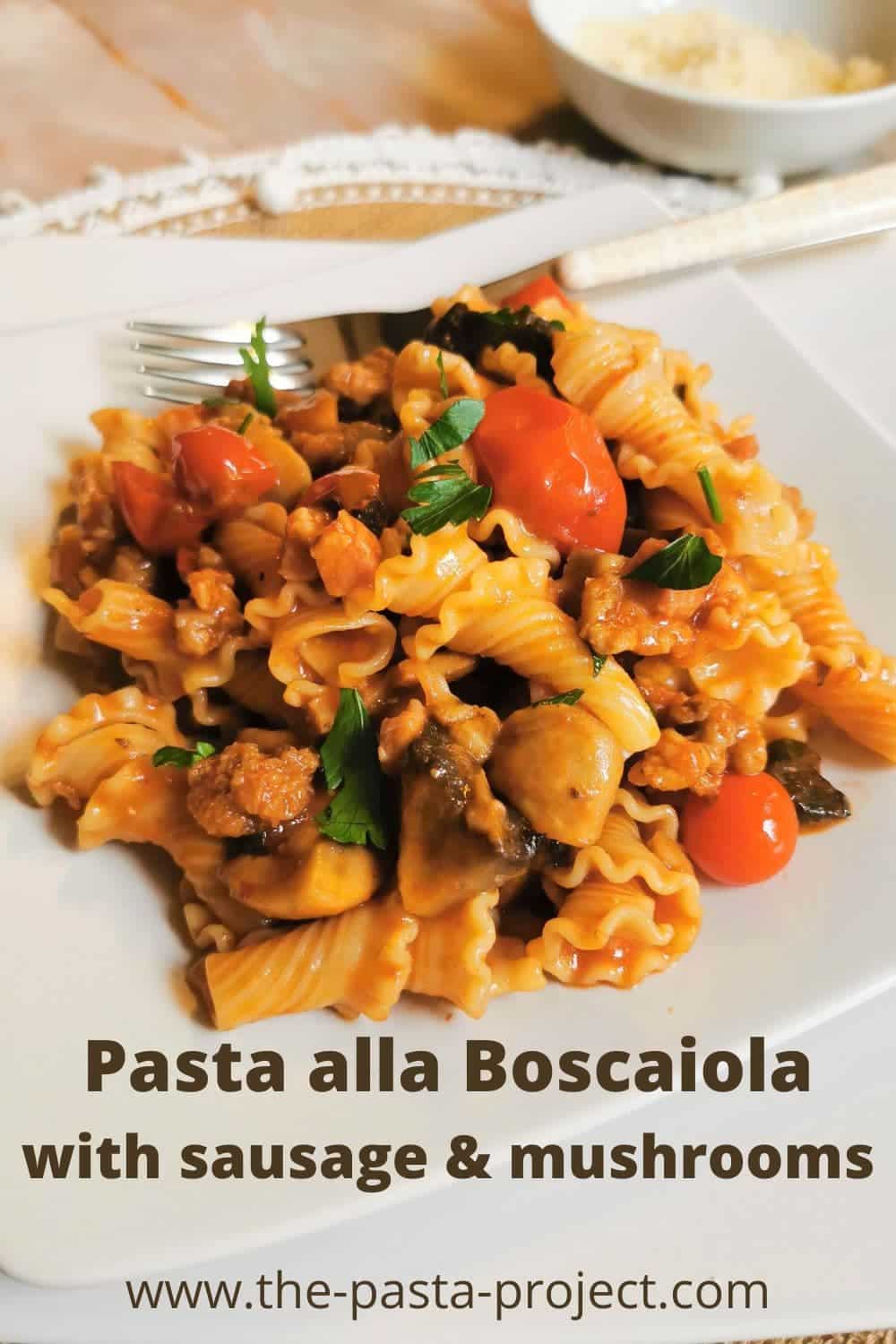 If you make this pasta alla boscaiola with sausage and mushrooms, I'd love to hear how it turns out and if you liked it. So, please leave a comment here on the blog or on The Pasta Project Facebook page.
Looking forward to hearing from you!
Buon appetito!
More pork pasta recipes you may like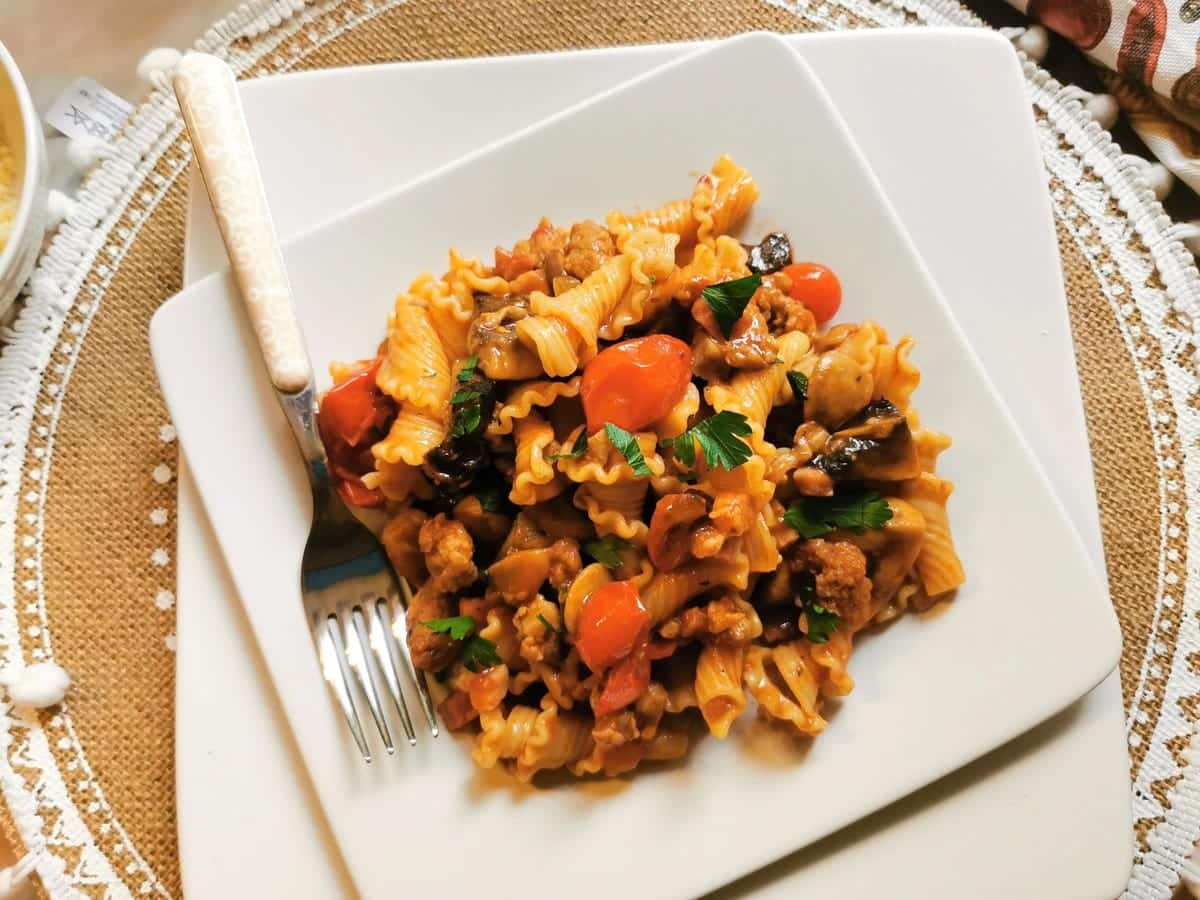 If you are interested in learning how to make homemade pasta and different types of gnocchi, check out my shop page for some great video online courses from my friends in Rome! Nothing beats learning to make pasta from Italians! Plus while you're there why not order a copy of one of my pasta recipe cookbooks or checkout some recommended pasta making tools?