This Tuscan kale, white bean and pasta soup is one of many versions of kale soup from Tuscany. This warming and super nutritious soup is hearty enough to be eaten as a meal on its own or makes a great starter to a cold weather family lunch.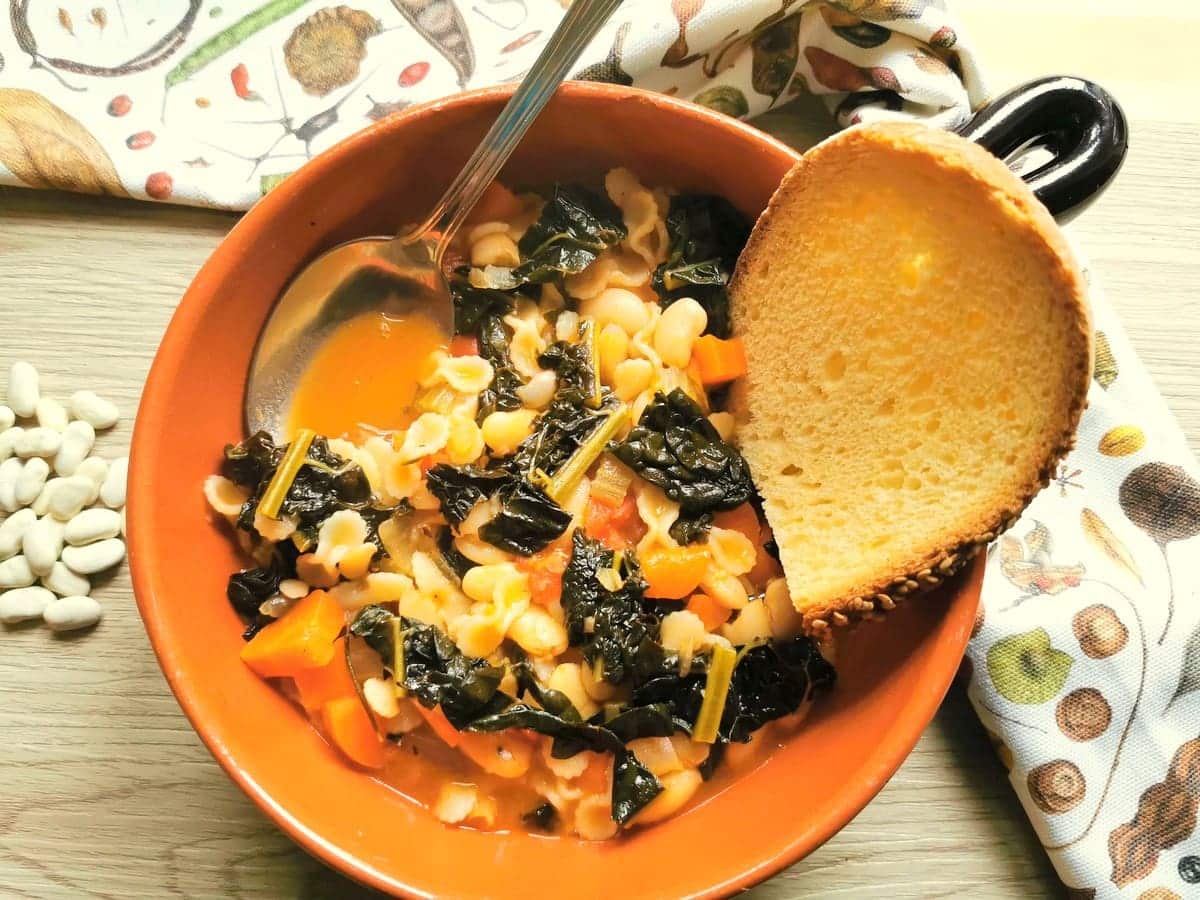 Traditional food in Tuscany.
Despite the fact that Tuscany is famous for its beautiful and elaborate art and architecture, the traditional cuisine in this central Italian region is very rustic! Like other parts of Italy, the Tuscan kitchen is based on what Italians call 'la cucina povera' (the kitchen of the poor).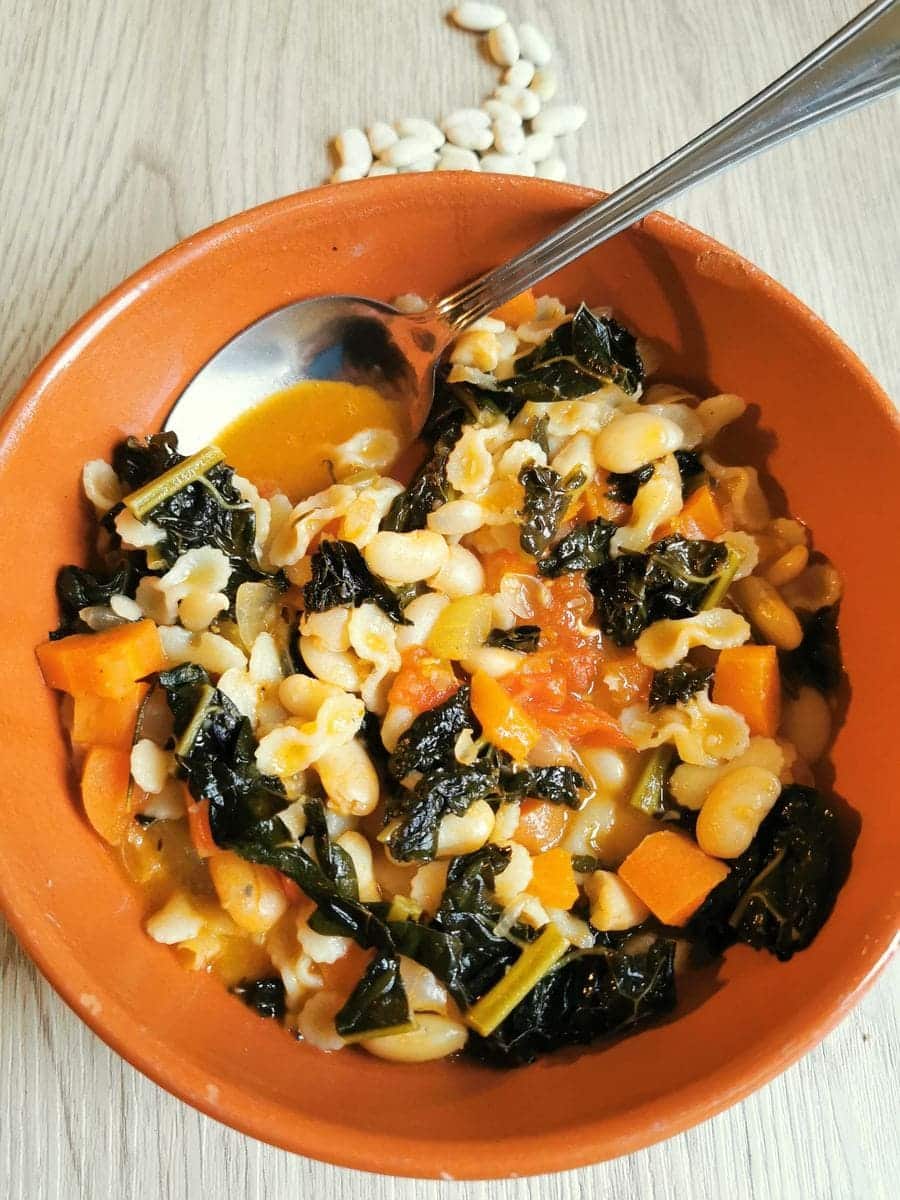 Many traditional dishes come from a time when poverty was the culinary mother of invention! The peasant and rural population made tasty, nutritious and filling meals from what was available and what they cultivated themselves without spending much money.
Nowadays, these dishes are still an important part of Tuscan cuisine but by choice instead of by economy. The main staples in the regional diet are meat, bread and legumes, particularly beans. The latter are so common in local dishes that Tuscans are often referred to as 'mangiafagioli', meaning bean eaters!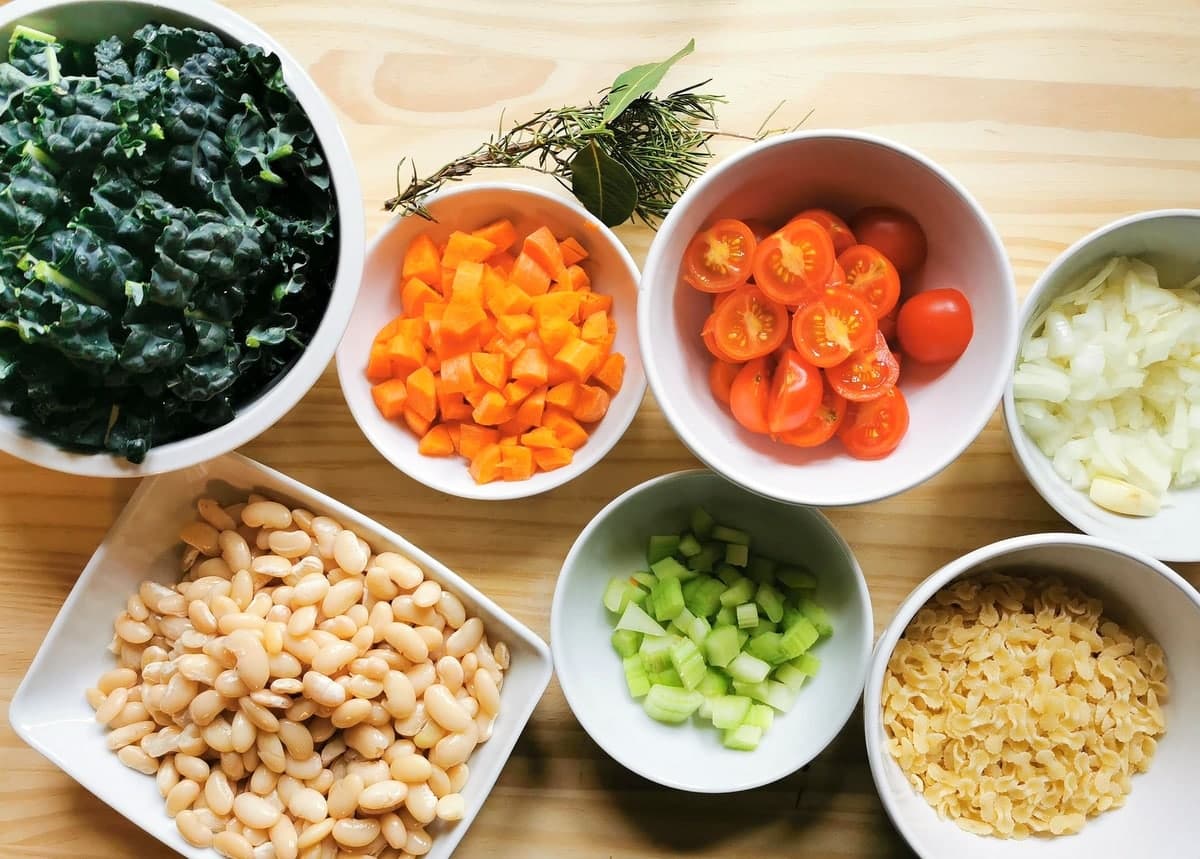 The most favourite beans in Tuscany are definitely cannellini, which I have used in this Tuscan kale, white bean and pasta soup. Borlotti (cranberry beans) are also very popular. Both these types of beans are traditionally used in soups, with pasta and as side dishes.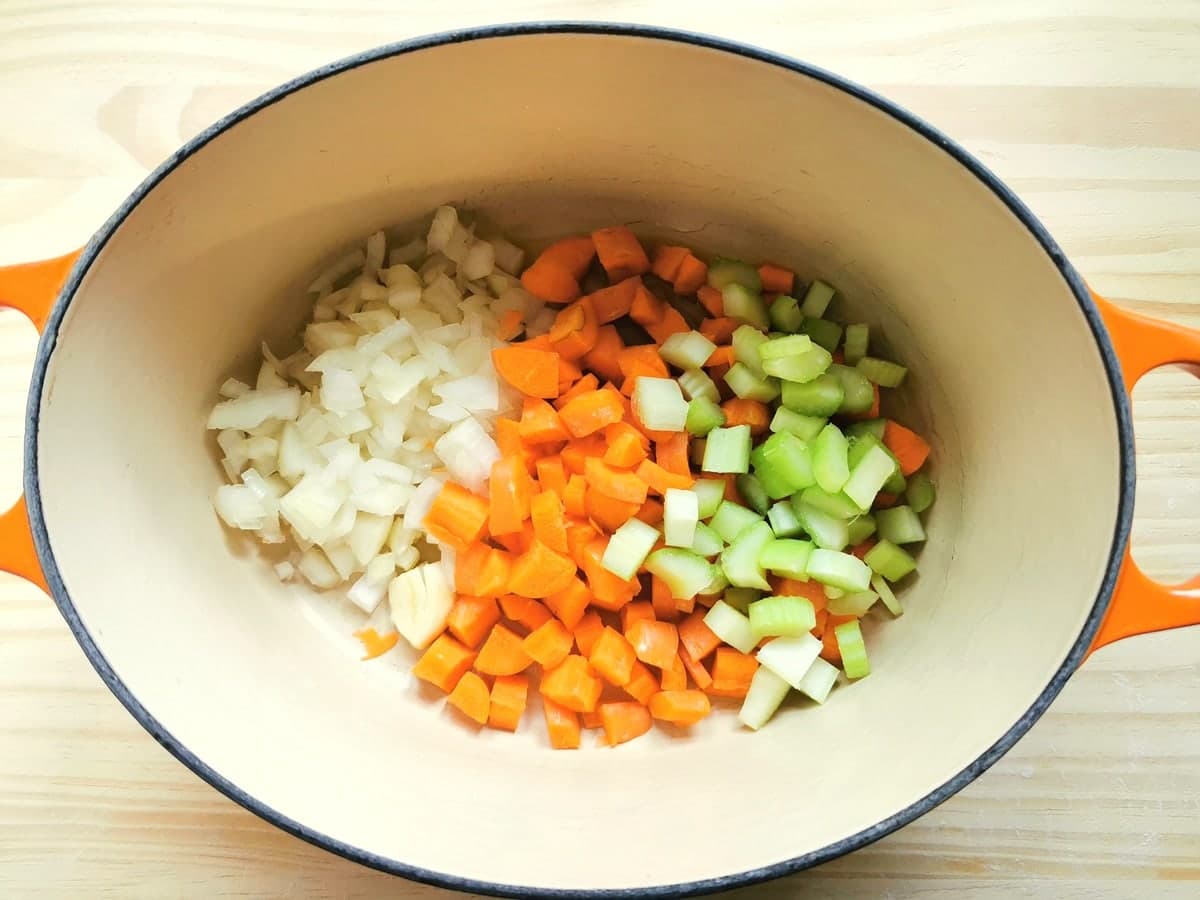 Tuscan Kale.
The star of this traditional soup is Tuscan Kale. Also known as lacinato kale, dinosaur kale or black kale from the Italian name 'cavolo nero', this is an Italian kale that's long been used in soups and stews.
In fact, black kale has been cultivated in Italy since antiquity. The ancient scientists Galen, Hippocrates and Cato the Elder used it. Cato apparently wrote that kale was one of the best topical remedies for arthritis, wounds, rashes, sores, and even the plague!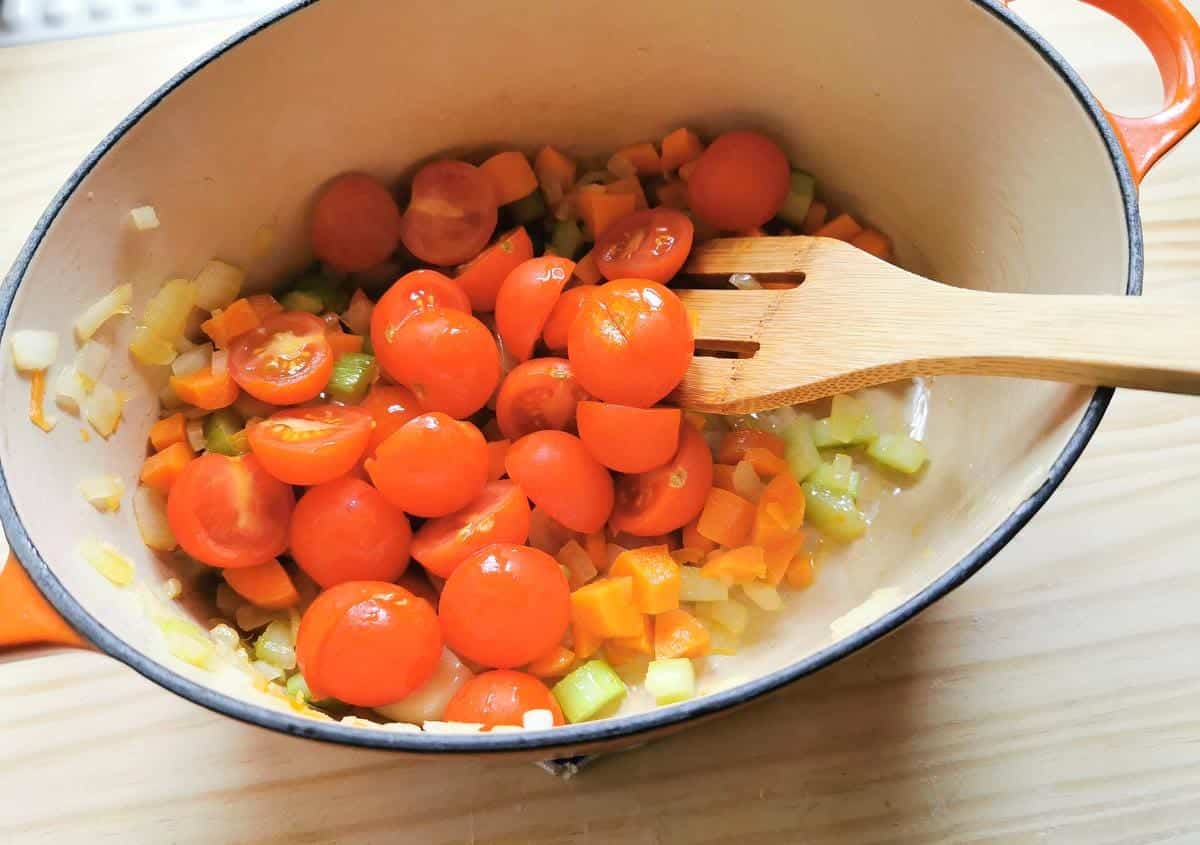 What's the difference between Tuscan kale and curly kale?
Tuscan kale is darker in colour than curly kale. It's also more versatile because the leaves are thinner and more tender, so they cook more quickly. It's also milder in flavour and better in raw kale recipes. Of course, you can also use curly kale for this Tuscan kale, white bean and pasta soup if the Tuscan variety isn't available.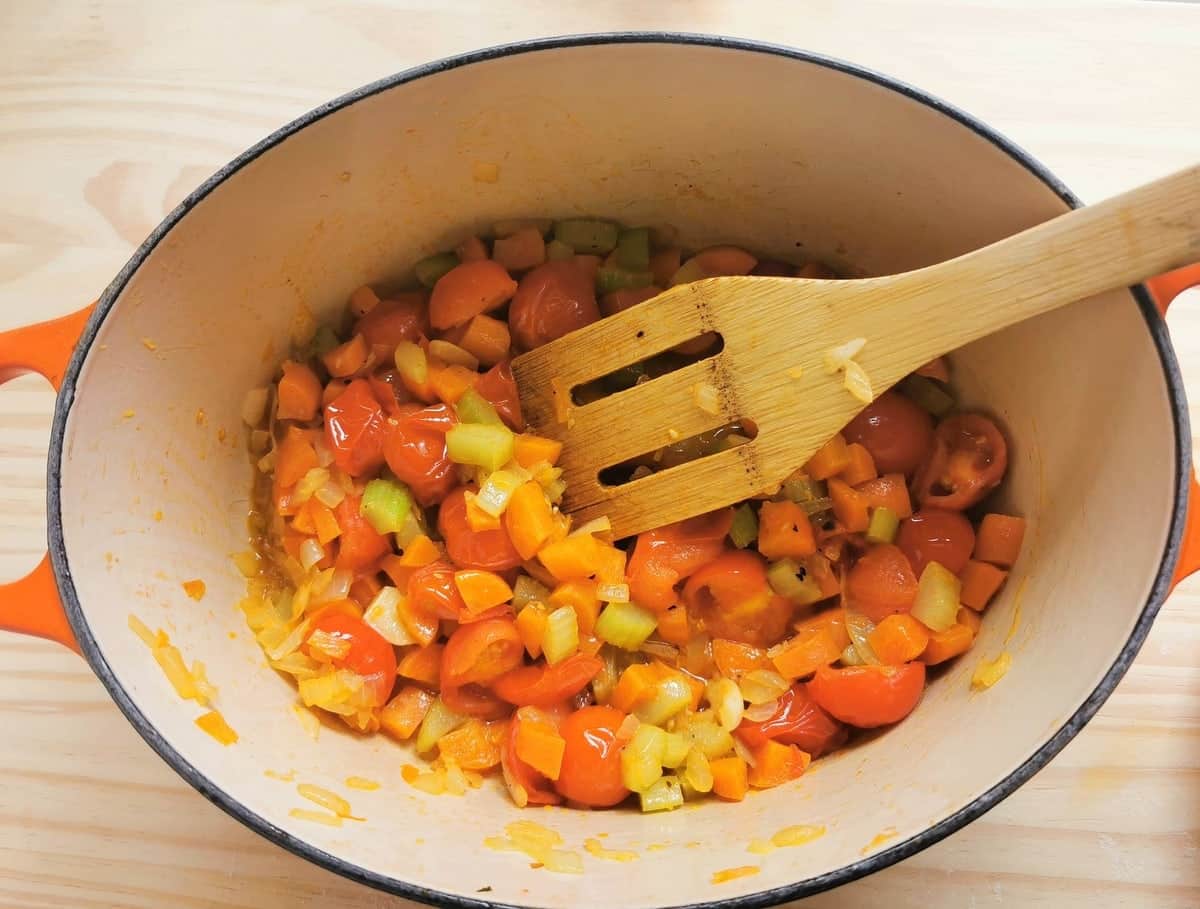 Different versions of Tuscan kale soup.
The best-known Tuscan dish with kale and white beans is a very hearty soup called Ribollita. That Tuscan recipe is really a great example of the typical recycling cuisine of past peasant populations.
According to tradition, ribollita was prepared on Fridays with all the leftover vegetables of the week cooked together with stale bread. Originally, ribollita wasn't a vegetarian dish and contained pancetta or pork rind. Nowadays, most people make it without meat.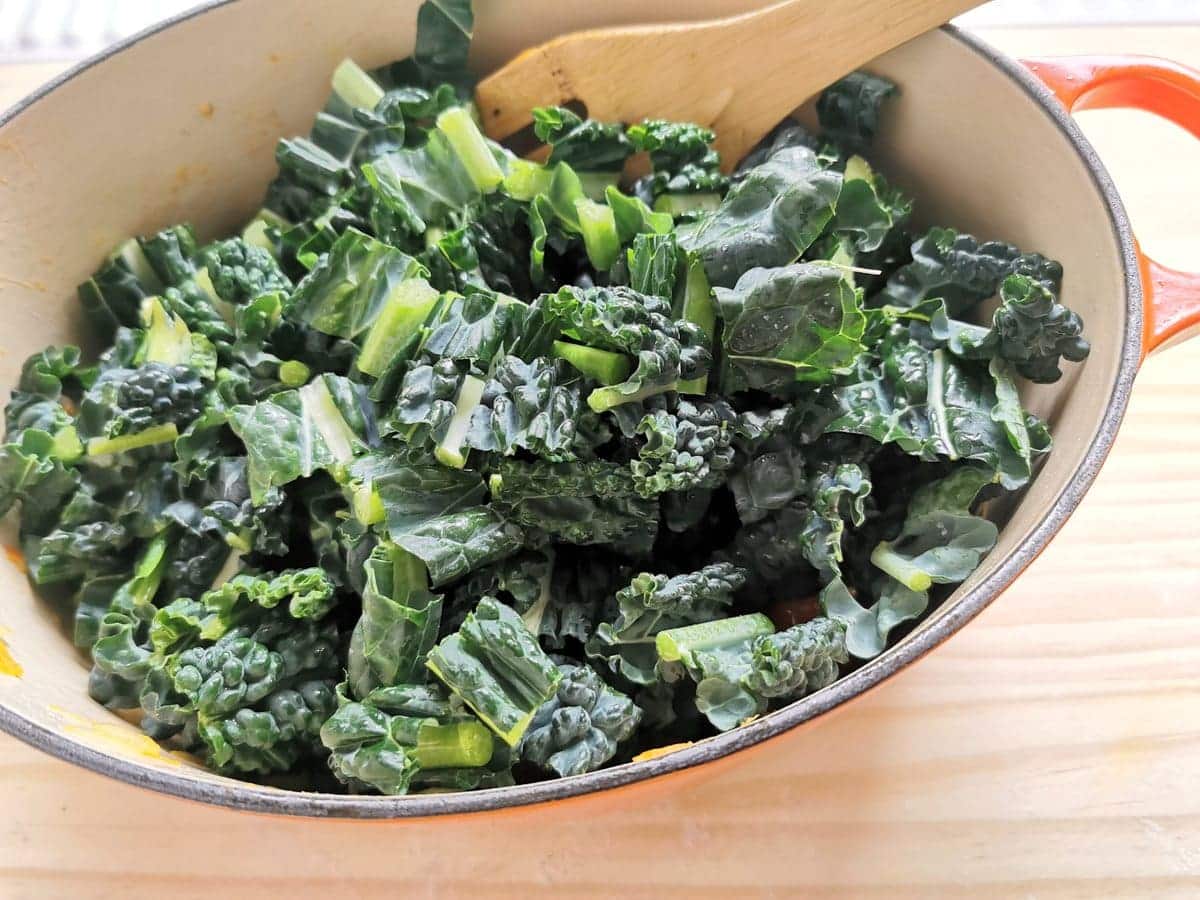 Ribollita doesn't contain pasta. It has potatoes and bread instead. This simpler Tuscan kale and white bean soup has pasta. However, you can also find versions of this recipe with potatoes as well.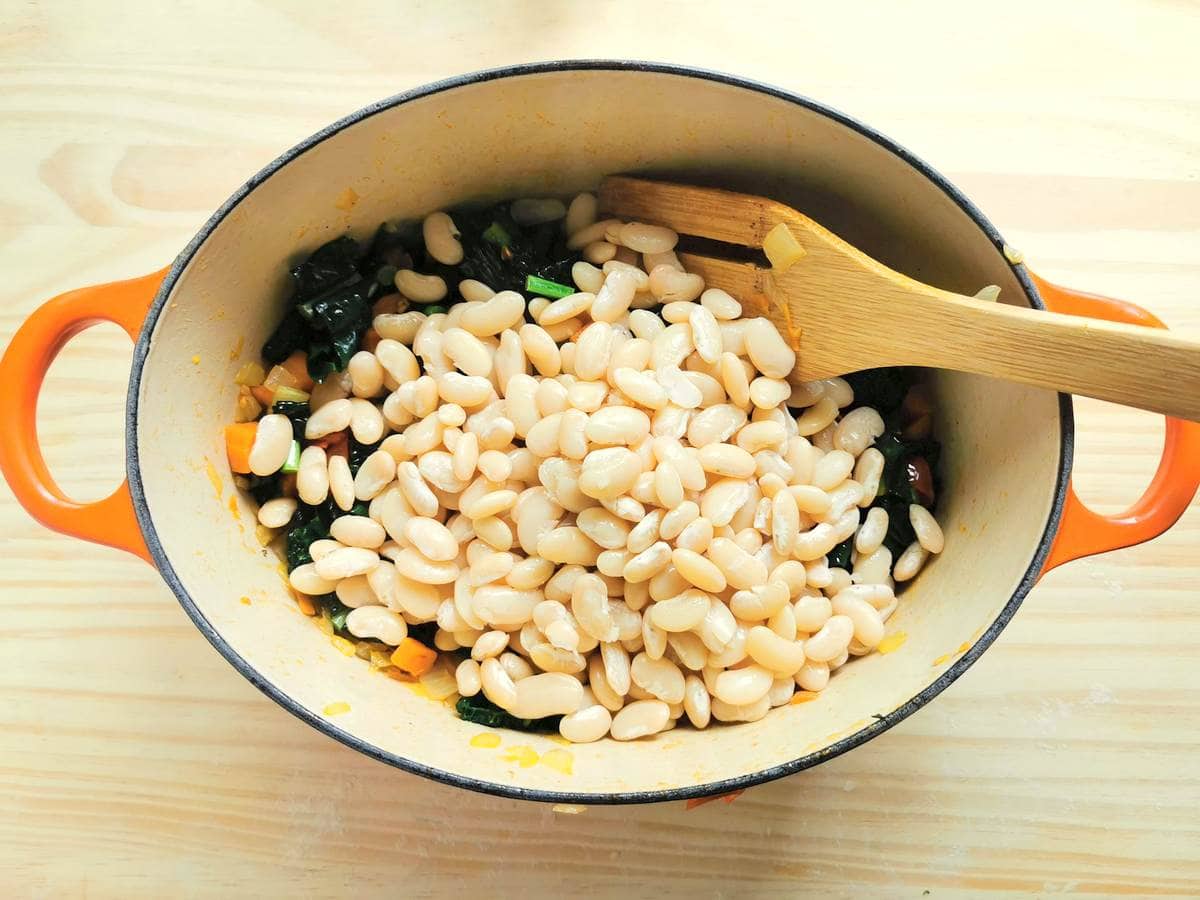 The pasta in Tuscan Kale and cannellini soup.
I used a type of pasta called tripolini in this recipe. Tripolini pasta looks like small butterflies. It's one of about 30 small soup pastas made in Italy. Italians call this sort of pasta 'pastina'. Probably the most well-known types of pastina are orzo (risoni) and stelline (little stars). Of course, you can use any small soup pasta for this recipe including anellini or ditalini.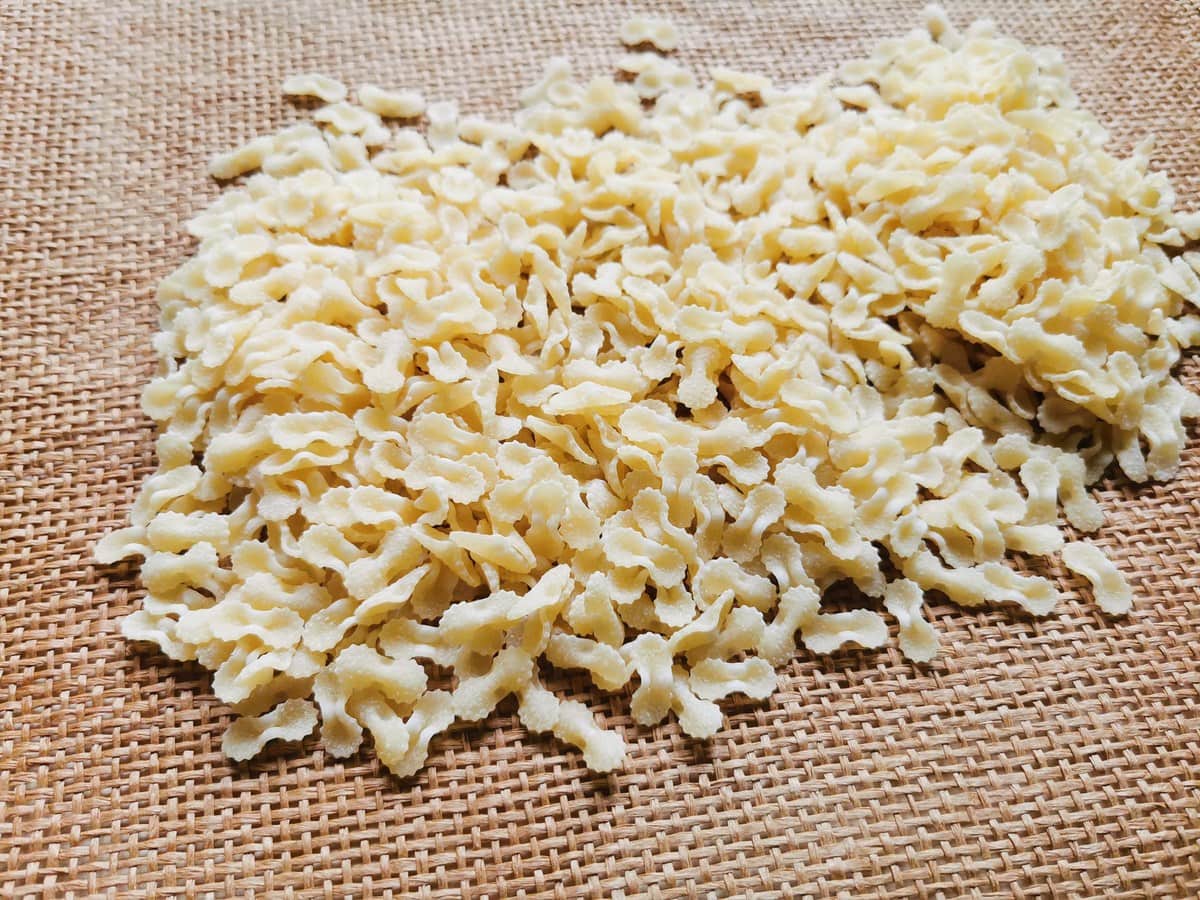 Pasta named after past Italian colonies.
The name Tripolini actually derives from the Libyan city Tripoli which was the capital of the Italian colony Italian Tripolitania from 1911 to 1947. In the 1930s, a number of pastas were named after Italian colonies. These are Asabessi, Abissini, Bengasine and Tripoline (with an 'e') The latter are a long pasta, similar to Mafaldine but ruffled on only one edge. From what I can discover, Bengasine pasta is the same as Tripolini and Abissini looks like conchiglie (shells). Pasta maker La Molisana produces abissini rigati.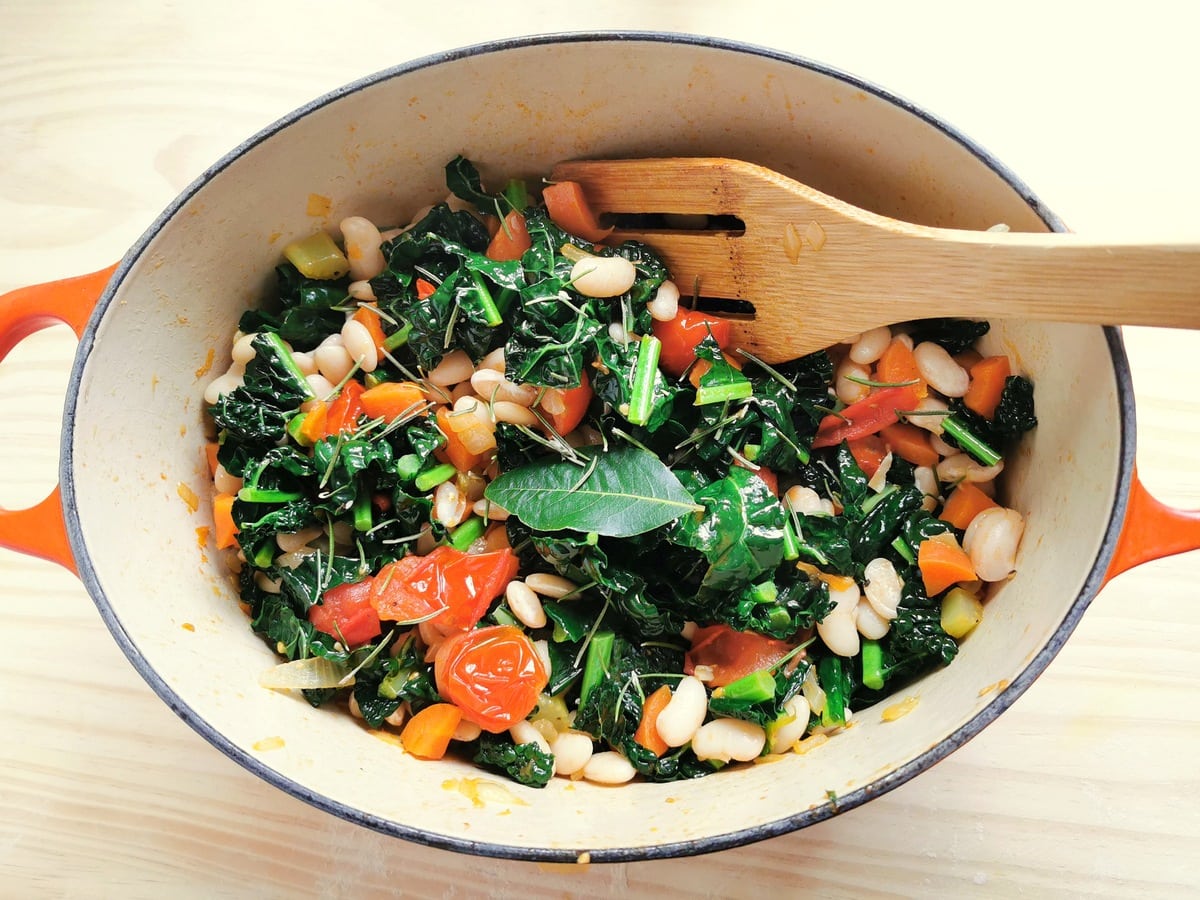 How to make this Tuscan Kale and white bean soup.
As I mentioned above this soup is simpler than ribolita and therefore, easier and faster to make. Apart from the cannellini beans, the kale and the pasta, all you need is carrots, celery, onions, garlic and tomatoes as well as bay leaves, some stock or warm water and seasoning.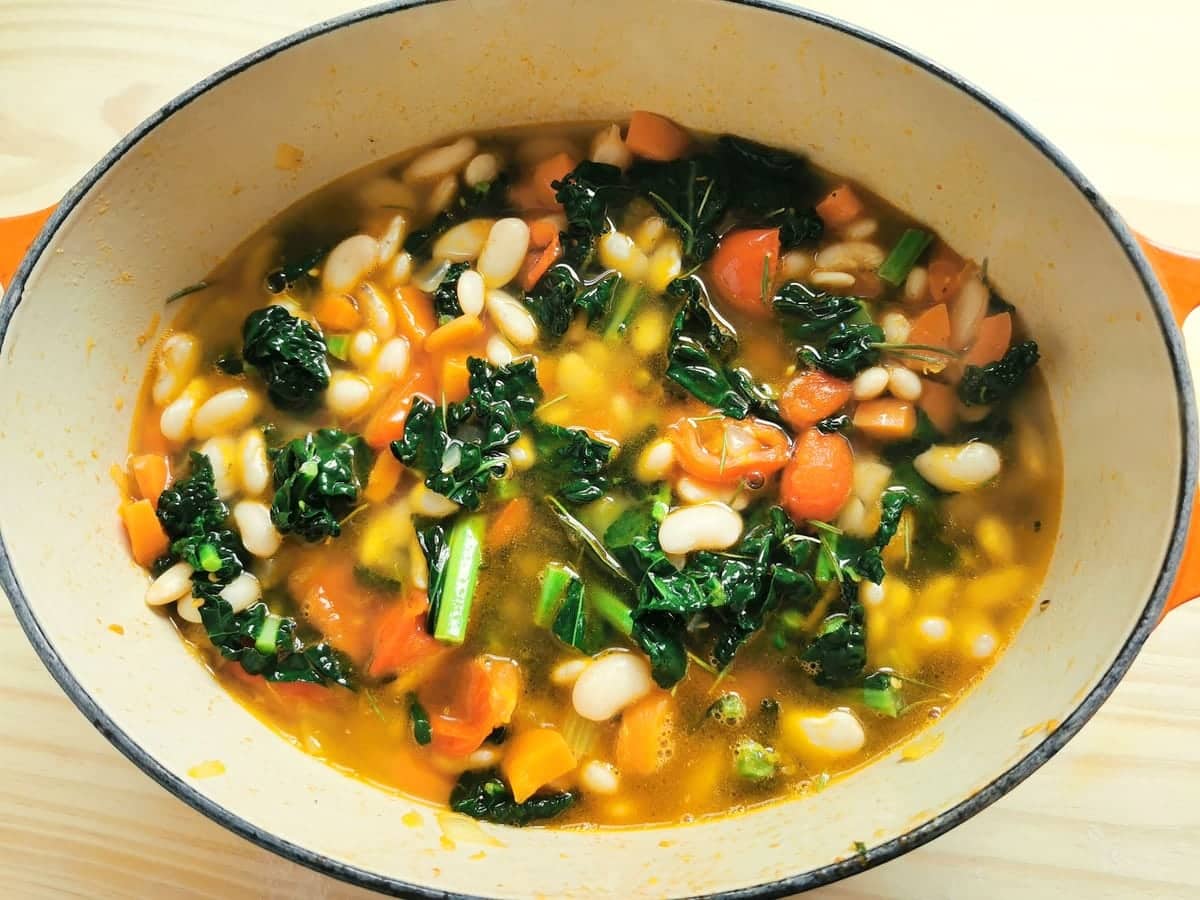 If you are using dried beans you will need to soak these overnight and then cook them in boiling water for about an hour, It's better if the beans are still a little firm. Not too mushy. The bean cooking water is very nutritious and can be added to the soup. However, although I prefer to use dried beans, canned beans are fine too.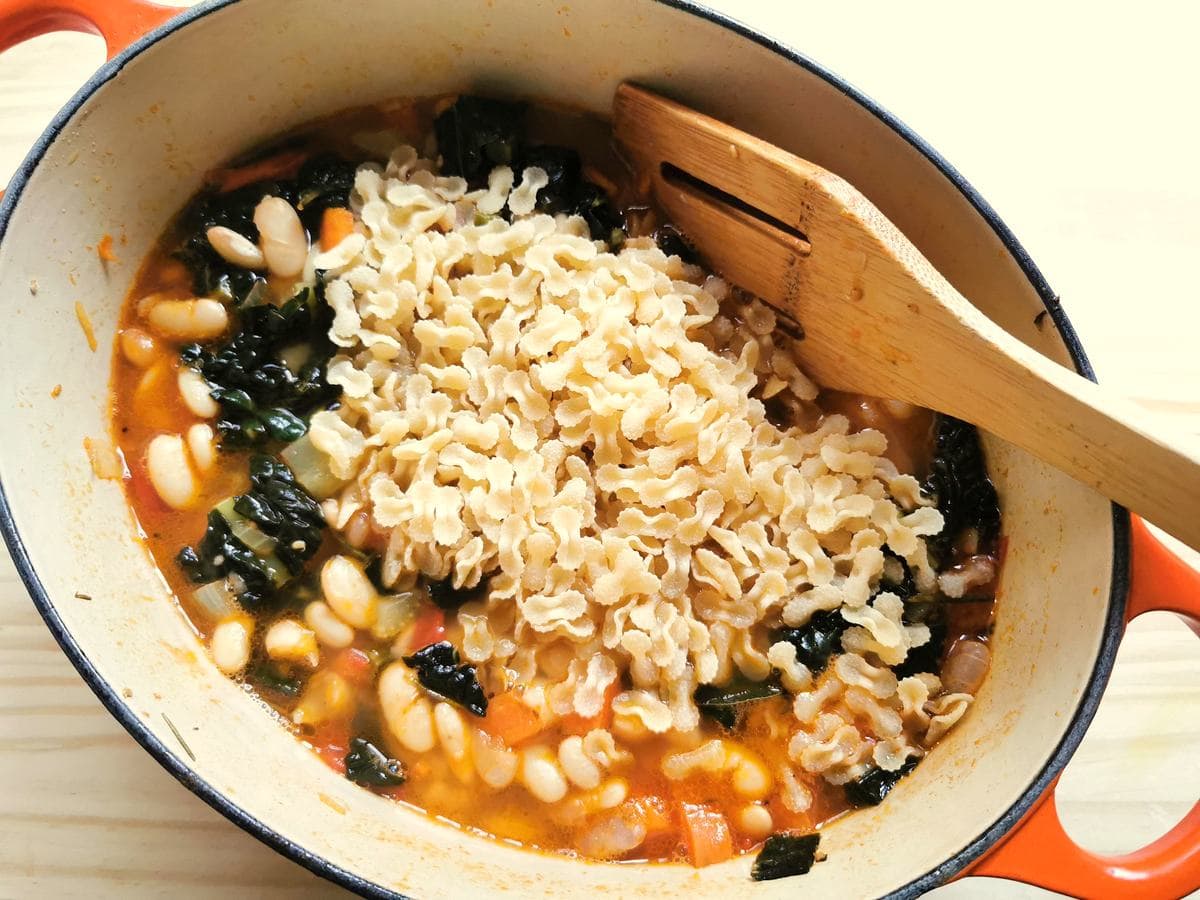 After soaking and boiling the beans, if necessary, the next step is to wash, peel and chop the other veggies as needed. I used my Dutch oven to make this Tuscan soup, but you can use any heavy bottomed large soup pot.
Once all the ingredients are prepared, start by sautéing the onion, garlic, carrots and celery. Then add the tomatoes. When these have softened, put the kale into the pot and let it wilt.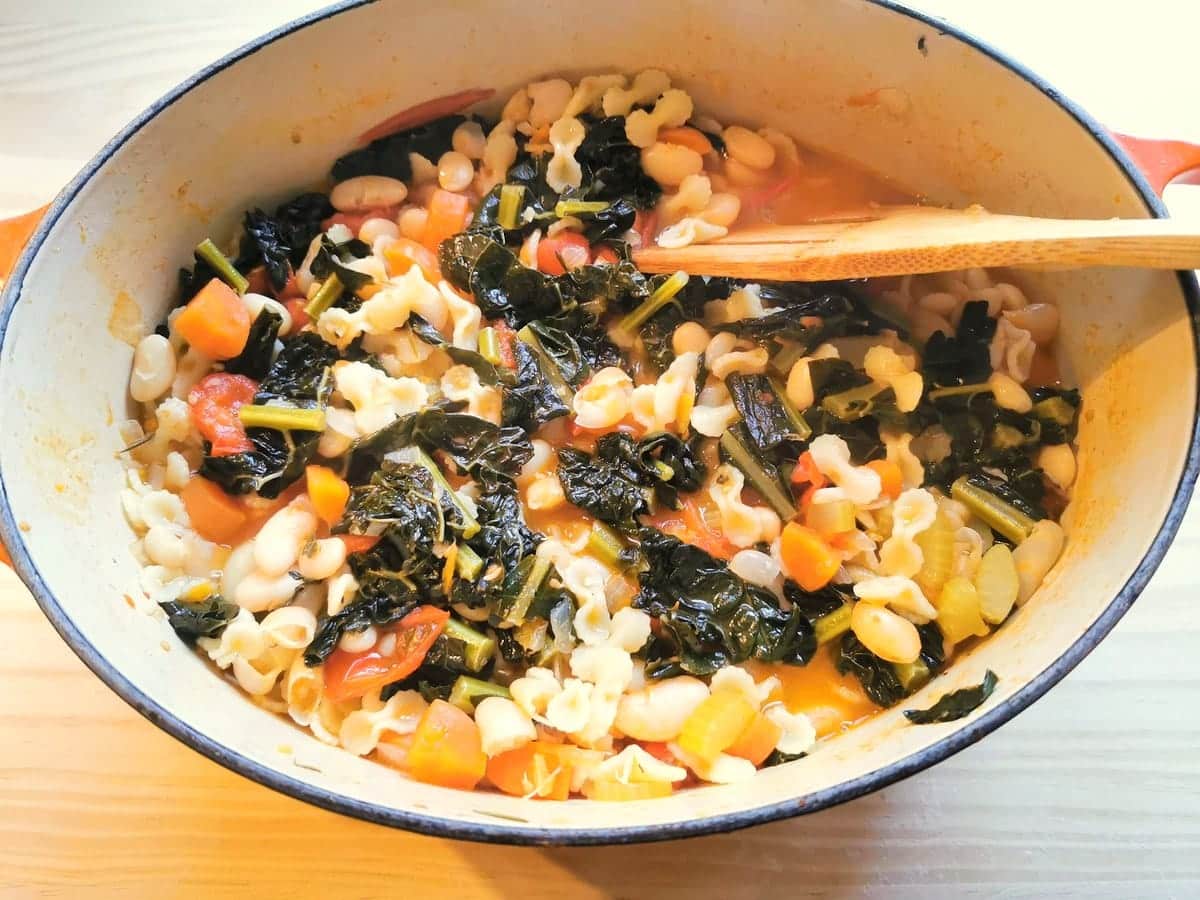 Next add the precooked or canned beans, bay leaves, herbs and seasoning. Cover the beans and veggies with hot water or the vegetable stock. You can also add some of the bean cooking water if you have it. Simmer the soup for about 45 minutes. Finally add the pasta with more hot water or stock if necessary. Continue to cook the soup until the pasta is al dente.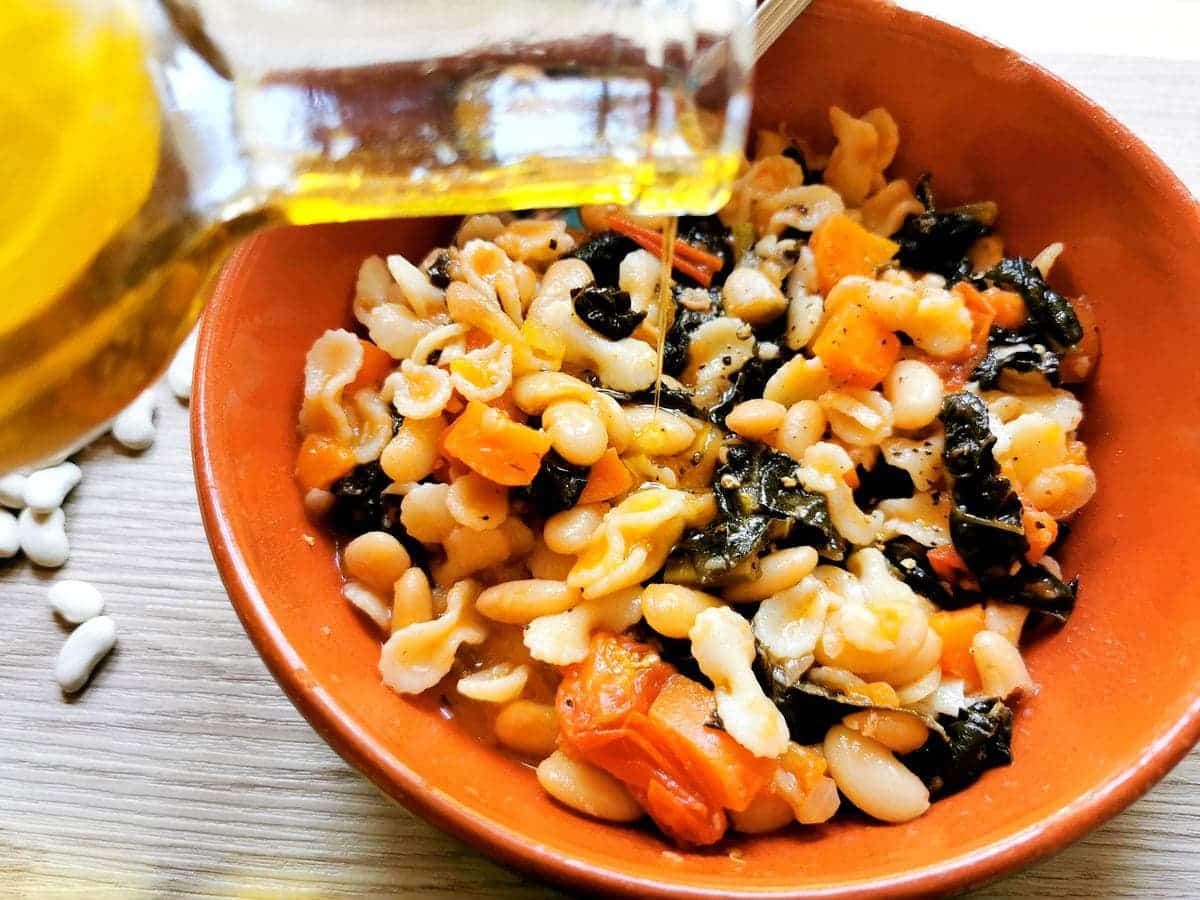 Serve your soup the Italian way.
In Italy, it's popular to serve this soup with a dash of extra virigin olive oil and some grated parmigiano. Of course, Italian parmigiano isn't vegetarian so vegans and vegetarians will want to leave it out or use a vegetarian or vegan cheese.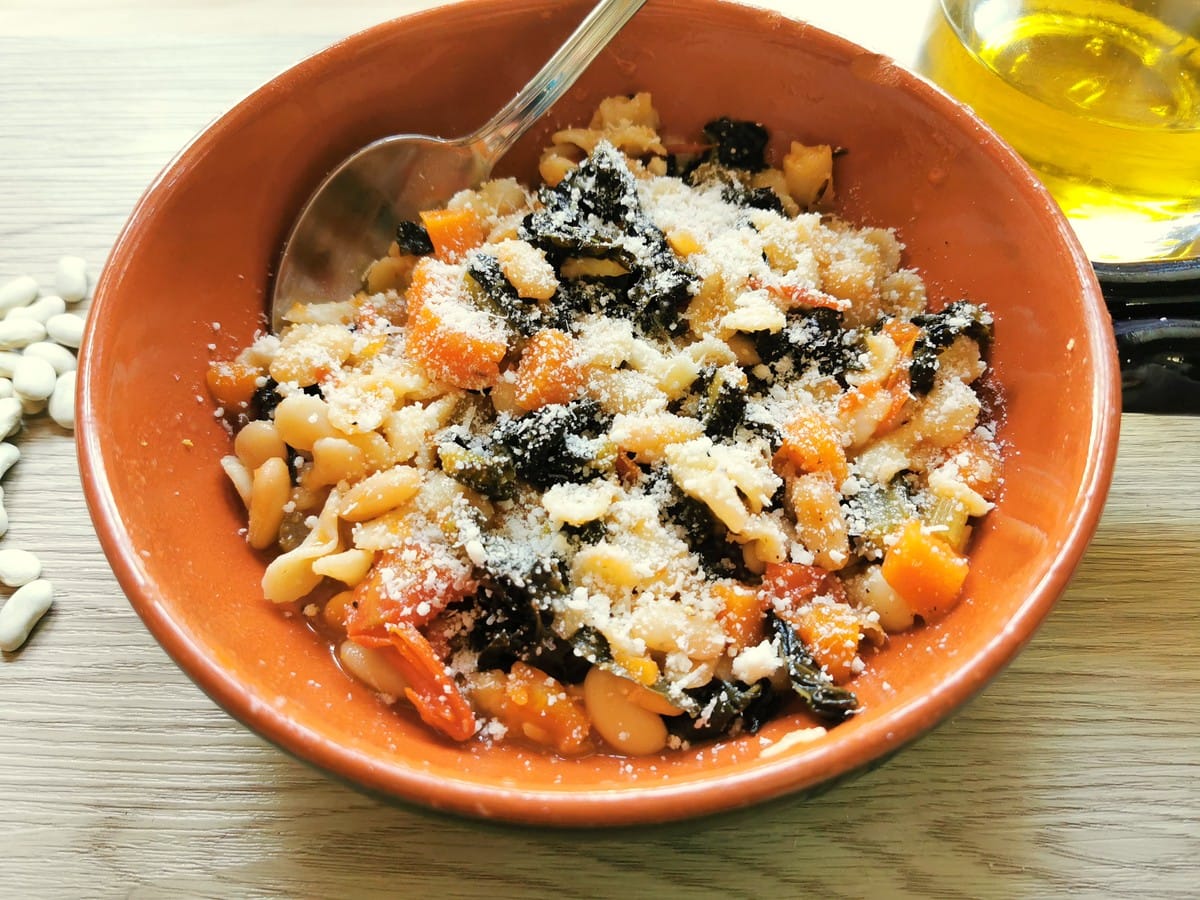 What to do with leftovers.
Pasta cooked in soup or broth tends to expand and soak up the liquid even after the soup is ready. In fact, leftovers always have less liquid than when the soup is first eaten. Plus, the pasta gets much softer.
If you are making enough of this Tuscan kale, white bean and pasta soup to have a lot of leftovers, I suggest cooking the pasta separately and adding it to individual bowls when serving. You can store any leftover pasta and soup separately in the fridge for about 3 says or freeze the soup without pasta for up to 3 months.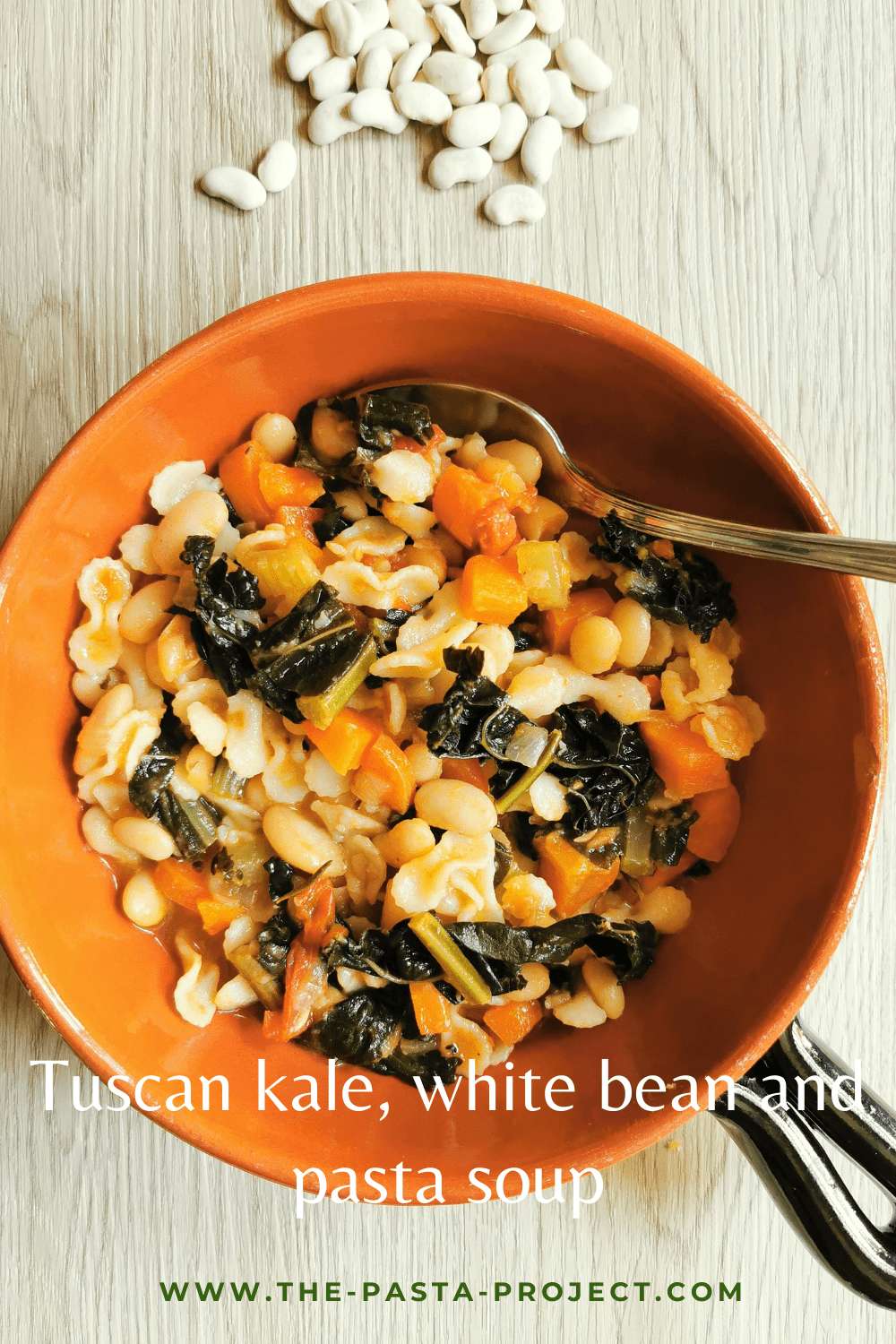 Let me know what you think.
I'm sure you'll love this traditional Tuscan kale, white bean and pasta soup as much as we do. It's super healthy and nutritious. One of our favourite pasta soup recipes, particularly during the colder months of the year or just when we want to have a healthy meatless meal.
If you make this kale and white bean pasta soup, I'd love to hear how it turns out. Please write a comment here on the blog, email me or post a comment on the Pasta Project Facebook page.
Your feedback is really appreciated!
Buon Appetito!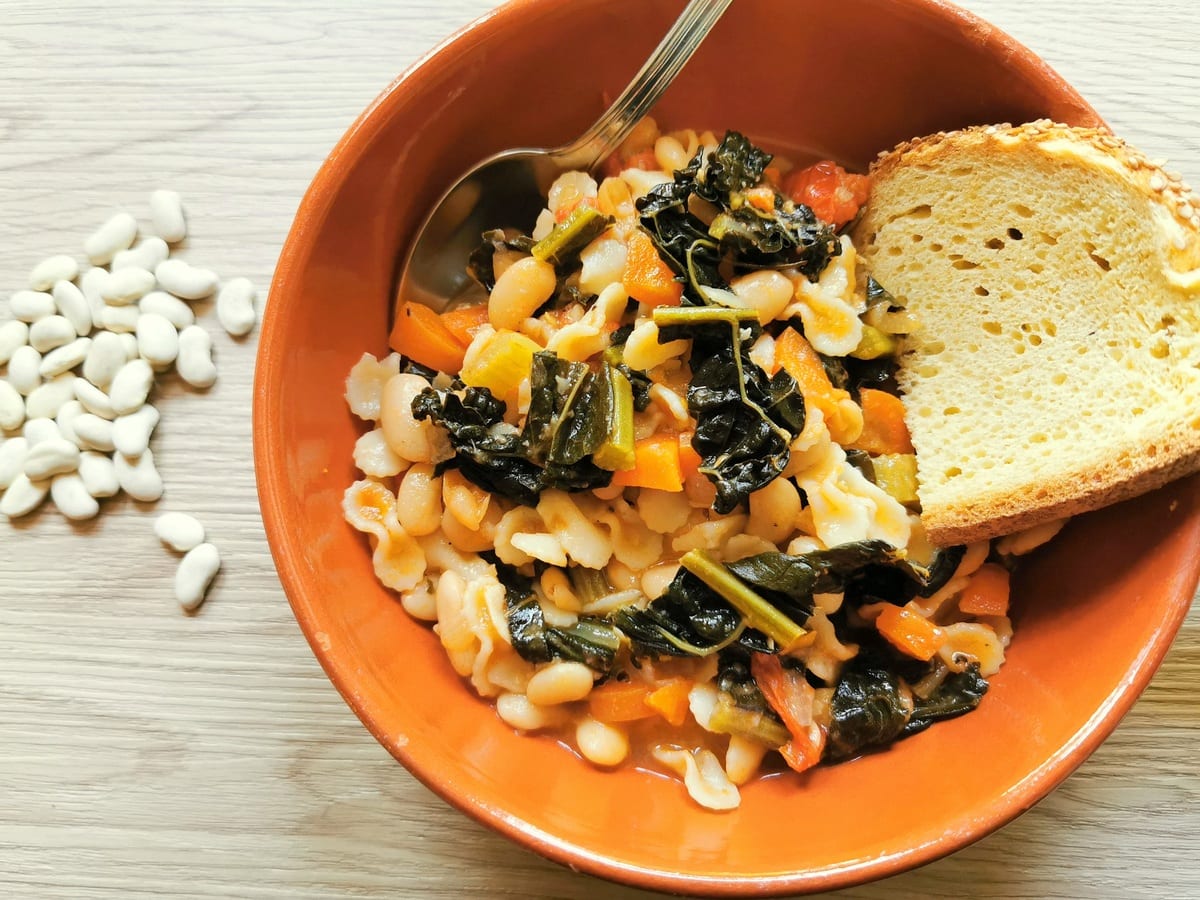 Other pasta soup recipes to try.
CHECK OUT MY SHOP PAGE.
If you are interested in learning how to make homemade pasta and different types of gnocchi, check out my shop page for some great video online courses from my friends in Rome! Nothing beats learning to make pasta from Italians! Plus while you're there why not order a copy of one of my pasta recipe cookbooks or checkout some recommended pasta making tools? All great prezzies for pasta lovers!FacebookPinterestCondividi