A Southern Italian Summer Pasta Salad.
It's summer in Italy and even here in the north where I live, the temperatures can get up to 40 degrees celsius! So, it's pasta salad time! This pasta salad crudaiola Barese, also called pasta alla crudaiola, is an incredibly versatile and healthy dish. You can eat it as a one-plate light meal, as part of a cold buffet or at a picnic.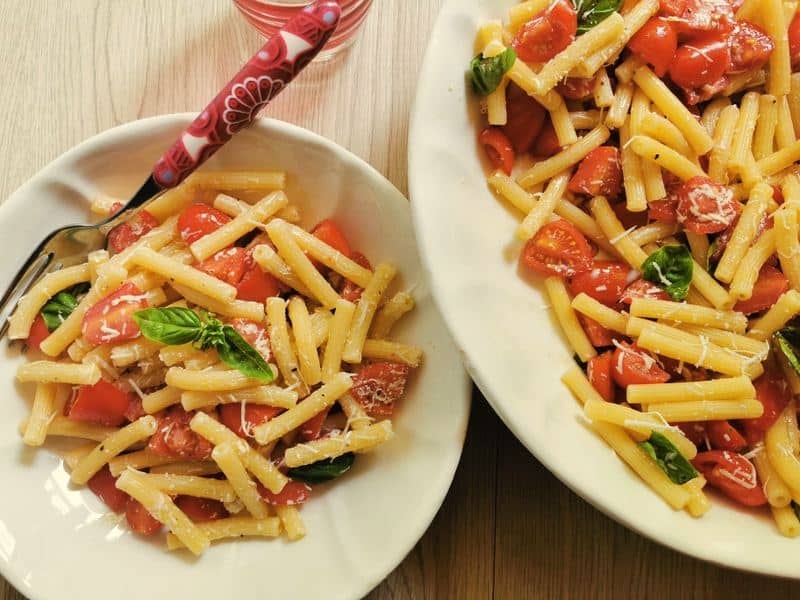 A patriotic pasta salad!
Pasta salad crudaiola Barese is super simple. It's a white, red and green dish, which for me are the ubiquitous colours of Italian cuisine. Italians call these colours 'il tricolore' because they are, in fact, the colours of the Italian flag. There are other dishes that make use of these colours. Think Caprese salad! Patriotic cooking!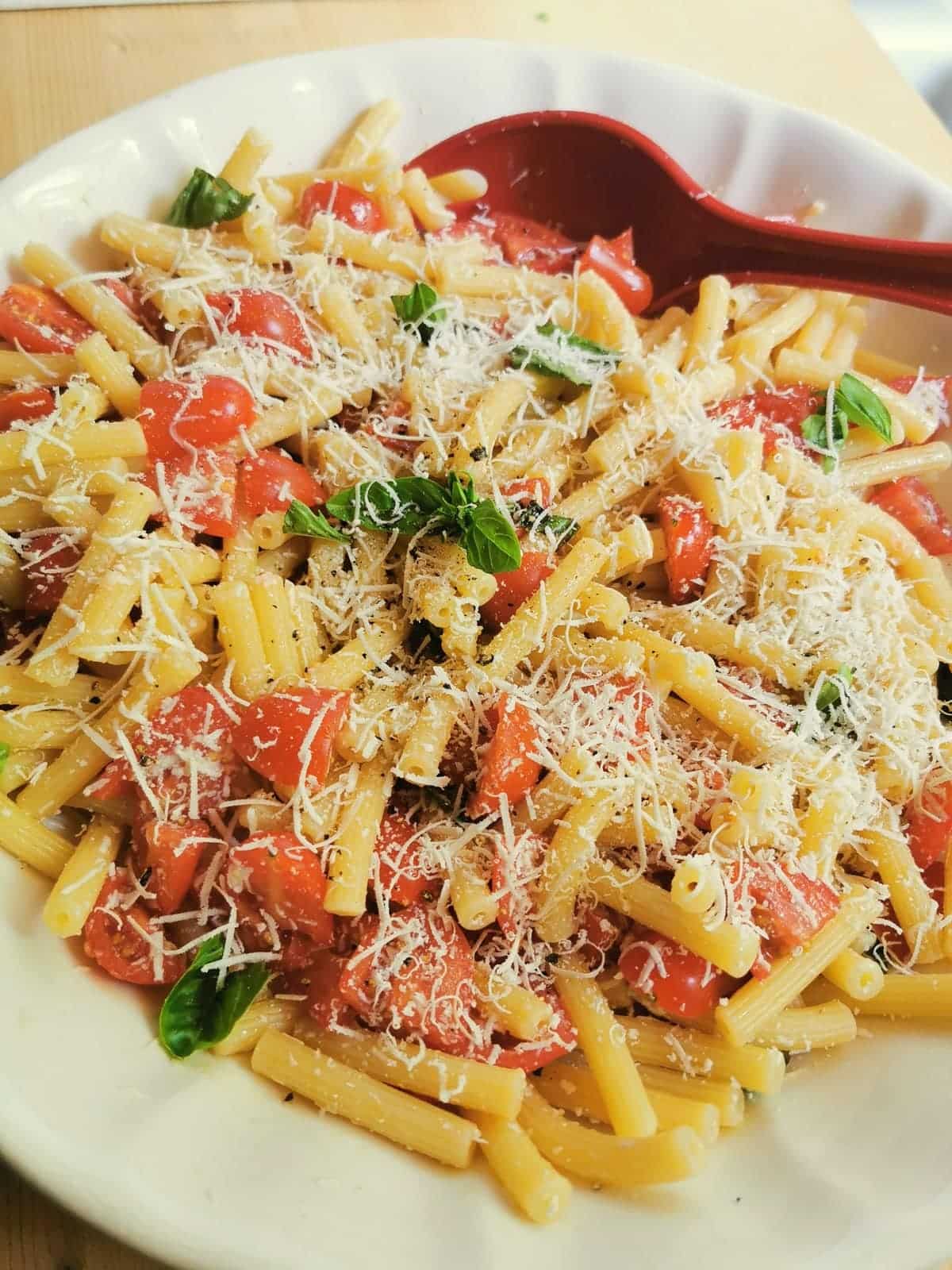 This pasta salad recipe comes from Bari in Puglia. It is made with fresh cherry tomatoes, a clove or 2 of garlic, fresh basil, a sprinkling of hard ricotta called Marzotica (or ricotta salata) and lots of extra virgin olive oil.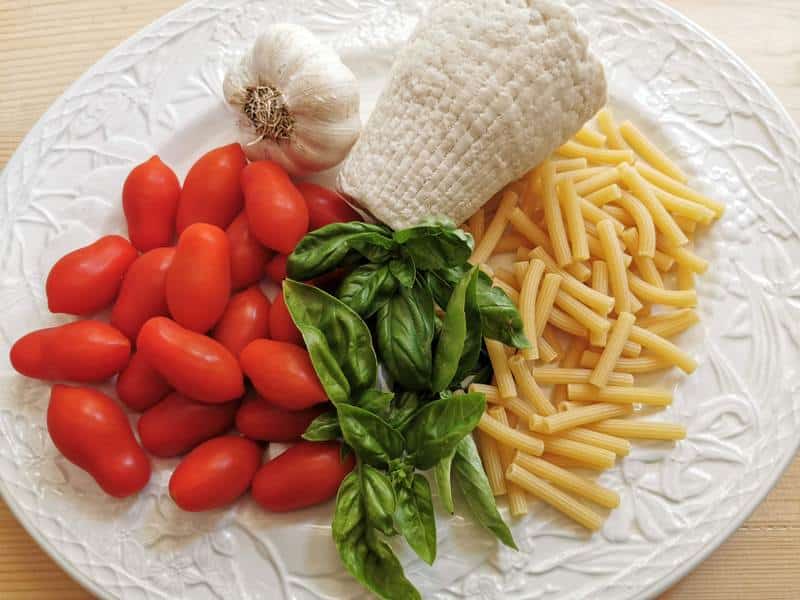 There are many types of pasta that go well in crudaiola Barese. Italians usually make pasta salad with short pasta. I have found recipes for this dish with the most popular and traditional pasta in Puglia such as orecchiette, sedani and cavatelli. I used sedani rigati.

Crudaiola Barese is best kept simple.
One could almost call this a 'non-recipe' because it is so easy to do. Apparently, in Bari, pasta alla crudaiola is a very common and popular dish. However, I have read that some chefs and restaurants now vary the ingredients slightly, perhaps to make it look or sound more elegant or sophisticated. Personally, I love the simple original recipe.

Of course, the local ingredients used in Puglia; such as the type of olive oil, hard ricotta and tomatoes, give this dish a particular flavour which is difficult to produce exactly unless you have those actual ingredients.

However, I have made this recipe with the tomatoes, olive oil and hard ricotta which I can buy here in the north and the result is divine! Some years, I'm able to use my homegrown cherry tomatoes and basil which makes this dish really special! If you can't find hard ricotta or ricotta salata, you can also make pasta salad crudaiola Barese with aged feta!
I think the most important thing is that the ingredients are of good quality, fresh and, if possible, organic.

Whichever cheese you chose, I'm sure you'll love this simple tasty pasta salad crudaiola Barese. If you give it a try, do let me know how it turns out, either by commenting below or on the Pasta Project Facebook page. And if you feel it's worth sharing with friends please do.
All your feedback and support is much appreciated!
Buon Appetito
Other pasta salad recipes to enjoy
Save this recipe for later?
If you want to save this recipe for later, you can print it, bookmark this page or save it to Pinterest.

This recipe was originally published in 2017 but it has been updated.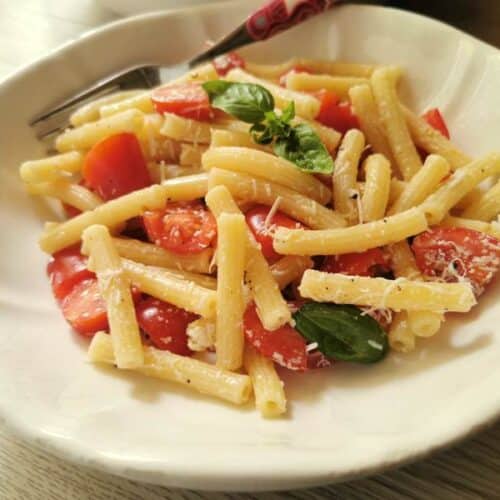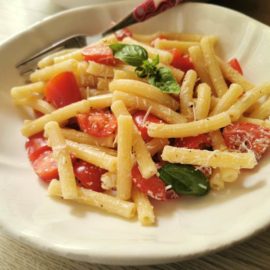 Pasta Salad Crudaiola Barese
A super simple but tasty traditional pasta salad recipe from Bari, Puglia. Crudaiola Barese is perfect as a side dish or light summer meal.
Ingredients
350

g

Sedani rigati or Orecchiette

(12oz) I used sedani rigati from Valle del Grano

12-15

cherry tomatoes

6-8

basil leaves

250

g

Marzotica ricotta or cacioricotta

(9oz) hard ricotta from Southern Italy or ricotta salata

1

garlic clove

peeled

Extra virgin olive oil

as required

salt

for pasta and to taste

Freshly ground black pepper.

to taste
Instructions
2 hours before cooking
Wash the cherry tomatoes and cut them into small pieces.

Peel the clove of garlic and chop it well. (some people omit the garlic and others keep it whole and remove it before serving the pasta)

Put the tomatoes, garlic and some of the basil in a bowl, add a pinch of salt and a good amount of olive oil.

Add a good amount of grated ricotta on top but don't mix it with the tomatoes.

Seal the bowl with cling film and leave it in the fridge for about 2 hours.
Finish the dish
Put a pot of water on to boil for the pasta. Add salt once it starts to boil and bring to the boil again. Cook the pasta al dente in boiling salted water according to the instructions on the packet.

Remove the tomato mixture from the fridge and take out the basil leaves which will have become soft and replace them with chopped fresh ones.

Drain the pasta well, let it cool for a minute and add it to the tomato mixture.

Add more grated ricotta, a dash of olive oil, ground pepper if required, mix well and serve.
Notes
If you serve this crudaiola barese dish immediately it will be slightly warm. If you prefer it colder put it in the fridge for a while before serving.
You can use other types of short tubular pasta in this recipe, such as penne.
Nutrition
Calories:
444
kcal
Carbohydrates:
70
g
Protein:
19
g
Fat:
9
g
Saturated Fat:
5
g
Polyunsaturated Fat:
1
g
Monounsaturated Fat:
2
g
Cholesterol:
32
mg
Sodium:
64
mg
Potassium:
377
mg
Fiber:
3
g
Sugar:
4
g
Vitamin A:
559
IU
Vitamin C:
12
mg
Calcium:
156
mg
Iron:
2
mg