Octopus alla Genovese is hands down one of the best recipes I know for pasta with octopus. Although it takes at least a couple of hours to make, this Neapolitan recipe uses just a few ingredients and is pretty easy to prepare. So, why not bring a taste of Naples and the Mediterranean to your table with this fantastic Southern Italian dish?
Paccheri alla Genovese di polpo.
Known as 'a genovese 'e purpo' in the local dialect, this octopus pasta recipe is the seafood version of an iconic Neapolitan recipe, pasta alla Genovese or la Genovese. That recipe is a slow cooked beef and onion ragu that dates back to the 15th century. Normally served with ziti, ragu alla Genovese is one of the most traditional dishes for Sunday lunch and holidays in Naples. I've eaten it in Naples and have the recipe here on The Pasta Project (see link below).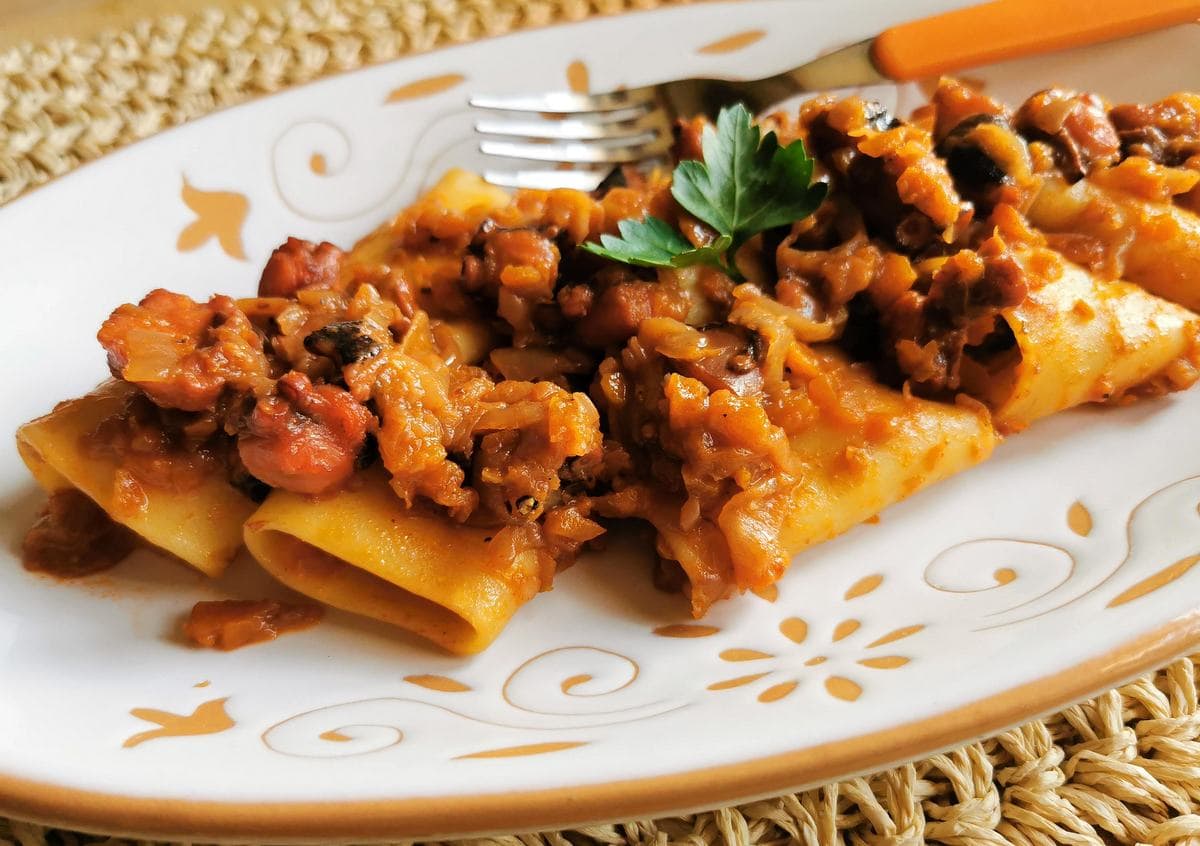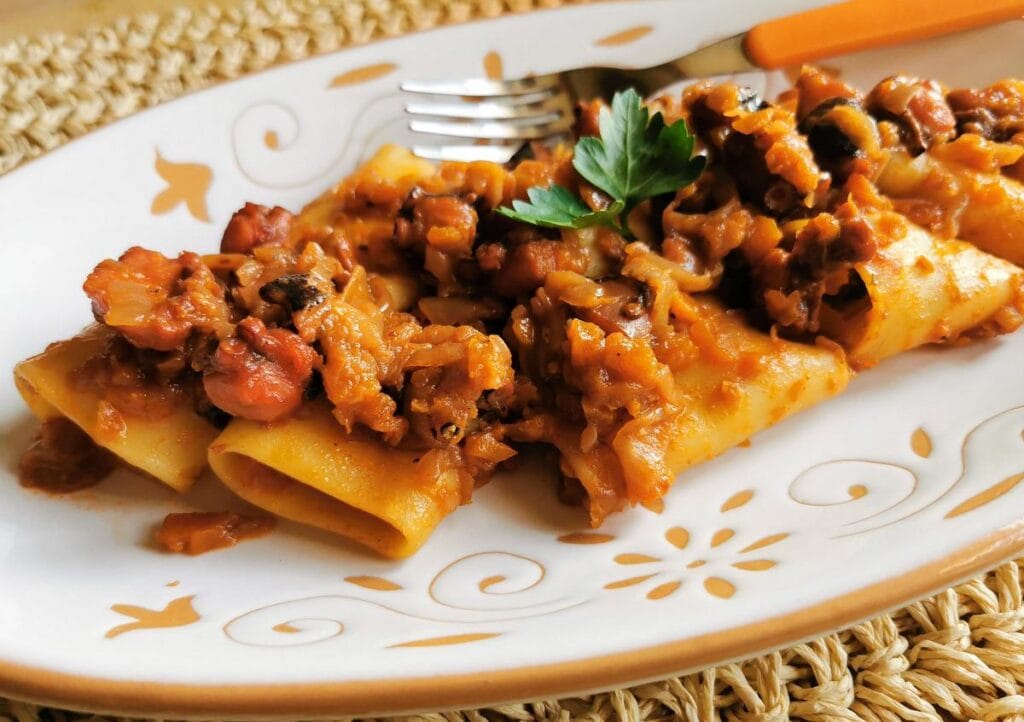 Alla Genovese meat ragu is seriously good. So, when I discovered there's an octopus version, I had to try it! I was not disappointed. If you like octopus, you'll love this way of cooking it.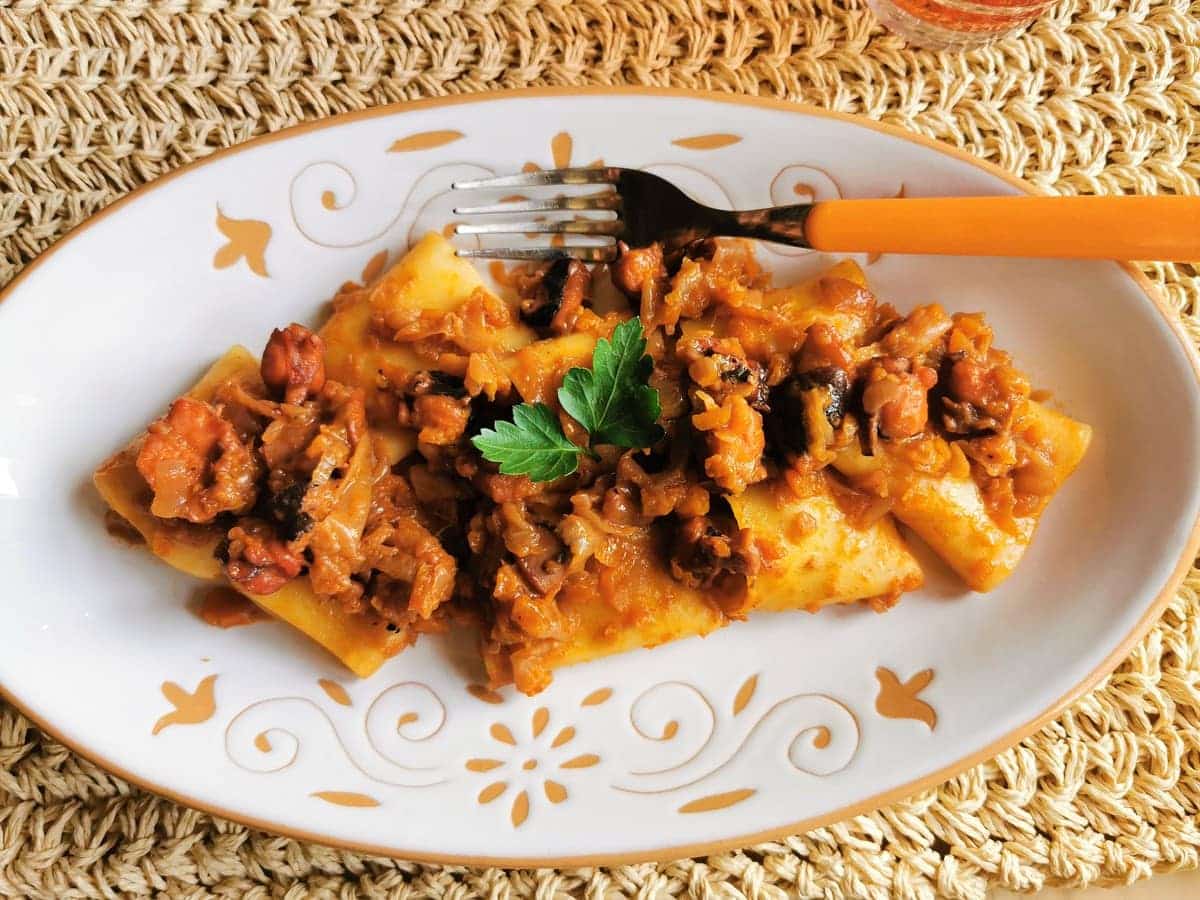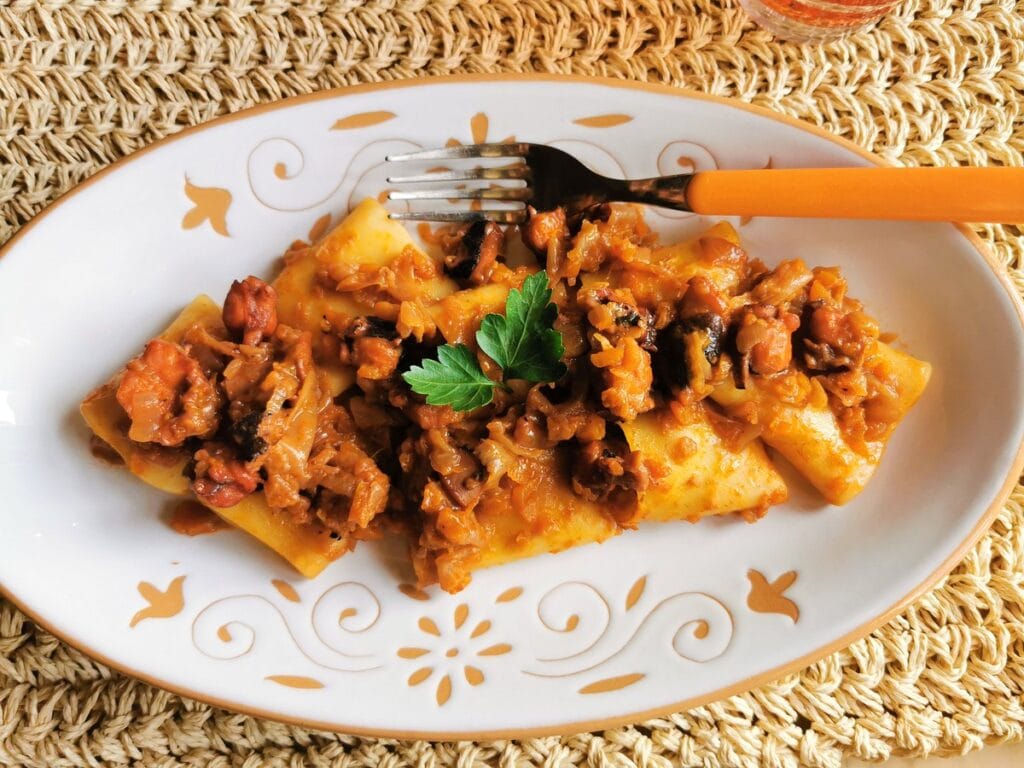 What does alla Genovese mean?
When Neapolitans hear the word 'Genovese' the first ingredient that comes to mind is onions! Both variants of this dish call for lots of onions, around 2 kilos per kg of beef or octopus. In fact, it's the onions that make these recipes both unique and wonderfully flavourful.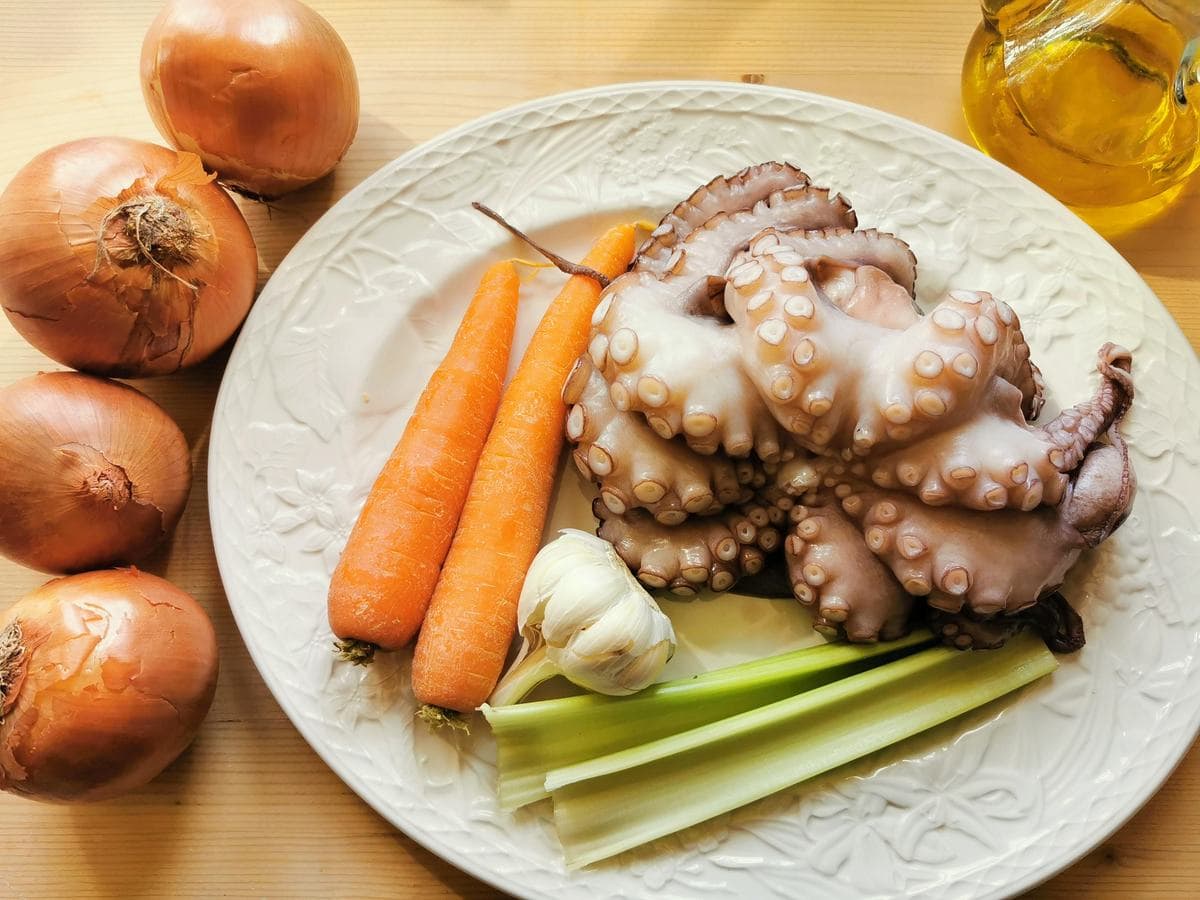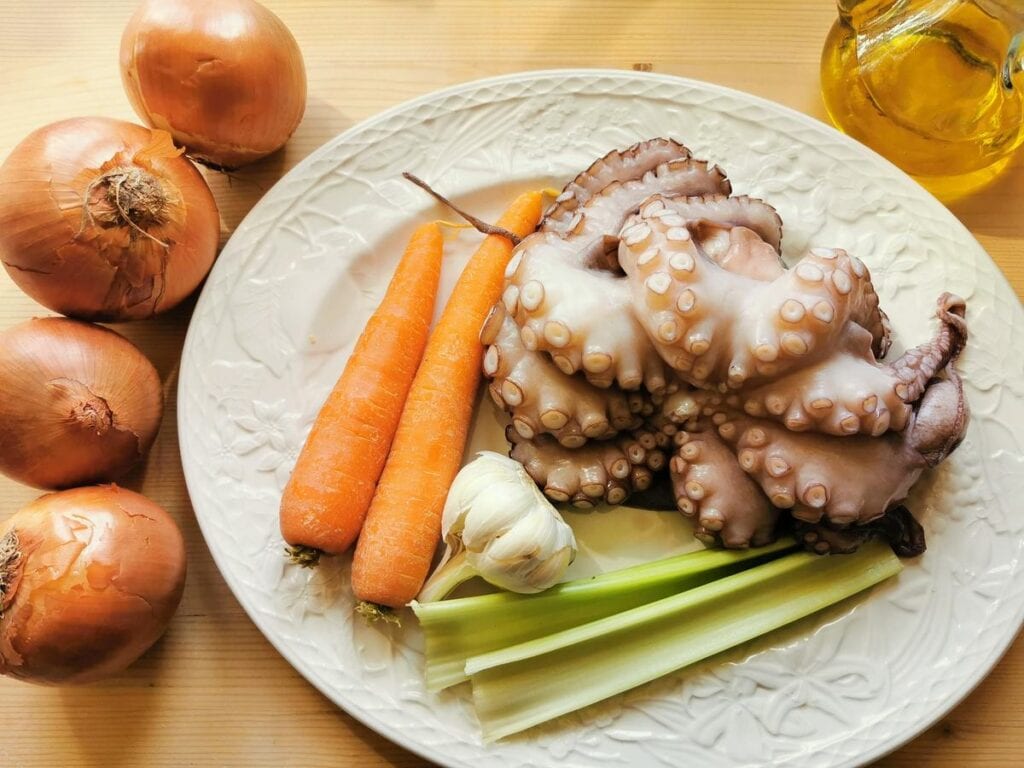 It's interesting that the name 'Genovese' doesn't refer to the place where this recipe originated. They don't actually eat this dish in Liguria or Genova, where Genovese refers to basil pesto. Actually, in Genova, their traditional beef ragu is known locally as 'il tocco di carne'.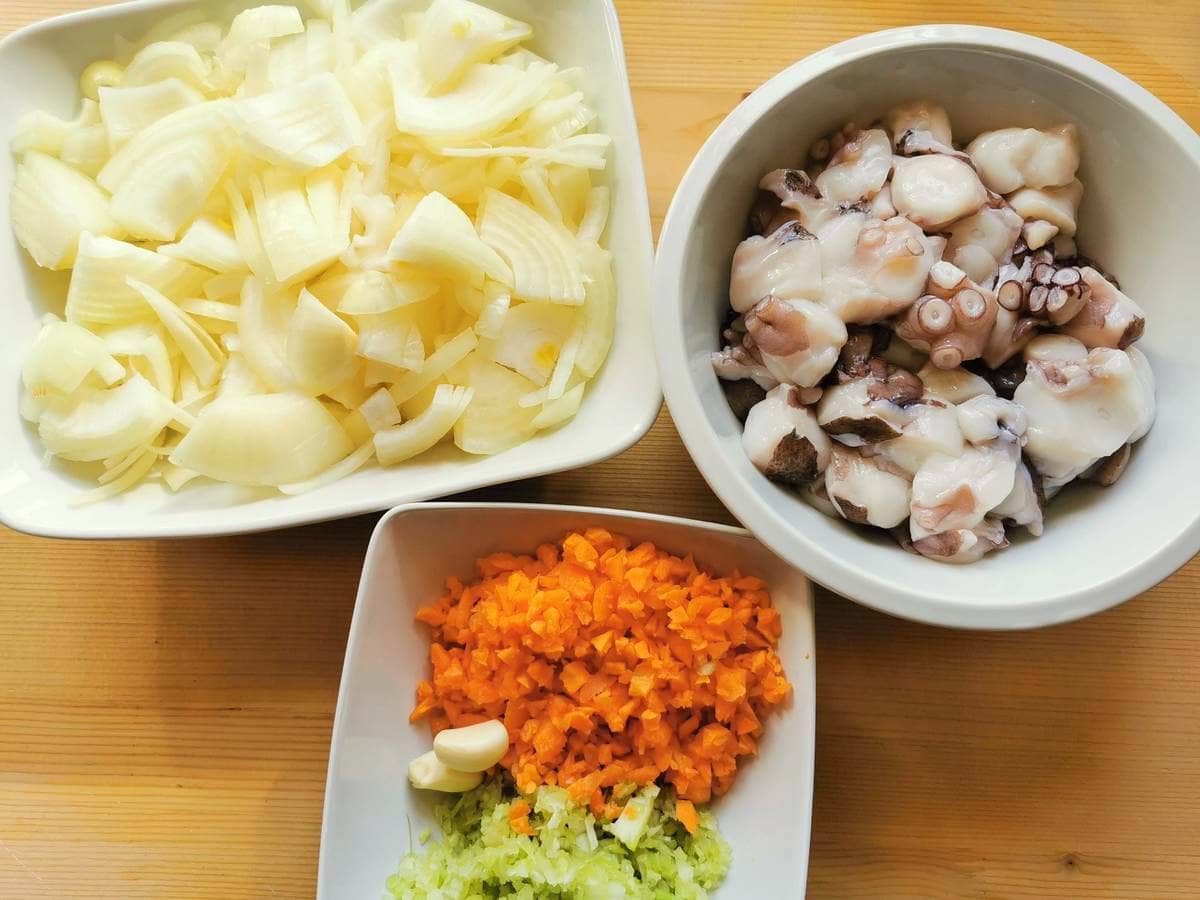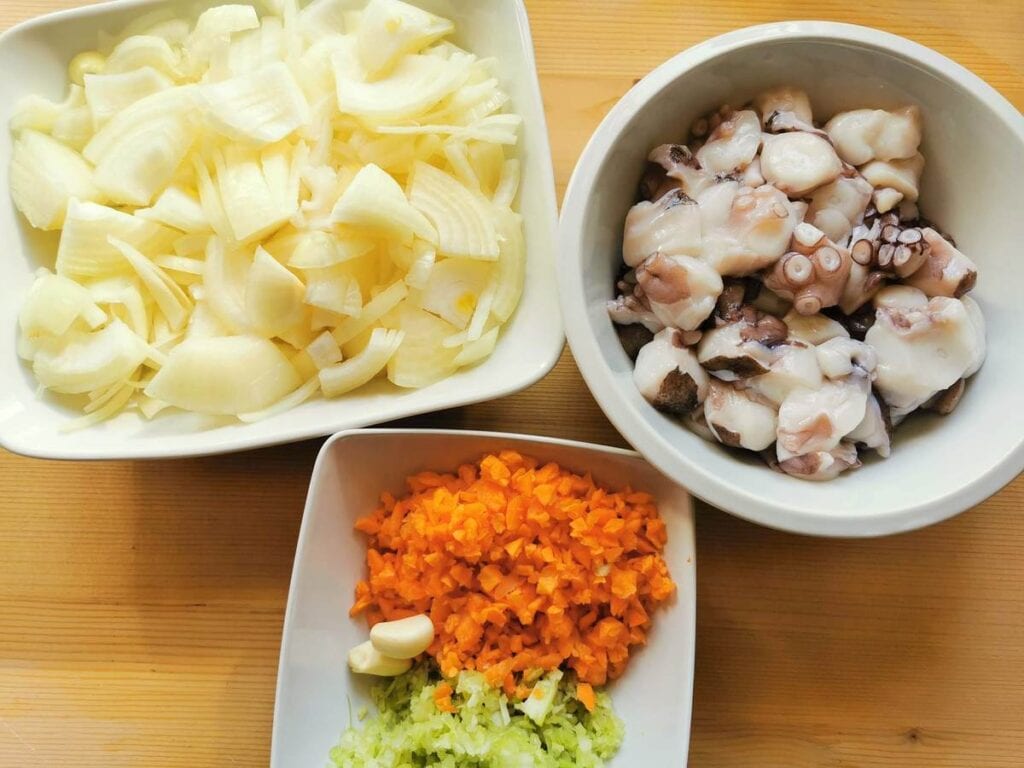 Like many other ancient Italian recipes, there are a number of theories as to how this Southern Italian dish got its name. Some believe this pasta ragu was simply invented by a particular Neapolitan chef whose surname or perhaps nickname was 'the Genovese', meaning he originally came from Genova.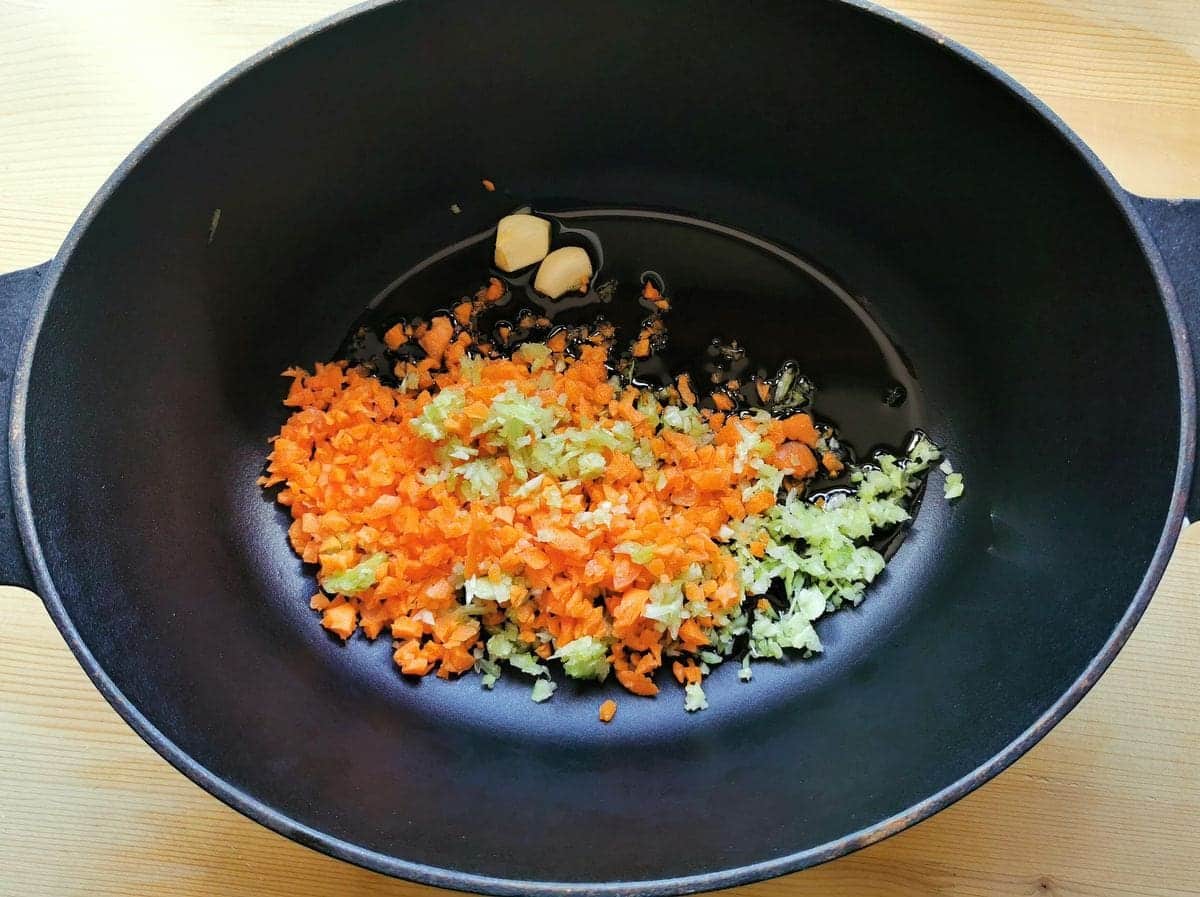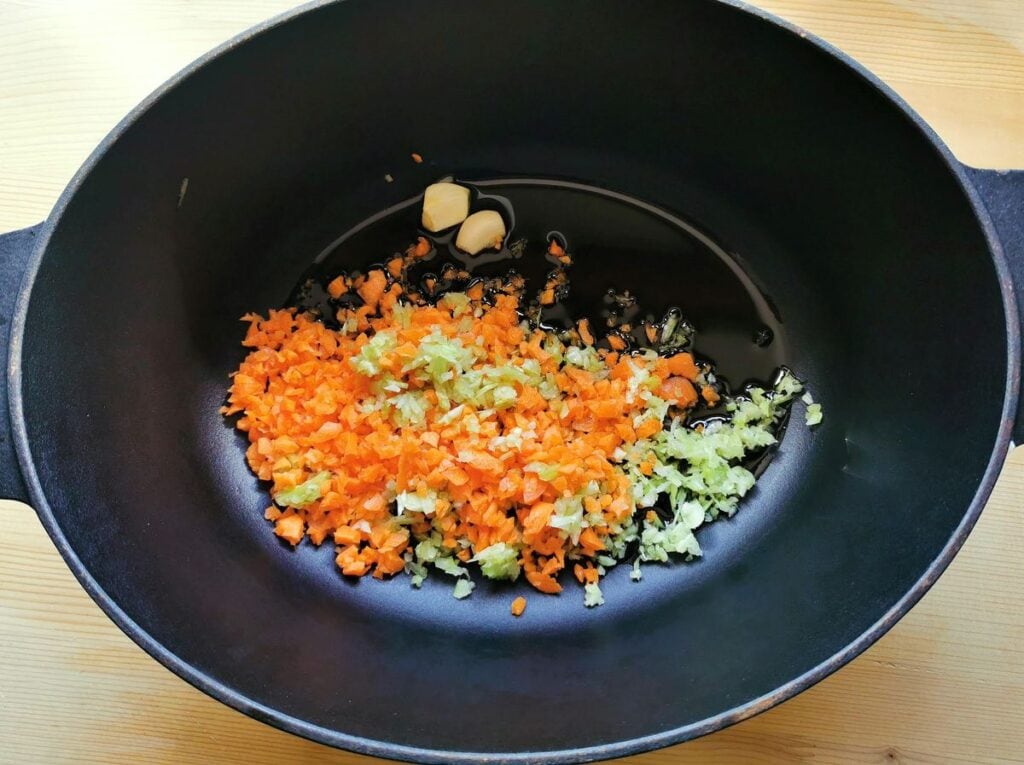 Others believe that it is connected to the Genovese cooks living in Naples when the city was under Aragonese and Spanish rule in the fifteenth century. These cooks were famous for their pasta sauces based on meat.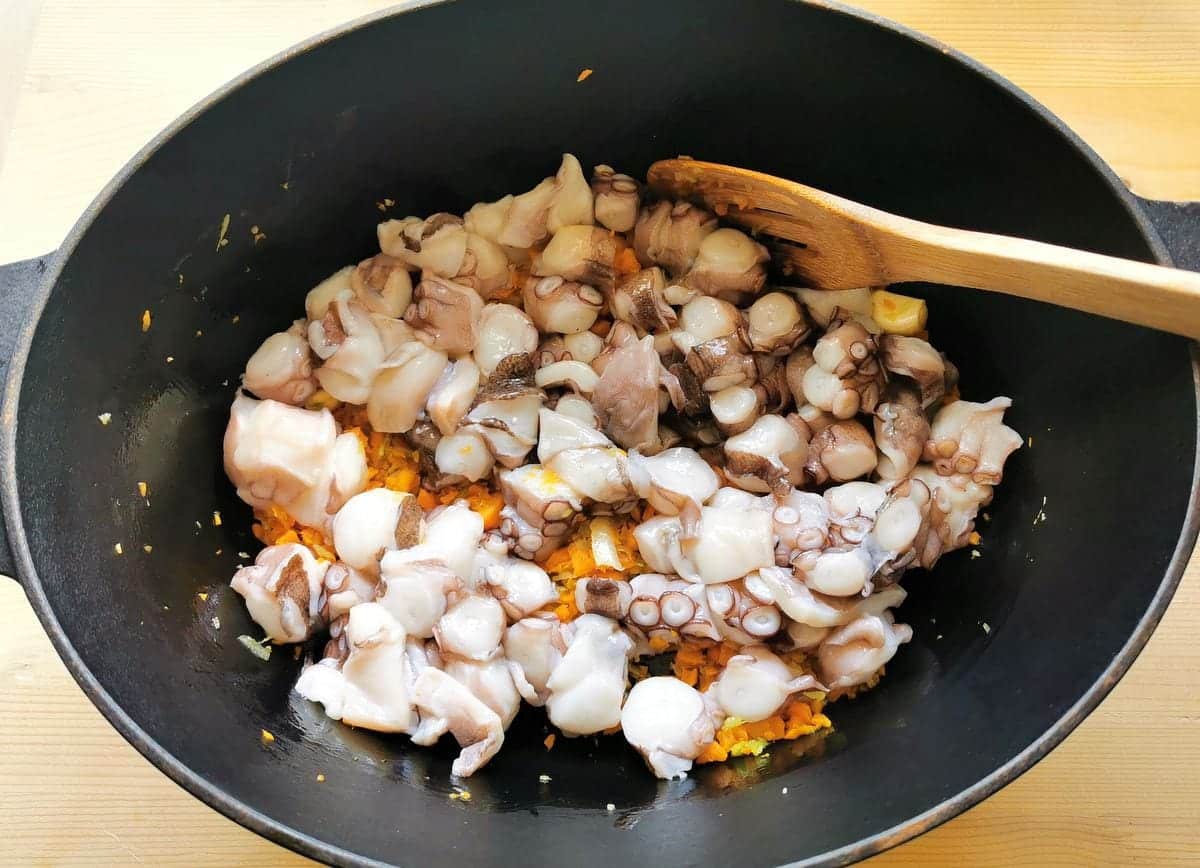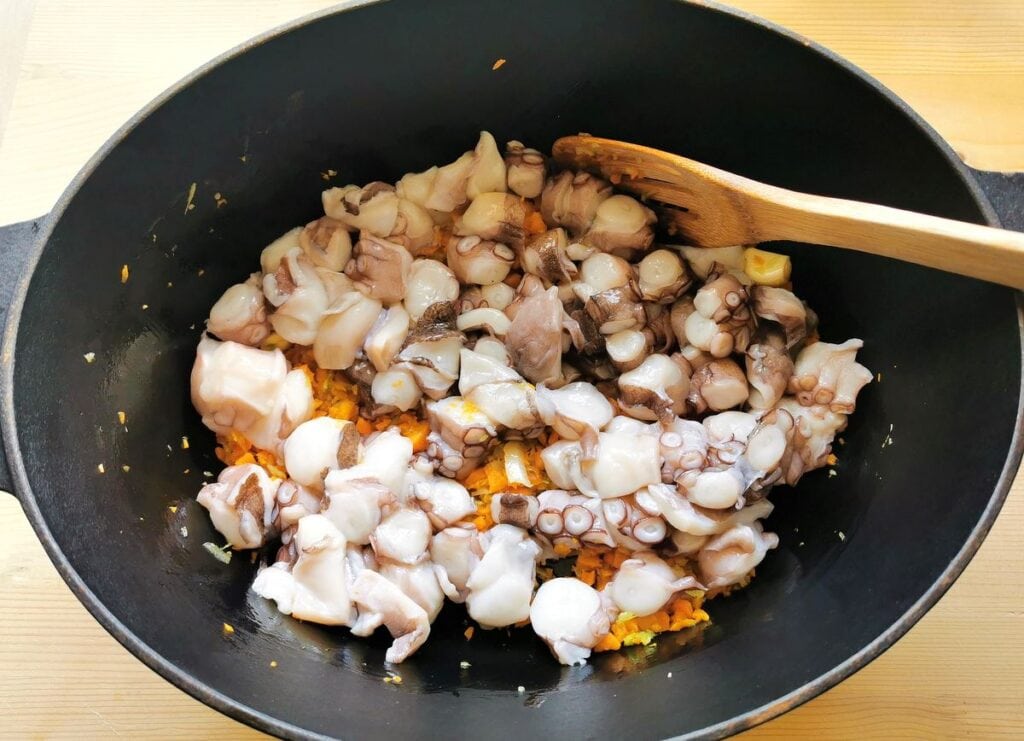 The meat version of alla Genovese is mentioned as a 'ragu' in a famous Italian recipe book from the 19th century. The Theoretical Kitchen-Practice, by Ippolito Cavalcanti Duke of Buonvicino, is the book that first brought Neapolitan cuisine to the world!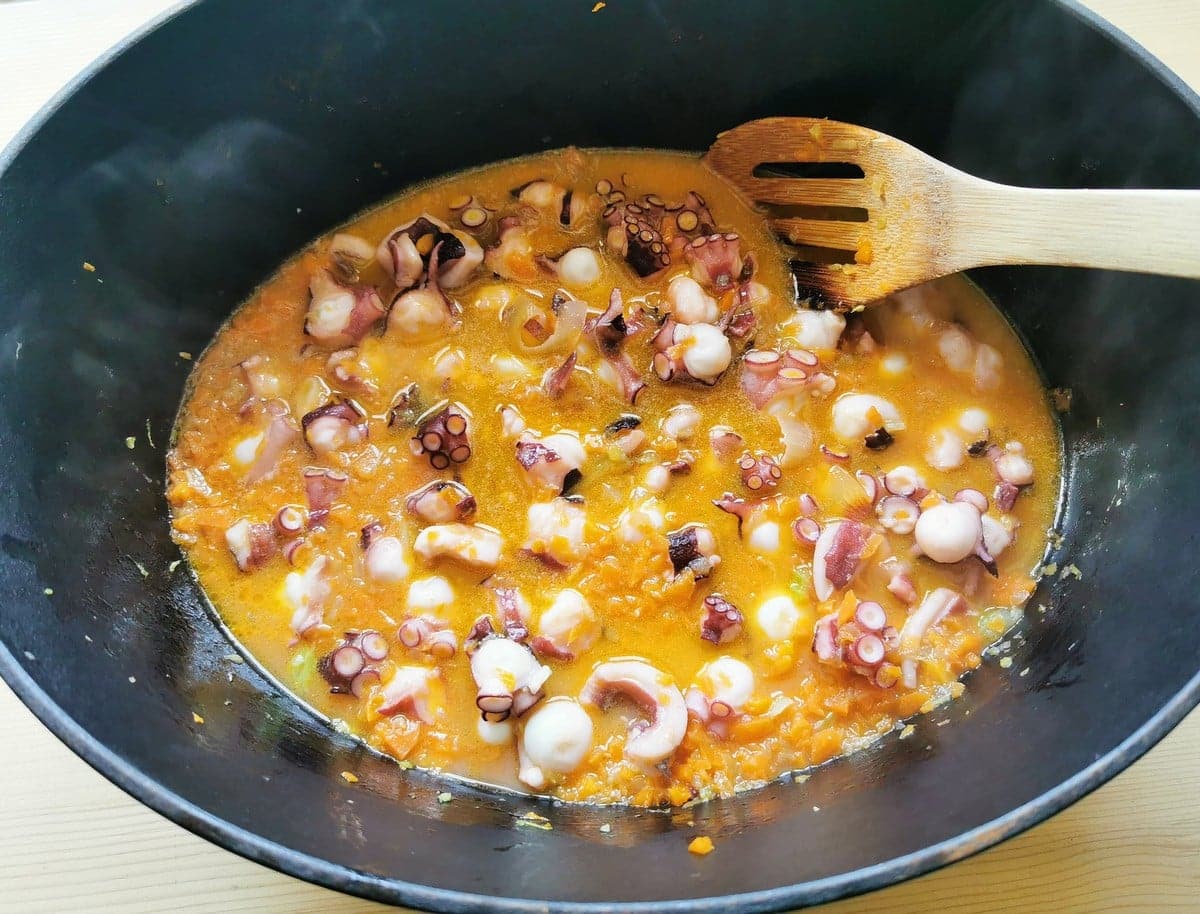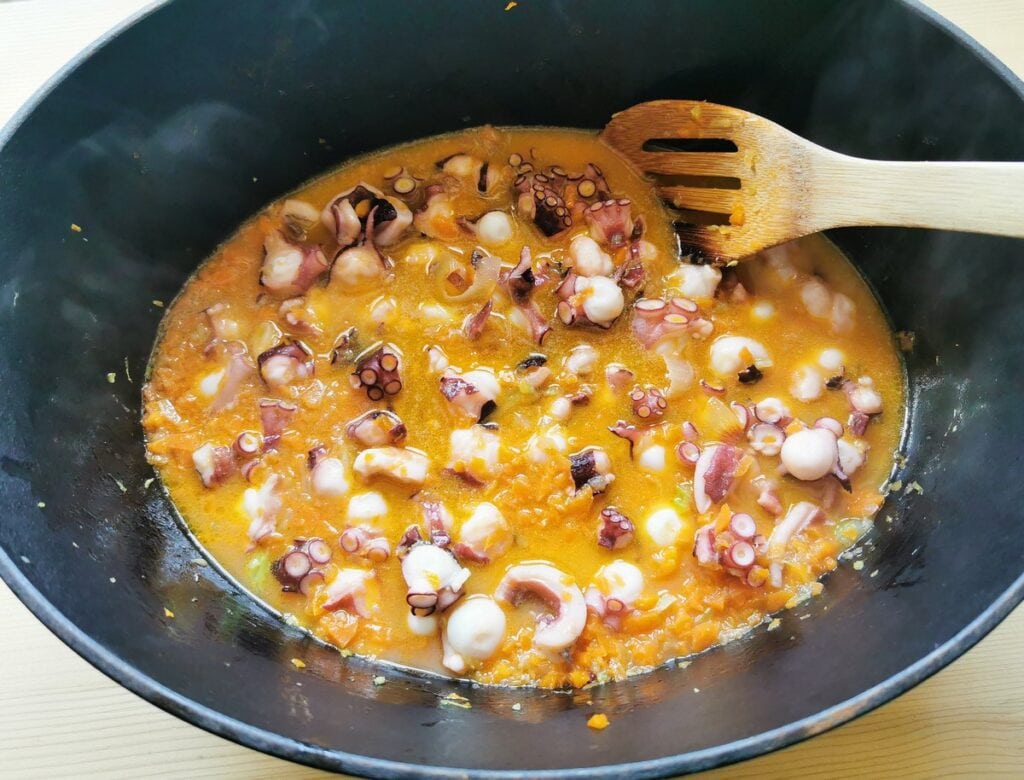 What's the difference between beef and octopus alla Genovese?
Apart from the use of octopus instead of beef, most recipes for these two versions of La Genovese are almost identical. In fact, nearly all the ingredients are the same. However, some of the octopus alla Genovese recipes I found include tomatoes or tomato concentrate and/or peperoncino (Italian red chili pepper).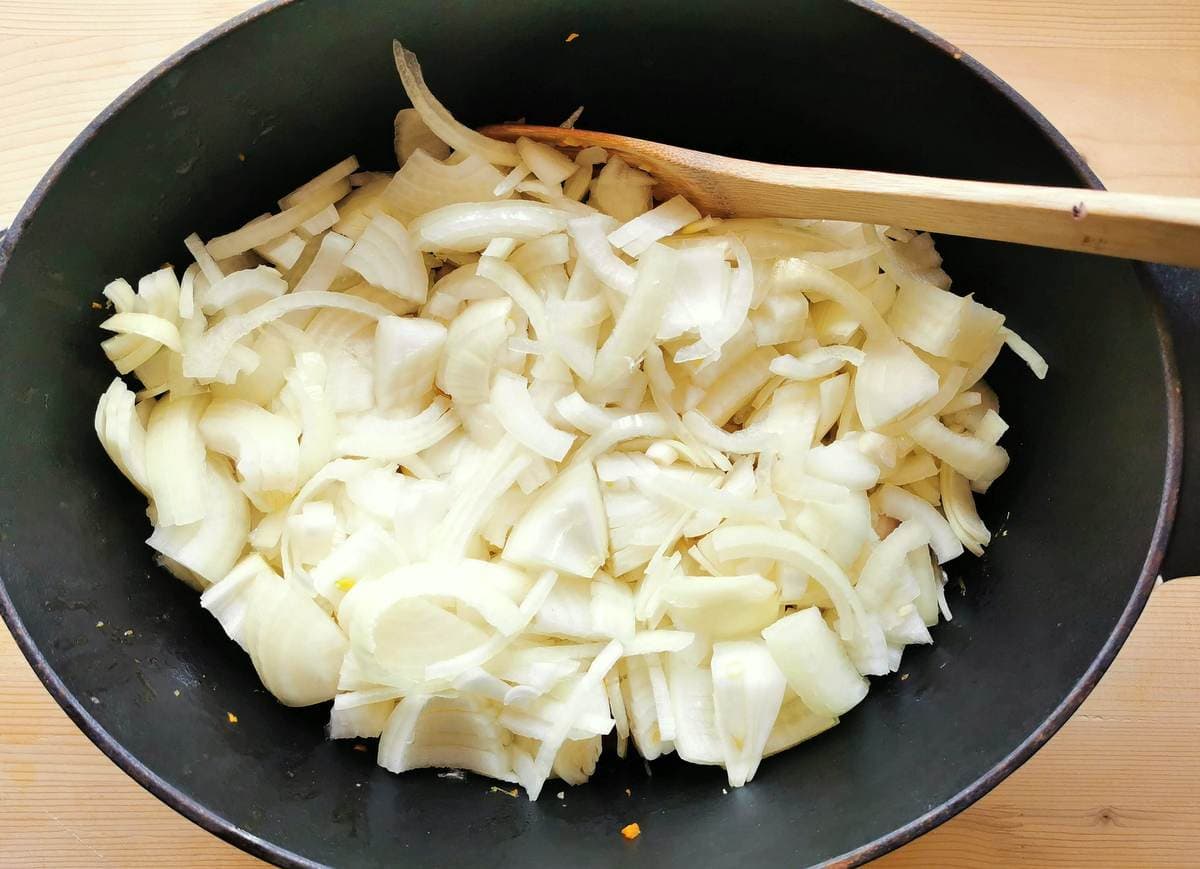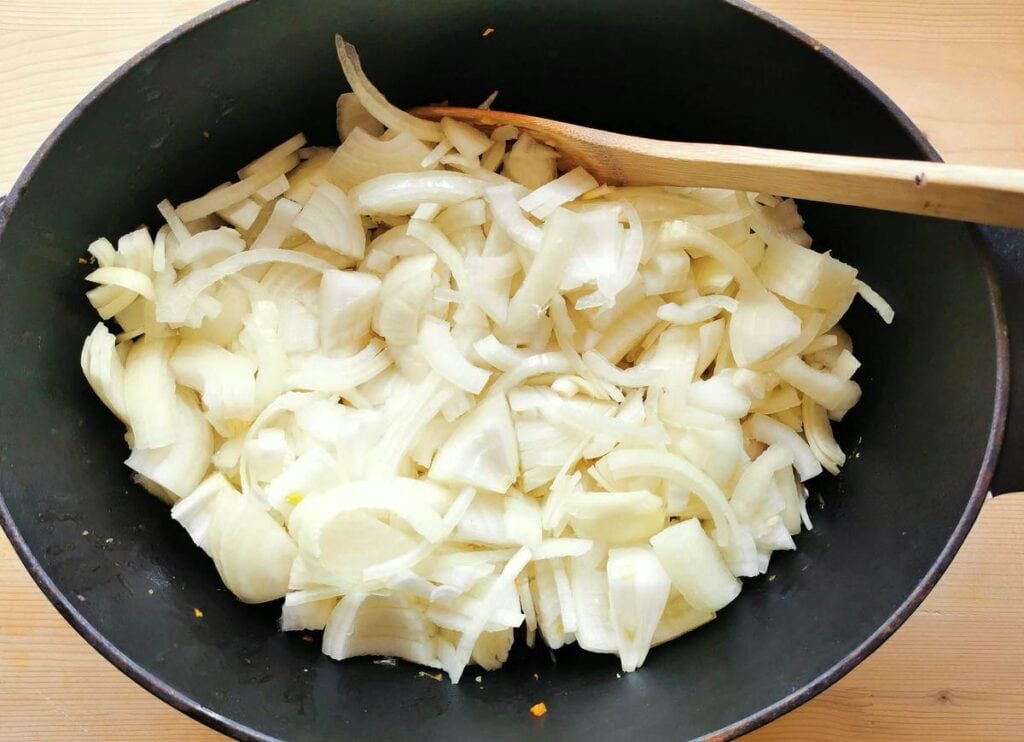 What's the best pasta to use?
In Naples, the most popular pasta for this octopus ragu is ziti or zitoni. These are long dried pasta tubes, similar to giant bucatini. Zitoni are wider than ziti but both are 25cms long. Interestingly, this pasta is traditionally broken into pieces by hand, just before cooking. Nowadays, it's possible to find short ziti. And, long or short this is a good pasta for this dish.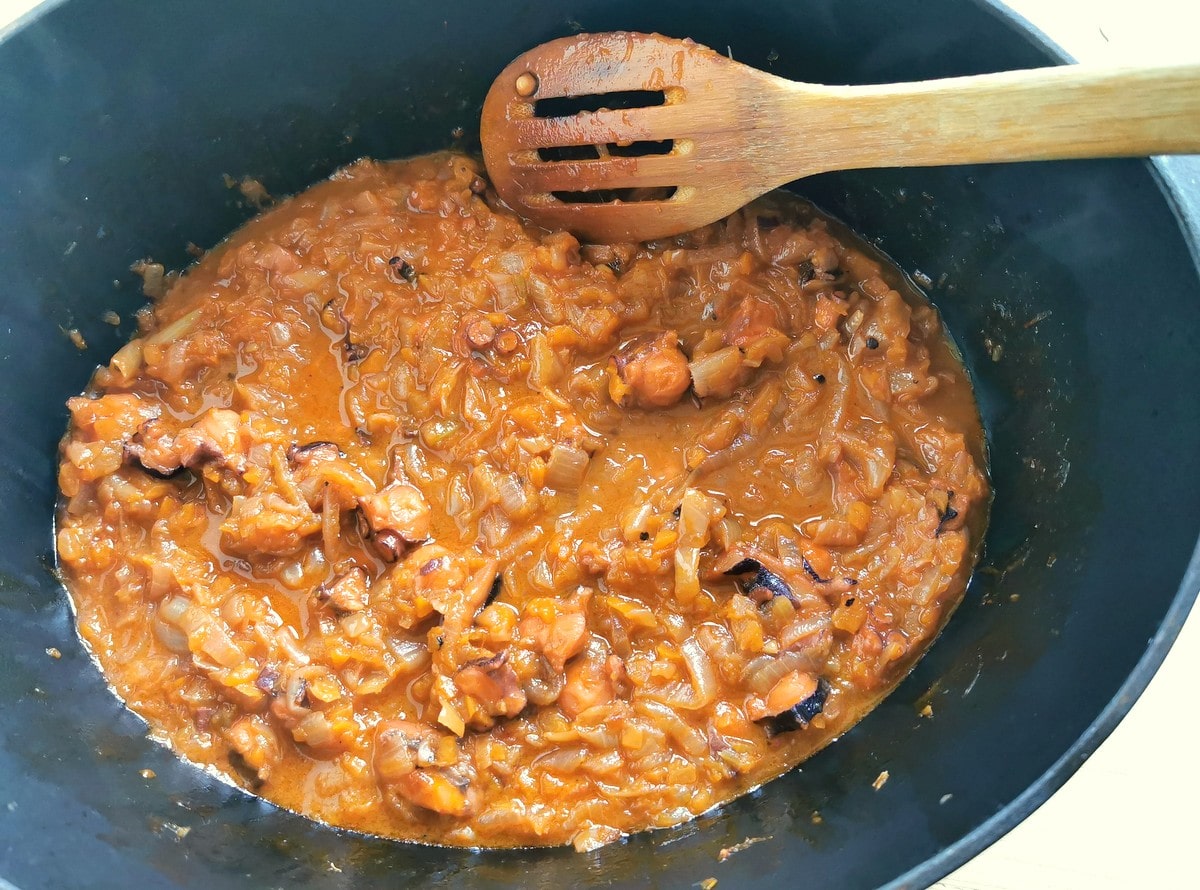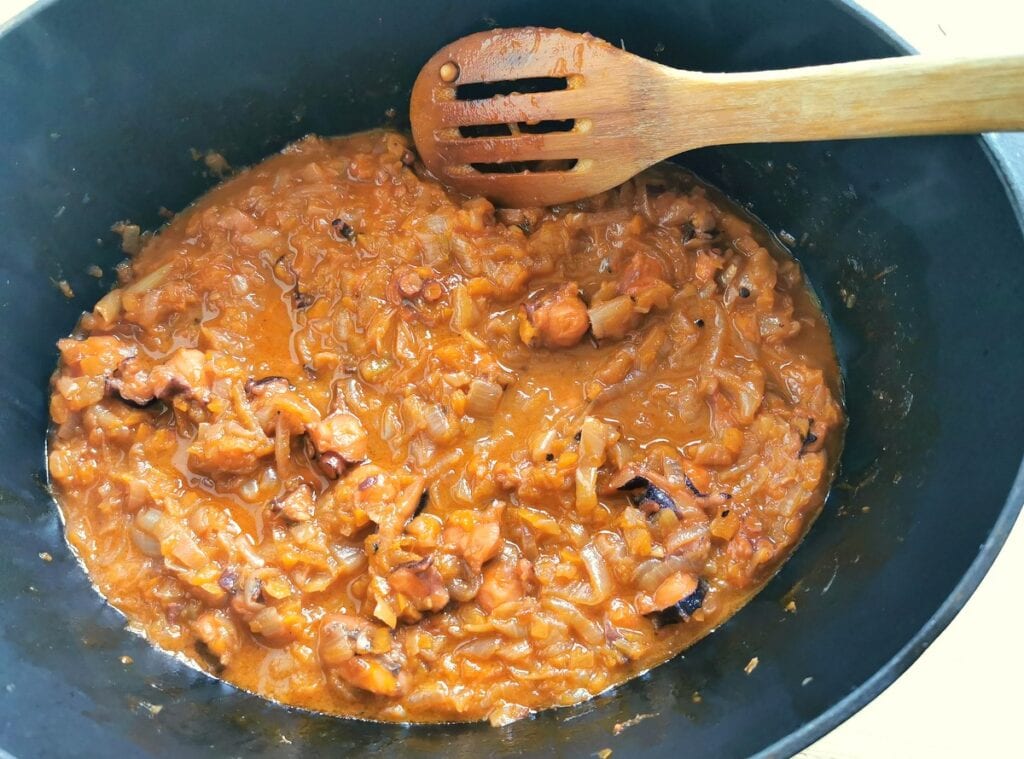 I used paccheri, which is also a quintessentially Neapolitan pasta popular with both beef and octopus alla Genovese. Paccheri is a shortish pasta tube that's also quite wide. In fact, it's wide enough to fill. Some people say it looks like pieces of a cut-up garden hose! Usually made with durum wheat semolina, paccheri is often served with rich heavier sauces or seafood. You can read more about these pasta tubes in my paccheri post.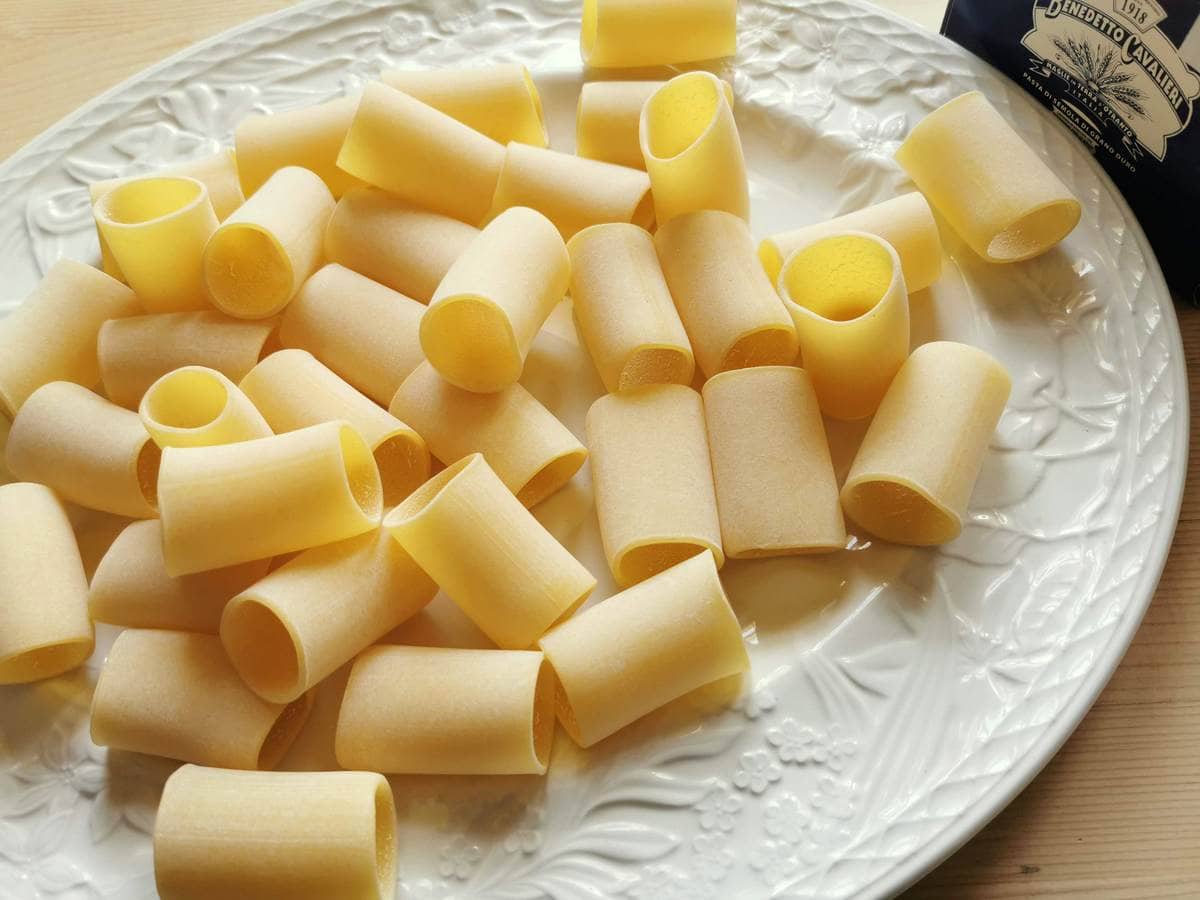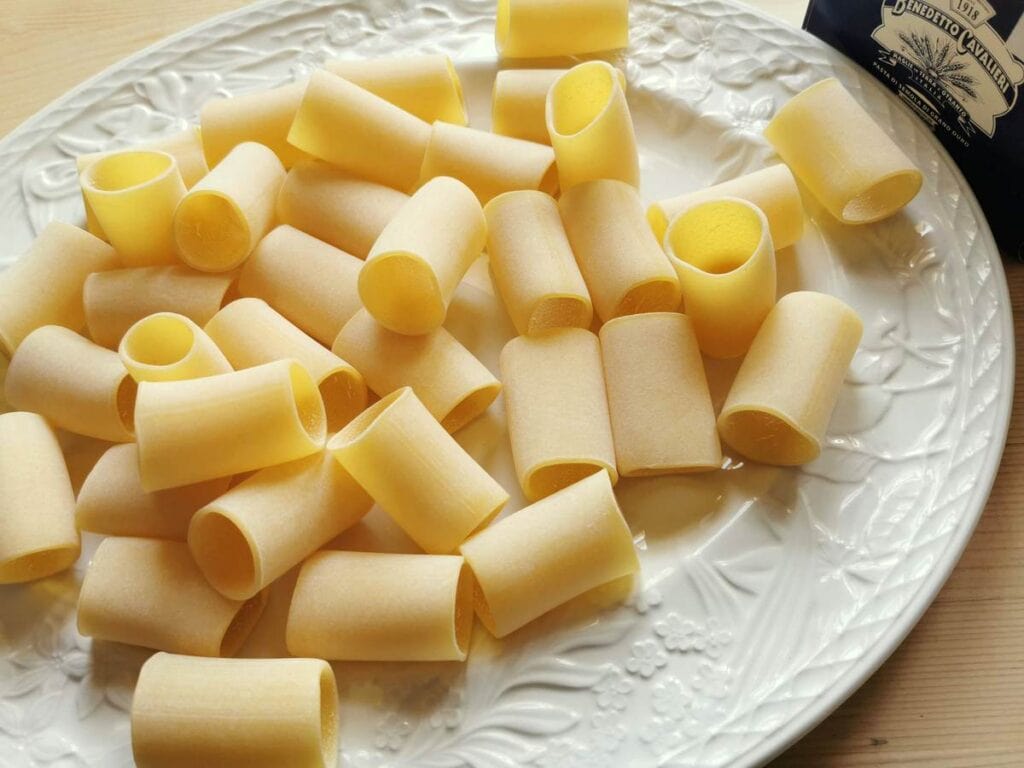 My paccheri came from a pasta maker I visited in Puglia a while back. Benedetto Cavalieri is one of the most well-known pasta companies in that part of Italy. They make their pasta with durum wheat grown in Puglia and Basilicata using a production process known as 'metodo delicato'. This method involves long kneading of the dough and slow pressing, drawing and drying at low temperatures.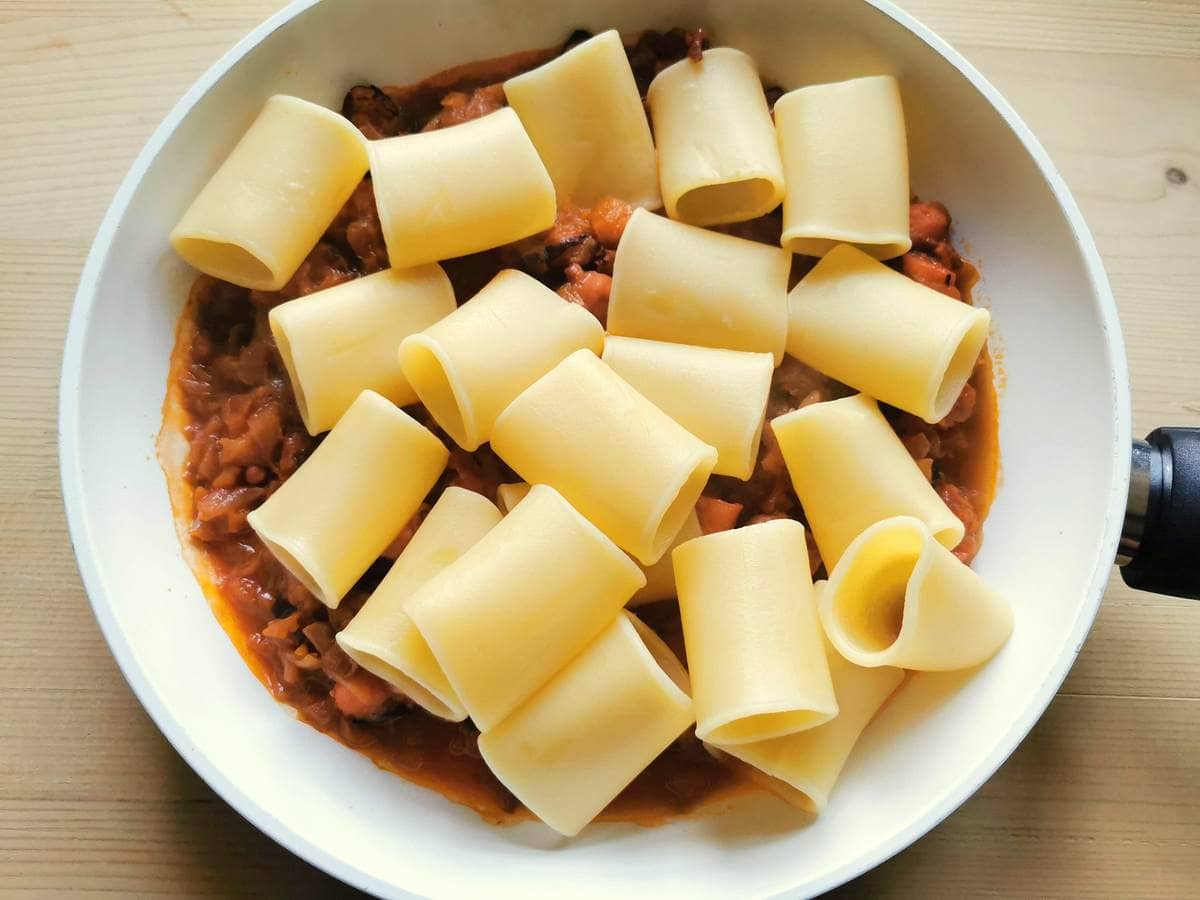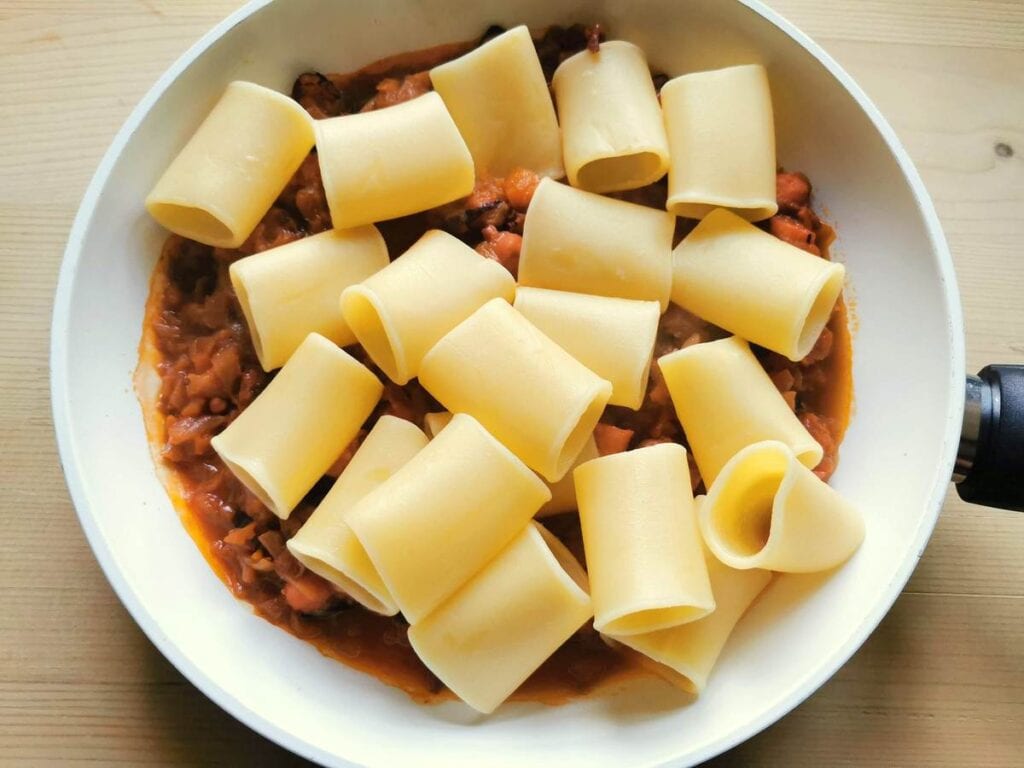 Their pasta has won awards and is very popular with chefs in the region. We found it served in many high-quality restaurants whilst we were on holiday there. Definitely worth trying if you come across it.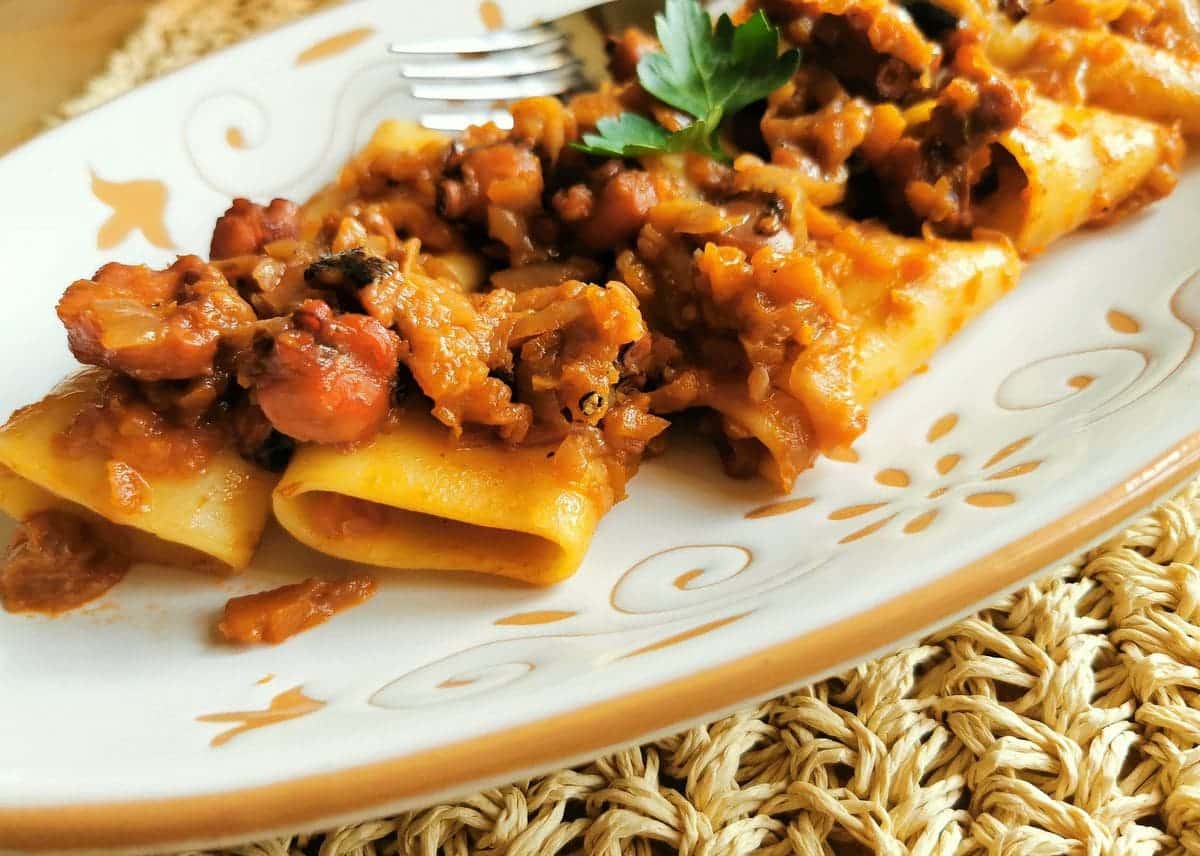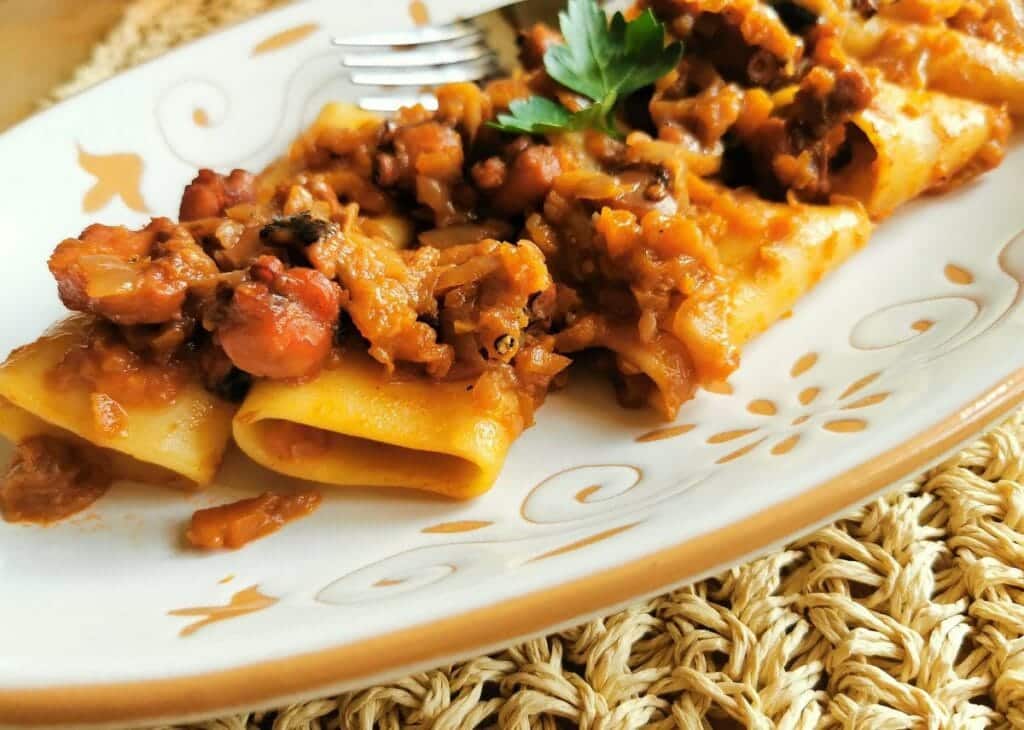 Preparing and cooking the octopus.
I cooked this octopus pasta with an 850g whole fresh octopus, which the fishmonger cleaned for me. However, like squid and cuttlefish, octopus doesn't lose quality when frozen. In fact, many people think frozen octopus is more tender. So, both fresh or frozen would work well in this recipe. Frozen octopus also has the advantage of being already cleaned and often already cut into pieces. So, unless you live near the coast where octopus fishing takes place, you are probably better off using frozen anyway.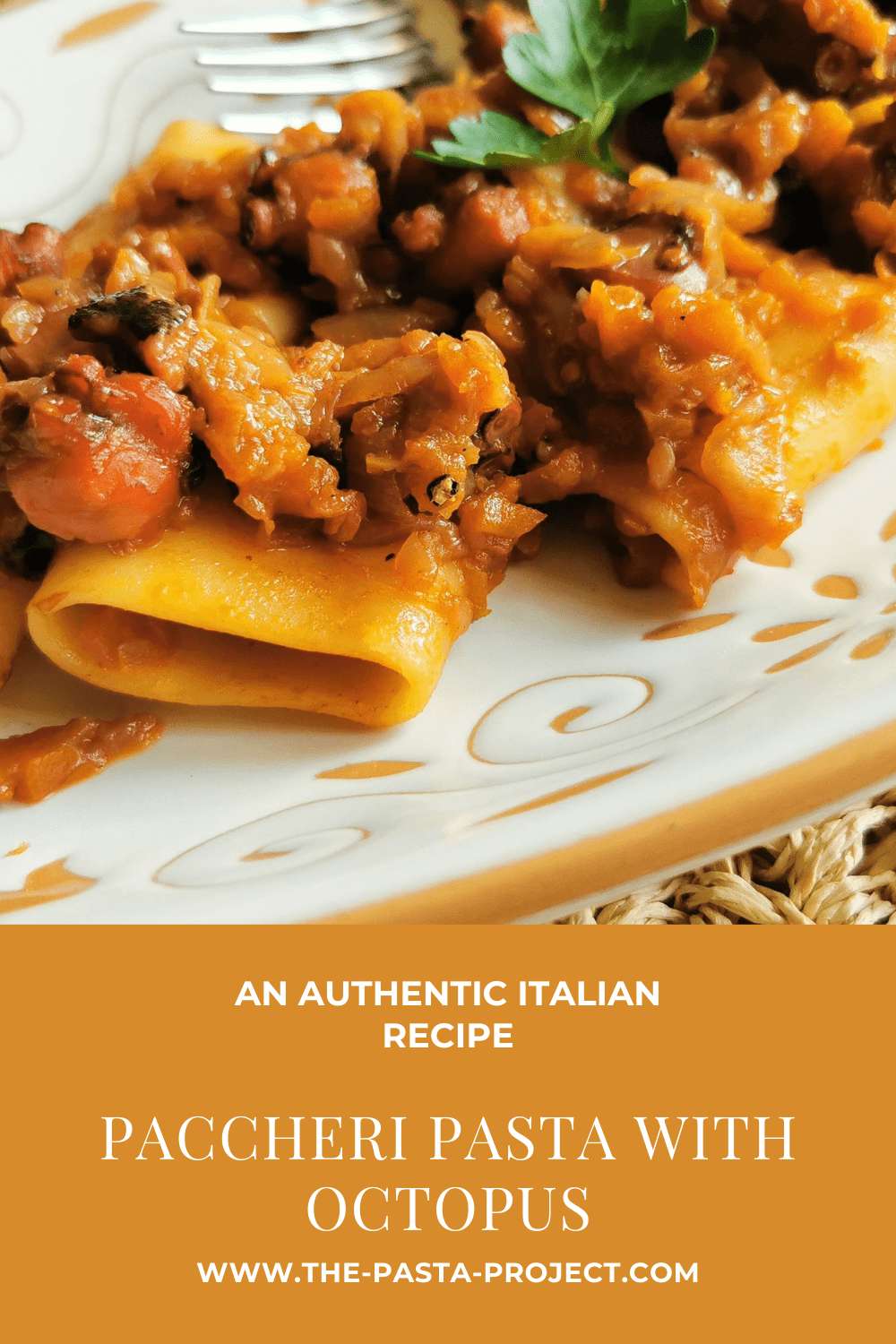 Also, like squid (calamari) and cuttlefish, octopus needs to be cooked very fast or slow. In this recipe, the octopus pieces are quite small but still need to be cooked for at least an hour and a half. This is also so the onions really reduce and become creamy. It's difficult to give an exact cooking time as much will depend on the size of your octopus pieces. The best way is to check it when an hour or so has passed. Once it's tender the octopus is done.
Let me know what you think.
If you do try this paccheri pasta with octopus alla Genovese recipe, I'd love to hear what you think. Please write a comment here on the blog or post a comment on the Pasta Project Facebook page.
Your feedback means a lot to me!
Buon Appetito!
More pasta with seafood recipes to try!
If you are interested in learning how to make homemade pasta and different types of gnocchi, check out my shop page for some great video online courses from my friends in Rome! Nothing beats learning to make pasta from Italians! Plus while you're there why not order a copy of my autumn/winter pasta recipes cookbook!?