Potato and Porcini Mushroom Cannelloni (Manicotti)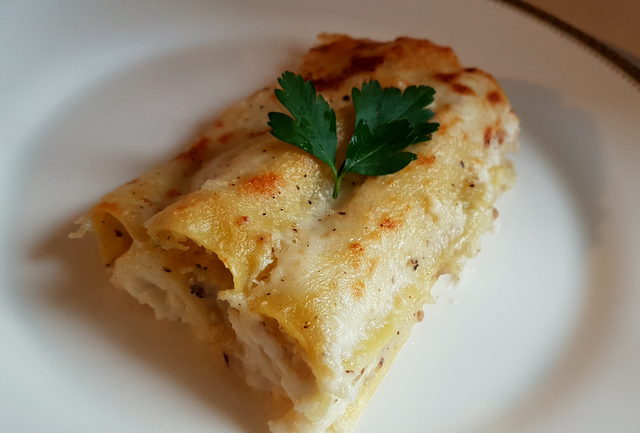 Cannelloni con patate e funghi porcini!
The two most traditional and popular ways to serve cannelloni (manicotti) in Italy are either filled with a meat ragu and baked in a tomato sauce or filled with spinach and ricotta and baked in a tomato sauce or béchamel, or a mixture of both. This recipe is quite different. The filling is made from potato puree and porcini mushrooms and the sauce is a cheesy béchamel. The taste was exceptional and I highly recommend this recipe if you're looking for an alternative way to serve cannelloni!
(click to go straight to recipe and to leave feedback)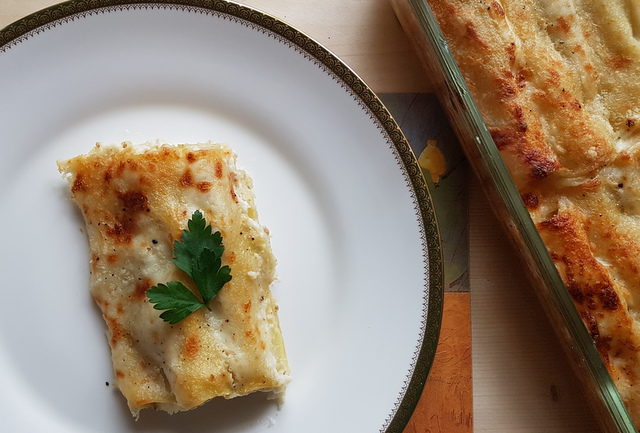 Another good thing about this dish is that it's vegetarian and can be vegan if you use vegan cheese. Also, sometimes it's nice to make pasta without tomatoes! Don't get me wrong. I LOVE tomatoes and here in Italy they're so flavourful! Still, I enjoy pasta recipes which are tomato free too or, as the Italians say 'bianca'!.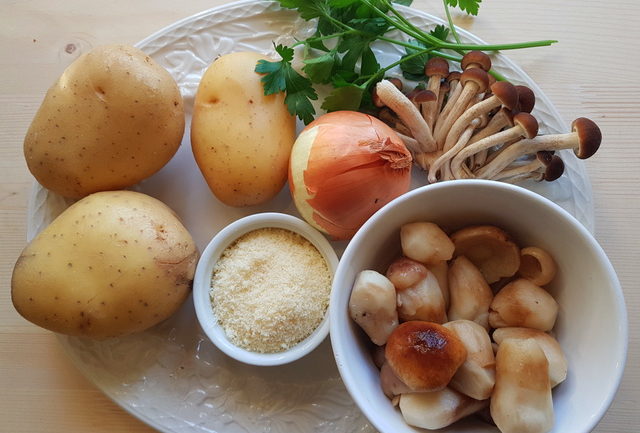 Fresh or dried pasta?
You can make this potato and porcini mushroom cannelloni (manicotti) with dried pasta tubes, which is what I did. You can also make it with fresh cannelloni. However, fresh cannelloni is a bit of a misnomer because it doesn't really exist. As I have mentioned in other posts, fresh cannelloni are in fact rolled up lasagne pasta sheets. That fact gives you two options; buy the fresh sheets ready-made or make them yourself! If you'd like to make them yourself you can follow my recipe for homemade lasagne.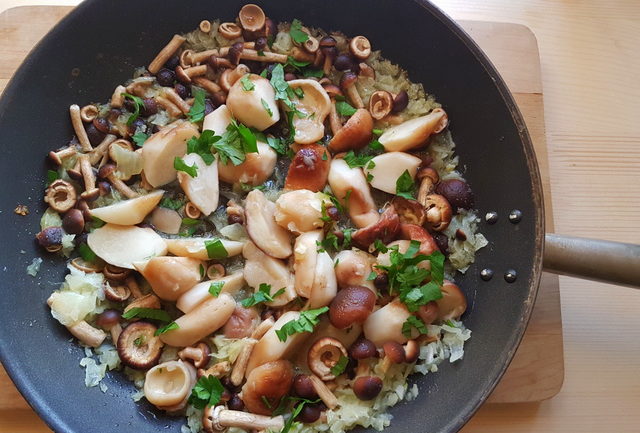 If you decide to use dried cannelloni make the béchamel a little more liquidy as the pasta will have to cook in the sauce. I also cooked the dish covered in aluminium for 15 minutes before removing the cover so that the top of the pasta can get nice and crispy!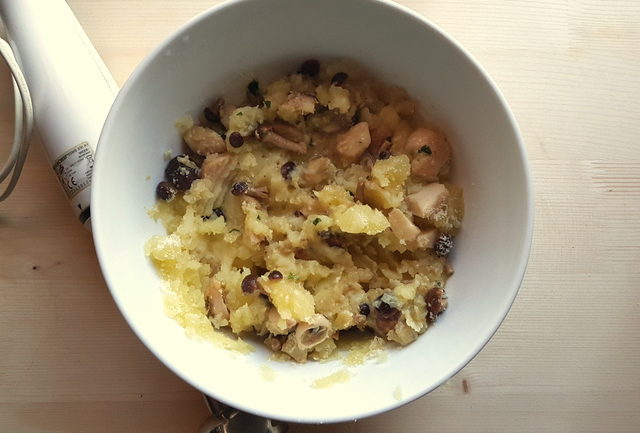 Fresh pasta cooks very fast and there's probably no need to cover it. Just bake until the top is a nice golden crispy brown and the pasta is cooked enough to eat. If the pasta doesn't seem cooked and the top is already brown enough, just cover the dish with aluminium foil until the pasta is ready.
The mushrooms!
Although this potato and porcini mushroom cannelloni (manicotti) recipe isn't traditional, it's popular. I found quite a number of versions for it. The recipe I followed is the most simple, except I also added Pioppini mushrooms. You can use just porcini or include another type of mushroom if you prefer. But, the combination of porcini and potato is what gives this dish its divine flavour, so the porcini are a must. I used frozen ones because I don't really like dried porcini. You can use either. Of course, if you can get your hands on fresh porcini, that's even better!! Don't forget to soak the mushrooms first if you are using dried ones.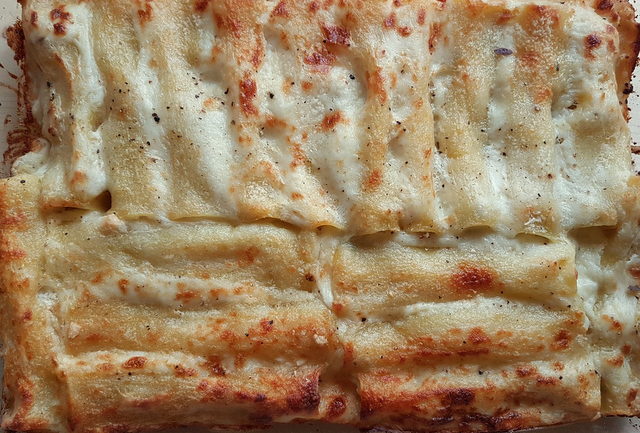 Let me know if you try it!
I served this dish to guests last weekend and they totally fell in love with it. I'm sure you will too! If you do decide to make it, please let me know how it turns out. I love hearing from my blog and Facebook page followers and your comments are really appreciated!
Buon appetito!
(see the recipe on the next page and tell me what you think. Just scroll down and click 2)