A creamy sausage and saffron pasta recipe from Lombardy
Pasta alla Monzese is a rich pasta recipe from the Brianza area in Lombardy, Northern Italy. This creamy sausage and saffron pasta is actually surprisingly simple to make and has just 4 main ingredients. However, it's the combination of those ingredients makes this one of the most flavourful sausage pasta recipes I know.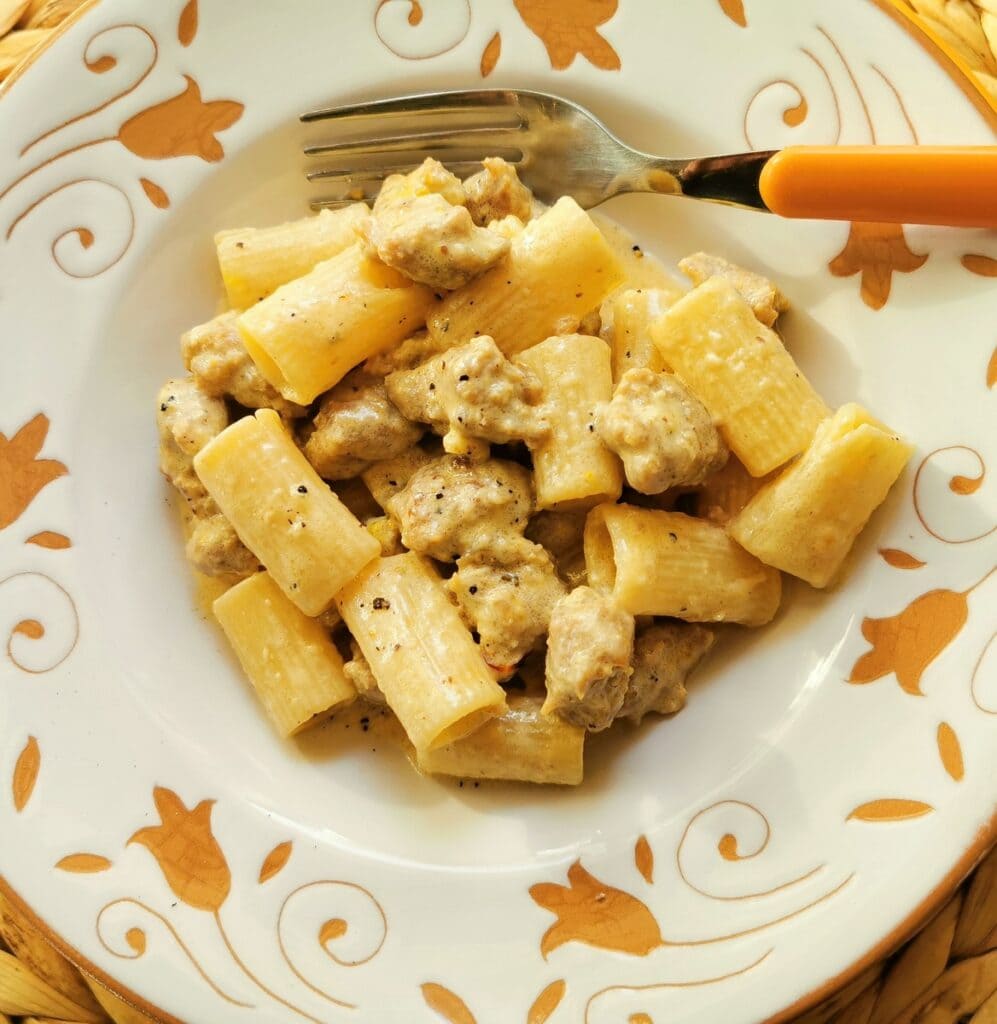 Where is Brianza, home to pasta alla Monzese?
Brianza isn't a town. It's actually a triangular geographical area north of Monza (home to Italy's Formula 1, Grand prix track) and south of Lake Como. The towns of the area are located in 4 different provinces , Milan, Monza, Como and Lecco. Brianza is also known as the land of the lakes.
The 5 Briantei lakes lie in what is called the upper Brianza area. This area is very lush and green and home to a number of parks and nature reserves. In the past, it was a popular summer retreat for the wealthy families of Milan who built beautiful villas by the lakes or on the surrounding hills!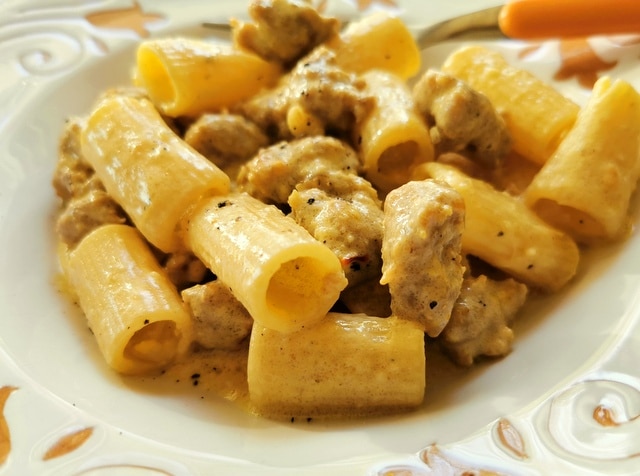 Food in Brianza.
The food in Brianza is based on local agriculture, particularly maize and animal rearing, mostly pigs. So, that means lots of polenta and pork products. In fact, the area is well-known for its salami and sausages. The original sausage for this pasta alla Monzese recipe is a local type of luganega sausage called luganega di Monza. It's made with pork shoulder, belly and trimmings as well as grana padano cheese, meat broth and marsala wine!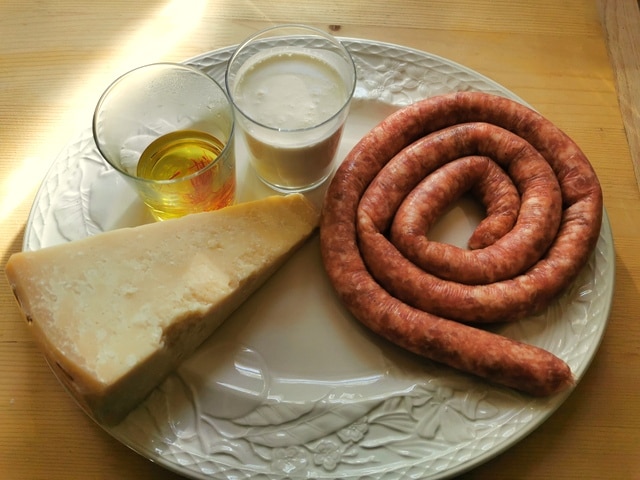 What is the difference between luganega and Italian pork sausages?
The main difference between luganega and other pork sausages here in Italy is mostly the shape. Luganega is a fresh quite light coloured long pork sausage that has been rolled into a spiral. In some places, they sell it by the meter! It's particularly traditional here in Northern Italy. However, it actually originated in the ancient Southern region of Lucania, today's Basilicata.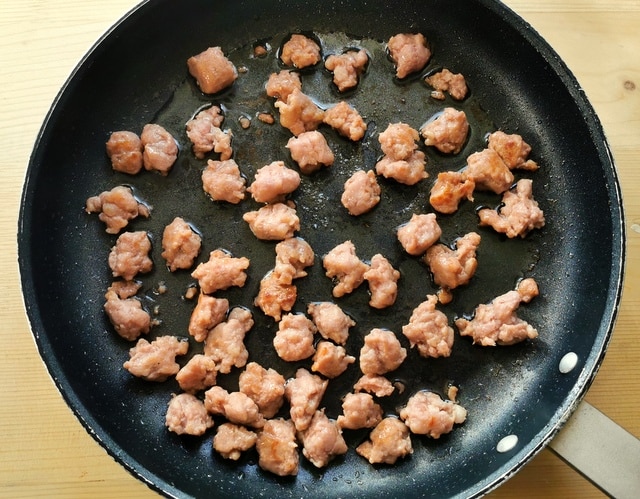 It was the Romans who introduced this type of sausage to the North. The luganega the people of Brianza normally use in this sausage and saffron pasta recipe is actually quite rich compared to other types. There are some types of luganega which have just salt, pepper and a herb like wild fennel or peperoncino. However, one version from Treviso has rice in it, along with cassia, cinnamon, cloves, coriander, mace and nutmeg. It's usually served with risotto.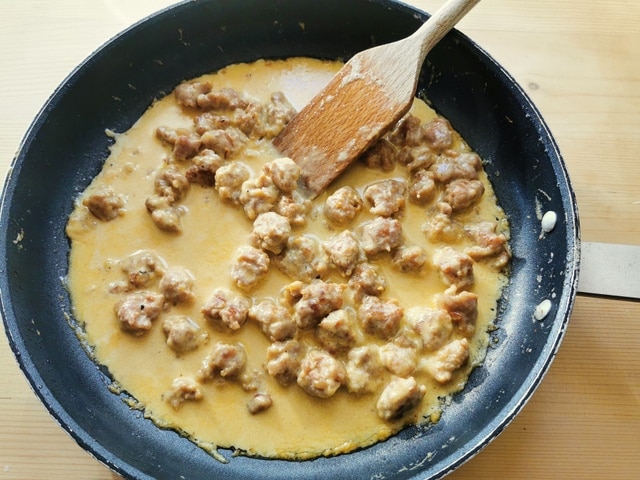 Risotto alla Monzese.
Speaking of risotto, this creamy sausage and saffron pasta recipe is actually based on a traditional risotto recipe from Brianza. Risotto alla Monzese has the same luganega sausage. However, there are different versions of the risotto. Some people use white wine and saffron (more similar to risotto Milanese), others leave out the saffron and use red wine.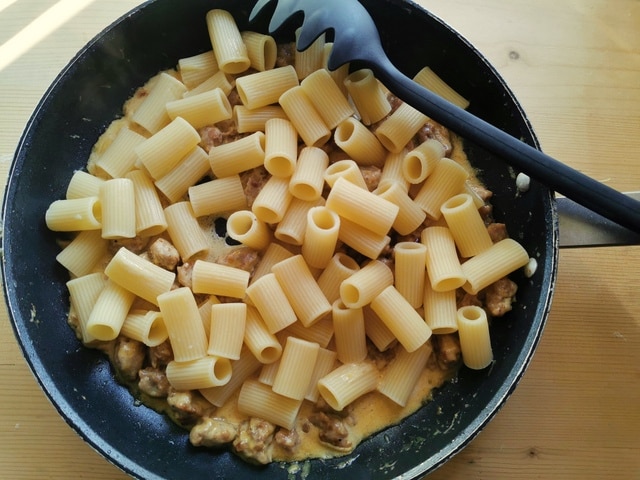 Making pasta alla Monzese.
In contrast, most versions of pasta alla Monzese are the same. Just luganega di Monza, saffron threads soaked in a little warm water, fresh cream and grated grana padano or parmigiano cheese. Yes, that's more or less all you need to make this fabulous sausage and saffron pasta.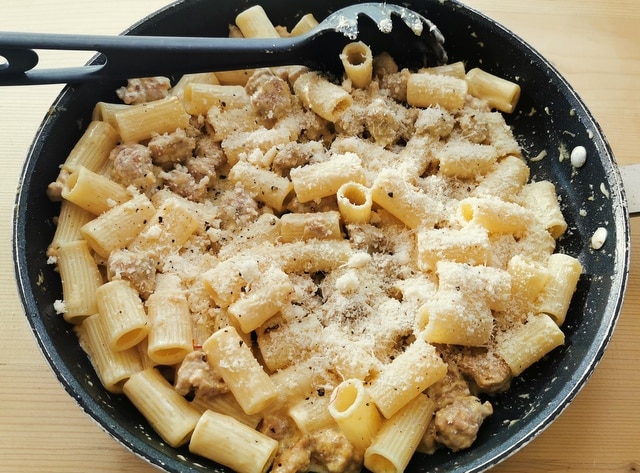 Of course, finding the original type of sausage for pasta alla Monzese isn't easy, even for me. In fact, I used a local luganega which isn't as rich as the one from Monza. You can also use another type of Italian pork sausage. However, I added a small measure of Marsala wine to the sauce! If you don't have Marsala, you can add a dash of Maderia wine, port or sherry. But, not a lot, just a tablespoon or two.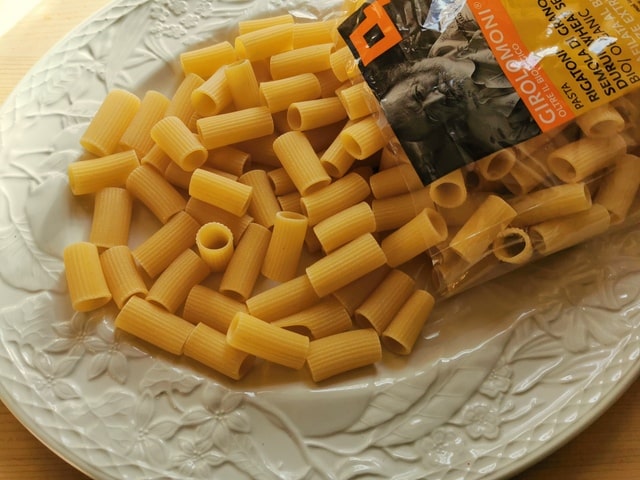 The pasta I used.
Traditionally, most people use a short ridged pasta tube for this sausage and saffron pasta recipe. You can use penne rigate, rigatoni, mezze maniche or elicoidali. Ridged pasta (rigate) is best because the sauces adheres to it better. I used organic rigatoni from a company called Girolomoni. Their excellent bronze extruded pasta is made with organic durum wheat which they grow themselves. This company is in Le Marche region, near Urbino.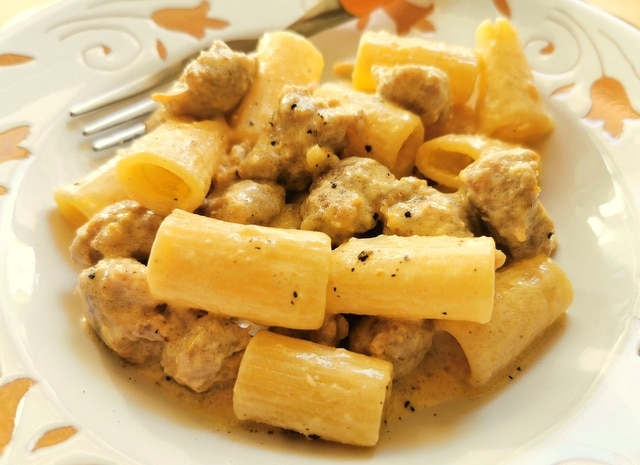 I'm actually hoping to get the chance to visit them next year as they are located on a beautiful site with a historical monastery at its centre. But, more importantly, I'm really interested to know more about the history of the brand and their cultivation and production methods. I have read that they are one of the pioneers of organic wheat farming in Italy today!
Check out their website for more info Giromoloni pasta.
The saffron.
Saffron has been cultivated in Italy since the 14th century. So, there are many Italian recipes which include it, especially pasta recipes and, of course, the above mentioned risotto Milanese! Most of these saffron pasta recipes come from the regions in which saffron is grown, in particular Sardinia, Marche, Tuscany, Emilia, Abruzzo and Lombardy where they make this pasta alla Monzese recipe.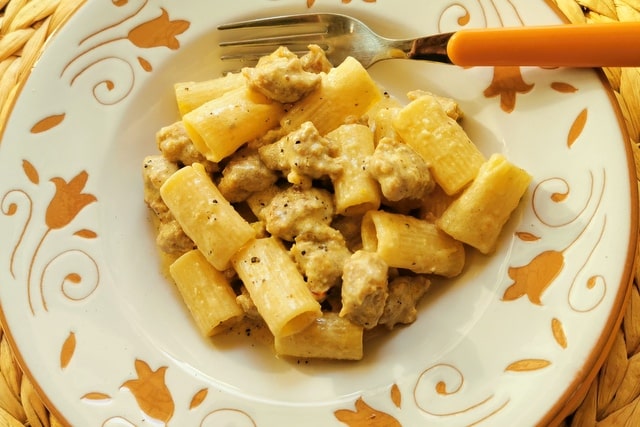 The saffron I used actually came from a village called Zollino in Salento, Puglia. My hubby and I visited a farm there when we were on holiday in September. I used saffron threads soaked in hot water for this sausage and saffron pasta. But, you can also use a sachet of saffron powder! They say that saffron can taste different to different people. To me, it adds a bitter sweet flavour to a dish and, of course, a lovely golden colour that makes any saffron dish look rich and luxurious, even if the ingredients are simple.
Pin for later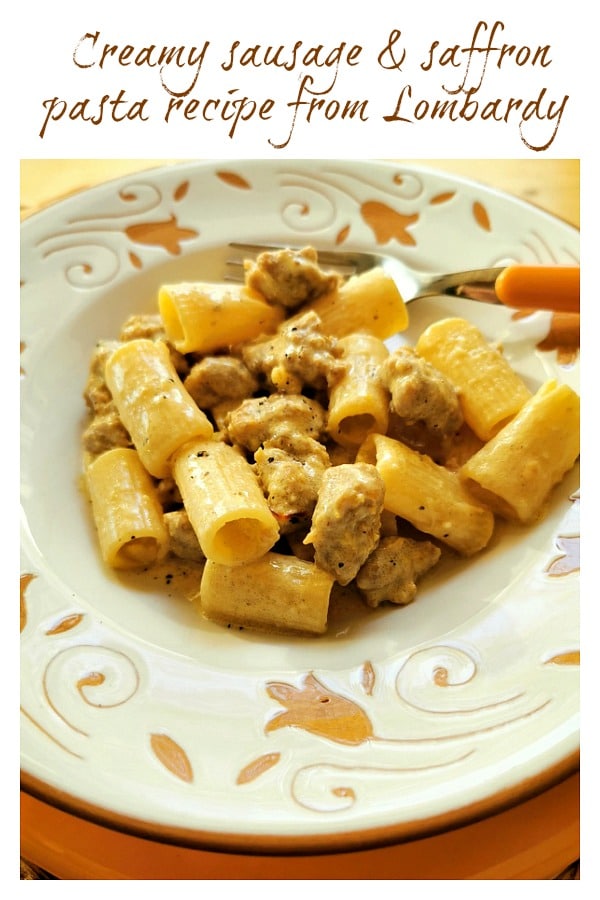 If you do try this creamy sausage and saffron pasta alla Monzese recipe, I'd love to hear what you think. Please, write a comment here on the blog or post a comment on the Pasta Project Facebook page.
Your feedback means a lot to me!
Buon Appetito!
Other pasta with saffron recipes you will love!
Pin for later.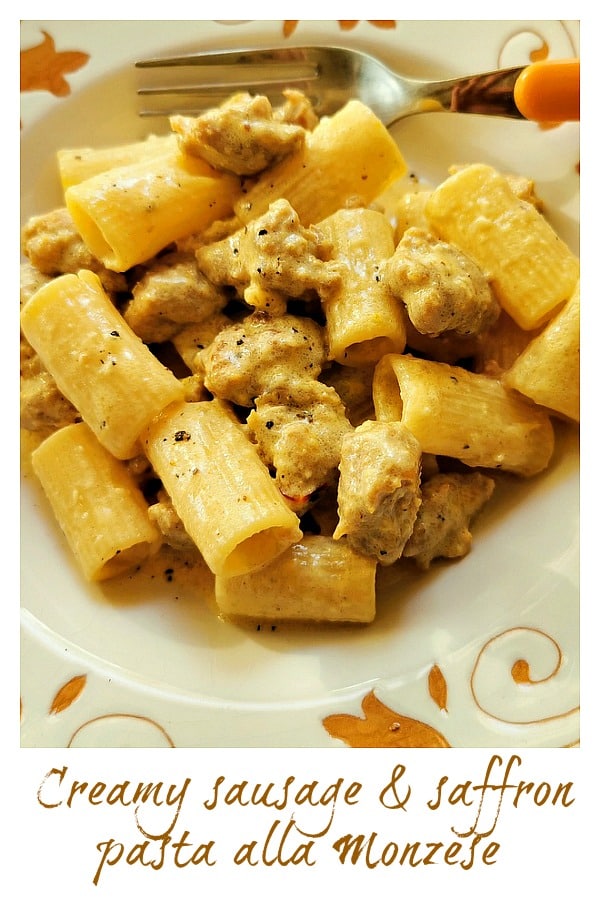 If you are interested in learning how to make homemade pasta and different types of gnocchi, check out my shop page for some great video online courses from my friends in Rome! Nothing beats learning to make pasta from Italians! Plus while you're there why not order a copy of one of my pasta recipe cookbooks or checkout some recommended pasta making tools?