Pasta with zucchini flowers (courgette flowers), saffron and ham.
Pasta with zucchini flowers, saffron and ham is a beautiful delicate and creamy summer dish that you are certain to fall in love with and want to make time and again (at least while zucchini/courgette flowers are in season!)
(click to go straight to recipe)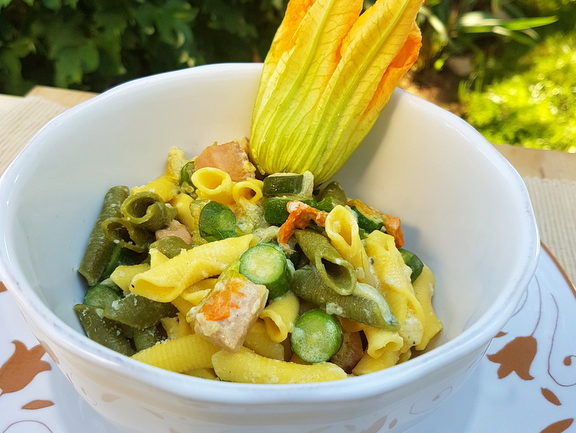 Garganelli 'paglio e fieno' con fiori di zucca, zucchini, zafferano e prosciutto cotto.
There are many foods I had never eaten before moving to Italy. Foods that today I love but were really alien to me when I was younger. For example, zucchini flowers! Italians love zucchini flowers (fiori di zucca). They've been eating these flowers since well before edible flowers became a thing!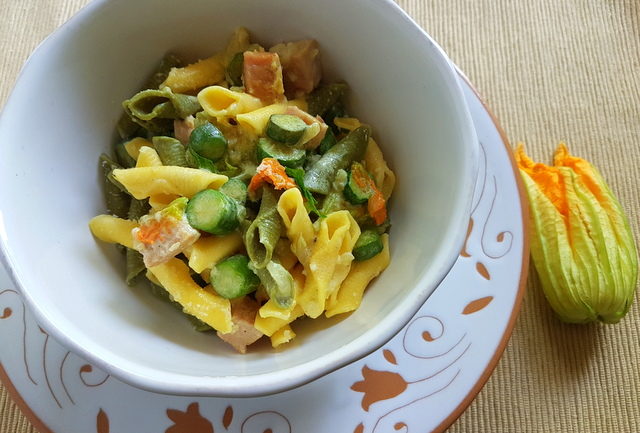 Eating zucchini flowers in Italy.
The most popular way to prepare zucchini flowers here is to fill them, coat them in batter and fry or bake them…totally divine! Although in Southern Italy they also just batter and fry them without filling. One of the most well-known filled and fried zucchini flower recipes is 'fior di zucca alla Romana'.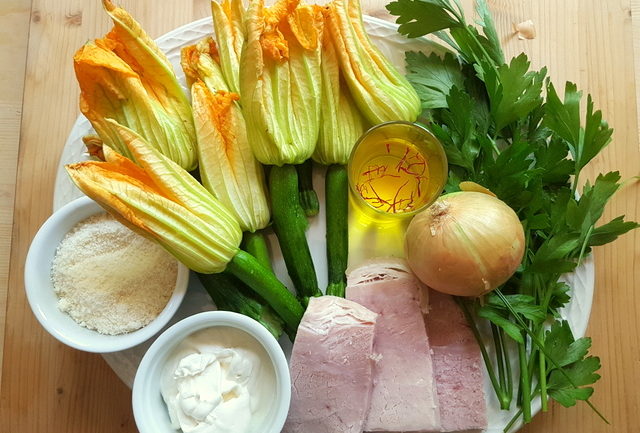 This is practically a signature dish in Rome, eaten as street food, as a starter or with an aperitif. Fiori di zucca fritti in Rome is made by filling the flowers with a local cheese similar to mozzarella called provatura and anchovies, dipping them in a batter of just cold water and flour and frying the flowers in hot oil!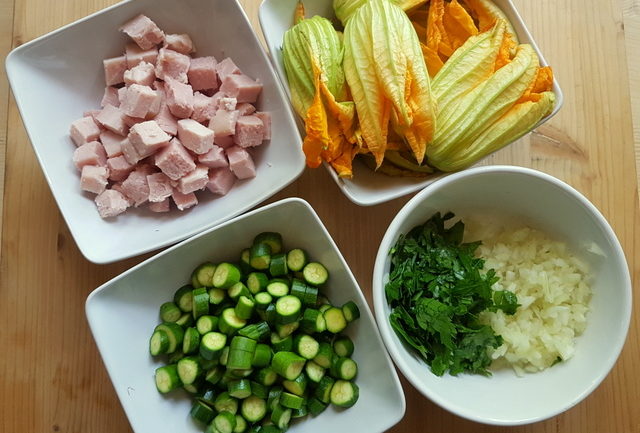 Italians also eat zucchini flowers in other dishes. These include frittata, risotto and, of course, pasta! Pasta with zucchini flowers usually includes the zucchini themselves, cut into small rings, cubes or slices. Saffron is another popular ingredient in zucchini flower pasta recipes. And for a touch of meat, Italians will add pancetta, speck, ham or sausage.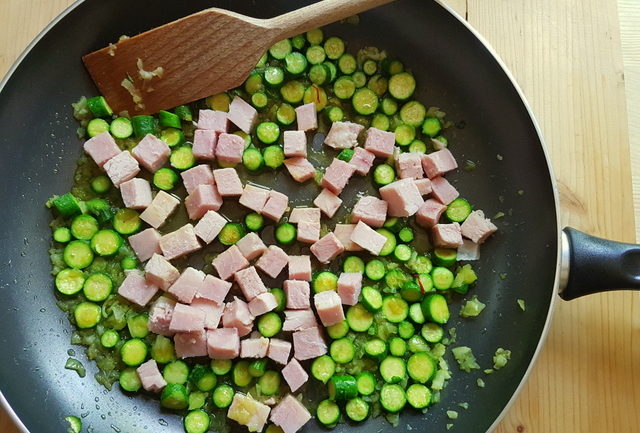 Pasta with zucchini flowers.
Pasta with zucchini flowers and saffron doesn't seem to be associated with one particular area or city. Although the use of saffron is more common in the regions where it is grown, in particular Sardinia, Marche, Tuscany, Lombardy, Emilia-Romagna and Abruzzo, which is the region in which saffron was first cultivated in Italy back in the 14th century.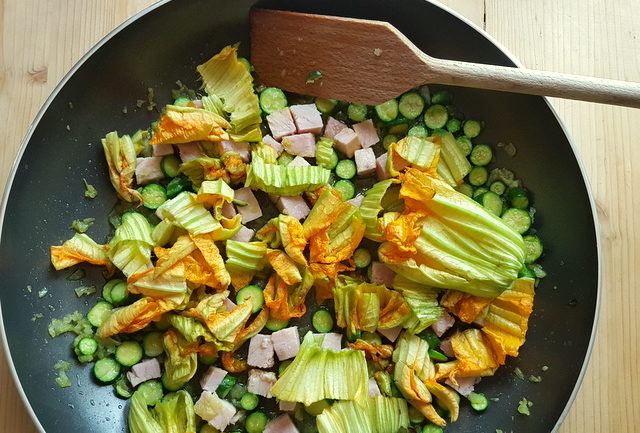 The zucchini flowers.
When I go shopping for zucchini flowers, I can find two types, male and female!! Yes, zucchini have both and pollination is carried out by bees or by hand. The flower from which the zucchini actually grows is the female! The male on the other hand grows on a stalk. For this pasta with zucchini flowers recipe, I used female flowers with very young zucchini attached. I love them so tiny and crispy. They don't get as soft as bigger zucchini when you cook them! However, you can also use male flowers and buy the zucchini separately. In fact, traditionally, although there's no difference in taste, male zucchini flowers are used more in cooking. This is because if the female flowers are removed, the zucchini won't grow!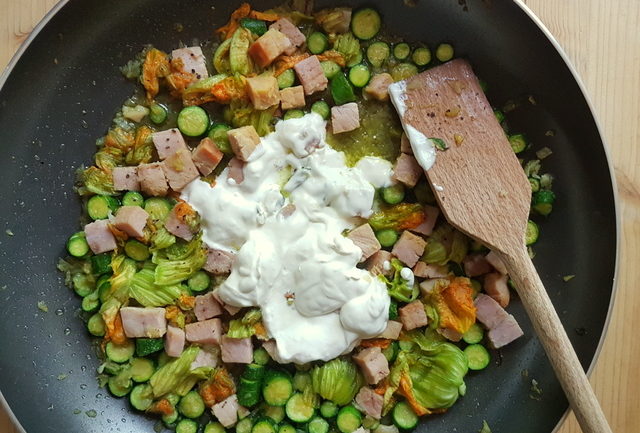 The pasta.
This recipe for pasta with zucchini flowers can be made with different types of pasta, although short pasta is more typical. I chose to use garganelli, a beautiful short egg pasta from Emilia-Romagna. The garganelli pasta I used was green and yellow. Italians call this 'paglia e fieno', meaning straw and hay. This use of two different coloured pastas in one dish is very typical in Emilia-Romagna and tagliatelle served this way is very traditional. The green colour is usually created by adding spinach to the pasta dough.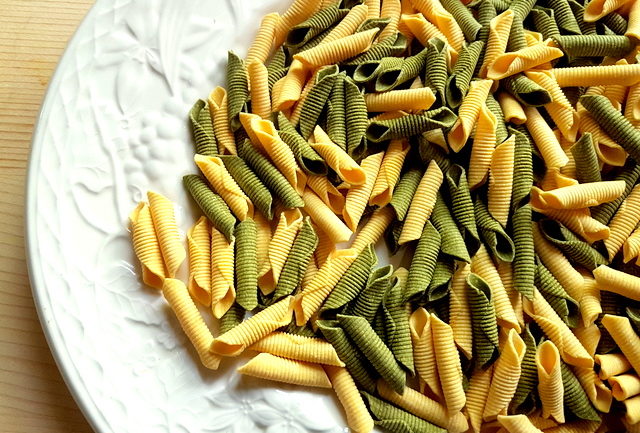 The 'paglio e fieno' garganelli really went well in this pasta with zucchini flowers recipe. Not only because the green pasta has a slightly spinach taste but also the colours combined beautifully with the zucchini, zucchini flowers and saffron.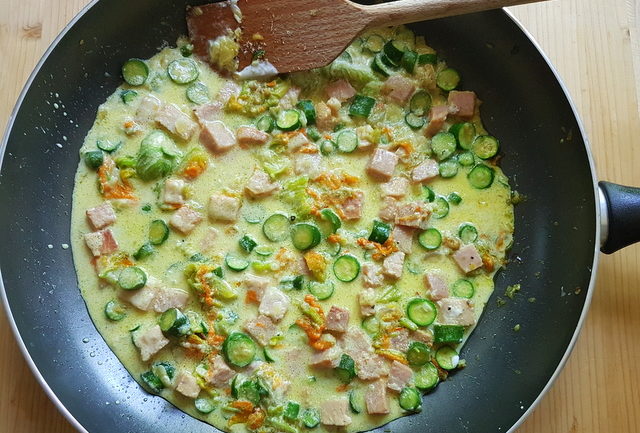 Other ingredients.
My hubby wanted to have some meat in this dish so I chose a recipe that included cubes of cooked ham. For a vegetarian version you can leave out the ham. You can also replace the ham with pancetta, sausage or speck. However, I liked the flavour the ham added. It's not as strong as pancetta or speck.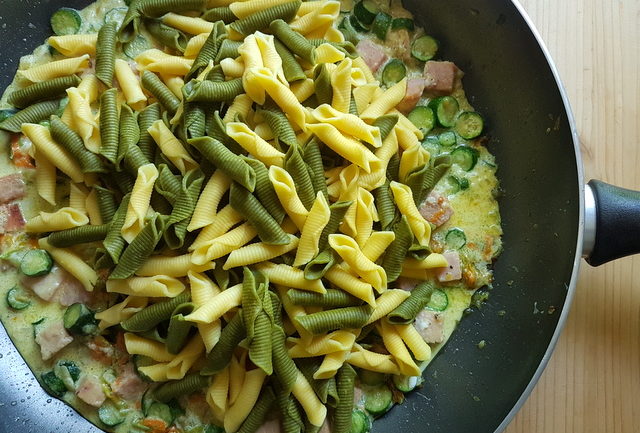 This recipe can also be made without cheese or with ricotta instead of heavy cream. Whichever way you make this pasta with zucchini flowers I'm sure you'll love not only the combination of flavours but how appetizing and colourful the dish looks.
If you make this recipe I'd love to hear how it turns out and if you liked it. Please leave a comment here on the blog or on The Pasta Project Facebook page. Looking forward to hearing from you.
Buon appetito!
More Saffron Pasta Recipes
If you want to have a look at more Italian pasta saffron recipes, have a look at some of my favorites:
(See the recipe on the next page. Just scroll down and click 2)