Saffron is an exotic precious spice that not only adds a sweet, floral yet earthy aroma to recipes but can also give a dish a vibrant golden yellow colour. In some parts of Italy, they add saffron to traditional pasta recipes with delicious results. These 7 Italian pasta with saffron recipes are just an example of how well this spice combines with pasta.
Saffron produced in Italy.
Many people would probably be surprised to discover that saffron is a traditional Italian spice and that there are many Italian pasta with saffron recipes. In fact, saffron has been grown here for centuries.
Today, you can find saffron farms in a number of Italian regions including Tuscany, Sardinia, Puglia, Marche, Emilia, Lombardy and Abruzzo. However, Abruzzo is the region where they first cultivated saffron in Italy back in the 14th century.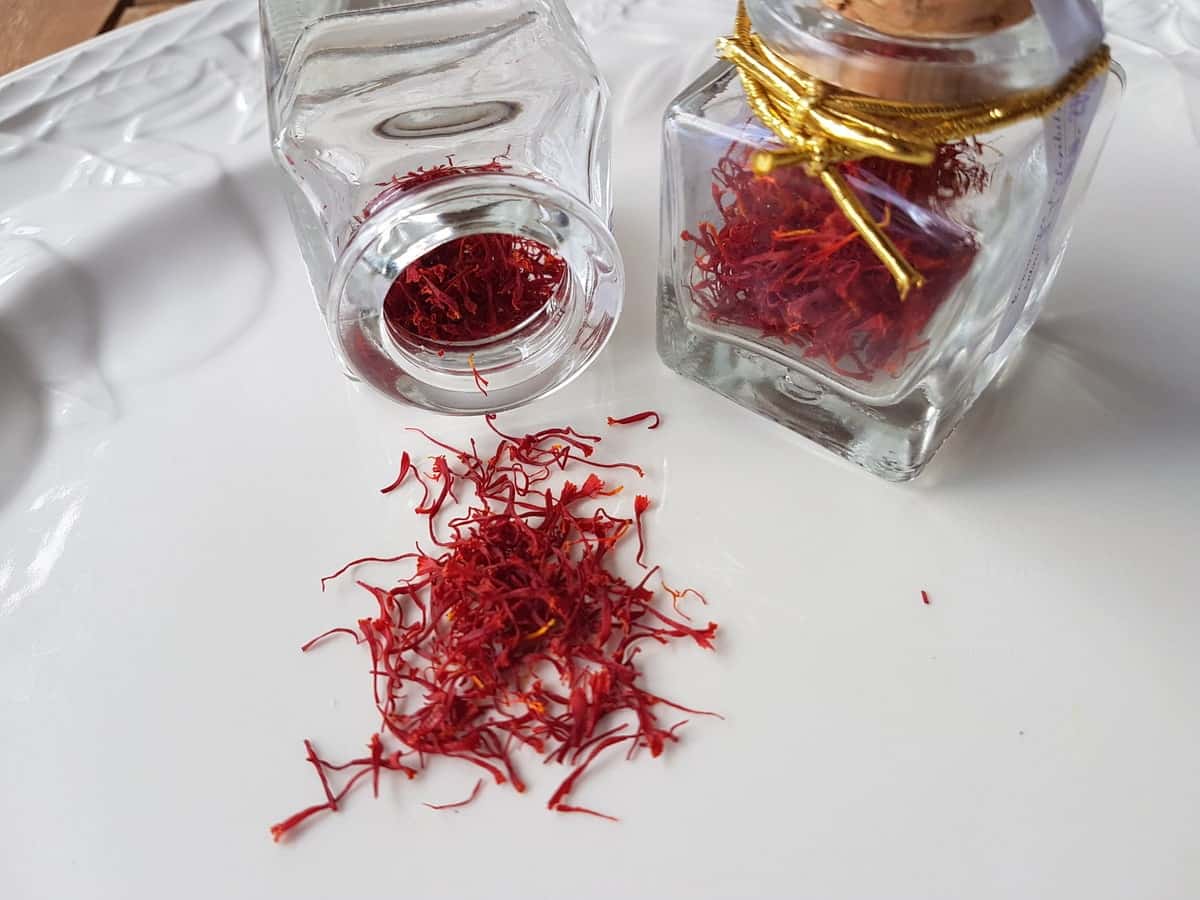 Saffron from Abruzzo.
Known as Navelli saffron or L'Aquila saffron, saffron from Abruzzo is considered one of the very best in the world. Its stigmas are longer, its aroma stronger and its colour deeper than most others. It is also known as the red gold of Abruzzo.
According to food historians, saffron cultivation in Abruzzo was started in the 14th century by a Dominican monk named Santucci. Father Santucci was a native of Navelli. He apparently moved to Spain to serve at the court of the Spanish Inquisition. While there, he learned to appreciate and savour many typical Spanish dishes with saffron (think Paella!).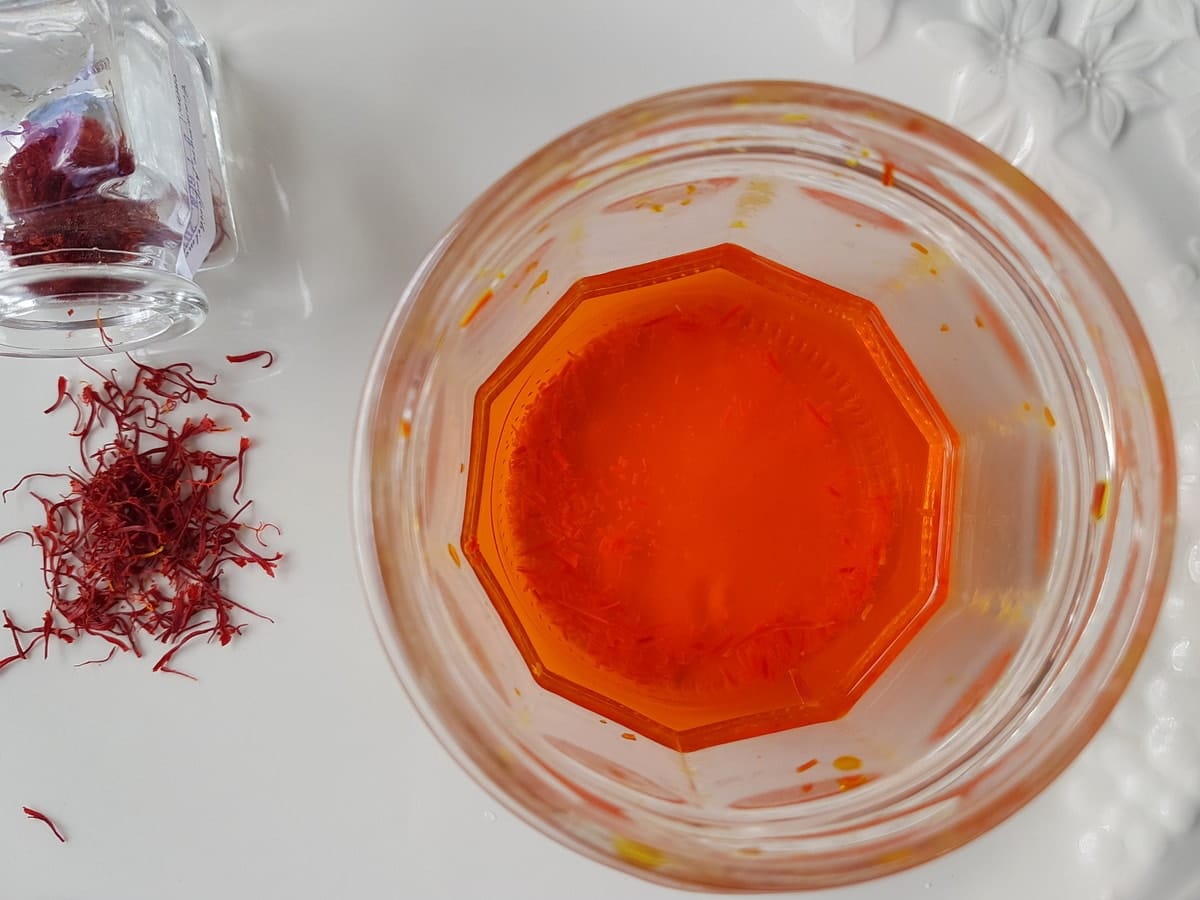 Santucci liked the spice's strong aroma, as well as its known healing qualities. So, he decided to try cultivating the spice when he returned to Italy, bringing with him a number of Crocus Sativus bulbs. He eventually created an enterprise that produced a high-quality saffron that became well-known throughout Europe.
What exactly is saffron?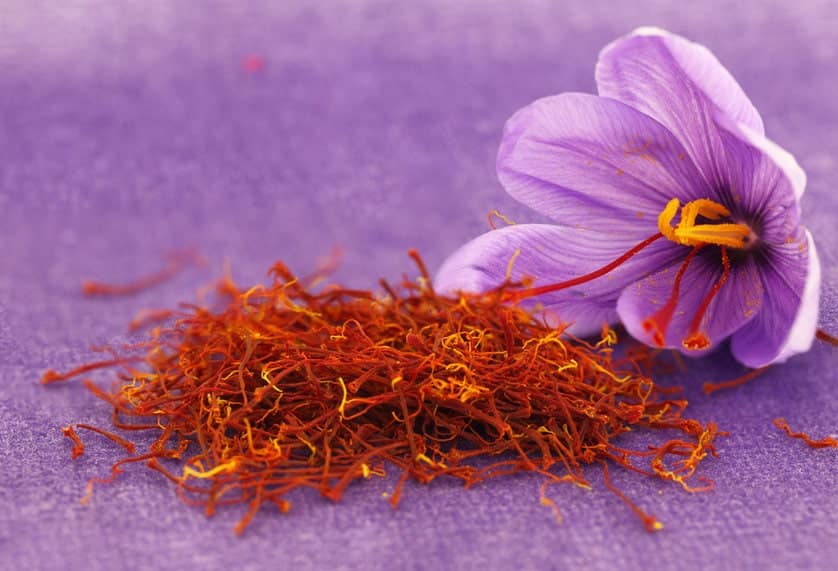 Saffron is actually the red stigmas of the Crocus Sativus flower. Each crocus has three small stigmas that have to be picked carefully by hand. The stigmas are then dried and packaged or ground into a powder.
Why does saffron cost so much?
Saffron can only be harvested by hand and the amount farmers get from each flower is about 0.006 grams. So, producers need from 150,000 to 200,000 crocus sativus flowers to produce 1 kilogram of saffron!! No machine can do the delicate work required to harvest these thin threads. And, it can take 40 hours of hard manual labour to produce just 1 kilo of high-quality saffron. Consequently, it's not surprising Saffron is an expensive spice!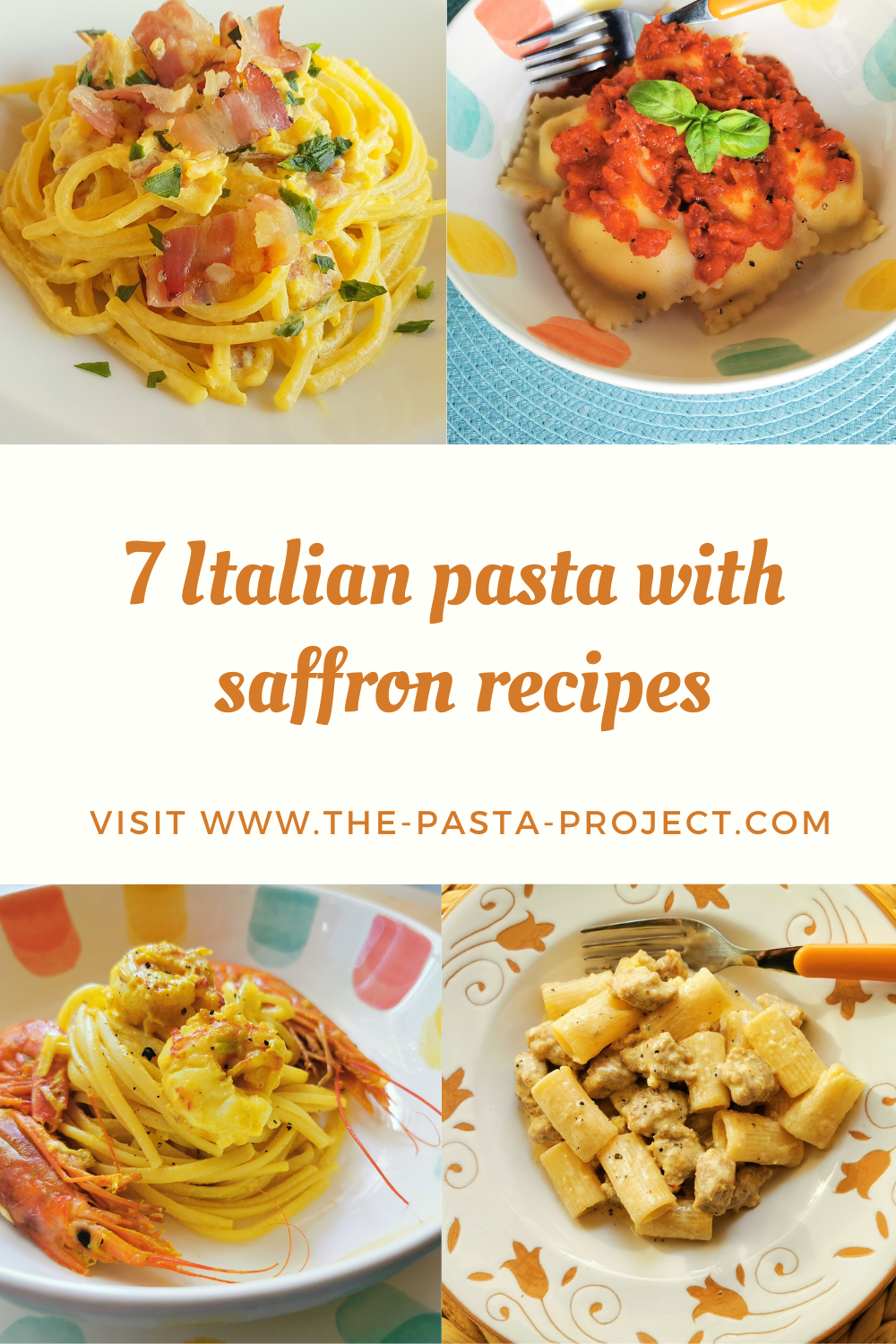 Although saffron is expensive, a little goes a long way. A gram of saffron, which can cost around between 5 and 10 dollars, contains around 200-300 threads. However, most recipes only call for a pinch of saffron threads (6-8 threads) for 4 servings. So, a gram of saffron won't lead to bankruptcy even if it costs about the same as gold!
Italian saffron recipes.
Among the most popular Italian recipes that include saffron are risotto Milanese, different fish fillets in a saffron sauce, soup with saffron and various breads, cakes and desserts. However, the most popular usage is in pasta recipes, including adding saffron to pasta dough. This, they often do in Sardinia with malloreddus (Sardinian gnocchi). The result is a slightly yellow and fragrant pasta.
If you're interested in using saffron in your pasta dishes, check out these 7 Italian pasta with saffron recipes. They include recipes with meat and without. So, something for everyone.
Click the recipe name to learn more and get recipe instructions.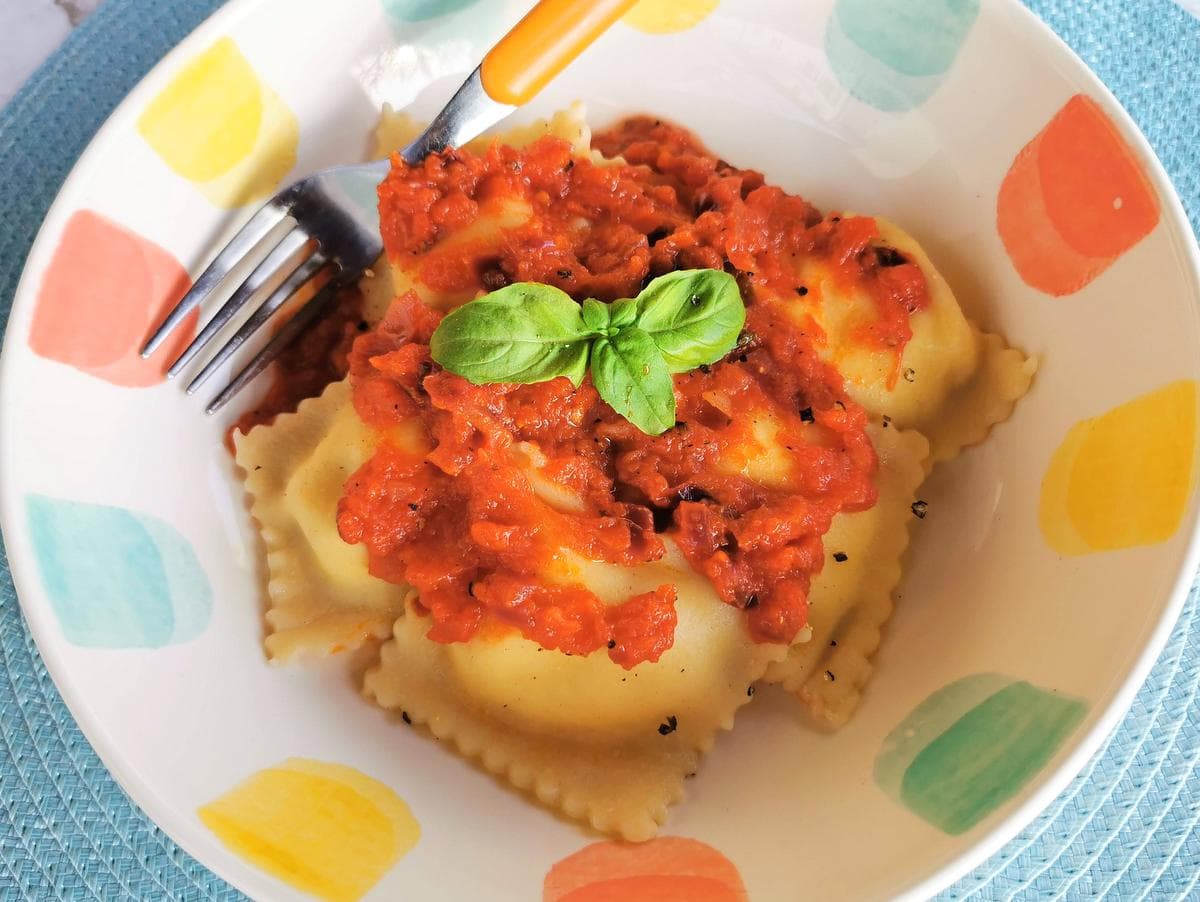 Known as cruxionis de arrascottu in the local dialect, these delicious aromatic raviolis have a filling of sheep ricotta, saffron and lemon zest. Compared to other homemade ravioli recipes, this one from Sardinia is quite simple to make. Serve them as the Sardinians do with a simple tomato sauce or just butter and cheese. Sardinian ricotta ravioli are traditional at Christmas and on other holidays!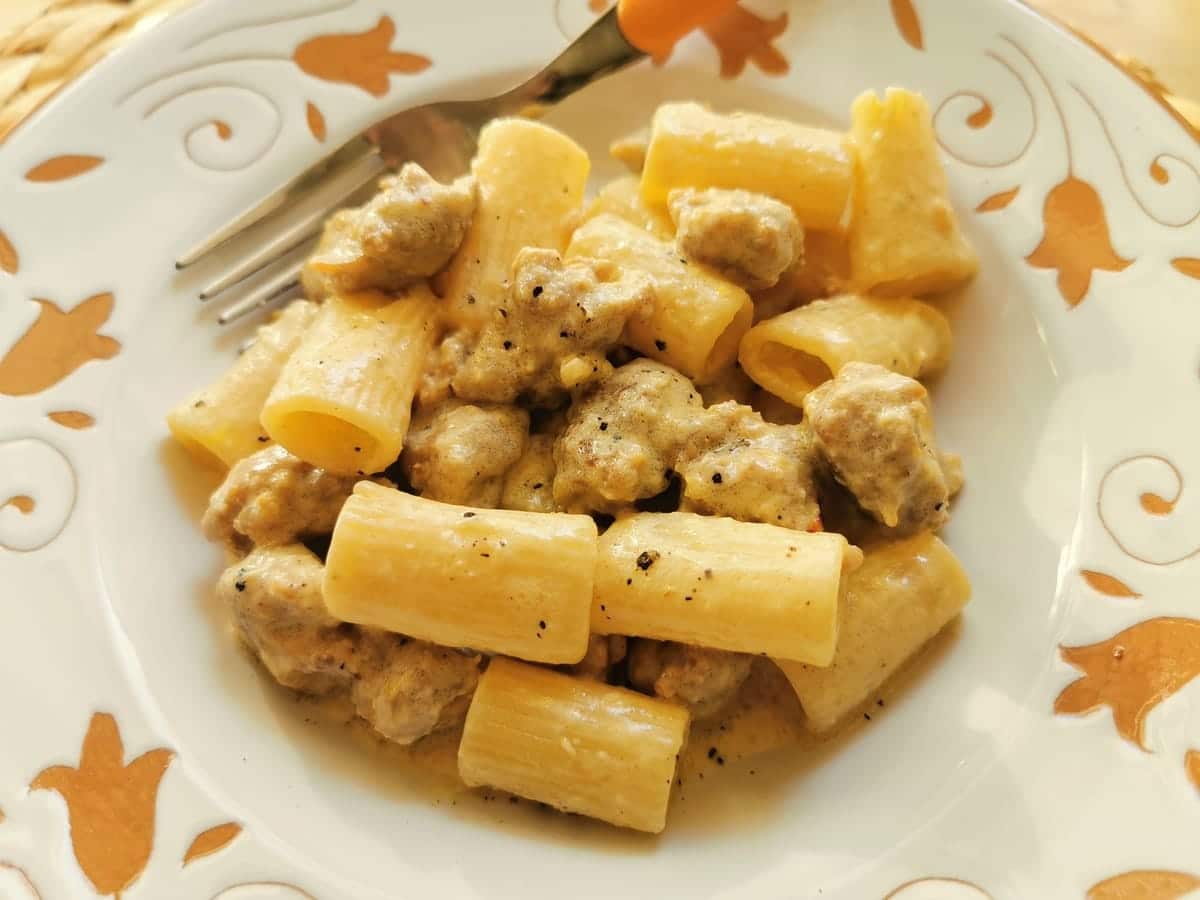 This creamy sausage and saffron pasta is a very flavourful recipe from Lombardy in Northern Italy. It is actually surprisingly easy to make and has just 4 main ingredients. Simple enough for a great weeknight dish but rich and luxurious too, this is one of the most delicious Italian pasta with saffron recipes I know.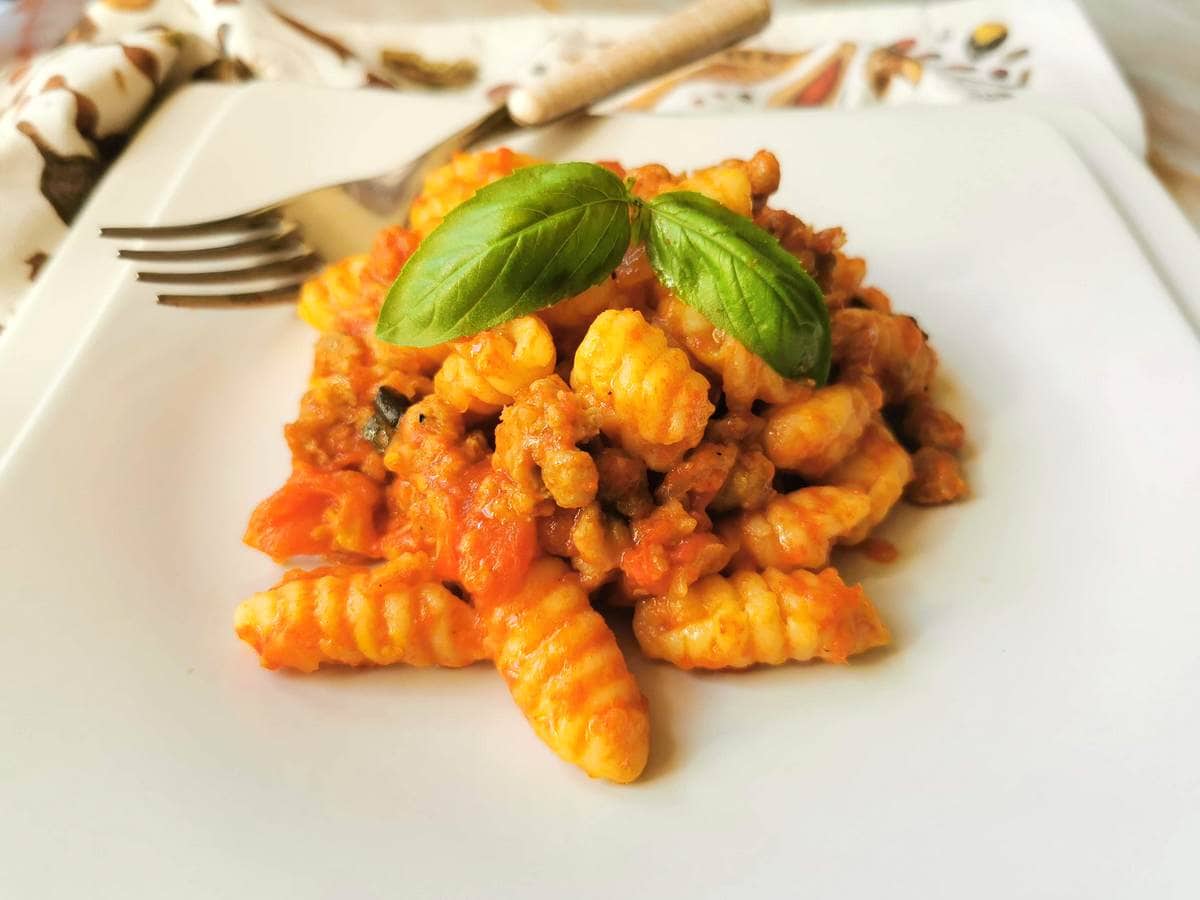 Malloreddus with sausage, tomatoes and saffron alla Campidanese is probably the most well-known way to serve Sardinian pasta gnocchi. The sauce is traditionally made with fennel flavoured pork sausages, fresh tomatoes and saffron. However, you can also use normal Italian sausages. My pasta was homemade but dried malloreddus are good too.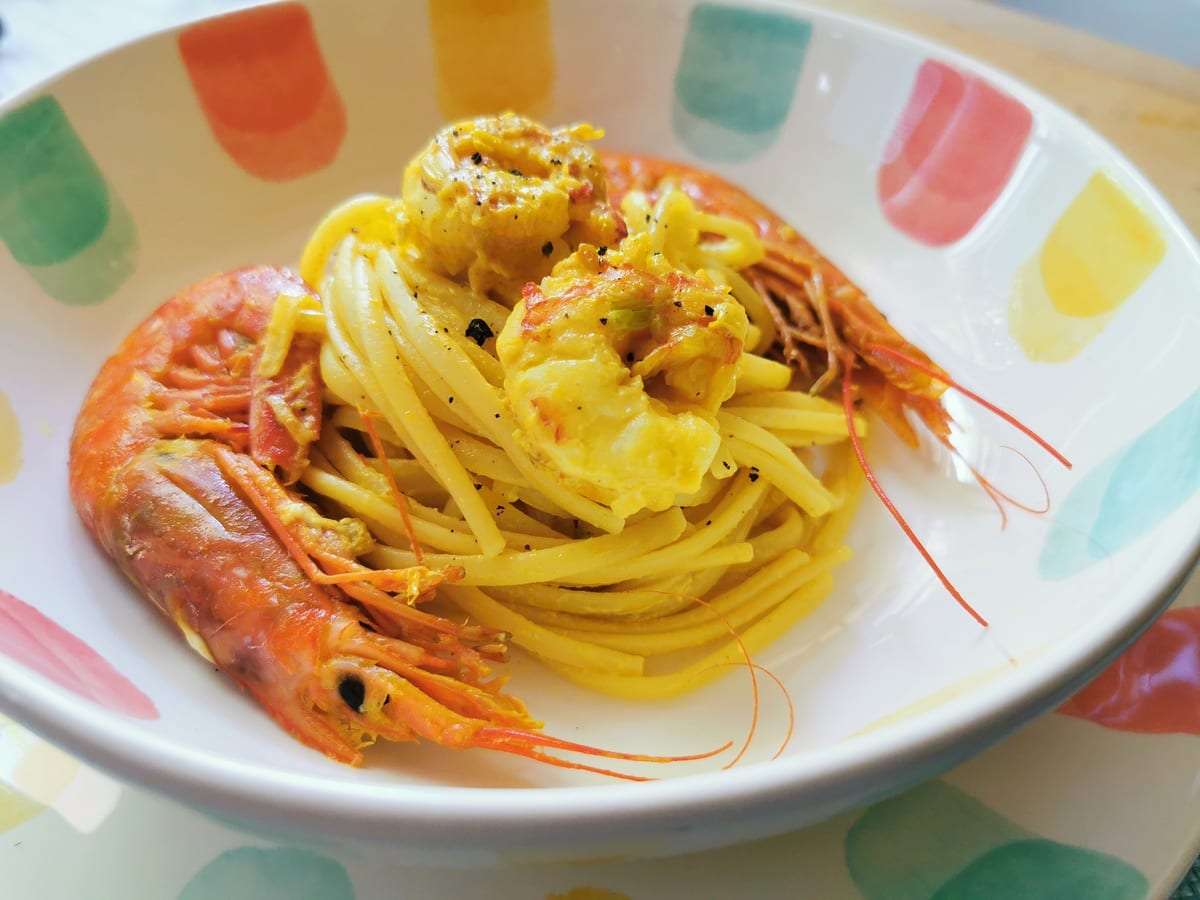 This rich, creamy and luxurious prawn saffron linguine pasta recipe is perfect for entertaining and special occasions. Pasta, saffron and seafood are a classic Italian combination which your guests will be so impressed with! Although simple to make this is a seafood lover's dream dish!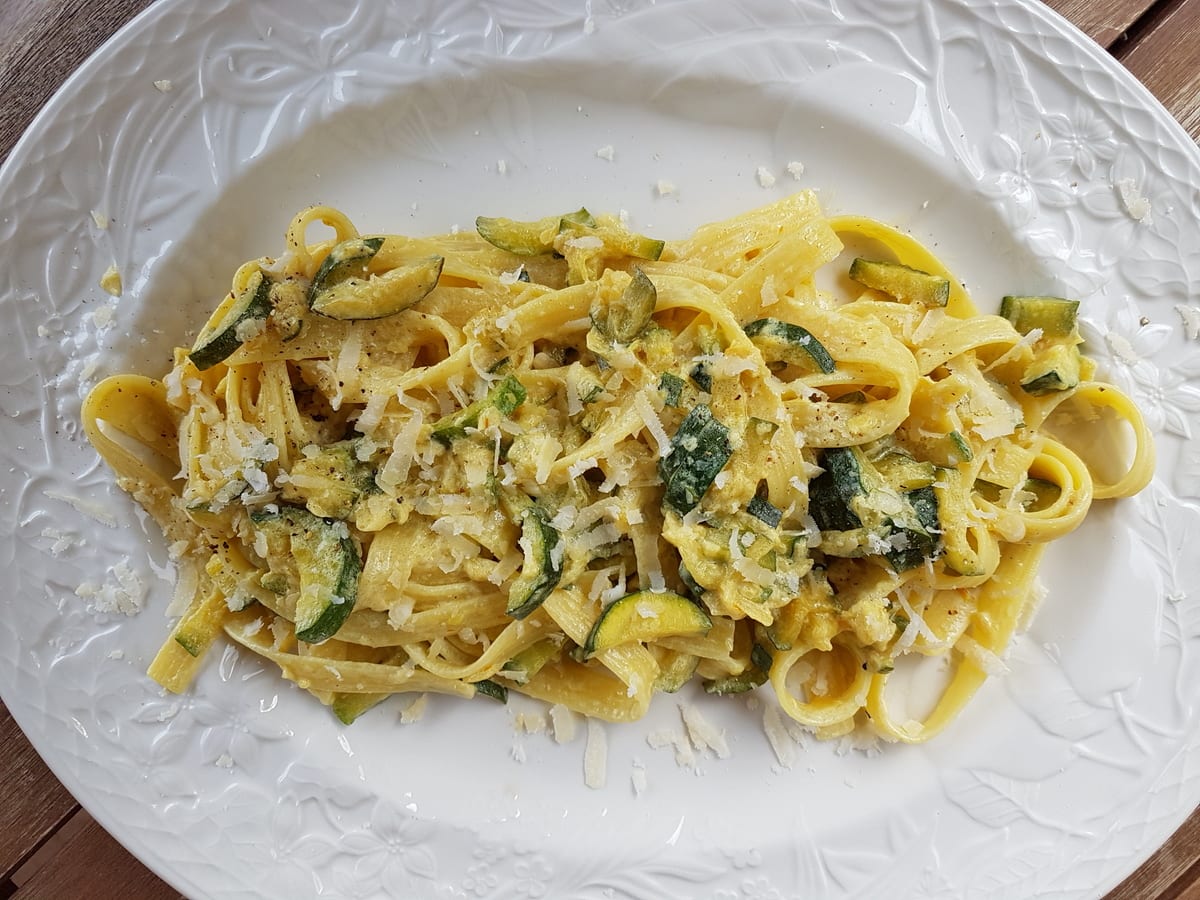 This delicious pasta with saffron and zucchini recipe is easy to prepare and light. To make it 100% vegetarian just use vegetarian parmesan instead of Italian Parmigano. It doesn't take a lot of time to prepare and has just a few ingredients. However, it looks and tastes so beautiful, you'll want to make it time and again.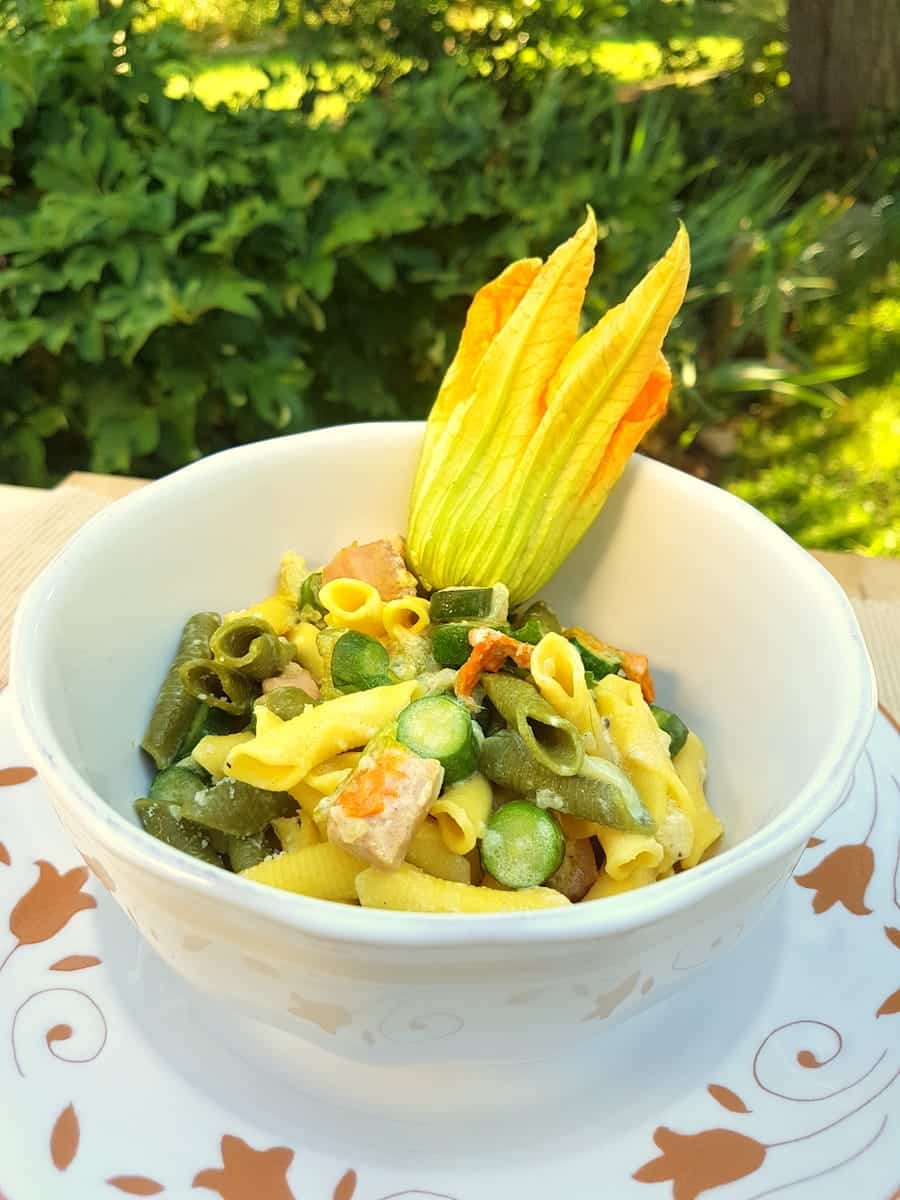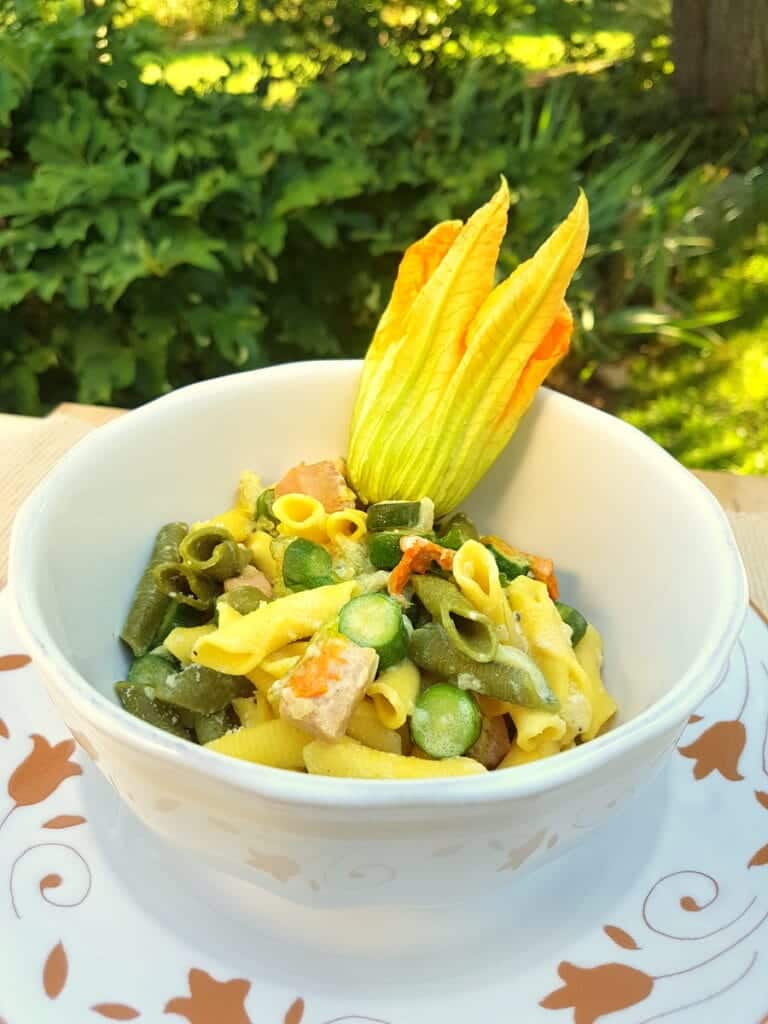 This garganelli pasta with zucchini flowers, saffron and ham is a beautiful delicate and creamy summer dish that you are certain to fall in love with and want to make often (at least while zucchini/courgette flowers are in season!). I used baby zucchini with flowers still attached but of course you are more likely to find them separated. For a vegetarian version just leave out the ham and use a vegetarian parmesan.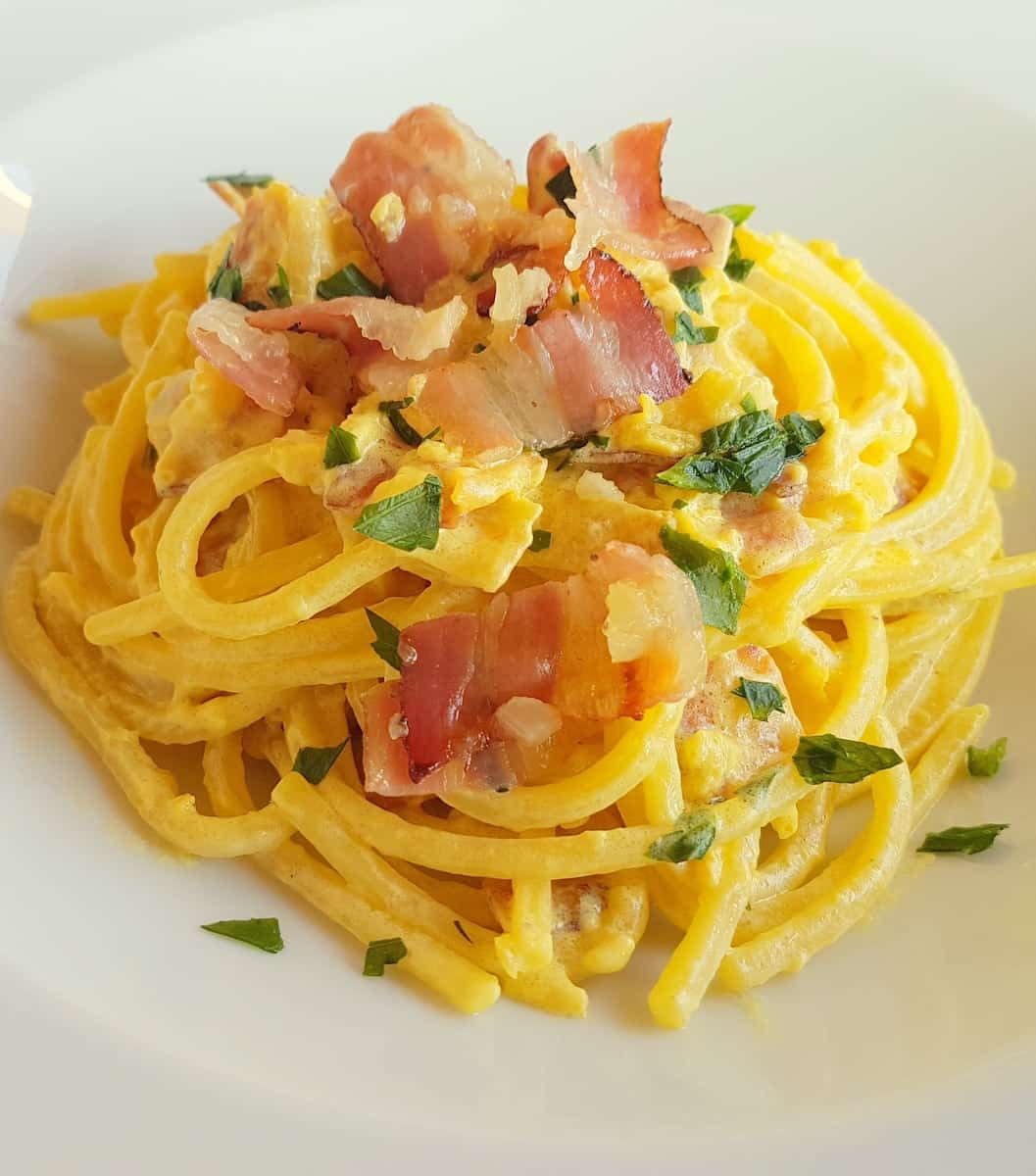 This pasta with saffron recipe is so simple to make and yet so much more than the sum of its parts. The main ingredients are just pancetta, cream, saffron and an onion! Plus, apart from soaking the saffron threads if using, you can have this recipe on the table in the time it takes you to boil the water and cook the pasta. This is a favourite at our house and I'm sure your family will love it too!
Let me know what you think.
If you do try any of these recipes, I'd love to get your feedback. So, please feel free to message or comment on the blog or on The Pasta Project Facebook page.
Or take a photo and tag me on Instagram @jacqui­_pastablogger.
Watch out for fake saffron.
When buying saffron you may come across poor quality or 'fake' saffron. Check out this guide on how to tell the difference. Using a poor quality or fake saffron will spoil the flavour of your dish!