Red wine pasta from Barolo with white ragu.
On a recent trip to the Langhe hills in Piemonte, we visited the village of Barolo famous for its wine. There I bought some wonderful wine, of course, and some red wine pasta which I cooked with a white ragu. This combination was recommended by the pasta company and I'm so glad I followed their suggestion! Delicious!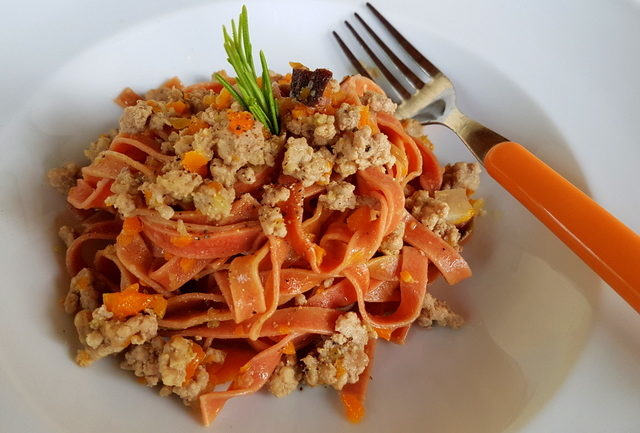 Tagliatelle al Barolo con ragu bianco.
Pasta is the Italians' favourite food and wine their favourite drink. Both red and white wine is used a lot in cooking here, especially in pasta sauces! I guess the idea that wine is also added to pasta dough shouldn't be surprising. Although when it comes to pasta dough, the preference is for red wine, both for taste and colour.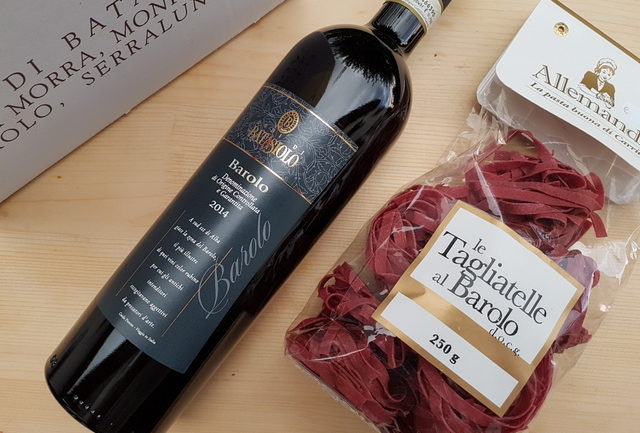 Red wine pasta.
You can find red wine pasta throughout Italy. Usually the red wine used is typical of the region or area where they make the pasta. In Tuscany, they make pasta dough with Chianti. In Puglia. they add Primitivo di Manduria and in Piedmonte, pasta al Barolo is the thing! All these wines are full bodied and quite high in alcohol content, although Chianti has less alcohol content than Primitivo or Barolo.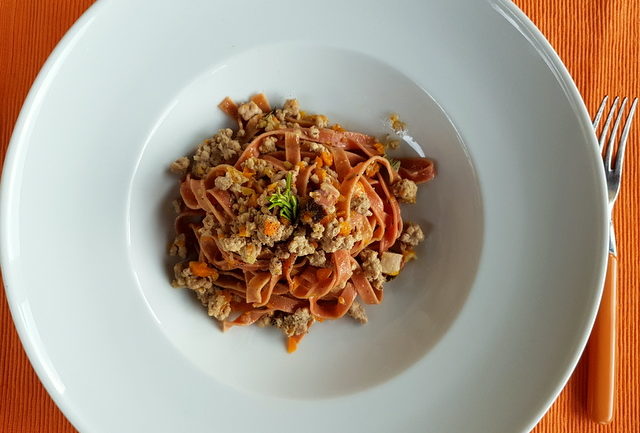 We visited Barolo recently and, needless to say, came home with some bottles of wine and yes, the tagliatelle al Barolo I used in this red wine pasta recipe!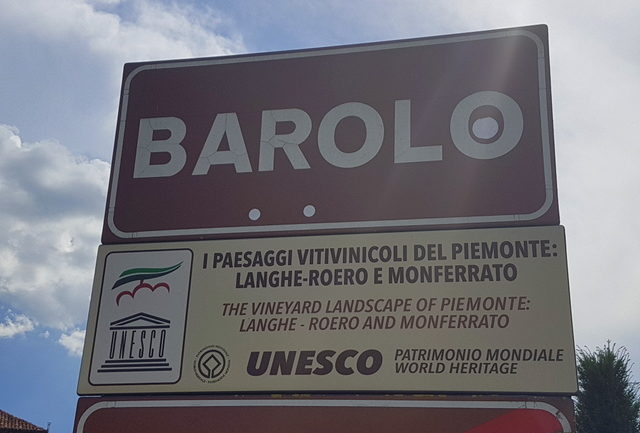 The Langhe and Barolo.
Barolo is a small village with a large Medieval castle, parts of which date back to the 10th century. The village is located in what is one of the most beautiful wine producing areas in Italy! Known as the Langhe, or Langa, this area is famous for its wines, cheese, white truffles and hazelnuts (this is the birthplace of Nutella!). Most of the Langhe is rolling hills covered in sloping vineyards and hazelnut orchards and dotted with Medieval hilltop towns and villages. It was actually declared a UNESCO World Heritage site in 2014 because of its cultural landscapes and wine making traditions that date back hundreds of years.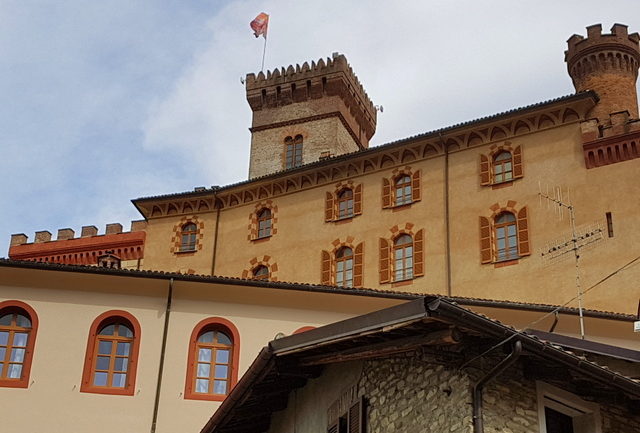 Wine has been produced in the Langhe for 2,500 years! Apparently Julius Caesar was so impressed with the wines from Alba (one of the area's most famous towns) that he took some back to Rome. Barolo wine is known as the 'king of wines' in Piemonte. However, the Barolo wine of today, made with 100% Nebbiola grapes, wasn't first produced until the early 19th century.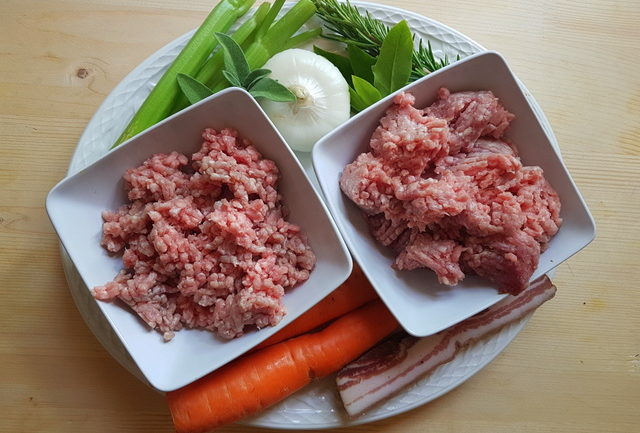 The pasta.
Like the white truffles this area is also famous for, good Barolo is not cheap. For a wine to bear the name Barolo it must be aged for at least 38 months and Barolo 'riserva' is aged for at least 62 months before being sold! We bought some very nice Barolo to bring home with us! But, since my hubby wasn't about to let me use it to make red wine pasta, I thought it best to buy some ready-made tagliatelle al Barolo! This pasta is produced by a company located in the Langhe called Allemandi. It is made with Italian durum wheat semolina, fresh eggs and d.o.c.g Barolo wine.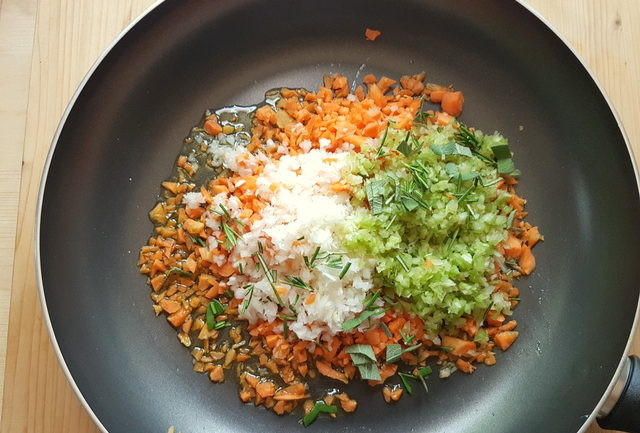 White ragu.
The pasta company's website recommended serving this Barolo red wine pasta with a white ragu. So, that's what I did. In Italy, white ragu (ragu bianco) is basically a meat ragout without tomatoes. Like sauces with tomatoes, there are many different versions. It's popular in many parts of Italy, particularly Tuscany and mostly eaten with egg pasta. White ragu is often made with a mixture of different ground meat (I used veal and pork) with the addition of sausage or pancetta (I used pancetta). Tuscan white ragu is traditionally made with only ground beef from the Chianina breed of cattle.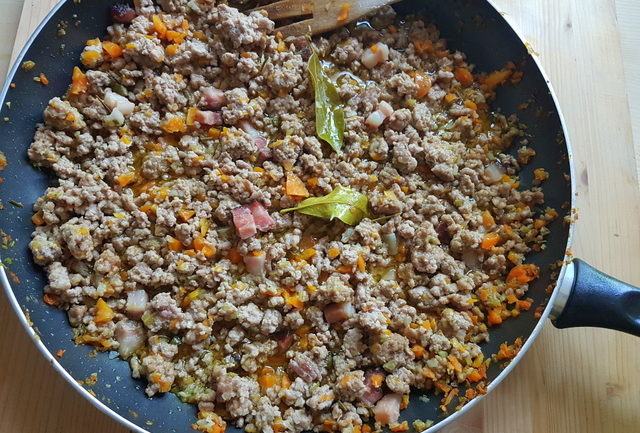 A delicious combination!
The combination of the red wine pasta and the white ragu was really exceptional and a recipe I would recommend trying. You can buy red wine pasta online or even make your own (maybe not with Barolo!). And of course, this white ragu can be served with any pasta, although I would recommend fresh egg pasta as the best choice. This ragu has a lighter taste than a tomato and meat sauce and is definitely one to add to your pasta meal plans!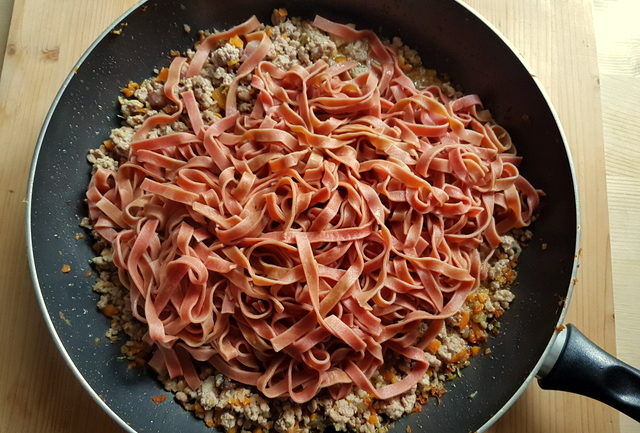 If you make this recipe I'd love to hear how it turns out and if you liked it. Please leave a comment here on the blog or on The Pasta Project Facebook page. Looking forward to hearing from you.
Buon appetito!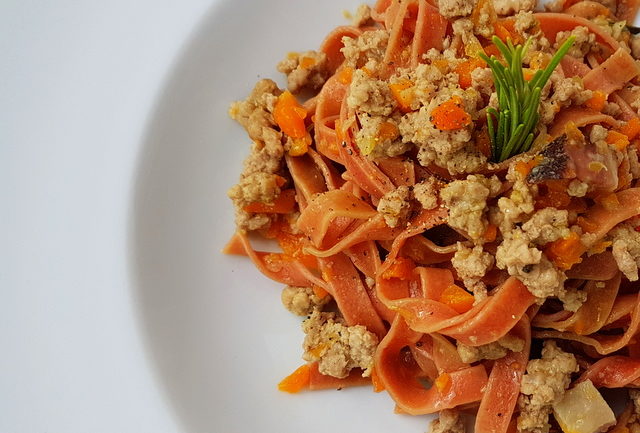 Save this recipe for later?
If you want to save this recipe for later, you can print it, bookmark this page or save it to Pinterest.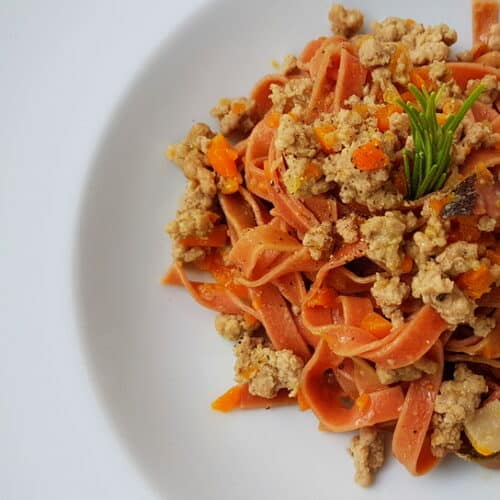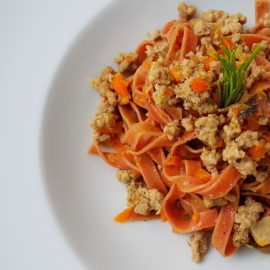 Red wine pasta with white ragu
A delicious combination of tagliatelle made with Barolo wine and a white ragu of veal, pork and pancetta seasoned with herbs and cooked in broth.
Ingredients
400

Tagliatelle

with or without red wine

200

g

minced veal

200

g

minced pork

100

g

pancetta

cut into cubes

1

onion

peeled and finely chopped

2

carrots

washed and finely chopped

2

stalks

celery

washed and finely chopped

2

bay leaves

1

sprig

rosemary

3

sage leaves

4

tbsp

extra virgin olive oil

500

ml

beef stock

( I used homemade)

1/2

glass

white wine

3

tbsp

milk

salt

for pasta and to taste

black pepper

to taste
Instructions
Wash the carrots, herbs and celery. Peel the onion. Chop the pancetta into cubes if needed (you can buy pancetta already cubed)

Finely chop the carrot, onion, celery, sage and rosemary. Heat the olive oil in a frying pan or skillet and add the chopped vegetables and herbs. Cook until they start to soften.

Add the minced pork and veal and the pancetta. Let the meat brown well over a high heat, stirring constantly.

Add the white wine and let the alcohol evaporate. Then add salt, pepper, the bay leaves and 2 ladles of hot stock and lower the heat and simmer the sauce for about 1 hour adding more stock when necessary.

Ten minutes before the sauce is ready remove the bay leaves, add the milk, stir and finish cooking on a low heat.

While the sauce is cooking put a large saucepan of water on to boil for the pasta. Add salt once it starts to boil and bring to the boil again. Cook the pasta al dente according to the instructions on the packet.

When it's ready, drain the pasta and add it to the sauce. Mix everything well together and serve hot with a sprinkling of grated Parmesan or grana if required.
Notes
White ragu can be served with other types of pasta. I would recommend dried or fresh egg pasta.
Nutrition
Calories:
926
kcal
Carbohydrates:
80
g
Protein:
38
g
Fat:
50
g
Saturated Fat:
14
g
Polyunsaturated Fat:
6
g
Monounsaturated Fat:
25
g
Trans Fat:
1
g
Cholesterol:
173
mg
Sodium:
544
mg
Potassium:
1025
mg
Fiber:
5
g
Sugar:
6
g
Vitamin A:
5283
IU
Vitamin C:
5
mg
Calcium:
103
mg
Iron:
4
mg
More pasta recipes you may like
Pin for Later