Genovese Mushroom Ragu with Trofie (tocco de funzi).
Known as 'tocco de funzi' in the local dialect, this delicious Genovese mushroom ragu is a traditional pasta sauce from Liguria in Northern Italy. If they are available, it's made with fresh foraged porcini (ceps). But, many Ligurians make it with dried mushrooms when fresh are out of season.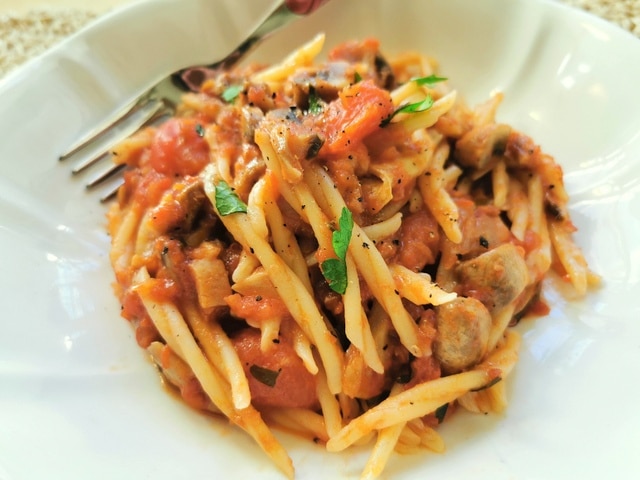 Sugo di funghi alla genovese.
Here in Italy, mushroom hunting is popular. In early autumn and spring, when the weather is right and the ground still soft from recent rains, the Italians take to the woods to search for mushrooms. There are quite a few species that they look for, but porcini are the treasure of the hunt.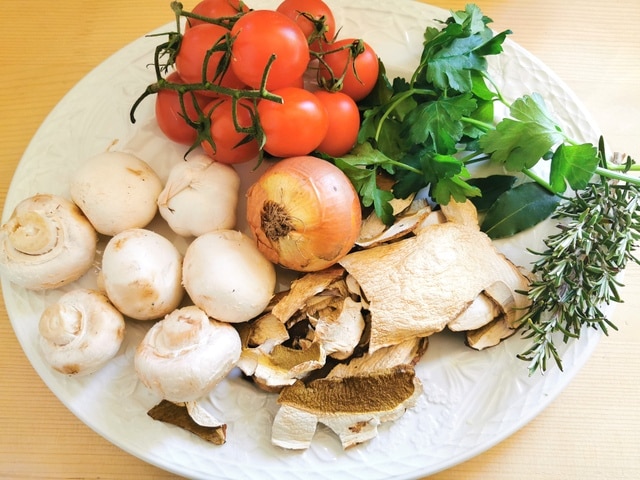 Italians consider porcini (cep in English) to be the king of wild mushrooms! And, quite rightly so! The meaty texture and earthy and nutty flavour of these mushrooms give depth and richness to every dish that includes them!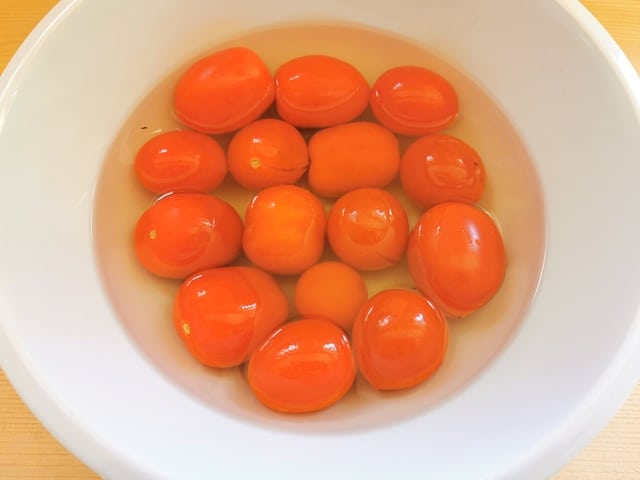 These mushrooms can be found in woods throughout the Italian peninsula. I've seen them in Sicily and here in the North. Of course, practically every region has recipes for porcini. However, they are very often used in pasta sauces and risotto recipes. In some pasta sauces, the porcini add flavour to the other ingredients. In others, they are the flavour. And this Genovese mushroom ragu is one of the latter types of porcini recipes!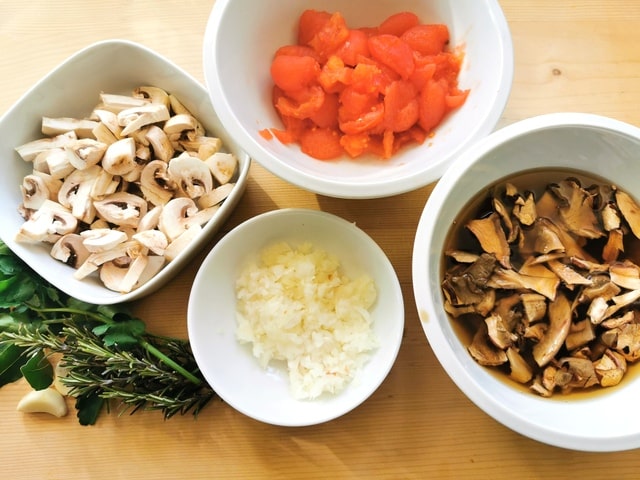 What mushrooms can you use?
Because I didn't have any fresh or frozen porcini, I used dried ones. This is probably what most people would use. However, I also included some champignons (white button mushrooms) just to add some meaty mushroom texture. Dried porcini don't really re-hydrate to quite the same texture as fresh ones! However, it's not necessary to use other mushrooms too. But, if you do, you can add any type of mushroom that you like.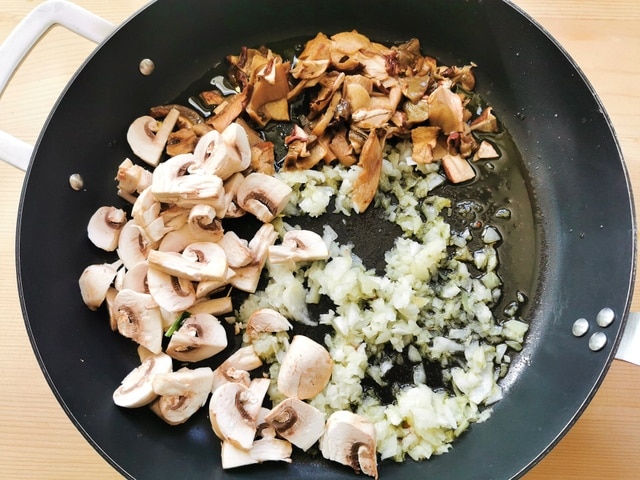 A final couple of words about dried porcini. Firstly, try to choose a packet that has large pieces of dried mushrooms, not lots of small and broken pieces. Then, when you soak the dried porcini, the aroma should fill your kitchen. If you can't smell them, you can't taste them!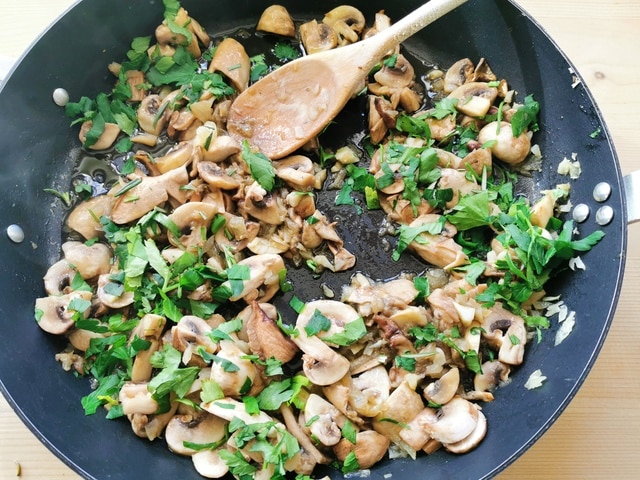 What are the other ingredients in this Genovese mushroom ragu?
Some porcini pasta sauces don't include tomatoes like this classic tagliatelle with porcini from Tuscany. However, this Genovese mushroom ragu with trofie does. I used some fresh peeled small plum tomatoes (piccadilly from Southern Italy) plus a little passata. You can use only fresh tomatoes if you prefer.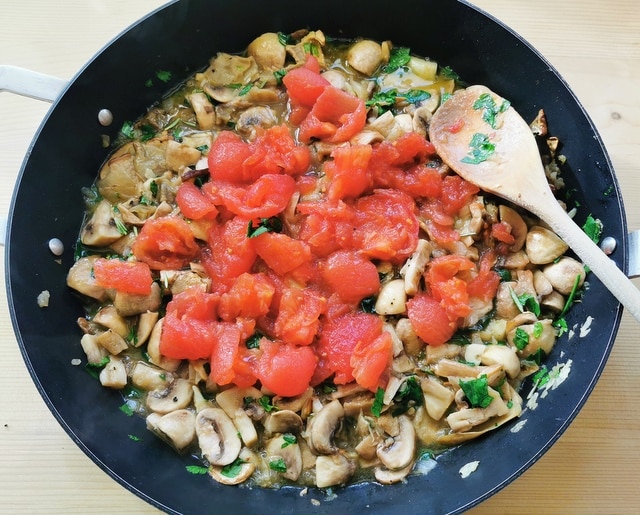 Like many old traditional pasta recipes, there are different versions of Genovese mushroom ragu. Some contain only tomato concentrate and a few others no tomatoes. I, more or less, followed a recipe from a site called Genova Today, so I guess this is a pretty authentic version!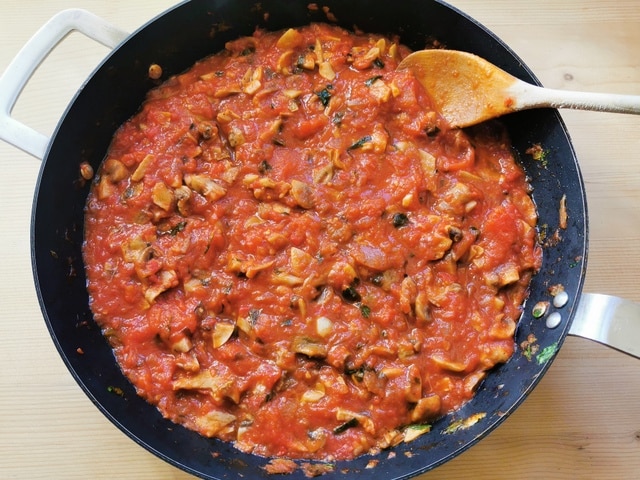 Apart from the mushrooms and tomatoes, all you need is onion, garlic, fresh rosemary, bay leaves and parsley. If using dried porcini, you will need to soak them for 30 minutes in hot water before cooking them. Keep the soaking water and add a little to the sauce. It will intensify the porcini flavour.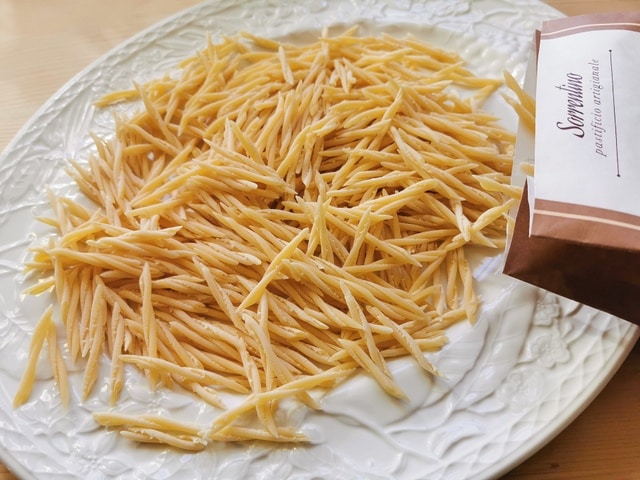 The pasta for Genovese mushroom ragu.
There are a couple of types of pasta that are exclusively from Liguria. One is corzetti and the other, trofie. The latter is very often served with pesto Genovese (basil pesto). Traditionally, this Genovese mushroom ragu is eaten with ravioli or tagliatelle, but we had it with trofie.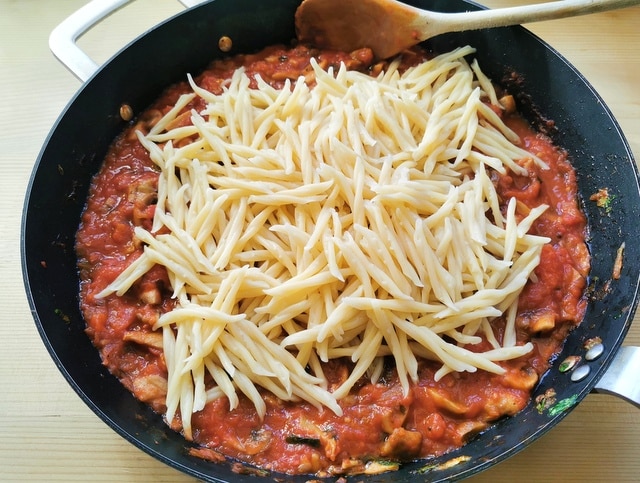 Trofie are a short twisted traditionally fresh pasta. I have read that this pasta was invented in a town on the eastern Ligurian Riviera called Recco near Genova, which is also famous for focaccia. Trofie is usually made with durum wheat flour, salt and water, but no eggs. It is actually small stretched and twisted pieces of pasta with pointed ends but, thicker at the center.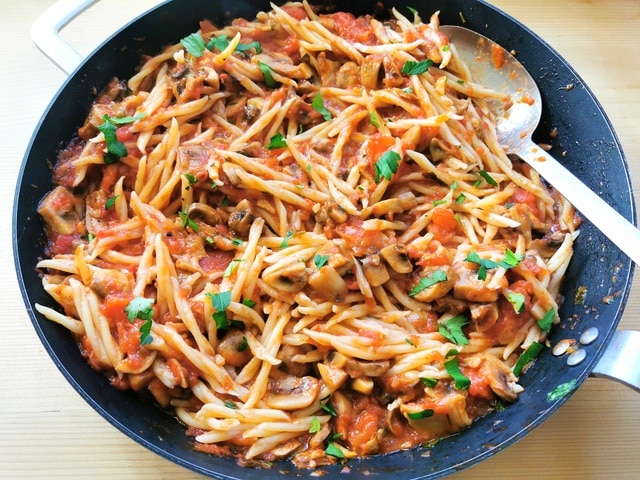 Legend has it that the women of Liguria would sit on chairs along the coast twisting the pasta pieces as they waited for their fishermen husbands to come home!
The trofie pasta I used.
The trofie I used for this Genovese mushroom ragu was dried trofie, actually made by a company in Gragnano, near Naples. I visited this small pasta maker last year when I visited Gragnano. The name of this company is Pastificio Sorrentino.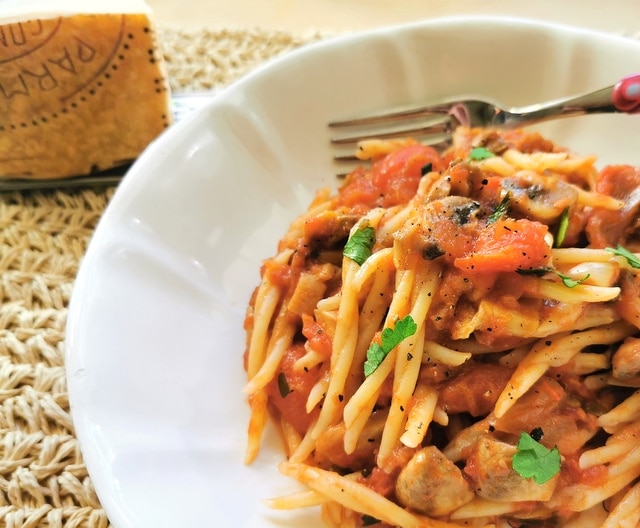 I have used their pasta in some other recipes and it's excellent. This is not surprising as Gragnano is home to some of the best dried pasta in Italy. You can read more about Gragnano and the pasta there in my post about my visit.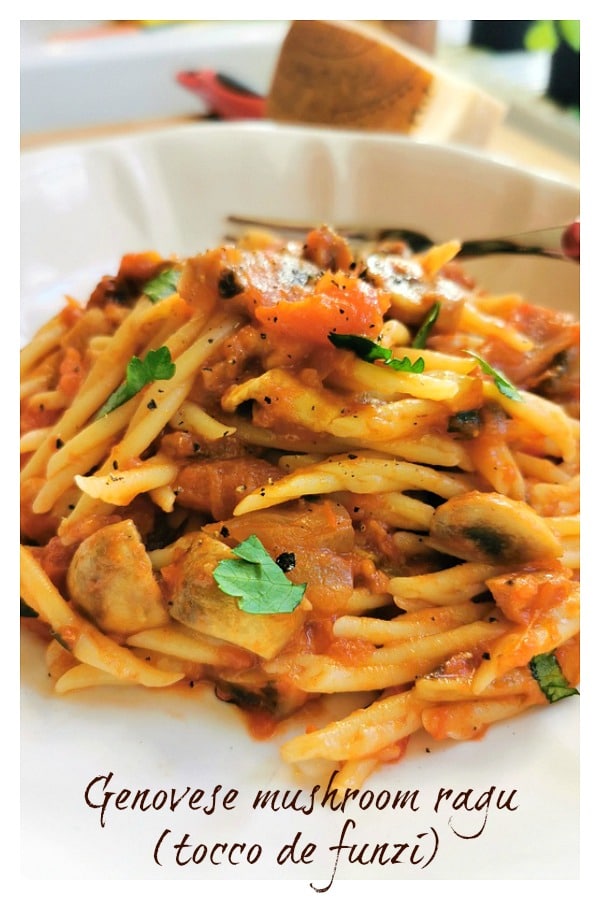 If you don't have trofie, you can use a variety of other pasta shapes for this Genovese mushroom ragu. As I have mentioned above, tagliatelle and ravioli are traditional. But, corzetti or even penne would be delicious too.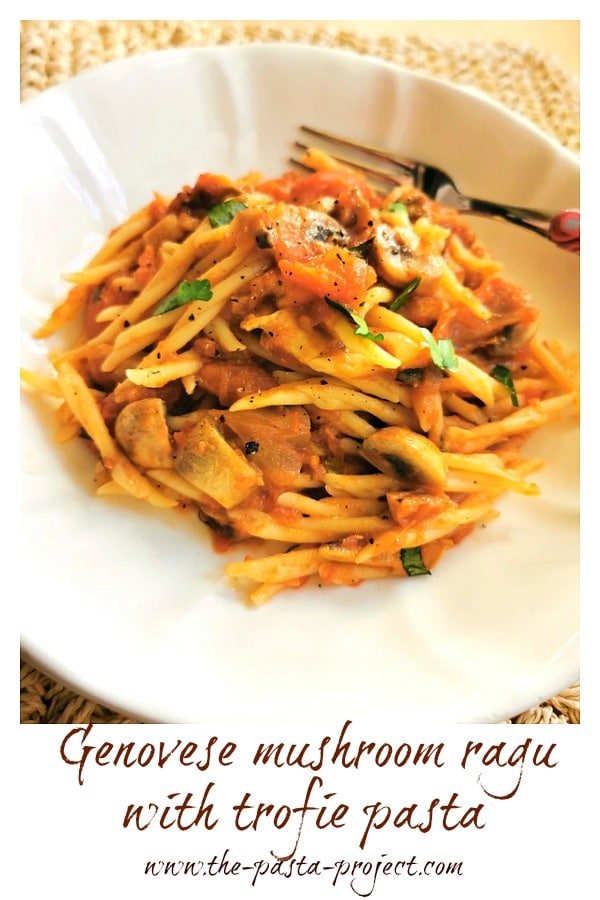 Whichever pasta you use, I'm sure you'll love this Genovese mushroom ragu. It's meatless, so perfect for vegetarians and vegans, although without the Parmigiano Reggiano that I added to the plates before serving! (that has animal rennet in it!)
If you make this Genovese mushroom ragu with trofie recipe, I'd love to hear how it turns out and if you liked it. So, please leave a comment here on the blog or on The Pasta Project Facebook page.
Looking forward to hearing from you!
Buon appetito!
Other recipes from Liguria.
Save this recipe for later?
If you want to save this recipe for later, you can print it, bookmark this page or save it to Pinterest.
Pin for later.