Sicilian pesto pasta meal kit: Product review. Hyblaean pesto and organic ancient grains pasta
I love Sicily, the food, the landscapes and the people, especially my Sicilian hubby! This Sicilian pesto pasta meal kit is full of typical Sicilian flavours! For my hubby it was a real taste of home! For me it reminded me so much of the wonderful holidays I have spent there!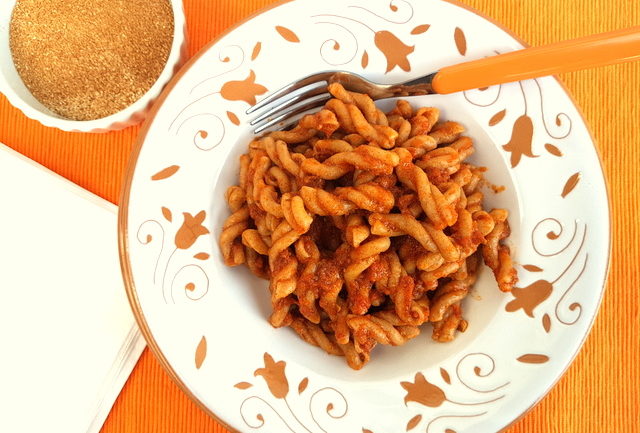 I love pesto pasta, don't you?
When I first moved to Italy, I lived alone in a tiny one roomed apartment with no kitchen to speak of! My staple meal was ready-made pesto and pasta. I loved it! I mean you can have dinner on the table in the time it takes to boil the pasta and cook it. There's nothing to prepare and only a couple of pans and plates to wash after. AND it's so much better for you than a frozen ready-made meal or fast food take away.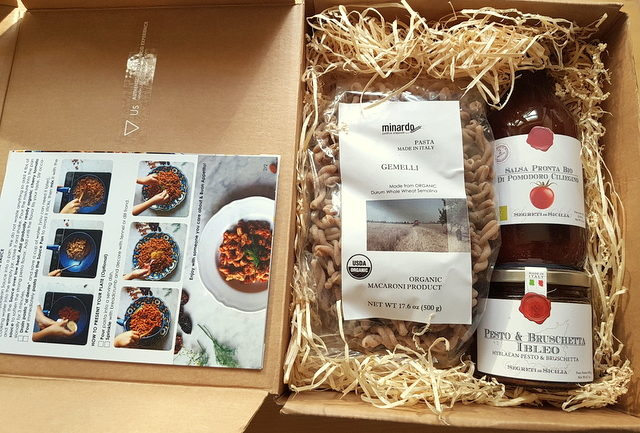 Fast- forward to today, I still love pasta with pesto. In fact, pesto has become a staple in my house because I also use it as a dip, on bruschetta , on pizza and even in cooking fish or chicken. However, I now often make the pesto myself. I love trying different ingredients in the recipe. There are already quite a number of pesto recipes here on The Pasta Project. Rocket pesto, radicchio pesto and olive pesto are among my favourites!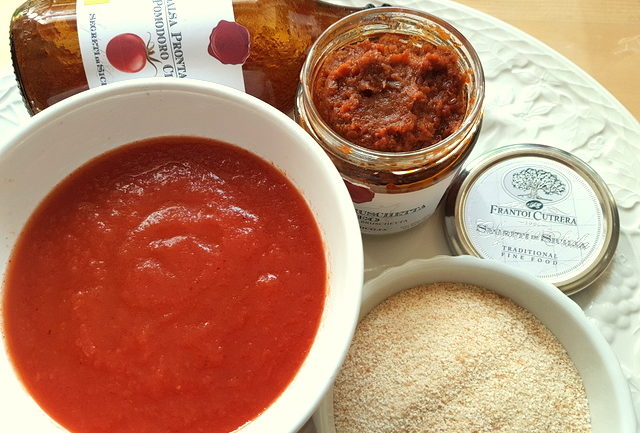 Even though I love homemade pesto, I won't turn my nose up at a yummy ready-made pesto, especially when it's made with ingredients I can't easily find myself. So, when I was sent this Sicilian pesto pasta meal kit from a company called Us Authentic Italian Experience to review, I was looking forward to trying it for a number of reasons.
If you'd like to try this Sicilian pesto pasta meal kit just click on this link to check out the Us Authentic Italian Experience online shop. Use the coupon code THEPASTAPROJECT and get a 10% discount!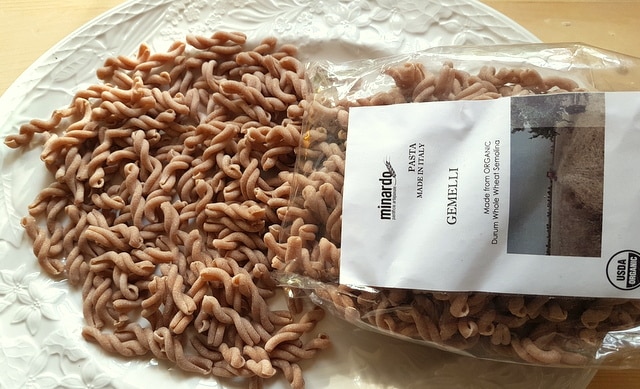 Hyblaean pesto.
Firstly, because the Hyblaean pesto (pesto Ibleo in Italian) in the pesto pasta meal kit sounded divine. It's made with sundried tomatoes and almonds, plus extra virgin olive oil and wild fennel, both from the Hyblaean Mountain range area in South East Sicily. I have actually visited this part of Sicily a number of times and love it. Much of it is quite wild with lots of river gorges and canyons rich in history and vegetation. And I have even picked wild fennel there myself!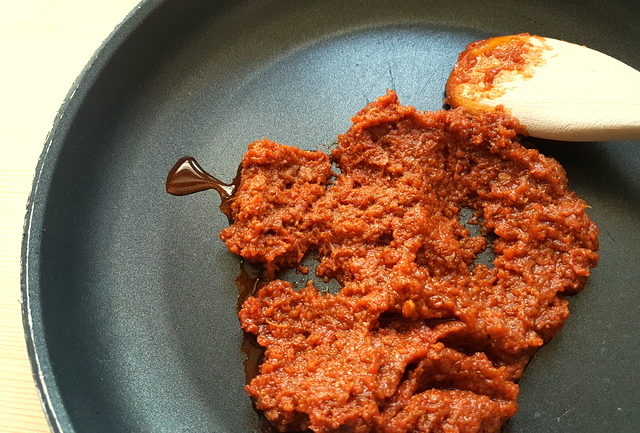 Wild fennel is a popular ingredient in the Sicilian kitchen. Sicilians use it a lot in pasta dishes too. But, sadly, it is almost impossible to find or buy wild fennel here in Northern Italy! The combination of wild fennel, almonds, extra virgin olive oil and sun-dried tomatoes makes this pesto a fabulous example of typical Sicilian flavours. Flavours that are hard to recreate outside of Sicily. This is also a vegan pesto, no cheese or animal products in it!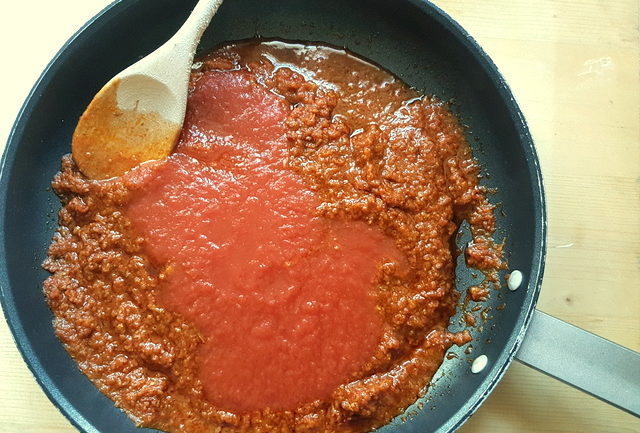 Sicilian organic ancient grains pasta.
The second reason I was excited about this Sicilian pesto pasta meal kit was the pasta. In this case, an organic ancient grain pasta from Sicily made from a type of wheat called Timilia. I'm really into these organic ancient grain pastas and am really happy that they are becoming more and more popular.
In short, ancient or heritage grains are types of wheat that haven't been modified to increase yields. And haven't been sprayed with carcinogenic pesticides or herbicides! Heritage grains lost popularity in the past because production costs are higher but they are in demand again as more and more people choose healthier food options over cheap, mass produced products with low nutritional value.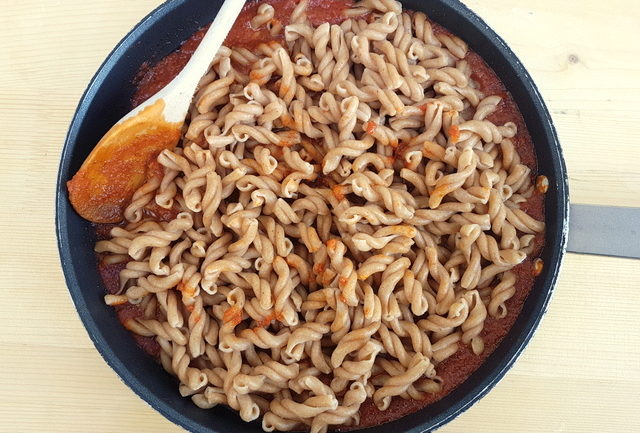 Timilia wheat.
I have already published a few recipes with pasta made with ancient grains from Sicily. Take a look at this recipe for tortiglioni with broccoli and sausage. Timilia, or marzuolo wheat is a variety of summer wheat. You may also come across it called 'tummina'. It was very widespread in Sicily before the Second World War and was even cultivated in Sicily by the Ancient Greeks who called it 'trimeniaios '. Timilia flour is quite dark in colour and is used in the dough for Sicilian Castelvetrano black bread, a Slow Food Presidium, as well as for pasta.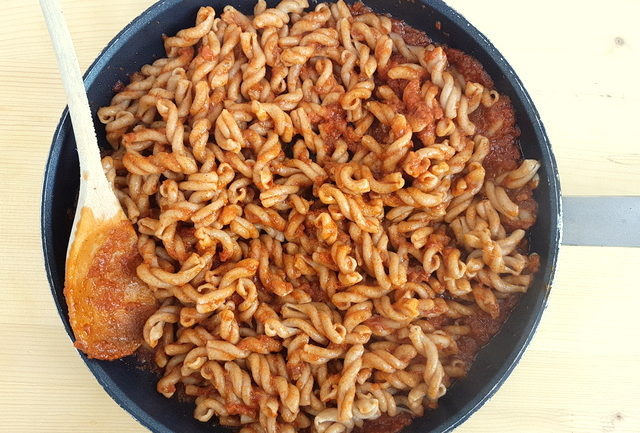 This type of organic durum wheat flour is stone milled which means it contains many trace elements of the wheat germ and bran and thus has a high level of protein and a low gluten index. In other words, Sicilian ancient grain pasta is pretty nutritious and good for you, plus is better tolerated by people with gluten intolerance!
Sicilian pesto pasta meal kit.
The Sicilian organic ancient grain pasta in my meal kit was gemelli.'Gemelli' means twins in Italian and this pasta shape belongs to the fusilli family. This is the first time I have posted about gemelli on The Pasta Project but I'm hoping to make some homemade gemelli soon.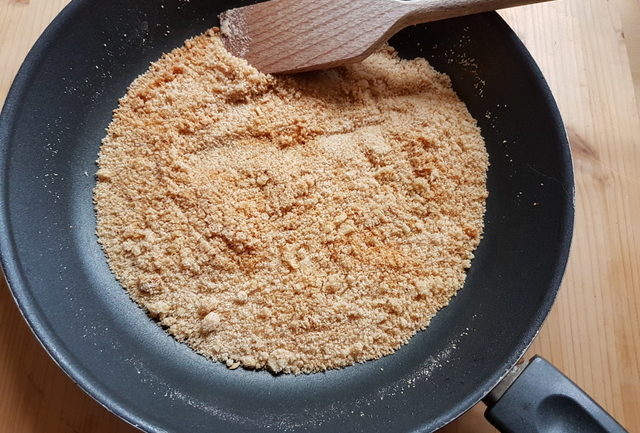 This organic ancient grain pasta was delicious with the Hyblaean pesto. Since both are quite rich and flavorful, they really complimented each other. This Sicilian pesto pasta kit also includes an organic cherry tomato sauce which I mixed together with the pesto to thin it out. This worked well with the pasta. Although, I did eat some of the pesto on its own on bread! Totally yum and great for bruschetta! I also had some leftovers which I baked with mozzarella, that was yummy too!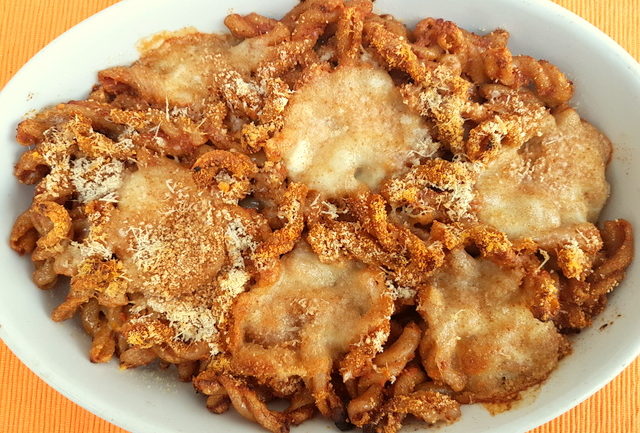 My hubby and I both loved it!
I loved this Sicilian pesto pasta meal kit, not only because of the delicious meal I made in no time at all, but also because it required very little prep. The only ingredients I used from my kitchen were a little olive oil and salt, plus some breadcrumbs. It's very traditional in Sicily to sprinkle pasta dishes with toasted breadcrumbs instead of cheese. The kit comes with recipe instructions and tips on how to get the best results. My Sicilian hubby also loved it and described it as a taste of home!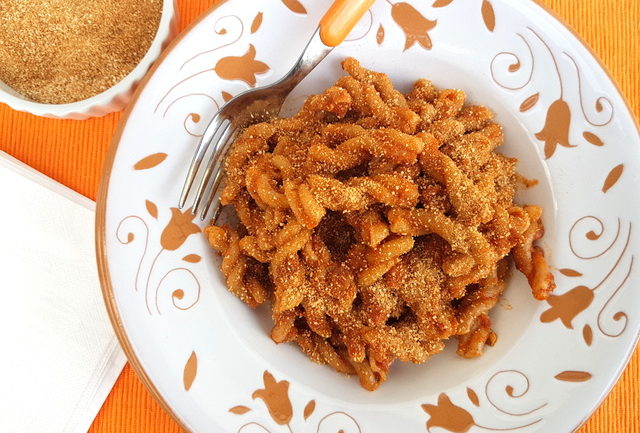 Tell me what you think.
If you'd like to try this Sicilian pesto pasta meal kit just click on this link to check out the Us Authentic Italian Experience online shop. They ship to US, Canada and Europe! Use the coupon code THEPASTAPROJECT and get a 10% discount! If you do try this meal kit, I'd love to know what you think. Please let me know by commenting here on the blog or on the Pasta Project Facebook page.
Buon appetito!
I haven't been compensated for writing this article and all opinions are my own but I may be compensated if you buy products through the links in this post. However, this helps me cover my blog costs and keep it going!
If you love pesto like me and are unsure of creative ways to use it, check out my different ways to use your pesto article.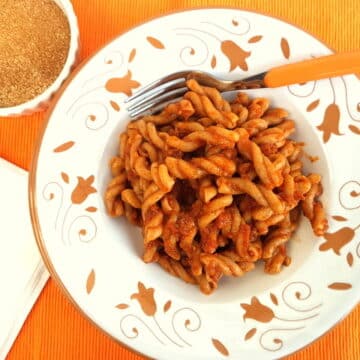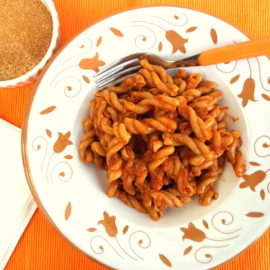 Sicilian pesto pasta meal kit recipe
A tasty Sicilian Hyblaean pesto and organic ancient grains pasta that comes in a kit and takes very little time to make into a delicious healthy meal full of Sicilian flavours.
Ingredients
1

Sicilian Hyblaean pesto pasta meal kit

1

tbsp

extra virgin olive oil

salt

for pasta

150

g

breadcrumbs

5-6 oz
Instructions
Put a pot of water on to boil for the pasta. When it starts to boil add salt and bring to the boil again.

While the water is boiling, put 1 tbsp of extra virgin olive oil in a small frying pan with the breadcrumbs. Cook over a medium heat, tossing frequently until crunchy and golden brown (about 5 minutes). Be careful not to let the breadcrumbs burn.

Cook the pasta al dente according to the instructions on the packet.

Pour the Hyblaean pesto into a pan. Add 4 tbsp of pasta cooking water into the empty jar, close it and shake. Pour the water into the pan with the pesto, stir well and warm the sauce over a low heat.

Add some of the organic cherry tomato sauce to the pesto . Keep adding until you get the consistency and flavour you prefer. (I used it all) Stir well and cook for about 3 minutes.

When the pasta is cooked save a cup of the cooking water and drain.

Add the pasta to the sauce and then mix it with the sauce and continue to cook on a low heat for about 1 min. If the mixture is too dry, add some of the saved pasta cooking water.

Serve immediately sprinkled with toasted breadcrumbs.
Notes
I had some leftovers as I used all the ingredients in the kit but there was just my hubby and I. I baked the leftovers with some slices of mozzarella and another sprinkling of toasted breadcrumbs. It was delicious too! 
If you'd like to try this Sicilian pesto pasta meal kit just click on this link to check out the Us Authentic Italian Experience online shop. Use the coupon code THEPASTAPROJECT and get a 10% discount!
Pin for Later