Sicilian Broccoli Pasta with Sausage and Chard.
My Sicilian hubby introduced me to pasta with broccoli and it really was love at first bite! Since then, I have eaten different versions of this typical Southern Italian dish. All delicious, but this Sicilian broccoli pasta with sausage and chard is definitely one of my favourites! It's super tasty and healthy too, especially if you make it with organic ancient grain pasta from Sicily, as I did!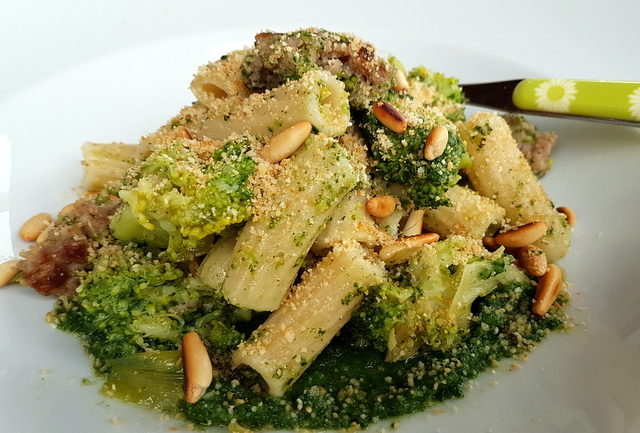 Pasta con Broccoli, Salsiccia e Bietole
Broccoli pasta is a very  traditional in Southern Italy. You can find different versions of it in most of the South Italian regions particularly Sicily, Puglia, Calabria and Campania. It is most often made without meat. But, when meat is added, it's usually sausage meat.
(Disclosure: This post contains an affiliate link. I have not been compensated for writing this post and all opinions are mine but I may earn commission if you purchase products through the affiliate link on this post)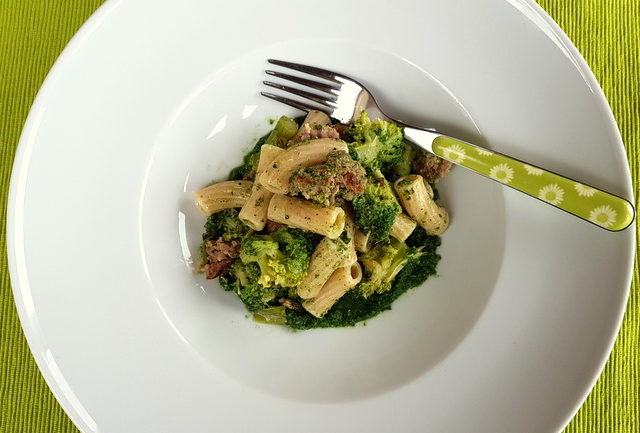 Other versions of Sicilian broccoli pasta.
In Sicily, the most traditional version of pasta with broccoli is called 'pasta con i broccoli 'arriminati'. 'Arriminati' simply means mixed. It refers to the fact that the broccoli and pasta are mixed together in the pan before serving. This recipe is also made with cauliflower. Typical Sicilian pasta with broccoli doesn't include meat, but often has anchovies in it. It also usually includes sultanas, pine nuts, saffron and toasted breadcrumbs.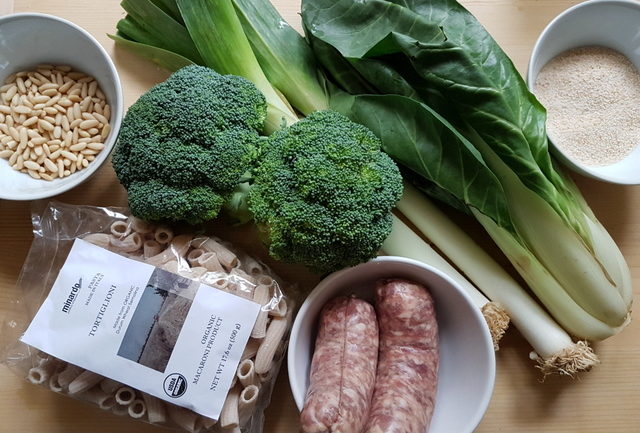 The Pasta.
Traditionally, Sicilian broccoli pasta is often made with bucatini. However, many people use short pasta tubes such as penne, rigatoni or short ziti. I used organic tortiglioni (tortiglioni is very similar to elicoidale or rigatoni) This tortiglioni was made with an ancient Sicilian grain called 'Russello'. This pasta was sent to me to try by a company called Us Authentic Italian Experience. They sell this tortiglioni, other types of ancient grain pasta and some delicious Sicilian food products in the US, Canada and Europe. I was already a fan of organic ancient grain pastas and have posted a couple of other recipes with these types of pasta. So, I was thrilled to be asked to review this brand.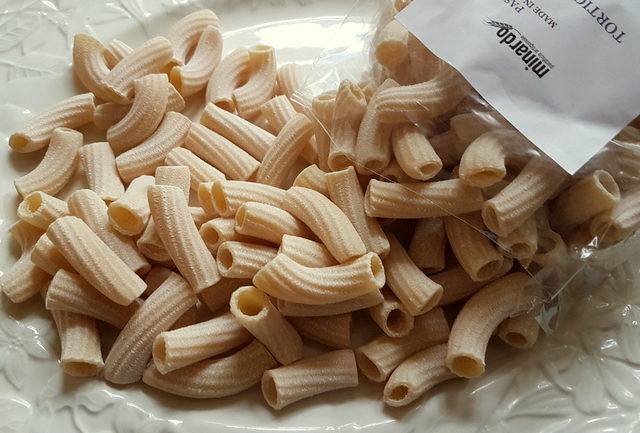 Is pasta healthy?
I know there are people (not normally Italians) who don't think pasta is healthy! But, there is pasta and there is PASTA! Mass produced pasta may not be healthy, especially if produced with flour made from wheat that has been sprayed with all kinds of nasty things like the herbicide Glysophate! In fact, although the pasta you buy may be 'made in Italy', the wheat used is not always Italian! So, in reality, despite the fact that Glysophate is banned in Europe, some Italian pasta and a lot of foreign made pasta contain it!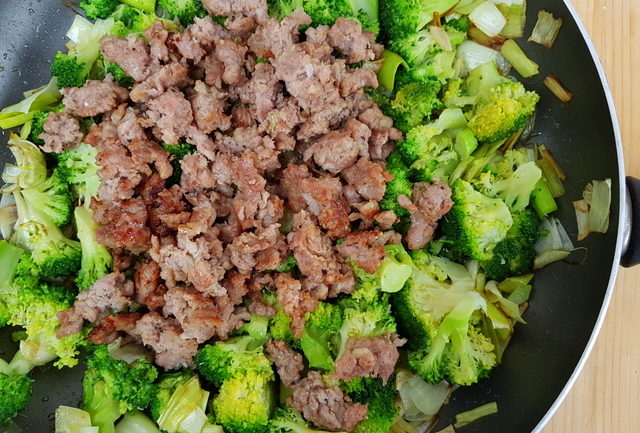 Organic Sicilian ancient grain pasta
But, there is lots of healthy pasta out there! At the top end of the healthy pasta scale is organic pasta made in Sicily with ancient grains. Ancient grains, also called heritage grains, are ancient varieties of wheat which haven't been altered to produce higher yields. These grains lost popularity with producers because they have a lower yield and thus production costs are higher. However, pasta and other wheat products made with heritage grains are becoming more and more popular again. This is because apart from being healthier, they are better tolerated by people who have problems with gluten!
If you are interested in trying some of this organic Sicilian ancient grains pasta check out the Us Authentic Italian Experience online shop. Use the coupon code THEPASTAPROJECT and get a 10% discount!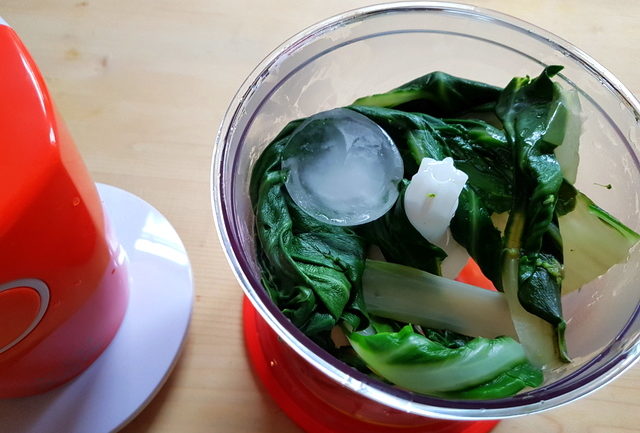 Why I liked this organic pasta.
Russello, the wheat used to make the tortiglioni in this Sicilian broccoli pasta with sausage recipe, is an ancient Sicilian wheat variety that is very digestible and healthy. I have yet to try other pasta from Us Authentic Italian experience (they sent me a few packets, plus a meal kit which includes pesto made in Sicily), but the tortiglioni was exceptionally good. It has a slightly nuttier taste than white pasta. I guess because it's whole wheat. A bit like the difference between white bread and whole wheat bread. I especially liked the fact that it held together so well with cooking! I've tried a number of artisan pasta types that fell apart in the boiling water! I'm not kidding! Of course, I haven't posted about them on The Pasta Project!
This version of Sicilian broccoli pasta.
This version of Sicilian broccoli pasta is a little different from the one I mentioned above. Firstly it contains sausage meat. Sicilians usually use sausages made with fennel but you can use normal Italian pork sausage and add some fennel seeds if you wish. This Sicilian broccoli pasta doesn't have saffron or sultanas, but does have pine nuts and garlicky toasted bread crumbs (yum!). In Sicily, they often use toasted breadcrumbs, which they call 'mollica tostata', on pasta dishes instead of grated cheese.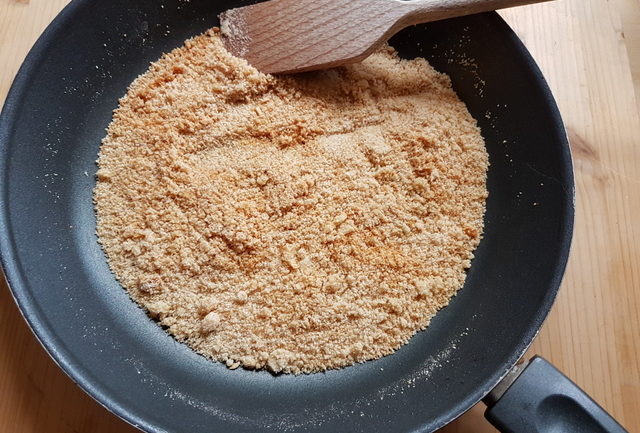 A healthy pasta dish!
This recipe also includes a wonderful puree of chard. Chard is very popular in Italy. In fact, it has been cultivated here since the times of Ancient Rome. Although commonly known as chard or Swiss chard, it is actually also called Sicilian beet or Roman kale! Chard is super healthy, as is broccoli. So, this is a dish that's got so much goodness in it! Apart from the chard and broccoli, there is also leeks, and garlic and, of course, the organic Sicilian ancient grain pasta! I know you may not consider the sausages as healthy but we all need protein and sausage in pasta is so good that it wouldn't be the same without it!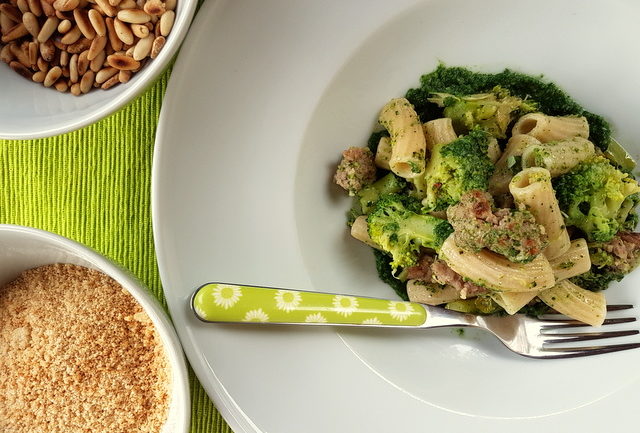 If you make this Sicilian broccoli pasta with sausage and chard recipe, I'd love to hear how it turns out and if you liked it. So, please leave a comment here on the blog or on The Pasta Project Facebook page.
Buon appetito!
Some other pasta recipes from Sicily to try
Are you interested in trying some organic Sicilian ancient grains pasta? Then check out the US Authentic Italian Experience online shop. Use the coupon code THEPASTAPROJECT and get a 10% discount!
(Disclosure: I haven't been compensated for writing this article and all opinions are my own but I may be compensated if you buy products through the affiliate link. However, this helps me cover my blog costs and keep it going! So thank you!)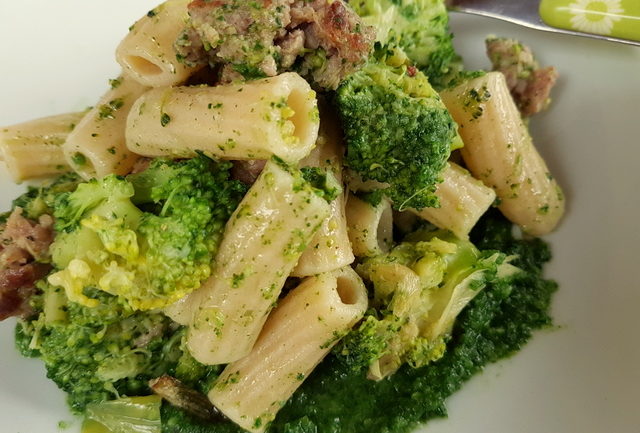 Want to save this recipe for later?
You can bookmark this page, print this recipe or pin it for later.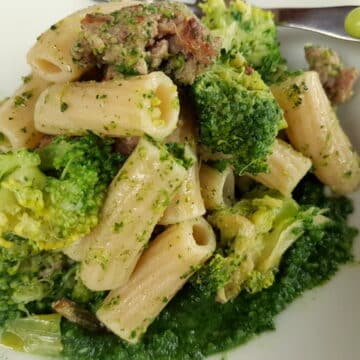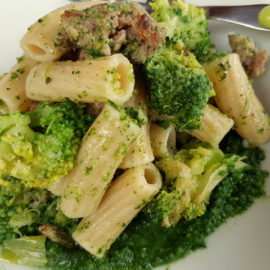 Sicilian broccoli pasta with sausage and chard
A delicious traditional Sicilian recipe made with sausage and chard and organic Sicilian ancient grain pasta.
Ingredients
400

g

Tortiglioni pasta

(14oz) or rigatoni, elicoidale or other pasta tubes. I used organic Sicilian ancient grain tortiglioni

300

g

Italian pork sausage

(10oz) with fennel if available

1-2

leeks

finely chopped

1-2

heads

broccoli

(depending on the size)

1

bunch

chard

100

g

pine nuts

(3.5 oz)

100

g

breadcrumbs

2-3

garlic cloves

peeled and chopped

extra virgin olive oil

as required

salt

for cooking veg and pasta and to taste

black pepper

to taste

1

ice-cube
Instructions
Prepare the ingredients
Wash the broccoli and cut into florets. Wash the chard and remove most of the stalk. Peel and finely chop the garlic. Wash and finely chop the leeks. Remove the skin from the sausage. Chop the sausage meat.
Start cooking
Cook the broccoli for just 4-5 minutes in a large pan of boiling salted water. Remove the broccoli with a slotted spoon but keep the water as you can use it to cook the chard and pasta.

Finely chop the leeks and brown in a frying pan or skillet with a little of the olive oil. Add the broccoli to the leeks, stir and leave to simmer on a medium heat. Add a ladle or two of the broccoli cooking water as it starts to dry out.

In a separate frying pan, dry fry the sausage meat until nicely browned. You don't need to add oil as the sausages contain enough fat.

In another frying pan, dry toast the pine nuts. When they are ready, put them into a bowl and then heat a little olive oil in the same pan. Add the garlic and cook until slightly soft. Toast the breadcrumbs with the chopped cloves of garlic.

Add the sausage to the broccoli and stir. Season with salt and pepper. Continue to simmer for a little while. You can add a ladle or two more of the broccoli cooking water if it seems dry. As the broccoli and sausage cook you can break them up into smaller pieces if you want. (I kept them quite big)

Blanch the chard in the broccoli cooking water and then remove the leaves from the water and blend in an electric blender with the ice and a little olive oil until well pureed. Keep aside.
Finish the dish
Cook the pasta in the boiling broccoli cooking water. Once it is al dente, drain and add to the broccoli and sausage! Add half the chard puree and mix everything together well.

Spread some of the remaining chard puree over the bottom of each plate. Place a serving of the pasta with broccoli and sausage on each plate. Sprinkle with toasted pine nuts and garlicky toasted breadcrumbs. Serve immediately.
Notes
This dish can be made with other types of pasta tubes. But I recommend using whole wheat pasta as it adds a different flavour. You can also add a little peperoncino (red chili pepper) for a bit of kick! Add the peperoncino to the broccoli and leeks while cooking them together. 
Pin for Later