Pasta al forno – baked pasta the Italian way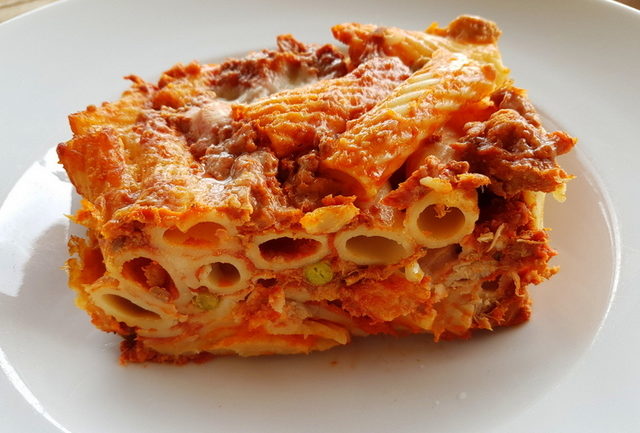 Pasta al forno – traditional baked pasta
This recipe is based on the wonderful 'pasta al forno' (pasta bake) my Sicilian mother-in-law makes! In fact, she brought a dish (actually two) over to our house last Easter Sunday. We had 22 people for lunch which was quite a challenge but the great thing about Italian families is they are always happy to contribute towards the cooking and food, so it's rare for the hosts to end up doing everything. Dessert is a very traditional offering and we actually ended up with 5 different cakes made by various guests and family members! Plus this wonderful pasta al forno!
(click to go straight to recipe)
If we include vegetarian dishes, there are hundreds of different recipes for baked pasta, pasta al forno, here in Italy. But, the most traditional and classic is with a meat sauce or 'ragu', a tube pasta type such as macaroni (in Italian 'maccheroni'). rigatoni, tortiglioni, elicoidali, penne, trescatori etc and some local soft or semi soft cheese as well as parmesan, pecorino or grana sprinkled on top.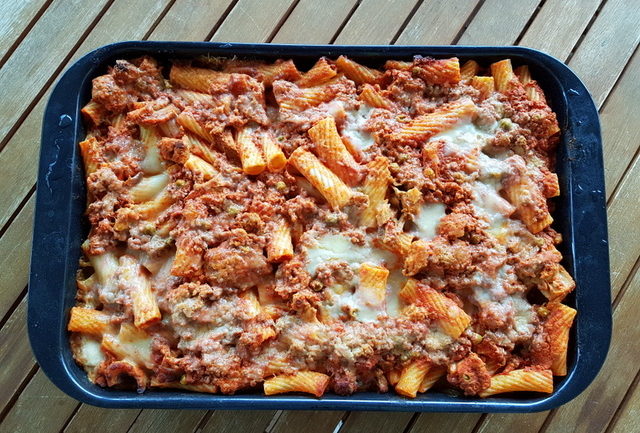 Pasta al Forno, perfect for Sunday lunch!
'Pasta al forno' is a popular dish in Italy on Sundays or public holidays, especially in the South. This is probably because it takes longer to make than recipes with pasta which has only been boiled, so it is too time consuming for a week day meal. However, it can be made mostly in advance and is ideal for feeding a large number of people. Needless to say, there are always plenty of guests at an Italian family Sunday or holiday lunch! Kids also love it and a beautifully baked 'pasta al forno' looks so great when brought to the table!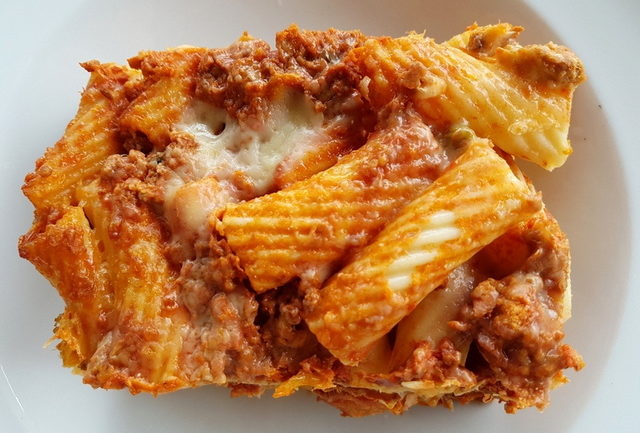 Normally in Italy, pasta is not the main course. It is the 'primo' or first course and is often followed by meat or fish with vegetables and sometimes potatoes, although Italians aren't big potato eaters unlike the Germans or the Brits! For this reason, pasta is often served with a lighter sauce, but on special occasions when families get together baked pasta is a popular tradition.
Different ragu recipes.
Housewives and cooks in each Italian region have a slightly different way of making 'ragu' (meat sauce). However, the basic ingredients are much the same; two or three types of meat ground or cut into small pieces (often pork and beef or veal), fresh tomatoes or passata, carrots, celery and onions, plus stock and wine. The rest of the ingredients vary from region to region, sometimes from cook to cook.
In some regions, they also add hard boiled eggs to a baked pasta and many add homemade bechamel sauce to the dish. Not every pasta al forno includes a soft cheese, but most do. The most commonly used is mozzarella but scamorza, caciocavallo or provola are popular too.
Sicilian ragu.
This al forno recipe (see the next page) is made with ragu from Sicily , which includes peas. The cheese is caciocavallo and the pasta, tortiglioni. It was yummilicious. And, despite the number sitting down to lunch that day, there was quite a bit left over! So, I was able to enjoy it the next day too!
If you have never made pasta al forno, do give it a try. It's a wonderful go-to dish when you are planning to feed a large number. I'd love to hear from any of you who make this recipe, so feel free to comment here on the blog or on the Pasta Project Facebook page!
Buon appetito!
(to see the recipe go to the next page. Just scroll down and click 2)
If you'd like to make a vegetarian pasta al forno take a look at the recipe for baked lasagna alla Norma or baked pasta with burrata and mushrooms. Both are really delicious!