The art of stuffing pasta has been a cornerstone of Italian cuisine for centuries. From the decadent tortellini of Emilia-Romagna to the enticing paccheri of Campania, every Italian region has delicious stuffed pasta recipes.
In this collection of recipes, I celebrate the versatility and delight of both homemade and dried stuffed pasta with some of my favorite traditional Italian recipes.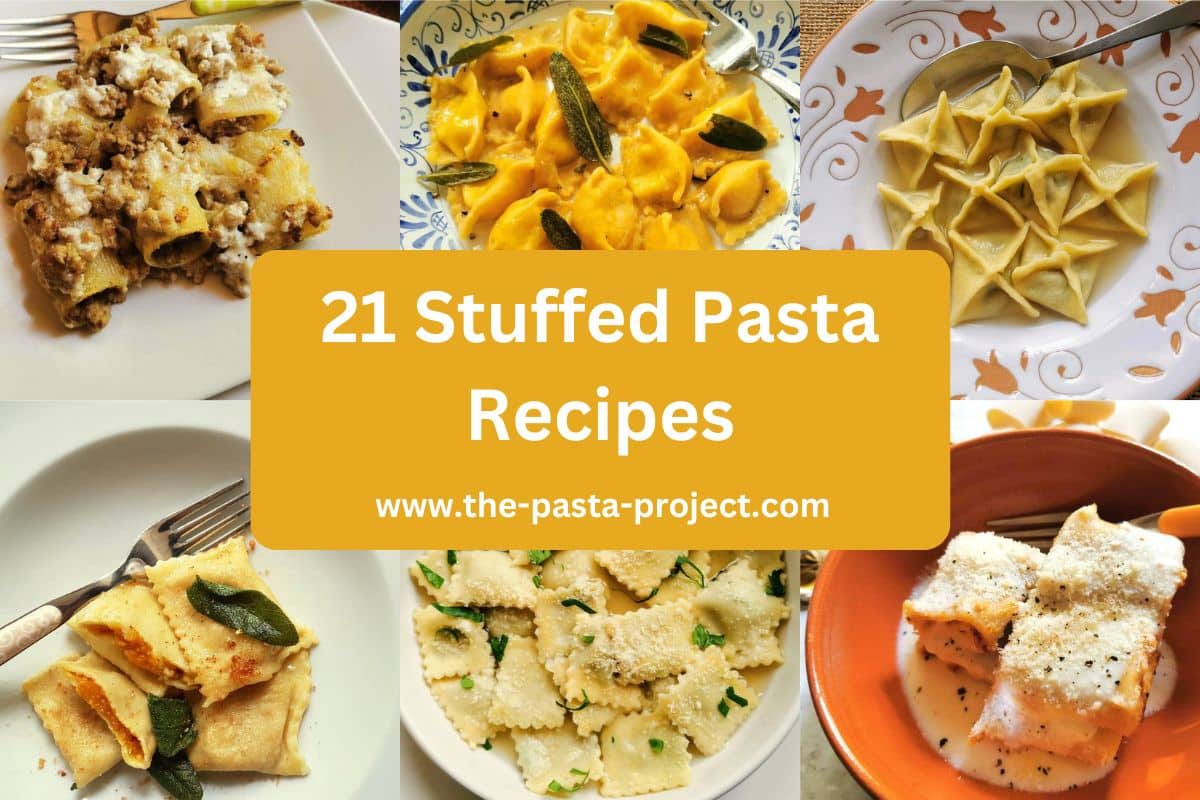 History
Although there is evidence of the Ancient Romans making some kind of stuffed pasta, it wasn't until the 12th century that filling fresh pasta before cooking and eating it became popular here in Italy.
Of course, that's still 900 years ago! Since then, the fillings used have become much more varied, as have the shapes, but the basic ingredients for homemade pasta dough remains the same; flour, water and/or eggs!
Homemade Stuffed Pasta Cooking Tips.
Use 00 flour: For high-quality pasta dough, Italian 'doppio zero' or 00 flour is the go-to option. Its finely ground and highly refined quality gives you a smoother, more elastic dough which is excellent for creating stuffed pasta.
Roll the Dough Thinly: The thickness of your pasta dough is crucial in achieving the perfect bite. If the dough is too thick, it can overpower the taste of your filling and lead to a chewy or doughy texture
Allow the Filling to Firm Up: If your filling is runny like a freshly cooked pumpkin puree, it's best to allow it to chill in the fridge before stuffing and sealing the pasta. This will allow the filling to become firmer making it easier to handle and less like to compromise the sealing process. A badly sealed ravioli or tortellini can break when cooking and make a mess in the cooking water.
Seal Ravioli and Tortellini Without Trapped Air: Trapped air inside your pasta can cause it to burst during cooking. To avoid this, carefully press out any air as you seal the edges. Start sealing from one end and slowly work your way to the other end, gently pressing the pasta around the filling.
Don't Overcook: Overcooking your stuffed pasta can lead to a mushy texture and could cause the pasta to rupture, losing your filling. Keep a close eye while it's cooking; fresh pasta cooks much quicker than dried pasta.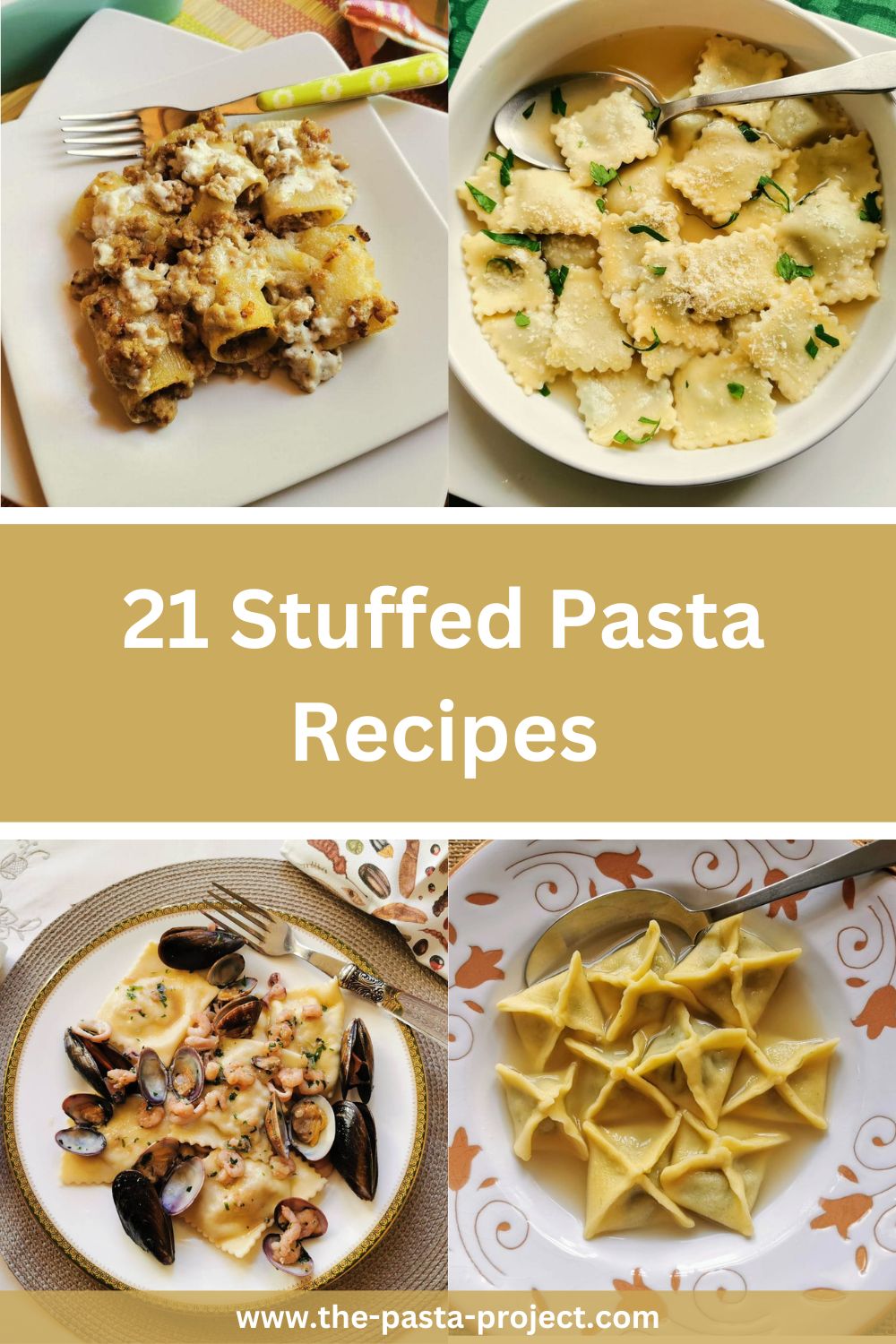 Homemade Stuffed Pasta Recipes
Dive into the delightful realm of stuffed pasta with these homemade recipes.
This smoked salmon cannelloni offers a tasty twist on the conventional Italian cannelloni, usually filled with ground meat, spinach, or ricotta. This recipe is straightforward to make and incredibly tasty! It's perfect for entertaining or as part of a holiday menu.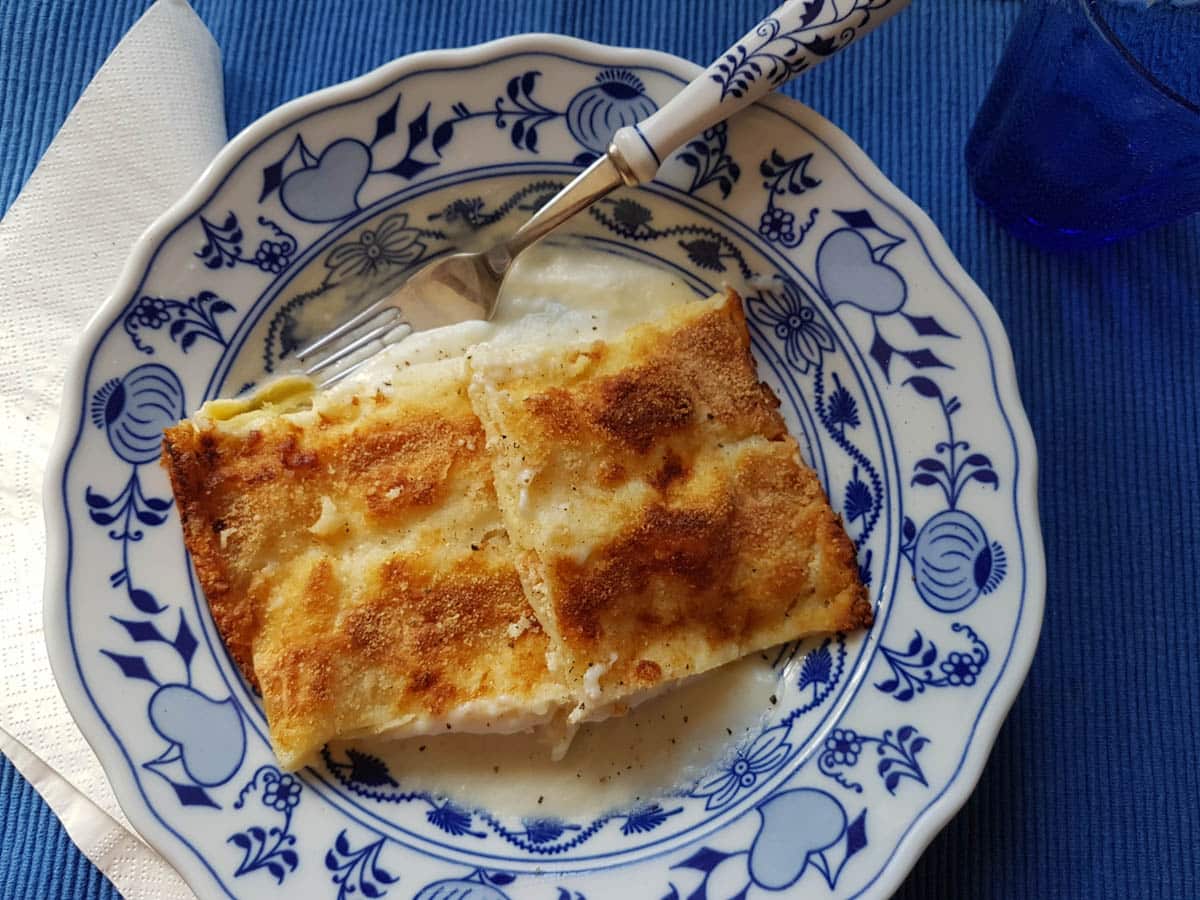 These agnolotti are incredibly versatile and can be filled with various ingredients, including cheese, meats and vegetables.
This version has a cheese fondue stuffing that is incredibly delicious, but the recipe is very adaptable.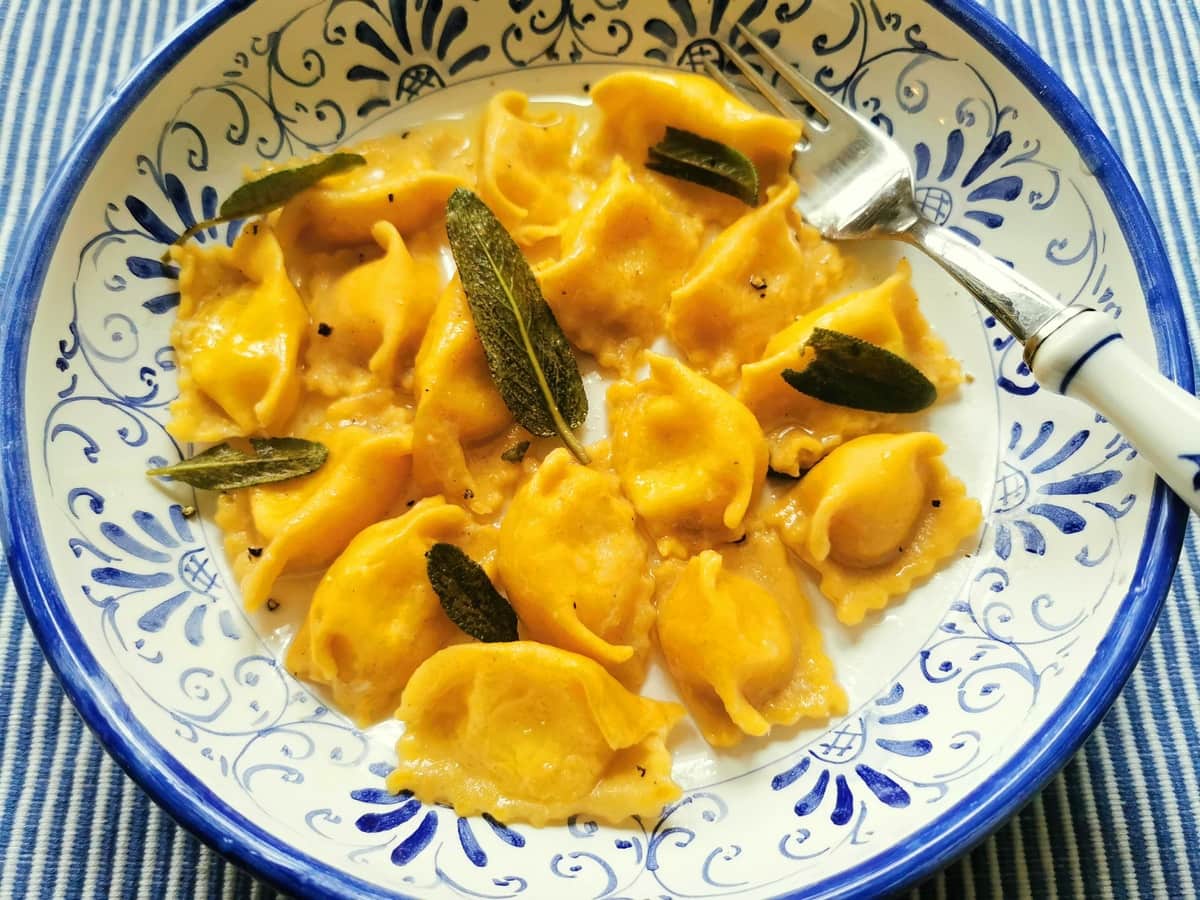 Fagottini, sometimes called sacchetti or saccottini, is a stunning type of Italian tortellini. This fresh egg pasta can accommodate an array of delicious fillings and be served in all kinds of ways.
In this recipe, you'll discover two traditional techniques to stuff and serve your homemade fagottini, either with a four-cheese mixture or with meat and spinach.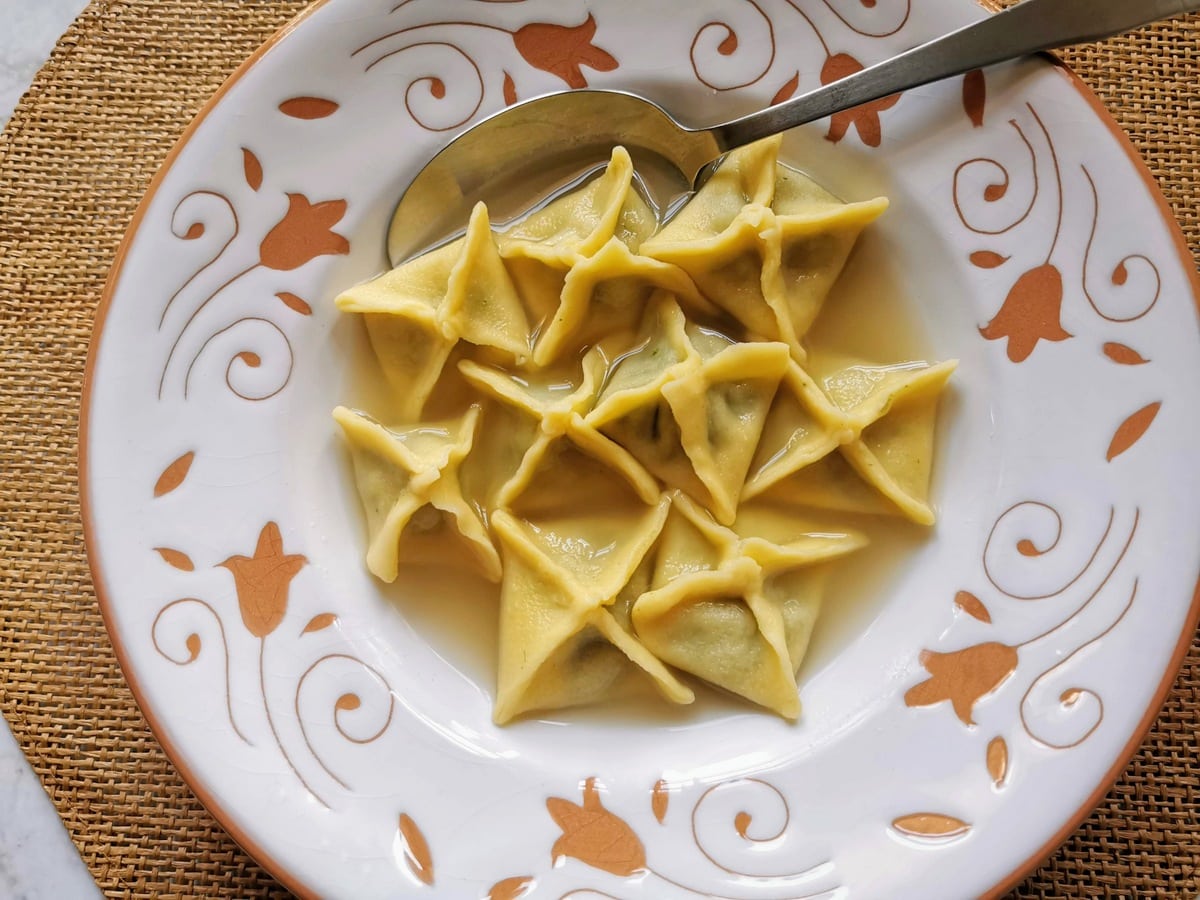 Beautiful authentic homemade Italian ravioli (or agnolotti) stuffed with a typical meat and spinach filling. There are various ways to enjoy these delicious pasta parcels.

Serve them in broth or lavished with a delicate yet rich sage and butter sauce. They're also equally enjoyable with a simple tomato sauce and a sprinkle of grated cheese.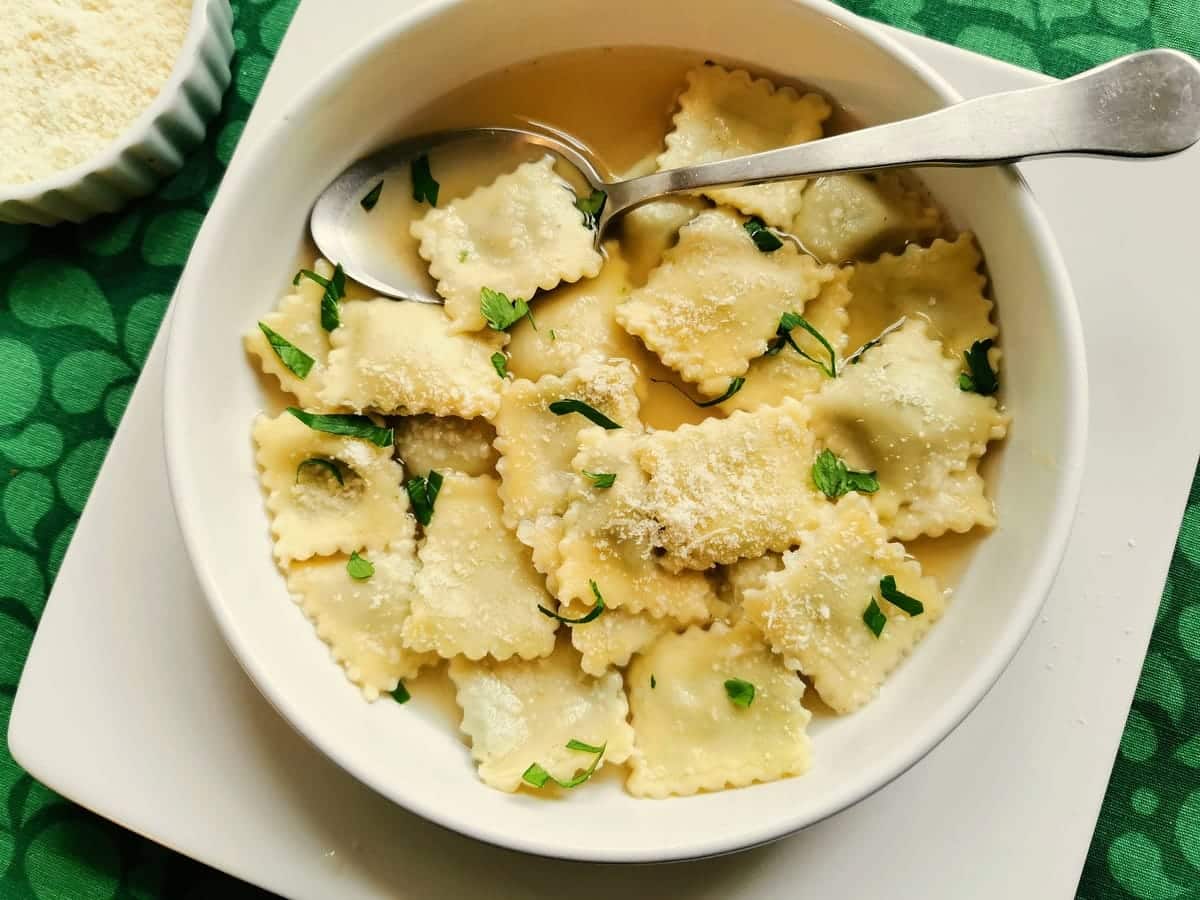 Baked cannelloni has consistently been a beloved pasta dish in Italy and beyond. It's a popular choice for Sundays or on festive days among Italians. Naturally, numerous cannelloni recipes exist, each with roots in different regions of the country.
This homemade cannelloni all'abruzzese recipe originates from Abruzzo in Central Italy. Locally, they usually prepare and serve it in two styles, either with or without a tomato sauce. Both versions are very flavorful and worth a try!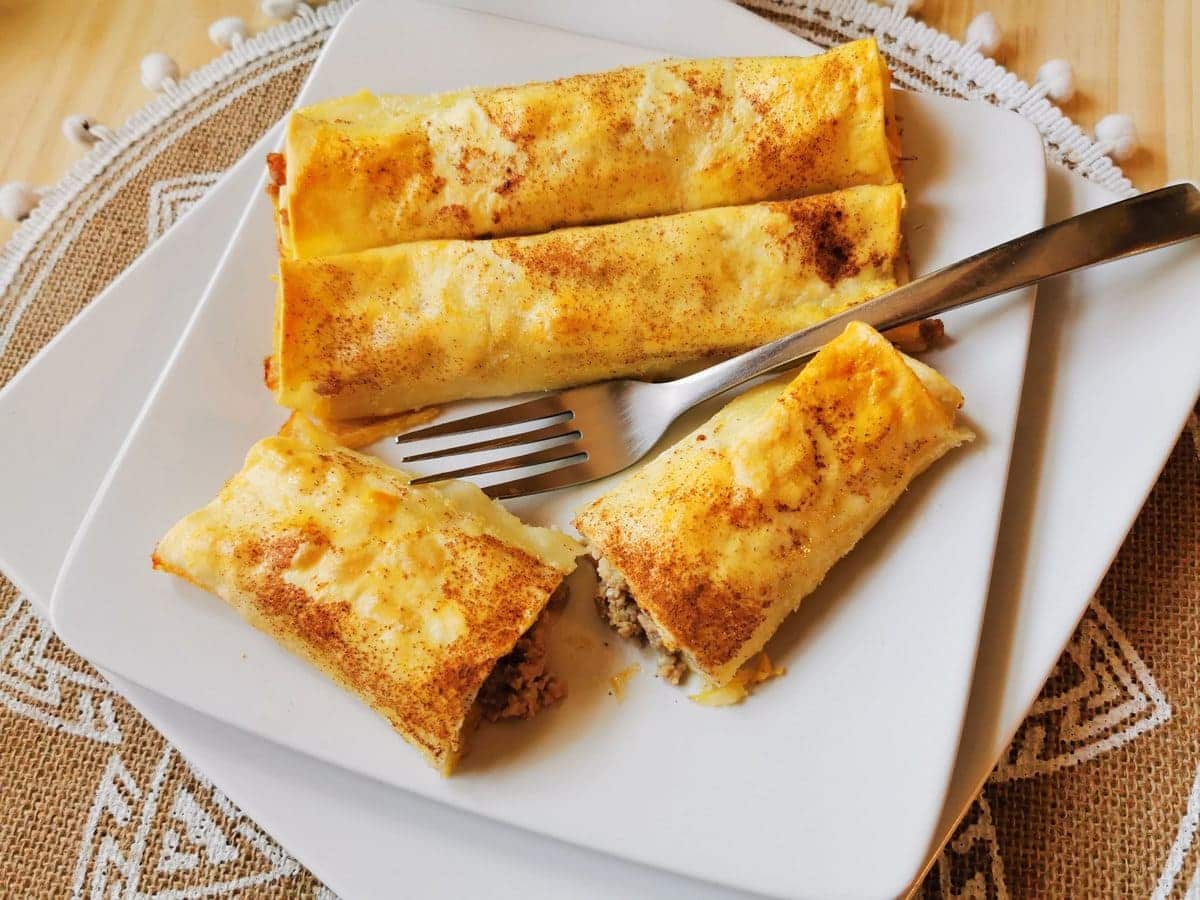 This ricotta and Parmigiano filled ravioli paired with a steak sauce comes from the Central Italian region of Marche, also known as Le Marche. The traditional homemade ricotta ravioli is easy to make as the filling requires no cooking.
The meat sauce is made with small pieces of steak rather than ground beef and is truly scrumptious! Of course, you can also serve this ravioli with a tomato or vegetable sauce for an equally delightful meat-free meal.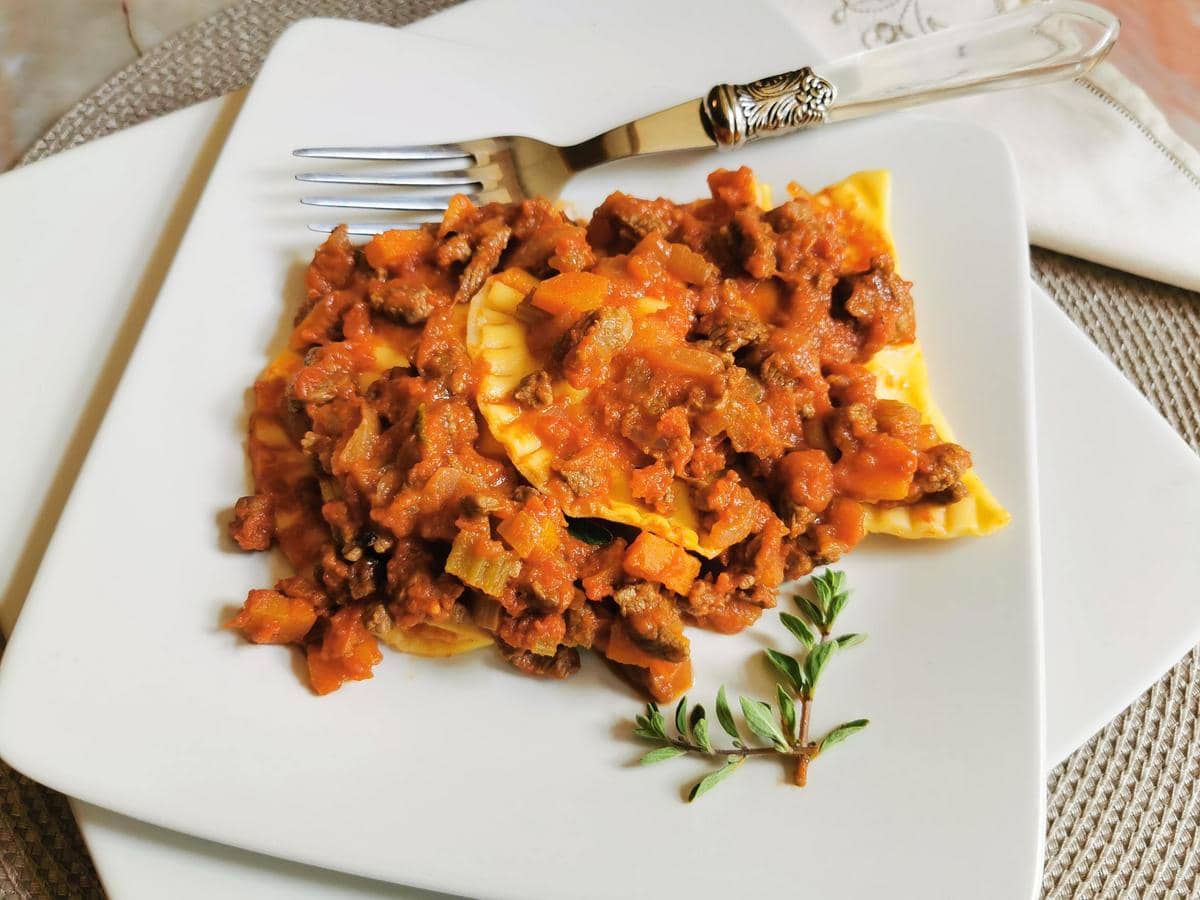 Also known as le turle de Mendatica, this Ligurian potato and mint ravioli recipe is a signature dish from the Ligurian Alps. There, the mountain folk have a unique kitchen known as la cucina bianca della Liguria (the white cuisine of Liguria).
You can make and cook this traditional stuffed pasta from scratch in just 60 minutes.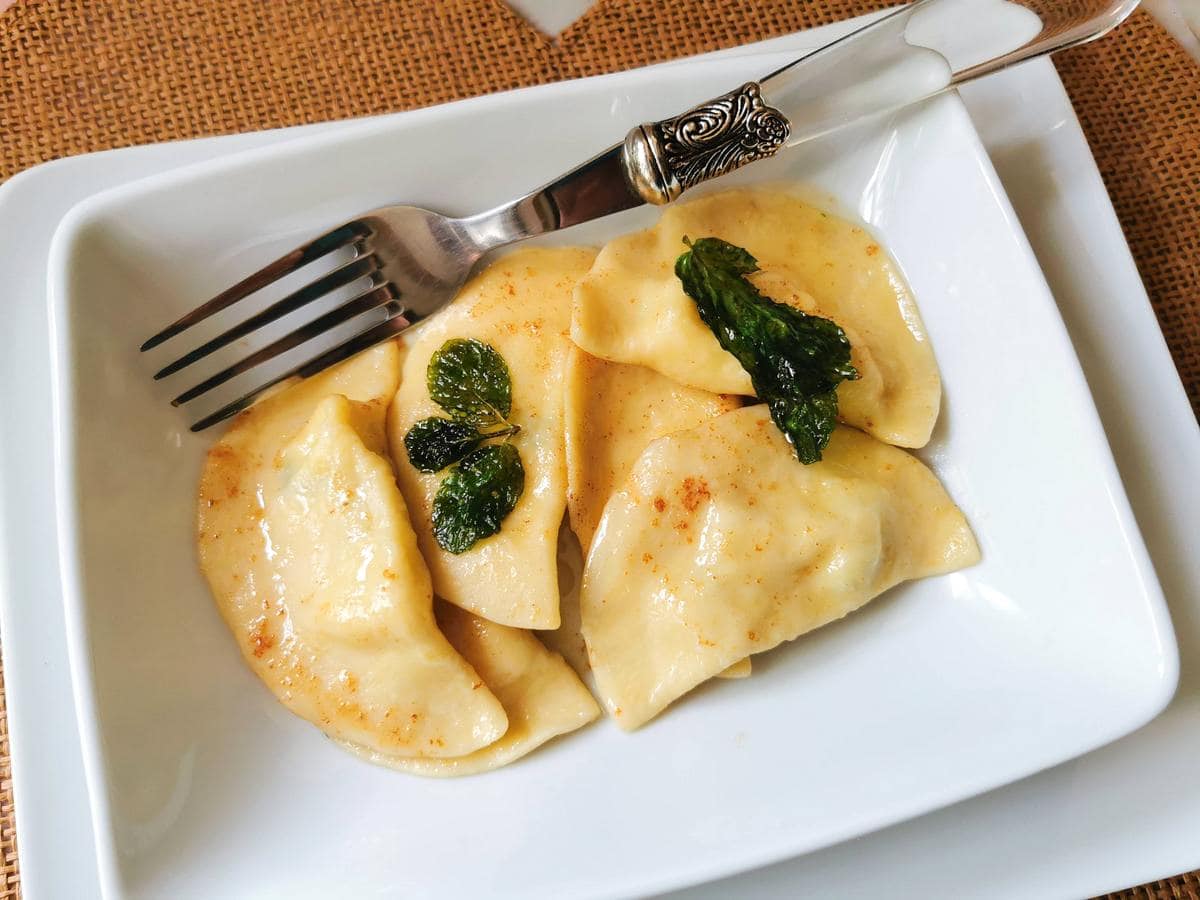 This vegetarian homemade fried rye flour ravioli is a traditional recipe from the scenic Alto Adige (South Tyrol) in Northeast Italy. Known locally as tirtlen, Italians make this ravioli using rye flour, a staple in the region used in making bread, pasta, and other dishes. Tirtlen are stuffed with ricotta and spinach and are very moreish.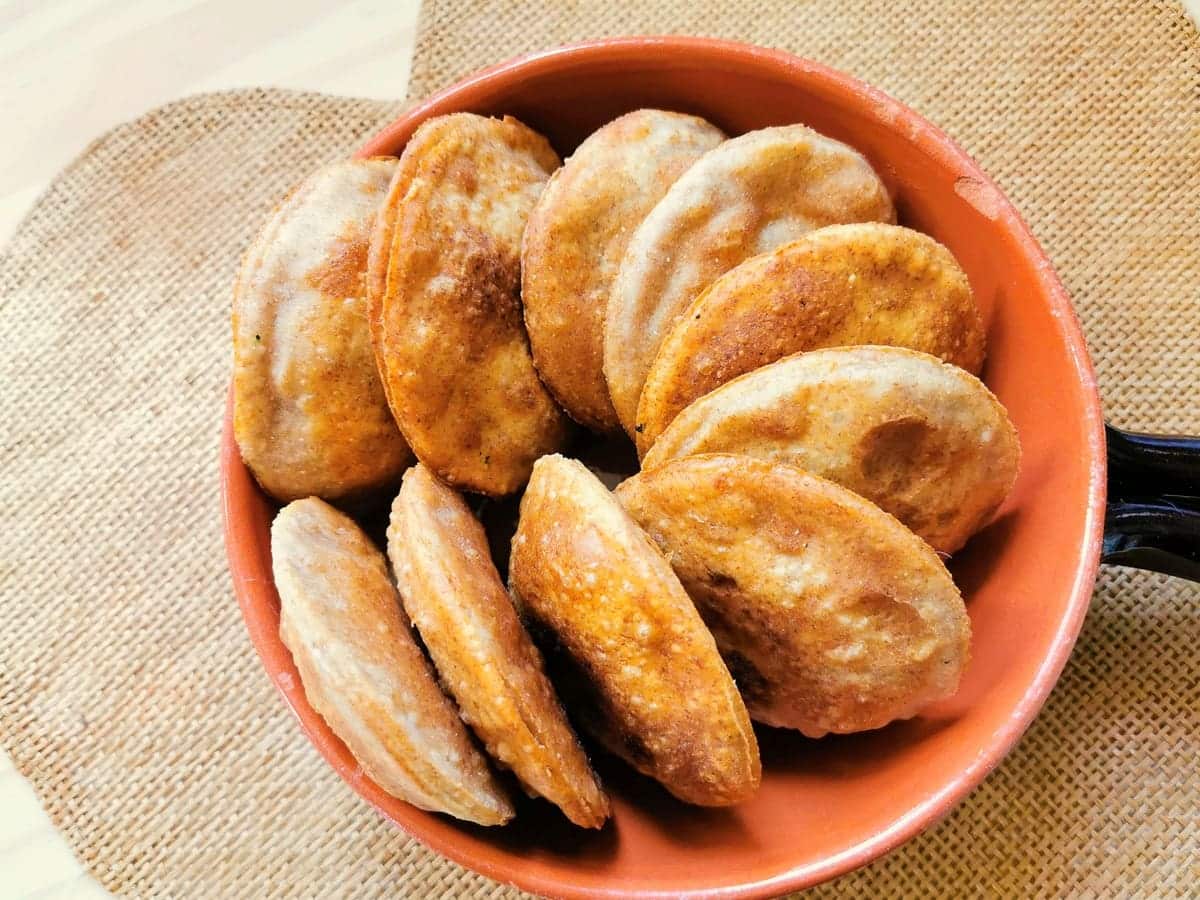 The raviolis in this recipe are stuffed with sheep ricotta, saffron, and lemon zest and are delightful. Compared to many homemade ravioli recipes, this one from Sardinia is quite simple to make.
Known as cruxionis de arrascottu in the local dialect, This pasta is usually on the table at Christmas and other festive occasions!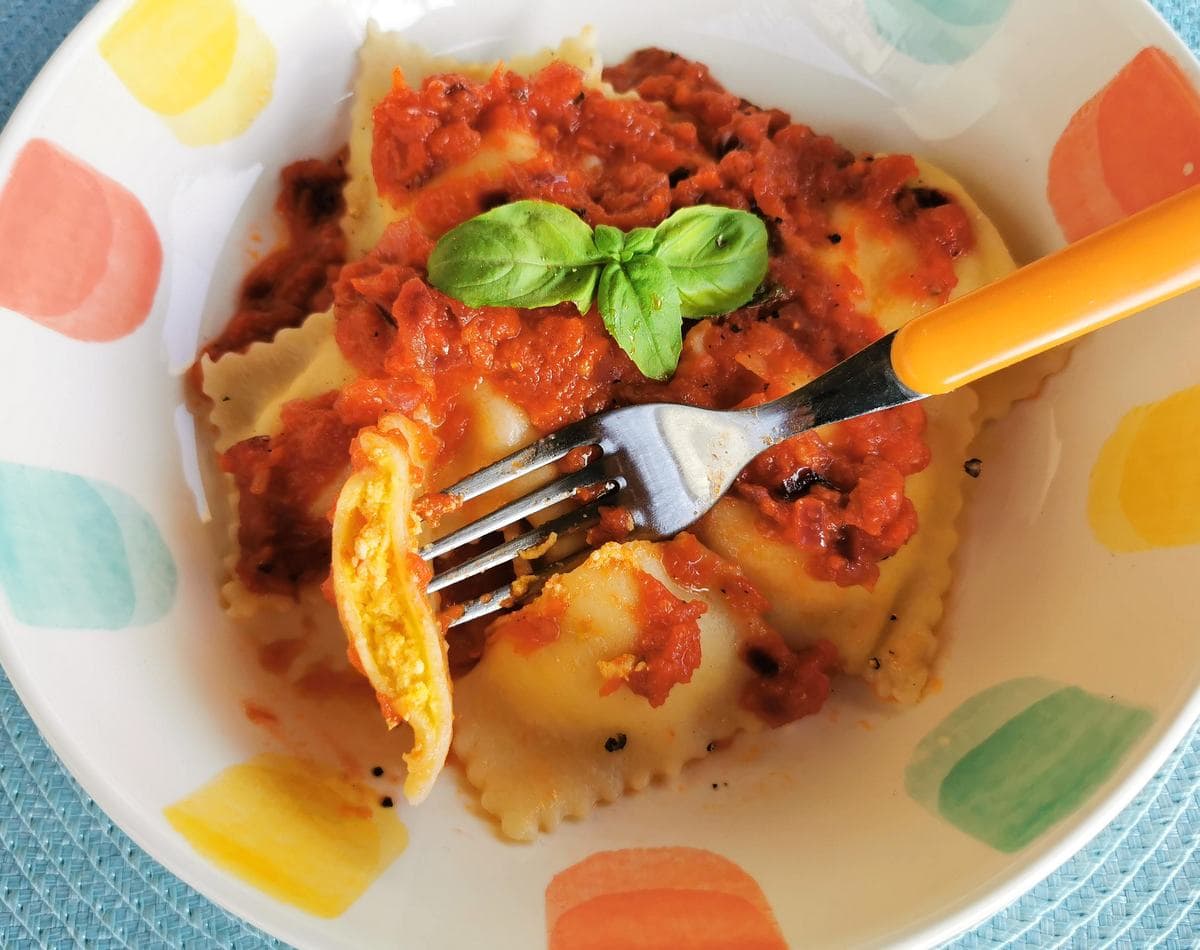 Fresh seafood and homemade pasta are a match made in foodie heaven! If you're a fan of fish and seafood, this baked fish ravioli recipe from Liguria in Northern Italy is a definite must-try! An elegant dish that's perfect for special occasions!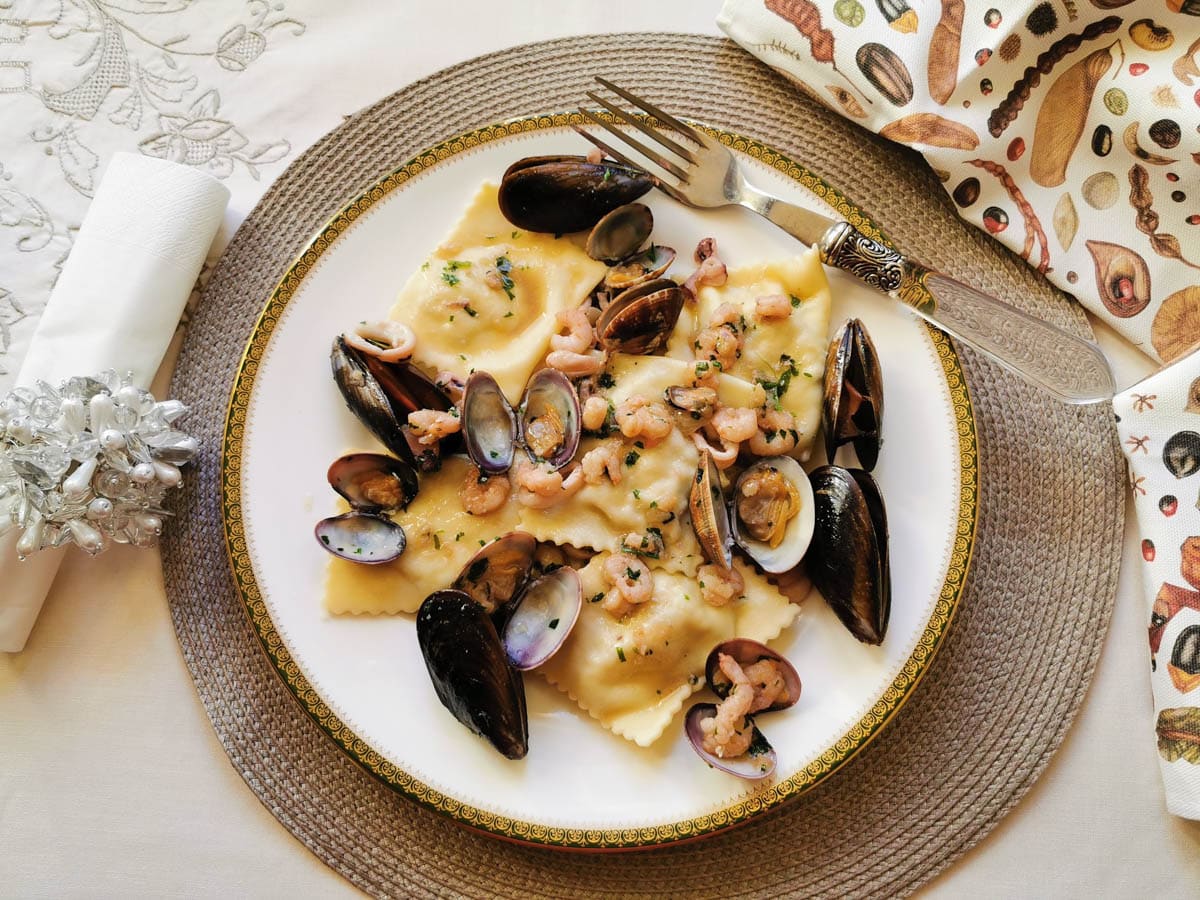 Sometimes referred to as agnolotti di Pontebba, these prune and fig cjarsons (cjalsons) are a traditional sweet ravioli originating from the town of Pontebba in Friuli Venezia Giulia, near the Austrian border. This is one of many types of cjarsons typical in this part of Italy, particularly the Alpine mountain area of Carnia in Friuli.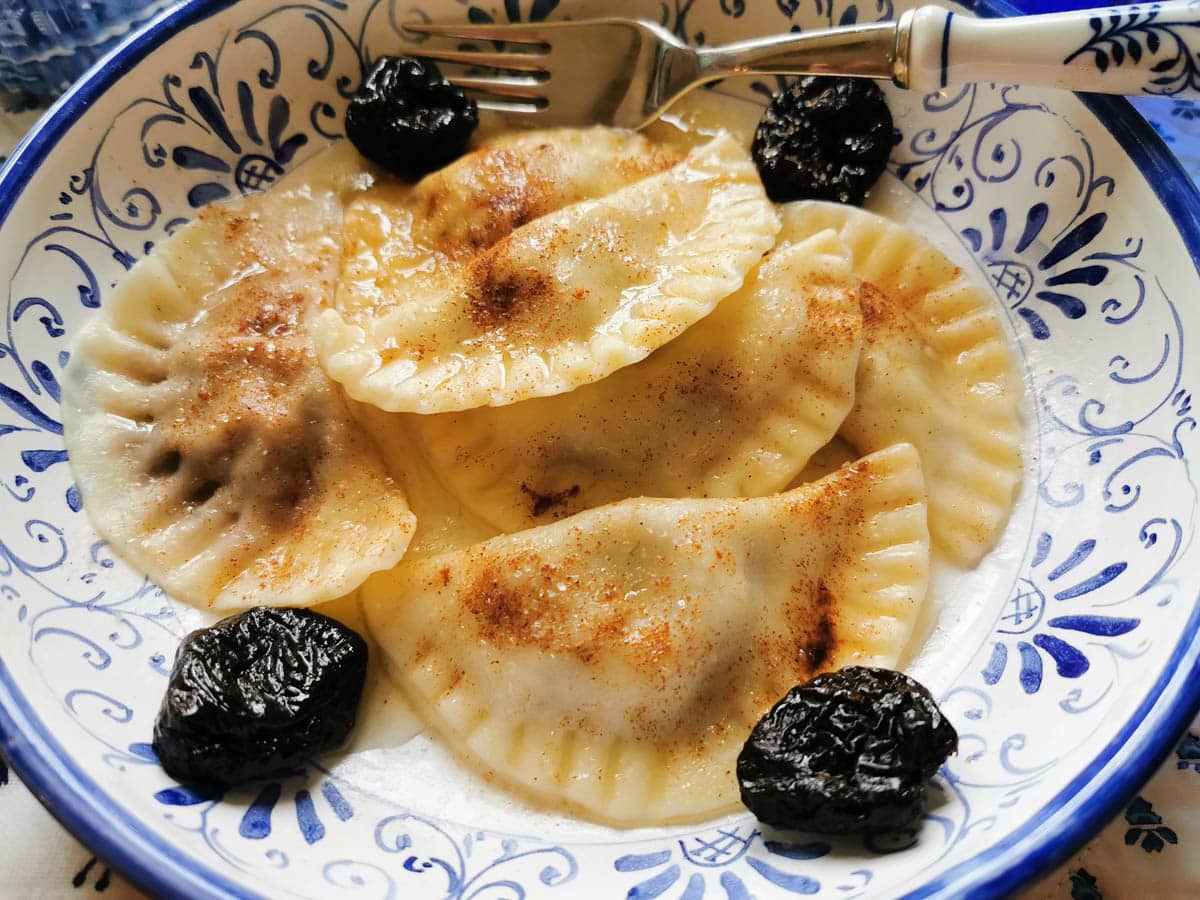 This baked ravioli is a traditional Easter recipe from Central Italy. Piconi ascolani are not difficult to make and so delicious you'll wish you made a double batch. Traditionally they're eaten for Easter breakfast but are great as a finger food or antipasto.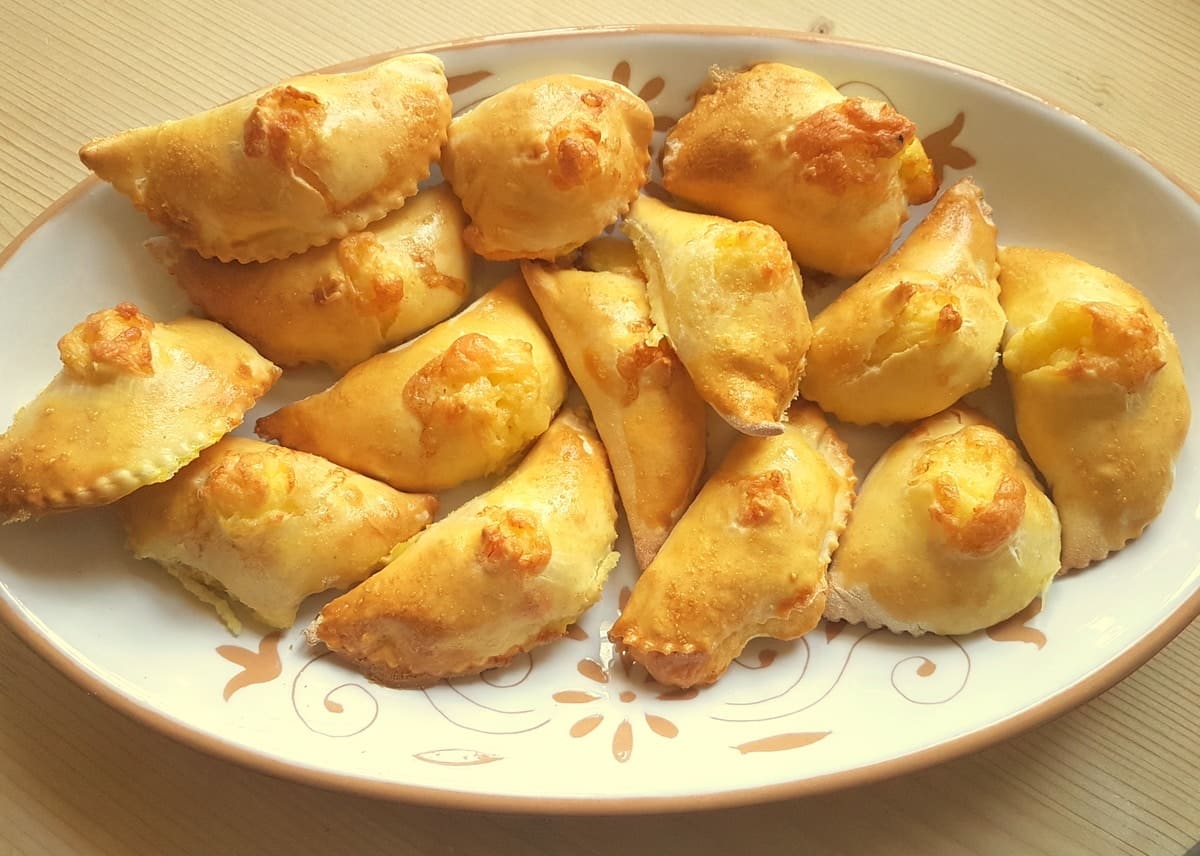 These heavenly tortelli from Mantova in Northern Italy are filled with roasted pumpkin, crushed amaretti biscuits, eggs, cheese and nutmeg. They're traditionally served on Christmas Eve with sage butter.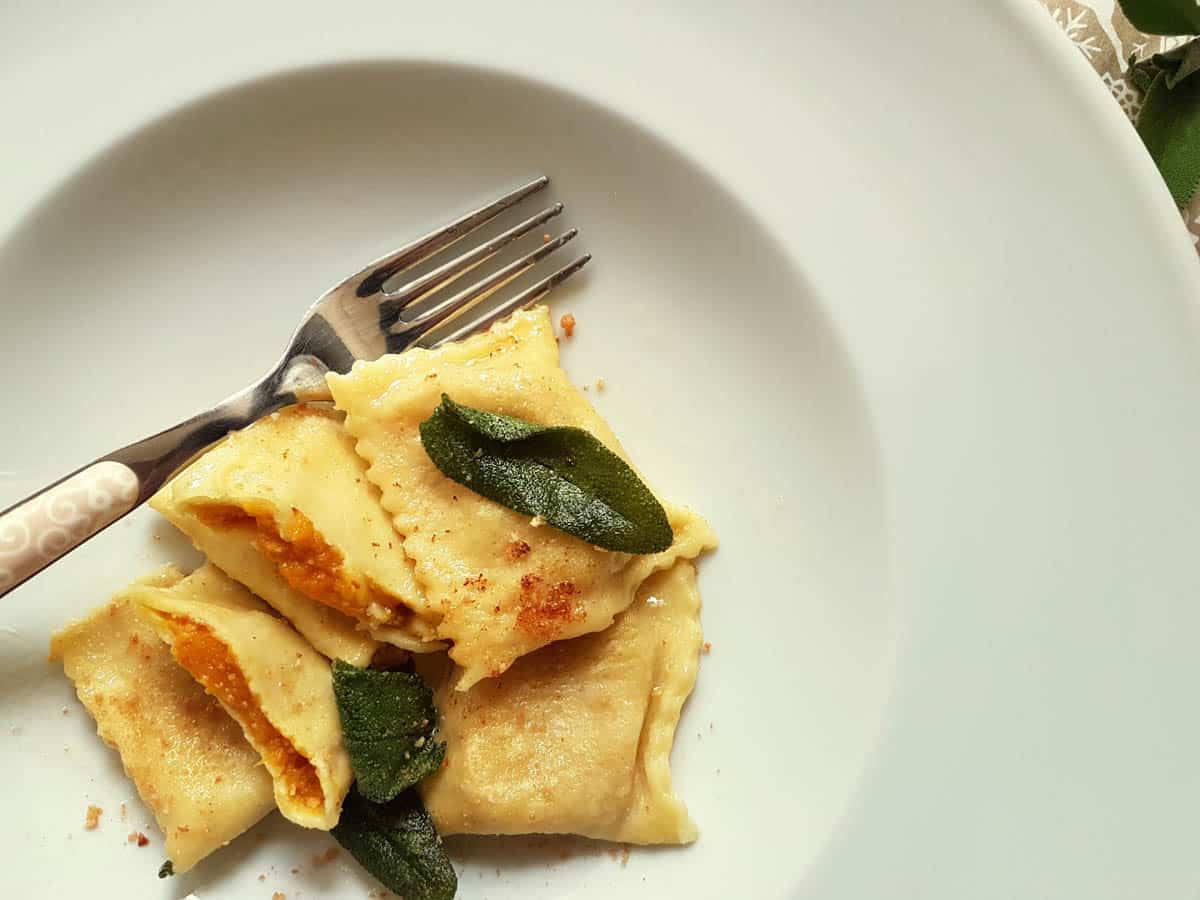 This cannelloni with pumpkin and goat cheese is a rich and heavenly recipe. The pasta isn't cooked in a lot of sauce, but the filling makes it so delicious. Another great way to make use of pumpkin and suitable for vegetarians!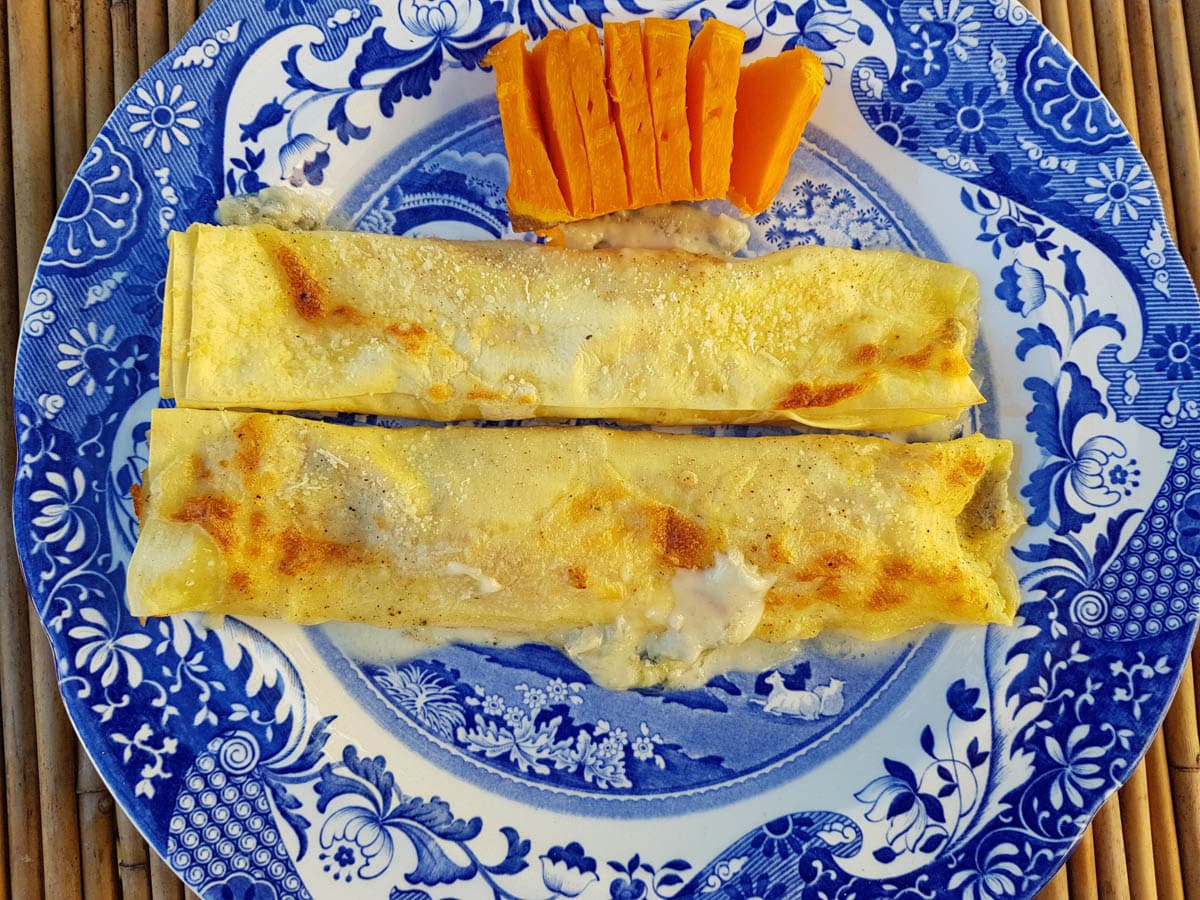 Dried Stuffed Pasta Recipes
Most Italian homemade stuffed pasta recipes originated in the North of the country. In the South, homemade pasta dough is traditionally made with hard wheat flour (durum wheat) and water. This dough isn't really soft enough to fill.
But, all Italians love stuffed pasta. So, Southern Italians use dried pasta shapes more. Shapes like paccheri and pasta shells are very popular. If you want to try some stuffed pasta recipes using ready-made dried pasta, these are all excellent choices.
This Italian-baked stuffed paccheri with sausage and mushrooms is made with large pasta tubes called paccheri or schiaffoni; it's then baked in a cheesy white sauce.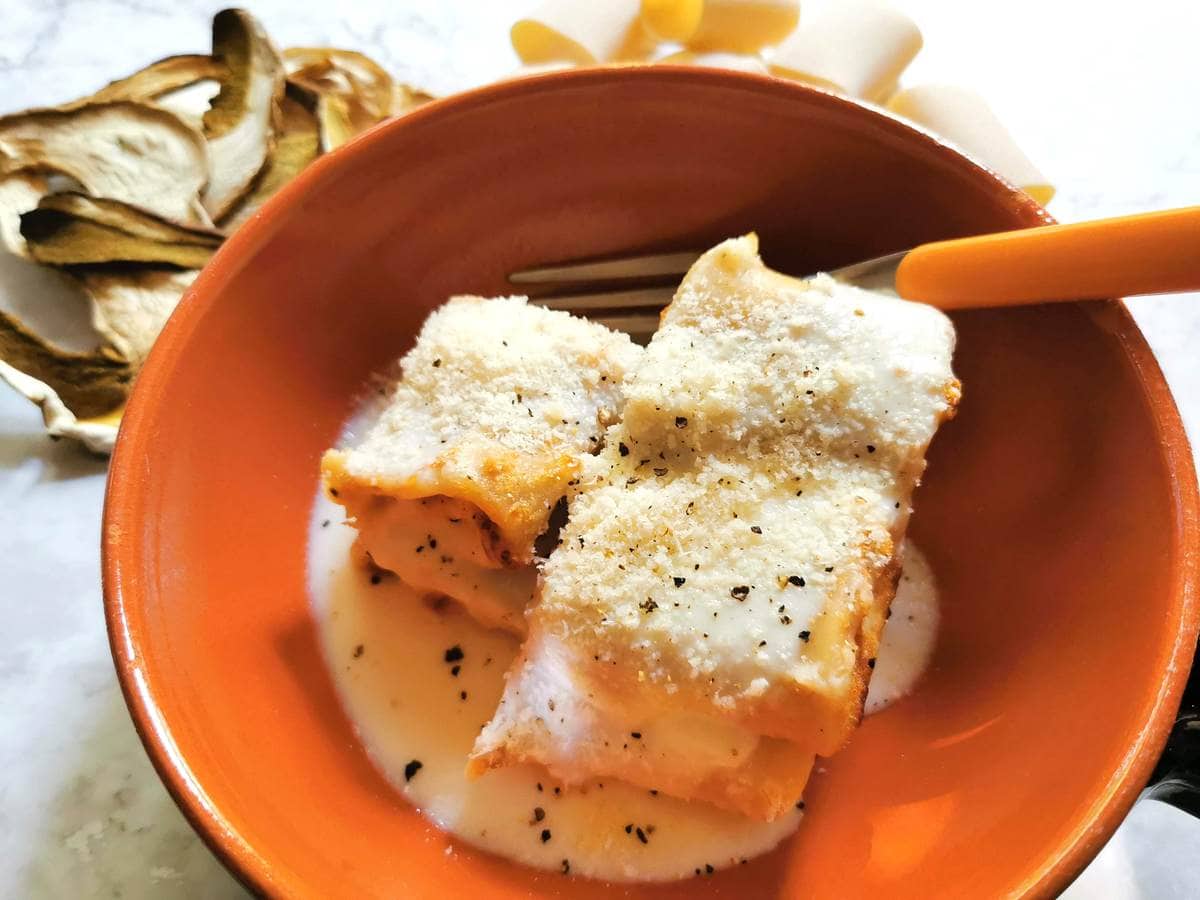 This stuffed paccheri al forno recipe from Marche in Central Italy is a meat-lovers dream. The pasta tubes are stuffed with a kind of paté made of chicken livers, ham and turkey breast. The're then baked with a ground veal ragu, cream and gruyere. Pretty straightforward to make and outrageously delicious!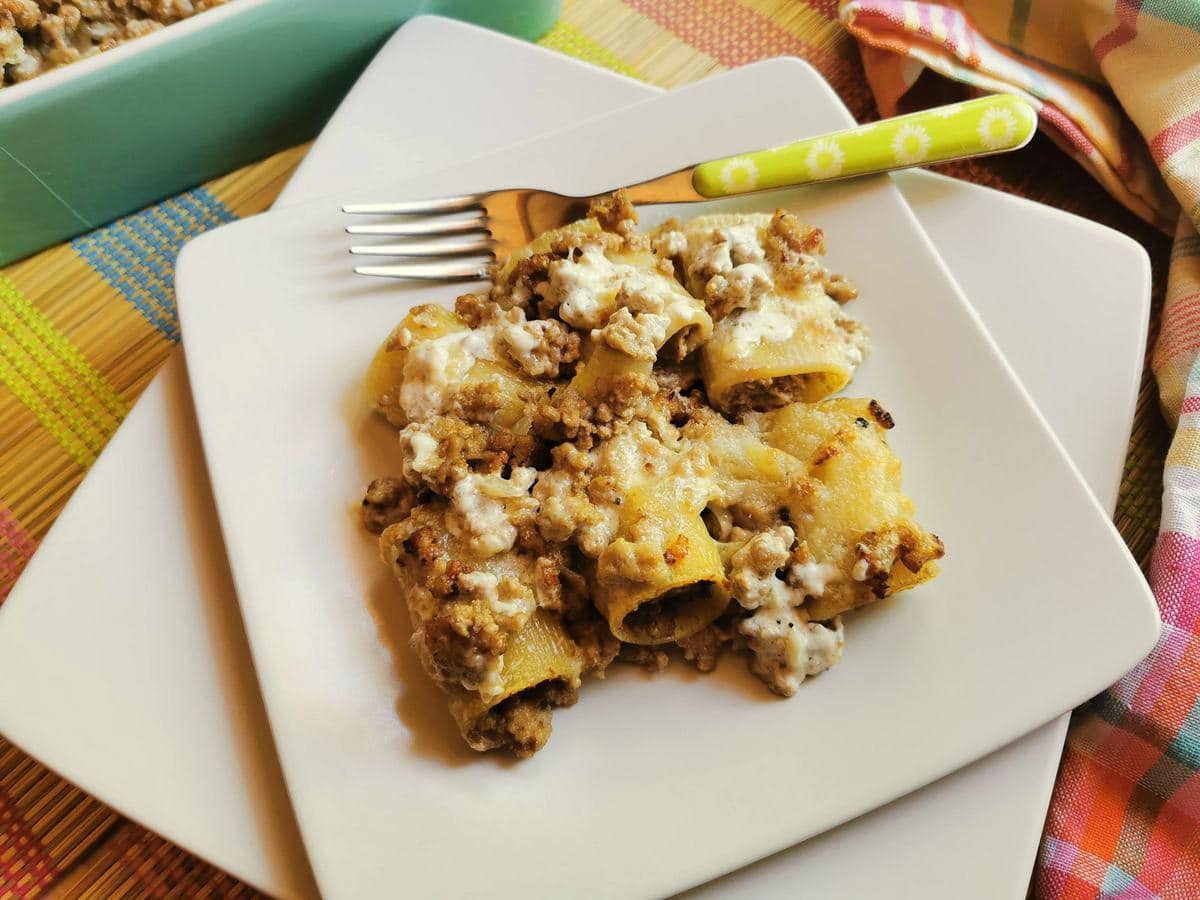 This delicious cannelloni (manicotti) is filled with potato puree and porcini mushrooms and baked in a cheesy white sauce. It's a great way to serve large baked pasta tubes.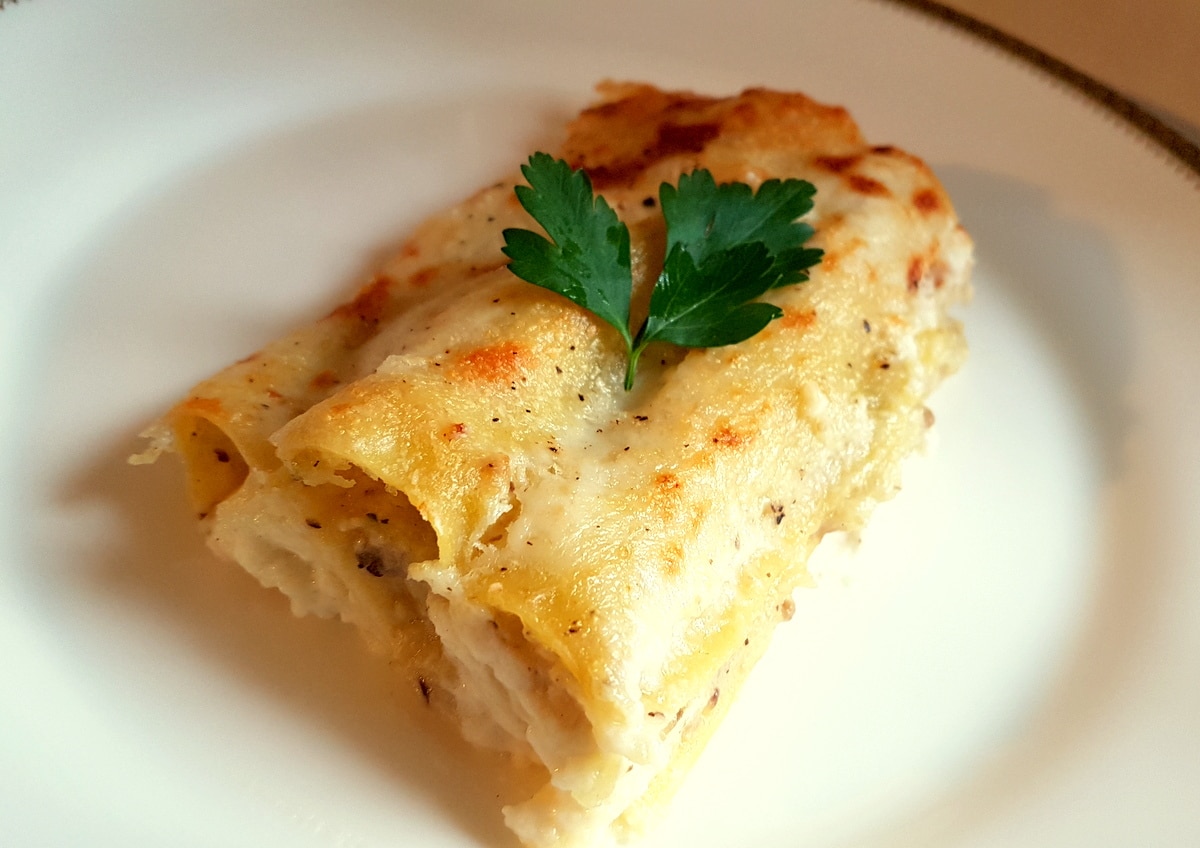 This Southern Italian ricotta and basil-filled paccheri recipe is so full of Mediterranean flavor and easy to make. If you've never tried Neapolitan paccheri pasta before, this is an excellent recipe to start with.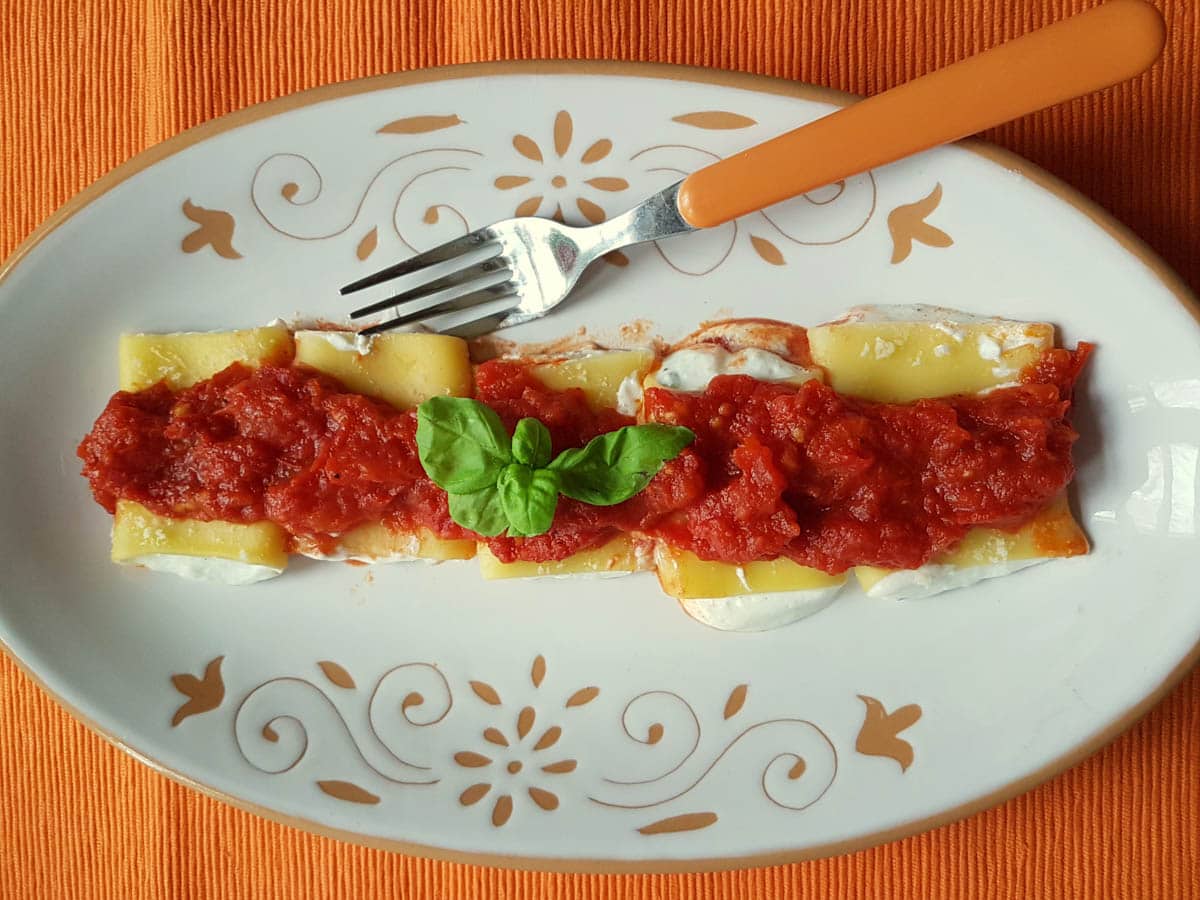 Caccavelle pasta alla Sorrentina is a flavorful, cheesy baked pasta recipe that's traditional in Campania, but in particular Sorrento. In this version, the pasta is giant 50g pasta shells that are said to be the biggest pasta in the world!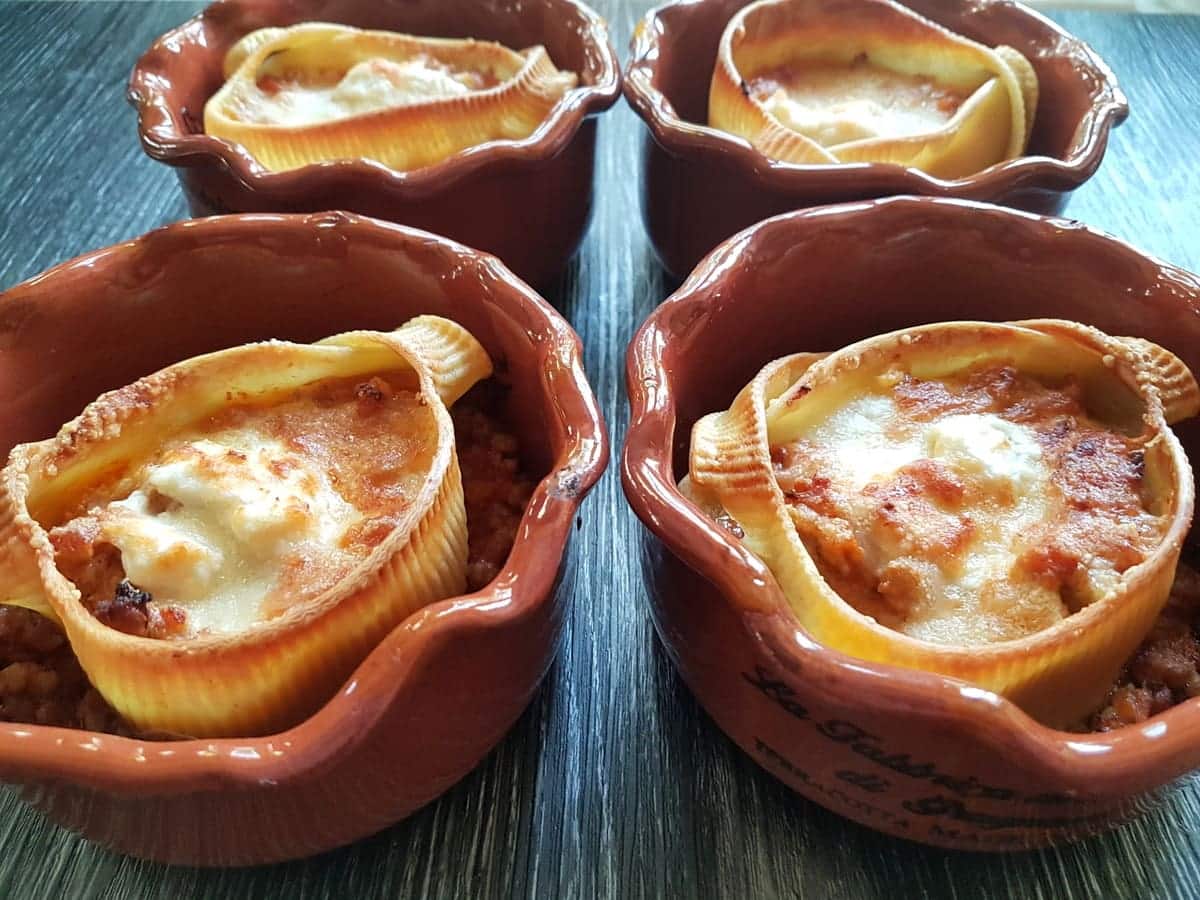 These Italian baked lumaconi pasta shells with Catalonian chicory and porcini mushrooms are perfect for vegetarians and baked pasta fans! You can even serve them as finger or party food!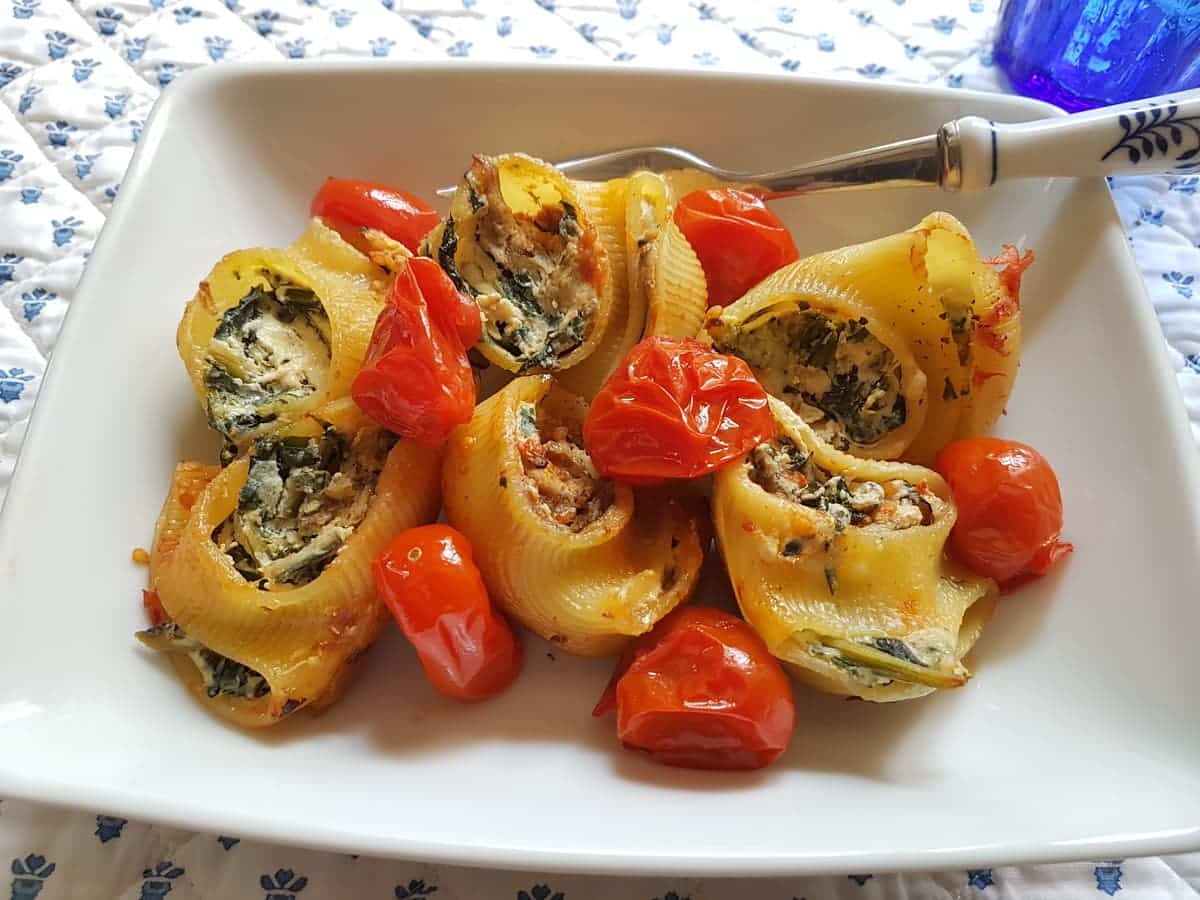 We love baked pasta here in Italy, especially on Sundays and holiday menus. These baked pasta shells with spinach and ricotta are a very popular recipe. Apart from being delicious, baked pasta shells look so beautiful and can also be eaten as finger food if the recipe doesn't include a lot of sauce.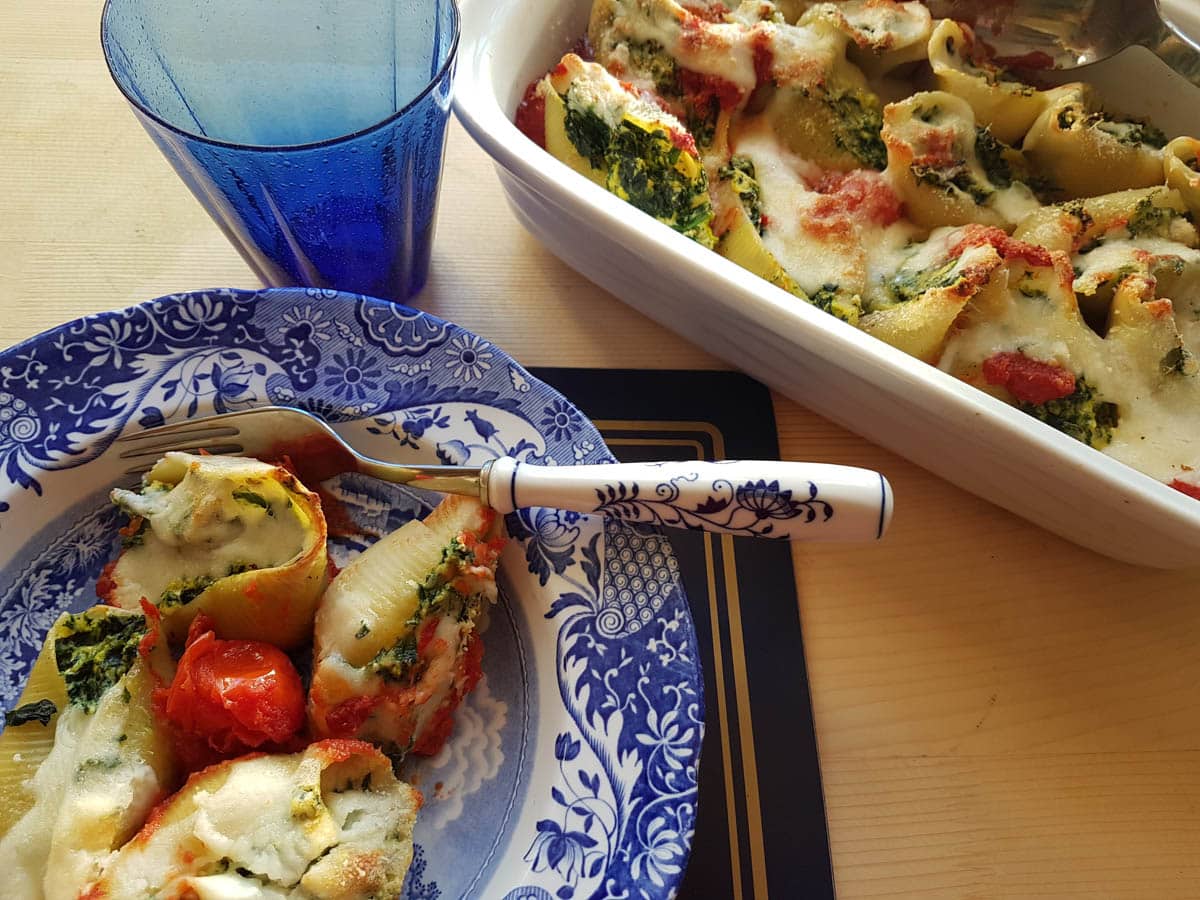 Let me know what you think.
If you do try any of these stuffed pasta recipes, I'd love to hear what you think. Please write a comment here on the blog or post a comment on the Pasta Project Facebook page.
Your feedback means a lot to me!
Buon Appetito!
More Recipe Collections You May Like
If you are interested in learning how to make other homemade pasta and different types of gnocchi, check out my shop page for some great video online courses from my friends in Rome! Nothing beats learning to make pasta from Italians! Plus while you're there why not order a copy of one of my pasta recipe cookbooks or checkout some recommended pasta making tools?