Tagliatelle pasta ribbons are a favourite type of long pasta noodle both here in Italy and in other countries. Certainly, there are many Italian tagliatelle recipes, particularly in the Northern and Central regions of the country.
This pasta is traditionally paired with meat sauce like Bolognese, with vegetables such as porcini mushrooms, with fish and with legumes. Below are some of the best tagliatelle recipes we know. If you love tagliatelle, you'll want to try a few of these out!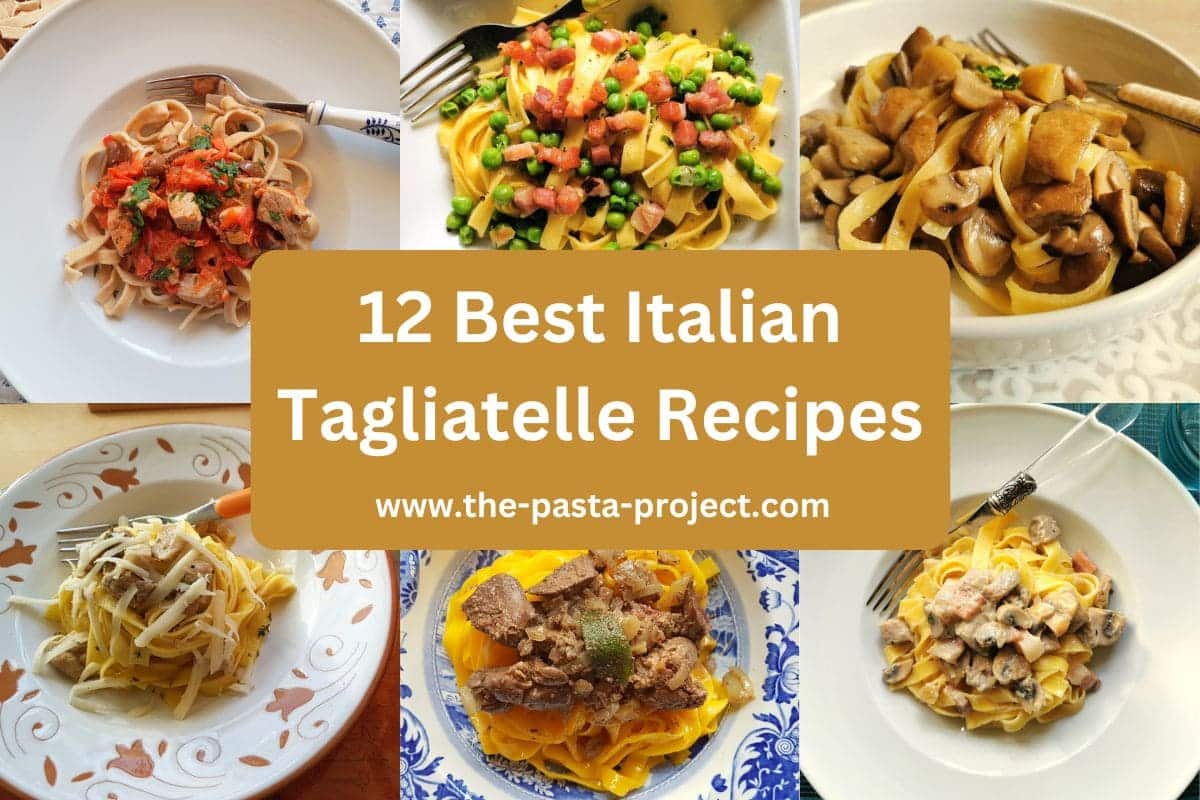 What does 'tagliatelle' mean?
The name 'tagliatelle' comes from the traditional way of making this pasta. 'Tagliare' means to cut in Italian and tagliatelle is traditionally made by rolling out soft wheat flour and egg pasta dough into fairly thin sheets and then cutting it into ribbons. In the past, these ribbons were usually only cooked fresh.
Nowadays, you can find dried tagliatelle to buy. Normally, the dried version is made with durum wheat (hard wheat) instead of soft wheat. This is because according to Italian law all dried pasta must be made with hard wheat flour.
Different types of tagliatelle.
In a number of Italian regions, they make tagliatelle with other types of flour, not just wheat flour. You can find this pasta made with rye flour, hazelnut flour, chestnut flour and more. Very often they mix the two flours together. There are also different coloured tagliatelle, green made with spinach in the dough and even red made with wine in the dough!
In southern Italy where egg pasta isn't as traditional as in the North, there are types of pasta very similar to tagliatelle but the dough is just flour and water. Examples of this pasta are sagne from Abruzzo (shorter than tagliatelle) and lagane from Basilicata which is a little wider than tagliatelle.
12 Best Italian Tagliatelle Recipes
Click the recipe name to learn more and get ingredients and instructions.
Did you know that Bolognese is traditionally served with tagliatelle and not spaghetti in Italy? This world-renowned sauce comes from Bologna in Emilia-Romagna, where it is also simmered for at least 2 to 3 hours.
This allows the Bolognese ingredients to develop and infuse while tenderizing the meat. If you're an Italian food lover and have yet to try tagliatelle bolognese, it should be a must on your bucket list!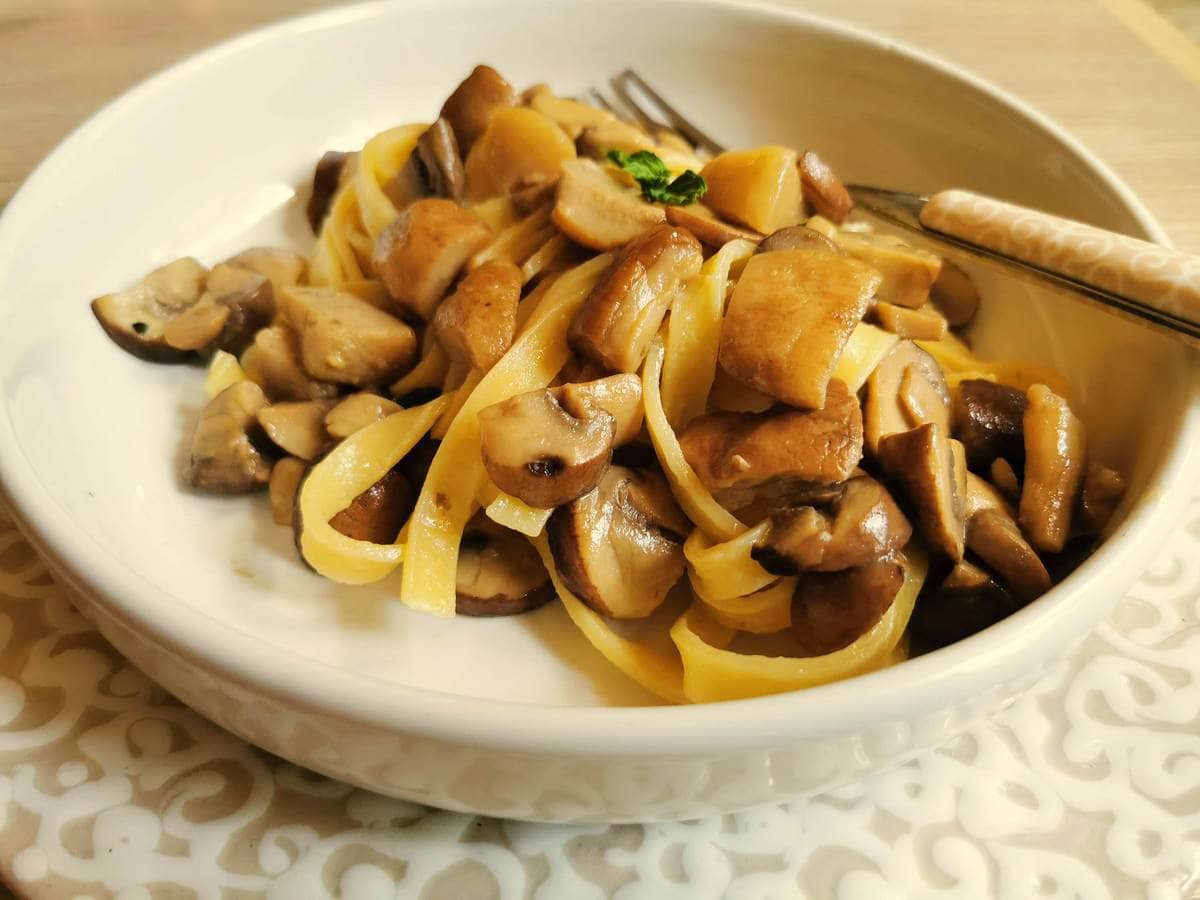 The deliciousness of pasta with porcini mushrooms can only be understood by those who have had the pleasure of eating it. This classic Italian tagliatelle dish with porcini is easy to make and packed with umami-rich flavors.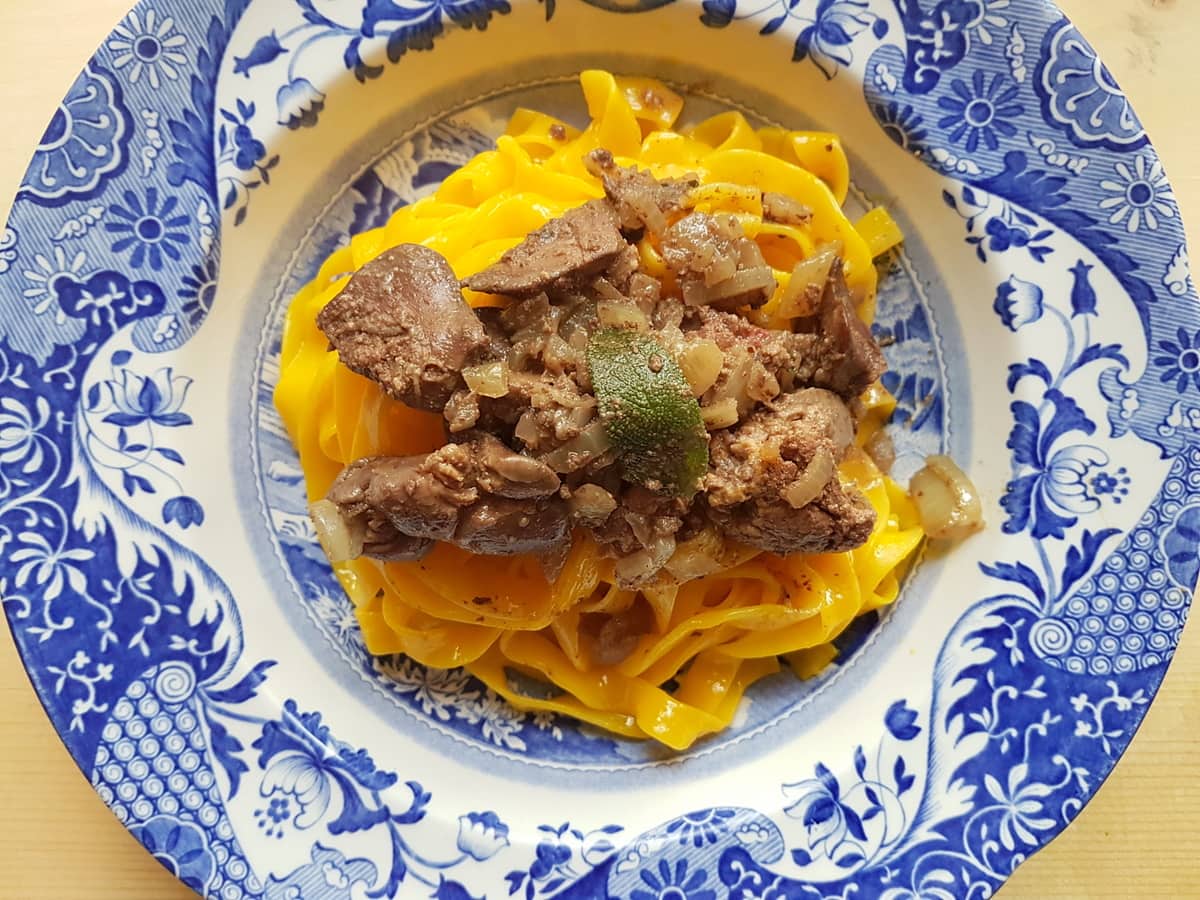 If you're a pasta and liver lover, you're bound to love this recipe. It's a classic Italian pasta dish from Emiliga-Romanga, and when I first tried it, I was amazed. It's rich, savory and surprisingly easy to make!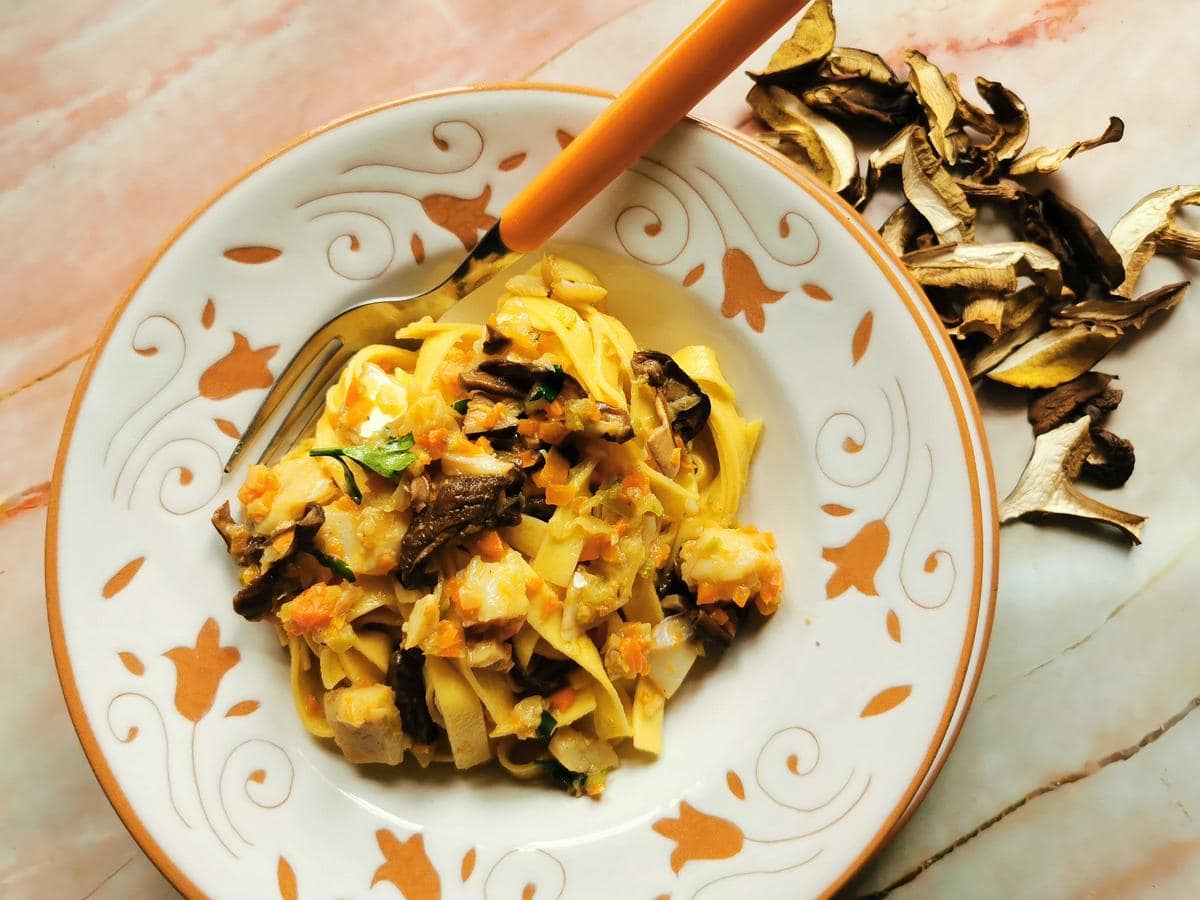 This recipe was my first time using baccalà with porcini (ceps), but it won't be the last.
This dish is fantastic! The recipe uses cloves, nutmeg and lemon zest, all of which give this taglitatelle recipe from Abruzzo an exceptionally unique rich flavor profile.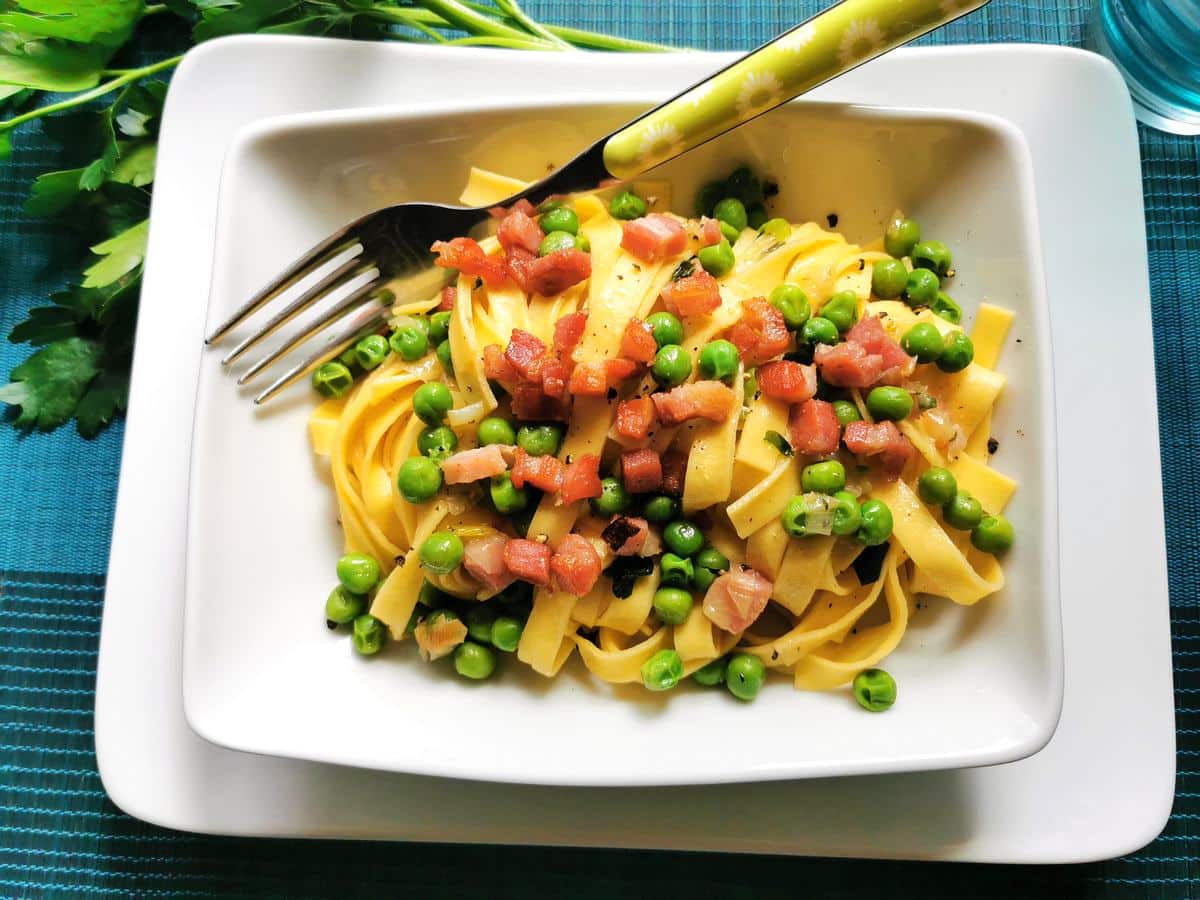 This pasta with fresh peas and pancetta is a traditional spring dish in Veneto. It only uses a handful of ingredients which surprises you due to the amount of flavor this recipe has.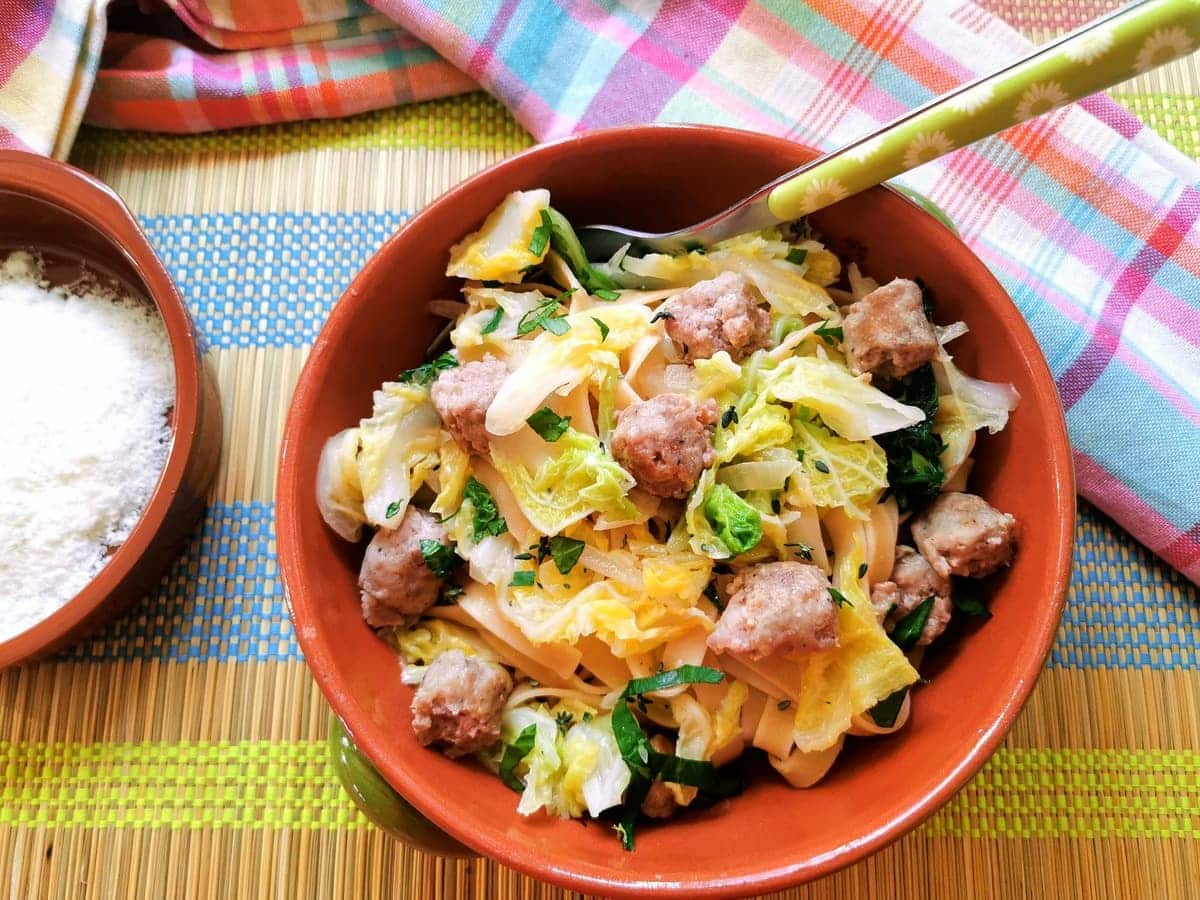 Sausage and cabbage pasta is a traditional and popular recipe in Northern and Central Italy. This hearty and rustic version with tagliatelle comes from Trentino-Alto Adige in North Italy, bordering both Austria and Switzerland.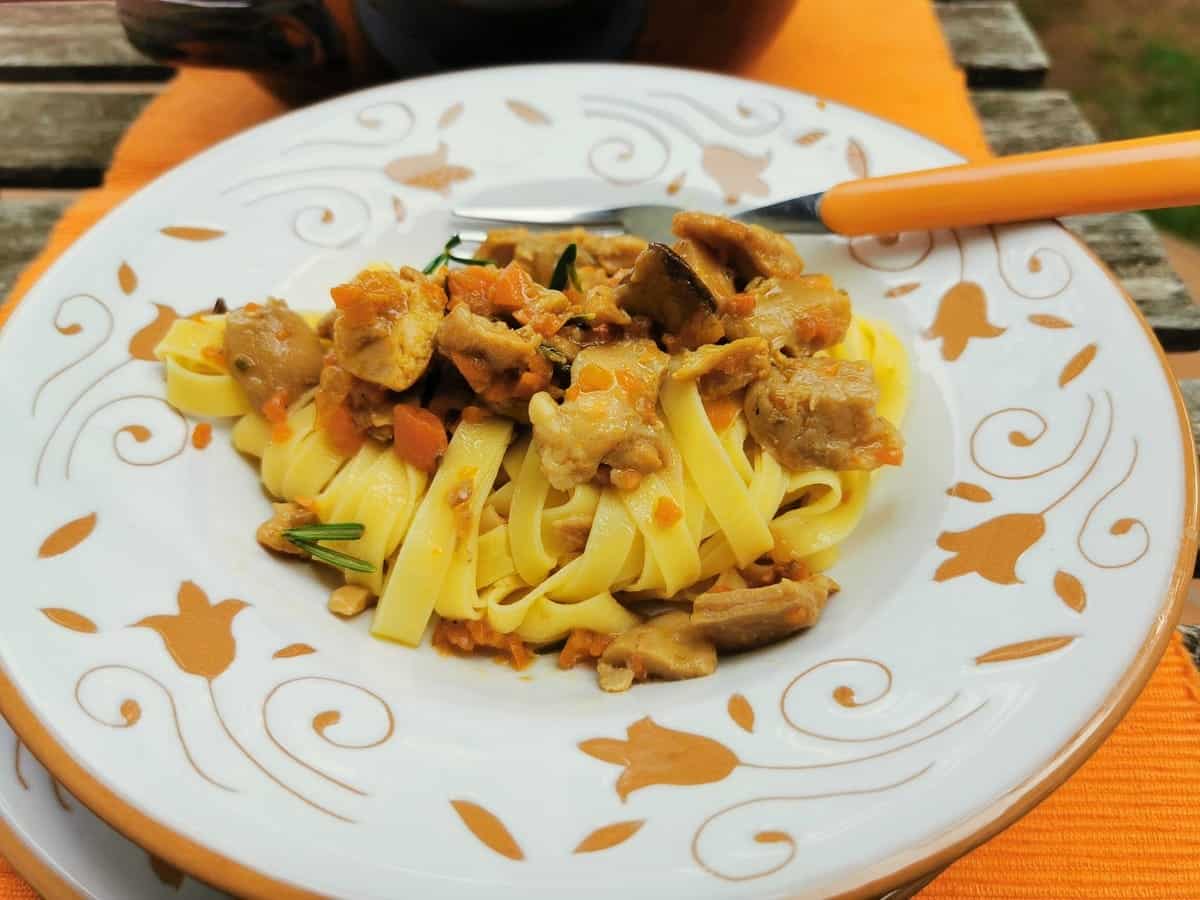 This classic tagliatelle with rabbit ragu comes from the Marche region in Central Italy. It's one of my favorite ways to cook rabbit meat and has a ton of flavor. A truly authentic Italian tagliatelle recipe!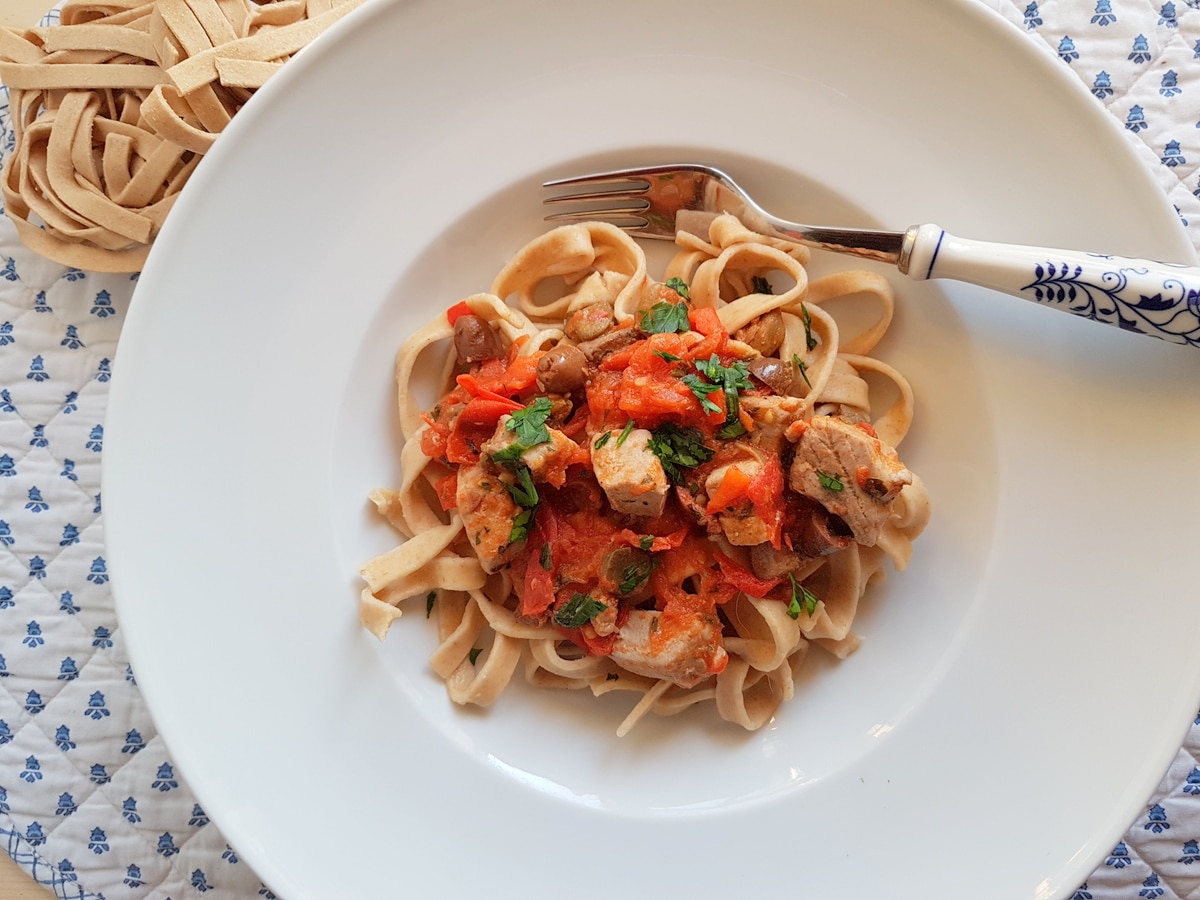 A fresh tuna pasta recipe to bring Southern Italian flavors to your table. This traditional recipe comes from the Aeolian Islands off the coast of Sicily. It calls for local ingredients that are typical of Mediterranean cuisine.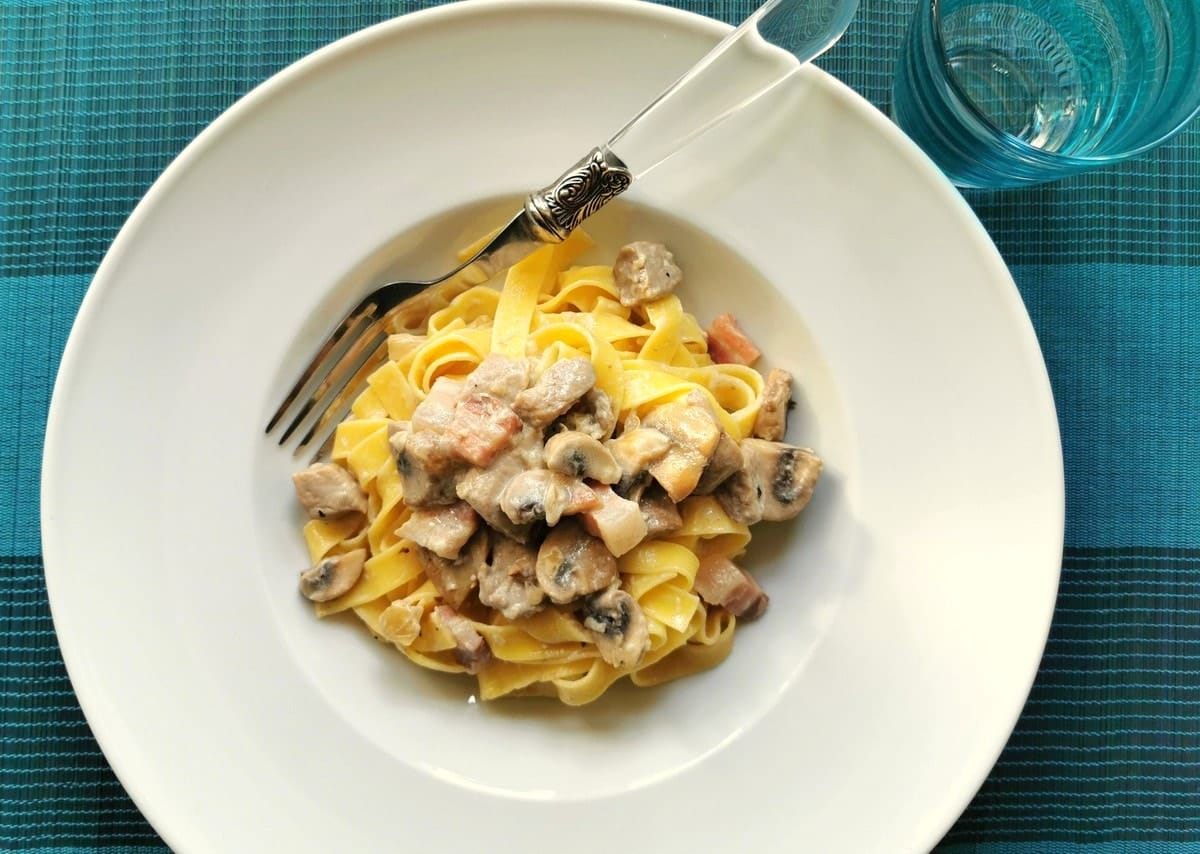 This creamy pork fillet tagliatelle recipe from Trentino-Alto Adige reminds me of an Italian version of a pork stroganoff. It's rich and creamy with a savory mushroom flavor that combines amazingly with the pork and pancetta.
You'd be surprised how much flavor one recipe can have in just 25 minutes.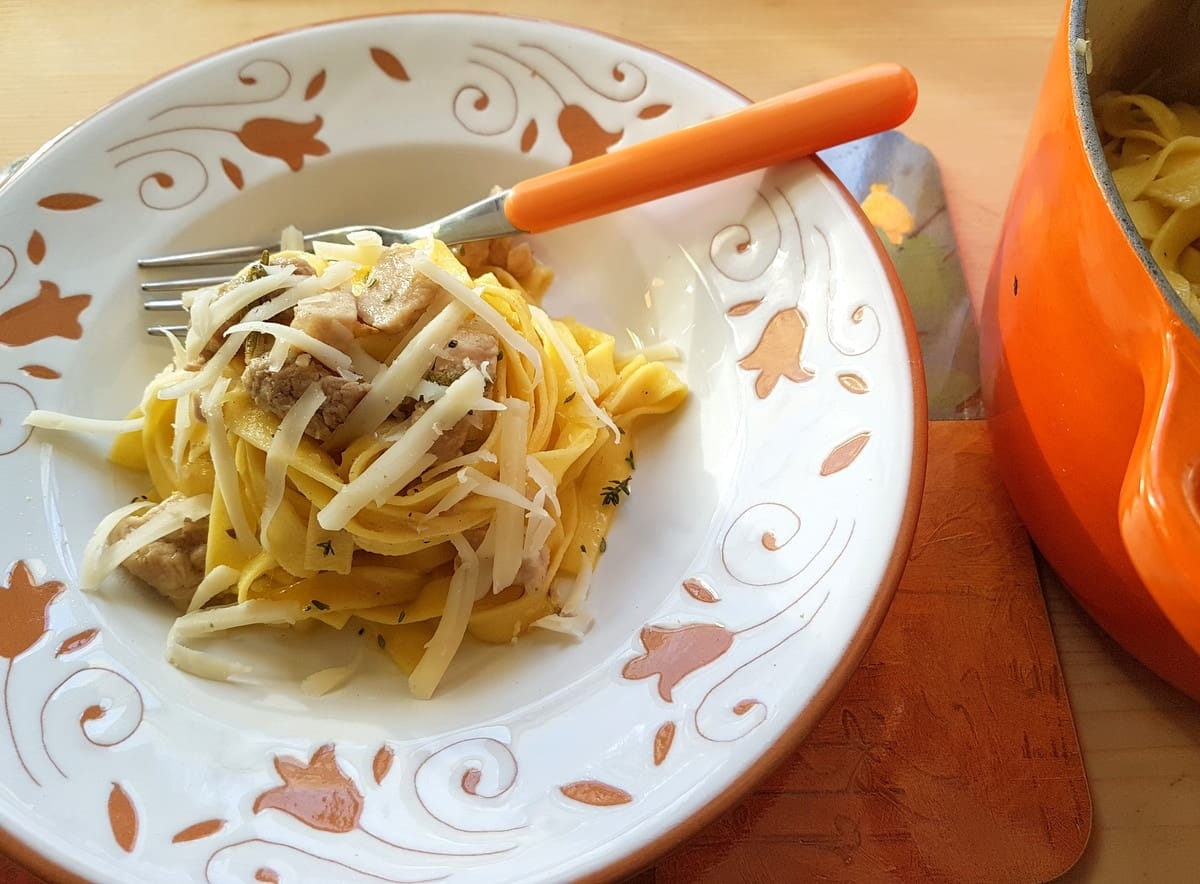 Cinnamon spiced pork ragu sounds a bit strange, doesn't it? I thought this at first, but after trying it… It's outstandingly delicious!
You can find the origin of this recipe in Friuli Venezia Giulia. In this Italian region, the cuisine is much influenced by neighboring Austria and Slovenia.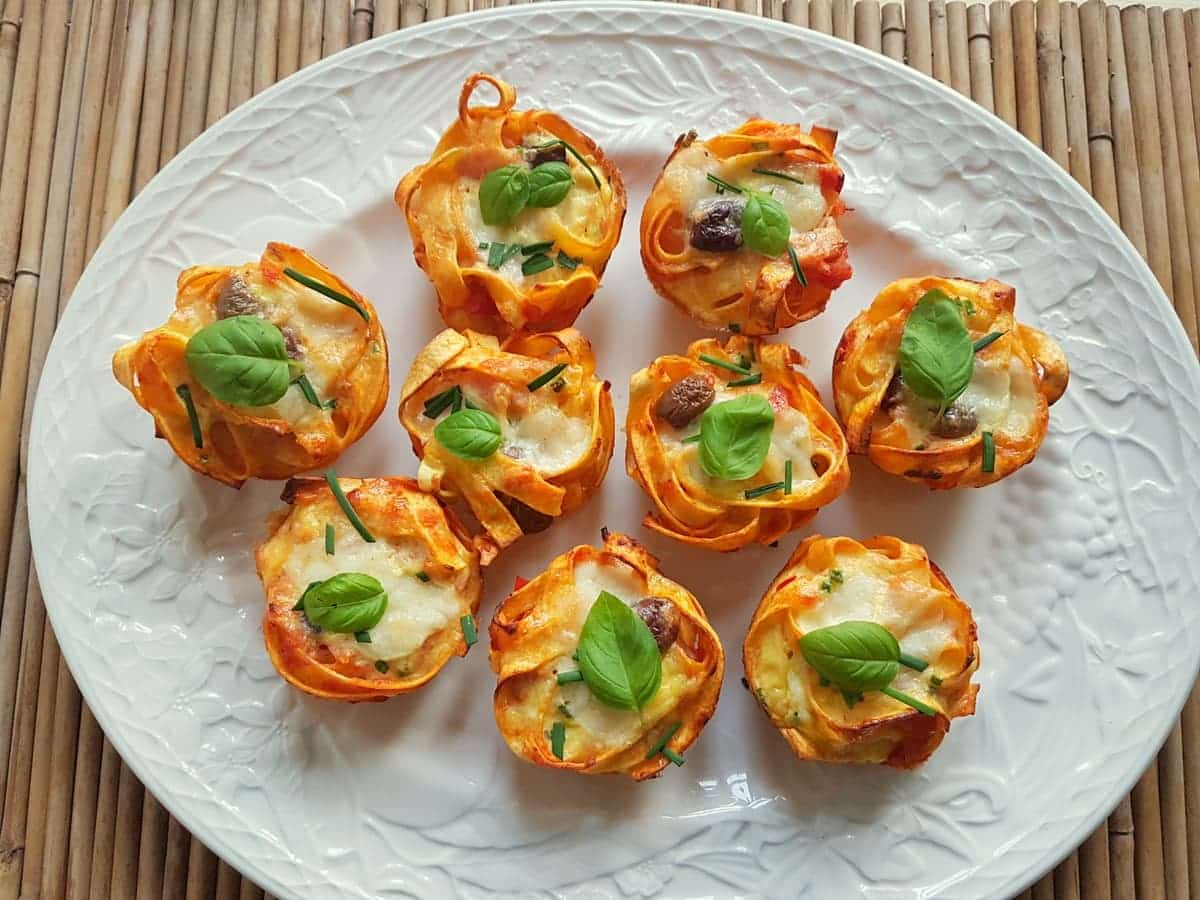 Did you know that you can turn tagliatelle into a delicious hand-grabbing party food? These tagliatelle 'sformatini', which translates to pies, have started becoming popular in Italy as little bites and party food.
They aren't the most traditional recipe, but they are definitely fun and something the kids would enjoy.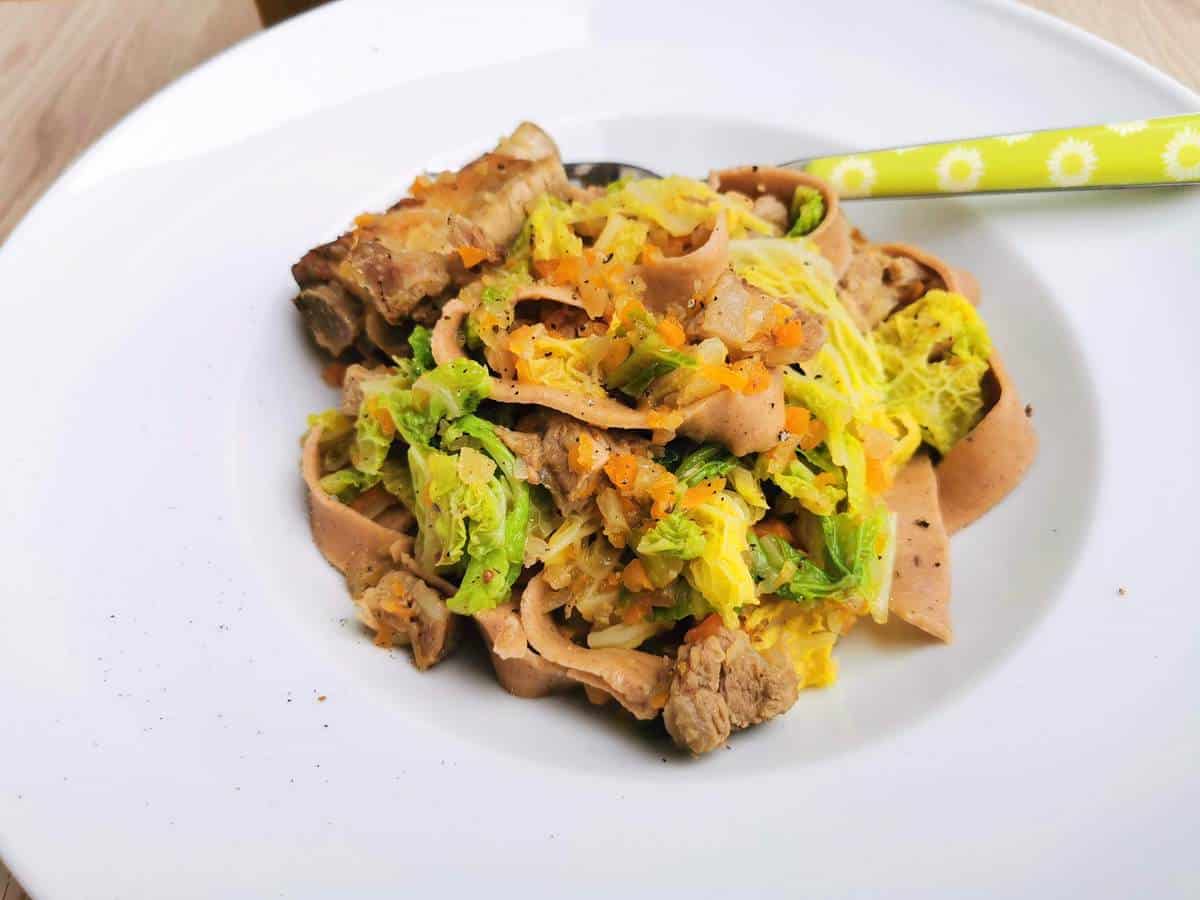 This is a traditional autumn/winter dish from the Italian mountains. It uses homemade chestnut pasta with pork and cabbage. This tagliatelle recipe is so flavorful and surprisingly easy to make.
You can find many similar dishes here in the Italian Alps, where they love rustic and hearty flavors.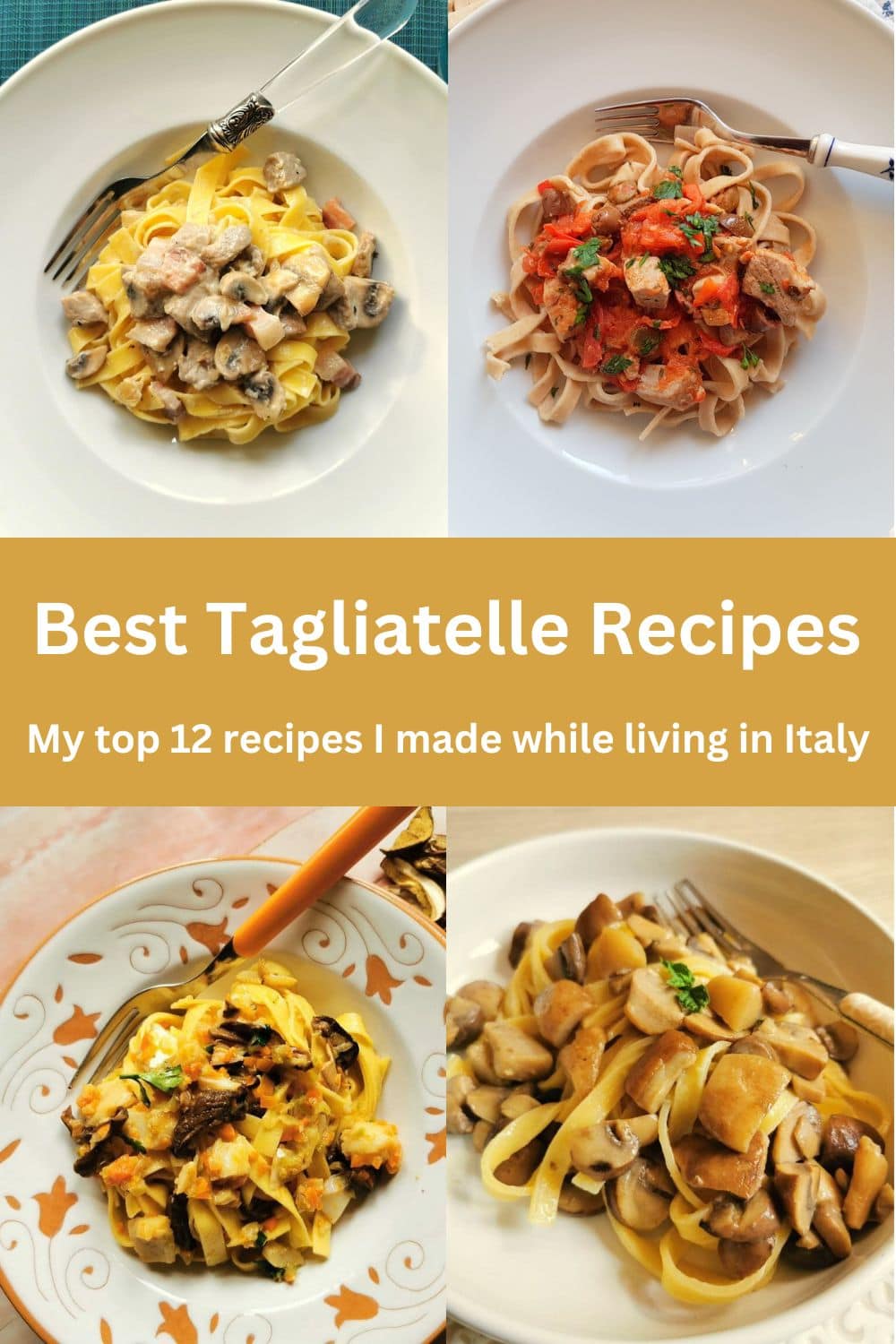 Let me know what you think.
If you make any of these Italian tagliatelle recipes, I'd love to hear how it turned out and if you liked it. Please leave a comment here on the blog or on The Pasta Project Facebook page.
Looking forward to hearing from you!
Buon appetito!
If you are interested in learning how to make homemade pasta and different types of gnocchi, check out my shop page for some great video online courses from my friends in Rome! Nothing beats learning to make pasta from Italians! Plus while you're there why not order a copy of one of my pasta recipe cookbooks or checkout some recommended pasta making tools?