If you often make more meat sauce or Bolognese than you need for one meal, that's actually a fabulous meal prep idea! There are many ways to use up leftover Bolognese or meat sauce. Here in Italy, the most common way is to make another pasta dish, but not the same as the one you originally cooked the sauce for.
It's good to change things up and there are so many delicious Italian pasta recipes with ground meat ragu, not just spaghetti Bolognese or lasagna!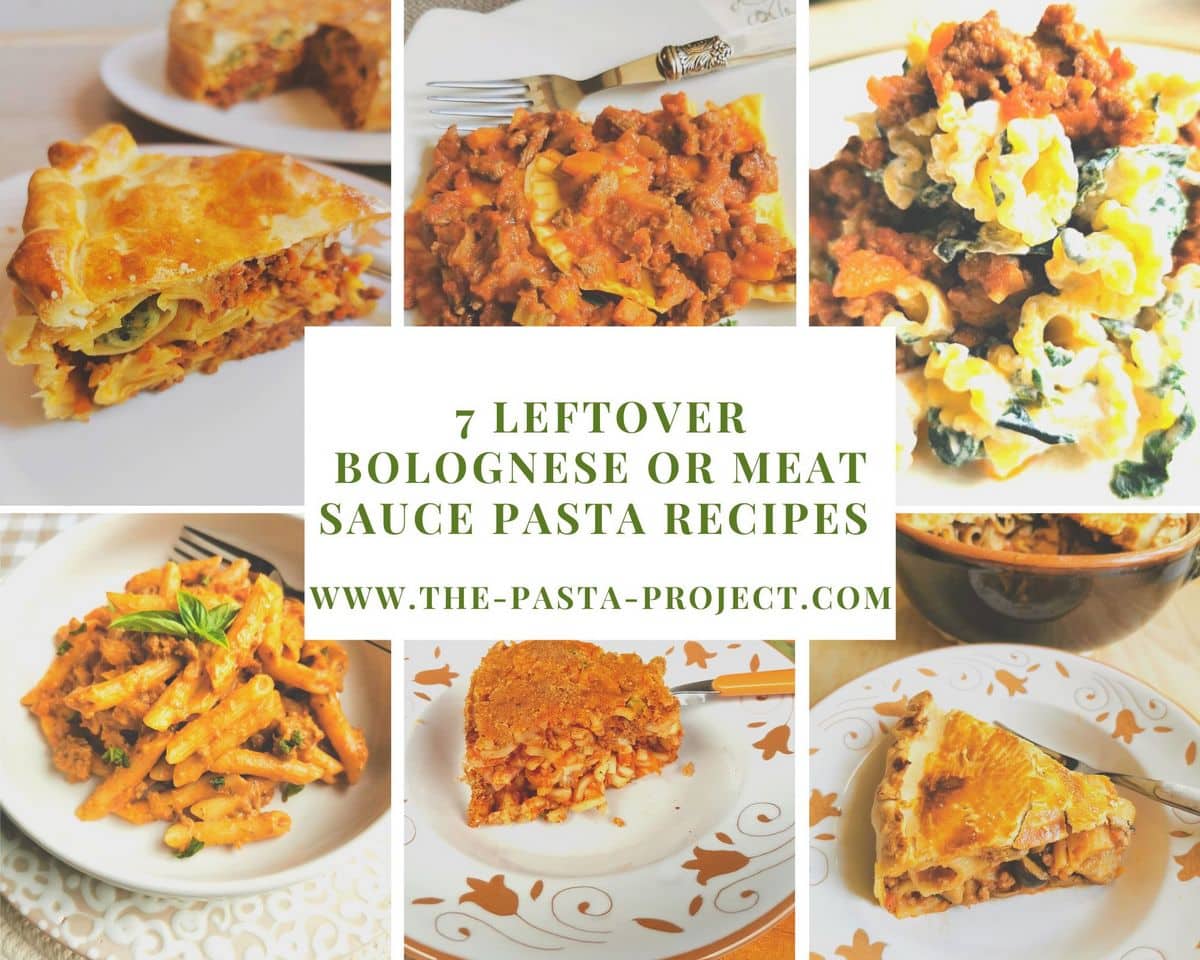 What's the difference between Bolognese and meat sauce?
The basic name for a pasta meat sauce in Italy is 'ragu'. But, there are many types of Italian ragu. Bolognese is one type of ragu or meat sauce that comes from Bologna in Emilia-Romagna, hence the name!
Interestingly, the people of Bologna normally refer to their version of meat sauce as just 'ragu'. Restaurant menus there list it as tagliatelle al ragu alla Bolognese or simply tagliatelle al ragu. Tagliatelle is the traditional pasta for ragu in Bologna, not spaghetti!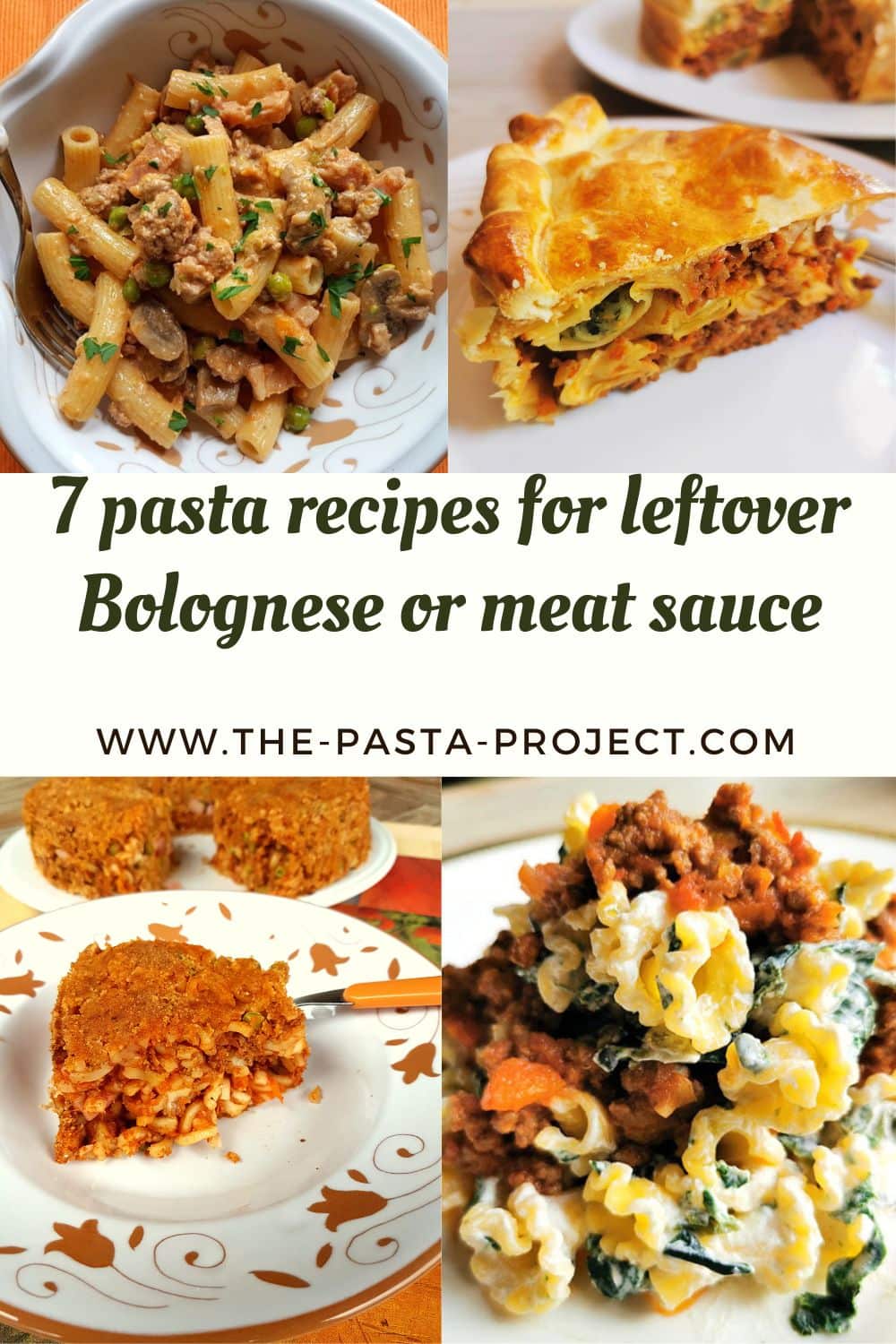 There is actually an official recipe for ragu alla Bolognese which the Bologna branch of the Italian Academy of Cuisine submitted to the Bologna Chamber of Commerce on October 17th, 1982. You can read more about this recipe and how to make it on my tagliatelle Bolognese post.
Types of ragu in Italy.
There are two main types of Italian meat sauce or ragu. The first is made with ground meat which can be beef, pork, veal, lamb or sausage meat or a combination of 2 or 3 of those. Then there are pasta meat sauces which have larger cuts of meat like steak or braising beef, pork fillet, game, prosciutto, sausages, rabbit, duck, lamb and even pork ribs. Again, some sauces contain more than one type of meat.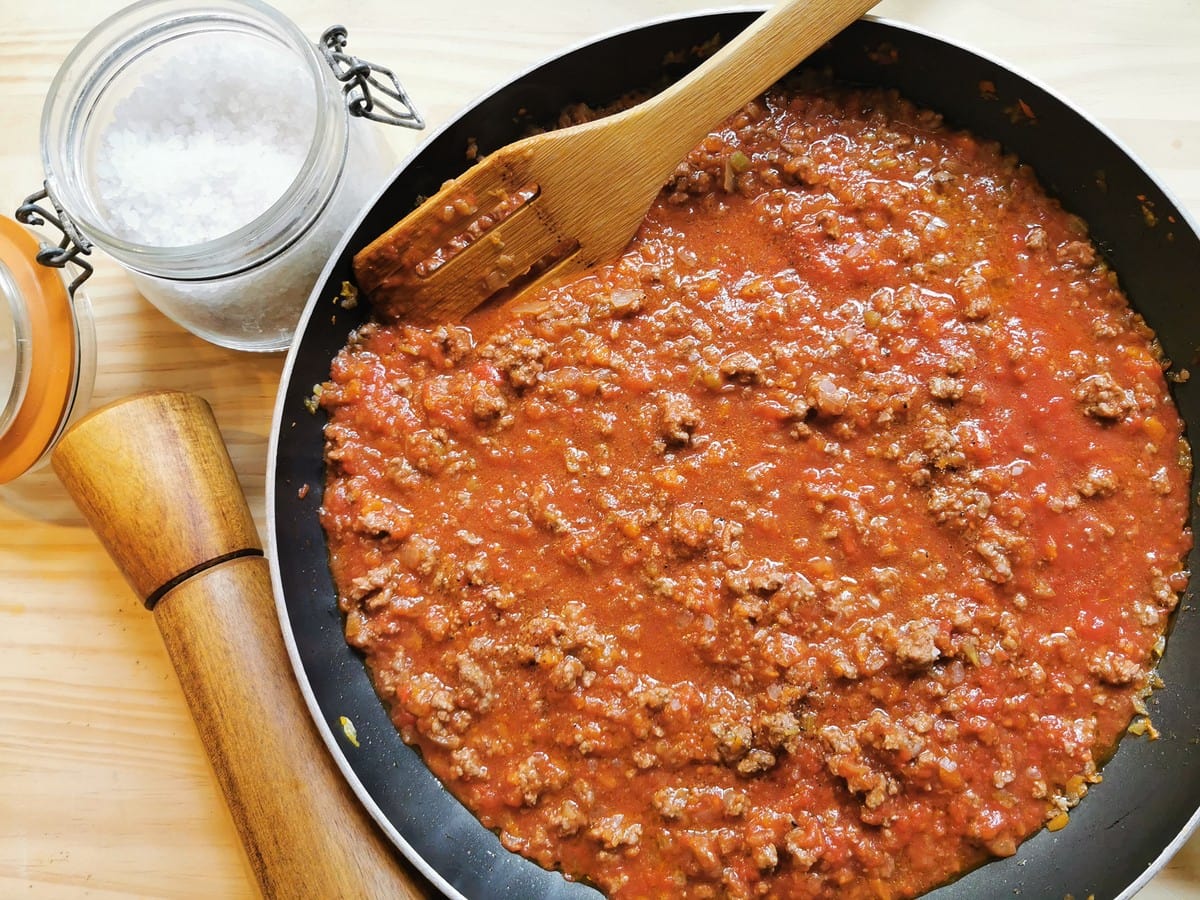 Most Italian ragu recipes are made with tomatoes but some are not. Italians call these ragu bianco, meaning white meat sauce. There are also some white or tomato meat sauces with cream.
Pasta recipes for leftover meat sauce or Bolognese.
The best pasta dishes to use your leftover Bolognese or meat sauce are those that have other ingredients in or with the sauce. These recipes not only make a nice change from just pasta with meat sauce, but they also work really well if you don't have enough leftover sauce to serve it alone. Below are some of the recipes I like to use my leftover ragu in.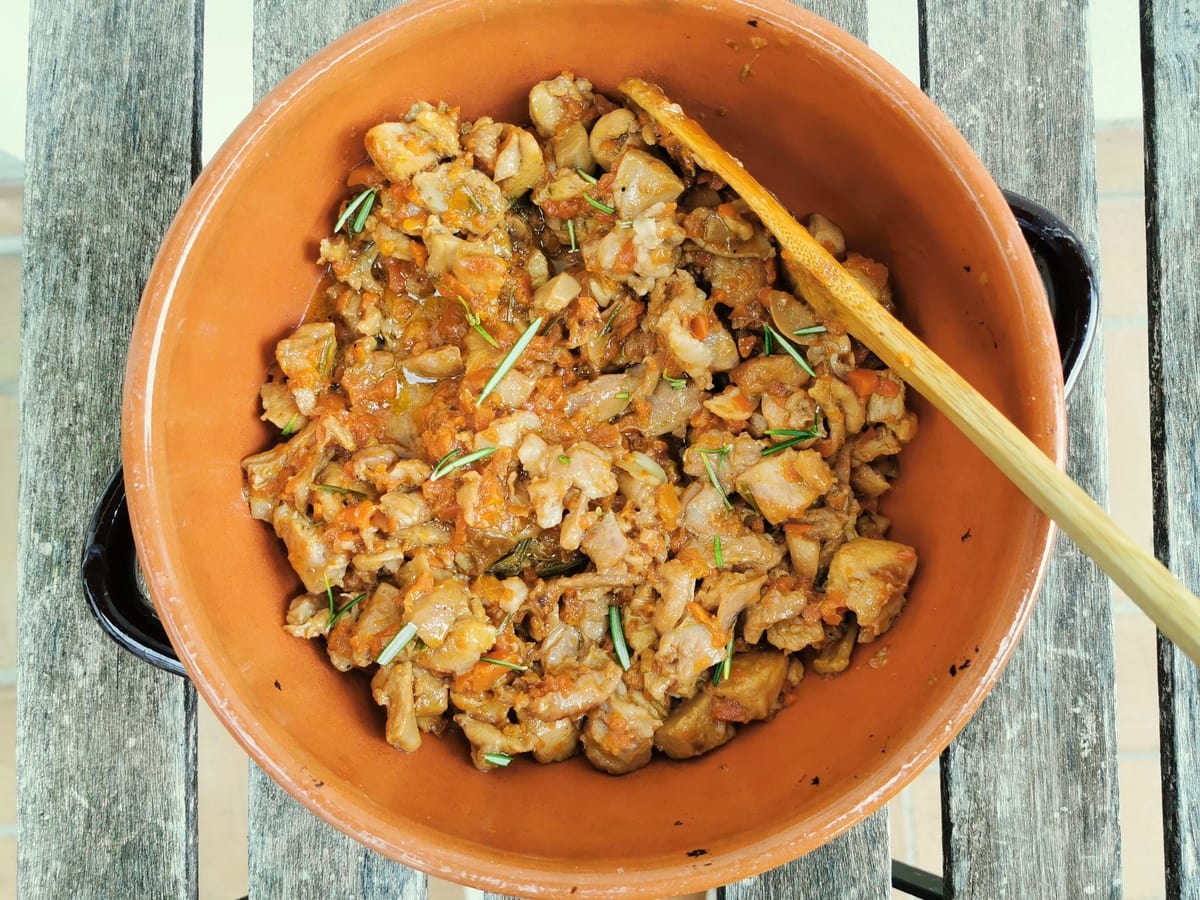 These recipes work with any ground meat pasta sauce but not sauces with larger cuts of meat. The latter are best just served again with freshly cooked pasta. Although, you can always change the pasta shape to make it different!
Click the recipe name to learn more about the dish and get recipe instructions.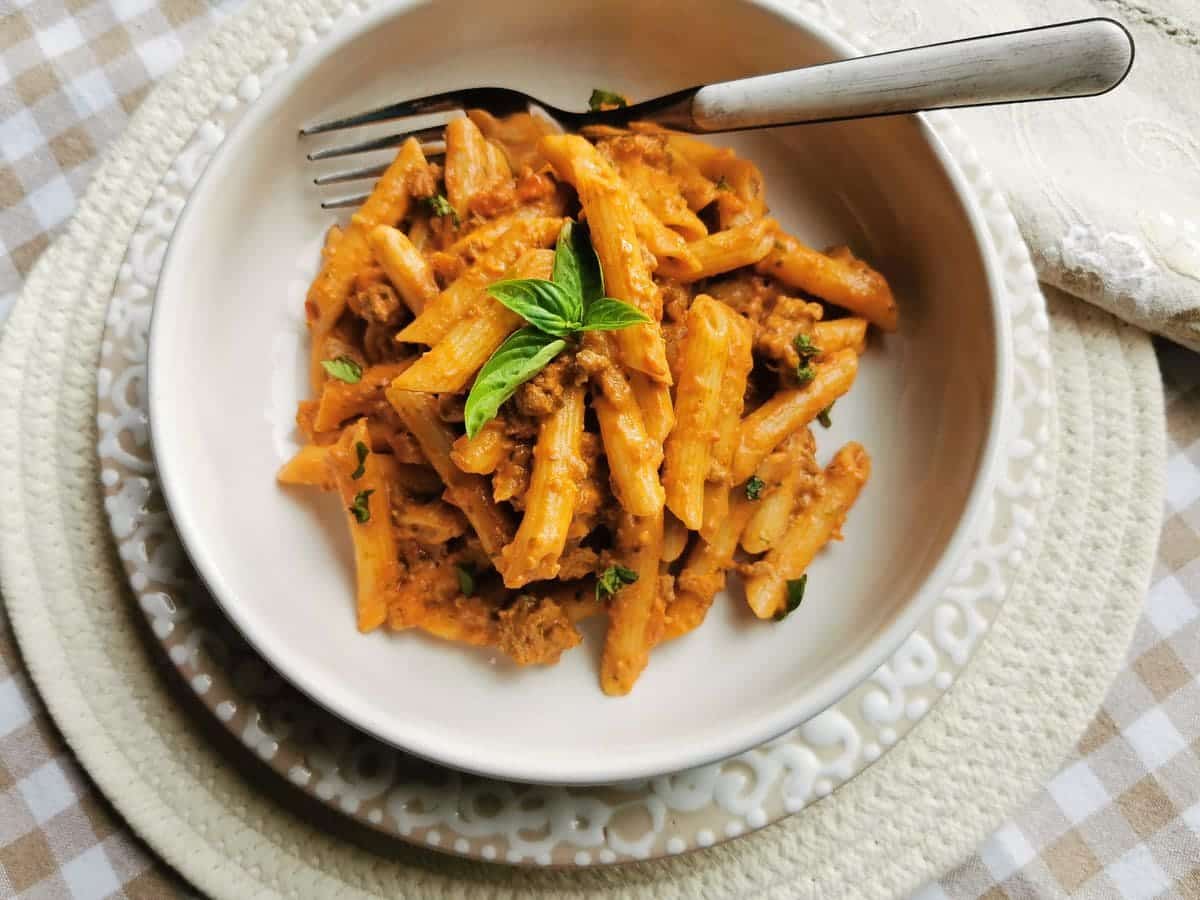 Italians call this dish pasta alla Montecarlo. This is a contemporary Italian beef ragu recipe traditionally made by combining an easy ground beef ragu with fresh cream and basil pesto. However, any leftover Bolognese or ground meat sauce works too. This is an incredibly rich and flavourful sauce that you can serve with short or long pasta.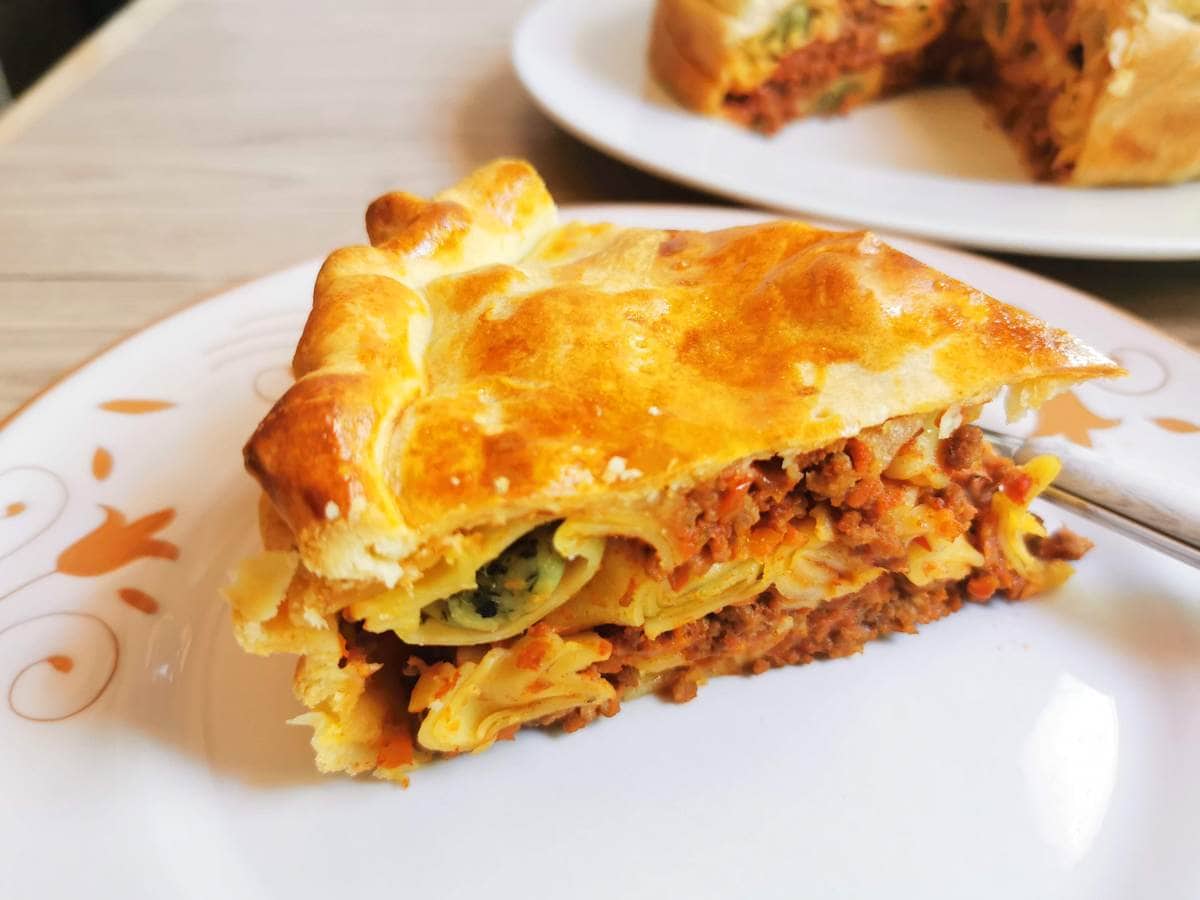 Traditionally made with Bolognese, you can make this pasta pie with other types of ground meat ragu. This family favourite is a pastry encased pasta pie filled with tortellini, meat sauce and grated Parmigiano. It's delicious eaten warm or cold. Perfect for picnics and potlucks too.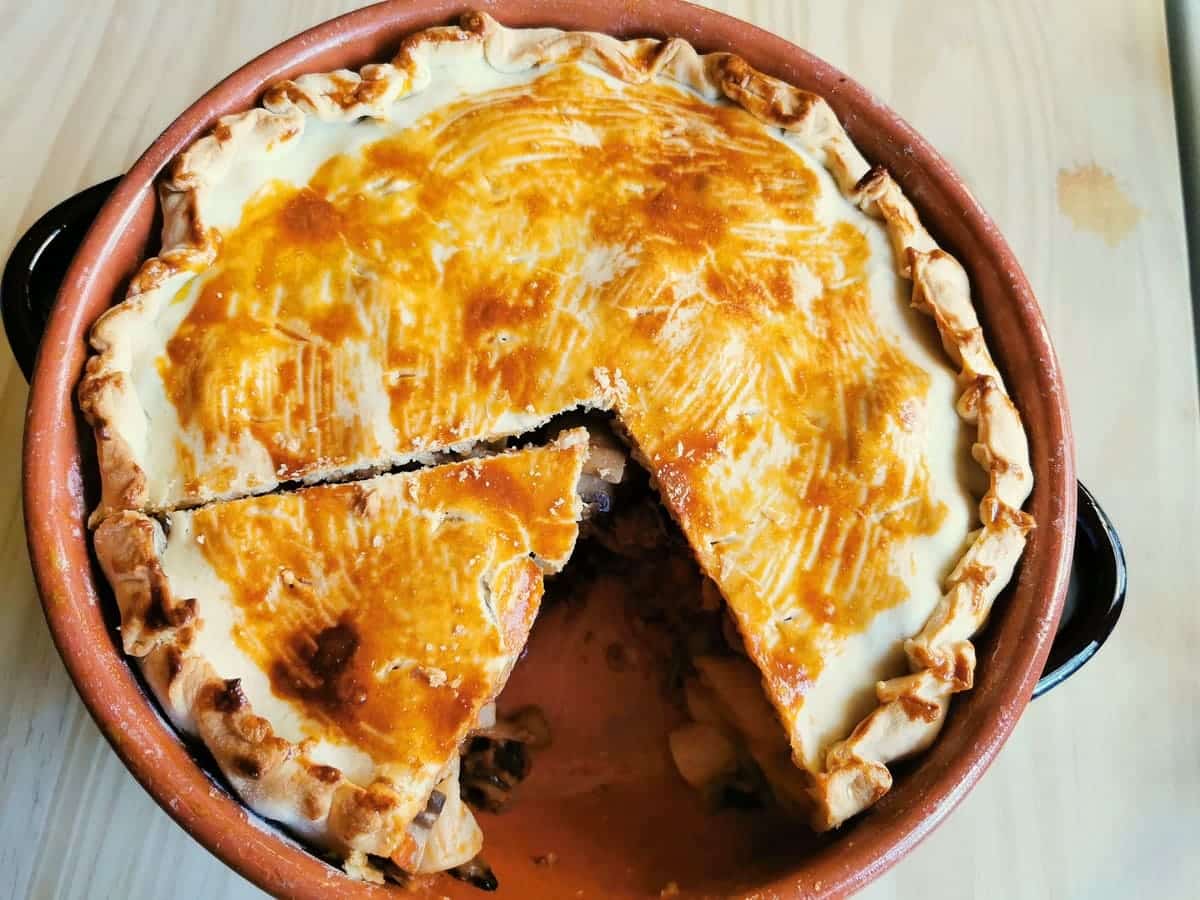 Rigatoni pasticciati is a pasta pie with pastry from Trentino Alto-Adige, the Northern Italy mountain region that borders with Austria. It's made with rigatoni, ground meat ragu, sautéed mushrooms and grated cheese all inside a shortcrust pastry case. It really is a fabulous way to use up leftover meat sauce or Bolognese!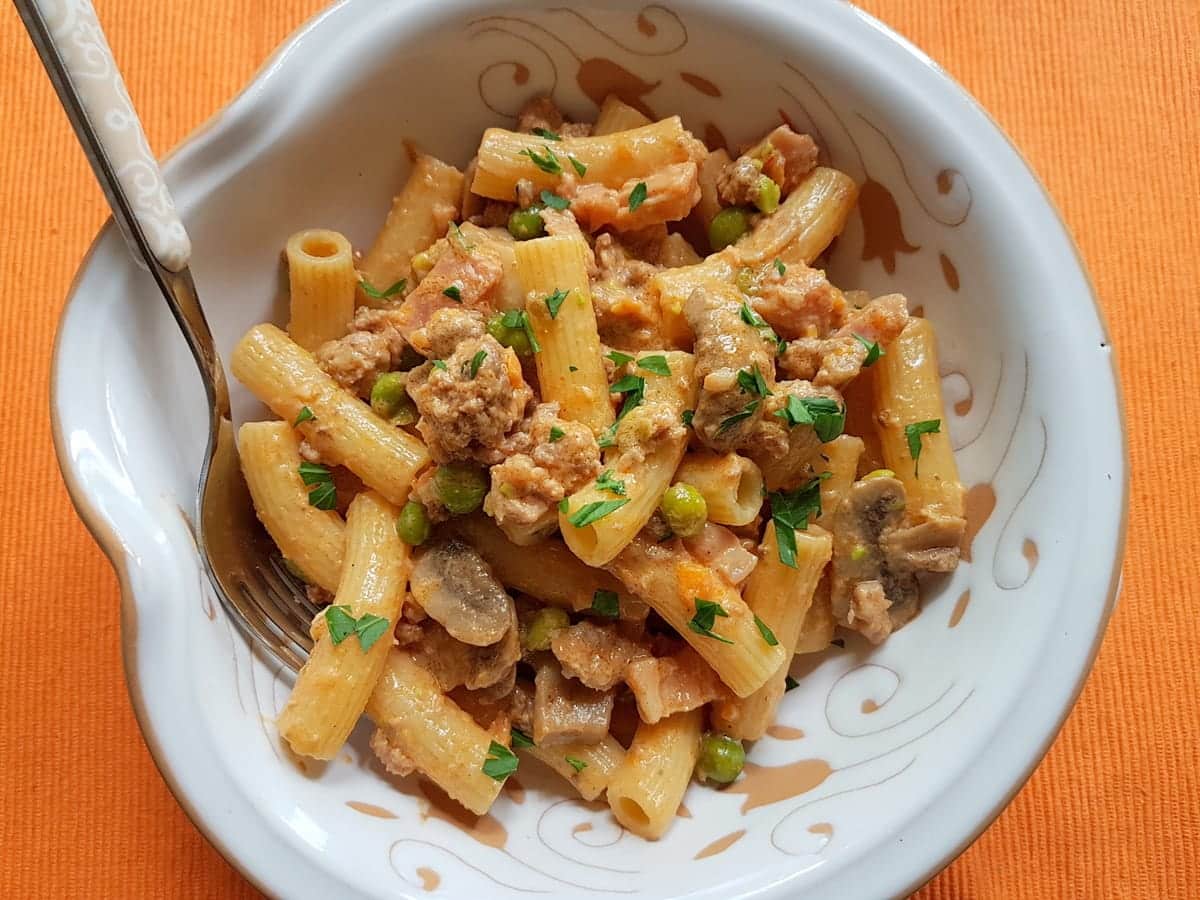 This delicious second traditional recipe from Trentino-Alto Adige has meat sauce or Bolognese as well as peas, ham, cream and onions. It's usually served with pasta tubes such as rigatoni, elicoidali, penne rigate or sedani.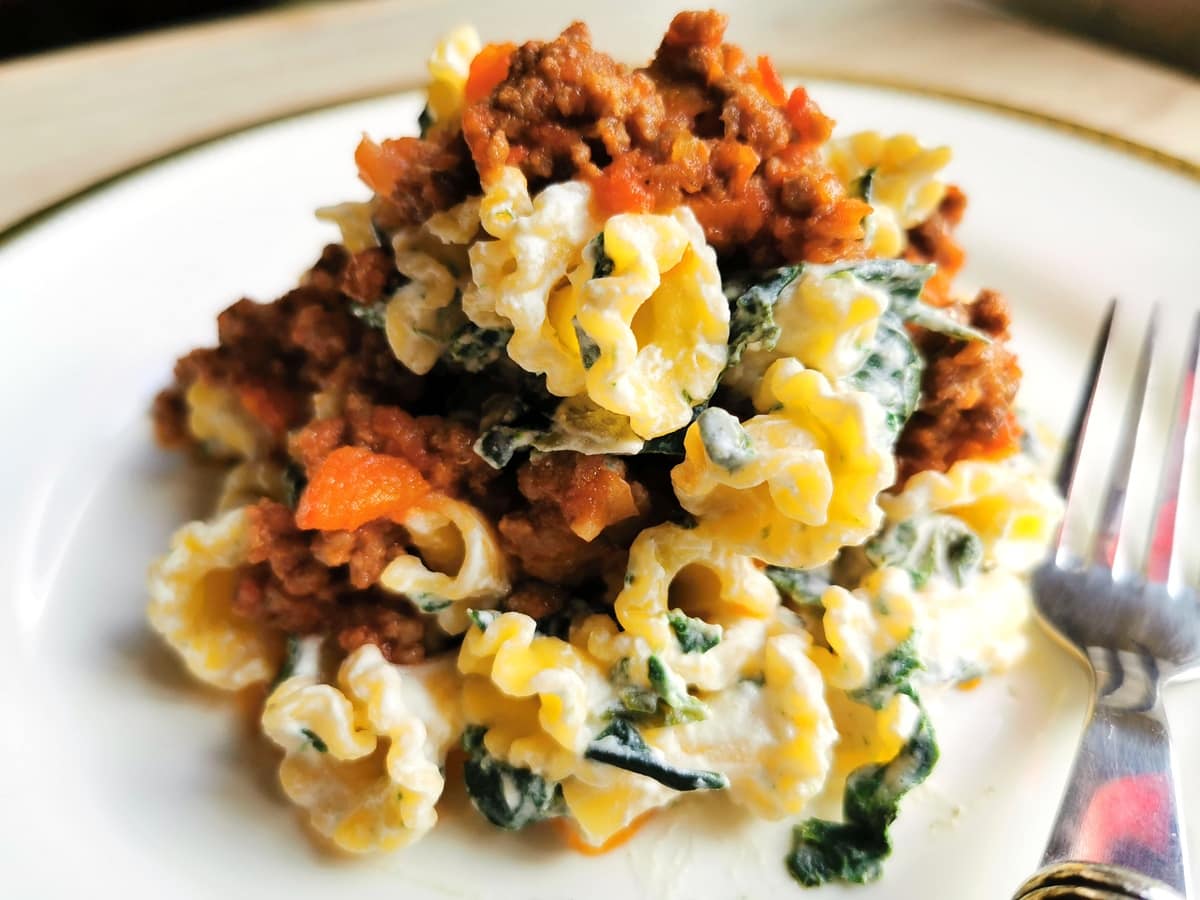 This delicious double sauce pasta recipe from Tuscany is a unique and delicous way to use up leftover ragu. Known as Tuscan pasta tordellata, this deconstructed version of a traditional tortelli recipe tastes as good as the filled pasta dish, with less work! Made with ragu, ricotta and Swiss chard.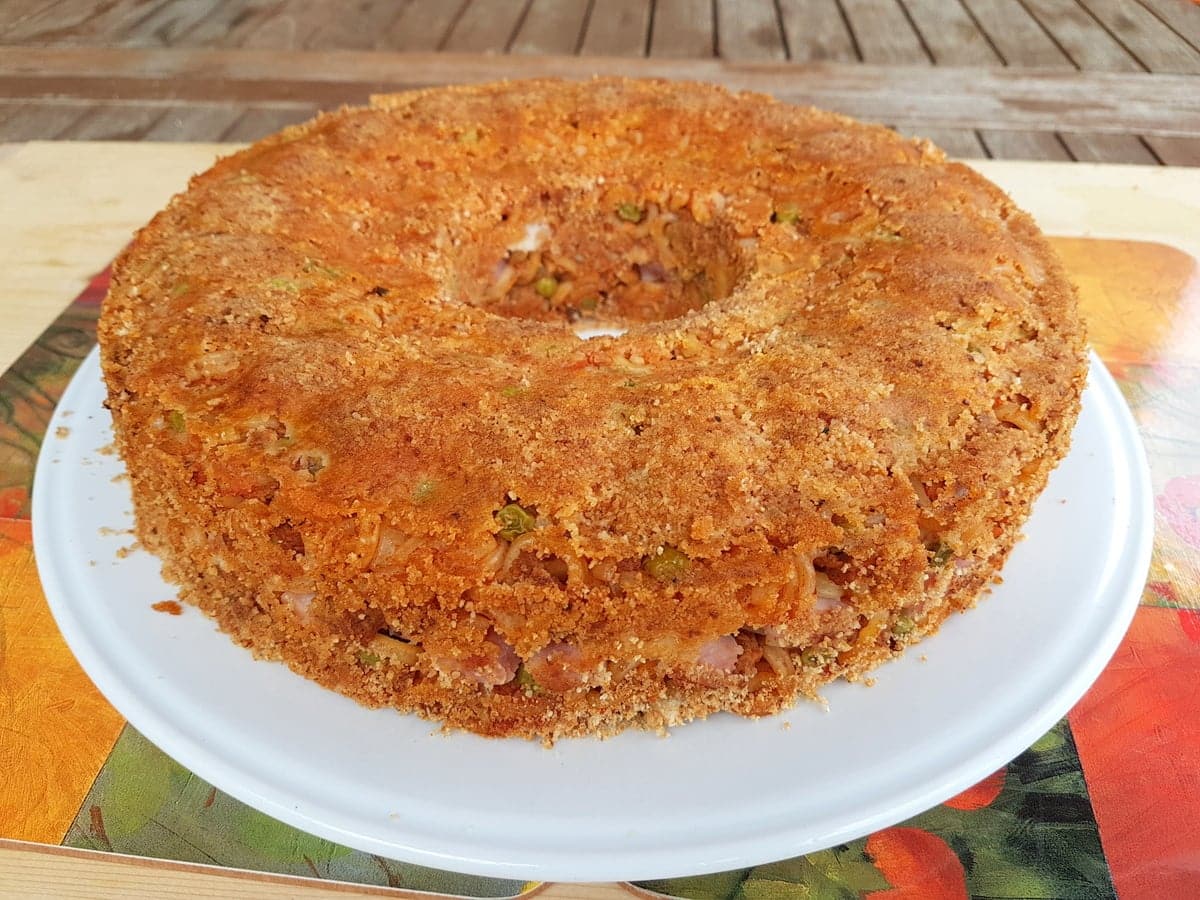 The base sauce for this traditional Sicilian baked anellleti is a ragu like Bolognese but with peas. However, you can make this dish with any ground meat sauce and add peas when you reheat it. The other ingredients apart from anelletti pasta are cooked ham, breadcrumbs, and cheese such as caciocavallo and parmigiano or pecorino.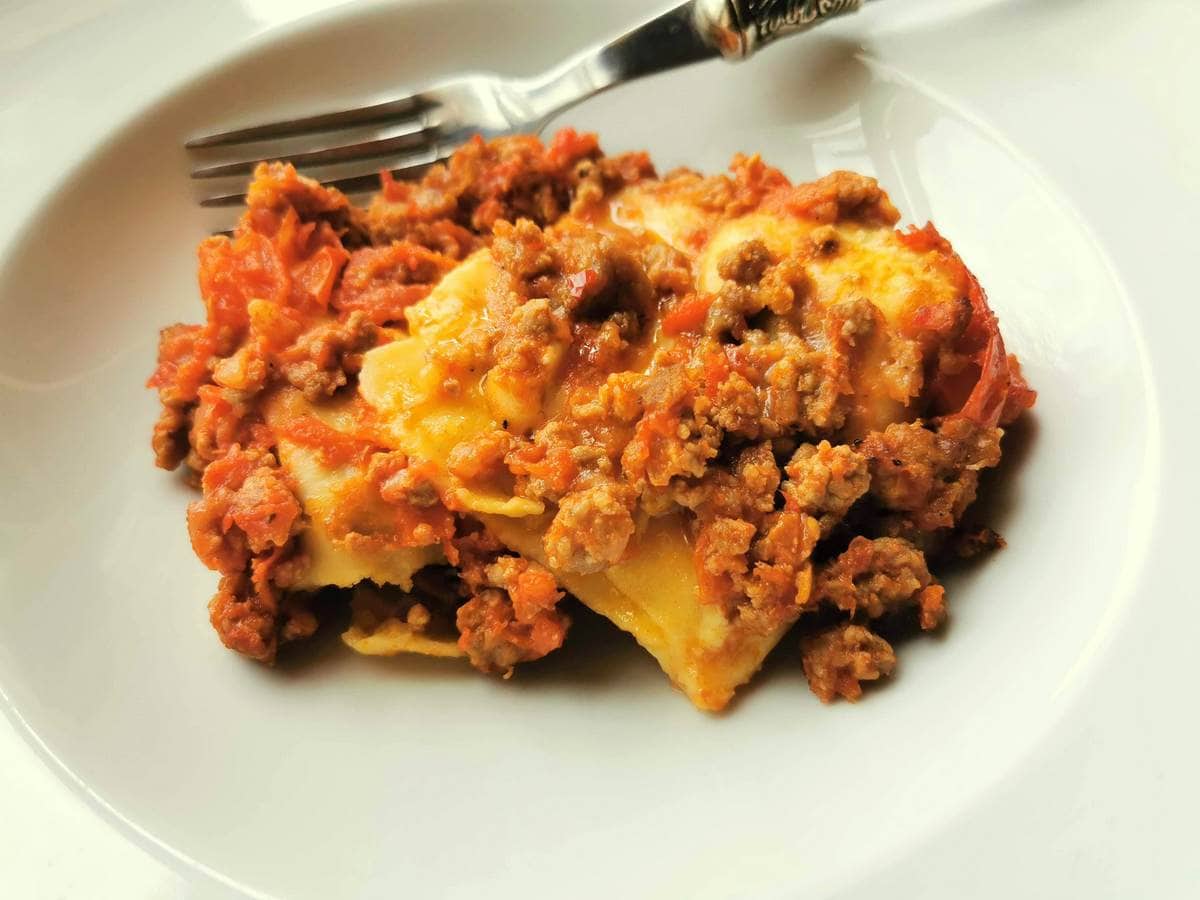 In this seriously delicious homemade pasta recipe from Abruzzo, the fresh pasta sheets are filled and covered with a ground meat and sausage ragu and then baked. However, you can use other types of meat sauce to make this super alternative to lasagna!
Other ways to use up your leftover meat sauce or Bolognese.
Apart from the recipes above you can nearly always make a simple baked pasta with your leftover meat sauce. Just heat the sauce, mix it with some cooked pasta in an oven dish. Top it with some grated parmigiano and/or mozzarella and bake in the oven until the top gets crispy.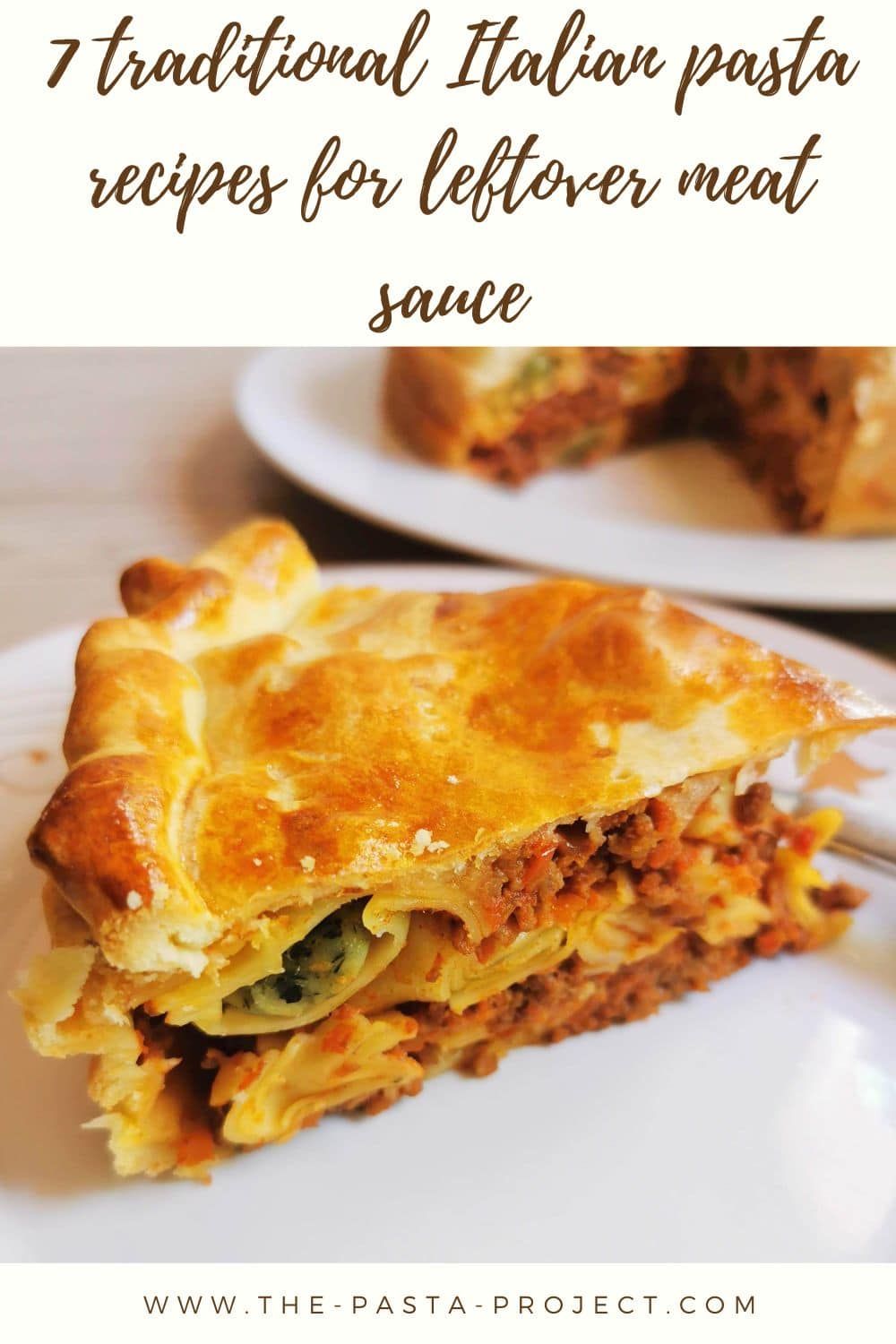 If you have frozen your leftover Bolognese or ground meat sauce, let it defrost before reheating. Frozen sauce is good for about 3 months if frozen in a sealed container or bag.
Let me know what you think.
If you do try any of these recipes, I'd love to hear what you think. Please, write a comment here on the blog or post a comment on the Pasta Project Facebook page.
Your feedback means a lot to me!
Buon Appetito!