Italy is famous for many foods, two of which have to be pasta and cheese. So it's not surprising that both are used together in many delicious Italian dishes. In the culinary world of comfort food, cheesy pasta recipes are a favorite for most pasta lovers. Here we have collected some of our best pasta with cheese recipes from all over Italy for you to try.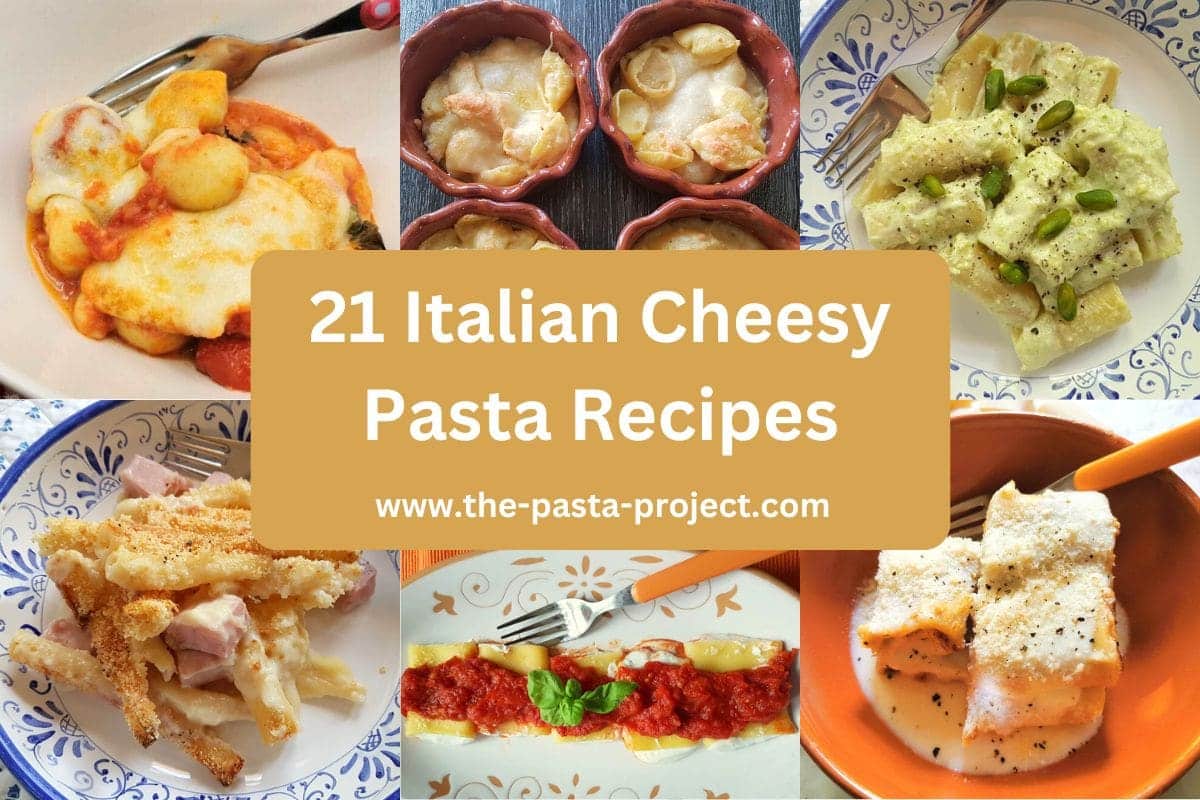 Types of Cheese
Ricotta
Ricotta is a fresh, soft cheese with origins dating back to the bronze age. Some people say ricotta isn't a real cheese. In Italian, they call it a 'latticino', a dairy by-product. In short, ricotta is traditionally made from whey, the watery liquid that remains after making cow, sheep or goat cheese.
Italian ricotta varies from region to region. It can have a slightly different texture and flavor depending on what milk is used to make it. However, it's typically mild and slightly sweet and you can use it to add creaminess to your pasta recipes.
Gorgonzola
Gorgonzola is a blue cheese with a rich history that dates back to Ancient Rome. It's made from unskimmed cow's milk which is aged for varying periods. This cheese is known for a distinctive, creamy, and tangy taste that becomes more pronounced and spicy as it ages. Gorgonzola is usually used as a center flavor for pasta sauces and commonly paired with gnocchi.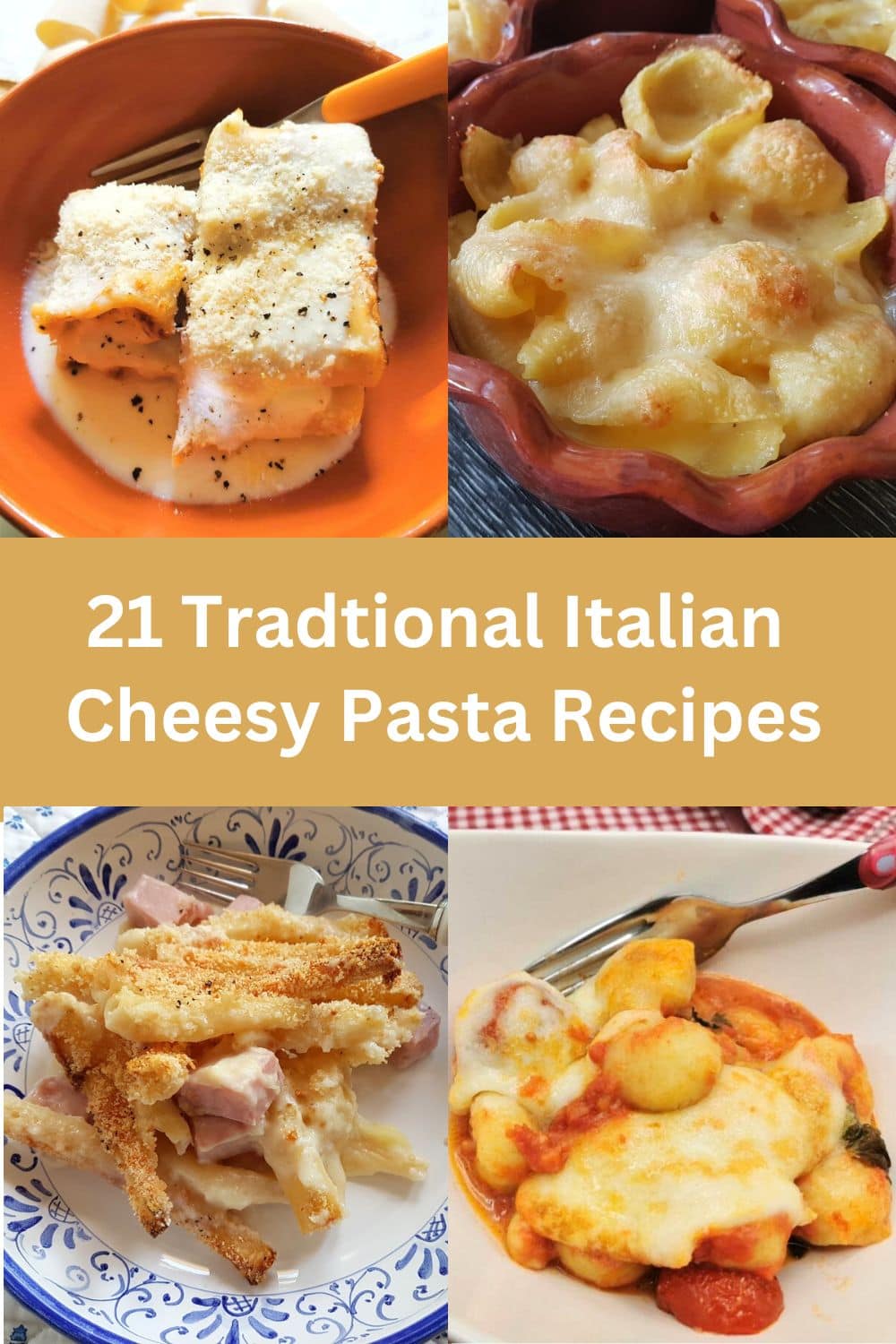 Mozzarella/Burrata
Mozzarella and Burrata are soft cheeses made from cow's milk or buffalo milk (Mozzarella di Bufala) and involve a stretching process that gives them their characteristic texture. Burrata looks like a soft mozzarella. But, the inside contains stracciatella and cream. Both cheeses are both commonly used as a topping for pasta, particularly baked pasta dishes.
Fontina
Fontina is a semi-soft cheese with a smooth texture and nutty flavor from the Val d'Aosta region in the Italian Alps. This cheese is made from raw cow's milk and aged for at least 3 months. Its excellent melting properties make it a popular choice for fondue and creamy sauces.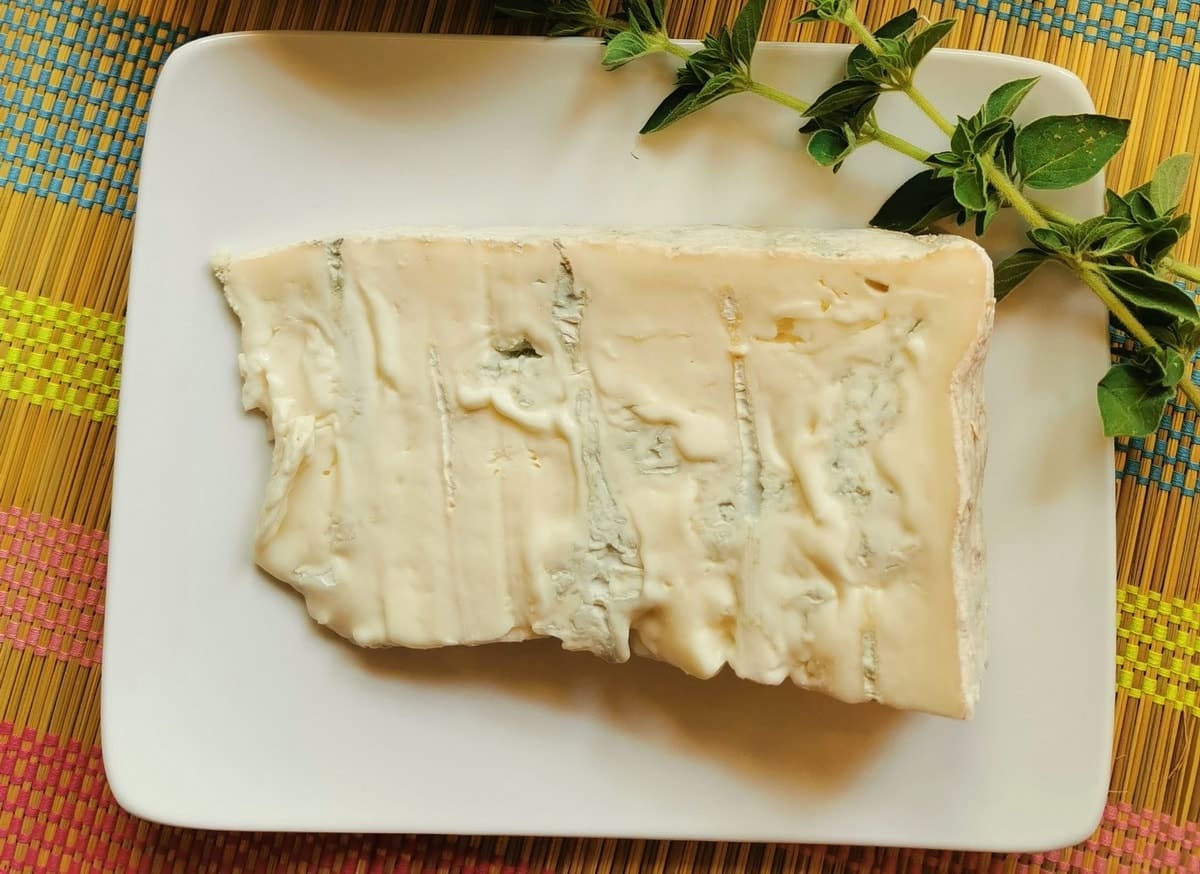 Stracchino
Stracchino, also known as Crescenza, is a soft, creamy cheese originating from the Lombardy and Piedmont regions of Italy. It's made using cow's milk and undergoes a short aging process. It's typically used as a way to add creaminess and richness to pasta sauces.
Other cheeses used with pasta.
Italy is the country with the most varieties of cheese in the world! So, apart from the very popular types which are main ingredients in these cheesy pasta recipes, Italians use a huge number of other cheeses in their pasta recipes.
These can include Parmigiano Reggiano and grana padano (normally when serving), asiago, scamorza, taleggio, mascarpone, montasio, caciocavallo and many more!
21 Traditional Italian Cheesy Pasta Recipes
Click the recipe name to learn more and get ingredients and instructions.
Ricotta Pasta Recipes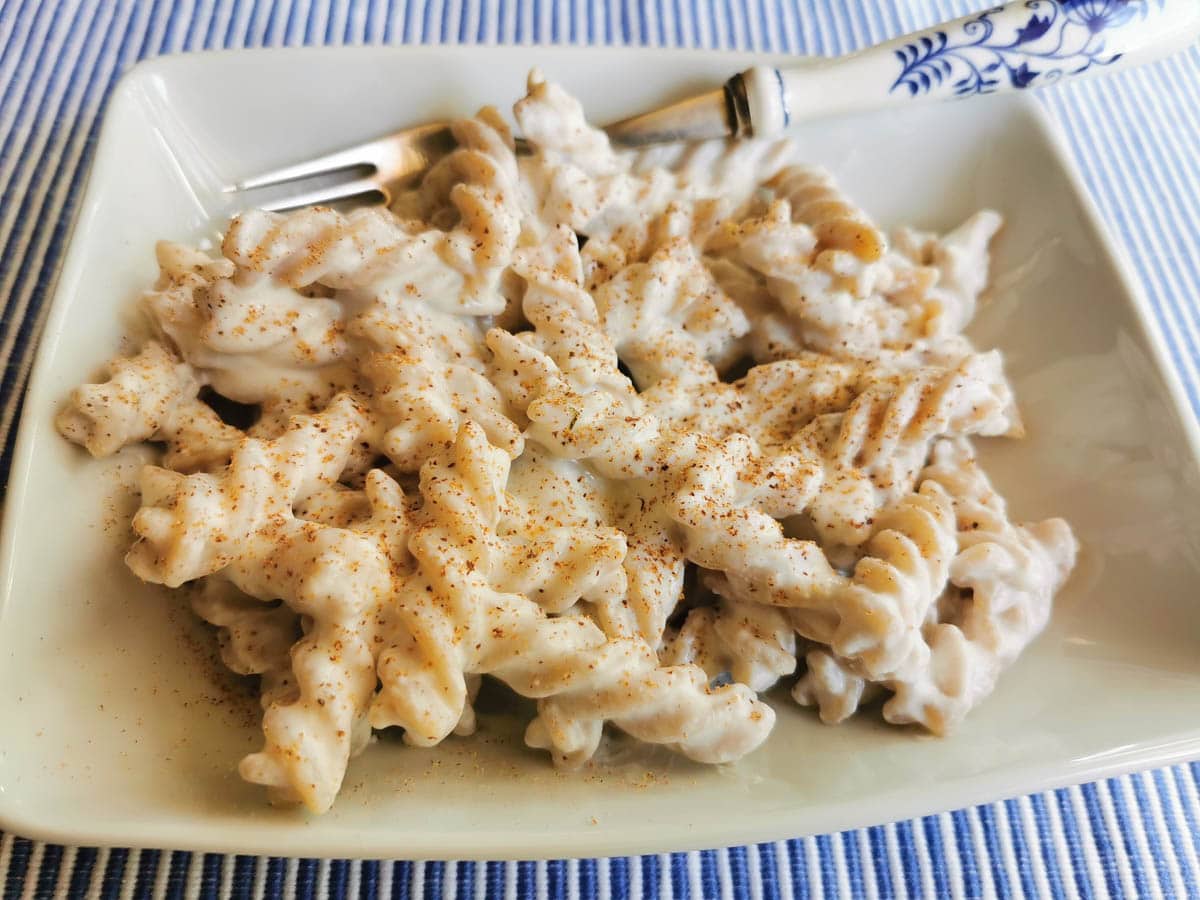 Pasta with ricotta is one of the simplest Italian pasta dishes. My Sicilian husband says it was one of his favorite childhood dishes.
In Southern Italy, ricotta with pasta is a popular go-to recipe when mothers don't know what to cook or haven't had time for shopping. It's a hit with children, and I'm sure your family will adore this Sicilian ricotta pasta recipe as well!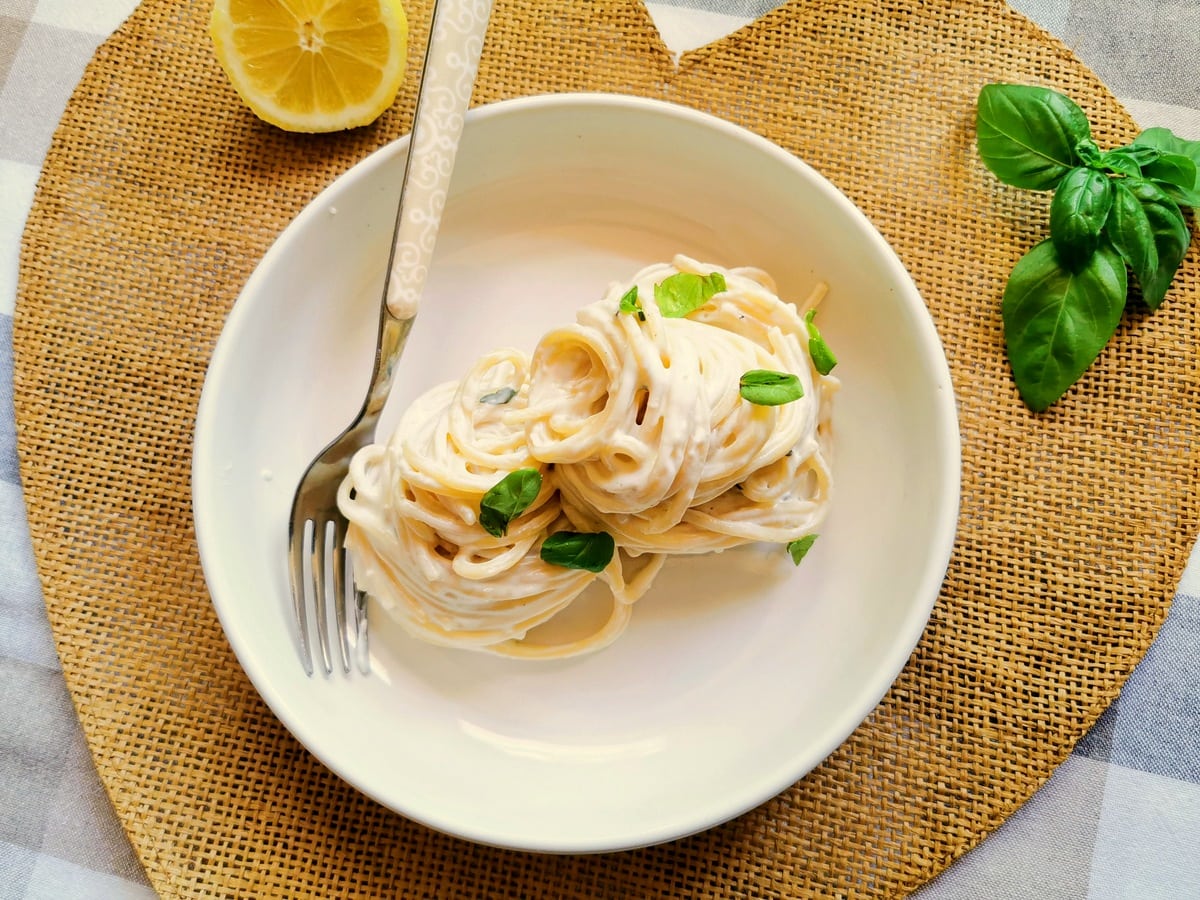 This delightful spaghetti al limone with ricotta has a delicious fresh summer taste and intense citrus flavor. With each bite, you can easily imagine yourself sitting on a terrace overlooking the sea on the Amalfi coast or Capri, soaking in the warm Mediterranean sun.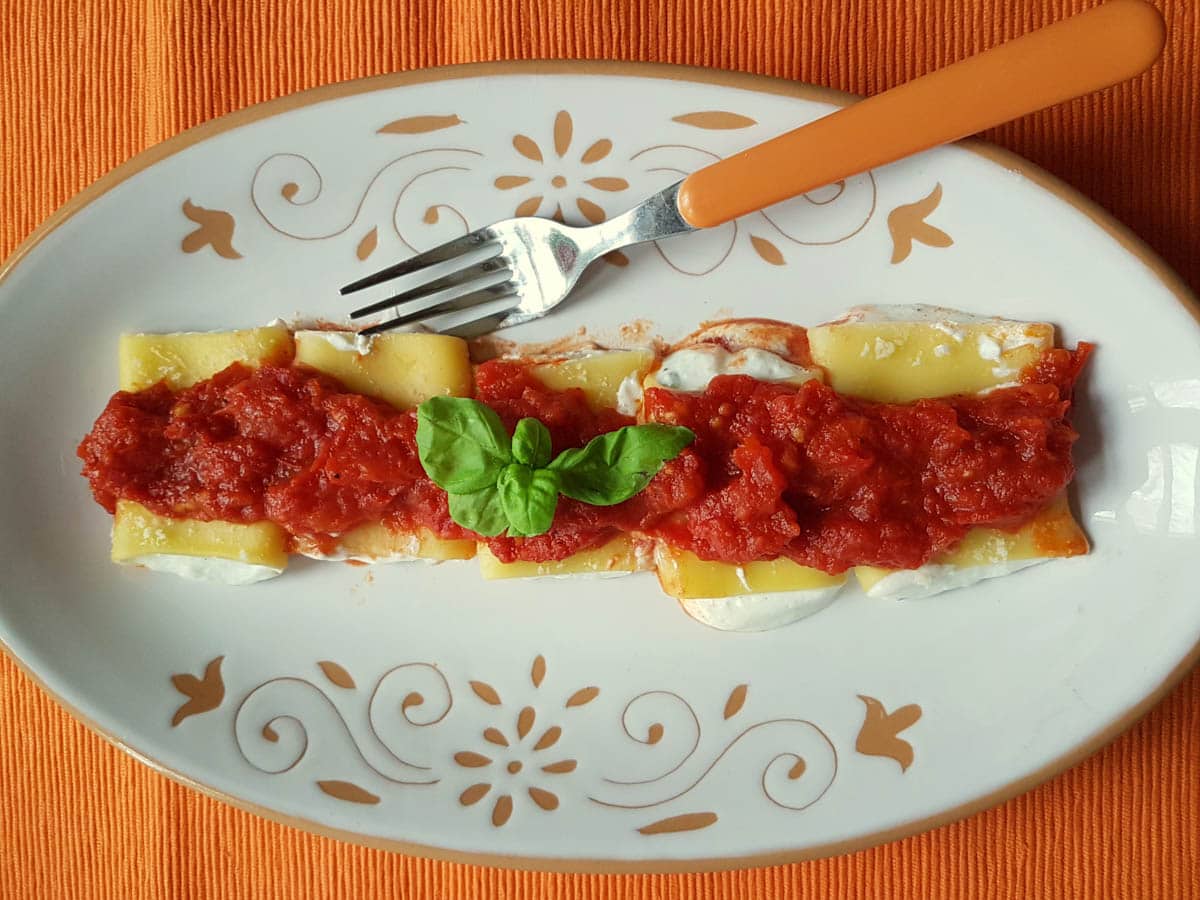 Brimming with Mediterranean flavor, this Southern Italian ricotta and basil-stuffed paccheri dish is incredibly easy to make. If you've never cooked Neapolitan paccheri pasta before, this recipe is an excellent introduction.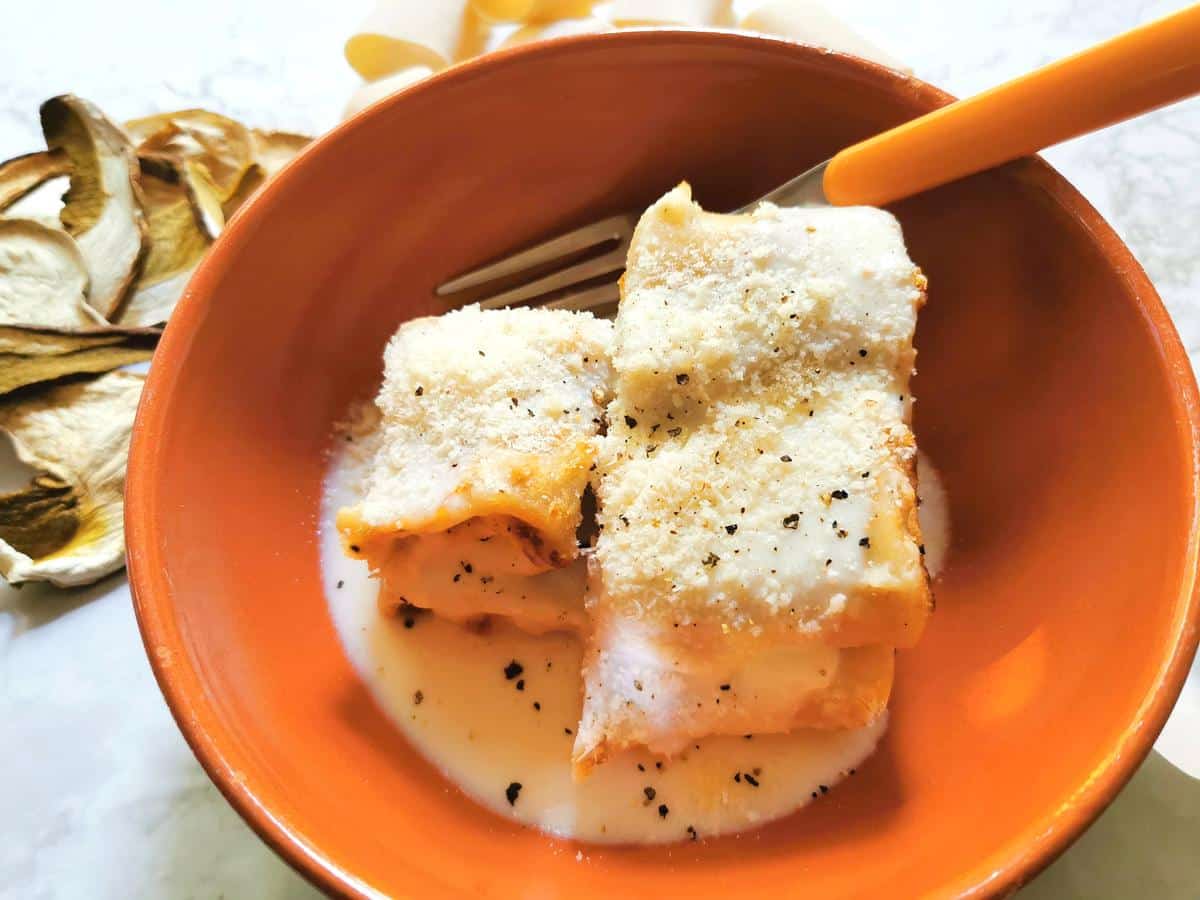 In Italy, a Sunday isn't complete without a baked pasta dish on the table. With so many scrumptious options, deciding on one can be difficult. However, one of my favorites is undoubtedly oven-baked stuffed paccheri.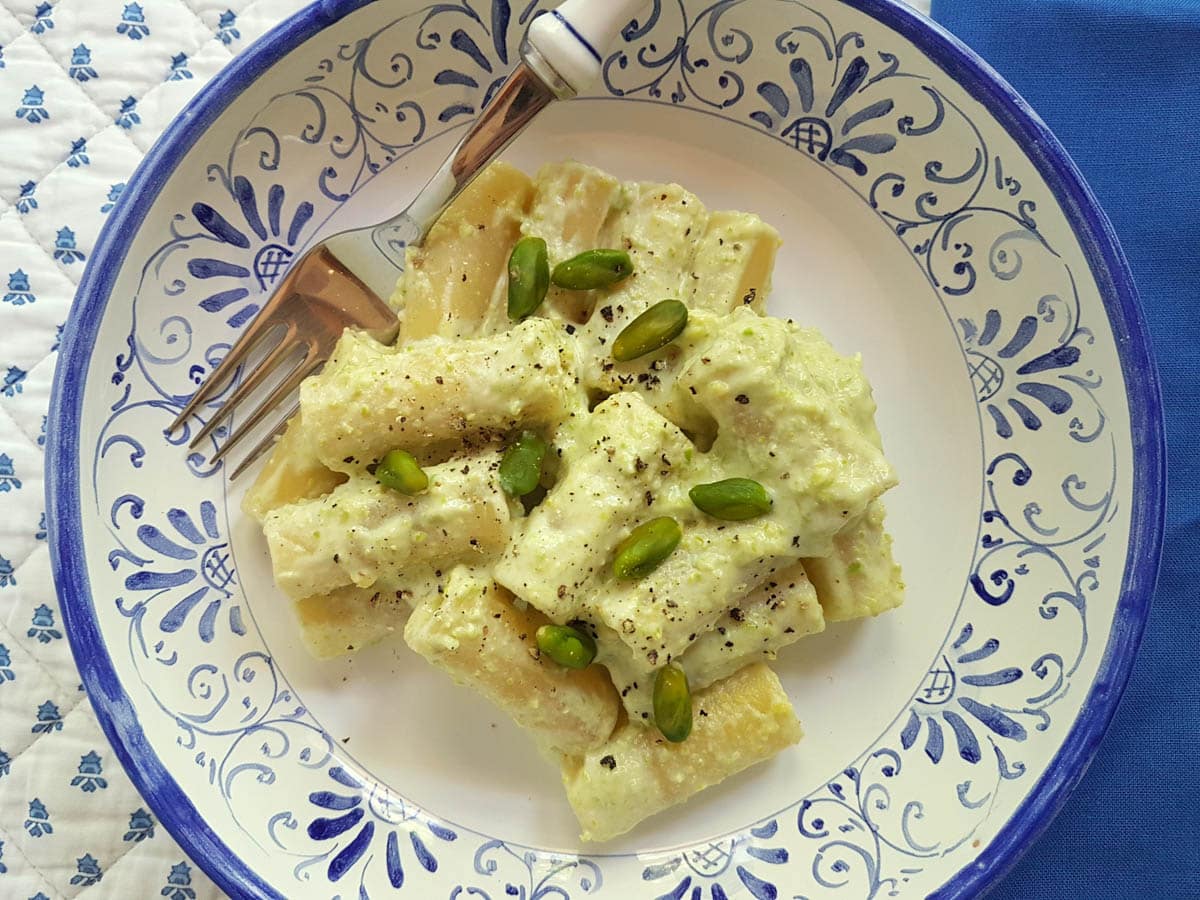 Ricotta and pistachios are essential ingredients in Sicilian cuisine, appearing in both dessert and pasta dishes. This Sicilian ricotta and pistachio pasta is a delicious example of how beautifully these two typical foods can be used together to make a divine creamy plate of pasta.
Gorgonzola Pasta Recipes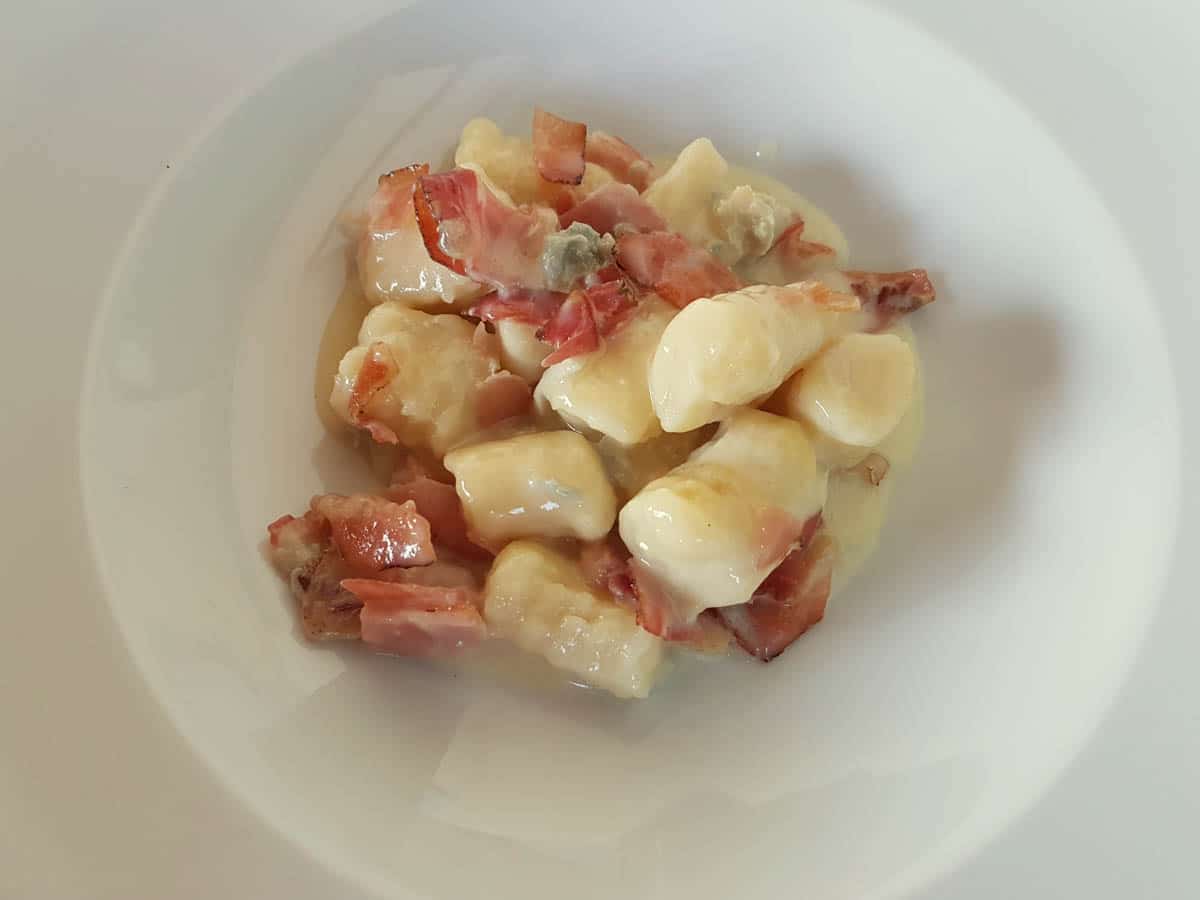 In Northern Italy, pairing gnocchi, particularly potato gnocchi, with a Gorgonzola sauce is highly favored! I believe that the combination of gnocchi and gorgonzola is a culinary union that's simply divine.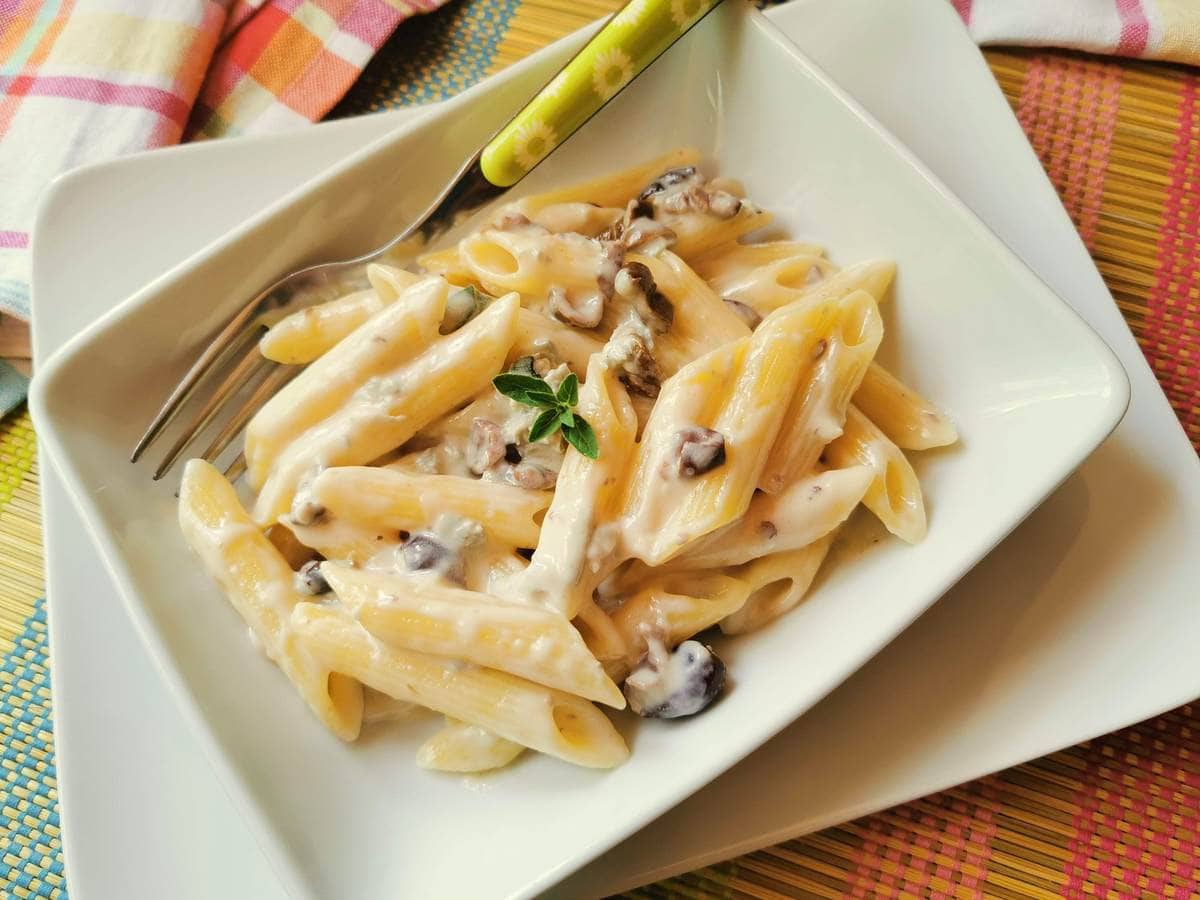 Referred to as pasta alla cenere in Italy, this simple gorgonzola pasta with olives is a creamy gourmet delight that features only three main ingredients.
It takes under 30 minutes to prepare and is perfect for both weeknight indulgence and special occasions with guests.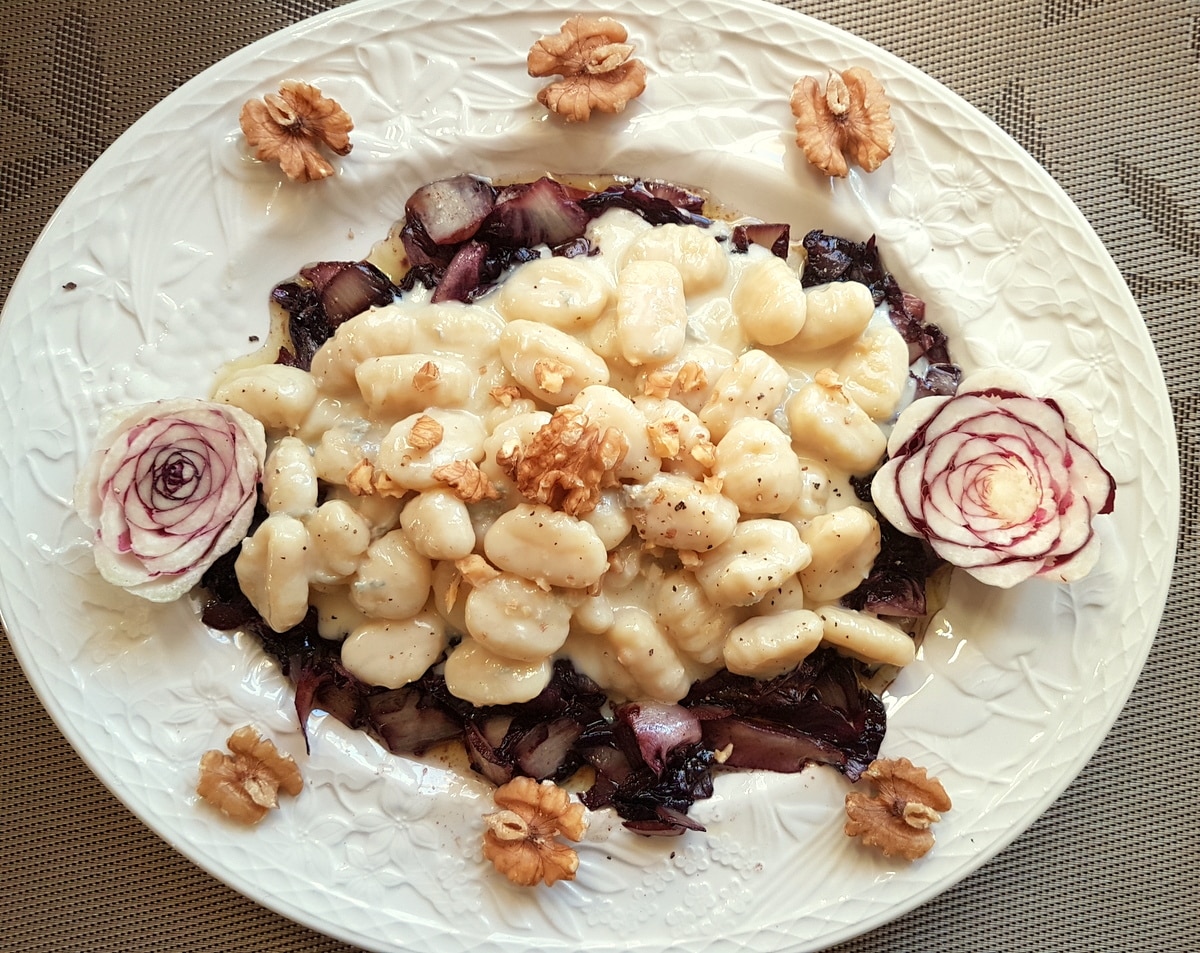 This gnocchi Gorgonzola and radicchio dish is an ideal comfort food for winter, brimming with the distinctive flavors of Northern Italy.
This potato gnocchi recipe has soft, homemade gnocchi and sumptuous melted gorgonzola. It's an absolute delight for gorgonzola lovers like myself!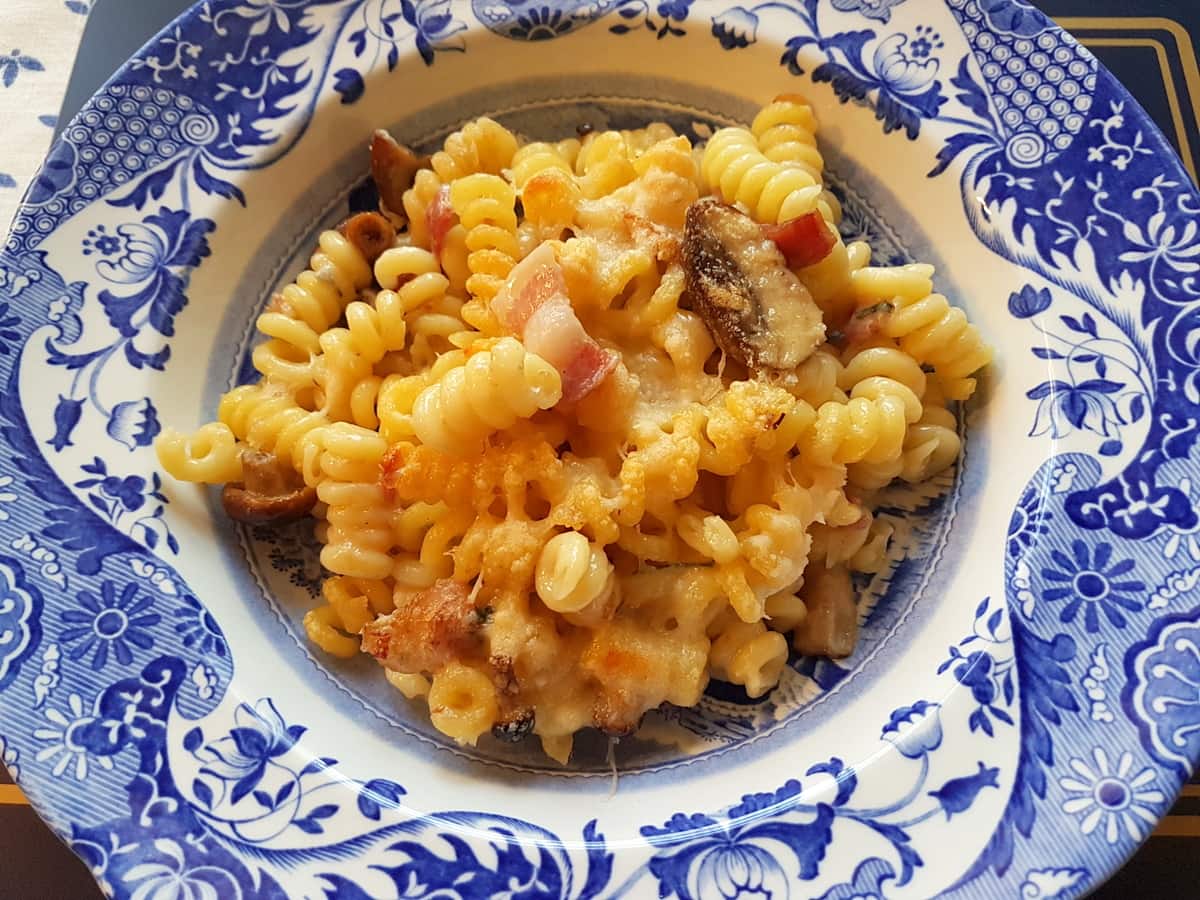 If you're a fan of bacon, blue cheese, and mushrooms, you'll love this flavorful bucati recipe. You can serve the dish unbaked for a quicker meal, but the crispy, cheesy topping in the baked version adds an extra layer of deliciousness.
Mozzarella/Burrata Pasta Recipes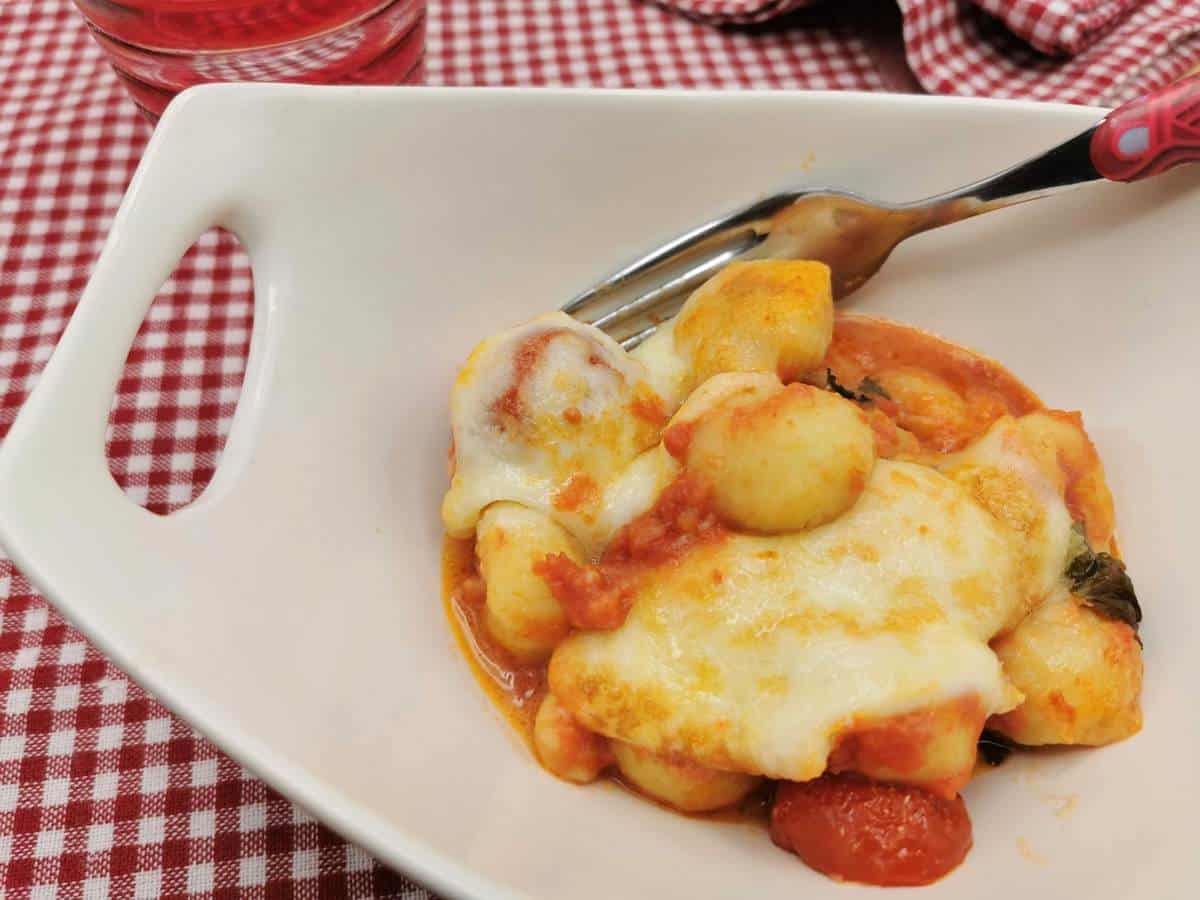 Gnocchi alla Sorrentina is a mouthwatering dish from Campania, Italy, typically made with potato gnocchi baked with quintessential Italian ingredients like tomatoes, mozzarella, and basil.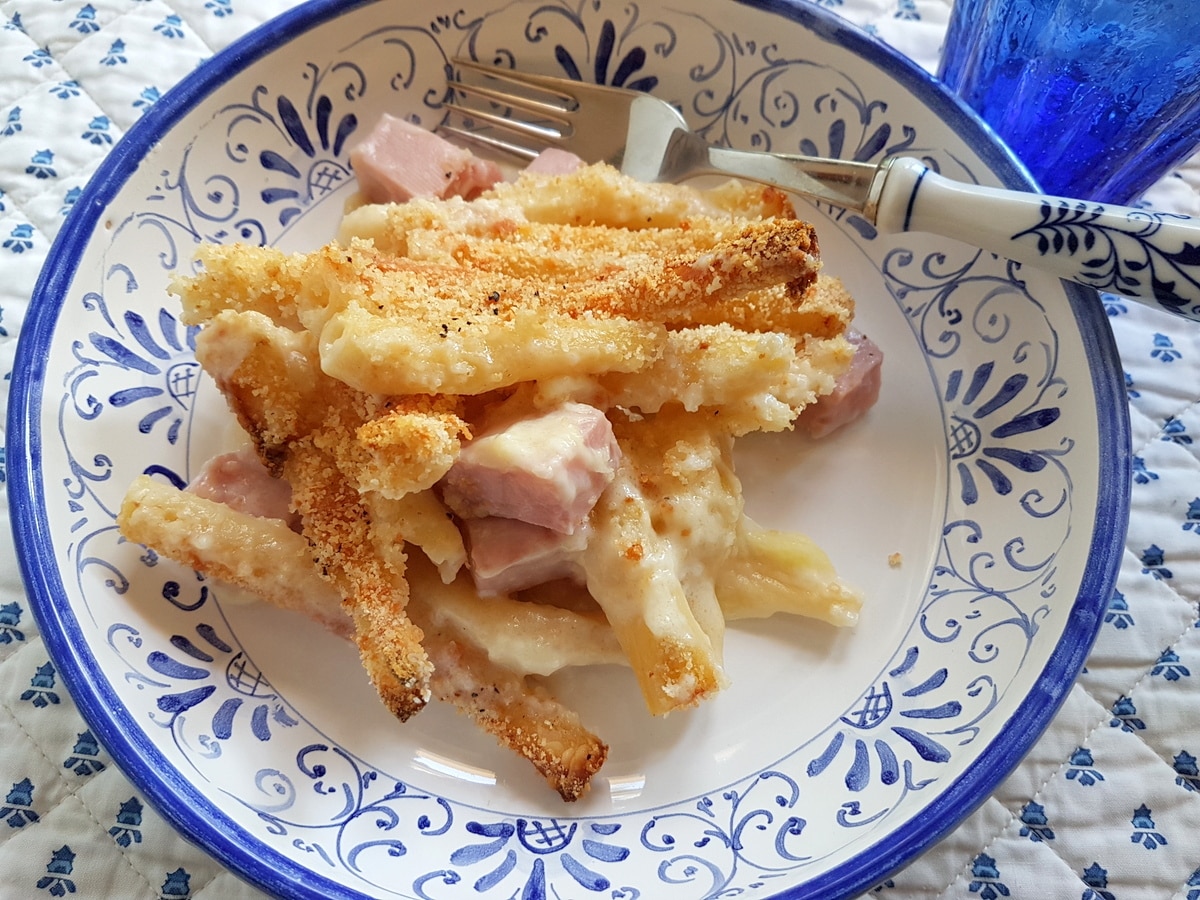 A traditional dish from Naples in Southern Italy, Neapolitan gratin-baked ziti with béchamel is popular for family meals on Sundays and holidays. However, this delicious baked pasta comes together very quickly and can easily be part of a weekly menu.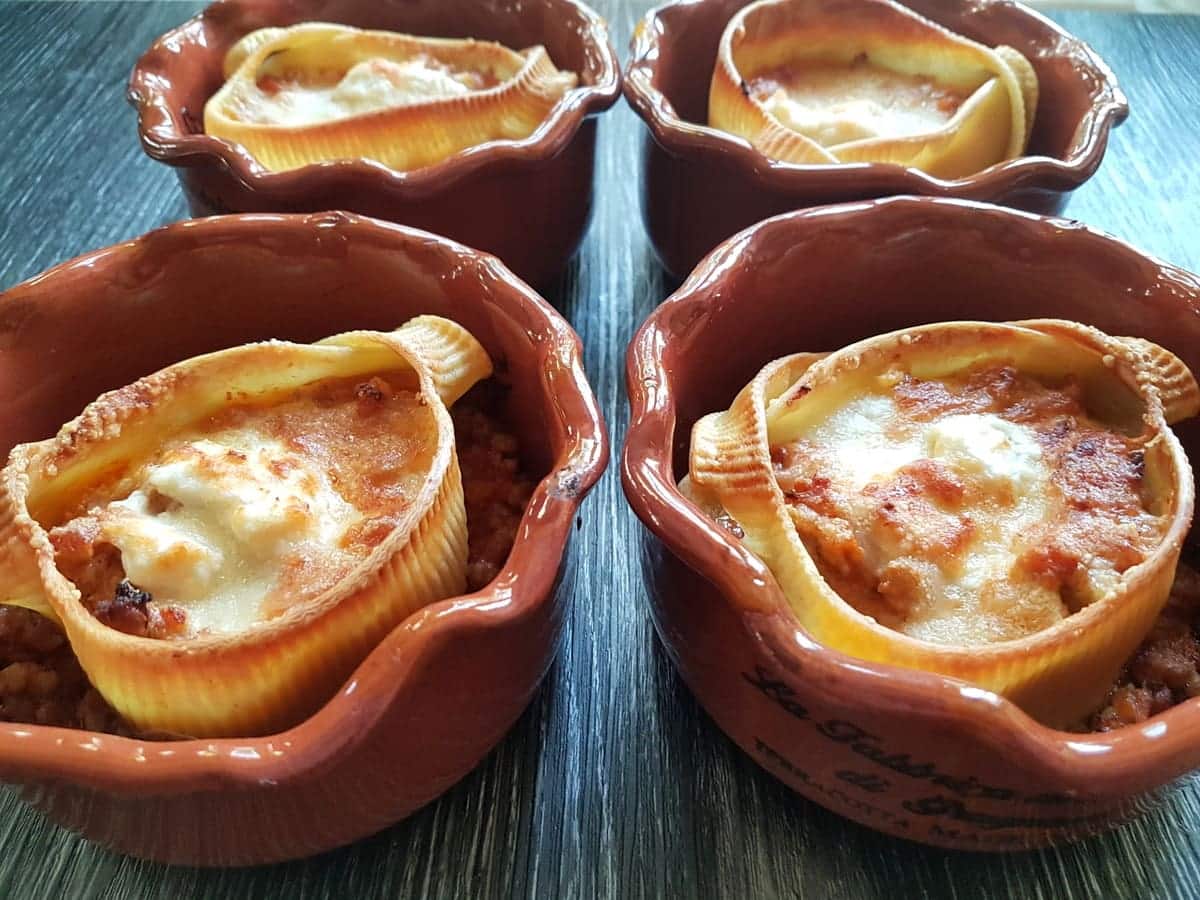 This cheesy Neapolitan baked pasta dish features the largest pasta in the world, filled with meat ragu and cheese, then baked to perfection. It's an ideal choice for Sunday lunches and holiday meal plans.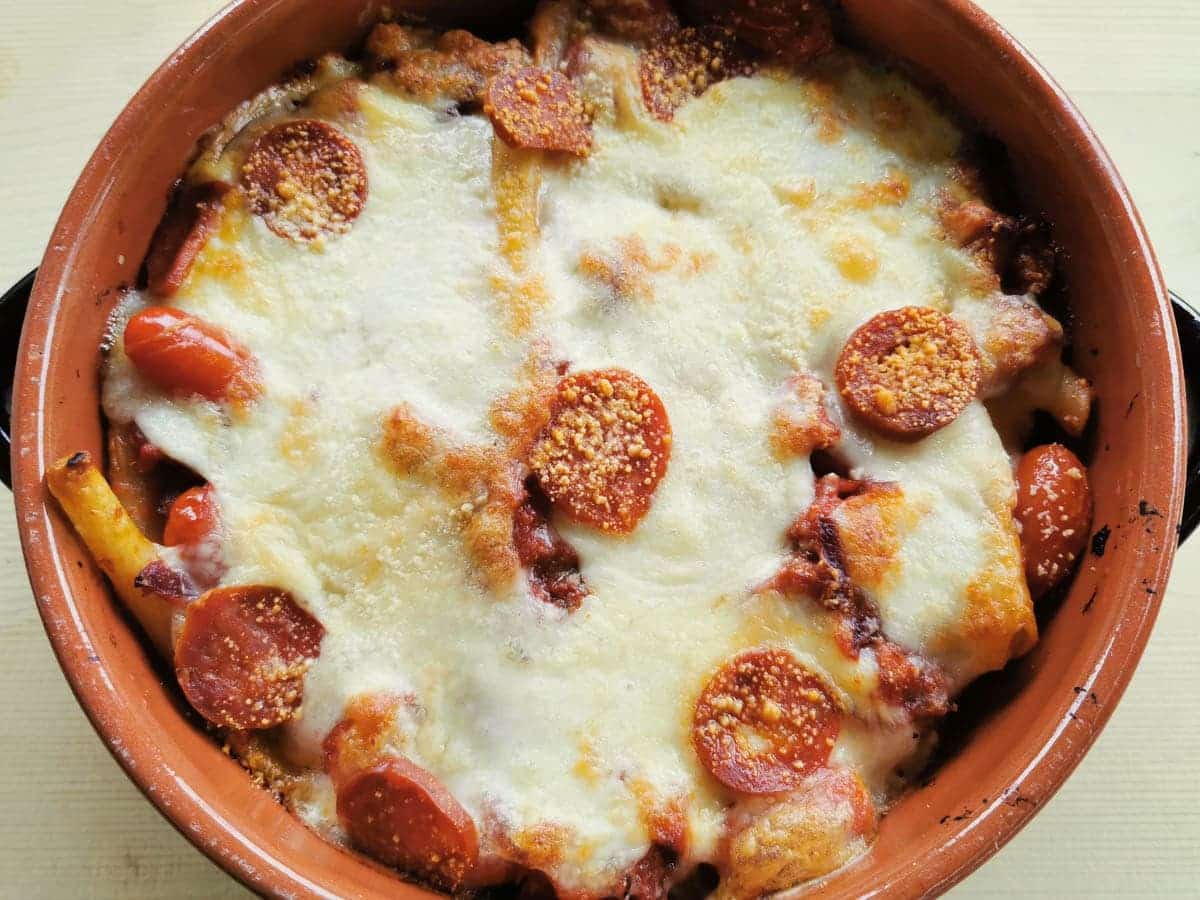 Spicy sausage-baked ziti, also known as ziti alla diavola, is a fantastic Neapolitan dish for those who enjoy a bit of heat. The pasta is incredibly flavorful in this simple and quick recipe.
Fontina Pasta Recipes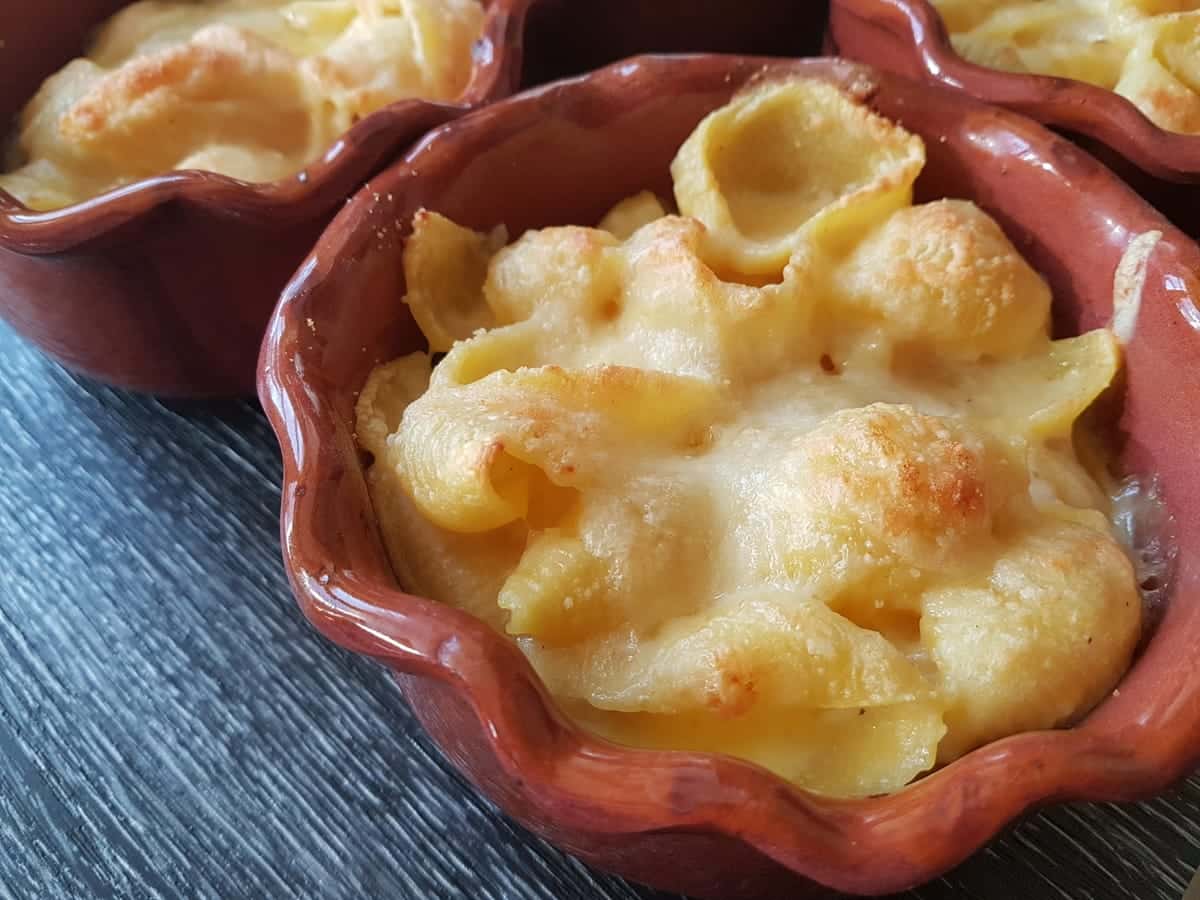 This mouthwatering Italian baked pasta shell dish is made with béchamel sauce, fontina, and grated Grana. It's creamy, cheesy, and easy to prepare, making it perfect for both weeknights and entertaining.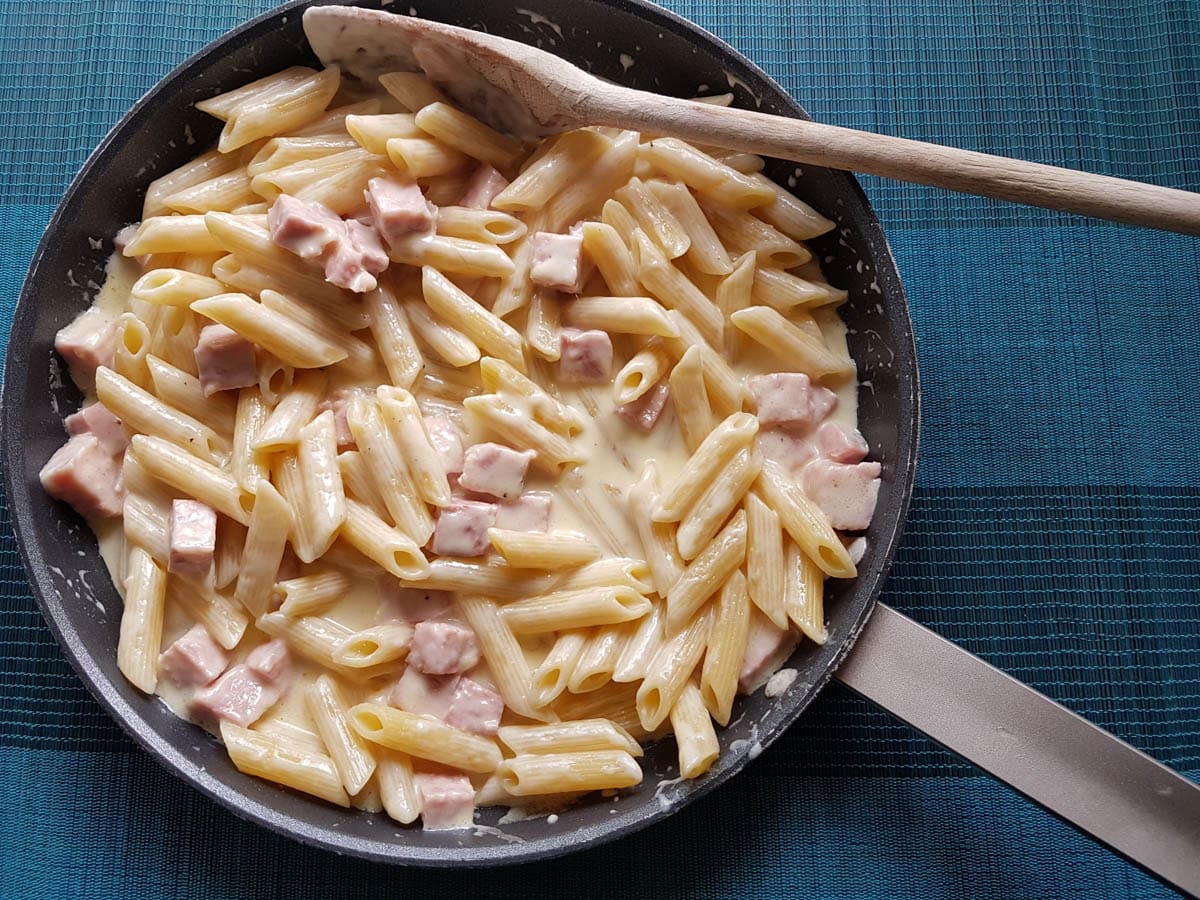 This creamy and cheesy pasta alla Valdostana recipe hails from the Aosta Valley in Northern Italy, a region renowned for its cheese, particularly fontina. Most 'alla Valdostana' recipes use fontina, a superbly meltable cheese featured in dishes like Italian fondue.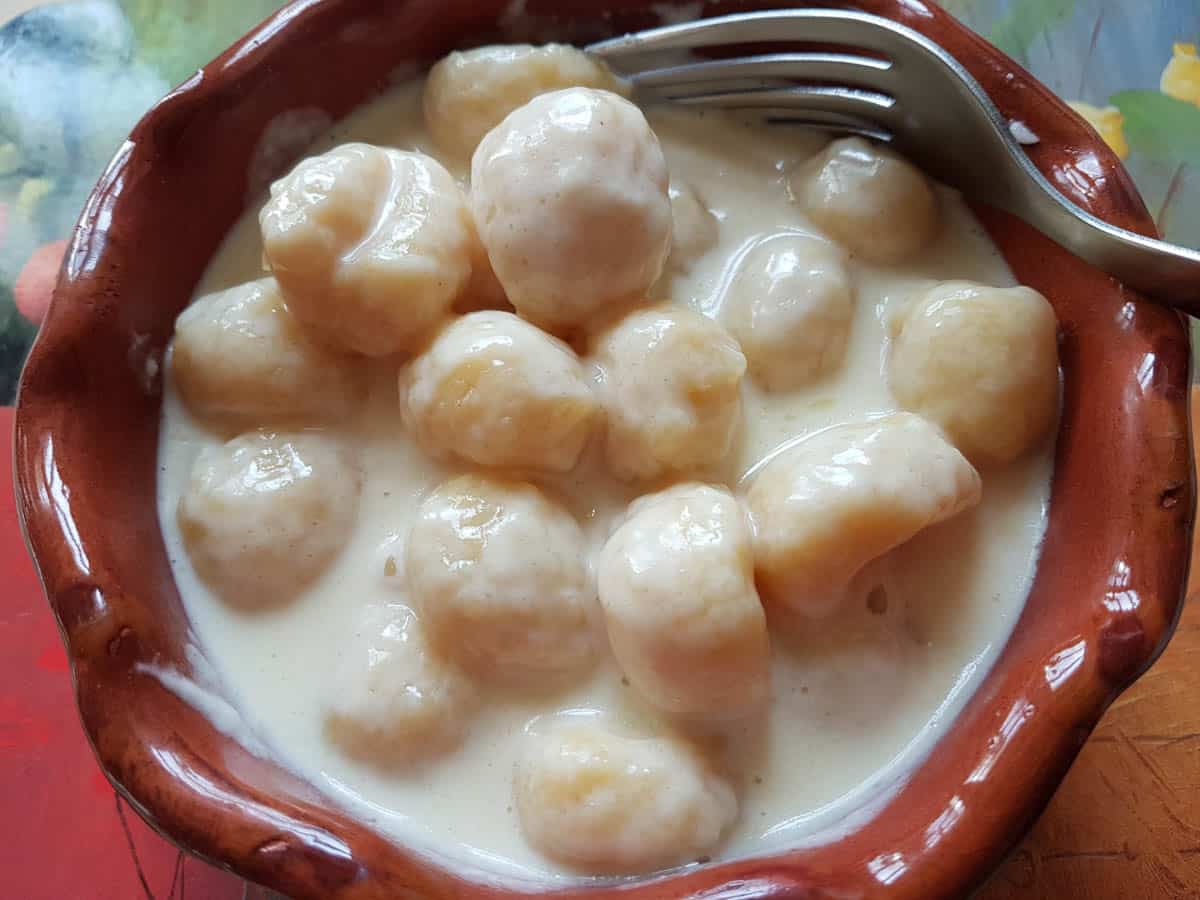 Soft and delicate pillowy potato gnocchi pairs exceptionally well with the stronger flavor of rich and creamy fontina cheese. A fantastic example of typical hearty mountain food from Northern Italy.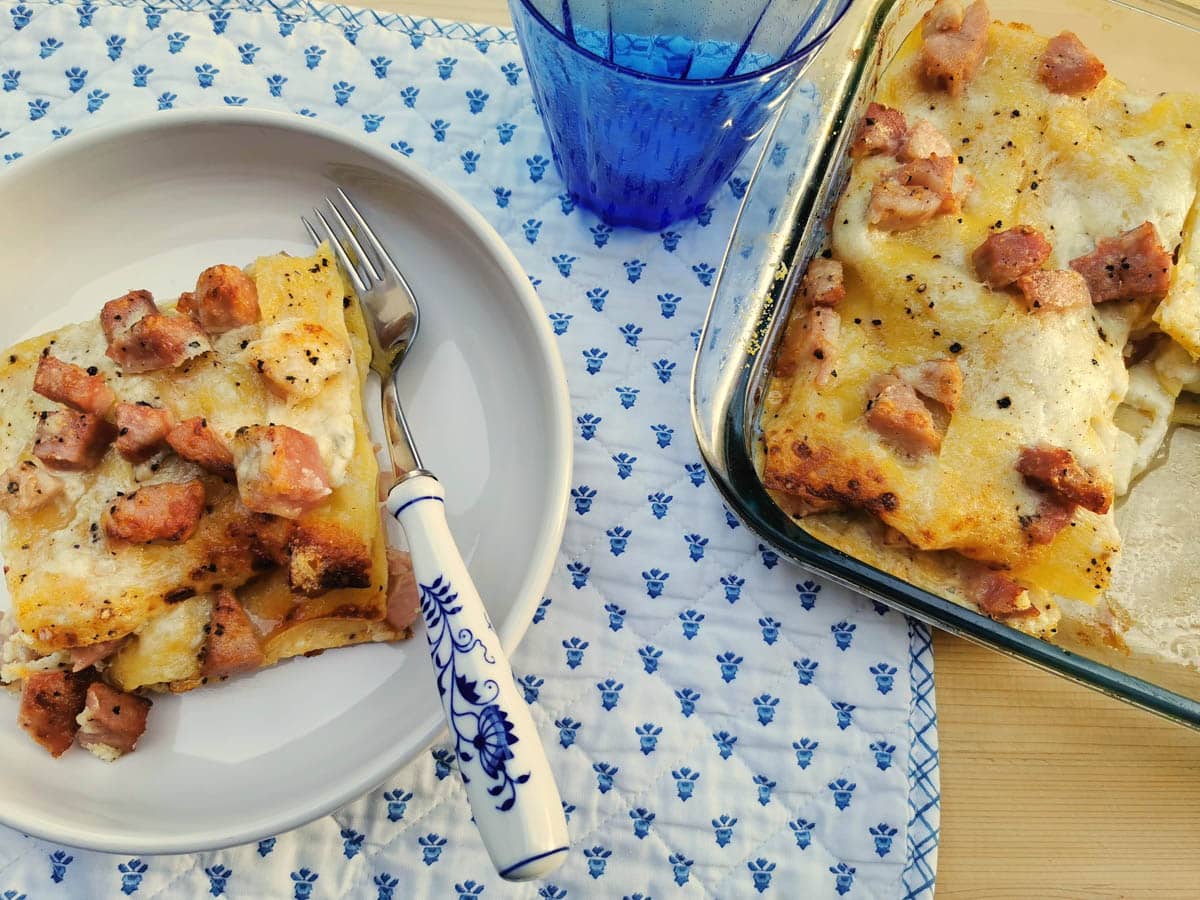 This simple but seriously delicious lasagna recipe comes from the Aosta Valley (Val d'Aosta) in Northern Italy. There are two versions of Valdostana-style lasagna: one with tomatoes and one without. The latter is known as a white (bianca) lasagna in Italy and is called lasagne alla Valdostana.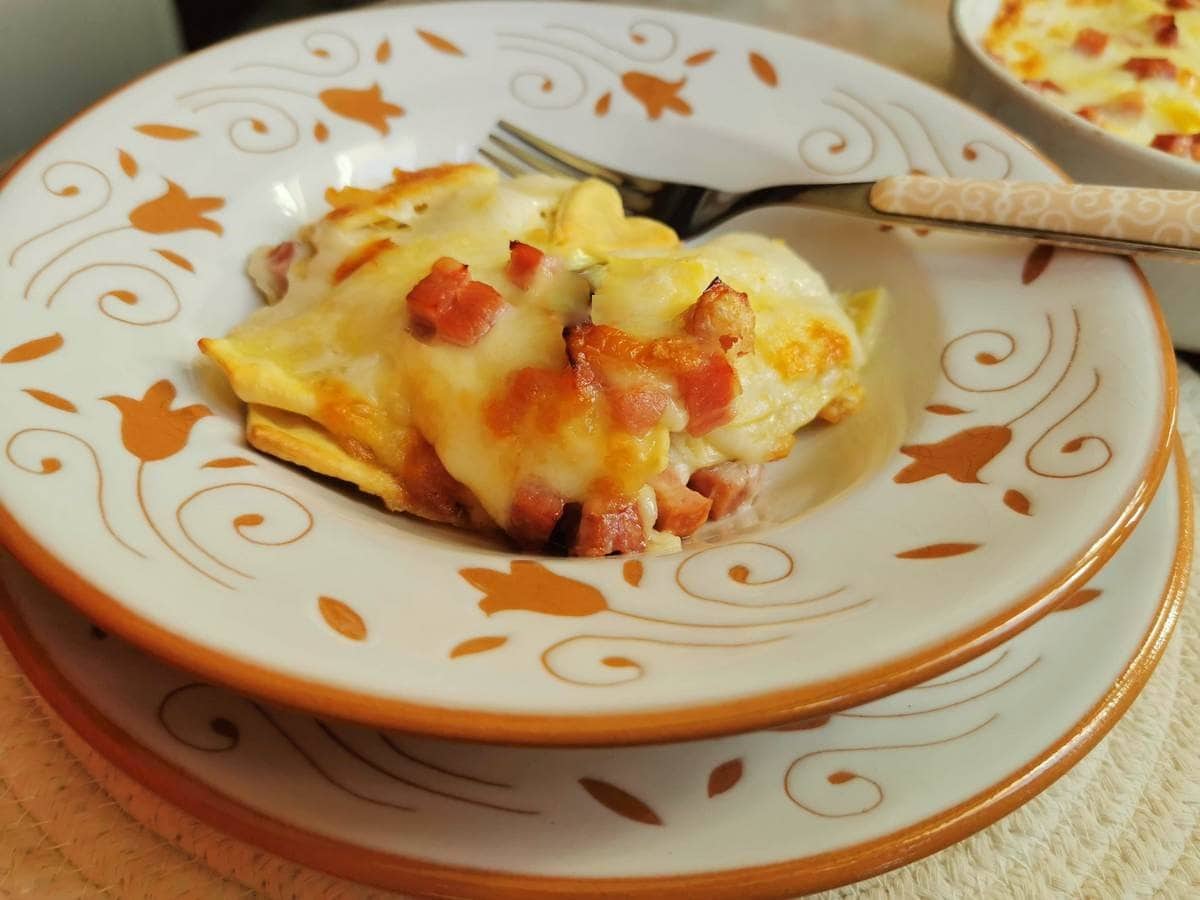 This easy ham and cheese pasta bake recipe from the mountainous South Tyrol (Alto Adige) is made with homemade egg pasta sheets cut into squares (fleckerl) and then baked with cooked ham and Asiago or fontina.
The homemade pasta is easy to make, but you can also use store-bought lasagna sheets for a convenient alternative. This ultra-cheesy pasta dish is sure to delight the whole family.
Stracchino Pasta Recipes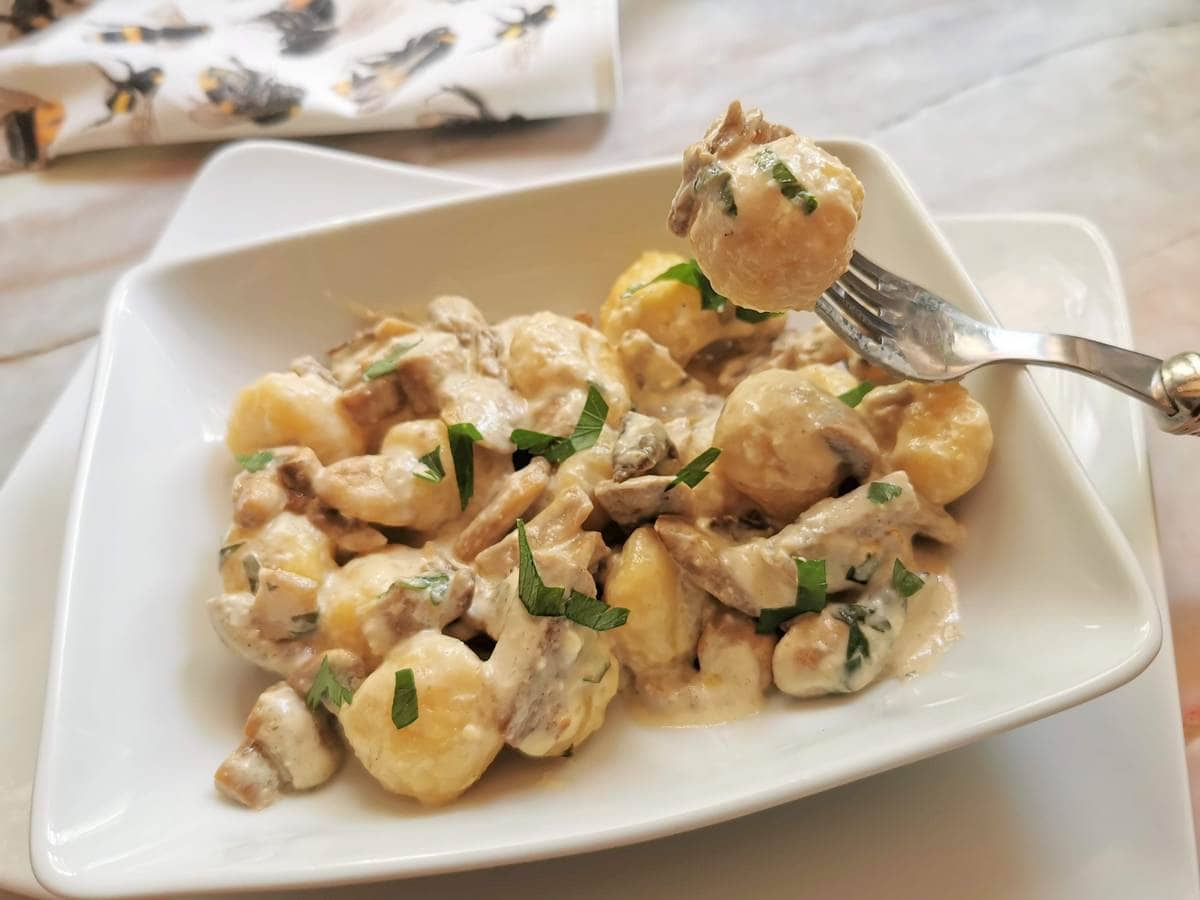 Gnocchi and a creamy porcini and button mushroom sauce, this restaurant-worthy mushroom gnocchi with stracchino recipe is full of autumnal Northern Italian flavours. It's simple enough for weeknights but special enough to serve to guests.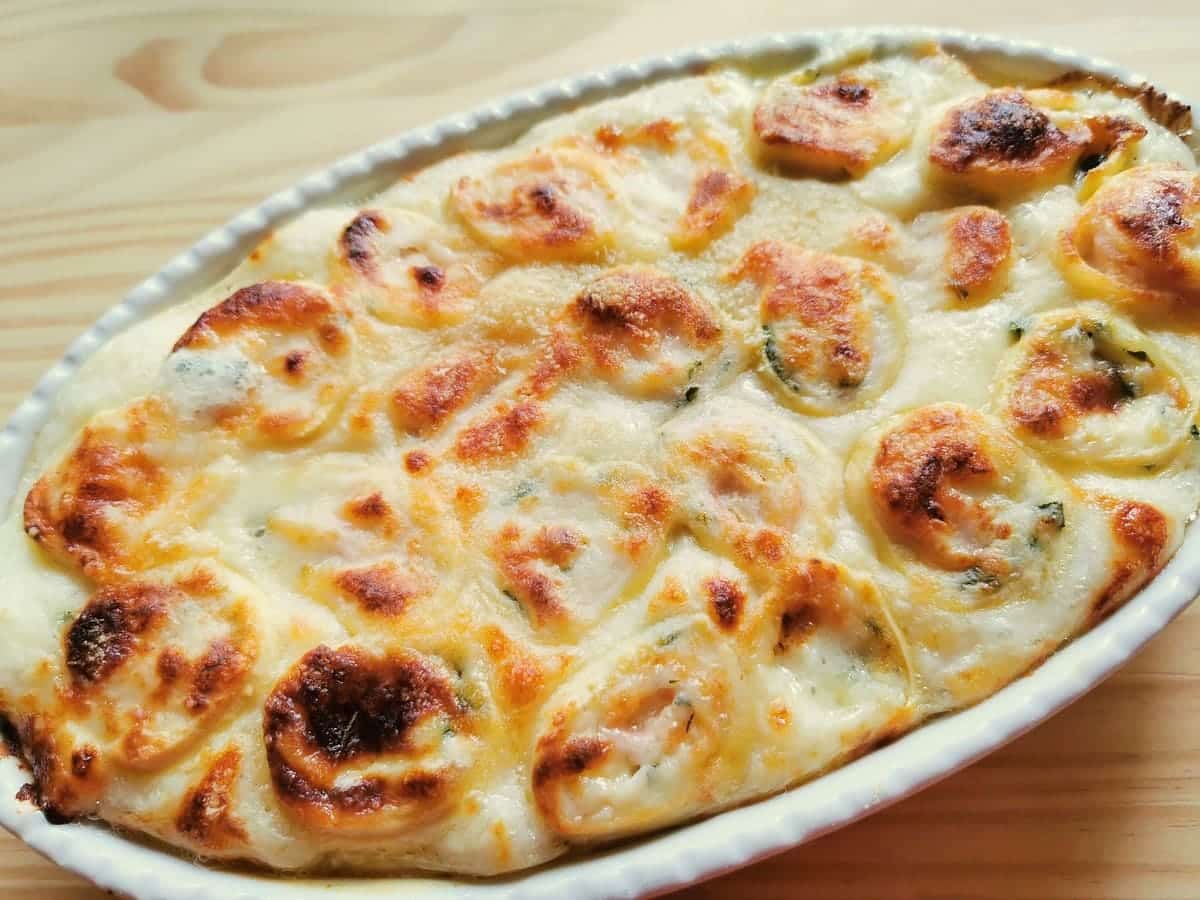 These exquisite baked smoked salmon pasta rosettes are perfect for impressing your guests. Based on a traditional pasta bake from Emilia-Romagna, this recipe includes lasagna sheets, stracchino (crescenza) cheese, smoked salmon (preferably sockeye salmon), parsley, béchamel, and grated Parmigiano. This dish is perfect as an appetizer, starter, or main course.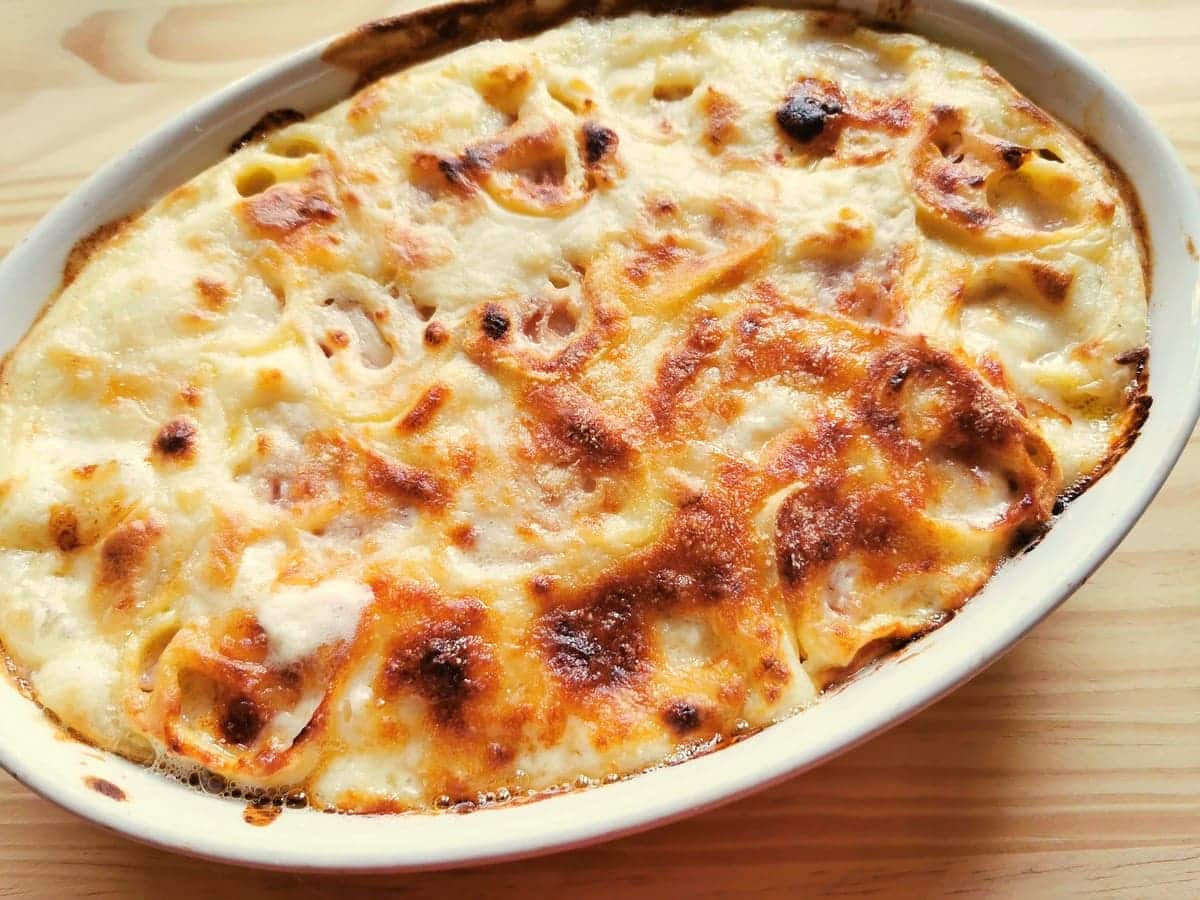 Originating from Emilia-Romagna, this baked pasta roses recipe is one of the best ways to use homemade, fresh, or dried lasagna pasta sheets.
Also known as pasta rosettes this beautiful dish is easy to make and yet seriously delicious. Your family will surely love it as much as mine! It's perfect for Sunday lunch, Mother's Day, and Easter.
More Recipe Collections You May Like:
Pin For Later: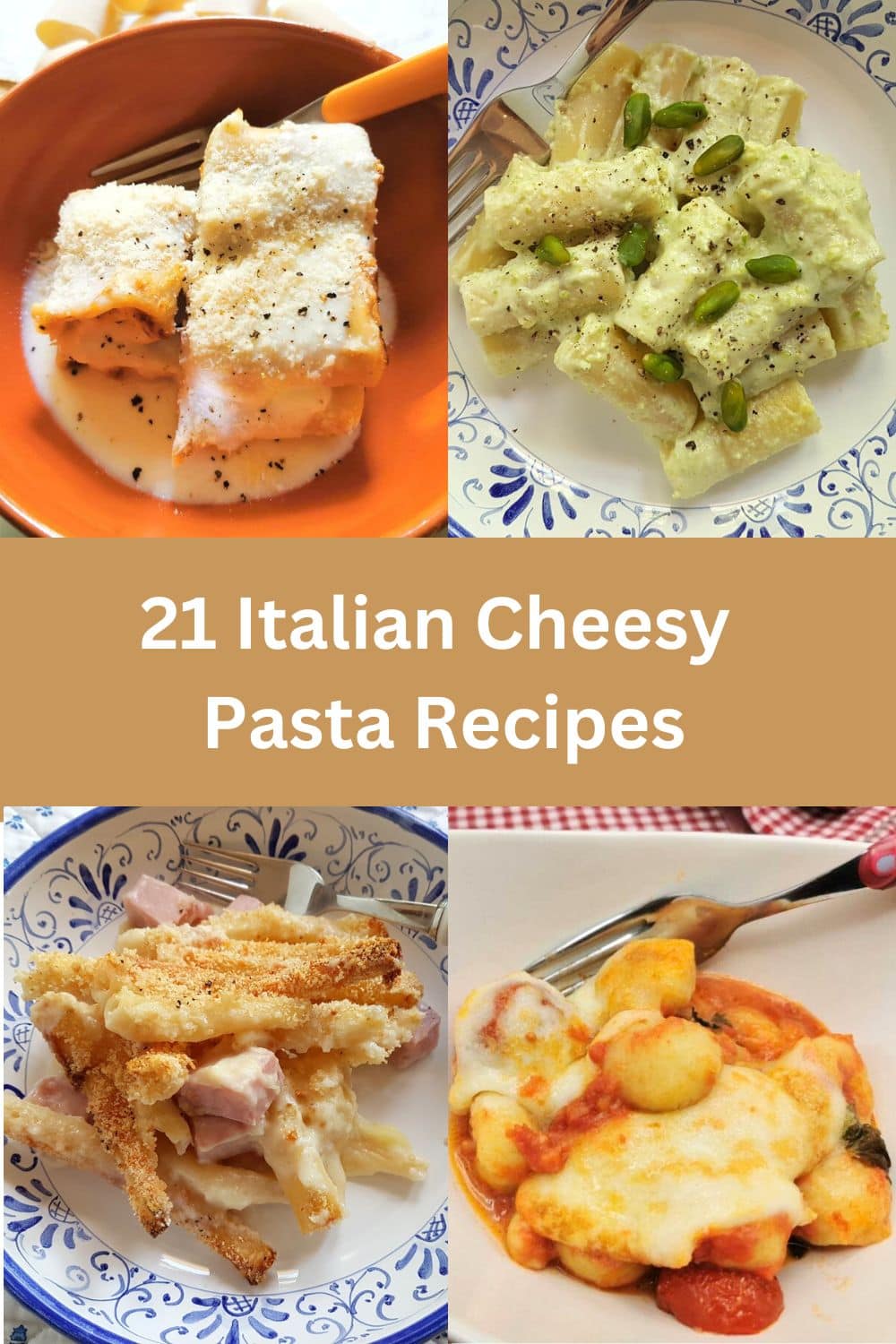 Let me know what you think
If you make any of these Italian cheesy pasta recipes, I'd love to hear how it turned out and if you liked it. Please leave a comment here on the blog or on The Pasta Project Facebook page. Looking forward to hearing from you!
Buon appetito!
If you are interested in learning how to make homemade pasta and different types of gnocchi, check out my shop page for some great video online courses from my friends in Rome! Nothing beats learning to make pasta from Italians! Plus while you're there why not order a copy of one of my pasta recipes cookbook!?