Tagliolini baked in broth (bassotti) recipe from Emilia-Romagna.
Tagliolini baked in broth (bassotti) is a very old recipe from Romagna. Once upon a time, this dish was made in the embers of the kitchen hearth with pork bone stock. Today, of course, Italians make it in the oven and usually with beef or chicken stock.
I bassotti, tagliolini al forno in brodo.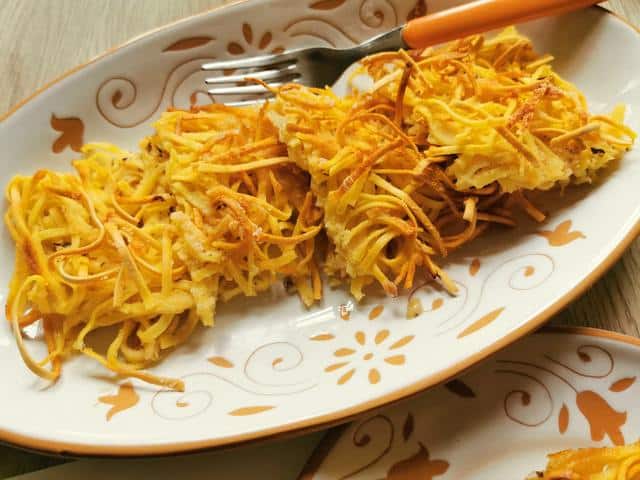 What is tagliolini pasta?
Tagliolini pasta ribbons are actually my favourite type of egg pasta. This pasta is traditional in much of Northern Italy, particularly Liguria, Piemonte, Molise and Emilia-Romagna, where this bassotti recipe is from.
As you can imagine, tagliolini is in some way connected to tagliatelle. The word 'taglia' means cut and the difference between these two pastas is… in the cut. You can read more in my tagliolini post. But, in short, tagliolini is a very narrow version of tagliatelle. In fact, it's somewhere between angel hair pasta and tagliatelle in width.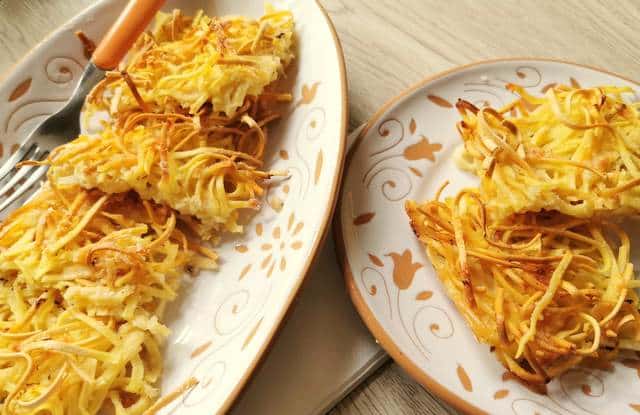 Tagliolini actually started life as a pasta to eat in broth. In fact, there are many written references dating back centuries to these thin pasta ribbons used to add bulk and flavour to a variety of broths! The oldest recipes include pigeon, capon or pork broth. The latter is what bassotti was traditionally made with. Nowadays, beef or chicken broth are more popular.
An ancient recipe from Emilia-Romagna.
This tagliolini baked in broth is a very very old recipe. It is traditionally, from the Forlì-Cesena province in Emilia-Romagna, in particular Faenza, the Alto Savio valley and the mountainous Bagno di Romagna area. Also called basotti (one 's') or bazòtt, this was a dish originating in the kitchens of the countryside. It was made with a pork broth of basically pork bones and other parts of the pig left over after the animal was slaughtered.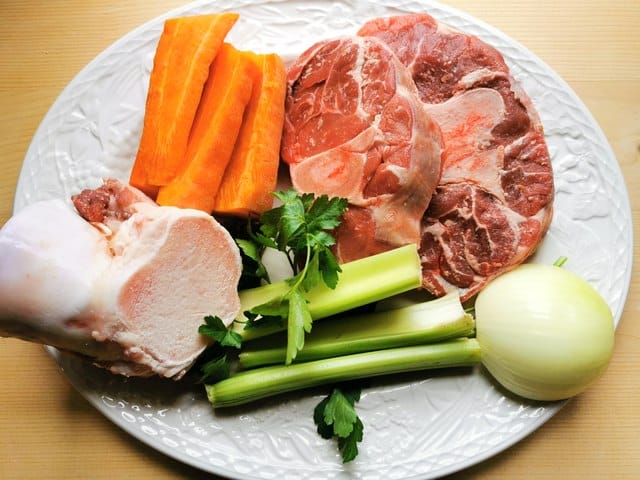 The Italians have an old saying 'del maiale non si butta via niente', meaning you don't throw anything away from the pig. And, they didn't! Think, salami, cured and cooked ham, pancetta, guanciale (pork cheek) sausages including blood sausages, lard, pigs trotters etc. And, after they had stripped the pig practically clean, they made broth!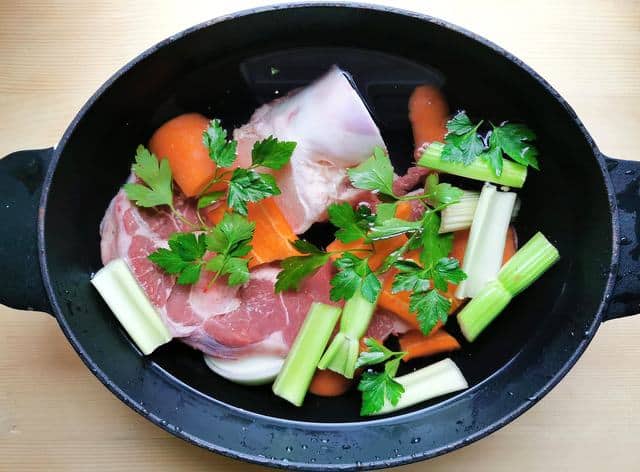 In the original version of this tagliolini baked in broth, the pasta was first blanched in the broth. They then laid it in a pan with lard, pecorino cheese, breadcrumbs and some of the broth. After which, they placed the pan on a tripod in the embers in the fireplace. Embers also covered the lid creating an oven effect. The bassotti pan was left in the hot embers until the broth was completely absorbed by the tagliolini.
This modern version of tagliolini baked in broth.
Of course, nowadays, Italians don't make bassotti in the embers! Instead, the fresh pasta ribbons are oven baked in broth with butter, cheese and breadcrumbs. I used fresh tagliolini from Giovanni Rana, a pasta company from Verona that sells very good ready-made fresh pasta. They also sell in the US and I think UK.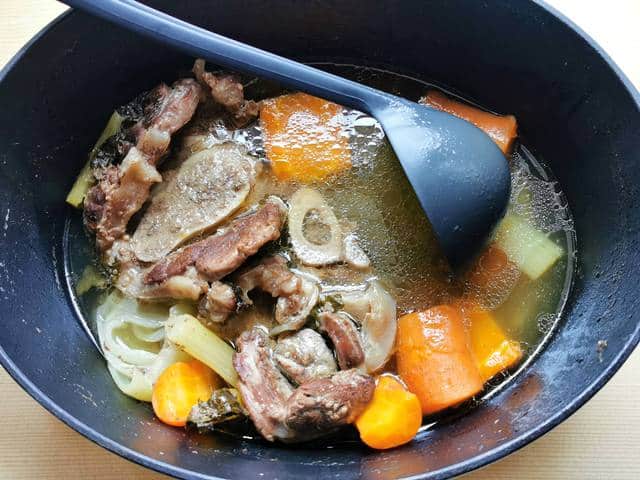 This recipe really calls for fresh pasta. So, if you can't find it for sale, best to make your own. I don't have a recipe for fresh tagliolini on The Pasta Project yet, but the ingredients and method are the same as making lasagne sheets. 300g Italian '00' flour and 3 eggs should be enough to make 500g tagliolini. Once you have made long pasta sheets, roll them up and cut strips of about 3-5mm wide starting from one side. Make sure your board is well floured so the pasta ribbons don't stick together.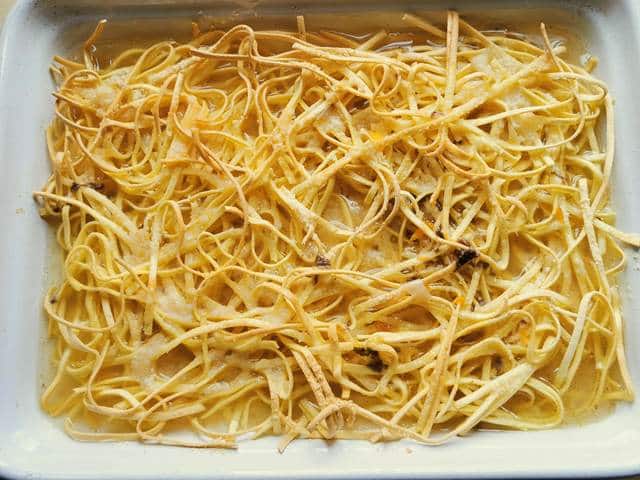 Other ingredients for Bassotti.
Apart from the fresh pasta, all you need for this tagliolini baked in broth is grated parmigiano, butter and breadcrumbs. And, of course, the broth. Homemade broth is best. I make a pot of beef and bone broth almost every week. I love to add it to ragu, stews and soup recipes. If like me you do the same, making bassotti is such a great way to use some of your broth. Kids love it!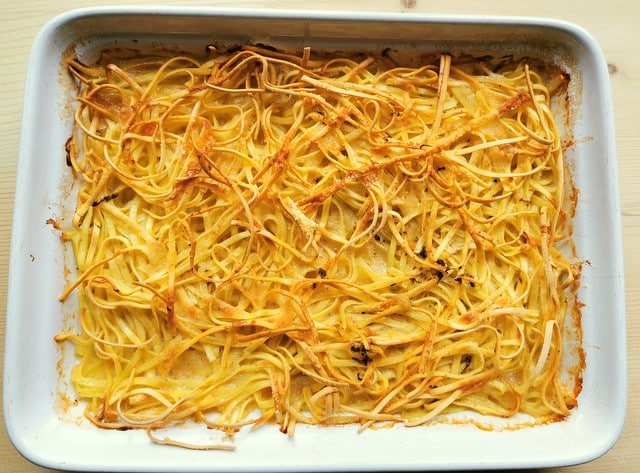 Sometimes, we also have broth with different pasta like in this recipe for beef broth with whole-wheat grattoni pasta. Although also beef, the broth I made for this bassotti recipe has slightly different cut of meat to the grattoni one. I used beef shank cross cuts. I like these for broth because they take slightly less time to become very tender and the bone marrow adds extra flavour. You can also use stewing steak, meaty beef bones or short ribs.
Chicken broth works too!
Once your broth is ready, you will need to filter enough of it to use for this baked tagliolini in broth. I made enough to keep some of the broth with the meat and veggies to have as a soup. My dogs got the bones!! You could also use chicken broth if you prefer!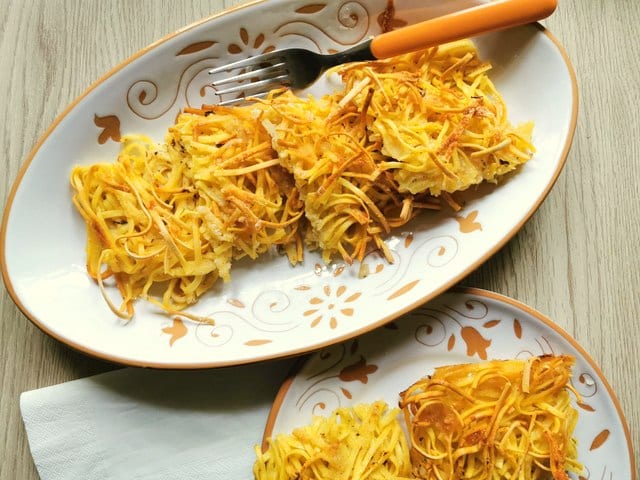 Although the original recipe includes blanching the pasta in the broth, I didn't do this. The recipe I followed, published by the Italian Academy of Cuisine, said to just bake partly cooked fresh pasta with melted butter, cheese and a dusting of breadcrumbs. Then when it starts to crisp slightly add enough broth to cover the pasta. Finally, continue cooking until the broth has evaporated. Easy and yet so delicious!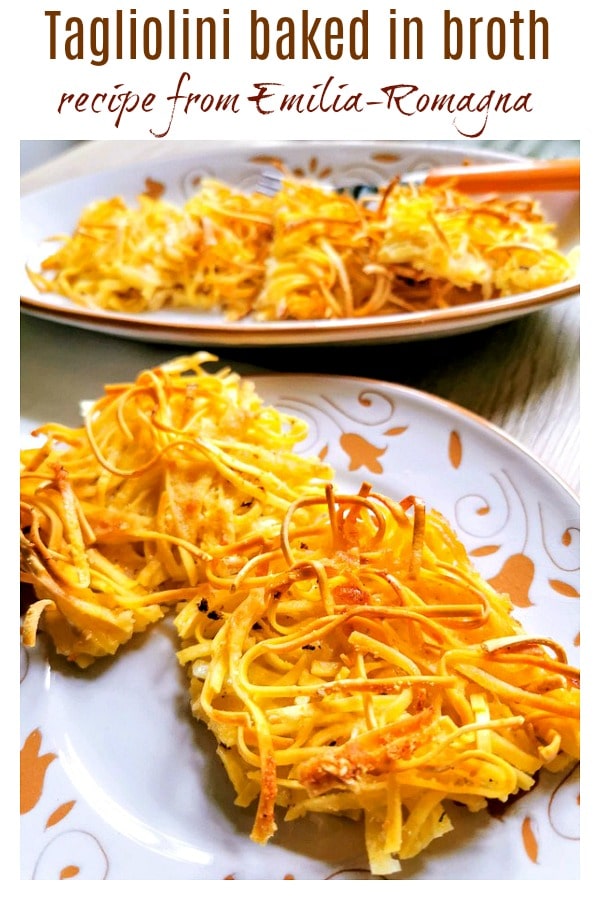 Tagliolini baked in broth can be eaten as a snack or a simple meal. In Italy, it would also be a first course, eaten before the main course. Whichever way you decide to eat your bassotti, I'm sure you'll love it.
If you make this bassotti recipe, I'd love to hear how it turns out and if you liked it. So, please leave a comment here on the blog or on The Pasta Project Facebook page.
Looking forward to hearing from you!
Buon appetito!
Other tagliolini recipes on The Pasta Project
Save this recipe for later?
If you want to save this recipe for later, you can print it, bookmark this page or save it to Pinterest.