Pancetta or Italian bacon is a delicious addition to pasta dishes. In fact, there are many traditional pancetta pasta recipes here in Italy. In some, pancetta is the star of the dish, in others it adds a slightly salty bacony flavour to the rest of the ingredients.
If you like using pancetta in your pasta dishes, you will love this collection of some of my favorite authentic Italian pancetta pasta recipes.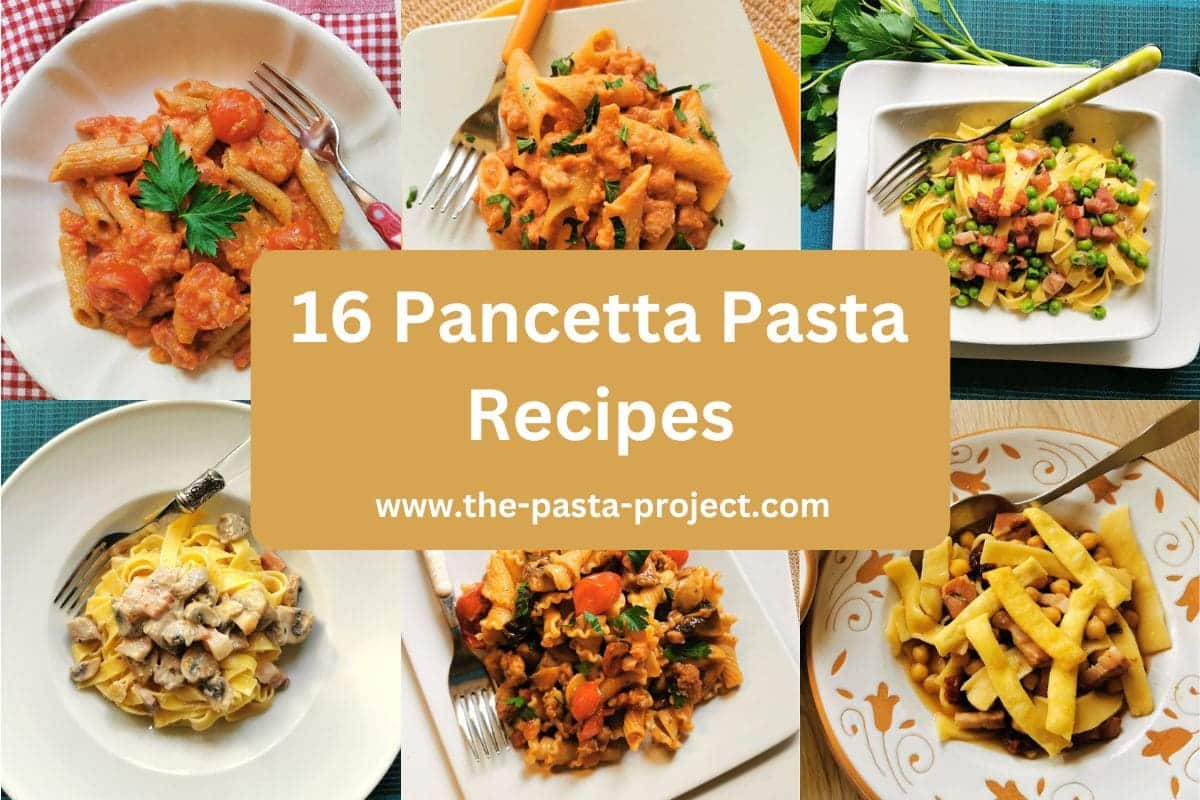 About Pancetta
Pancetta is an Italian cured meat or salumi that is similar to streaky bacon. Italians make it from pork belly seasoned with salt, sugar, black pepper, and juniper peppers and sometimes garlic and herbs as well. They then leave it to cure in salt for weeks or months, which helps intensify the flavor.
When used with pasta, pancetta is often diced or julienned and then fried in a pan to enhance its flavour and render the fat. It can be a main ingredient in a sauce or just one of a number of ingredients.
A little pancetta history.
Italian pancetta has a long history. In Italy, it is said to date back to Ancient Rome. The Romans made and ate pork meat cured in salt. They called this meat 'petaso' and food historians say it was the ancestor of pancetta and prosciutto.
Apparently, this ancient pancetta was a staple ration given to the legionaries at least twice a week, because people believed it was an excellent source of energy.
However, according to some scholars the origins of pancetta (and bacon) are even older than the times of Ancient Rome. In fact, many consider China to be the place where people first cooked and perhaps even preserved pork belly some 3000 years ago.
16 Pancetta Pasta Recipes
Click the recipe name to learn more and get ingredients and instructions.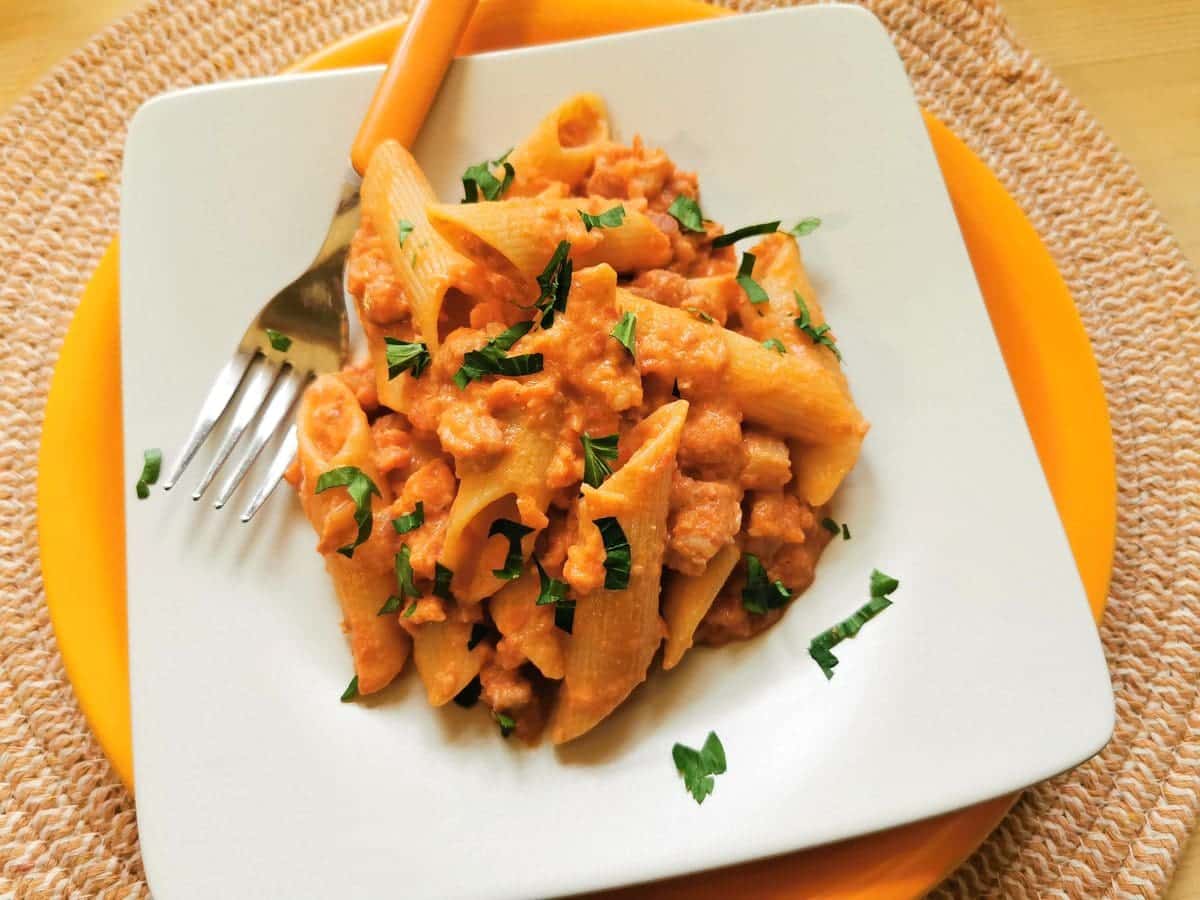 This is one of the simplest Italian pancetta pasta recipes I know. In fact, it's super easy to make and can be on the table in the time it takes you to boil the water and cook the pasta. Italians call this dish pasta del Maresciallo, or the marshal's pasta.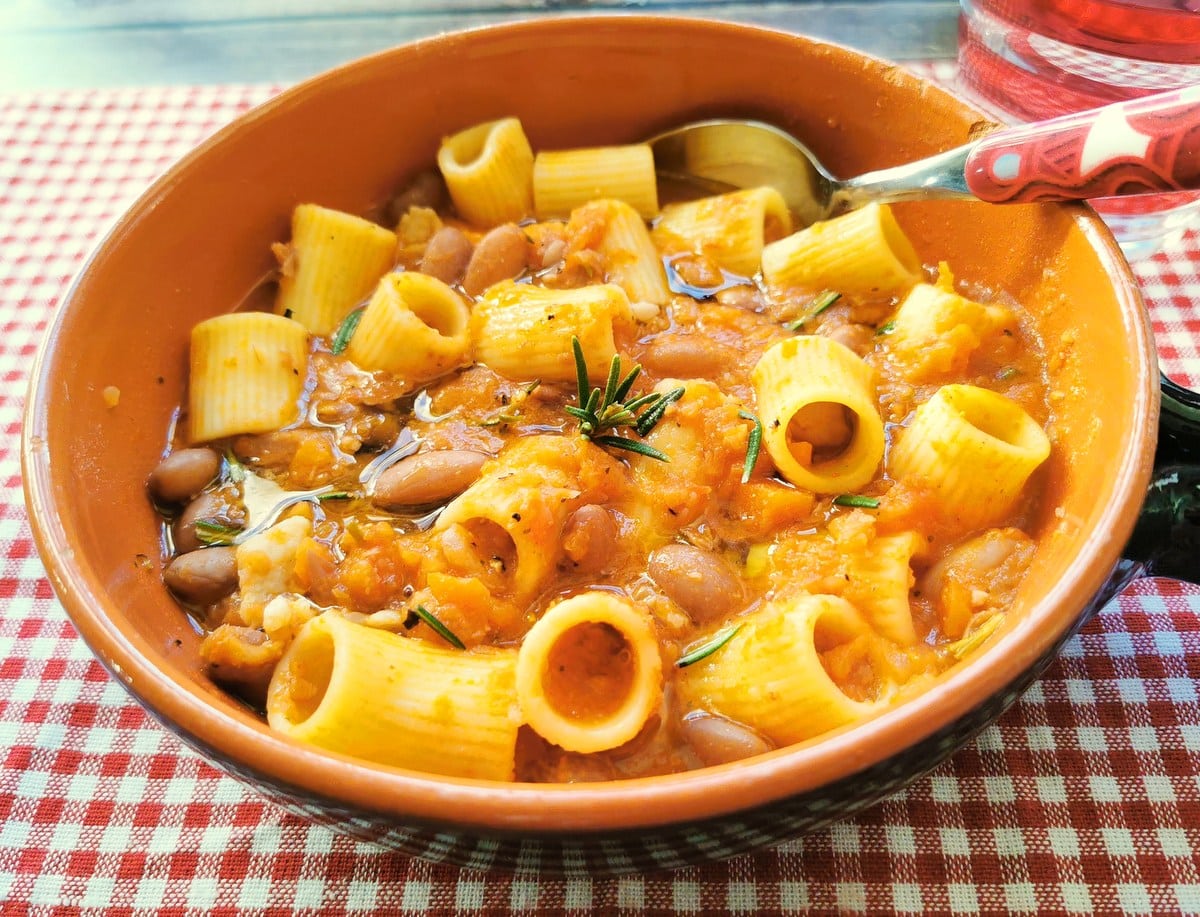 Here in Veneto, Northern Italy, one of the most popular, hearty and nutritious cold weather dishes is pasta with beans. Known as "pasta e fagioli" in Italian, this soup has various versions across Italy, with Campania, Lazio, Lombardy, Piemonte, Veneto, and Tuscany being the most typical regions for it.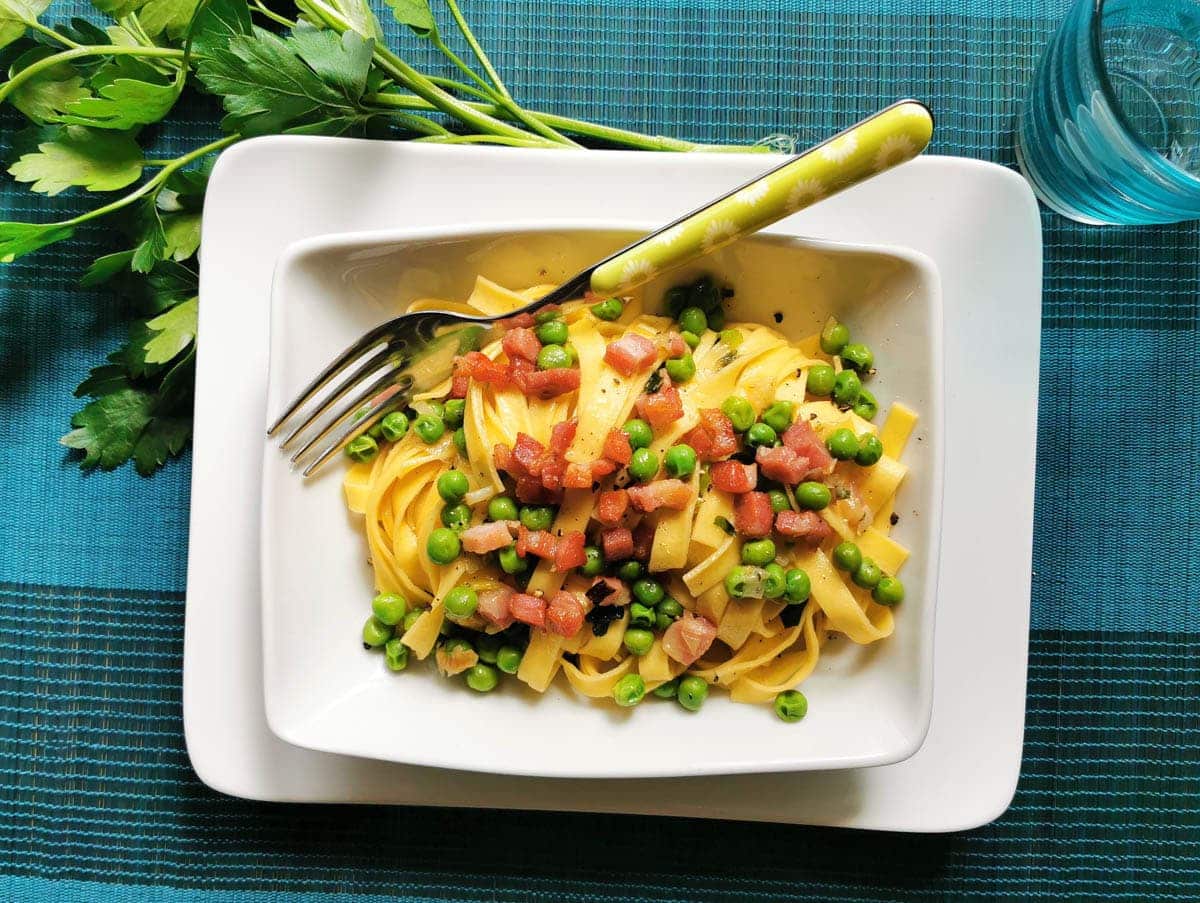 Another recipe from here in Veneto that often includes pancetta is this traditional spring recipe for pasta with fresh peas, or "pasta coi bisi" in the local dialect.
This simple pasta with peas and pancetta is more than the sum of its parts, which are few! In fact, the first time I had this dish, I was really quite surprised how tasty it is. The secret ingredient is fresh peas!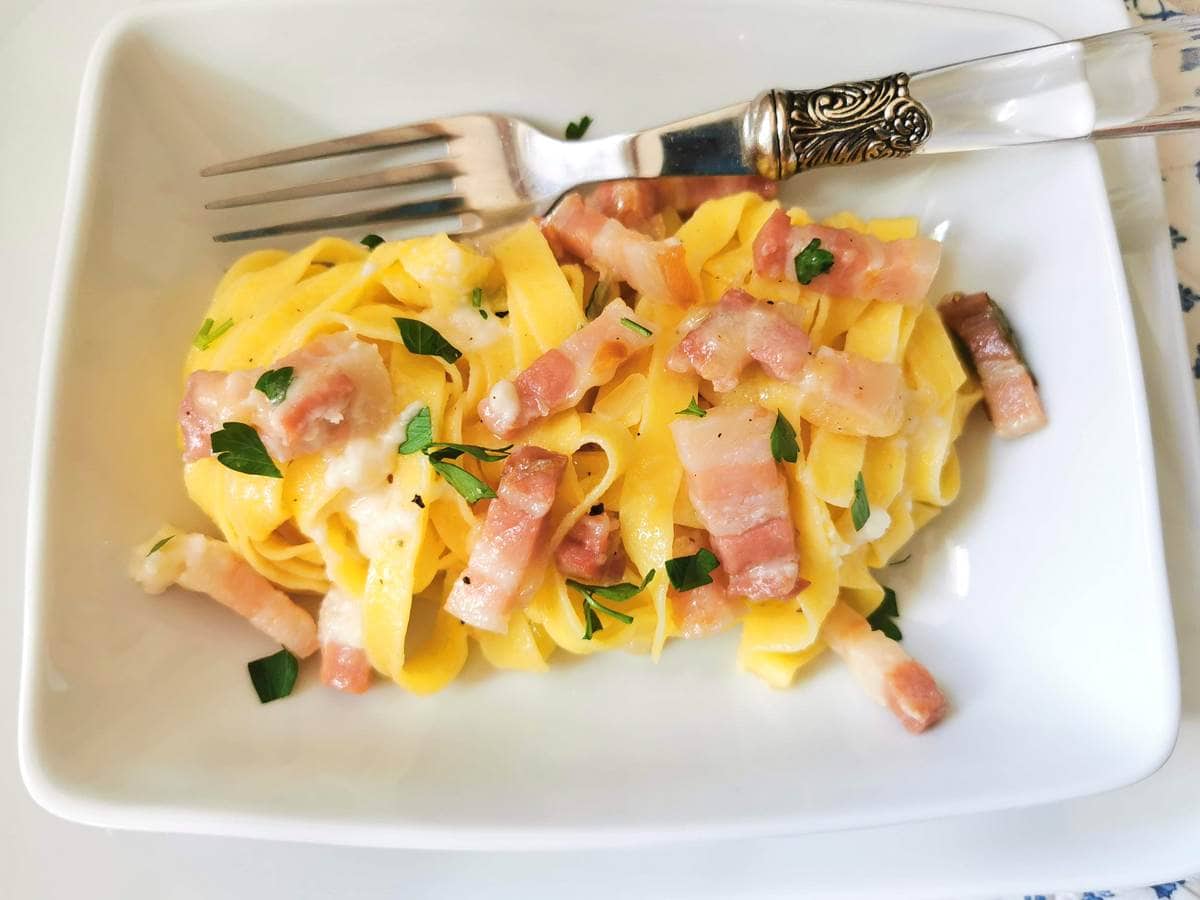 Pasta with pancetta is a popular combo in kitchens throughout Italy. This fettuccine all'Abruzzese from the central Italian region of Abruzzo is one of my favorites. It's simple and delicious, requiring only pancetta, pecorino, onion, parsley, basil, and pasta.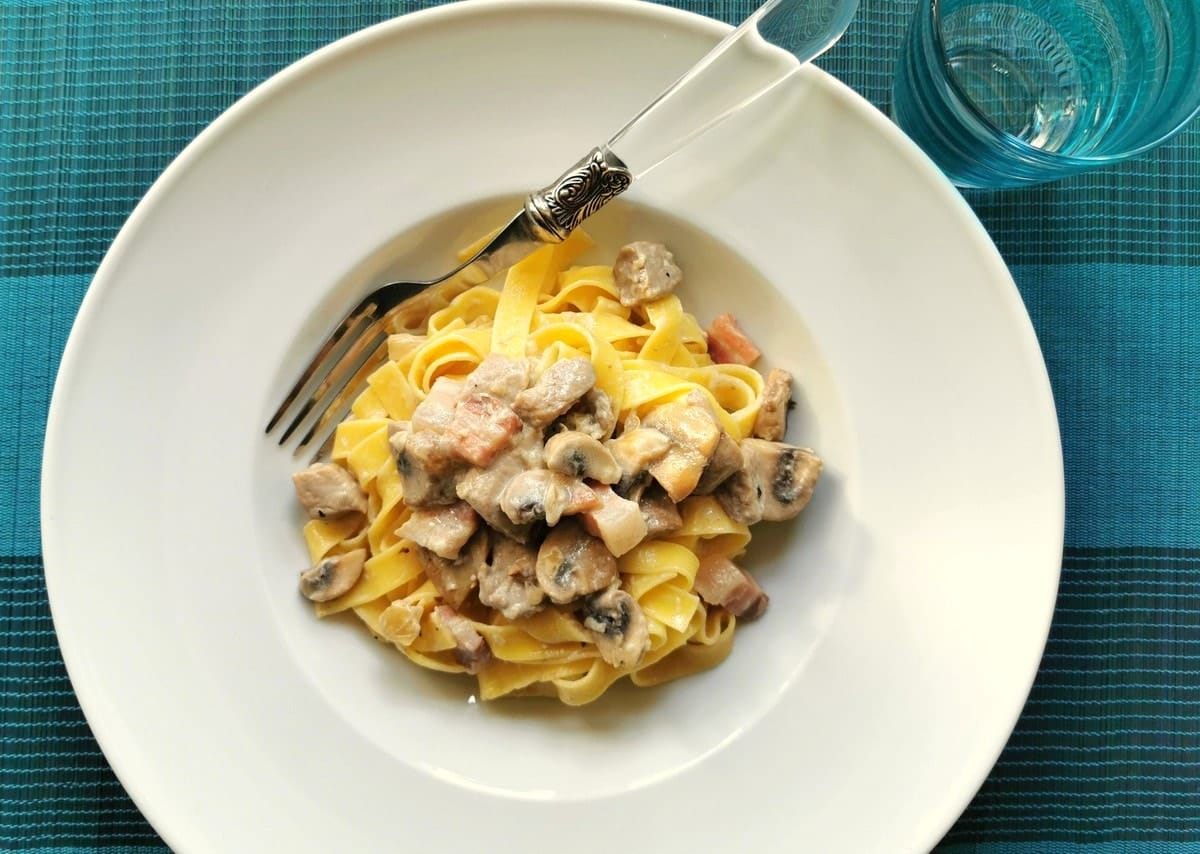 This elegant, creamy pork fillet tagliatelle pasta recipe from Trentino-Alto Adige is known as tagliatelle alla Castellana in Italian. The savoury pork fillet sauce features mushrooms, cream, brandy, and pancetta, making for a rich and filling Italian mountain recipe!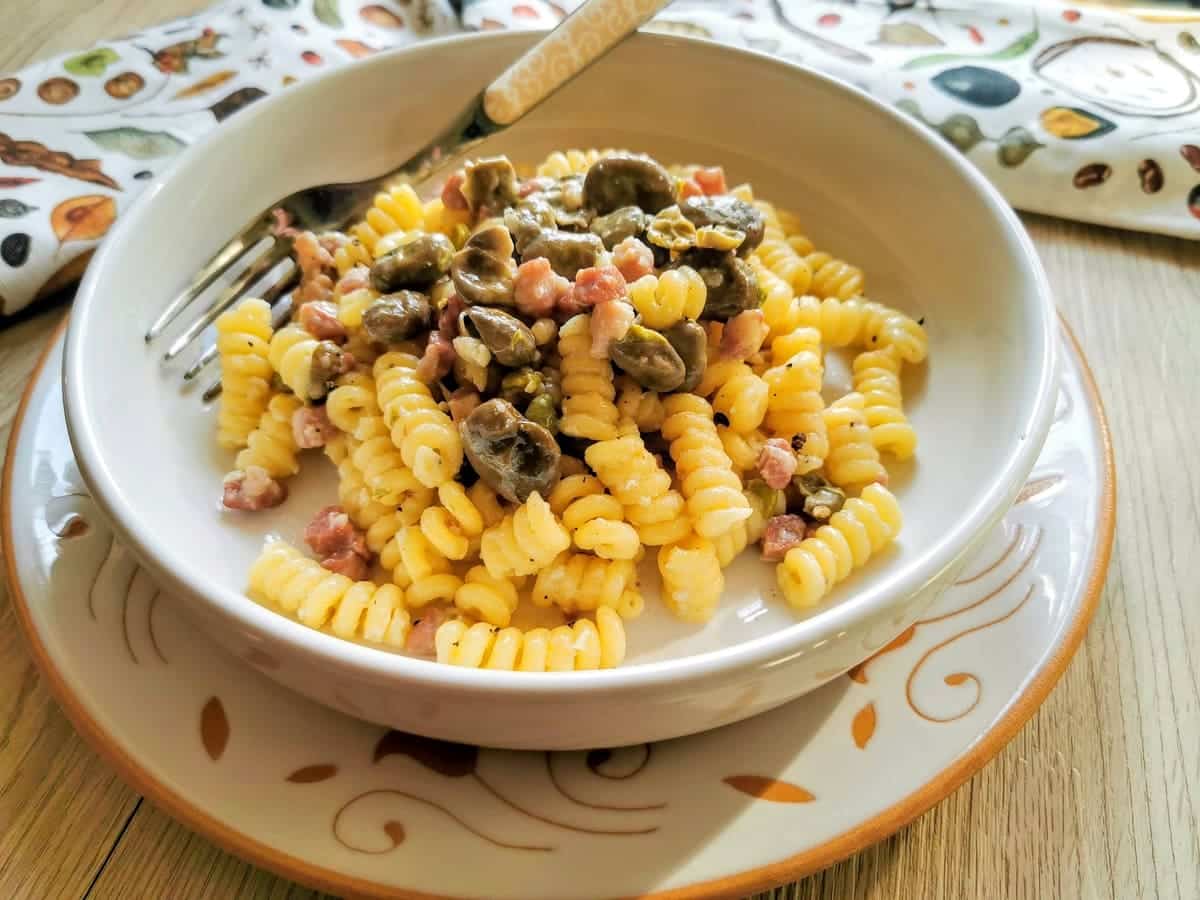 Originating from Le Marche in Central Italy, this pasta with fava beans and pancetta is a traditional spring dish. Italians call it "fave in porchetta," as it involves cooking fava or broad beans with pancetta or guanciale, garlic, and wild fennel, the same flavours that they use to make porchetta. This dish is delicious as a side dish or main course.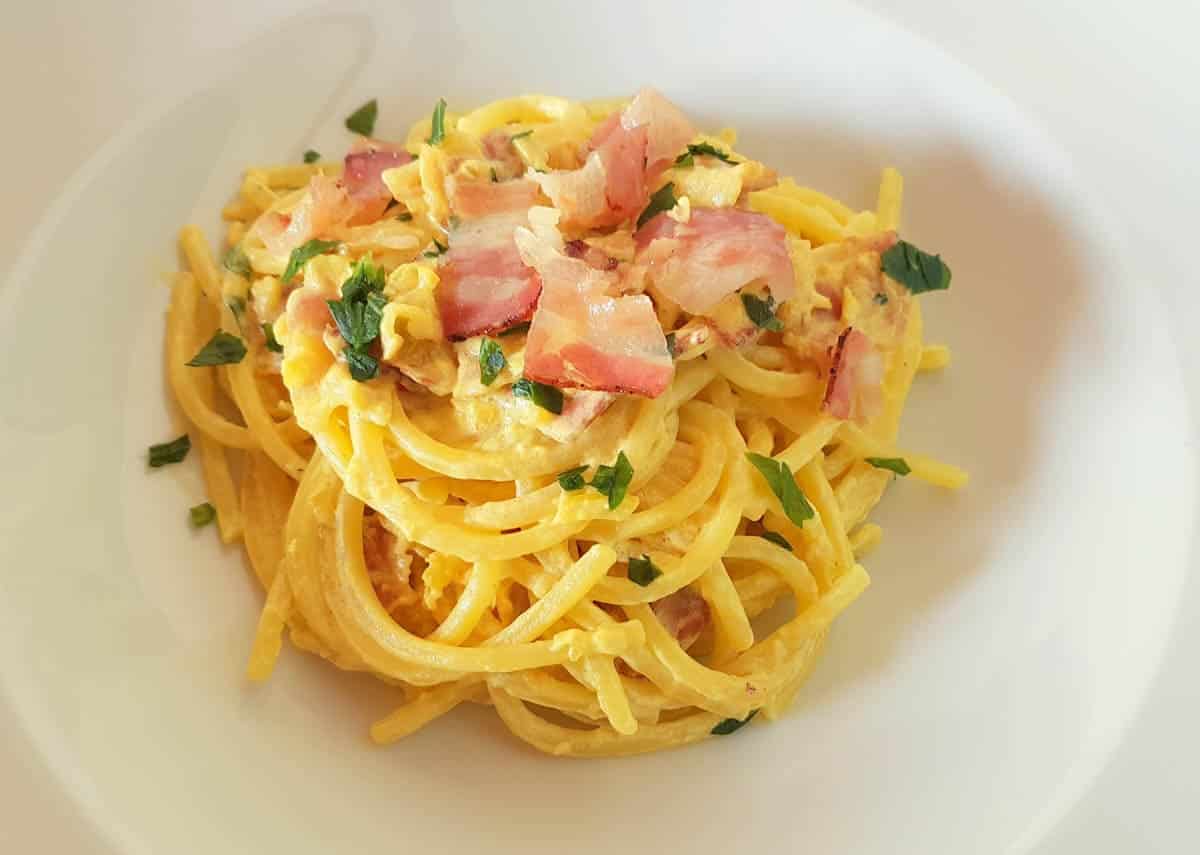 Saffron pasta is a traditional dish in several Italian regions, especially Abruzzo, where saffron cultivation dates back to the 14th century. Known as Navelli saffron or L'Aquila saffron, saffron from Abruzzo is considered one of the very best in the world.
This simple recipe calls for just pancetta, cream and saffron. The latter not only gives this dish a distinctive flavour but also a wonderful golden colour.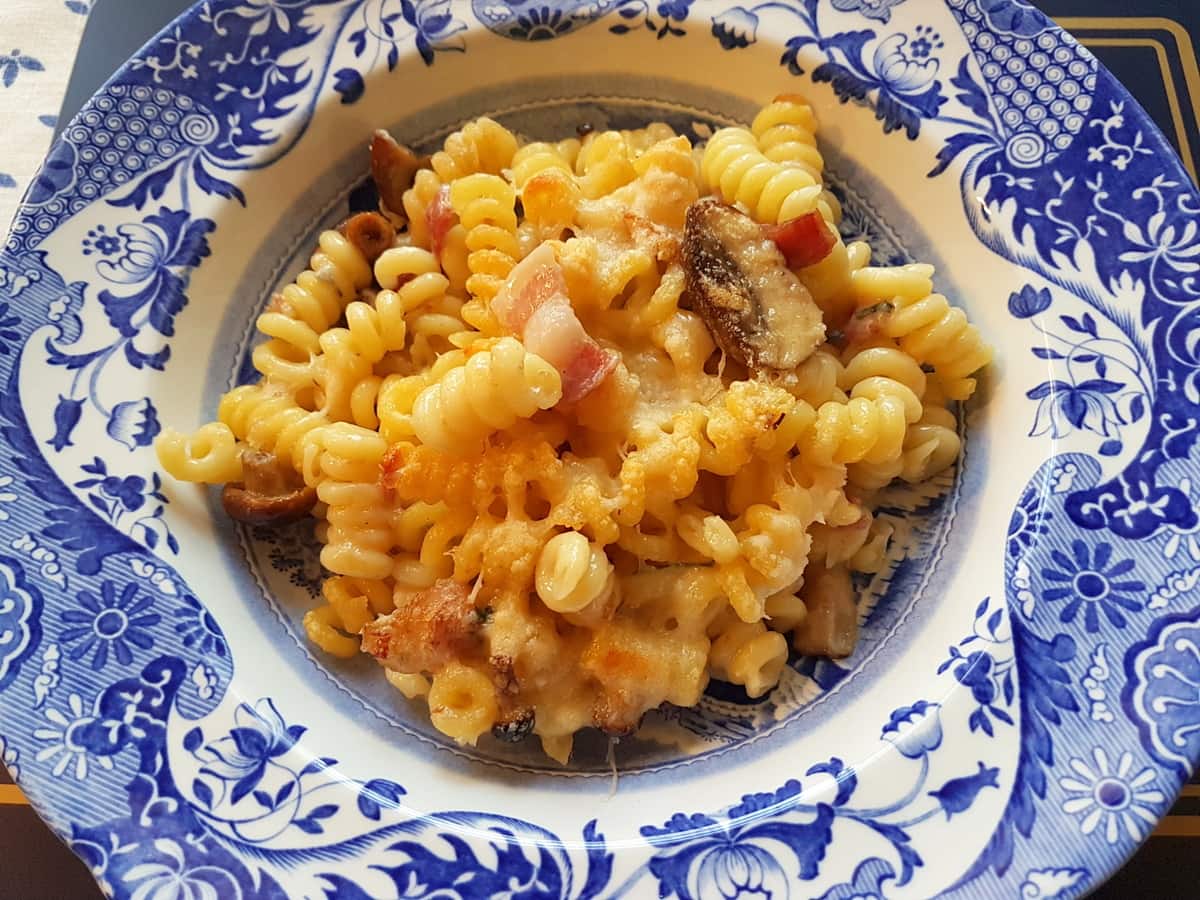 Anyone who loves the combination of bacon, blue cheese and mushrooms will enjoy this super flavourful short fusilli bucati recipe. Of course, you can serve it unbaked for a quicker meal. But, the crispy, cheesy topping of the baked version adds extra deliciousness.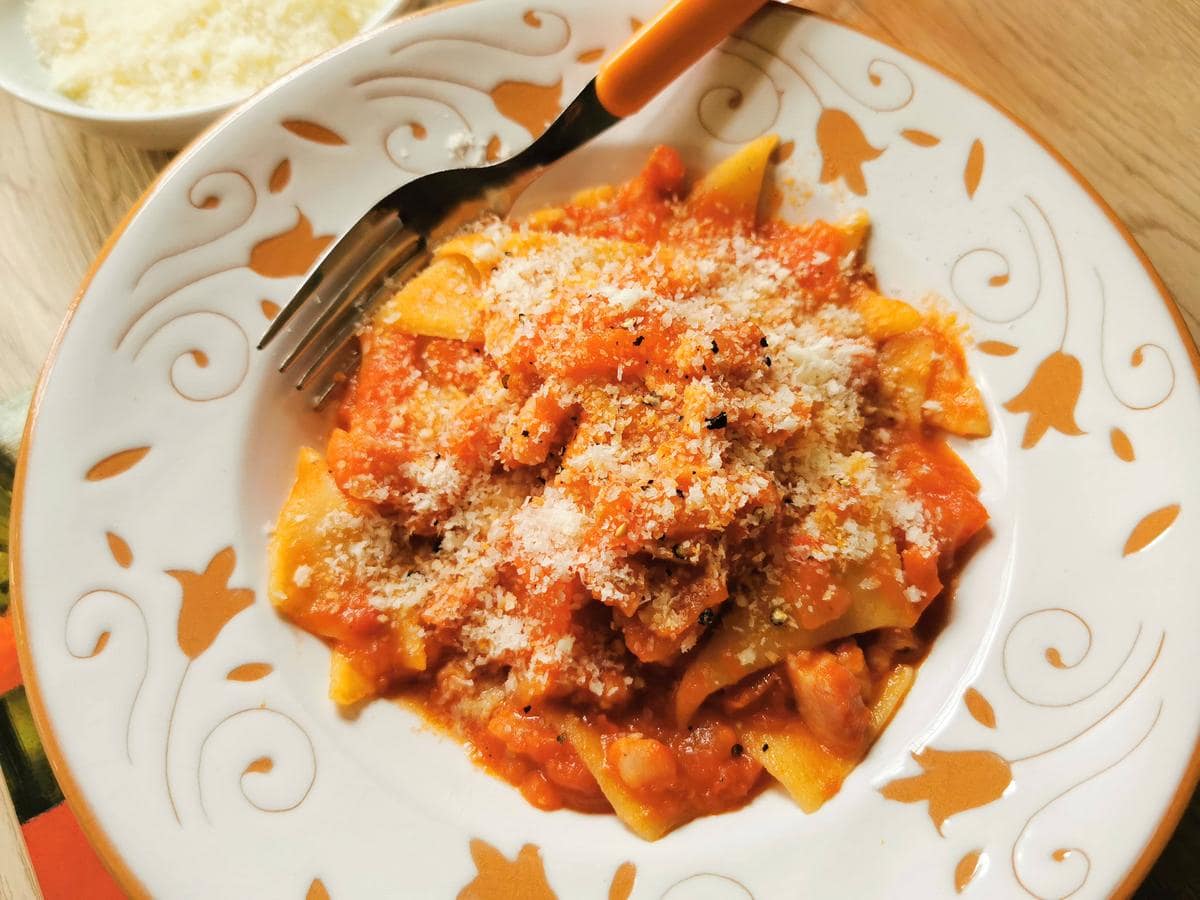 The easy homemade corn and wheat flour pasta in this recipe from Abruzzo gives this dish a unique taste and texture.
The dough is slightly sweet because of the corn flour in it and it is also quite porous and rustic. Known as patellette, this pasta is traditionally served in a brothy tomato and pancetta sauce.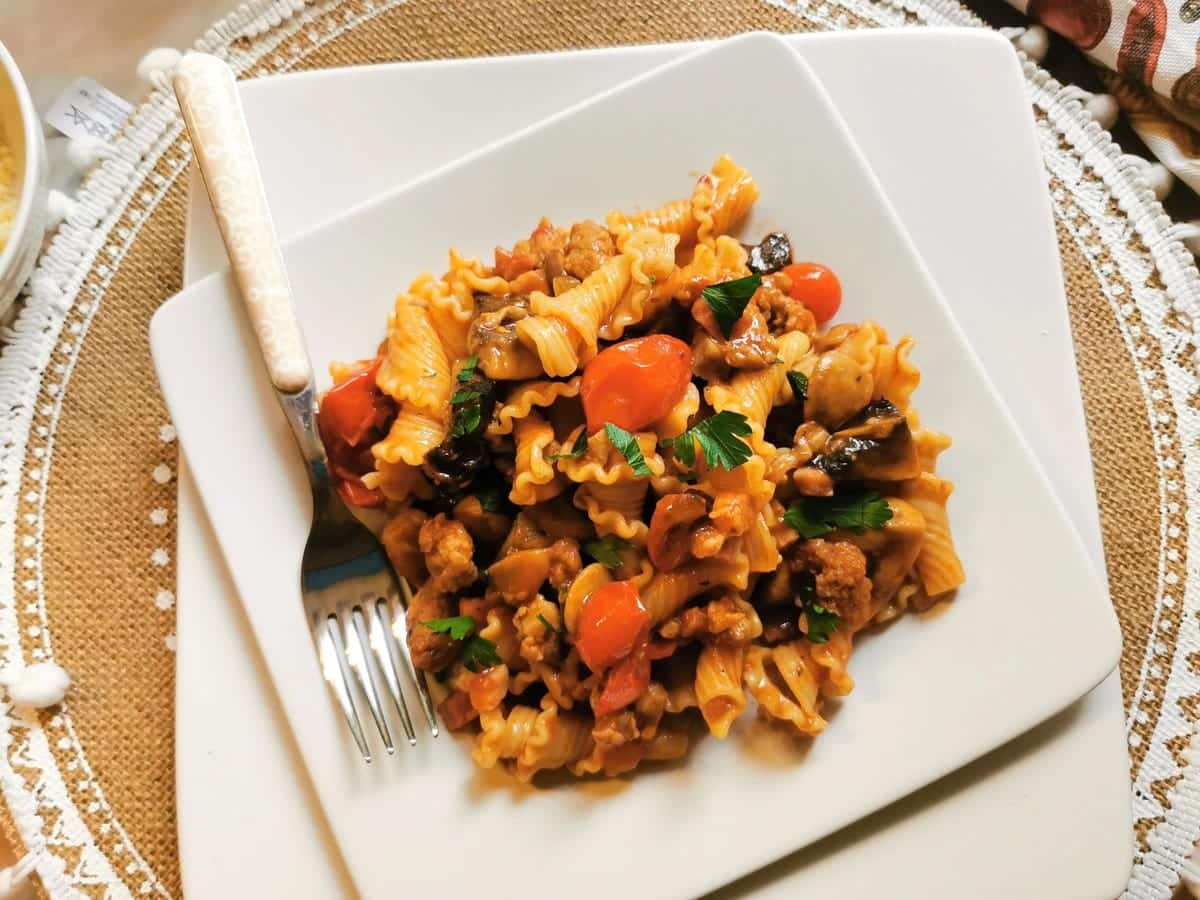 Pasta alla boscaiola is one of the most delicious traditional autumn/fall sausage, pancetta and mushroom pasta recipes ever! Originally it's made with freshly foraged mushrooms, particularly porcini, but it's just as delicious with dried mushrooms.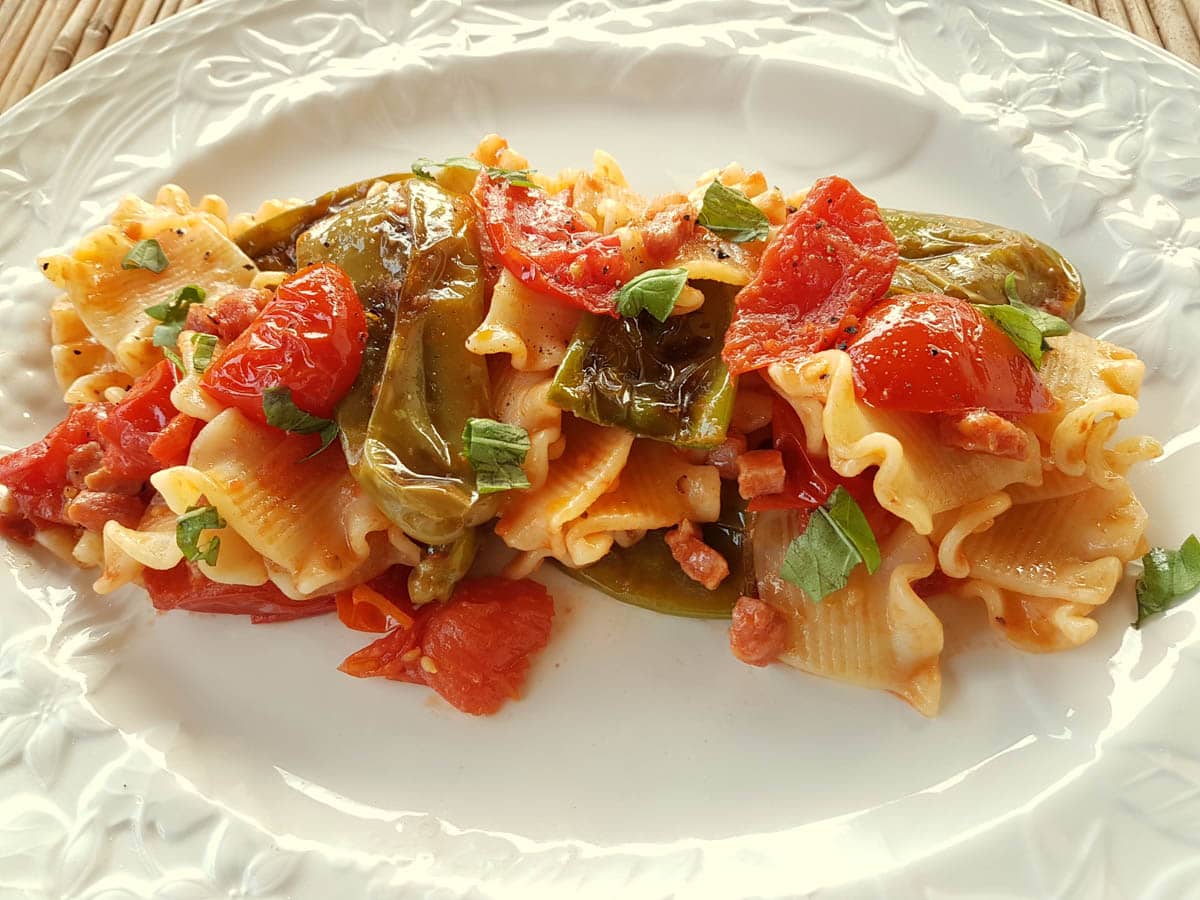 In this Southern Italian recipe, friggitelli peppers add a mildly sweet and fruity taste to the tomatoes and pancetta to create a delicious and easy-to-prepare pasta dish.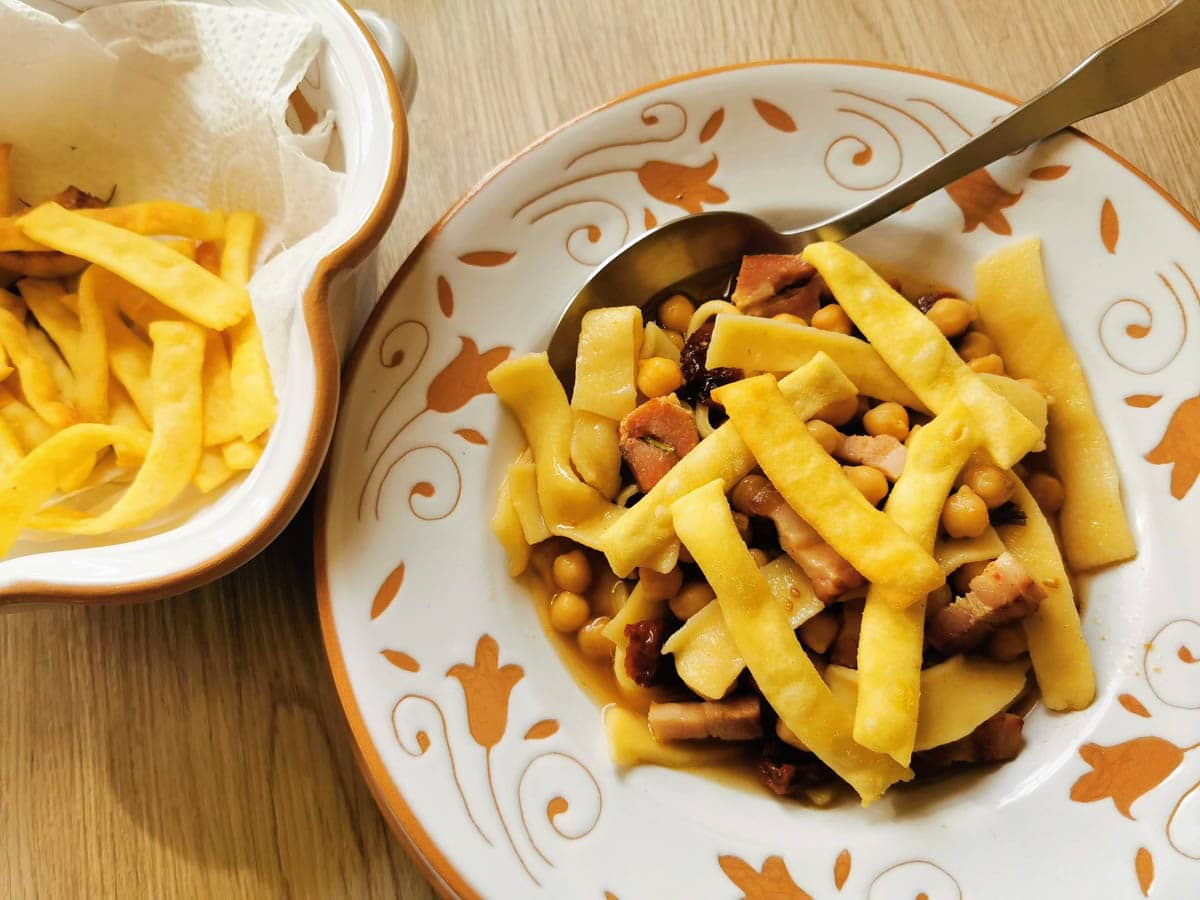 This Italian dish, called "sagne fritte con ceci" or "sagne sfritt'e cice" in the local dialect, is an exceptional pasta and legume recipe featuring fried homemade pasta. The condiment is a delicious combination of chickpeas, pancetta, sweet peppers, garlic and peperoncino that is sure to impress.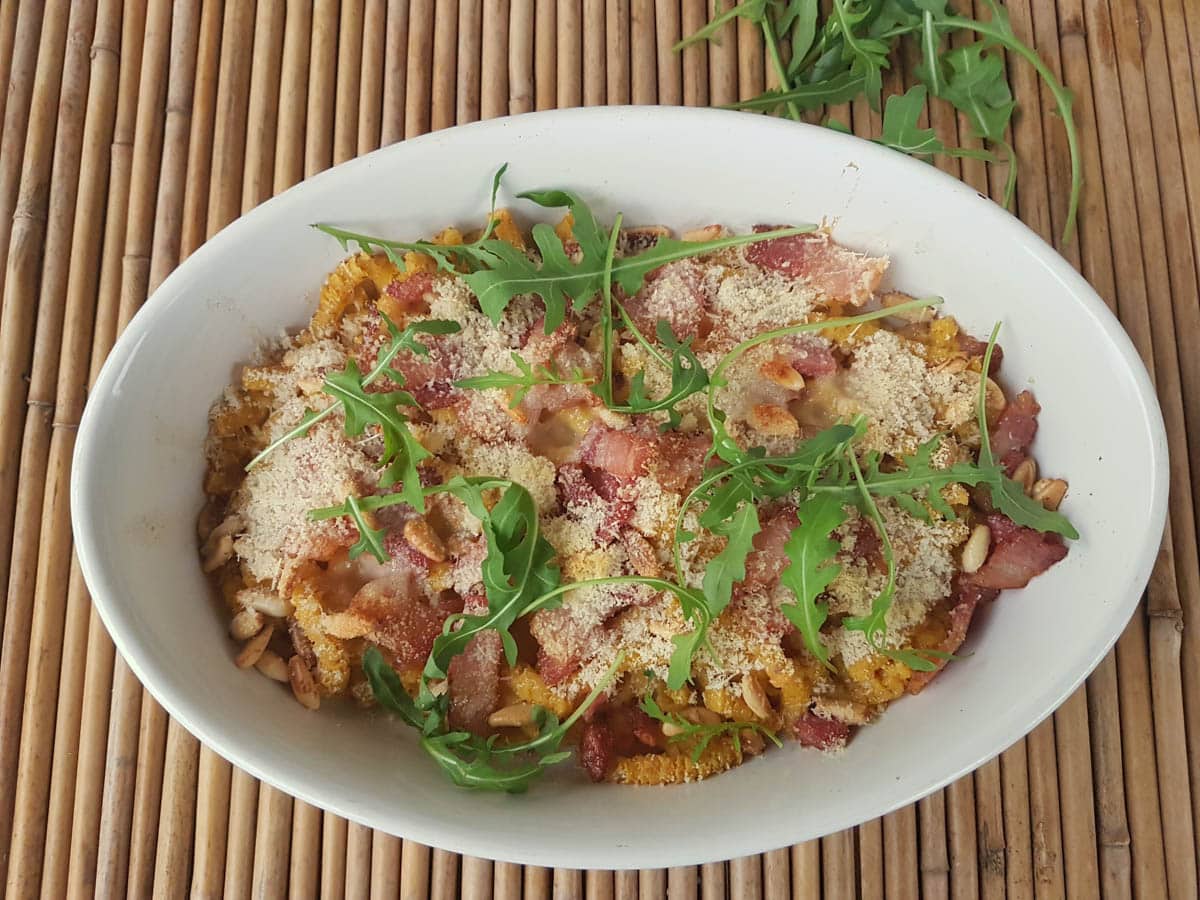 This delightful baked passatelli recipe features a combination of pancetta and pine nuts, creating a uniquely textured and flavorful dish. Originating from the Emilia-Romagna region, this pasta dish offers a twist on the traditional passatelli, delivering a satisfying and scrumptious meal.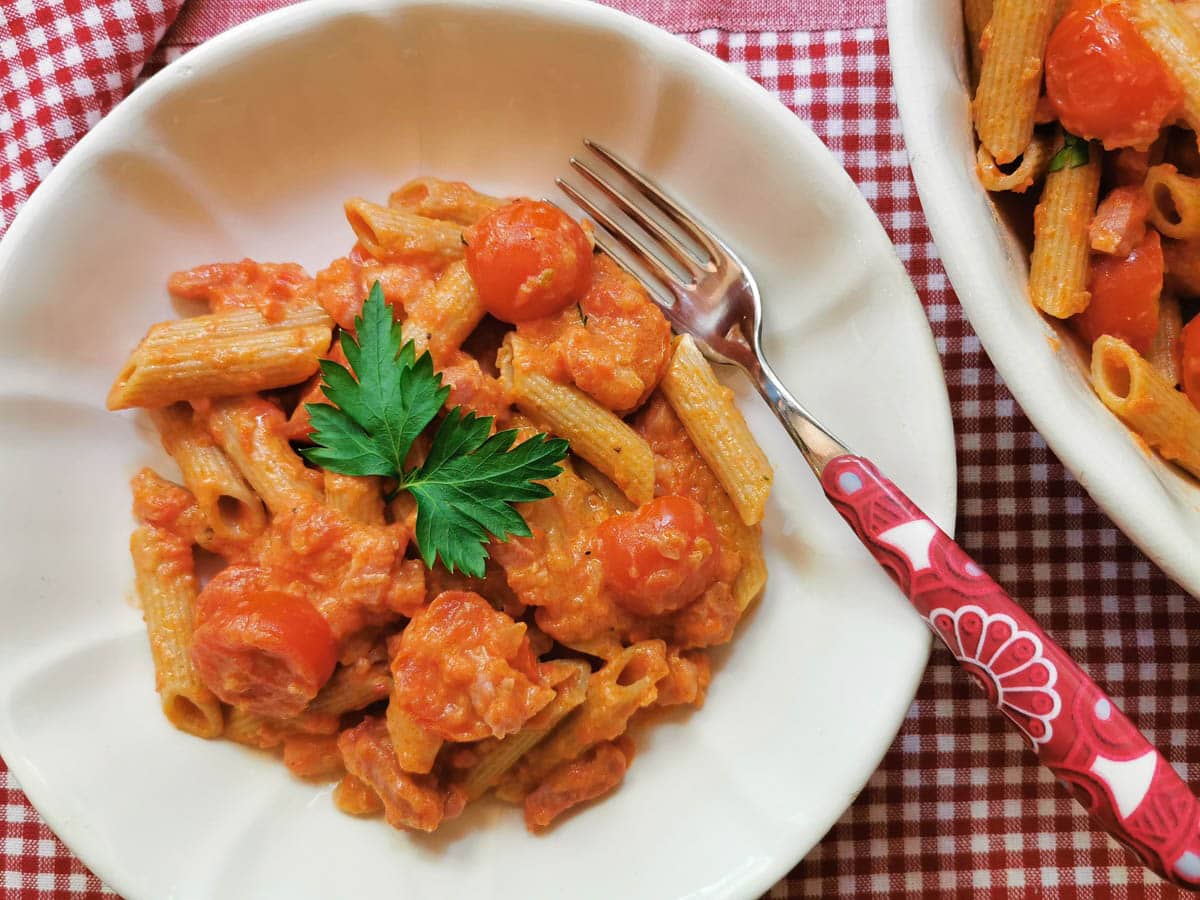 Penne alla Vodka is a mouthwatering dish that combines the smooth, creamy flavors of vodka-infused tomato sauce with pancetta and pasta. The delightful balance of flavors and textures will leave you craving more, making it a must-try for pasta lovers everywhere.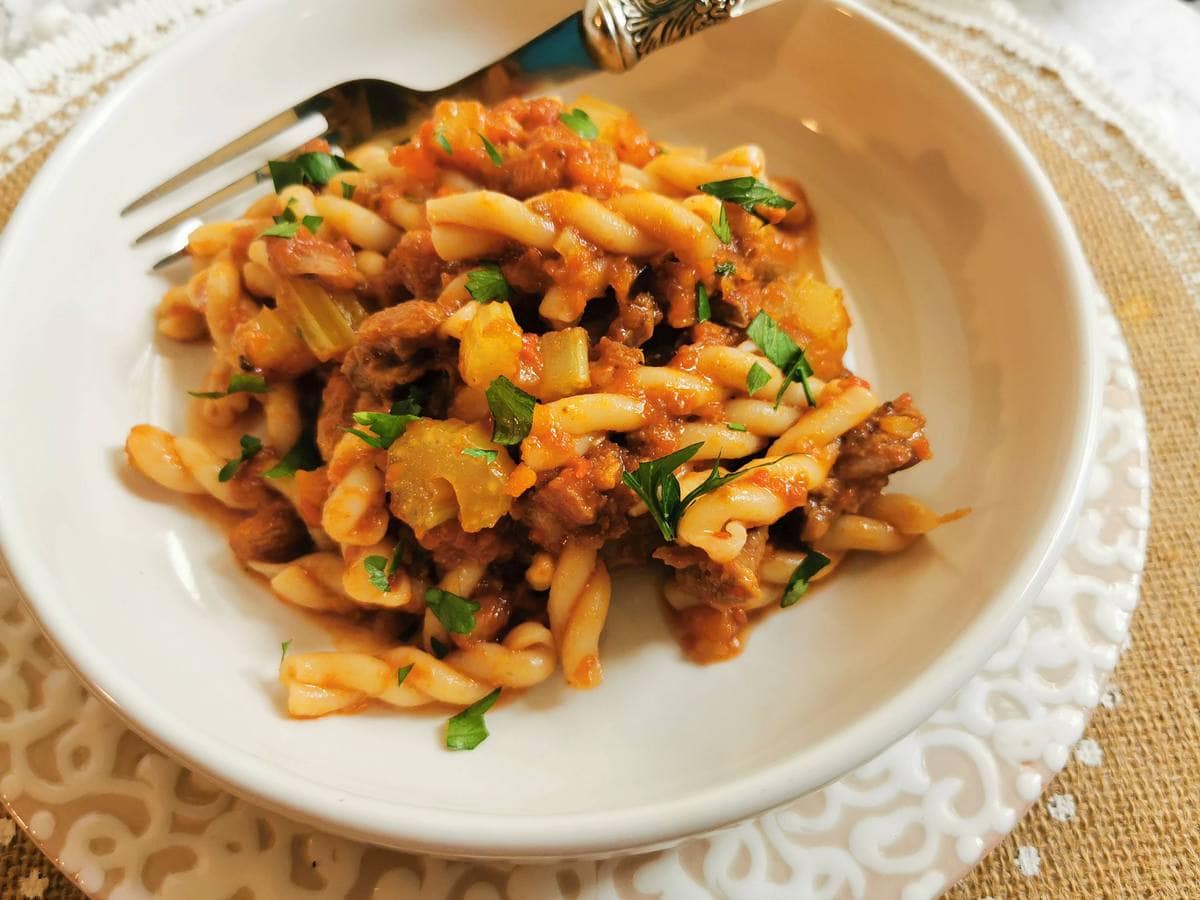 This centuries-old Italian braised oxtail dish is a classic Roman recipe. Oxtail is slow-cooked in a rich tomato sauce until the meat falls off the bones. It can be served as an oxtail ragu with pasta, polenta, or simply with crusty bread to soak up the delightful sauce.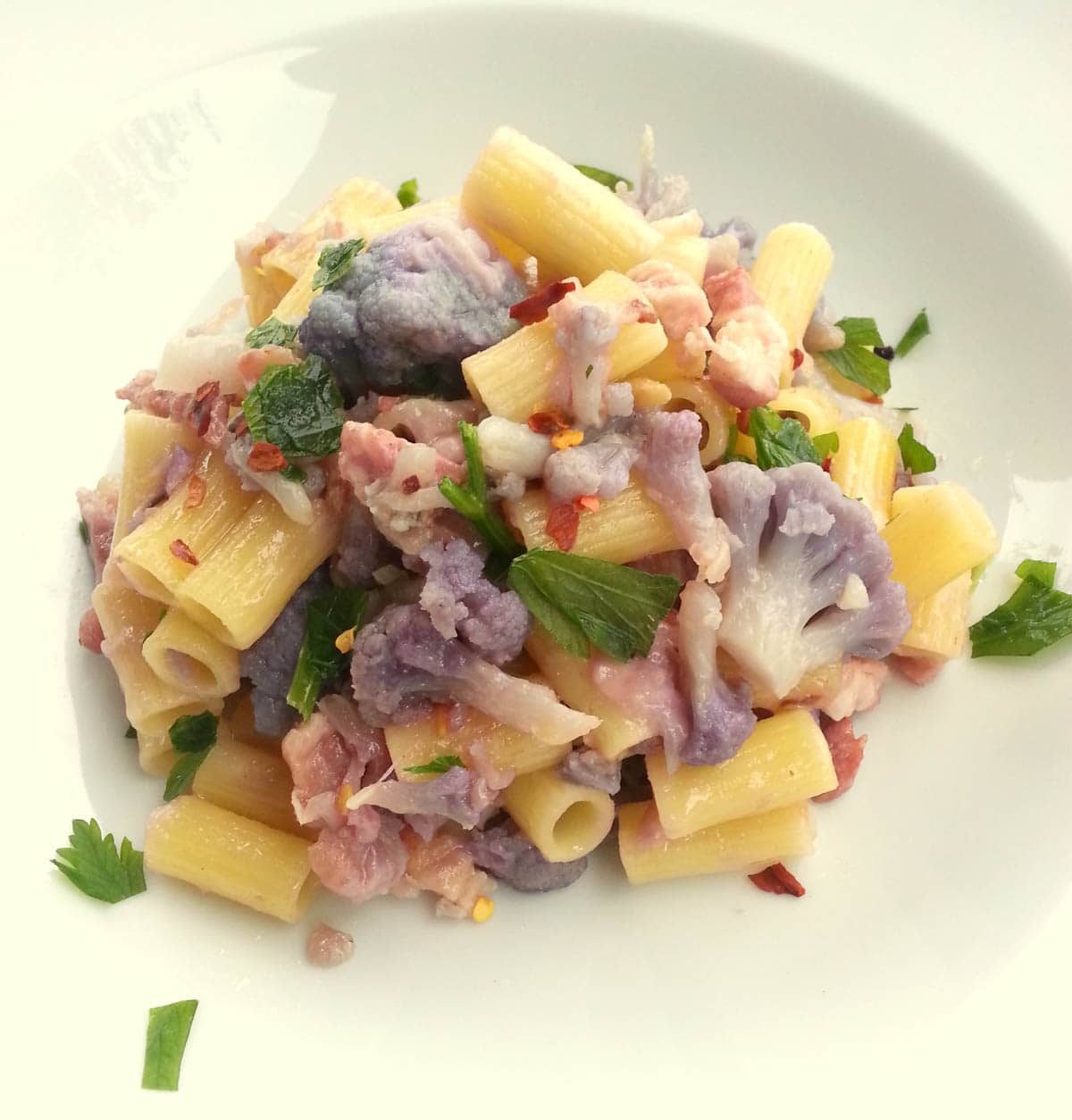 This visually stunning Calabrian ditaloni with purple cauliflower recipe is not only a feast for the eyes but also a treat for the taste buds. Hailing from the Calabria region, this unique pasta dish combines the vibrant hues of purple cauliflower with the comforting textures of ditaloni pasta.
FAQs
Can I use pancetta instead of guanciale?
Yes, you can use pancetta instead of guanciale as a substitute in pasta recipes. Both guanciale and pancetta are Italian cured pork products that share similarities in flavor, texture, and usage. Some recipes that use guanciale that can be substituted with pancetta are spaghetti carbonara and amatriciana.
How long does pancetta last once opened?
Once opened, pancetta typically lasts for about 2 to 3 weeks if properly stored in the refrigerator. To prolong its freshness, wrap it tightly in plastic wrap or a resealable plastic bag with the air squeezed out.

Then store it in the coldest part of your refrigerator, such as the bottom shelf or a designated meat drawer. However, be aware that the actual shelf life may vary depending on factors like initial freshness, curing process, and storage conditions.
What's the difference between pancetta and bacon?
Both pancetta and bacon are made from pork belly. However, they are normally made differently. Pancetta is salt-cured and dried whereas bacon is smoked.

Italians actually eat pancetta uncooked like other salumi. However, bacon needs to be cooked. Also, because of the curing methods used there is a difference in the flavours. Bacon is smokier, and pancetta is saltier.
More Recipe Collections You May Like:
Pin For Later: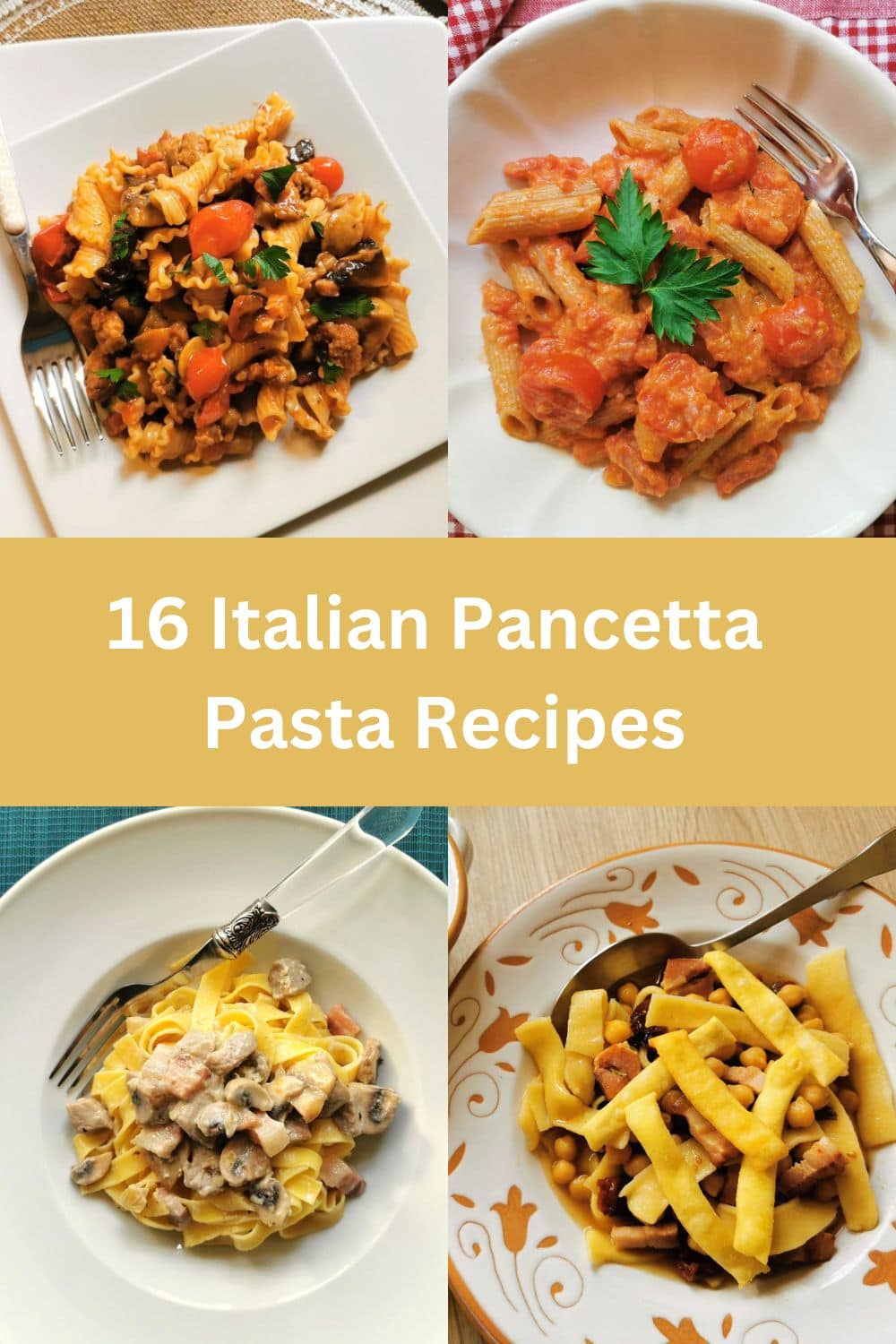 Let me know what you think
If you make any of these Italian pancetta pasta recipes, I'd love to hear how it turned out and if you liked it. Please leave a comment here on the blog or on The Pasta Project Facebook page. Looking forward to hearing from you!
Buon appetito!
If you are interested in learning how to make homemade pasta and different types of gnocchi, check out my shop page for some great video online courses from my friends in Rome! Nothing beats learning to make pasta from Italians! Plus while you're there why not order a copy of one of my pasta recipes cookbook!?