Gramigna with Sausage, Peas and Cream: Recipe from Emilia- Romagna.
There are many tasty pasta with sausage recipes here in Italy. But, this gramigna with sausage, peas and cream definitely ranks among my favourites. It's perfect for both family meals and entertaining.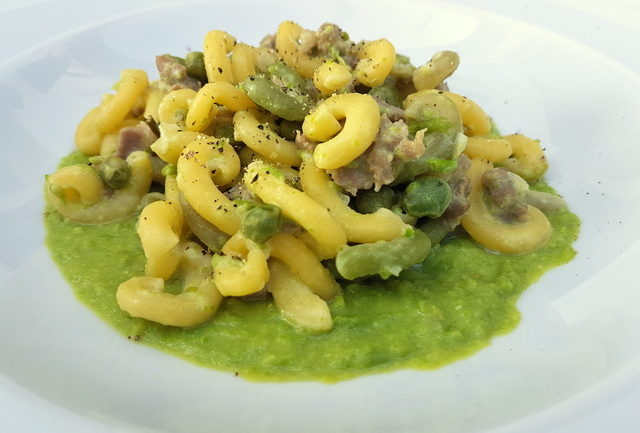 Gramigna alla salsiccia, panna e piselli
Gramigna with sausage is a traditional pasta dish from Bologna in Emilia-Romagna. There are actually two popular versions of this recipe. One version I posted here on The Pasta Project back in 2017. That one is super simple and made with just 3 ingredients, Italian pork sausage, tomatoes and onions. See the link at the end of this post.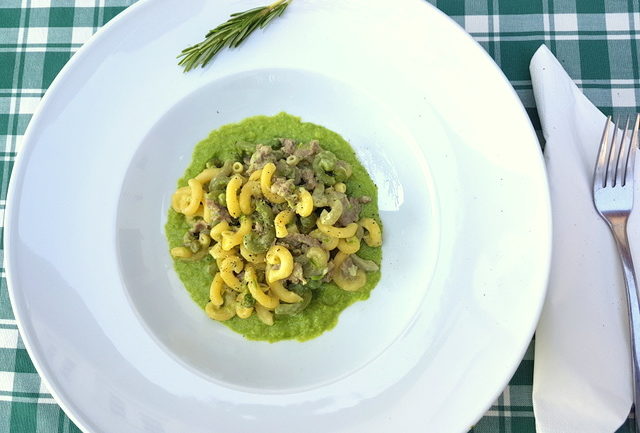 This gramigna with sausage, peas and cream is also quite simple to make. The main difference between the 2 versions is that this one has no tomatoes. Sauces without tomatoes are referred to as 'bianco' in Italy, meaning white.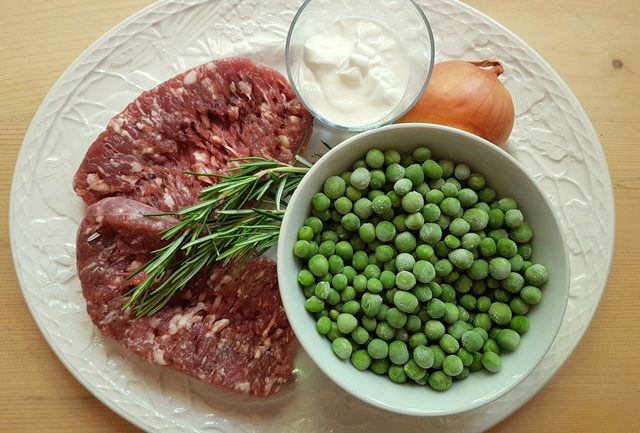 Instead of tomatoes, this recipe uses cream. Purists prefer to use a little milk and some parmigiano cheese to make the sauce white. However, there are many Italian recipes online with cream. I more or less followed the recipe by Italian celebrity food blogger and TV chef Chiara Maci, who I actually met recently.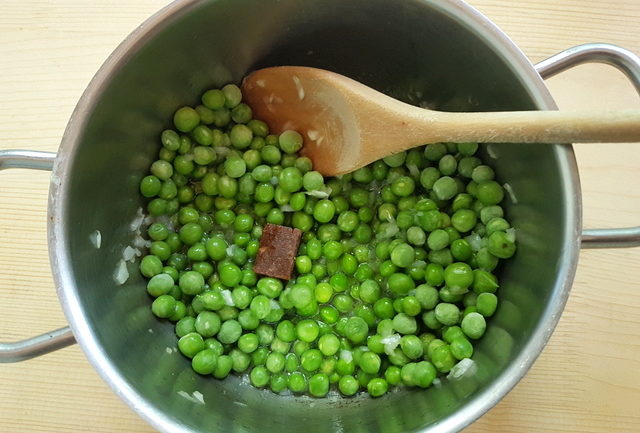 Fresh or frozen peas?
Peas are a common addition to white gramigna with sausage. I used my own homegrown peas and since they were so good, I decided to puree some of the cooked peas to make a creamy bed for the pasta! Plus, I also added some of the puree to the sauce. This recipe can be made with fresh or frozen peas and even without the pea puree! You can just add some peas to the sauce. However, I think the puree adds an elegant touch and makes this dish extra tasty!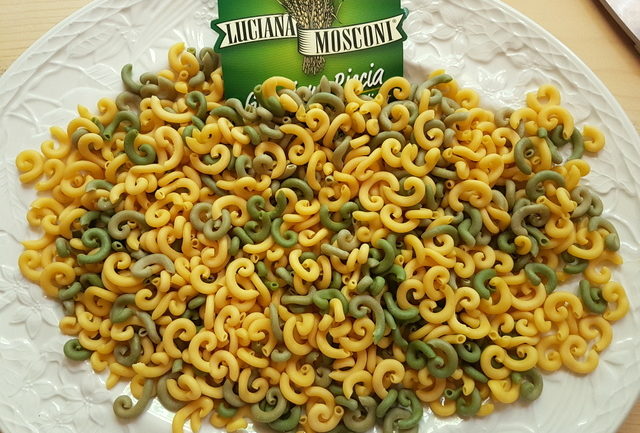 What is gramigna pasta?
Gramigna is an unusual pasta. It is mostly eaten only in Emilia-Romagna. Originally, it was a homemade fresh pasta, but nowadays you can find it dried too. This pasta is hollow and short, a bit like small bucatini. However, it's not straight but squiggly! How squiggly depends on whether it's homemade or dried. The name 'gramigna' is actually the Italian name for couch grass, a very invasive type of weed! I fight a constant battle in my garden against couch grass! You can read more in my gramigna post.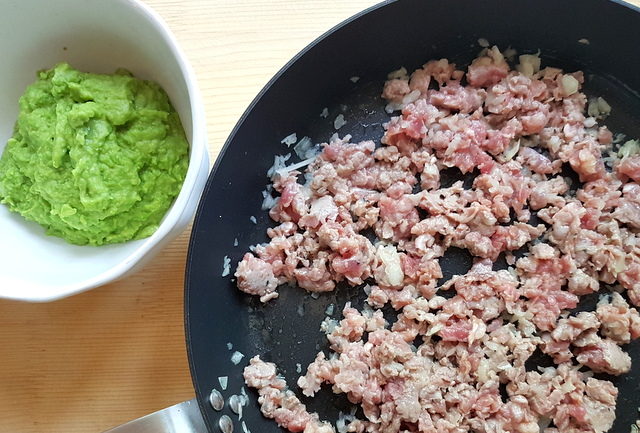 For this gramigna with sausage, peas and cream I used white and green gramigna. There are a number of types of pasta that Italians make and sell or serve in these two colours. But, this is mostly done with egg pasta and the green colour is made by adding fresh spinach to the pasta dough. Italians call this bi-coloured pasta 'paglia e fieno', meaning straw and hay.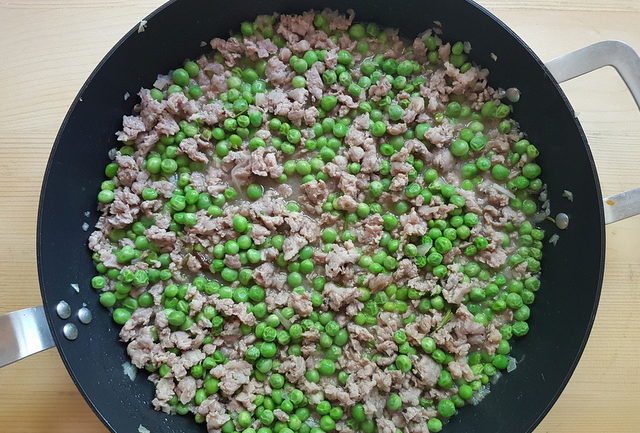 Other pasta you can use
If gramigna is not available where you live, this recipe is very good with other small pasta tubes such as penne or ditali. However, you may be able to find gramigna pasta for sale online. Companies that make it include De Cecco, Divella and Granoro.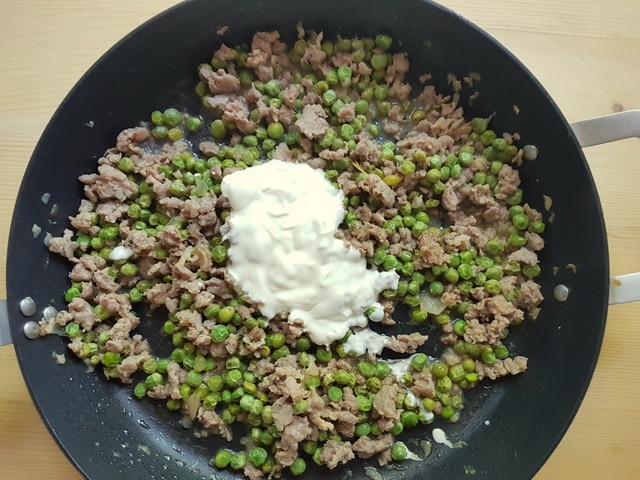 What kind of sausage should you use?
I have developed a great love for pasta with sausage! When I first started The Pasta Project, I'd never cooked pasta with sausage. Now, I do it very very often. Among my favourites are pasta alla Norcina from Umbria and bigoli with luganega sausage, a recipe from here in Veneto where I live. I also really like a Sicilian pasta recipe made with broccoli, sausage and chard. And now I'm adding this gramigna with sausage, peas and cream to my favourite sausage pasta recipes.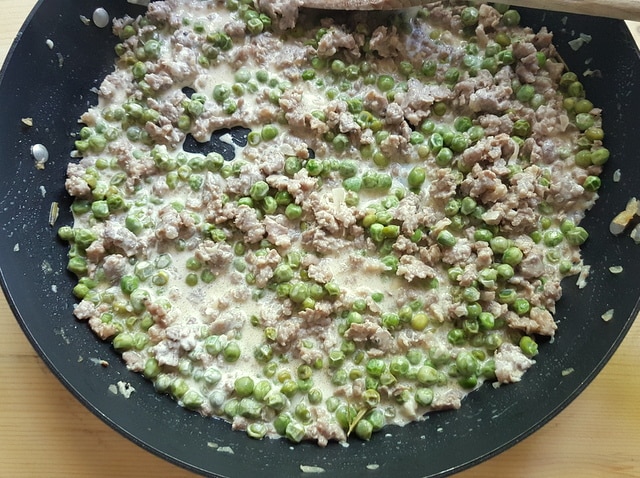 Like many traditional Italian recipes, the original dish is made with local ingredients. Each Italian region makes local types of sausage. Some add herbs or spice to the meat for flavour. For example, in Sicily, they make pork sausages with wild fennel or fennel seeds in them.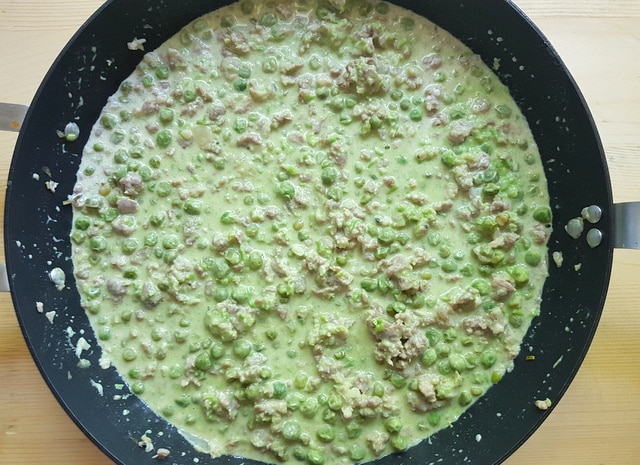 This recipe calls for very simple Italian pork sausages. Using sausages with herbs or spices will. of course, change the taste of the finished dish.
Other ingredients
Apart from the peas, sausage and pasta, this recipe has white wine (which you can leave out if you prefer), rosemary, onion and cream. Italians usually use a heavy cream in cooking called 'panna da cucina'. This is actually not fresh but comes in small boxes! However, you can use fresh cream too.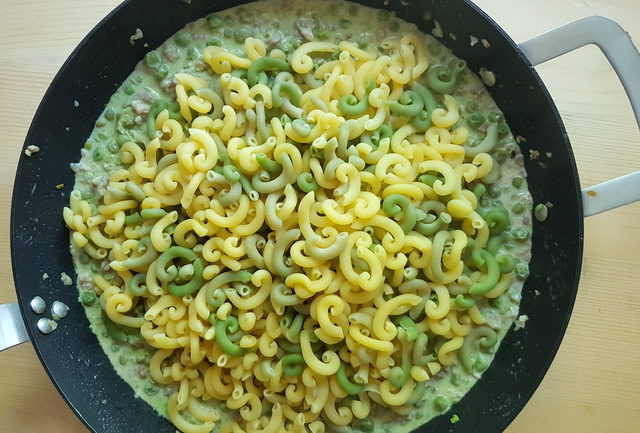 If you make this gramigna with sausage, peas and cream, I'd love to hear how it turns out and if you liked it. Please leave a comment here on the blog or on The Pasta Project Facebook page.
Looking forward to hearing from you!
Buon appetito!
Pin for Later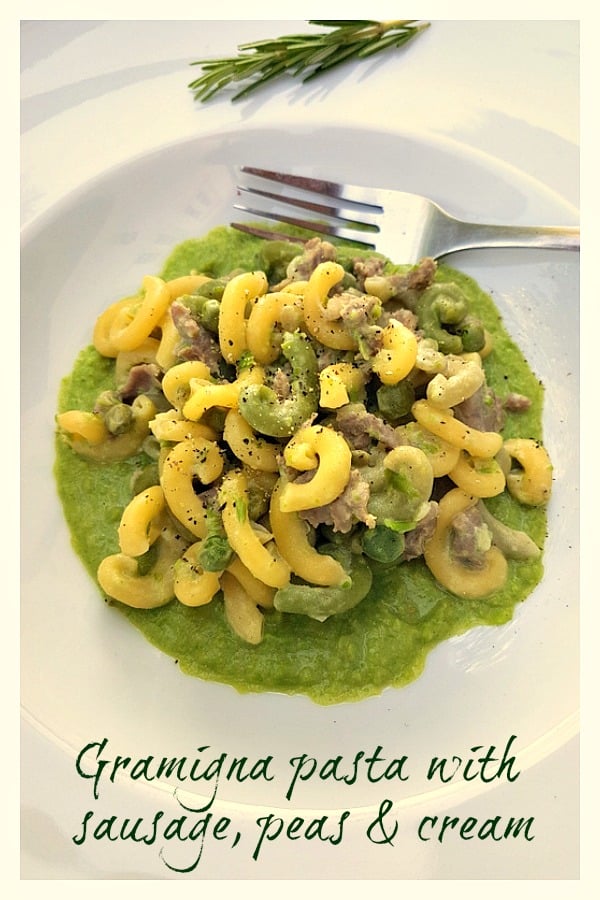 Other pasta recipes from Emilia-Romagna.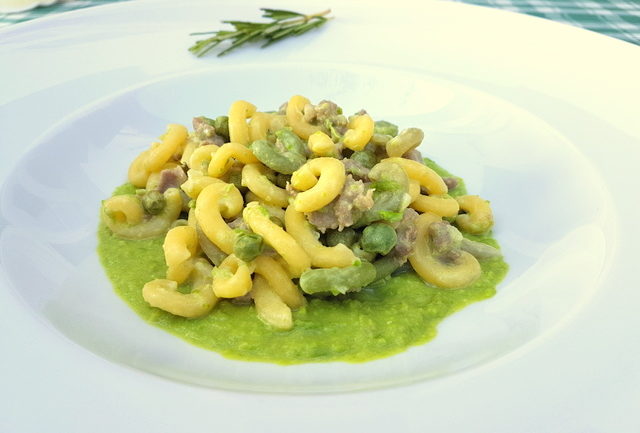 Save this recipe for later?
If you want to save this recipe for later, you can print it, bookmark this page or save it to Pinterest.