Baked Sicilian Anelletti Pasta in Eggplant Boats.
These anelletti pasta eggplant boats are a fabulous Italian version of stuffed eggplant! Full of typical Sicilian flavours, they are seriously yummy and look great. Your guests will love them!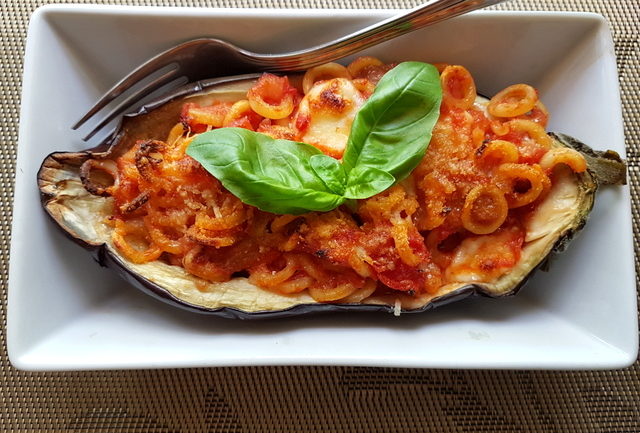 Eggplants, aubergines or brinjal.
Eggplants, also called aubergines or brinjal, are a very popular vegetable (actually they are classified as berries!) in many cuisines, especially Mediterranean, Asian and Middle Eastern. Here in Italy, eggplants are a widely-used ingredient in the Southern regions, particularly Sicily.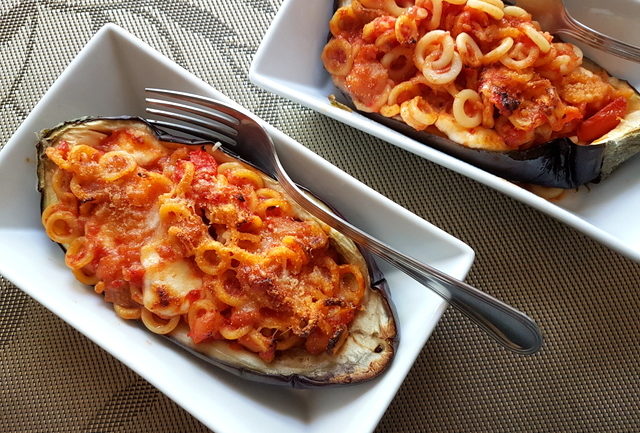 Did you know that the name 'eggplant' was actually coined in 18th century? Originally, it referred to white eggplants which, obviously, looked a bit like eggs!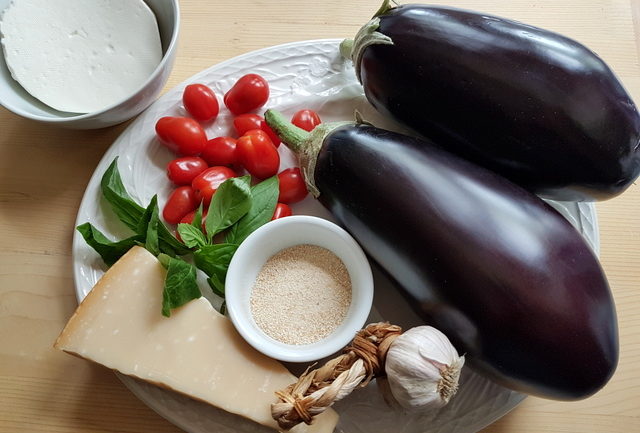 However, it was the Arabs who introduced eggplants to Sicily in the Middle Ages and then, I guess, their cultivation spread to other parts of Southern Italy. Well known Southern Italian recipes for eggplant include parmigiana (melanzane alla parmigiana) from Naples and caponata and pasta alla Norma from Sicily. Another recipe I like is stuffed eggplant boats from Puglia.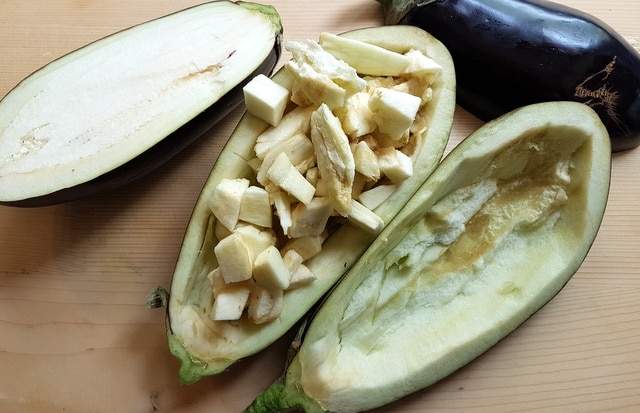 However, Italians prepare eggplants in many different ways and these anelletti pasta eggplant boats is one of my favourites! In Italian, these are called 'barchette di melanzane ripene di anelletti'.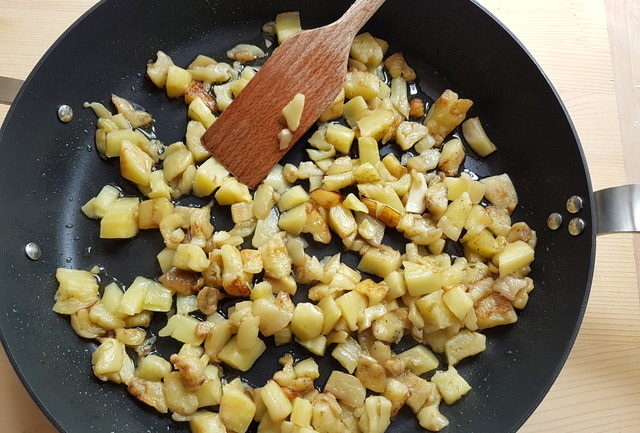 The pasta.
Anelletti or anelli is a typical Sicilian pasta most often used in baked pasta recipes like anelletti timballo, a kind of pasta cake from Palermo. These small rings of dried pasta are actually the inspiration for spaghettiOs! But, of course they come from Italy. I'd love to know how Campbells discovered them!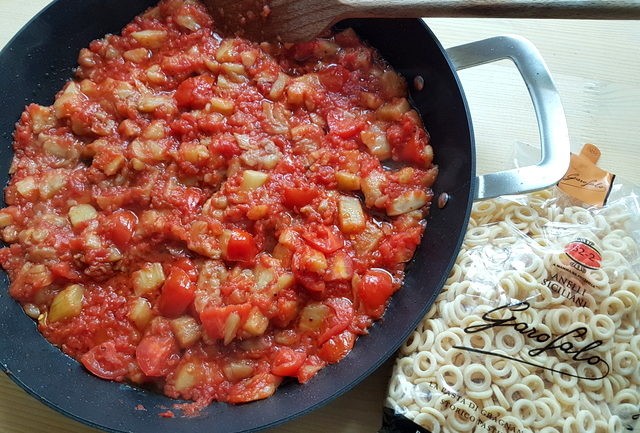 The pasta I used for these anelletti pasta eggplant boats was made by Garofalo, one of my favourite producers of pasta di Gragnano. In my opinion, dried pasta from the town of Gragnano near Naples is one of the best in Italy.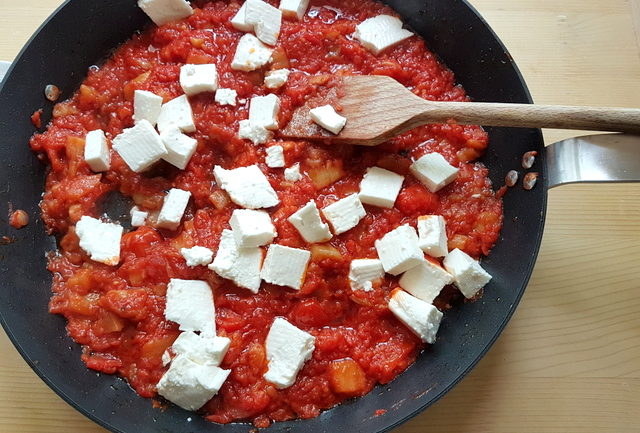 In fact, for pasta makers to label their product 'pasta di Gragnano', the pasta has to be produced in a legally defined area in and around the Bay of Naples. It must also be made using Italian durum wheat flour and the calcium poor water of the Monti Lattari. The dough is extruded through bronze dies and dried at low temperatures in the mountain air. The result? Great pasta! So, look out for it! There's more than one producer.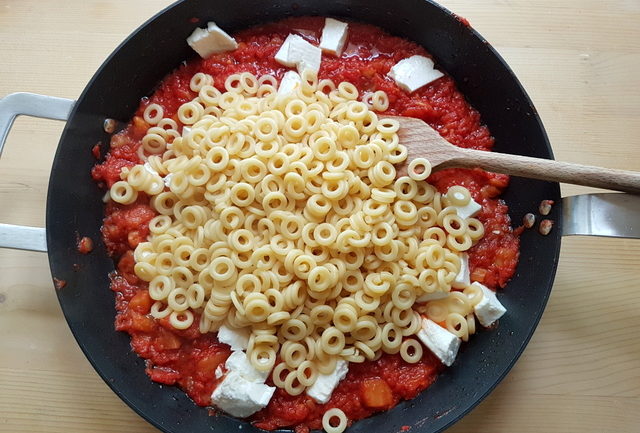 Making these anelletti eggplant boats.
These anelletti pasta eggplant boats are pretty easy to make. The sauce is mostly the inside of the eggplants and tomatoes. The eggplant shells need to be boiled for 5-10 minutes first and then you just fill them with some pasta and sauce and cheese. I used a primo sale cheese in the sauce. I then sprinkled the eggplant boats with Parmigiano and breadcrumbs before baking.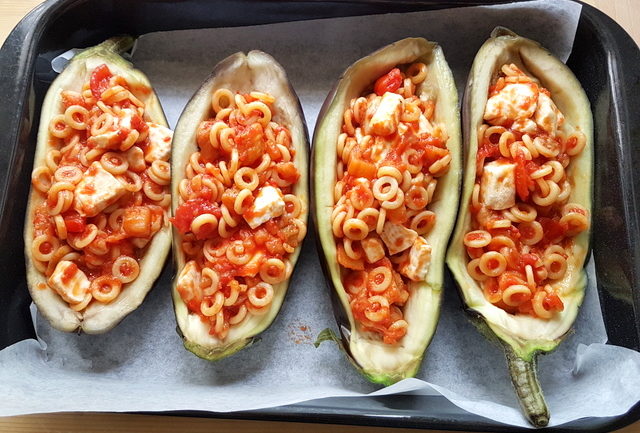 The cheese.
Primo Sale is an Italian sheep's milk cheese from Sicily and Sardinia. The name itself literally means 'first salt'. It describes the early stages of maturation. In Sicily, when the cheese is first taken out of the mould and before being salted, they call it 'Tuma'. After the first salting, it is called 'primo sale'. Because this cheese is young, it has a bright white colour and slightly salty milky flavor.
(If you can't find 'primo sale' cheese you can also use ricotta salata or feta for this anelletti pasta eggplant boats recipe.) To make this recipe vegetarian you will need to use vegetarian parmesan not Italian Parmigiano as it's made with animal rennet.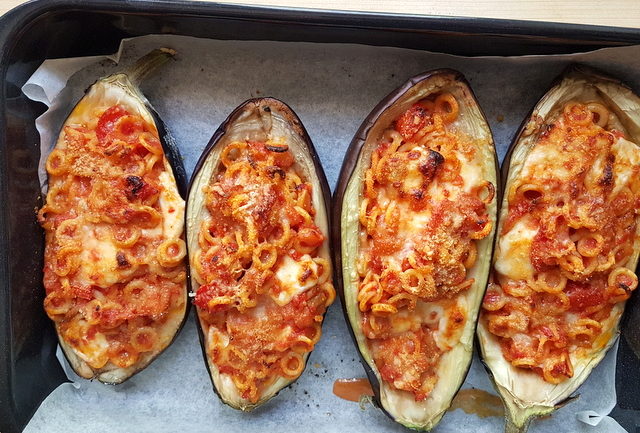 Preparing the eggplant.
Eggplants have a tendency to start to turn brown once the flesh is exposed to the air. Therefore, it's best to have a pot of water on the boil and some olive oil ready to heat in a skillet or deep frying pan before preparing them. You can then start cooking the flesh and boiling the shells pretty quickly.
Alternatively, you can soak the eggplant flesh and shells in a bowl of water with a couple of tablespoons of salt until you are ready to use them. Then rinse well and pat the flesh dry before frying. This also helps to prevent it absorbing a lot of oil when frying it. However, I didn't do this for these anelletti pasta eggplant boats.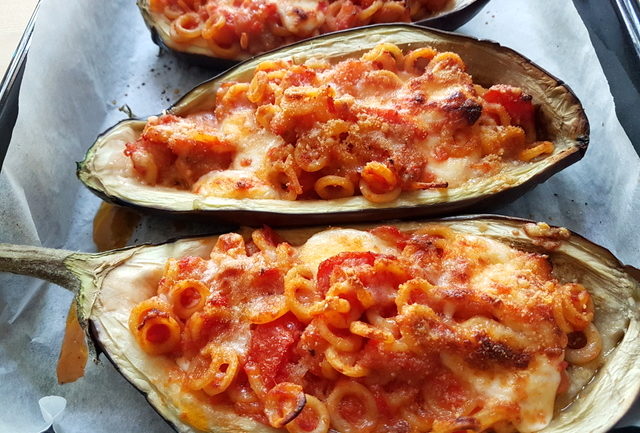 Serve these eggplant boats as a starter or main course.
Here in Italy, pasta is often served as a first course (primo), rather than a main course. Consequently, one of these eggplant boats makes a perfect starter. For a main course, I would suggest two per person. The ingredients in this recipe are for 4 anelletti pasta eggplant boats. Double the quantities if you want to make 4 main courses.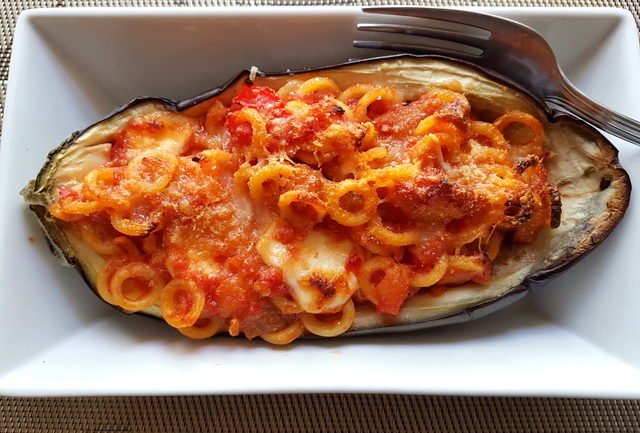 If you love the look of this recipe, have a look at my favorite Italian eggplant recipes.
Buon appetito!
More eggplant pasta/anellini recipes
Save this recipe for later?
If you want to save this recipe for later, you can print it, bookmark this page or save it to Pinterest.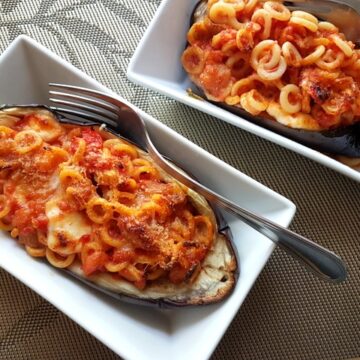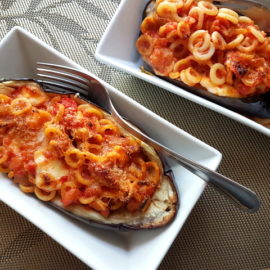 Anelletti Pasta Eggplant Boats
These delicious Italian pasta stuffed eggplant boats are not only easy to make and really delicious, but your guests will love this unusual way to serve pasta.
Ingredients
180

g

anelletti pasta

(6.5oz)

2

eggplants

(large)

8-10

cherry tomatoes

(you can omit these)

300

g

tomato passata

(10oz) I used Mutti

2

garlic cloves

peeled

150

g

primo sale cheese

(5oz) or ricotta salata or feta

Parmigiano or grana

grated – or vegetarian parmesan

1

tsp

peperoncino flakes

(optional)

2-3

tbsp

extra virgin olive oil

(you may need more as eggplant absorbs the oil)

salt

for pasta and to taste

black pepper

to taste

basil leaves

(for presentation)

breadcrumbs

as required
Instructions
Put a pot of salted water on to boil (use this for the eggplant shells and pasta)

Cut the eggplants in half after washing them. Then remove the flesh with a sharp knife and cut it into cubes/ small pieces. Peel the garlic and wash and cut the cherry tomatoes in half or quarters.

Boil the eggplant shells for about 5 minutes. Remove them from the water and let them cool. Keep the water simmering.

In a non-stick pan, fry the peeled garlic cloves in a tablespoon of olive oil. Add the eggplant flesh and cook until it starts to brown. Remove the garlic and add the cherry tomatoes and peperoncino flakes (if using). Once the tomatoes start to soften add the tomato passata. Season with salt and pepper. Simmer for 15-20 minutes.

Cook the pasta al dente in the same water as the eggplant shells. Follow the timing instructions on the packet.

Add the primo sale cheese to the eggplant and tomato sauce.

Drain the pasta and mix it well with the sauce. Fill the boats with pasta and sauce. Grease a baking dish (or line it with baking paper) and place the stuffed eggplants in it. Sprinkle them generously with grated parmigiana or grana and breadcrumbs.

Sprinkle a little olive oil over the eggplant boats and cook in a preheated oven at 180 ° until golden brown (about 20-25 minutes).

Serve immediately with some fresh basil leaves for decoration!
Notes
This recipe calls for Sicilian anelletti/anelli pasta rings. If those are not available, you could use other small pasta such as orzo or very small pasta shells.
If you have leftover pasta and sauce it will keep in the fridge for a day or two and you can bake it or heat in the microwave for another meal (we bake ours!)
Italian Parmigiano cheese isn't vegetarian as it's made with animal rennet. To make this recipe vegetarian use vegetarian parmesan.
Nutrition
Calories:
388
kcal
Carbohydrates:
57
g
Protein:
14
g
Fat:
13
g
Saturated Fat:
4
g
Polyunsaturated Fat:
1
g
Monounsaturated Fat:
7
g
Cholesterol:
19
mg
Sodium:
64
mg
Potassium:
1074
mg
Fiber:
10
g
Sugar:
14
g
Vitamin A:
768
IU
Vitamin C:
21
mg
Calcium:
128
mg
Iron:
3
mg
Pin for Later